Arc'teryx Bora 75
Price: $360
Weight: 4 lbs. 8.3 oz. (regular size)
Capacities: 65, 75L
What we like: Highly customizable fit and burly, weather-ready build.
What we don't: Fairly heavy and pricey, no internal hydration sleeve, and rotating hipbelt can lead to instability on steep slopes.
See the Men's Arc'teryx Bora 75  See the Women's Arc'teryx Bora 70
As backpacks trend toward lighter and less durable designs, Arc'teryx's Bora (formerly the Bora AR) stands out as a burly and capable heavy hauler. Now offered in larger 65- and 75-liter capacities (past versions were sold in 50 and 63L options), notable features include a movable hipbelt that's tuned to slide while bending over on steep inclines and a very tough and weather-ready build. I took the 75-liter version on several multi-day trips in the Canadian Rockies and Glacier National Park, and while it's heavy and overkill for most users and overnight outings, the Bora nevertheless is a good match for year-round backpacking in harsh conditions and over rough terrain. Below I outline my experiences with the Bora 75. To see how it stacks up to the competition, see our article on the best backpacking backpacks.
 
---
Table of Contents
---

Performance
Carrying Comfort
Arc'teryx's Bora 75 Pack is purpose-built for hauling heavy loads over technical terrain, so it comes as little surprise that carrying comfort is excellent for long and gear-intensive missions. For starters, the Tegris framesheet is light but stiff (it feels reminiscent of carbon) and does a great job at isolating my back from sharp gear with enough room for air to flow between the pack and my back. The shoulder straps and hipbelt are nicely cushioned with thick foam, the pack distributes weight evenly to avoid bruising and chafing in high-contact areas, and the load-lifter straps make it easy to get a close, body-hugging fit. Finally, it's worth noting that the latest Bora is shorter and stouter than prior versions, and the lower center of gravity helps keep the load from sitting too high above my shoulders and feeling tippy when leaning over.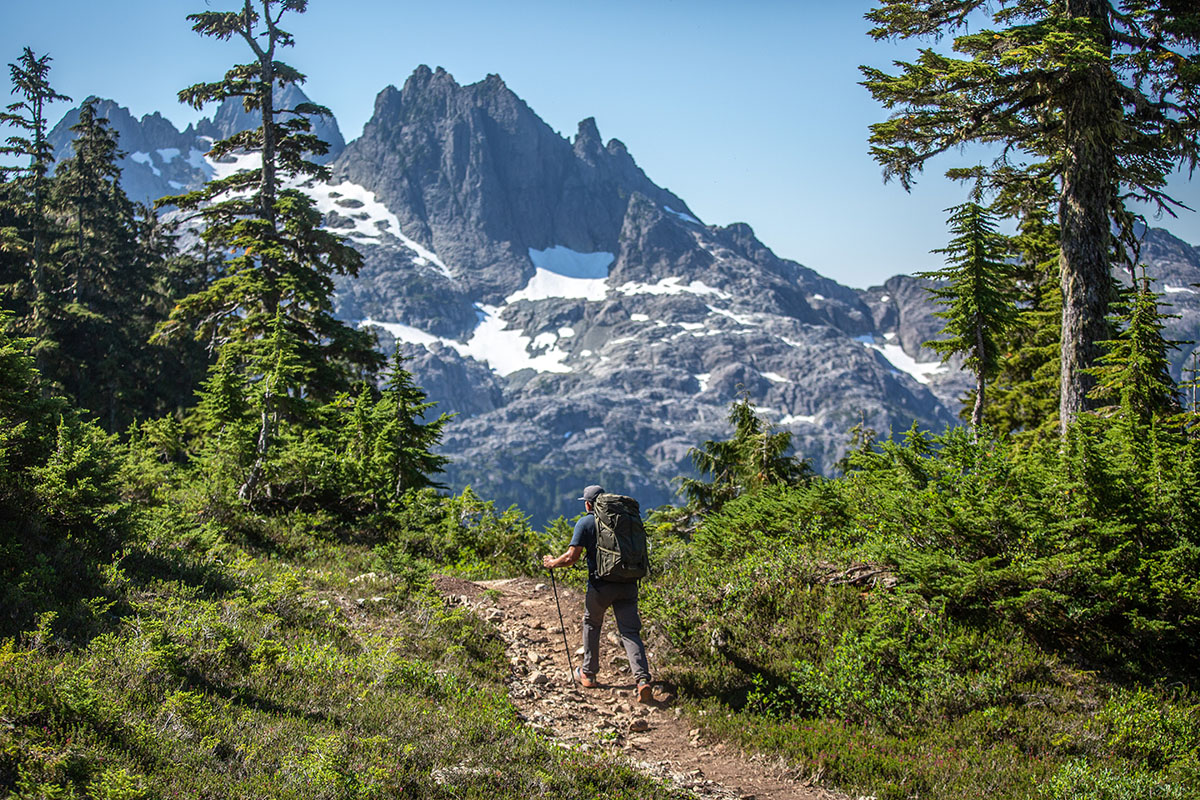 Adjustability goes hand in hand with carrying comfort, and the Bora 75 makes it easy to fine-tune fit. In addition to being able to move the shoulder straps up or down to adjust for torso length, they can also be narrowed or widened. Arc'teryx calls this their "GridLock" system: Simply pull either strap down and out to remove it, then slide it into any of the free slots to lock it back into place. In practice, it worked just as I hoped, and I was able to effectively dial in fit to perfectly hug my upper body. The Velcro along the back of the straps does tend to get caught on my shirt when donning the pack, but it's quick and easy to fix and doesn't have a big impact on comfort (more in "Fit and Sizing" below). Because I carry close to 20 pounds of camera gear, it's safe to estimate that I've stuffed the Bora 75 with at least 50 pounds of gear on multi-day treks in the Canadian Rockies, Glacier National Park, and back home on Vancouver Island, and the pack has handled the weight with ease.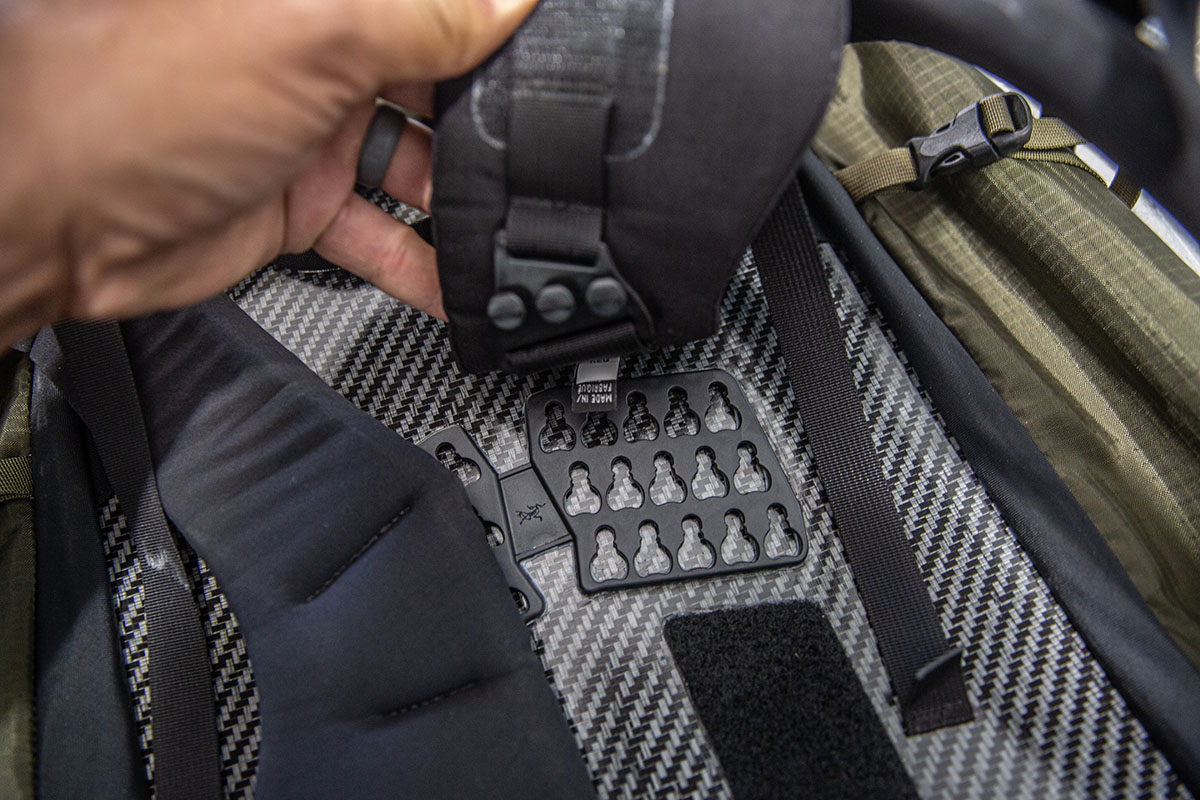 Like past versions of the pack, the latest Bora 75 utilizes a unique hipbelt system that's designed to boost comfort and security. Dubbed the "RotoGlide" system, the hipbelt is mounted on a track, allowing it to rotate side-to-side and glide up and down to move with your body as you hike. All told, I've found it to be pretty effective while walking over level and smooth terrain, although I do have to cinch the strap fully to prevent unwanted swaying when leaning forward or back on steeper slopes. This was especially evident while traversing a narrow, exposed ridgeline in the Rockies, where I needed to keep the pack as close to my body as possible to prevent it from throwing me off balance. I can also feel the plastic under the hipbelt under a full load (this isn't the case when I pack light), but it's not uncomfortable and hasn't caused any issues. All in all, it's an innovative concept and pretty well executed overall, but I feel there's still some room for improvement.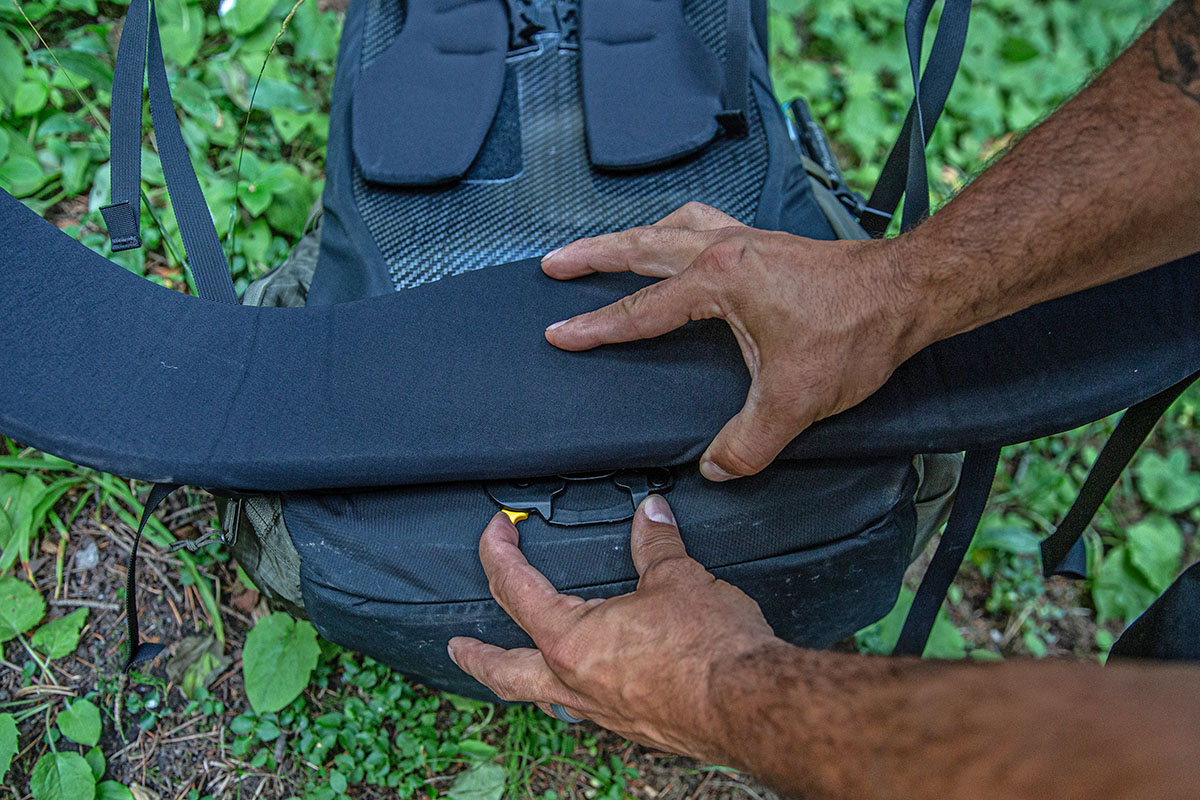 Weight
At 4 pounds 8.3 ounces for my "regular" size, the Arc'teryx Bora 75 is an unapologetically heavy and feature-rich design. For reference, my go-to pack for the last year has been Hyperlite's 70-liter Southwest 4400, which checks in considerably lighter at just 2 pounds 7.2 ounces. The added heft of the Bora was immediately noticeable when worn back to back with the Hyperlite, but the good news is that it hasn't felt prohibitively heavy while hiking. In fact, the Bora feels and wears much lighter than my Gregory Katmai 65 pack, which has a similar listed weight of 4 pounds 11.8 ounces. And to be fair, the Bora 75 still checks in lighter than many other leading heavy haulers, including Gregory's Baltoro 75 (4 lbs. 15.7 oz.) and Osprey's smaller-capacity Aether 65 (4 lbs. 15.4 oz.). Again, it's a far cry from a streamlined ultralight design, but the added durability and full feature set are worthwhile upgrades for long, gear-intensive trips.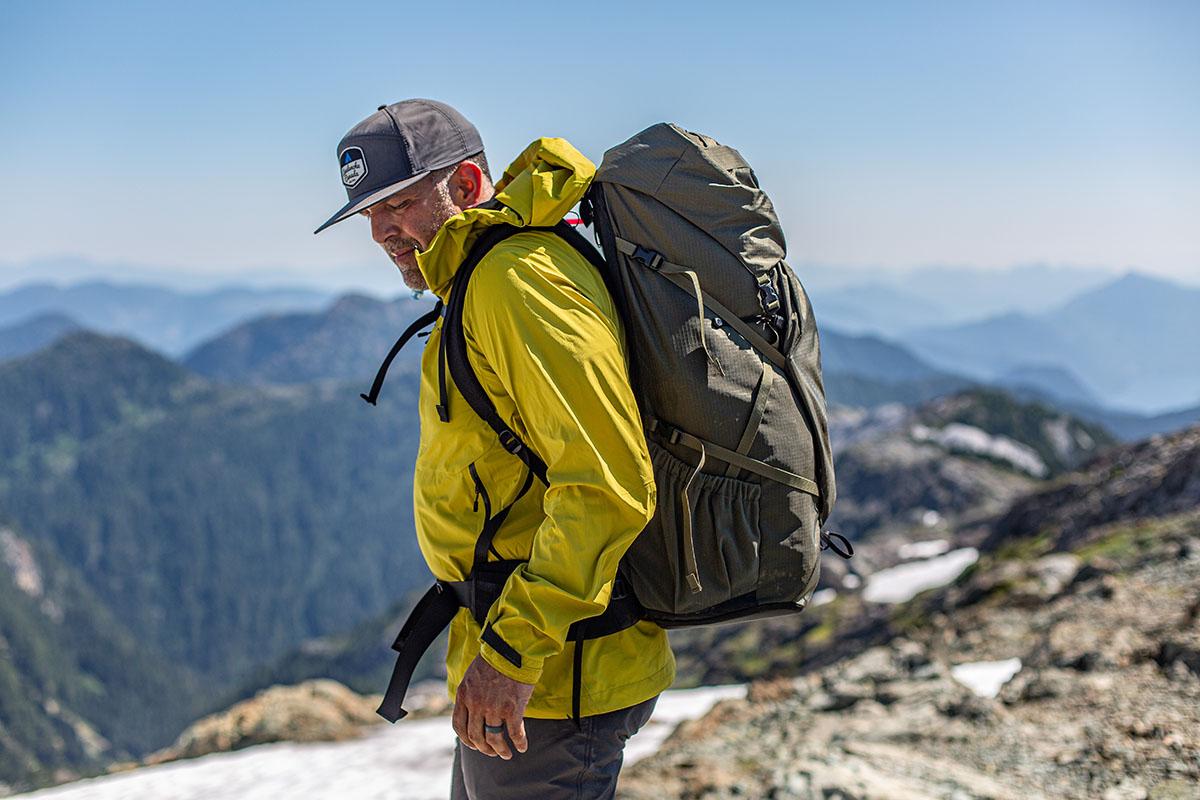 Organization
Access
The Bora's massive 75-liter main compartment is accessible via the top or handy full-length zipper that runs down the right-hand side of the pack, providing easy and quick access. I'm a huge fan of packs with multiple entry points since I'm constantly reaching for my camera during hikes, and the Bora's side zipper allows me to retrieve equipment and layers without having to unclip the lid straps, pull the cinch cords, and rummage around blindly. Some might prefer a U-shaped zipper (like what you get with Gregory's Baltoro 75), but the Bora's full-length side zip provides similarly easy access and visibility into the main compartment—just make sure to pack intentionally and put frequently used items close to the side.


Pockets
In short, the Arc'teryx Bora 75 leaves little to be desired in terms of storage. Starting at the top, the lid boasts three pockets, including a large exterior pocket and a similarly sized pocket underneath that's waterproof (Arc'teryx calls it the "Weather Vault"). The third pocket—located on the outside at the very front of the lid—is smaller and less functional than the other two, although it can accommodate thinner and narrower items like a map or permit. I don't like stuffing too much gear in the lid—the pack can get top-heavy rather quickly—but the layout is well executed for stashing smaller electronics (like a headlamp and phone), as well as items you'll want quick access to on the trail (gloves, hat, etc.). Hipbelt storage is also decent with a stretchy mesh pocket at each side, although the lack of zippers is a downside for storing valuables—I often stashed bear spray here and had to constantly check to ensure it hadn't fallen out.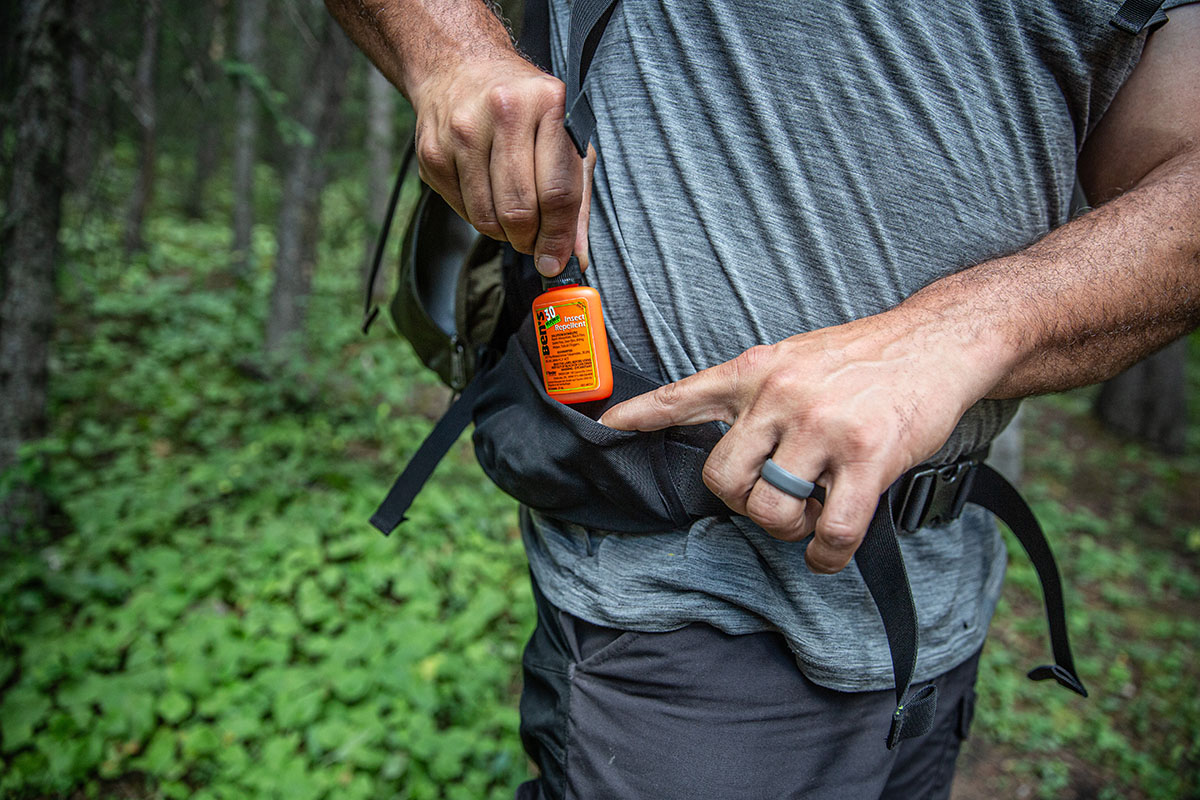 Inside the pack, you get a small internal pocket at the top with a clip for securing keys, although there's no sleeve for a water reservoir. This is a pretty standard feature and one that we're surprised Arc'teryx omitted. You do get a clip for hanging a bladder, but if it comes loose, the reservoir can migrate within the pack and leak if it gets squeezed by other gear. The zippered kangaroo-style pocket at the front is a viable substitute, but it's not ideal from a weight distribution standpoint (it's best to position heavier items close to your back). Instead, I typically stuff wet items like my backpacking tent or rainfly there if they're still damp with condensation from the night before. It's also a good spot for my dirty Crocs to keep them from contaminating the rest of my gear.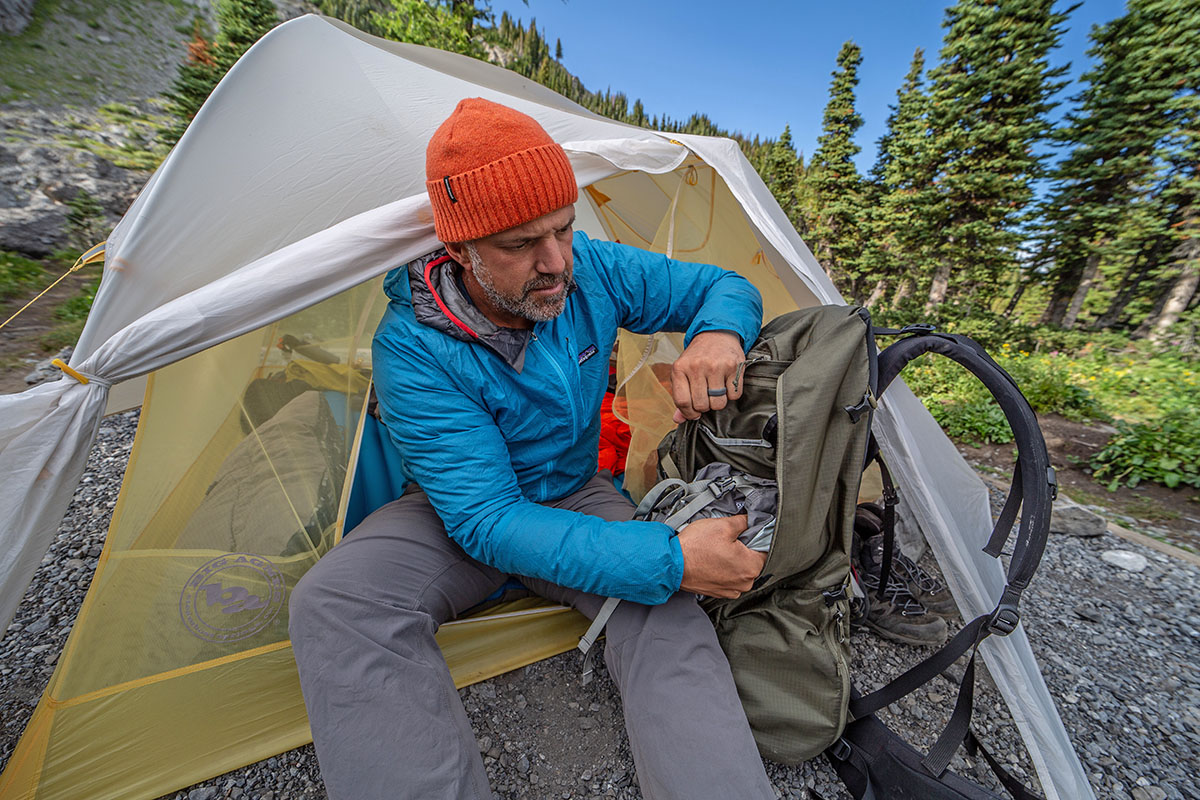 Rounding out the storage, there's a stretchy pocket at the left side that's nicely sized for a standard Nalgene water bottle, although I often use it to stash my hiking poles (the compression straps help keep them in place). On the other side, you get a small zippered pocket that was perfect for storing our dog's collapsible water bowl—it's easy to access and kept the dirty bowl isolated from other gear. Since it's separate from the main compartment, this would also be a great place to store wet jackets or clothing.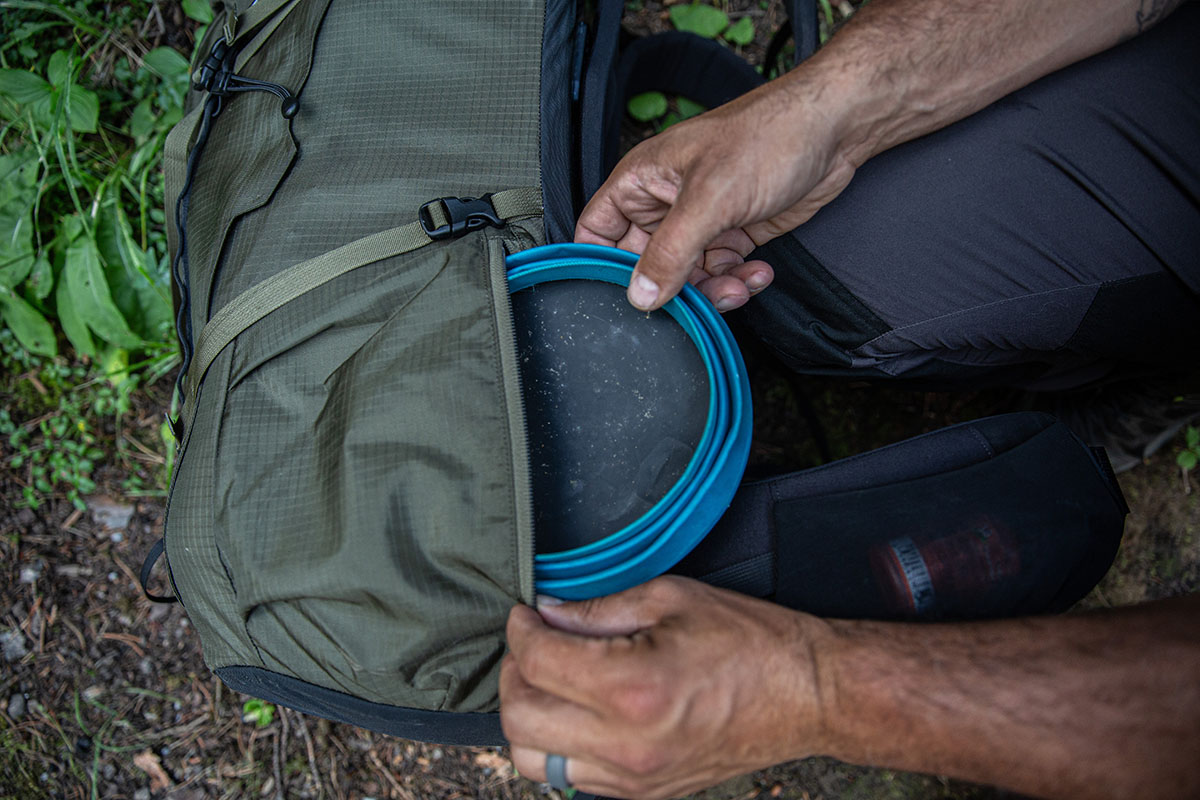 Other Features
In addition to the healthy storage layout and dual access to the main compartment, the Arc'teryx Bora 75 has a few other features worth calling out. First is the large collar, which can be extended to accommodate a full load and cinched down with two separate drawcords. There's also a strap overtop for snugging things down even further. Finally, Arc'teryx included dedicated attachment points for trekking poles or an ice axe, side compression straps, and daisy chain webbing along the sides of the kangaroo pocket and at the front of the collar for securing extra gear to the outside of the pack.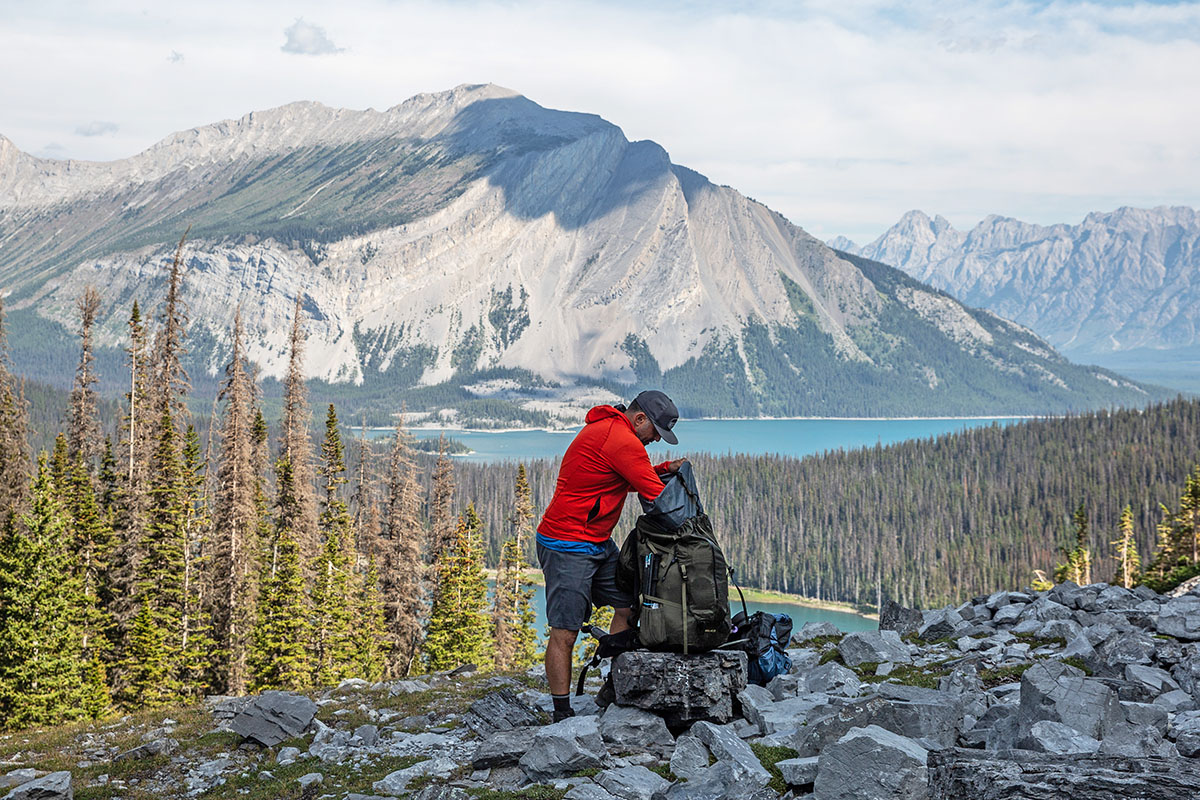 Ventilation
I admittedly run very warm and am used to sweating during exertion, but I was pleasantly surprised by the Bora 75's breathable and airy feel. While many premium competitors like Osprey's Aether 65 boast hanging mesh designs, the Bora's solid backpanel allows ample room for air to flow between the frame and my back, and I managed to stay dry and comfortable during an unseasonably warm and dry summer. Even on alpine adventures with minimal shade through the Canadian Rockies, the pack ventilated well enough to keep my back cool and prevent any moisture from making its way to my gear. It's worth noting that there's no mesh along the hipbelt or shoulder straps—like what you get with Gregory's Baltoro 75 and many of Osprey's designs—but I didn't notice any major drop in breathability in these areas (plus, the backpanel is far more susceptible to growing soaked).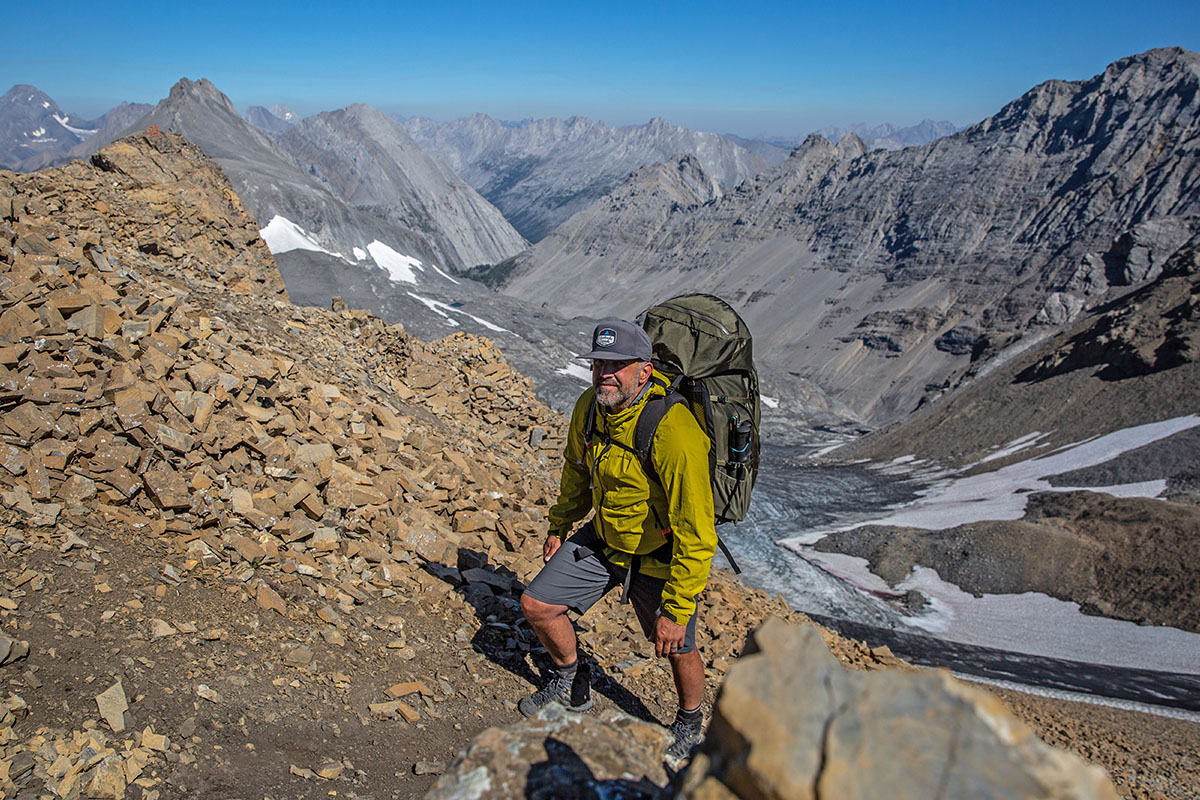 Weather Protection
Protection has always been a highlight of the Bora pack, and the latest Bora 75 follows suit with a tough and weather-ready build. The thick Cordura body is treated with a quality durable water repellent (DWR) coating that effectively fends off light precipitation, and the WaterTight zippers minimize the chance of moisture seeping in through the external pockets or side entry. As I mentioned above, the Weather Vault compartment is also lined with a waterproof membrane to protect items stored under the lid. Finally, the bottom of the pack is reinforced for added assurance—I've laid it down on boggy grass and snow in the alpine with no issues to date. It's worth noting that the Bora doesn't come with a rain cover, but even without one, it's been a reliable companion on several rainy days in Glacier National Park and along the coast of British Columbia. If the forecast calls for truly inclement and sustained rainfall, however, it's still safest to add a rain cover (Arc'teryx sells one for $35) or waterproof your gear.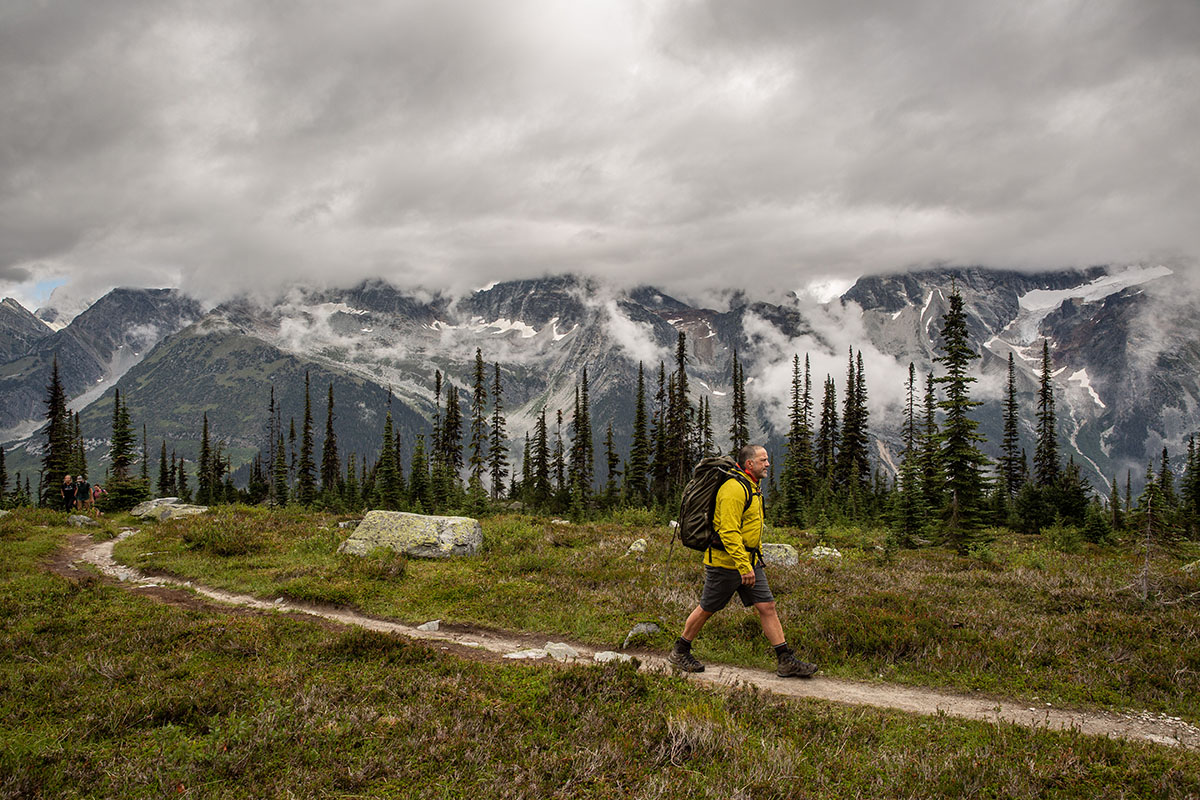 Build Quality and Durability
We've come to expect a very high level of quality from Arc'teryx gear, and the Bora 75 didn't disappoint. The pack is made with thick, 210-denier (D) Cordura ripstop nylon that's impressively tear- and abrasion-resistant and has held up well to considerable abuse. There are no punctures or noticeable wear despite my haphazard treatment—including stuffing the pack to the gills, throwing it in my van, and dropping it on rough and rocky ground during breaks and at camp. All of the smaller components are in good shape, too: The zippers continue to operate smoothly, and the straps and buckles are all intact and functioning flawlessly. My only complaint—and it's a small one—is that the Velcro along the back of the shoulder straps can get caught on my shirt when donning the pack, but again, it's relatively quick and easy to fix. This issue aside, the Bora strikes me as incredibly hardwearing and one of the most well-made backpacking packs on the market.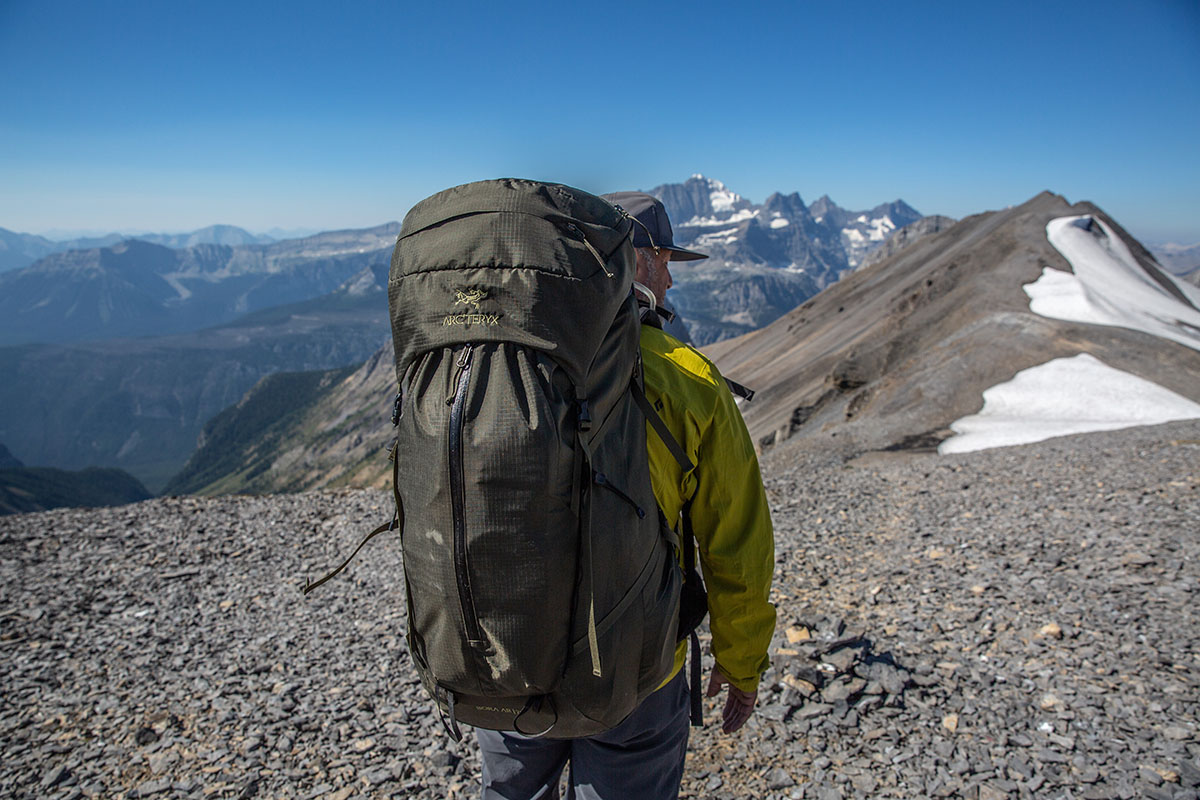 Fit and Sizing
The Arc'teryx Bora 75 is available in two sizes—"regular" and "tall"—and the regular version worked well for me with ample adjustability for dialing in fit. As I mentioned previously, the torso length is easy to tweak via Arc'teryx's GridLock system, which allows you to move the shoulder straps independently both side to side and up or down. For reference, the adjustability range for the regular size is 18.5 to 20.25 inches, while the tall can accommodate torso lengths from 19.75 to 21.75 inches. Combined with the adjustable RotoGlide hipbelt, the Bora made it easy to find a sweet spot to eliminate chafing and evenly distribute a full load with minimal adjustments required after my first use.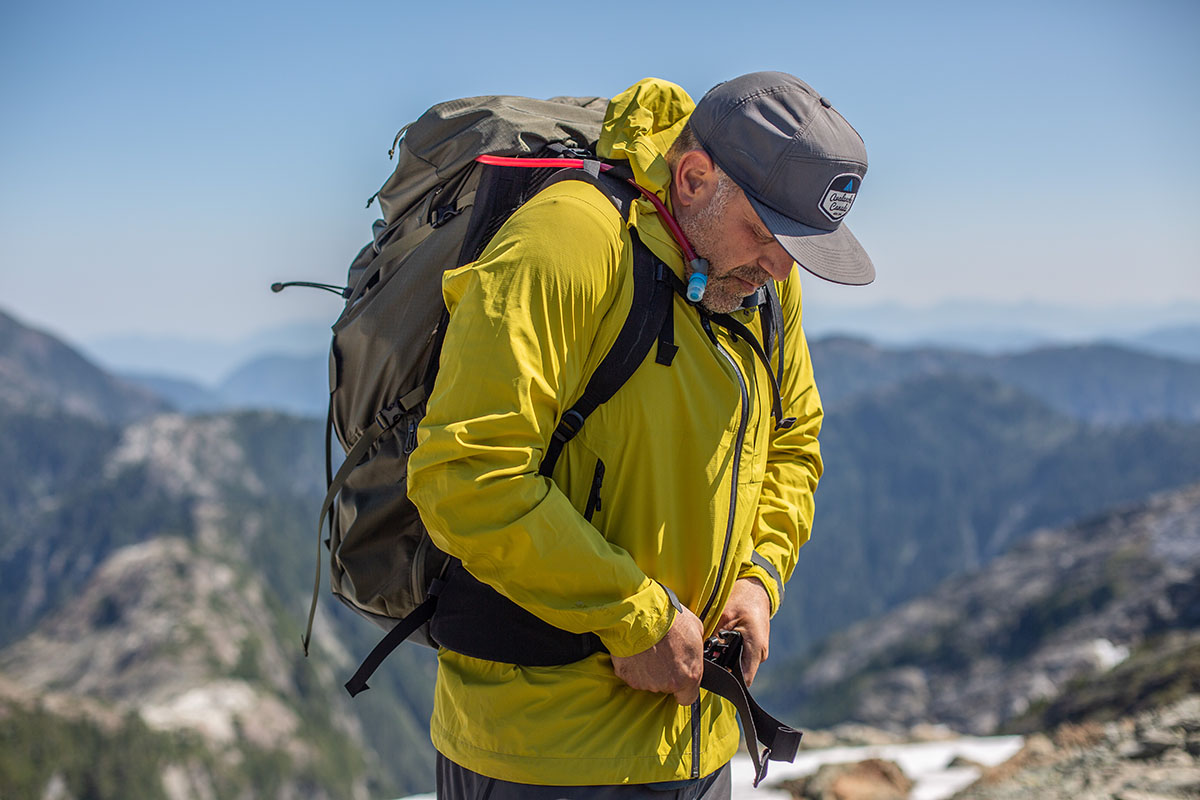 One minor downside to the aforementioned GridLock system is that the Velcro that secures the lower portion of the shoulder straps to the backpanel tends to catch on my shirt when donning the pack. This causes the strap to fold up and over, creating bunching along my back. It's an easy fix to readjust the straps and eliminate the bulge, but a buckle-based system would likely work better here. A final gripe is that the sternum strap rides a little high on my chest, even on its lowest setting. It didn't cause any fit- or comfort-related issues on the trail, but I wish it could be lowered another inch or two.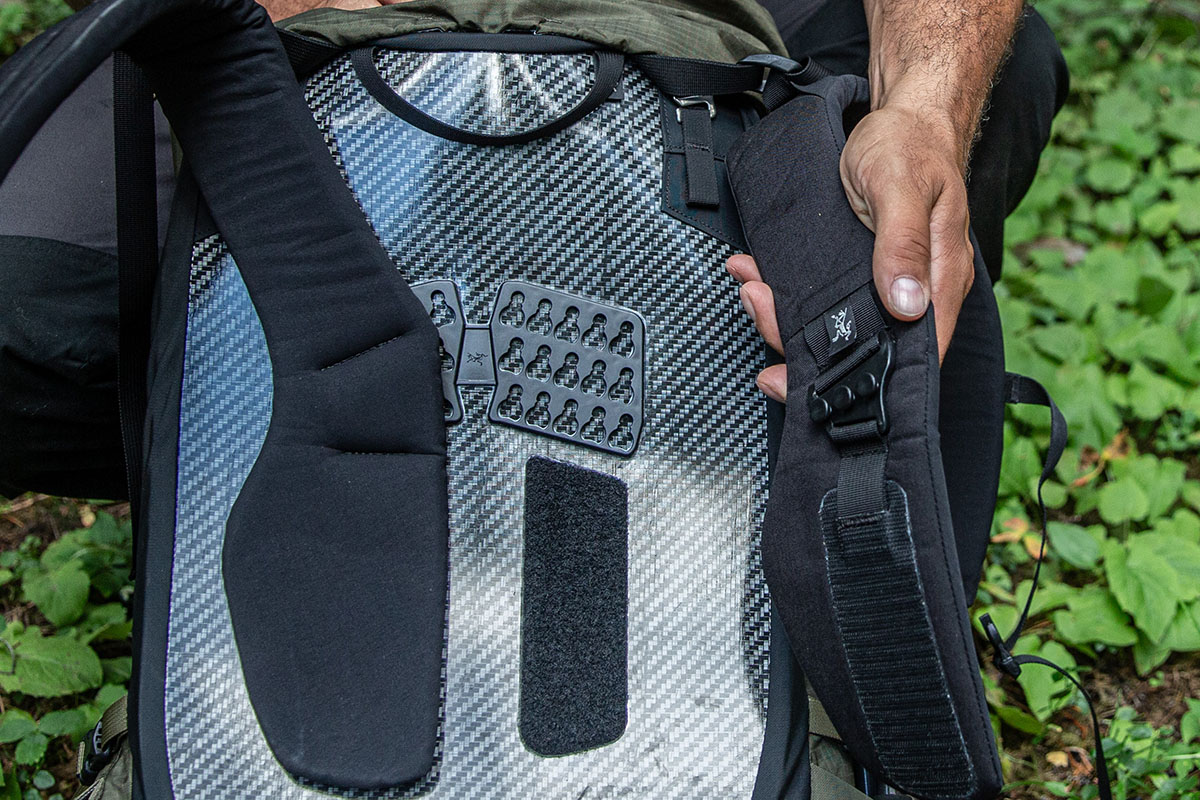 Sustainability
Like many outdoor brands, Arc'teryx has started incorporating more eco-friendly materials and practices into their lineup in recent years. In this case, the latest Bora 75 Pack uses bluesign-approved fabrics that have been deemed safe for the environment, workers, and consumers. The DWR coating is also free from fluorocarbons—long-lasting chemicals that are known to be harmful for human health and the environment. We hope to see Arc'teryx use more recycled fabrics moving forward to stay competitive with the rest of the market, but we nevertheless appreciate the strides they're making in the sustainability realm.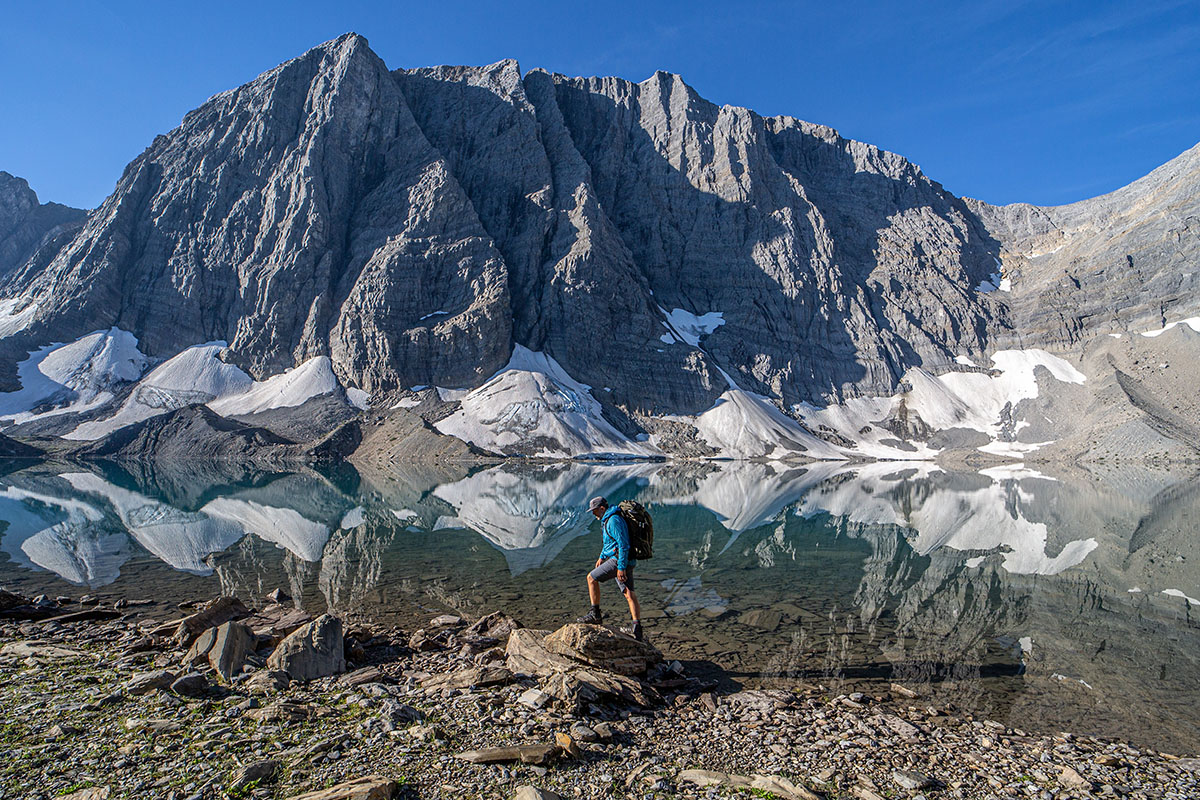 Other Versions of the Arc'teryx Bora
I put the 75-liter Bora through its paces for this review, and Arc'teryx also offers the pack in a smaller 65-liter option. As expected, the Bora 65 Pack is lighter at 4 pounds 4 ounces and cheaper at $320 but retains the same features as its larger sibling. On the women's side, the Bora is offered in 60- and 70-liter versions that come in different colorways and weigh less than the men's models (the comparable Bora 70 is 4 lbs. 5 oz.) but are otherwise identical in terms of construction and features.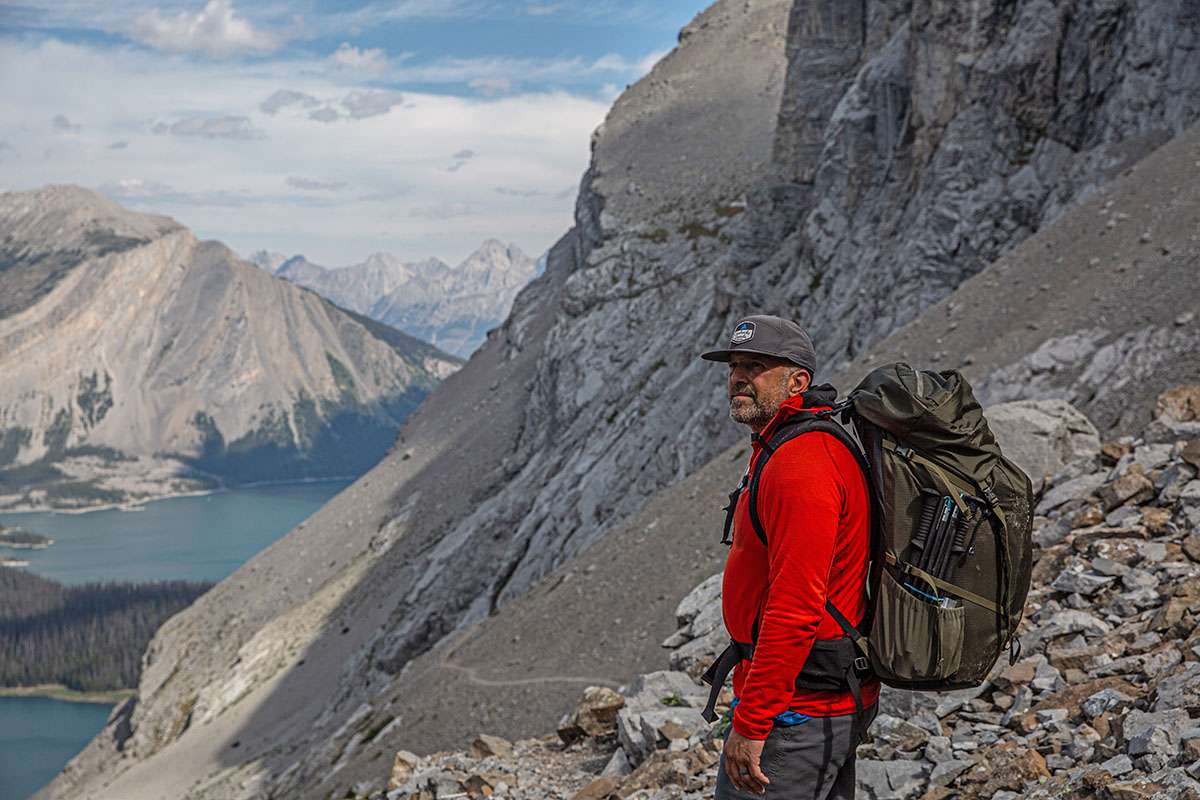 What We Like
Tough build and waterproofing in areas prone to moisture make this one of the most hardwearing and alpine-ready backpacking packs on the market.
Excellent carrying comfort for long and gear-intensive missions.
Shoulder straps are adjustable both length- and width-wise, which allows for easy and effective customization.
Full and well-executed feature set, including dual access to the main compartment and plenty of pockets for stowing the essentials.
Backpanel sits far enough away from the back to allow ample airflow on hot-weather hikes.

What We Don't
On the heavy and expensive end of the spectrum at 4 pounds 8 ounces and $360.
RotoGlide hipbelt required adjusting on steep slopes to avoid throwing me off balance, and I could feel the plastic against my hips when carrying a full load.
No internal hydration sleeve or rain cover.
Velcro at the back of the shoulder straps tends to catch on my shirt when donning the pack, causing the fabric to bunch up along my back.
Hipbelt pockets lack zippers for securely storing valuables.
Only offered in a single (and relatively bland) colorway.


Comparison Table

The Competition
Arc'teryx's Bora 75 is a comfortable and well-built backpacking pack for long, gear-intensive missions, but our favorite heavy hauler this year is Gregory's Baltoro 75. The Baltoro is heavier than the Bora at just under 5 pounds but checks all the boxes we look for in this category, including strong suspension, firm but supportive padding, and good breathability. Organization is great, too: You get nine exterior pockets, U-shaped front access that provides easier visibility into the main compartment than the Bora's size zipper, and massive zippered hipbelt pockets that easily swallow a large smartphone and are more secure than the Bora's non-zippered mesh pockets. The latest model also boasts a highly customizable hipbelt and pivoting shoulder straps, promoting a body-hugging fit with easy adjustability. All told, both packs shoulder heavy loads incredibly well, but the Baltoro offers similar all-around performance and improved organization at $10 less than the Bora, giving it the edge for us.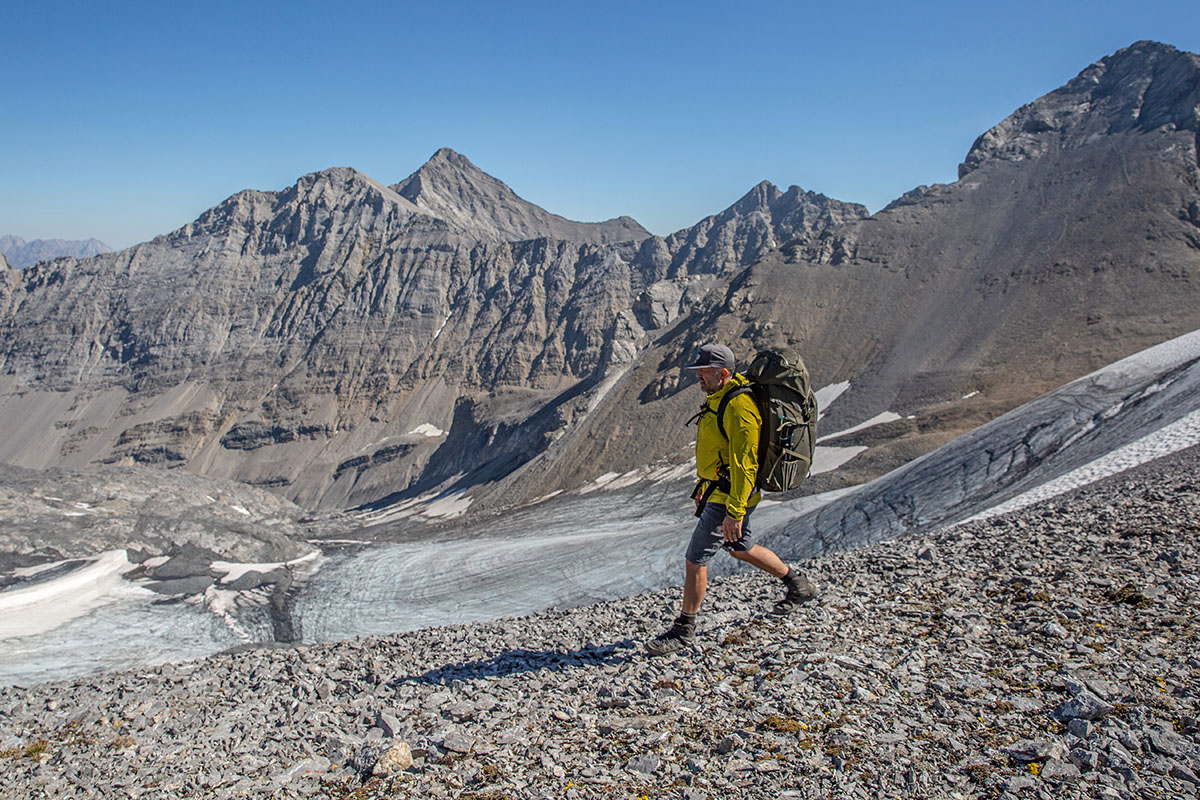 Next up is Osprey's Aether 65, which is one of the most comfortable packs on the market for shuttling large loads over long distances. Like the Bora, the Aether is highly durable with a mix of 210D and 420D nylon, and the Fit-on-the-Fly system makes it easy to adjust the padding on the shoulder straps and hipbelt to customize fit and minimize unwanted movement. You also get a J-shaped zipper along the front for accessing the main compartment, ample compression straps and attachment points for strapping gear to the outside, and additions like zippered hipbelt storage, an internal hydration sleeve, and an included rain cover (all three of which the Bora lacks). However, the Aether is heavier at 4 pounds 15.4 ounces and only sold in capacities up to 65 liters, which could be limiting for those headed out on longer and more gear-intensive trips (Osprey does sell larger "Plus" and "Pro" variations). But if the capacity works for you, we consider the Aether 65 the more complete and well-executed design at a considerable $45 less than the Bora.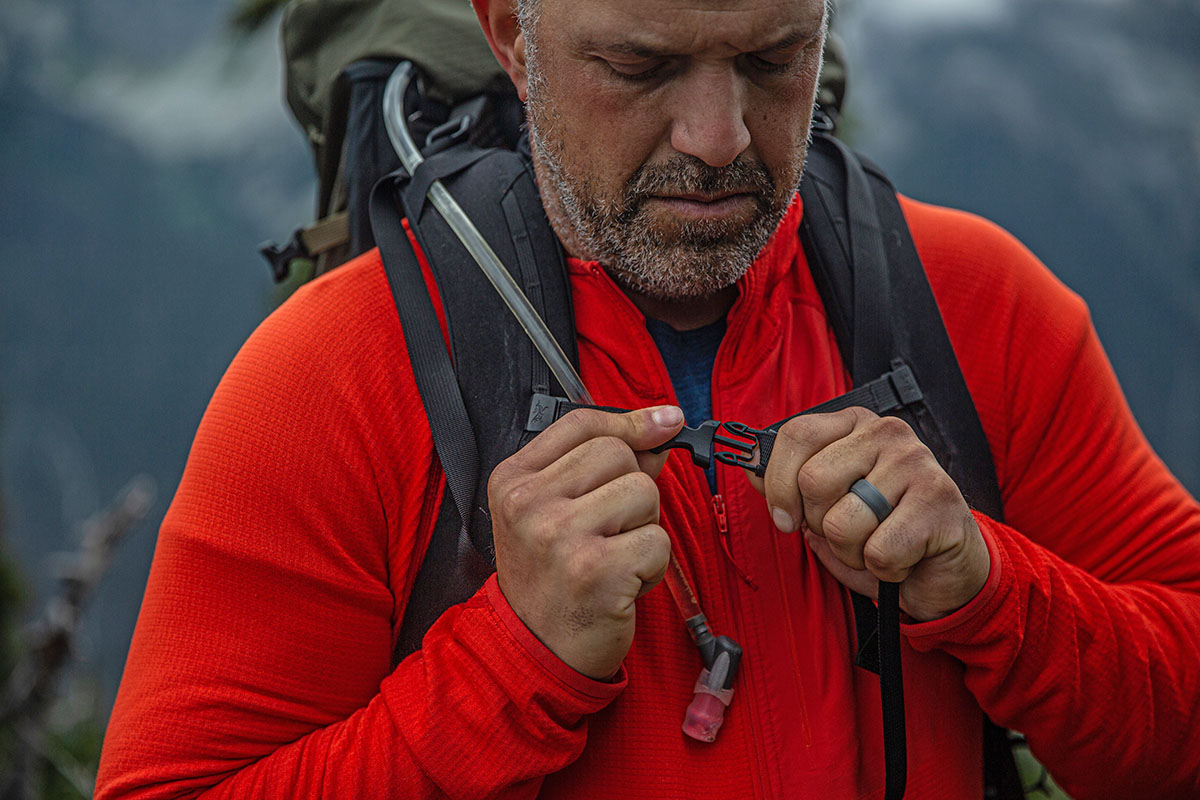 Another capable heavy hauler to have on your radar is Mystery Ranch's 71-liter Glacier. For $15 more than the Bora 75, the Glacier is purpose-built to handle rough, expedition-level use and comes loaded with creative design touches. In particular, the floating lid is one of our favorites with its two massive pockets and easy conversion into a functional hip pack for daily use. Build quality is also top-notch, including a robust 500D Cordura build (the Arc'teryx is noticeably thinner at 210D) and premium materials and components throughout. On the flip side, the Arc'teryx wins out in weight by nearly 2 pounds, is far more customizable, breathes better with more separation between the backpanel and your back, and has a more functional storage layout (the Glacier lacks hipbelt pockets and a front shove-it pocket). Given these advantages, we consider the Bora 75 to be the more well-rounded option for most.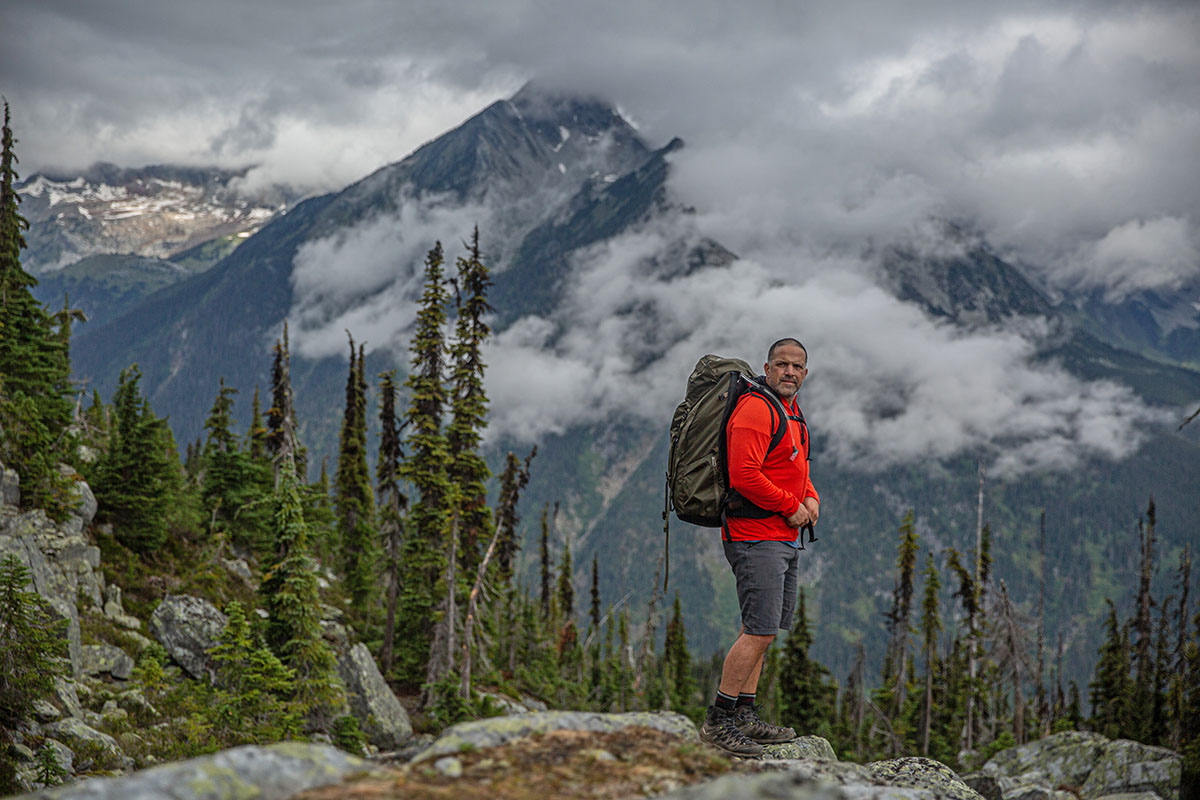 Last but not least is Hyperlite Mountain Gear's 70-liter Southwest 4400, which has been my go-to pack for the past year. Right off the bat, we'll point out that the two designs have very different intentions: While the Bora 75 is unapologetically heavy and feature-rich, the Hyperlite is noticeably streamlined and more minimalist for fast-and-light objectives. The Southwest's Dyneema construction offers incredible strength and water resistance at a very low weight while maintaining enough comfort to handle heavy loads with relative ease (it's rated for up to 60 lbs.). Combined with a fairly barebones feature set—including just a few exterior pockets for organization and internal hydration sleeve—the Southwest manages to check in at just 2 pounds 7.2 ounces (over 2 lbs. lighter than the Arc'teryx). The Hyperlite's Dyneema build isn't particularly breathable—the Bora wins out for hot-weather hiking—but it's a fairly uncompromised alternative for long, weight-conscious missions.
If you're thinking about buying gear that we've reviewed on Switchback Travel, you can help support us in the process. Just click on any of the seller links above, and if you make a purchase, we receive a small percentage of the transaction. The cost of the product is the same to you but this helps us continue to test and write about outdoor gear. Thanks and we appreciate your support!
Depending on the seller, most products ship free in the United States on orders of $50 or more. International shipping availability and rates vary by seller. The pricing information on this page is updated hourly but we are not responsible for inaccuracies.
Read More From Switchback Travel