Osprey Aether 65
Price: $280
Weight: 4 lbs. 14.7 oz. (size S/M)
Fabric: Nylon (210D & 420D)
Capacities: 55, 65L
What we like: Very comfortable with a full load, premium build, and durable.
What we don't: Light on exterior storage and pretty hefty at nearly 5 pounds. 
See the Osprey Aether 65  See the Women's Osprey Ariel 65
Osprey has a reputation for building comfortable packs, and the Aether line is one of their best. The brand retooled the collection towards the end of last year, splitting their core offerings in two: a standard model and feature-rich and pricier Plus variation. We took the standard 65-liter Aether along on a spring backpacking trip into Washington's Hoh Rainforest and came away pleased by its performance, including a strong suspension system, excellent carrying abilities, and highly durable build. It's far from a featherweight at nearly 5 pounds, but the latest Aether should be a top choice for comfort-seekers and those who need the heavy-hauling credentials. Below we break down our experiences with the Aether 65. To see how it stacks up to the competition, see our article on the best backpacking packs.
 
---
Table of Contents
---

Performance
Carrying Comfort
Over the years, Osprey's Aether pack has garnered a strong pedigree as a highly capable heavy hauler, and the latest model carries the torch. On our backpacking trip in Olympic National Park, I loaded the 65-liter model down with around 40 pounds (including cold-weather equipment and extra gear-testing items), which was a great way to test the pack's carrying abilities. And it excelled in nearly all facets: the sturdy frame easily accommodated and distributed the weight, the firm yet very supportive padding on the hipbelt and shoulder straps provided all-day comfort, and the easily adjustable design kept the pack close to my back while navigating tricky early-season conditions and blowdowns.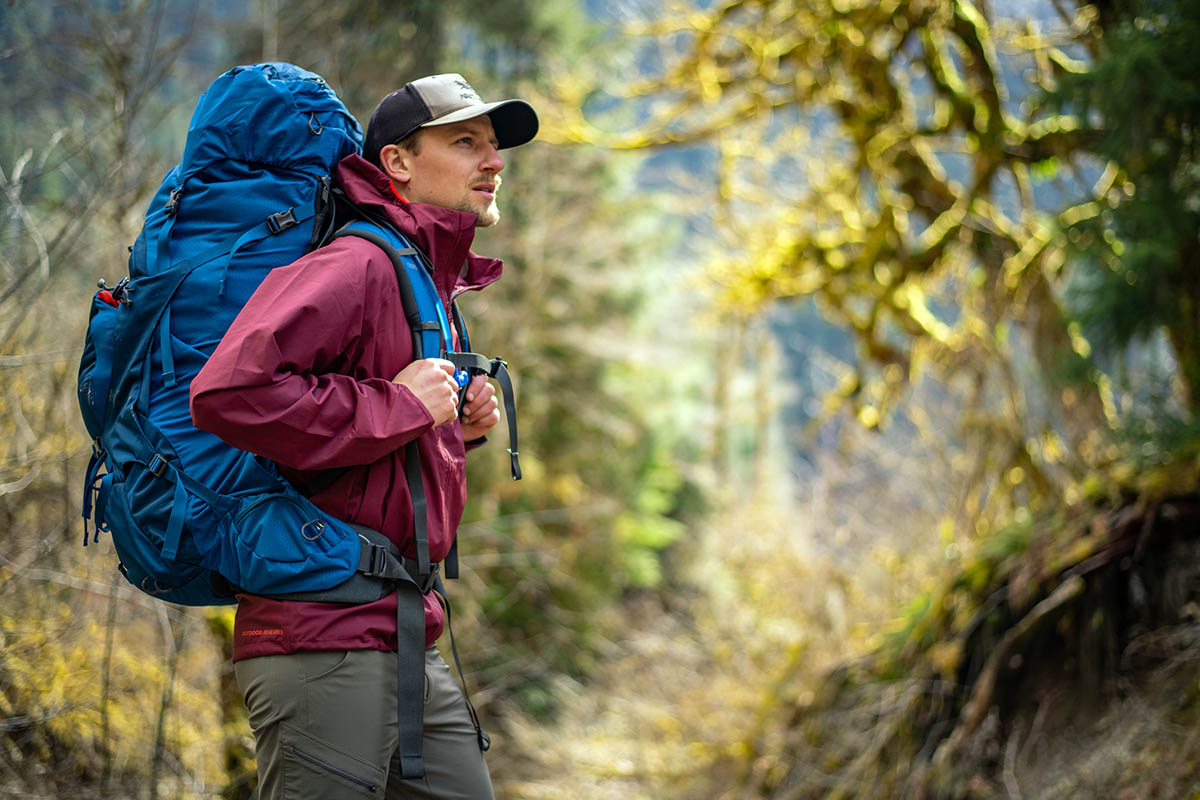 As I mentioned, a key piece of the pack's comfort is the upgraded and highly customizable fit system, dubbed "Fit-on-the-Fly." How it works: the hipbelt and shoulder straps utilize a rip-and-stick Velcro design that allows you to move the padding to where it's most supportive and comfortable (Osprey has helpful videos to guide you through the process). Combined with well-placed lumbar cushioning and an airy mesh backpanel, the Aether fit snugly against my body and moved extremely well with minimal bounce or extra movement. You certainly pay a weight penalty at nearly 5 pounds—and we've found Osprey's lighter Atmos AG 65 to be comfortable right up to the 40-pound mark—but if you need a true heavy hauler for 4-season use or long and gear-intensive expeditions, the Aether's beefed-up construction and effective weight distribution will be worth it (for reference, it's rated to 60 lbs.).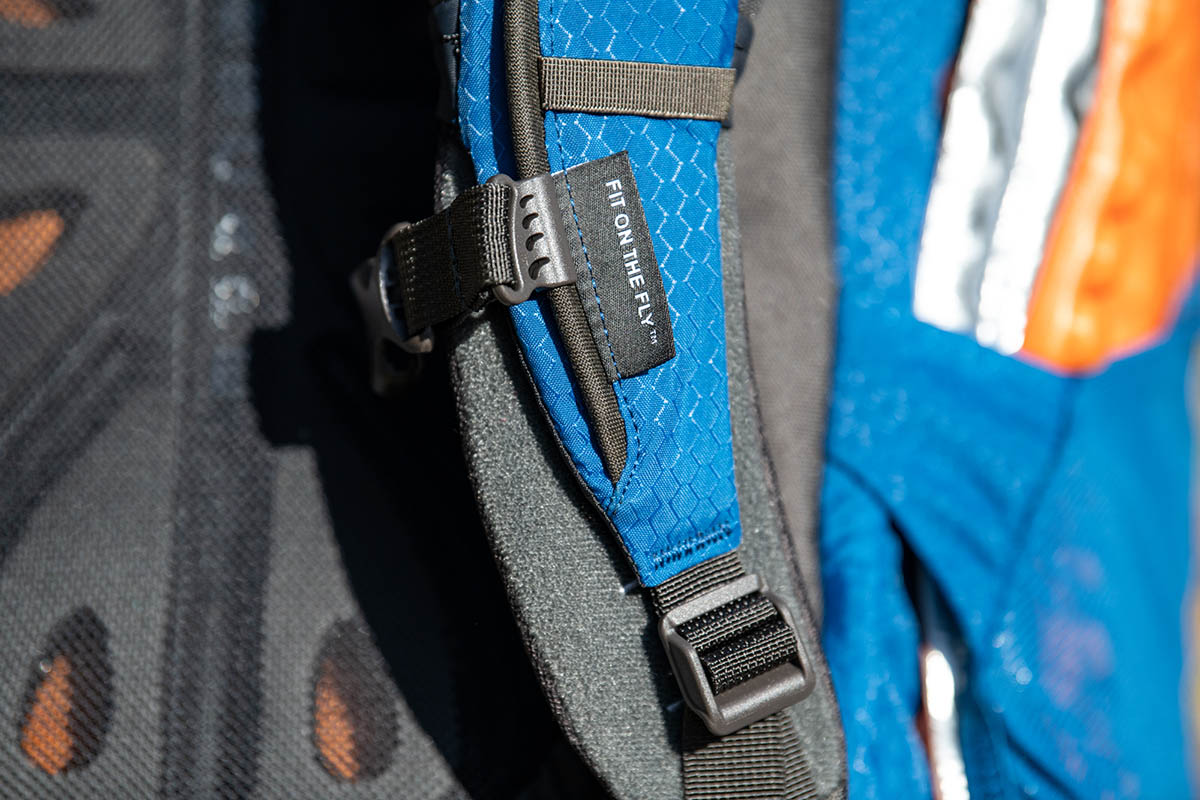 Weight
While slightly lighter than the previous-generation Aether AG 70, the 4-pound-14.7-ounce Aether 65 still clearly prioritizes durability and comfort over weight but nevertheless is competitive in the heavy hauler category. For comparison, Gregory's similarly capable Baltoro 65 weighs around the same at 4 pounds 13.4 ounces for the medium size, while the 75L version adds 10 additional liters while coming in less than an ounce heavier than the Aether. Arc'teryx's Bora AR 63 is another model intended for shuttling substantial loads, and that pack weighs just over 5 pounds, while the beefed-up 60 and 70L "Plus" versions of the Aether weigh over 5 and a half pounds each. And again, most backpackers can go much lighter with designs like Osprey's own Atmos 65 (4 lbs. 9 oz.) or Granite Gear's stripped-down but heavy-load-ready Blaze 60 (which weighs 3 lbs. and is rated to 50 lbs.). But for those looking for a luxurious and truly confidence-inspiring pack, the Aether's extra pound or more may be worth it.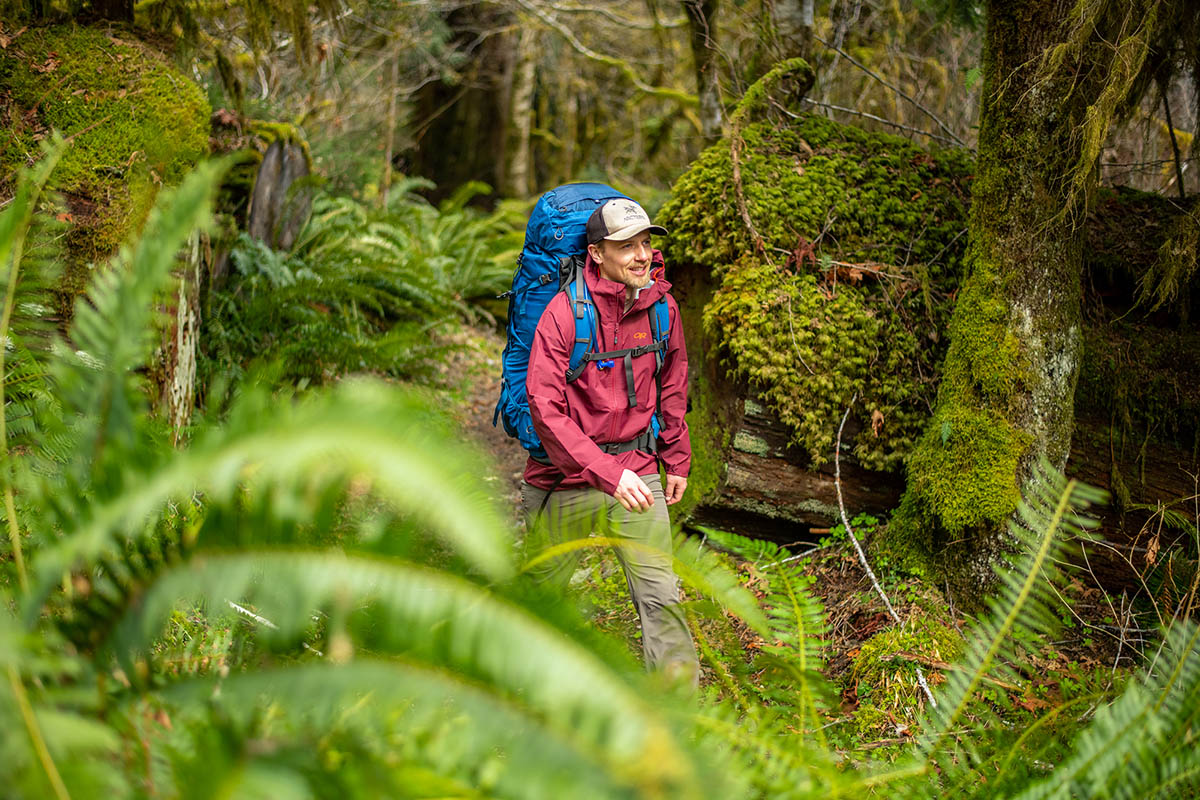 Organization
For a feature-rich and high-capacity pack, the Osprey Aether 65's organization is good but not great. Starting at the top, you get two zippered pockets along the lid, although one of them houses the rain cover, so you do lose a little capacity there. The front of the bag boasts a large "shove-it" pocket, which is made primarily of burly nylon for added resistance against tears and abrasion (most packs use less durable mesh instead) but includes strips of mesh along the sides for stretch and ventilation. Taken together, it's a very useful space for anything from jackets to a compact set of snowshoes. Additionally, the J-shaped zipper is extremely useful for accessing items in the main compartment, and the two hipbelt pockets are just big enough to stow a plus-sized iPhone. Finally, there's a handy zippered sleeping bag compartment at the bottom of the pack with a removable divider.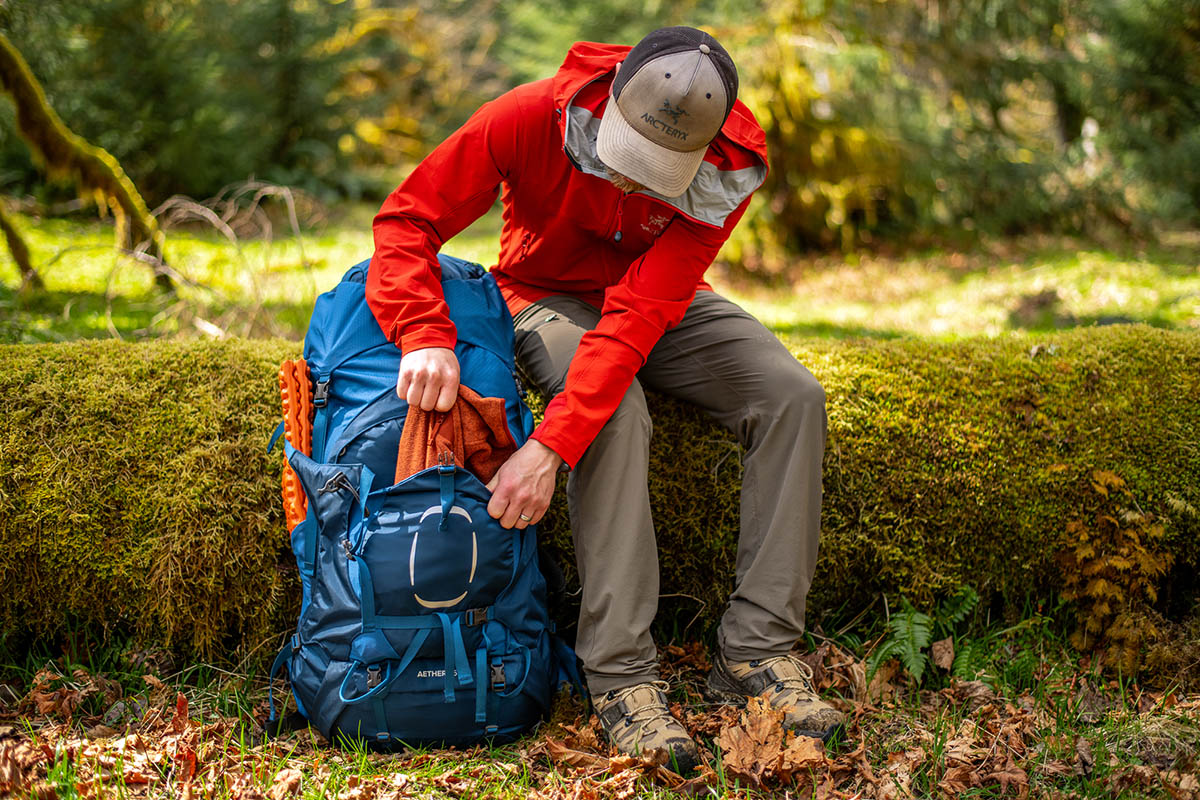 As expected, water storage on the Osprey Aether 65 is also solid: the two water bottle pockets feature both top and side access, which makes it easy to grab a bottle without taking off the pack. Further, the stretchy material can hold a Nalgene even when the interior of the pack is full (a problem we've run into with some other designs we've tested recently), and the pockets are tall enough and have sufficient compression strap options to stow larger items like tent poles (we also used one side to carry a sit pad). And on the interior, the Aether has the standard hanging loop, sleeve, and exit port for a hydration reservoir.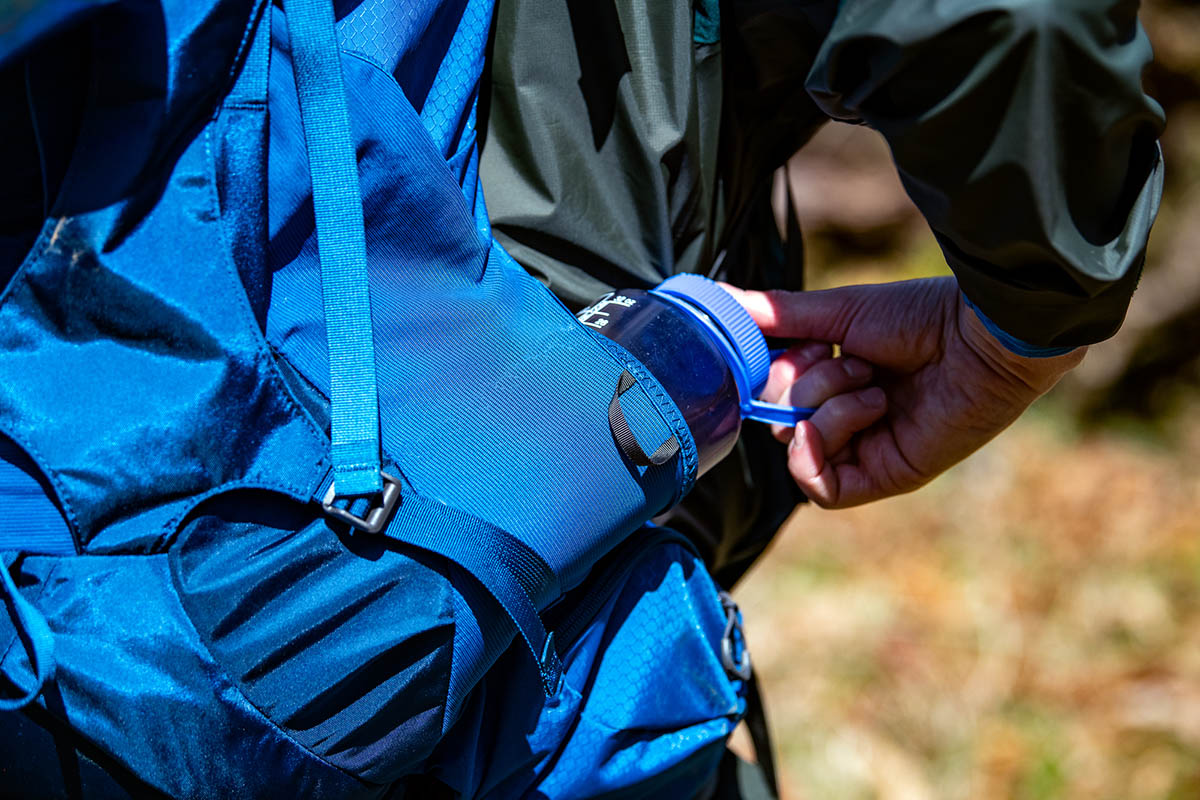 All that said, we do have a few nitpicks about storage. For starters, we'd ideally like an additional pocket or two along the front of the pack (like what you get with Gregory's Baltoro) for better gear distribution. We also found the hipbelt pockets to be set pretty far back along the sides, meaning that access required more work than we're used to. This is largely due to the Velcro waist adjustment system, so it won't impact everyone (it depends on fit), but it was a complaint shared among both of our testers. Finally, the latest pack lacks the past generation's Stow-on-the-Go trekking pole attachment system on the shoulder straps (the pricier Aether Plus retained this feature), although you do get two sets of loops and bungee cinches along the front for securing items like an ice axe or poles.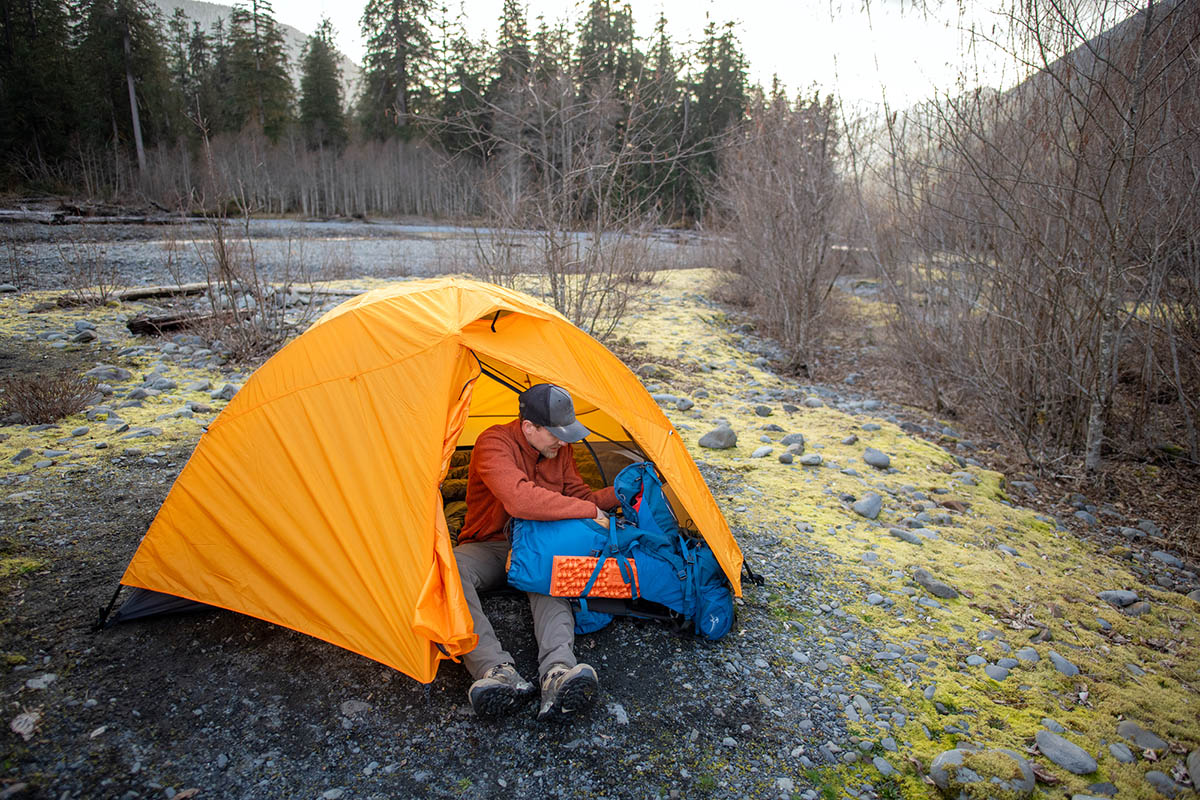 Ventilation
Breaking from the prior generation's AG (short for Anti-Gravity) backpanel, the latest Aether uses Osprey's AirScape design. In parsing out the differences, the AirScape features less suspended mesh against the middle of the back, which translates to less airflow between the pack and your body. Temperatures on our backpacking trip ranged from the mid 20s to mid 50s Fahrenheit, so we didn't get a complete look at ventilation, but it's clear that it's a step down from the old model and Osprey's own Atmos AG (which still features the Anti-Gravity design). On the bright side, breathability still is decent with fairly large cutouts in the foam along the back, and there's enough mesh to keep air moving. And considering the Aether's intended uses, we think the small downgrade in ventilation is far from a deal-breaker.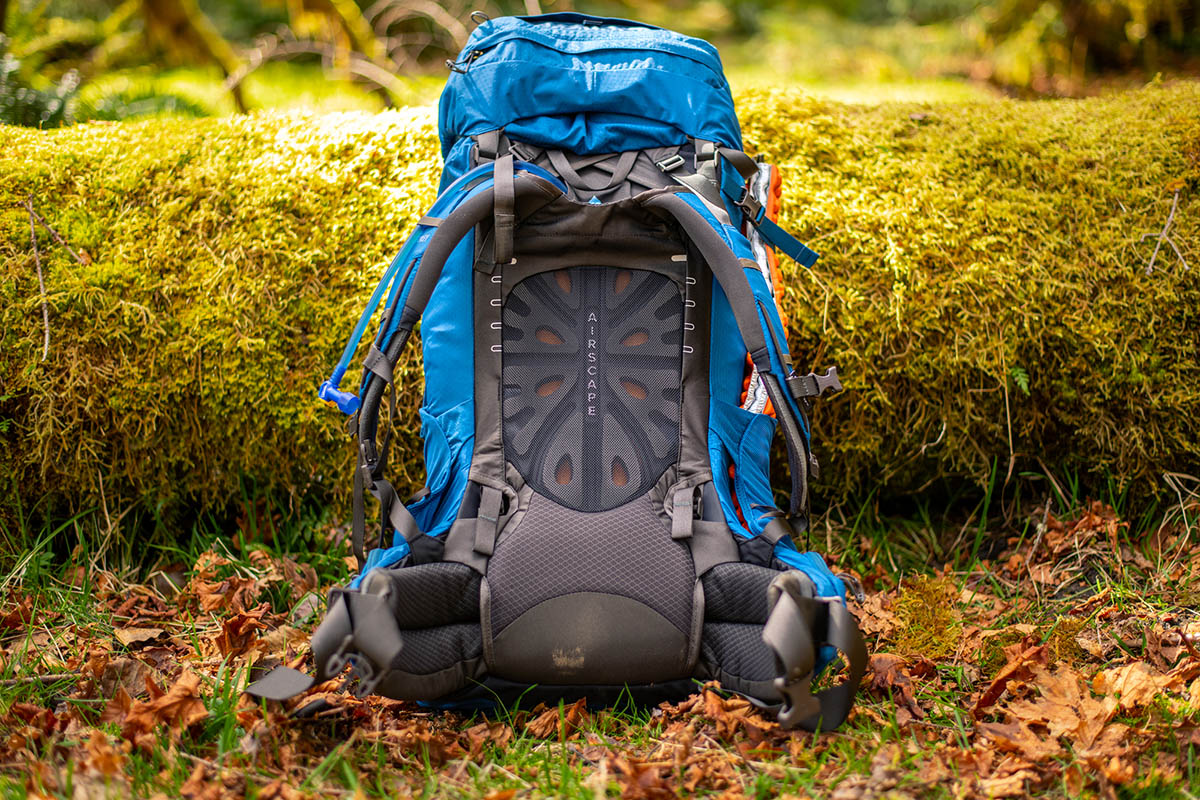 Weather Protection
We don't always include a dedicated section on weather protection in our backpacking pack reviews, but the Aether's well-executed design warrants a mention here. In particular, the combination of burly fabrics (more on these below), durable water repellent (DWR) coating, and included rain cover make it a very solid option for trips in inclement weather. Some packs take it a step further with waterproof paneling and fabrics—like Hyperlite Mountain Gear's Dyneema packs and Arc'teryx's Bora AR 63—but we still consider the Aether a fully serviceable 4-season design.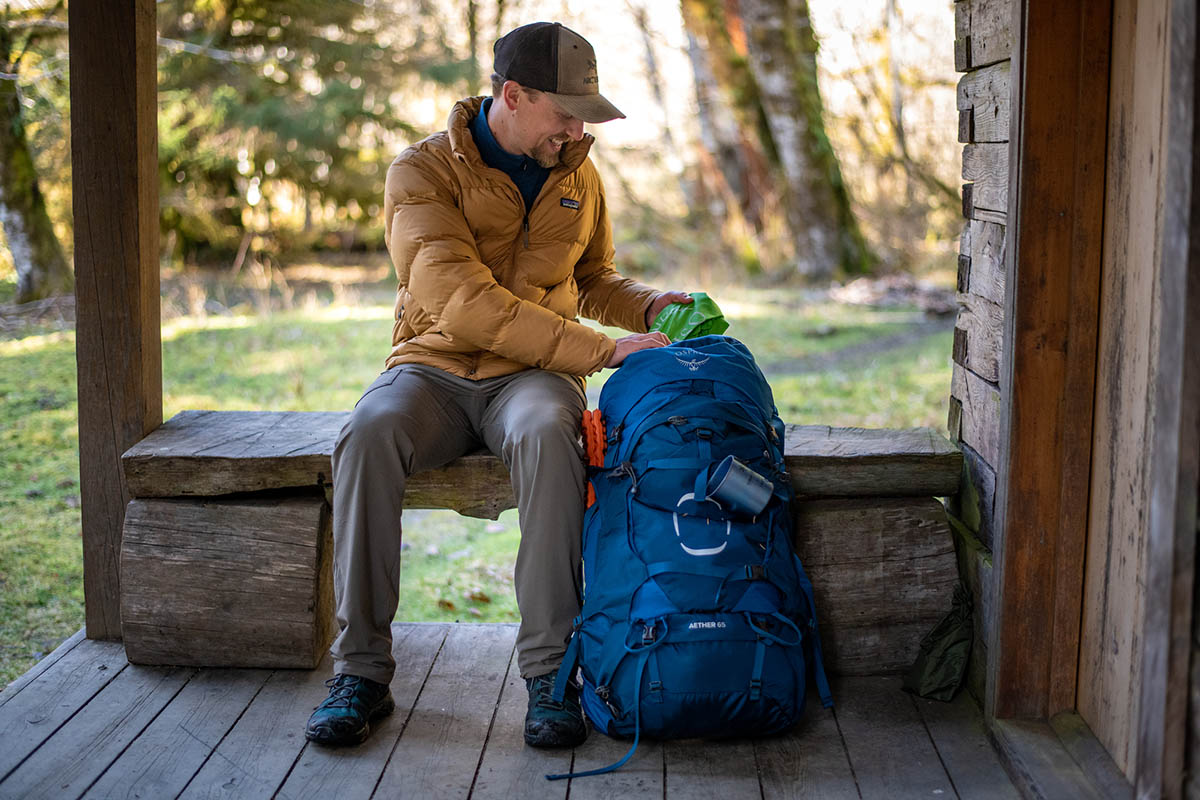 Build Quality and Durability
Unlike similar trips we've taken with lightweight backpacking packs, we gave little thought to treating the Aether roughly. In terms of materials, durable 420-denier (D) nylon is strategically placed along the front, top, and bottom of the pack to maximize tear and abrasion resistance, and a lighter (but still pretty robust) 210D is used elsewhere to help trim away a little weight. In practice, the Aether proved to be extremely tough and fully capable for our trip, which included a fair amount of scrambling and scraping against blown-down trees. As we touched on above, even the large front pocket uses the thick nylon rather than more standard mesh, which typically is a point of weakness on packs. Granted, we haven't spent enough time with the latest Aether to be totally confident in its long-term durability, but we see no potential areas of concern.

Fit and Sizing
Finding a pack with that perfect feel often requires trying on a bunch of models back-to-back, but we continue to be impressed with how well Osprey bags fit. The small/medium Aether 65 was a good match for both of our testers (one with an 18-in. torso and the other at 20 in.), and the adjustment system for the shoulder strap and hipbelt padding was well worth the effort required to fine-tune fit. In the end, despite only being offered in two sizes—many high-end designs are made in three or more—the customization options should make it easy for most backpackers to get a close, snug, and comfortable fit.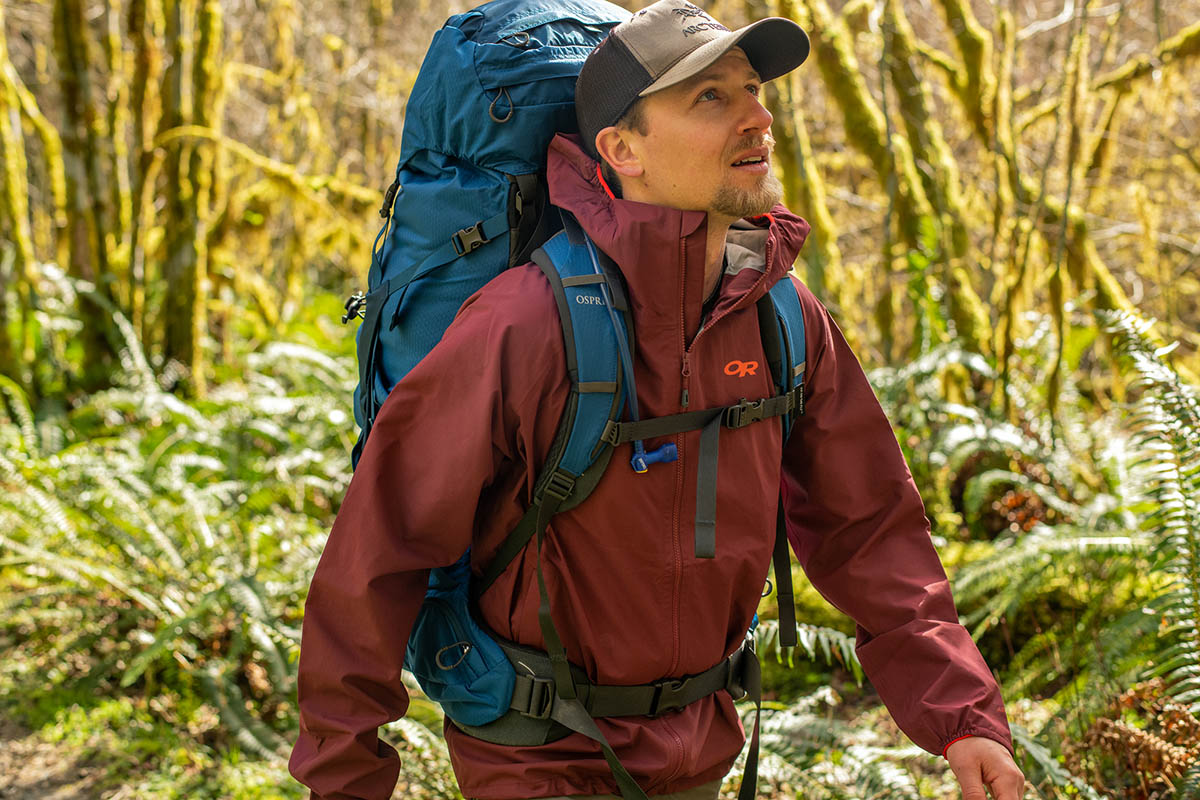 Sustainability
A final change that Osprey made with the latest Aether series was a switch to more sustainable materials, including a PFC-free DWR coating and bluesign-approved fabrics. The former means that Osprey eliminated perfluorocarbons—which are known to be harmful to the environment and take a long time to break down—in the pack's water-repellent treatment. And being bluesign-approved indicates that the materials used in the Aether's construction have been certified as safe for workers, consumers, and the environment. All in all, we appreciate Osprey's ongoing efforts to improve their line and consider these changes a positive step toward creating more eco-friendly products.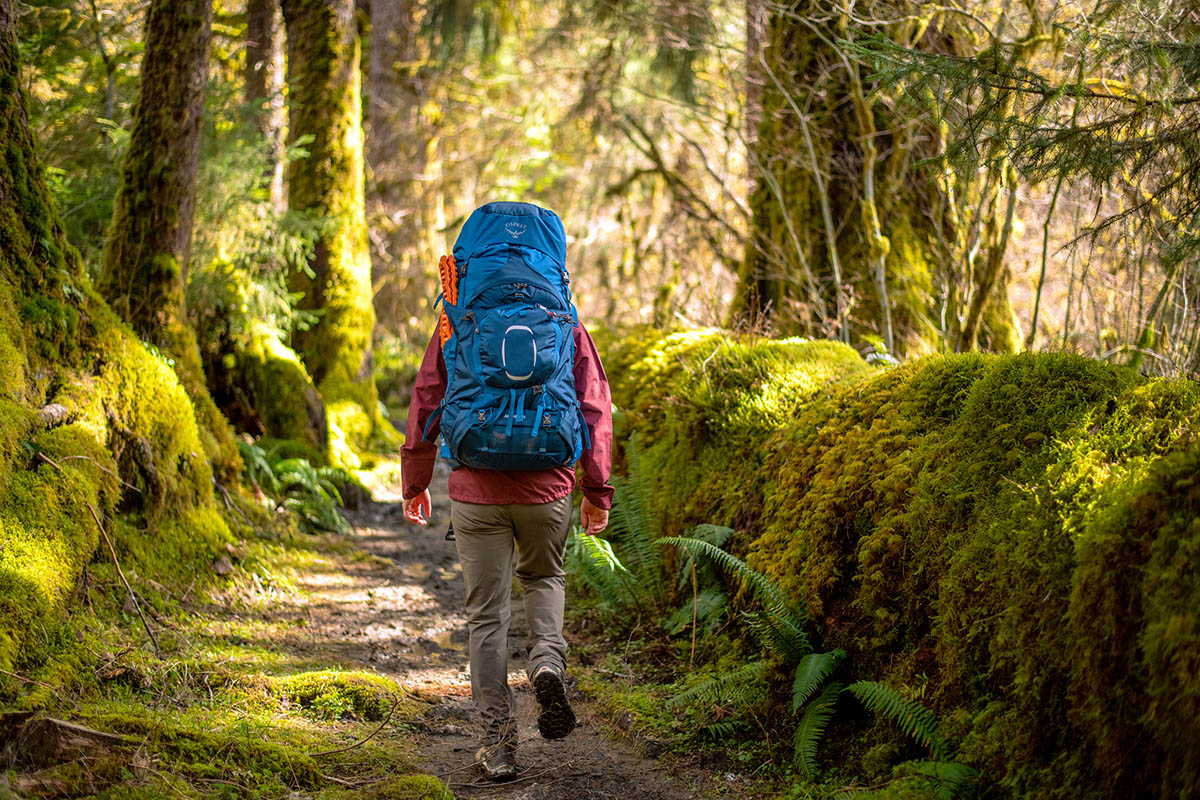 Other Versions of the Osprey Aether
We put the latest Aether 65 to the test for this review, and the collection also includes a smaller 55-liter model. Compared to the 65L pack, the Aether 55 costs and weighs less at $260 and 4 pounds 13.2 ounces respectively, but most features remain the same, including the Fit-on-the-Fly adjustment system, included rain cover, ice axe/trekking pole loops, and robust fabrics. Osprey also sells the pack in "Plus" models, which boast additional exterior storage, have convertible top lids that double as daypacks, and are offered in 60, 70, 85, and 100-liter capacities. Rounding out the collection is the Aether Pro 70, which is a streamlined variation with strippable features for uses like mountaineering and alpine climbing (the medium size weighs 3 lbs. 15 oz.).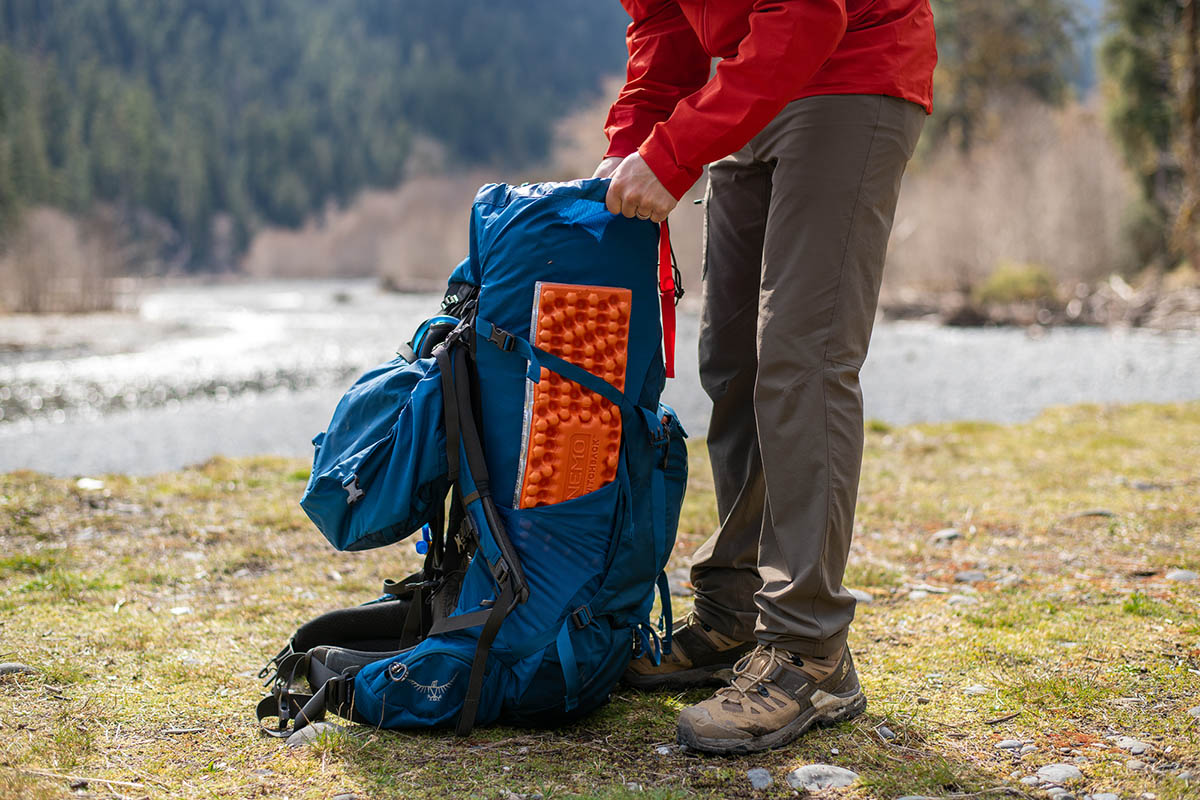 Women's-Specific Osprey Ariel
The Aether's women's-specific counterpart is the Ariel, and most of the collection mimics the men's models. Starting with the standard Ariel lineup, you get the choice between 55- and 65-liter capacities, with the major differences being available colorways, lighter weights, and unique sizing options to better accommodate smaller frames. For example, compared to the Aether 65 tested here, the women's Ariel 65 clocks in at 4 pounds 13.6 ounces and comes in XS/S or M/L sizes. And similar to the Aether lineup, the Ariel is also offered in beefed-up Plus variations (60, 70, and 85L), as well as a 65-liter Pro option for alpine or weight-conscious pursuits.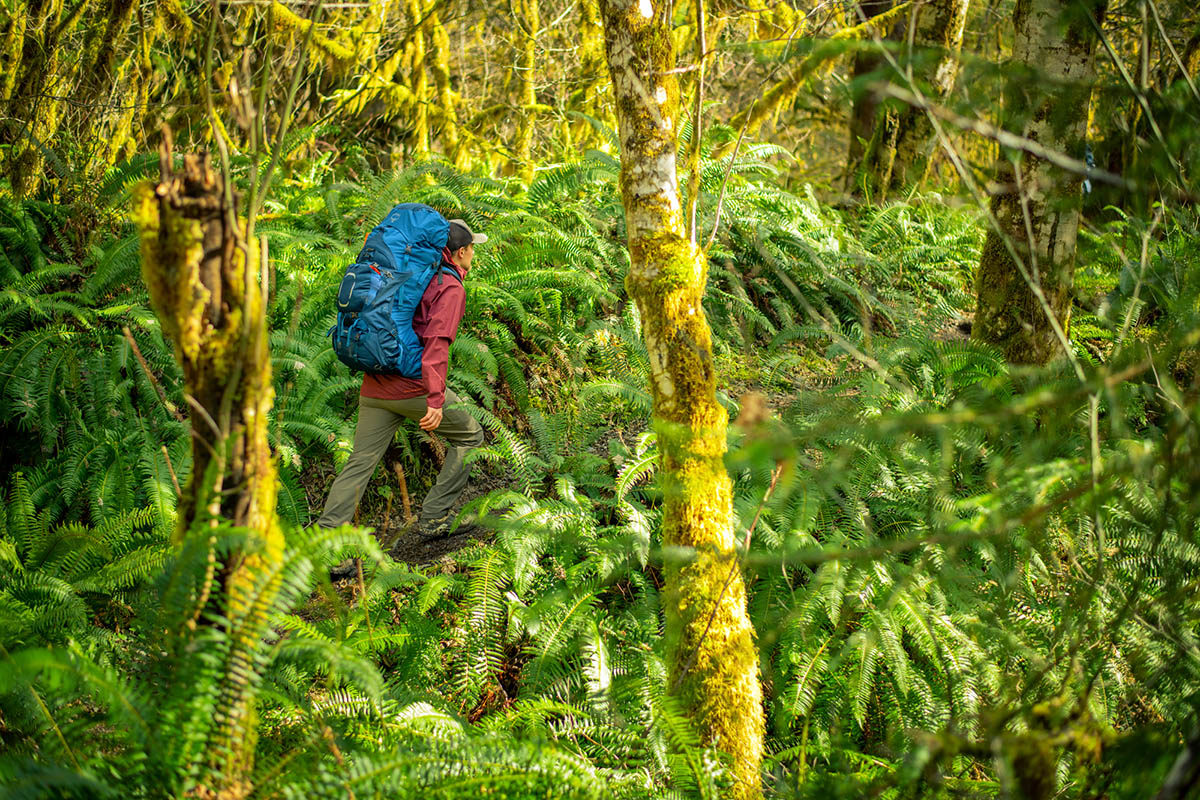 What We Like
The latest Aether is highly comfortable and extremely durable for carrying heavy loads over rough terrain.
Fit-on-the-Fly system for adjusting the padding on the shoulder straps and hipbelt is very effective at customizing fit. The result is a snug feel that minimizes movement even in technical terrain.
Premium build quality including robust fabrics, a tear-resistant nylon shove-it pocket (most designs use thin and more abrasion-prone mesh), and sustainable materials.
J-shaped zipper along the front is handy for accessing the pack's main compartment.

What We Don't
At nearly 5 pounds, the Aether is a heavy pack and more than many backpackers need.
Considering the feature-rich build and high price, we'd like to see more exterior storage options (you can step up to the pricier Aether Plus for a boost in organization).
AirScape backpanel is step down in ventilation from the past-generation's Anti-Gravity design, but it still offers decent breathability for most conditions.
Only sold in capacities up to 65 liters, which could be limiting for backpackers heading out on longer or more gear-intensive trips.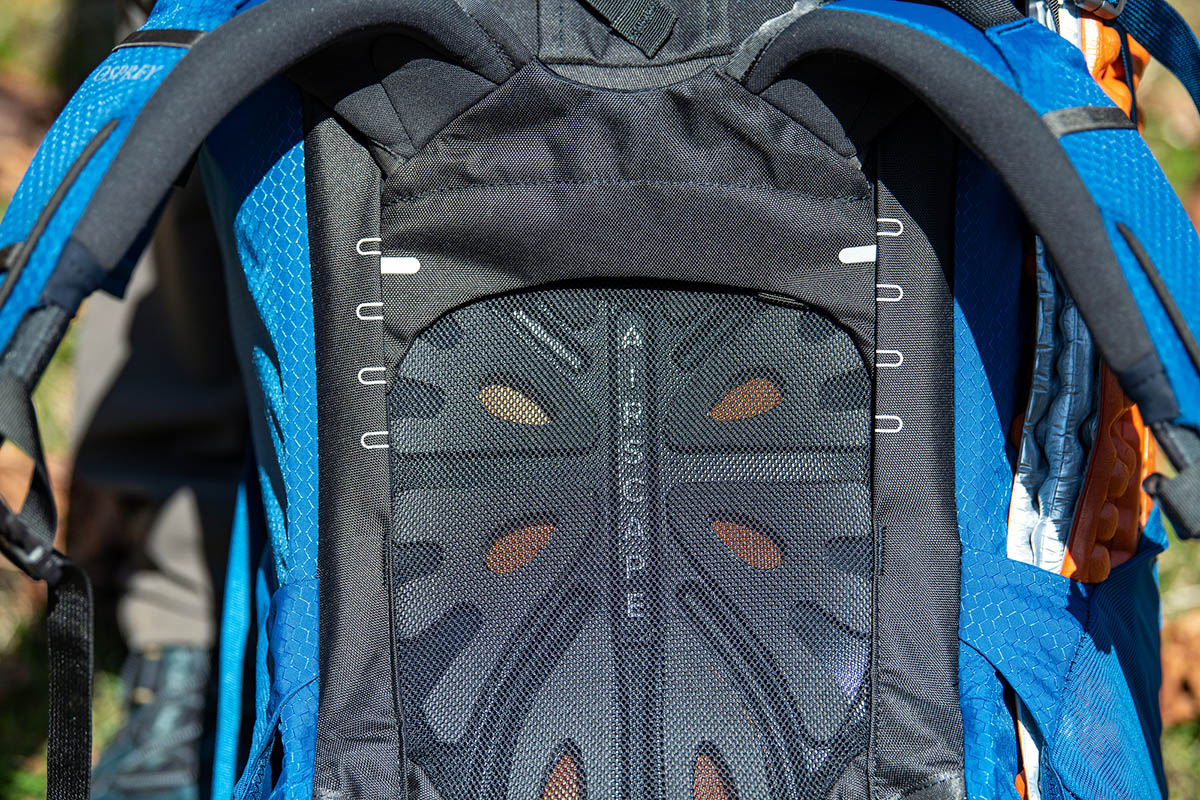 Comparison Table
| Pack | Price | Weight | Fabric | Capacities | Access | Pockets |
| --- | --- | --- | --- | --- | --- | --- |
| Osprey Aether 65 | $280 | 4 lb. 14.7 oz. | Nylon (210D & 420D) | 55, 65L | Top, front | 7 exterior |
| Gregory Baltoro 65 | $300 | 4 lb. 13.4 oz. | Nylon (210D) | 65, 75, 85L | Top, front | 9 exterior |
| Arc'teryx Bora AR 63 | $360 | 5 lb. 0.1 oz. | Nylon (420D & 630D) | 50, 63L | Top, side | 6 exterior |
| Osprey Aether Plus 70 | $360 | 5 lb. 9.7 oz. | Nylon (210D) | 60, 70, 85, 100L | Top, front | 9 exerior |
| Osprey Atmos AG 65 | $270 | 4 lb. 9 oz. | Nylon (100D x 630D) | 50, 65L | Top | 8 exterior |
| Granite Gear Blaze 60 | $270 | 3 lb. 0 oz. | Nylon (100D & 210D) | 60L | Top, front | 6 exterior |

The Competition
The constant push for lighter gear still leaves plenty of room for luxurious backpacking packs, and there's a reason that Osprey's Aether has remained popular for years. Its closest competitor in both price and intended use is the Gregory Baltoro 65. Both packs are heavy-hauling specialists with excellent padding and organization for carrying a lot of gear over long distances. In terms of differences, the Baltoro sports a pivoting hipbelt, has better exterior storage including two large zippered front pockets, and weighs a bit less than the Aether (the medium size checks in at 4 lbs. 13.4 oz.). And we appreciate that Gregory offers the Baltoro in higher-capacity options, including 75, 85, and 95-liter variations for longer or more gear-intensive expeditions. Downsides include a higher price (by $20) and less durable materials (especially the mesh front pocket), but we consider the Baltoro the slightly more well-rounded design in this category.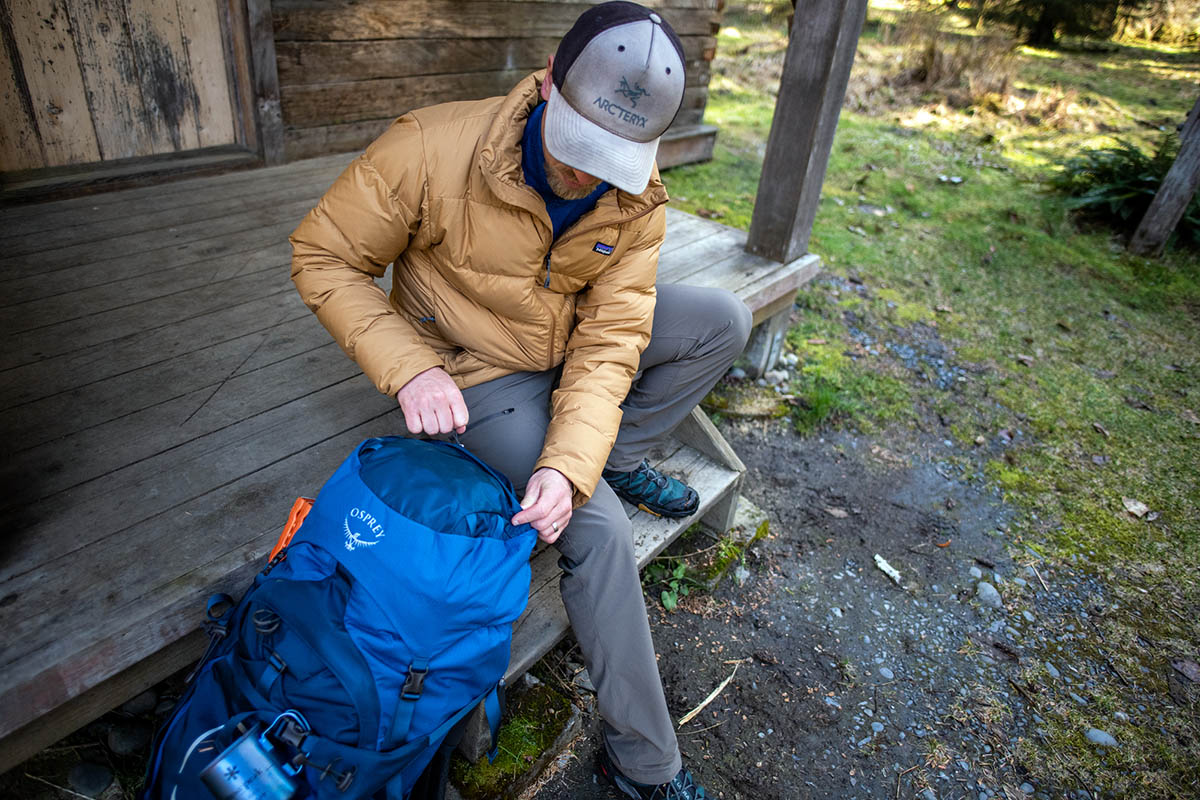 Arc'teryx's Bora AR 63 is a legendary pack and another close competitor to the Aether. In particular, we like the Bora's waterproof panels along the top, which provide excellent protection in bad weather. But the real innovation is the RotoGlide hipbelt design, which rotates as you hike and even slides up and down on a track to adjust as you lean forward while climbing. Unfortunately, we did have a few issues during testing—including the hipbelt locking in place and protruding from the pack enough to dig into our tester's lower back. As such, we consider the Aether the more competitive all-around design, and it doesn't hurt that it comes in at a considerable $80 less than the Bora.
As we mentioned above, Osprey's Aether lineup also includes the Aether Plus, which is offered in capacities ranging from 60 all the way up to 100 liters. Stacked up against the standard Aether 65, the Aether Plus 70 costs an additional $80 but addresses some of our complaints above, including additional storage along the exterior—we especially like the dual front panel zippered pockets—and the aforementioned higher-capacity options. You also get extras like a convertible top lid that doubles as a daypack and the brand's Stow-on-the-Go trekking pole attachments, although neither of those features strike us as particularly necessary. And these additions do come at a weight penalty (the Aether Plus 70 is 5 lbs. 9.7 oz.), but some will find the extra storage and space worth that tradeoff (for more, see our Aether Plus 70 review).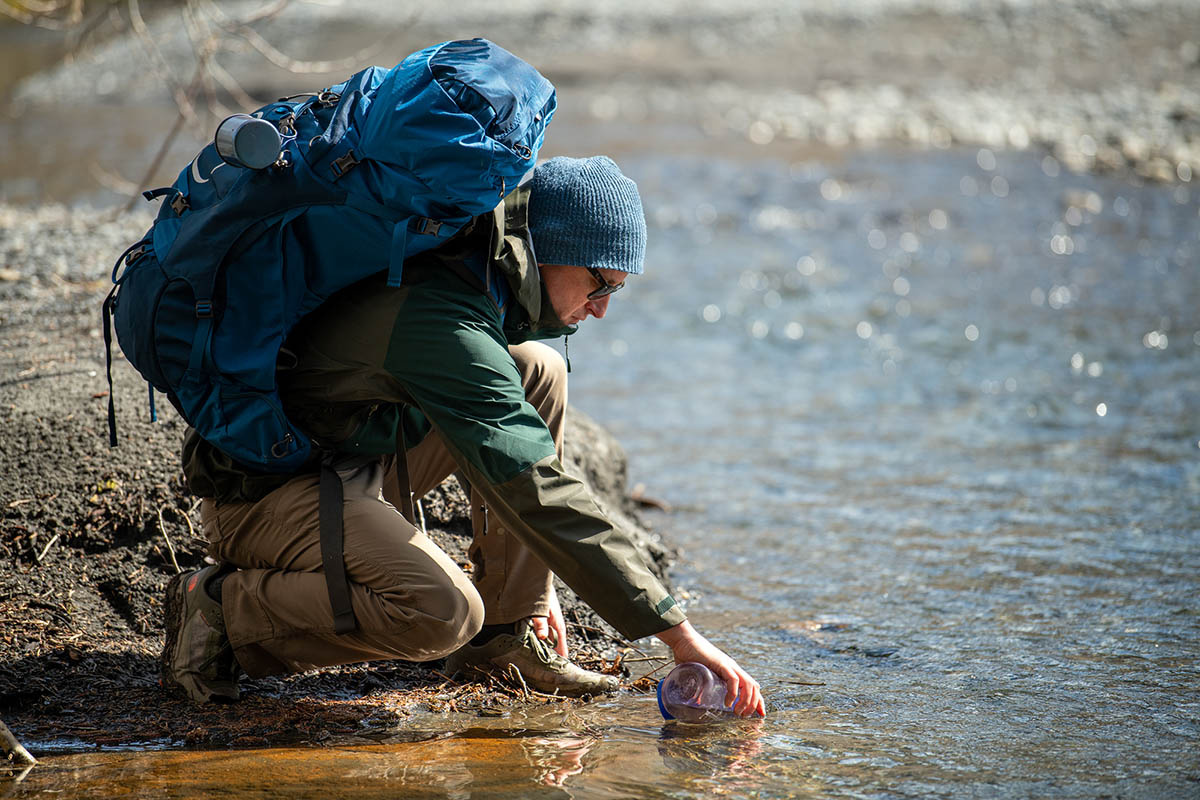 A second in-house design to consider is Osprey's extremely popular Atmos AG 65. As we mentioned above, the Atmos can't shoulder as much weight as the Aether (we found it to be comfortable carrying up to 40 lbs.), and you do miss out on zippered access to the main compartment. It also forgoes the Aether's Fit-on-the-Fly adjustment system for fine-tuning the shoulder strap and hipbelt padding, although we still found it to be plenty customizable. Additionally, the Atmos is considerably lighter at 4 pounds 9 ounces, and the suspended mesh backpanel gives it a very close fit and standout ventilation. In the end, both are highly capable and well-made Osprey designs, but we think most backpackers will be happier with the lighter and still quite comfortable Atmos.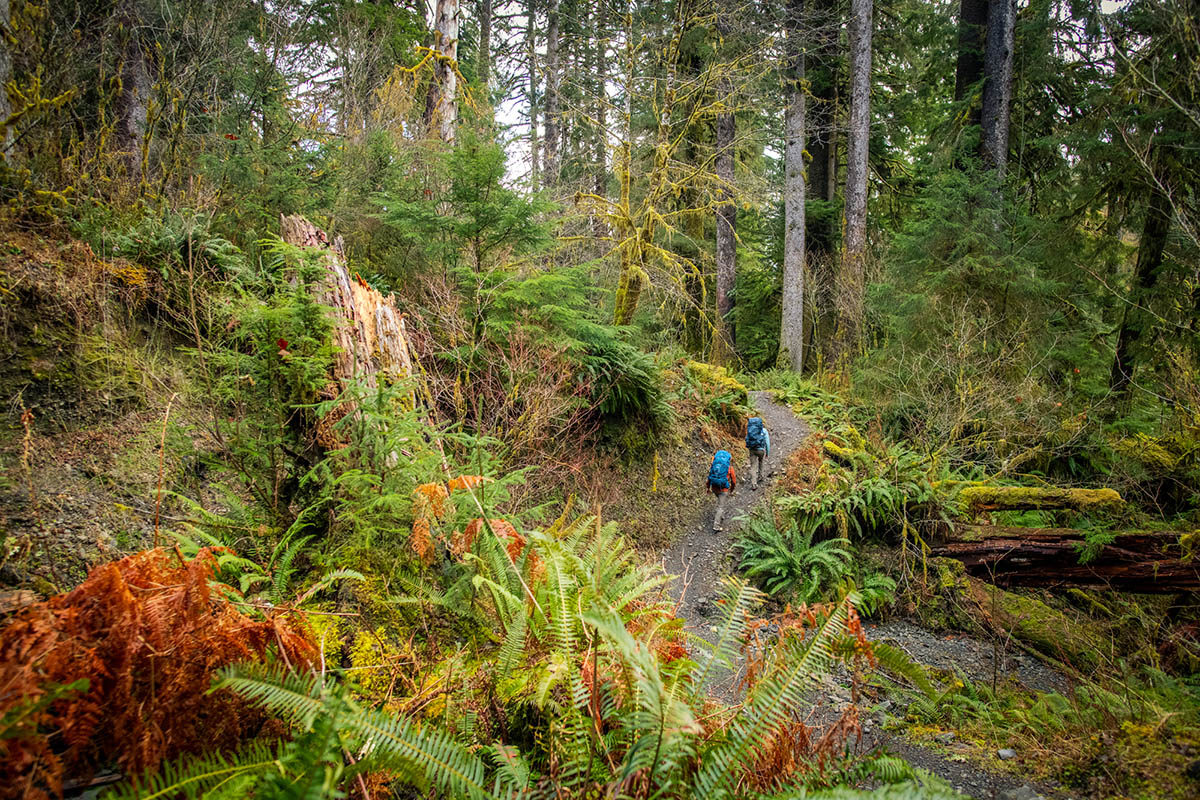 A final option to consider is an ultralight take on the heavy hauler: Granite Gear's Blaze 60. At 3 pounds even, the Blaze undercuts the Aether 65 by nearly 2 pounds but doesn't sacrifice much in the way of performance. In practice, the pack's sturdy frame sheet and substantial padding carry a full load incredibly well (it's rated for up to 50 lbs.), and the design is highly adjustable with a Velcro-based system for the torso and waistbelt. The only major concessions are in durability and ventilation: the Blaze uses less hardwearing materials throughout to shave weight, including a mix of 100D and 210D Robic nylon, and its foam backpanel prioritizes comfort and support over breathability. But these are fairly minor sacrifices considering the impressively light build, and we think it's the more appealing option for most modern backpackers. 
If you're thinking about buying gear that we've reviewed on Switchback Travel, you can help support us in the process. Just click on any of the seller links above, and if you make a purchase, we receive a small percentage of the transaction. The cost of the product is the same to you but this helps us continue to test and write about outdoor gear. Thanks and we appreciate your support!
Depending on the seller, most products ship free in the United States on orders of $50 or more. International shipping availability and rates vary by seller. The pricing information on this page is updated hourly but we are not responsible for inaccuracies.
Learn More About Outdoor Gear