The Miura VS is a time-tested classic from La Sportiva, offering impressive levels of performance on varied terrain. This stiff, aggressive shoe is perhaps best known for its ability to perch on tiny edges, and climbers love it for steep boulders, technical sport climbs, and vertical granite trad routes alike. We wore both the men's and women's versions of the Miura VS, and below we break down the shoe's performance, sensitivity and shape, rubber, construction and durability, fit and sizing, and more. To see how the Miura VS stacks up against the competition, see our article on the best climbing shoes. 
 
Performance
Climbing in the Miura VS
The La Sportiva Miura VS is celebrated for its superior edging abilities, which shone in a serious way during our testing. I'll start by admitting that I'm a moderate trad climber at heart. I love long, 5.10 routes on granite peaks, climbing crack systems to summits, and enjoying vast views of rocky ridgelines, valleys, tarns, and beautifully clean spires rising up from glaciers below. I love climbing shoes that I can keep on all day, and sometimes even wear with socks.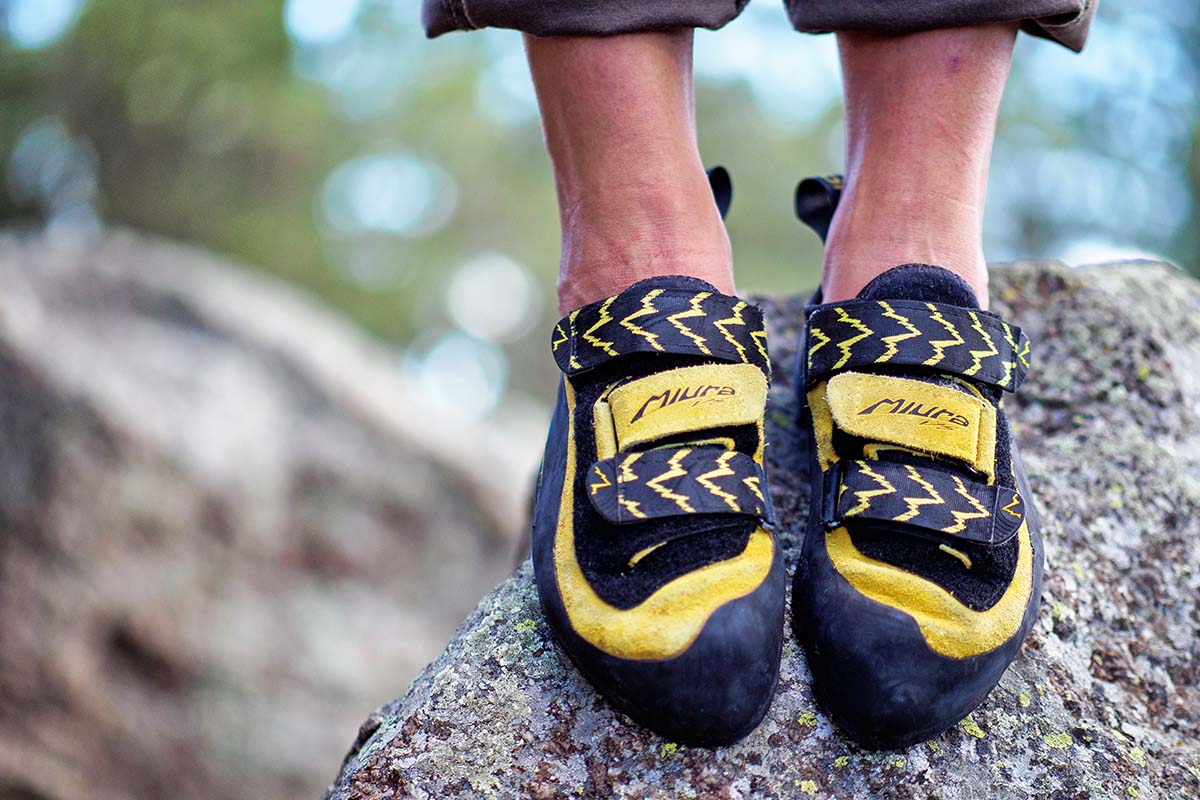 That said, I've begun to put in more and more time in the lowlands on smaller walls and boulders, learning to—almost ironically—try harder. My clunky crack climbing shoes don't serve me so well when the rock steepens and smaller holds demand more precise feet. Enter the Miura VS. Earlier this year, I wore this shoe whenever I was bouldering, clipping bolts, or climbing steep faces, from the Red River Gorge and the New River Gorge to bouldering in Bishop, limestone sport climbing near Vegas, and the steep crags of Rocky Mountain National Park. Though I'm not one to advocate for buying gear to climb harder, the Miuras certainly helped me discover a new realm of try hard: a world where micro-edges and tiny pebbles suddenly offer legitimate platforms on which to stand. 
In Bishop's Buttermilk boulders, for example, I found myself standing on tiny, almost imperceptible edges that I would have balked at before. I felt like the shoe was able to take all of my foot's power and move it directly to the edge of the toe box. Furthermore, heel hooking in the Miura VS was a dream. I sized my pair super tight, so my heel felt very secure and the shoe did not threaten to slip. Also, the rubber patch around the back of the foot is thick and large enough to protect from rock on all sides.
The Miura VS is not, however, a great shoe for toe hooking: it lacks the thick rubber patch that covers the toe box of many aggressive, bouldering-specific models. If you're looking exclusively for a bouldering shoe, look elsewhere (both the Scarpa Instinct VS and La Sportiva Solution would be better options). Moreover, unless you're sizing the Miura VS quite roomy, it will not be comfortable for crack climbing, low-angle smearing, or all-day routes. But keep the shoe in its wheelhouse (technical vertical or mildly-overhanging terrain), and the Miura VS is as good as it gets.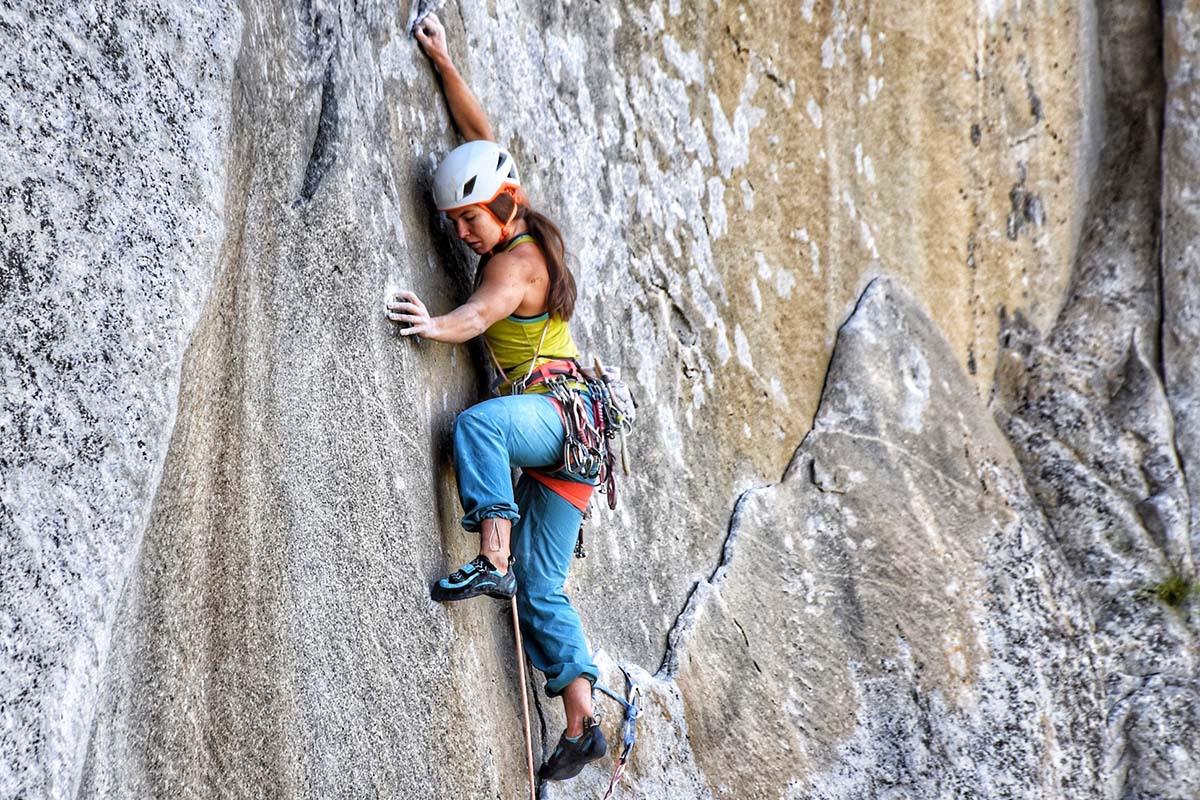 Sensitivity and Shape
Many aggressively downturned shoes are soft and flexible, but not the Miura VS. This shoe is stiff, allowing it to provide incredible edging power on vertical to overhanging terrain. The combination of a solid platform and downturned, precise toe (similar to the design of the Scarpa Instinct VS) makes for the ideal shoe for vertical edging like that found at Smith Rock. That said, the Miura VS lacks some of the flexibility and sensitivity that some climbers love for hooking and smearing. If you climb predominantly on steep terrain or like to be able to feel the rock through your shoe, consider a softer model like the La Sportiva Skwama or Five Ten Hiangle.
The curve of the VS is reinforced with Sportiva's P3 technology: a stiff randing system that holds the aggressive downturn for the life of the shoe and helps transfer your foot's power to the toe. From tuff to granite to limestone, the aggressive downturn allowed me to hook small, steep holds and pull myself close to the rock. Furthermore, the pointed, asymmetrical toe box means that the VS climbs incredibly well on pockets, such as those of Wild Iris, Wyoming. Overall, the aggressive shape and stiff construction of the Miura VS makes it the perfect shoe for perching on your toes on vertical rock.
 
Rubber
The sole of the men's Miura VS is made with 4mm Vibram XS Edge, a tough blend of rubber known for its stiffness and durability. La Sportiva makes their women's Miura VS with Vibram XS Grip 2, a softer—and thus less durable—rubber. The theory is that most men are heavier and need a sturdier platform (XS Edge) in order to edge powerfully. For lighter climbers, XS Grip 2 provides slightly more give, and thus more friction. For the most part, this is a matter of preference: we know many men who swear by the women's Miura VS for its softer, stickier sole, and many women who appreciate the more solid feel of edging in the men's Miura VS.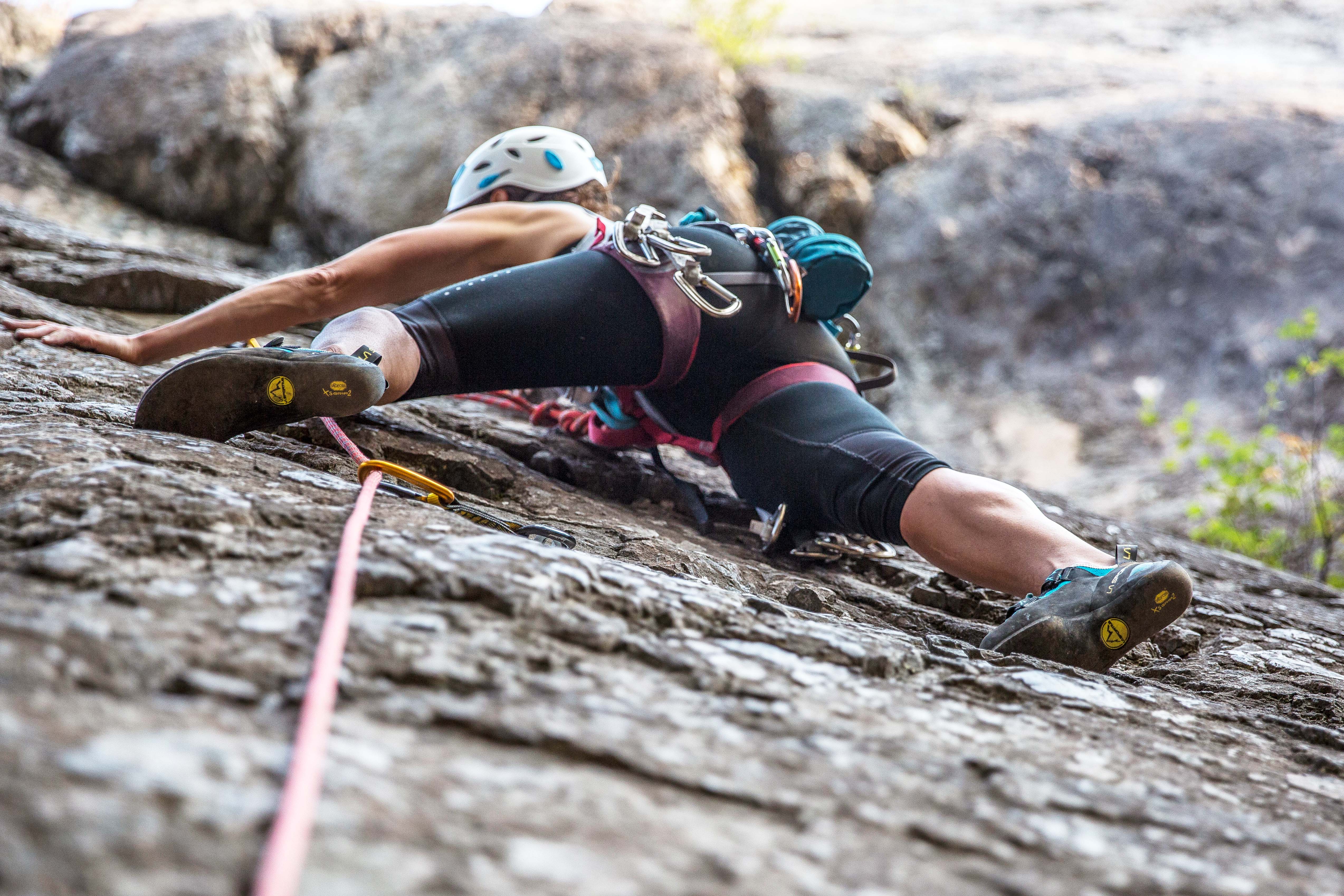 Construction and Durability
The Miura VS is made with a leather upper, allowing the shoe to flex and form to the shape of your foot. Pull tabs help move the heel away as you slip it on, stretching the slingshot rand like a rubber band. Let go, and the heel sucks back into place nicely. In terms of closure, the VS has a three-strap Velcro system that allows for very easy on and off and a dialed in fit. As we mentioned above, this shoe is made using La Sportiva's P3 technology, short for Performance Power Platform. Importantly, P3 allows the shoe to retain this shape over its lifespan, and virtually all of La Sportiva's high performance aggressive shoes are made with this design. As we've come to expect from the Italian company, build quality is impressive and durability is a strongpoint of the Miura VS.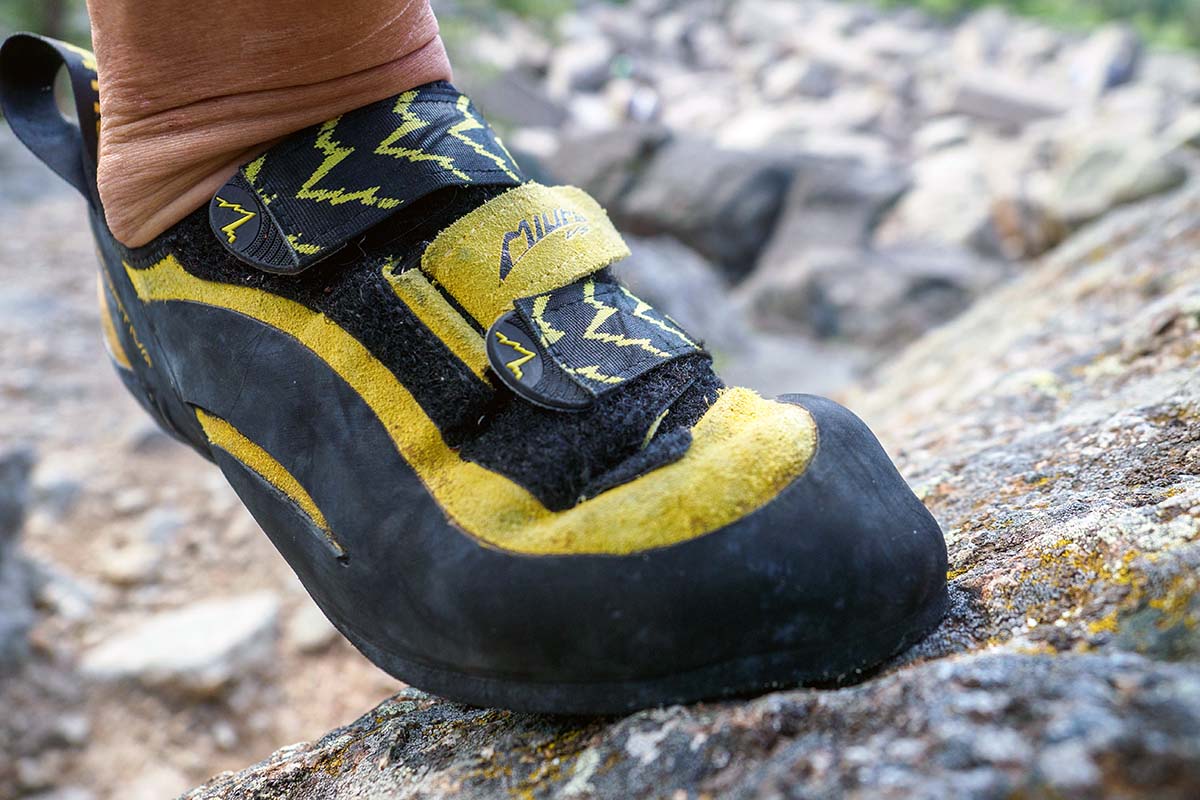 Fit and Sizing
The Miura VS is on the narrow side, so given my wide feet, I bought the men's version for its wider last. I sized my VS a half size down from my trad shoes (I wear size 38.5 in the TC Pro, 40 in La Sportiva approach shoes, and 38 in the Miura VS) and endured a painful break-in period before the shoes stretched out enough to be comfortable while climbing. Even so, on hot days when my feet swelled in size, I found the Miura VS to be quite painful. Accordingly, the Miura VS likely will not work for climbers with particularly wide feet. Coincidentally, now that La Sportiva is making the wider-lasted Otaki, the Miura has been all but eliminated from my quiver.
We also tested the women's version of the Miura VS on a climber with feet of normal width. Fit was not an issue for her, although she did mention that when trying the shoe on in the store, it felt a tad aggressive and particularly dug into her Achilles. However, this eased after a couple hours of use and some stretching of the leather.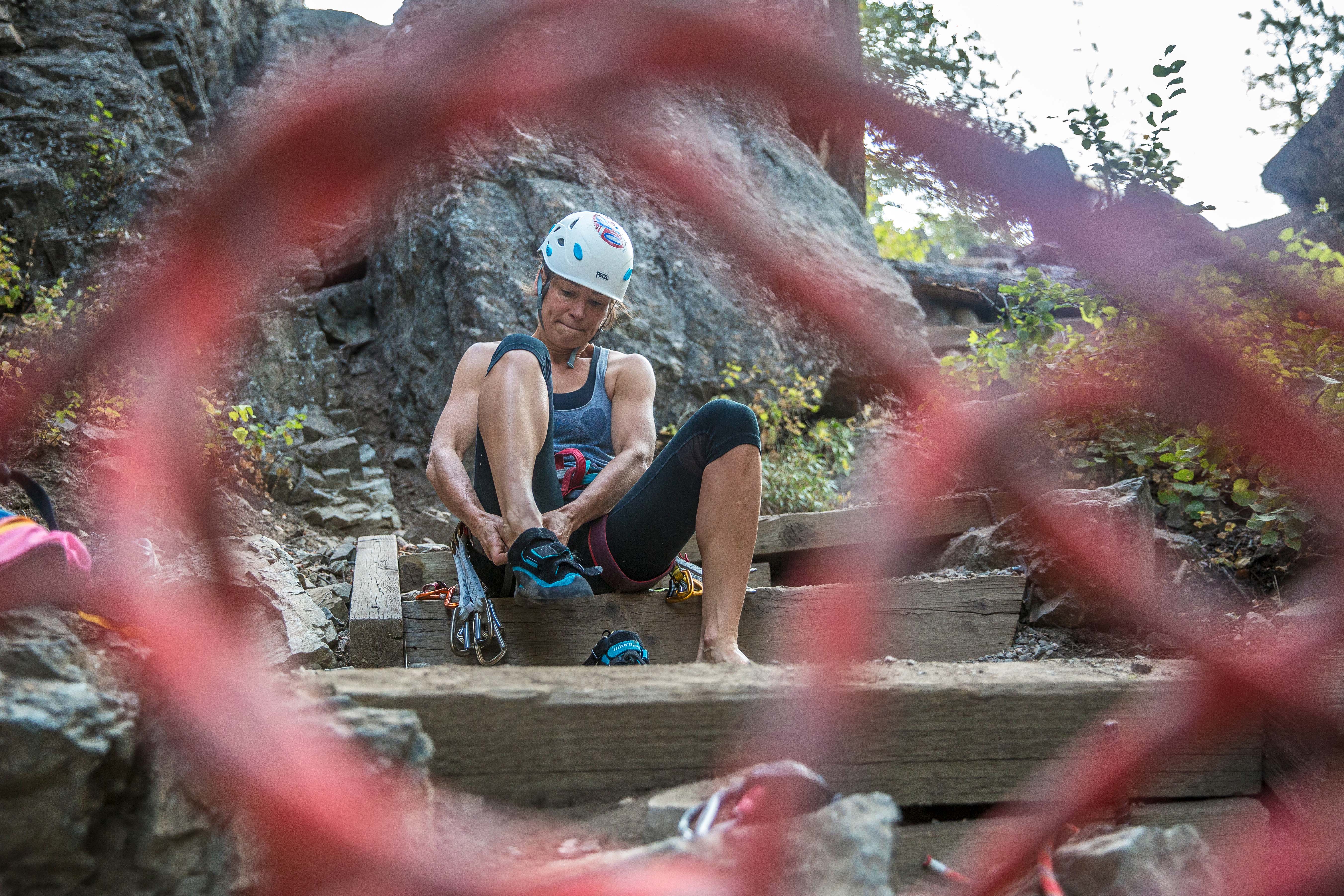 Comfort
The Miura VS is designed to be sized tightly for optimal performance and is not meant for all-day comfort. In the beginning, I grimaced every time I put the shoe on: pulling the rand over my heel was like an exercise in suctioning. These things fit like a glove. If you want maximum performance, you should be needing to take your shoes off in between burns. Because of this tight fit, there's no way I would want to climb slab or crack in the Miura VS—it would be far too painful. While you can size them large enough to climb this sort of terrain, you'll sacrifice performance on small edges or steeper terrain, which is what the shoe is built for.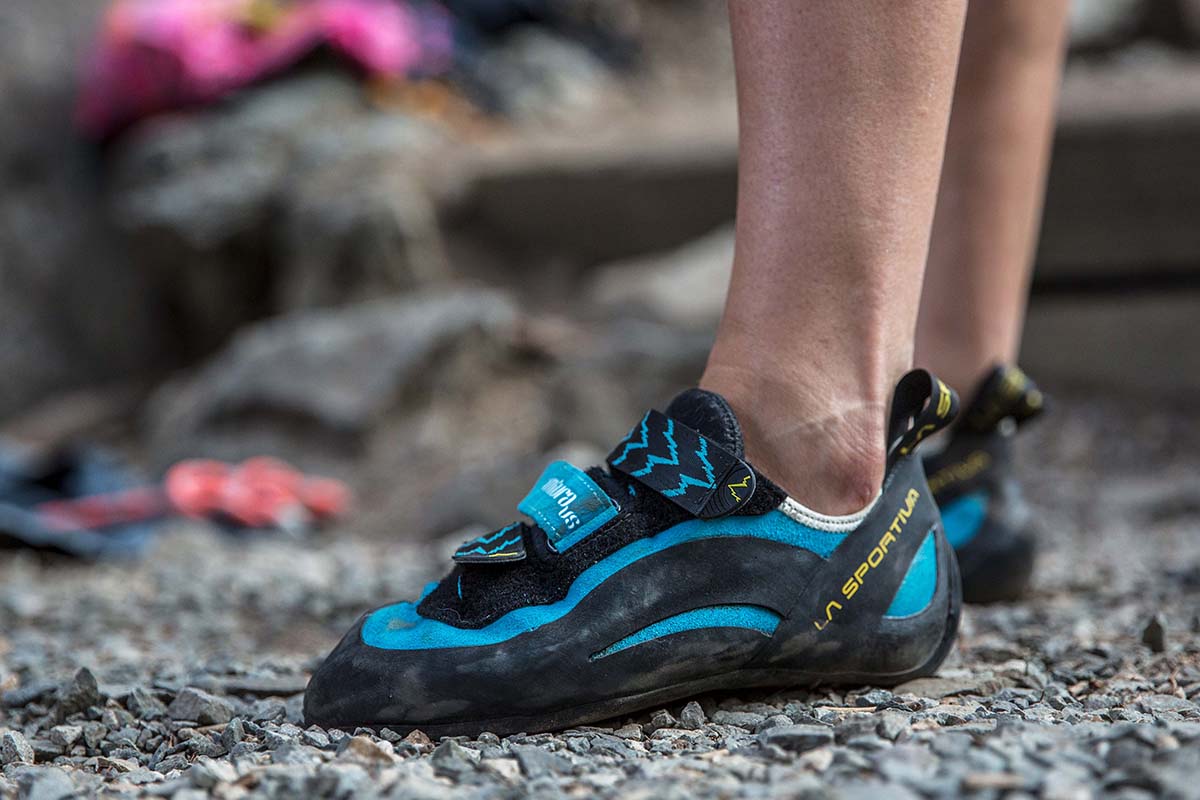 One interesting thing of note: over time, the Miura VS has a tendency to create a callus on the big toe of many climbers. In fact, this callus is so ubiquitous it has become known as the "Miura bump." Though probably not unique to the Miura VS, it's uncanny how many people we know who have experienced this bump associated with this particular shoe. The good news is that it's painless and will go away over time (if you're not consistently wearing the Miura VS). But consider this your fair warning. 
 
Women's Version
For this review, our primary tester was a female who wore the men's version of the Miura VS—her wide feet were better accommodated by the last of the men's shoe. La Sportiva also makes a women's version of the Miura VS, a slightly narrower shoe that is available in a different colorway, which we also tested. The largest distinction between the two is in the sole: the men's version sports Vibram XS Edge rubber, whereas the women's version is made with Vibram XS Grip 2 rubber (see the Rubber section above for more info).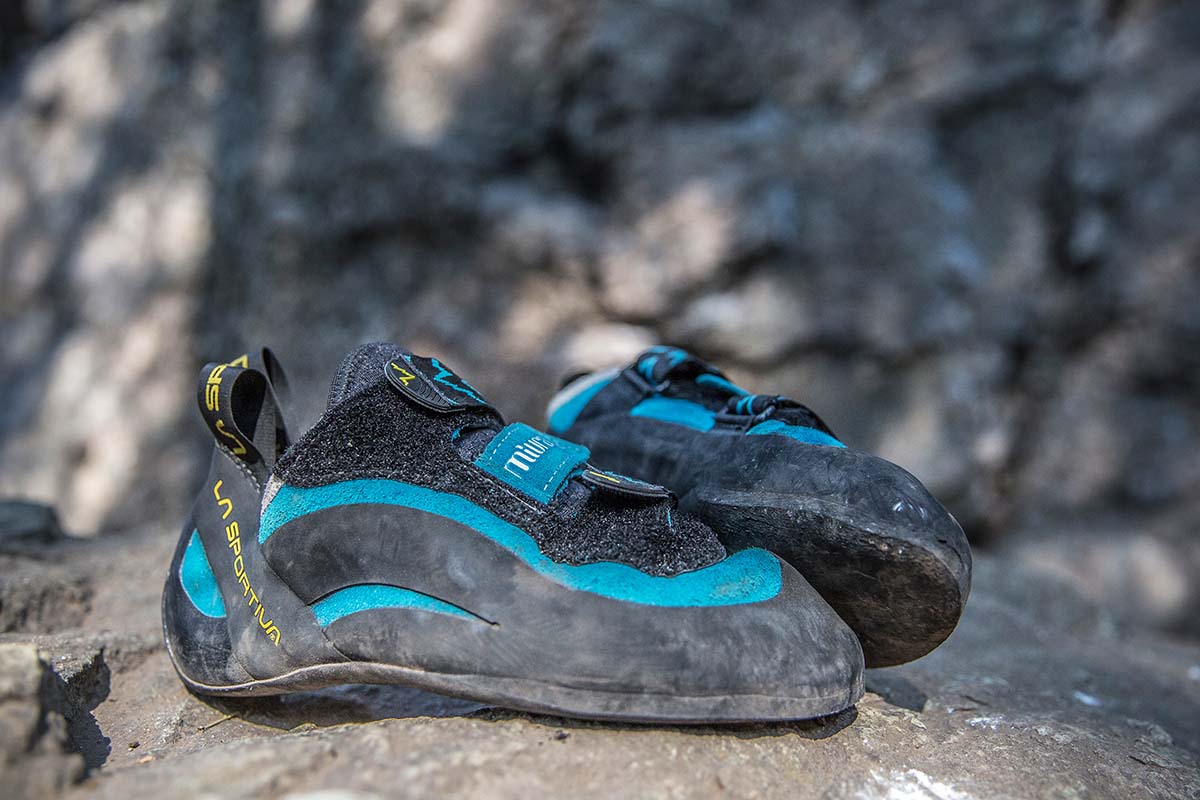 Miura VS vs. Miura Lace
To clarify one very important thing: the Miura VS is a very different shoe than the Miura Lace. They are made on the same last, but for the most part, the similarities stop there. The VS is stiffer and more aggressive, designed to fit tightly and hold its shape throughout its lifespan. This is largely in part due to the P3 system, a randing technique that La Sportiva uses on all of their aggressive models, including the Solution and Testarossa. The Miura Lace, on the other hand, lacks the same stiff, shape-holding design, and as a result will flatten out and grow soft over time. Most climbers size the Lace relatively comfortably and use it for everything from difficult crack climbing (the pointed toe box lends itself to finger cracks) to slab and long multi-pitch adventures.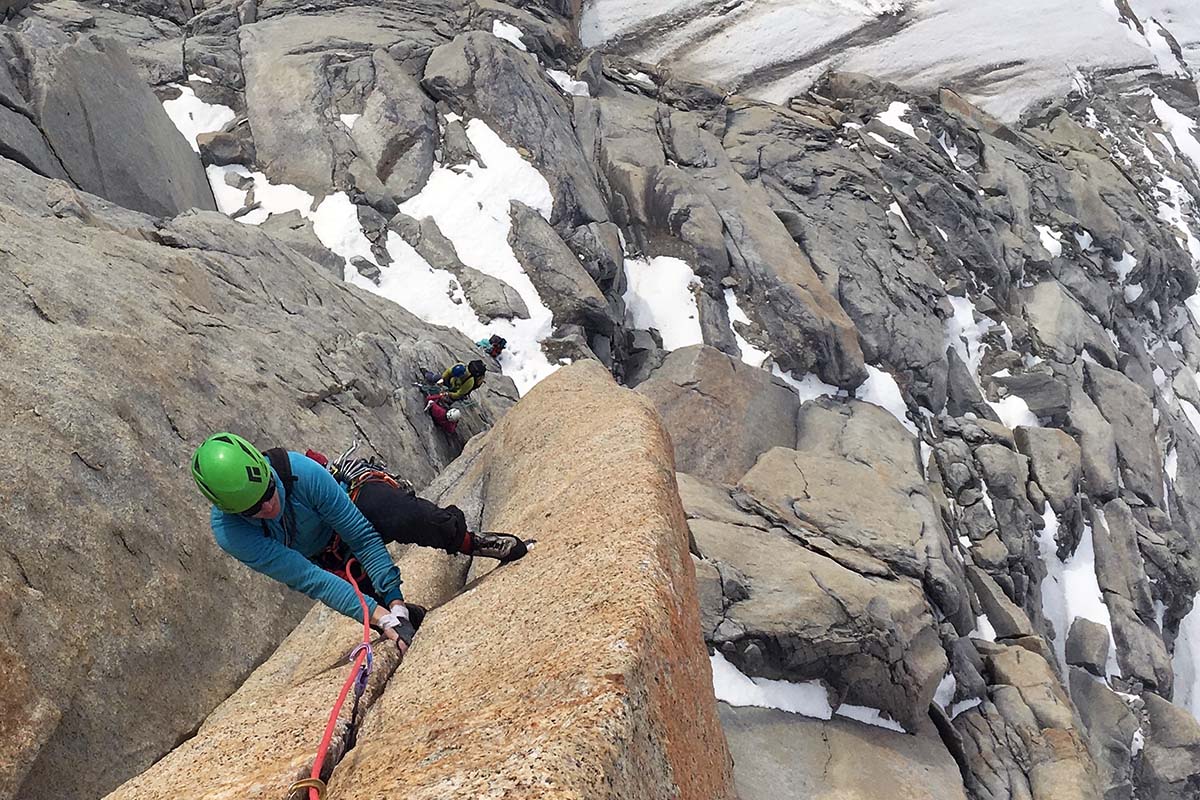 What We Like
The best edging shoe on the market, hands down. 
A versatile, high-performance shoe. The downturn plus edging abilities make this a great all-rounder on sport climbs and boulders.
With both a men's and women's version, you have the option to tweak your fit/rubber preference. 

What We Don't
This shoe is not comfortable for wide feet (like ours). 
For those who predominantly sport climb or boulder on steep terrain, you may want to consider a softer shoe with more rubber on the toe box.
Many people develop a bump on their big toe from these shoes. It's so ubiquitous, it's been termed the "Miura bump."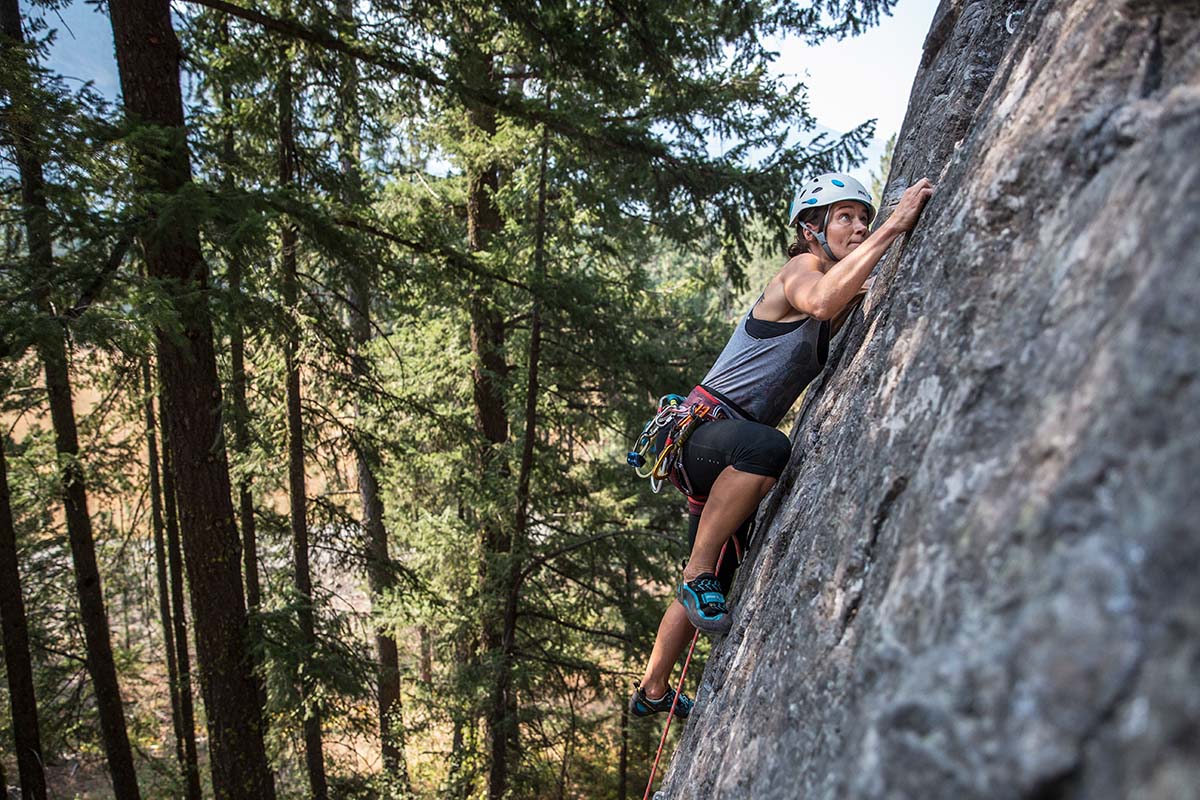 Comparison Table

The Competition 
The La Sportiva Miura VS ($185) doesn't work for everyone, but if the shoe fits, you'll likely be wearing it for years to come. In our opinion, it is the most precise edging shoe on the market. But if the fit is too slim, La Sportiva's new Otaki ($180) is a wider, slightly less stiff cousin of the Miura VS, but overall is a very similar shoe. As someone with a wide foot who really wanted the Miura VS to work for me, I'm thrilled to see the addition of the Otaki to La Sportiva's lineup.
Many wear the Miura VS for certain styles of technical trad climbing, but it's not a perfect solution. The shoe is stiff, doesn't smear or crack climb well, and is not designed for all-day comfort. For a similarly high-performing edging shoe that's more in its element on trad climbs, the Anasazi Lace (aka the "Pinks") ($150) is a slightly less aggressive, more comfortable and versatile option (for more information, see our in-depth review). And if you're partial to La Sportiva, their Katana and TC Pro are great choices for all-day climbing on vertical and slabby terrain. With both, expect more support and comfort but less precision overall.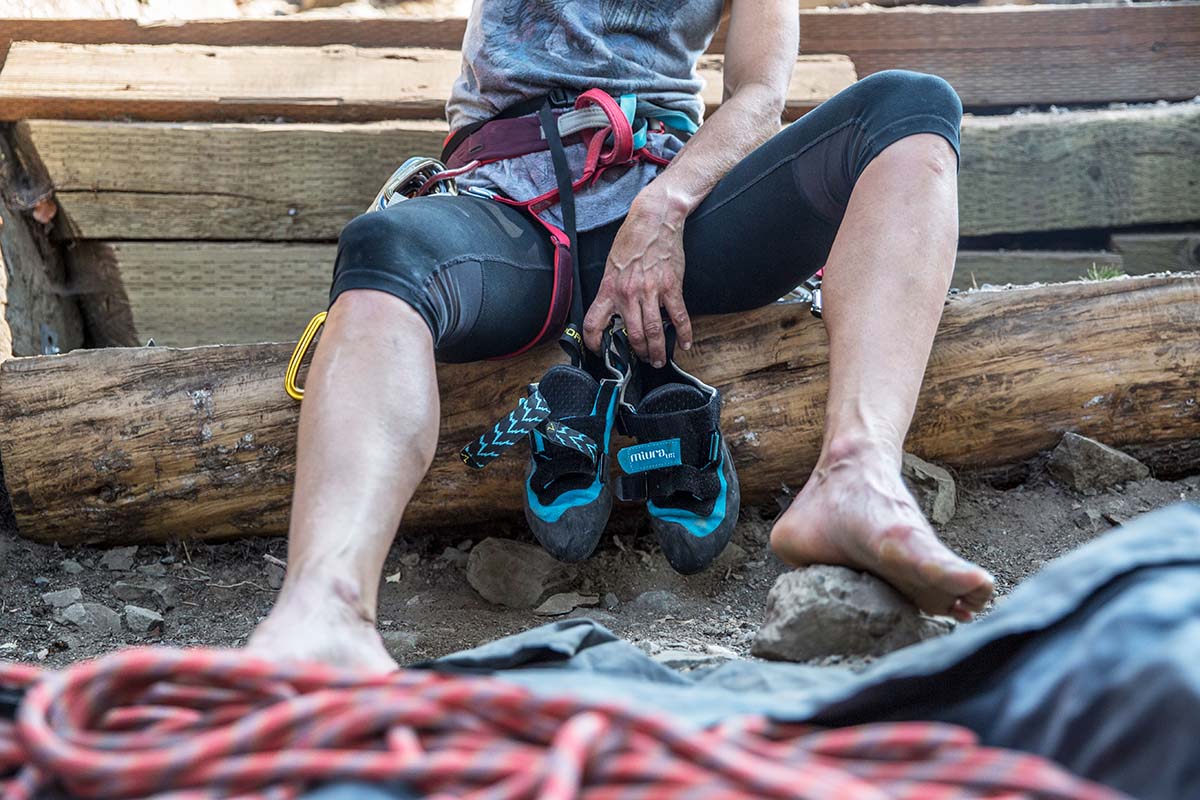 Some boulderers and sport climbers will be content with the Miura VS, but others will want a shoe with a softer build and more rubber on the toe and heel for hooking. La Sportiva's Solution ($180) is just that: a slightly lower volume, softer shoe with large rubber patches, made on the same last but exclusively with Vibram XS Grip 2 rubber. Furthermore, the Butora Acro ($160) also is a worthy, and more budget-friendly, alternative. Like the Solution, it edges with almost the same prowess as the Miura VS, but is specifically designed for steep climbing. We've been highly impressed with this shoe in particular, but prefer it on slightly overhanging to very steep terrain (to read more, see our in-depth Acro review).
Last but not least, we'll mention the Scarpa Instinct VS. Like the Miura VS, this shoe is stiffer and less downturned than most bouldering shoes, which makes it better at edging on vertical terrain. However, with softer XS Grip 2 rubber in the heel, a far more supple midsole, and rubber on the toe and heel for secure hooking, you get great performance for steep climbing and bouldering. Overall, the Instinct VS is even more versatile than the Miura VS, adept on everything from vertical to overhanging terrain. That said, we'll still reach for the La Sportiva when we want a stiff, supportive shoe specifically for precision edging.
If you're thinking about buying gear that we've reviewed on Switchback Travel, you can help support us in the process. Just click on any of the seller links above, and if you make a purchase, we receive a small percentage of the transaction. The cost of the product is the same to you but this helps us continue to test and write about outdoor gear. Thanks and we appreciate your support!
Depending on the seller, most products ship free in the United States on orders of $50 or more. International shipping availability and rates vary by seller. The pricing information on this page is updated hourly but we are not responsible for inaccuracies.