Five Ten Anasazi Lace
Price: $150 
Downturn: Moderate
Upper: Synthetic
Rubber: Stealth C4 (4.2mm)
What we like: Great all-rounder and our favorite shoe for technical face climbing.
What we don't: Not everyone will love the tensioned heel cup; painful in wide cracks.
See the Five Ten Anasazi Lace
The Anasazi Lace—aka the "Pink"—has been a mainstay in Five Ten's lineup since the '90s. And with notable improvements throughout the years, it still holds its own in today's modern market. Boasting a medium-stiff build and powerful edging platform, the Anasazi is designed for technical footwork on vertical terrain, so we put it to the test on everything from thin cracks to featureless granite. Below, we break down the Anasazi Lace's performance, sensitivity and shape, rubber, durability and construction, and more. To see how it stacks up against the competition, check out our articles on the best climbing shoes and best climbing shoes for beginners.
 
Performance
Climbing in the Anasazi Lace
The Five Ten Anasazi Lace is a time-tested classic, built as an all-around shoe for face and crack climbing. In its element on vertical granite, we give the Pink a 10 out of 10. Whether smearing, sticking to miniature crystals, stemming up a desperate corner, or maneuvering tenuous jams on thin cracks and V-slots, the Anasazi Lace has proven itself as a capable partner. Its medium-stiff build, sticky rubber, and high-powered rand offer confidence and support for the most technical footwork.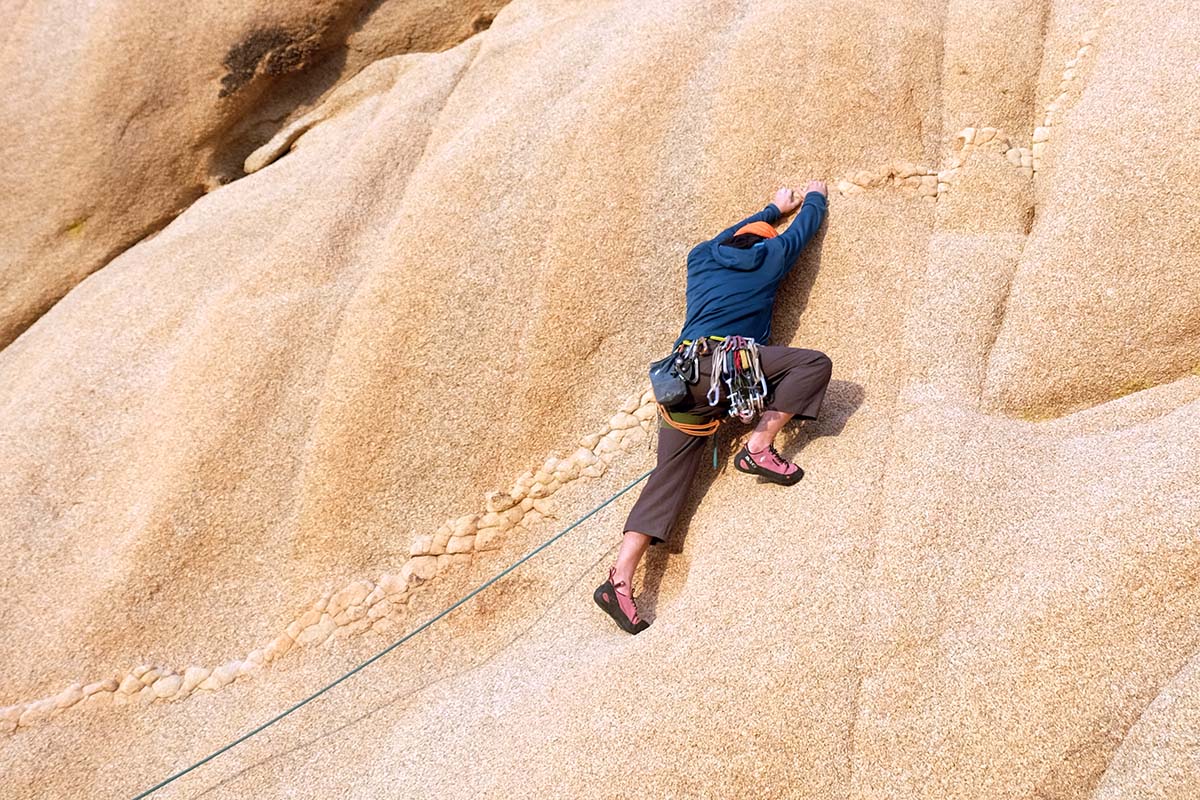 While the Pink excels in the expanse between slabby and steep, it's not the best tool for the extreme ends of the spectrum. In a pinch, it can moonlight as a steep sport-climbing shoe (sized tightly) or a comfortable shoe for multi-pitch adventures (sized roomy). That said, with a relatively flat, stiff build and no rubber on the toe box, the Anasazi Lace is certainly not the most ideal option for overhanging terrain, and the high rand tension means it is uncomfortable on slabs or as an all-day option. Boulderers should look for a softer, more aggressive model like the Scarpa Instinct VS or La Sportiva Skwama; those focusing on slab routes or more moderate climbs might appreciate a more supportive shoe like the less aggressive La Sportiva TC Pro or even the Pink's stiffer Velcro cousin, the Anasazi VCS.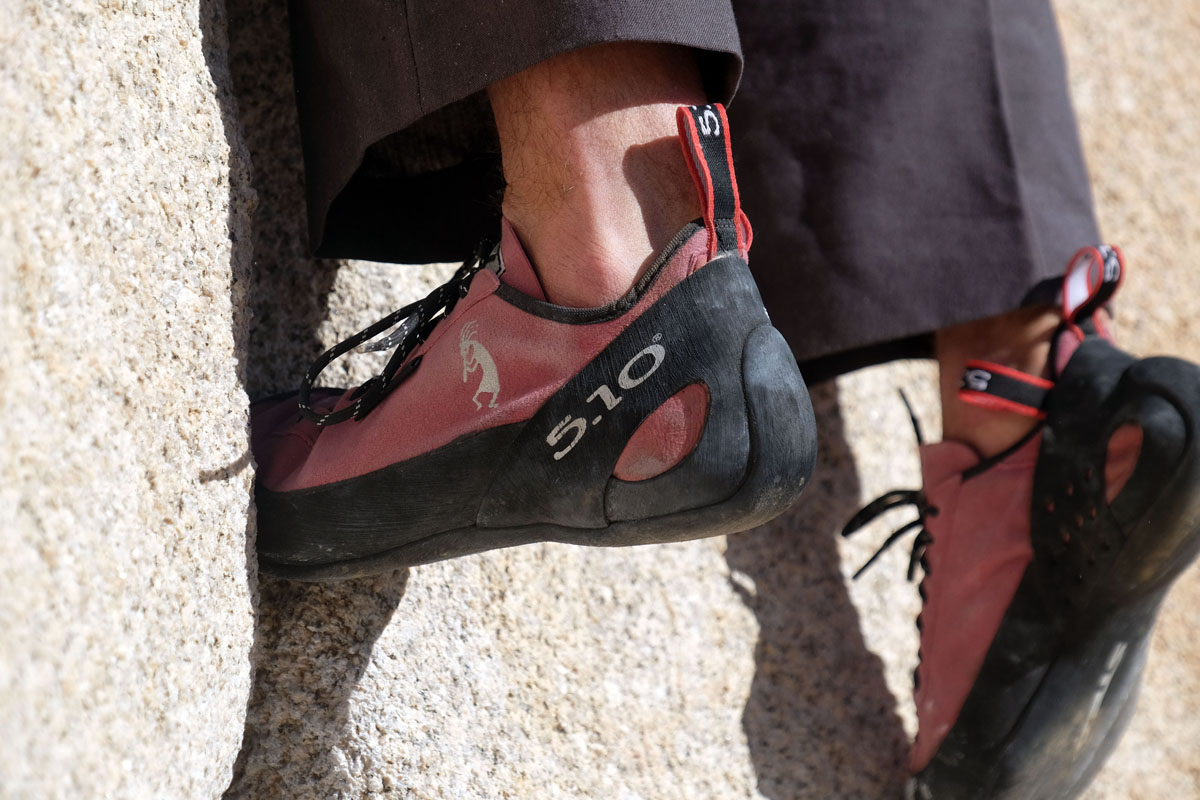 Sensitivity and Shape
The Anasazi Lace is a slightly asymmetric, moderately downturned shoe. It is designed with a roomy toe box that allows the forefoot to lie flat rather than in a curled position, and has a medium-stiff midsole. The result? The Pink feels supportive and firm, offering power and stability on edges, although it is flexible enough to smear and slab when sized loosely or once well-broken-in. And just as a refresher: Softer shoes—like the La Sportiva Skwama or Five Ten Hiangle—do not provide this same stability needed for precise edging, but enable you to toe-in better on steep routes. Plus, you're able to feel the holds more underfoot, which many climbers like.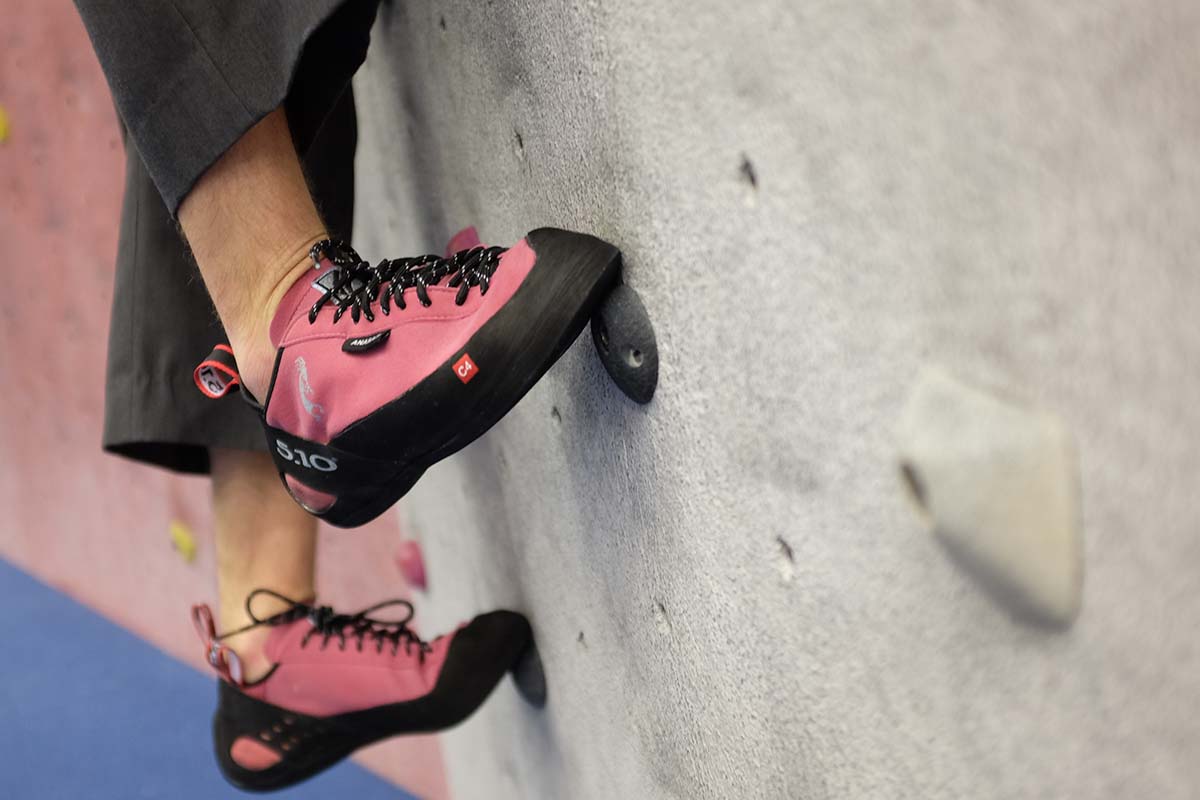 We'd be remiss not to mention the Anasazi's unique heel cup and rand tensioning system here—after all, this combination is what many think is the secret to the shoe's performance. The heel is designed to fit very snugly, essentially suctioning onto the foot, while the highly tensioned rand pulls the heel toward the toe, forcing all the foot's power to the front of the shoe. This is Five Ten's version of La Sportiva's P3 Power Performance Platform, and when it works, it makes for a remarkable edging platform. That said, some will find that the shoe's heel digs into their ankle or that the rand doesn't tension properly, and then the system is just plain uncomfortable rather than effective. And it almost goes without saying, but we recommend you try all climbing shoes on before you buy.

Rubber
If there's one blend of rubber that climbers love more than any other, it's Five Ten's Stealth C4. Stealth C4 is not only exceptionally sticky, but also climbs well on everything from desert sandstone to river-polished schist, Yosemite granite, Gunks quartzite, and gym plastic. But while Stealth C4 excels at grip, it does sacrifice a bit in terms of durability and stiffness. It's tough to compare with the Vibram-brand rubbers used in many Scarpa and La Sportiva shoes since it's not exactly apples to apples, but in our opinion, Stealth C4 lies somewhere between the soft and sticky XS Grip 2 and the stiffer, more durable XS Edge. On a shoe with a midsole as stiff as that of the Five Ten Anasazi Lace, the C4 provides an extremely solid edging platform without sacrificing anything in the way of traction.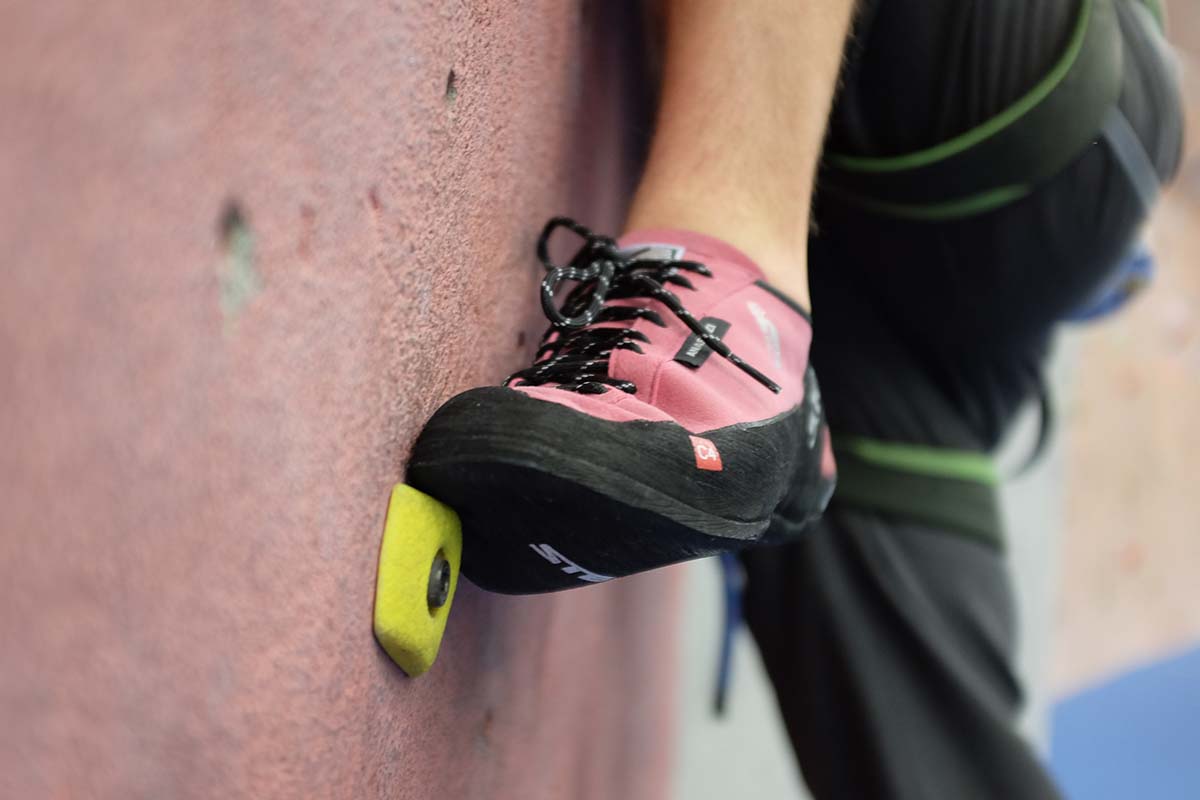 Durability and Construction
The Pink might not boast the flashy appearance of an Italian-made shoe, but don't let looks deceive you—its design is thoughtful, tried-and-true, and well-executed. Five Ten's synthetic "Cowdura" fabric wraps around the foot in a single swath on each side, resulting in minimal seams and a simple transition from rand to upper. The lined Cowdura is designed to maintain all of leather's comfort and breathability while minimizing stretch. On this front, the material performs admirably, and the shoe holds its shape better than leather models like La Sportiva's Katana and Miura. Further, a thorough lacing system where the uppers meet provides great versatility in the fit and shape of the shoe. And no matter the terrain I'm on, the laces never press down hard into my skin thanks to the minimally reinforced tongue.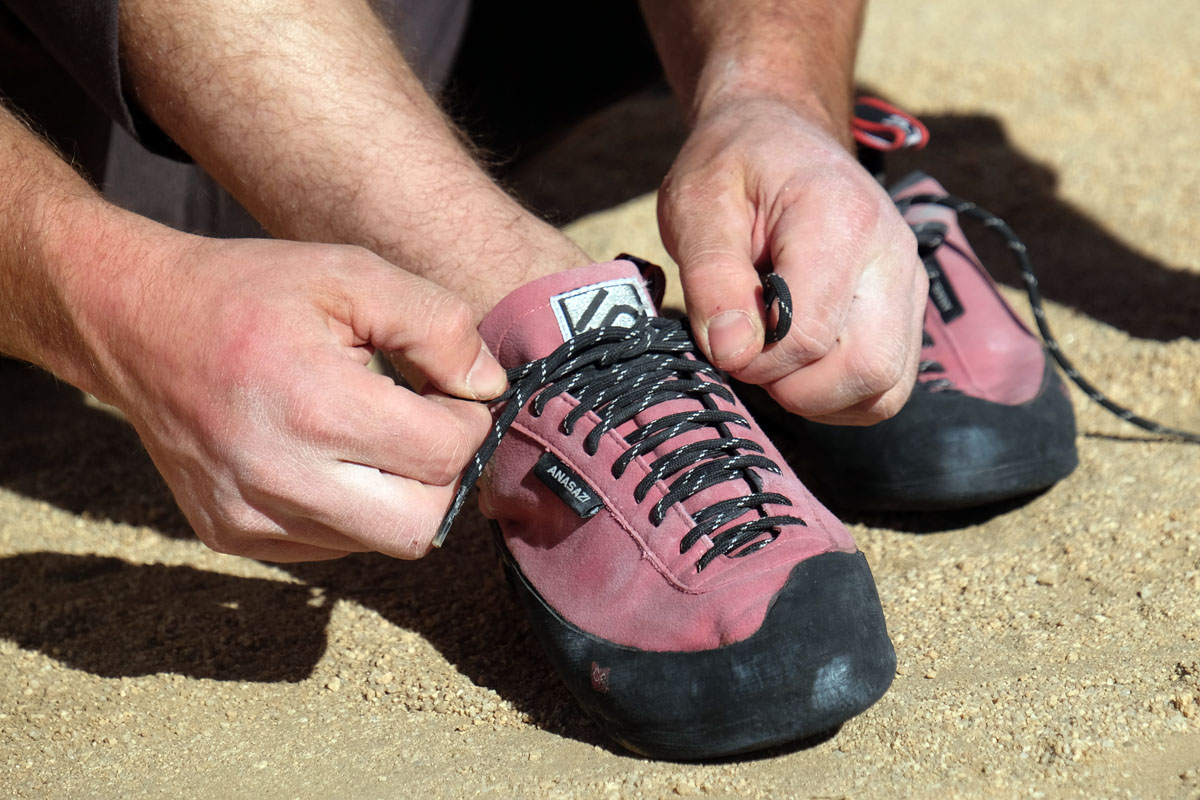 In terms of durability, the Pink has held up remarkably well to my abrasive and thorough testing. I have subjected my pair to the rigors of repetitive crack jamming and all-day multi-pitch climbing, and their seamless uppers show little wear. The Cowdura is as resilient as leather, and I've found that the Five Ten Anasazi Lace can handle multiple resoles before losing its shape or developing holes in the upper. That said, like most shoes, it will soften a bit over time, becoming progressively more comfortable for smearing and less powerful for edging.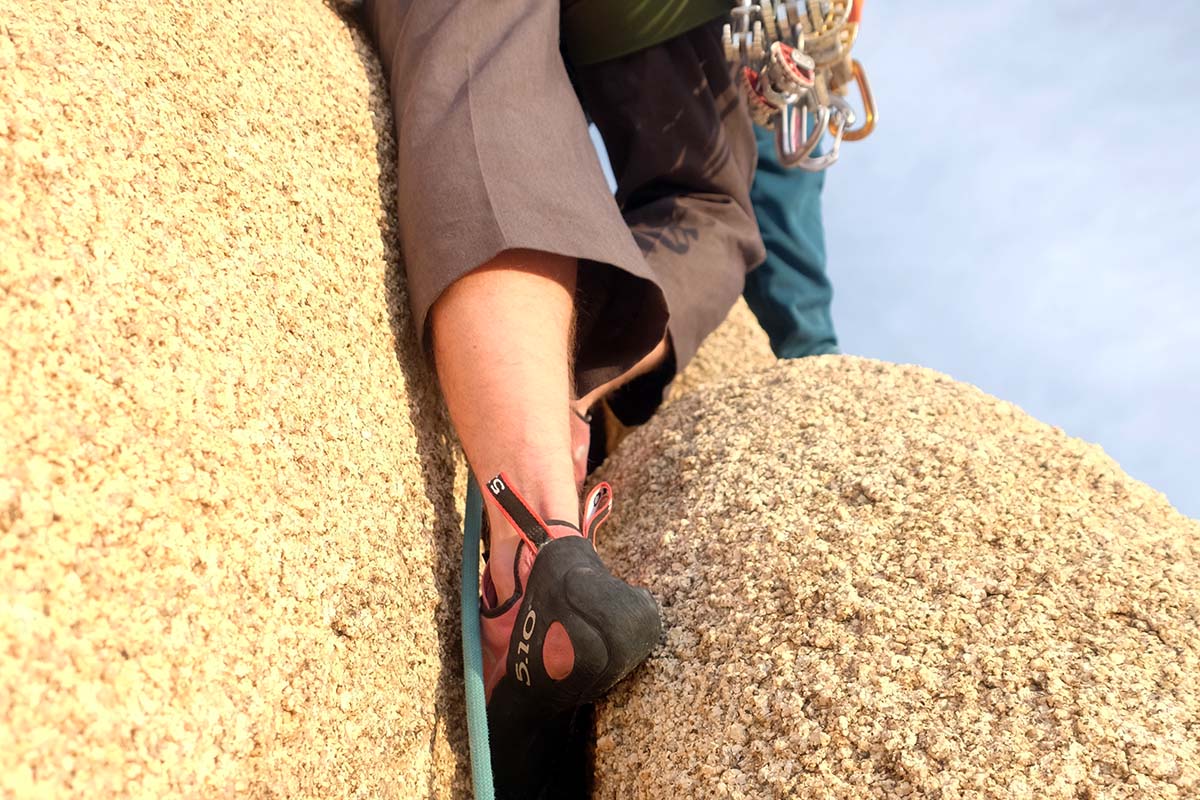 Fit and Sizing
The Anasazi Lace has a unique shape and size that won't work for everyone. If you're one of the lucky ones, though, the Pink offers extremely high levels of performance and comfort. I have a wide, high-volume, and oddly-tapered foot with medium-high arches, so finding shoes that fit me well can be tough. Thankfully, the Pink does. In terms of sizing, I went with the same size as my approach shoe: an 8.5. In the past, I have worn an 8—and even a 7.5—for increased performance, but I found sizing down that much was uncomfortably prohibitive. I recommend settling on a half-size down from your street shoe if you value precision over comfort. And again, keep in mind that the Anasazi Lace is made with synthetic material and will not stretch nearly as much as a leather shoe.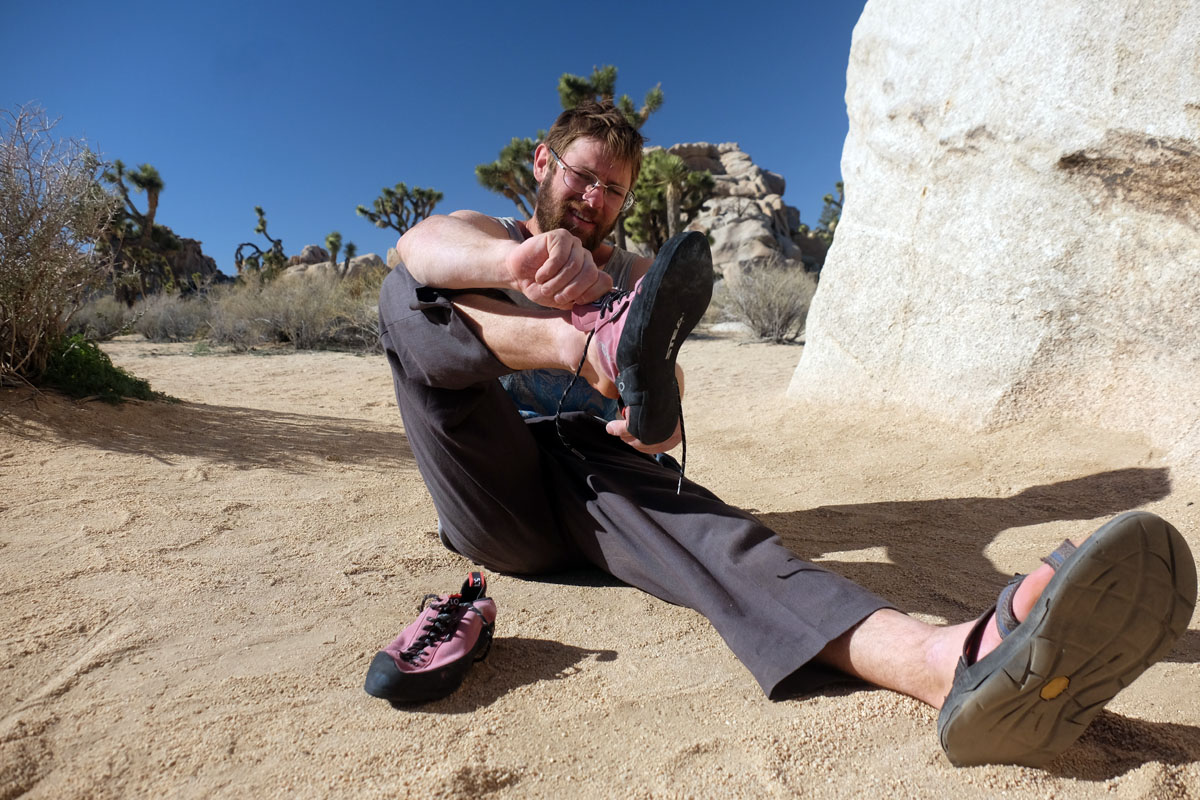 Other Versions of the Five Ten Anasazi
Other than the Five Ten Anasazi Lace we tested here, there are a few other models in the Anasazi lineup: the Anasazi Blanco, VCS, and Pro. The Five Ten Anasazi Blanco is a stiffer, more tensioned version of the Pink, with even more power on small edges. However, Five Ten has been on-and-off with the Blanco for years, and we've seen it go out of commission on multiple occasions. If you can track it down, however, the Blanco is great for vertical faces, hard single-pitch, and microscopic holds—basically, terrain where precision and edging power are crucial—at the sacrifice of sensitivity and comfort.
The Five Ten Anasazi VCS is the most similar model to the Pink, major differences being stiffness (the Pink is softer) and closure (lace vs. Velcro). In short, we recommend the supportive VCS for all-day comfort and the more sensitive Pink for slightly better performance on single-pitch routes. And finally, the Anasazi Pro offers similar stiffness to the VCS but adds a toe cap for added hooking and scumming abilities. It excels at hard edging, perfect for vertical routes similar to the Pink, but has a bit more heel tension for a more aggressive fit (it's most at home while tackling boulders with paper-thin edges that require toe-hooking the sides and tops). That said, the Pro isn't very sensitive, so smearing on smoother surfaces isn't its strong suit, and in those cases we'd go for the Pink.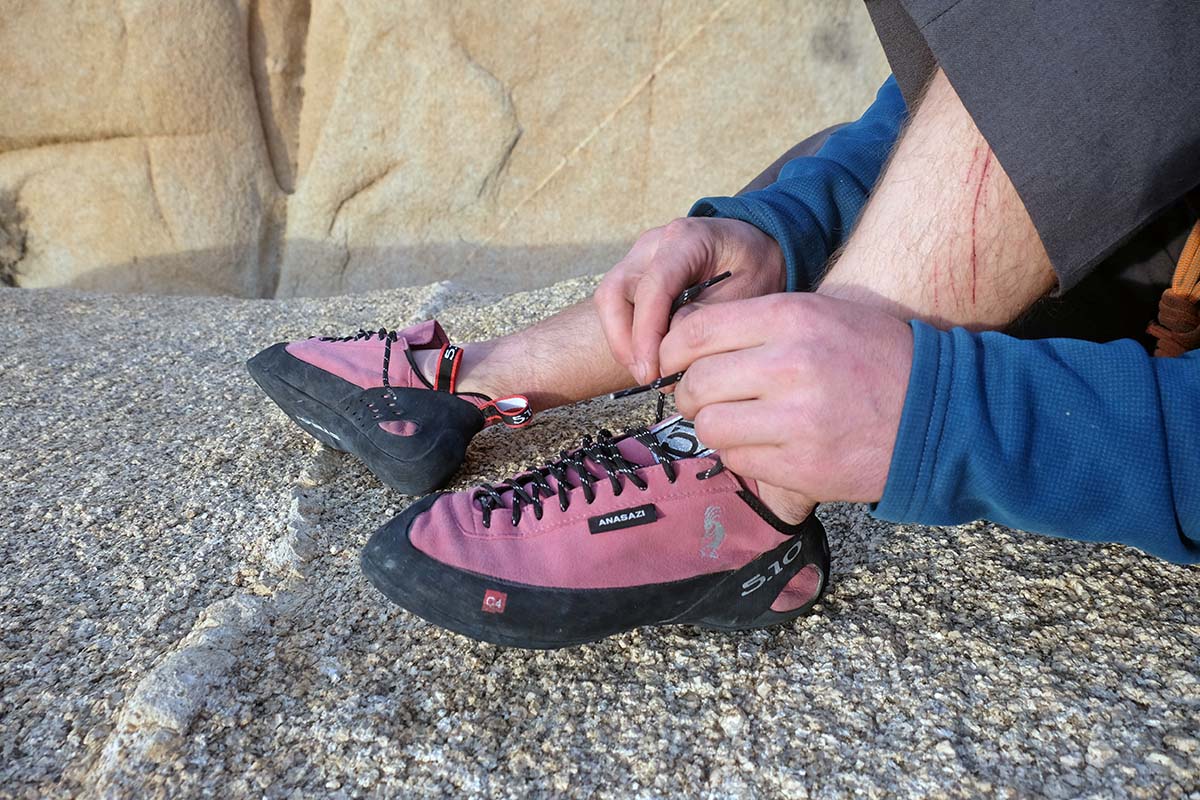 What We Like
The Pink is our favorite shoe for vertical face climbing, and one of the most time-tested, high-performing all-arounders money can buy.
The Cowdura synthetic upper maintains all of leather's comfort and durability without stretching.
Stealth C4 rubber is sticky and durable, and provides excellent traction on a variety of rock types and plastic.
 
What We Don't 
With the tensioned heel cup, the Anasazi Lace is not the simplest shoe to get on and off.
The Pink operates in the expanse between aggressive and comfortable—for more downturn, look to a shoe like the Five Ten Verdon; for more comfort, look to the Anasazi VCS.
The synthetic Cowdura upper offers a slightly less comfortable fit than a leather upper.

Comparison Table

The Competition
Trad climbers can't go wrong with the Pink. It's a performance-oriented climbing shoe that's also an excellent all-arounder. Of all the climbing shoes on the market, this is one of our favorites (and it's been that way for quite some time). If you don't like lace-ups, consider the Five Ten Anasazi VCS. It's as good as the Pink, but will break in a little more comfortably over time and excel more in multi-pitch scenarios. And the Velcro model is much older than the Pink, so if you shop around you may be able to find some cheaper closeout models.
La Sportiva's Miura VS is cut from the same cloth as the Pink. We could write similar compliments about the VS, praising its incredible precision, powerful edging, superb craftsmanship, and sticky rubber sole. Both are best applied on vertical rock but are also great all-around shoes. That said, the Miura VS is a slightly more aggressive option, less comfortable in cracks, and a bit more adept on overhanging terrain. But the most important difference is the last that the shoes are built on: The Anasazi Lace's is fairly wide, especially in the front of the foot before the toe box; the Miura, on the other hand, will feel cramped and uncomfortable for anyone with a wide foot.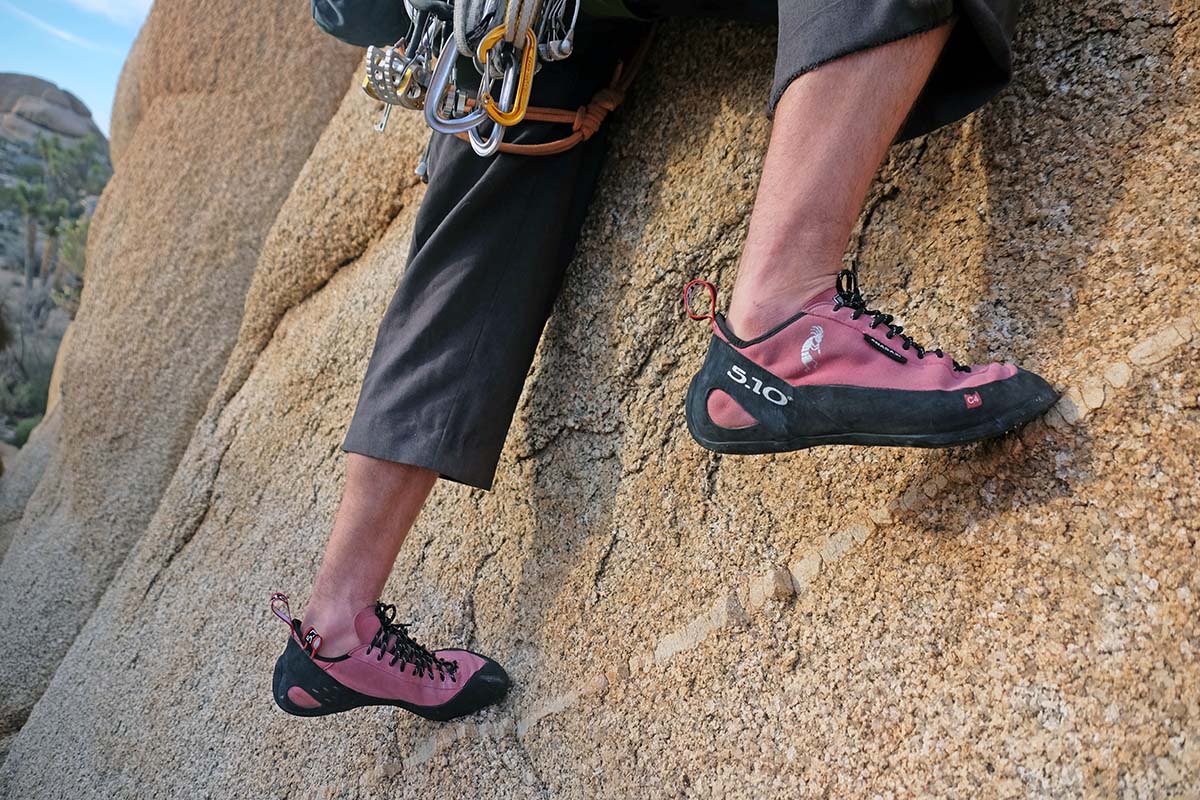 Another strong competitor is the revamped Scarpa Instinct Lace, a versatile shoe known for its combination of precision and support. Like the Anasazi, the Instinct Lace is great for vertical face climbing. But because it's a slightly softer shoe—with only 3.5mm of rubber on the sole—it can handle steep and pocketed terrain with the skill of a much more aggressive, bouldering-specific shoe. We'd rather be wearing the Pink on slab, but it's a bit of a toss-up on vertical terrain. For $20 cheaper, we'd probably choose the Pink for its added versatility.
A final shoe to consider is the La Sportiva TC Pro. When it comes to all-day trad routes and crack climbing in particular, the TC Pro offers unparalleled comfort, protection, and performance. With a stiff build and XS Edge rubber, it also excels on slabs and edges. Whereas the Anasazi Lace features a moderate downturn, the TC Pro has a flat last that is comfortable and precise enough for some climbers, but described as "brick-like" by others. For crack climbing, the durability and protection of the TC Pro's high-top leather upper is unmatched, but for technical, vertical face climbing, the Anasazi offers slightly more precision.
If you're thinking about buying gear that we've reviewed on Switchback Travel, you can help support us in the process. Just click on any of the seller links above, and if you make a purchase, we receive a small percentage of the transaction. The cost of the product is the same to you but this helps us continue to test and write about outdoor gear. Thanks and we appreciate your support!
Depending on the seller, most products ship free in the United States on orders of $50 or more. International shipping availability and rates vary by seller. The pricing information on this page is updated hourly but we are not responsible for inaccuracies.
Learn More About Climbing Gear