The La Sportiva Solution is a high-performance shoe designed for sport climbing and bouldering on vertical and overhanging terrain. Updated last year, the time-tested Solution got a new look, more durable closure system, and additional rubber on the toe box. But after taking the retooled women's version climbing on the tuff and basalt of Smith Rock and bouldering at my local gym, I came away with mixed feelings. In short, it's a capable partner for steep climbing, but the tensioned heel cup caused some comfort-related issues. Below we break down the Solution's climbing performance, sensitivity and shape, rubber, durability and construction, fit and sizing, and more. To see how it compares to the competition, see our article on the best rock climbing shoes.
 
Performance
Climbing in the Solution 
The La Sportiva Solution is purpose-built for challenging, overhanging sport routes and bouldering. I first tried the Solution on the vertical, technical tuff of Oregon's Smith Rock, where many of my friends swear by the shoe. However, although its medium-soft build makes the Solution better on this type of terrain than a more typical, soft bouldering shoe, I still prefer a stiffer model like the La Sportiva Miura VS for the added power and support on vertical edges. But for steeper-than-vertical climbing—like that found in Kalymnos, Greece or the Red River Gorge in Kentucky—the Solution would be my shoe of choice. Here, the softer construction and chiseled toe allow for powerful pulling and precision in pockets. Plus, its rubber-shrouded toe and highly tensioned heel cup are specifically designed for the toe and heel hooking found on such steep terrain.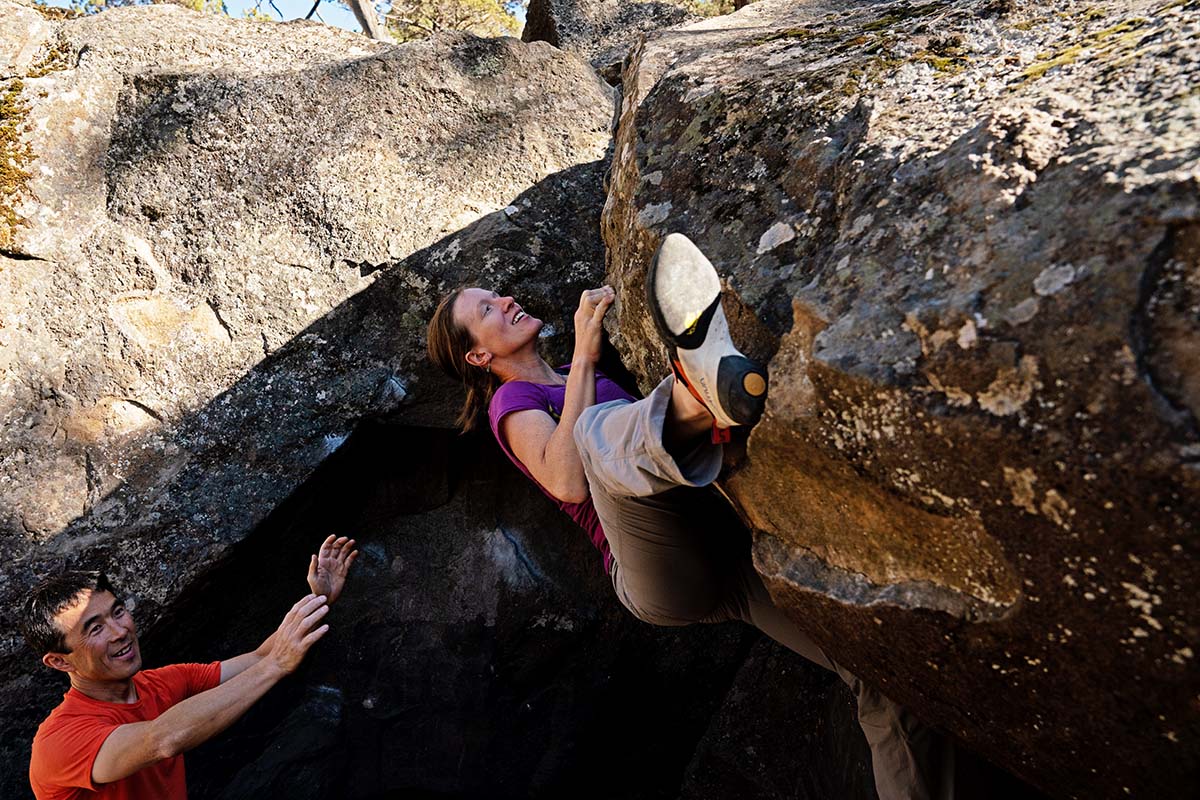 Sensitivity and Shape
The Solution is an aggressively downturned climbing shoe with a highly asymmetric toe box, and it features La Sportiva's proprietary P3 technology that helps hold this shape over time. It is built on the same last as Sportiva's Miura VS, Kataki, and Otaki (just to name a few), and is a step down in aggressiveness from the dramatically downturned Genius and Testarossa. All told, the Solution's downturn and pointed toe offer the precision needed for toeing in on pockets and bearing down on small edges. This combination proved to be a great match for 45-degree, overhanging climbing like that found on my gym's MoonBoard.
In terms of sensitivity, the Solution is medium-soft. This makes it less robust than the La Sportiva Miura VS (see our in-depth review here) but still stiffer than a shoe like the Skwama or Five Ten Team. Soft Vibram XS Grip 2 rubber and a 0.9mm half-length midsole allow the shoe to bend and flex at the arch—great for comfort and smearing—while still maintaining adequate edging abilities. In our opinion, this is a best-of-both-worlds compromise that makes the Solution both a better edging shoe than the floppy Skwama and better smearer than the rigid Miura VS, which has full-length midsole.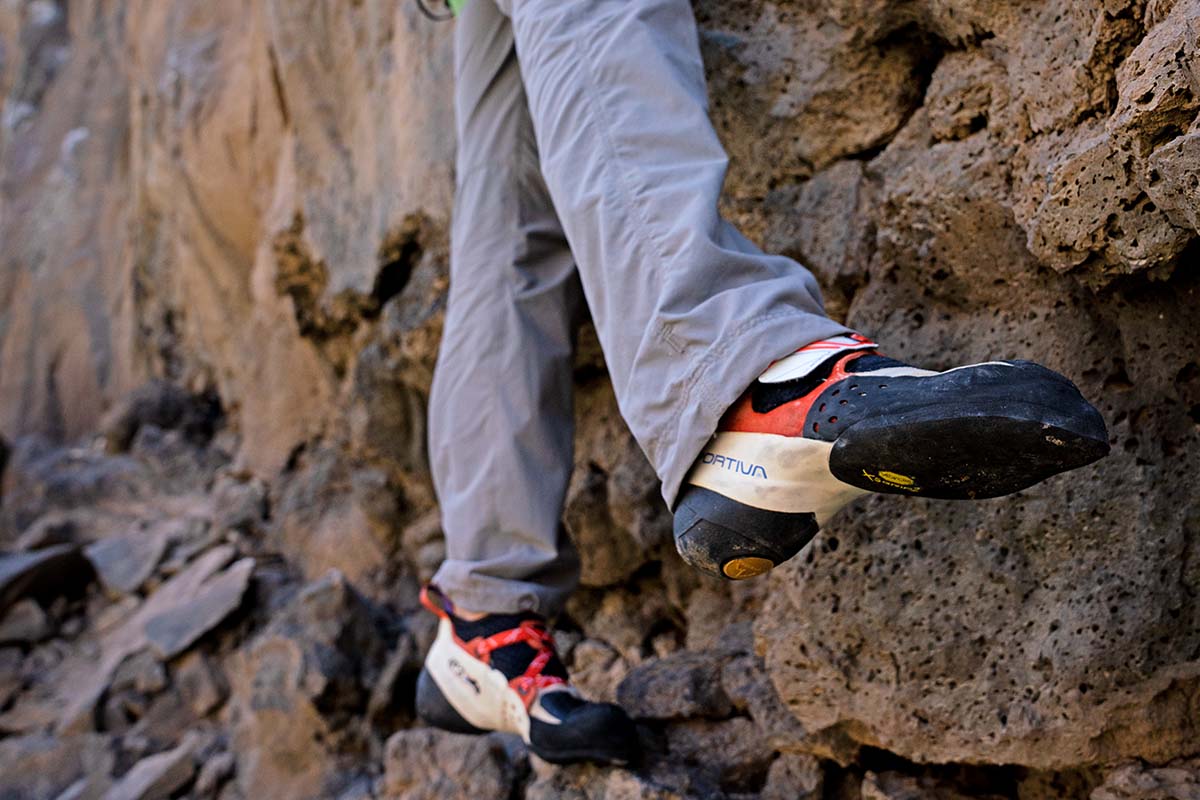 All that said, my feet tire easily in the Solutions, and I often reach for my slightly stiffer Miura VS to help reduce foot fatigue on long or footwork-intensive routes. It's worth noting that the men's Solution has a 1.1mm midsole (the women's is 0.9mm), which makes it noticeably stiffer than the women's model. This allows for better stability on small edges and more foot support, but many men will opt for the women's Solution for its softer and more sensitive feel. It all boils down to personal preference.
 
Rubber
Both the men's and women's versions of the La Sportiva Solution are made with 4mm of Vibram XS Grip 2. This blend is softer and stickier but less durable and supportive than XS Edge (La Sportiva's other common rubber compound). In the Solution, this boosts grip and sensitivity but detracts from the shoe's edging power. In general, I prefer XS Grip 2 for its high friction and ability to bend and smear better than XS Edge, but some might prefer XS Edge for the added power and stability (especially for all-day wear).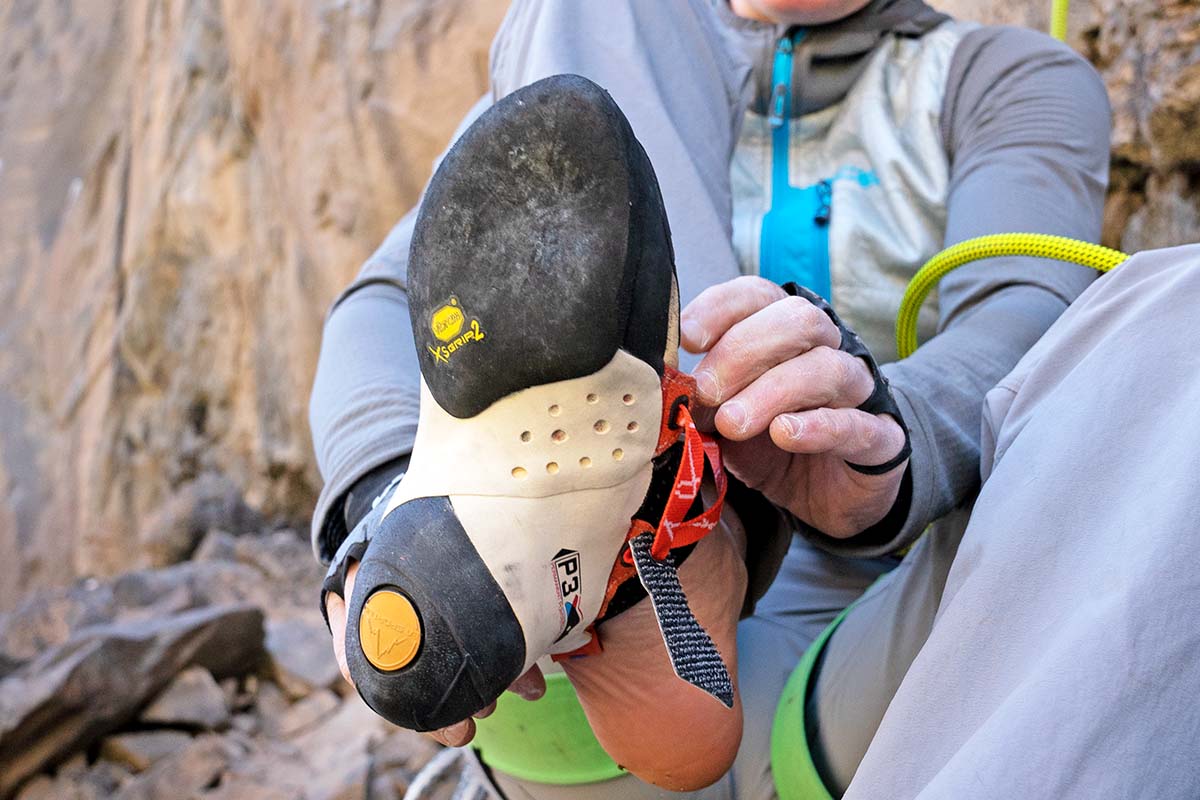 Durability and Construction
We've come to expect a high level of quality and thoughtful design from La Sportiva, and their newest rendition of the Solution doesn't disappoint. In fact, the recent updates make it even more durable than its predecessor, with more rubber on the toe and a burlier Velcro system (the Velcro strap on the prior-generation Solution was prone to breaking). The only downside is that the rubber-heavy design isn't particularly breathable. Shoes like the Miura VS or Testarossa—which sport less rubber—are more breathable, although they don't offer the same security while toe or heel hooking. For climbers needing a lot of rubber, this lack of breathability is par for the course (and you'll be removing the shoe between burns, anyways).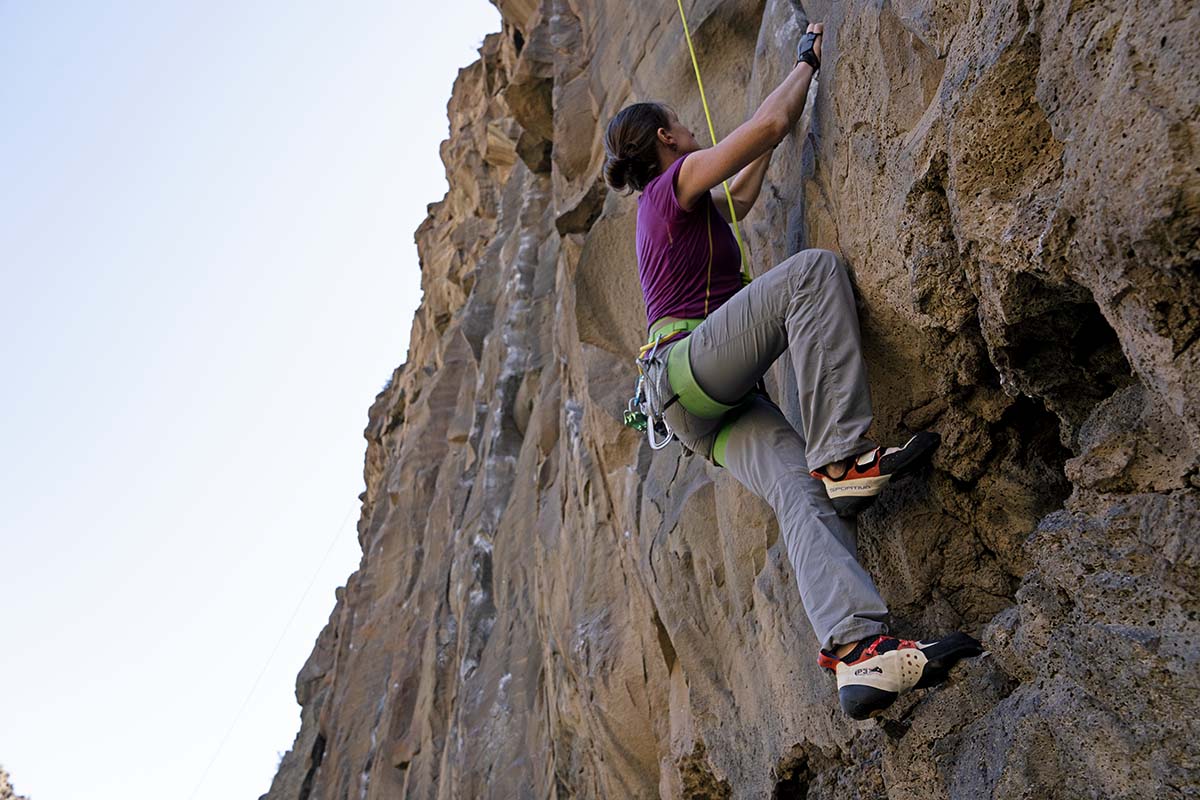 Most of the shoes in my quiver are La Sportiva models designed with the brand's Permanent Power Platform (P3) shape-holding system, which has proven itself time and time again. Like my Miura VS and Testarossa, the Solution has held its aggressive downturn. I also really like the closure system, which evenly tensions the Velcro strap with multiple points across the top of the shoe. This unique design combines the ease of a single Velcro strap with the snug fit more typical of a lace-up shoe. That said, full lace-ups like the Testarossa offer a much more customizable fit for my particularly narrow foot.

Fit and Sizing
I have a very narrow, low-volume foot, which generally fits well into La Sportiva's more aggressive shoes. With this in mind, I sized the Solution the same as my Testarossa and a half size up from the women's Miura VS. It is longer when compared side-by-side with the Testarossa, but the length feels the same when I wear them—the visible difference is likely due to the Solution's more pronounced heel cup and pointier toe. In terms of comfort, I found the Solution very uncomfortable out of the box (especially compared to the Testarossa), but the synthetic/leather upper is designed to stretch a bit, so you'll want to size your Solutions quite snugly. After a few sessions, the shoe fits my foot well, although I still find it rather difficult to get on and off.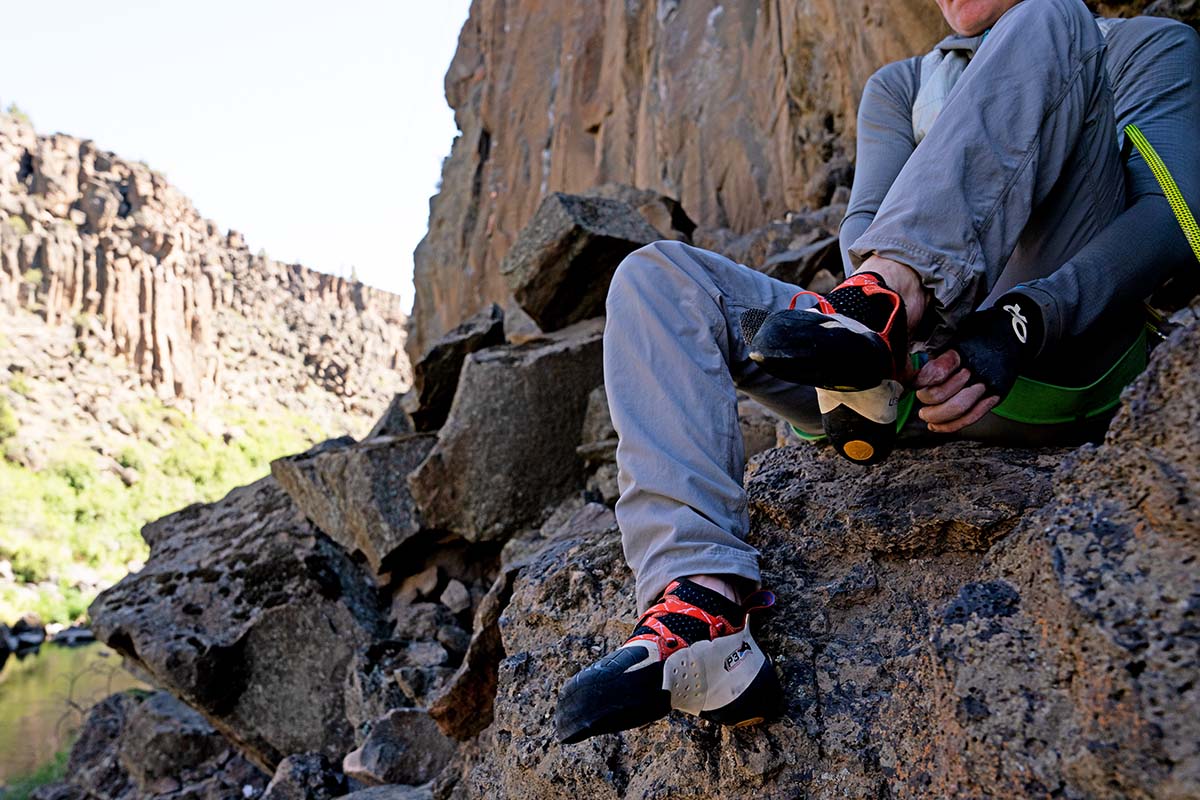 All that said, the Solution has yet to earn a spot in my everyday lineup due to one big gripe: the heel. Like many other climbers, I find it to be extremely uncomfortable, and especially where it digs into my Achilles. The Solution is a highly tensioned slipper, so it pushes on the heel much more than the Testarossa or Miura VS. For comparison, the La Sportiva Skwama has a similarly tensioned heel cup, but it's made with softer materials and does not put as much strain on the foot. In the end, the Solution will fit some feet well, but this has posed issues for many climbers. We highly recommend trying it on before buying to ensure you're not one of them.

Men's Version of the La Sportiva Solution
We put the women's Solution to the test for this review, and La Sportiva also makes the shoe in a men's version for the same price. The men's Solution has a slightly higher volume and comes in yellow rather than orange, but the most significant difference between the two is midsole stiffness: the women's shoe has a 0.9mm midsole in the forefoot, while the men's is 1.1mm. This 0.2mm difference might not seem like much, but it makes the men's Solution noticeably stiffer and less sensitive. The good news is that Sportiva no longer uses gender-specific colors, making the women's shoe a viable (and popular) option for men and vice versa.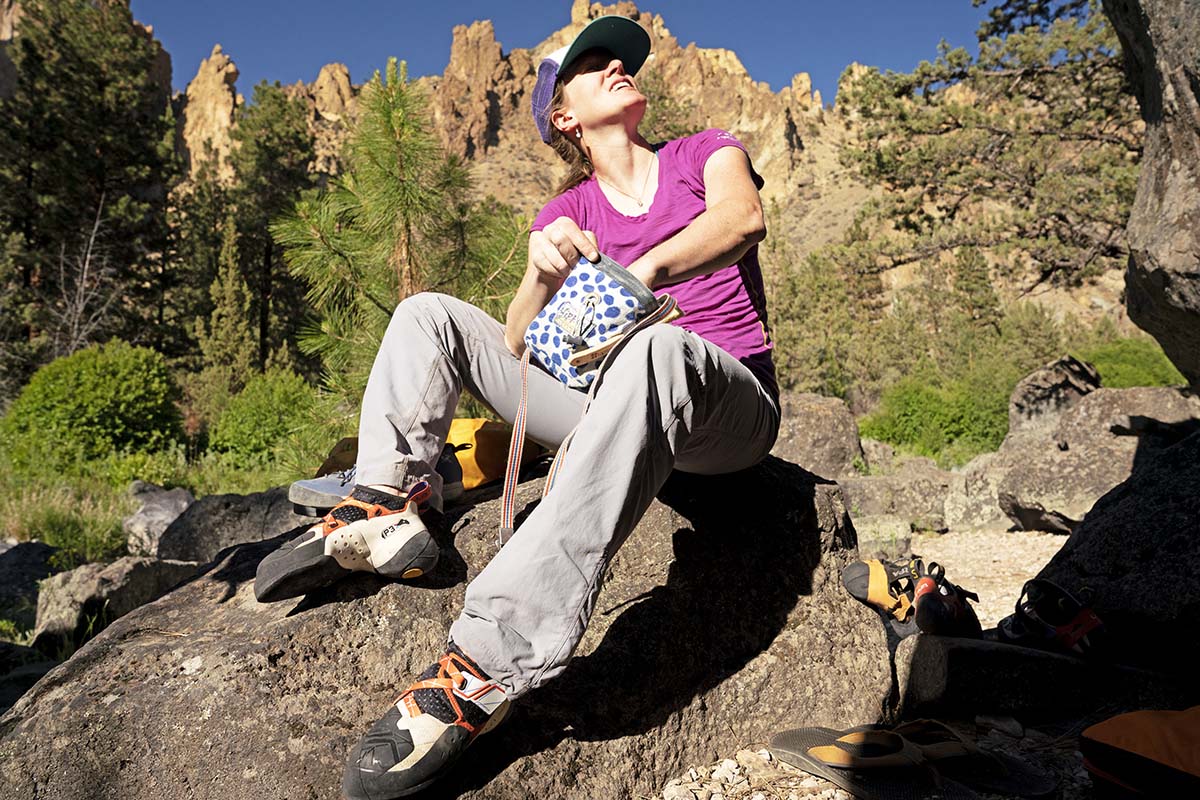 What We Like
The combination of medium-soft build and half-length midsole makes the Solution powerful on vertical edges but flexible enough for steep pulling and smearing.
Closure design offers precision similar to laces, but with the easy on-and-off of a Velcro slipper.
Updated Velcro closure and added rubber boost durability compared to past models. 
 
What We Don't 
With a snug and highly tensioned fit, the Solution isn't a great all-day shoe.
Not very versatile for crack, multi-pitch, or less-than-vertical climbing.
Tensioned heel is uncomfortable for many.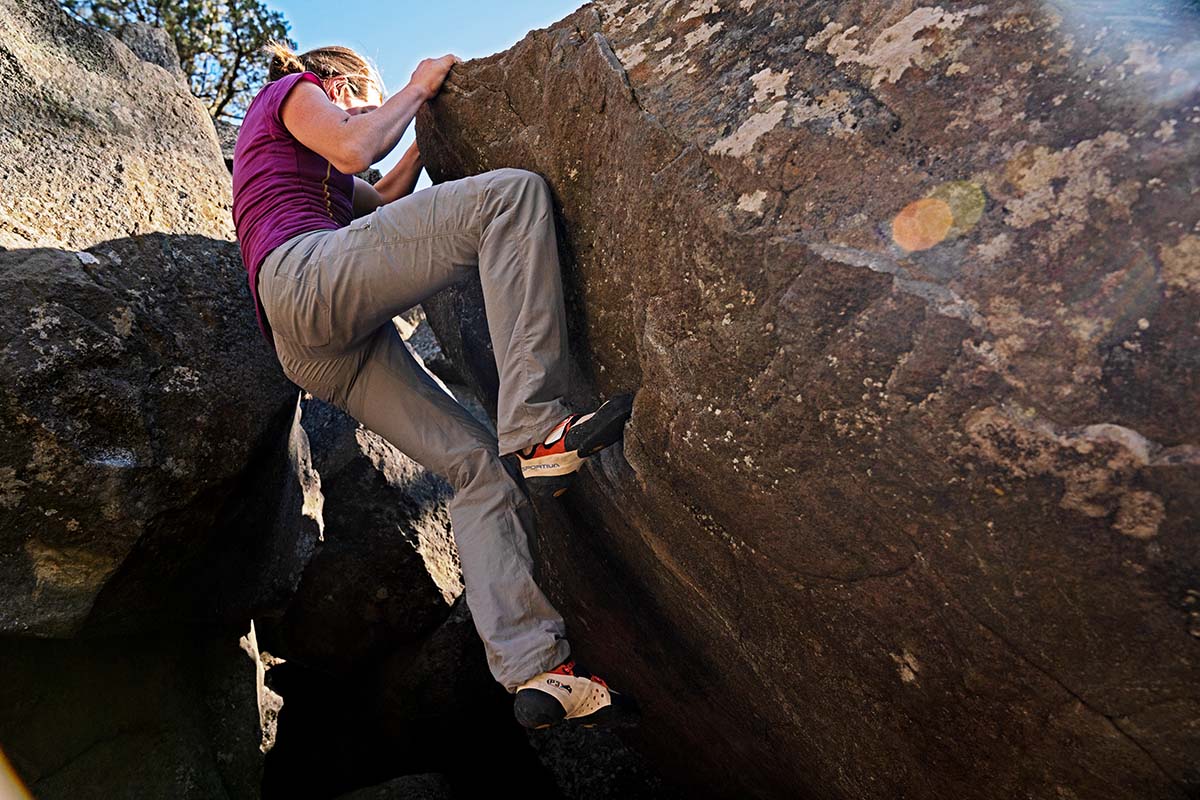 Comparison Table
| Climbing Shoe | Price | Shape | Upper | Rubber | Closure |
| --- | --- | --- | --- | --- | --- |
| La Sportiva Solution | $180 | Aggressive | Leather/synthetic | Vibram XS Grip 2 (4mm) | Velcro slipper |
| La Sportiva Skwama | $170 | Aggressive | Leather/synthetic | Vibram XS Grip 2 (4mm) | Velcro slipper |
| La Sportiva Testarossa | $199 | Aggressive | Leather/synthetic | Vibram XS Grip 2 (3.5mm) | Lace |
| Scarpa Instinct VS | $185 | Moderate | Synthetic | Vibram XS Grip 2 (3.5/2mm) | Velcro slipper |
| Butora Acro | $160 | Aggressive | Leather/synthetic | NEO Fuse  | Velcro slipper |

The Competition
The La Sportiva Solution is one of the most popular high-performance shoes for sport climbing and bouldering, but there's no shortage of stiff competition. From within La Sportiva's own lineup, the biggest challenger is the relatively new Skwama. Both shoes are slippers with Velcro closures and large patches of rubber on the heel and toe for hooking on steep terrain. The Solution has a slightly stiffer construction for better support and edging power, but the new S-Heel technology on the Skwama and softer, more streamlined build give it the clear advantage on truly overhanging routes. The Skwama is also built on a wider last and will stretch more than the Solution, making it more comfortable overall. Choosing between a soft and a medium-soft shoe comes down to personal preference, but we give the edge to the $10-cheaper Skwama for comfort and a better-designed heel.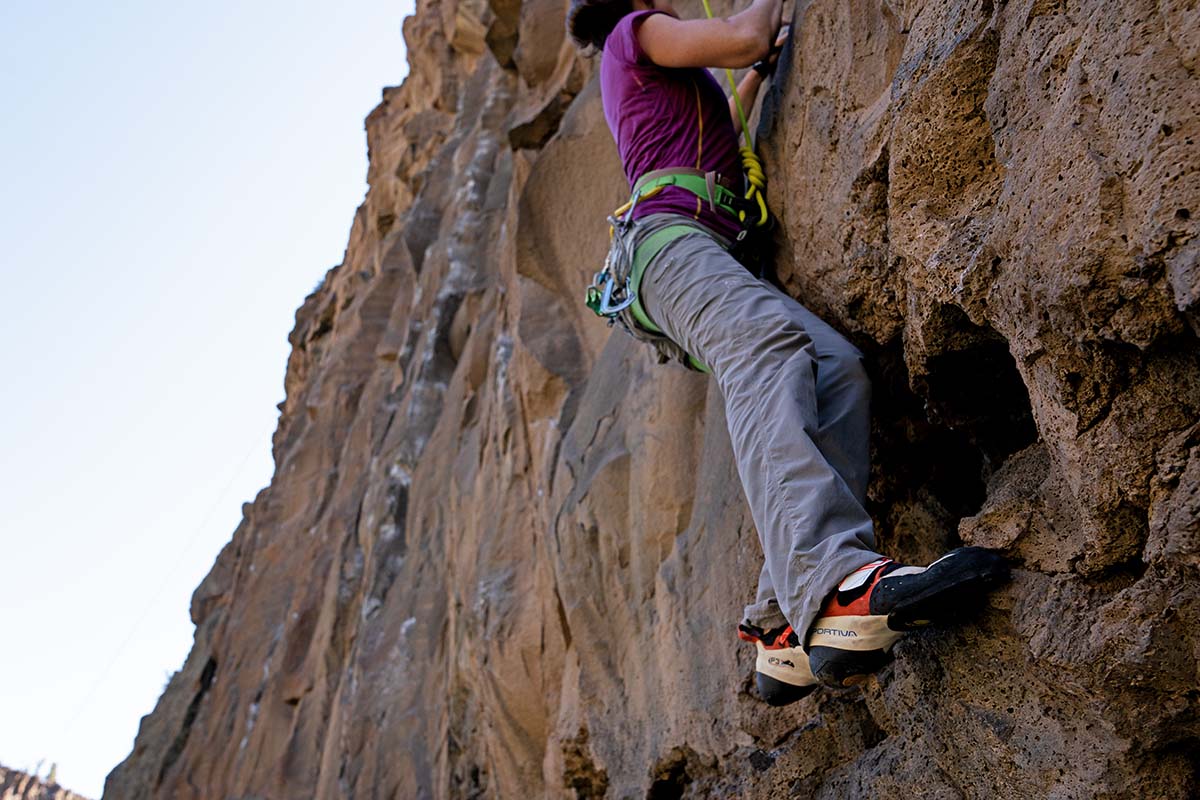 We've mentioned the La Sportiva Testarossa many times throughout this review, and that's because many sport climbers swear by it. In particular, the Testarossa is popular for its close fit, aggressive downturn and highly asymmetric toe, and sensitive build that translate to impressive performance on steep routes. It's not a favorite for bouldering due to the lace-up closure and lack of rubber at the toe and heel (here, the Solution wins out), but for hard sport climbs that don't demand a lot of hooking, I find that the slightly more aggressive Testarossa offers more comfort and precision.
Last but not least, the Instinct VS is Scarpa's answer to the Solution. Like the Solution, the Instinct VS is a slipper that features a healthy dose of rubber along the top with a Velcro closure across the front. The Instinct is a wider, less downturned, and overall more comfortable shoe—especially for climbers with wide feet. However, the Solution will stretch more than the fully synthetic Instinct VS, making for a better fit with less pain if you're one to size your shoes tightly. But perhaps the largest difference between the two is rubber: the Solution uses XS Grip 2 while the men's Instinct VS uses XS Edge at the toe and XS Grip 2 at the heel, which gives it more stability and power on small footholds and better performance on vertical terrain. Both shoes are on the stiffer side of soft for aggressive bouldering, but their partial midsoles allow them to flex and smear like softer shoes. It's a close call, but we prefer the Scarpa for its more well-rounded build.
If you're thinking about buying gear that we've reviewed on Switchback Travel, you can help support us in the process. Just click on any of the seller links above, and if you make a purchase, we receive a small percentage of the transaction. The cost of the product is the same to you but this helps us continue to test and write about outdoor gear. Thanks and we appreciate your support!
Depending on the seller, most products ship free in the United States on orders of $50 or more. International shipping availability and rates vary by seller. The pricing information on this page is updated hourly but we are not responsible for inaccuracies.
Read More From Switchback Travel