Butora might not be a household name just yet, but this South Korean company is slowly taking the climbing world by storm. Founded in 2014, Butora now boasts a full line-up of climbing shoes, from a gym-specific rental model to retro trad lace-up and aggressive slippers. The Acro, which falls into the latter category, has garnered a lot of hype amongst boulderers, gym-goers, and sport climbers alike thanks to its impressive performance on steep terrain. Below I break down the Acro's performance, sensitivity and shape, rubber, construction and durability, fit and sizing, and more. To see how it stacks up against the competition, see our article on the best rock climbing shoes.
 
Performance
Climbing in the Acro
The Butora Acro lands on the high-performance end of the climbing shoe spectrum: it's designed for steep bouldering, sport climbing, and gym routes. I decided to test this aggressively downturned slipper in its element, so I took it along while MoonBoarding at the gym, sport climbing at Smith Rock, and bouldering in El Chaltén—an Argentinian epicenter for climbers. The Acro was precise and powerful on all routes and problems I put it through, with more of a "ballet slipper" feel than any other climbing shoe I've worn. Its uniquely rounded toe, sharp downturn, and sleek design delivered impressive exactness and accuracy on every move. I also noticed that the Acro was able to edge on tiny holds better than similarly downturned shoes, largely thanks to the stiff sole under the toe box (more on this in "Sensitivity and Shape" below).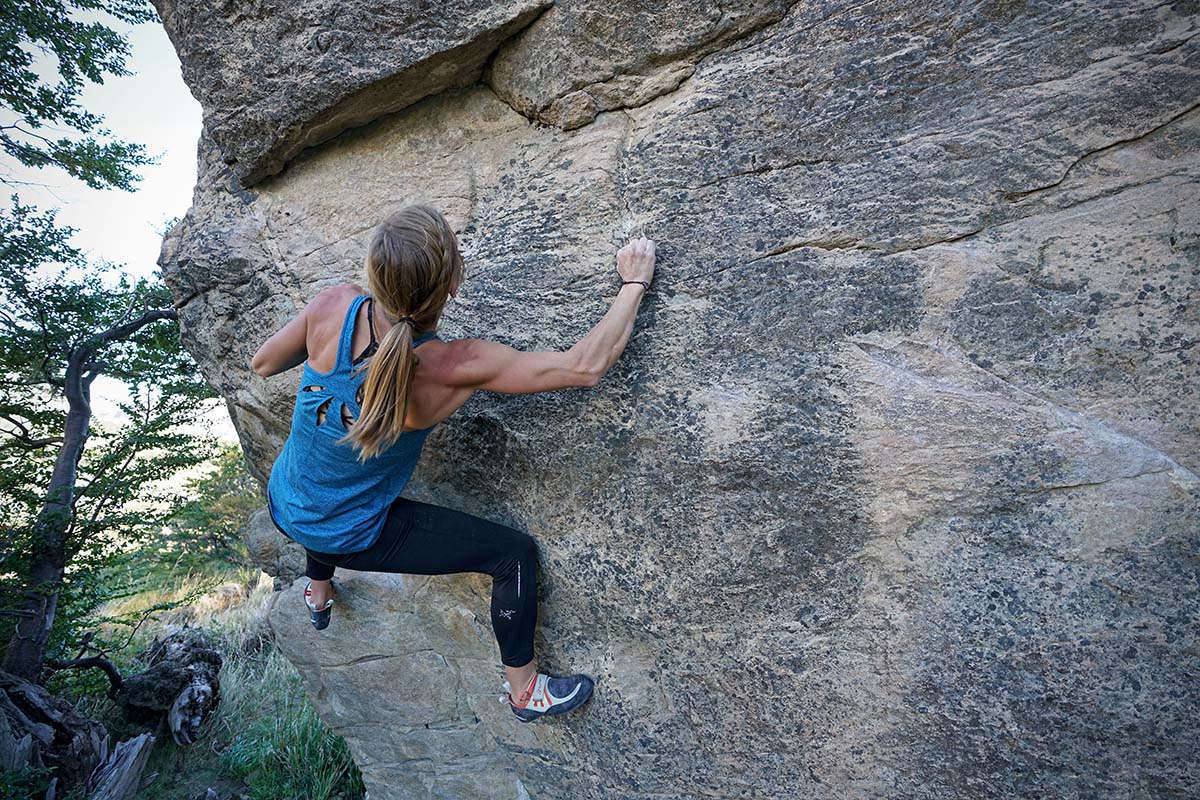 The Acro is most at home on steep terrain. The slipper excels in areas like Kentucky's Red River Gorge, known for its endless and slightly overhung sandstone cliffs. Since it's almost entirely covered in rubber, the Acro is a toe and heel-hooking machine that breezes up boulders and steep sport climbs. With more rubber on the upper than most bouldering shoes, toe-hooking felt both secure and comfortable (a rarity for me), while the low-profile heel stayed firmly put under pressure and offered more precision than the La Sportiva Solution. That said, I found that the Acro was too downturned to be entirely effective on completely vertical walls like those at Smith Rock in Oregon. On this terrain, the toe and heel rubber of the Acro is overkill, and therefore I'll almost always opt for a slightly less aggressive shoe like the La Sportiva Otaki or Miura VS.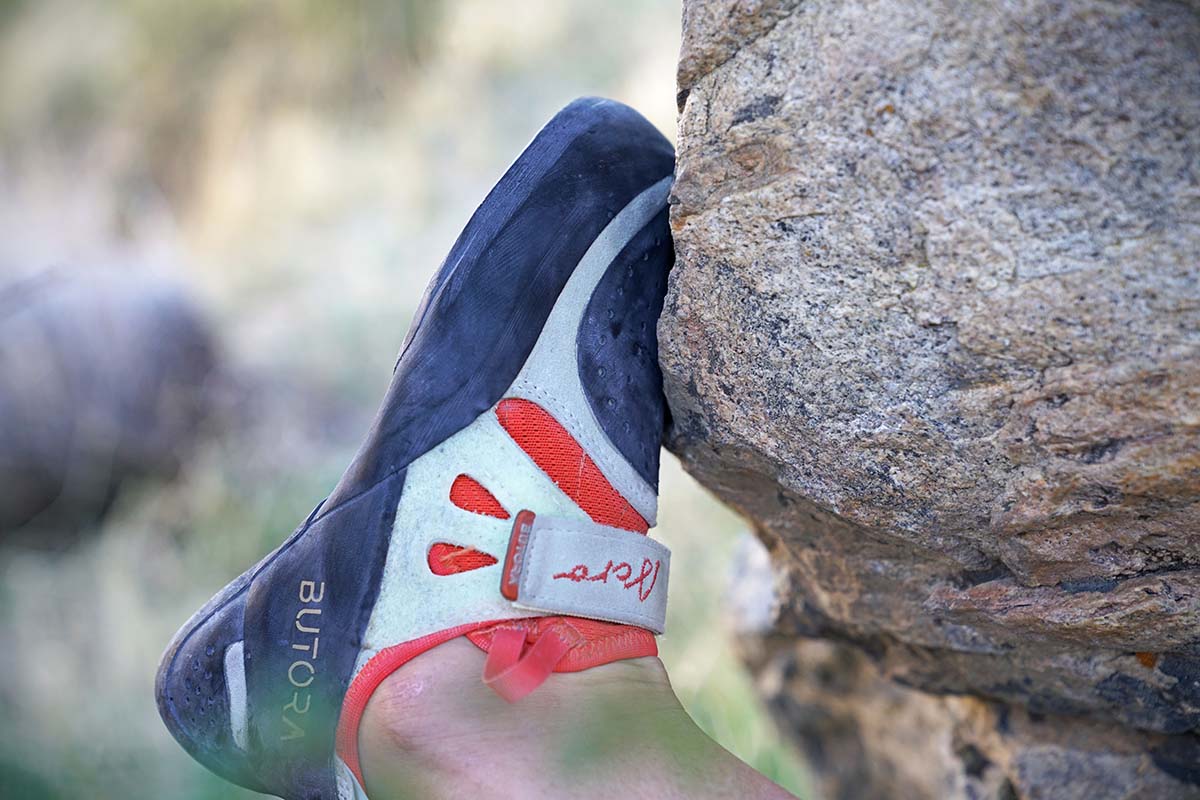 Sensitivity and Shape 
The Butora Acro is a downturned shoe with aggressive asymmetry, a flexy, full-length midsole, and a stiffer toe box than most bouldering-specific options. What does that all mean? In short, it's very performance-oriented. This powerful combo makes the Acro noticeably capable while edging on steep terrain without sacrificing any hooking or smearing abilities. And just to be clear: it's very rare to find a rock climbing shoe that deftly balances conflicting demands like these. Usually, flexibility implies less edging prowess (like the La Sportiva Skwama), and stiffer, less sensitive shoes generally are not as adept on steep terrain. But the Acro gives climbers the best of both worlds: it's stable and powerful on paper-thin edges without sacrificing the flexibility needed for technical bouldering problems.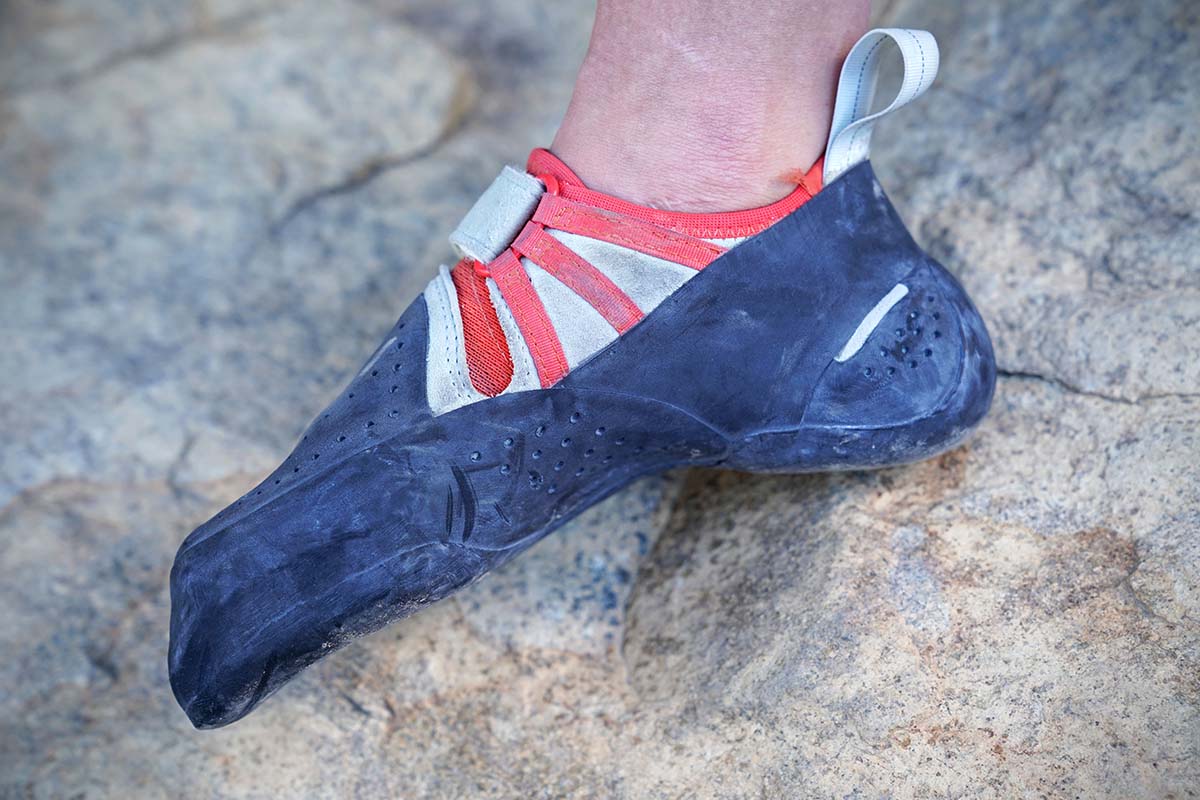 However, the Acro has a unique toe shape that might take some getting used to. Its power point is toward the middle of the toe box—rather than on the larger inner side—making it somewhat difficult to reach far-away footholds with the entire edge. Compared to equally aggressive shoes like the La Sportiva Solution or Evolv Shaman, the Acro's toe is much wider and less pointed, thus making it harder to shove into small pockets. I found there was a bit of a learning curve, but after a few sessions, I was used to the Acro's idiosyncrasies and actually prefer it now for certain types of climbing (notably, gym climbing).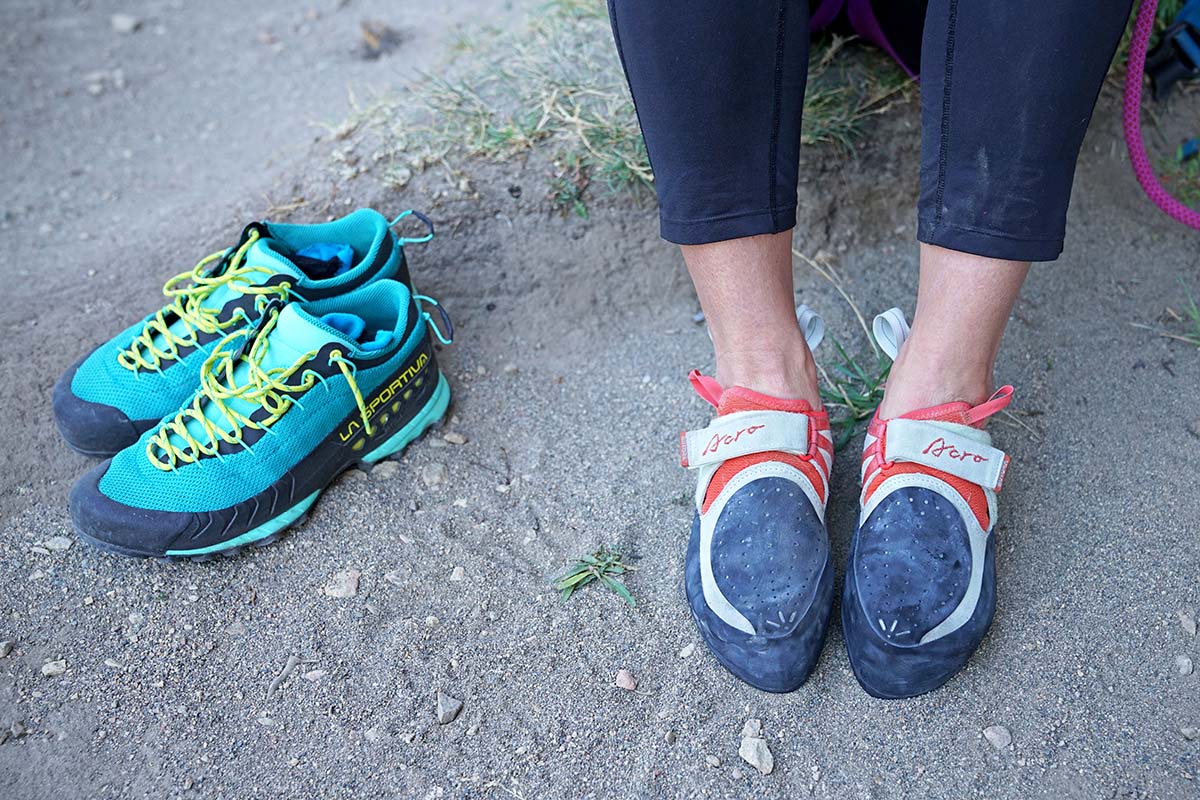 Rubber
The Acro essentially is wrapped in Butora's proprietary blend of NEO Fuse rubber. So far, I've been incredibly impressed with this material for its stickiness and durability, both on the Acro and Black Diamond's Momentum (see our review here). Although on the thinner side, the 4-millimeter sole adds significant stiffness and durability to the toe box, creating a decent barrier between climber and rock. If you prefer the ability to feel the terrain underfoot, I'd recommend opting for a softer, more flexible shoe with a thinner sole, like the Scarpa Instinct VS (3.5-millimeter sole) or Instinct VSR (2 millimeters). That said, the added durability is a real perk—I've had my Acros for over a year and am not even close to needing a resole.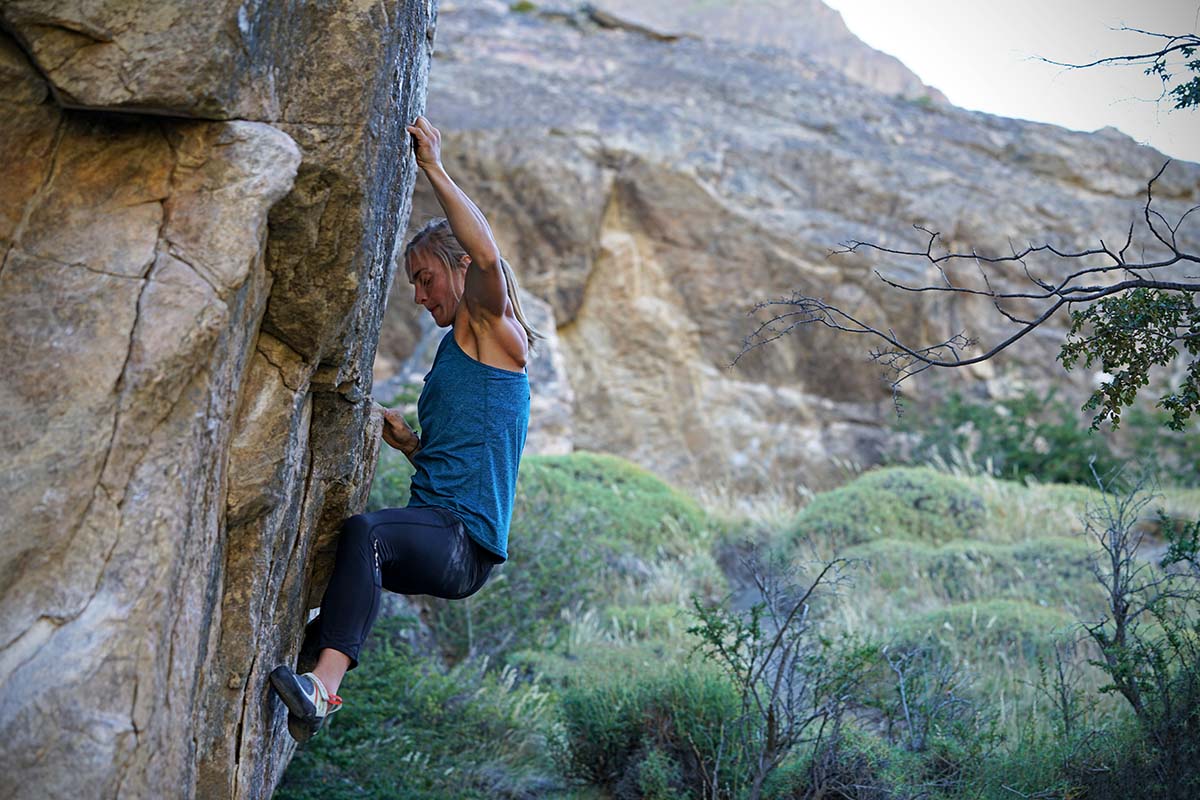 The Acro's rubber sole is just the beginning, though—the NEO Fuse also covers most of the toe and heel boxes. According to Butora, "The Acro has one of the largest toe rubber surfaces of any down cambered shoe on the market." Although we are unable to back this claim up, we have been more than happy with the Acro's toe-hooking performance. That said, the cocooning rubber does inhibit breathability. Despite the pinhole-sized vents at the front, the slipper has noticeably less airflow than a leather alternative with less rubber on the upper. But this is not a major concern as you'll likely be taking the shoe off between attempts on your project.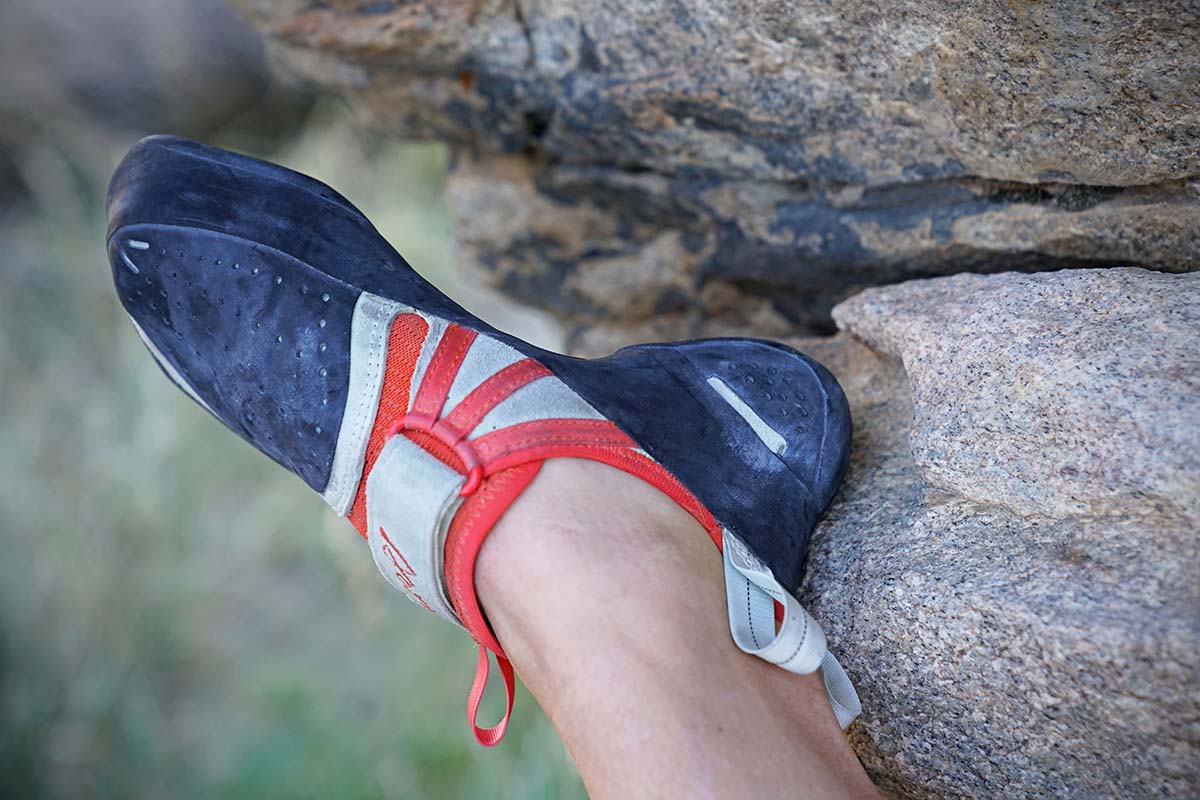 Construction and Durability 
Butora clearly is a detail-oriented company—we honestly can't find a single design flaw on our pair on Acros. We weren't able to find any excess glue where the materials meet, the thread and fabric haven't even begun to fray, and there's been no delamination after almost a year of heavy use. But that's no surprise given the measures the company takes construction-wise. Butora heat-molds each shoe in a foot-shaped cast to bind the sole rubber and rand, rather than just gluing the two parts together. The combination of high-quality rubber and innovative technology result in a long-lasting platform. The Acro also sports a full-length ABS midsole—basically Butora's answer to La Sportiva's P3 Power Platform system. This midsole construction from both companies not only effectively transfers power from the foot to the toe, it also maintains the shoe's downturned shape over time. Further, open-cell foam lines the forefoot for extra comfort, odor blocking, and breathability. All in all, this is an extremely well-built shoe.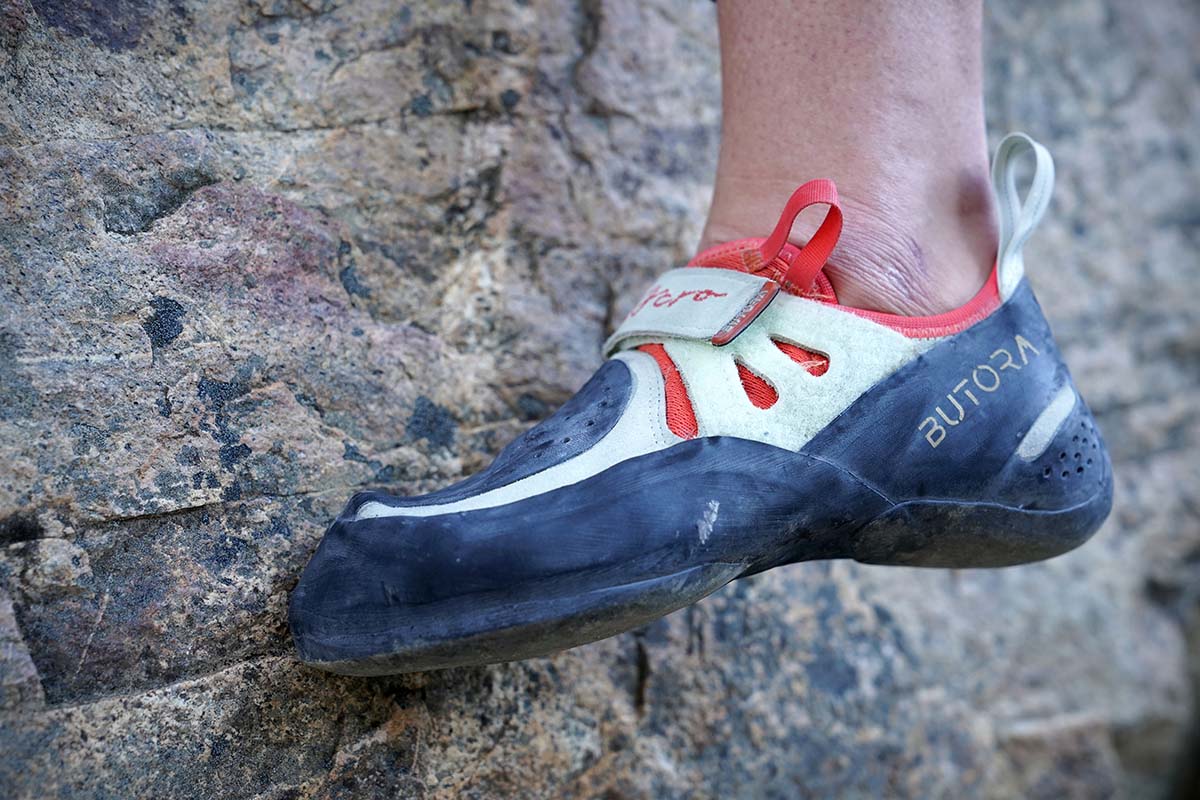 Fit and Sizing
Having fully broken in the Acro, I'm convinced its comfort and fit are superior to many other options out there, and especially the aggressive ones. The Acro's combination of synthetic and leather upper has maintained a snug fit from the moment I took the shoe out of the box, and the inner sock liner adds softness and security. The slipper is surprisingly easy to put on and take off, and a wide attachment point for the Velcro strap allows it to conform to narrower feet. Most importantly, the Acro comes in both narrow (blue) and wide (orange) options, instead of male and female. Other than color and width, the two versions are identical. And for those with wide feet who are tired of sacrificing performance for comfort, the Acro definitely is worth a shot. The toe box of the wide model is roomier than that of the equally aggressive La Sportiva Solution.
Butora has a unique sizing system, so it's best to try the Acro on before buying. In general, Butora recommends taking your street-shoe size for sport climbing and going down by a half-size for bouldering. I've found that the Acro stretches very little, so choose accordingly. And if you have one foot that's bigger than the other, Butora is one of just a few companies that allows you to purchase shoes of separate sizes.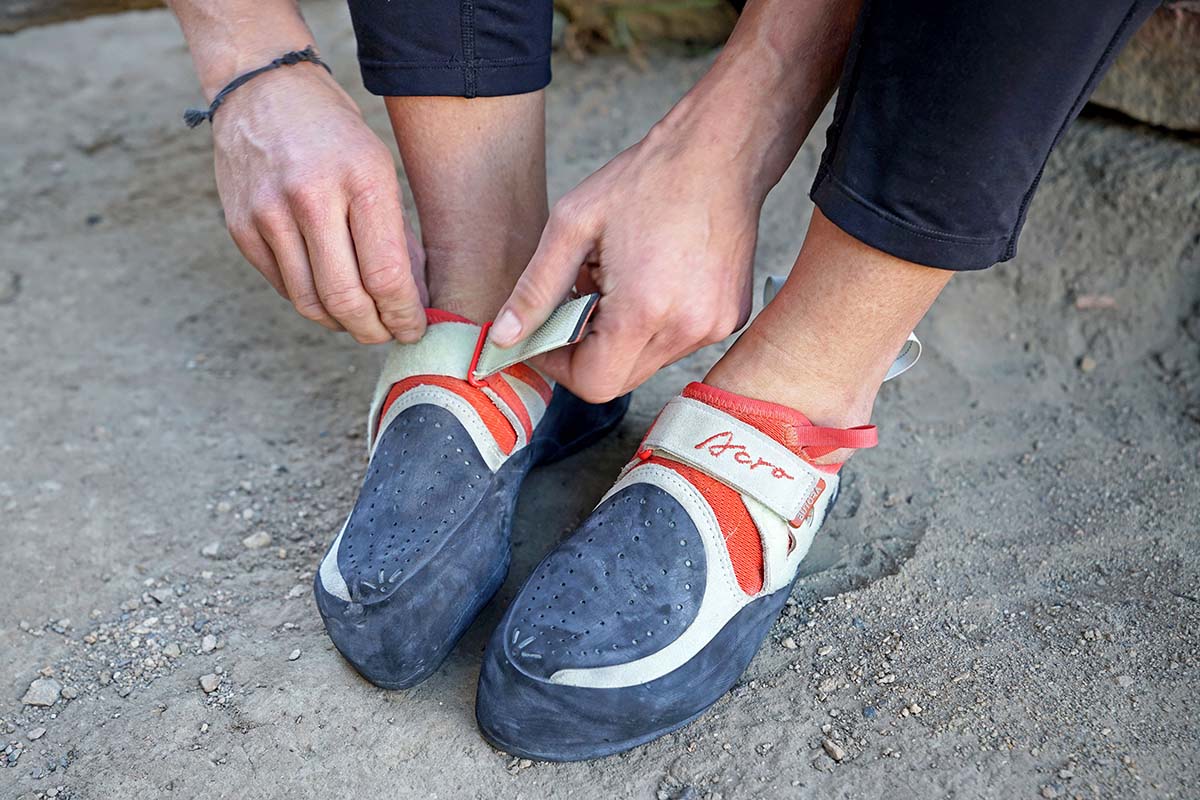 What We Like
Impressive craftsmanship and design. The Acro is an extremely well-built shoe. 
Better edging than most other highly-downturned shoes thanks to its stiff toe box and rubber blend, all without sacrificing hooking or smearing abilities.
Since it comes in both narrow and wide sizes and has a customizable Velcro closure, the Acro fits a wide variety of feet.
 
What We Don't 
Although the Acro is impressive on overhanging and steep routes, it struggles on purely vertical terrain.
The unique toe shape takes some getting used to.
The cocooning rubber does inhibit breathability, and therefore the Acro offers less ventilation than shoes with more leather. 


Comparison Table
| Climbing Shoe | PRICE | Shape | Upper | Rubber | Closure |
| --- | --- | --- | --- | --- | --- |
| Butora Acro | $160 | Aggressive | Leather/synthetic | NEO Fuse | Slipper/Velcro |
| Scarpa Instinct VS | $185 | Moderate | Synthetic | Vibram XS Edge (3.5mm) | Slipper/Velcro |
| La Sportiva Solution | $180 | Aggressive | Leather/synthetic | Vibram XS Grip 2 (4mm) | Slipper/Velcro |
| La Sportiva Skwama | $170 | Aggressive | Leather/synthetic | Vibram XS Grip 2 (4mm) | Slipper/Velcro |
| Five Ten Hiangle | $150 | Aggressive | Leather | Stealth C4 (4.2mm) | Slipper/Velcro |

The Competition
We'll start by noting that choosing a rock climbing shoe can be like choosing a partner—while it might be an incredible shoe, it might not be the right one for you. If you're on the hunt for an all-day option, a crack-climbing machine, or a comfortable beginner shoe for just starting out, we'd encourage you to look elsewhere. But if you're in the market for an aggressive, high-performance option (especially for bouldering), the Acro has all of the ingredients that we look for. And though it goes without saying, we recommend that you try before you buy.
Comparing the Butora Acro with the La Sportiva Solution ($180) and Scarpa Instinct VS ($185), the similarities are numerous. All three are aggressively downturned slippers with Velcro closures that have large rubber patches on the heel and toe and excel on steep terrain. And both the Acro and the Instinct VS are stiff enough to maintain decent power while edging. However, we think the Acro offers noticeably higher build quality and the best—and most customizable—fit of the three. If you've given the Instinct VS or Solution a shot and have been less than pleased, we recommend trying the Acro. At $160, it's very reasonably priced for a high-performance shoe. And if you love Butora but want something even stiffer and more aggressive, check out their new Narsha.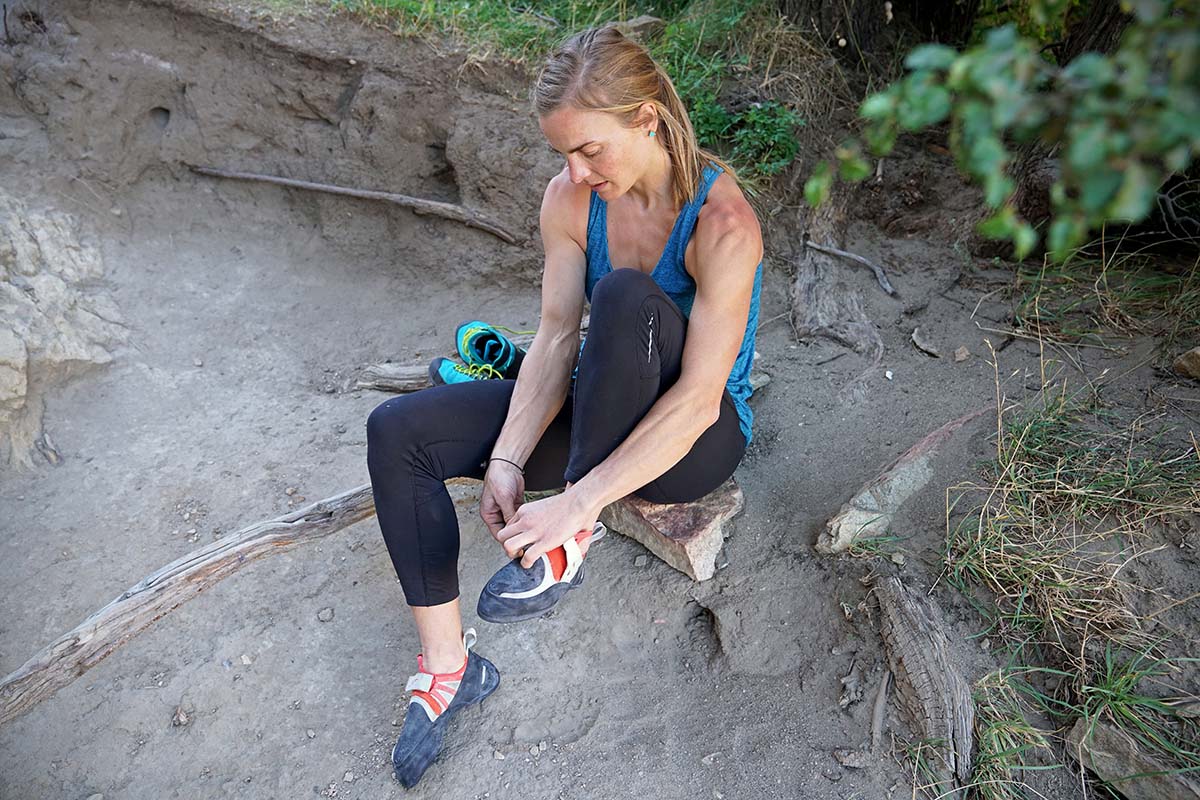 We've also referenced one of La Sportiva's softest shoes built for steep climbing: the Skwama. Like the Acro, the Skwama is a high-performance, highly aggressive climbing slipper with superb toe- and heel-hooking abilities. However, the La Sportiva Skwama is a much softer shoe and thus does not edge as well as the Acro. That said, it's a noticeably more comfortable slipper that still balances performance well. The two shoes come in at fairly similar price points (the Skwama is $170), so the final decision comes down to whether you want to prioritize sensitivity or edging performance.
Finally, the Five Ten Hiangle is another wildly popular bouldering shoe to consider. Like the Acro, it features a leather upper with large patches of rubber on both the toe and heel. But the Hiangle is much softer (similar to the Skwama), which means a few things with a leather shoe. For one, more than any shoe mentioned here, the Five Ten will conform to your foot like a glove, offering a close fit and a high amount of precision. But over time, it will lose its shape more than a stiffer model like the Acro or a synthetic shoe like the Skwama. On the bright side, being priced at $150, the Hiangle is one of the most affordable aggressive models on the market.
If you're thinking about buying gear that we've reviewed on Switchback Travel, you can help support us in the process. Just click on any of the seller links above, and if you make a purchase, we receive a small percentage of the transaction. The cost of the product is the same to you but this helps us continue to test and write about outdoor gear. Thanks and we appreciate your support!
Depending on the seller, most products ship free in the United States on orders of $50 or more. International shipping availability and rates vary by seller. The pricing information on this page is updated hourly but we are not responsible for inaccuracies.