It's getting harder and harder to stand out in the saturated climbing shoe market, but the La Sportiva Skwama is quite unique. This flexible and sensitive slipper is ideal for the steep terrain commonly found on sport routes and boulders. But perhaps most notably, the Skwama is built on a wide last, making it more comfortable than most aggressive models. This past summer, we took La Sportiva's newest slipper to the slick basalt of Smith Rock's Lower Gorge and the steep limestone and granite sport routes of Wyoming and were impressed by how well the shoe climbed, especially on overhanging terrain and smeary cruxes. Below we break down the Skwama's performance, sensitivity and shape, comfort, durability and construction, fit and sizing, and more. To see how it stacks up to the competition, see our article on the best rock climbing shoes.

Performance
Climbing in the Skwama
The La Sportiva Skwama is a fairly aggressive shoe built to tackle steep, bouldery terrain. With this in mind, I took the shoe to both the Lower Gorge at Smith Rock and the Goat Cave outside Jackson, Wyoming. The Lower Gorge is characterized by smeary, insecure stemming and arête climbing, and the soft and flexible Skwama proved to be a fantastic shoe for the job. On a particular crux sequence where I was faced with terrible feet and delicate heel hooks, the shoes grabbed the basalt like suction cups. In the steep Goat Cave, I benefited from the Skwama's aggressive downturn and its heel- and toe-hooking prowess. At one point, I committed to a toe hook that I was sure wasn't going to hold and was shocked at just how locked-in my foot felt when my torso swung out.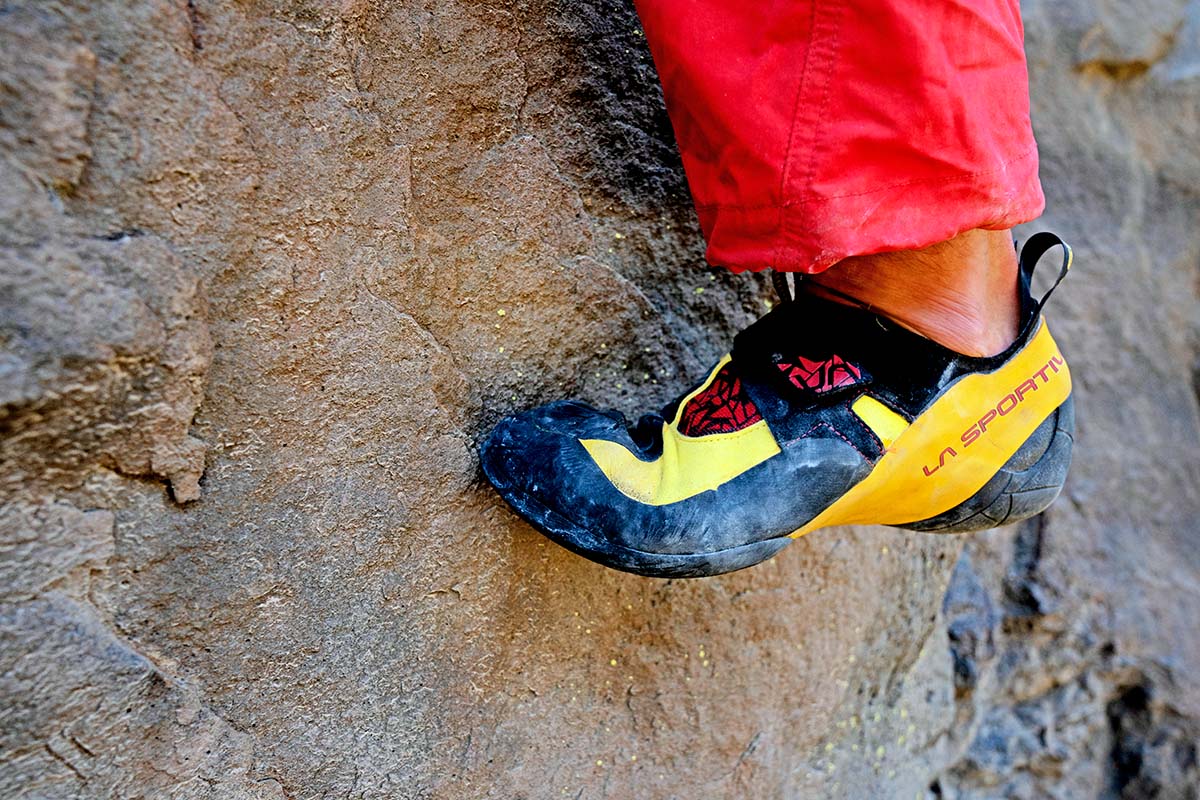 That said, the soft and sensitive construction that makes the Skwama so excellent for hooking and smearing detracts from its abilities on edges and in pockets. With no firm platform, the shoe is unstable and even terrifying on small holds like these. The first—and only—time I wore these shoes on the delicate tuff of Smith Rock's main area, I got gripped midway through the nubbin crux of a warmup climb I've done nearly 100 times. After that experience, I haven't again worn the Skwama on a route requiring me to stand on small features. I should note that I'm used to wearing powerful edging shoes like the La Sportiva Miura VS and TC Pro, so the switch to the Skwama was particularly dramatic for me. And in terms of aggressive shoes on the softer end of the spectrum, the Butora Acro and La Sportiva Solution are much more capable in pockets and on edges.
Finally, it's worth noting that a lot has been written about the Skwama being surprisingly good in cracks, which is uncommon for a steep climbing shoe. This is a tricky subject to begin with, as crack climbers vary wildly in their shoe preferences (some prefer stiff and padded shoes like the La Sportiva TC Pro, while others opt for thin and sensitive slippers like the Five Ten Moccasym). Personally, I didn't find the Skwama to be anything special in cracks—it has a relatively high-profile toe compared to the Mythos (boasting the lowest-profile toe in the Sportiva line) and is entirely unpadded. There is a large piece of rubber over the toe which I found helpful for toe hooking, but I don't think it adds much jamming performance beyond some added durability. I also prefer a better edging shoe for harder crack climbs, as I often find myself using small edges on the face around the thin crack. Sure, the Skwama might be more comfortable for crack climbing than most aggressively downturned models, but it certainly should not be considered a dedicated crack shoe.
 
Sensitivity and Shape
The La Sportiva Skwama is a sensitive shoe with an asymmetric shape and dramatic downturn. It incorporates La Sportiva's proprietary P3 system to hold the downturn, and after five months of heavy use, my pair is still as aggressively shaped as it was out of the box—especially impressive given its soft makeup. Because of its sensitivity and shape, the Skwama shines brightest on steep terrain while hooking or smearing. It makes a great intermediate-to-advanced indoor shoe and also performs well on boulder problems or sport climbs without thin and delicate edging. All that said, the Skwama is not an all-day shoe or a great choice for moderate trad climbing—it simply lacks the stiffer and flatter design needed for such styles.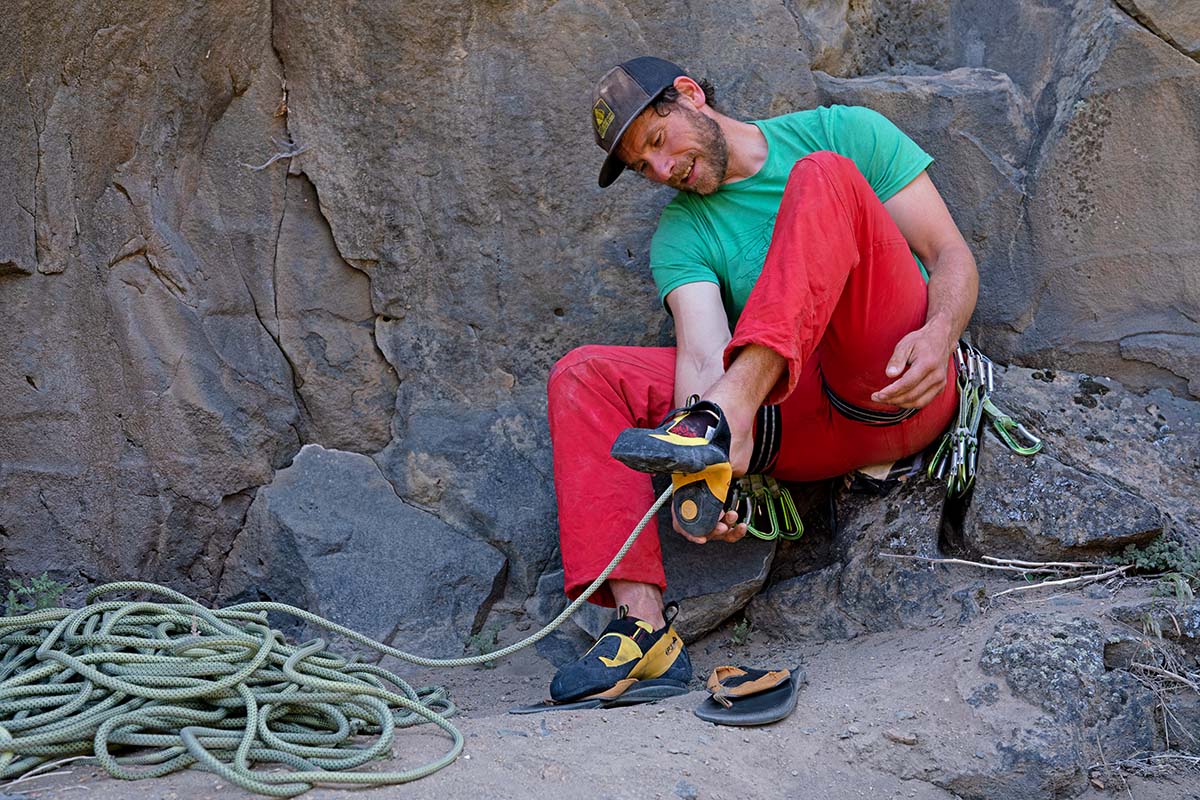 Where you sit on the soft-to-firm spectrum is truly a matter of preference. Some climbers think that feeling the rock underfoot allows more precision, while others prefer the stability of a stiff platform instead. The Skwama is decidedly on the soft end of the spectrum, which most will find boosts comfort and sensitivity but detracts from support and edging power. For this reason, we don't recommend the Skwama for beginner climbers, as untrained feet will get tired easily in such as soft shoe (if you're just starting out, check out our article on the best climbing shoes for beginners).
 
Rubber
The sole of the Skwama is covered with 4mm of Vibram XS Grip 2 rubber, which is known for its soft makeup and superior grip. This was actually the first time I'd climbed in a shoe with this particular rubber, as most of Sportiva's men's performance shoes use XS Edge—a stiffer, more durable blend. The only other men's shoes with XS Grip 2 are the soft and sensitive Genius, Futura, Solution, and Testarossa, although it comes standard on most of the women's versions of Sportiva's performance models. Overall, I had a positive experience with the XS Grip 2, and its softness promoted a far more sensitive climbing experience than I'm used to. I know many men who opt for women's versions of La Sportiva shoes just for the XS Grip 2 rubber, and I now understand why.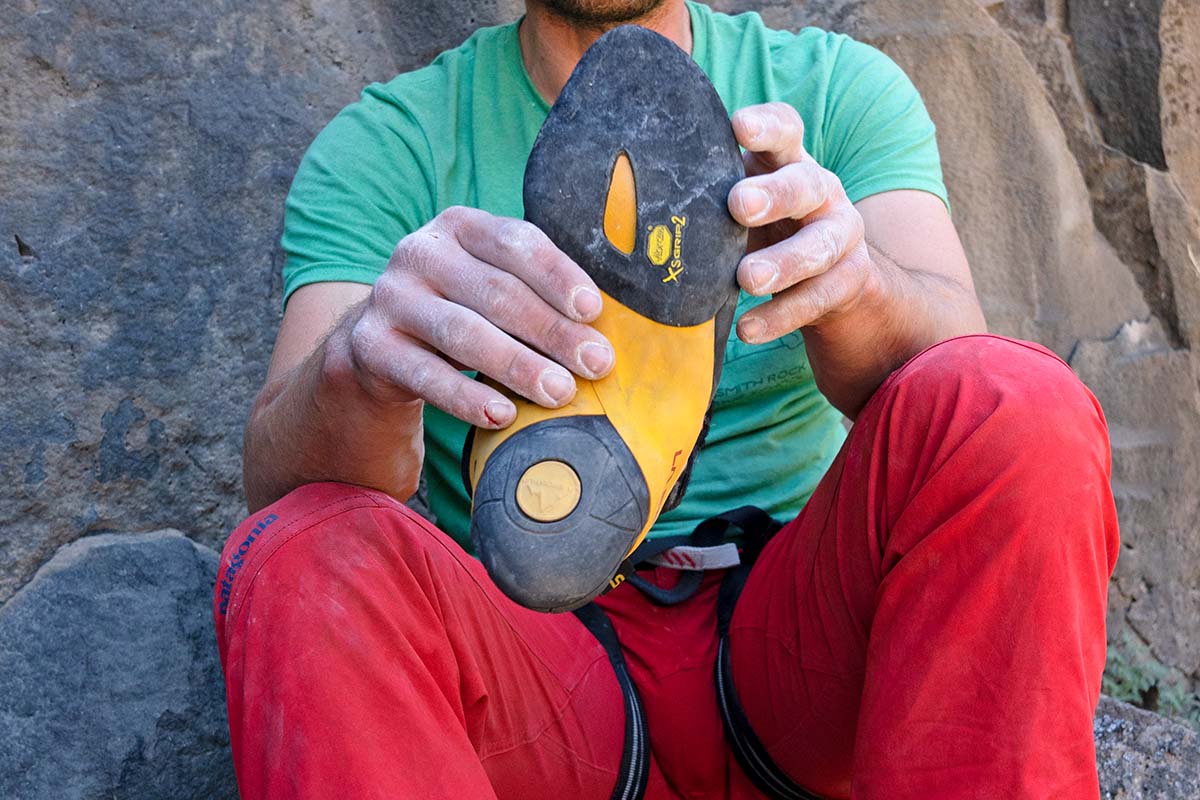 In terms of durability, XS Grip 2 rubber is known to wear down faster than XS Edge. After five months of climbing, my Skwamas' toes are starting to round, although they still have a while before needing a resole. This could also be a function of the style of climbing I use them for—the wear point on shoes like these is much less concentrated than edging shoes that stand on small, precise footholds.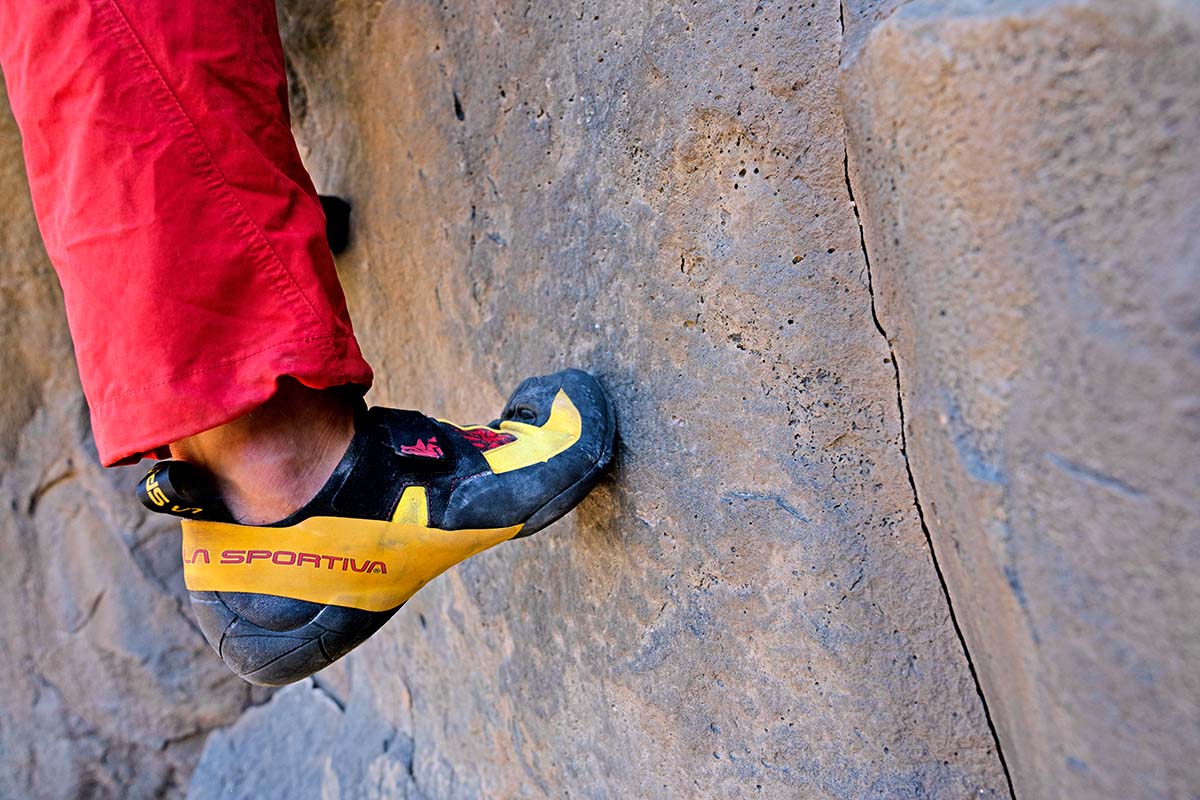 Comfort
Although built with an emphasis on performance, the La Sportiva Skwama is still impressively comfortable. The slipper is unlined and unpadded, meant to fit the foot like a glove and offer added sensitivity. Further, the upper is a blend of leather and microfiber, which allows subtle stretch for a proper fit, but not enough that the shoe loses its shape. And finally, the wide last allowed my hobbit-like foot to comfortably lie flat. After breaking them in, I was able to wear my pair of Skwamas for full pitches without noticing any foot pain. That said, I wouldn't consider wearing this shoe on multi-pitch routes unless I was planning to pop my heels out at every single belay. And keep in mind that such a soft shoe requires your foot to work harder to support itself than it would in a stiffer shoe. In fact, I experienced bad foot pump while wearing the Skwama on a climb with particularly technical footwork. For this reason, I don't recommend this slipper as an all-day shoe.

Durability and Construction
Given that the Skwama is designed to maximize sensitivity and has a generally lighter construction than a beefy shoe like the TC Pro, it's held up surprisingly well to the five months of abuse. My pair is certainly worn and used, but the shoes haven't lost any of their functionality and overall are aging well. The Velcro strap is more robust than the closure system on the La Sportiva Solution, and as I mentioned above, the style of climbing I've used them for has also helped stave off burning through the toe. The large piece of rubber over the toe and lack of laces and Velcro in the forefoot makes me think that they'd hold up well to jamming too.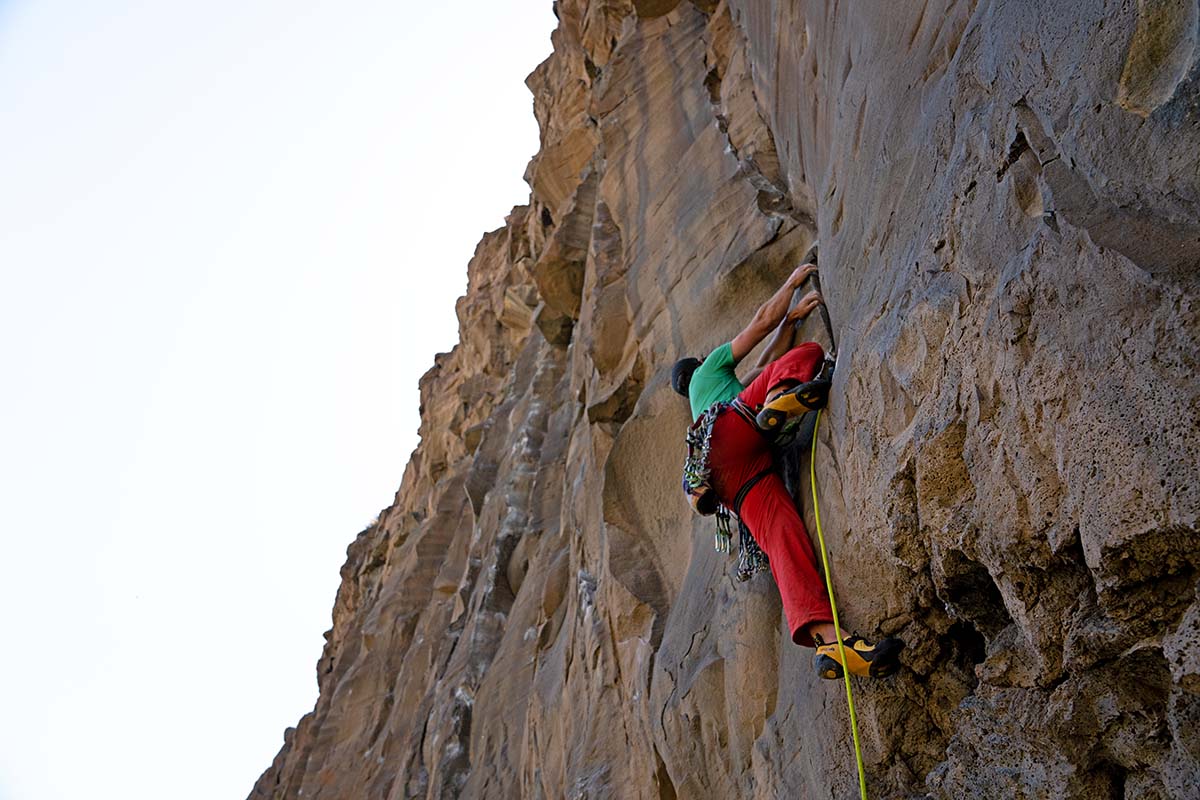 The La Sportiva Skwama is built with La Sportiva's S-Heel and P3 system. The S-Heel is one of Sportiva's newest technologies, and perhaps the most distinguishable compared to other slippers on the market. Historically, the soft build of slipper shoes has compromised heel-hooking power, folding and collapsing on the inside part of the heel under pressure. The S-Heel addresses this issue by placing a more rigid piece of rubber on the inside of the heel to counter those rotary forces. My foot certainly felt nicely locked into the shoe every time I hooked in it. Sportiva's P3 system, on the other hand, is designed to hold the shape throughout the life of the shoe, and it works. Even after months of hard use, my pair is just as downturned as it was right out of the box.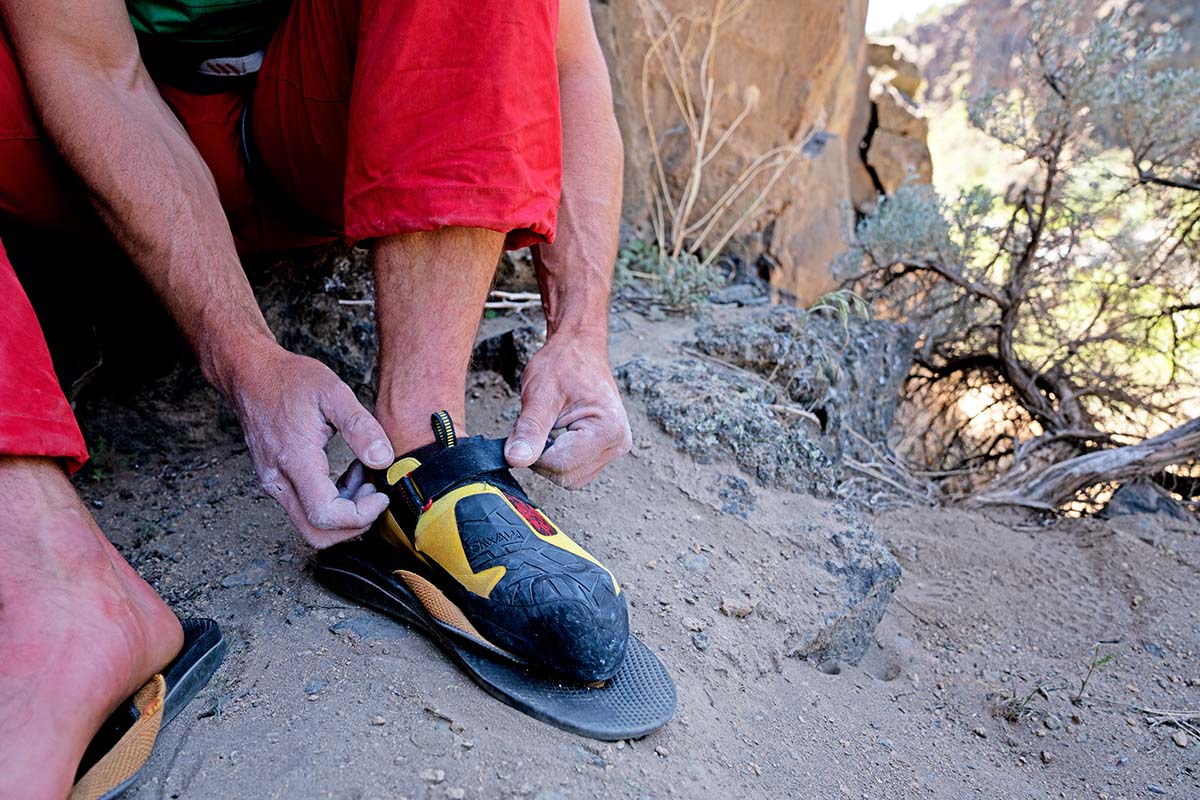 Fit and Sizing
I sized the Skwama the same as my Miura VS and tightest pair of TC Pros. Sized this way, they fit perfectly as a performance slipper. The last is already noticeably wide for such an aggressive shoe, and the unlined leather/synthetic toe box also stretched slightly to accommodate my high-volume foot during the break-in period. There was a significant increase in comfort throughout this time as well. The single-strap Velcro closure system helped reinforce the elastic at the ankle, but this was certainly secondary to the fit. In other words, if I had oversized the shoe, I don't think the strap would've done much to make up for it.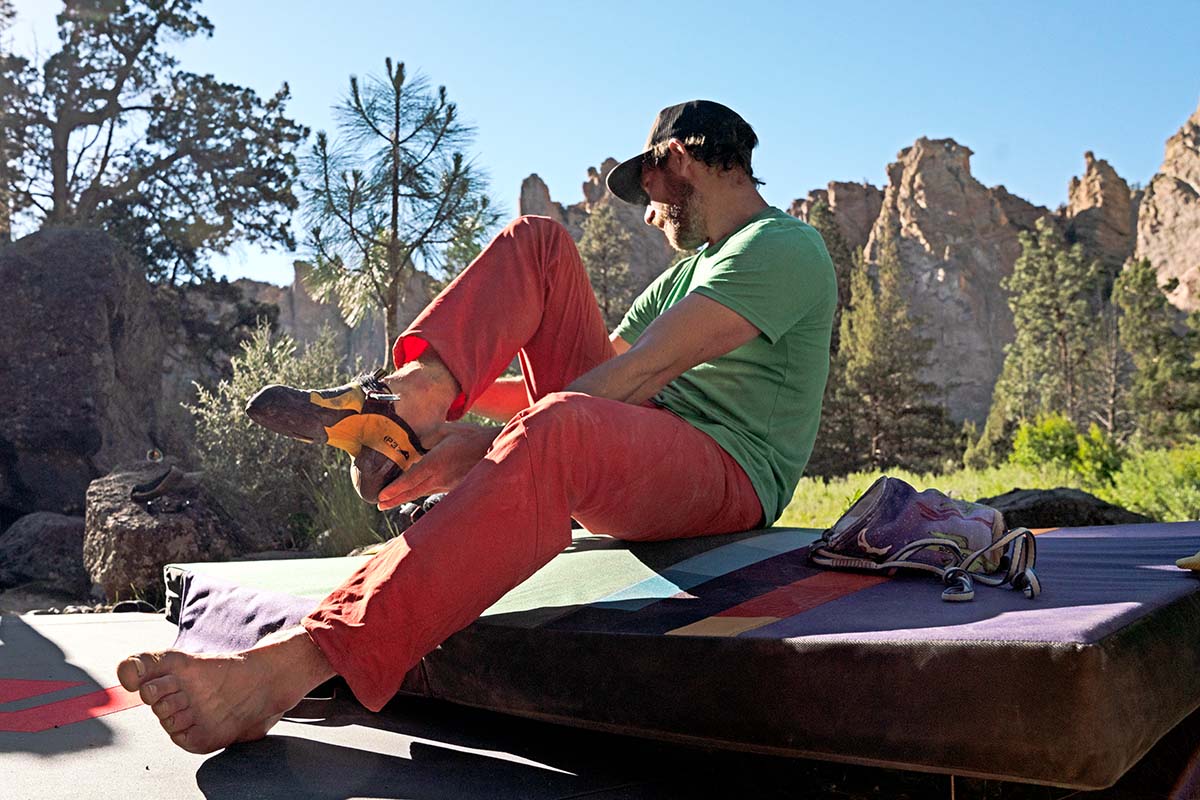 Women's Version of the La Sportiva Skwama
We put the men's Skwama to the test for this review, and La Sportiva makes the same shoe in a women's model. Both shoes sell for $170 and feature Vibram XS Grip 2 rubber, the P3 shape-holding design, an aggressive downturn, and the proprietary S-Heel construction for heel-hooking power. The only major difference between the two is colorway: the women's design features bright blue, purple, and green accents over a neutral upper. Like the men's version, the women's Skwama is soft and flexible, which makes it great for smearing and tackling overhanging terrain but less adept at edging.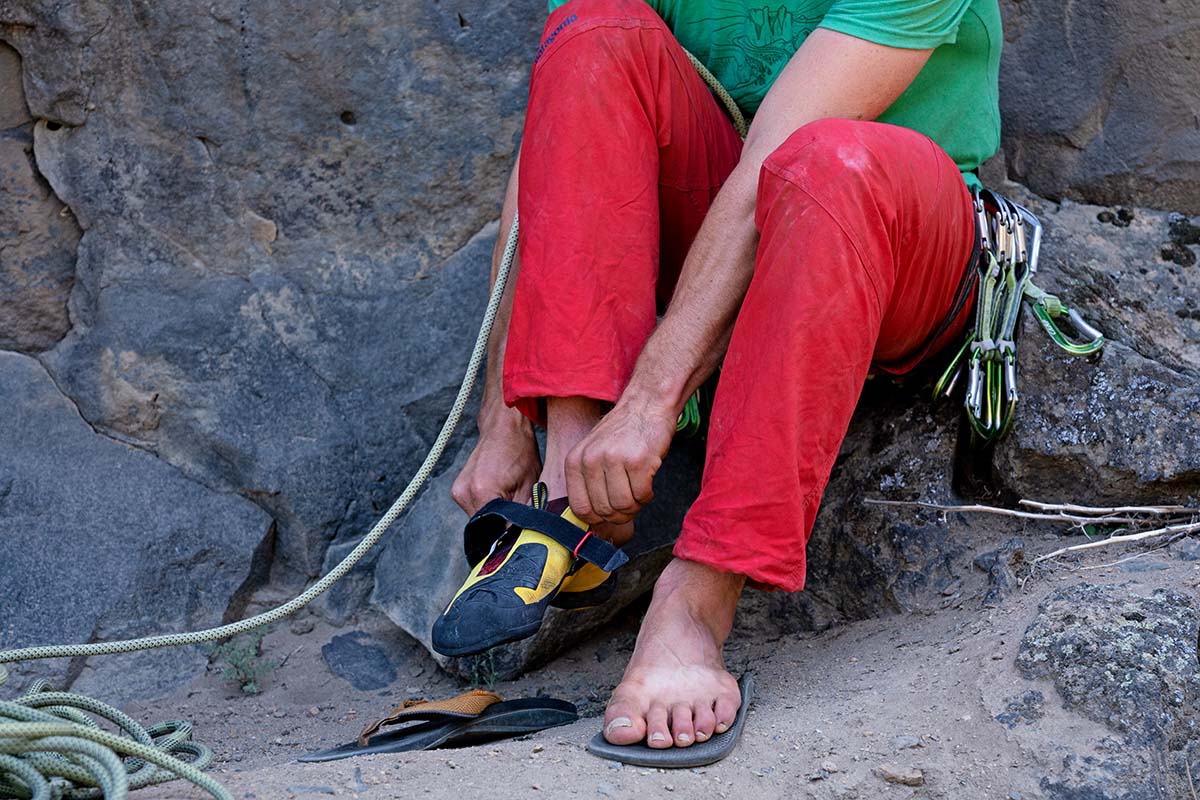 What We Like
Soft construction and sticky rubber make the Skwama one of the most capable smearing shoes on the market.
Surprisingly comfortable for an aggressive, performance-oriented shoe.
Dramatic downturn has retained its shape after five months of heavy use.
 
What We Don't
The Skwama is less of an all-rounder than most. Specifically, the soft and flexible construction makes it insecure and unsupportive on small edges and pockets.
Soft build means that your foot has to work harder to support itself.
Velcro strap does little to snug up the fit of the shoe.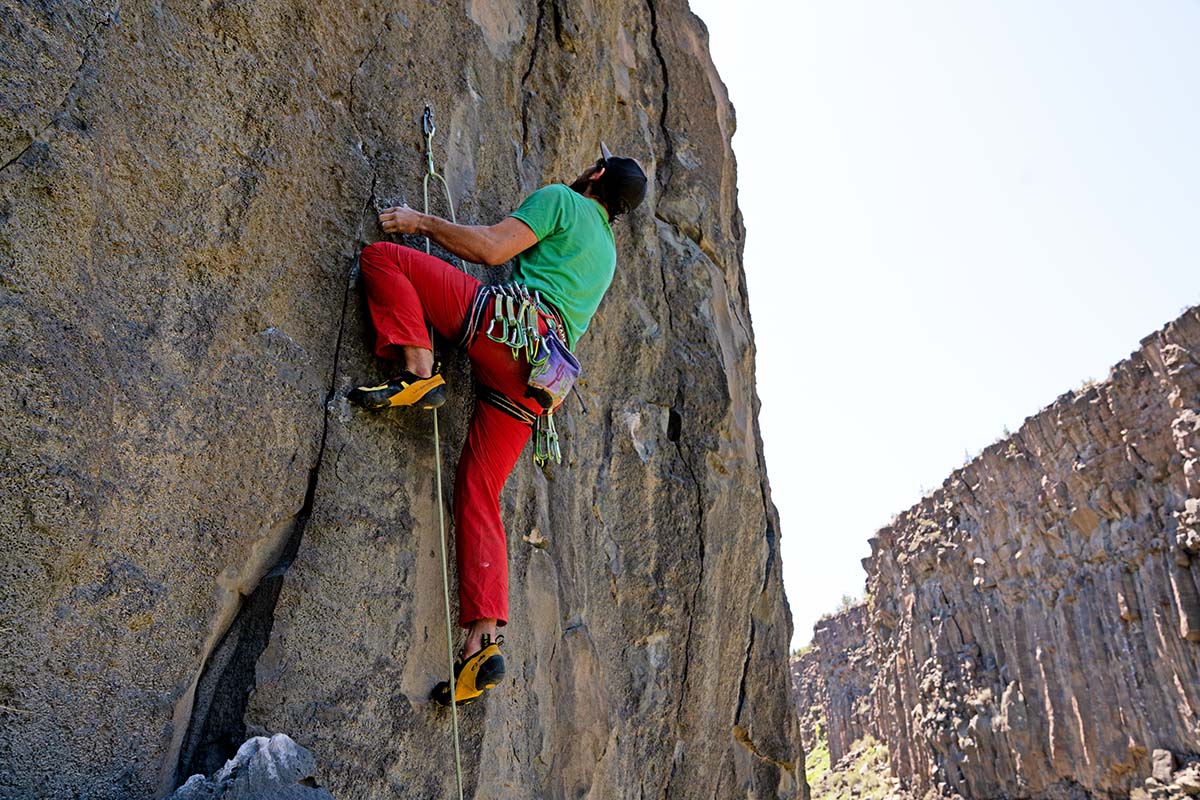 Comparison Table
| Climbing Shoe | Price | Shape | Upper | Rubber | Best Uses |
| --- | --- | --- | --- | --- | --- |
| La Sportiva Skwama | $170 | Aggressive | Leather/synthetic | Vibram XS Grip 2 | Smearing, hooking |
| La Sportiva Solution | $180 | Aggressive | Leather/synthetic | Vibram XS Grip 2 | Edging, hooking |
| Scarpa Instinct VS | $185 | Moderate | Synthetic | Vibram XS Edge/Grip 2 | Edging, hooking, smearing |
| Five Ten Team | $175 | Aggressive | Synthetic | Stealth HF | Gym, hooking, smearing |
| La Sportiva Futura | $185 | Aggressive | Leather/synthetic | Vibram XS Grip 2 | Smearing, hooking |

The Competition
The La Sportiva Skwama has become a staple for many boulderers and sport climbers, but there's no shortage of competition in this realm. Perhaps the biggest challenger comes from within La Sportiva's own lineup: the Solution. Both the Skwama and the Solution are slippers with Velcro closures and large patches of rubber on the heel and toe for hooking on steep terrain. While the Solution's slightly stiffer construction offers better performance on faces and micro edges, the new S-Heel technology on the Skwama and softer, more streamlined build give it the clear advantage on overhanging terrain. Additionally, the Skwama is built on a wider last and will stretch more than the Solution, making it a more comfortable shoe overall. For vertical face climbing, we give the edge to the Solution; for anything steeper, we'll opt for the Skwama instead.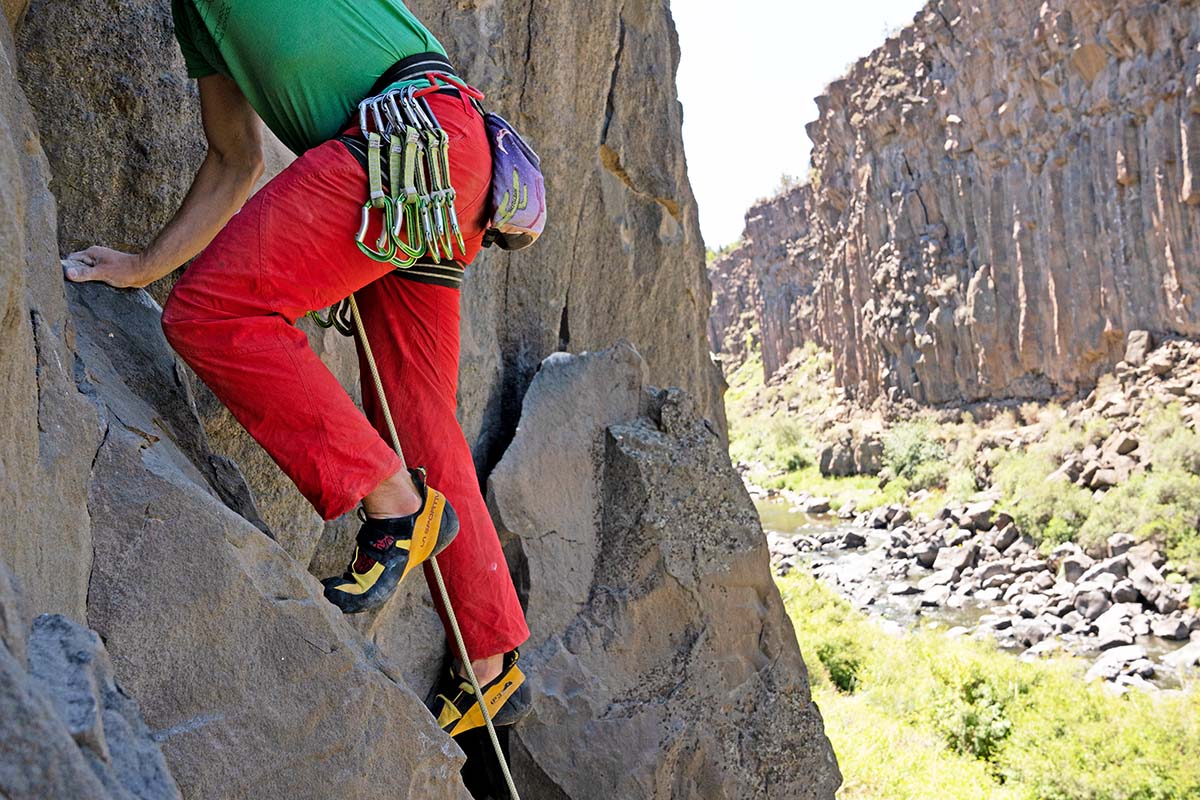 The Scarpa Instinct VS is yet another rubber-laden slipper built for hooking and pulling on steep terrain. However, Scarpa intentionally designed this shoe with more stiffness and less downturn than most of its kind, making it a very good companion for edging as well. The Instinct VS also sports the more durable, less flexible, and slightly less sticky Vibram XS Edge rubber at the front (it uses softer XS Grip 2 on the heel). All in all, the Scarpa is a better all-rounder that performs remarkably well on a variety of terrain. For the steep rock that the Skwama is designed for, it's really a matter of preference. If you like a soft and sensitive shoe, opt for the Skwama; if you want more support for your feet, the Instinct VS is a nice choice.
The two shoes mentioned above are stiffer and less sensitive than the Skwama. But if a soft shoe is what you're after, there are a few contenders here as well, including the Five Ten Team. The Team takes sensitivity to the next level—with a 2.5mm (versus the Skwama's 4mm) sole made of the ultra-soft Stealth HF, they are about as flexible and sensitive as it gets. Further, the Team is made of synthetic material rather than leather, which means the shoe won't stretch. For many, even the Skwama will be too soft; if that's not the case for you, you can up the ante even more with the Five Ten Team. That said, the Team lacks so much structure that it can be difficult to get on and off, and your feet will have to work hard to make up for the lack of support. And one final note: the Team is well-suited to narrow feet, whereas the Skwama is built on a wider, more comfortable last.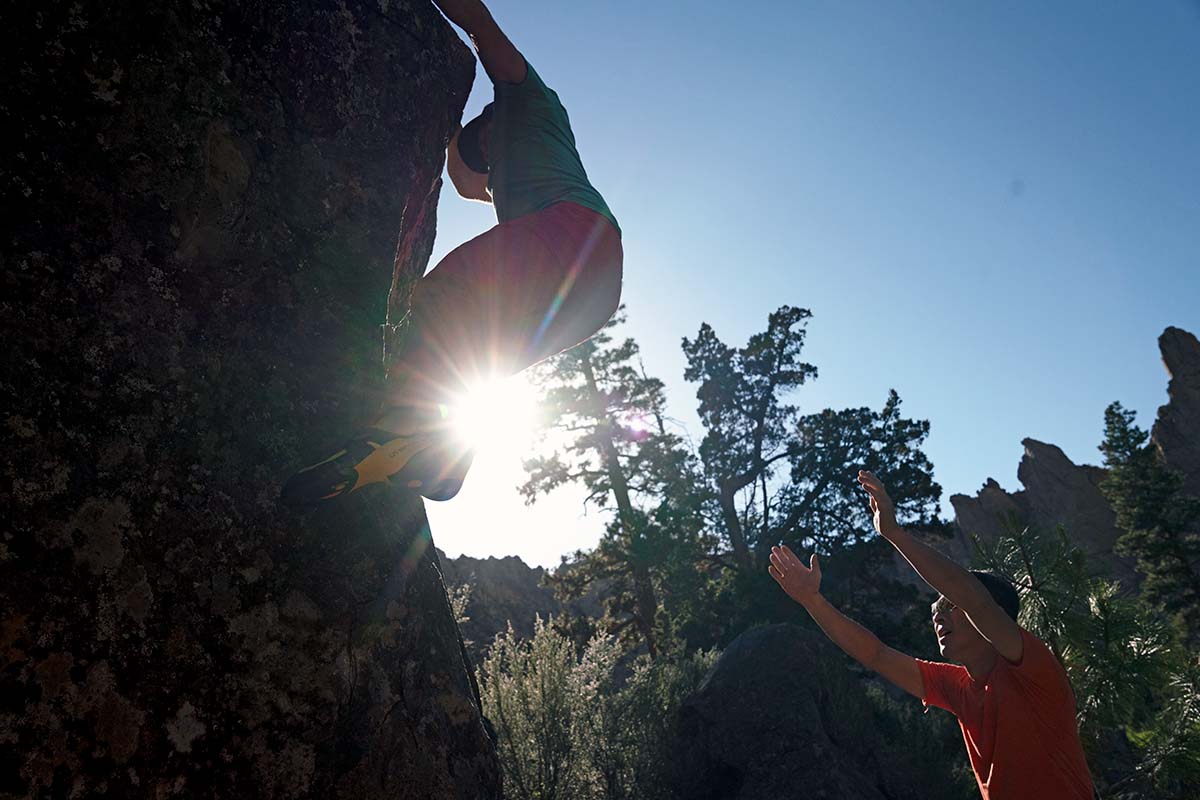 A final option to consider is La Sportiva's own Futura. The Futura is built on the same last as the Skwama, and both shoes are leather slippers with Velcro closures. The Futura differs in that its midsole is only found in the toe, and the sole is covered with 3mm of XS Grip 2 rubber rather than 4mm. Given these differences, the Future is an even softer, more flexible shoe than the Skwama, and excels equally on smeary climbing and steep overhangs. That said, the Futura features La Sportiva's No Edge technology, which—despite its name—gives it more edging prowess than the Skwama. But for toe and heel hooking, we like the Skwama's S-Heel and large toe rubber patch (and those with wider feet will find also the Skwama more comfortable).
If you're thinking about buying gear that we've reviewed on Switchback Travel, you can help support us in the process. Just click on any of the seller links above, and if you make a purchase, we receive a small percentage of the transaction. The cost of the product is the same to you but this helps us continue to test and write about outdoor gear. Thanks and we appreciate your support!
Depending on the seller, most products ship free in the United States on orders of $50 or more. International shipping availability and rates vary by seller. The pricing information on this page is updated hourly but we are not responsible for inaccuracies.
Learn More About Rock Climbing