Released last spring, Scarpa's Maestro Mid Eco is a supportive, mid-height shoe designed to meet the demands of crack and all-day trad climbing. On paper, it's very similar to the uber-popular La Sportiva TC Pro, although a few design and performance differences set it apart. We put the women's Maestro Mid Eco—one of the only low-volume, women's-specific trad shoes on the market— through its paces and were quickly impressed its comfort, edging abilities, and crack-climbing skills. However, precision on small features left a little to be desired. Below we break down the Scarpa Maestro Mid Eco's climbing performance, sensitivity and shape, construction and durability, fit and sizing, and more. To see how it stacks up, see our article on the best rock climbing shoes.
 
Performance
Climbing in the Maestro Mid Eco
The Scarpa Maestro Mid Eco is designed to support and protect your feet while tackling the varied cracks and faces found on traditional climbing routes. In use, it felt padded and supportive in hand and fist cracks, and the mid-height cut provided great protection for my ankles. On slab, the shoe flexed comfortably, and its roomy toe box, full-length rand, and medium-stiff build offered a stable platform. Finally, the shoe was extremely comfortable (even right out of the box) while still maintaining enough stiffness and support to keep my feet happy during long climbs.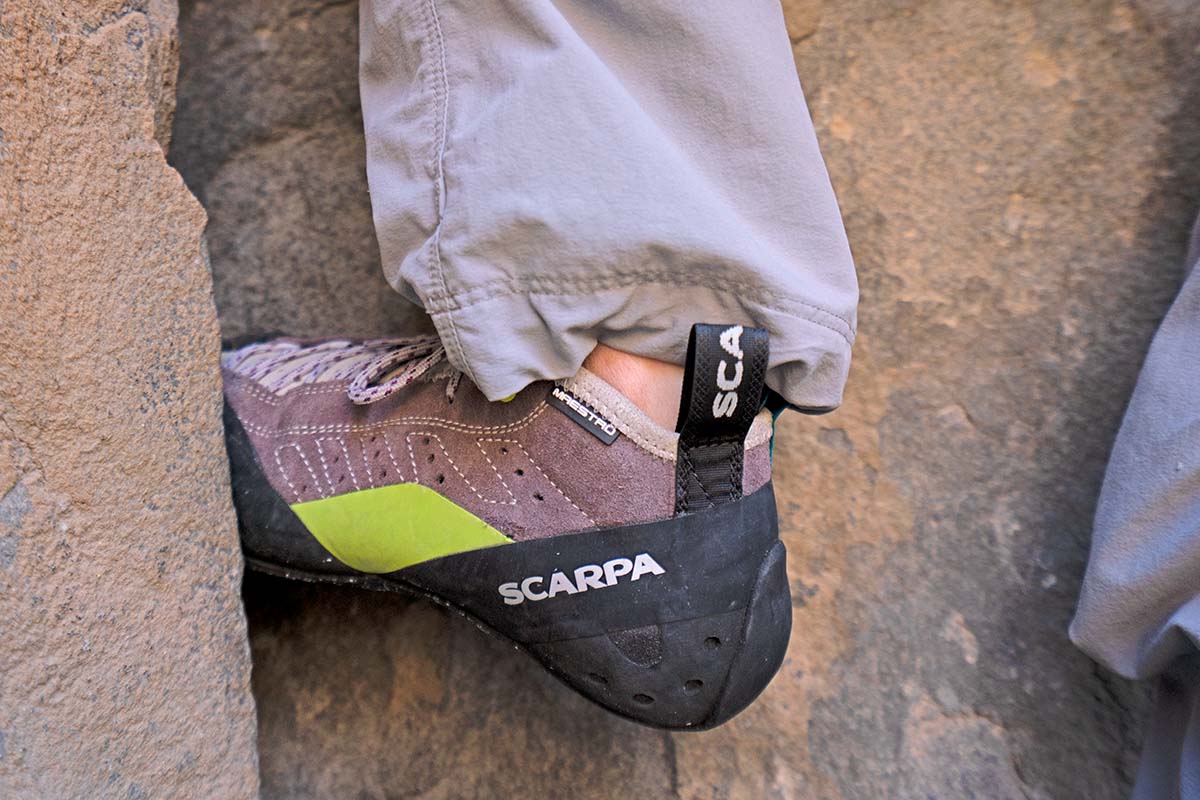 However, while the Maestro did well on moderate routes, I was disappointed with its performance on terrain involving tricky footwork or thin crack climbing. For me, the tipping point was the shoe's wide, high-volume toe box. Put simply, this design is great for comfort and protection but falls notably short for precision. I had hoped that the Maestro Mid—and particularly the women's version—would fill the void in the mid-height trad climbing shoe market for climbers like me with low-volume feet. But for thin cracks (#1 Camalot and smaller), the Maestro was far too bulky. For this type of climbing, I heavily prefer a shoe with a pointy, low-volume toe box like the La Sportiva Miura lace-up. On technical smears and edges, the Maestro also lacked the stiffness and shape of other powerful edging shoes, including the Five Ten Anasazi Lace and La Sportiva TC Pro. And because my toes had so much room to swim, I had no power or precision anyway.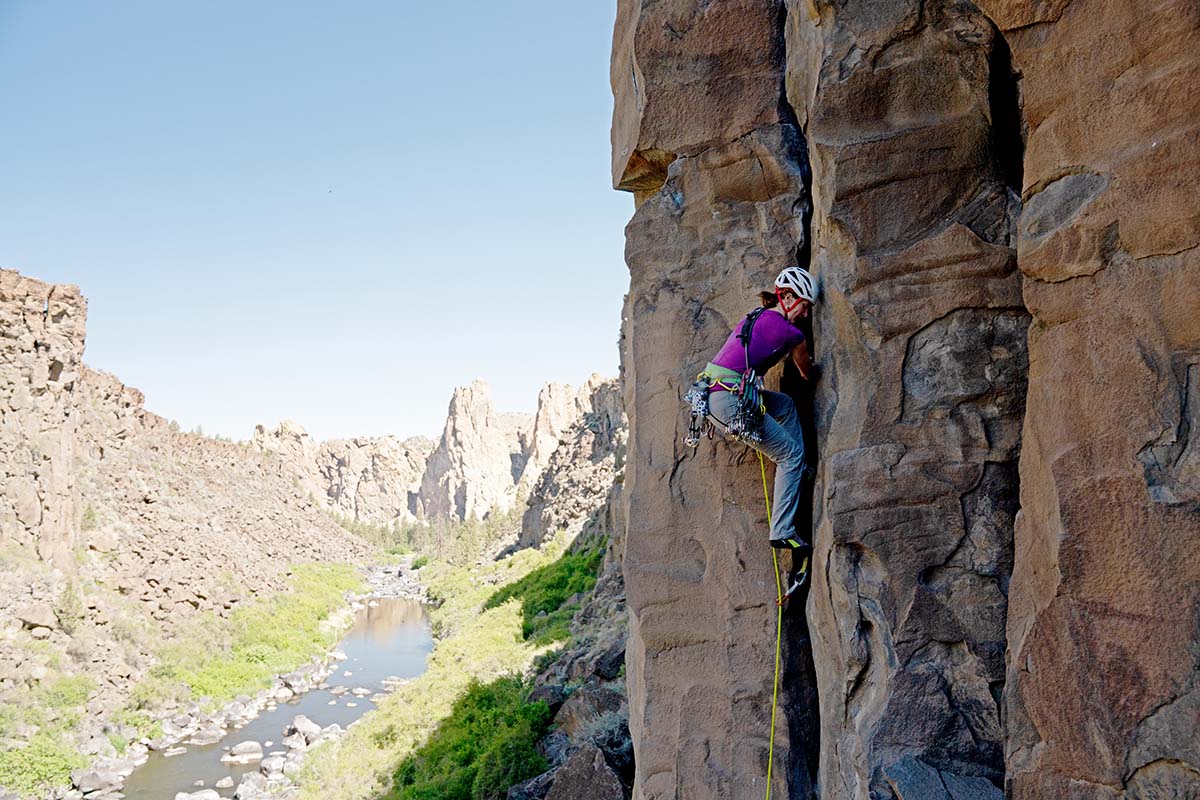 It's also important to note that the Scarpa Maestro Mid is not designed for sport climbing or bouldering. It is far too stiff for overhung terrain, and the roomy, high-volume design that is so comfortable in wide cracks would be clunky and burdensome for toe- and heel-hooking and pocket-pulling. We don't recommend this shoe for gym climbing either—it is simply overkill in both price and build.
 
Sensitivity and Shape
The Scarpa Maestro Mid Eco is slightly asymmetric and has a very minimal downturn in the arch and forefoot. This shape lends itself to comfort and allows the foot to lie in its natural position. In many trad climbing applications, a flat shoe is the most high-performance option: it's great for slab climbing, ideal for shoving your foot relentlessly into cracks, and well-suited to all-day comfort. If you size the Maestro down a half to full size (which is common practice in the climbing world), you can expect more precision on edges but less comfort in cracks.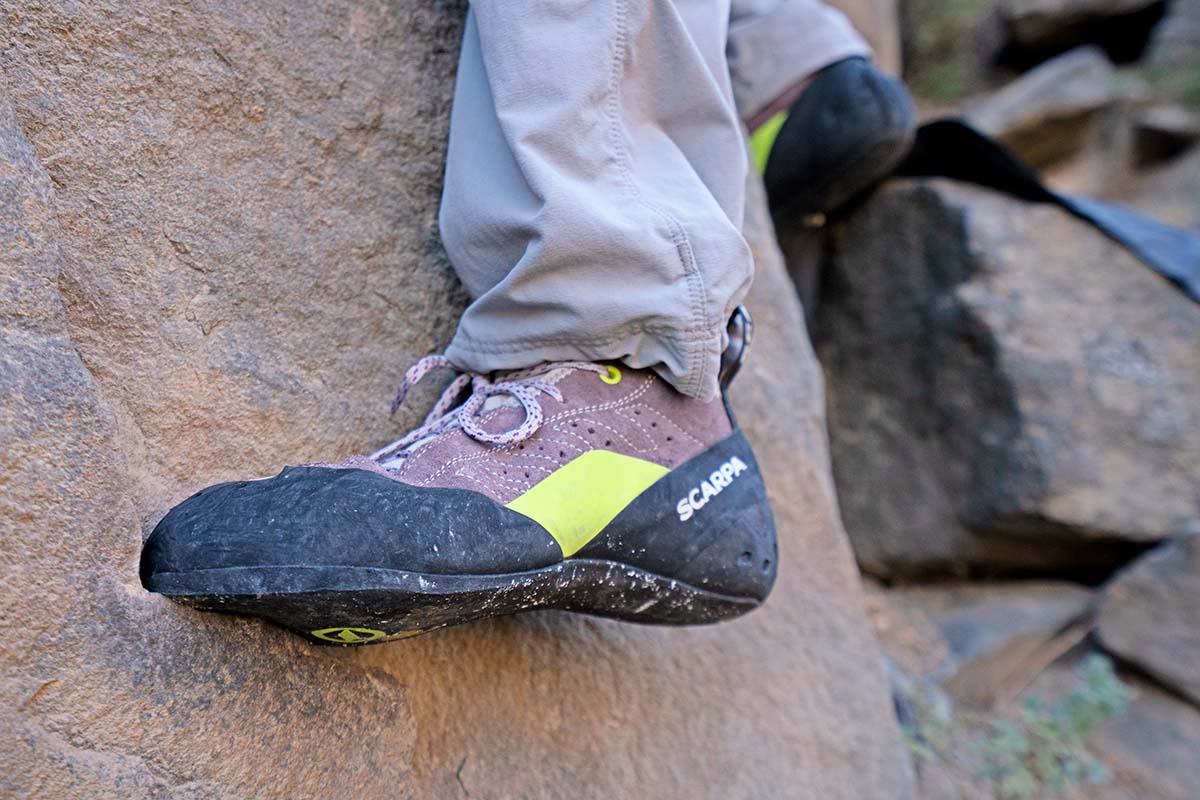 With a moderately stiff build, the Maestro provides a stable platform for the foot, allowing it to perch on edges without fatiguing. While the Maestro is slightly softer than the La Sportiva TC Pro, it is much stiffer than my standard trad shoe, the La Sportiva women's Miura lace-up. Because of this added support, the Maestro might edge out the Miura as my shoe of choice for moderate alpine rock climbing.
 
Rubber
Both the men's and women's Scarpa Maestro Mid Eco feature 4mm of Vibram XS Edge along the sole, which delivers firmness and grip on small edges. This particular rubber was initially designed for the La Sportiva TC Pro, but it's now the standard on most edging-focused climbing shoes. But while XS Edge is both durable and stiff, I prefer the softness and stickiness of Vibram's XS Grip 2. This rubber is used on most women's-specific shoes (and ultra-aggressive men's models) because it is more malleable under pressure—and thus helpful for lighter climbers or those who prefer more sensitivity. In the end, it comes down to personal preference: some prefer a softer, more sensitive feel, while others will like the stiffer, sturdier platform of XS Edge rubber.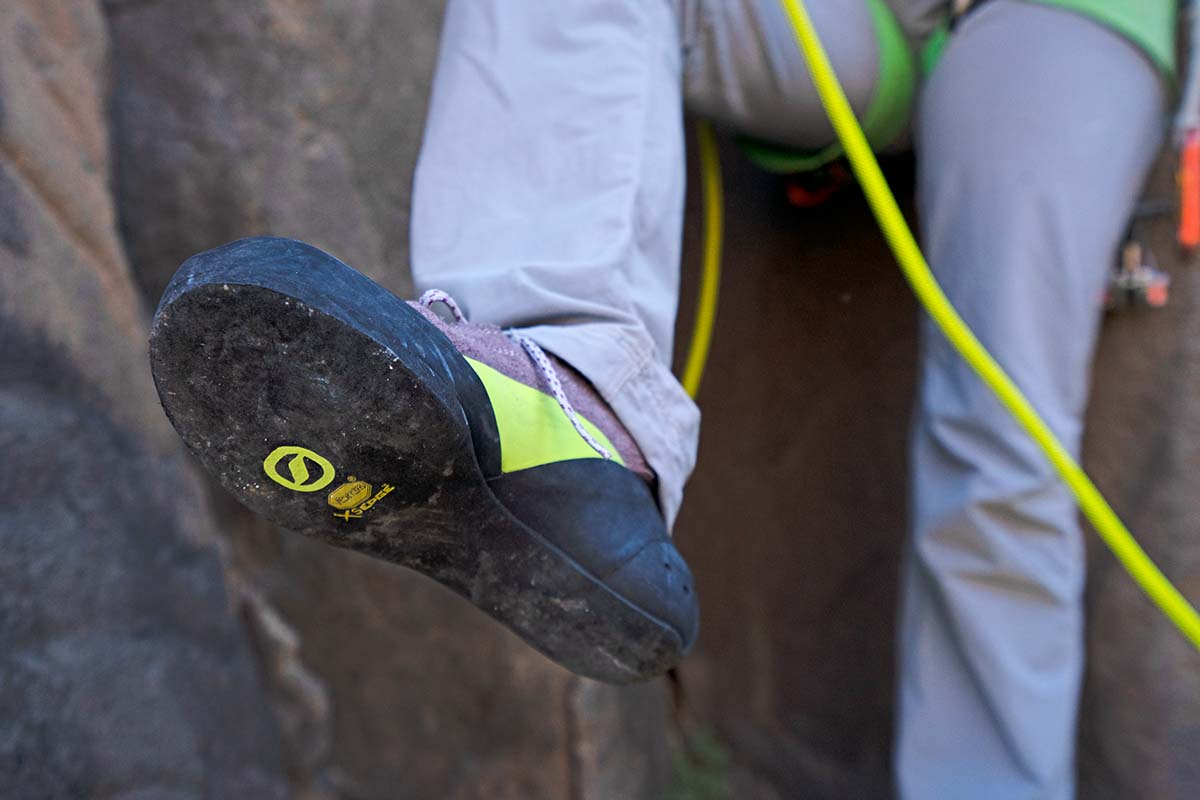 Construction and Durability
The Maestro Mid is a testament to Scarpa's premium build quality and design expertise. The Eco leather upper is soft, supple, and hardwearing, and the shoe's stitching is thoughtfully placed away from pressure points. Not only does this reduce stress on the foot when jamming in cracks, but it also boosts the upper's long-term durability. Additionally, the lacing attachment points are smartly hidden under leather panels to protect the laces from abrading in cracks. Finally, the shoe's tongue is well-secured, does not bunch, and includes extra padding for added comfort when jamming. These features should be especially noteworthy for those who have worn the TC Pro, as lace breakage, a poorly designed tongue, and durability of the upper are some of the shoe's main pitfalls (see our in-depth TC Pro review here).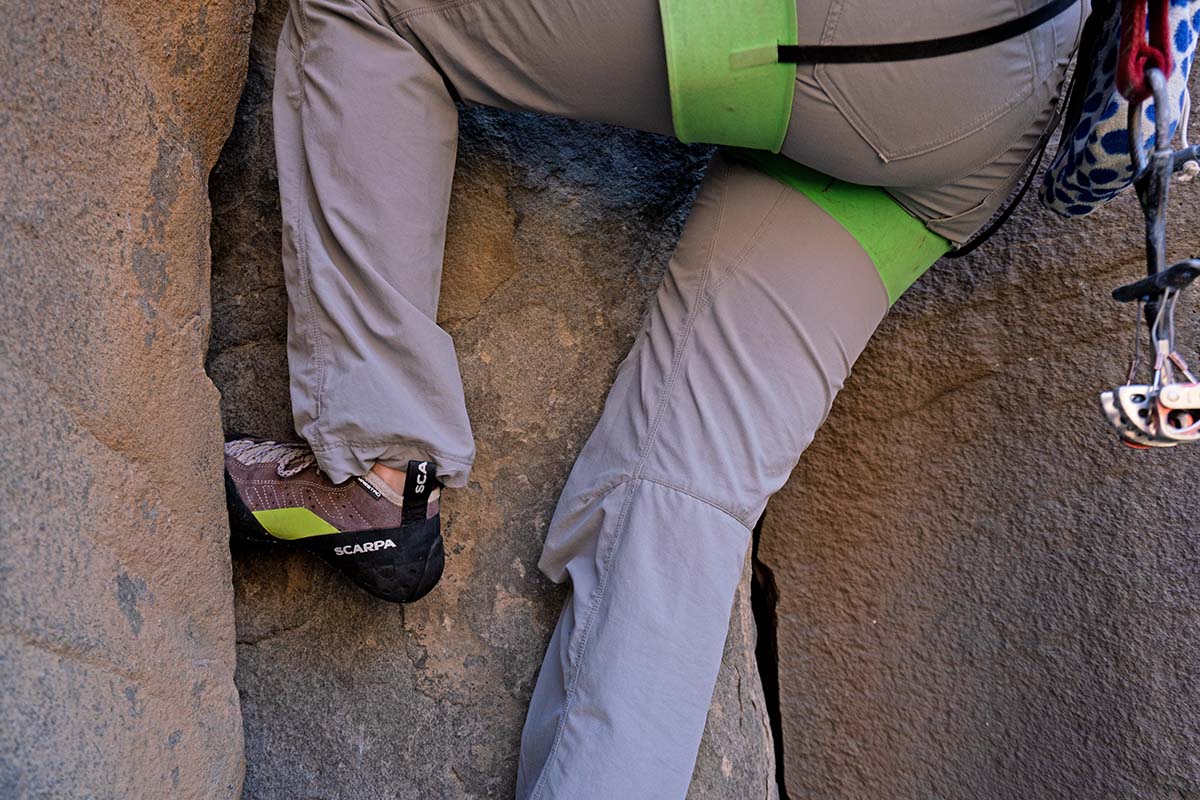 The Scarpa Maestro Mid incorporates a very thin plastic midsole that supports the foot without adding much weight or bulk. It also maintains a moderately stiff edging platform while still allowing the shoe to flex enough to smear. As I mentioned above, the Maestro Mid felt notably less stiff than the brick-like TC Pro. But again, this comes down to personal preference—some like a stiff shoe for edging and all-day climbing, and some don't. Personally, I find the TC Pro too stiff, but I really like the feel of the Maestro Mid for alpine rock climbing.

Fit and Sizing
One of the most noteworthy aspects of the Scarpa Maestro Mid is that it comes in both men's and women's versions. I have an extremely low-volume foot and have not been able to make the La Sportiva TC Pro work for me, but the women's Maestro Mid fits me far better, and particularly in the heel and midfoot. My only issue with fit is that the Scarpa has a much larger toe box and my toes swim in it. Many climbers—even those with high-volume feet—have reported the same issue. That said, this does makes for an ultra-comfortable (albeit rather imprecise) all-day shoe, and the fit is relatively adjustable with the lacing system.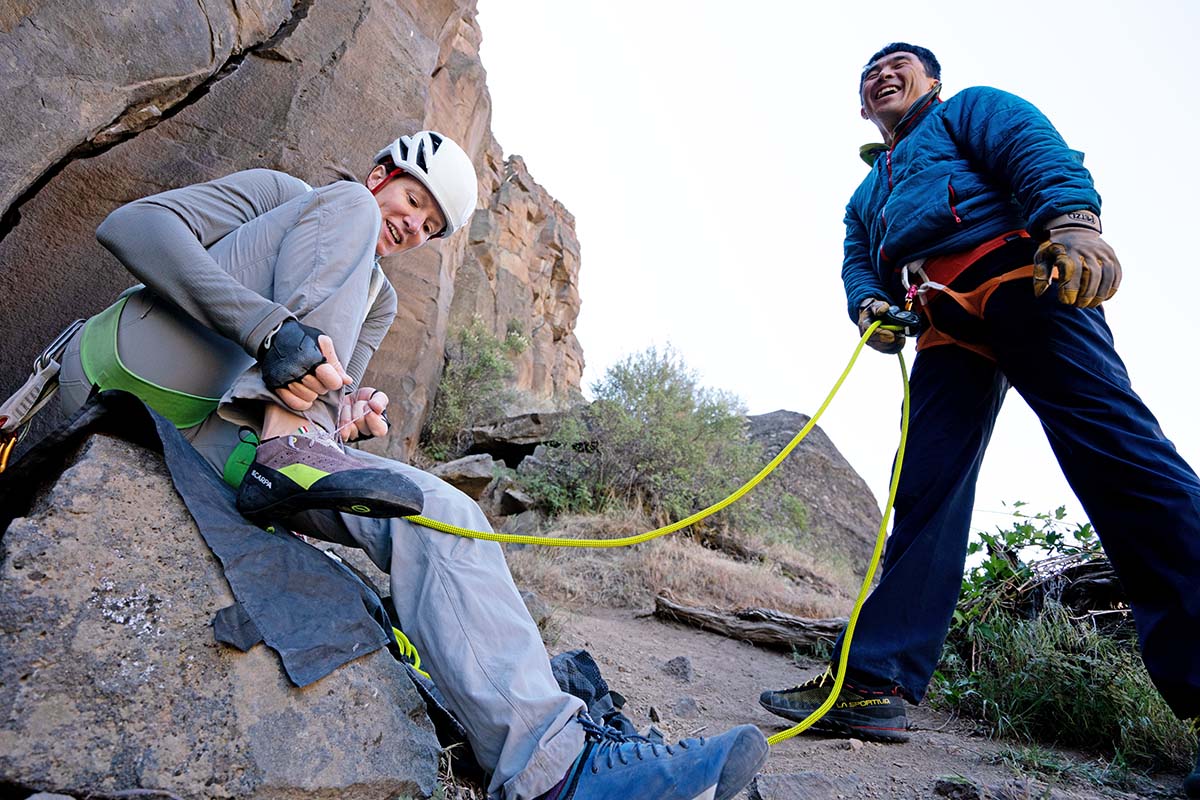 Featuring soft leather, a padded tongue, and lacing that nicely distributes pressure across the top of the foot, the Maestro Mid is extremely comfortable out of the box. Over time, it stretches a little, but not more than a half size. It's also worth noting that Scarpa's shoes tend to run small, and the Maestro Mid is no exception. For example, I wear a 37.5 (sized loosely) in the La Sportiva women's Miura lace-up, a 38 in the TC Pro, and a 38.5 in both the Scarpa Instinct VS and women's Maestro Mid. For more comfort and a bit less precision, I'll purchase a 39 for my next pair of Maestros—a full size up from my TC Pros. 
 
Sustainability: Eco Leather
Unlike most leather climbing shoes, Scarpa purpose-built the Maestro Mid Eco with the goal of mitigating its environmental impact. Whereas standard climbing shoe leather is prepared using toxic chemicals, the Maestro's Eco Leather is tanned and dyed using a more environmentally friendly process. When it comes to selecting a climbing shoe that keeps sustainability in mind, the Maestro Mid (and Maestro) is one of your only leather options. La Sportiva also makes the Mythos Eco, which is made out of scraps from the cutting room floor.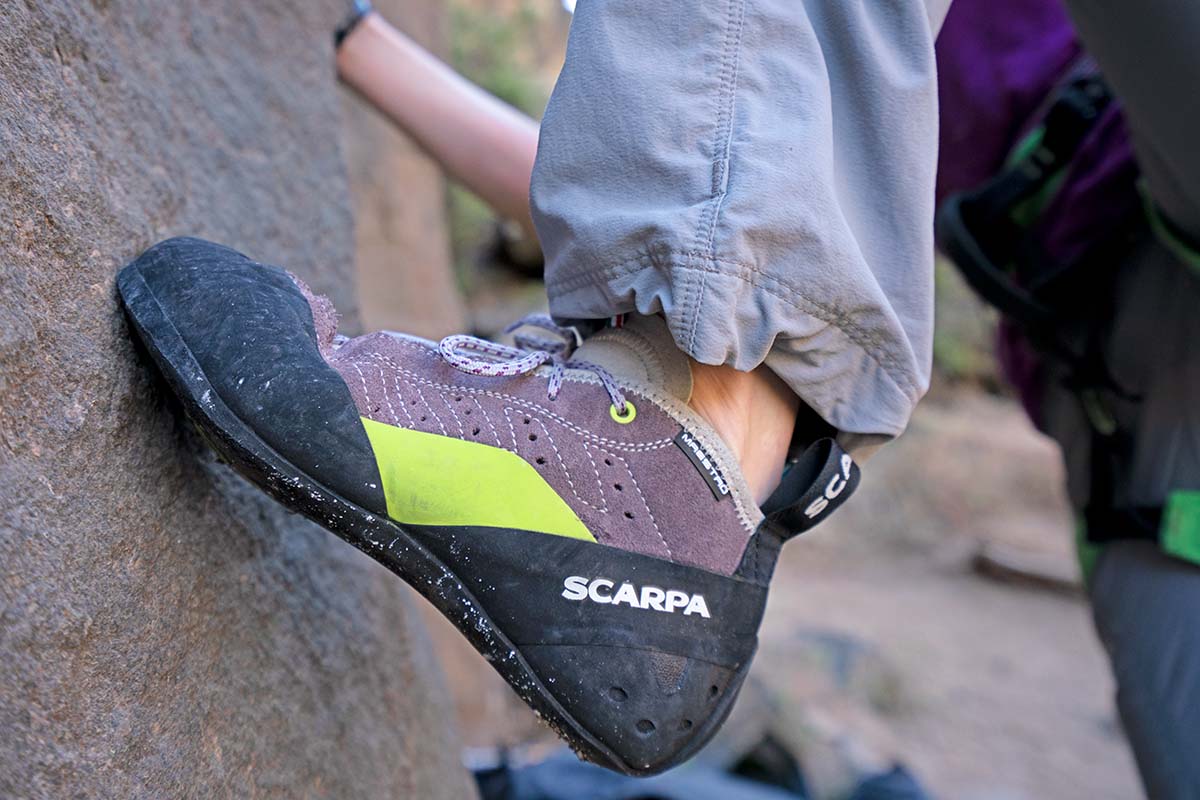 Other Versions of the Scarpa Maestro Eco
For this review, we tested the women's Scarpa Maestro Mid Eco on the particularly low-volume feet of a female tester. It's important to point out that this is the only mid-height, women's-specific trad shoe currently on the market (the Butora Altura is available in regular and wide fits). The Maestro Mid also comes in a men's version, which is available in a similar colorway for the same price. However, the men's Maestro Mid features a wider heel cup, higher-volume toe box, and taller build around the ankle. Scarpa also makes a low-cut Maestro in both men's and women's for $10 less, which is a slimmed-down version of the Mid with a more powerful rand that's better suited to technical face climbs.

Scarpa Maestro Mid Eco vs. La Sportiva TC Pro
Many climbers considering the Scarpa Maestro Mid Eco are probably also looking at the La Sportiva TC Pro. Since its debut in 2009, the TC Pro has become most trad climbers' shoe of choice for multi-pitch climbing, crack climbing, and edging-intensive routes. And up until now, it has largely gone without rival. However, the TC Pro is not without its compromises. Specifically, the tongue isn't well-secured and bunches up easily, the rubber rand has a tendency to peel away from the upper, the laces are prone to breaking, and wearing the shoe can feel akin to climbing with bricks on your feet during the break-in period (see our in-depth review here).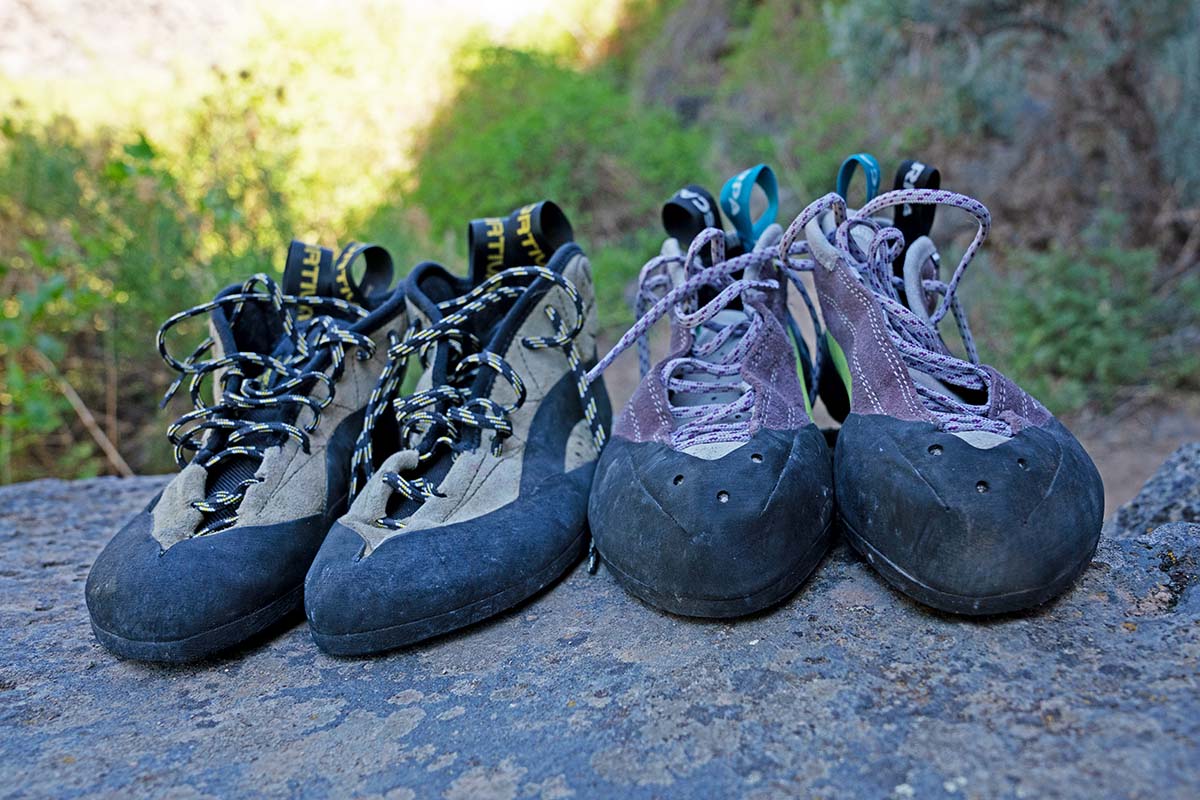 The Maestro Mid Eco solves most of these gripes: it's more durable, better-built, and very comfortable out of the box. That said, the toe box and softer build aren't for everyone. Compared to the La Sportiva TC Pro, the Maestro Mid—even the women's version—has a much taller toe box, and all but the most-high volume feet will swim in the shoe. While this is a plus for those seeking comfort for all-day climbing, it detracts from the Maestro's edging precision and ability to climb thin cracks. The TC Pro can often feel bulky as well, but it's much less pronounced. The Maestro Mid also has a much softer feel than the TC Pro. This can be a nice way for climbers to transition to a mid-height trad shoe from a softer, more sensitive model, as the TC Pro is extremely stiff and tough to break in. However, it also translates to less stability on edges and support during long days on the rock. Here, the TC Pro wins out.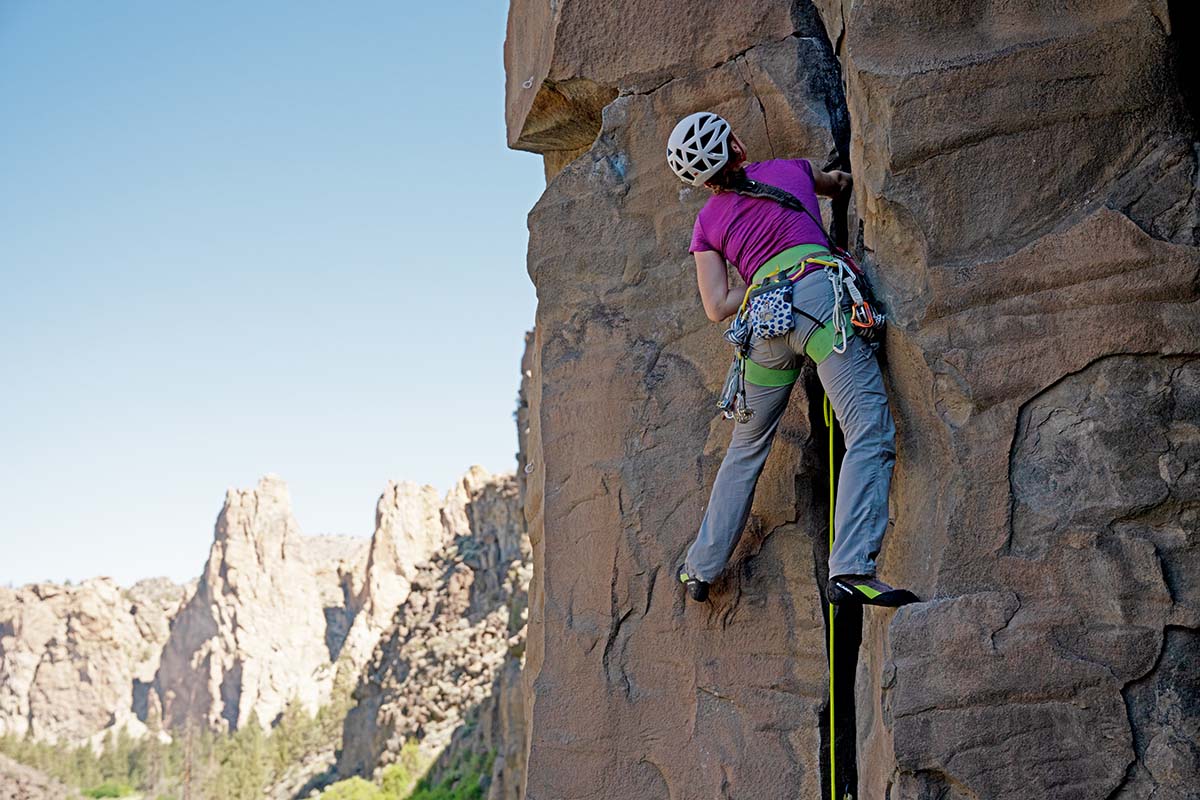 What We Like
Ample support for edging, crack climbing, and all-day use without being overly stiff or clunky. 
Extremely comfortable out of the box.
Offered in both men's and women's versions, which allows you to dial in a precise fit.
Construction and build quality are top-notch.
 
What We Don't
Rounded, high-volume toe box is too bulky for thin cracks and lacks precision on small edges.
Medium-stiff build is less powerful on edges than a shoe like the stiffer TC Pro. 
At $199 per pair, the Maestro Mid Eco is among the most expensive climbing shoes on the market.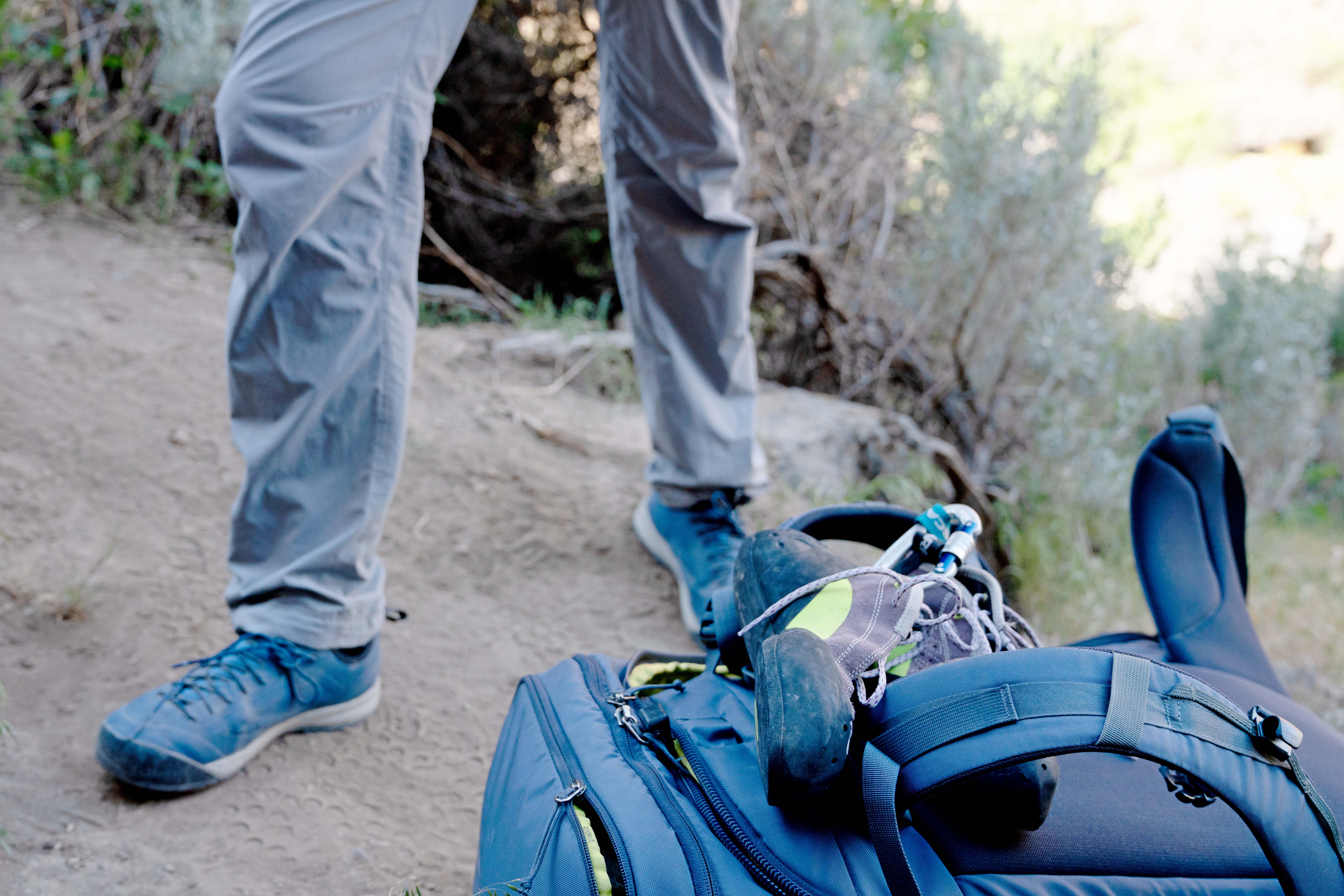 Comparison Table
| Climbing Shoe | Price | Shape | Upper | Rubber | Best Uses |
| --- | --- | --- | --- | --- | --- |
| Scarpa Maestro Mid Eco | $199 | Flat | Leather | Vibram XS Edge | Cracks, slab, all-day |
| La Sportiva TC Pro | $190 | Flat | Leather | Vibram XS Edge | Cracks, slab, edging, all-day |
| Butora Altura | $160 | Flat | Leather | NEO Fuse | Cracks, edging, all-day |
| Evolv The General | $170 | Moderate | Leather | Trax XE | Cracks, slab, edging, all-day |
| La Sportiva Miura | $165 | Moderate | Leather | Vibram XS Edge (men's)/XS Grip 2 (women's) | Thin cracks, edging, all-day |

The Competition
In a market focused more on bouldering and sport climbing than high-performance trad, there are a limited number of mid-height, crack-oriented shoes available. For the most part, each company offers one: Butora has their Altura, Evolv has The General, and there are rumors of an upcoming Five Ten shoe called the Grandstone. But as we emphasized above, La Sporitva's wildly popular TC Pro is perhaps the biggest competitor. In comparing the two, the Maestro is less adept in thin cracks and on technical edges, fits a wider range of foot sizes (although it has a very roomy toe box), and wins out in both durability and build quality. Climbers transitioning to a stiff crack shoe from a more sensitive model might appreciate the feel of the Maestro over the brick-like TC Pro, but once broken in, we give the edge (literally) to the Sportiva.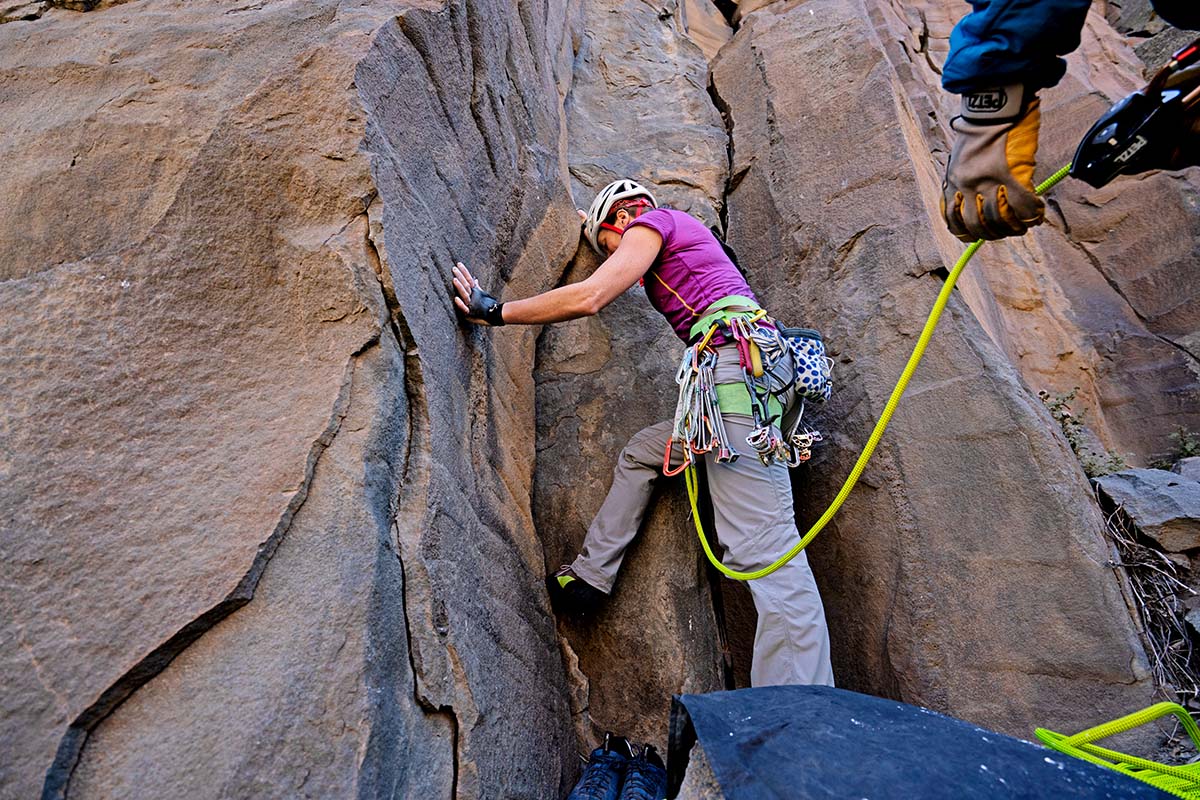 Another shoe to consider is the Butora Altura. While we haven't yet put the Altura through its paces, we've been highly impressed with Butora's overall build quality in other designs, including the Acro. In comparing the two trad shoes, the Altura features a thick sole made with Butora's proprietary Neo Fuse rubber, which makes it stiffer and more supportive than the Maestro. Like the Scarpa, the Altura is available in two sizes (regular and wide), and they also allow you to buy just one single shoe, which is great news for those of us who have dropped one from high up on a wall. Finally, at $160, the Altura is considerably less of an investment than both the TC Pro ($190) and Maestro Mid ($199). If you've tried the Maestro and aren't sold, we think the Altura is a good alternative.
Last but not least, Evolv's The General is another popular trad shoe. The General is slightly more downturned than the Maestro Mid, which sends more power to the toes, offers superior precision for perching on small edges, and fits into thin cracks better than a flat-lasted shoe. The General is also stiffer, has a more chiseled toe, and features a padded toe patch on top of the foot for comfort and traction in cracks—an interesting but perhaps unnecessary addition. Finally, The General sports Evolv's proprietary Trax XE, a new blend of rubber specifically geared toward edging. All in all, the Evolv excels where the Scarpa falls short: technical edging and thin crack climbing (and it also comes in $29 cheaper). But for all-day comfort and better performance on moderate routes, we give the nod to the Scarpa Maestro Mid.
If you're thinking about buying gear that we've reviewed on Switchback Travel, you can help support us in the process. Just click on any of the seller links above, and if you make a purchase, we receive a small percentage of the transaction. The cost of the product is the same to you but this helps us continue to test and write about outdoor gear. Thanks and we appreciate your support!
Depending on the seller, most products ship free in the United States on orders of $50 or more. International shipping availability and rates vary by seller. The pricing information on this page is updated hourly but we are not responsible for inaccuracies.
Read More From Switchback Travel