REI Co-op Traverse 60
Price: $229
Weight: 4 lbs. 4 oz. (size M)
Fabric: Nylon (300D)
Capacities: 32, 60L
What we like: Durable construction, functional top lid/daypack, and large hipbelt pockets.
What we don't: Not a leader in weight, comfort, or ventilation.
See the REI Co-op Traverse 60  See the Women's REI Traverse 60
Updated for 2021, REI made a number of changes to their core Traverse backpack line. Now offered in two capacities (32 and 60L), they've simplified the design to target the typical weekend backpacker. However, after testing the latest Traverse 60 on a backpacking trip in Washington's Hoh Rainforest, we came away with mixed reviews: the pack is undeniably tough and includes some functional touches like very large hipbelt pockets, but the padding, ventilation, and overall organization feel like a step backwards from the prior generation. Below we break down our experiences with the Traverse 60. To see how it stacks up to the competition, see our article on the best backpacking packs.
 
---
Table of Contents
---

Performance
Carrying Comfort
The trend in backpacking pack design has been towards strategically placed padding and generous use of mesh, which makes REI Co-op's latest Traverse 60 look and feel a bit outdated. The moderately thick and fairly squishy cushioning along the hipbelt extends to the middle of the pack and along the lumbar area, and the shoulder straps and back have a similarly chunky build. This all translates to decent initial comfort, although the cheap-feeling padding began to suffer as the miles added up with a heavy load (we were carrying between 30 and 40 lbs. on our backpacking trip).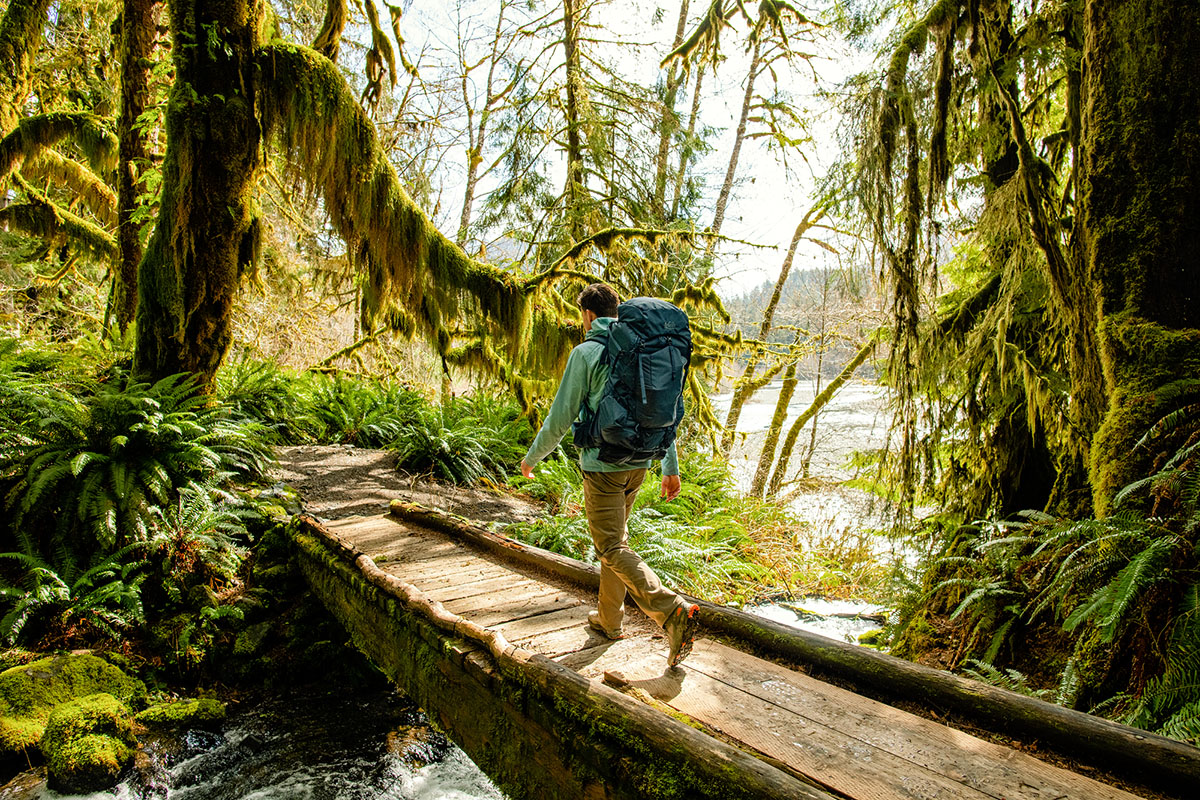 To be clear, the Traverse's moderately thick cushioning and sturdy metal hoop frame make it more comfortable and supportive than many ultralight designs, but it fell noticeably short of Osprey's Aether 65 that we were testing alongside it. In particular, the Traverse doesn't sit as close to your back as we'd like, and it lacks a snug and custom fit, which means it doesn't move with you as well as the Osprey. This was particularly noticeable in more technical and challenging sections of trail as we navigated numerous blowdowns and creek crossings. You do save over $50 by opting for the REI, but both our testers agreed that we'd rather spend up (and pay the moderate weight penalty) for the more refined Aether if we were planning on covering longer distances with a full load (35 lbs. or more). That said, the Traverse still has its place as a serviceable mid-range design for shorter and lighter weekend outings, and the sheer amount of adjustability (more on this below) makes it easy to dial in fit.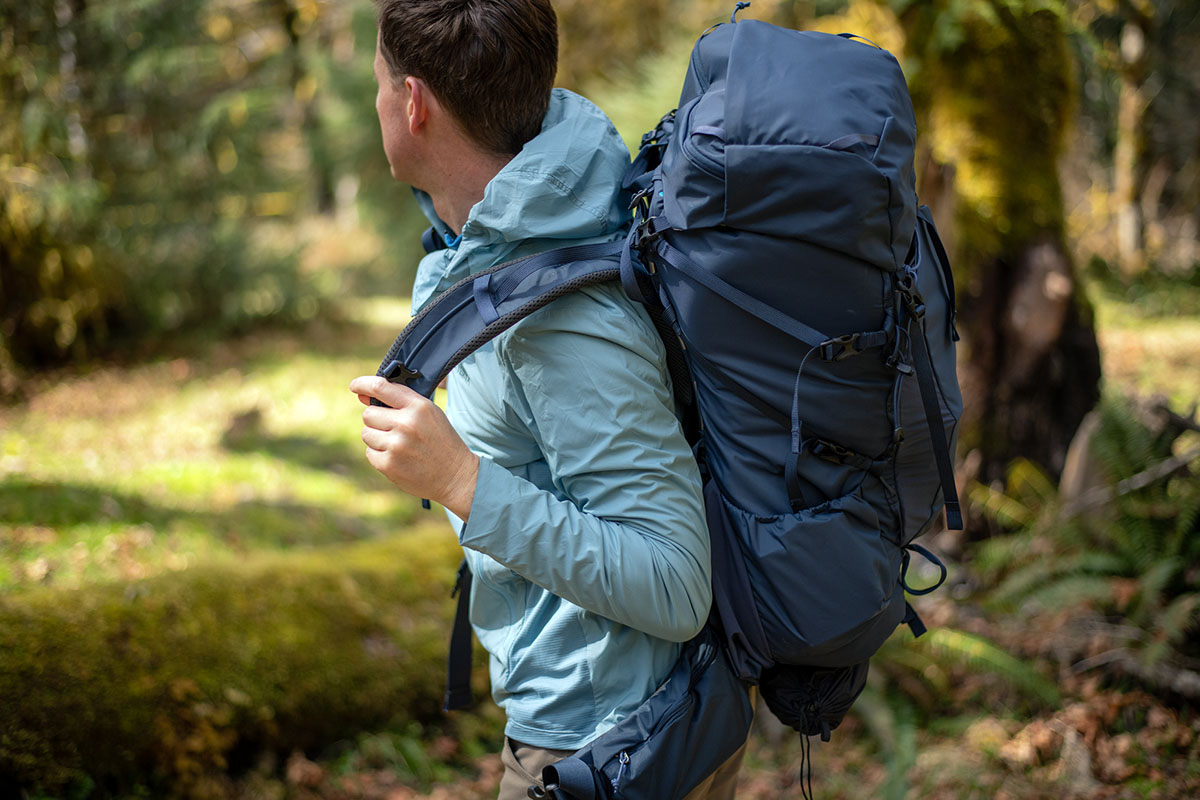 Weight
At 4 pounds 4 ounces for the medium size, the REI Co-op Traverse 60 is decidedly average in the weight department. It can't hold a candle to ultralight designs like the Granite Gear Blaze 60 (3 lbs.), Osprey Exos 58 (2 lbs. 10.4 oz.), or REI's own Flash 55 (2 lbs. 10 oz.) that save you over a pound or more, but the tradeoff is that it's far more durable and feature-rich than those options. A more appropriate comparison is Gregory's similarly priced Paragon 58, which checks in at 3 pounds 9.3 ounces for the medium/large size but again uses less hardwearing fabrics. And the Traverse does undercut heavy haulers like the aforementioned Aether 65 (4 lbs. 14.7 oz.) and Osprey's well-rounded Atmos AG (4 lbs. 9 oz.). Again, as with carrying comfort, the Traverse isn't a standout for its weight but is perfectly workable for those that value the tough build.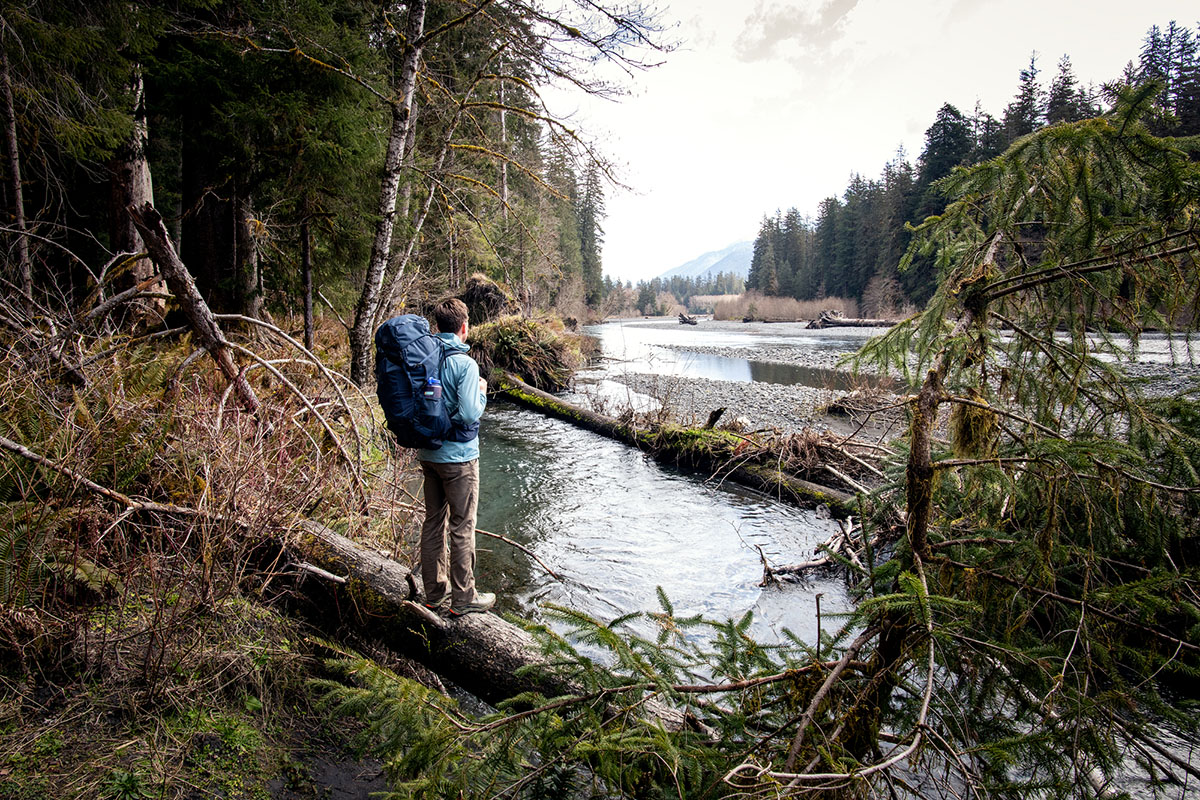 Organization
Organization is a mixed bag with the Traverse. On one hand, there's a fair amount of exterior storage with two generously sized zippered pockets on the top of the lid and very large zip pockets on the hipbelt, the latter of which easily swallow a smartphone and other small items you want easy and quick access to. Moving to the front of the pack, you get dedicated attachments for trekking poles and ice axes, which is fairly standard but adds to overall convenience. And we love the large "shove-it" pocket along the front, which utilizes a tough nylon fabric with some light stretch at the sides for balancing tear resistance (many packs use less durable mesh) with enough "give" to accommodate bulkier items like jackets and camp shoes. A final plus is the modular Packmod system, which we tested previously on REI's Flash 55 pack and allows you to customize the compression strap layout to tailor it to the size and shape of your load.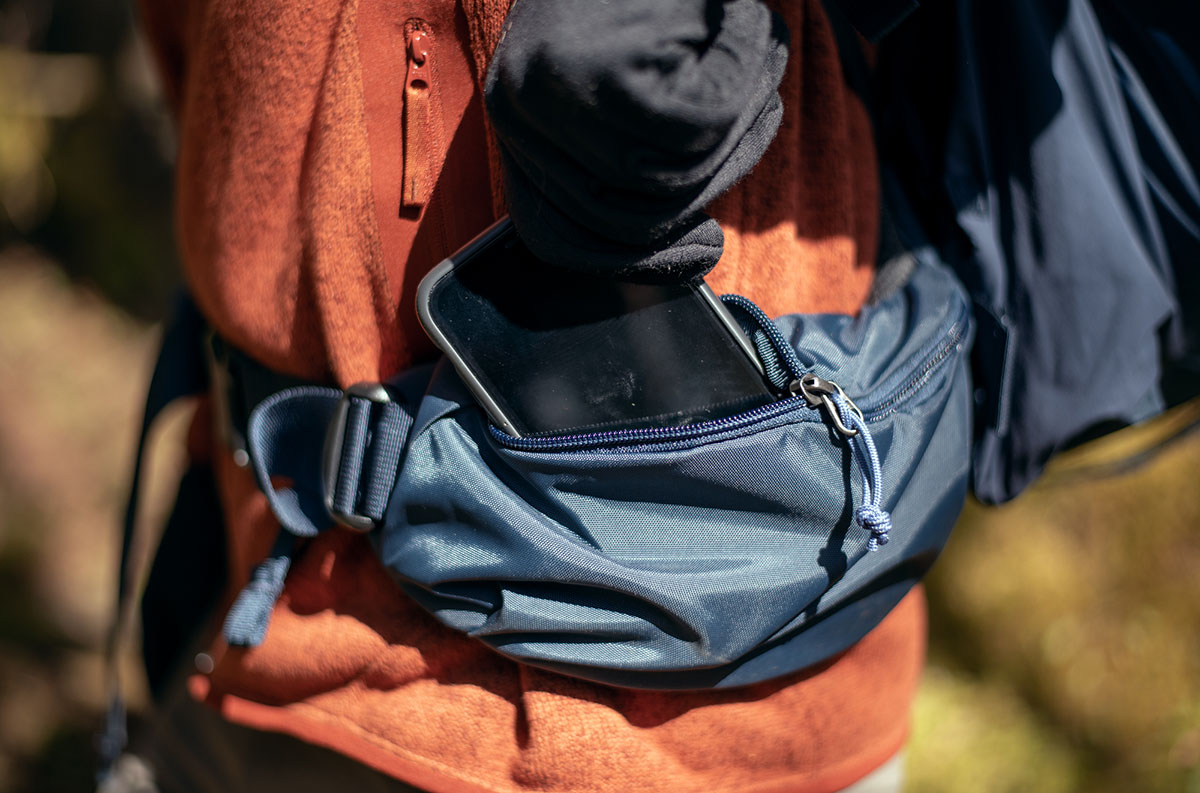 That said, we do have a couple storage-related complaints to report. One disappointment is that REI dropped the J-shaped zipper along the front from the prior model, which offered convenient access to the main compartment. You do get a dedicated sleeping bag opening at the bottom, but main compartment access is something we really appreciate for finding and retrieving gear quickly. We were also a bit let down by the dual pocket design at both sides of the pack, which consists of a water bottle pocket alongside a separate space for larger items. In particular, we found the bottle portion fairly difficult to reach without removing the pack (even though it's angled towards you), and the larger drop-in pockets lack elasticity, which makes the openings loose and hard to trust with lower-profile and shorter items. All in all, it's a suitable layout if you only plan to store taller gear like a foam sleeping pad or tent poles, but we prefer a tighter and easier-to-secure design.

Convertible Top Lid
We've tested a wide range of top lid/daypack designs over the years, and we think it's worth calling out the Traverse's simple yet functional set-up. Most importantly, it's extremely easy to remove and assemble: simply undo the four buckles securing it to the pack, pull out the shoulder straps that are stored underneath the lid, and secure them with two of the aforementioned buckles. From there, you have a decent amount of storage—it's enough to pack the essentials for a couple hours of hiking—and reconnecting the lid is just as simple. More ambitious outings will likely warrant a more complete, hipbelt-equipped pack (REI's own Flash 18 is a proven choice here), but the Traverse's top lid is an unobtrusive and well-thought-out design for short trips from camp.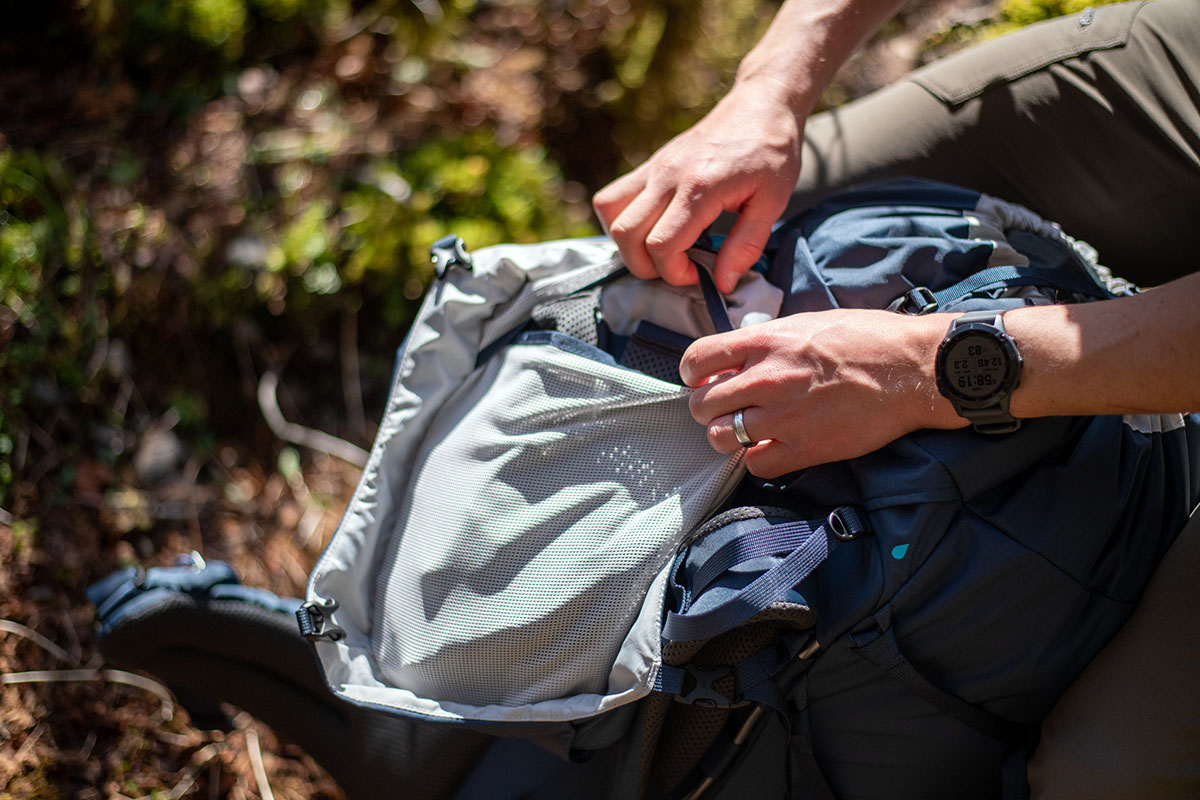 Ventilation
As we touched on above, the padding on the Traverse has an old-school look and feel to it, which translates to poor ventilation. Temperatures on our late March backpacking trip into the Hoh Rainforest were very moderate with the upper range in the low 50s Fahrenheit, but even then, we noticed our backs getting warm. In true summer temperatures, the lack of breathability will likely lead to a lot of sweating, especially along the lumbar region. REI did include a couple small channels between the padding down the middle of the pack, as well as widthwise in the center, but those promote very minimal airflow, and especially when compared with the plethora of mesh-heavy backpacking packs currently on the market. Again, the simpler design will likely stand up better to long-term use, but ventilation is a clear compromise.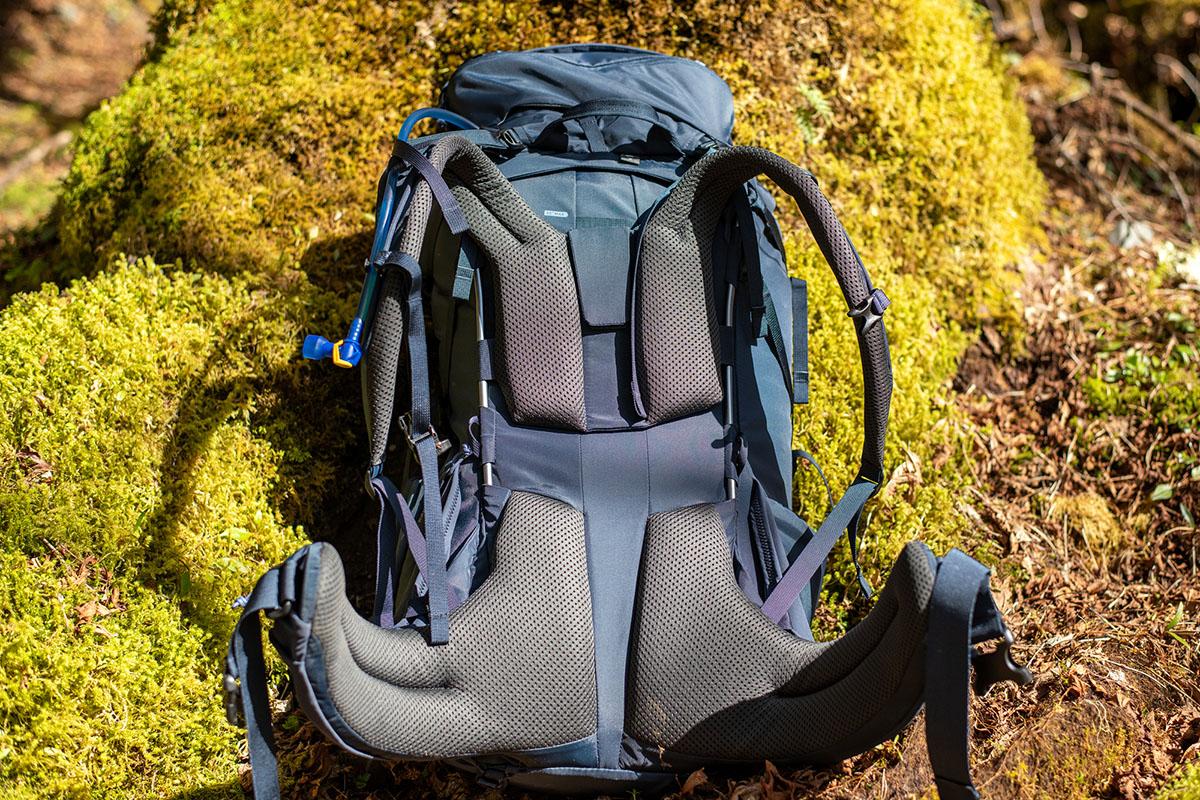 Weather Protection
The REI Co-op Traverse 60 comes with an included rain cover, which is a nice touch for fending off precipitation. That said, its dedicated storage pocket along the right hip (between the water bottle and larger side pocket) means it eats into the main compartment a little. Another drawback is the lack of durable water repellent (DWR) coating, which allows moisture to absorb fairly quickly through the pack's outer fabric. To be sure, the burly nylon construction is fine for fending off light moisture, setting the pack down on wet ground, or hiking through wet brush, but you'll need to use the rain cover (or line the inside of the pack with a garbage bag) in rougher and truly inclement conditions.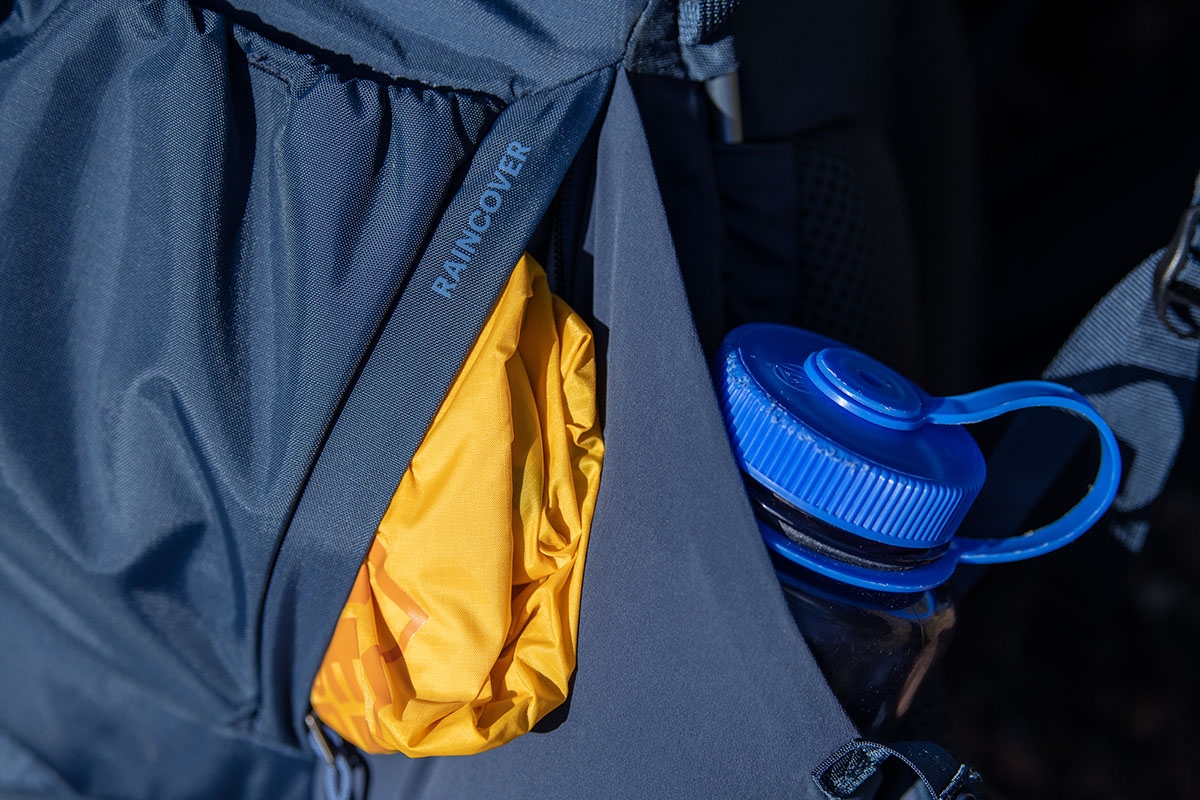 Build Quality and Durability
It's clear in using the Traverse that REI made a very intentional choice to prioritize durability. The vast majority of the pack is made with a tough 300-denier (D) ripstop nylon, which is well-suited for everything from sitting down on sharp rock (we've put holes in packs just from this) to off-trail bushwhacking. Further, areas that commonly feature abrasion-prone open mesh—like the shove-it pocket along the front and larger side pocket—also utilize the ripstop nylon. Despite the toughness, however, the materials are reminiscent of cheaper nylon found on entry-level designs like Osprey's $165 Rook, and the rest of the build shares the same budget look and feel (including the squishy padding). To be fair, we didn't have any hiccups with zipper failures or premature signs of wear on our trip, but it's not a particularly premium-feeling design.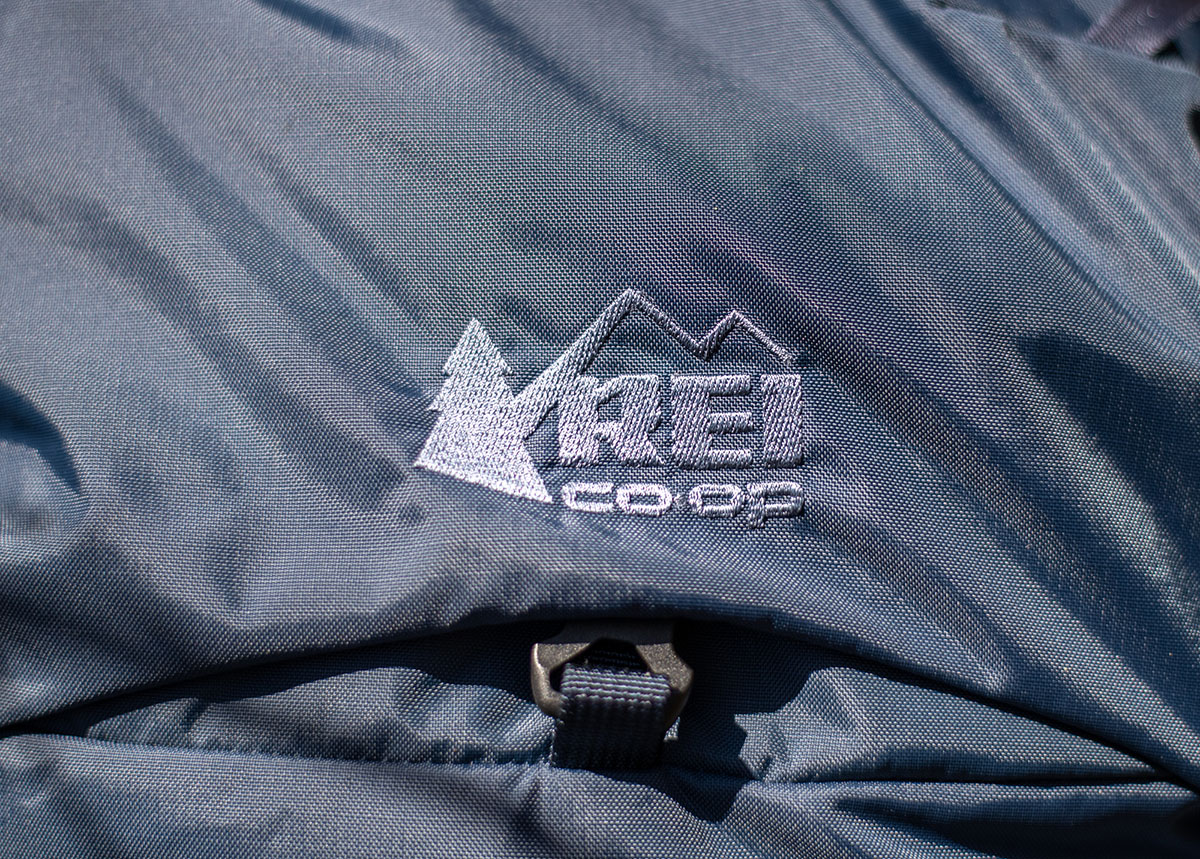 Fit and Sizing
With three torso size options, plus a large torso/small hipbelt combination, it's pretty easy to get a good all-around fit with the REI Traverse 60. Our two testers shared a medium pack (for reference, they have 18- and 20-in. torsos), and neither had any sizing complaints. It's quick and easy to shift the shoulder straps up and down—the labeling is clear with defined spots at 18, 19, and 20 inches—and there was plenty of customization at the hipbelt too. As we mentioned above, the Traverse doesn't have a particularly comfortable or snug feel, but the range of adjustments nevertheless is well-executed for dialing in fit.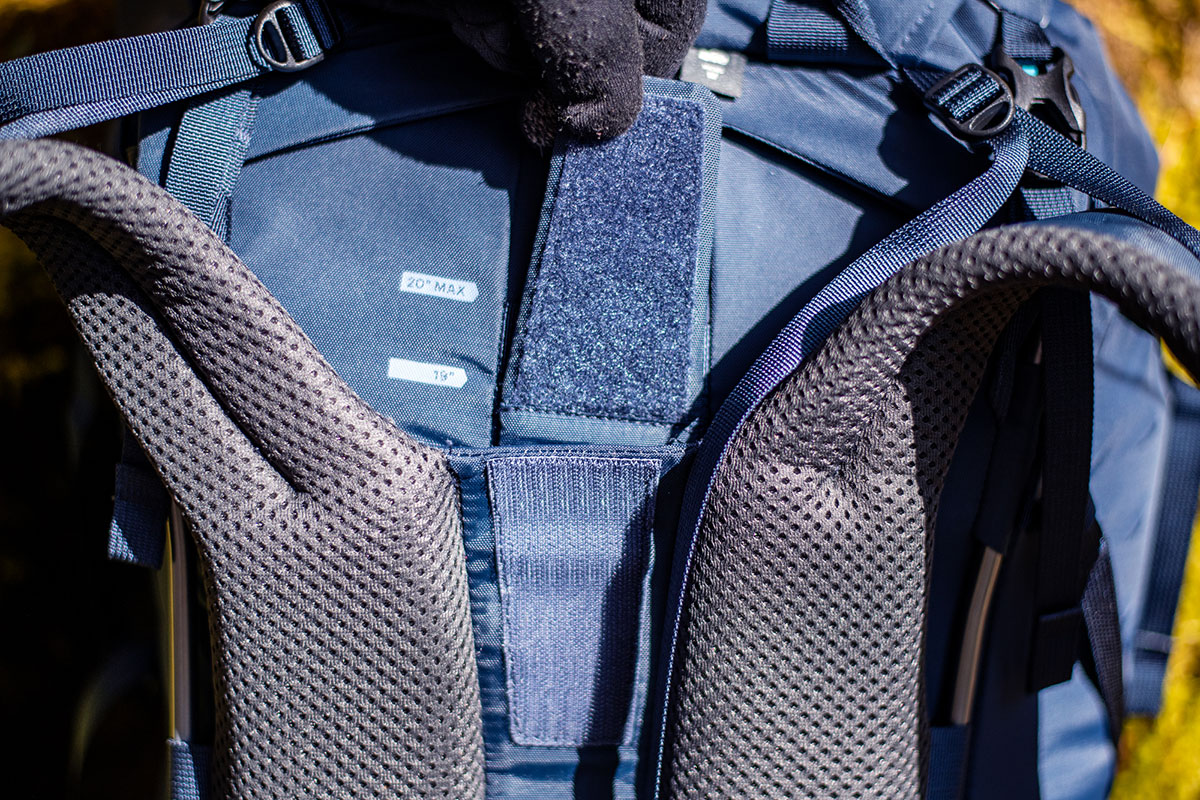 Sustainability
REI has made notable strides toward creating a more sustainable line over the last few years, and their latest Traverse is case in point. Specifically, the pack uses recycled nylon and is also bluesign-approved, meaning it's been certified as safe for workers, consumers, and the environment. The certification involves eliminating hazardous chemicals in the manufacturing process and meeting high standards for water and air emissions, among other requirements (you can read more about the bluesign system here). All in all, we're excited to see these measures becoming more common in REI's lineup.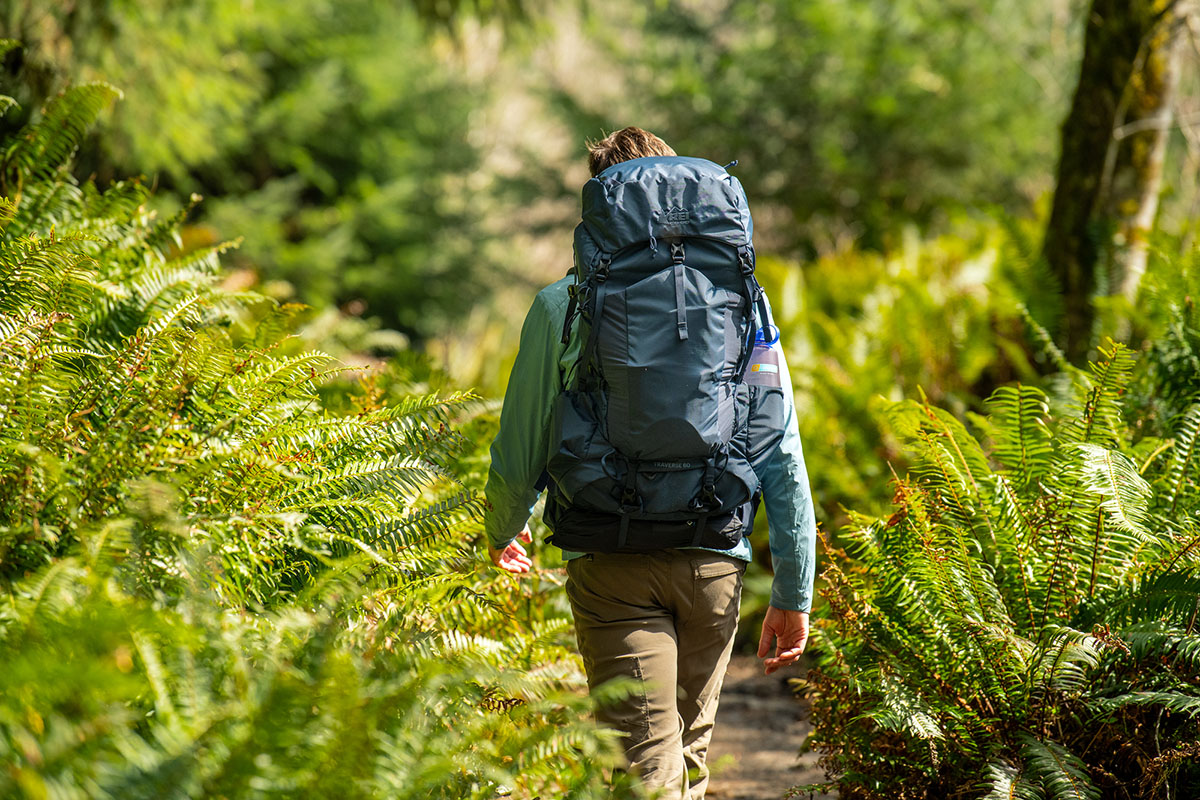 Other Versions of the REI Co-op Traverse
We brought the men's Traverse 60 pack on our backpacking trip in Washington State, and REI makes a women's version for the same price. The women's Traverse 60 shares a nearly identical build and overall construction (including availability in the same two colorways), but it's sold in slightly different sizing options to accommodate smaller frames, including an XS option for 15- to 17-inch torsos. Rounding out the Traverse collection, the pack is also offered in a pared-down 32-liter option for gear-intensive day hikes or minimalist overnights ($139; 2 lbs. 9 oz. for a men's medium).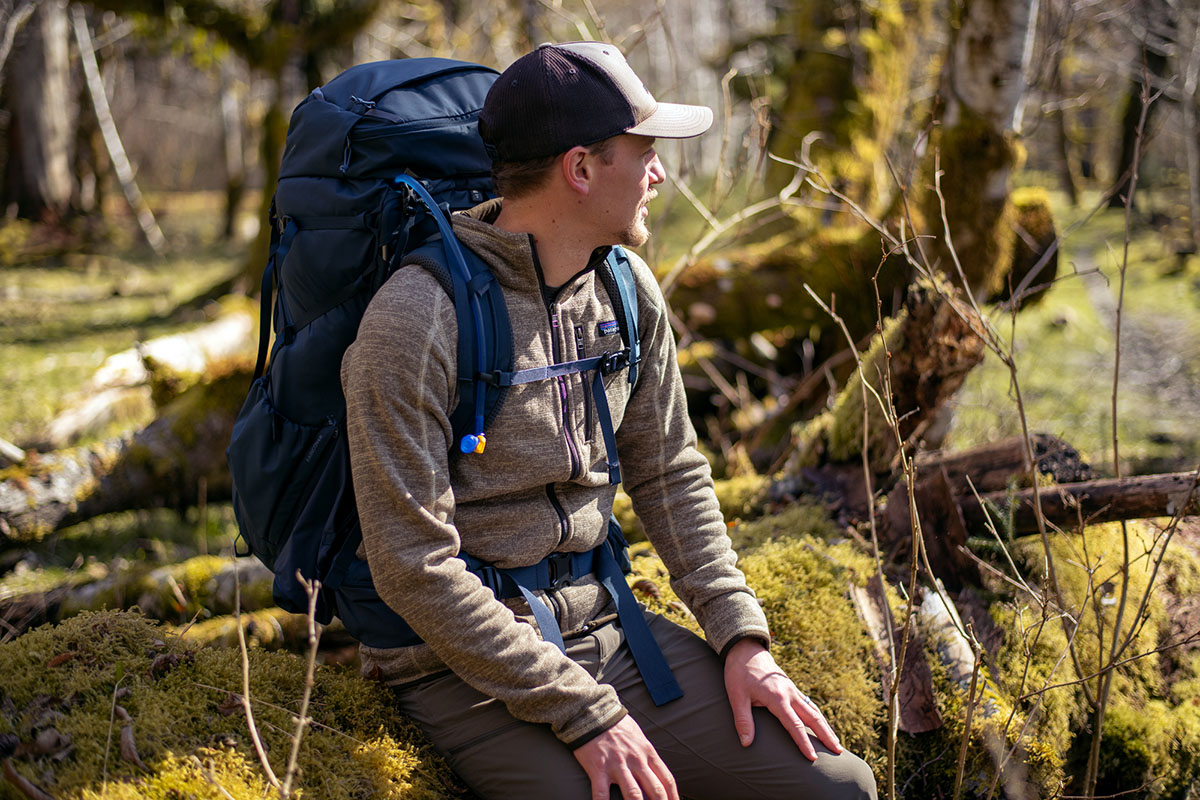 What We Like
Excellent durability with tough 300-denier ripstop nylon on the pack body. Additionally, areas like the front shove-it pocket and larger side pockets (which typically are made of mesh) also utilize the burly fabric.
Hipbelt pockets are very large and easily swallow a smartphone and other items you might want quick access to on the trail.
Convertible top lid/daypack design is simple but offers functional storage for short hikes from camp.
Four size options and generous adjustability at the torso and waist allow you to easily dial in fit.

What We Don't
All-day comfort falls noticeably short of the competition, with fairly cheap-feeling padding that doesn't do well under a heavy load.
Thick padding and lack of suspended mesh along the backpanel makes the Traverse a poor breather, even in moderate temperatures.
Despite the use of tough materials, the Traverse has a decidedly budget look and feel that's reminiscent of entry-level designs.
Organization could be better: there's no secondary access to the main compartment and the larger side pocket openings lack elasticity for securely stowing smaller items.


Comparison Table

The Competition
REI's latest Traverse 60 is a tough and well-appointed backpacking pack for weekend adventurers, but there are a number of other designs that win out in weight, comfort, and ventilation. One is Gregory's Paragon 58, which checks in at the same price point as the REI and can comfortably carry around the same weight (we found it was best under 40 lbs.). However, the Paragon weighs less at 3 pounds 9.3 ounces, boasts a more functional organization layout (including side access to the main compartment), and has a perforated foam backpanel that promotes much better airflow. The REI wins out in durability with thicker fabrics, but we give the overall edge to the Gregory for its more well-rounded design.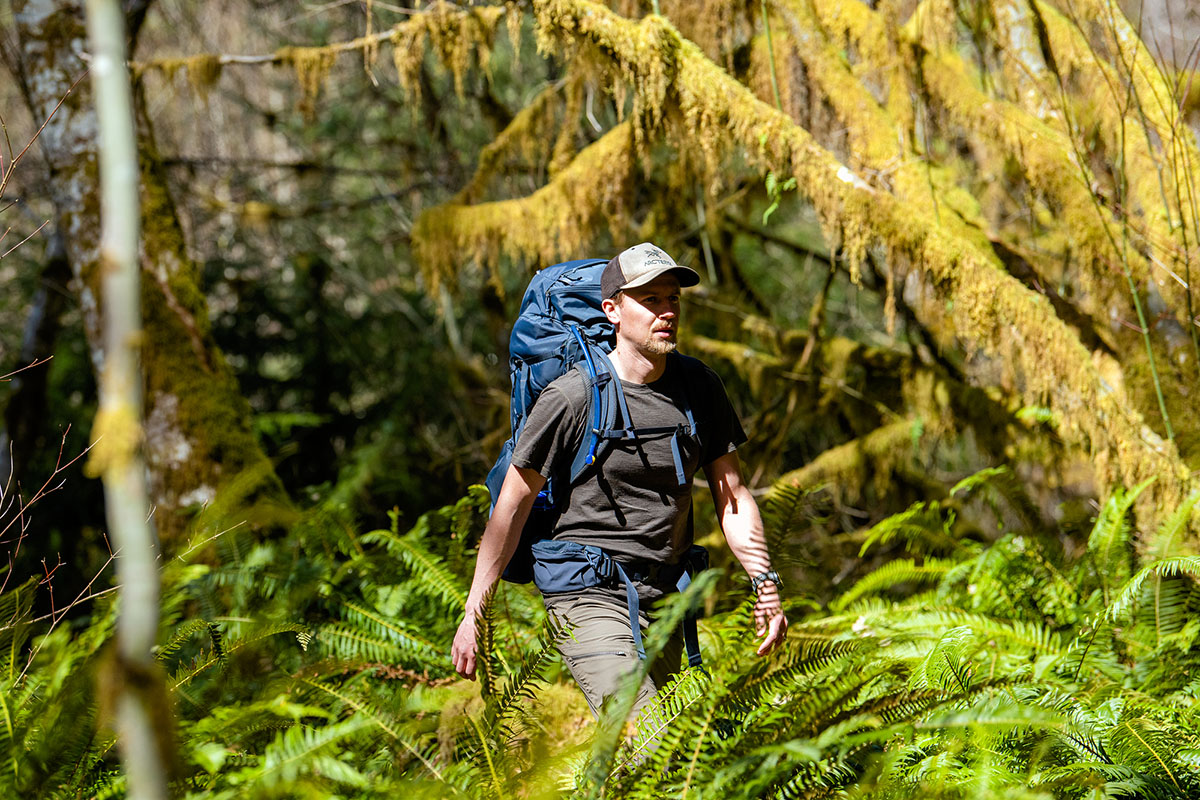 Osprey is known for their comfortable and well-built packs, and the recently updated Aether 65 is no exception. The Aether is tough with a mix of 210- and 420-denier nylon, more breathable than the Traverse with mesh cutouts in the backpanel, and boasts slightly better organization with a J-shaped front zipper for accessing the main compartment. The Osprey is around 10 ounces heavier than the Traverse at 4 pounds 14.7 ounces, but as we mentioned above, all-day comfort was a major step up thanks to the Osprey's snug, close feel and highly adjustable design. The Aether will cost you $50 more than the REI, but the boosts in material quality and on-trail performance are noticeable.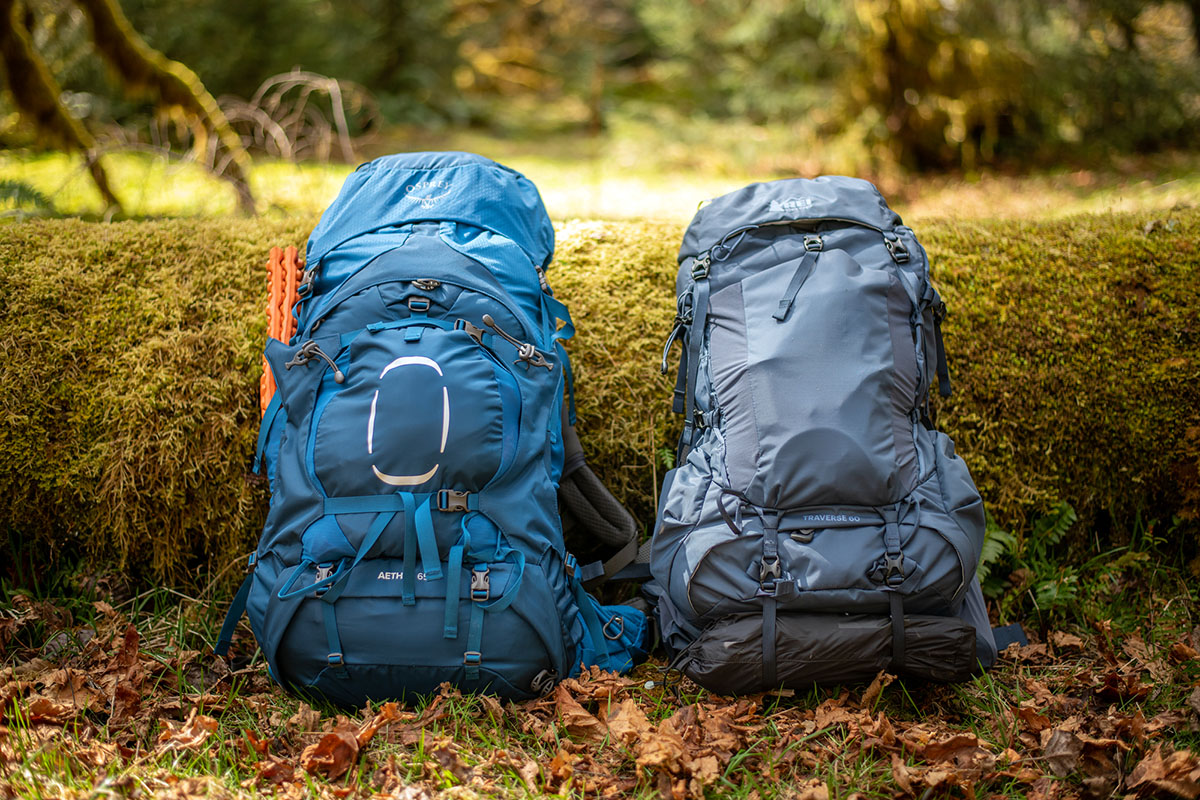 Deuter is another leader in pack design, and their Aircontact Lite 50 + 10 nicely balances weight and price. At 3 pounds 14 ounces and $200, it undercuts the Traverse by around 6 ounces and $30 respectively, and we like the expandable top that can compress a smaller load or expand to accommodate multiple days' worth of gear. That said, we didn't find the Deuter's backpanel to be very comfortable with a discernible pressure point at the back, and the tall and thin design makes it hard to pack and strikes us as best suited for those with smaller and shorter frames. Finally, the Aircontact is only offered in a single size versus the REI's four. Again, we do like the Deuter's lower weight and price, but the REI is the less compromised design and fits a wider range of body shapes and sizes.
Moving toward the ultralight end of the spectrum, Granite Gear's Blaze 60 weighs just 3 pounds but manages to pack in a surprising amount of comfort and support. In testing the Blaze, we found it was able to carry a heavy load very well (it's rated for 50 lbs.), and the zippered opening to the main compartment made it very easy and convenient to access gear on the trail. We also prefer the Blaze's oversized side pockets for stashing bulky gear, which have drawstring closures that offer better security than the Traverse's non-elastic drop-in pockets. The Granite Gear does cost $40 more than the REI, isn't as durable, and is lacking in breathability compared to mesh-heavy designs like Osprey's Aether and Atmos AG, but the added carrying comfort and functional organization at a much lower weight are hard to beat.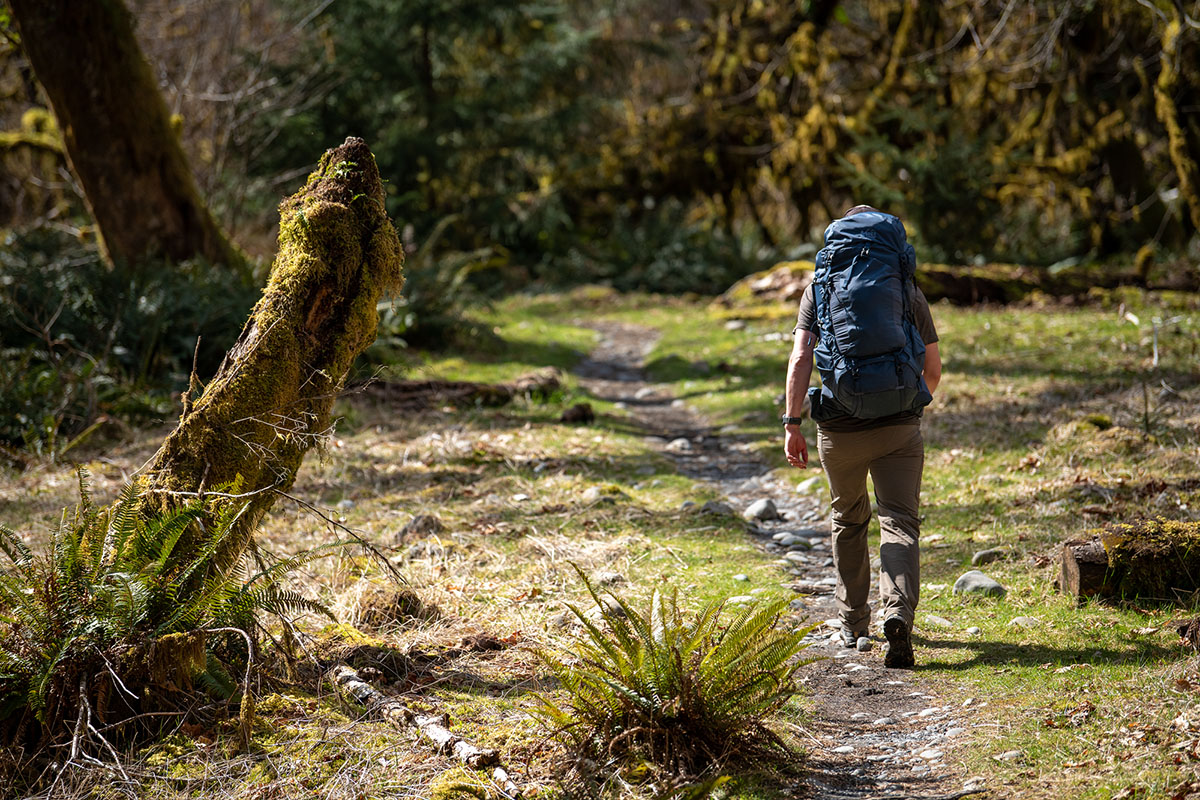 A final option comes from within REI's own lineup: their Flash 55. Despite being updated a couple years earlier than the recently revamped Traverse, the Flash is far more modern: you get the same Packmod system for tailoring the compression layout to fit your load (you can also remove the pockets at the hipbelt and shoulder straps), as well as thoughtful organization, seam taping on the lid, and a handy roll-top closure that makes it easy to snug things down. The only notable downsides are adjustability and durability: the Flash's shoulder straps are fixed in place, and the pack's body uses thinner and less robust 100-denier ripstop nylon (the bottom is 420D). But at just 2 pounds 10 ounces and $199, the Flash 55 is impressively light and an excellent value, making it our favorite REI design this year.
Editor's note: We usually provide a live price comparison table below our outdoor gear reviews, but the Traverse is sold exclusively by REI Co-op. You can see the Traverse 60 page here and support us in the process. Thanks!
Learn More About Outdoor Gear