Down-mimicking synthetic insulation isn't exactly a new trend—Patagonia has been honing their recipe for years with their legendary Micro Puff series. But Outdoor Research has come up with a very competitive formula in their new SuperStrand LT Hoodie. I've been testing the women's model for a few months and have come away highly impressed by the jacket's down-like warmth in a very light and airy-feeling package. The SuperStrand isn't a standout in breathability and does wet out quickly when exposed to moisture, but it's supremely comfortable and has withstood rough use much better than expected. Below are my takeaways. To see how the SuperStrand LT Hoodie stacks up to the competition, see our articles on the best synthetic insulated jackets and best women's synthetic insulated jackets.
 
---
Table of Contents
---

Performance
Warmth
Insulated with 60-gram Vertical X SuperStrand synthetic fill, Outdoor Research's SuperStrand LT Hoodie offers a very impressive level of warmth for its weight. The lightweight synthetic fill is designed to mimic the premium loftiness and warmth of down, and overall, it does a great job. With just a light baselayer underneath, the SuperStrand has kept me perfectly cozy in temperatures down to around 40 degrees Fahrenheit, and I've been able to bring it much lower by adding another light layer. OR states that the synthetic insulation is similar in loftiness to 700- to 800-fill power down, and I'd say that's a pretty accurate estimate. All told, the SuperStrand has a noticeably light and airy feel to it but provides ample warmth for most shoulder-season conditions. I also consider it a great option for use as a midlayer while downhill skiing, although the lack of breathability (outlined below) is a downside for backcountry enthusiasts.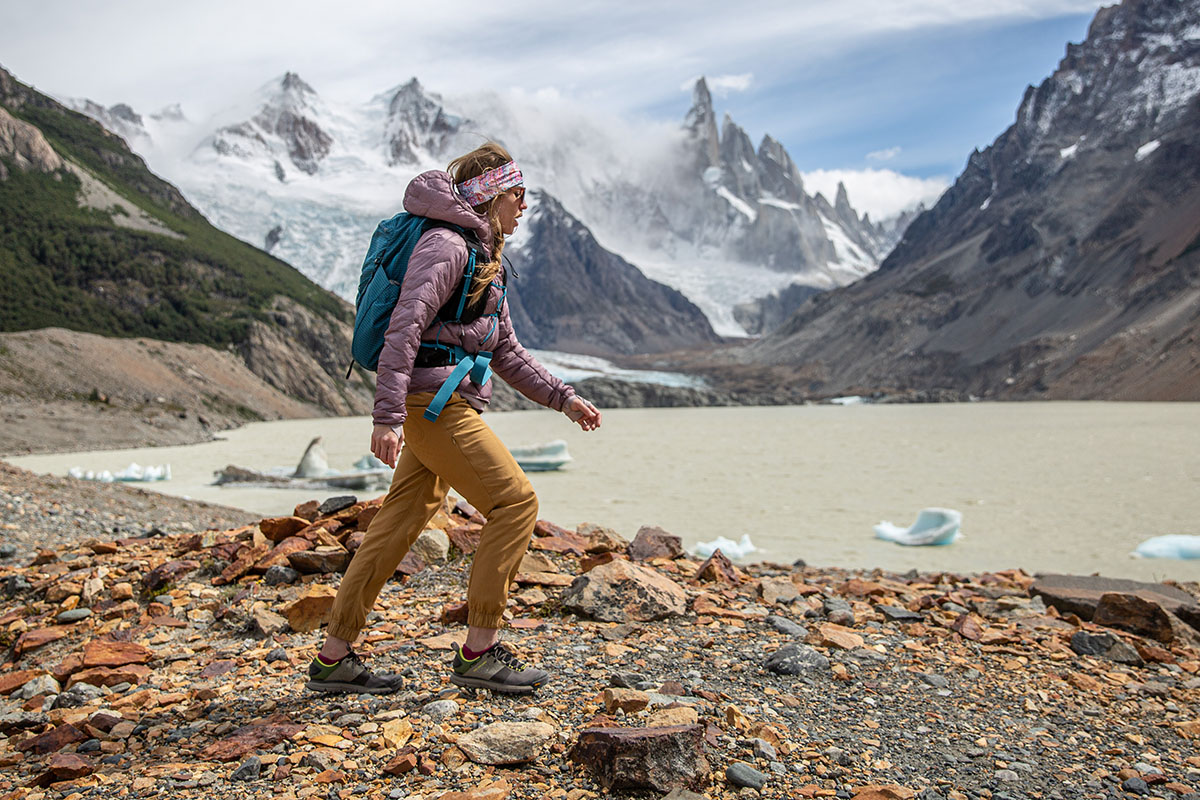 Weather Protection
Synthetic insulation is inherently more resistant to moisture than down—it doesn't clump up and will continue insulating when wet. That said, apart from its synthetic fill, the OR SuperStrand LT offers little in the way of wet-weather assurance. You do get a standard durable water repellent (DWR) coating for fending off light moisture, but I found it was quick to wet out even in moderate rainfall. Once the shell soaked through, it rapidly began to penetrate the insulation, resulting in a noticeably sticky and clammy-feeling interior. To be fair, the SuperStrand LT still performed better than a down jacket would have in the same conditions, but for prolonged exposure, I highly recommend throwing on a waterproof rain shell or hardshell jacket overtop.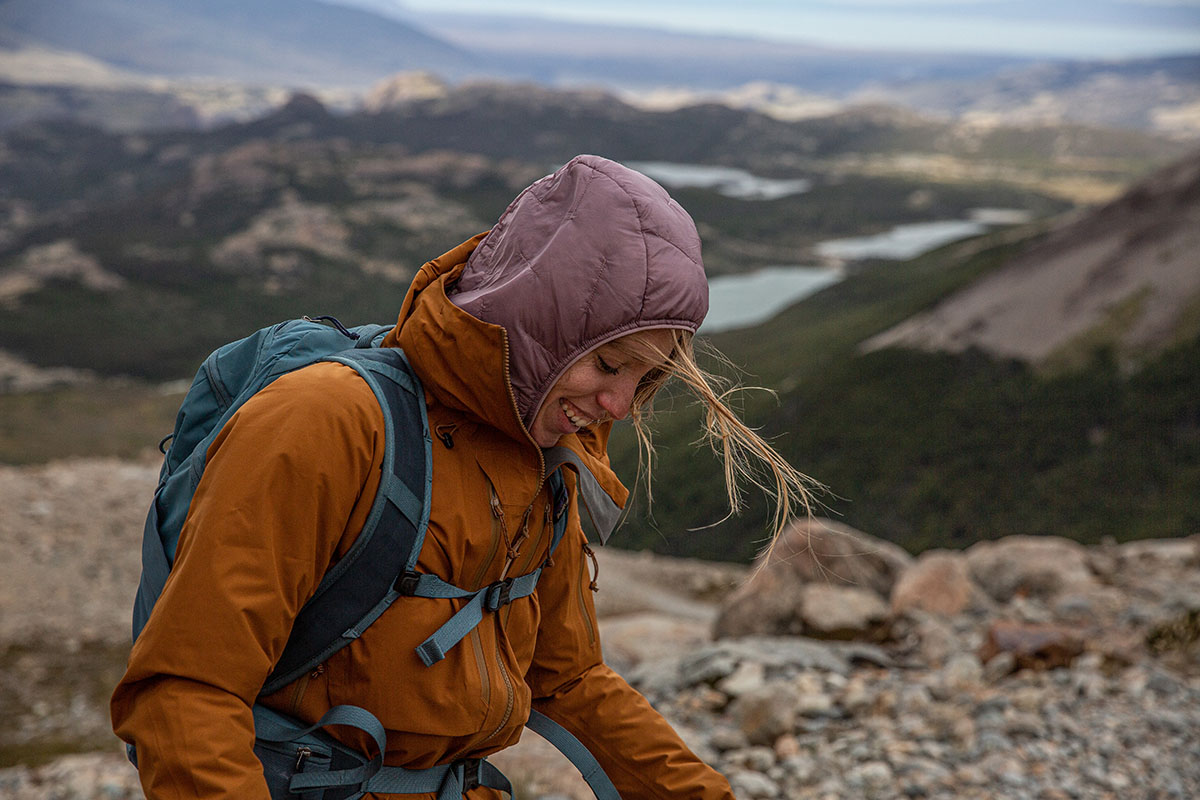 Breathability
Synthetic jackets vary considerably in terms of breathability, and the SuperStrand LT's down-mimicking fill and nylon shell clearly aren't designed for active use. I overheated in the jacket quickly even in moderate temperatures, leading to sweatiness and a noticeably sticky feeling against my skin when paired with a t-shirt or tank top. For high-output activities like hiking and backpacking in warmer weather (above around 40 degrees Fahrenheit), active insulations like Arc'teryx's Coreloft in their Atom LT Hoody and Patagonia's FullRange in their Nano-Air Hoody are a much better choice (their sweatshirt-like fabrics are also much better at wicking moisture). On the flip side, the SuperStrand is less air-permeable and more resistant to wind, and it also traps heat much better. However, if breathability is the top priority for you, I'd recommend opting for the aforementioned Atom, Nano-Air, or Arc'teryx's more specialized Proton LT, which is purpose-built for active use.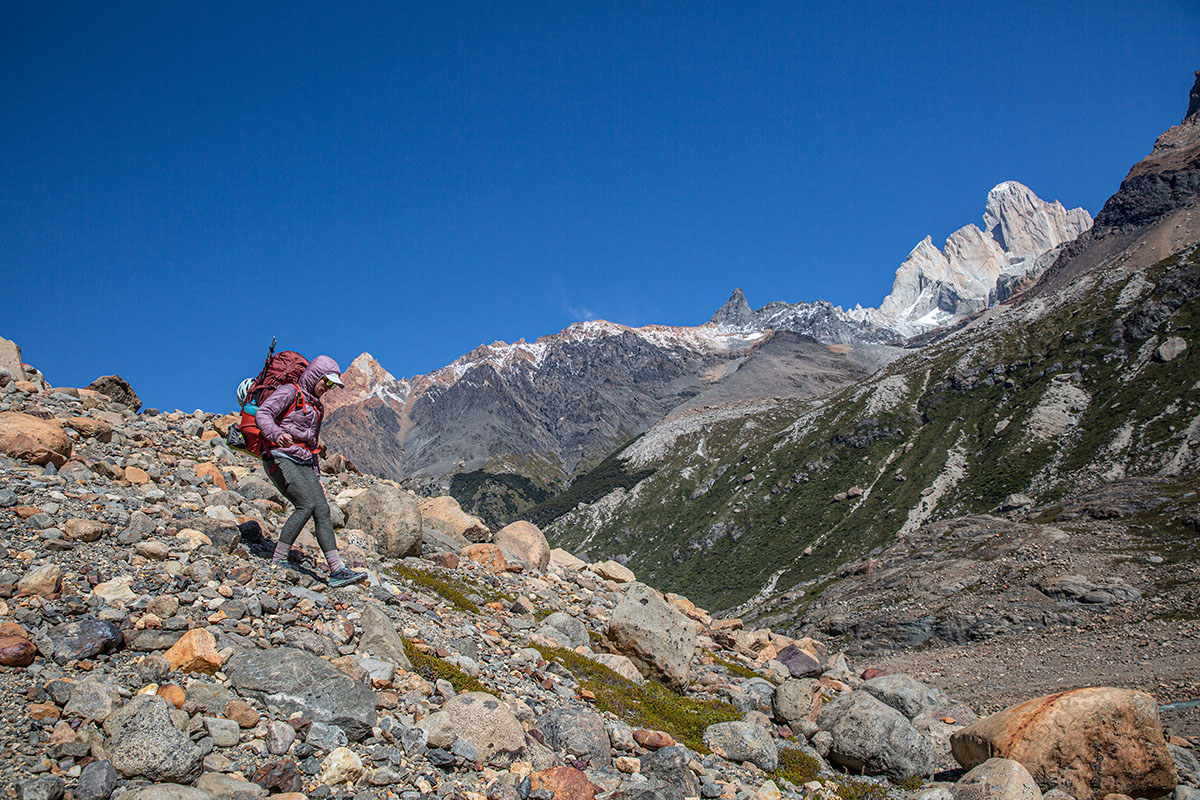 Weight and Packability
At just 9.6 ounces for the women's version, the OR SuperStrand LT Hoodie is one of the lightest synthetic jackets on the market. As I covered above, the VerticalX SuperStrand insulation is designed to mimic the warmth and compressibility of down, and it does a great job at impersonating down's lofty and lightweight feel. For comparison, the SuperStrand undercuts many other leading synthetic jackets, including Patagonia's Nano-Air Hoody (10.2 oz.), Arc'teryx's Atom LT Hoody (11.3 oz.), and other down alternatives like the Patagonia Nano Puff Hoody (10.8 oz.) and The North Face ThermoBall Eco Hoodie (1 lb. 4 oz.). Patagonia's similarly intentioned Micro Puff Hoody is a little lighter at 8 ounces, but it's largely unavailable at the time of publishing (Patagonia is updating the jacket for fall/winter 2022).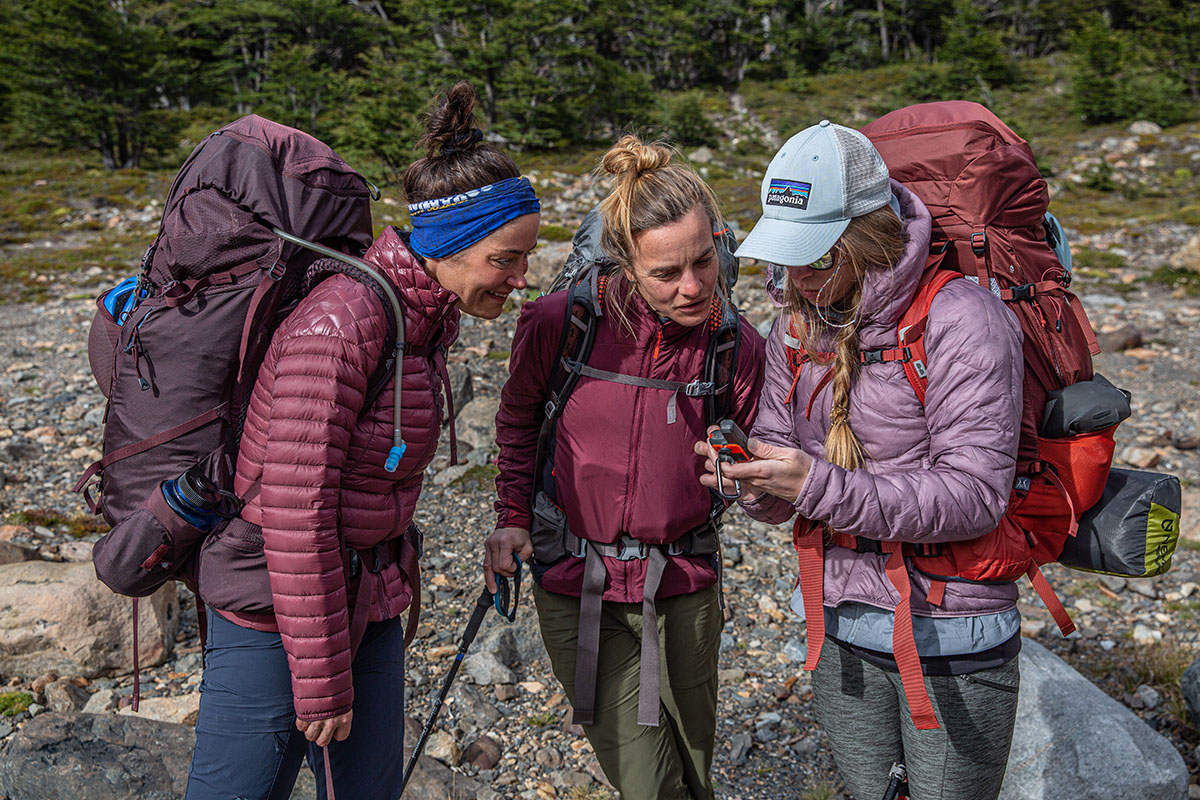 Weight and packability often go hand in hand, and the Outdoor Research SuperStrand LT Hoodie stuffs down impressively small for stowing in a pack or duffel bag. When compressed into its left hand pocket, the total packages measures around 18 x 10 inches (about the size of an American football). That said, there's no carabiner loop for hanging from a harness (something you get with Patagonia's Micro Puff), and it does take some effort and force to get the SuperStrand into the hand pocket. I also have concerns about the zipper snagging on the thin shell whenever I'm squeezing it down, although I haven't experienced any issues to date. Regardless, I recommend exercising care whenever you're packing it down for storage. 

Comfort
One of the first things I noticed when putting on the OR SuperStrand LT Hoodie for the first time was its supremely soft and cozy feel. The nylon shell has is noticeably light and supple and easily slides over a lightweight baselayer (by comparison, my Patagonia Micro Puff feels slightly more plasticky and less plush). I frequently wear the jacket over just a t-shirt or tank top, and as long as I'm not working hard in warm temperatures (when it tends to grow clammy and sticky), I love the smooth and pliable feel. Some will prefer the sweatshirt-like feel of alternatives like the Arc'teryx Atom LT or Patagonia Nano-Air, but for a down-mimicking synthetic, the SuperStrand is remarkably comfy.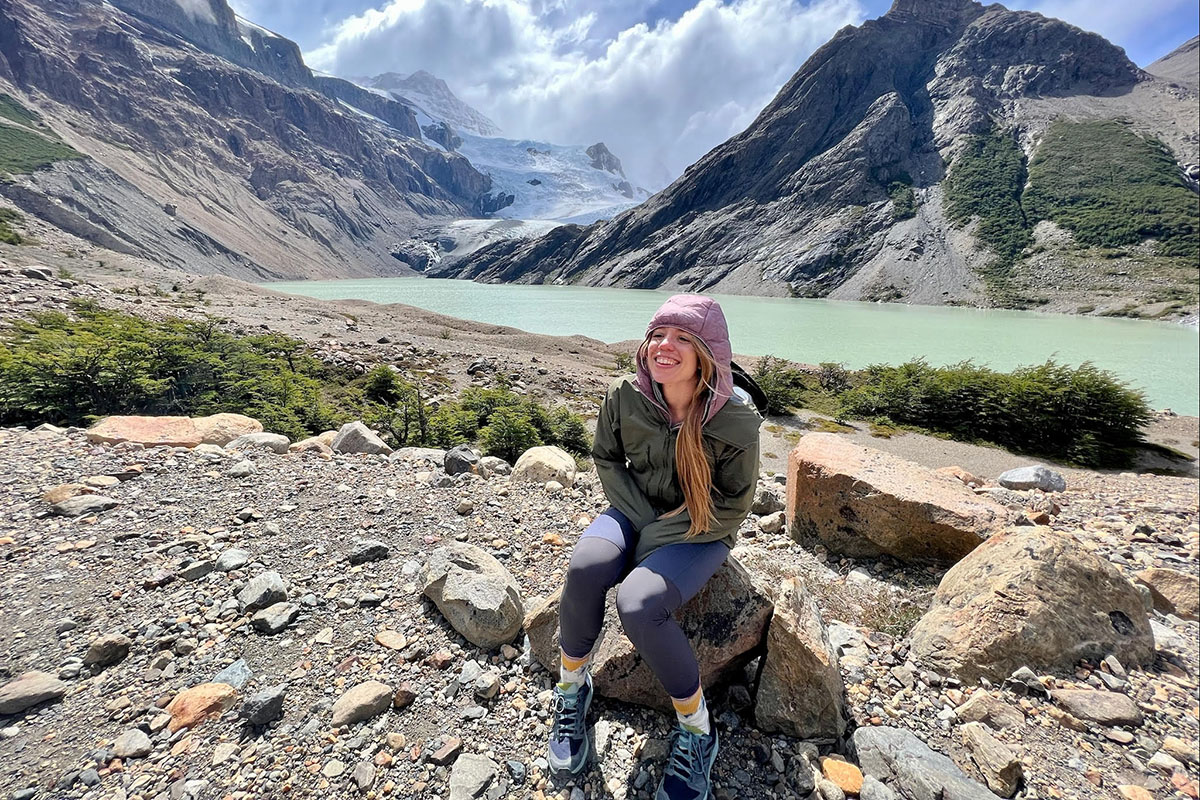 Build Quality and Durability
Like many ultralight pieces, the Outdoor Research SuperStrand LT Hoodie has a thin 12-denier& shell, but it's proven to be much more hardwearing than expected during testing. After months of using the SuperStrand as my go-to outer layer in Colorado and bringing it along on day hikes and backpacking trips in Patagonia, it's almost no worse for wear. There are no tears or snags, the zippers are functioning smoothly, and the jacket still looks like new with no stains or discoloration (despite very infrequent washing). And I should note that I haven't been particularly easy on the SuperStrand: It's been stuffed haphazardly in my pack, thrown in the back of my van with other sharp gear, and generally been put through the wringer. I do expect to accumulate some holes in the shell over time, and particularly when squeezing the jacket into its pocket for storage. But so far, all signs are positive that it will stand up well to long-term use.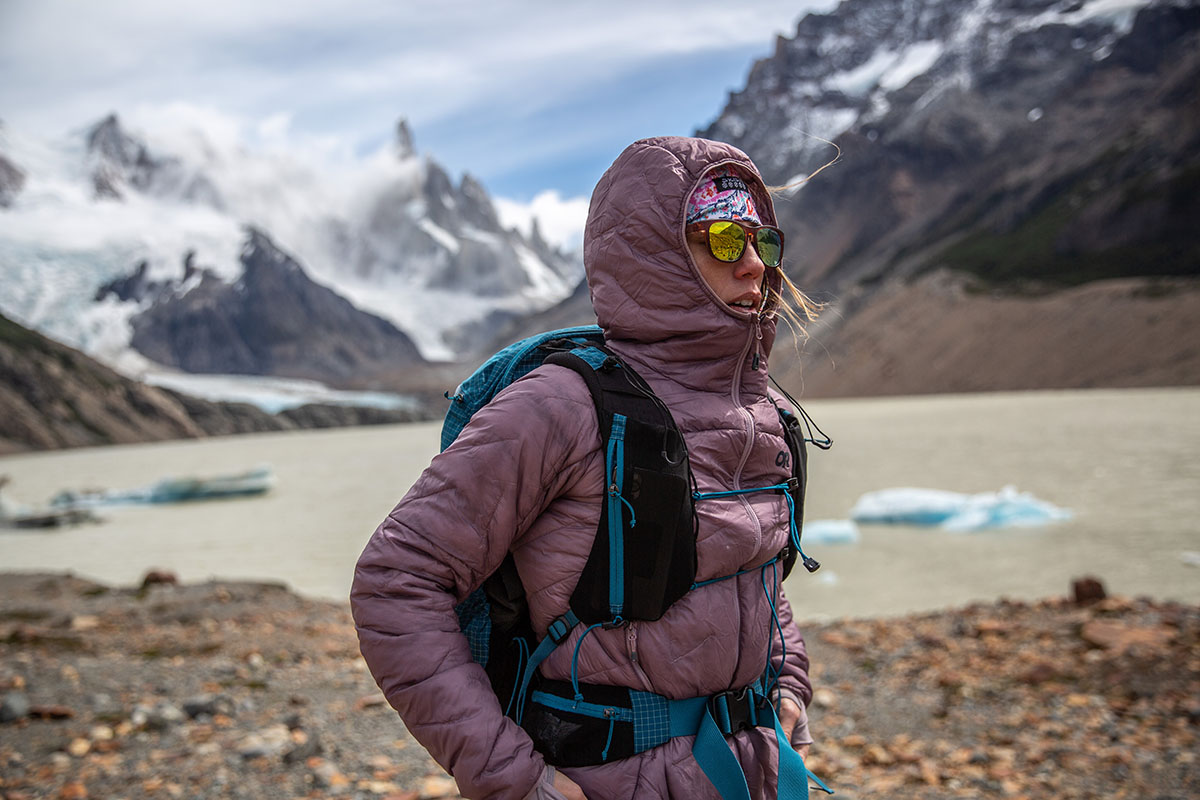 Features: Hood and Pockets
Despite its ultralight intentions, the OR SuperStrand LT Hoodie has a pretty functional and well-rounded feature set. Starting with storage, the two zippered hand pockets are generously sized and easily accommodate gloved hands or a plus-sized iPhone. Inside the jacket, there are also two large drop-in-style pockets for stashing items like sunglasses, a map, or a beanie and gloves. The hood is similarly simple but well-executed, including great all-around coverage with elastic around the aperture to keep it in place in high winds. You don't get a toggle for adjusting fit, but the hood fits snugly and stayed securely on my head, even in notoriously violent gusts in Patagonia (it can also be stretched over a low-profile climbing helmet). I do wish OR positioned the hand pockets higher for accessing items when wearing a pack or climbing harness, but that's a fairly small gripe and doesn't detract from the otherwise functional layout.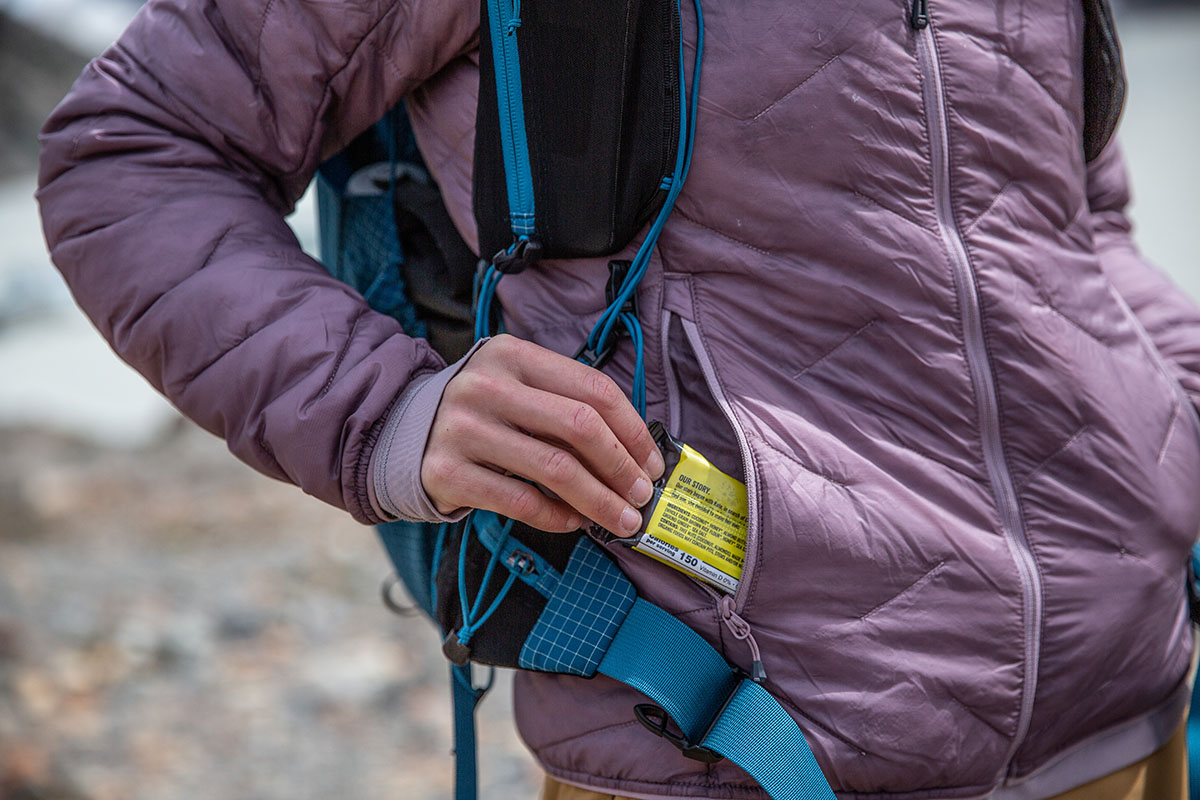 Fit and Sizing
I've typically found OR jackets to fit and look a little boxy, but the SuperStrand LT Hoodie was a nice surprise. For reference, I'm 5'6" and around 130 pounds, and my standard women's small fits perfectly with a very flattering and streamlined cut that pairs well under a shell. Importantly, there's still ample range of motion for hiking and backpacking or performing camp chores, and I've been able to layer the SuperStrand over everything from a thin tank top on warmer days to a lightweight baselayer with a thin fleece midlayer (the Patagonia R1 Daily Jacket) in cooler weather. Lengthwise, the jacket falls just below my waist, and the elastic at the hem does a good job of preventing it from riding up when I sit. The cuffs have a similar design that keeps them in place but offers enough stretch to fit over undercuff gloves.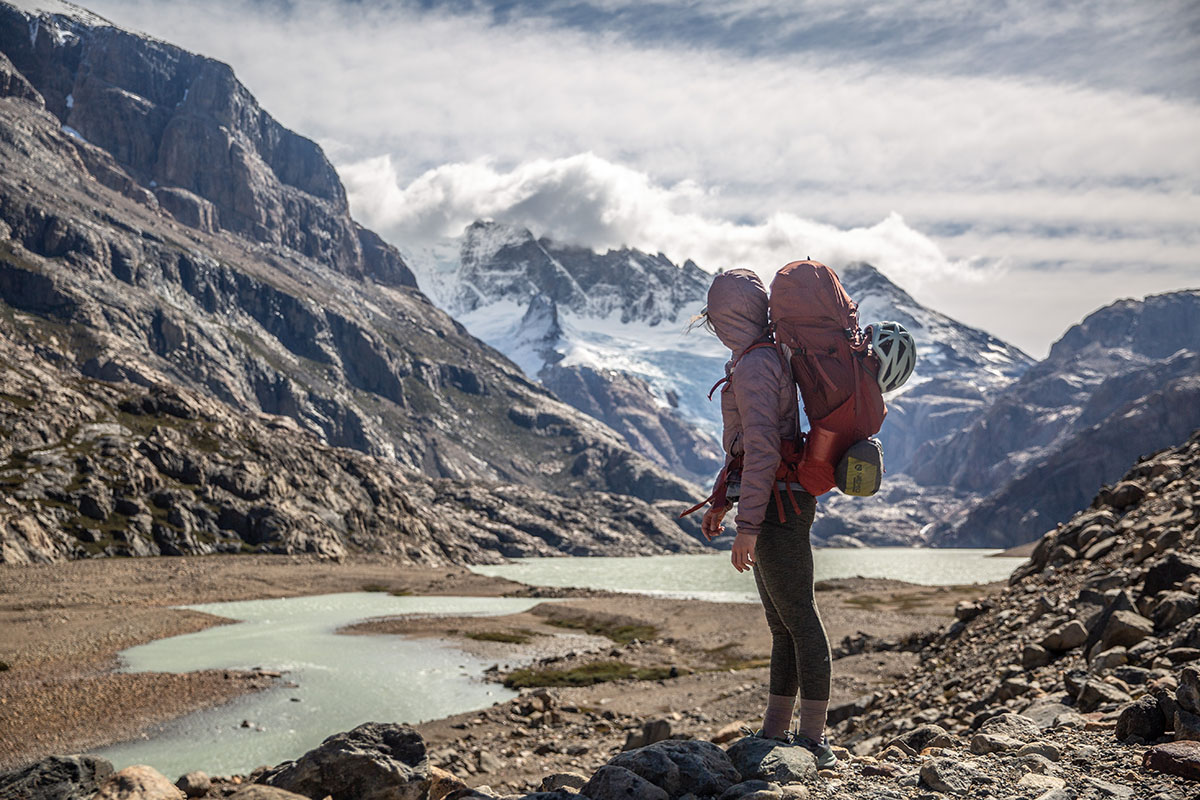 Other Versions of the Outdoor Research SuperStrand LT
I've been testing the women's SuperStrand LT Hoodie for the past few months, and it's also sold in non-hooded jacket and vest variations that retail for $199 and $149 respectively. Compared to the hoody, the non-hooded women's SuperStrand LT Jacket clocks in a little lighter at 8.9 ounces but otherwise retains an identical overall construction and feature set. The men's side comprises the same options in different colorways, with the men's SuperStrand LT Hoodie weighing in at 10.9 ounces.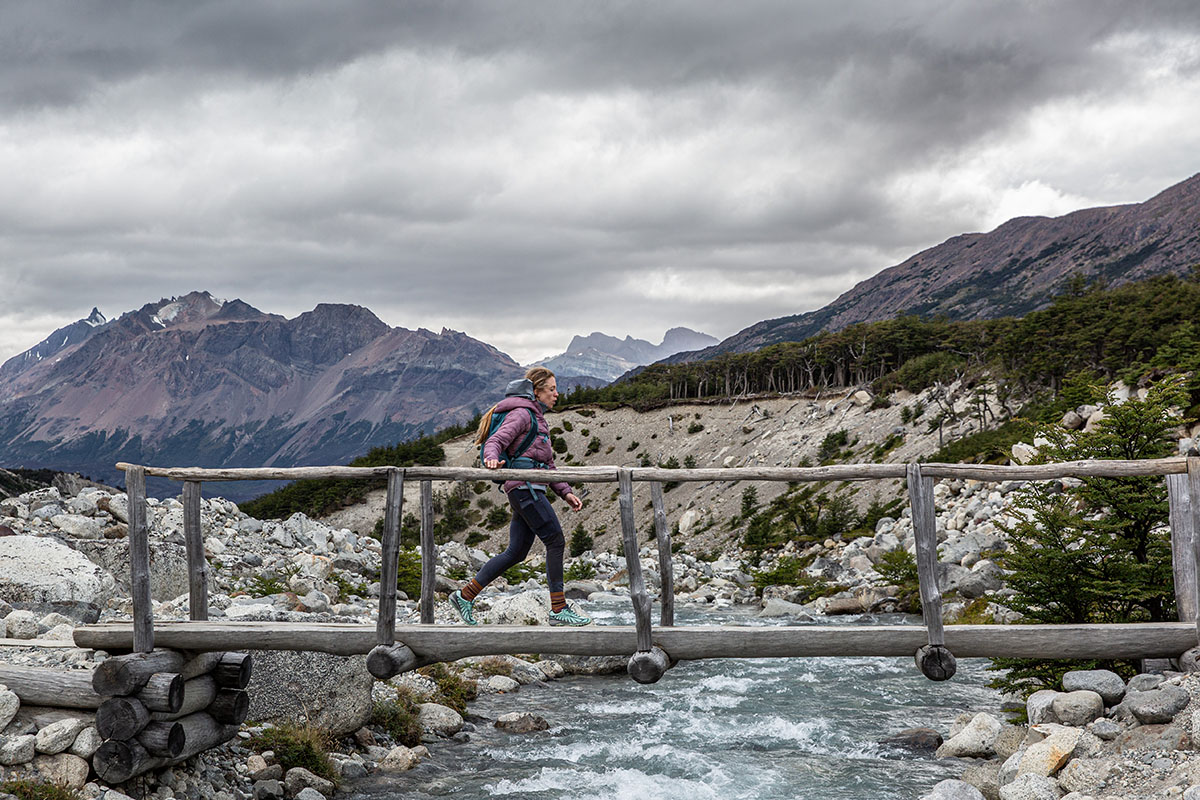 What We Like
VerticalX SuperStrand insulation does a great job at mimicking down: It's warm for its weight, highly compressible, and has a lofty look and feel.
Supremely soft and cozy against the skin—I reach for the SuperStrand far more often than any other jacket in my quiver.
Very flattering fit with a good amount of stretch for mobility-dependent activities.
Despite the thin 12-denier shell, the jacket is holding up incredibly well with no snags or signs of wear thus far.

What We Don't
Down-mimicking fill and nylon shell don't breathe well, and I overheated when moving even in moderate temperatures.
DWR coating was quick to wet out, and moisture rapidly penetrated the insulation in moderate rainfall. 
Shell is decidedly thin at 12-denier, and I worry about it snagging when stuffing the jacket into its left hand pocket for storage (although this hasn't happened yet). 
Squeezing the jacket into its pocket takes some effort and force, and there's no carabiner loop for hanging from a harness.   


Comparison Table

The Competition
Outdoor Research's new SuperStrand LT Hoodie is one of the most competitive down-mimicking synthetic jackets on the market and does an admirable job impersonating down's lofty warmth in a lightweight package. But OR isn't the only brand to experiment with this recipe, and Patagonia's Micro Puff Hoody remains the standard bearer in this category. Stacked up against the SuperStrand LT, the Micro Puff is a little lighter at 8 ounces, has a more weather-resistant Pertex Quantum shell, and comes with a carabiner loop on the stuff sack for hanging from a harness. That said, the Patagonia is even thinner than the OR with a fragile 10-denier shell and costs an additional $80. Finally, Patagonia will be updating the design for fall/winter 2022, and availability is pretty limited at the time of publishing. But if you can track one down in your size, the Micro Puff remains our favorite ultralight and packable option.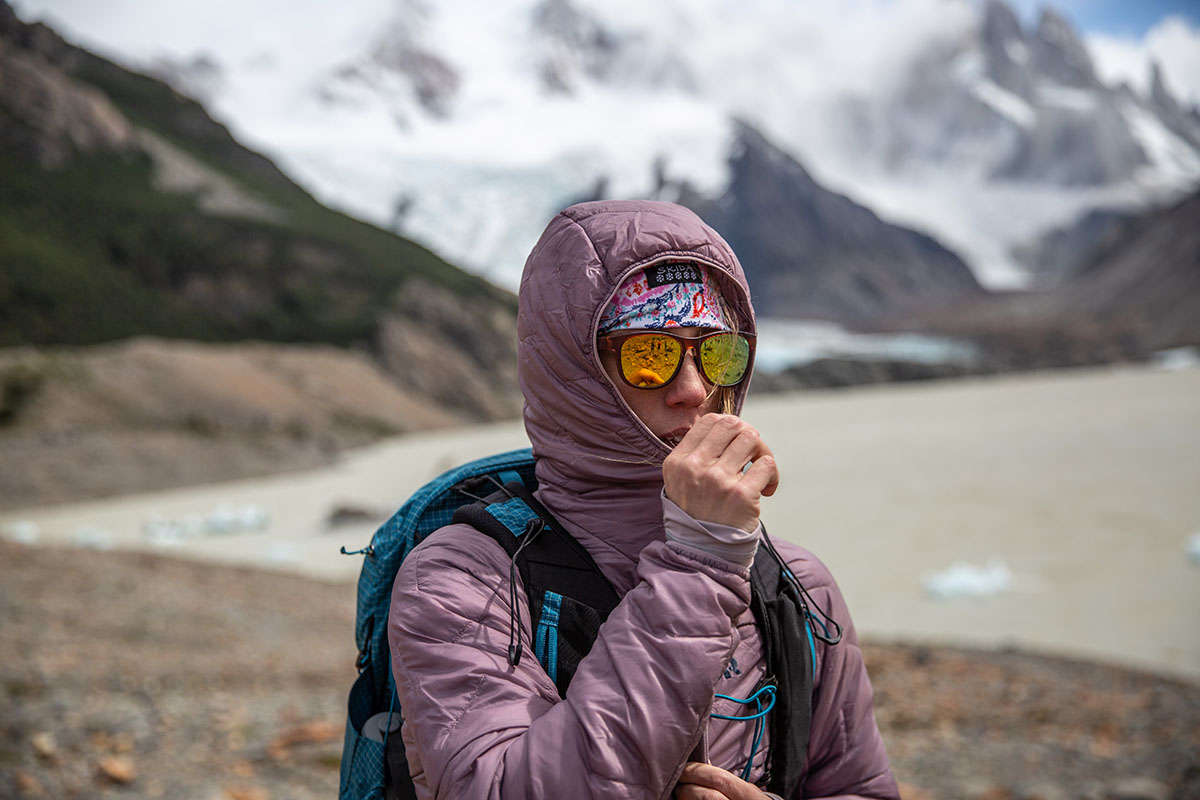 In addition to the Micro Puff, Patagonia offers another competitive down alternative in their Nano Puff Hoody. The Nano Puff is more casual than the Micro Puff and heavier at 10.8 ounces, but its 20-denier shell is noticeably thicker and more hardwearing than both the Micro Puff (10D) and SuperStrand LT (12D). Like the SuperStrand, the Nano Puff isn't a standout in wet weather with just a standard DWR coating, but you do get functional additions like a drawcord for cinching the hem and an internal zippered chest pocket that doubles as the stuff sack. That said, the Nano Puff's shell is slicker and less soft than the SuperStrand's, and it will cost you $30 more for the hooded version. In the end, both designs have a very lightweight and down jacket-like feel, but we give the slight edge to the cheaper and more comfortable SuperStrand LT.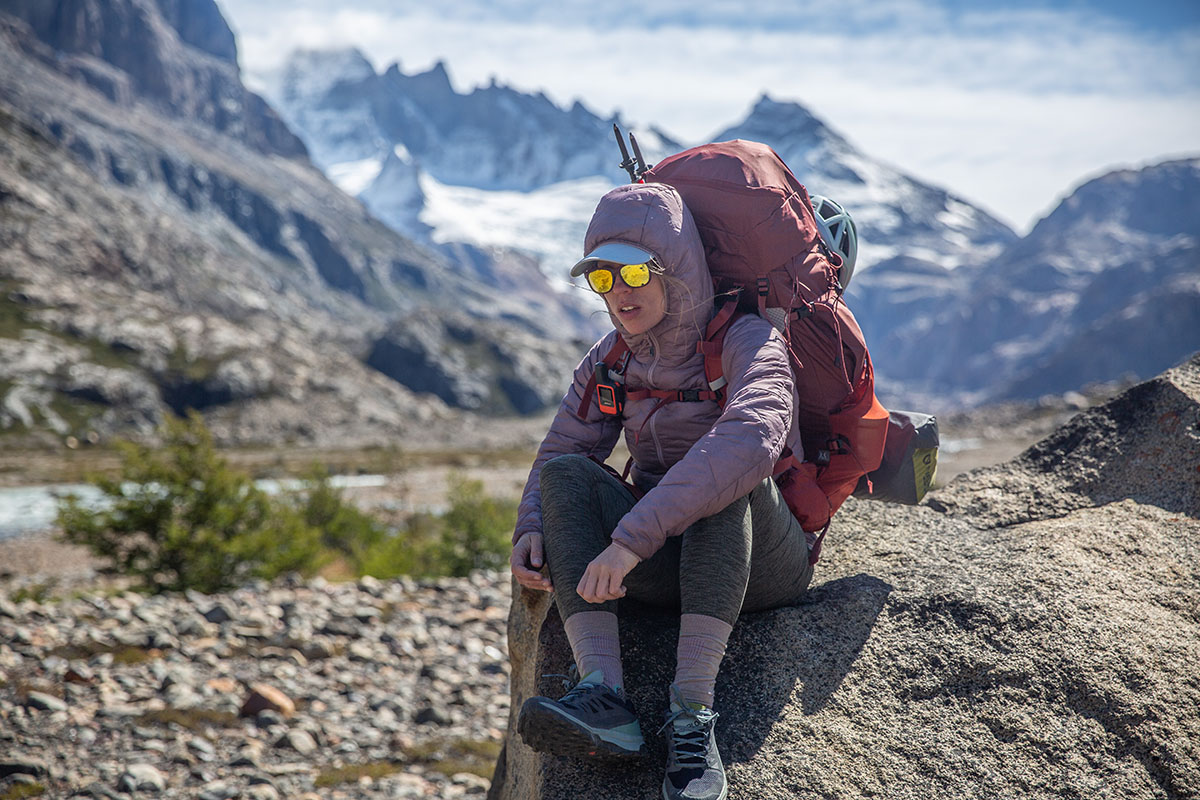 Outside of Patagonia's collection, The North Face's ThermoBall Eco Hoodie is their take on a down-mimicking synthetic jacket. The namesake ThermoBall Eco insulation—comprised of small, round clusters of PrimaLoft fibers housed inside brick-like baffles—is very effective at trapping warmth and retains its insulating abilities when wet. However, the ThermoBall checks in at a fairly hefty 1 pound 4 ounces (10.4 oz. heavier than the SuperStrand LT) without enough to show for it. Like the OR, the ThermoBall isn't breathable enough for active use, comes with less storage (two hand pockets and one internal chest pocket), and the coil-style main zipper is finicky and pretty cheap-feeling. You do get a slightly thicker and more confidence-inspiring 20-denier shell with the ThermoBall, but we don't think that's enough to justify the weight penalty. For $11 less, the OR strikes us as the more well-rounded and higher-quality design.
Next up is Mountain Hardwear's Ghost Shadow Hoody, which looks a lot like their legendary Ghost Whisperer down jacket but with synthetic fill for better wet-weather assurance. At $220 and 10.5 ounces, it's similar in both price and weight to the SuperStrand LT but with thicker insulation (80g PrimaLoft Silver Hi-Loft Ultra) for a slight boost in warmth. However, its shell is more delicate at 10 x 10 denier, and the full nylon exterior is a similarly poor performer for high-output activities like hiking and backpacking in warmer conditions. You do get harness compatibility and a hem adjustment with the Ghost Shadow, but those aren't deal-breakers for most. For virtually the same price, the SuperStrand LT will stand up to wear a bit better and has a noticeably softer and suppler feel for everyday use.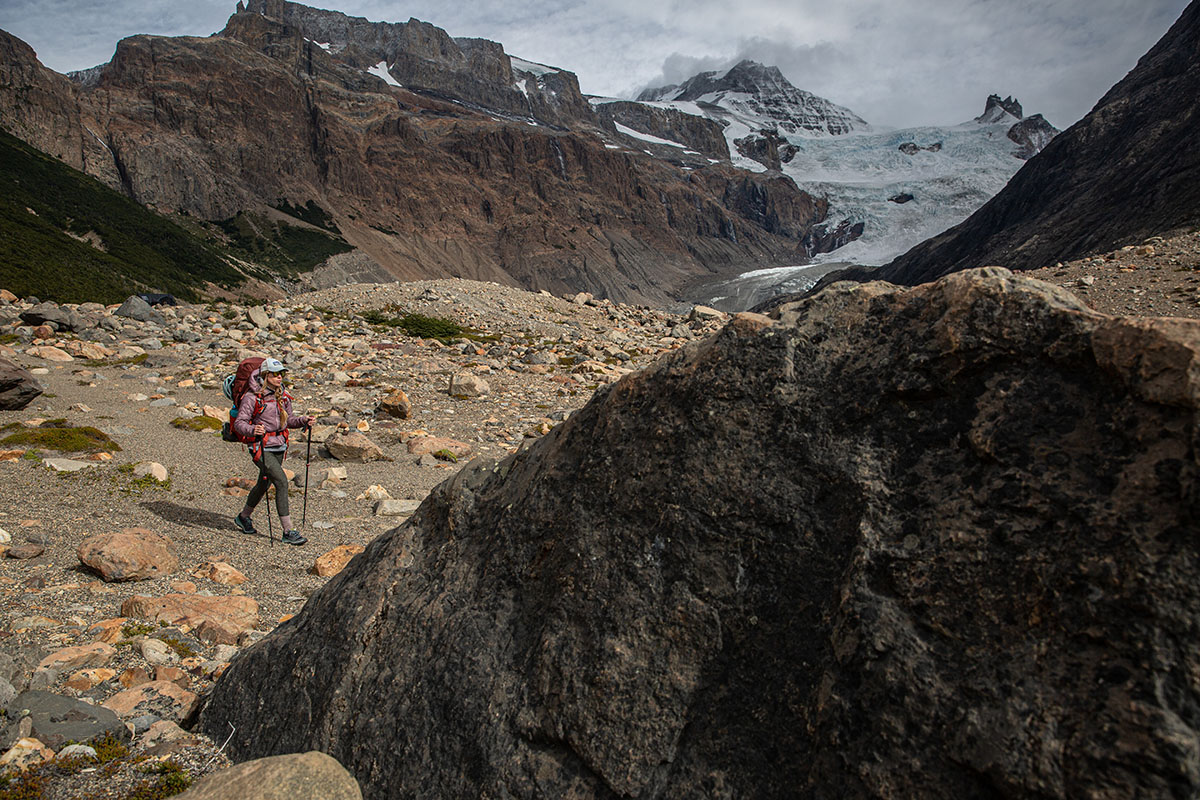 A final alternative to have on your radar comes from within OR's own lineup: their Helium Insulated Hoody. At 9.5 ounces, the Helium stacks up very competitively to the 9.6-ounce SuperStrand LT while adding a sizable performance slant. Namely, the hand pockets are positioned high enough to sit above a harness or backpack hipbelt, the hem features a drawcord for sealing out drafts, and the hood can be adjusted in inclement conditions. Finally, the Helium adds a Pertex Quantum shell (15 x 30D) with their Diamond Fuse technology for better balancing protection and durability—all while coming in $20 cheaper than the SuperStrand. In the end, if you're looking for a dedicated piece to bring into the backcountry, the Helium is much better-equipped than the SuperStrand. If comfort and everyday style win out for you, we'd spend up for the SuperStrand.
If you're thinking about buying gear that we've reviewed on Switchback Travel, you can help support us in the process. Just click on any of the seller links above, and if you make a purchase, we receive a small percentage of the transaction. The cost of the product is the same to you but this helps us continue to test and write about outdoor gear. Thanks and we appreciate your support!
Depending on the seller, most products ship free in the United States on orders of $50 or more. International shipping availability and rates vary by seller. The pricing information on this page is updated hourly but we are not responsible for inaccuracies.
Read More From Switchback Travel