Arc'teryx Nuclei SV Parka
Price: $399
Weight: 1 lb. 5.2 oz. (men's)
Insulation: Coreloft Continuous (90g & 180g)
What we like: Impressively warm for the weight and top-notch wind resistance.
What we don't: Not a good breather and relatively thin shell fabric.
See the Men's Arc'teryx Nuclei SV Parka
Replacing the Dually as Arc'teryx's warmest synthetic jacket in their collection, the Nuclei SV (short for "severe weather") Parka stands out for its impressive warmth and mountain-ready feature set. Though I haven't used it for climbing or belaying yet, I've worn the jacket backcountry skiing and backpacking in notoriously windy Patagonia and found it to be great for throwing on during transitions or while hanging around camp. It's lacking in breathability for high-output use, but the warmth-to-weight ratio and wind resistance are hard to beat for fending off cold and blustery alpine conditions. Below I break down my experiences with the Nuclei SV Parka. To see how it stacks up to the competition, check out our article on the best synthetic insulated jackets and best winter jackets.
Editor's note: We tested the women's Nuclei SV Parka last winter, but it's currently only offered in a men's version. We hope to see Arc'teryx release a women's model again soon, but in the meantime, we've linked to the men's version throughout this review.
 
---
Table of Contents
---

Performance
Warmth
The biggest selling point of the Arc'teryx Nuclei SV Parka is its warmth: This jacket is built for the alpine and has the ability to keep you cozy in harsh conditions typical of that environment. For insulation, the jacket uses a mix of 180- and 90-gram (g) Coreloft Continuous, with the thicker fill concentrated at the front, back, and upper arms and lighter 90g elsewhere (like the underarms, sides, and hood) to minimize bulk. In use, the insulation lofts almost instantly when the jacket is uncompressed—it self-inflates almost like a sleeping pad—and I feel an immediate rush of warmth each time I put it on. Even in notoriously strong Patagonian winds last February, I was comfortable hanging around camp as other group members scurried into their tents to escape the bitter gusts, and I've managed to stay warm while winter camping in temperatures that dipped into the negative single digits Fahrenheit with proper layering underneath and the hood cinched tightly. Given the Nuclei SV's relatively low weight (more on this below), this is quite remarkable.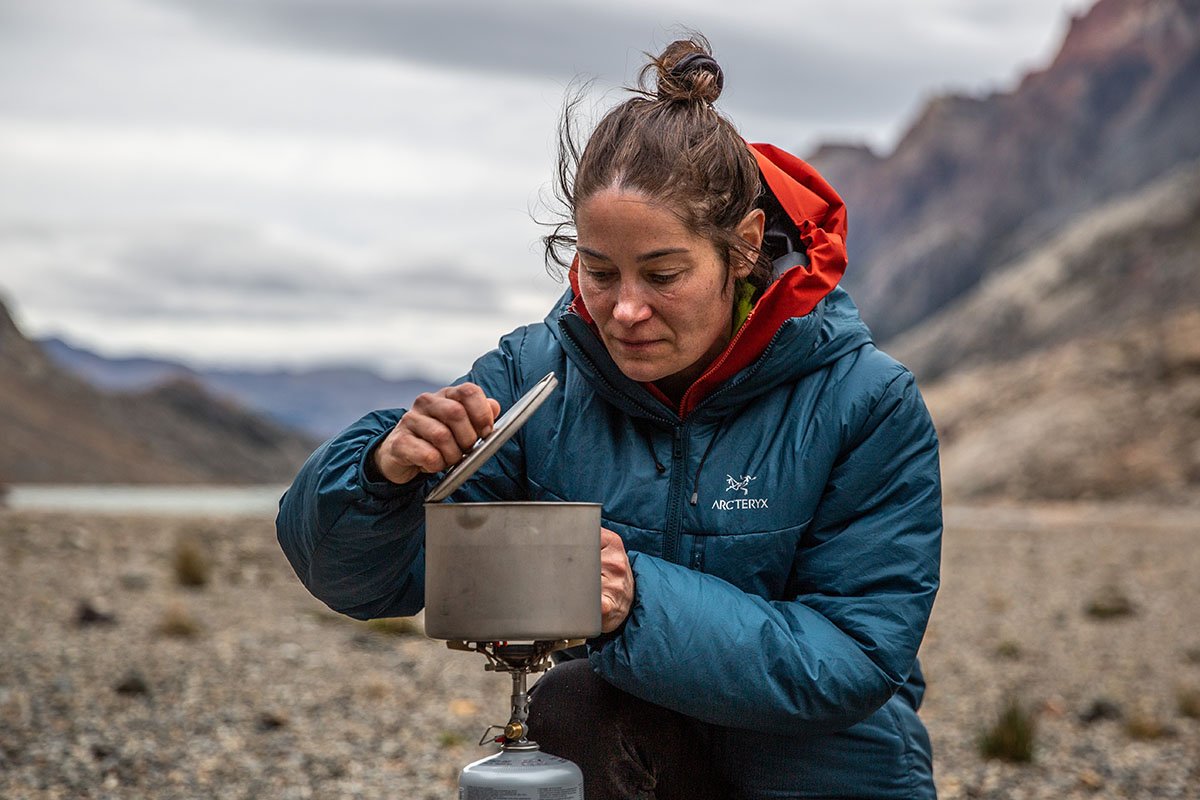 One of the biggest benefits of choosing synthetic insulation over down is its ability to retain loft and continue to insulate even when wet. This was put to the test while ski touring the Pacific Northwest: Even when the shell appeared to wet out in the damp conditions, I managed to stay toasty despite the moisture with no noticeable impact on loft. The StormHood is a big help here, offering a comfy and snug fit around the head (with or without a helmet) while leaving only a small opening exposed to the elements. The fleece-lined hand pockets are another nice touch, providing a cozy spot to warm cold hands. In the end, knowing that the Nuclei SV is in my pack provides me with incredible peace of mind—I feel confident that even if the weather changes, the temperatures plummet, or we are stuck in the backcountry longer than intended, I will remain warm.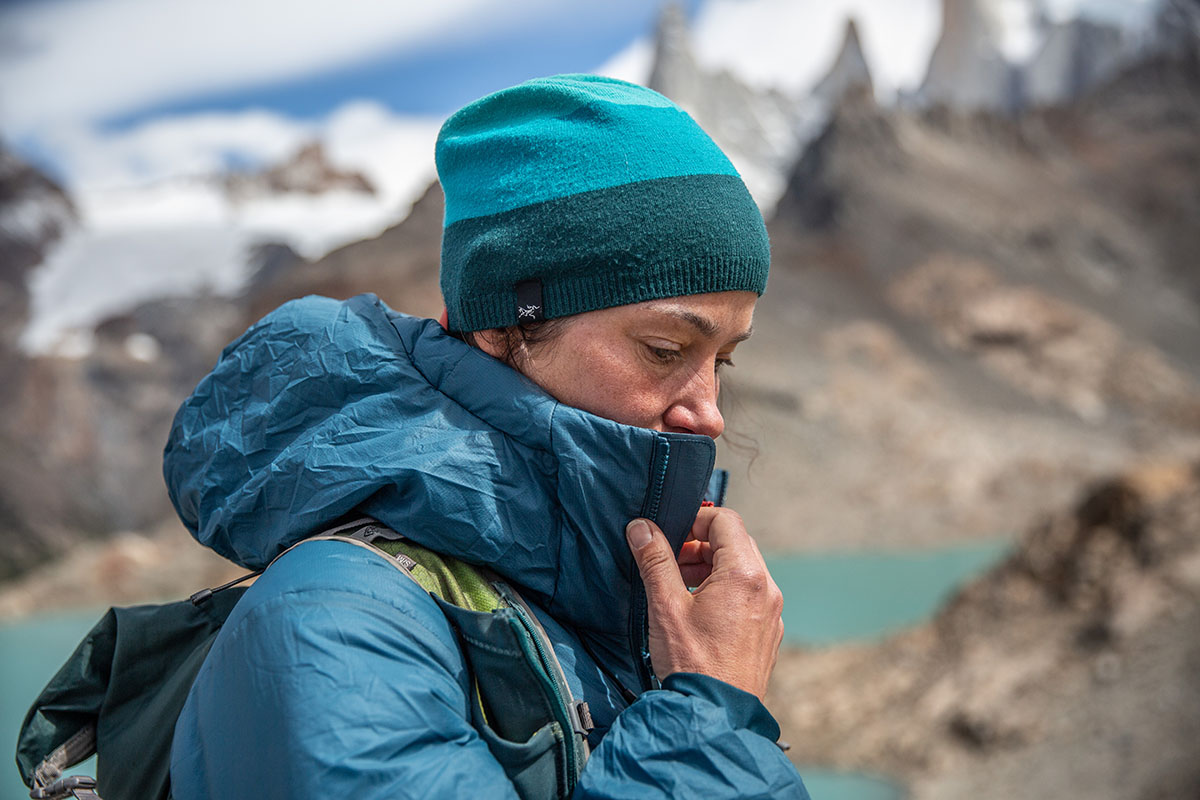 Weather Protection
The Nuclei SV can't match the protection of a dedicated hardshell or rain jacket, but it sheds light to moderate moisture just fine. In use, I've been impressed by how well the durable water repellent (DWR) finish and thin shell have fared in typical Pacific Northwest rain and sleet, and snow and mist easily brush and roll off without soaking in. In fact, the DWR managed to fend off an entire bottle of Worcestershire sauce that I accidentally spilled with no stains to show for it. Even when the face fabric appears wet, moisture has never made its way to the insulation, and I've noticed no impact on warmth or loft (it's also quick to dry). For comparison, my down-insulated Arc'teryx Alpha Parka feels a little more weather-ready thanks to its thicker 2-layer Gore-Tex Infinium shell, but the Nuclei SV is a sizable step up compared to most down alternatives. Again, I would definitely recommend throwing on a waterproof outer layer in more sustained precipitation, but the Nuclei SV is a respectable performer in short bouts of rain and snow.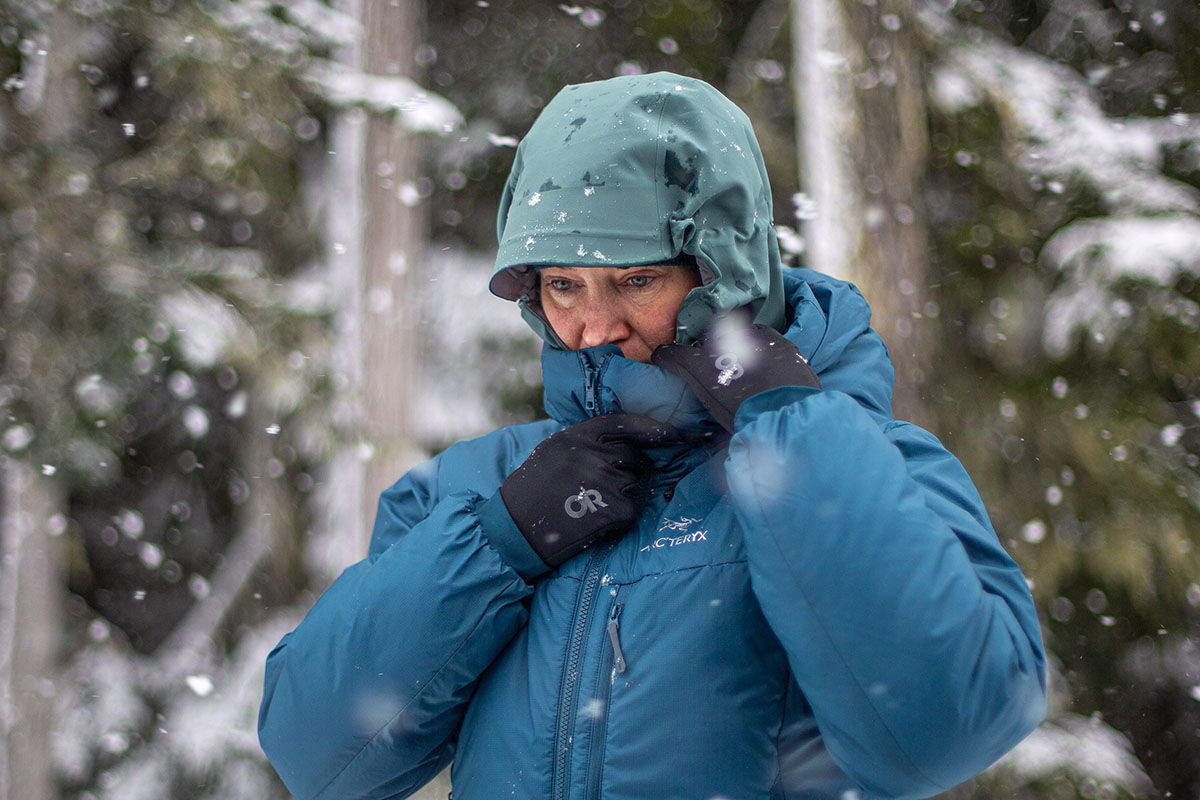 That said, where the Arc'teryx Nuclei SV Parka truly shines is in blustery conditions. I would agree with the jacket's "windproof" designation: The 15-denier (D) outer shell has a very tight weave that prevents air from permeating the outer fabric, providing reliable protection even in knock-you-over gusts while camping in Patagonia's Lago Eléctrico valley. The lack of baffles and seams definitely helps here, as there are fewer areas for wind to creep through. Finally, you can cinch the hem drawcord to seal out drafts, and the stretch-knit cuffs offer a snug enough fit around the wrists to prevent cold air from creeping in. In the end, this shouldn't come as a surprise given the Nuclei SV's alpine intentions, but I nevertheless was very impressed by the jacket's wind-blocking abilities.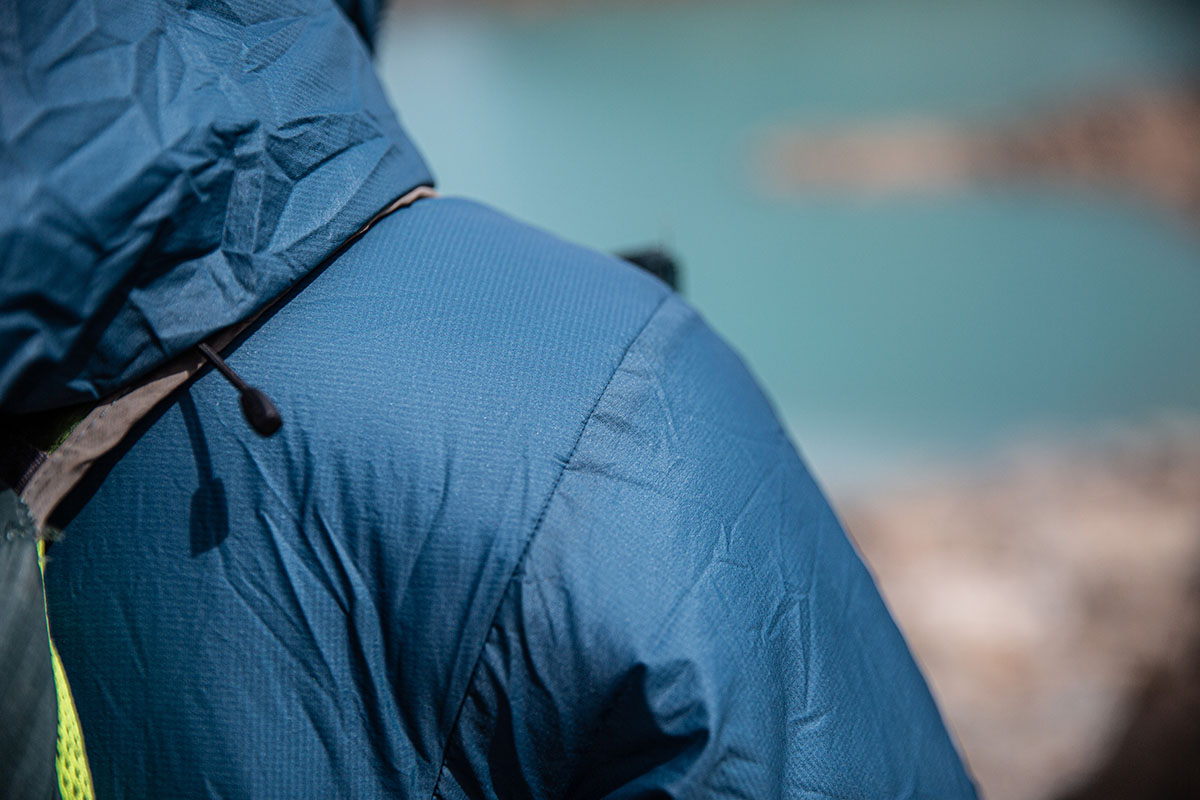 Breathability
Unfortunately, the impressive warmth and wind resistance mentioned above come at the sacrifice of breathability. Simply put, this jacket is not meant to be worn during exertion. It's great for hanging out at camp, transitioning in the backcountry, or standing at the belay, but it will overheat quickly once you get moving. To be fair, the thinner panels of insulation under the arms and along the side certainly help, and I've been able to wear the parka during light activity in cold weather without overheating. Anything more, however, and I quickly break out in a sweat. If you're on the hunt for a synthetic jacket to wear during activity, we'd instead recommend Arc'teryx's more breathable Proton series (even their warmer Alpha Parka is a step up in this regard with its Gore-Tex Infinium shell).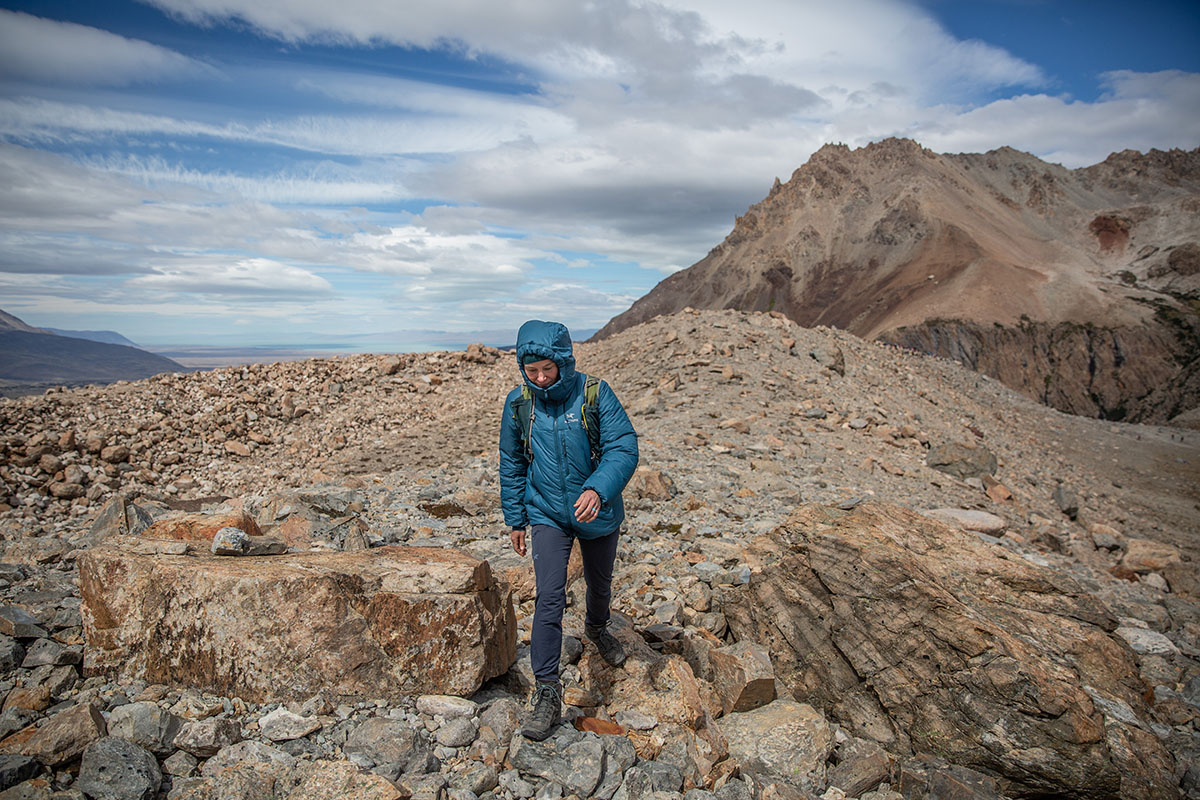 Weight and Packability
In short, the Nuclei SV Parka is impressively light and compressible for such a warm synthetic jacket. For reference, my women's jacket checked in at 1 pound 4.5 ounces, while the men's version is listed at 1 pound 5.2 ounces. For comparison, Arc'teryx's own Atom AR Hoody is a step down in warmth and weighs 1 pound 0.8 ounces, while Patagonia's DAS Parka is similar at 1 pound 3.6 ounces. The Nuclei is even competitive among the down-insulated competition, checking in lighter than Arc'teryx's own Alpha Parka (1 lb. 12.4 oz.) and Outdoor Research's Super Alpine Down Parka (1 lb. 13.1 oz.) while coming close to Rab's heavyweight Neutrino Pro (1 lb. 4.6 oz.). You can go lighter with a midweight alternative like Patagonia's 1-pound-1.1-ounce Fitz Roy Down Hoody, although it's not as warm or weather-ready.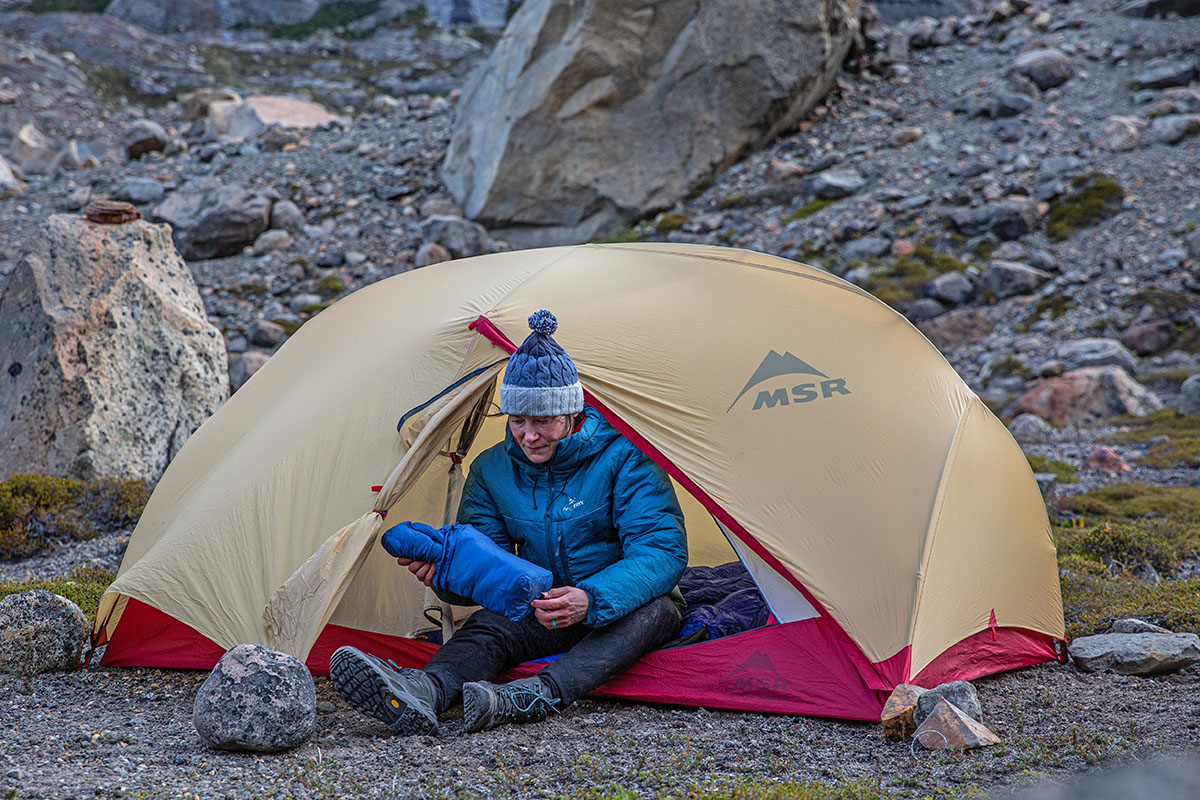 Packability is predictably also pretty impressive given the Nuclei SV's warm and lofty build. In its stuff sack, the jacket packs down to roughly the size of a rugby ball (or slightly larger than an American football) with a handy built-in carabiner loop for securing to a harness. In a dedicated compression sack, the Nuclei SV can be reduced even smaller (to about the size of a volleyball). And when removed from its stuff sack, the Nuclei SV lofts almost immediately—again, it's reminiscent of a self-inflating sleeping pad. I do prefer when a jacket's pocket doubles as the stuff sack (it's easy to lose the separate bag), but I understand this likely wouldn't be possible without making the pockets bigger. All in all, while far from the most compressible option available, I consider the Nuclei SV's added bulk a reasonable tradeoff for the warmth and peace of mind in cold and often-wet alpine conditions.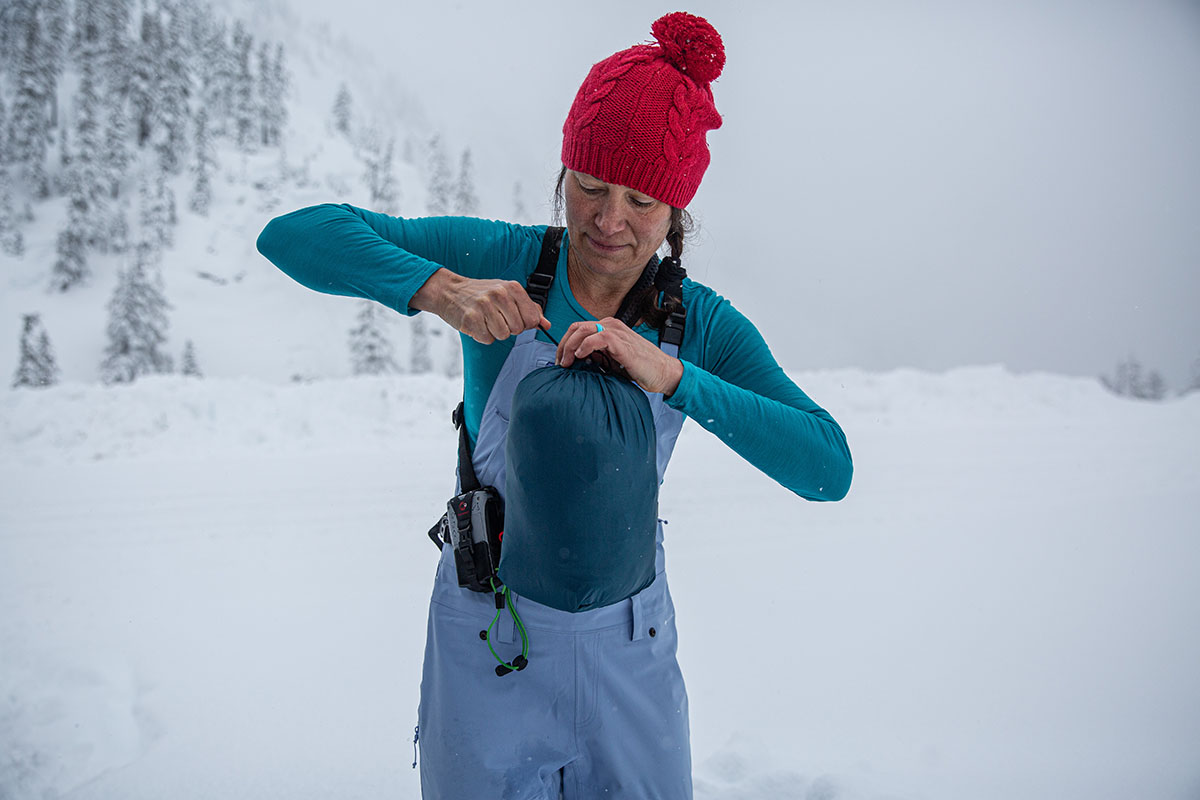 Key Design Features
StormHood
Put simply, the Arc'teryx Nuclei SV is well equipped for alpine use. As I touched on above, the hood is fully insulated and fits nicely over a climbing helmet with no restriction to movement whatsoever, and it also pairs well over just a hat or beanie. In terms of adjustability, a single drawcord at the back evenly cinches the hood around the head, while dual adjustment points at the sides of the collar tighten the aperture. When fully zipped with the hood donned, the collar reaches my nose, leaving only a small opening exposed to the elements. A final thoughtful touch is the soft brim, which adds a bit more protection and adds to the cozy, sleeping bag-like feel.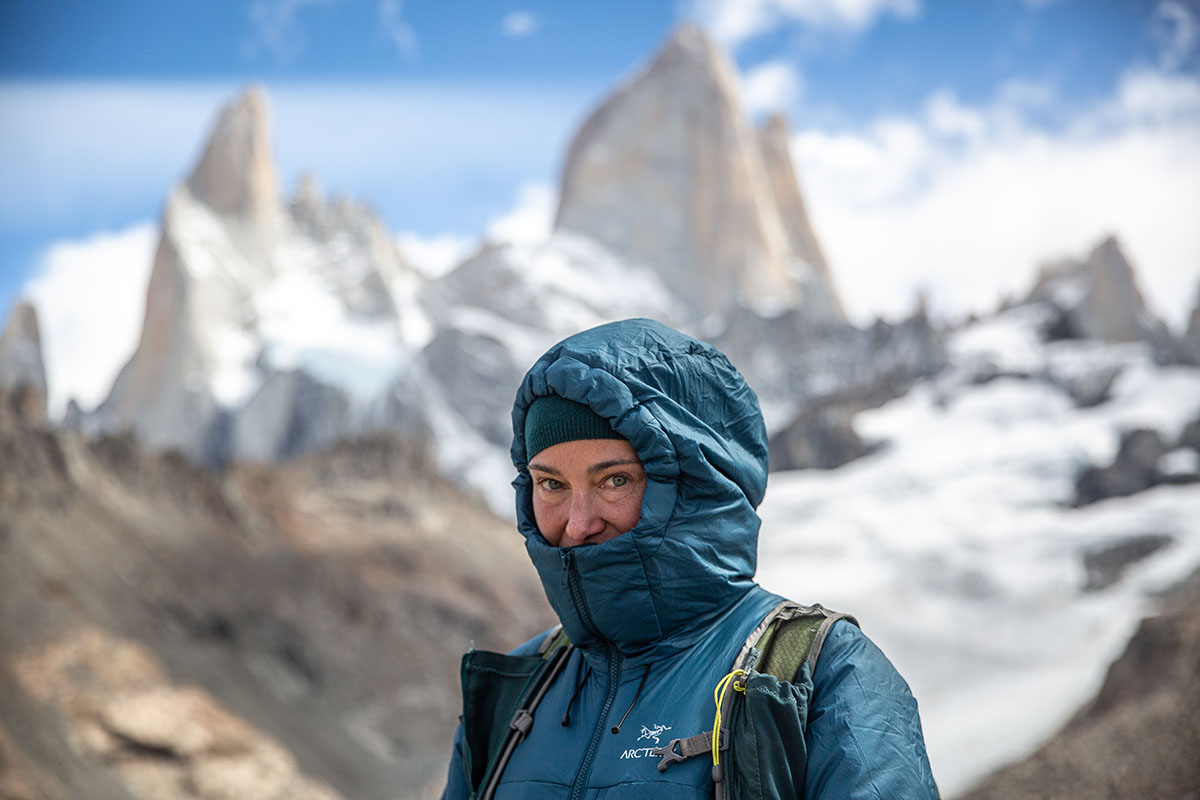 Storage: Pockets
As far as storage goes, the Nuclei SV comes nicely appointed with two zippered hand pockets, one exterior zippered chest pocket, and two internal dump pockets. The hand pockets are generously sized, well insulated, and lined with soft fleece to seal in body heat and warm cold hands, while the chest pocket is large enough to swallow a plus-sized iPhone. Internally, the two dump pockets have proven to be especially useful for stowing hats, goggles, and ski gloves when I heat up (they're also a good spot to keep climbing shoes warm while belaying). All in all, it feels like Arc'teryx included all of the necessary features without going overboard.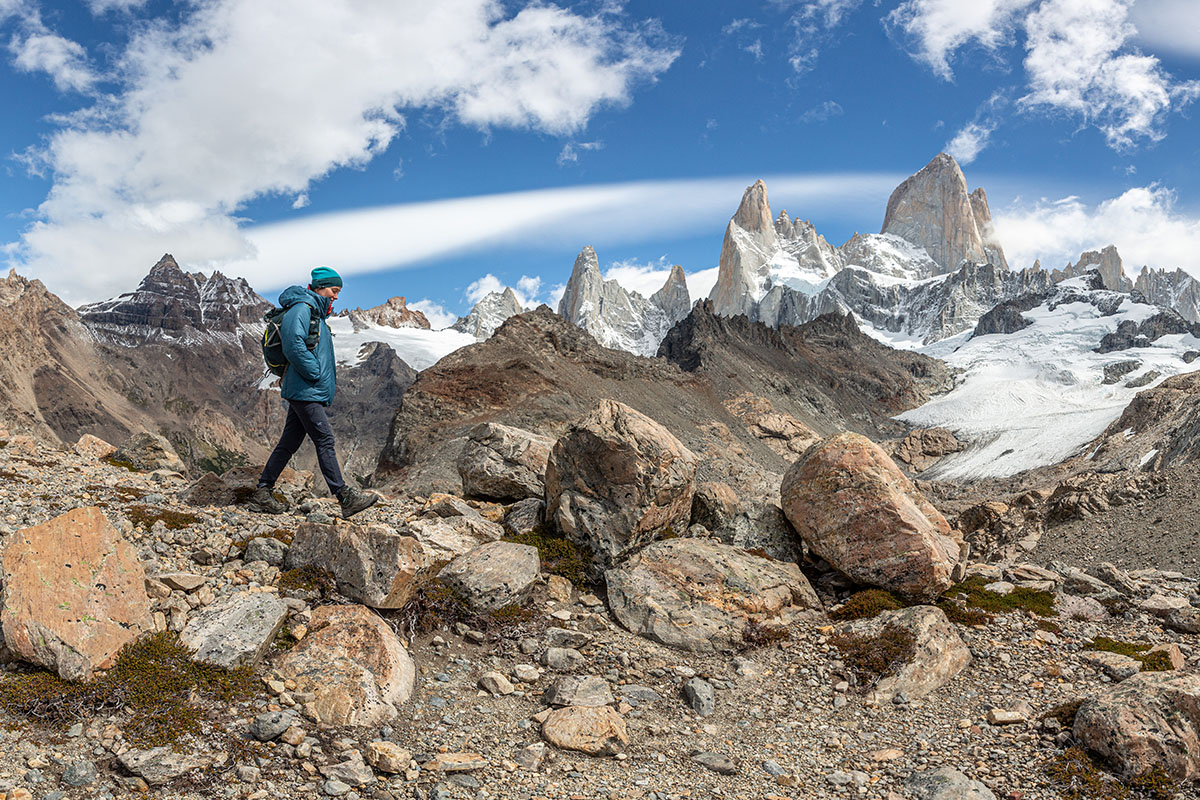 Zippers
Zippers aren't a huge consideration for most, but Arc'teryx clearly put a lot of thought into the design. All of the Nuclei SV's exterior pockets have long pull toggles that are very easy to manipulate with gloved hands, although the main zipper does not. On the bright side, the two-way design helps reduce bunching under a climbing harness and has a smooth and consistent feel—as long as the bottom zipper is clicked into place before attempting to zip up. There's also a snap at the bottom to keep the hem together when only the upper portion is zipped, making it easy to belay or tie in before climbing.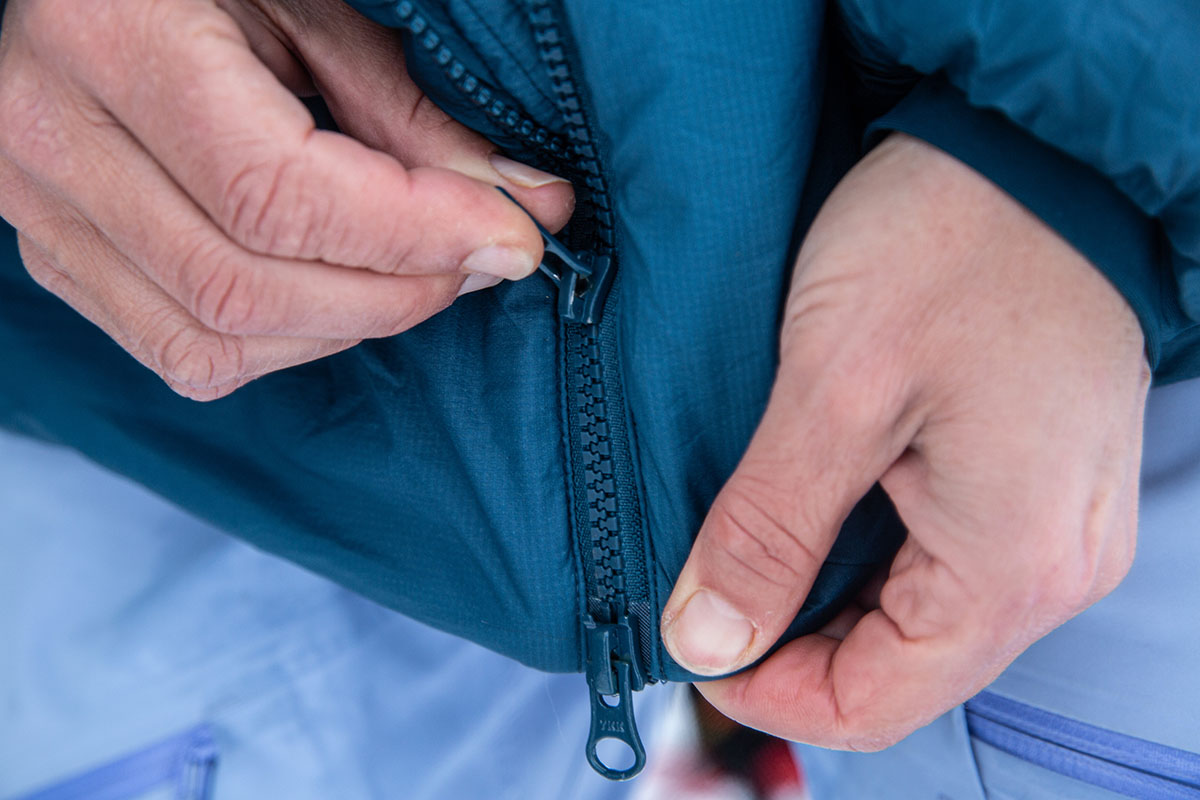 Build Quality and Durability
The Arc'teryx Nuclei SV Parka's 15D shell is decidedly on the thinner end, but the jacket has proven to be quite robust throughout testing. For reference, I've been wearing the since-discontinued FL variation of the Nuclei for over two years now, and its thinner 10D shell has given me no issues to date other than minor cosmetic wear and stains. I expect the thicker SV to hold up similarly well, and so far, all signs are positive: The fabric hasn't torn or snagged despite several encounters with sharp rocks and low-hanging branches, the insulation has retained its loft, and all of the zippers and drawcords are functioning flawlessly. However, as with all ultralight gear, it's important to take added care when handling the Nuclei SV—that means avoiding packing it next to sharp equipment, being careful when stuffing it in your pack or vehicle, and staying mindful when exploring the backcountry.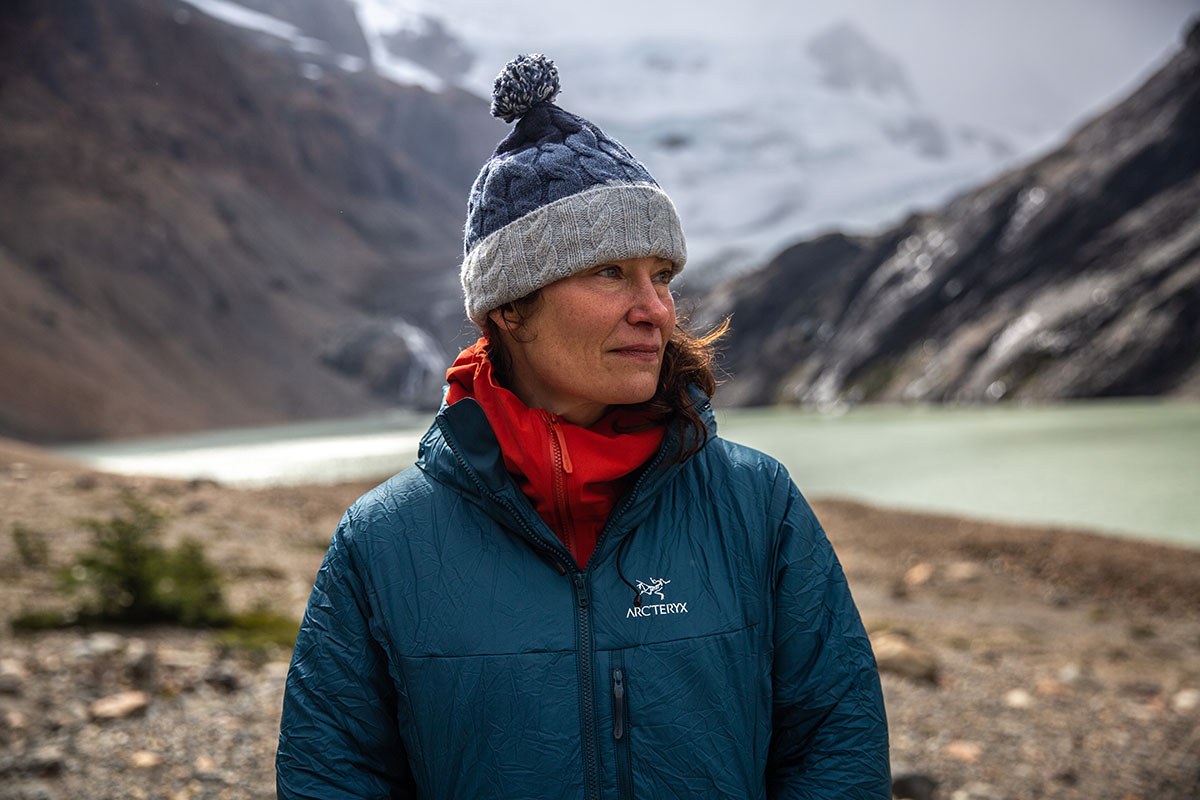 Fit and Sizing
The Arc'teryx Nuclei SV Parka is listed as a "regular" fit, which lines up well with its intentions as an outer layer for frigid alpine conditions. In my standard women's small (note: It's currently only offered in a men's version), I was easily able to layer the jacket over my since-discontinued Arc'teryx Cerium SV Hoody and a hardshell jacket while retaining ample room to stuff bulky items in the dump pockets. The thick and lofty build does make it difficult to pair under a rain shell, which is important to keep in mind if you're planning to take it into inclement weather frequently, but it's possible in a pinch.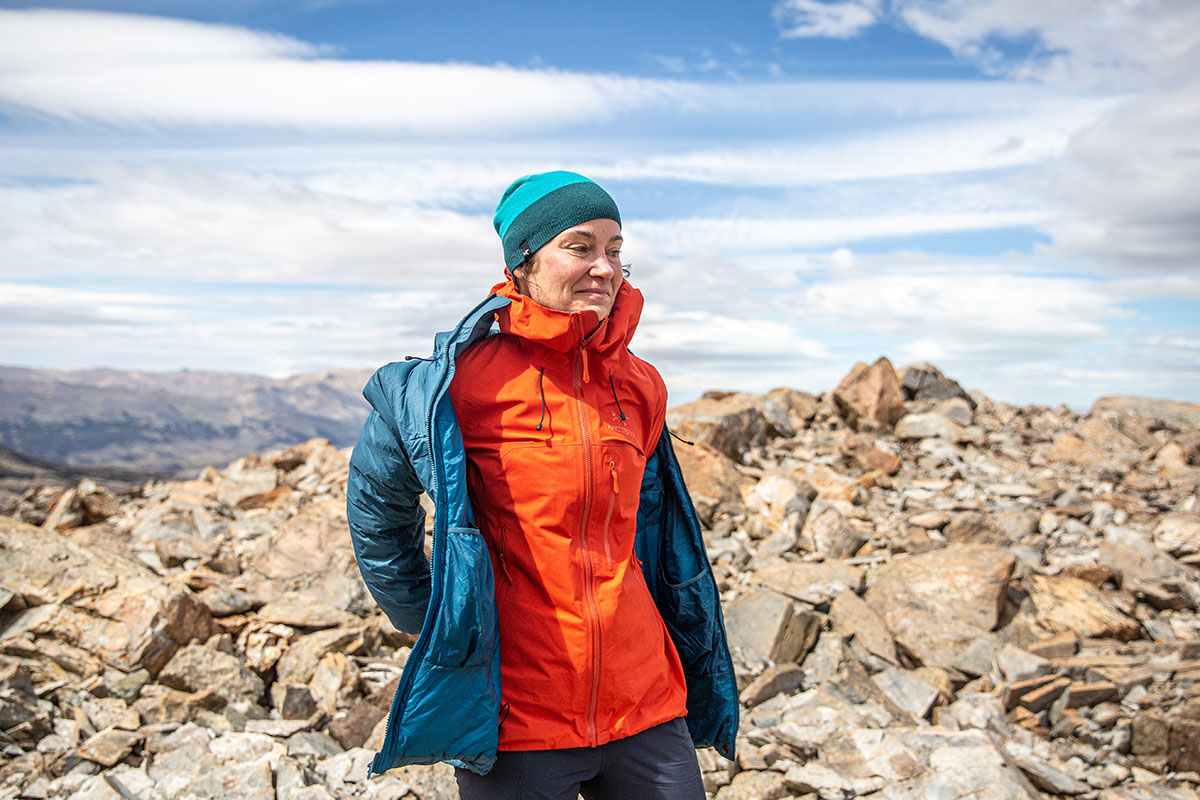 On the bright side, the sleeves are the perfect length for me (they land about mid-palm), and the elastic cuffs stay put at my wrists when I reach overhead. Additionally, the jacket features a slight drop at the back of the hem to effectively prevent the jacket from riding up when I sit down, and the hem can be cinched—great news for wearing either under or over a climbing harness. As I touched on above, the two-way main zipper also helps reduce bunching at the front while belaying or tying in to climb. And one final note: The Nuclei SV Parka is extremely comfortable both in fit and feel. I've worn it over just a t-shirt and have found that the liner is silky-smooth and remains that way even against sweaty, bare skin.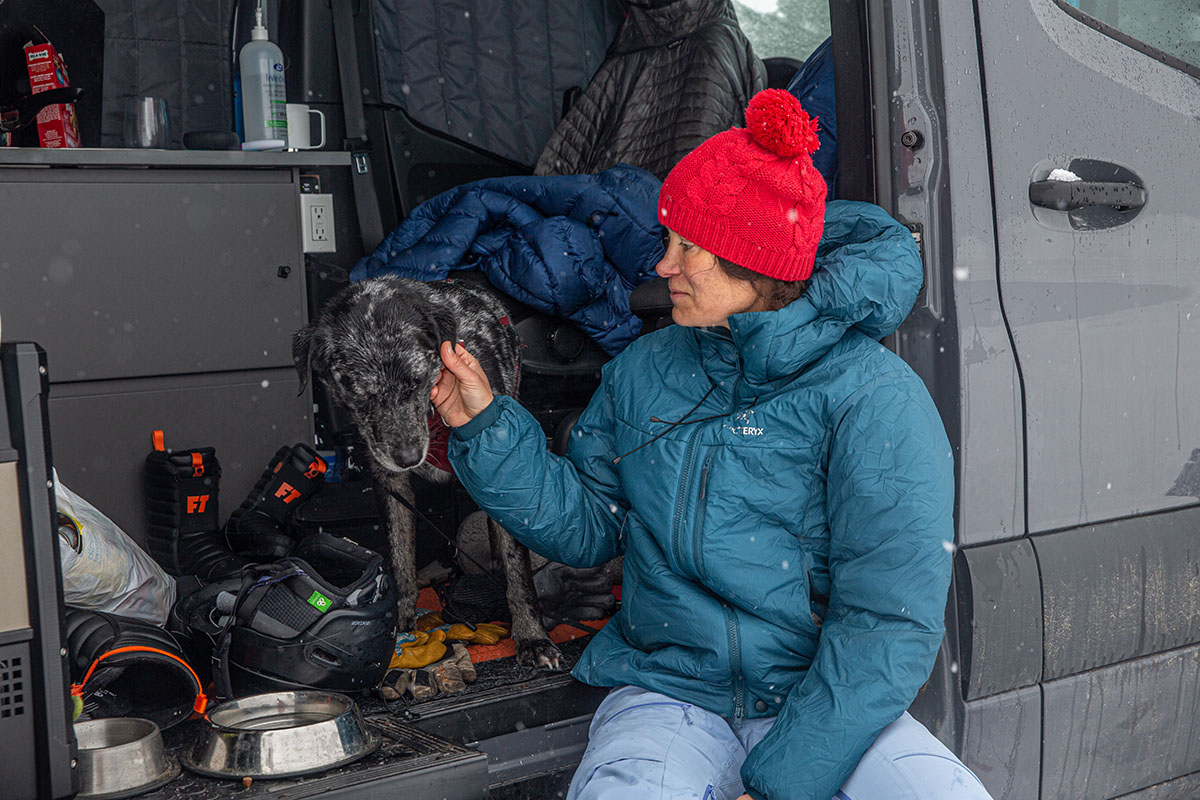 What We Like
Impressive warmth-to-weight ratio, especially for a synthetic jacket.
Wind resistance is second to none: Despite the Nuclei SV's thinner build, I felt no gusts creep through.
Regular fit makes it easy to layer underneath while still allowing enough room to fill the dump pockets with bulky gear.
Feature set is nicely executed for alpine use, including functional storage, smooth-operating zippers, and a well-insulated hood that pairs nicely over a climbing helmet or beanie.
Interior liner is very comfortable, even against bare skin.

What We Don't
Not a good breather. For high-output activities, we recommend opting for a dedicated active insulation piece.
15D shell is relatively thin and susceptible to tears around sharp objects and gear.
Thick and lofty build makes it difficult to pair under a rain shell.
Like most of Arc'teryx's pieces, the Nuclei SV is on the pricier end at $399.
Currently only offered in a men's version.


Comparison Table

The Competition
Arc'teryx's Nuclei SV Parka is their most insulated synthetic jacket and impressively light for the level of warmth, but it's overkill for moderate conditions and high-output activities. For a small step down in warmth and a sizable boost in breathability, it's worth considering Arc'teryx's own Atom AR Hoody. Like the Nuclei SV, the Atom AR uses varying thicknesses of Coreloft insulation (60, 80, and 120g) with a thicker 30D shell for added durability and tear resistance. In addition, the 20D Permeair lining under the arms allows for added airflow when you're working hard, and the feature set lines up well with an adjustable and helmet-compatible StormHood, drop hem for added coverage around the back, and hem drawcord for sealing out drafts at the waist. The Atom AR is more limited on storage with just three zippered pockets, but it's lighter at 1 pound 0.8 ounces (for the men's version) and costs a considerable $100 less. In the end, the Nuclei SV wins out in warmth and performance for technical alpine use, but the Atom AR is the more versatile piece for more casual winter adventures.
Next up is Arc'teryx's Alpha Parka, which I tested on a trip to Nepal's Himalaya Mountains last year. As we mentioned, synthetic fill is the better match in inclement weather, but down wins out in compressibility and warmth for the weight. In this case, Arc'teryx opted for a functional mix of the two, including premium and lofty 850-fill down throughout the torso (fill weight is 10.4 oz. for a men's large) with 90g Coreloft Continuous in moisture-prone areas. The Alpha's 2-layer Gore-Tex Infinium shell is also thicker (30D) and more weather-ready, while the gridded Hadron fabric adds a sizable boost in durability and tear resistance. Added up, the Alpha is one of the most competitive options on the market for rough and frigid alpine conditions, but it's an undeniably steep investment at $999. For a considerable $600 less, the Nuclei SV is lighter (by around 7 oz.) and lines up well performance-wise, giving it the clear edge in value. Of note: Arc'teryx now also offers a "Lightweight" version of the Alpha Parka, which is cheaper at $800, lighter (1 lb. 1.3 oz.), and uses a mix of 850-fill down and 40g Coreloft Compact for warmth.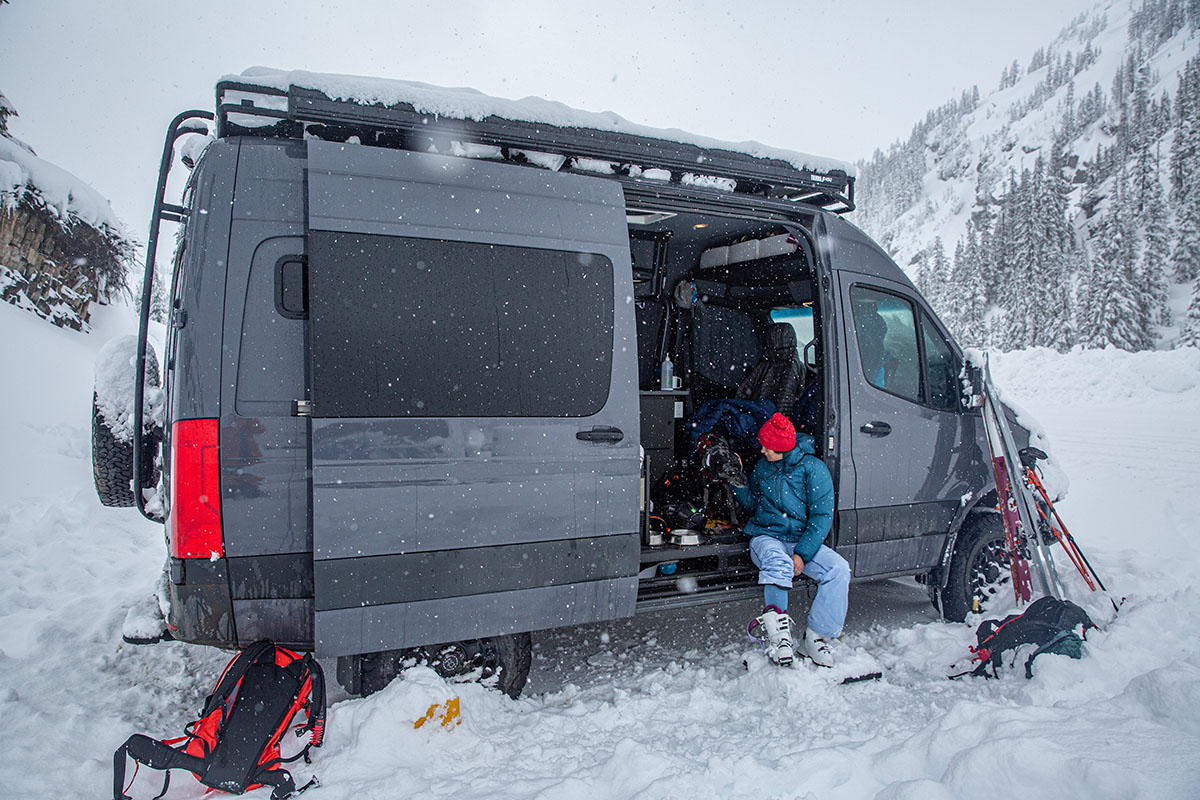 Outside of Arc'teryx's lineup, Patagonia's DAS Parka shares similar intentions to the Nuclei SV as an impressively warm synthetic belay jacket. In comparing the two, the DAS uses a comparable mix of PrimaLoft Gold Eco insulation (133g throughout with an extra 40g at the core) while checking in slightly lighter 1 pound 3.6 ounces. You also get a highly water-resistant Pertex Quantum Pro shell for added assurance in inclement weather, although it's noticeably thin at 10D and slightly less durable than the Nuclei's 15D fabric. And like the Arc'teryx, the DAS is so insulative that you won't want to keep it on during any sort of movement—both pieces are best suited for cold belays, breaks while skiing, and other low-output activities. Price may be the deciding factor for many—the DAS costs $50 more than the Nuclei while offering similar all-around performance—but the Pertex shell is a notable upgrade in wet weather.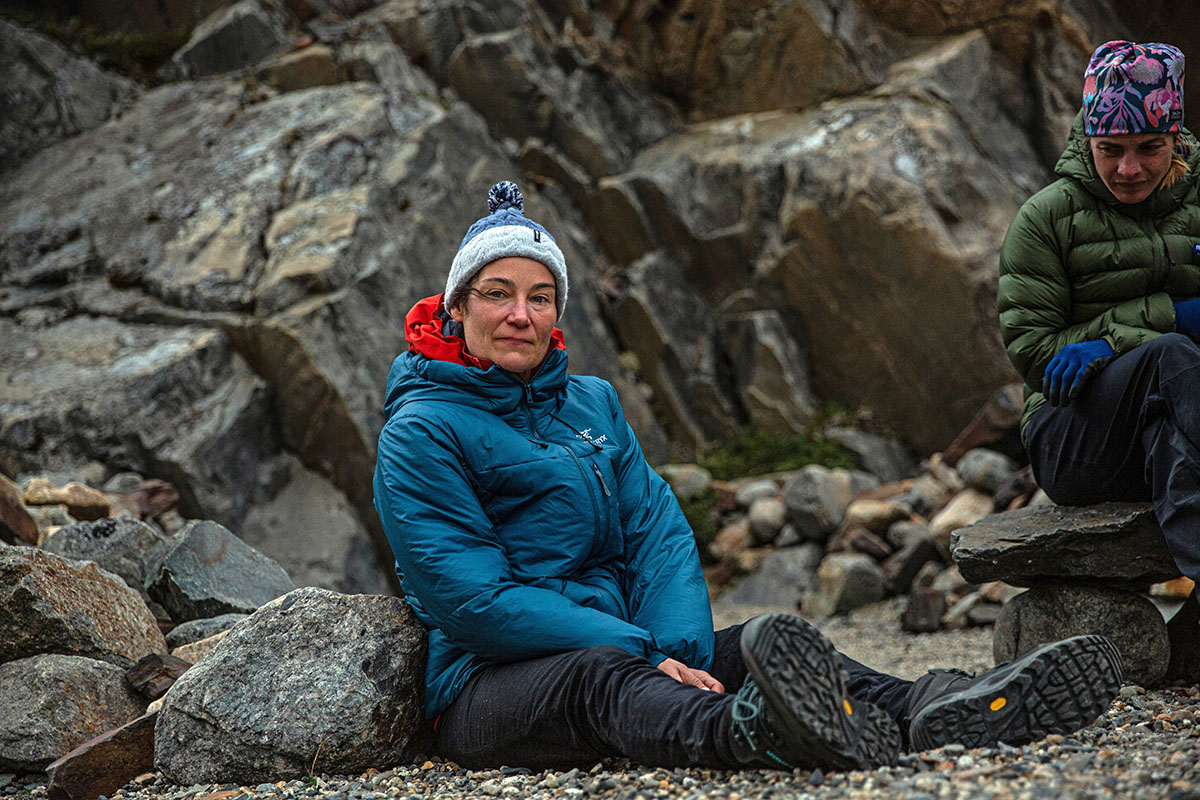 A final alternative to consider is Black Diamond's Belay Parka, which offers a few advantages over the Nuclei SV. Specifically, it's slightly warmer with 200g ThermoLite HL Eco-Made synthetic fill throughout and gets the clear edge in durability with a noticeably thicker and more hardwearing 50D ripstop shell. You also get gussets under the arms for added mobility and a water-resistant YKK main zipper (that's also two-way) with a wind flap at the back for added protection. Like the Nuclei SV, the BD is also well equipped for alpine use with an adjustable and climbing helmet-friendly hood, similar storage layout, and relaxed fit that makes layering easy. The Belay Parka is heavier by around 8 ounces and doesn't pack down as small, but it's a better value at $300 and perfectly viable for most alpine objectives.
Editor's note: We usually provide a live price comparison table below our outdoor gear reviews, but the Nuclei SV is currently only available directly through Arc'teryx. You can see the Nuclei SV Parka page here and support us in the process. Thanks!
Read More From Switchback Travel