Arc'teryx is a leader in technical mountain apparel, and the winter-ready Alpha Parka slots in as their warmest belay jacket built for harsh mountain environments. I brought the Alpha on a trip to Nepal's Himalaya Mountains for testing, where it confidently withstood frigid and often-wet alpine conditions. All told, the Alpha is the whole package: it's packed with premium down, offers excellent weather resistance, and is highly durable and confidence-inspiring for use around sharp gear. You do pay a steep premium for the Arc'teryx name, and the jacket is fairly big and bulky both in fit and packed size, but there's no denying the top-notch performance and cozy warmth for big winter objectives. Below are my thoughts on the Alpha Parka. To see how it stacks up to the competition, see our articles on the best winter jackets, best down jackets, and best women's down jackets.
 
---
Table of Contents
---

Performance
Warmth
I get cold easily, particularly if I'm not exerting, but the Arc'teryx Alpha Parka has kept me impressively comfortable even in below-freezing temperatures. For insulation, Arc'teryx packed in a generous 8.1 ounces of premium 850-fill-power down with 90-gram Coreloft Continuous synthetic in moisture-prone areas like the shoulders and hood. The Hadron face fabric (which we outline further in the "Durability" section below) also plays a role—Arc'teryx estimates that it adds warmth equivalent to around 3.5 ounces of down. It's worth noting that my since-discontinued Firebee AR—which the Alpha replaces—contained 7 ounces of 850-fill down and felt very similar in terms of insulation and loftiness. For reference, each time we stopped for summit photos, my first priority was digging out the Alpha from my pack and throwing it on before the chill set in. Even when the sun dipped behind the mountains and the mercury plummeted, I stayed very warm and cozy.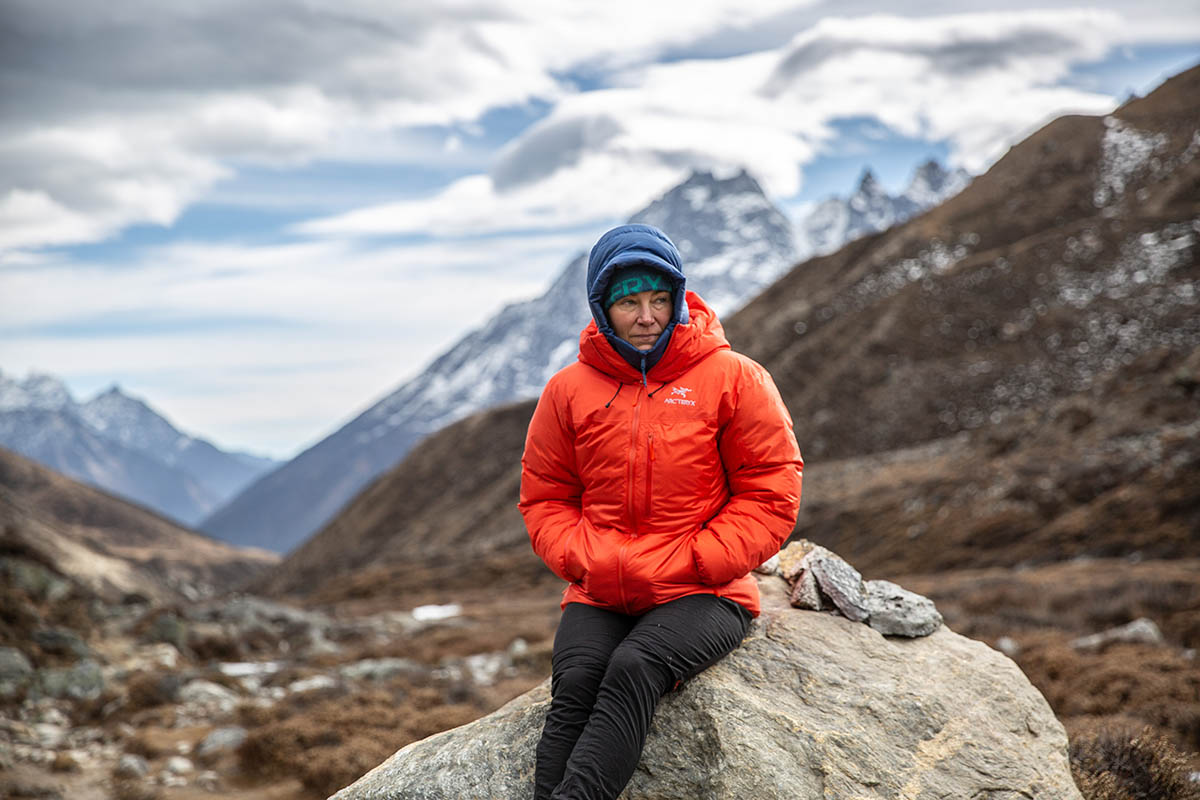 To help trap heat, the Alpha boasts a 2-layer Gore-Tex Infinium shell for guarding against moisture and gusts, no baffles, and minimal stitching concentrated mostly along the edges. You also get a cozy draft collar that seals in warmth even when the hood is down, and Arc'teryx's legendary StormHood (which we detail more below) can be cinched using a toggle at the back to create a snug fit over a hat or helmet. There are also glove-friendly adjustments at the collar to tighten the aperture around the face, which leaves very little skin exposed when cinched. Even when snow accumulated on my head and shoulders while trekking in Nepal, I remained perfectly dry and comfortable inside—reminiscent of snuggling up inside a lofty sleeping bag. The Alpha does fit on the larger side, but I haven't experienced any draftiness and have been able to layer it over down jackets like my Norrøna Trollveggen Superlight Down850 or—in truly bone-chilling conditions—my lofty (but recently discontinued) Arc'teryx Cerium SV.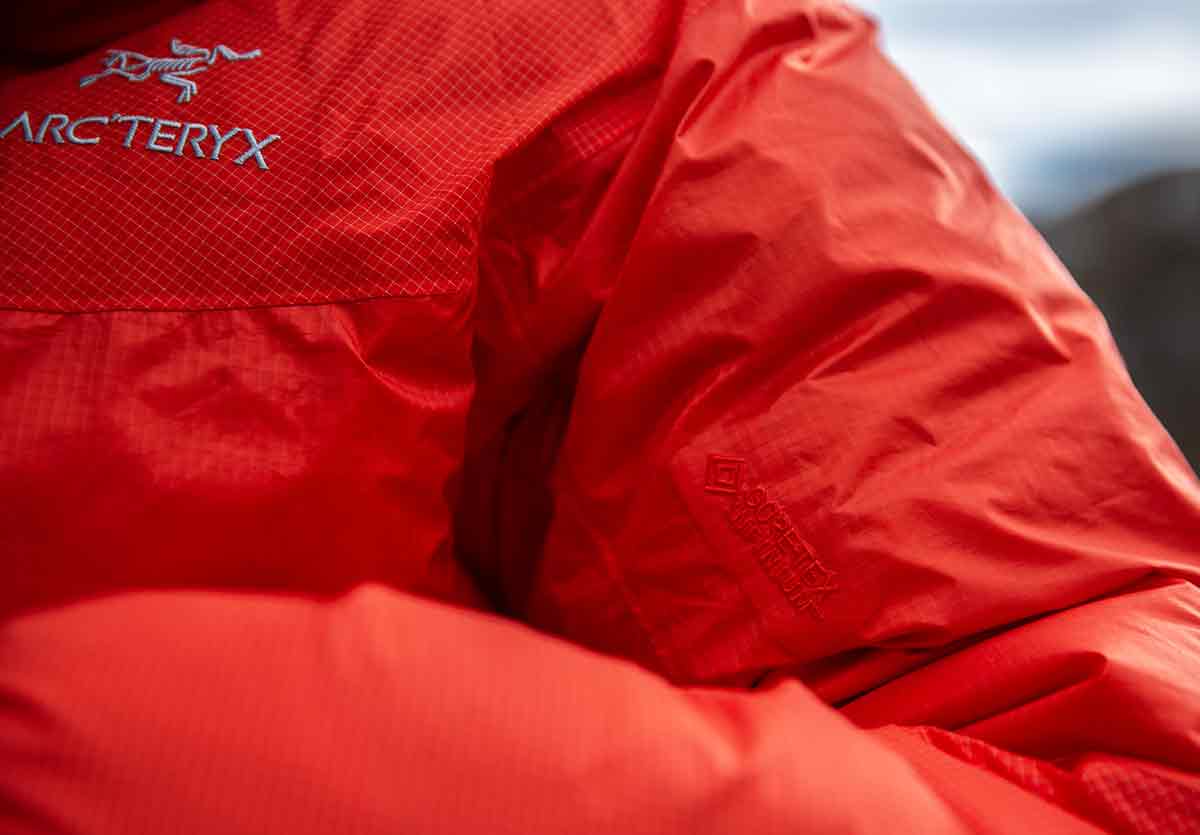 Weather Resistance
By design, down jackets are not meant to guard against heavy rain or snow, but the Alpha Parka manages to provide solid protection in this regard. As I touched on above, the outer shell is made with Gore's 2-layer Infinium membrane, which is designed to block wind but technically isn't fully waterproof. That said, I consistently brought the Alpha into heavy winds and snow in Nepal, and in both cases it felt nearly impermeable with no draftiness or wetness soaking through to the insulation (the lack of seams is a big help). Combined with cinches at the hood and hem, tall and well-insulated collar, and generous length (30.4 in.) that covers my butt, it's proven to be a very capable barrier against the cold and wet. You'll still want to swap it out for a dedicated hardshell jacket in truly gnarly weather with heavy rainfall, but the Alpha is perfectly serviceable for fending off most light to moderate precipitation.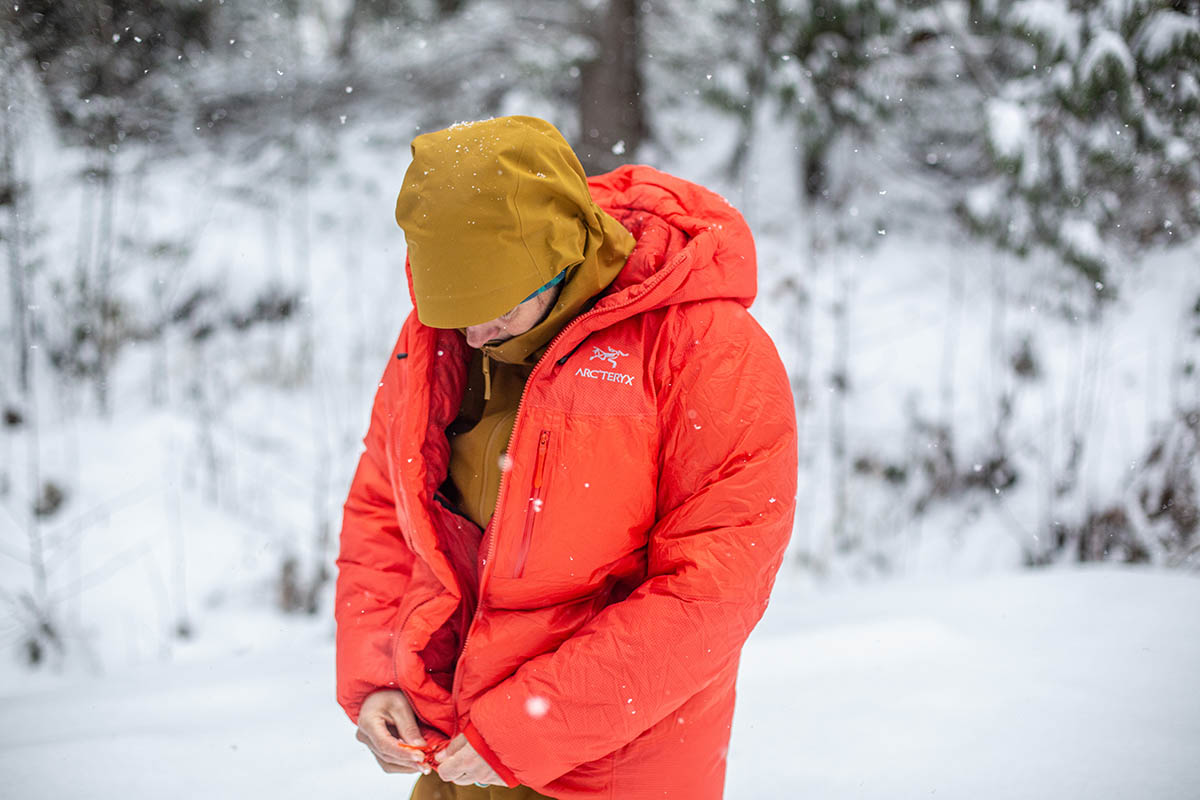 Weight and Packability
My women's small Alpha Parka checked in at 1 pound 9.3 ounces on my scale (it's listed at 1 lb. 9 oz.), which is competitively lightweight for the level of warmth it provides. For comparison, it's a couple ounces heavier than its Firebee AR predecessor (1 lb. 4.7 oz.) but still stacks up reasonably well to other technical and winter-ready belay parkas, including the Outdoor Research Super Alpine (1 lb. 9.9 oz.), Mountain Hardwear Phantom Parka (1 lb. 3 oz.), Feathered Friends Helios Hooded Down Jacket (1 lb. 2 oz.), and Black Diamond Belay Parka (1 lb. 9 oz.). You can go lighter with midweight options like Rab's Neutrino Pro (1 lb. 1.7 oz.) or Patagonia Fitz Roy Hoody (14.8 oz.), but both sacrifice the lofty warmth and stalwart protection of the Alpha. You can also shave a little weight with Arc'teryx's Nuclei SV Parka (1 lb. 4.5 oz.), but that jacket utilizes exclusively synthetic fill and foregoes the premium warmth of the down-filled Alpha.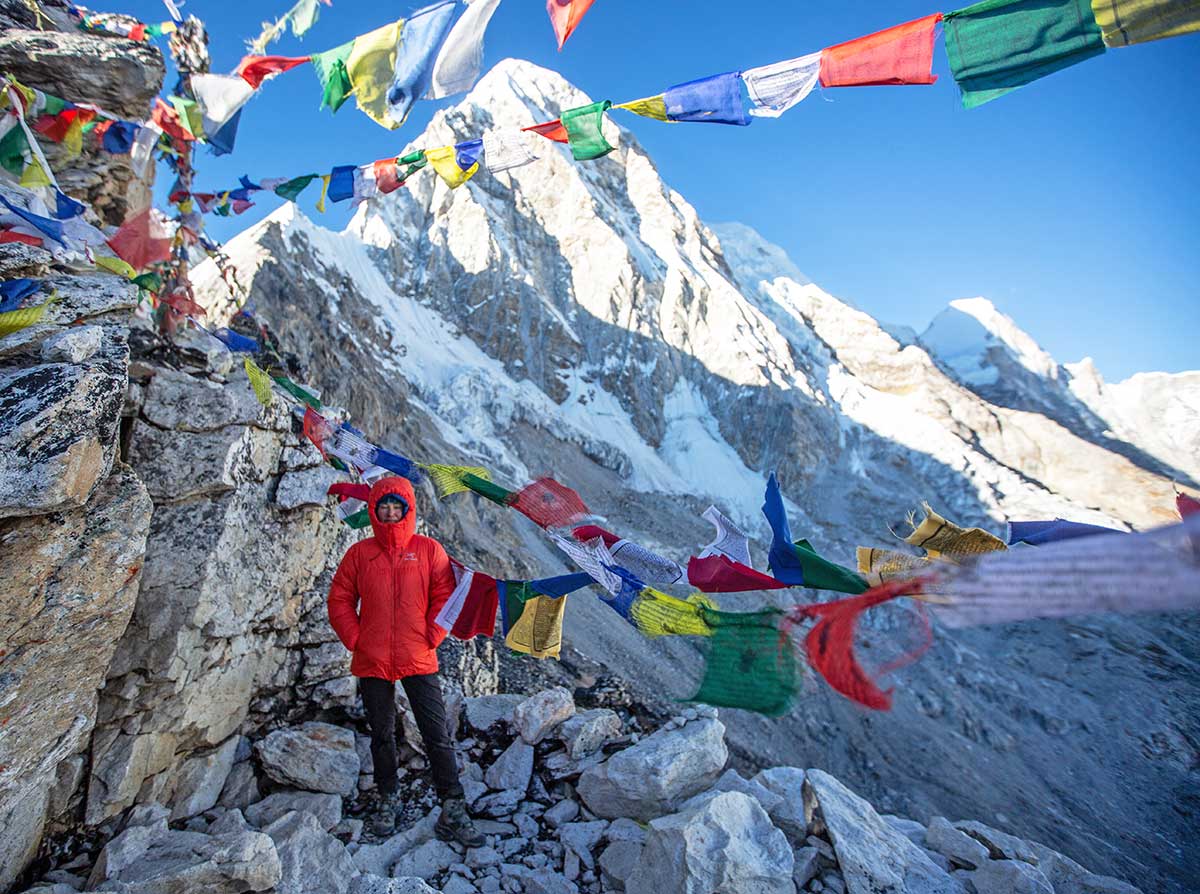 Despite its fairly competitive weight, the Alpha Parka is notably large and bulky when stuffed down (about the size of a basketball). The incorporation of Coreloft in moisture-prone areas certainly plays a role, as synthetic fill is inherently less compressible than down. For reference, the Alpha does easily fit into its included stuff sack, which is attached to the inside of one of the dump pockets, but I opted to purchase a dedicated compression sack separately to reduce the packed size to slightly smaller than a volleyball. If space is really at a premium, you may want to opt for one of the lighter-weight options mentioned above, including the Mountain Hardwear Phantom or Feathered Friends Helios.
 
Breathability
The Alpha Parka won't be mistaken for an active insulation piece—instead, it's designed to keep you warm while standing still at frigid belays and when stopping for breaks in the mountains. That said, the jacket's Gore-Tex Infinium construction and thinner face fabric do a pretty good job at releasing excess heat without sacrificing critical warmth. To be fair, I never wore the Alpha during high exertion, but it kept my baselayers perfectly dry when we stopped for summit photos. It also performed well during our ascent of 18,519-foot Kala Pattahr. Even though I had been working hard on the hike up and sweating when we arrived, the Alpha managed to trap my body heat when I put it on and allowed enough airflow to prevent my baselayers from wetting out. I left it on for the descent as well, where it kept me perfectly comfortable despite our brisk pace.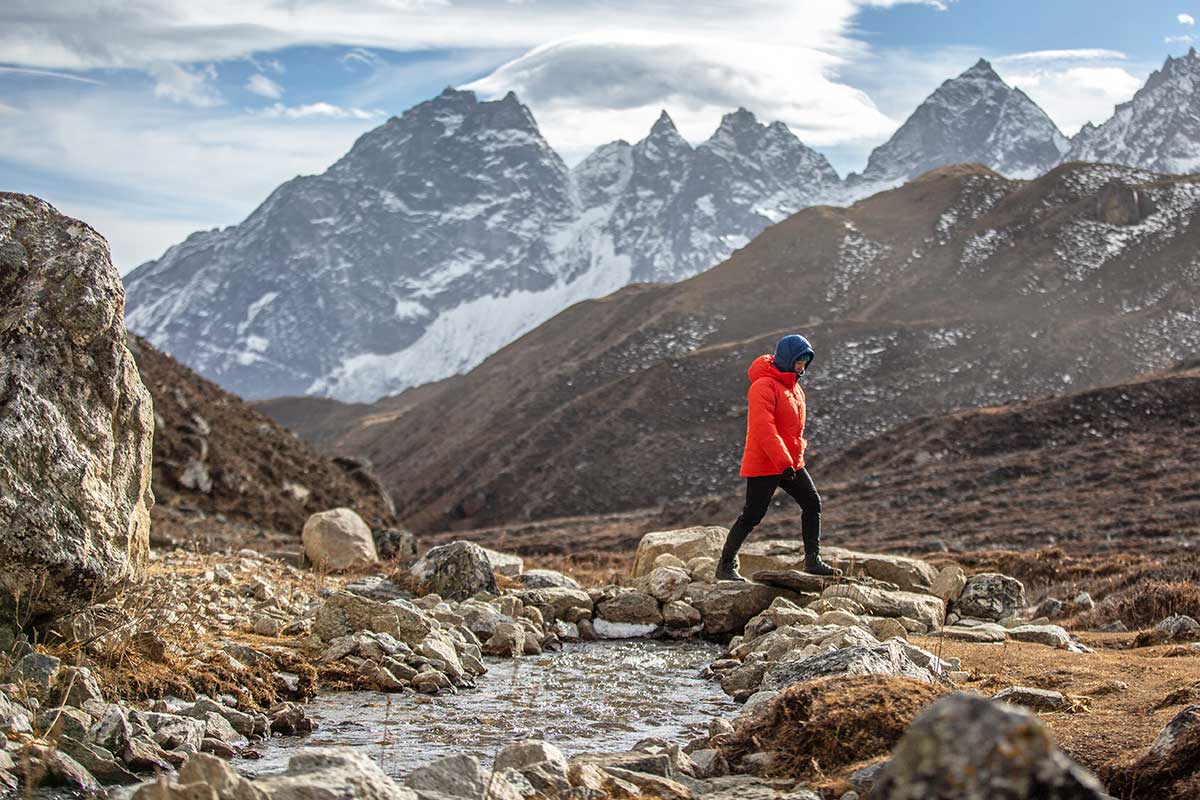 Key Features
StormHood
We've always been partial to Arc'teryx hoods: they're large, adjustable, well-fitting, and comfortable. The Alpha Parka sports the revered StormHood, which truly is helmet-compatible, provides substantial coverage, and cinches down to allow full visibility without compromising protection. The drawcords at the base of the neck and back of the head are simple to adjust (even with bulkier gloves and mittens on), making it easy to customize the fit of the neck, brim, and opening. And unlike most Arc'teryx jackets with StormHoods, this one is accompanied by a lofty insulated collar that lines the neck to keep drafts out even when you don't have the hood on.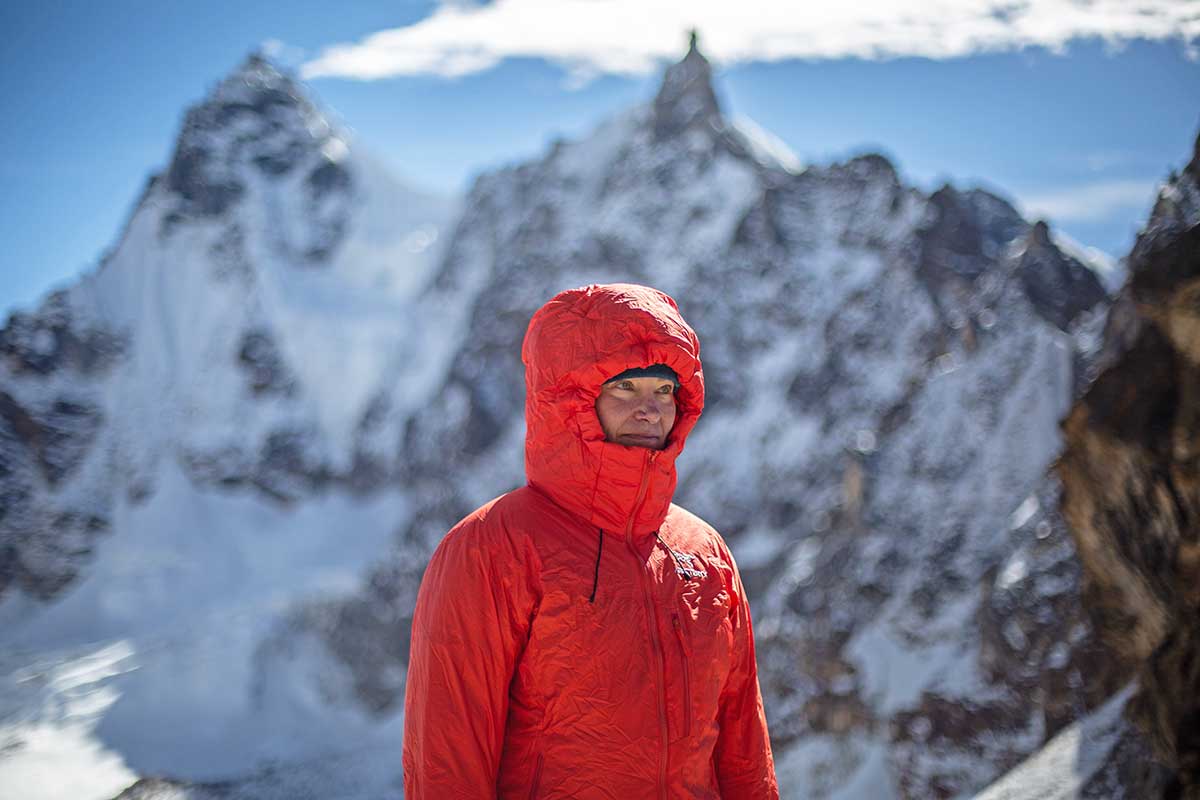 Storage: Pockets
In terms of storage, the Arc'teryx Alpha Parka comes equipped with five total pockets, including two hand pockets, one external chest pocket, and two large interior dump pockets. Importantly, all are generously sized: I can shove my gloved hands into the zippered hand pockets without issue, and the inside dump pockets easily swallow items like a hat, goggles, phone, and map (the larger cut helps when stuffing these to the brim). And as I mentioned above, the stuff sack is attached (but removable) in one of the interior dump pockets, which is a big selling point for those of us who often misplace these. Importantly, none of the zippers are WaterTight (a feature commonly used on Arc'teryx shells), but I haven't had any moisture penetrate the pockets during testing, and I think this was a reasonable omission given the jacket's focus on warmth over all-out protection.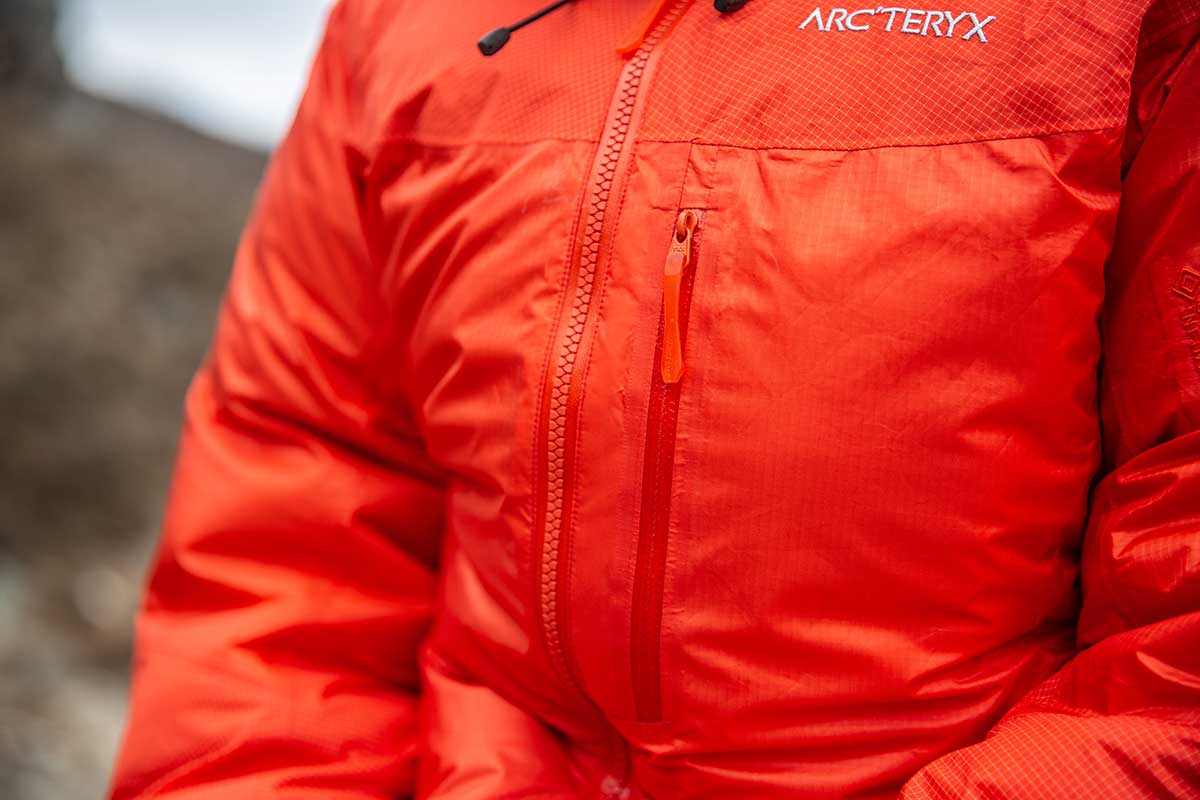 Two-Way Front Zipper
A final feature worth highlighting is the Alpha Parka's front zipper, which boasts a two-way design that makes it easy to fiddle with a climbing harness, backpack waist belt, or belay device. It can also be used to customize ventilation should you need to dump heat while wearing a harness or backpack. I did find it to be a bit finicky and difficult to start, especially when wearing gloves, but I encountered the same issue with my Firebee AR and Alpha FL jackets as well.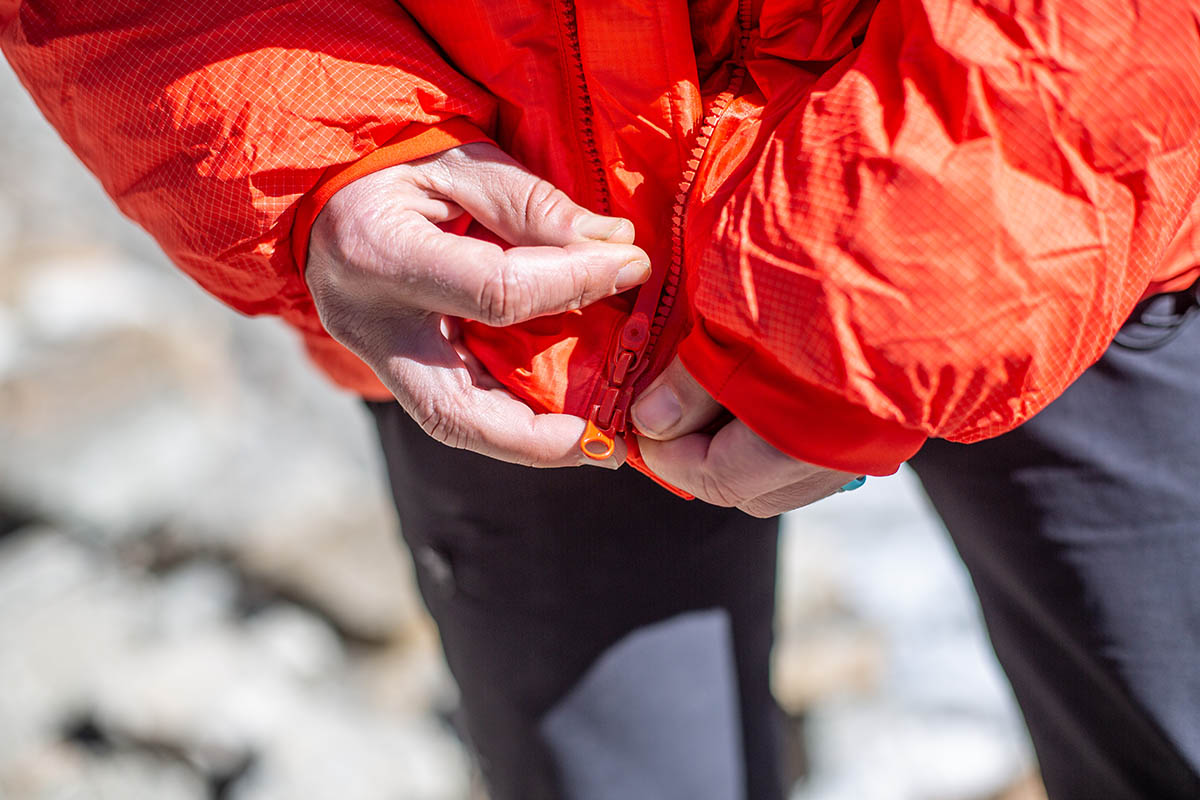 Build Quality and Durability
It feels a bit repetitious to sing Arc'teryx's praises when it comes to materials and design, but the company has it dialed in. Similar to my experiences with the Firebee AR, the Alpha Parka's outer 30-denier shell is lightweight yet durable and felt seemingly impervious to snagging and tearing. The key here is the use of Hadron fabric, a liquid crystal polymer ripstop (first debuted in their Alpha packs a couple years ago) that's tightly gridded for excellent strength and tear resistance with minimal bulk. By strategically placing this in high-wear areas like the hood, shoulders, forearms, and hem, Arc'teryx managed to boost durability without incurring too much of a weight penalty. After wearing the parka daily for over 20 days straight—which often included leaning or sitting on jagged rocks—there are no notable signs of wear other than minor dirt stains along the sleeves and back hem. With a good wash, I expect the Alpha Parka will look like new.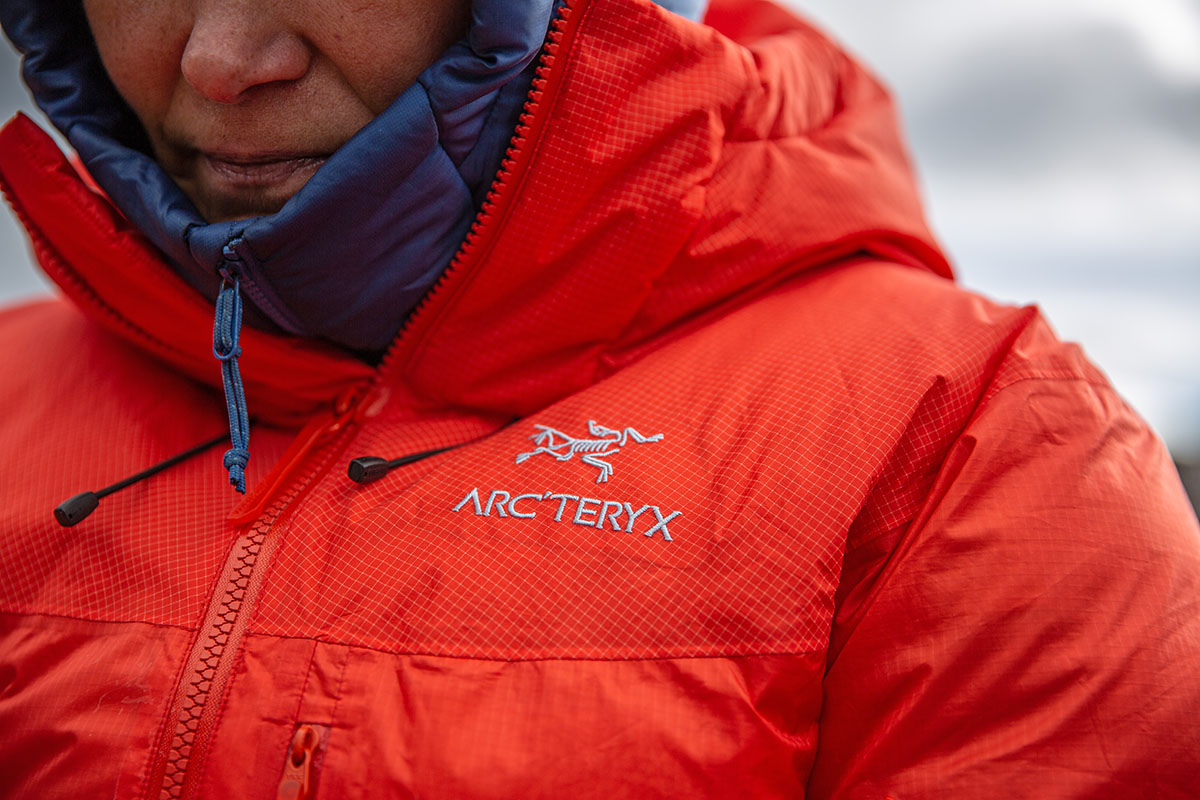 Fit, Sizing, and Comfort
As I mentioned above, the Alpha Parka fits on the larger end of the spectrum (Arc'teryx dubs it a "regular" fit) and provides ample room for layering underneath. For reference, I opted for my standard women's size small and was able to add two puffy jackets underneath (my Norrøna Trollveggen Superlight Down850 and Arc'teryx Cerium SV) without restricting movement. In addition, the sleeves extend to the tips of my thumbs and make it easy to tuck my hands in for additional warmth, and the hem (which is listed at 30.4 in. at the back) effectively covers my butt whether I'm standing or sitting. To seal out drafts, you can also cinch the jacket at the waist via two hem adjusters.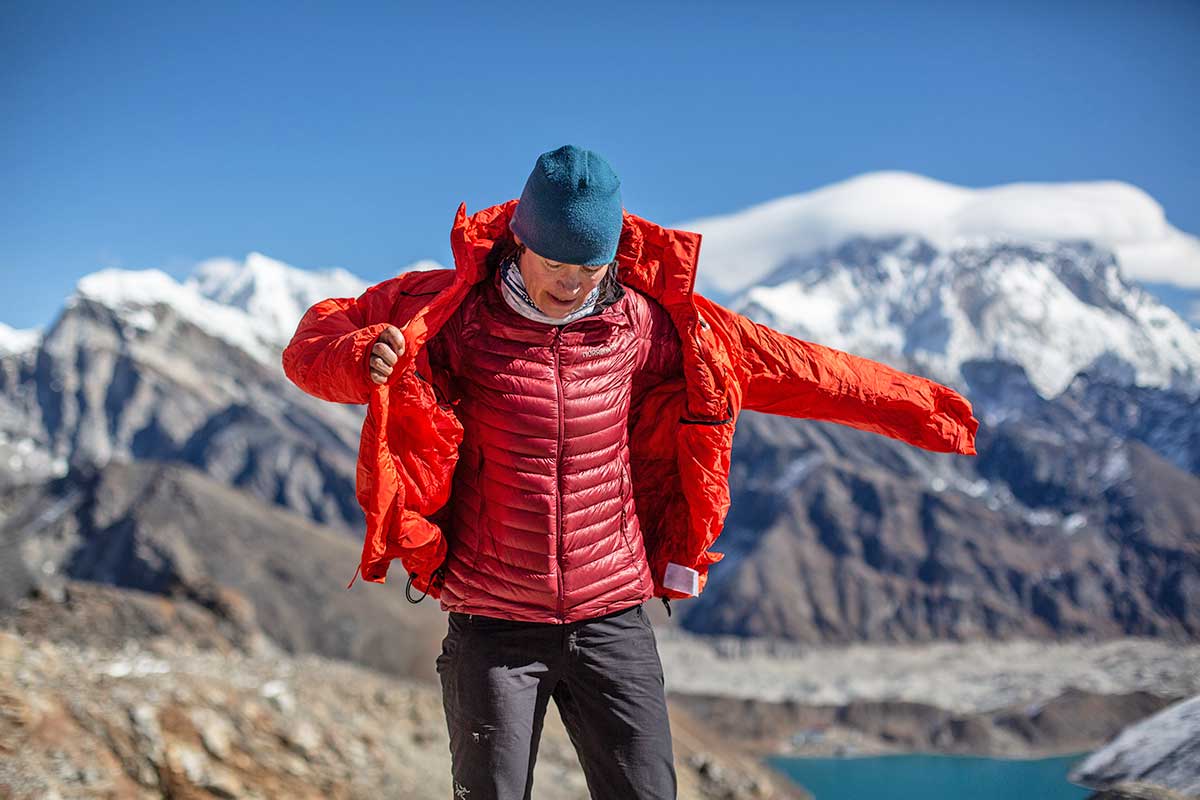 The Alpha's larger shape and size do give it a noticeably lofty and bulky look and feel, but one benefit is that it's ridiculously comfortable. As I mentioned above, wearing the Alpha feels reminiscent of cozying up in a premium down sleeping bag. In fact, when temperatures dipped into the negatives at night in Nepal, I often crawled into my sleeping bag still wearing the Alpha and thoroughly enjoyed the thickness and warmth.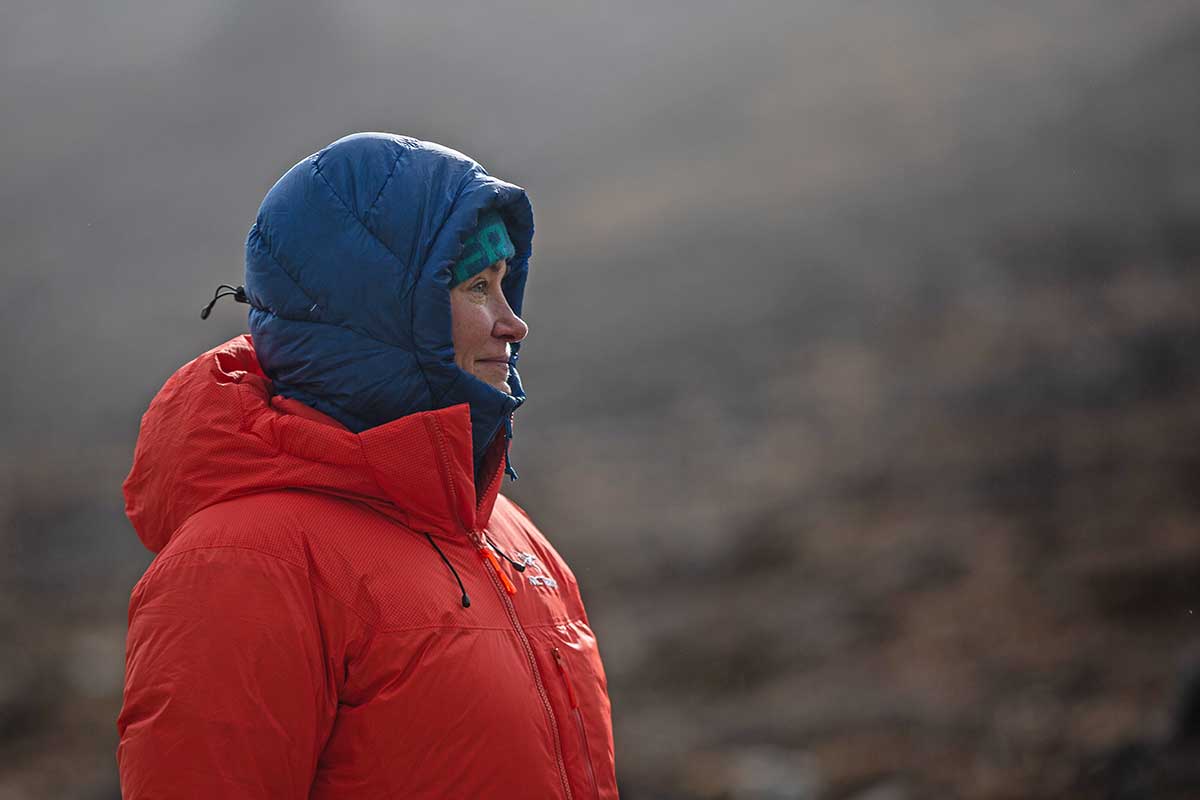 Sustainability
Like many leading outdoor brands, Arc'teryx has made a recent push to incorporate sustainable practices into their lineup. In the case of the Alpha Parka, they opted for a dope-dyed fabric—a process that requires less water and energy use to dye the materials. The jacket is also bluesign-approved, meaning that it's been certified as safe for consumers, workers, and the environment. And finally, the down fill is certified to the Responsible Down Standard, which indicates that the geese were not force-fed or live-plucked. We hope to see the use of recycled materials and a Fair Trade Certification tacked on the future, but nevertheless appreciate the steps Arc'teryx has taken to improve their collection of late.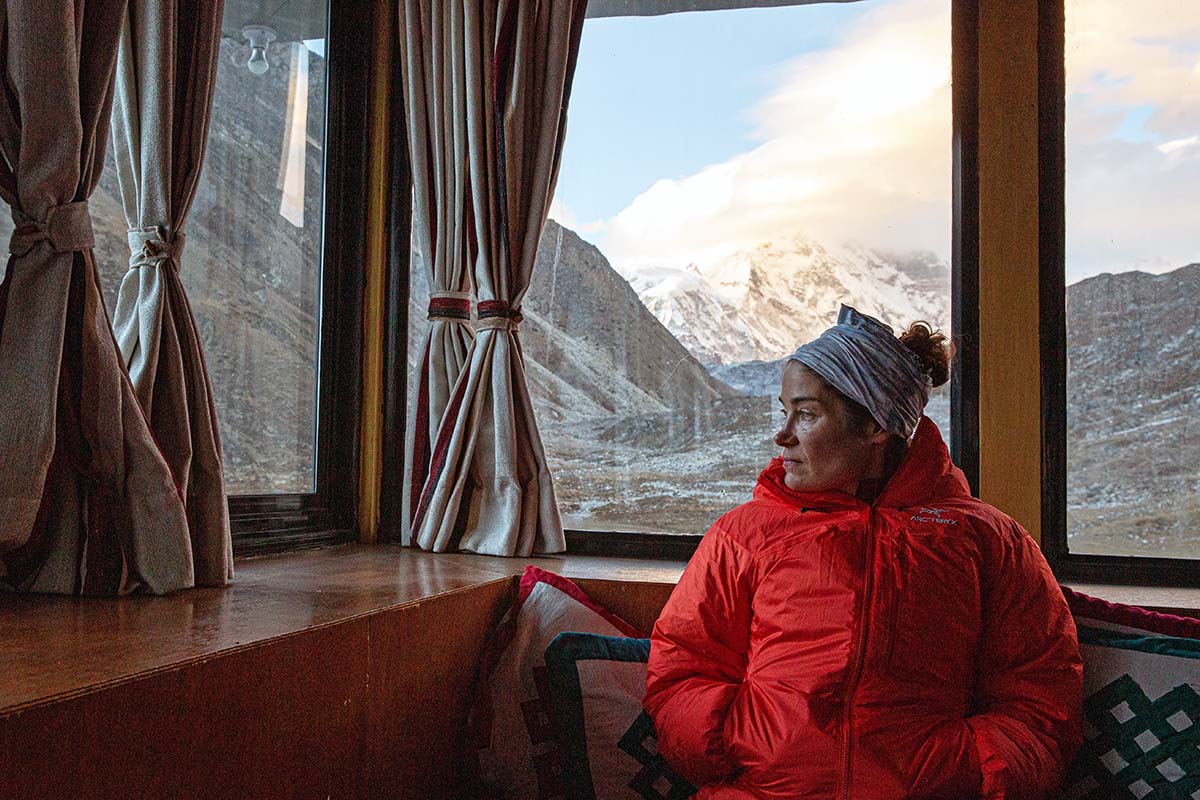 Men's Arc'teryx Alpha Parka
I brought the women's Alpha Parka to Nepal for testing, and Arc'teryx also makes the piece in a men's version for the same price. The men's jacket has a higher listed weight of 1 pound 12.4 ounces, boasts a longer cut at 34 inches down the back, contains 9.7 ounces of 850-fill down, and is offered in an additional black colorway. Otherwise, the feature set and overall build are nearly identical to the women's version, including a 2-layer Gore-Tex Infinium shell, Hadron reinforcements for added tear resistance, and a mix of 850-fill down and Coreloft. We haven't had a chance to test the men's Alpha Parka yet, but given the comparable specs and construction, you can expect similar all-around performance.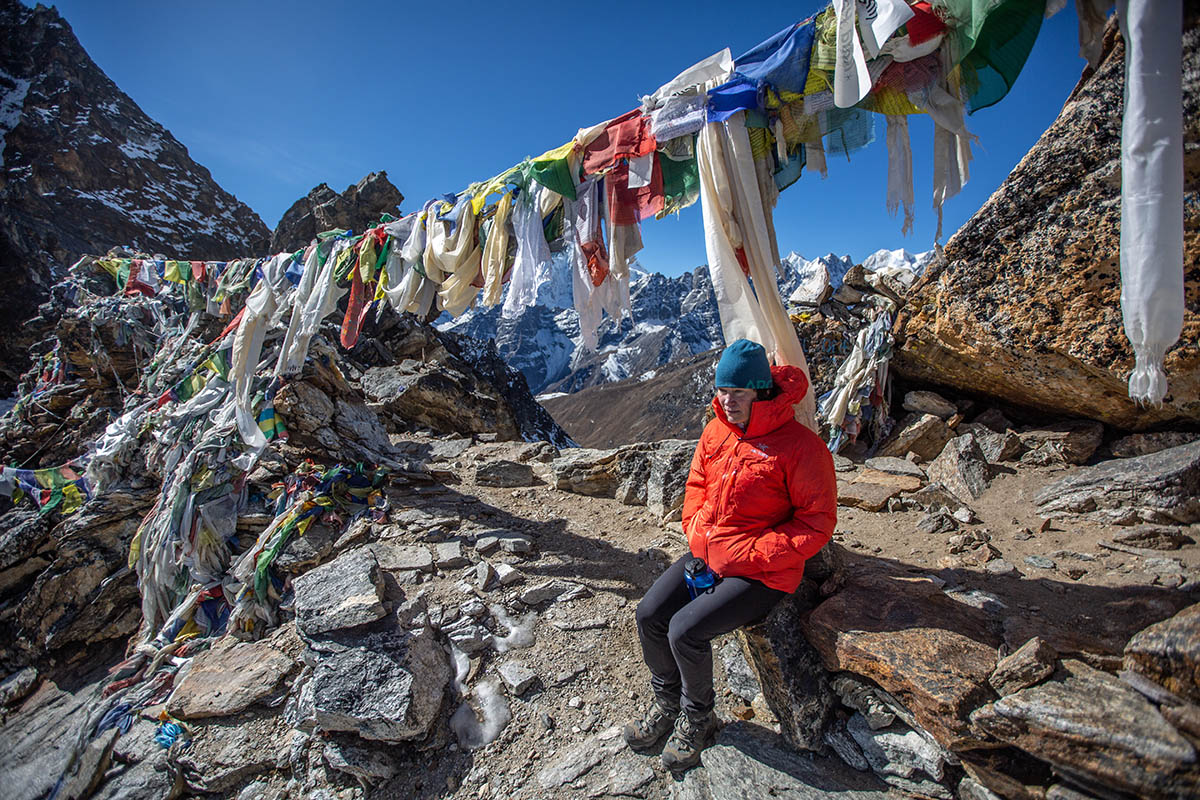 What We Like
Mix of 850-fill down and synthetic Coreloft insulation offers an impressive combination of warmth and weather protection for frigid alpine conditions. 
Gore-Tex Infinium membrane is an excellent wind blocker, highly resistant to moisture, and allows enough airflow to dump excess heat when you work up a sweat.
Hadron reinforcements effectively increase durability and tear resistance while keeping weight and bulk to a minimum.
Attention to detail is impeccable, from the hardwearing fabrics to the helmet-compatible StormHood and cozy draft collar.
Generous fit and lofty down give the jacket a very cozy and comfortable sleeping bag-like feel.

What We Don't
Arc'teryx products don't come cheap, and the Alpha Parka is among the most expensive winter jackets on the market at nearly $1,000. 
Fit is on the bigger side, which provides ample room for pairing with another down jacket (or two) but is overly roomy with thinner layers underneath.
Noticeably large and bulky when stuffed down.
Similar to other burly expedition parkas, the jacket is overkill for mild winter conditions.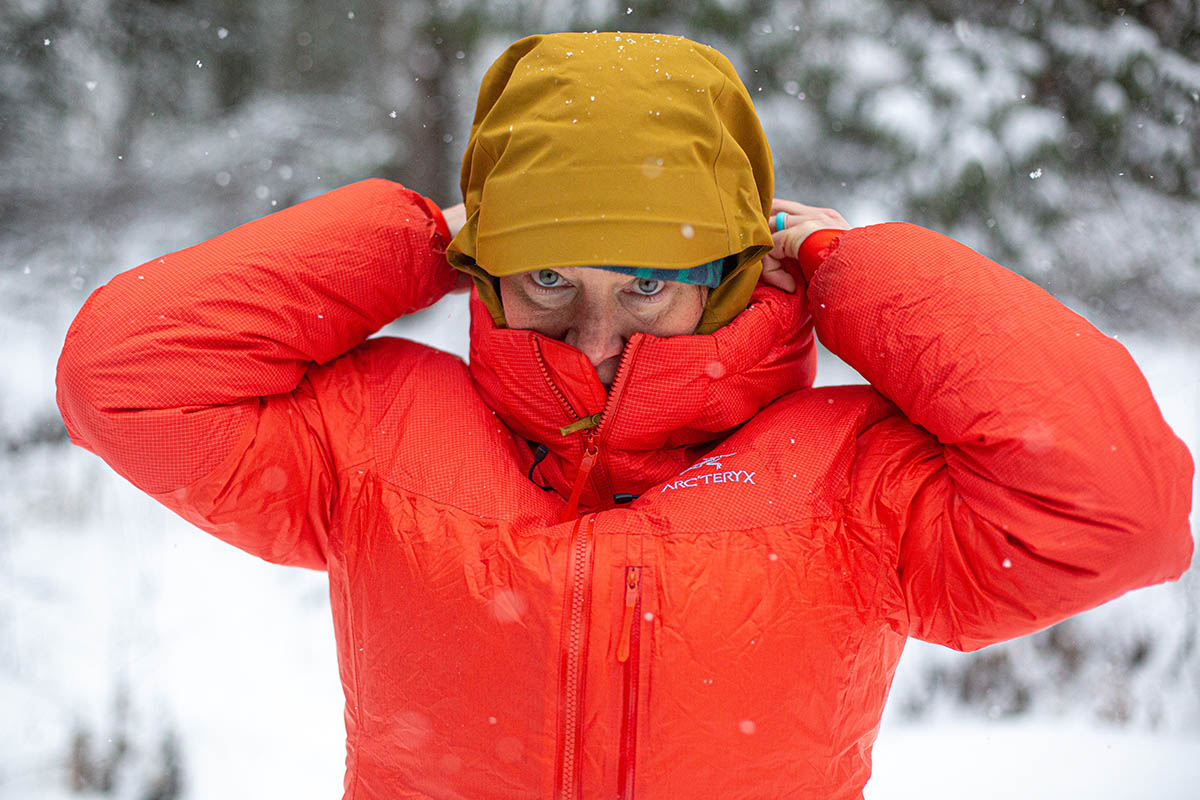 Comparison Table

The Competition
Arc'teryx's Alpha Parka is a premium winter-ready belay jacket built for frigid alpine environments and shifting mountain conditions, but it's incredibly pricey and overbuilt for mild weather. For a slightly more streamlined but still technical option, Rab's Neutrino Pro has been one of our favorite midweight down jackets for years. The women's Neutrino's 7.5 ounces of 800-fill down and Pertex Quantum Pro shell keep you quite warm (although not quite as cozy as the Arc'teryx), but its stitch-through construction doesn't trap warmth as efficiently and is more prone to letting wind seep through. Rab's build quality also isn't up to the standards of Arc'teryx—few companies can compete—but at just 1 pound 1.7 ounces and a whopping $624 less the Alpha, the Neutrino Pro makes a lot of sense for winter performance use. And for even more warmth, try the Rab Positron, which features 9.7 ounces of 800-fill down and a total weight of 1 pound 7 ounces.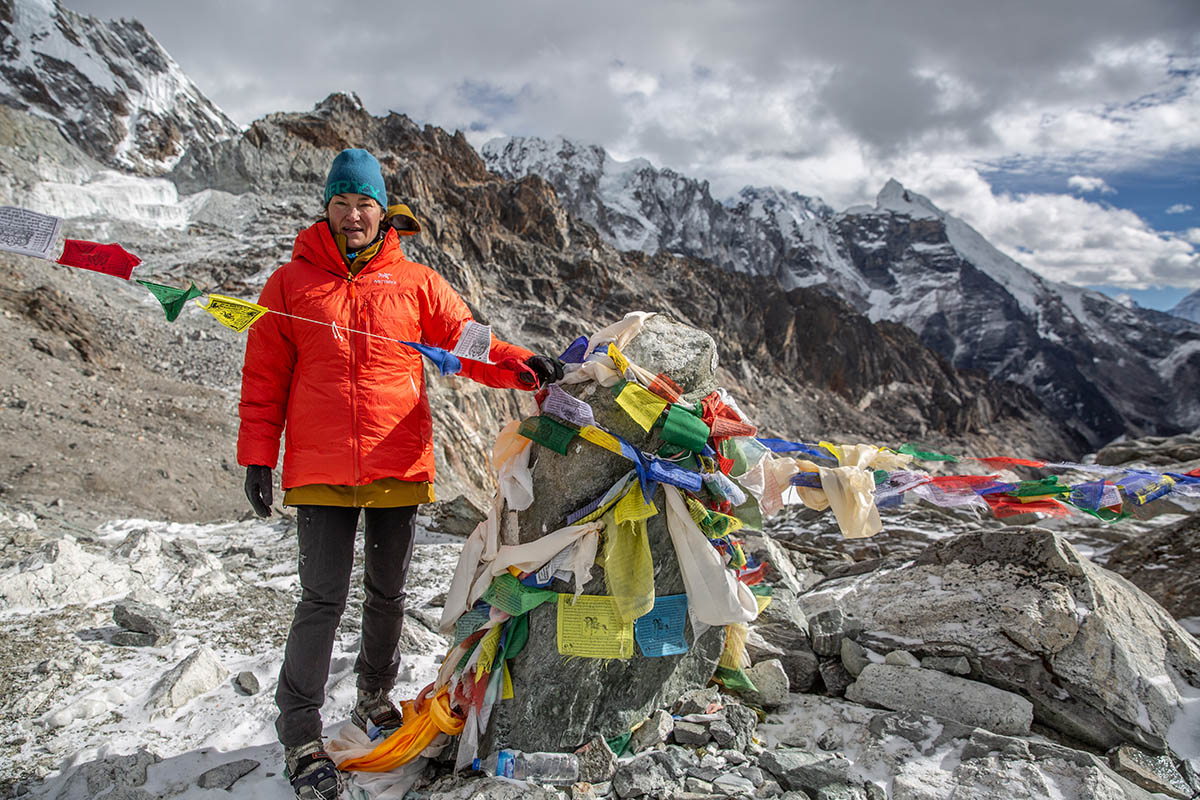 Another warm and winter-ready belay jacket to have on your radar is Mountain Hardwear's Phantom Parka. Like the Rab above, the Phantom undercuts the Alpha considerably in price at $400 and checks in lighter at 1 pound 3 ounces. Mountain Hardwear also incorporated critical technical features including a weather-resistant Pertex Diamond Fuse shell (designed to boost tear resistance without adding weight), helmet-compatible hood, two-way front zipper, harness-compatible hand pockets, and 6 ounces of 800-fill down. That said, the Alpha includes more storage in the form of an additional chest pocket and two internal dump pockets, has fewer seams for better wind resistance, and sports a thicker shell (the Phantom's is 20D). Taken together, the Phantom has less technical prowess and lacks the premium warmth and impressive attention to detail of the Alpha, but it's a very functional cold-weather piece at a sizable savings. 
Getting into the true expedition-weight scene, Patagonia's warmest down option is their Grade VII Down Parka, which weighs 1 pound 10.2 ounces and packs in an impressive 11.9 ounces of 800-fill down. Do the math, and this puts it in a very similar warmth and weight class as the Alpha Parka, with the main distinction being that the Patagonia does not feature any synthetic insulation. Tack on a thinner shell (15D & 20D) with high-performance Pertex Quantum Pro on only the back and sides, and the end result is less overall wind and wet-weather protection than you get with the Arc'teryx. However, we're less concerned about rain and drips in below-freezing conditions, and it's hard to find fault with the Grade VII's premium down warmth, which tacks on additional coverage with a 33.5-inch center back length. We'll stick with the Alpha for truly inclement mountain weather, but the Patagonia is a high-quality alternative for $100 less.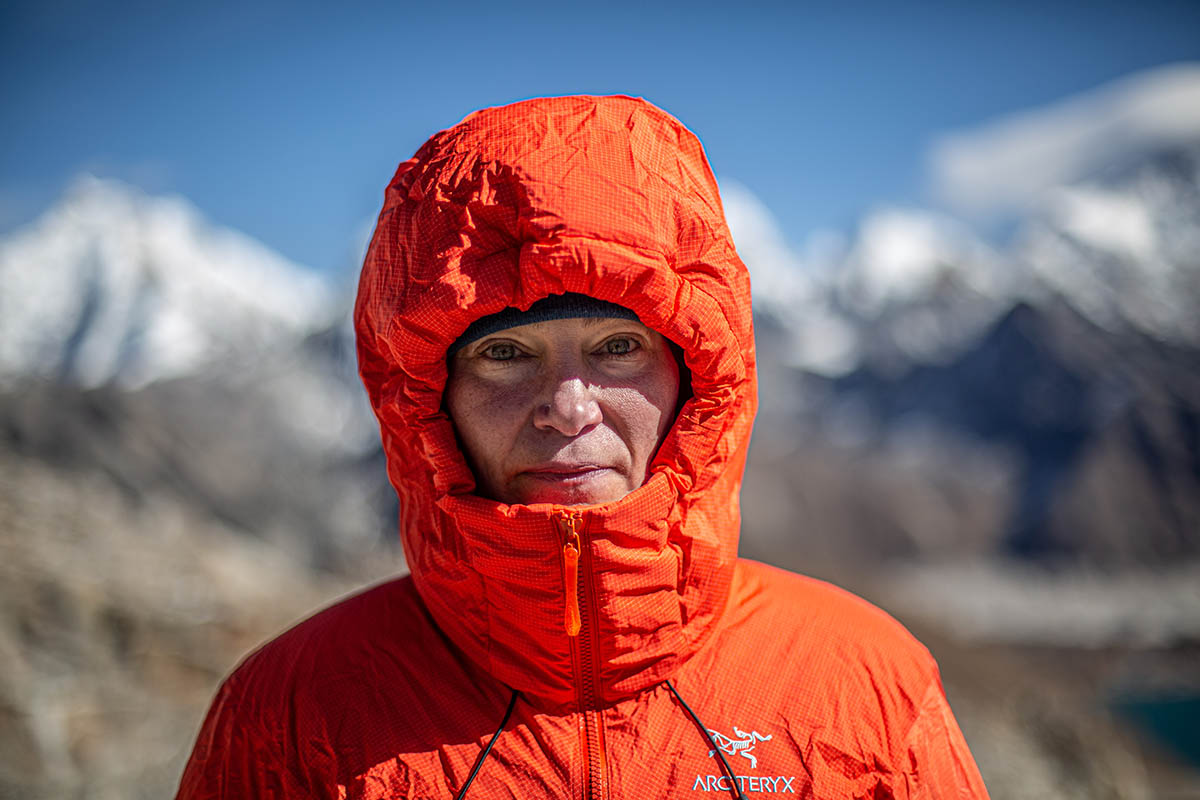 Not shy about its technical intentions, Feathered Friends' Khumbu Parka is about as warm as it gets. With 13.3 ounces of 900-fill down and a price tag of $679, it's a clear winner in terms of bang for your buck. However, its no-frills aesthetic makes the Khumbu a less attractive casual option than the Alpha, and it's too warm for all but the harshest of conditions. In addition, the Khumbu has a fully waterproof Pertex Shield shell, which can be great for the alpine but does add bulk and weight (the Feathered Friends weighs just over 2 lbs. depending on the size). At the end of the day, the Khumbu Parka wins on warmth and down fill, but the Alpha Parka has a cleaner look and wider appeal. For a step down in warmth and protection, check out Feathered Friends' $439 Helios Down Jacket (7.8 oz. of 900-fill down).
A final option to consider comes from within Arc'teryx's own lineup: their Nuclei SV (short for "severe weather") Parka. In this case, Arc'teryx ditched the down fill of the Alpha and used exclusively Coreloft synthetic fill for insulation, which translates to better wet-weather assurance at a cheaper ($399) price point. However, synthetic fill lacks the excellent warmth-to-weight ratio and impressive packability of down, and the Nuclei SV also uses a more delicate 15-denier shell fabric with no Hadron for added tear resistance. All told, the Nuclei is a well-built and highly capable synthetic alternative with many of the same technical features (for more, see our Nuclei SV review), but it's no match for the Alpha's lofty and premium warmth in truly frigid alpine environments.
If you're thinking about buying gear that we've reviewed on Switchback Travel, you can help support us in the process. Just click on any of the seller links above, and if you make a purchase, we receive a small percentage of the transaction. The cost of the product is the same to you but this helps us continue to test and write about outdoor gear. Thanks and we appreciate your support!
Depending on the seller, most products ship free in the United States on orders of $50 or more. International shipping availability and rates vary by seller. The pricing information on this page is updated hourly but we are not responsible for inaccuracies.
Read More From Switchback Travel