Gregory Katmai 65
Price: $300
Weight: 4 lbs. 11.8 oz. (size M/L)
Capacities: 55, 65L
What we like: Excellent carrying comfort, ventilation, and fit adjustability.
What we don't: Pretty heavy; side zipper isn't the most convenient for accessing the main compartment. 
See the Men's Gregory Katmai 65  See the Women's Gregory Kalmia 60
Gregory's Baltoro is their flagship model designed for hauling heavy loads over long distances, but their Katmai offers similar capabilities in a slightly trimmed-down package. I brought the 65-liter version to Patagonia for testing, including a three-day backpacking trip in the Río Eléctrico valley that involved numerous river crossings and navigating tricky terrain with 50 pounds of gear on my back. Despite maxing out the pack's weight limit and haphazardly dropping it onto rough ground, it held up remarkably well and remained reasonably comfortable throughout. However, it's on the heavy side at well over 4 pounds, and the side zipper wasn't the most convenient for retrieving items deep inside my pack. Below I outline my experiences with the Katmai 65. To see how it stacks up to the competition, check out our article on the best backpacking backpacks.
 
---
Table of Contents
---

Performance
Carrying Comfort
Gregory is known for their focus on comfort, and the Katmai 65 backpack stands out for its excellent carrying capabilities in a well-padded build. Despite exceeding its listed 45-pound weight limit by around 5 pounds during a multi-day backpacking trip in Patagonia (including 18 lbs. for my camera equipment alone), the Katmai handled the heavy load remarkably well. Similar to Gregory's heavy hauling-focused Baltoro, the Katmai boasts a suspended backpanel (called their FreeFloat 360 system) with an auto-rotating shoulder harness that keeps the pack close to your back rather than shifting side to side. This translated to excellent stability and was especially helpful when navigating a tricky boulder field on our way to a lakeside campsite at Lago Eléctrico. Despite being exhausted from more than 12 miles of hiking that day, the pack never felt overly heavy or cumbersome on my back and distributed the weight very well.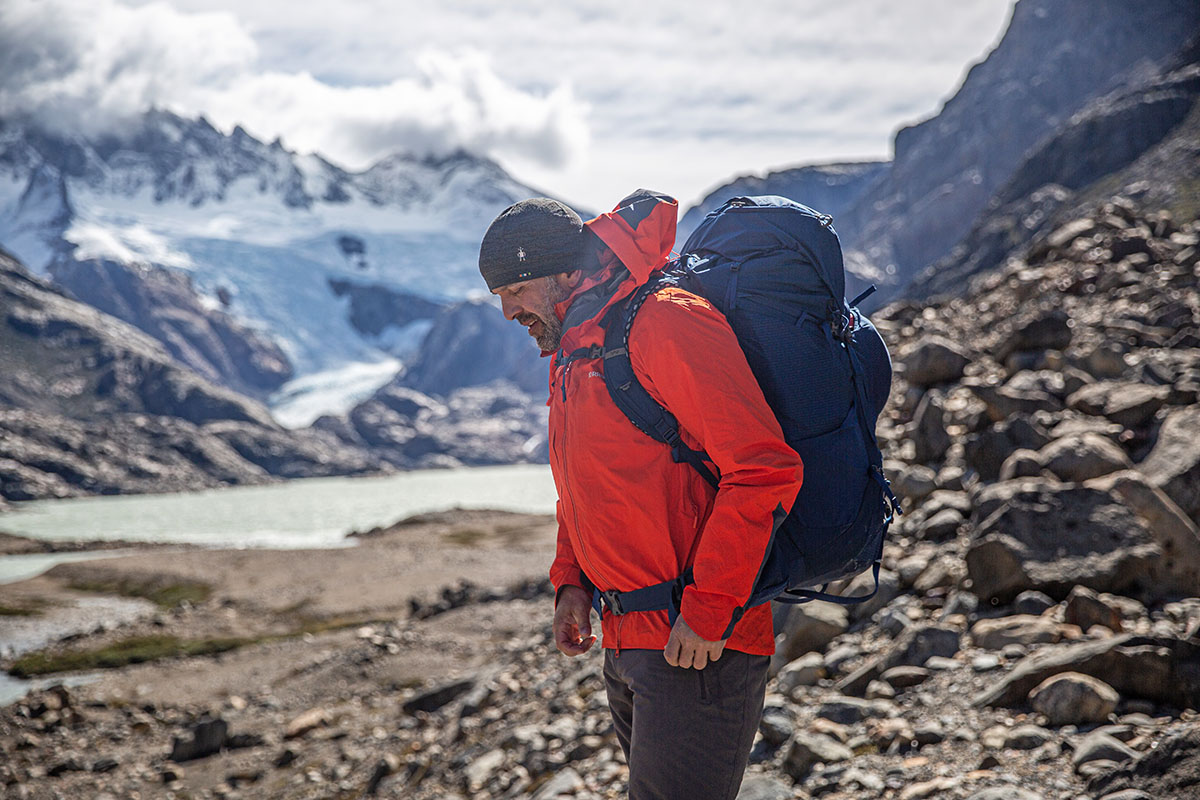 That said, I do have a couple comfort-related gripes to report. First, I experienced some pressure points and chafing along my hips, although this was likely due to rubbing from the belt buckles on my shorts and the fact that I was wearing a lot of layers, which caused bunching at the waist. Second, the sternum strap repeatedly rode up and required frequent adjustments (about every half hour). I certainly appreciate the ability to move it up and down to better distribute the weight, but it was frustrating having to constantly tweak it on the trail. To be fair, these are fairly small complaints and likely won't be issues for most, but they detracted from the otherwise highly comfortable feel.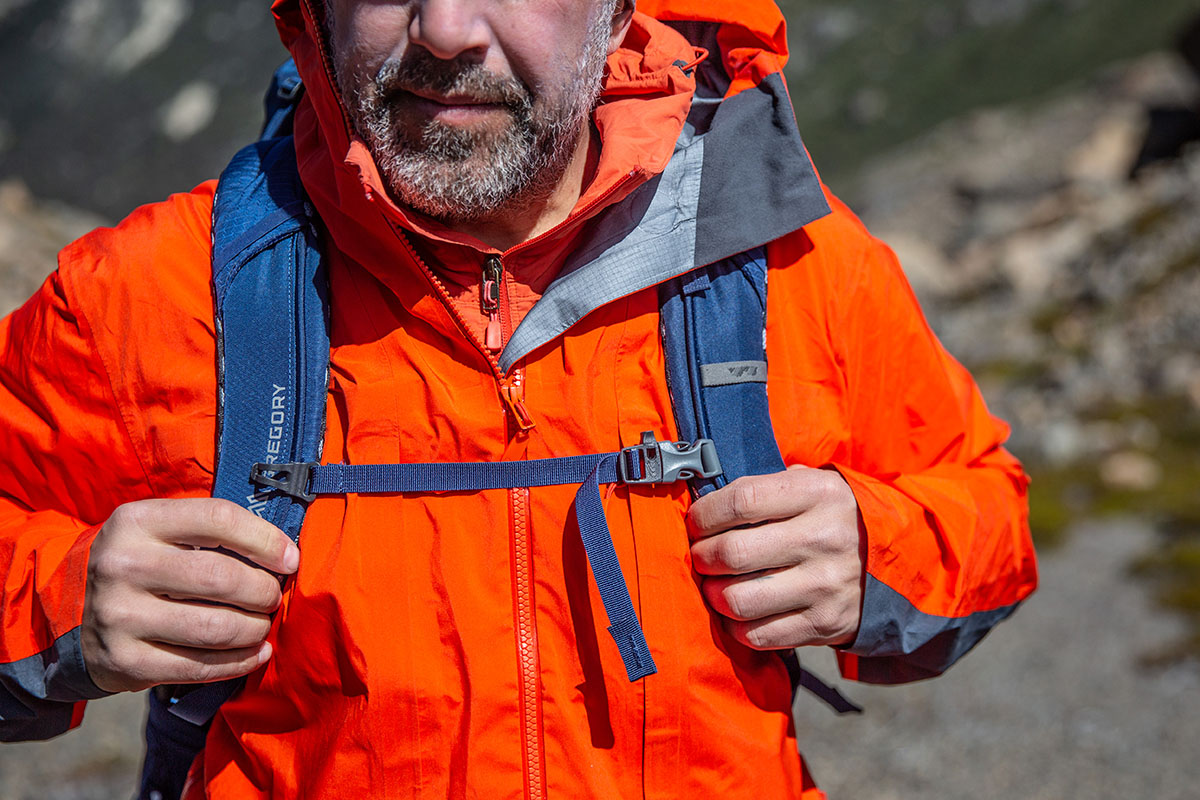 Weight
At 4 pounds 11.8 ounces for my medium/large size, the Gregory Katmai 65 is far from a weight leader, but weight is reasonable given the pack's well-cushioned construction and generous feature set. By comparison, Gregory's top-end Baltoro 65 checks in at a hefty 5 pounds 4 ounces for a large, while Osprey's Atmos AG 65 and Aether 65 split the difference at 4 pounds 10.2 ounces and 4 pounds 15.4 ounces respectively. For reference, I've been using Hyperlite Mountain Gear's UL-focused 4400 Southwest (2 lbs. 7.2 oz.) as my go-to pack for the past year, so the added heft was immediately noticeable. That said, the Katmai is far and away the more approachable design for most casual backpackers with added features and a more well-padded construction. Again, it's certainly not the lightest option available, but it never felt overly cumbersome or bulky on my back.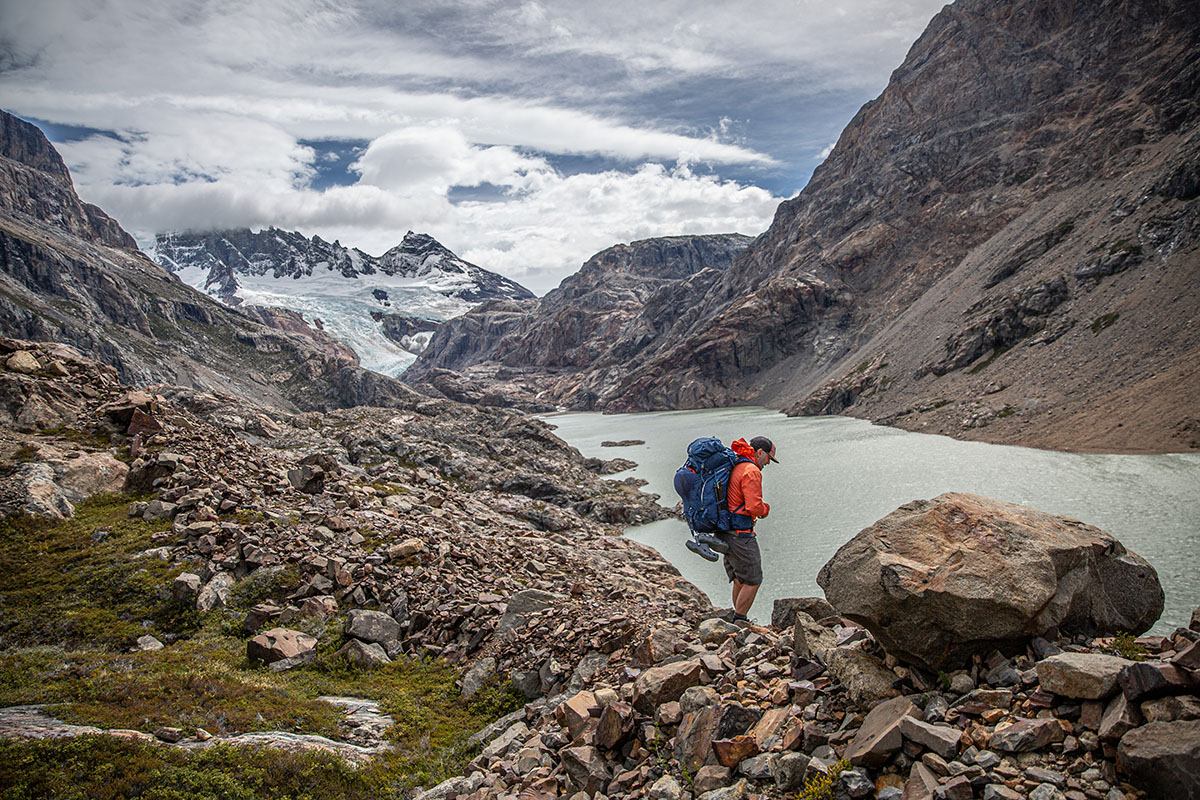 Organization
Access
We love packs that offer multiple ways to enter the main compartment, and the Katmai comes with both top and side-zipper access. The side zip runs the full length of the pack and made it relatively easy to access gear on the trail, although items packed deeply on the opposite side were hard to reach without pulling everything else out. Once things were back in place, it was also a challenge to zip back up. In the end, I strongly prefer the more generous U-shaped zipper on Gregory's Baltoro 65, which makes it much easier to reach into the main compartment without shifting gear around.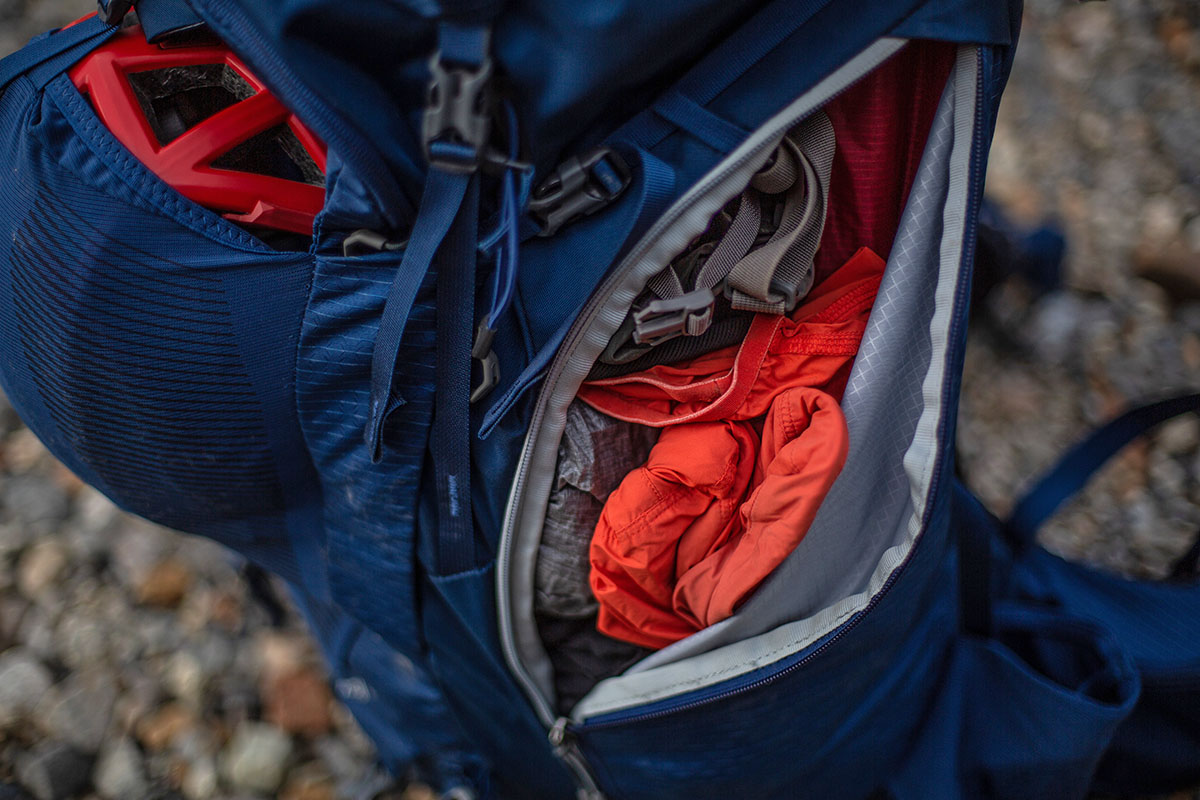 On the bright side, I was very impressed by how much gear the Katmai 65 can carry. The cinchable top extends to accommodate a full load, and the floating lid boasts straps that can be lengthened as well. In the end, I had no trouble stuffing in four days' worth of gear, including camera equipment, a two-person tent, a double sleeping bag and pad, an extra pair of footwear, and multiple layers to handle the variable Patagonia weather. Rounding out access, there's a separate zippered compartment at the bottom that was pretty useful for accessing my backpacking tent, which I squeezed inside without its stuff sack. This certainly isn't a necessary feature (and I'd prefer to forego it to shave weight), but it was nice to have on our trek.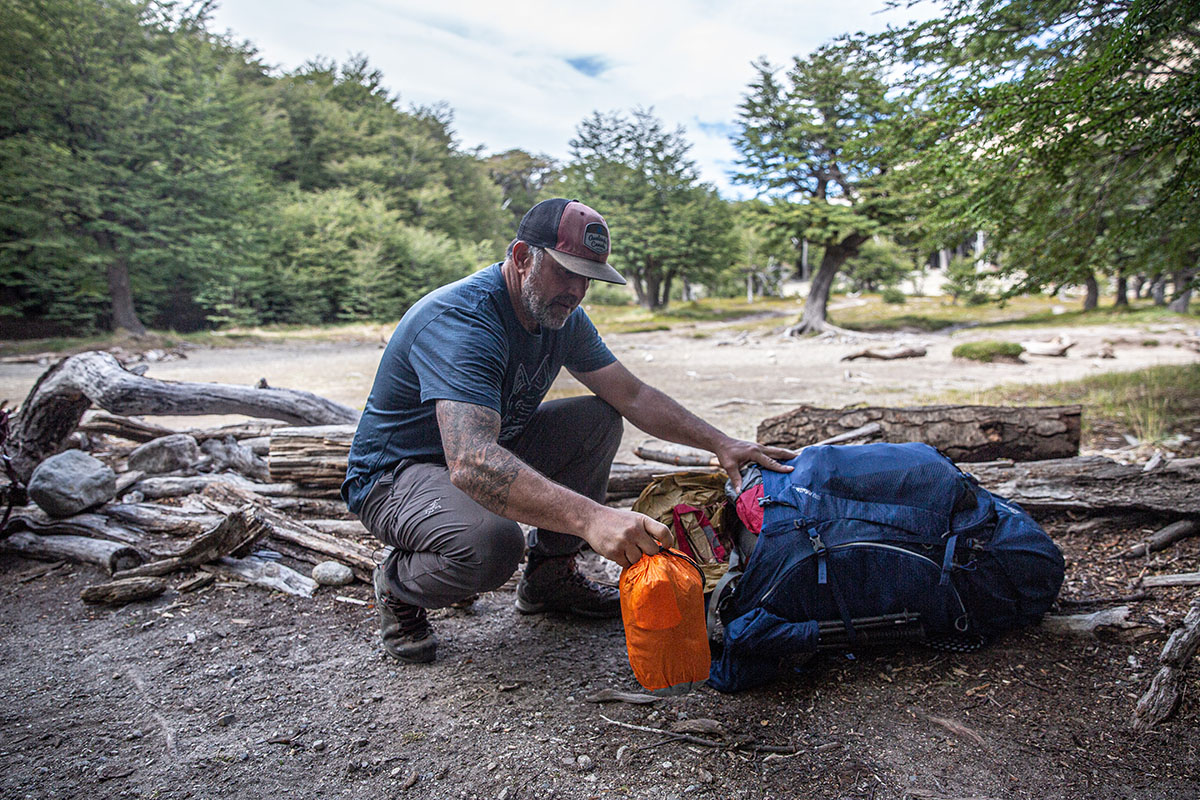 Pockets
In addition to the large main compartment, the Gregory Katmai 65 also boasts a generous seven external pockets. Starting at the top, the lid features three pockets: one big zippered compartment at the top, a small quick-access pocket (arguably the least useful of the trio), and an additional pocket underneath. While I appreciate the healthy layout here, it does feel a little overkill. On one outing, we ran into friends who were in desperate need of Moleskin, and I had trouble remembering where I put it (my pack was inside my tent at camp a few miles away). Thankfully, they were able to rifle through all of the lid pockets and find it, but it did take some time and rummaging. 
Other storage options include two hipbelt pockets, a front mesh pocket with another zippered compartment underneath, water bottle holsters at each side, side compression straps, and an internal hydration sleeve with a clip for hanging a reservoir. The hipbelt pockets are adequately sized for stashing smaller items like a headlamp, Garmin inReach device, or smartphone. Due to the curvature of the belt, you'll have to pack things inside before cinching it tight, but this wasn't too big of an annoyance for me. For stowing larger and bulkier items, I turned to the front stretch mesh pocket, which secures via a handy buckle closure and easily accommodated my climbing helmet with a small fuel canister tucked inside. Further, the SideWinder water bottle holsters (one at each side) are easy to access, can be tucked away when not in use, and easily swallowed my Nalgenes and trekking poles. Finally, the internal reservoir sleeve with SpeedClip hanger worked well with my bladder despite the fact that it's not a Gregory design.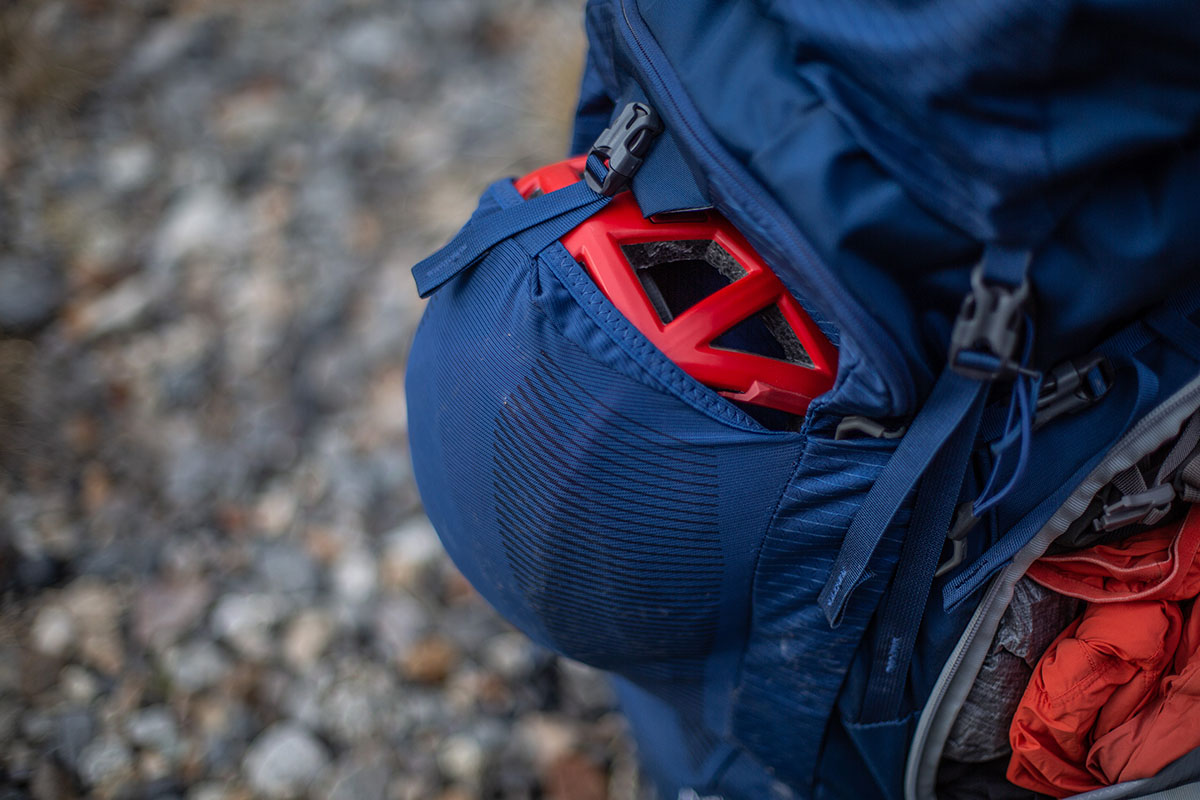 However, while organization and access are undeniably extensive on the Katmai 65, I did find it to be a little overkill for my uses. All of the zippers add extra weight to the already hefty design, and I could easily do without the front zippered compartment behind the mesh shove-it pocket. It's pretty shallow, can only accommodate thinner items like a map or book, and proved very difficult to access with a full load. If it were up to me, I would only retain the hipbelt pockets, front stretch mesh pocket, water bottle holsters, and two larger lid pockets (as well as the hydration features inside).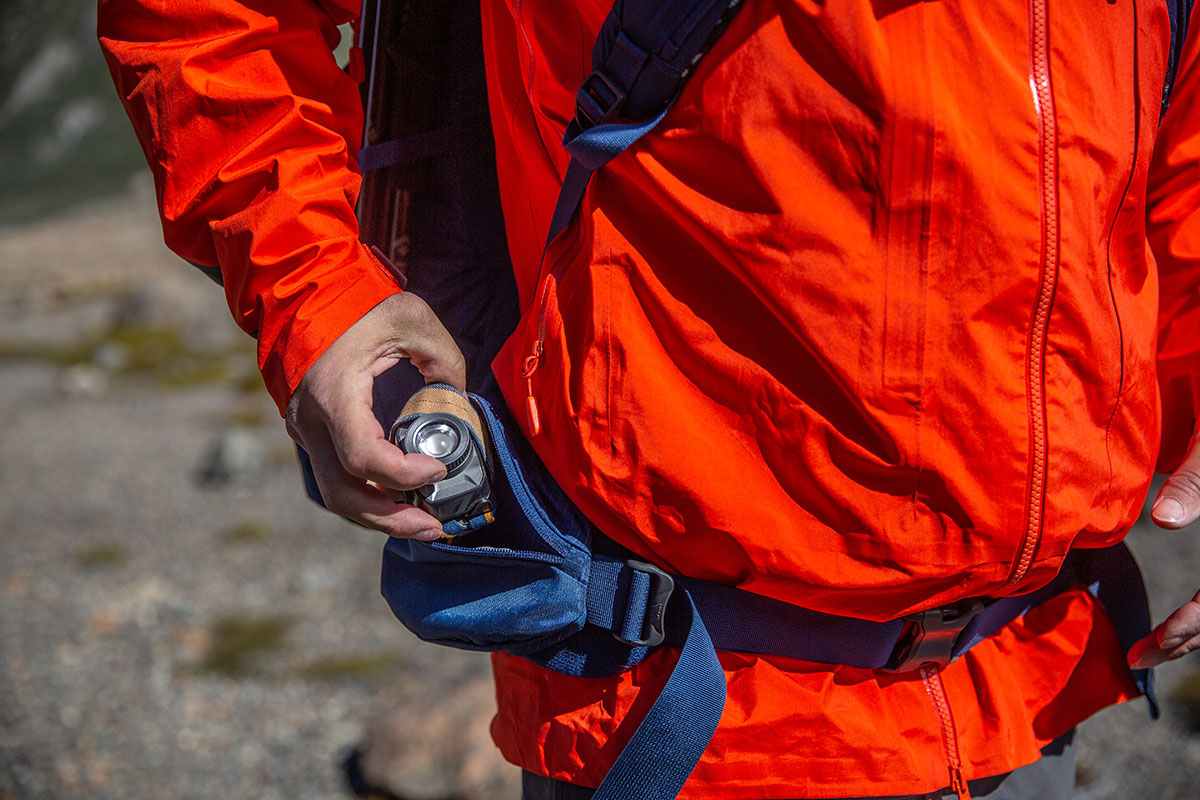 Ventilation
I run decidedly warm and tend to sweat heavily when wearing a pack for extended periods, but the Gregory Katmai 65 did an admirable job of keeping me cool and comfortable. Even with the sun beating down on the last day of our backpacking trip in Patagonia (temperatures reached in to the 70s Fahrenheit), I didn't experience any overheating or moisture buildup along my back. The entire FreeFloat 360 backpanel is comprised of mesh with a good amount of separation between your back and the body of the bag to keep air flowing. Gregory also added an odor-resistant treatment to the mesh, which is designed to prevent bacteria accumulation from sweat. All told, it's a well-executed system that breathes well and gets the job done even in warm summer conditions.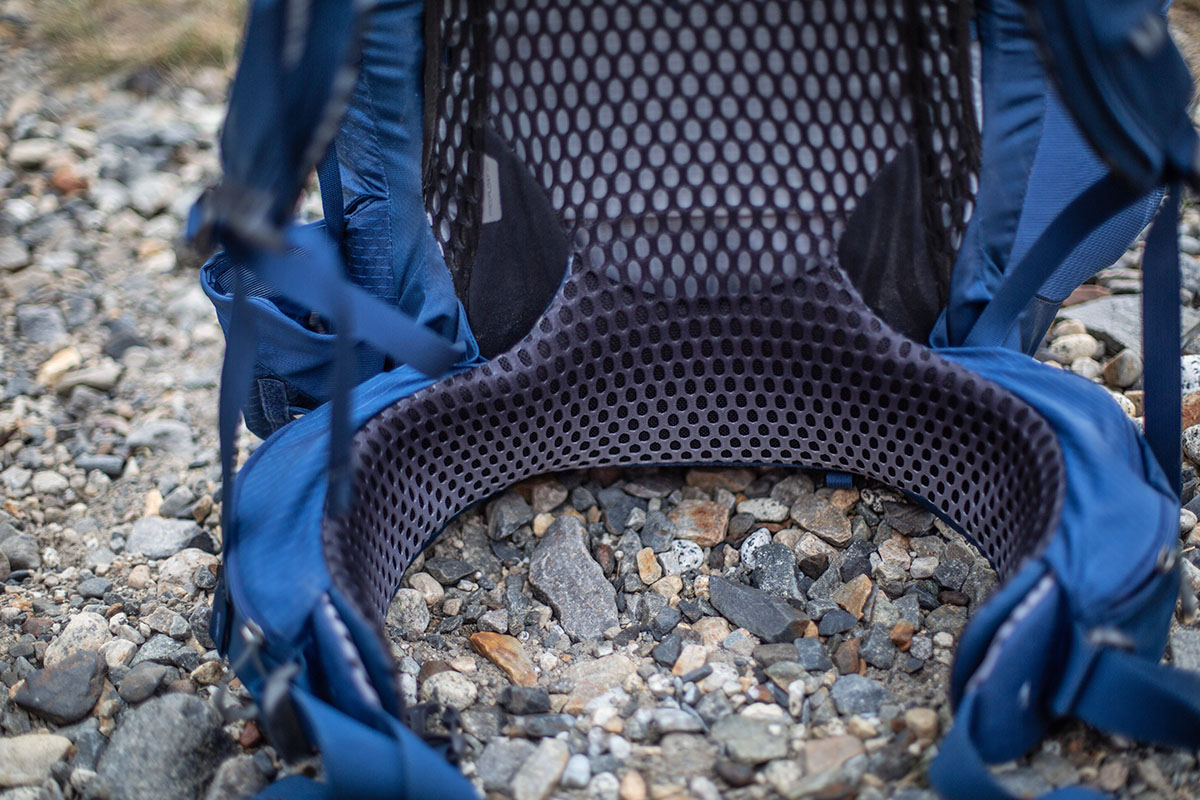 Weather Protection
With a standard durable water repellent (DWR) coating and no included rain cover, the Gregory Katmai 65 isn't all that weather-worthy on its own. This wasn't a huge deal on our trip, where we experienced mostly dry conditions with scattered, light rain showers, but I consider a pack cover essential for truly inclement weather. To be fair, the bottom, sides, and hipbelt pockets were fully exposed to splashes during our frequent river crossings and kept my gear perfectly dry. But for added assurance, I'd highly recommend purchasing a separate pack cover or waterproofing your gear with dry bags.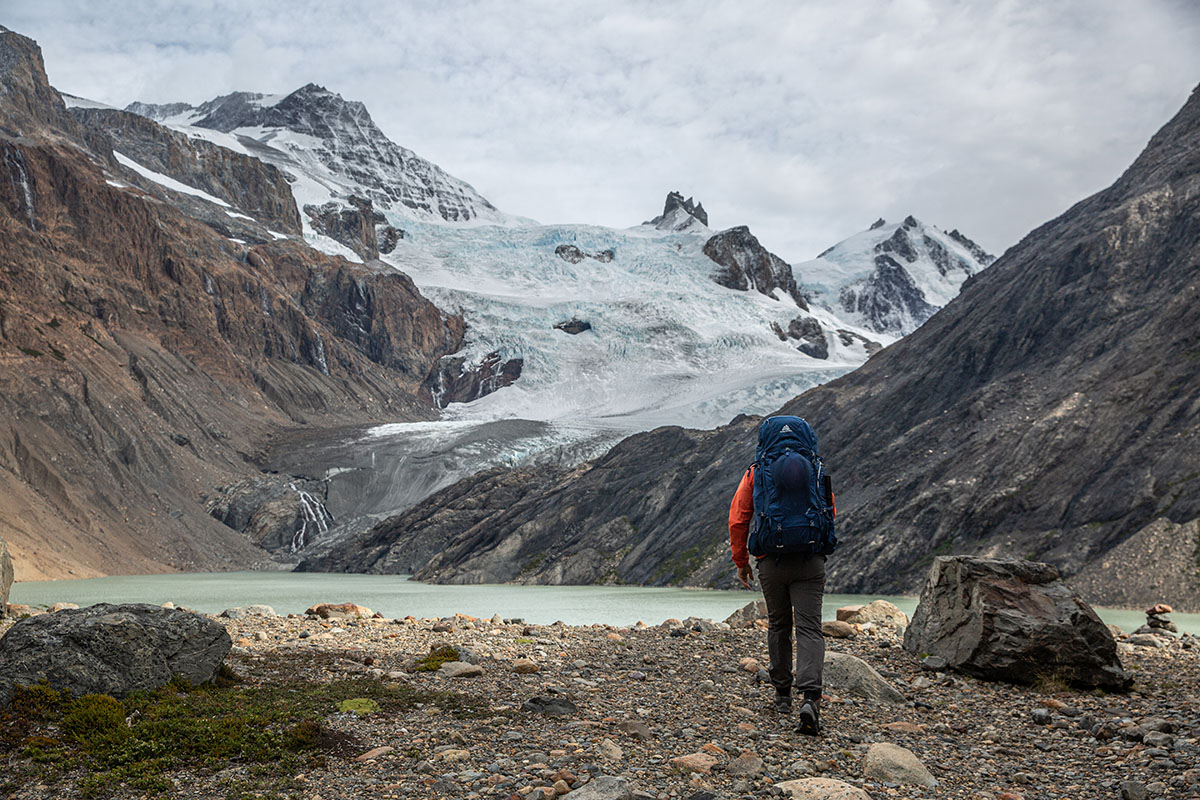 Build Quality and Durability
Gregory is a reputable pack manufacturer with a long history in the industry, and their Katmai 65 boasts the high-quality feel and premium construction we've come to expect from the brand. Despite haphazard treatment and exceeding the Katmai 65's recommended weight limit, the pack has held up incredibly well with no real signs of wear. For reference, the body of the bag is a mix of 210-denier (D) and 420D nylon, while the bottom is also a thick 420D. As a photographer, I stop frequently to take photos and often throw my pack on the ground with little regard for the surface below, and the Patagonian landscape included sharp, jagged rocks, wet riverbeds, and dry, dusty trails. Despite the rough treatment, the base is holding up well with no snags or tears, and all zippers, straps, and buckles are intact and functioning flawlessly. Even my tent and hiking poles failed to leave a mark after being stuffed lazily inside the pack during long flights to and from Patagonia.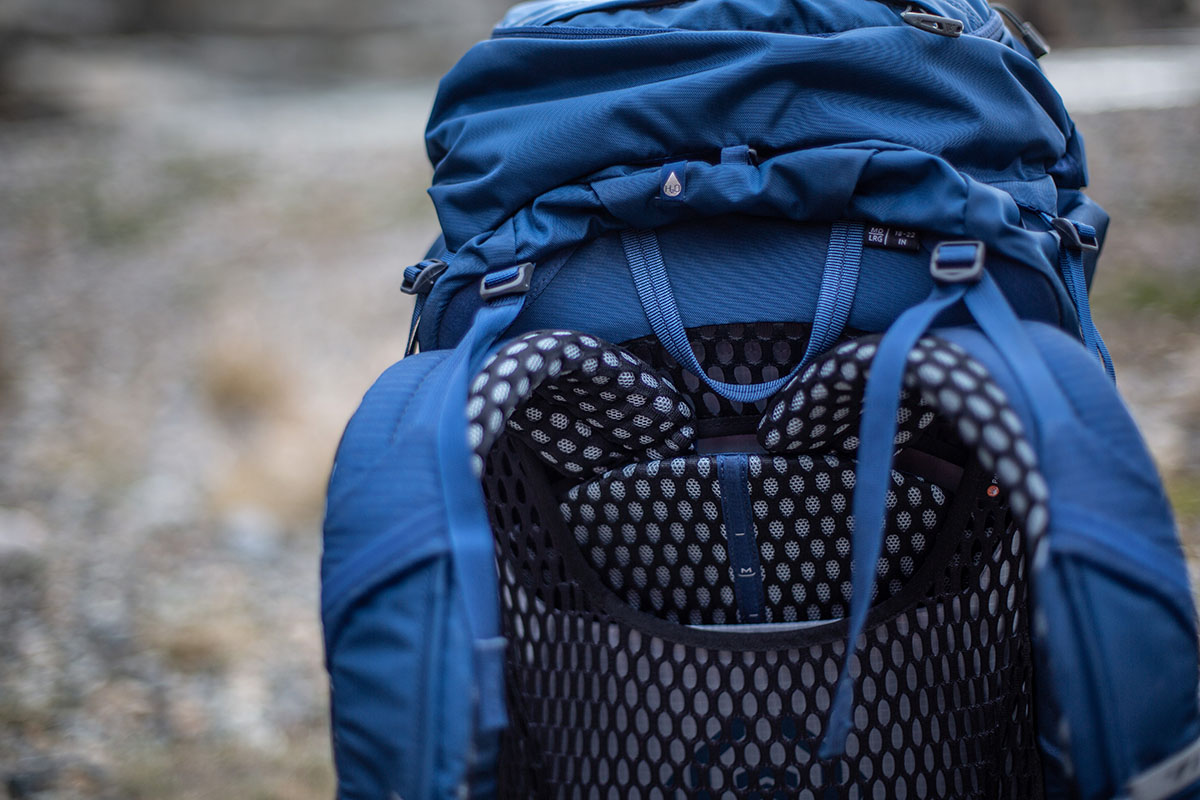 Fit and Sizing
The Katmai 65 is available in two sizes (small/medium and medium/large), and I found the latter to be a great all-around fit for my tall and broader build. In terms of adjustments, you can easily dial in fit at the torso and waist by unsticking the Velcro and re-attaching it at the appropriate position. All told, it's a well-executed system that stays in place even under a full load (in fact, loosening the Velcro is the hardest part of the process). After several days of hiking, my back began to ache slightly, but tweaking the torso length alleviated the issue. It's worth noting that Gregory's top-end Baltoro is offered in three sizes to accommodate a wider range of body types and shapes, but the Katmai 65 does come in a larger "plus" variation that offers an additional 7 inches of circumference at the waist.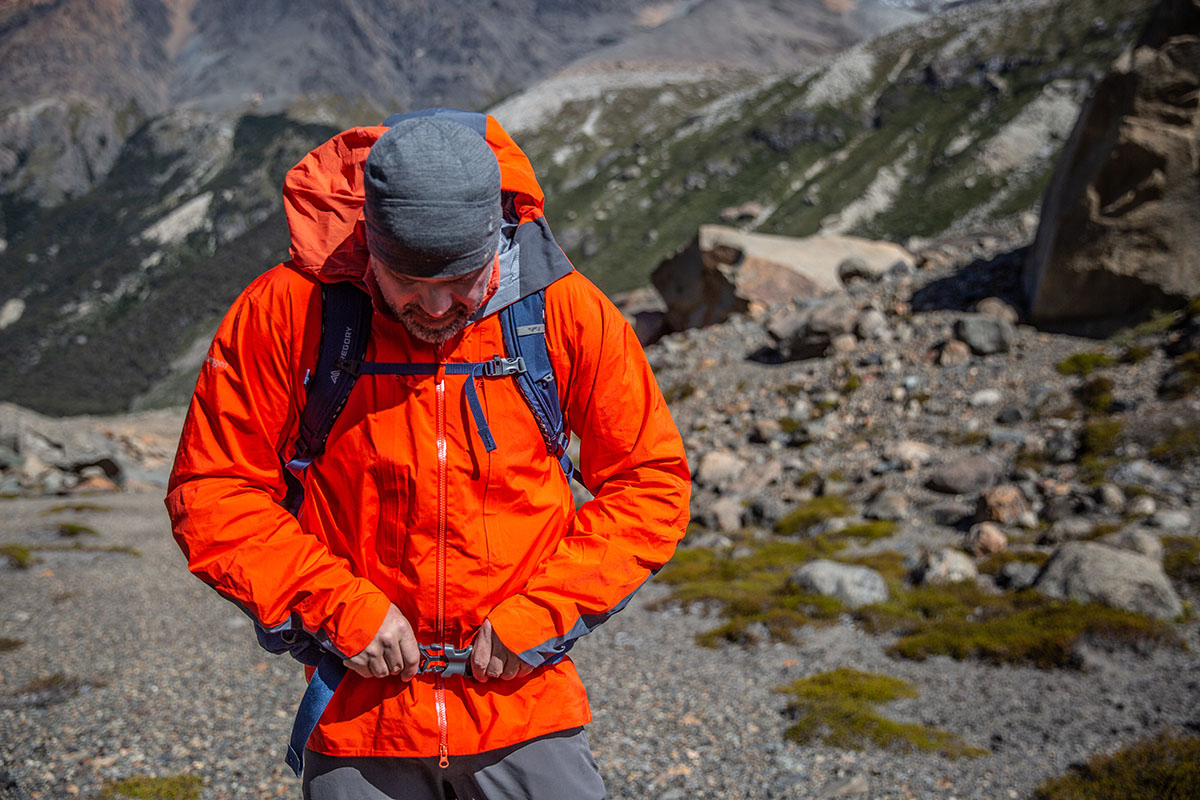 Sustainability
In 2022, more and more outdoor brands are incorporating sustainable materials into production, and Gregory's Katmai 65 is a good example of the trend. All of the fabrics are partially recycled, including 40 to 45 percent recycled nylon for the body, 45 percent recycled nylon at the bottom, and 40 percent post-consumer recycled polyester for the lining. The DWR coating on the exterior pack is also PFC-free, which means it foregoes the use of environmentally harmful perfluorocarbons. Added up, it's a strong all-around effort, and we commend Gregory for integrating more eco-friendly measures in the collection.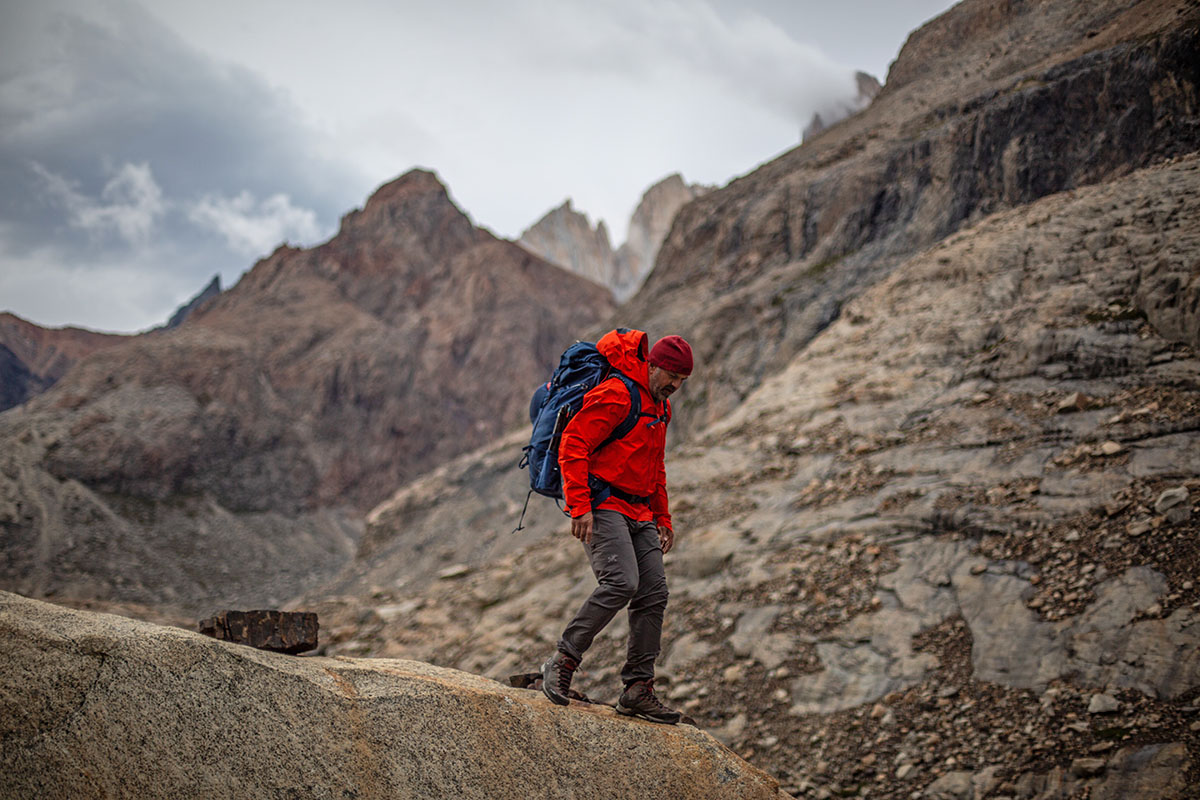 Other Versions of the Gregory Katmai and Women's Kalmia
I brought the men's Katmai 65 to Patagonia for testing, and the pack is also offered in a smaller 55-liter option for those who don't mind packing light or who are headed out on shorter trips. The Katmai 55 costs $20 less at $280 and clocks in at 4 pounds 10.9 ounces for a size medium/large. On the women's side, the Kalmia collection is the Katmai's counterpart and includes 50- and 60-liter options, with the Kalmia 60 weighing in at 4 pounds 7.8 ounces for a small/medium and retailing for $300 (the same as the Katmai 65 here). Both the Katmai 65 and Kalmia 60 are also offered in dedicated "plus" variations for those with broader builds, but all other features remain the same.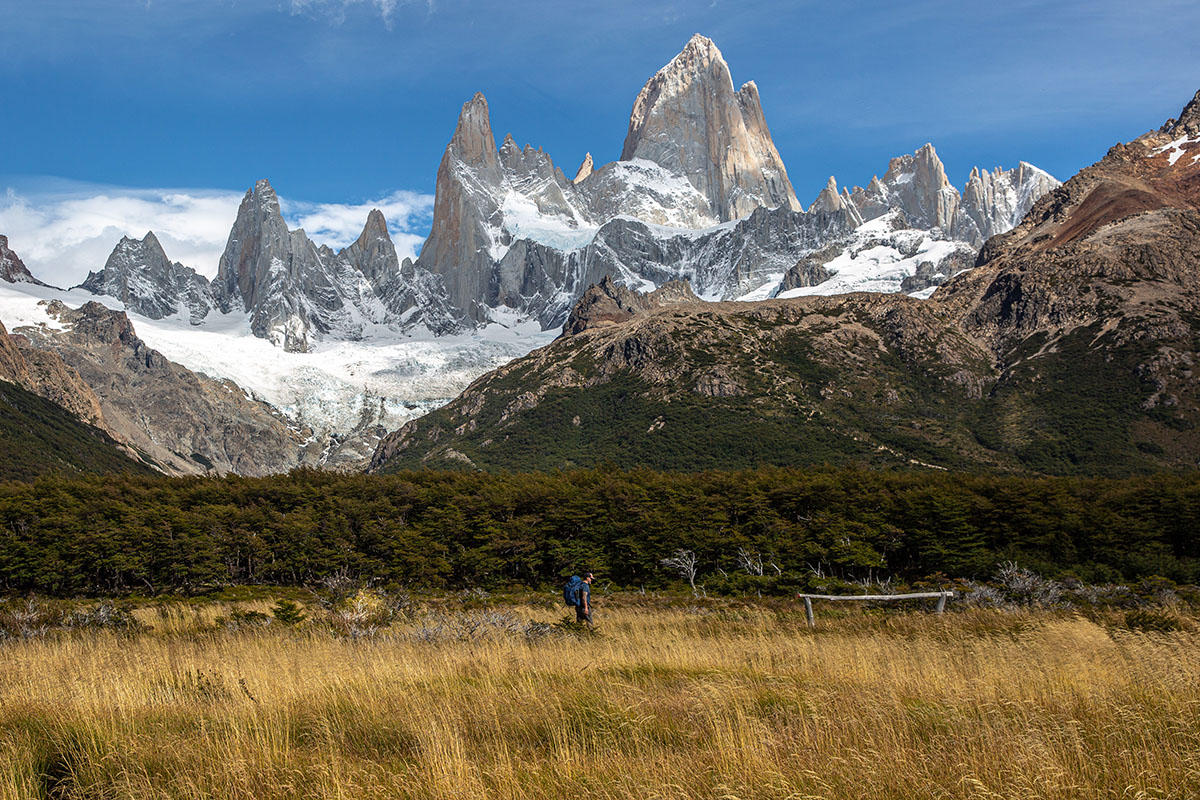 What We Like
Excellent carrying comfort and weight distribution even when loaded down with 50 pounds of gear (5 lbs. more than its recommended limit).
FreeFloat 360 mesh backpanel is highly effective at promoting airflow, and I was able to stay cool even in warm summer conditions.
Highly durable and confidence-inspiring with thick fabrics and hardwearing details throughout.
Generous adjustability at the torso, hipbelt, shoulders, and sternum strap make it very easy to dial in fit.
Recycled materials and PFC-free DWR coating give the pack a nice sustainability slant.

What We Don't
Pretty heavy at 4 pounds 11.8 ounces, and the storage layout is undeniably overkill for shorter outings.
I appreciate the Katmai's side zipper for secondary access to the main compartment, but I'd prefer a U-shaped opening for more easily retrieving items packed deep inside.
Sternum strap was prone to riding up and required frequent adjustments on the trail.
I'd highly recommend adding a pack cover or waterproofing your gear with dry bags in inclement conditions (the Katmai just has a standard DWR coating on the exterior).


Comparison Table
| Pack | Price | Weight | Fabric | Capacities | Access | Pockets |
| --- | --- | --- | --- | --- | --- | --- |
| Gregory Katmai 65 | $300 | 4 lbs. 11.8 oz. | Nylon (210D & 420D) | 55, 65L | Top, side | 7 exterior |
| Gregory Baltoro 65 | $320 | 5 lbs. 4 oz. | Nylon (210D & 420D) | 65, 75L | Top, front | 9 exterior |
| Gregory Paragon 68 | $270 | 3 lbs. 11.4 oz. | Nylon (100D & 210D) | 48, 58, 68L | Top, side | 6 exterior |
| Osprey Atmos AG 65 | $270 | 4 lbs. 10.2 oz. | Nylon (100D x 630D) | 50, 65L | Top | 8 exterior |
| Osprey Aether 65 | $290 | 4 lbs. 15.4 oz. | Nylon (210D & 420D) | 55, 65L | Top, front | 7 exterior |
| REI Co-op Traverse 60 | $229 | 4 lbs. 5 oz. | Nylon (300D) | 32, 60L | Top | 10 exterior |

The Competition
Gregory's Katmai 65 hits a nice balance for most backpackers: It's highly comfortable, nicely appointed for stowing the essentials, and very breathable even in warm summer conditions. From within Gregory's own lineup, their Baltoro 65 is a step up in carrying capabilities for shuttling a full load over long distances. At $320 and 5 pounds 4 ounces for a size large, it's both pricier and considerably heavier than the Katmai, but you get a more generous and functional U-shaped zipper for accessing the main compartment (which I strongly prefer over the Katmai's full-length side zip). The Baltoro also includes two additional exterior pockets and has a thicker and more durable 630-denier base, although both packs are noticeably robust and hardwearing. Whether or not the better access and boost in storage are worth the weight and price penalties is up to you, but the Katmai is perfectly serviceable for most recreational backpackers.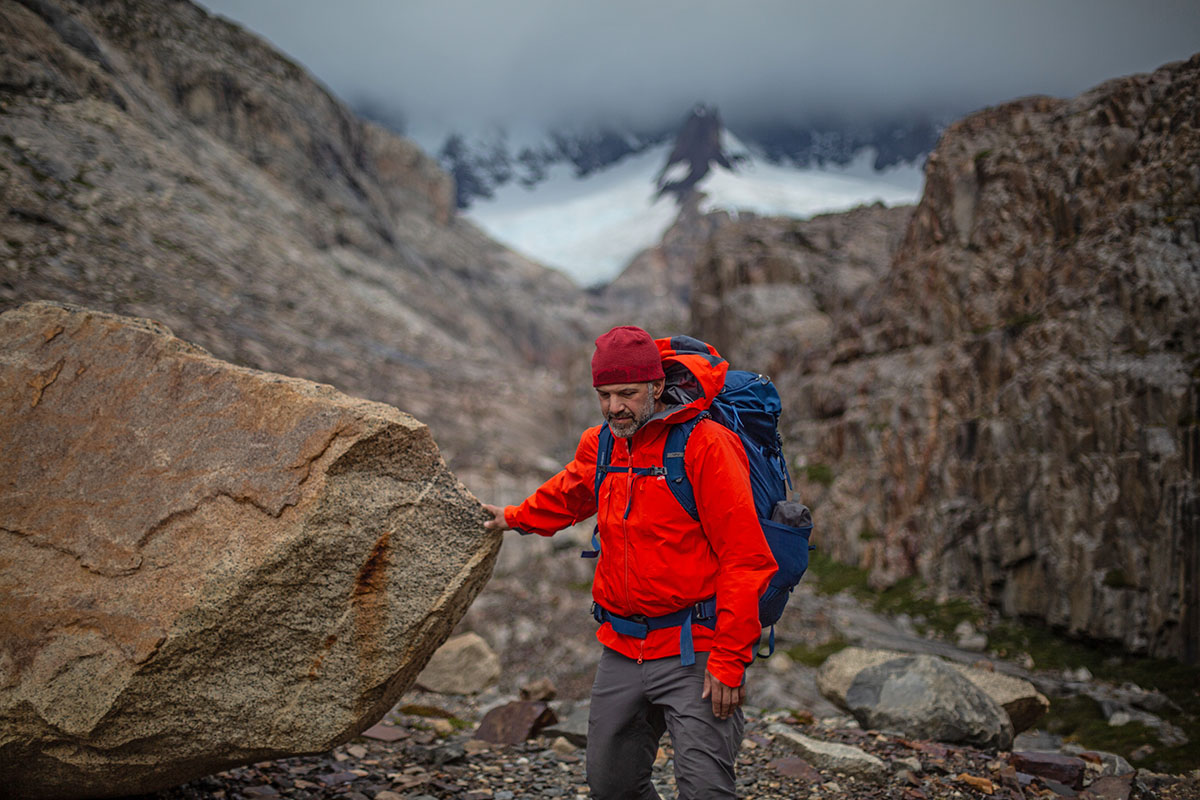 Next up is another in-house design to consider: Gregory's Paragon 68. For $30 and just over a pound less than the Katmai, the Paragon is all most backpackers need and nothing they don't. You don't get the same level of padding or organization as the Katmai, but it retains great easy-to-use fit adjustments, plenty of mesh at the backpanel to keep air flowing, and a quality overall build with sturdy zippers and supportive foam. Unlike the Katmai, the Paragon also comes with a rain cover for protecting against inclement weather. In terms of durability, the Paragon uses thinner materials throughout, but we haven't experienced any issues to date with either pack. The deciding factor for most will be load-carrying capabilities: While the Paragon is rated for up to 50 pounds, we found it began to suffer around the 40-pound mark, with thinner cushioning at the hipbelt that led to pressure points. If you're carrying a hefty load, we recommend spending up for the Katmai.
Our top-rated backpacking pack this season is Osprey's venerable Atmos AG 65. The "AG" is short for Anti-Gravity, which is Osprey's suspended mesh backpanel design that offers best-in-class breathability. Most other features stack up well to the Katmai, including good fit adjustments, a thoughtful storage layout, and high-end materials that hold up well to rough treatment. The only major concession is lack of secondary access to the main compartment (the Osprey only loads from the top), which makes it less convenient to retrieve gear on the trail. However, the Atmos is a little lighter than the Gregory at 4 pounds 10.2 ounces while coming in $30 cheaper. All told, unless the top-loading design is a deal-breaker for you, we consider the Osprey the most well-rounded backpack currently on the market.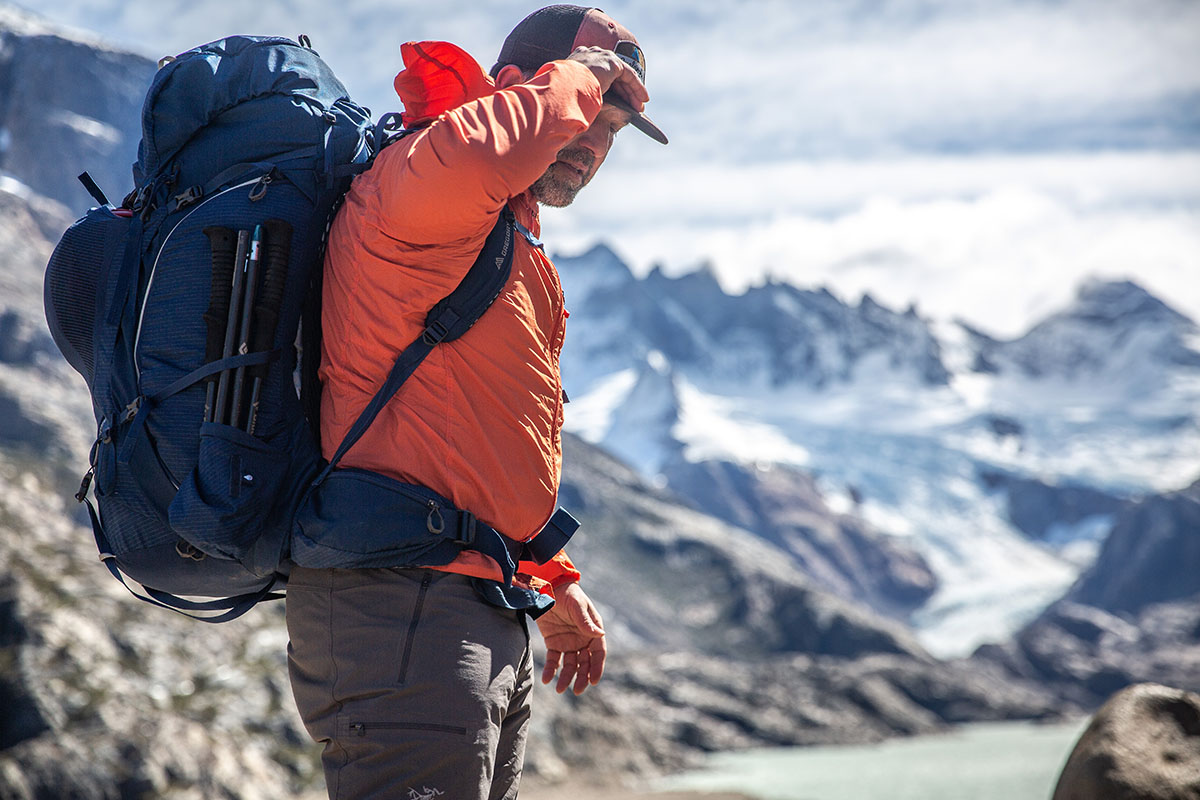 Like Gregory's Baltoro, Osprey's Aether 65 is their heavy hauler and offers a boost in carrying comfort from the Atmos for shuttling a lot of weight (or even crossing over into light mountaineering). The AirScape backpanel is less elaborate than the Atmos' Anti-Gravity design, but the foam and mesh construction still does an adequate job of keeping you cool in warmer weather. Further, the rip-and-stick adjustment system makes it easy to tailor the fit of the shoulder straps and hipbelt, and there are ample compression straps and attachment points for securing gear to the outside of the pack. Finally, the Aether's large J-shaped zipper at the front provides easier access to the main compartment than the Katmai's side zip. On the flip side, the Katmai is lighter by around 4 ounces while offering the same amount of external pockets. In the end, the Aether is a seriously capable heavy hauler, but Katmai is plenty of pack for most.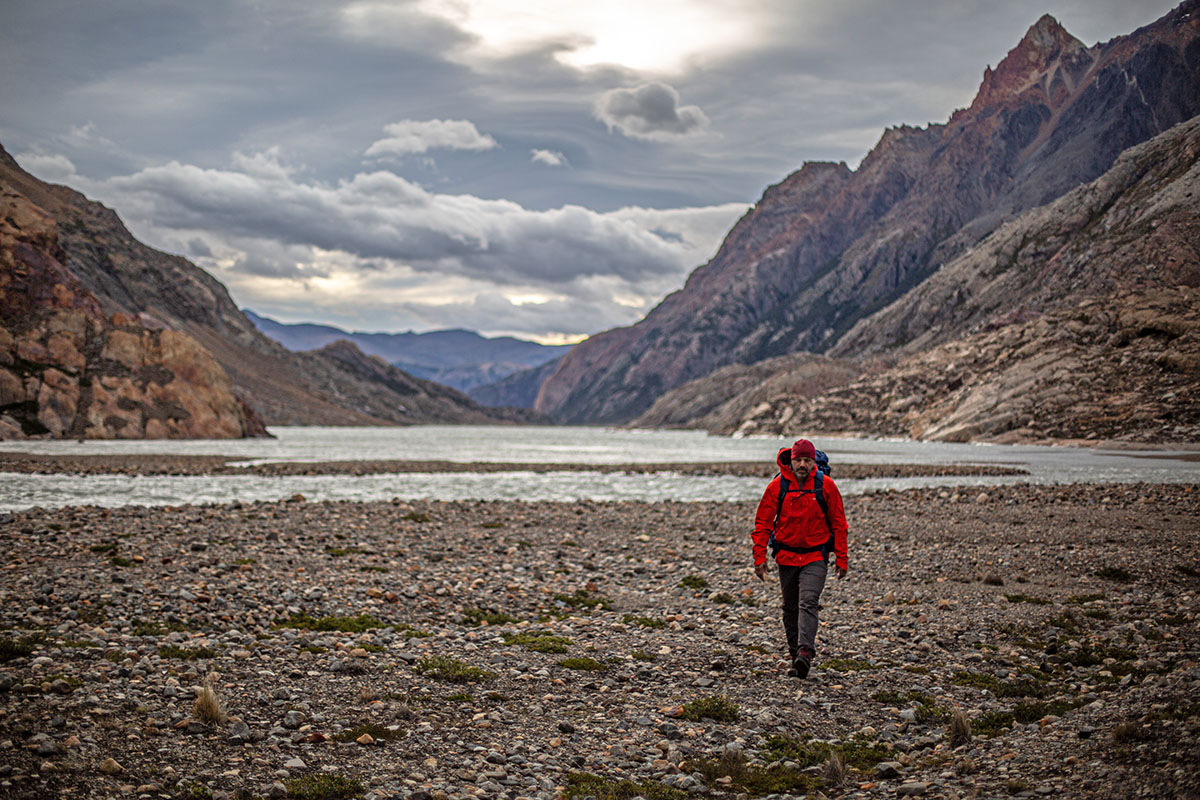 Last but not least is a more budget-friendly alternative to the Katmai: REI Co-op's $229 Traverse 60. Right away, we'll note that the Traverse is the less comfortable design with fairly cheap-feeling padding that suffers under a heavy load. You also forego dual access to the main compartment, and the raised foam padding on the backpanel is far less breathable than the Katmai's all-mesh layout. That said, there's still a lot to like at this price point, including a lighter 4-pound-5-ounce weight, top lid that quickly converts into a daypack, large and easy-to-access hipbelt pockets, and included rain cover. We also like the unique Packmod system, which allows you to tweak the compression strap layout to customize external organization. But the drop in carrying comfort is noticeable, and unless you're on a strict budget, we think most dedicated backpackers will be much happier with the more premium, breathable, and well-padded Katmai. 
If you're thinking about buying gear that we've reviewed on Switchback Travel, you can help support us in the process. Just click on any of the seller links above, and if you make a purchase, we receive a small percentage of the transaction. The cost of the product is the same to you but this helps us continue to test and write about outdoor gear. Thanks and we appreciate your support!
Depending on the seller, most products ship free in the United States on orders of $50 or more. International shipping availability and rates vary by seller. The pricing information on this page is updated hourly but we are not responsible for inaccuracies.
Learn More About Backpacking Gear