Stretchy down jackets are a relatively new trend, but the allure is clear: Rather than the somewhat plasticky feel you get with a standard nylon shell, these pieces are supremely soft and do an excellent job maximizing range of movement. U.K.-based Rab throws their hat into the ring with the Cubit Stretch Down Hoody, a stylish midweight option that offers an impressive combination of warmth, durability, and comfort. I've taken the women's model from the Pacific Northwest all the way to Patagonia for testing, and below are my takeaways. To see how it stacks up to the competition, see our article on the best down jackets and best women's down jackets.
 
---
Table of Contents
---

Performance
Warmth
Packing a generous 5.3 ounces of 700-fill-power down in a stretchy and pliable shell, Rab's aptly named Cubit Stretch Down Hoody is a decidedly warm and cozy place to be. To help maximize heat retention, Rab utilized Pertex's 3D Weave Technology, which keeps the down in place and creates fewer areas for drafts to enter by using woven (rather than stitched) baffles. The hood is another highlight: While not adjustable, it's nicely insulated, offers good all-around coverage, and fits snugly but comfortably with light elastic around the aperture. In practice, the Cubit has kept me cozy down to around freezing with just a lightweight baselayer underneath, and I've been able to take it even lower by adding a thin midlayer (like my Arc'teryx Atom SL Hoody or Patagonia R1 Daily fleece).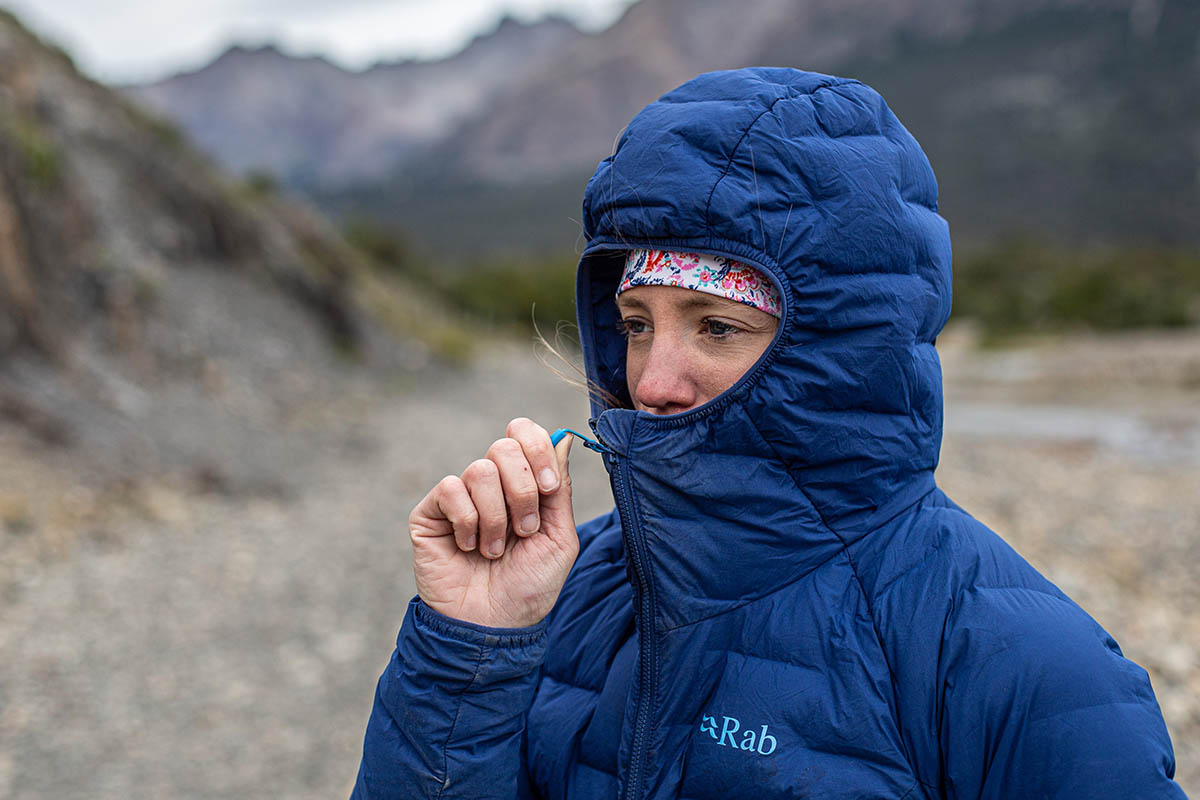 You can get similar warmth for less weight in the midweight category with Rab's own Microlight Alpine Down Jacket (which weighs 14.6 oz. with 5.1 oz. of 700-fill down), but the Cubit's stretchy shell and soft fabrics add a sizable boost in comfort for only a few ounces more. Alternatively, higher-fill-power options like Arc'teryx's premium Cerium LT Hoody (3.4 oz. of 850-fill down in a 9.9-oz. package) are loftier and pack down smaller, but these lightweight pieces offer far less warmth and are best suited for shoulder-season (rather than true winter) use. All told, the Cubit hits a nice middle ground: While it's not the lightest or most packable option for multi-day missions into the backcountry, the combination of lofty warmth and soft materials make it great for daily use and more casual winter activities like day hiking, snowshoeing, or shoveling the driveway.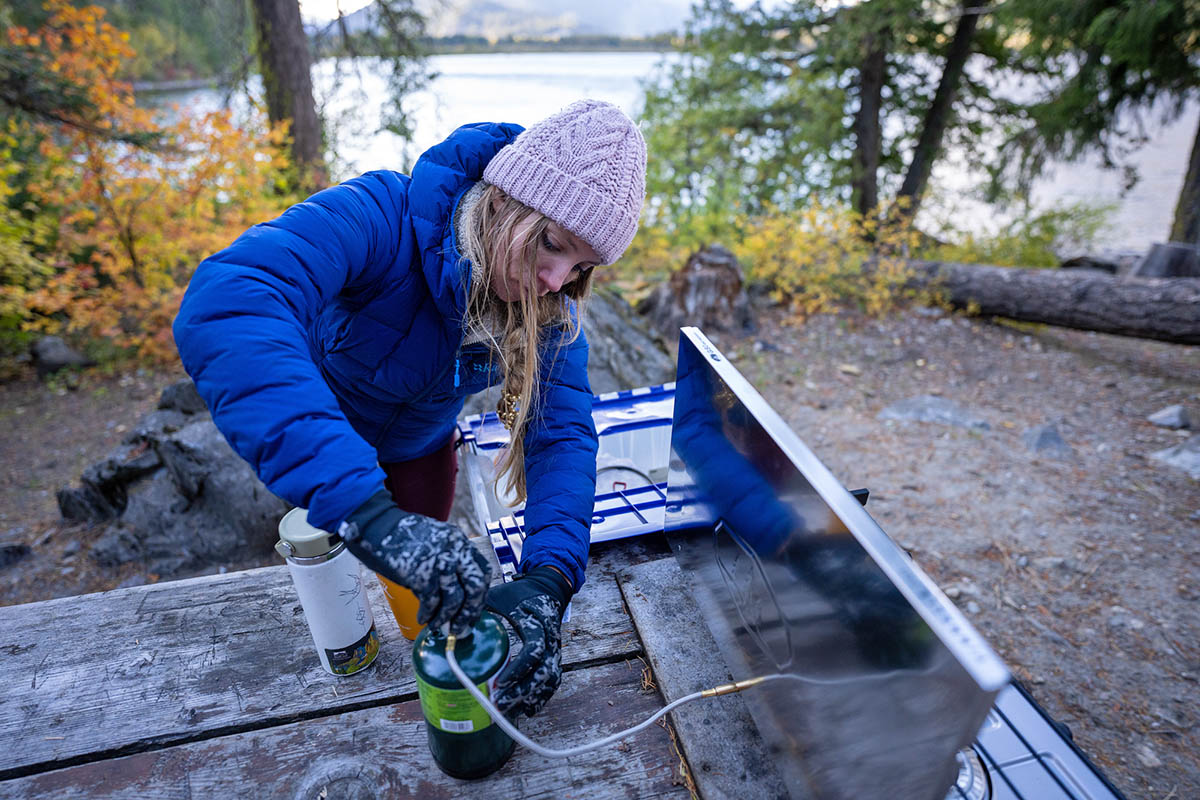 Weather Protection
Down jackets are inherently poor performers in wet conditions (down tends to clump up and lose its insulating abilities when wet), but the Cubit Stretch Down Hoody is nicely equipped for fending off light to moderate precipitation. Like many of Rab's offerings, the Cubit comes with water-resistant YKK zippers, has a tough and weather-ready Pertex Quantum shell, and includes a hydrophobic coating on the down itself to protect it if water makes its way through the outer fabric. As I touched on above, the hood isn't adjustable but offers great all-around coverage for fending off light wind and moisture, and dual drawcords at the hem make it easy to seal out drafts. Finally, the woven construction gives the jacket a nice boost in wind resistance—even in Patagonia's notoriously strong gusts, I managed to stay warm and cozy with no noticeable chill. I still brought along a hardshell jacket for sustained rainstorms (and I'd recommend everyone do the same), but the Cubit has performed well on its own in most conditions.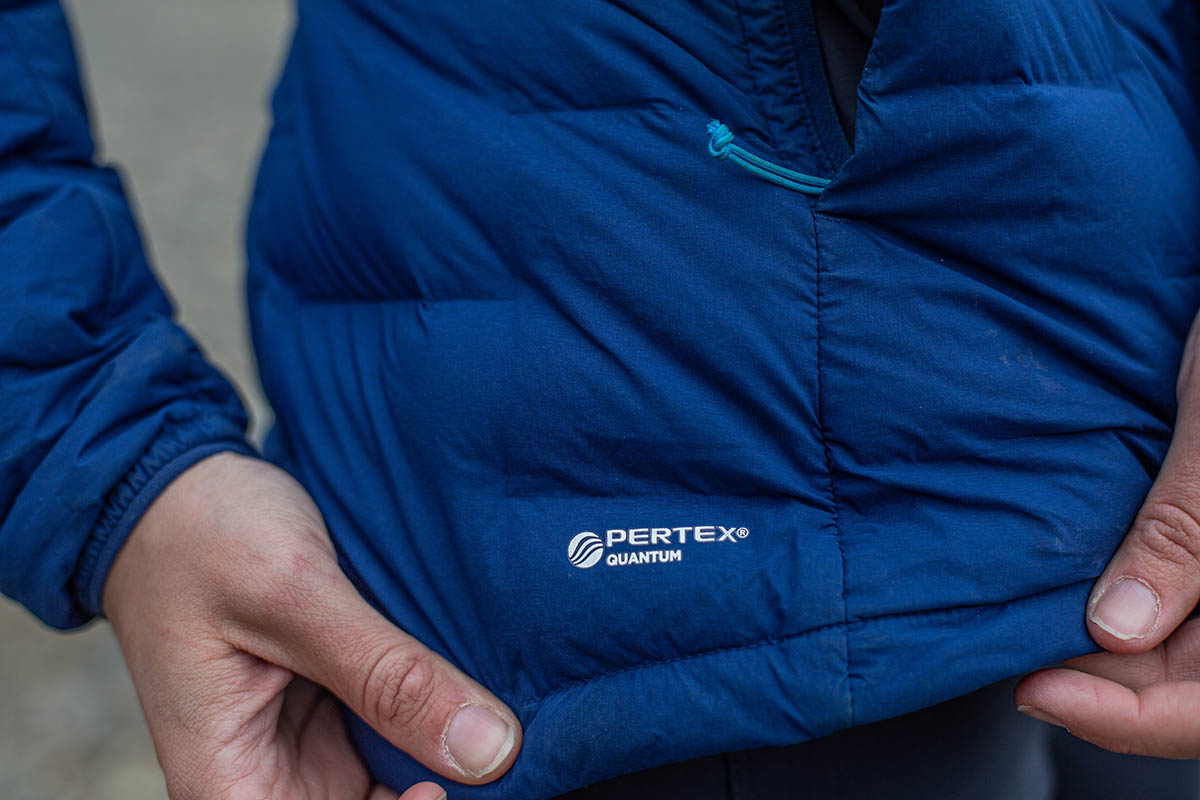 Comfort
Comfort is an undeniable highlight of the Rab Cubit Stretch Down Hoody's design. The Pertex 3D Weave shell is a big contributor here–it's stretchy, offers excellent mobility, and promotes a very sleek and streamlined feel. The soft fleece-like lining along the collar is another thoughtful touch and provides a nice dose of comfort when the jacket is fully zipped. Taken together, the Cubit has a very plush feel that you typically don't get from a down piece. In fact, the first time I put on the jacket, it felt reminiscent of cozying up inside a lofty down sleeping bag, and I'd go so far as to say it's one of the most comfortable down jackets I've owned to date.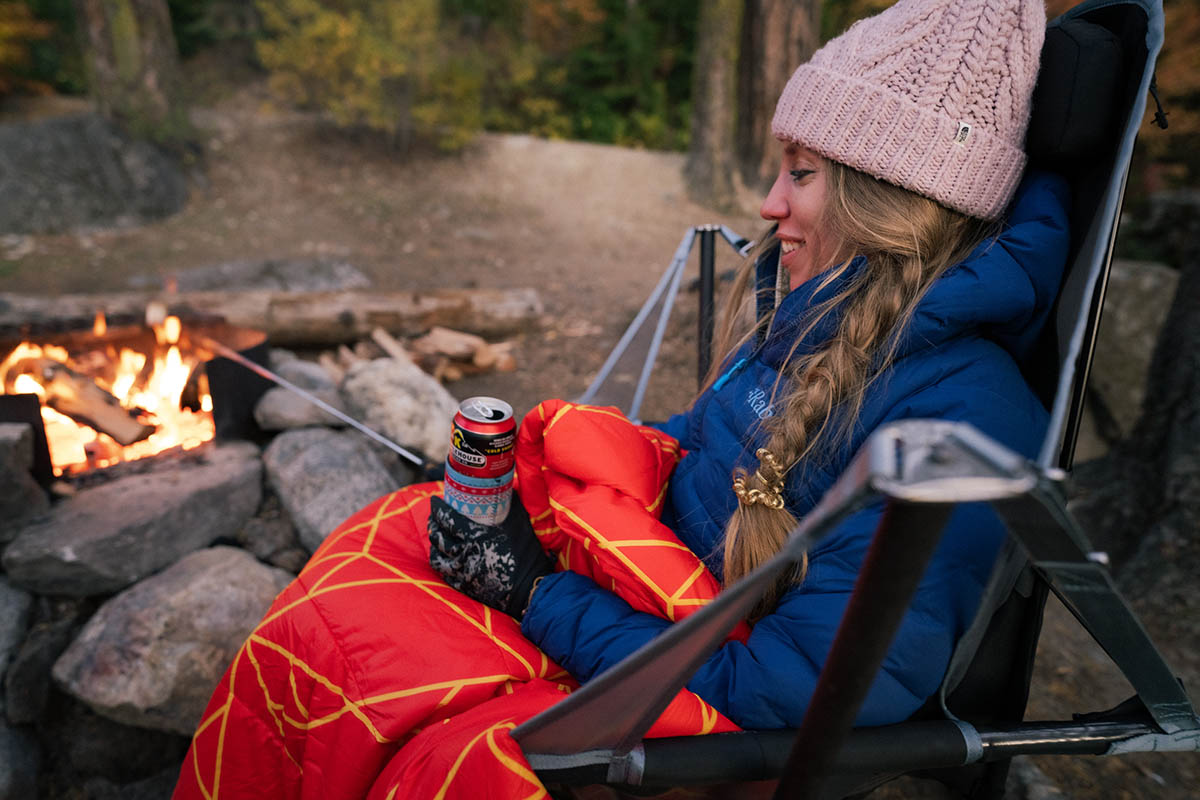 Weight and Packability
At 1 pound 1.1 ounces for the women's version, the Cubit Stretch Down Hoody isn't a particularly lightweight piece. For reference, other leading midweight options including Rab's own Microlight Alpine (14.6 oz.) and Arc'teryx's Thorium AR Hoody (14.8 oz.) shave a couple ounces, and Mountain Hardwear's similarly built Stretchdown Hoody also weighs a little less at 14 ounces (although it contains around 2 oz. less down). As I mentioned above, you can go even lighter with a premium and more technical design like Arc'teryx's Cerium LT (9. 9 oz.) or Feathered Friends' Eos (9 oz.), but these are lightweight pieces that lack the winter-ready warmth of the Cubit. All told, the Rab wouldn't be my first choice for weight-conscious backcountry missions, but it's perfectly serviceable for most outdoor activities and never felt overly heavy or cumbersome during our three-night backpacking trip in Patagonia.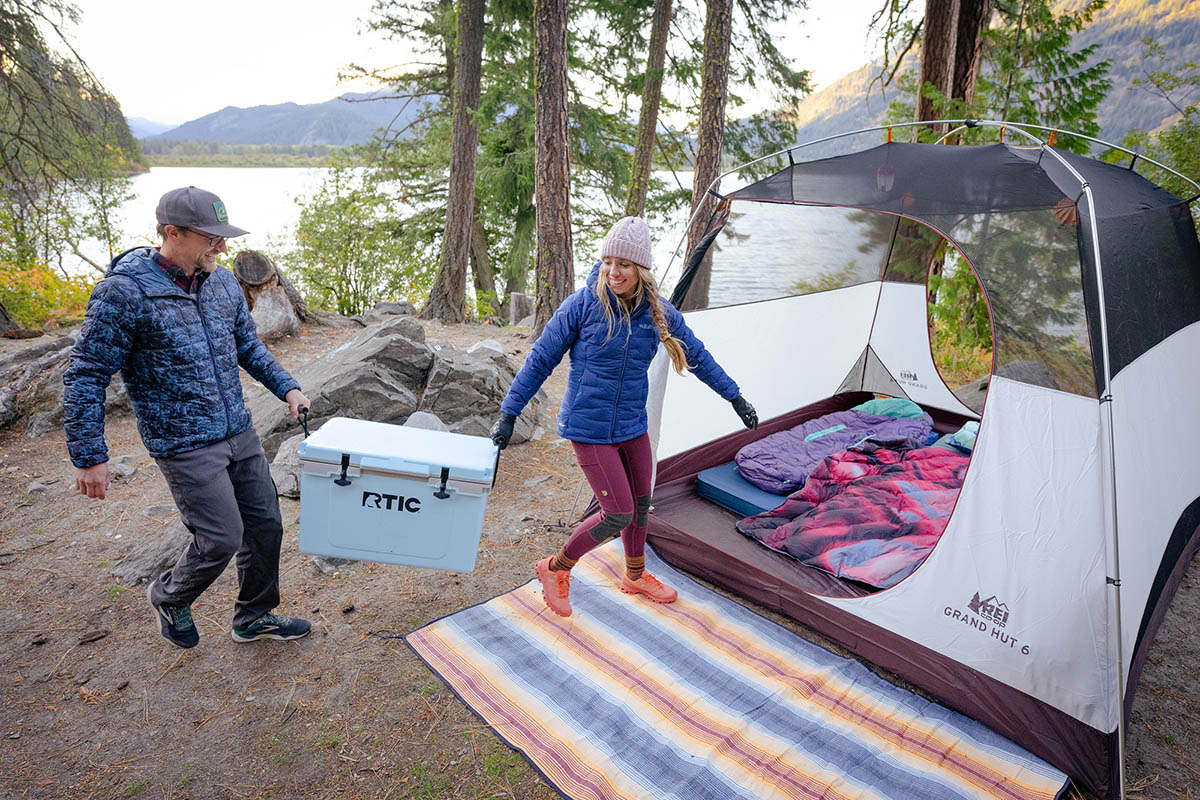 Packability is a similar story: The Cubit Stretch Down Hoody is relatively big and bulky when compressed, and it doesn't come with a stuff sack or dedicated pocket for packing away. To be fair, rolling the jacket into its hood is fairly easy and gets it down to about the size of an American football, but it wouldn't be my top pick for packing on multi-day outings into the backcountry. If that's your intended use, it may be worth stepping up to a more compressible option with higher-fill-power down, such as the aforementioned Cerium LT or Eos.

Build Quality and Durability
As we've come to expect from Rab, the Cubit Stretch Down Hoody has a very tough, confidence-inspiring feel and has held up well to regular use. I certainly haven't been easy on the jacket: I wore it almost daily this past fall and winter in Colorado, stuffing it haphazardly in my van and backpack with other sharp gear whenever it wasn't in use. Then I took it to Patagonia, where it was subjected to being crammed into my duffel bag on multiple flights and rubbing from my pack straps while backpacking. Despite all this, the Cubit has emerged pretty much unscathed: There's some minor discoloration along the cuffs and collar from dirt, but the shell is free of tears and snags with no leaking feathers, the zippers are all operating smoothly, and the rest of the jacket looks like new. Importantly, Rab doesn't provide a denier (D) measurement for the Cubit to quantify thickness, but I'd estimate it's somewhere around 20 or 30D (it feels very similar to—if not a little tougher than—my 30D Microlight Alpine).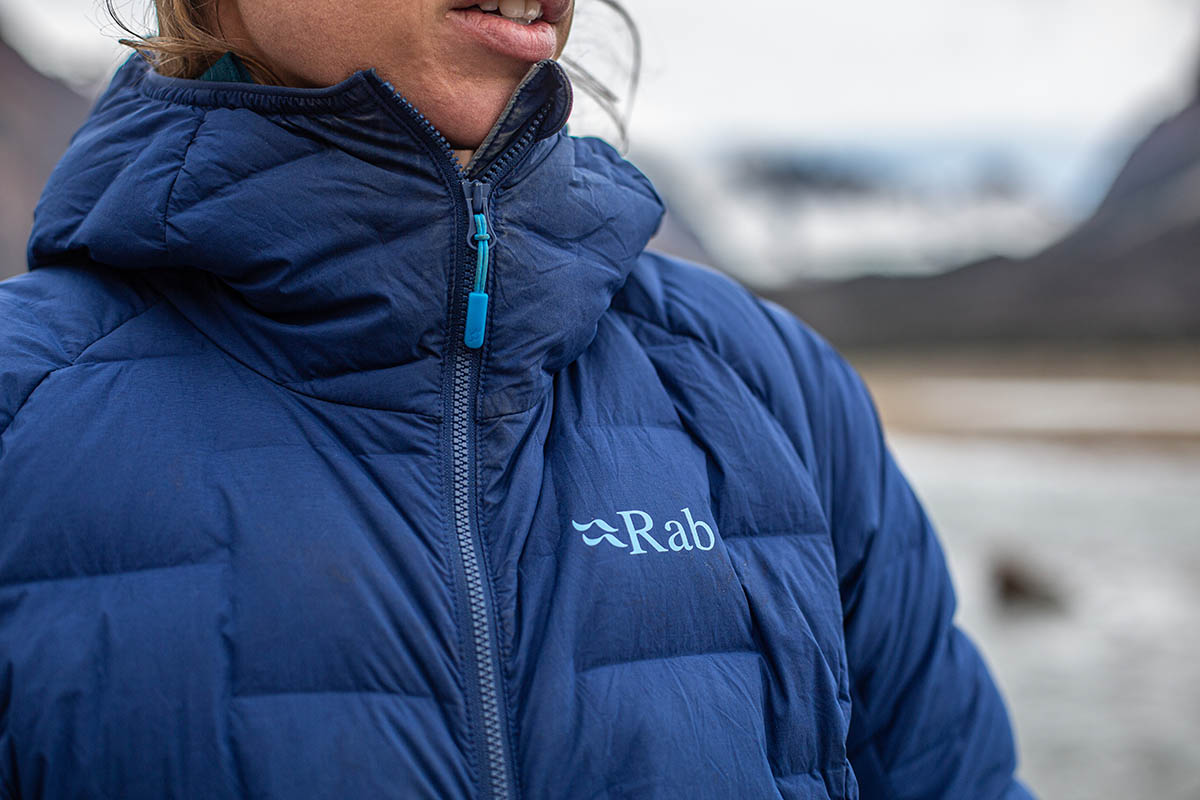 Key Features
Rab's Cubit Stretch Down Hoody doesn't boast as many features as some of their more technical offerings (like the Microlight Alpine or heavyweight Neutrino Pro), but it's nicely appointed for daily use and more casual outdoor adventures. Starting at the bottom, the hem features one drawcord at each side for dialing in fit and sealing out drafts. As far as storage goes, you get two generously sized hand pockets that easily swallow a large smartphone or gloved hands, as well as two handy dump pockets on the inside for stashing things like a hat or map. Rounding out the feature set, the hood is large, well insulated, and has a scuba-style design that fits snugly without restricting peripheral vision. Finally, all of the zippers (including the main zipper and those on the hand pockets) are water-resistant and do a good job at keeping moisture out.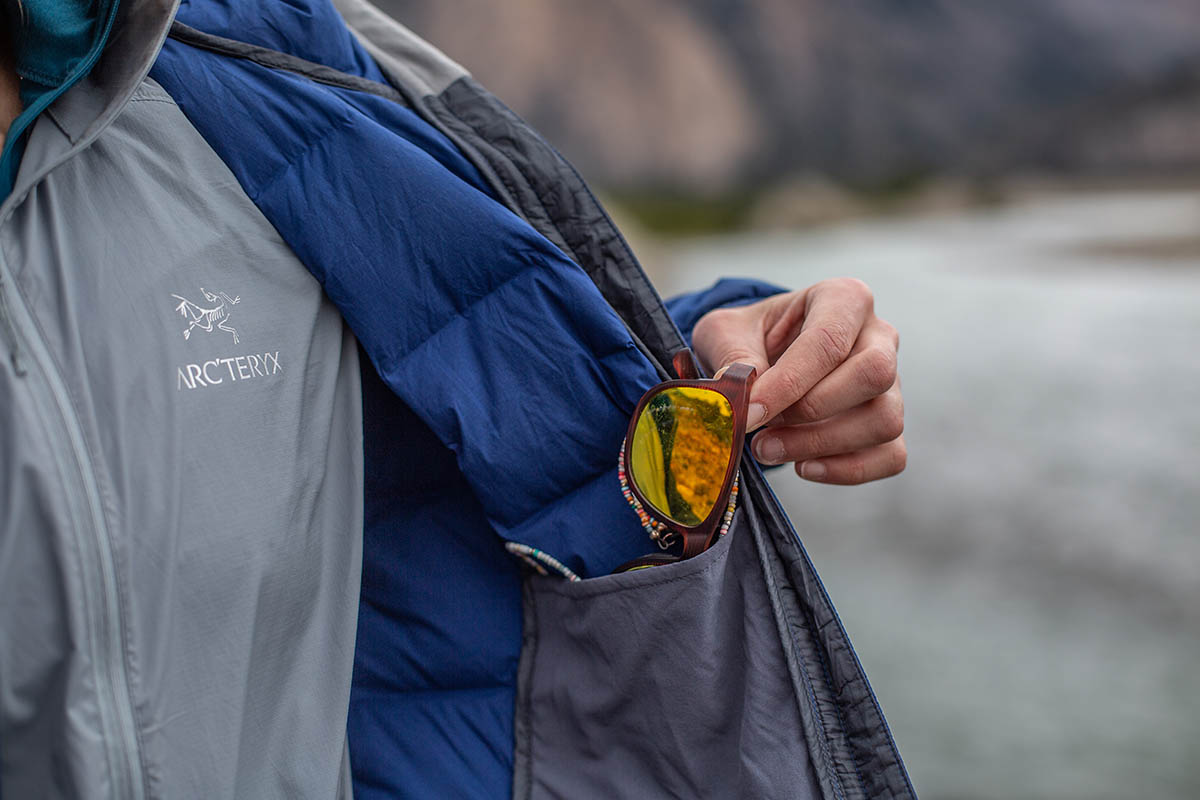 Fit and Sizing
In my typical women's size small, the Rab Cubit Stretch Down Hoody was streamlined with just enough room to add a couple light layers underneath (for reference, I'm 5'6" and around 135 lbs). Dubbed a "slim fit," the Cubit does taper in around the waist, which provides less room for layering but promotes a very flattering, body-hugging fit that's not overly snug or restrictive. Importantly, I've been able to hike, backpack, and even climb in the Cubit without any noticeable impact on mobility (the stretchy build helps a lot). And the 26.4-inch length has been just about perfect for me, allowing me to reach overhead or bend down without the jacket riding up past my waist. Those who plan to layer heavily underneath may want something a little more accommodating (we've found Patagonia's "standard" fit to be pretty generous), but I personally love the Rab's trimmer cut.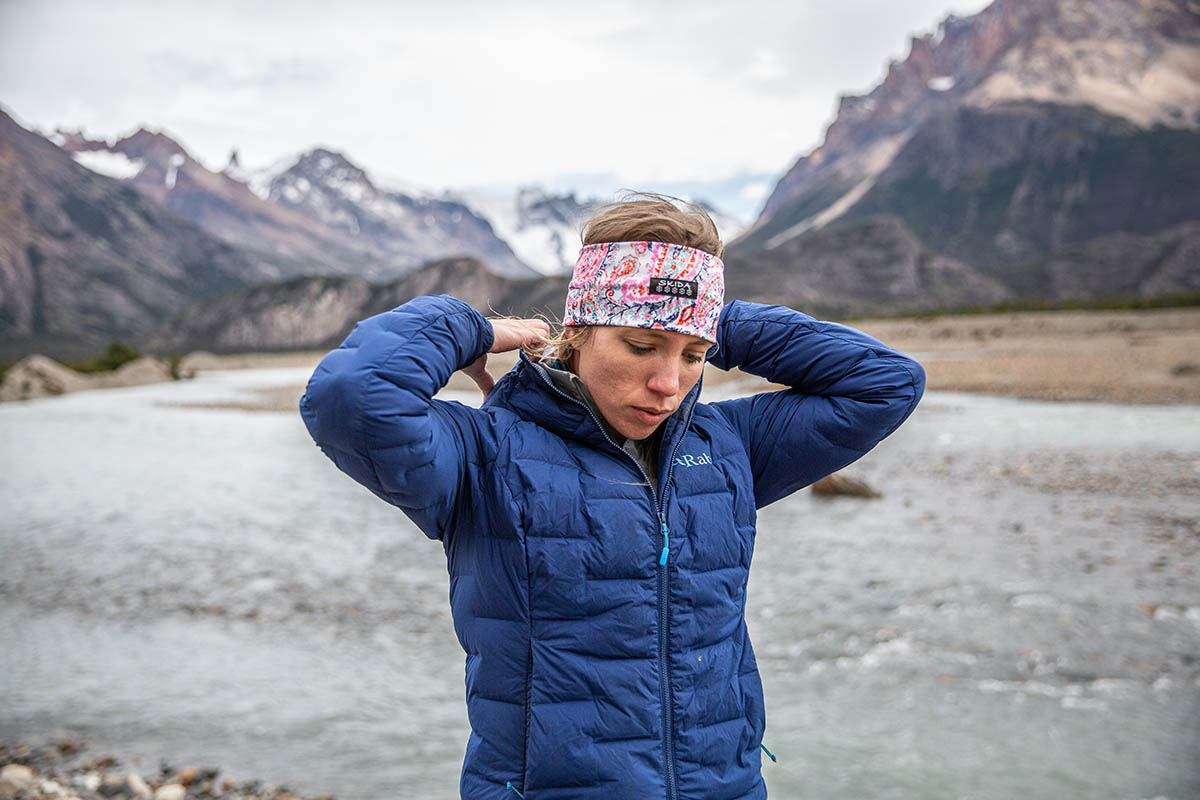 Sustainability
We really appreciate when companies go the extra mile in creating sustainably made products, and Rab includes a couple of key measures with their Cubit Stretch Down Hoody. First, the DWR coating is free from fluorocarbons, which are known to be harmful to the environment. Second, the jacket utilizes 100-percent-recycled down, which we appreciate for minimizing waste (you can read more about their sustainability efforts here). There's certainly room for improvement—we hope to see Rab tack on Fair Trade Certification or bluesign-approved fabrics in the future. But we certainly appreciate the steps they've taken so far and consider them a logical addition to the premium build.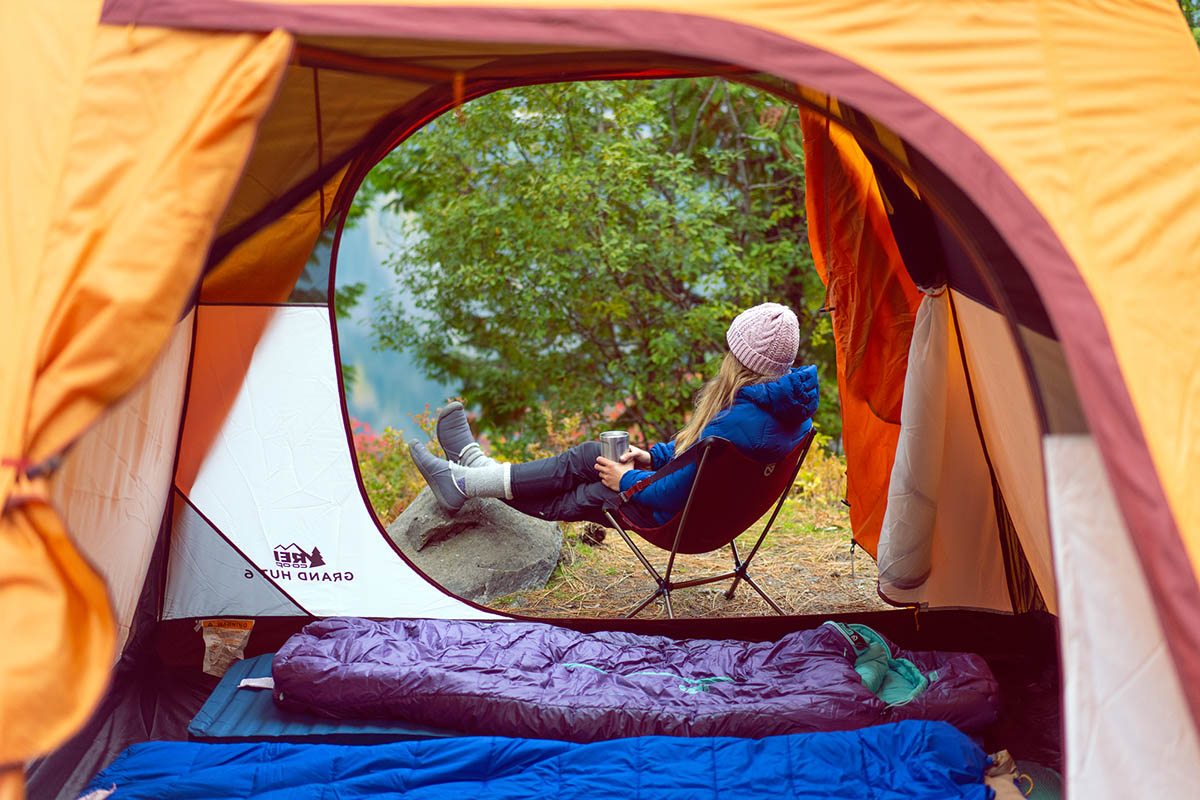 Other Versions of the Rab Cubit Stretch Down
In addition to the women's hoody that I tested, there are several other offerings in Rab's Cubit Stretch Down collection. On the women's side, options include a vest ($225) and Parka ($325), with the main differences being weight and coverage. For men, Rab offers the unique Cubit Stretch Down Smock for $280, which trades the hoody's full-length zipper for a 1/4-zip design. Rounding out the collection is the men's Cubit Stretch Down Hoody, which is largely identical to the women's version reviewed here but weighs a little more (1 lb. 3.9 oz.), has a longer back length (29.1 in.), and comes in different colorways.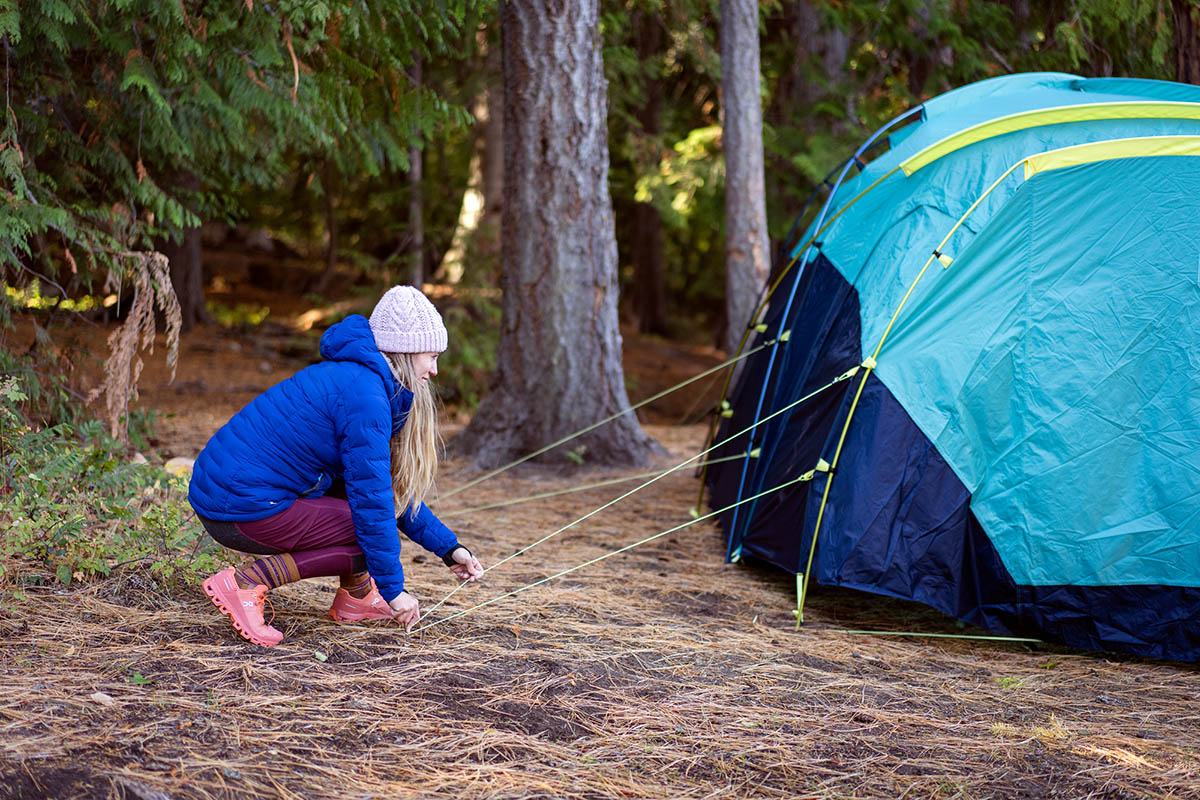 What We Like
Stretchy shell gives the Cubit Stretch Down Hoody a very cozy and pliable feel—it's one of the most comfortable down jackets we've worn to date.
Generous fill power (5.1 oz.) and quality 700-fill down are a great match for most winter conditions (down to around freezing with minimal layering).
Stitch-free construction helps maximize warmth and wind resistance while creating a very sleek and streamlined look.
Great weather protection for a down jacket, including hydrophobic down, a water-resistant shell, and weather-ready details.
 
What We Don't
Fairly big and bulky when packed and doesn't include a stuff sack or dedicated stuff pocket.
On the pricey end of the down jacket spectrum at $300.
You can get more warmth for less weight in the midweight down jacket category.
Not the most backcountry-friendly option due to the heavier and bulkier build and lack of technical features.


Comparison Table

The Competition
Rab's Cubit Stretch Down Hoody stands out among the down jacket competition for its excellent warmth inside a supremely soft and stretchy shell. The Cubit's closest competitor is Mountain Hardwear's Stretchdown Hoody, which stacks up pretty favorably across the board. It's a little less warm than the Rab with 3.5 ounces of 700-fill down, but it's lighter at 14 ounces, cheaper at $275, and tacks on a two-way center zipper and exterior chest pocket (although it has only one internal dump pocket). The biggest downside is a lack of protection, including a standard nylon shell and no hydrophobic down. But this may not be a deal breaker for some, and the Stretchdown's similar performance for $25 less will be enough to sway many.
 
From within Rab's own lineup, their Microlight Alpine Down Jacket is another midweight option with helpful weather-ready features. As I touched on above, the Microlight Alpine weighs a little less than the Cubit at 14.6 ounces while offering similar warmth (it contains 5.1 oz. of 700-fill down). Like the Cubit, the Microlight is also well equipped to handle wind and light moisture with a tough Pertex Quantum shell, DWR coating, and hydrophobic down. In testing the jacket, we also liked the brimmed hood, which feels reminiscent of a hardshell jacket and offers great all-around coverage and protection. The biggest difference is in terms of comfort: The Microlight feels like a standard down jacket with a basic nylon shell, while the Cubit is noticeably softer, more supple, and more pliable. Overall, unless the slight jump in weight is a deal breaker for you, we think the Cubit is the more appealing midweight option and worth the extra $20.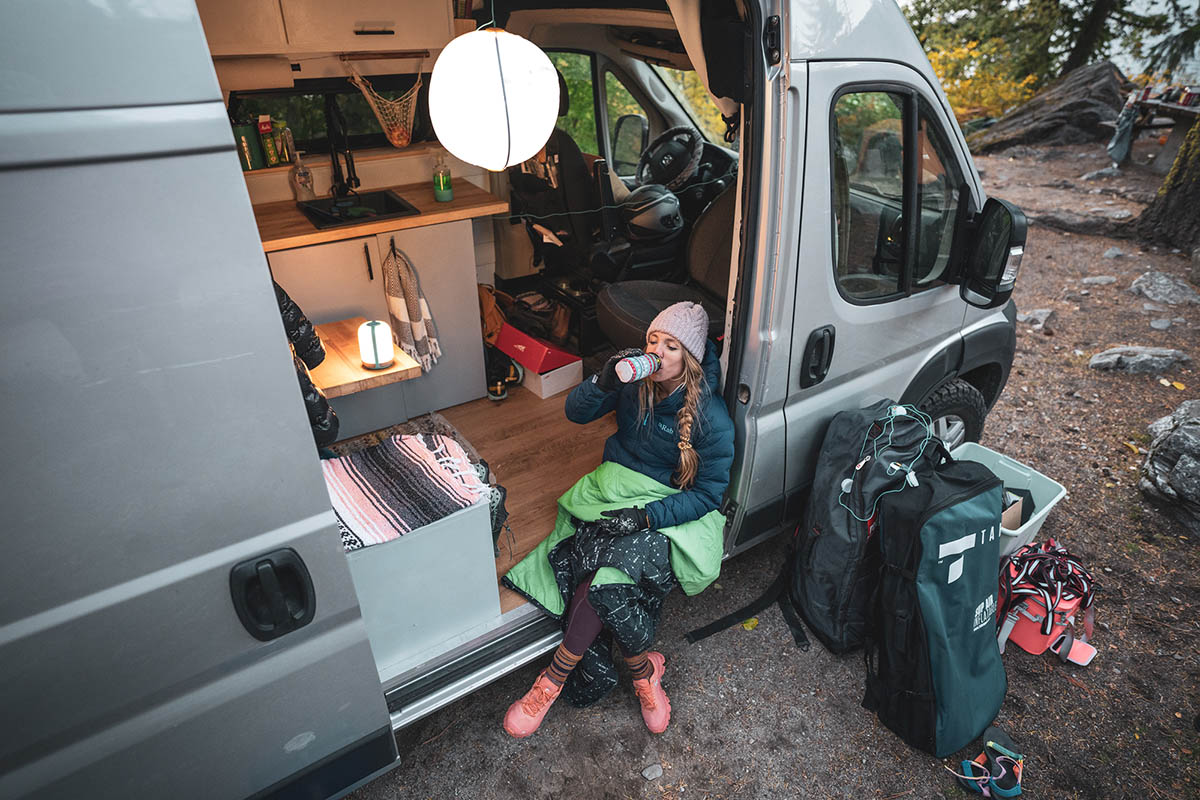 For a step up in warmth, Rab's Neutrino Pro is our favorite heavyweight option this year. For $75 more than the Cubit Stretch Down, the Neutrino Pro adds a sizable boost in warmth with 7.5 ounces of more premium 800-fill down. As a result, the Neutrino Pro is both loftier and warmer for the weight than the Cubit (it checks in at 1 lb. 1.7 oz.). In terms of features, the Neutrino Pro also tacks on an adjustable and helmet-compatible hood with a stiff brim (similar to the Microlight above) for fending off precipitation, adjustable cuffs for securing over or under gloves, and a stuff sack for packing the jacket down on backcountry adventures. As expected from Rab, the Neutrino Pro is also weather-ready with water-resistant zippers, an upgraded Pertex Quantum Pro shell, and hydrophobic down. It's too heavy and thick for shoulder-season use (the Cubit is the better option for these conditions), but the added warmth and technical feature set are great for backcountry adventures in the depths of winter.
 
Like Rab, Arc'teryx is another leader in technical mountain apparel, and their midweight competitor to the Cubit is the Thorium AR Hoody. The Thorium is a slight step down in warmth compared to the Rab with 4.6 ounces of 700-fill down, but it adds synthetic Coreloft insulation (80 and 140g) in moisture-prone areas like the shoulders and hood for a sizable boost in wet-weather assurance (unlike down, synthetic will continue insulating if it gets wet). The Thorium is also a little lighter at 14.8 ounces, includes a stuff sack for packing down, and stacks up similarly in terms of storage and durability. It does cost $25 more and lacks the softness and stretchiness of the Rab, but it's a very premium-feeling design and a nice alternative for those who value protection over all-out comfort.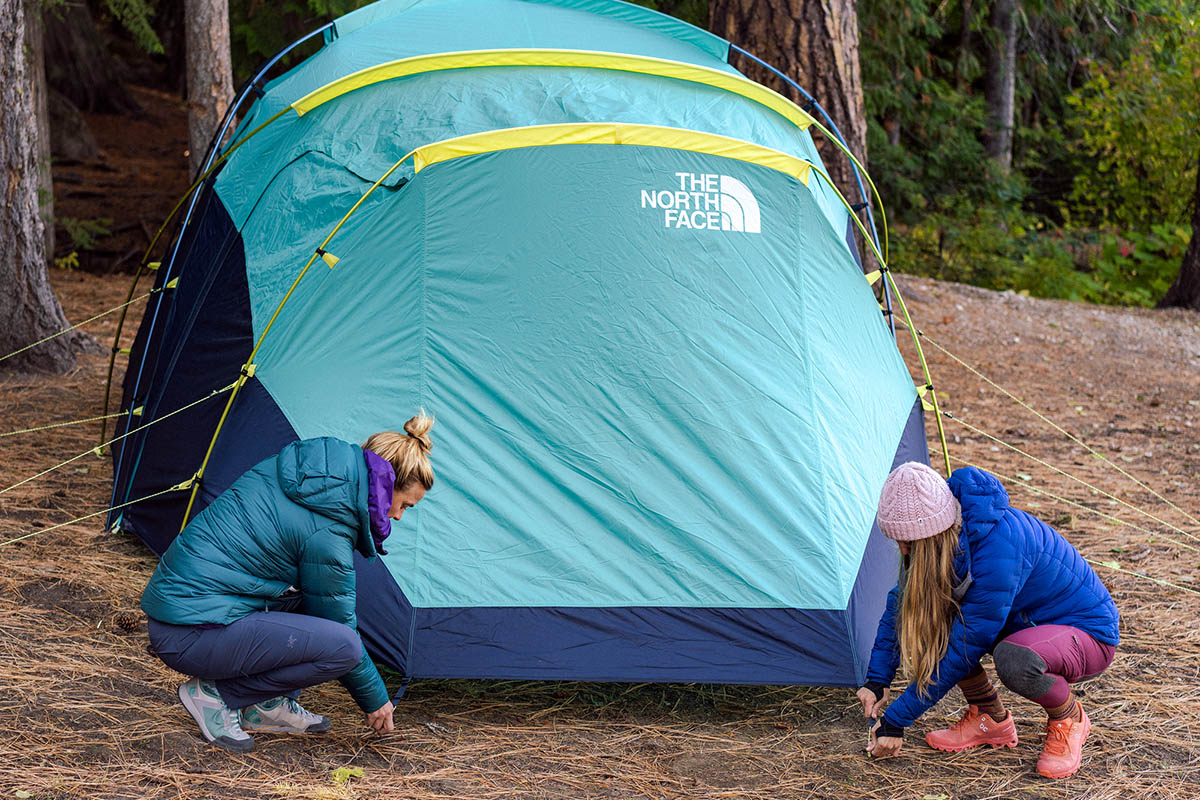 Last but not least is a more budget-friendly alternative to the Cubit: Outdoor Research's $229 Coldfront Down Hoodie. For around $70 less than the Rab, the Coldfront is even warmer with 6.3 ounces of similar-quality 700-fill down and is noticeably thicker and loftier as a result. Like the Arc'teryx Thorium above, OR also included synthetic insulation (150g VerticalX ECO) for additional wet-weather protection in key areas. You also get additional features like adjustability at the hood, internal hand gaiters with thumb loops, and a soft lining along the hand pockets. However, weight jumps to a hefty 1 pound 5.2 ounces, and the Coldfront lacks the Rab's weather-ready shell and hydrophobic down. This makes the Cubit the clear winner for dedicated backcountry use, but the cheaper Coldfront is a warm and well-built alternative for everyday use.
If you're thinking about buying gear that we've reviewed on Switchback Travel, you can help support us in the process. Just click on any of the seller links above, and if you make a purchase, we receive a small percentage of the transaction. The cost of the product is the same to you but this helps us continue to test and write about outdoor gear. Thanks and we appreciate your support!
Depending on the seller, most products ship free in the United States on orders of $50 or more. International shipping availability and rates vary by seller. The pricing information on this page is updated hourly but we are not responsible for inaccuracies.
Read More From Switchback Travel