Salomon Predict Hike Mid GTX
Price: $180
Weight: 1 lb. 11 oz. (men's size 9)
Waterproof: Yes (Gore-Tex)
What we like: Light, flexible, and comfortable out of the box; secure lacing system.
What we don't: Sneaker-like design translates to diminished trail performance; pretty narrow fit.
See the Men's Predict Hike Mid GTX  See the Women's Predict Hike Mid GTX
Salomon's reputation in the hiking footwear world is well established, with their models often topping our "best of" lists. And as the dominant force in hiking footwear, they have the luxury to take a few risks—which is exactly what they've done with the Predict Hike. Its style-first design makes the boot one of the best on the market at crossing over from the trail to town with a sneaker-like look and feel. Unfortunately, as we found testing the boot in Patagonia, its flexible and thin build does come with some performance downsides in tougher terrain. But if you like the looks and want a lightweight over-the-ankle boot for day adventures, the Predict Hike is a good option. Below we outline our experiences with the Predict Hike. To see how it stacks up to the competition, see our article on the best hiking boots.
 
---
Table of Contents
---

Performance
Comfort
Straight out of the box, it was clear the Salomon Predict Hike Mid GTX was a unique boot—neither a trail runner nor a traditional hiking design. I had a little trouble figuring out what the boot was best for, but in the end its sneaker-like feel proved to be a decent option for short to moderately challenging day hikes. The boot's substantial cushioning underfoot takes most of the sting out of a rocky trail, and the flexible build makes it easy to cover ground quickly (there was essentially no break-in period required). That said, the Predict Hike is far from a performance product, lacking stability in technical terrain (more on this below). Further, the midsole doesn't have the springy and nimble feel that's often associated with a trail runner-inspired design like Altra's Lone Peak Mid or Topo Athetic's Trailventure. But for casually exploring the established trails around El Chaltén, Argentina, which ranged from roughly 5 to 15 miles, the Predict Hike was a nice match.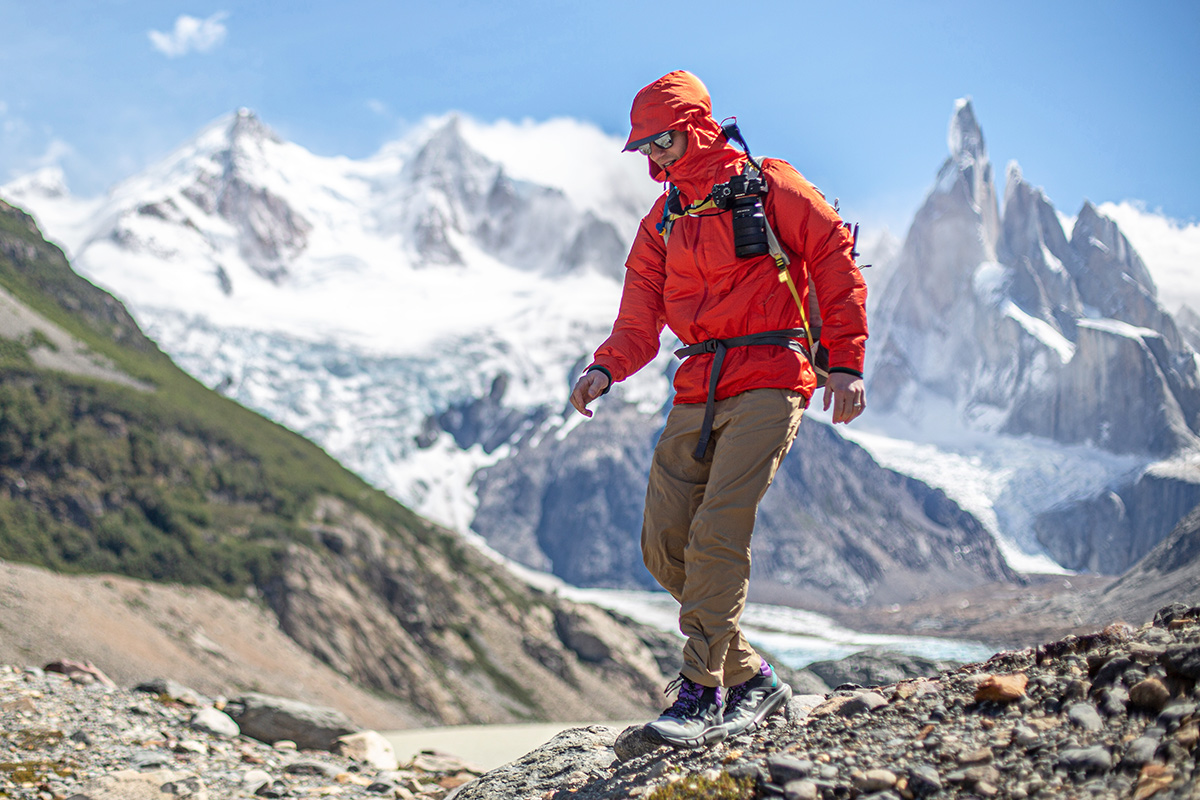 One unexpected challenge was sliding my feet into the Predict Hike in the first place. The fabric loop at the heel sits too low to provide much leverage for pulling the boot into place, and the flexible collar meant I had to basically slam my heel down to get the boot onto my foot. Needless to say, this was a pretty big annoyance. On the positive side, the cushioned collar and tongue proved to be comfortable even when cinched tight—and taking off the boots is a less arduous process—but simply putting on the boot was surprisingly difficult.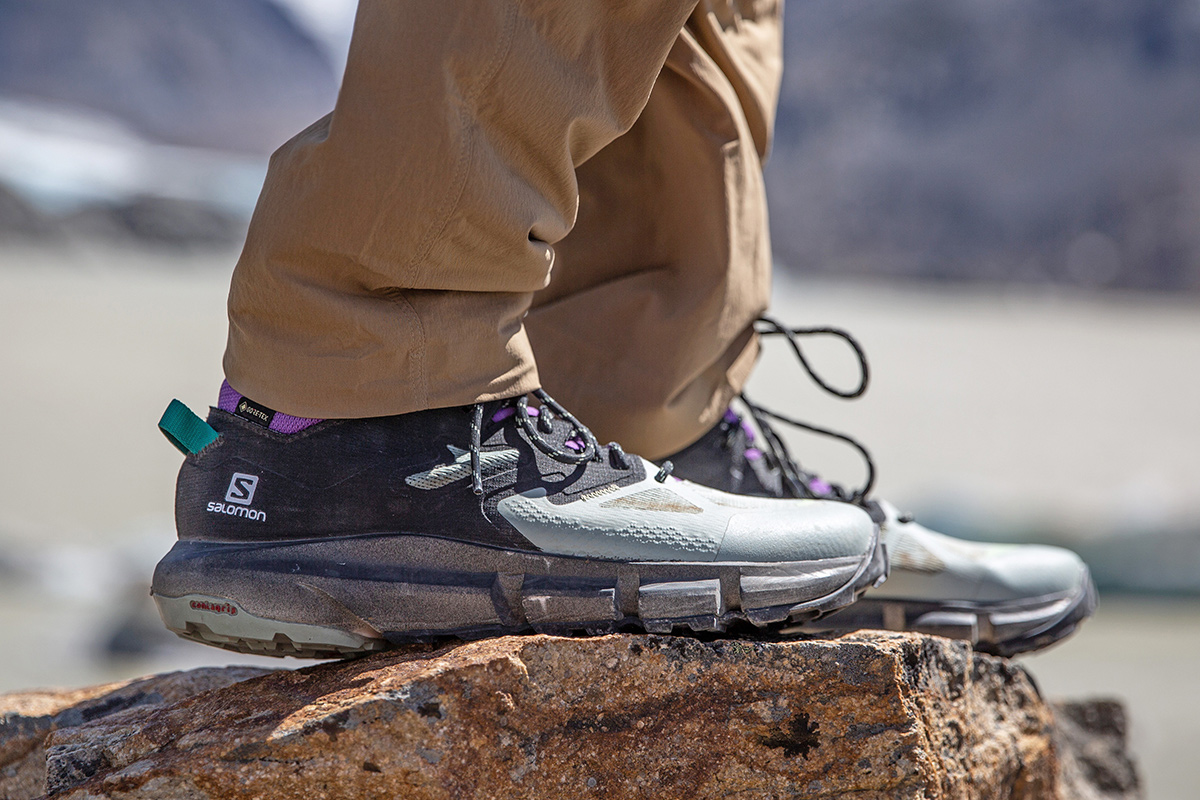 Weight
Weighing 1 pound 11 ounces on my scale for a men's size 9 (just over its listed weight of 1 lb. 10.6 oz.), the Predict Hike is undeniably light, undercutting many low-top hiking shoes. For comparison, our top-ranked hiking boot for 2022—Salomon's own X Ultra 3 Mid GTX—tips the scales at 1 pound 15.7 ounces. And the popular Merrell Moab 2 Mid WP and Hoka One One Anacapa also clock in heavier than the Predict Hike, by 9 ounces and 5 ounces respectively. The closest competitors are trail-runner inspired models like the Altra Lone Peak ALL-WTHR Mid (1 lb. 14 oz.) and Topo Athletic's Trailventure WP (1 lb. 13 oz.). Obviously the Predict Hike stands out, weight-wise, but as with many lighter models, that comes with some sacrifice in other areas.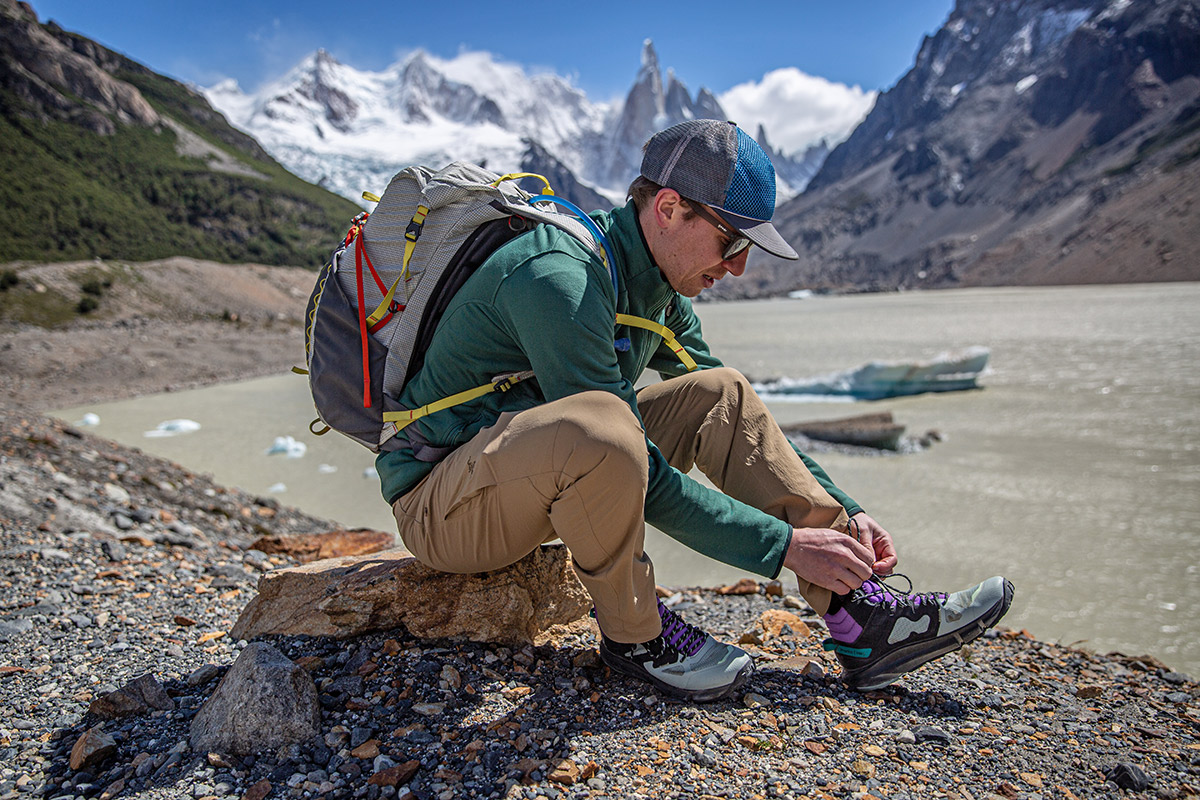 Traction
As with Salomon's other hiking boots, they kept the Predict Hike's outsole design in-house with their Contagrip rubber. In this case, they used the All Terrain compound, which is intended to be their most versatile in terms of stickiness and durability. I found the grip on rock to be reasonably secure, and the average-depth lugs did a fine job biting into dirt. That said, the outsole design in general isn't super aggressive and I've found it prone to caking up a fair amount in mud. It's also worth noting that there are cutouts in the outsole with exposed blown rubber (the soft foam-like material that's common on road running shoes). This translates to a bit less surface area for the boot to grip, and it's less confidence-inspiring in off-camber or hairier situations. But again, for the boot's intended day hiking applications, its traction is perfectly acceptable.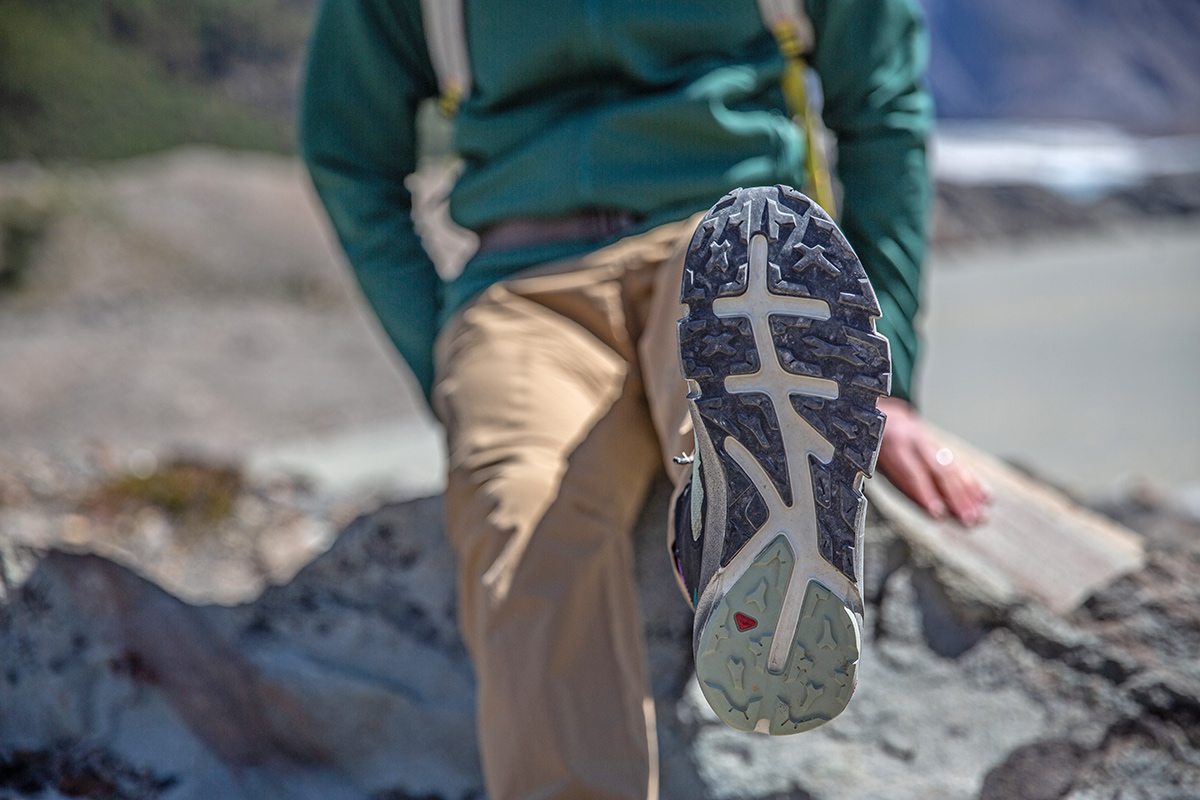 Stability and Support
A common perception is that an over-the-ankle boot will translate to a boost in stability compared with a low-top shoe. But in testing, we've found the amount of additional support can vary dramatically. In the case of the Predict Hike, it feels a whole lot like a flexible hiking shoe, and when carrying a heavier load or moving over more challenging terrain, the raised collar doesn't offer much extra stability. It's true that the lacing system does a nice job keeping things snug around the ankle, but there's very little structure otherwise. And underfoot, the flexible sole and rather narrow base means it lacks the planted feel of a more traditional boot, like Salomon's X Ultra 3 Mid GTX, which costs $15 less.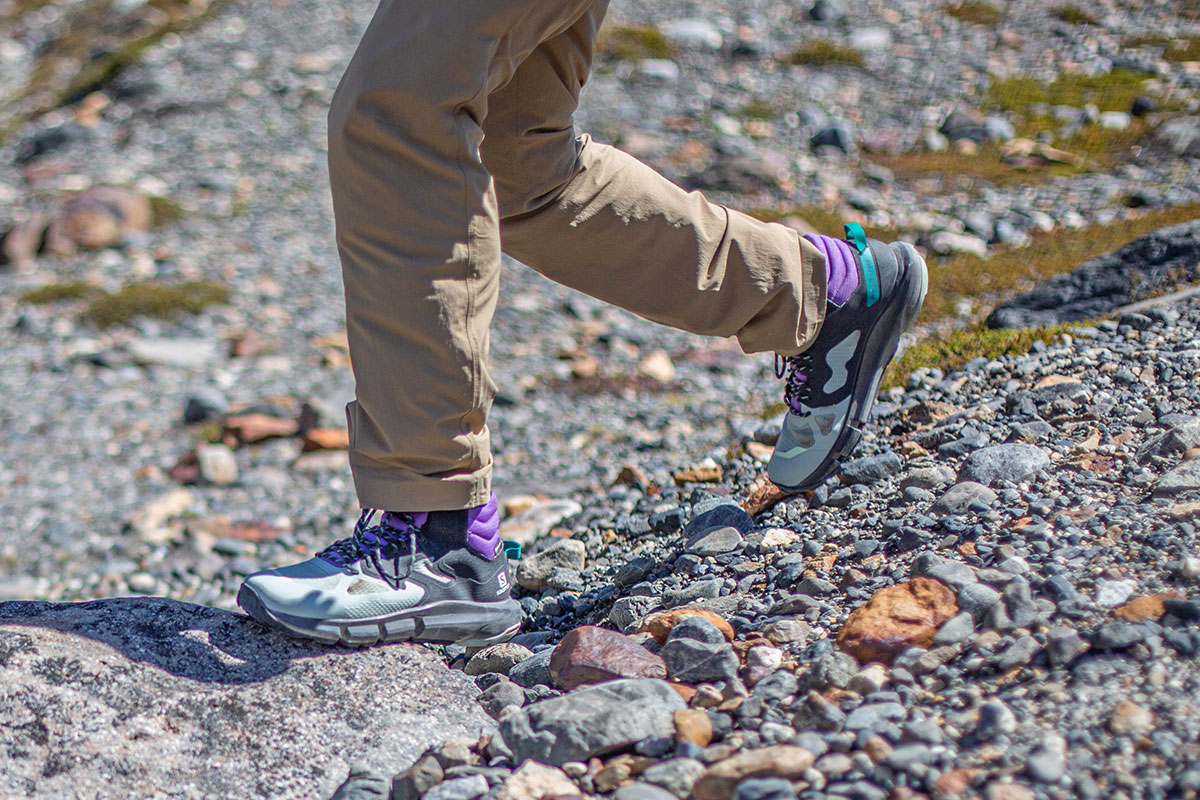 Waterproofing
With a reliable Gore-Tex liner, the Predict Hike does a nice job fending off light moisture and protecting your feet during creek crossings. In terms of coverage, the boot is waterproof midway up the ankle, which is where the tongue separates from the upper. This setup offers sufficient protection for dips into low water, but you'll want to be mindful of your steps to keep water from flowing in over the top. In addition, the synthetic overlays are very water resistant, although I did find the sections of mesh in the upper were pretty quick to soak up moisture. The good news: The thin mesh is quick to dry.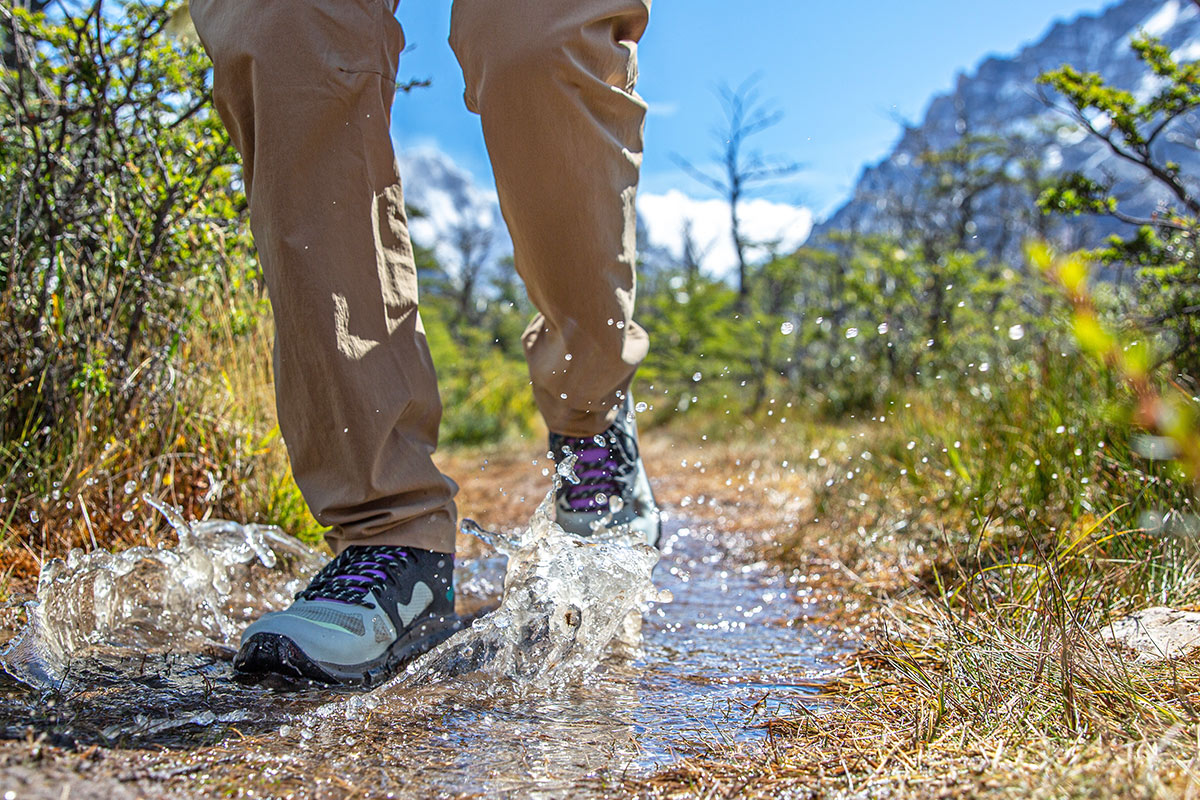 Breathability
Gore-Tex shoes never stand out in terms of breathability, and it's notable that the Predict Hike is not offered in a non-waterproof version. That being said, the boot's thin upper material and pretty extensive use of mesh does translate to moderate levels of breathability. In weather that varied from the high 40s to mid 70s, I never truly overheated in the boots, although I did get fairly warm on one especially sunbaked day hike. Those who prefer a non-waterproof model for summer adventuring will be better off with Salomon's X Ultra 4 Mid Aero, but as Gore-Tex boots go, the Predict Hike is a pretty good breather.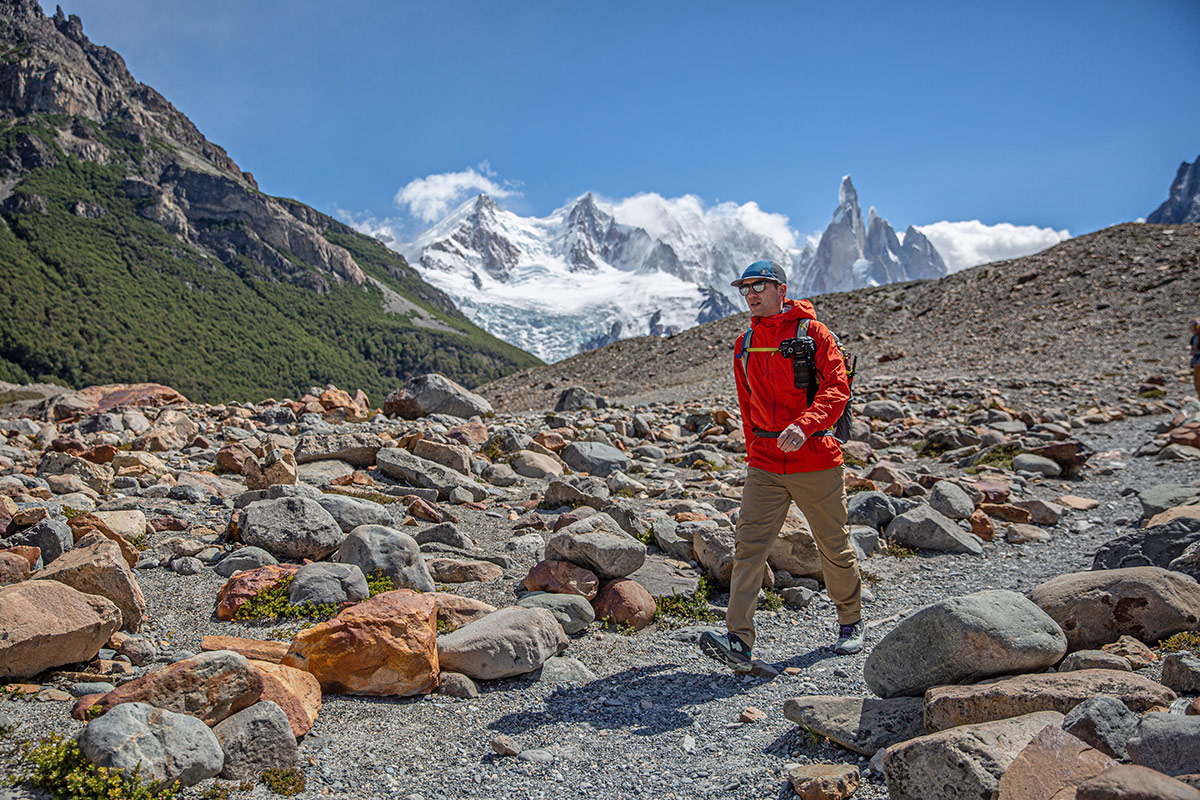 Toe and Ankle Protection
With light reinforcements over the toes and a raised strip of rubber at the front, the Predict Hike offers a small bump in protection compared to most trail running shoes. If you catch a rock straight on—as I did a number of times on the trail—the shoe does a decent job limiting the sting from those hits. But it's still noticeably less robust and protective than a more traditional hiking boot (like Salomon's X Ultra options), especially along the sides. Ankle protection is also moderate, with fairly thick cushioning all around the collar (including at the Achilles). All told, we think protection lines up nicely with boot's day hiking intentions.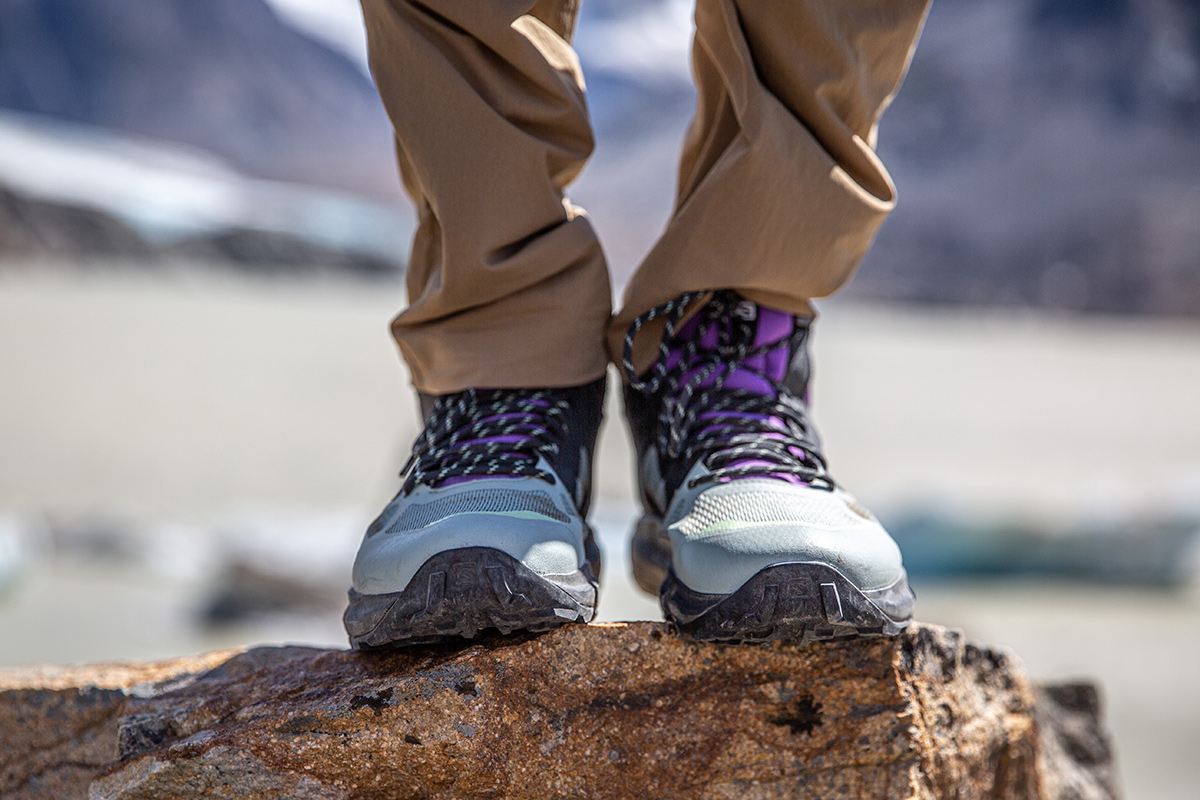 Build Quality and Durability
We've largely had positive experiences with the build quality and longevity of Salomon hiking footwear. That said, the Predict Hike's casual styling and thin, running shoe-inspired materials are showing early signs of excessive wear. In particular, there's a lot of exposed foam—both at the midsole and mixed in between the hard rubber of the outsole. This foam is quite soft and quickly picked up numerous cuts and damage from the rocky trails in Patagonia. In fact, one small chunk of foam at the heel is missing entirely. This issue, along with the thin materials used all around the upper, make it a boot we don't recommend for those with particularly rough and rocky local trails. But for smoother and more well-maintained paths, the Predict Hike should have a decent lifespan.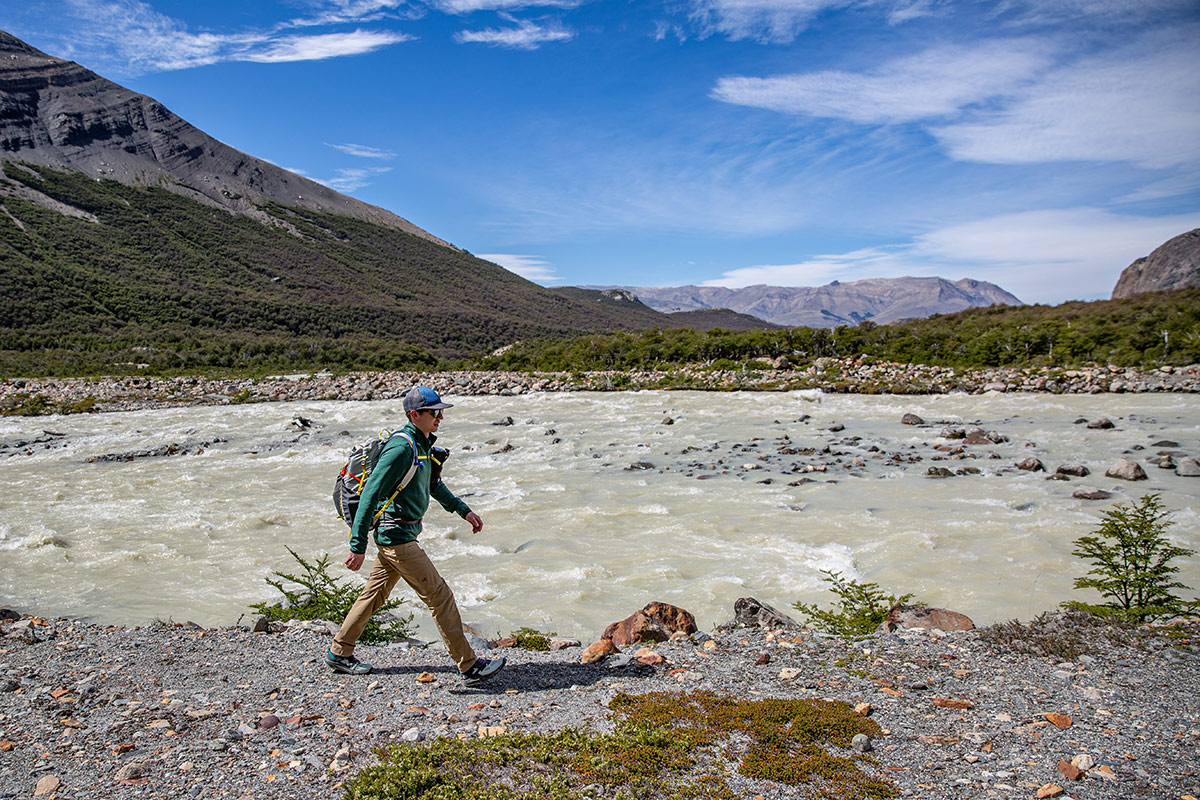 Fit and Sizing
Salomon hiking shoes have traditionally run on the narrow end of the spectrum, and this definitely holds true with the Predict Hike boots. I ordered my standard men's size 9, and while the length was good for me, I found the fit in the toe box to be a little tight. I have slightly narrow feet to begin with, so this isn't a complaint I often have (and I haven't had this complaint about other Salomon footwear, either). As a result of the snug fit and the spartan and fairly firm interior, I experienced discomfort on long descents where my big toe pressed up against the front and sides of the boot. Sizing up a half size may have helped in this case, but that would likely have created issues with length.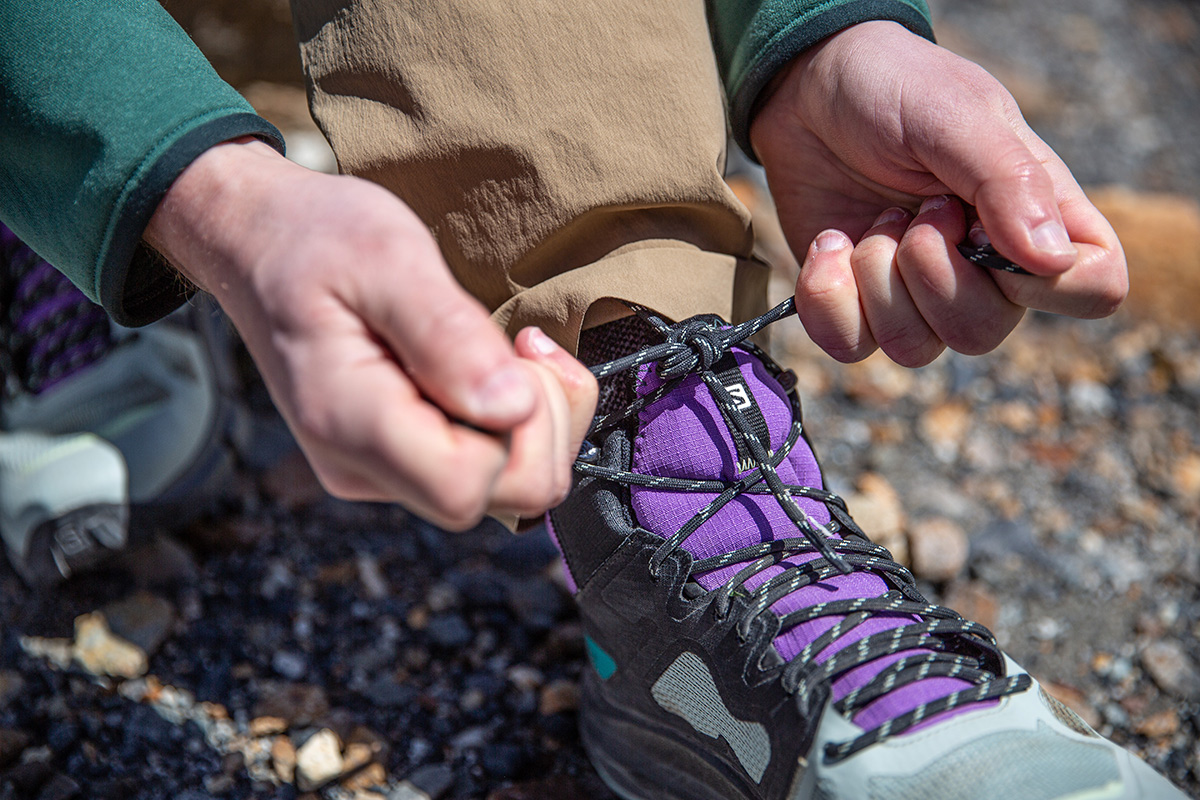 Other Versions
I tested the men's mid version of the Predict Hike, but Salomon also sells a women's Predict Hike Mid GTX in different colorways. A low-top version of the Predict Hike GTX is also available for $160 and shaves even more weight—at 1 pound 8.1 ounces for the men's, 1 pound 4.7 ounces for the women's. But as we mentioned above, Salomon only offers the Predict Hike in Gore-Tex waterproof options, which may be too warm for many who hike in higher temperatures. For a more breathable and quick-draining mid-height boot, we recommend checking out Salomon's X Ultra 4 Mid Aero.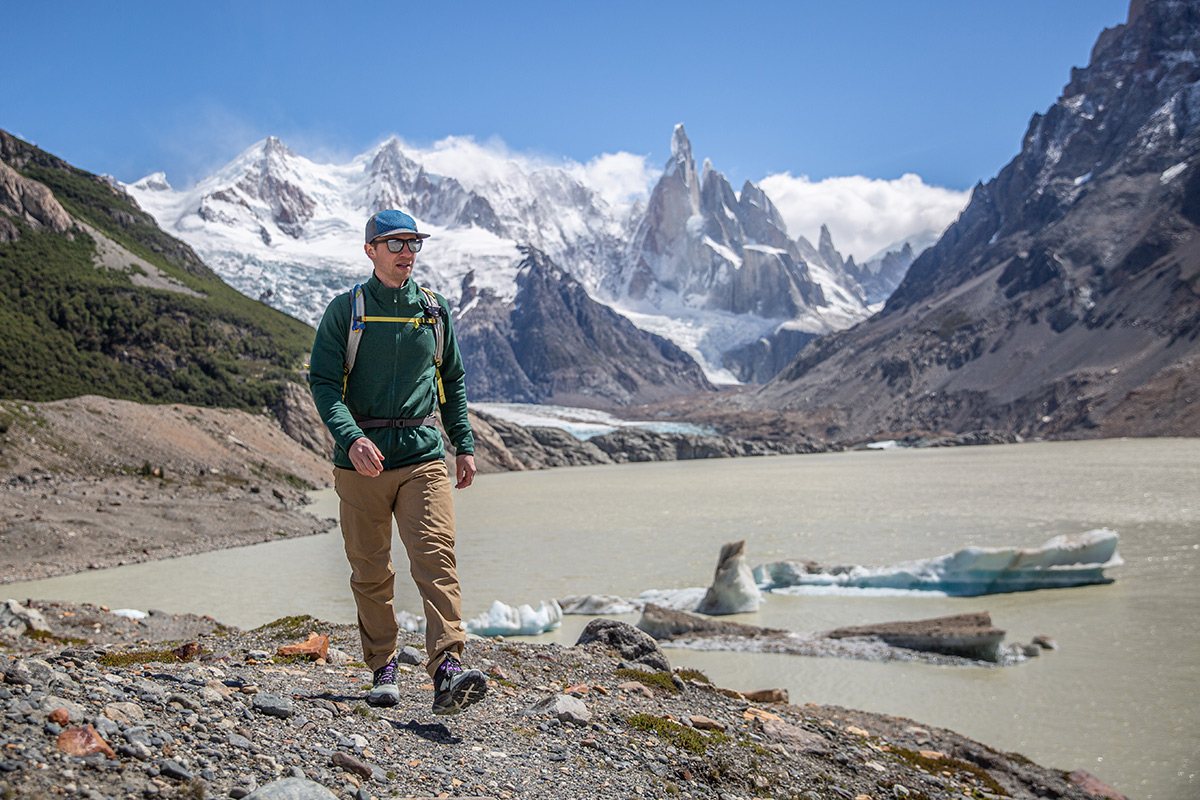 What We Like
Lighter weight—at just 1 pound 11 ounces—than most comparable models, including many low-top hiking shoes.
Flexible, comfortable fit right out of the box with no break-in period.
Fun sneaker-like styling transitions easily from the trail to town.
 
What We Don't
Narrow fit in the toe box led to discomfort on longer days and steep terrain.
Foam midsole is exposed and can be damaged easily on rough trails.
Little ankle support, despite mid-height collar and secure lacing system.
Flexibility and overall lack of structure affects performance on rough trails or when carrying a heavier pack.


Comparison Table

The Competition
The Predict Hike slots into a small opening in Salomon's lineup as a style-first hiking boot. But there's a huge variety of hiking boots to chose from, both within and outside the brand. For a more performance-oriented design, Salomon's own X Ultra 3 Mid has been a longtime favorite of ours. The X Ultra gets you a noticeable bump in stability and support with its sturdier build and wider base, improved traction with a more aggressive outsole, and greater durability overall. If you plan to put on serious miles or do more than the occasional day hike, we think the X Ultra is the far superior option.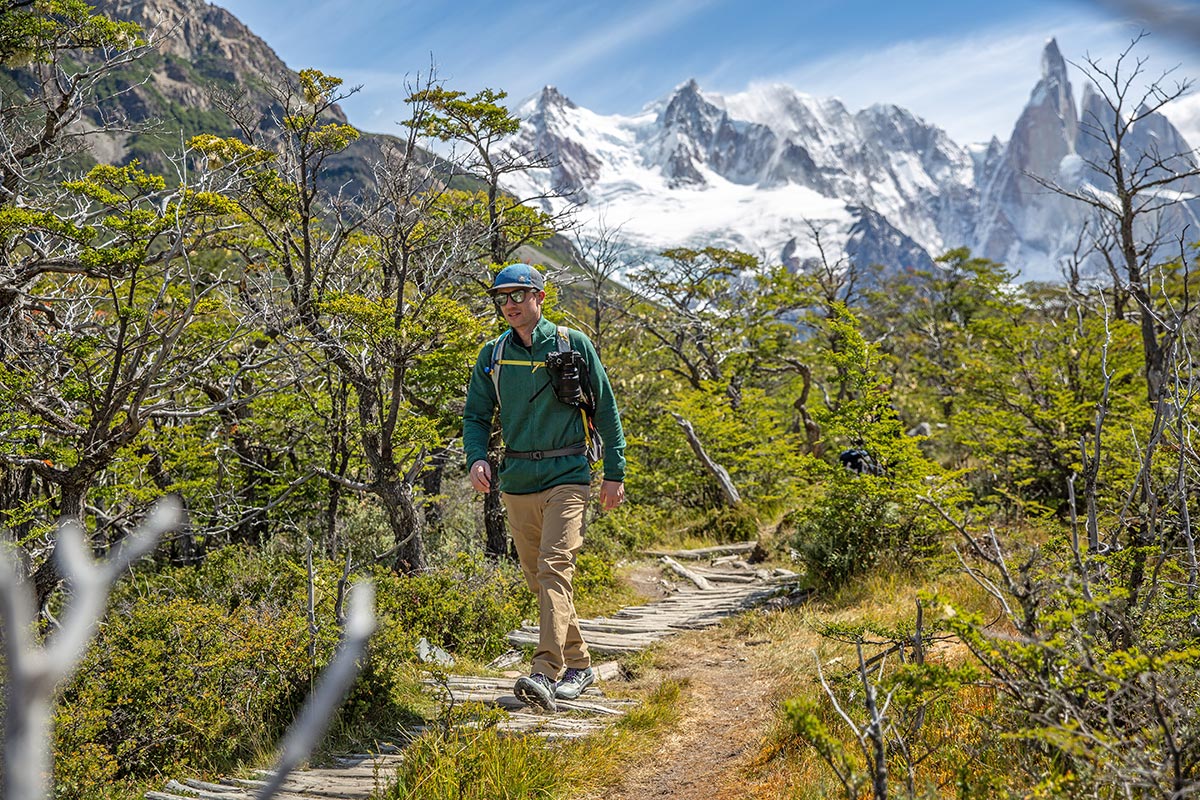 Another Salomon product that we recently tested is their new OUTpulse Mid. Similar to the Predict Hike, the OUTpulse is very lightweight, has a modern look, and features some running shoe-inspired traits, like its responsive and cushioned midsole. But despite costing $20 less, the OUTpulse struck us as the more trail-worthy of the two designs. In particular, you get a nice upgrade in traction with its more aggressive outsole, and it trades the Predict Hike's large sections of exposed soft foam along the sides for a more traditional setup. In truth, neither are equipped for rough trails or hauling a heavy load, but we think the OUTpulse is the more well-rounded day hiker (for more, see our in-depth OUTpulse review).
Moving away from in-house alternatives, Altra's Lone Peak ALL-WTHR boot is an over-the-ankle take on their popular trail runner. A 1 pound 14 ounces, the Altra is the heavier of the two options but sits higher on the ankle and has a noticeably tackier and more aggressive outsole. In terms of fit, the Altra is much wider throughout, including a generous toe box (a nice feature for high-mileage hikers and backpackers or those with wide feet). We also prefer the plush cushioning of the Lone Peak compared to the sneaker-like construction of the Predict Hike. In the end, it's a pretty easy choice for us (the Altra gets the nod), and the only solid case for the Predict Hike is if you prefer its narrower fit or styling.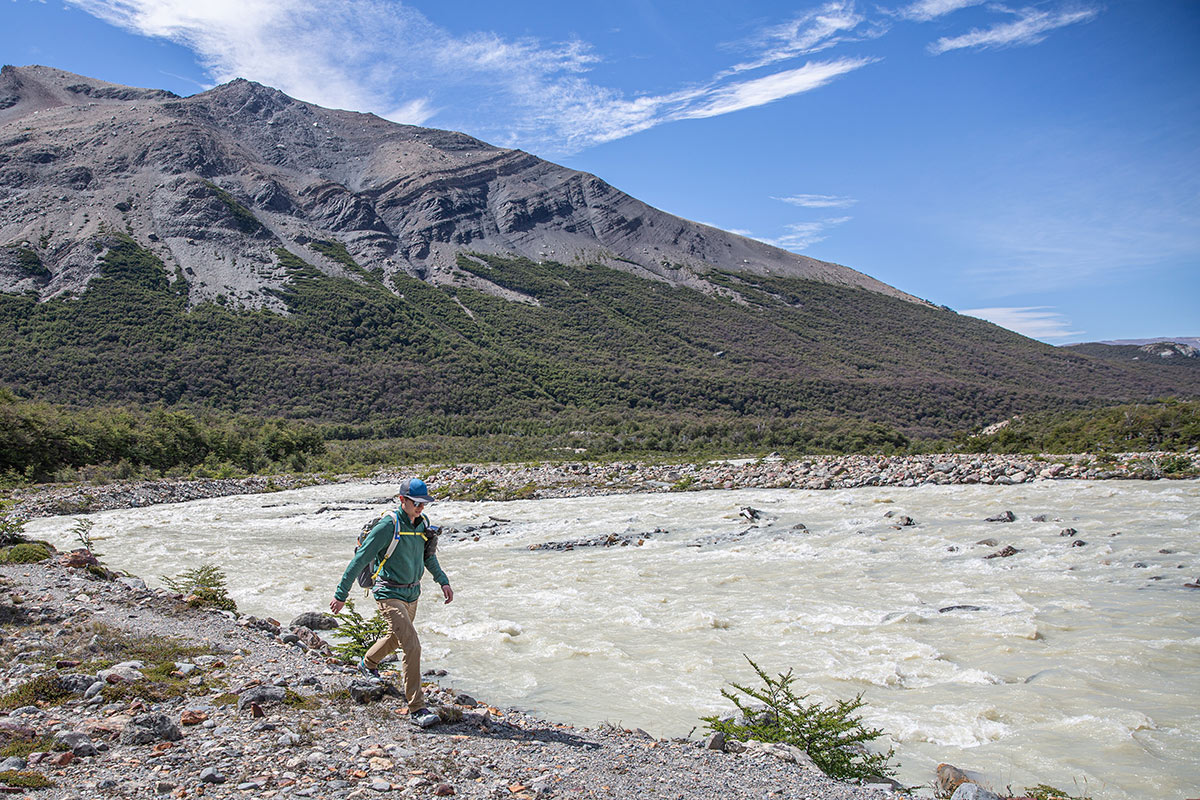 Our final competitor is another trail-to-town build: Oboz's Sypes Mid. Unlike the flashier Predict Hike, the Oboz sticks to a classic leather design that looks the part on the trail but bumps its weight to over 2 pounds for the pair. That said, the Sypes' moderately flexible construction translates to good walking comfort, and the more substantial materials—including sections of burly Cordura along the upper—should give it a longer lifespan. At the risk of sounding like a broken record, unless you're smitten with the Predict Hike's looks, the Oboz is the clear winner for us.
If you're thinking about buying gear that we've reviewed on Switchback Travel, you can help support us in the process. Just click on any of the seller links above, and if you make a purchase, we receive a small percentage of the transaction. The cost of the product is the same to you but this helps us continue to test and write about outdoor gear. Thanks and we appreciate your support!
Depending on the seller, most products ship free in the United States on orders of $50 or more. International shipping availability and rates vary by seller. The pricing information on this page is updated hourly but we are not responsible for inaccuracies.
Learn More About Hiking Gear