Altra Lone Peak ALL-WTHR Mid
Price: $170
Weight: 1 lb. 8 oz. (women's)
Waterproof: Yes (eVent)
What we like: A comfortable, light, and breathable boot that's especially ideal for wide feet or those prone to blistering.
What we don't: Falls short of standard hiking boots in stability, protection, and durability.
See the Women's Lone Peak ALL-WTHR Mid  See the Men's Lone Peak ALL-WTHR Mid
Altra's Lone Peak shoe is known for its exceptional fit and comfort and has long been wildly popular among trail runners and thru-hikers. Piggybacking off its success, Altra recently released the ALL-WTHR Mid, which tacks on an over-the-ankle collar and waterproof eVent upper for added support and protection. We took the boot hiking and backpacking in Colorado's San Juan Mountains and were pleased by its performance on established trails, but the hybrid design does fall short of traditional hiking models in a few key areas, which we detail below. To see how it stacks up to the rest of the market, see our articles on the best hiking boots and best women's hiking boots.
 
---
Table of Contents
---

Performance
Comfort
If there's one metric where the Altra Lone Peak ALL-WTHR Mid aims to be best-in-class, it's comfort. And on well-developed trails, the boot pulled it off in spades. The signature FootShape toe box is noticeably wide, allowing the forefoot to lie in its natural position and leaving ample room for toe swelling during long days on the trail. Like all of Altra's designs, the Lone Peak also boasts the brand's zero-drop shape (called Balanced Cushioning), which means the heel and forefoot are at the same height and promotes great all-day comfort. And finally, the plush midsole and 25 millimeters of cushioning underfoot give the boot a trail runner-like personality with great impact absorption and an energetic, bouncy feel. For reference, I took the Lone Peak out of the box and right onto a 10-mile hike up a steep mountain pass (with a 30-lb. backpack) and experienced no hot spots or rubbing. The soft upper offered just enough "give" where I need it to, and the forgiving midsole and outsole flexed comfortably as well.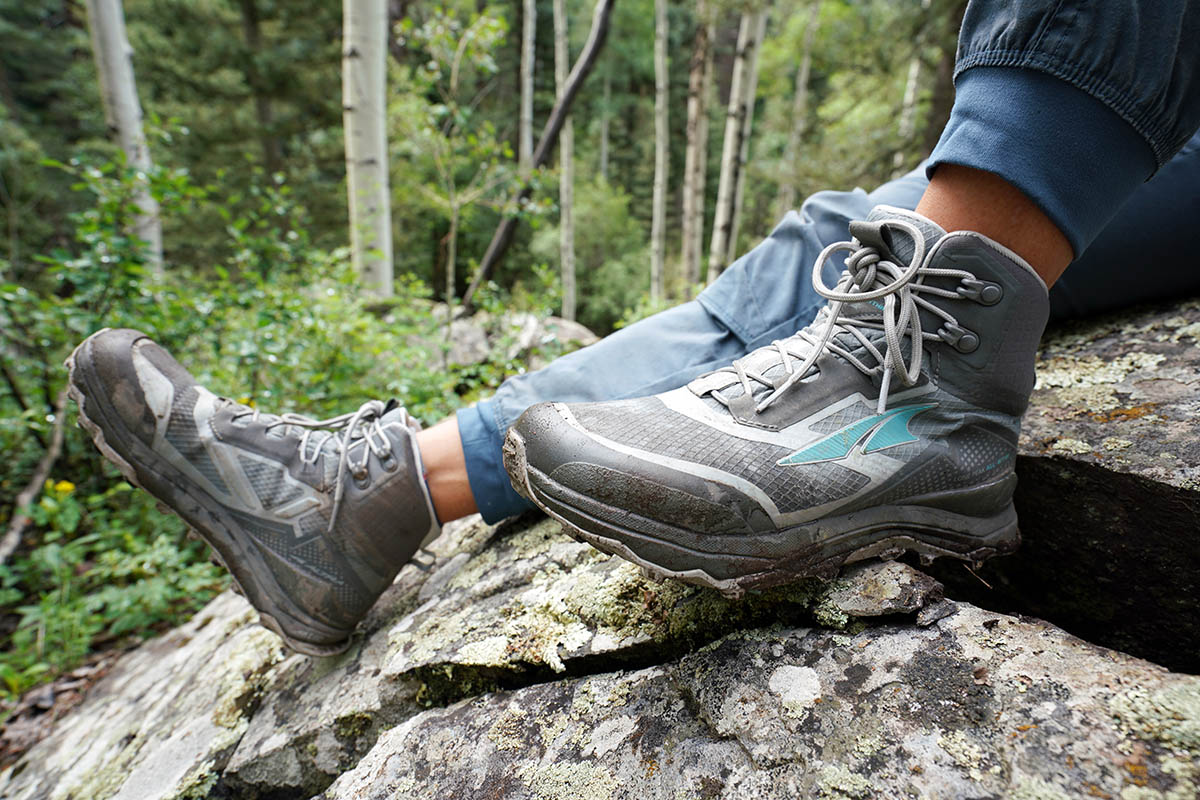 That said, comfort began to suffer considerably as soon as I ventured off trail. During a 3rd-class scramble of Colorado's 14,150-foot Mount Sneffels, my feet swam in the roomy toe box, giving the boot an unstable and unsupportive feel on the talus and boulders. The lack of arch support was also readily apparent and caused my feet to ache early on into our hike. Given these experiences, I consider the Lone Peak ALL-WTHR Mid a good option for hikers that stick to easy trails but wouldn't recommend it for navigating unmaintained or off-trail terrain.
 
Weight
Along with on-trail comfort, weight is another primary strength of the Lone Peak ALL-WTHR Mid. The women's version has a listed weight of 1 pound 8 ounces for the pair and feels more like a trail runner than a clunky hiking shoe or boot (for reference, most traditional hiking boots check in at over 2 lbs.). This featherlight feel can make a sizable difference during long trail days—as the adage says, 1 pound on your feet equals 5 pounds on your back. And looking at the competition, the Altra is fairly competitive among hybrid hiking designs: the similarly intentioned Hoka One One Speedgoat Mid 2 GTX weighs 1 pound 6.7 ounces, while the more robust Anacapa Mid GTX clocks in at 1 pound 12 ounces. You can go even lighter with Altra's own Lone Peak Hiker (1 lb. 3.8 oz.), but that version compromises on ankle support and lacks waterproofing.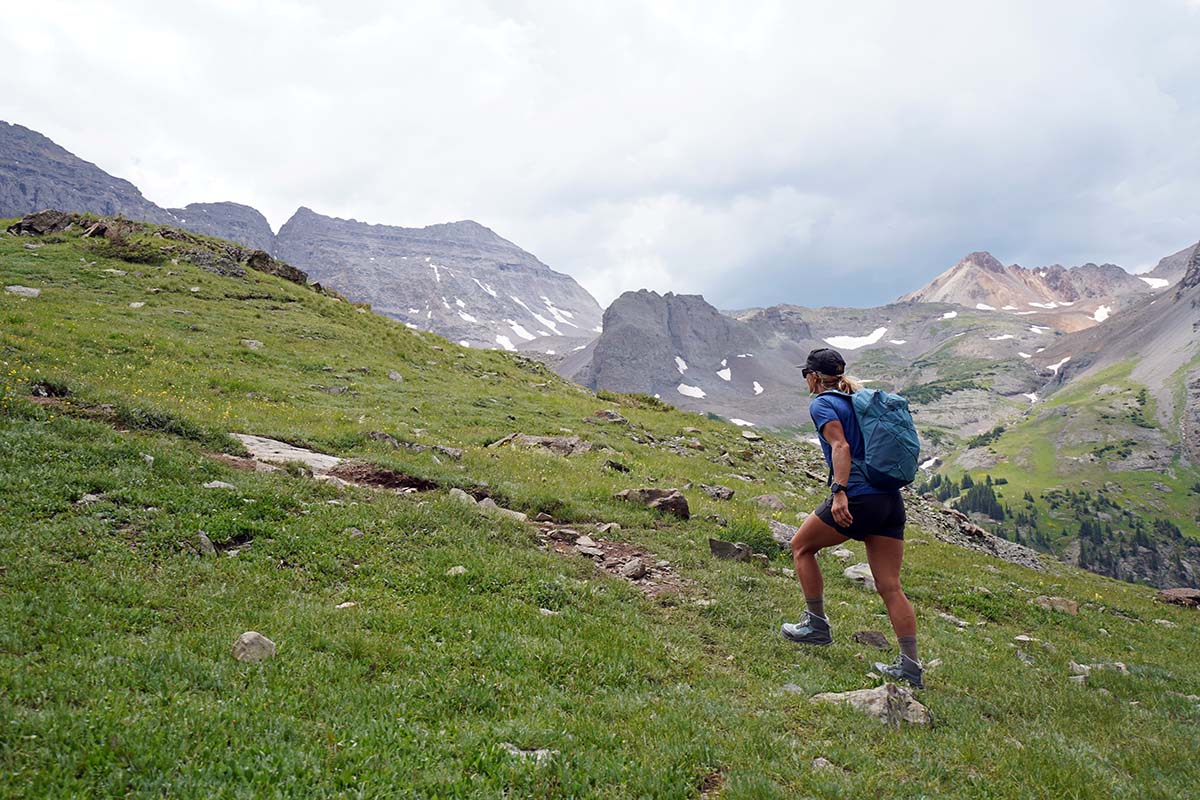 Traction
Featuring Altra's DuraTread outsole, the Lone Peak ALL-WTHR Mid excels on soft and even terrain. The tall, sharp lugs—arranged in a "TrailClaw" configuration for maximum bite—deftly sink into muddy sections of trail, and the wide spacing ensures they don't cake up between steps. I haven't yet had the chance to wear the Lone Peak on snow, but given the boot's performance on mud and wet leaves, I expect it to hold up fairly well. Finally, it's worth noting that our team has also spent a good amount of time testing Vasque's similarly built Breeze LT Mid GTX (one of the Lone Peak's closest competitors), and we consider the Altra to be the more capable choice for soggy singletrack.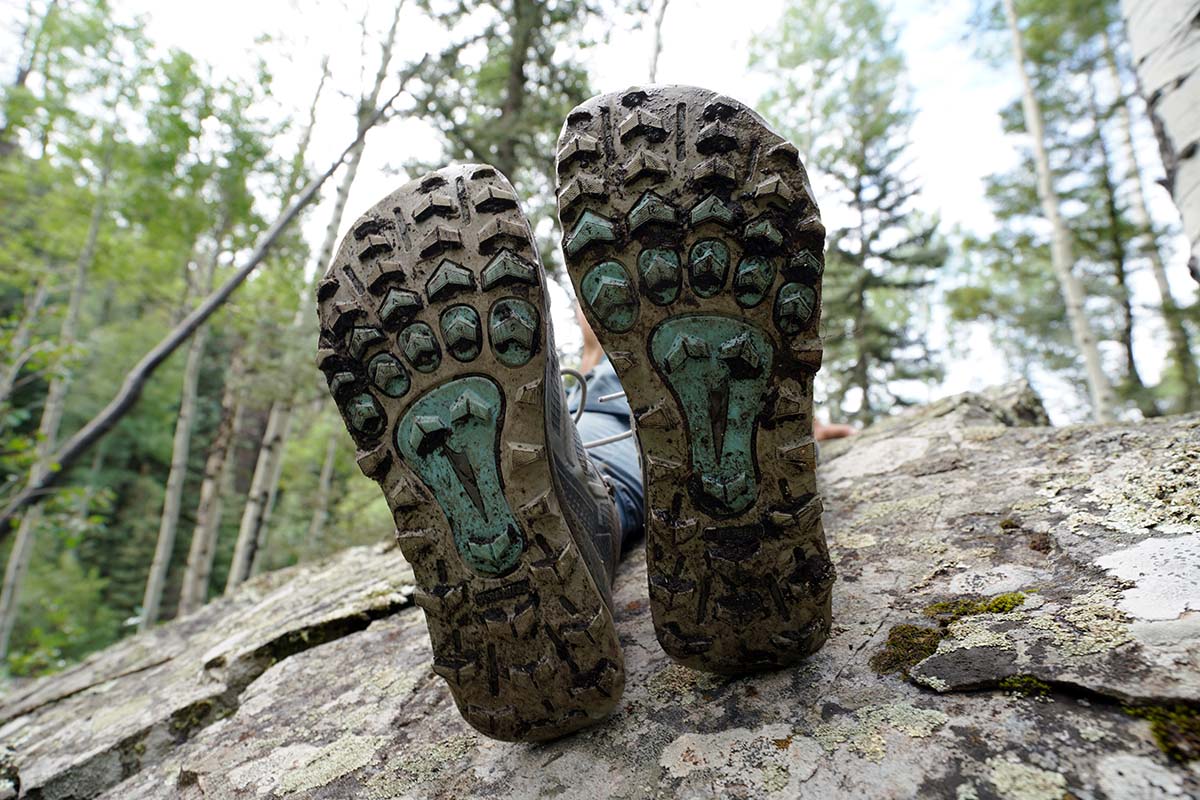 On rocky terrain, however, the Lone Peak ALL-WTHR Mid is far less capable. As a mountain runner, I've grown accustomed to wearing trail running shoes for peak bagging and alpine scrambling, so it's noteworthy that the Altra gave me considerable pause while climbing Mount Sneffels. The combination of tall lugs, roomy footbed, and flexible sole resulted in a notably clumsy feel that I found difficult to trust while crossing talus fields and jumping between boulders (we've heard similar reports about the standard Lone Peak trail runner). In other words, the ALL-WTHR Mid is fully sufficient for hardpack dirt or soft ground like mud and wet leaves, but it's not a boot I'd recommend for rocky or more variable surfaces.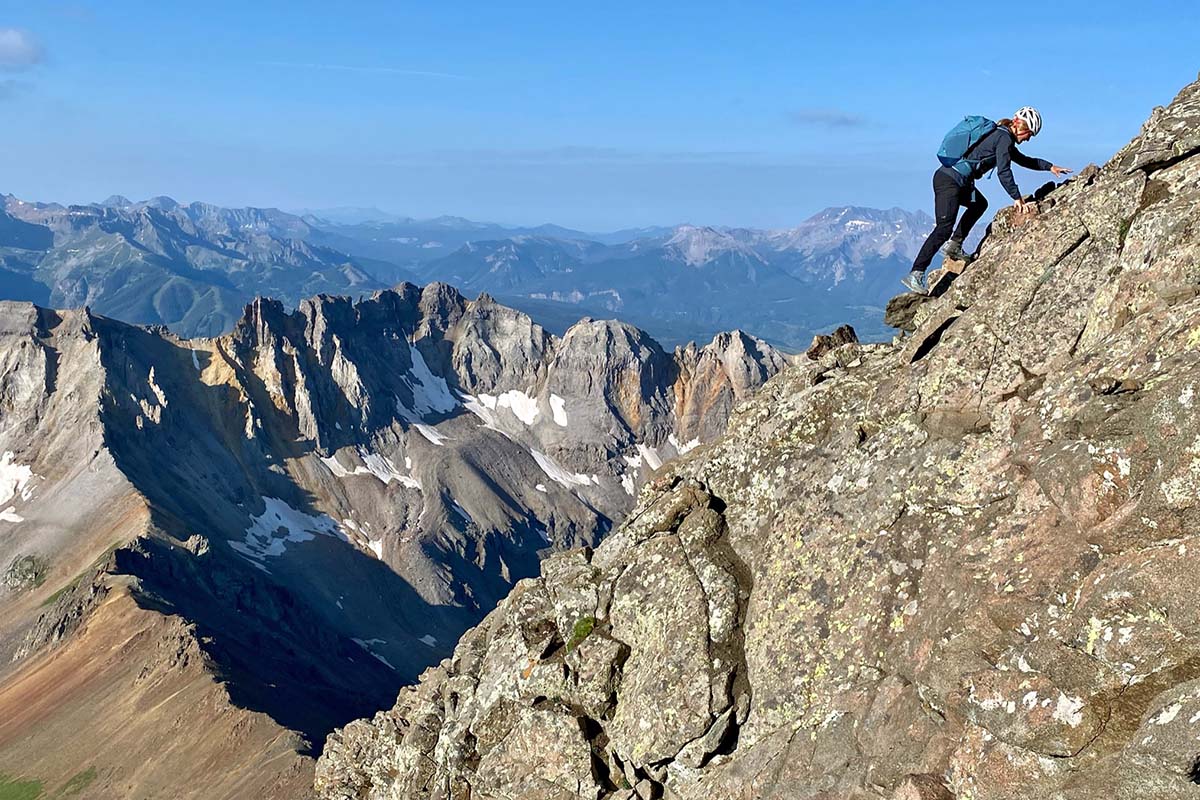 Stability and Support
Like all of the models in the Lone Peak collection, the ALL-WTHR Mid leaves a lot to be desired in terms of stability and support. In my opinion, this is the Achilles' heel of the comfort-first design: with such a roomy toe box and soft midsole, it's difficult to achieve a snug fit, and my feet tend to move around a lot within the shoe. Additionally, the flexible, above-the-ankle collar seems to detract from overall support rather than boost it—unlike a low-top shoe, you can't really lock down the top around your foot. Altra did add a TPU heel counter for additional structure, but the rest of the design is fairly compromised.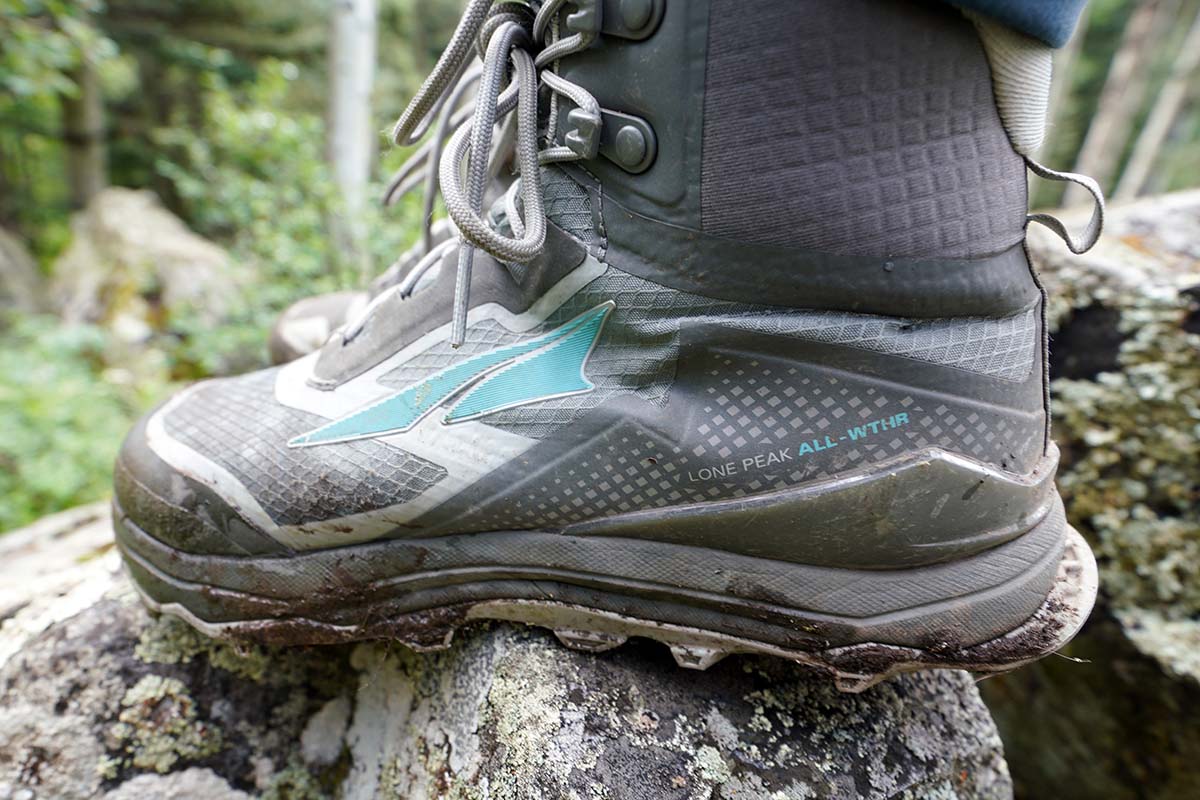 In practice, I found the Lone Peak ALL-WTHR Mid offered sufficient support for hiking on established trails. Despite being unable to achieve a locked-in feel, the mid-height design still offers some framework, especially when carrying a heavy load. That said, while hopping boulders and crossing talus on Mount Sneffels, my feet had to work very hard to stabilize themselves, and the boot couldn't hold an edge during the odd climbing move. I admittedly pushed the Lone Peak past its limits as a trail shoe, but a stiffer hiking boot likely would have been able to tackle the same terrain without issue.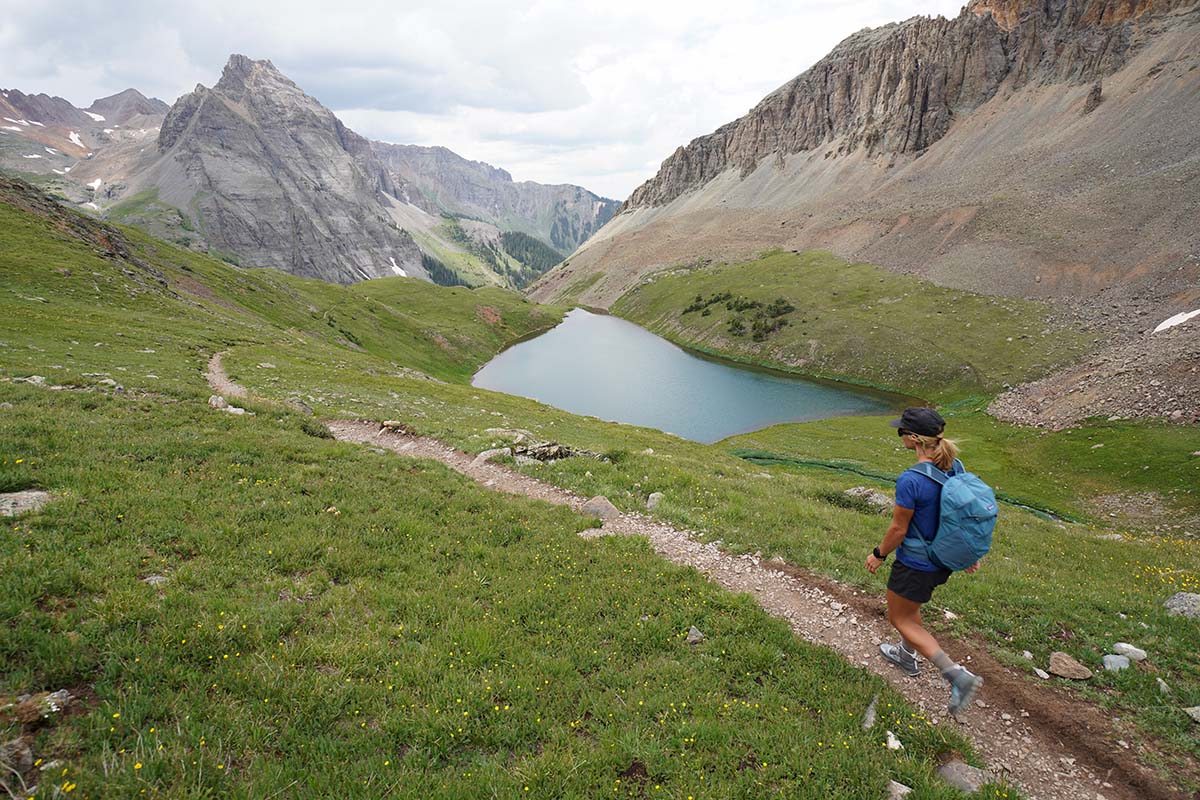 Waterproofing
With an eVent upper, gusseted tongue, and over-the-ankle cut, the Lone Peak ALL-WTHR Mid is fully capable of sealing out the elements. Compared to a standard hiking shoe, the boot's mid-height build offers a sizable step up in protection and prevents water from coming in over the collar during steam crossings or while hiking through deep mud. Throughout testing, I found that the Lone Peak did a fantastic job keeping moisture at bay, even during sustained downpours. Our team has spent a lot of time testing Gore-Tex-lined footwear, and it's nice to see that the Lone Peak's eVent fabric provides similar levels of wet-weather assurance. However, it's worth noting that unlike many Lone Peak offerings, the ALL-WTHR Mid does not include a gaiter trap at the heel (although you can always add a patch of Velcro to achieve the same effect).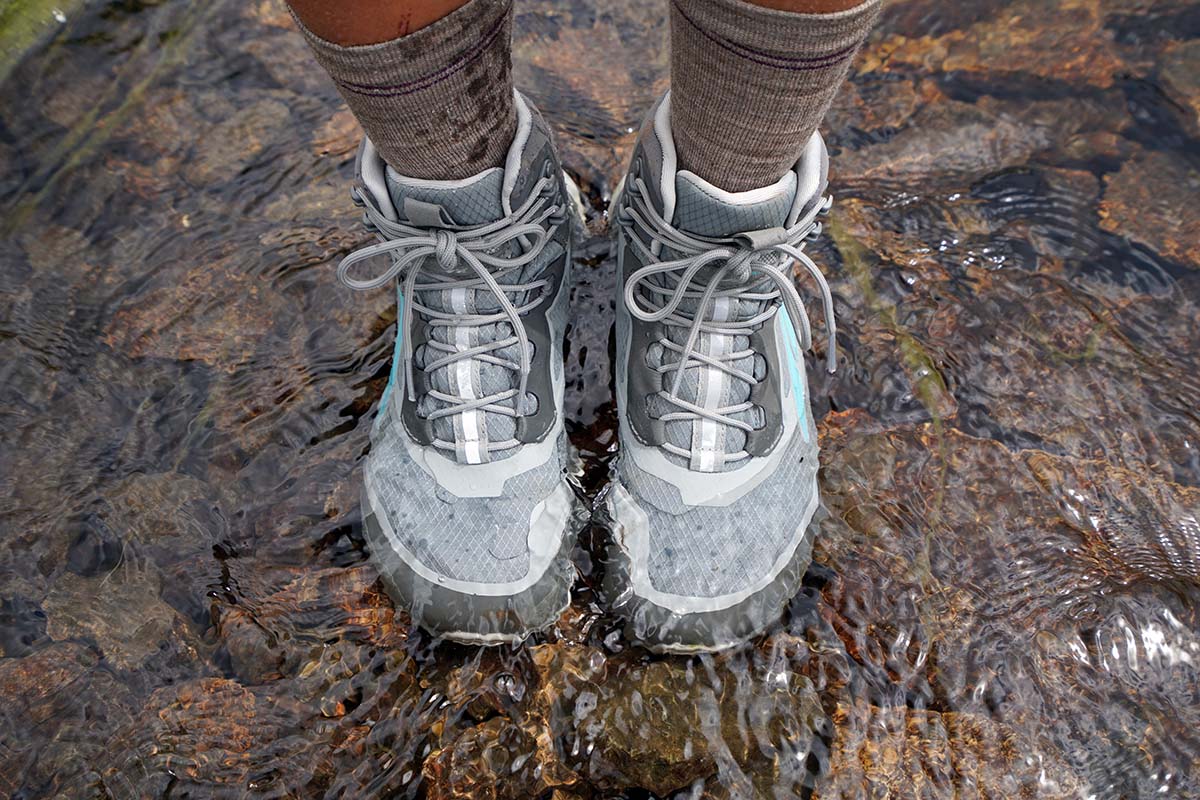 Breathability
Waterproof hiking boots aren't typically praised for their breathability, but I found the Lone Peak ALL-WTHR Mid to be a surprisingly good performer here. While it certainly can't compete with more mesh-heavy, non-waterproof shoes, I came away impressed by the Lone Peak's ability to keep my feet cool and dry, even during the height of summer in the San Juan Mountains. Many hiking boots—especially those of the waterproof or leather variety—tend to grow swampy quickly in hot weather, so this is a pretty noteworthy point in favor of the Lone Peak. All told, the eVent upper seemed to breathe a little better than similarly equipped Gore-Tex models, and I have no hesitation recommending the ALL-WTHR Mid for hot-weather hiking.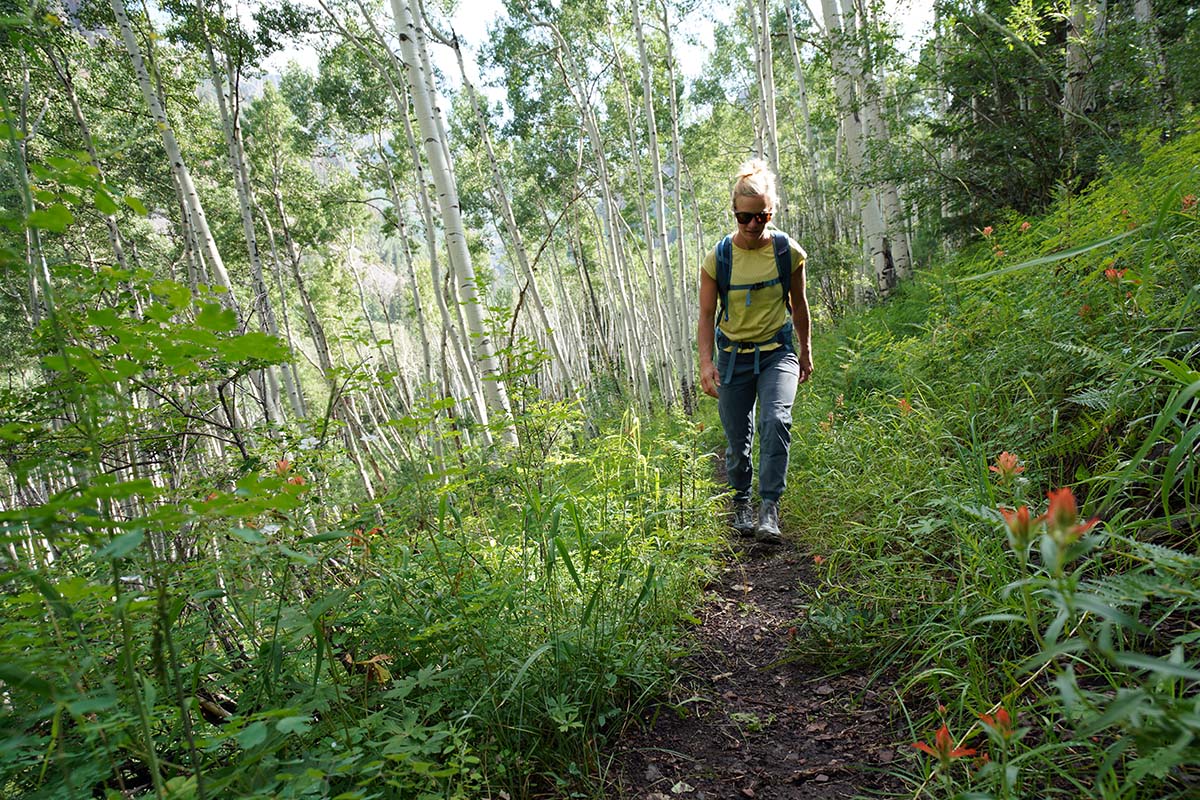 Build Quality and Durability
As with most designs that aim to keep weight low, the Lone Peak ALL-WTHR Mid did make some notable compromises in durability. After my initial outing in the boots, I immediately started to see significant signs of wear and tear. Specifically, the rubber toe cap has begun to peel away on one shoe (something I've also experienced with the standard Lone Peak), the lugs already have chips, and the midsole has gathered several nicks and cuts. Granted, the rocky flanks of Mount Sneffels were pretty aggressive testing grounds, but the Lone Peak doesn't strike me as a particularly long-lasting or hardwearing design. It will likely get the job done for recreational hikers and those that get out infrequently, but if you're rough on your gear, you can expect a much shorter lifespan than standard hiking shoes or boots.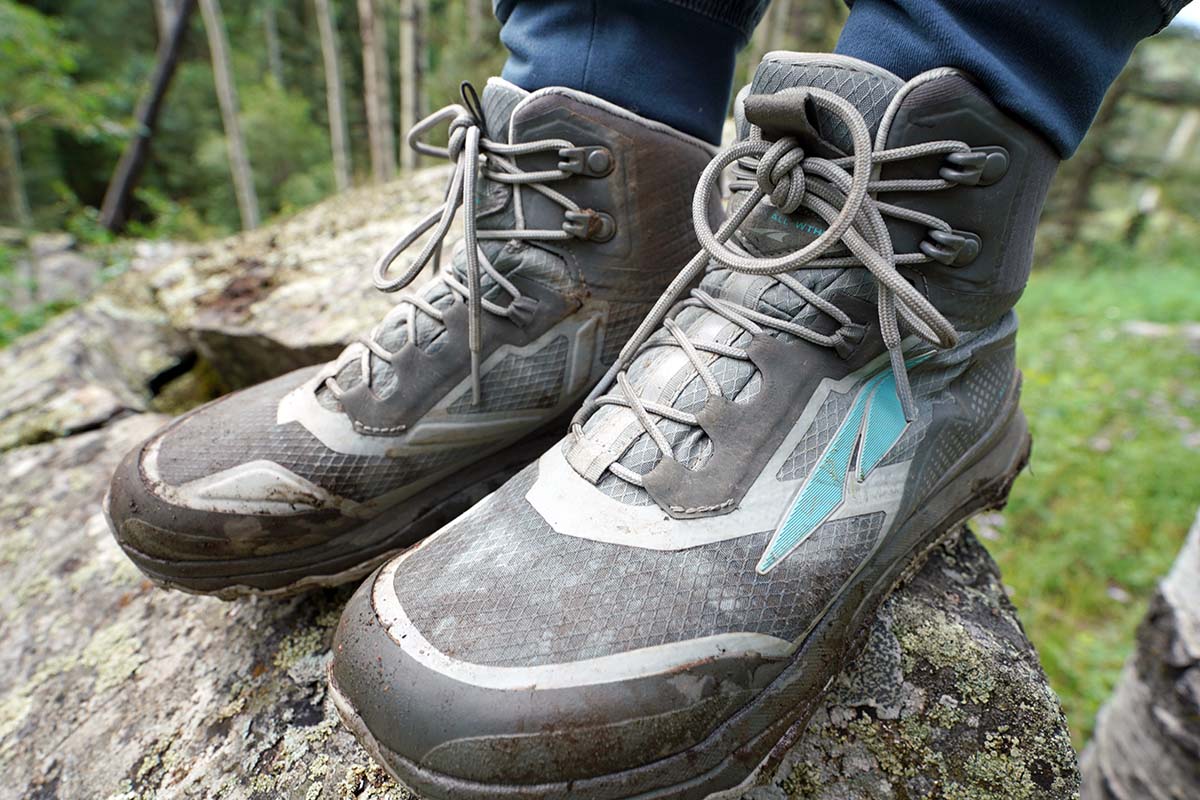 Fit and Sizing
Altra shoes are known for their wide toe boxes and generally roomy feel, and the Lone Peak ALL-WTHR Mid is no exception. Because of this, it's one of our top recommendations for those with high-volume feet, bunions, or who routinely suffer from hot spots and blisters. That said, as I mentioned above, I still found the Lone Peak to be too roomy and result in a sloppy experience while traversing uneven sections of trail (and this is coming from someone with fairly wide feet). But lengthwise, my women's size 8.5 was spot-on, and the boot did a pretty good job locking my heel in place while ascending steep slopes. The boot is noticeably difficult to get on and off due to the flexible collar, but Altra did add a pull tab at the rear to help.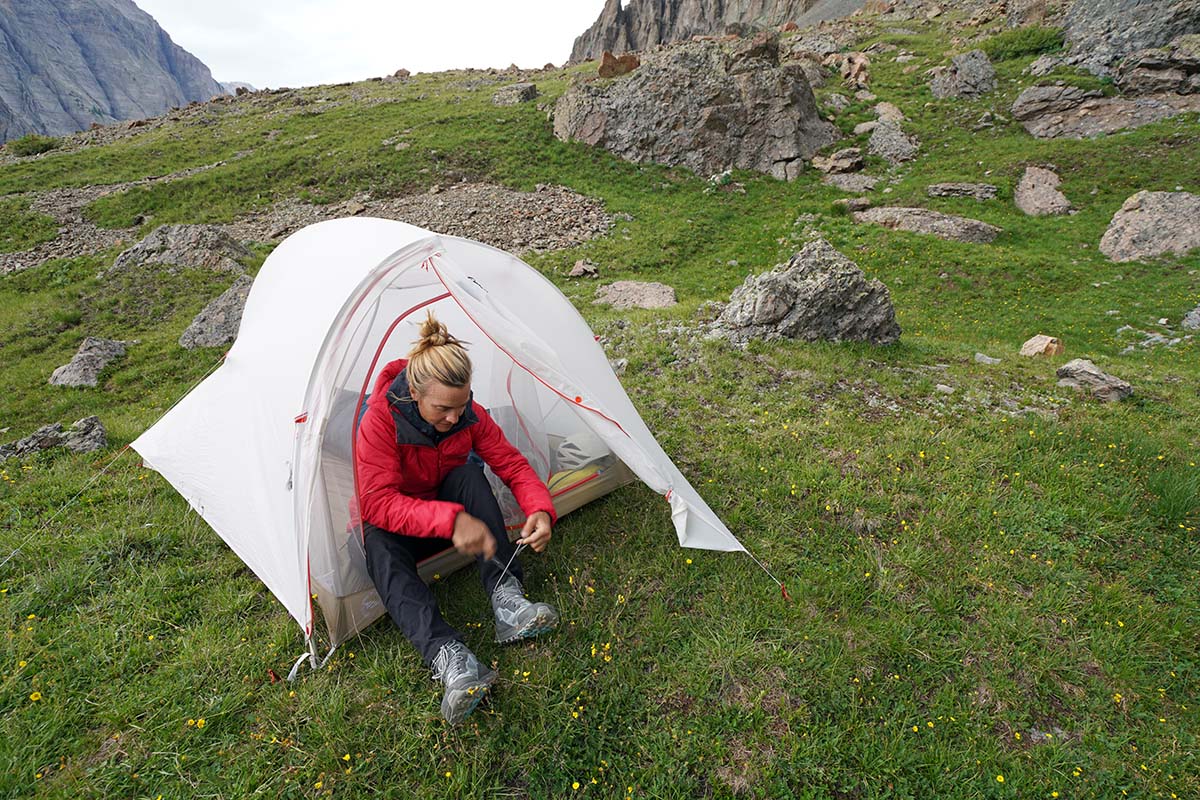 Other Versions of the Altra Lone Peak
I tested the ALL-WTHR Mid for this review, which is the waterproof, mid-height offering in Altra's Lone Peak collection. At the time of publishing, Altra also offers the Lone Peak Hiker, which costs $140 but boasts slightly less ankle coverage than the ALL-WTHR Mid and drops the eVent waterproof membrane. If you don't need the protection of the mid-height models, Altra also sells a waterproof low-top version (the Lone Peak ALL-WTHR Low) and non-waterproof low-top trail runner (the Lone Peak 5), which are priced at $160 and $130 respectively. All of the models share the same FootShape design, DuraTread outsole, Altra EGO Midsole, and 25-millimeter stack height as the version reviewed here but drop the TPU heel counter. Finally, Altra more recently added the LP Alpine to the collection, which is a more everyday-friendly shoe with a hemp canvas upper and suede overlays.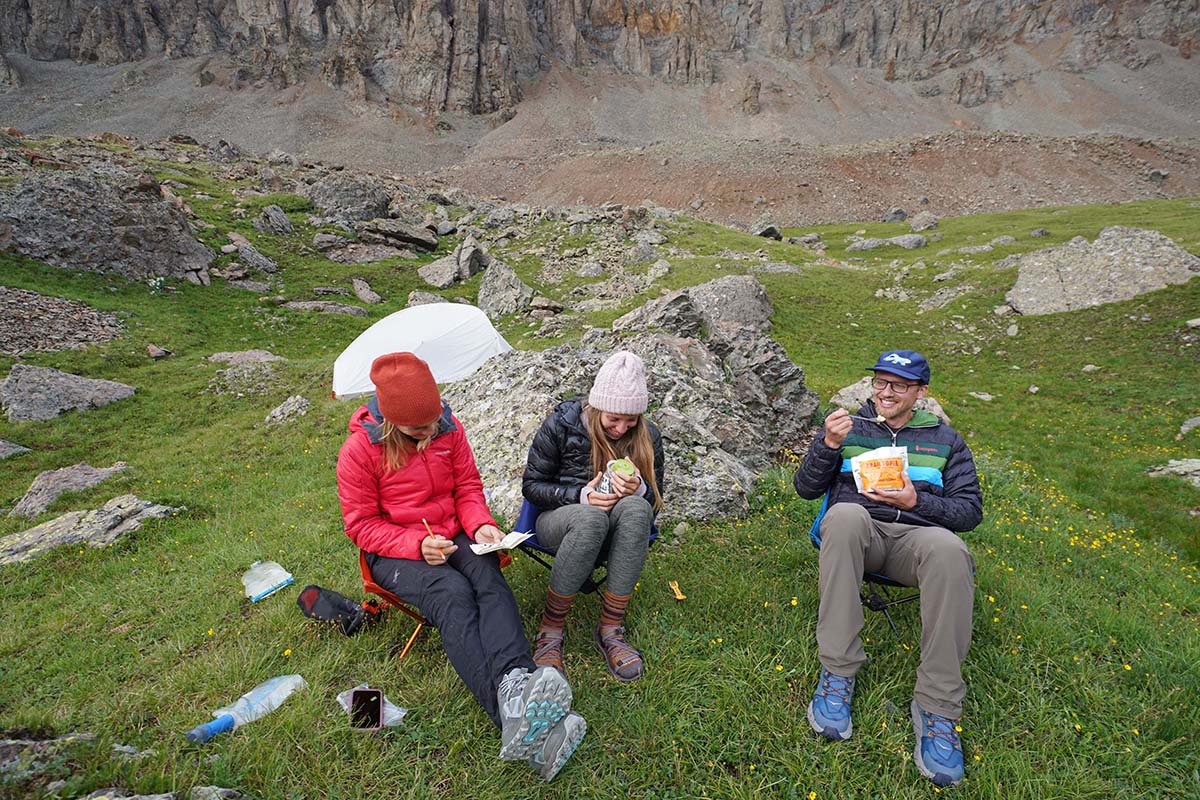 What We Like
Wide toe box and zero-drop shape give the boot excellent out-of-the-box comfort (especially for those with wide feet or that are prone to blisters).
Lightweight design is a great match for hikers that like to move quickly or cover a lot of ground. 
Mid-height collar and eVent upper do a great job sealing out the elements while still allowing the shoe to breathe better than much of the waterproof competition.
DuraTread rubber and widely spaced lugs provide excellent traction on soft and muddy trails.
 
What We Don't
Despite the mid-height design, the Lone Peak ALL-WTHR Mid offers notably less stability and support than traditional hiking boots.
Soft midsole and roomy toe box give the boot a noticeably sloppy feeling on rocky and uneven terrain.
Flexible collar makes it difficult to achieve a locked-in feel.
Lightweight design is lacking in durability, and the toe cap on one of our shoes has already started to separate from the upper.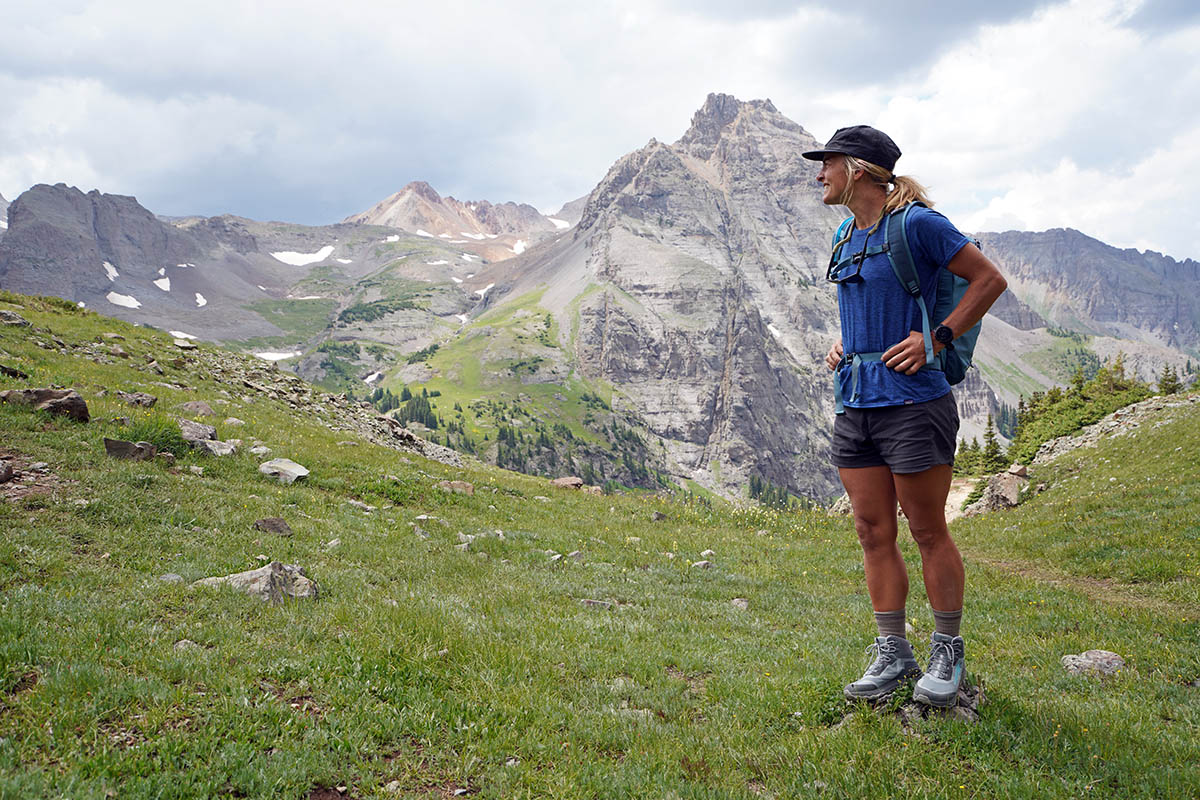 Comparison Table

The Competition
The Altra Lone Peak ALL-WTHR Mid is a comfortable hiking boot for lightweight backpacking trips and day hikes alike. Within the mid-height trail runner category, we also like Hoka One One's Speedgoat Mid 2 GTX. Like the Altra, the Hoka builds off the brand's popular low-top Speedgoat trail running shoe by adding a higher cut for extra coverage and support. Stacked up against the Lone Peak, the Speedgoat is lighter by just over an ounce per pair (1 lb. 6.7 oz. for the women's version), features Gore-Tex waterproofing rather than eVent, and gets the edge in traction with a superior tread design and grippier rubber (particularly on rock). In the end, we consider the Speedgoat to be the more well-rounded option for most hikers and fastpackers, but the Altra has its appeal for zero-drop devotees and those with wide or finnicky feet.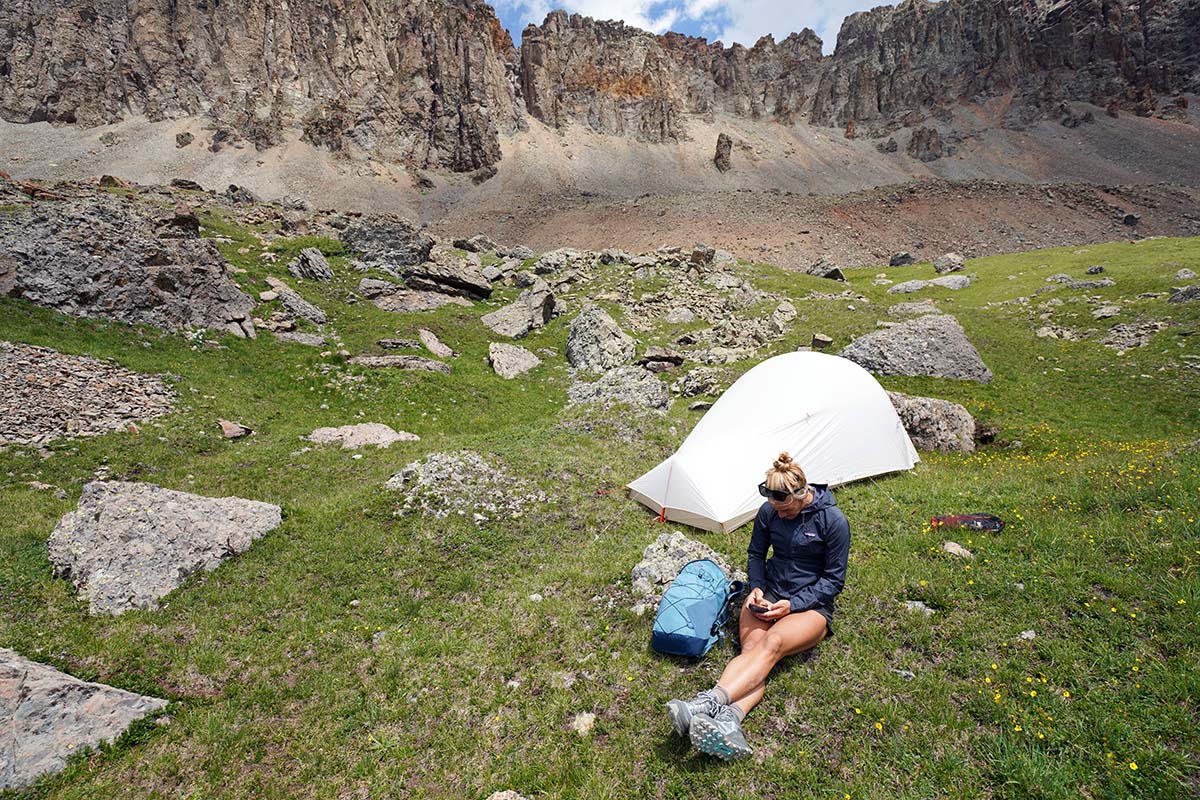 Hoka recently grew their hiking footwear collection to include the Anacapa Mid GTX, a burly hybrid design that's more hiking boot-like than the Speedgoat above. At 1 pound 12 ounces for the pair, the Anacapa is a bit heavier than the Lone Peak, but the tradeoff is better protection, support, and durability. Despite the heavily cushioned and rockered sole, we found the stiffer Anacapa to be surprisingly capable off trail (see our in-depth review here), although the Lone Peak gets the edge in traction (similar to a road running shoe, the Anacapa has sections of blown rubber). That said, if you don't plan on mixing in any stretches of running, Hoka One One's latest hiking design is overall the more capable pick.
Next up is the Breeze LT Mid GTX, a popular lightweight design from hiking footwear specialist Vasque. The two boots check in around the same weight (the women's Breeze is 1 lb. 6 oz.), but the Vasque has a more traditional feel that translates to better stability on technical trails and added over-the-ankle support when carrying a loaded pack. We also found the Breeze's outsole to be adept on a wider variety of terrain, although the Lone Peak's eVent fabric is noticeably more breathable in warm conditions than the Vasque's Gore-Tex membrane. And again, the Altra gets the nod for those who like to mix in the odd section of trail running. But take note before making a purchase: neither shoe strikes us as particularly durable, and we experienced similar delamination between the rand and upper while backpacking in the Grand Canyon with the Breeze. 
We'd be remiss not to provide a comparison to Salomon's wildly popular X Ultra 4 Mid GTX hiking boot. Both the Altra and Salomon boast aggressive outsoles, waterproof constructions, and come in both low-top and mid-height options. However, the similarities end there. Whereas the Lone Peak has a very roomy fit and wide toe box, the X Ultra runs a bit small and is better suited for narrow feet. The Salomon is also heavier than the Lone Peak at 1 pound 11.2 ounces, although this translates to a sizable increase in both support and durability—two areas where the Altra fell noticeably short. For technical trails or hiking with a heavy load, the Salomon is far and away the more capable boot. If you prefer the trail runner-like personality or have particularly wide feet, however, the Lone Peak has its place. 
Staying within Salomon's lineup, their OUTline Mid GTX is competitive with the Lone Peak in weight (1 lb. 8.6 oz.) and all-around intentions. In testing the low-top variation, we found that it felt very athletic and nimble on the trail. However, like the Altra, the OUTline doesn't offer much support for covering serious ground or challenging terrain, and neither shoe is a standout in durability or traction on rock. Given the similarities in specs and overall performance, we think the more breathable and comfortable Lone Peak is the better option in this category. But if your feet are on the narrow end of the spectrum or the zero-drop design doesn't work for you, the OUTline Mid is a solid lightweight alternative and will save you $20.
If you're thinking about buying gear that we've reviewed on Switchback Travel, you can help support us in the process. Just click on any of the seller links above, and if you make a purchase, we receive a small percentage of the transaction. The cost of the product is the same to you but this helps us continue to test and write about outdoor gear. Thanks and we appreciate your support!
Depending on the seller, most products ship free in the United States on orders of $50 or more. International shipping availability and rates vary by seller. The pricing information on this page is updated hourly but we are not responsible for inaccuracies.
Read More From Switchback Travel