Running brand HOKA has been aggressively growing their hiking footwear collection of late, and the Anacapa Mid is arguably their best effort yet. This boot combines the smooth ride and excellent cushioning that the company is known for with over-the-ankle height and protection, a great fit that's snug in the heel and decently roomy in the toe box, and a reasonably light weight. We do have some durability concerns, including premature wear along parts of the outsole, and the thick cushioning gives it polarizing looks, but it's overall a quality option for on-trail hikers who put a premium on comfort. Below we break down our experiences with the Anacapa Mid. To see how it stacks up to the competition, check out our article on the best hiking boots.
 
---
Table of Contents
---

Performance
Comfort
Cushioning and comfort have been hallmarks of HOKA's running and hiking footwear, but despite my already-high expectations, the Anacapa Mid GTX truly impressed me. For starters, the boot has a classic HOKA feel thanks to the generous squish underfoot and the outsole's rockered shape. In practice, it's easy to move quickly over the trail—and even jog for stretches—and the Anacapa feels exceptionally smooth when you're in a rhythm. In my opinion, this is easily the biggest appeal of the HOKA boots: You're getting over-the-ankle protection and moderate support, but foot fatigue is kept to an absolute minimum, even when wearing them all day long over rocky trails.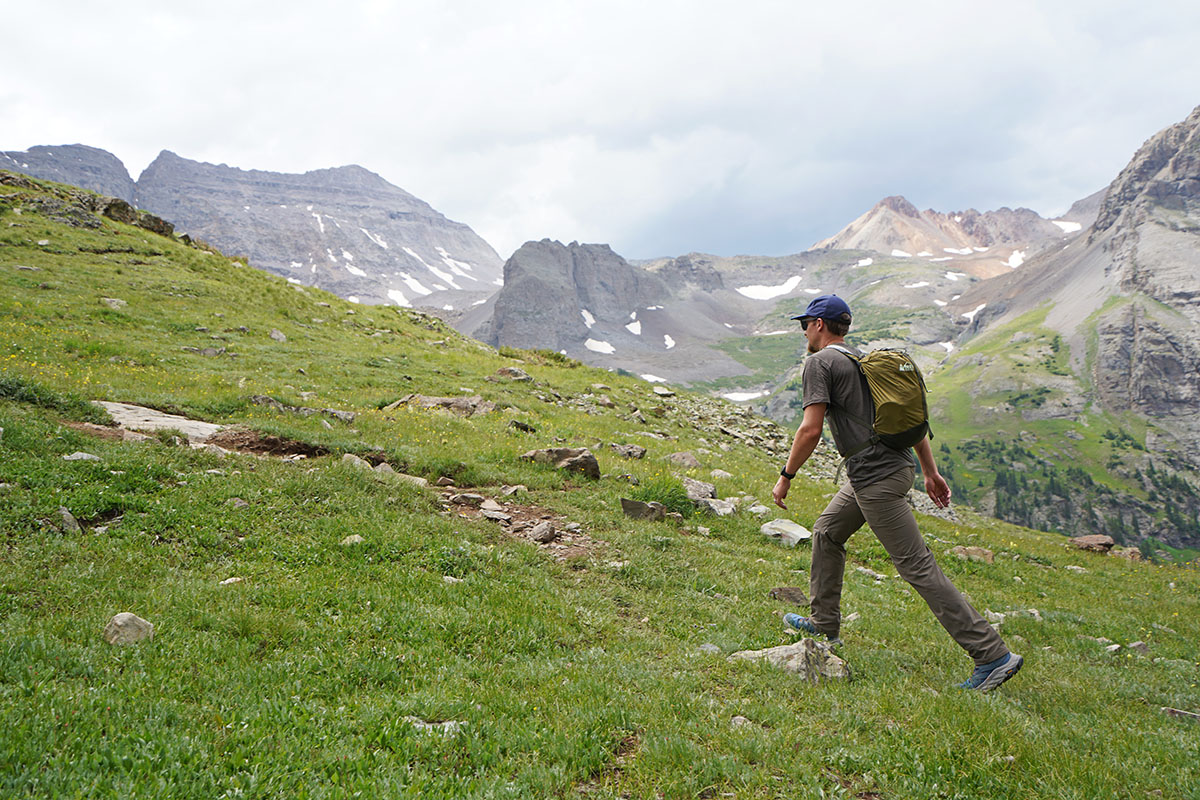 Another contributor to the Anacapa's excellent comfort is its standout lacing system, which incorporates three sets of locking eyelets at the top to provide a very secure fit. With a just-right, snug heel cup, I didn't experience any rubbing or blister concerns, even during a 3rd-class scramble up the southwest ridge of Colorado's Mount Sneffels. Additionally, there's plenty of room for the toes to spread out and swell up during the day. Rounding out the design, you get generous padding around the ankles, and gussets on the tongue keep it nicely in place to avoid pressure points when cinching up the laces (an issue I often run into when breaking in new hiking boots). My only nitpick is that putting on the boots can be a little tedious. This is largely due to the fact that the design dips low behind the heel, which makes it tough to slide your foot inside even when using the pull tab at the back. That said, it's far from a deal-breaker, and I've found that completely loosening the laces each time makes it much easier to get my foot in.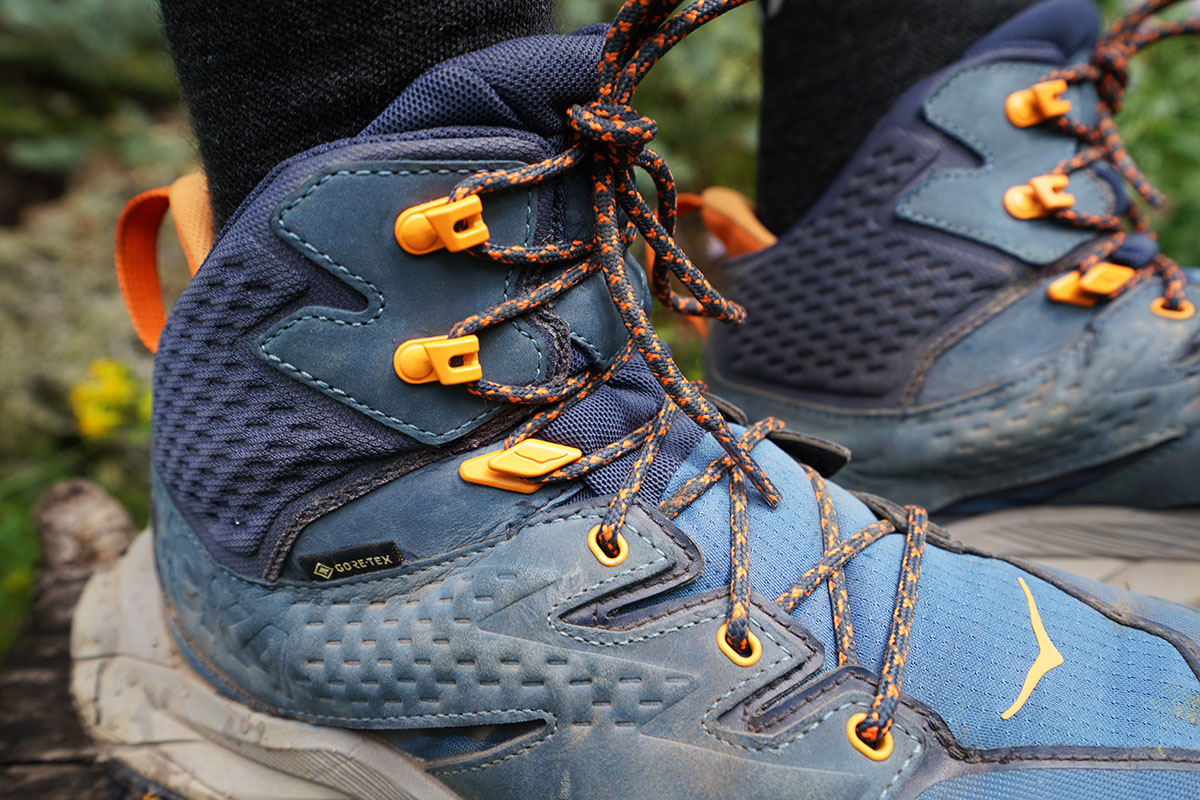 Weight
At 1 pound 15.4 ounces on my scale for the pair of my men's size 9 boots (the listed weight is 2 lbs. even), the Anacapa Mid GTX falls squarely in the lightweight hiking boot category. For comparison, this stacks up very favorably to similarly intentioned models including Salomon's X Ultra 4 Mid GTX (1 lb. 14 oz.), La Sportiva's Nucleo High II GTX (2 lbs. 1.6 oz.), Danner's Trail 2650 Mid GTX (1 lb. 12 oz.), and HOKA's own Kaha 2 GTX (2 lbs. 1.6 oz.). You can go even lighter with a true mid-height trail runner like HOKA's Speedgoat 5 Mid GTX (1 lb. 8.8 oz.) or Altra's Lone Peak ALL-WTHR Mid 2 (1 lb. 14 oz.), but those come with notable compromises in protection, durability, and support. All in all, I feel that HOKA really nailed the balance between weight and on-trail performance.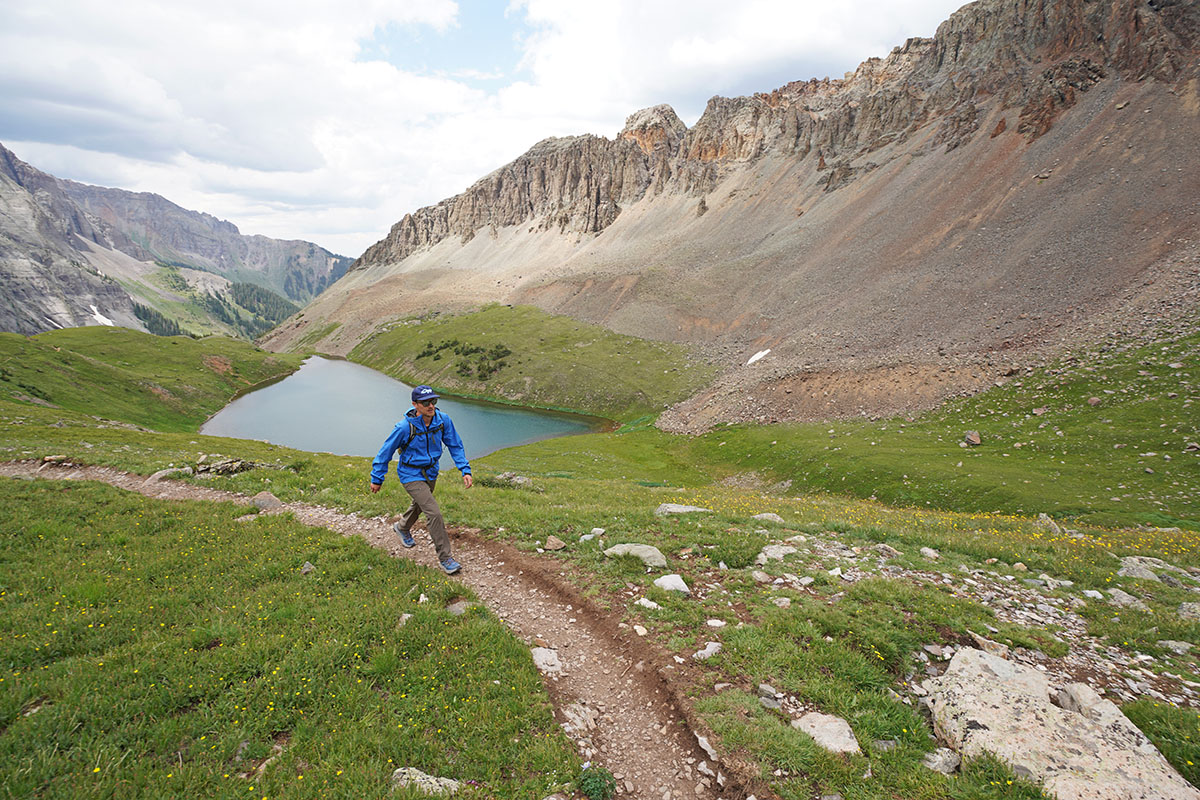 Traction
My experiences with the HOKA Anacapa Mid GTX's traction were mixed and fell into two distinct camps. On the trail, it was excellent: The rubber outsole uses Vibram's impressive Megagrip compound, which is tacky enough to rely on over small rocks and roots, through river crossings, and even in loose and steep dirt. The lugs aren't particularly deep, and the boot doesn't bite in as well as I'd like on especially steep descents, but otherwise it's a solid on-trail performer.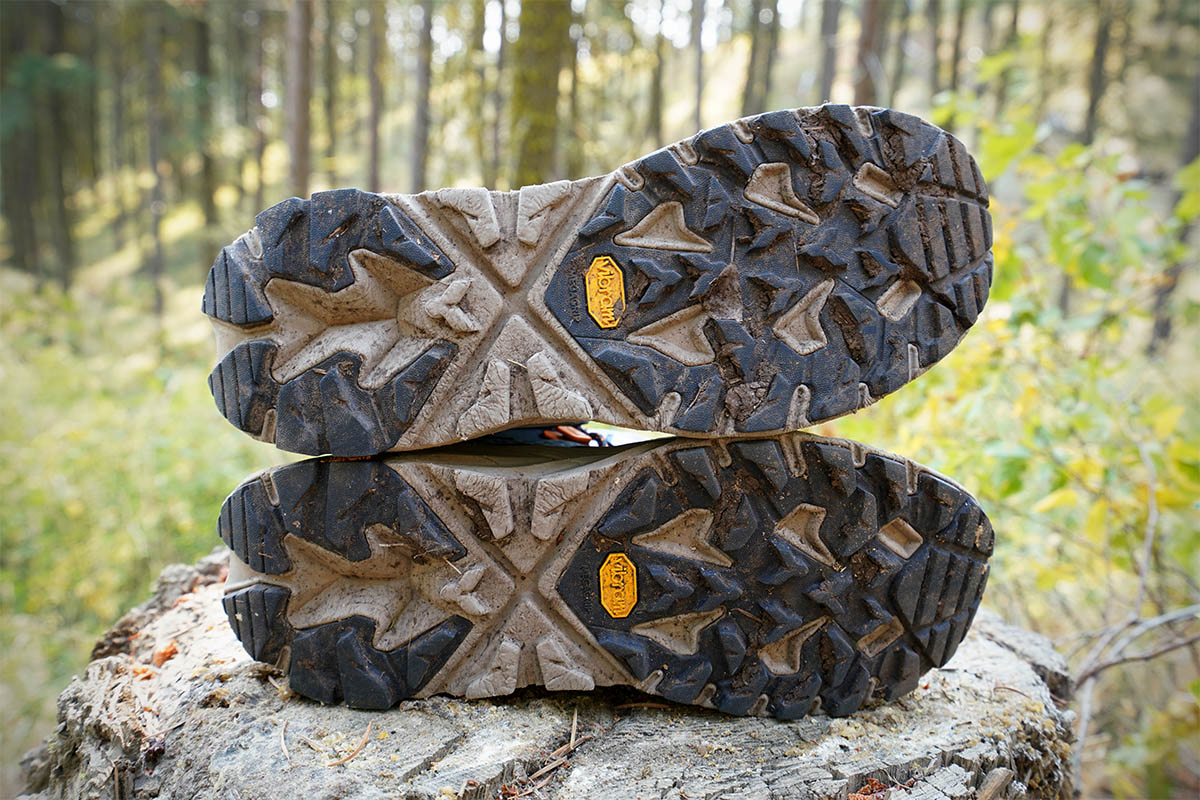 When we started our ridgeline scramble, however, I found myself having a hard time trusting the boot. Climbing up rock, the Anacapa was more prone to slipping, and I needed to be pretty precise with my foot placement, particularly on the more technical sections that verged on 4th class. The culprit seems to be the middle of the outsole (right under the arches), which has pads of blown rubber (like on a running shoe) that are effectively useless for grip. In addition, the back of the mid and outsole sticks out about an inch behind the heel, which led to me getting my foot caught a number of times in between rocks (this was especially annoying on the descent). This experience makes the HOKA less of an all-rounder compared with a boot like Salomon's X Ultra 4 Mid, but if you stick to trails, it's plenty serviceable.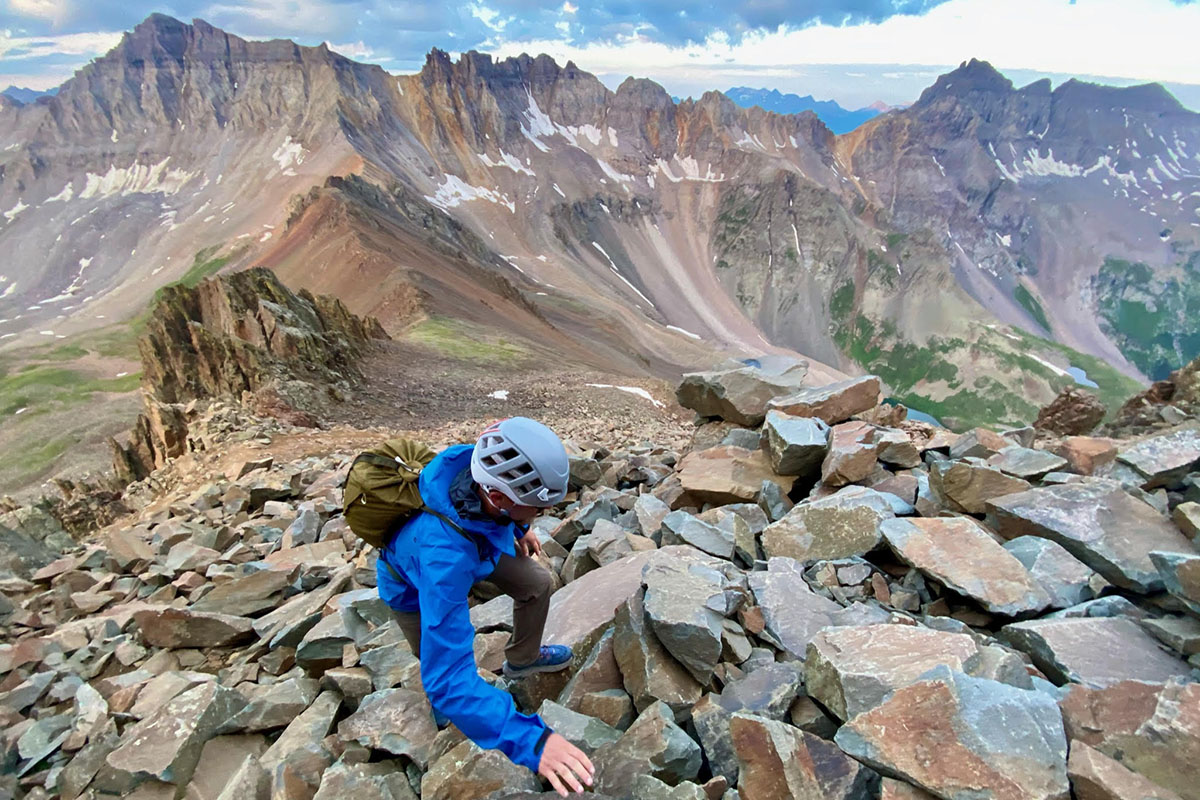 Stability and Support
For a light and thickly cushioned boot that's clearly intended for fast-moving hikers, I thought HOKA did a nice job incorporating moderate levels of stability and support. Underfoot, the Anacapa is pretty flexible and does sit a little higher off the ground than I'm used to, but its wide base and modest stiffness keep it from feeling tippy or floppy, even while traversing slopes or when hauling a fairly loaded-down pack (I was carrying 35+ pounds on our backpacking trip). And despite my previously outlined traction issues on the Mount Sneffels climb, I was happy with the boot's level of rigidity overall. And it's a similar story along the sides: Unlike mid-height trail runners, the Anacapa actually feels like a hiking boot, although it still won't be confused with a burlier and more beefed-up model like Lowa's Renegade or Salomon's Quest 4. All told, if you keep your pack weight in check—and don't mind the slightly taller height—I think the vast majority of hikers will be happy with the result.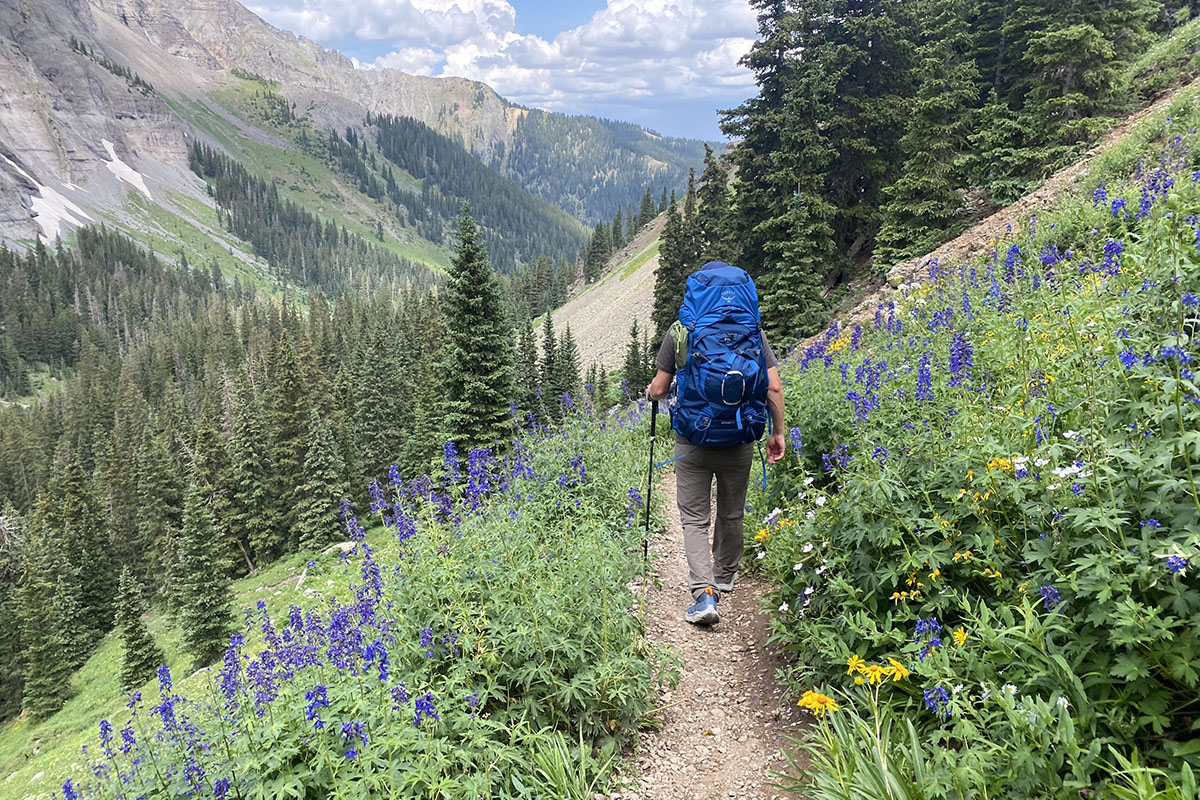 Waterproofing
Unlike some of HOKA's earlier efforts in hiking footwear, the Anacapa Mid GTX incorporates the ubiquitous Gore-Tex liner. The results have been as expected: It's held up nicely through creek crossings and in wet grass, and I've experienced no leakage or failures to date. HOKA also applied a durable water repellent (DWR) coating to the nubuck leather upper, so it does a nice job shedding moisture and keeping the boot from absorbing water during those aforementioned crossings. The only potential issue to be aware of is that the waterproofing only goes partway up the heel—again, the collar dips pretty aggressively down in that spot—so you'll want to be mindful of the depth of water before stepping in.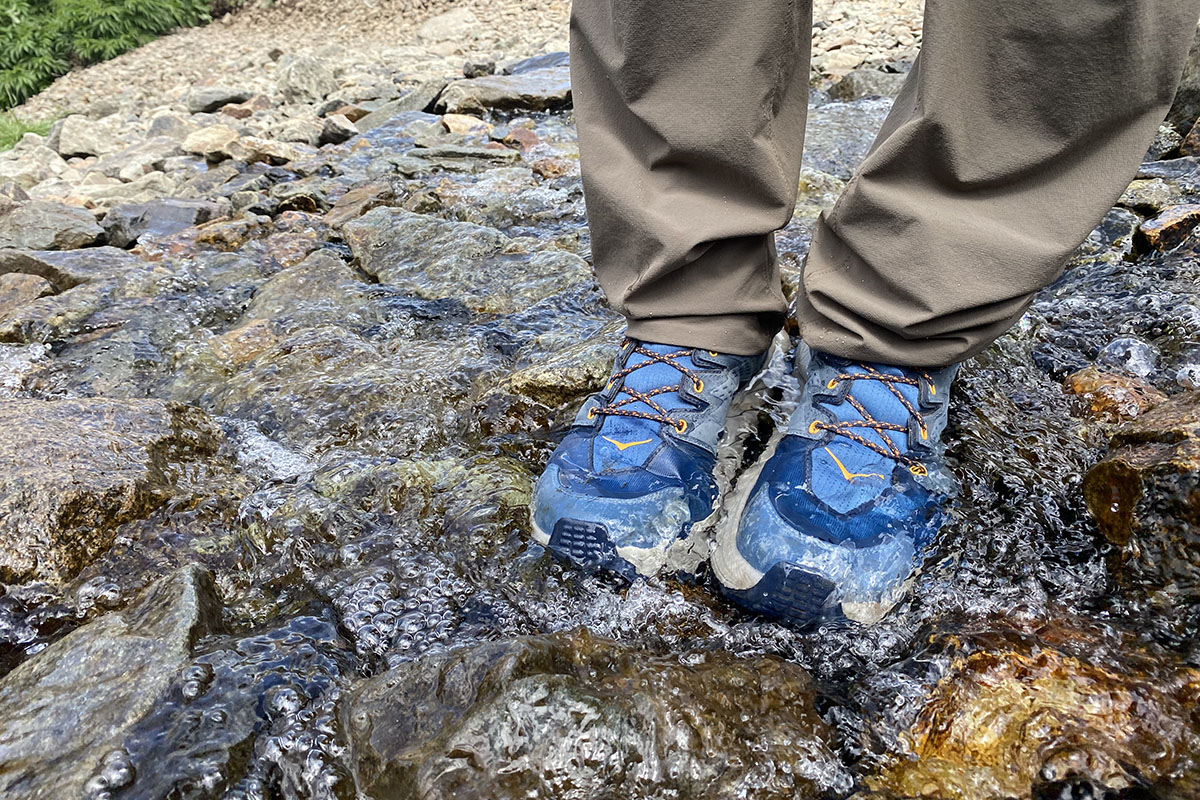 Breathability
We experienced warm conditions on our trip into Colorado's San Juan Mountains, and as a result, I ended up with fairly warm and sweaty feet by the end of each day. The Gore-Tex liner was largely to blame here (the nubuck leather upper certainly doesn't help), but it's not out of the ordinary for me to run hot with waterproof footwear in the summer. Stacked up to the competition, I'd say the Anacapa is about average. If you run particularly warm or plan to get out in hot and dry climates frequently (think the Utah desert), it's probably worth opting for one of the non-waterproof Anacapa Breeze models.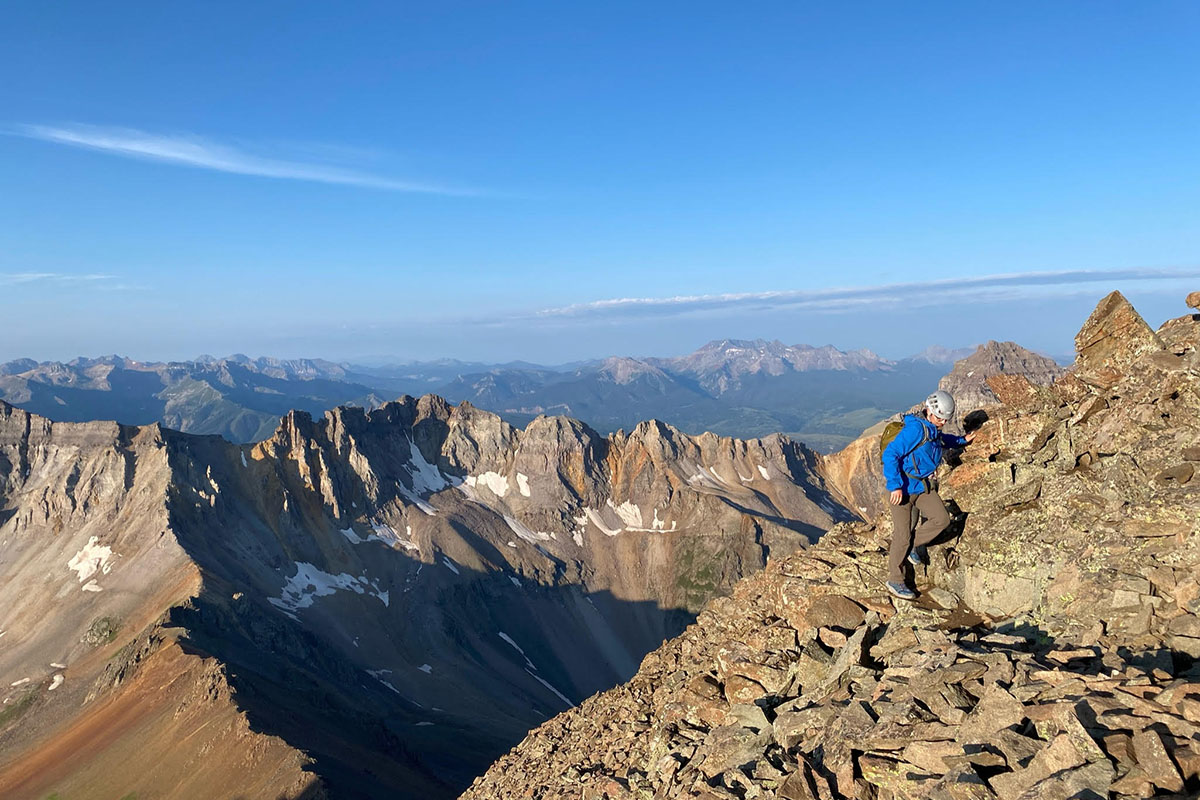 Toe and Ankle Protection
In the bid to save weight, HOKA did make some light concessions in terms of protection with the Anacapa Mid. As I mentioned above, there's plenty of cushioning around the ankles, which is great for sliding in between rocks, but the collar drops pretty aggressively at the back and leaves a portion of your heel exposed to scrapes. Additionally, while there is a toe cap on the boot and a piece of rubber covering the middle, it's not the kind of burly wraparound design that's common on hiking footwear. As a result, I felt more of the impact when I inevitably kicked a rock or two on the trail. That said, the reinforced material at the toe did keep it from being any worse than it would've been with a pair of standard trail runners.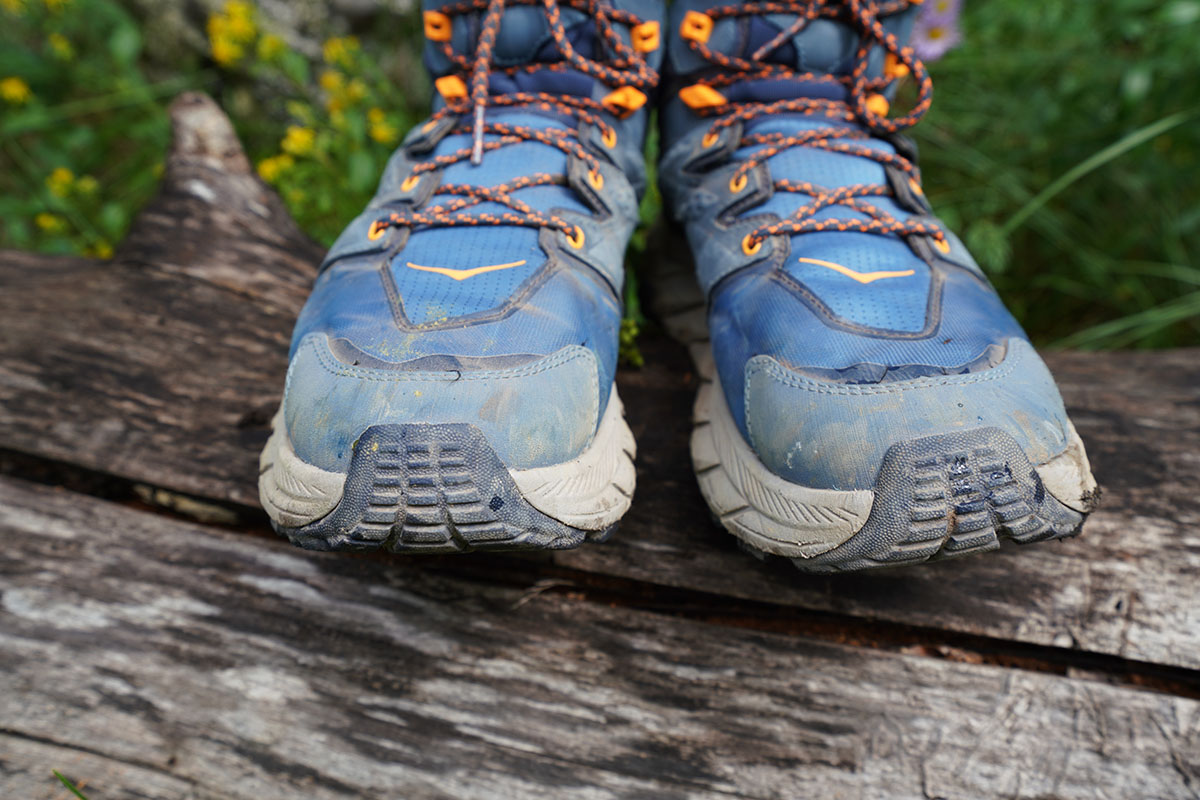 Build Quality and Durability
Similar to my experiences with the boot's traction, durability is a bit of a mixed bag with the HOKA Anacapa Mid GTX. On the positive side, it's clearly well made, the sections of leather add a nice dose of toughness, and you get quality features like the Vibram Megagrip rubber, Gore-Tex liner, and sturdy plastic eyelets for the laces. And at $185, the Anacapa strikes me as a solid all-around value considering the premium build.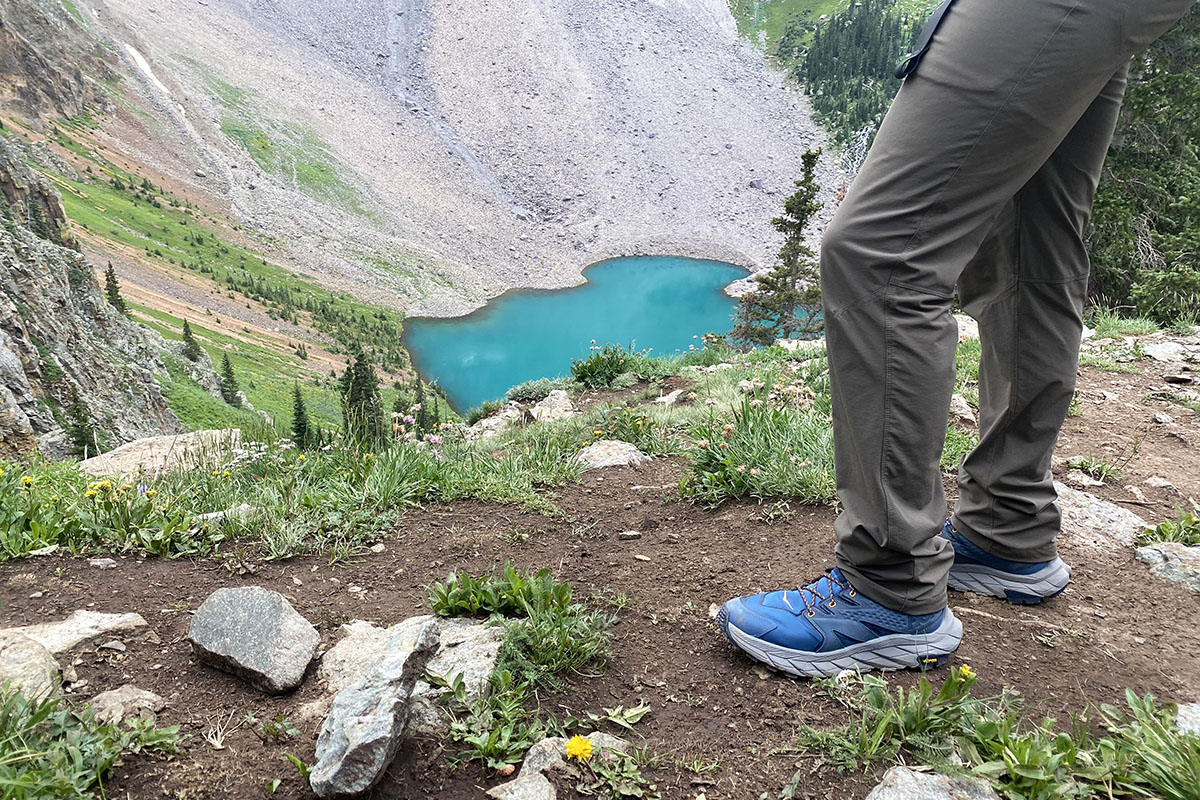 The main knock I have is related to those exposed sections of blown rubber on the bottom of the sole. Not only did they have a negative impact on grip when scrambling, but the pads are already showing significant signs of wear. The foam-like material has scrapes and tears throughout, and it will clearly be something that continues to break down over time. It's true the boot will likely still have an average lifespan—that middle section of rubber will probably just go flat after a while—but I think HOKA could've done a better job maximizing durability by giving the Anacapa a full rubber outsole (like they have with their Speedgoat hiking boot).

Fit and Sizing
In short, I feel that HOKA nailed the fit part of the equation with the Anacapa Mid. It's a just-right shape that should make a lot of folks happy: There's enough space in the toe box to let your toes splay without feeling sloppy, and the narrower heel—combined with the effective lacing system—kept my feet securely in place throughout the day. For reference, I ordered my standard men's size 9 in the HOKA and had no issues in terms of length or width.

Sustainability
We're excited to see that HOKA incorporated a few eco-friendly measures into the Anacapa Mid GTX's design. Namely, the boot features a PU liner that's made from 50% soybean oil, and it also boasts recycled polyester materials at the collar, mesh, and laces. Finally, the DWR coating is free of perfluorocarbons (PFCs), which are known to be harmful to the environment. Taken together, we think these additions only boost the boot's overall appeal.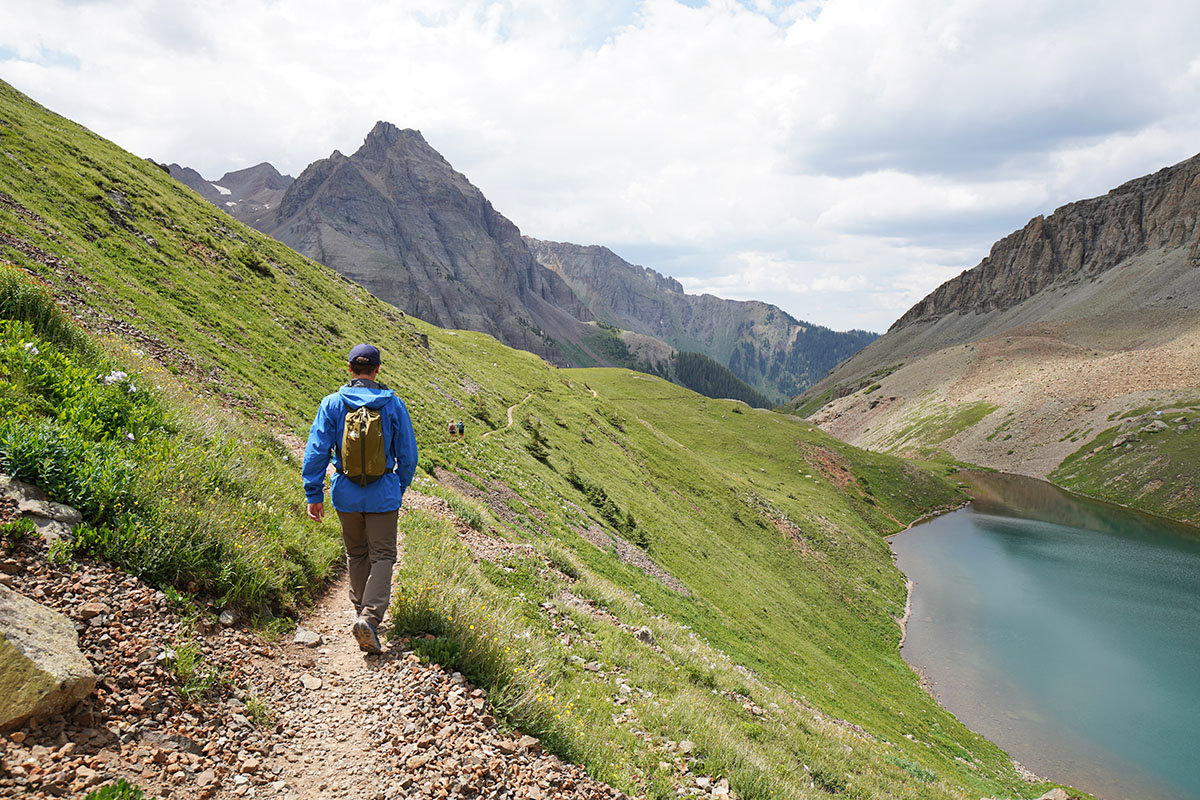 Other Versions of the HOKA Anacapa
We brought the men's Anacapa Mid GTX to Colorado for testing, and the boot is also offered in a nearly identical women's version. The women's Anacapa Mid GTX costs the same at $185 but checks in a little lighter (1 lb. 12 oz. per pair), is offered in different colorways, and has a slightly lower-volume fit. HOKA also recently released the non-waterproof Anacapa Breeze Mid that costs $15 less than the Gore-Tex-equipped model and checks in at 1 pound 13.2 ounces for the men's boot. Finally, for those who don't want or need the ankle coverage, HOKA offers the Anacapa in low-top versions with or without waterproofing, which cost $170 and $155 respectively.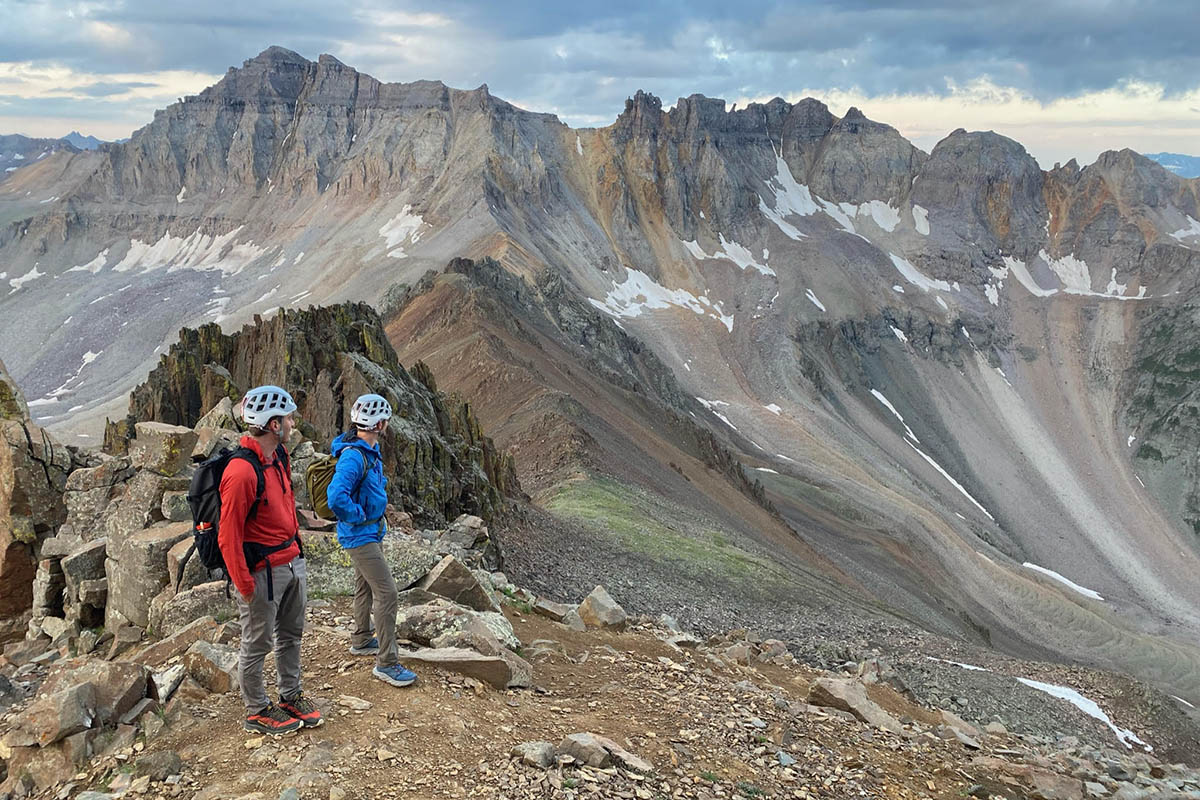 What We Like
The Anacapa feels great on the trail with generous cushioning and a smooth, fast-moving personality thanks to the rockered sole.
Excellent fit including a highly effective and customizable lacing system, enough space in the toe box to account for foot swelling, and a narrower heel that locks the foot securely in place.
At 1 pound 15.4 ounces, the boot is light yet has solid protection, a durable upper, and moderate levels of support.
Considering the quality materials, the HOKA is a good all-around value at $185.

What We Don't
Exposed sections of blown rubber on the outsole have a negative impact on grip when scrambling and have started to show considerable wear early on into testing.
Design dips fairly low behind the heel, which makes it a bit tough to put the boots on (completely loosening the laces does help significantly).
Waterproof Gore-Tex model runs warm in summer temperatures (for better breathability, check out the Anacapa Breeze). 
The back of the mid and outsole sticks out about an inch behind the heel, which led to my foot getting caught in between rocks while scrambling.


Comparison Table

The Competition
HOKA's Anacapa Mid GTX stands out among the hiking boot competition for its over-the-ankle coverage in a light, well-cushioned, and smooth-riding design. Salomon's popular X Ultra 4 Mid GTX shares many of those same features but strikes us as the more well-rounded pick. In parsing out the differences between the two boots, the HOKA is quite a bit more padded, especially underfoot, and its rockered shape makes it very easy to stack on miles quickly. However, the Salomon is slightly lighter at 1 pound 14 ounces and offers superior all-around grip and durability thanks to its full rubber outsole (especially if you'll be scrambling or venturing off trail). Tack on a $10-cheaper price tag, and we consider the X Ultra to be the better one-quiver option for hiking and backpacking.
Danner offers another intriguing lightweight hiker in their Trail 2650 Mid GTX. The Danner is impressively light at just 1 pound 12 ounces per pair, good-looking with a sleek and modern leather build, and offers better traction with a full Vibram Megagrip outsole and more aggressive lug pattern. The biggest downsides are support and fit: The Trail 2650 falls short in terms of stability with a noticeably floppy feel, and we found the "regular" version of the boot to be too narrow, while the "wide" was overly roomy. Finally, from a comfort perspective, the Danner simply wasn't a standout, with less cushioning than the Anacapa that led to foot fatigue after long days on the trail. For $15 less and only a few ounces more, we think most hikers and backpackers will be happier with the more capable and comfortable HOKA.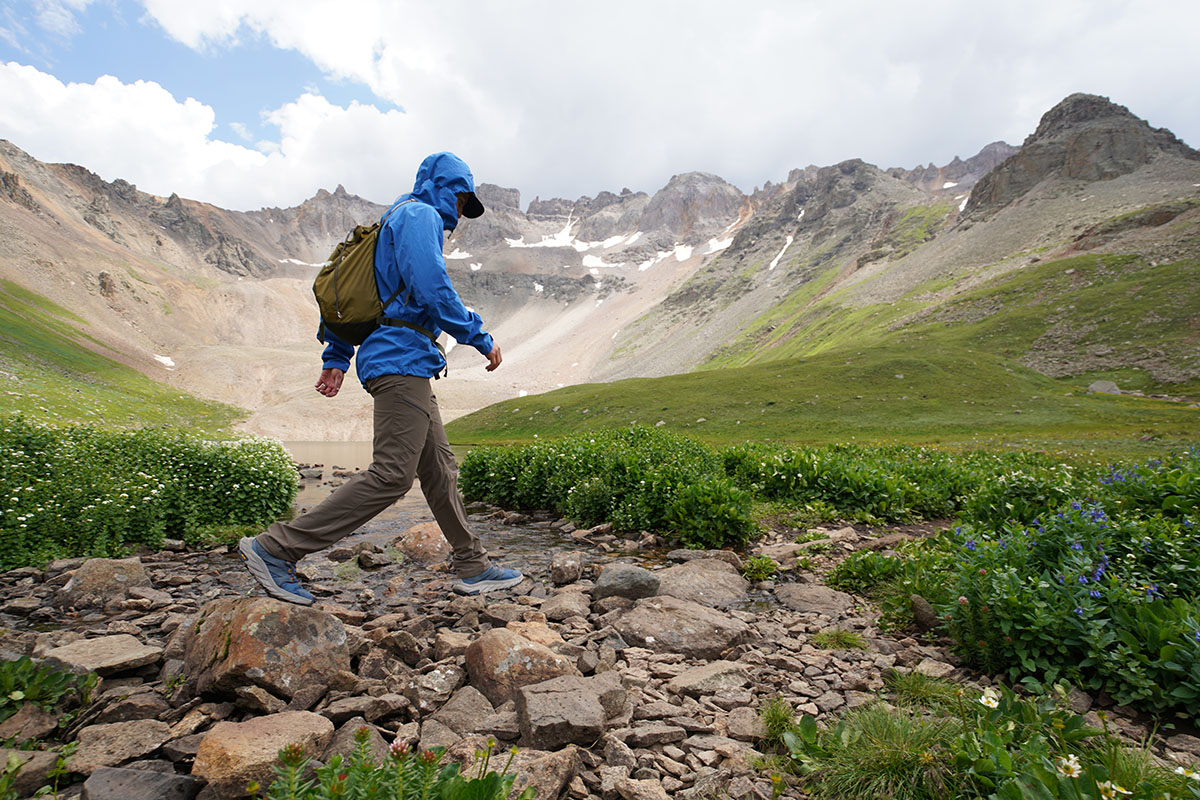 Next up is an in-house alternative to consider: HOKA's Speedgoat 5 Mid GTX. A mid-height version of their very popular trail runner, the Speedgoat Mid is lighter (1 lb. 8.8 oz.) but less protective and supportive than the Anacapa Mid. This makes the Speedgoat the better match if you plan to mix in stretches of running, although the Anacapa is no slouch and still has a quick-moving personality. And the Speedgoat does have the better outsole design for grip and longevity with full rubber covering the bottom, but the Anacapa's sturdier build makes it the more capable option for backpacking. In the end, a final decision will come down to your objectives and preferences on weight and flexibility versus on-trail performance.
Joining the Anacapa and Speedgoat is HOKA's top-end hiking boot: the Kaha 2 GTX. Like the Anacapa Mid, the Kaha is a premium design with a high-quality leather upper, proven Vibram Megagrip tread, and great cushioning on the tongue and collar. In testing the Kaha, we also liked its rockered shape and moderate flexibility, which made it easy to move quickly on the trail. The biggest drawback is the firm foam midsole, which lacks the cushy comfort we've come to expect from HOKA. We also came away with a couple of fit-related gripes, including a wider-than-average heel that led to issues with rubbing (for more, see our in-depth Kaha 2 review). For a significant $55 less, we think the Anacapa is the better value and overall performer.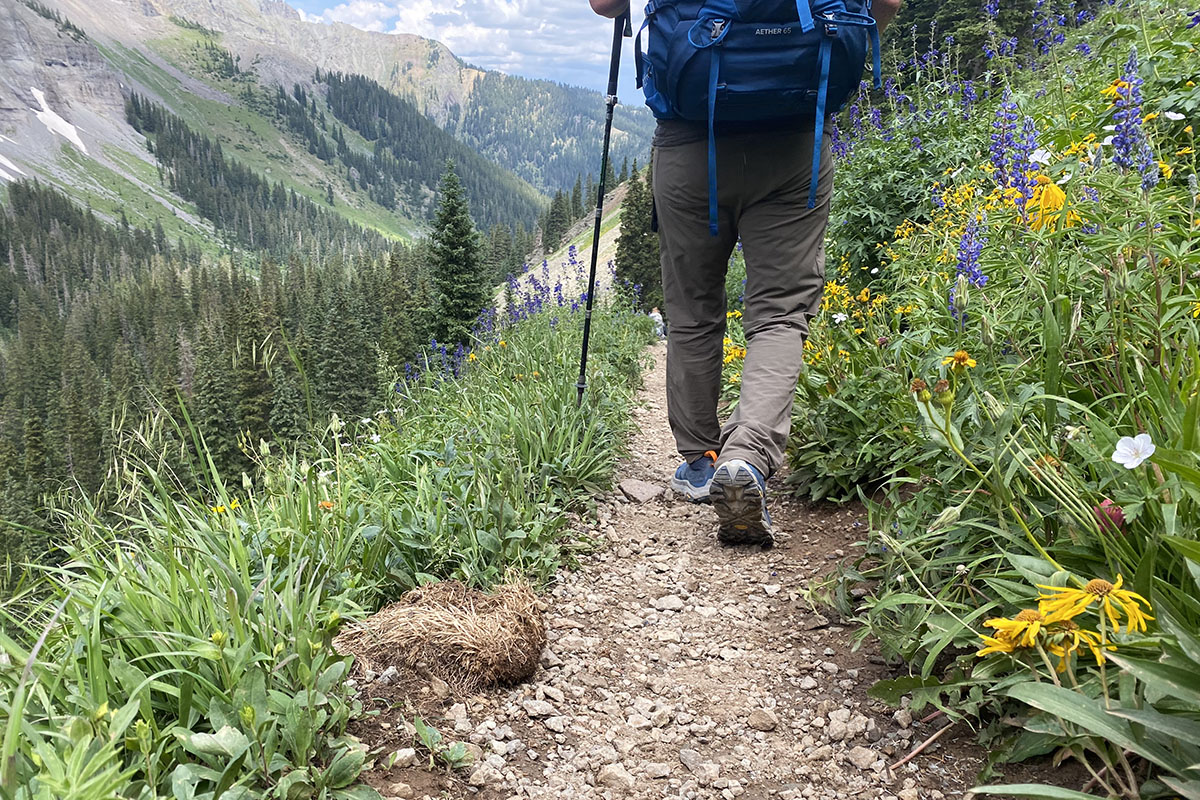 Last but not least is another mid-height take on a popular trail runner: Altra's Lone Peak ALL-WTHR Mid 2. Compared to the Anacapa, the Lone Peak has a lighter (1 lb. 14 oz.) and airier build but trades the HOKA's well-cushioned midsole for Altra's signature zero-drop shape. The result is better stability and connectedness to the trail, although we found the Lone Peak's roomy toe box and soft midsole to feel pretty sloppy on rocky and uneven terrain. The Anacapa is also the more durable option of the two, although the sections of blown rubber result in a drop in traction compared to the Lone Peak. But if you don't plan on mixing in any stretches of running, the HOKA hiker is overall the more capable pick.
If you're thinking about buying gear that we've reviewed on Switchback Travel, you can help support us in the process. Just click on any of the seller links above, and if you make a purchase, we receive a small percentage of the transaction. The cost of the product is the same to you but this helps us continue to test and write about outdoor gear. Thanks and we appreciate your support!
Depending on the seller, most products ship free in the United States on orders of $50 or more. International shipping availability and rates vary by seller. The pricing information on this page is updated hourly but we are not responsible for inaccuracies.
Read More From Switchback Travel