Topo Athletic is a running shoe company at its core, but they've begun dabbling in hiking with the Trailventure line. We brought the non-waterproof boot to Patagonia and put it to the test in the region's typical rough and challenging terrain. The verdict: While the Trailventure gets high marks in comfort with a trail runner-like feel, the superlight build falls short in durability and support. Below we break down our experiences with the Topo Athletic Trailventure. To see how it stacks up to the competition, see our article on the best hiking boots.
 
---
Table of Contents
---

Performance
Comfort
I had pretty high expectations for the Trailventure Hiking Boot, since Topo's Mtn Racer 2 has become my go-to trail running shoe of late. And from a comfort perspective, I feel like they nailed it. The healthy amount of soft cushioning underfoot is very clearly trail runner-inspired—it feels even softer than my Mtn Racers—and the lacing system limits pinch and/or pressure points well. Plus, the laces stayed snug all day without needing to be tightened. I wore the Trailventure over a multi-day backpacking trip in Patagonia's stunning Valle del Río Eléctrico and had no comfort-related issues.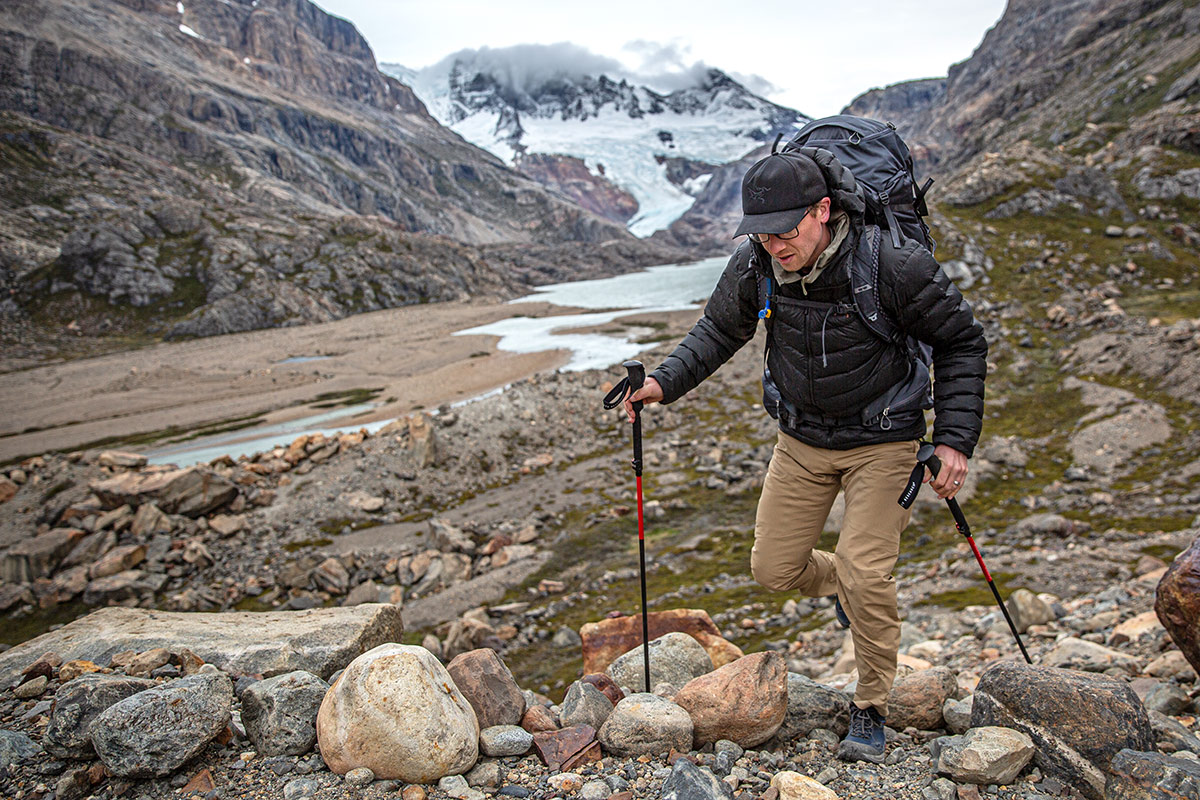 Compared to many minimalist hiking boots, the Trailventure features more foam in both the tongue and collar, which makes it pain-free to cinch the laces tightly, and the boots fit reasonably snug at the heel with plenty of room in the toe box—a fit that was just right for me. And while the Trailventure is undeniably a trail runner at heart, the combination of substantial cushioning and a partial rock plate underfoot made foot fatigue essentially a non-issue. Even loaded down with more gear than on an average backpacking trip—I was pushing 40 pounds a couple days—and covering rocky, off-camber, and occasionally steep terrain, I rarely thought about my feet at all. For a hiking boot, that's high praise.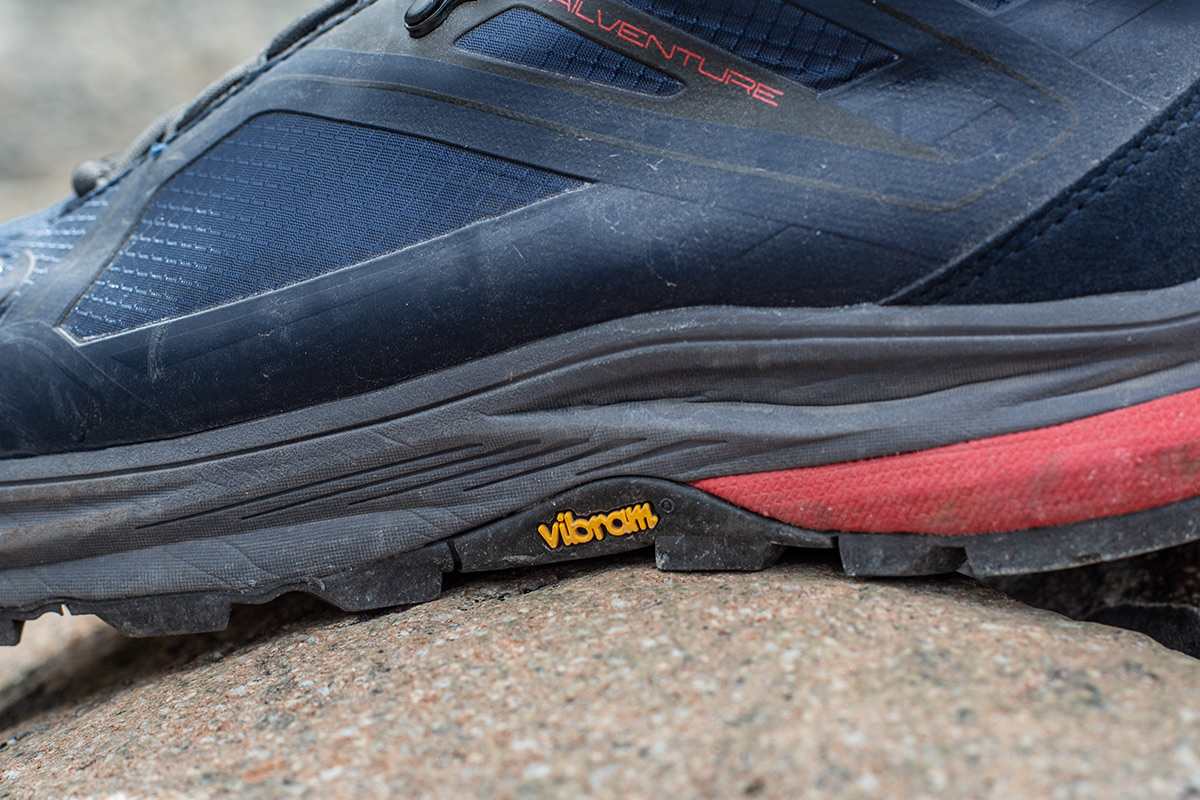 Weight
Unsurprisingly, the nimble Trailventure weighed in at an impressively low 1 pound 9.5 ounces for my men's size 9 (Topo lists them at 1 lb. 10 oz). This is the kind of weight you often find in the hiking shoe market, and it undercuts just about every mid-height boot we've tested. Popular models like the Salomon X Ultra 4 Mid (1 lb. 14.4 oz.) and La Sportiva's Nucleo High II (2 lbs. 1.6 oz.) weigh significantly more, while the non-waterproof Altra Lone Peak Hiker (1 lb. 7 oz.) serves as the Topo's closest competitor. There are definite compromises in selecting a boot this light, which we detail below, but purely from a weight perspective, the Trailventure undeniably stands out.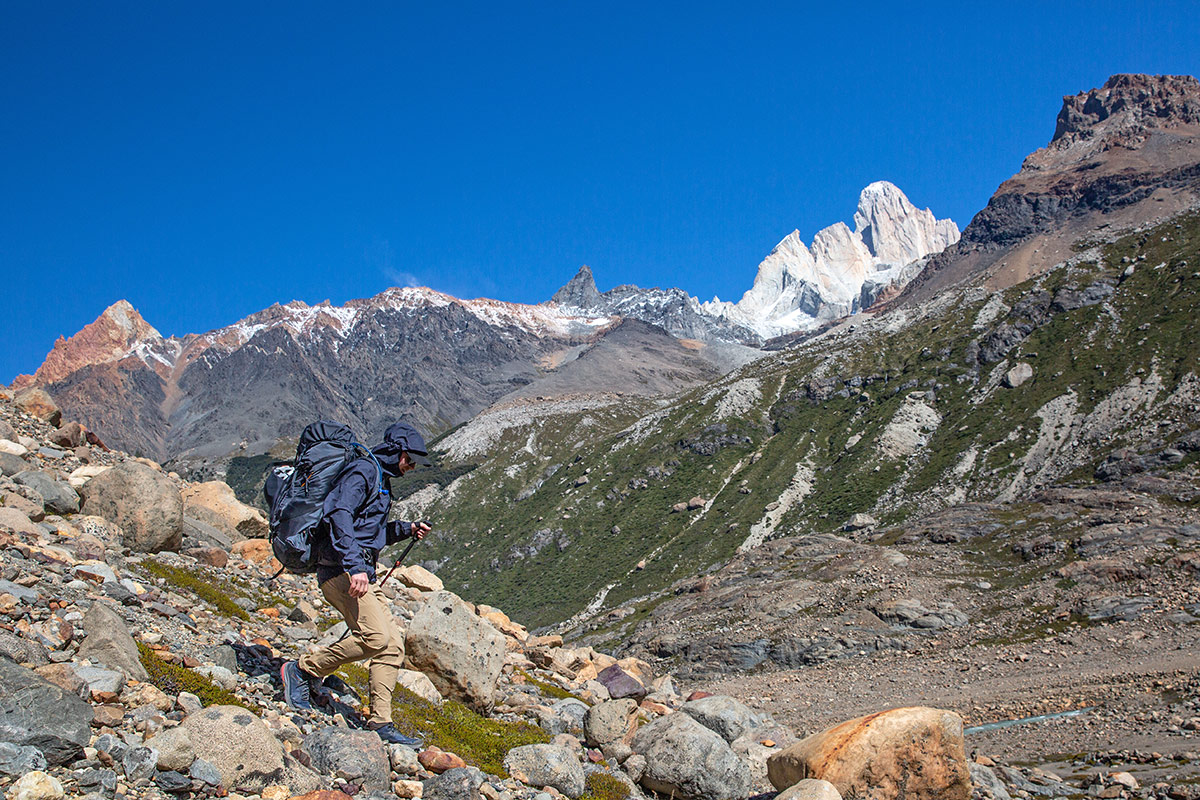 Traction
Topo's founder was previously CEO at Vibram, a brand known for their outsole expertise, and the Trailventure boot uses Vibram's trusty rubber underfoot. The lugs are fairly widely spaced and moderately deep—the layout closely resembles my Mtn Racer shoes—and this proved to be a very effective setup for hiking and backpacking in Patagonia. The rubber is plenty sticky for rock hopping and boulder traverses, and it even gripped well on tricky stream and river crossings. On softer surfaces, there's a good balance of bite from the stud-like traction with plenty of spacing to limit mud buildup. The Trailventure was equally impressive when descending steep terrain: The lugs right at the heel do an excellent job of "braking," and I felt very confident in those sections. It's still a little early to give a judgment on the outsoles' longevity, but thus far, the tread is wearing evenly and holding up great.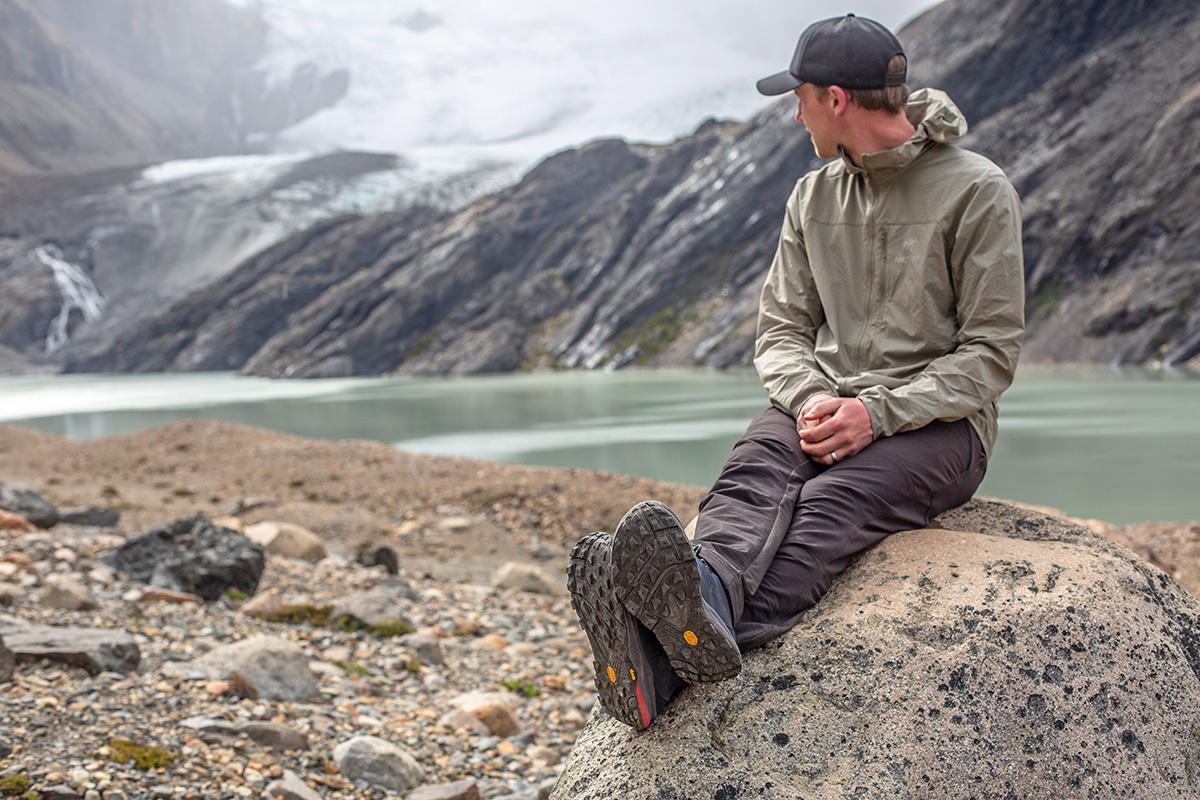 Stability and Support
Having tested mid-height versions of Altra's Lone Peak, among other mid-height trail runners, I wasn't expecting high levels of support from the Trailventure boot. That said, the minimalist and highly flexible nature of the design left me wondering if the boot offers any additional stability compared to a standard hiking shoe. To start, the boot just barely clears my ankles, and when cinched up, there isn't that foot-hugging support that often comes with a taller design like Hoka One One's Anacapa Mid. This gave it a tippy feel in off-camber sections and when traversing slopes. It's true the heavy pack I was hauling magnified these issues, but even with a lighter day pack, I was far more prone to ankle rolls during rock-covered sections of trail than if I'd had more support.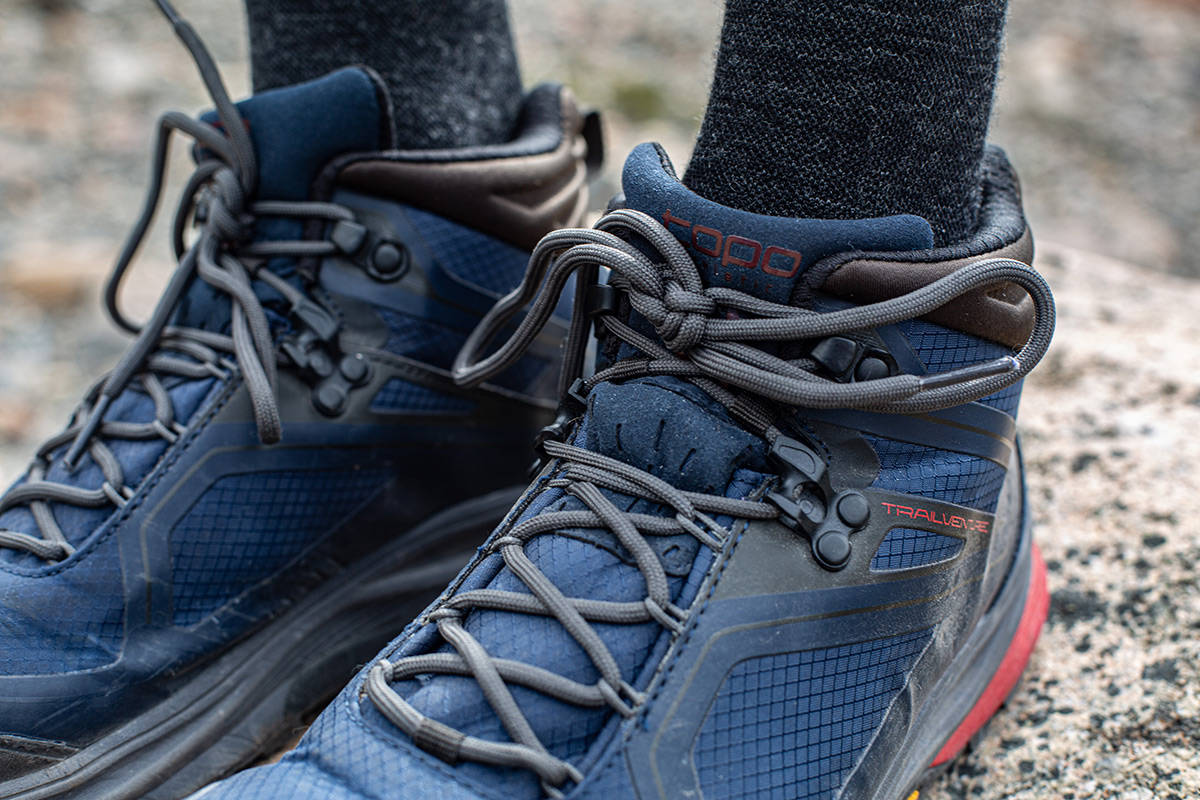 These complaints likely won't be a deal breaker for many minimalist or lightweight hikers and backpackers, but it does raise the question of why you wouldn't simply opt for a low-top hiking shoe or trail runner instead. Other than the moderate increase in protection around the ankle and possibly a slightly more secure feel with the taller fit, the Trailventure is by most intents and purposes a flexible and light hiking shoe.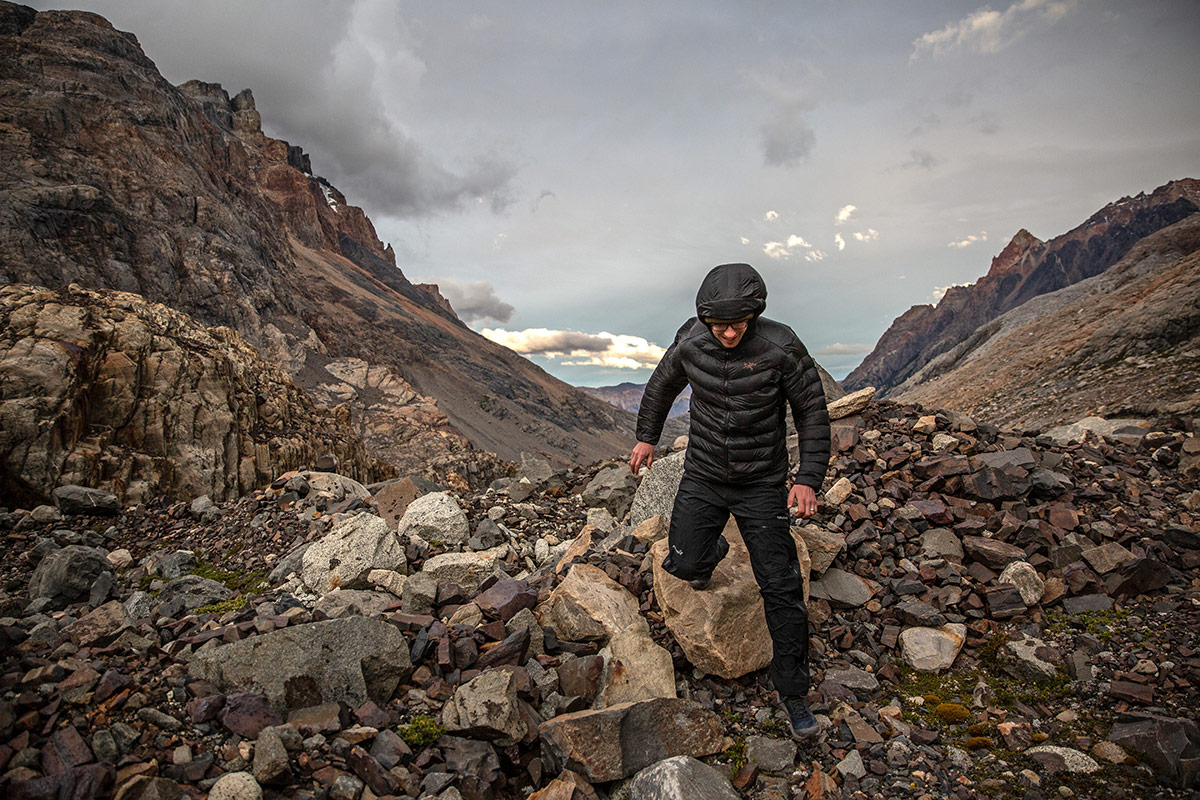 Breathability
Topo offers a waterproof variation of the Trailventure, but I brought the non-waterproof model for this austral summer visit to Patagonia. Paired with lightweight, breathable socks, I had no overheating issues even during warm afternoons hiking in the sun. The thin upper material played a big role in this, and it also proved to be helpful in drying the boot out after getting soaked from river crossings. As long as the wind was blowing (an inevitability in this region) and it was moderately warm outside, the boot dried exceptionally well. Drainage ports located by the inside of the arch aid in clearing out excess water, too. The only weak point is the thick foam at the collar, but I found I could squeeze a lot of the moisture out of it to expedite the drying process. In a market flooded with waterproof-only models, the Trailventure has real appeal for summer and warm-weather outings.

Toe and Ankle Protection
While we don't feel like Topo did enough in beefing up the stability of the Trailventure boot, it does offer a nice upgrade in protection for a trail running shoe. There's a real rubber toe cap up front (many lightweight models use a less protective and thinner TPU) and I didn't have any issues with sore toes after plenty of direct hits to rocks and roots. In addition, the raised, foam-filled collar does take the sting out of impacts there (such as your foot sliding between rocks). To be clear, heavier and more substantial designs like Salomon's X Ultra 4 Mid provide better wraparound protection for the toes and more coverage around the ankles, but the Trailventure's design does offer more peace of mind than a typical trail runner.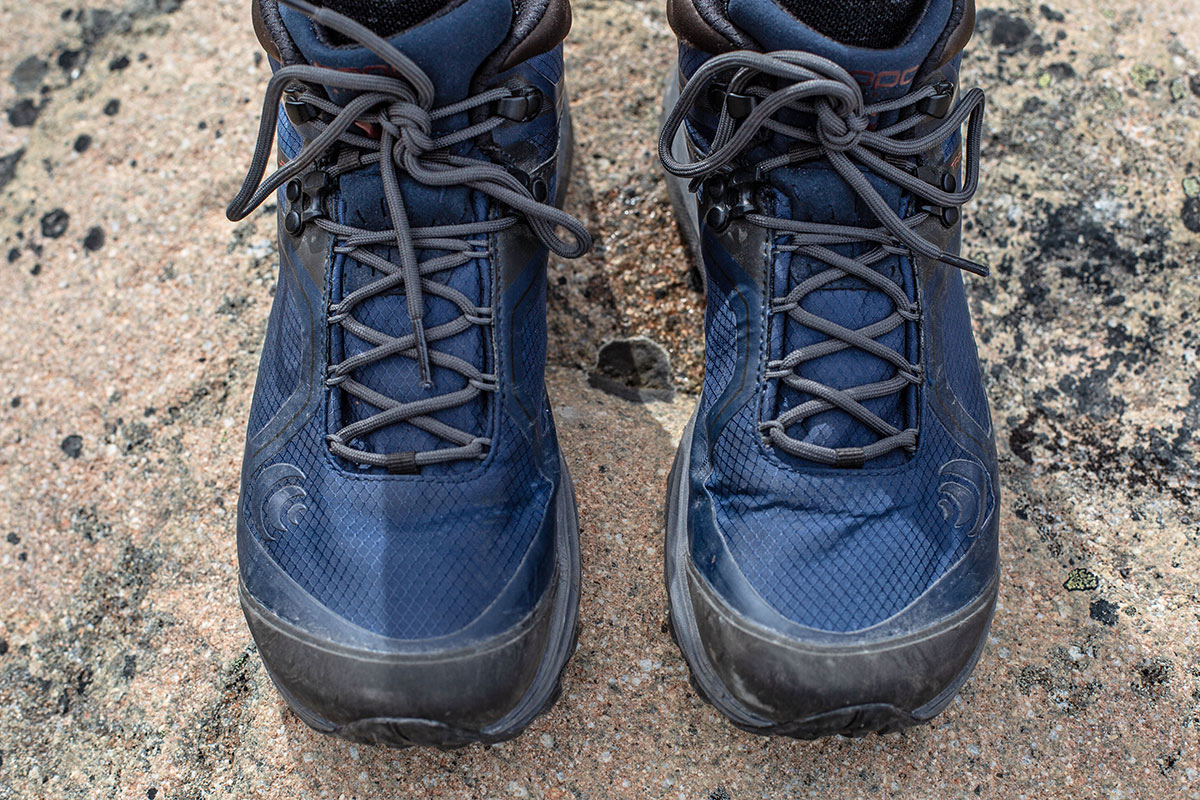 Build Quality and Durability
With less than 100 miles on the boots, it's still a little early to make too many definitive statements about the all-around durability of the Topo Athletic Trailventure. But the challenging backpacking trip did reveal a notable weakness in the collar design: At the top of both boot's collars, the soft, thin fabric has ripped away and chunks of the foam inside have broken off. This was likely the result of some challenging scrambling, but it's still something I've never experienced with a boot before (at least to this extent). Other parts of the build are holding up well—including the tread, upper material, and laces/lacing system—but the damage to both collars is hard to overlook.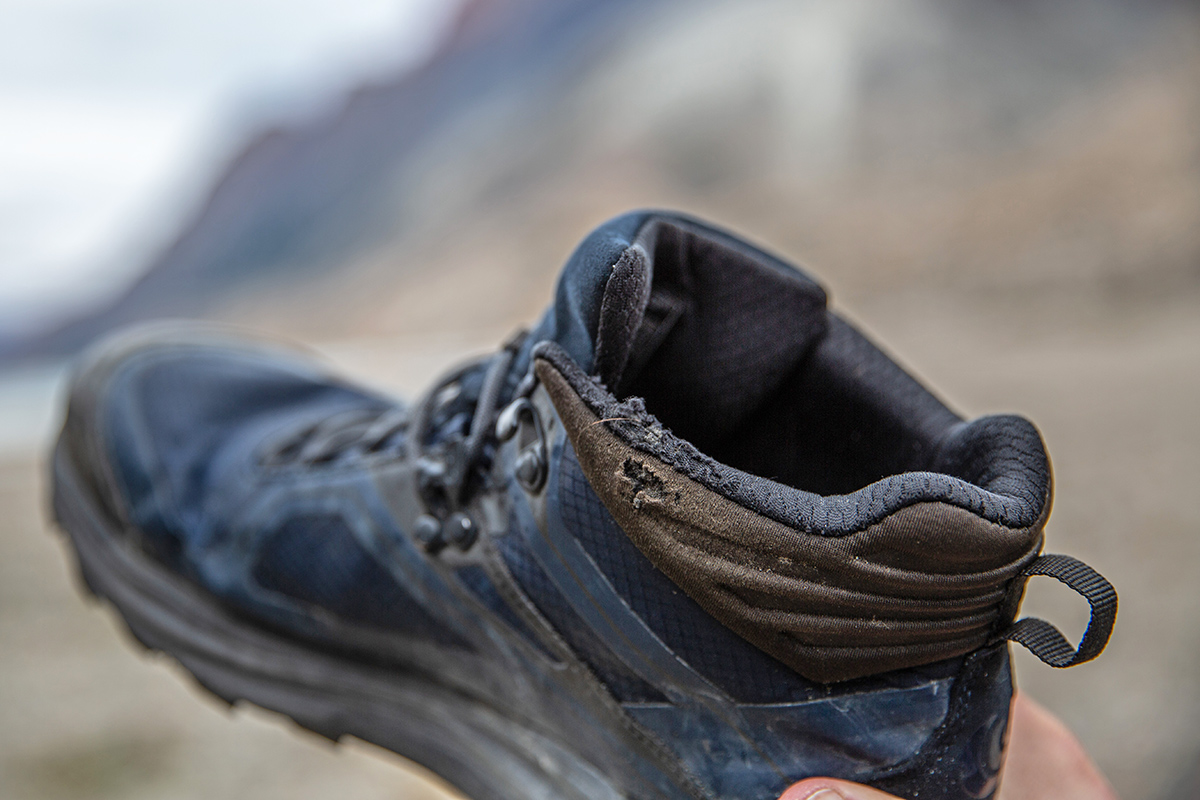 Fit and Sizing
As I touched on above, the Trailventure's fit was very close to spot-on for me. Like many of Topo's designs, it features a wide toe box, average width at the midfoot, and a snug enough heel to avoid any slippage while climbing. The easily adjustable lacing system also made it straightforward for me to get all-day comfort. I wore my standard men's 9 and found the length to be great, with no issues like my toes sliding forward to hit the front of the boots on long descents.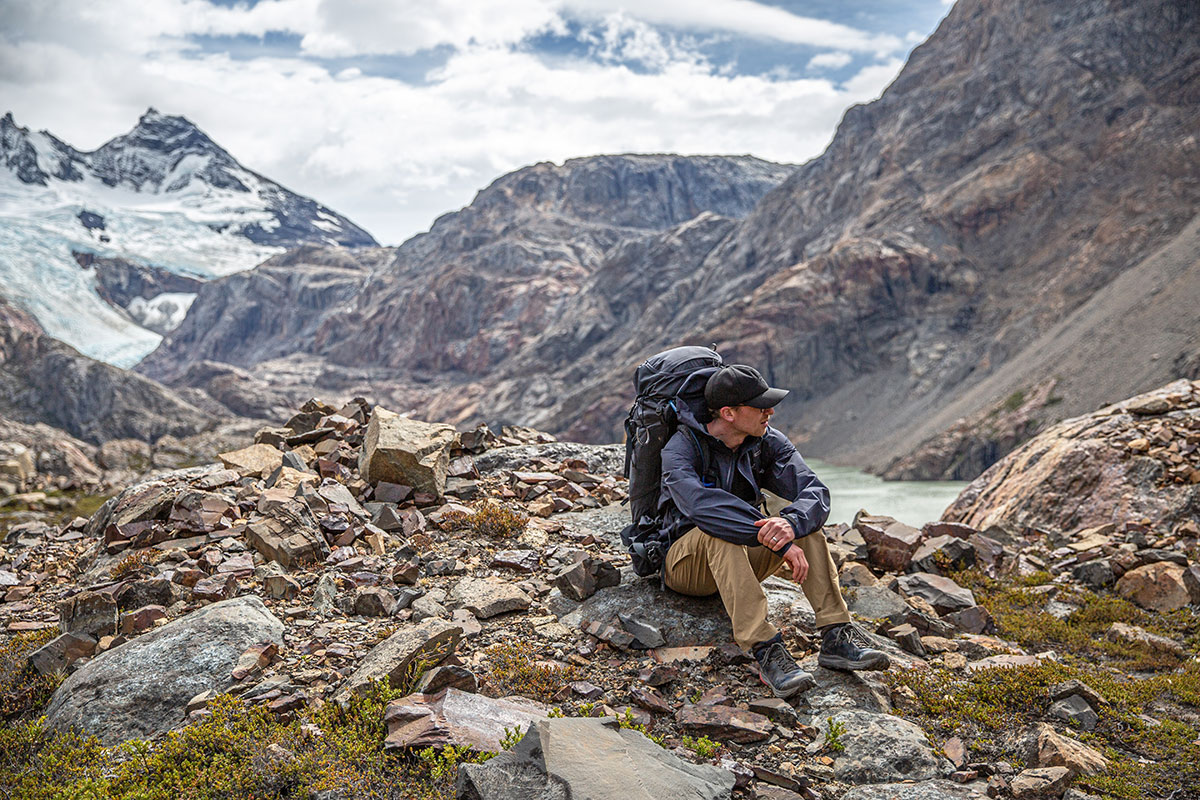 Other Versions of the Topo Athletic Trailventure
For this review, we tested the men's version of the Topo Athletic Trailventure. But Topo Athletic also offers the boot in a lower volume women's version in different colorways for the same price. Also, for those hiking in more wet conditions, a waterproof version featuring a full eVent inner bootie is available (in both men's and women's) for $20 more—plus a 3-ounce weight penalty.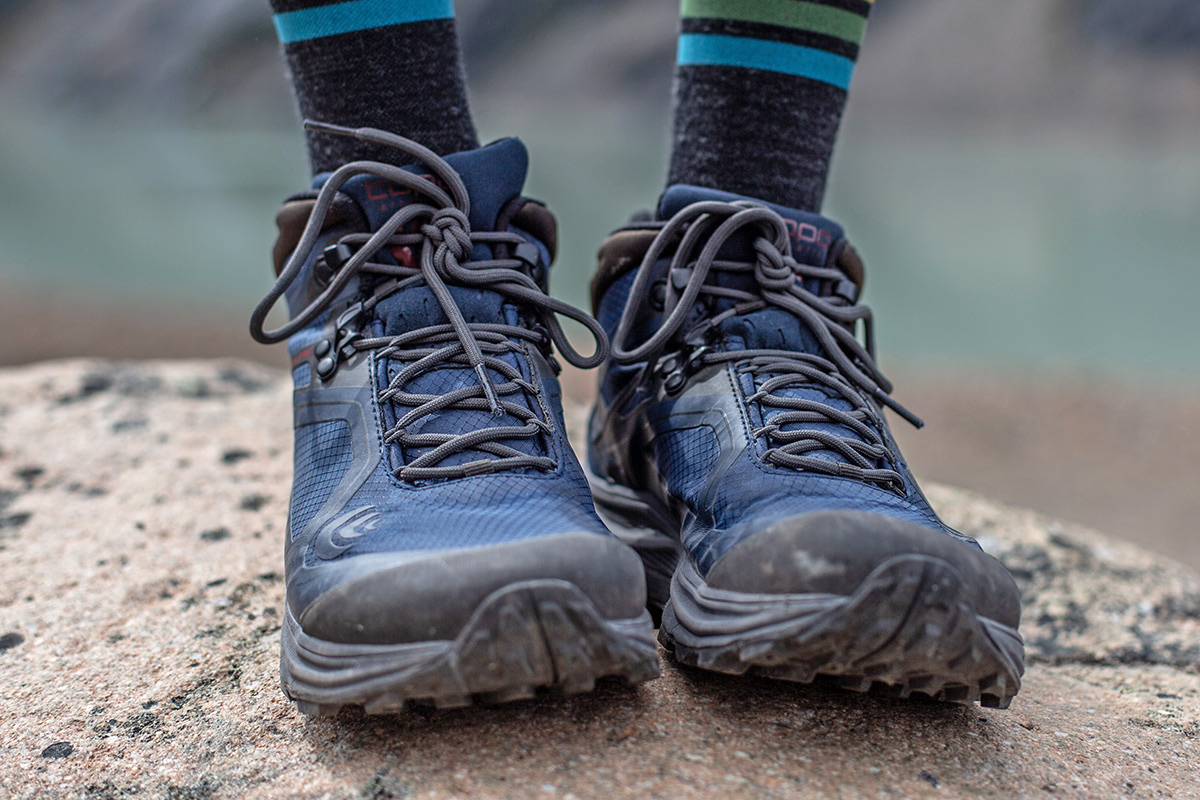 What We Like
Similar to Topo's trail runners, the Trailventure boot provides plenty of lightweight cushion for moving fast on the trail, but adds a bit of extra protection.
Wide toe box and relatively snug heel offer a good all-around fit. 
The Vibram rubber soles and widely spaced lugs give confidence-inspiring grip on a wide variety of surfaces.
Thin upper material makes the Trailventure great for warm-weather adventures, while drainage ports help shed water after stream crossings.
 
What We Don't
Low ankle height doesn't seem to add much support beyond what we'd expect from a typical low-top hiking shoe.
Flexible, minimalist design and lack of foot-hugging stability left us feeling tippy and vulnerable to ankle rolls in challenging terrain (especially when carrying in a heavy pack).
Our pair suffered durability issues, with fabric and foam wearing off at the collars.


Comparison Table

The Competition
Topo's Trailventure slots in on the cushioned and lightweight end of the hiking boot market, but it certainly doesn't have that niche to itself. Altra's Lone Peak Hiker, based on the popular zero-drop trail running shoe but with a raised collar, compares most closely to the Topo. Even lighter than the Trailventure and very clearly targeted at the day hiking market, the Altra's somewhat casual styling help it cross over into light everyday use. Its zero-drop profile won't be for everyone—the Topo has a more balanced 5mm drop—and neither will excel in long-term durability when compared to a more built-out leather hiking boot. On a positive note, both have wide toe boxes that many hikers and backpackers prefer. In the end, we give the edge to the Trailventure with its superior protection—especially at the toes—and less polarizing 5mm drop layout.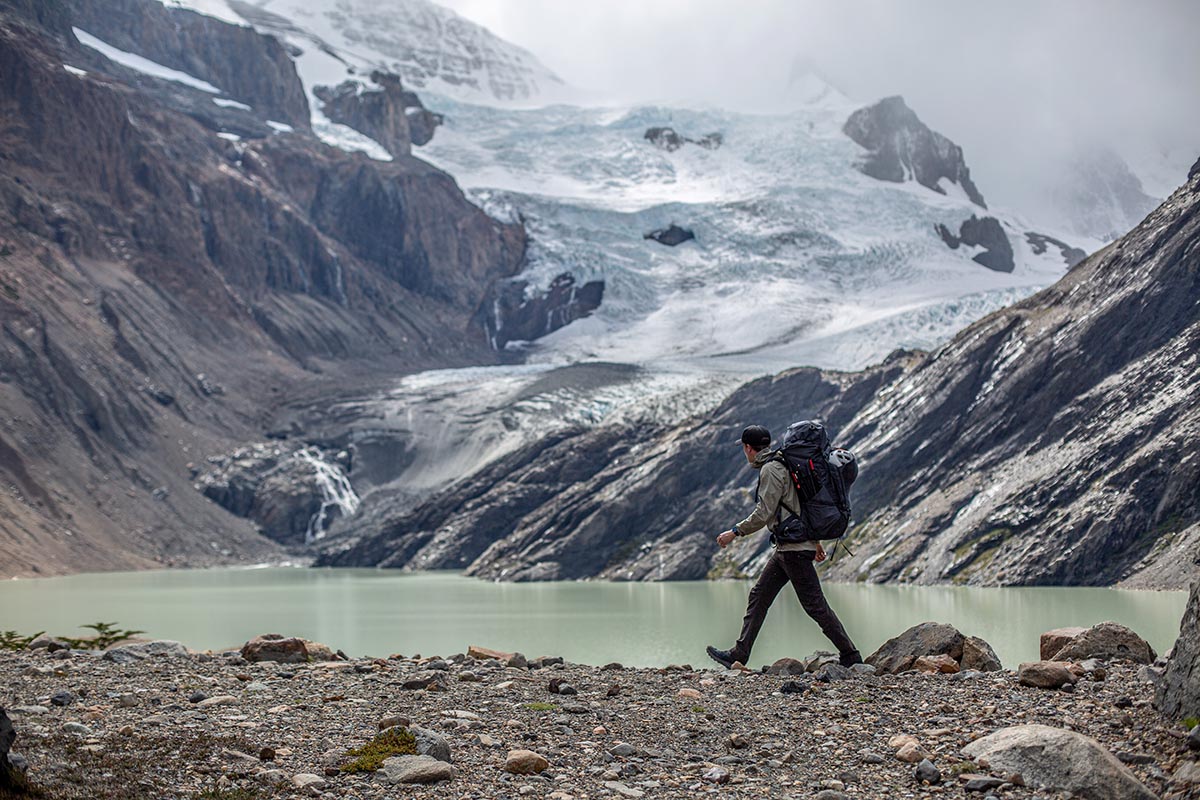 Salomon's X Ultra line has topped our hiking boot round-up for years, and the latest iteration—the X Ultra 4 Mid—continues to perform. A more traditional design than the Trailventure, it offers a step up in protection, durability, stability, and weight that makes it a better fit for mixed hiking and backpacking. On the other hand, the Trailventure's running shoe-like feel excels while day hiking and on ultralight backpacking trips (especially if the terrain is pretty mellow). In our eyes, the choice comes down to personal preference in style: The Trailventure feels like a soft trail runner, while the X Ultra wears more like a traditional hiking boot.
Another option to consider, for those who prefer trail runner-inspired style, is the Hoka Speedgoat Mid 2. When it comes down to it, the Speedgoat Mid 2 is basically an over-the-ankle trail running shoe. It features thicker cushioning than the Trailventure, which impacts trail feel and makes them even more prone to being tippy. And the Speedgoat's outsole lacks the durability of the Trailventure's Vibram soles (the blown rubber in the middle of the Speedgoat's outsoles will wear down on rough trails). Both the Speedgoat and the Trailventure work well for breaking out into mid-hike runs. However, the Hoka is not available in a non-waterproof version, which could be a deal breaker for more warm-weather adventures.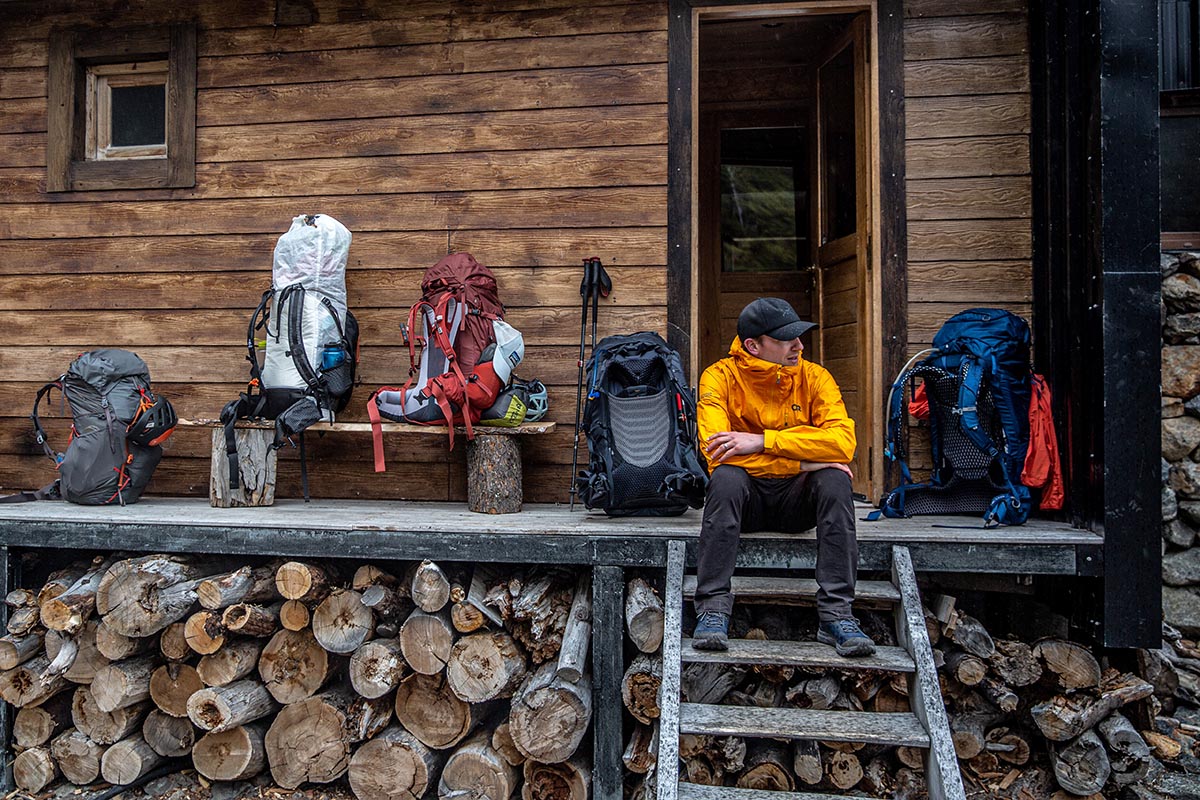 Last but not least, hiking footwear specialist Vasque offers a popular lightweight design, the Breeze LT Mid GTX, that checks in around the same weight as the Trailventure (the men's Breeze is 1 lb. 11 oz.). But where the Topo lands on the trail runner side style-wise, the Vasque provides a more traditional hiking boot design with better stability on technical trails and added over-the-ankle support when carrying a loaded pack. The Topo still gets our nod for those who like to mix in the odd section of trail running, but take note before making a purchase: Neither shoe strikes us as particularly durable, and we experienced delamination between the rand and upper while backpacking in the Grand Canyon with the Breeze.
If you're thinking about buying gear that we've reviewed on Switchback Travel, you can help support us in the process. Just click on any of the seller links above, and if you make a purchase, we receive a small percentage of the transaction. The cost of the product is the same to you but this helps us continue to test and write about outdoor gear. Thanks and we appreciate your support!
Depending on the seller, most products ship free in the United States on orders of $50 or more. International shipping availability and rates vary by seller. The pricing information on this page is updated hourly but we are not responsible for inaccuracies.
Read More From Switchback Travel