Big Agnes Fly Creek HV UL2
Price: $370
Packaged weight: 2 lbs. 4 oz. (2P)
Floor area: 28 sq. ft.
Capacities: 1P, 2P
What we like: Truly ultralight at a competitive price.
What we don't: One door/vestibule layout limits practicality; cramped interior.
See the Big Agnes Fly Creek HV UL2
In many ways, Big Agnes' Fly Creek helped bring the ultralight movement to the mainstream. At less than 2.5 pounds, it's comparable to a bivy sack or hammock and stuffs down impressively small in a pack. We put the tent to the test in Washington's Cascade Mountains and found that while it's still a leading UL design, it does come with notable compromises in interior space, storage, and weather protection. Below we break down the Fly Creek's overall performance. To see how it stacks up to the competition, see our article on the best backpacking tents. 
Editor's note: The Fly Creek is now the Fly Creek HV UL2 Solution Dye, with the biggest change being the solution-dyed fabric that uses less water and energy consumption during production and is more UV-resistant and less prone to fading over time. The latest tent also weighs an ounce less, costs $20 more, boasts a larger entryway and streamlined pole clip system, and has steeper walls that add two more inches of headroom. We've noted these changes where applicable in text below.
 
---
Table of Contents
---

Performance
Weight and Packed Size
Tents are one of the first pieces of gear backpackers look to in order to cut weight, and the Big Agnes Fly Creek HV UL2 delivers at just 2 pounds 4 ounces all-in. In terms of competition, Big Agnes' own Tiger Wall UL2 (2 lbs. 8 oz.), Nemo's Hornet (2 lbs. 6 oz.), and REI's Flash Air 2 (2 lbs. 8 oz) clock in slightly heavier, although all three feature two-door-and-vestibule designs that add a great deal of convenience. Nemo's Hornet Elite (2 lbs. 1 oz.) is one of few ultralight designs to undercut the Fly Creek, but the fabrics are concerningly thin and the tent won't hold up in truly rough conditions. And Zpacks' Duplex (1 lb. 3 oz.) is a popular option among thru-hikers, but its trekking pole-supported design isn't as user-friendly and you pay a steep premium for Dyneema fabrics. All in all, the Fly Creek is a solid value for a proven UL design.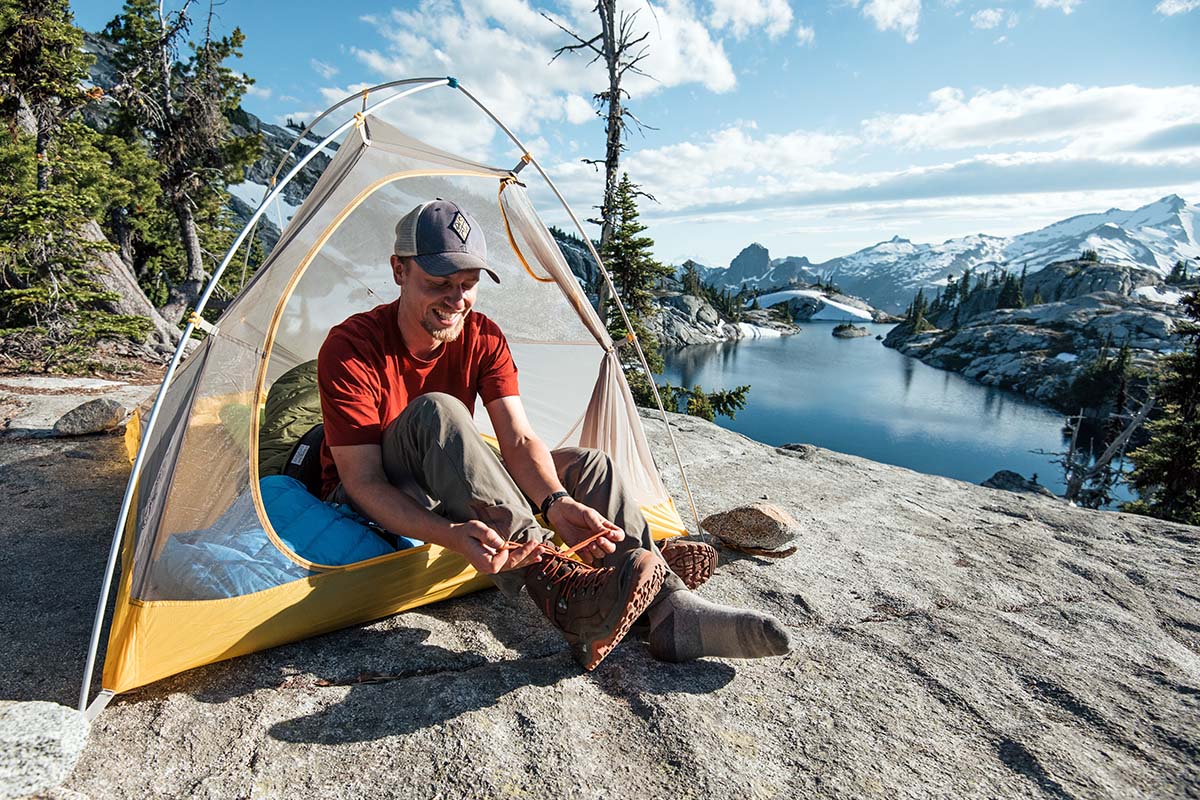 Lining up with its weight, the tent's simplistic pole structure and thinner materials allow it to pack down to a relatively tidy shape that stuffs fairly easily into a pack. However, it's important to note that the latest Solution Dye model is larger than its predecessor, with a 6 x 19.5-inch shape that's larger than much of its competition (the previous model measured 4 x 19 in.). For comparison, it's bulkier than almost all of the aforementioned competitors, including the Big Agnes Tiger Wall (5.5 x 18), Nemo Hornet (5.5 x 19.5), REI Flash Air (7 x 16), and Nemo Hornet Elite (4.5 x 19). But to be fair, most backpackers should have no issue finding room for the Fly Creek, and you can always separate the pole bag from the rest of the tent to maximize space in your pack.

Livability and Interior Space
Without a doubt, the biggest compromise in choosing the Fly Creek is interior space. Put simply, the UL2 version is best used as a solo tent. You do get decent head room at 42 inches (2 in. more than its predecessor) due to the tilted hubbed pole above the door and steeper walls (hence the "HV," or high-volume, in the name). However, the tapered shape means it can hardly fit two regular-width (20-in. sleeping pads) without some overlap (you'll want a mummy-shaped pad). Further, there's heavy tapering toward the foot end, and a single pole that runs only down the middle of the tent means that your feet will touch the sidewalls if you're camping with a partner or slide too far to one side during the night. In the end, our take is that the Fly Creek is a solid set-up for one (provided you sleep in the middle) but a pinched space for two adults.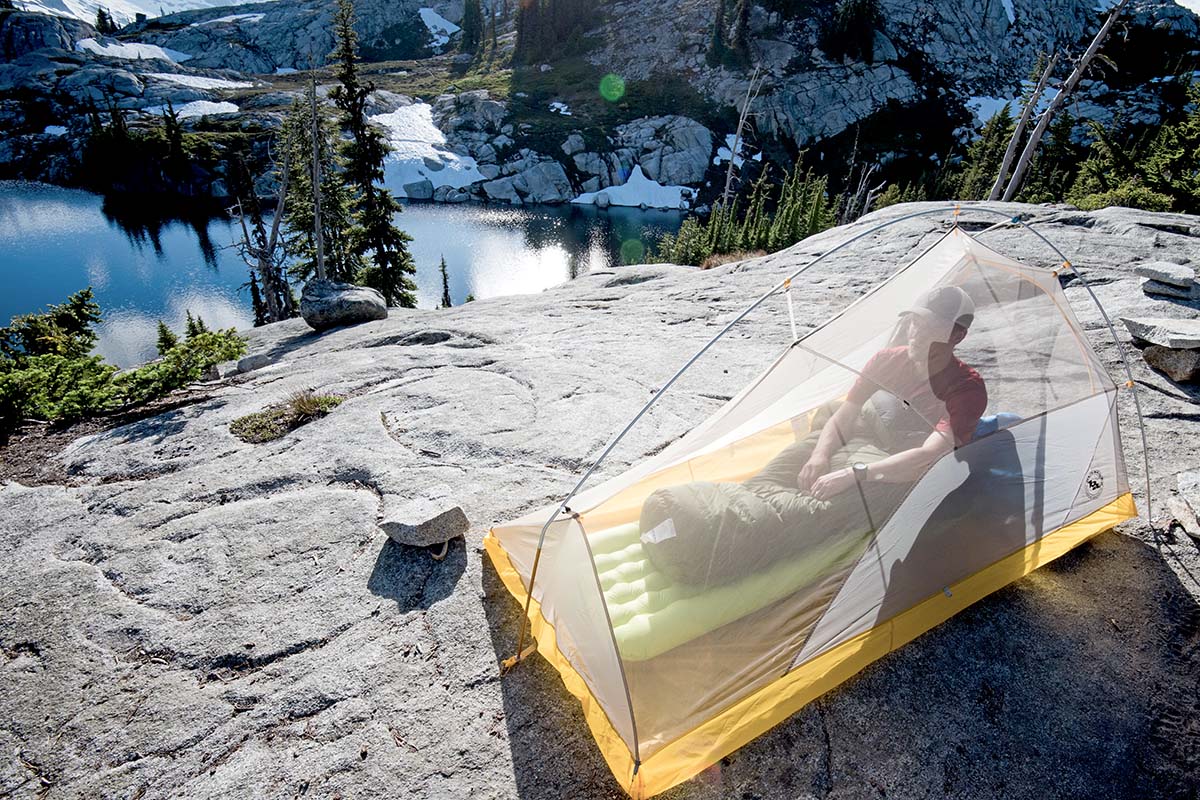 Durability
When first released, the Fly Creek stood out as ultra-thin and vulnerable to tears and damage. And while it's true the rainfly is partially transparent and the 20-denier (D) floor certainly requires extra care, these are now common attributes in the ultralight tent market. In fact, plenty of tents in the same weight class use even thinner fabrics, including the 15D floor on REI's Flash Air and the 10D floors within Nemo's Elite line. As with all of these ultralight products, extra care is highly recommended, and it's a smart idea to use some sort of footprint if you'll be camping on rough surfaces or want your tent to last (Big Agnes sells one for $75, or you can go the budget route with a standard polycro ground cloth). All in all, I wouldn't describe the Fly Creek HV UL2 as overly delicate (the Fly Creek Carbon with its thin Dyneema build is a different story), but it might be an adjustment for those used to thicker materials in non-UL designs.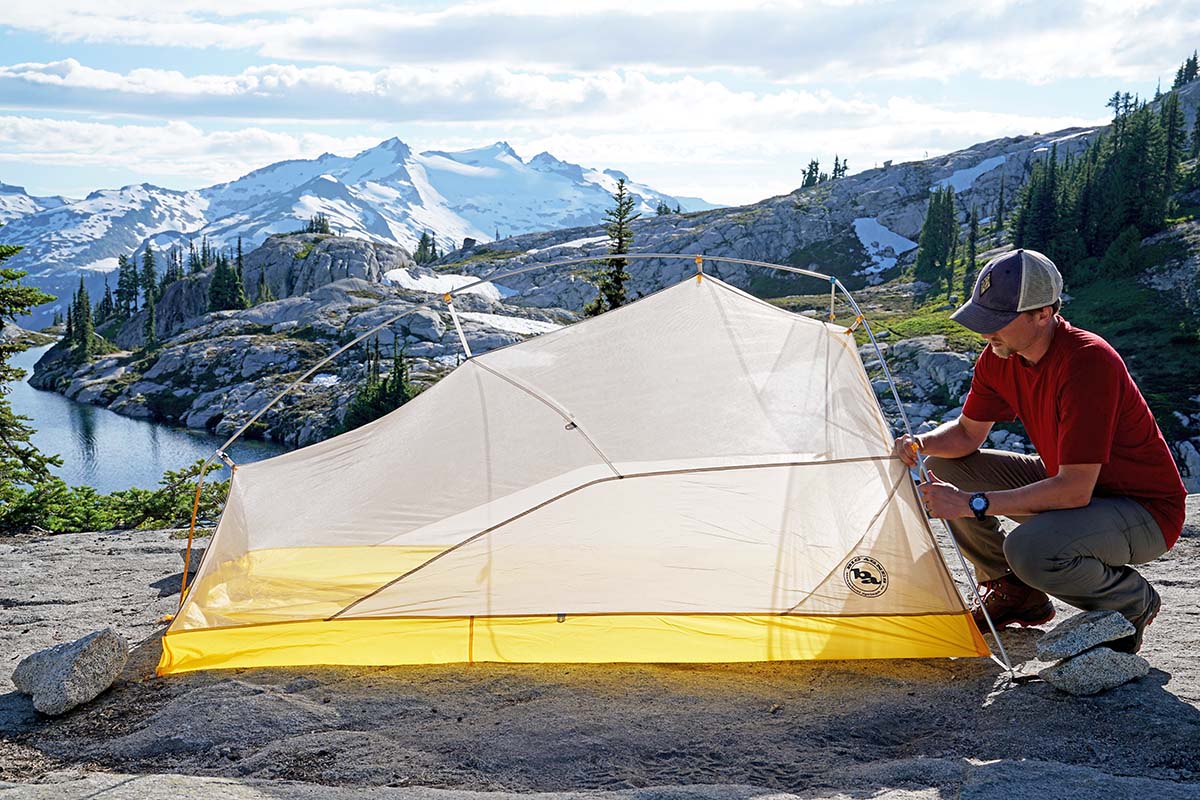 Weather Protection
The Big Agnes Fly Creek is a perfectly fine 3-season option but does require a little additional work to get it prepared for inclement conditions, even in moderate weather. The good news: the tent comes with a full-coverage rainfly and quality seam sealing, which isn't standard in the ultralight market. Plus, there are raised sections of the bathtub floor towards the head end that increase protection from blowing dust and splashes from heavy rainfall.
In order to maximize protection, however, you'll need to take a few extra steps. Unlike Big Ages' freestanding Copper Spur, it's a good idea to fully guy out the Fly Creek if it will be wet, as the fly has a tendency to sag and press up against the sides of the tent (particularly along the middle and foot end where there is only a single pole running the spine of the tent). Even a semi-freestanding design like the Tiger Wall creates better separation between the tent body and fly thanks to its center ridge pole. And a final point to consider with the Fly Creek is that it's best to camp on a reliable surface where you can drive stakes into the ground. When camping on rock, it was difficult to get a taut and solid pitch due to the non-freestanding foot end of the tent (more in "Set up and Take Down" below).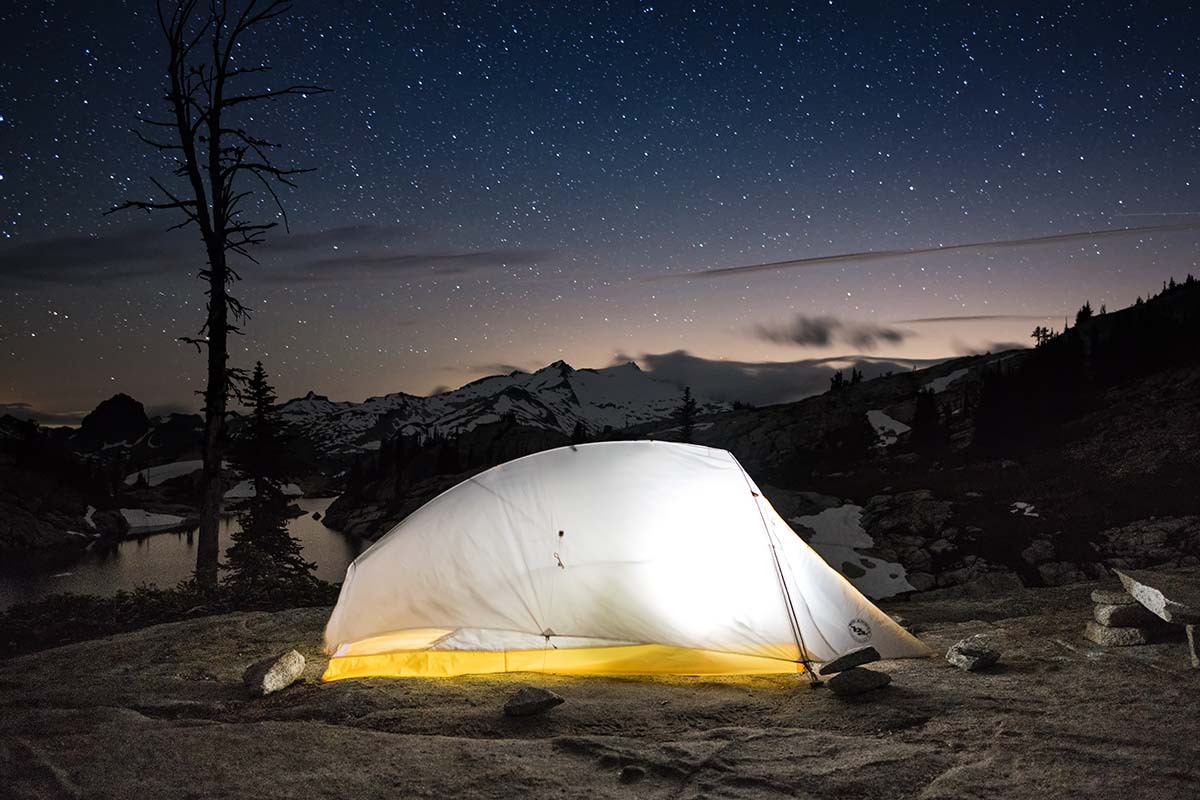 Ventilation
Some of the Fly Creek's competition is single-wall, but the Big Agnes double-wall build has those beat in many ways. The separate rainfly/tent body and generous use of mesh help keep air flowing, meaning the tent isn't overly prone to moisture buildup. However, as we noted above in weather protection, it's best to guy out the tent to prevent the side walls from sagging, thereby limiting ventilation and increasing the chances of condensation accumulating. We also would've preferred to have a built-in roof vent to further promote airflow, but the Fly Creek nevertheless is a decent overall breather considering its ultralight build.
 
Vestibules and Storage
One major way Big Agnes cut down on weight with the Fly Creek HV UL2 was by using a single door and vestibule at the head end of the tent. We prefer this layout to a single side door, which can create challenges getting in and out of the tent when camping with a partner. That said, it's still not our favorite set-up. Putting your pack in front of the door blocks access, and it can be downright tricky to navigate the various footwear and gear in front when entering and exiting. Single backpackers might not mind, but even on solo trips, we prefer the convenience of two vestibules so that we can dedicate one solely to gear. The good news is that the vestibule door opening is very wide (and now taller with the latest update), and rolling it back is a nice way to let in light in fair weather. Plus, interior storage is decent: there is a triangular pocket by the head at each side and a larger pocket along the roof—ample space for stowing a couple phones, headlamps, and maps (it also has dedicated cord routing for headphones).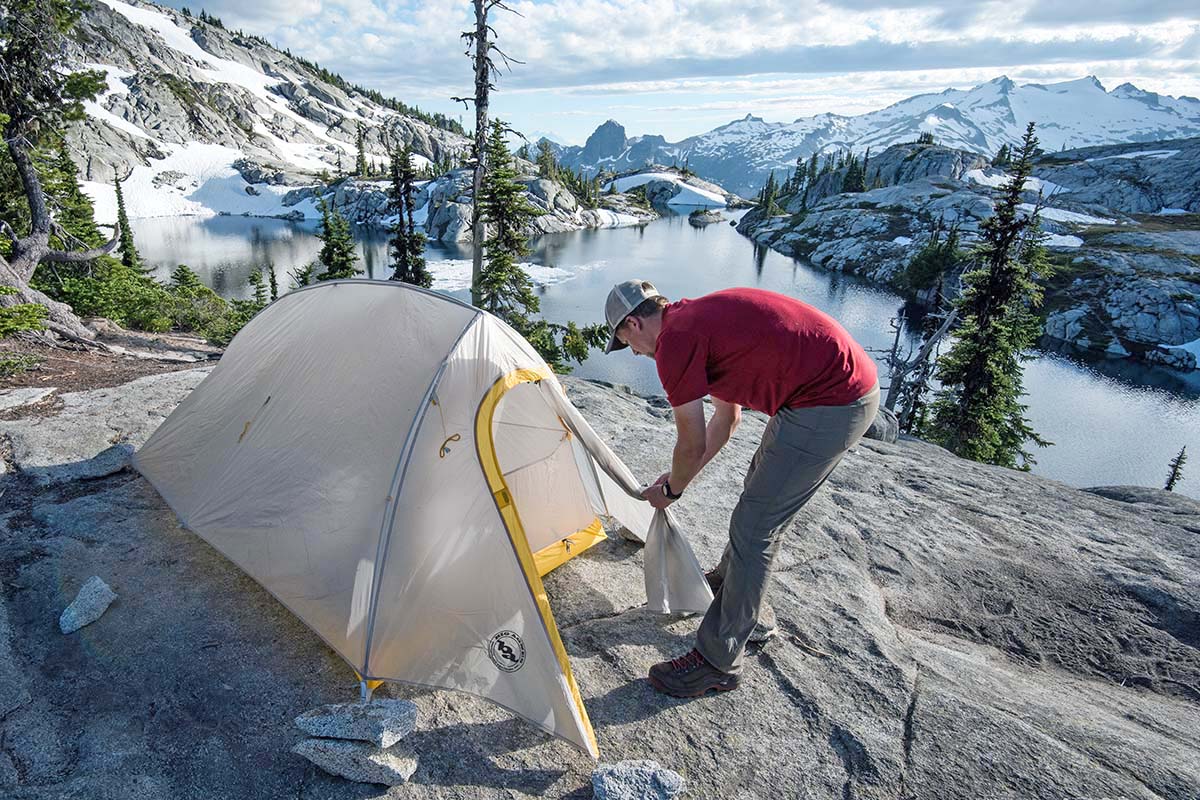 Set up and Take Down
With only one hubbed pole, the set-up process is fairly simple. It's important to note that the Fly Creek is semi-freestanding (meaning it won't stay up on its own), so it's best to stake out the corners to start and then attach the pole. At the foot end, the pole inserts into a grommet at ground level and then connects to a clip right above the bend. This creates a triangle-shaped area around the feet to prevent your sleeping bag from touching the end wall. As mentioned above, where the semi-freestanding design can be limiting is on difficult ground like rock. We found it tougher to get a taut pitch in these circumstances, and it certainly was less weather-worthy than the freestanding Nemo Dagger we also brought along, even when also secured with rocks. But for the weight, there's no question the Fly Creek (thanks to the hubbed-pole structure) is simpler and easier to set up than ultralight, non-freestanding builds like the Zpacks Duplex.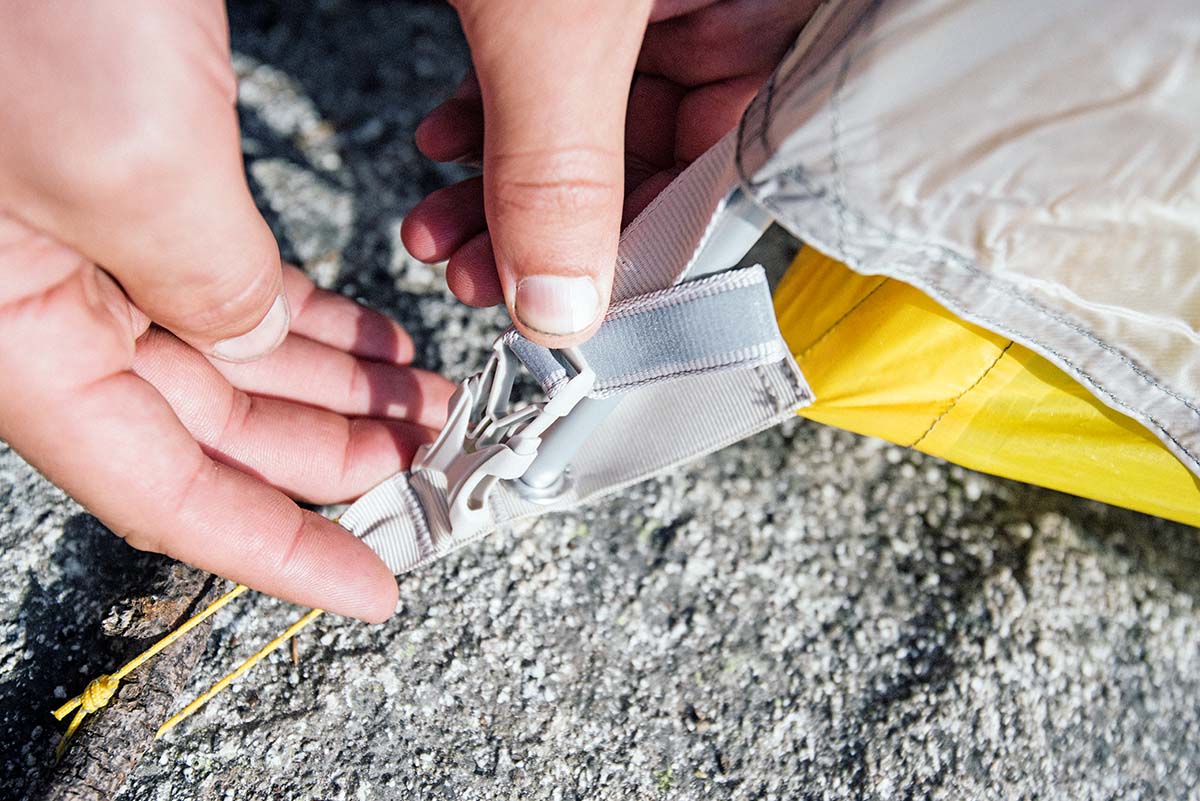 Other Versions of the Big Agnes Fly Creek
We tested the two-person version of the Fly Creek HV UL, and Big Agnes also makes the tent in one-person model. The 1P shares most of the design features of the 2P tested here in a trimmed-down shape and lighter-weight package (2 lbs). However, given the Fly Creek HV UL2's feathery build, we think the added space is worth it, even for solo backpackers. And rounding out the collection, Big Agnes also makes ultralight Platinum and Carbon models in one- and two-person capacities. The Platinum uses even thinner nylon fabrics, while the Carbon utilizes Dyneema and carbon fiber poles for a crazy low 1-pound-7-ounce weight for the 2P (at a whopping $850).

What We Like
Proven ultralight design at a reasonable price.
Double-wall build isn't common in the UL world but greatly improves ventilation and minimizes condensation buildup inside the tent.
Simpler and quicker to set up than many non-freestanding ultralight models, including the trekking pole-supported Zpacks Duplex.
Comes with a full-coverage rainfly and seam sealing.
 
What We Don't
Only has one door and one vestibule, which makes entering and exiting the tent difficult and limits storage space for gear.
Cramped for two campers. It can hardly fit two regular-width (20-inch sleeping pads) without some overlap.
20D floor is fairly standard in the lightweight tent market but will require some added care to prevent tears and snags.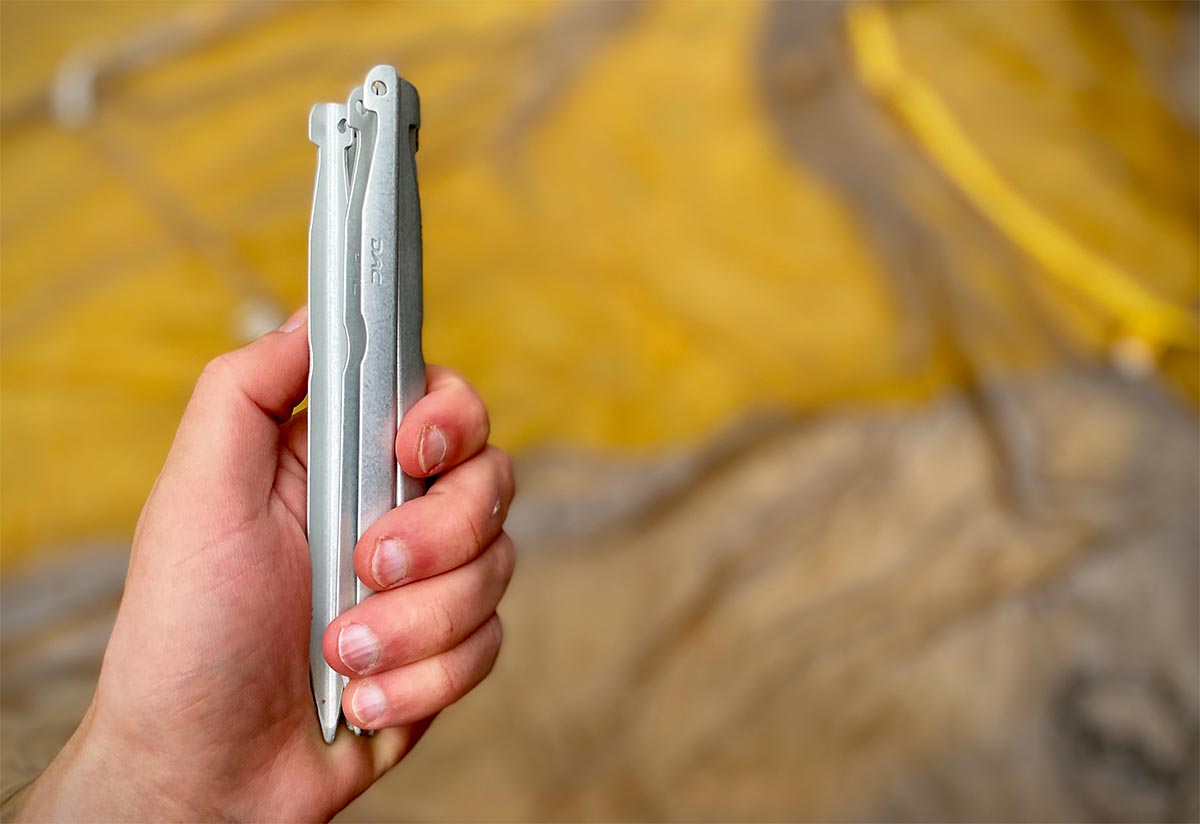 Comparison Table

The Competition
Big Agnes' Fly Creek HV UL2 is a leading ultralight backpacking tent for its feathery build, double-wall construction, and competitive price. Its closest competitor in the UL category is Nemo's Hornet 2P. The tents are nearly identical in weight (the Fly Creek wins out by 2 oz.), durability (the Nemo uses 10 and 15D fabrics), build quality, and similarly tight quarters inside. Further, both excel for solo backpackers despite their two-person designations. That said, the Hornet is the more convenient option thanks to its two door/vestibule layout. And despite being a little cramped, the side doors and dual vestibules do make it feel less claustrophobic overall. All in all, given the similarity in weight and identical cost, we give the edge to the Hornet for its less compromised build.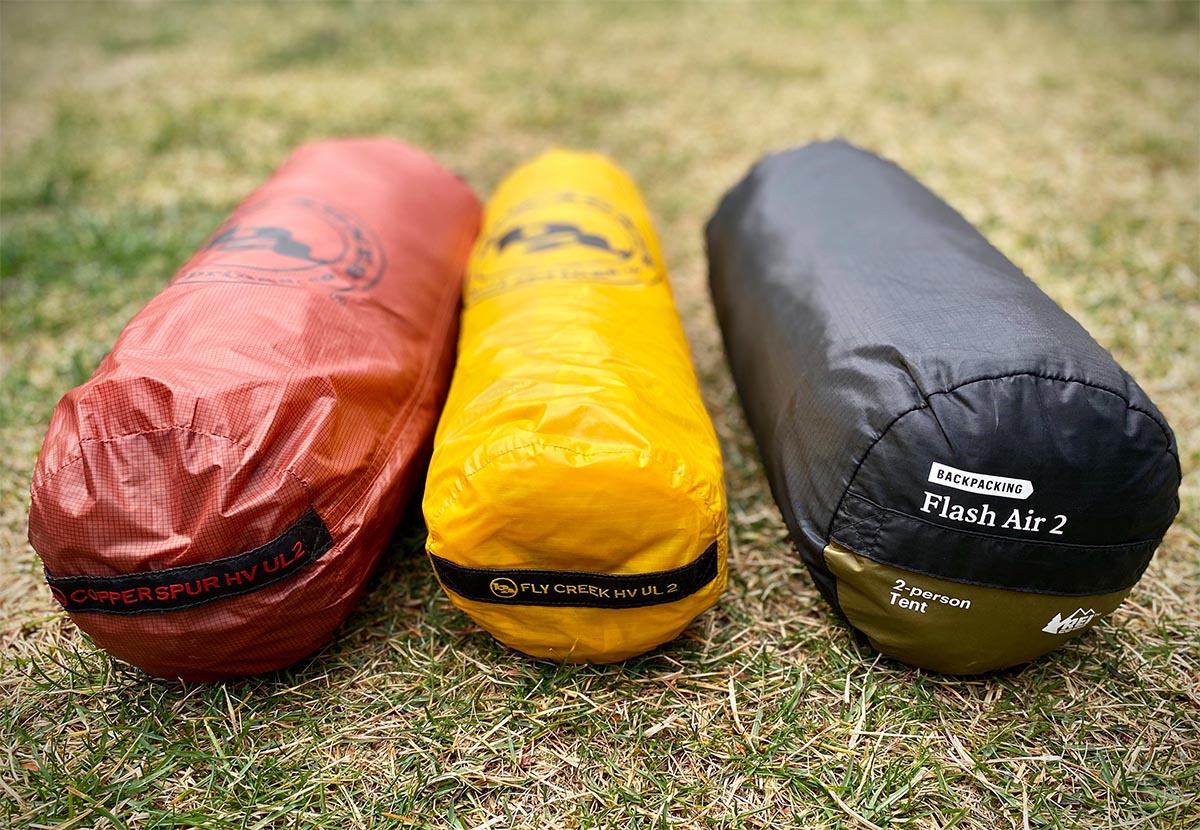 Big Agnes' own Tiger Wall is an interesting alternative to consider, combining design elements of the Fly Creek and the more feature-rich and spacious Copper Spur. Like the Fly Creek, the Tiger Wall UL2 now uses a solution-dyed fabric and is semi-freestanding, but adds a center ridge pole and two door/vestibule layout that greatly improves livability. The Tiger Wall is still fairly snug inside despite these additions (it has the same square footage), although it can accommodate two backpackers much more easily than the Fly Creek. All in all, the Tiger Wall strikes us as the better-balanced build, and especially given that it only weighs an additional 4 ounces. 
REI Co-op jumped into the UL world last year with their Flash Air tent, which features a unique, non-freestanding build that uses two side poles (swapping them for trekking poles saves another 3.4 oz.) to create its structure. The Fly Creek beats it in weight by 4 ounces and is a bit faster to set up with its semi-freestanding design, but the Flash Air 2 still is reasonably quick and very user-friendly, plus it's slightly roomier inside with 28.7 square feet of floor area (compared to the Fly Creek's 28 sq. ft.). All in all, the Flash Air is the much better choice for two backpackers, and we think even single backpackers will appreciate the REI's two door/vestibule layout and larger interior dimensions (not to mention, you save around $70 with the Flash Air).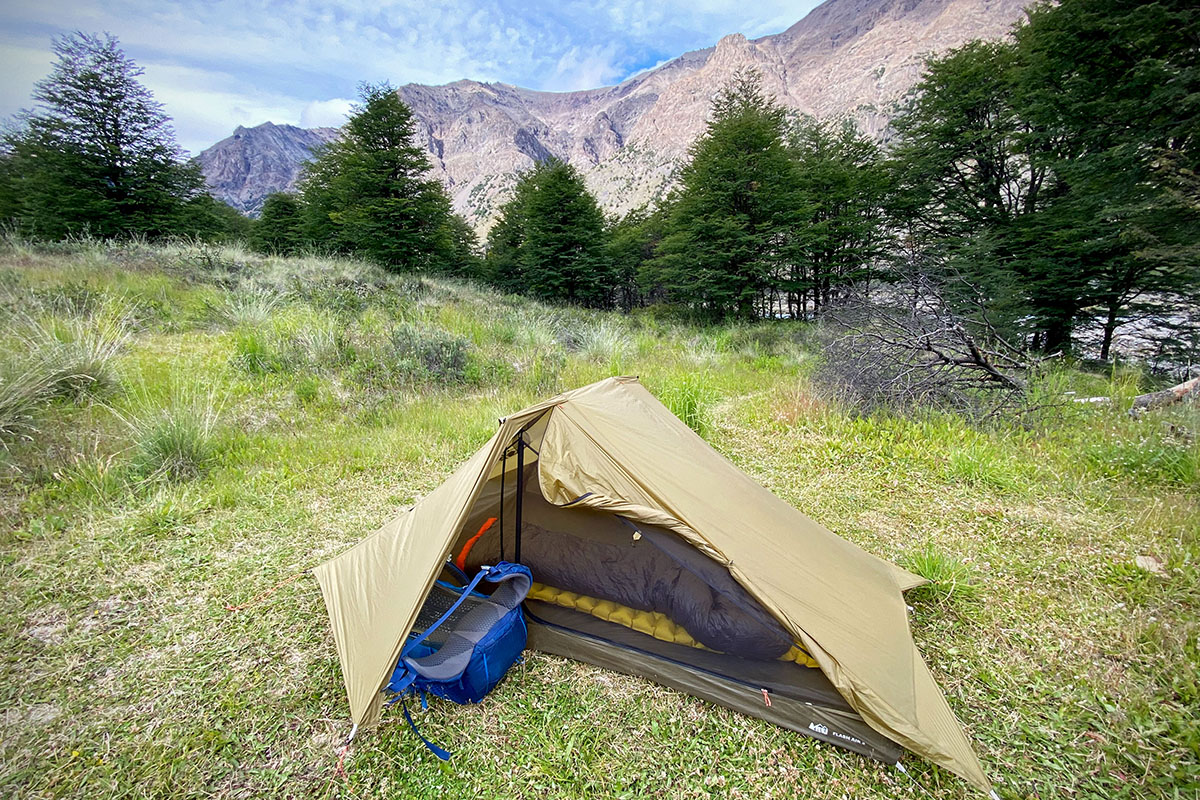 Moving into the cottage tent industry, the Tarptent Double Rainbow is another quality UL design to consider. Stacked up to the Fly Creek, the Tarptent is more affordable at $299 but weighs a bit more at 2 pounds 9.8 ounces all in (including poles, stakes, and the stuff sack) and uses a non-freestanding construction. The Tarptent's hybrid single-wall build also makes it more prone to moisture build-up, and the Double Rainbow doesn't come with sealed seams (you can pay for this service from Tarptent for an additional $35). In the end, the Double Rainbow is cheaper and more durable than the Fly Creek, but the Big Agnes wins out in almost every other category.
A final competitor is one of the few to beat the Fly Creek in weight: Zpacks' Duplex. The trekking pole-supported design weighs in at just 1 pound 3 ounces (not including stakes) and is popular among the thru-hiking crowd. However, its single-wall build means it suffers more with condensation than the Fly Creek, and the fully Dyneema construction comes at a steep price ($599 for just the tent, plus the cost of stakes, trekking or tent poles, etc.). Given the design, the Duplex also takes more effort and time to get a good pitch compared with the more user-friendly Fly Creek, although it's more spacious inside while easily winning out in weight. All things considered, the Zpacks isn't for everyone, but its weight-to-space ratio simply is hard to beat.
If you're thinking about buying gear that we've reviewed on Switchback Travel, you can help support us in the process. Just click on any of the seller links above, and if you make a purchase, we receive a small percentage of the transaction. The cost of the product is the same to you but this helps us continue to test and write about outdoor gear. Thanks and we appreciate your support!
Depending on the seller, most products ship free in the United States on orders of $50 or more. International shipping availability and rates vary by seller. The pricing information on this page is updated hourly but we are not responsible for inaccuracies.
Read More From Switchback Travel