Big Agnes Tiger Wall UL3 mtnGLO Solution Dye
Price: $530
Packaged weight: 3 lbs.
Floor area: 38 sq. ft.
Capacities: 2P, 3P
What we like: Great livability, organization, and weather protection for 3 pounds all in.
What we don't: Semi-freestanding build isn't the most convenient to pitch; flimsy stakes. 
See the Big Agnes Tiger Wall UL3
Big Agnes is a leader in the ultralight tent market, and we recently took their popular Tiger Wall to Peru for testing. At 3 pounds all in for the two-person model, the tent was light enough to carry for 10 days straight along the Cordillera Huayhuash and offered ample space and storage for my wife and me to wait out storms and organize gear. There are certainly some concessions to the ultralight and semi-freestanding design—including a more involved setup process, draftiness in windy weather, and flimsy stakes—but the Tiger Wall is much less compromised than many competitors in its weight class. Below we break down our experiences with the Tiger Wall UL3 mtnGLO Solution Dye. To see how it stacks up to the competition, see our articles on the best backpacking tents and best ultralight tents.
 
---
Table of Contents
---

Performance
Weight and Packed Size
At 3 pounds total, the three-person Big Agnes Tiger Wall UL3 Solution Dye is lighter than many two-person designs and a great match for two backpackers looking to maximize space while keeping weight to a minimum. For reference, it undercuts other leading lightweight models including Nemo's Dragonfly 3P (3 lbs. 15 oz.), MSR's Hubba Hubba 3 (3 lbs. 13 oz.), and Big Agnes' own Copper Spur HV UL3 (3 lbs. 14 oz.). You can shave a few ounces with MSR's 2-pound-11-ounce FreeLite 3, although that tent is 4 inches shorter lengthwise. It's worth noting that we brought along a footprint for the tent, which added another 7 ounces, but it still felt entirely reasonable to haul through the Peruvian Andes. And if you're truly counting ounces, you can pitch the rainfly on its own without the tent body, which brings weight down to a scant 2 pounds 1 ounce.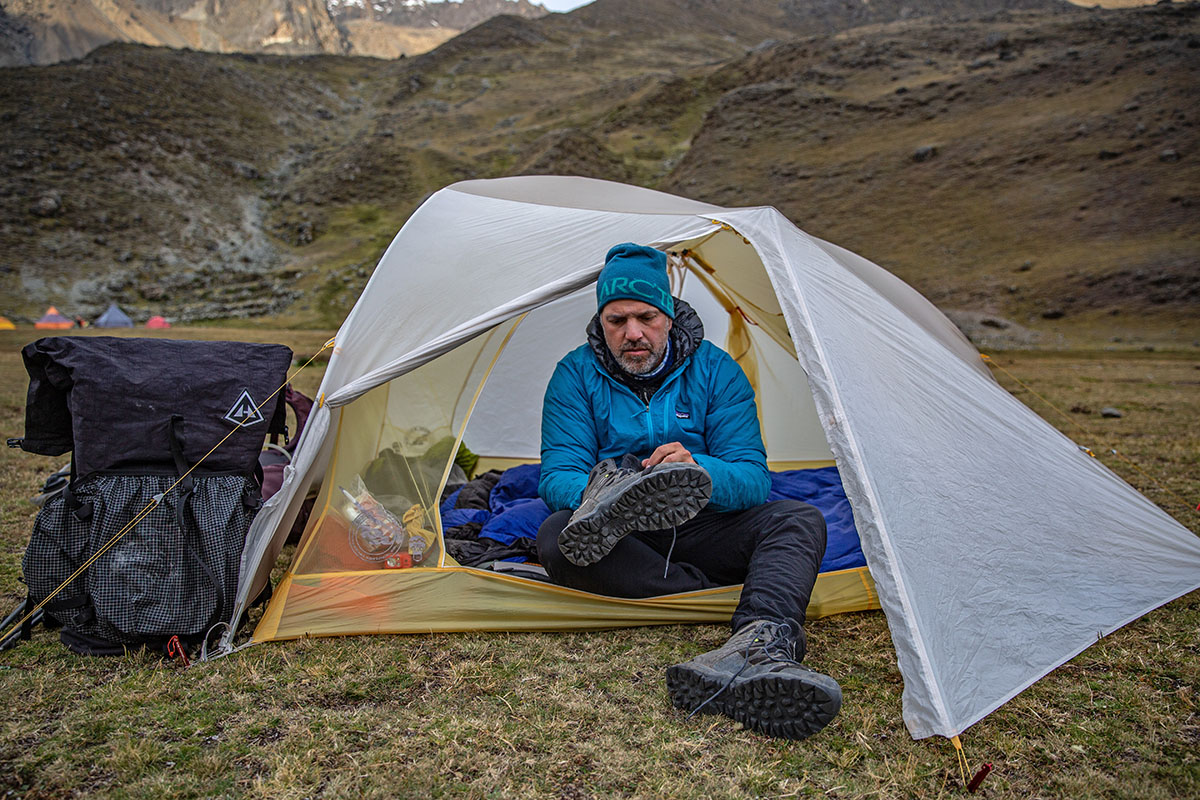 Packability is a similar story, with the Tiger Wall UL3 measuring a compact 6 x 19 inches when compressed into its stuff sack. Importantly, it's easy to get all the components—body, fly, footprint, poles, and stakes—inside the bag, and you can get it even more compact by using a dedicated compression sack (sold separately). By comparison, the Nemo Dragonfly 3P (5 x 19.5 in.) and MSR FreeLite 3 (5 x 19 in.) mentioned above pack down similarly small, while Big Agnes' Copper Spur HV UL3 is a little larger and bulkier at 6 x 21 inches.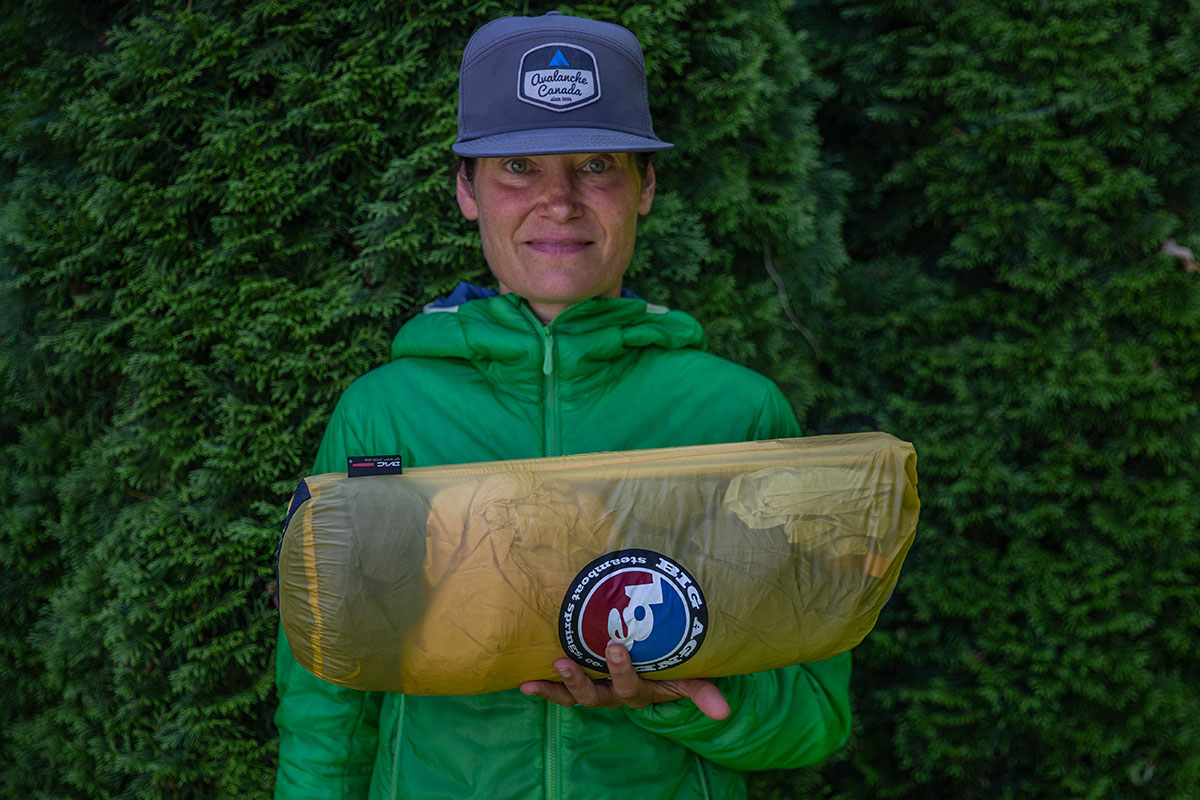 Livability and Interior Space
With a two-door-and-vestibule layout and generous 38-square-foot interior, the Tiger Wall UL3 offered ample space for my wife and me to comfortably wait out several rainstorms along Peru's Cordillera Huayhuash. For reference, we've done our fair share of camping over the years and concluded that three-person backpacking tents provide the best comfort whether it's just the two of us or we're camping with our dog, Otis. We love having additional room, especially when we have to hunker down in inclement weather or keep our gear inside the tent with us, which we did in Peru after learning that foxes are known to swipe gear from vestibules. It's worth noting that we typically prefer symmetrical layouts, but the Tiger Wall's tapered cut (from 66 in. at the head to 60 in. at the foot end) felt roomier and less compromised than expected. And the 42-inch peak height made it easy to sit upright, which certainly adds to the spacious feel.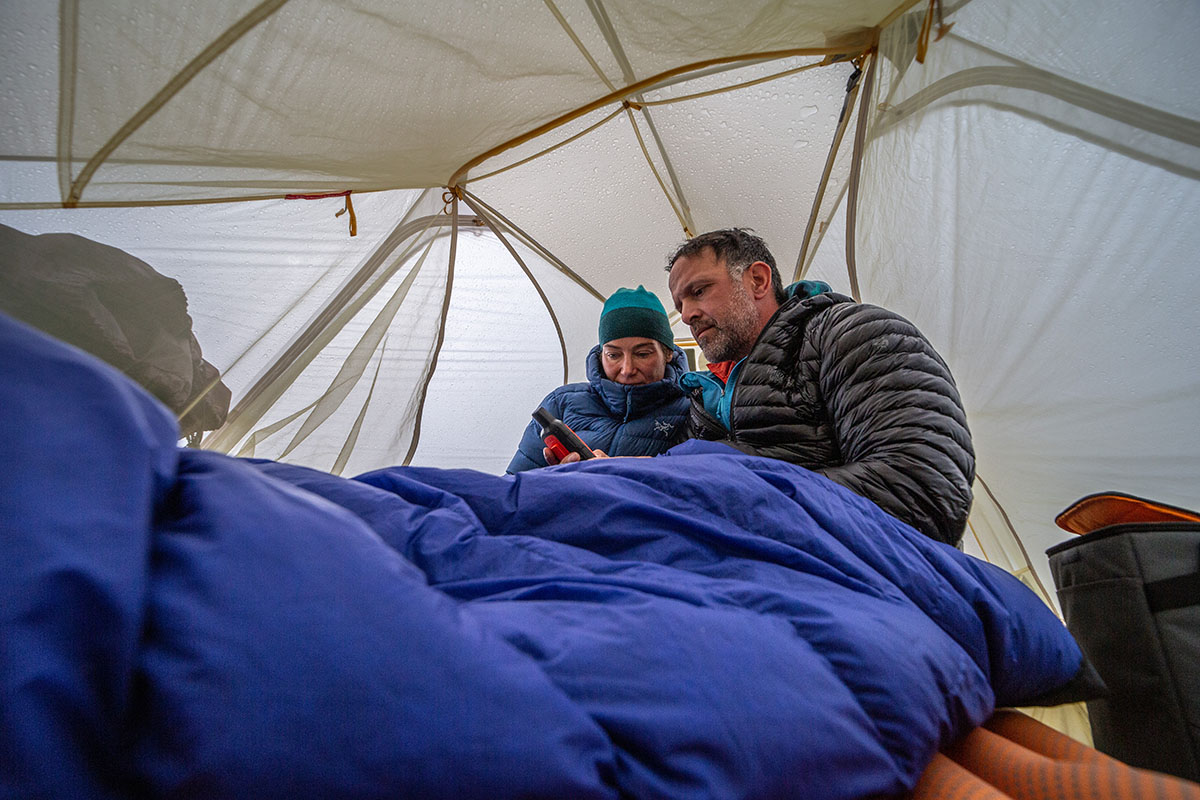 While backpacking in Peru, the Tiger Wall UL3 easily accommodated our double-wide (72 x 41.3-in.) Exped SynMat Hyperlite Duo sleeping pad with room on either side for personal items like a camera, clothing, and even our backpacks. The floor plan is a little smaller than our favorite backpacking tent, Big Agnes' own Copper Spur HV UL3 (41 sq. ft.), but it never felt cramped or crowded inside. And although it's a relatively small feature, the innovative tent corner construction adds a bit of space lengthwise by raising the corners by a few inches, which created just enough room to prevent my head and feet from pressing up against the walls at night.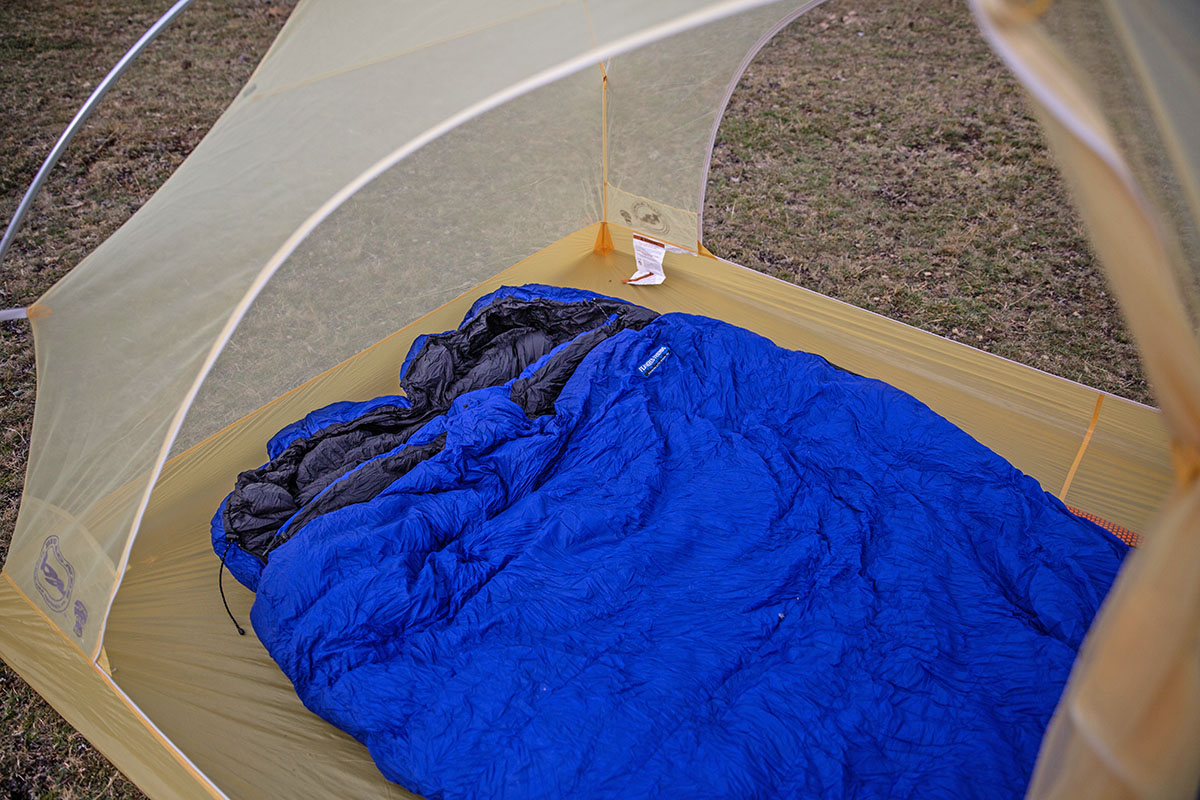 A final livability-related highlight is the Tiger Wall's two-door-and-vestibule layout, which made it easy for my wife and me to move around and organize gear. In my opinion, having two doors is critical for groups of two or more, allowing both campers to enter and exit the tent without having to clamber over their partner and gear. Groups of three should keep in mind that the middle camper will still need to step over someone to get in and out, but that's not a Tiger Wall-specific issue. On the bright side, there are ample interior storage options to help maximize the floorspace (more on this below), and the two vestibules (8 sq. ft. each) were plenty big for stashing hiking boots and extra gear that we didn't need to keep hidden from the foxes.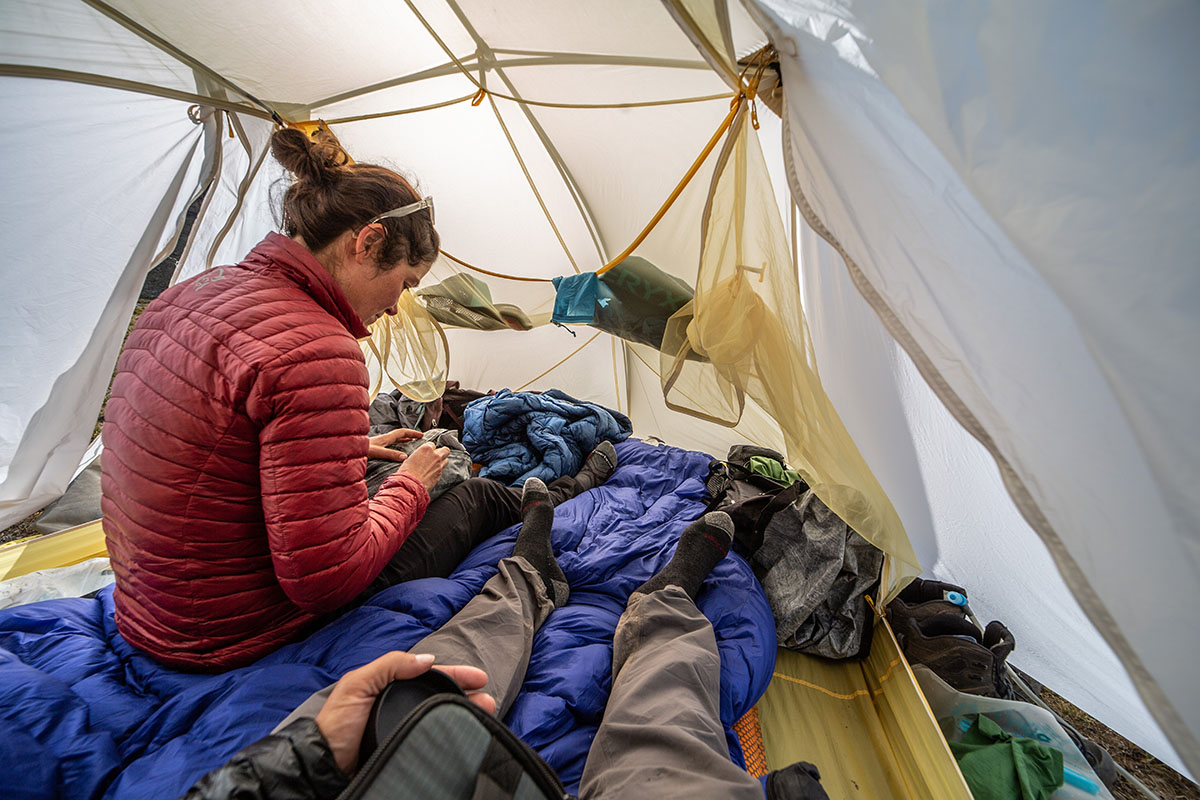 Weather Protection
Although the Big Agnes Tiger Wall UL3 is designed for three-season use, we brought it to Peru in June, which is in the heart of their winter (May through September). Despite pushing the tent's limits, it performed surprisingly well and provided reliable protection on several rainy and windy nights, cold and frosty mornings, and even in occasional spurts of snow and sleet at higher elevations. While undeniably thin, the silicone-treated nylon fly and floor are coated with a water-repellent polyurethane finish that effectively repels moisture, and taped seams add another layer of defense. The bathtub floor also remained dry when we pitched the tent in boggy conditions close to lakes and rivers, and the DAC Featherlite pole system held up admirably in strong winds, even under the weight of an iced-over rainfly. Because the body is mostly mesh, we had to place our packs sideways against the wall to block drafts on a few gusty nights, although it did promote excellent airflow in warm weather (more on this below).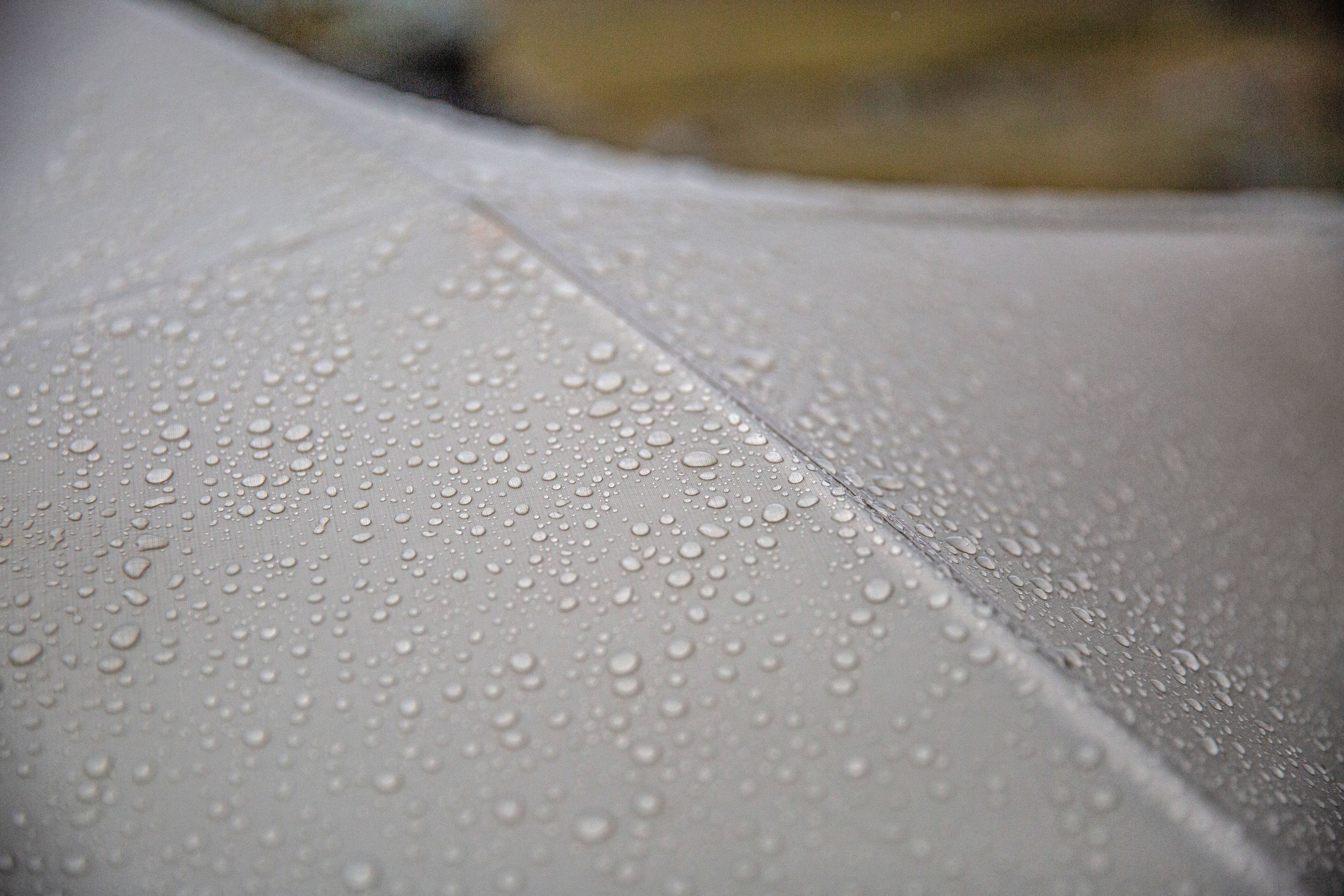 Ventilation
The Tiger Wall's body is made up of mostly mesh with a ripstop nylon bathtub floor, which translates to great ventilation in warm conditions. While this construction isn't the best for minimizing drafts, the tradeoff is great airflow throughout with minimal condensation buildup. There are no vents along the rainfly, but the several-inch gap between the ground and bottom of the fly allows air to move through the tent even in inclement weather. It did lead to some unwanted draftiness on chilly and gusty evenings, but in my opinion, that's a small price to pay for the well-ventilated build. My only real concern is that the gap could allow blowing snow to creep in under the fly, but thankfully, the bathtub floor provided adequate protection against the light snowfall we encountered in Peru. Finally, both the fly and doors have double sliding zippers that you can open for extra airflow if needed (weather permitting).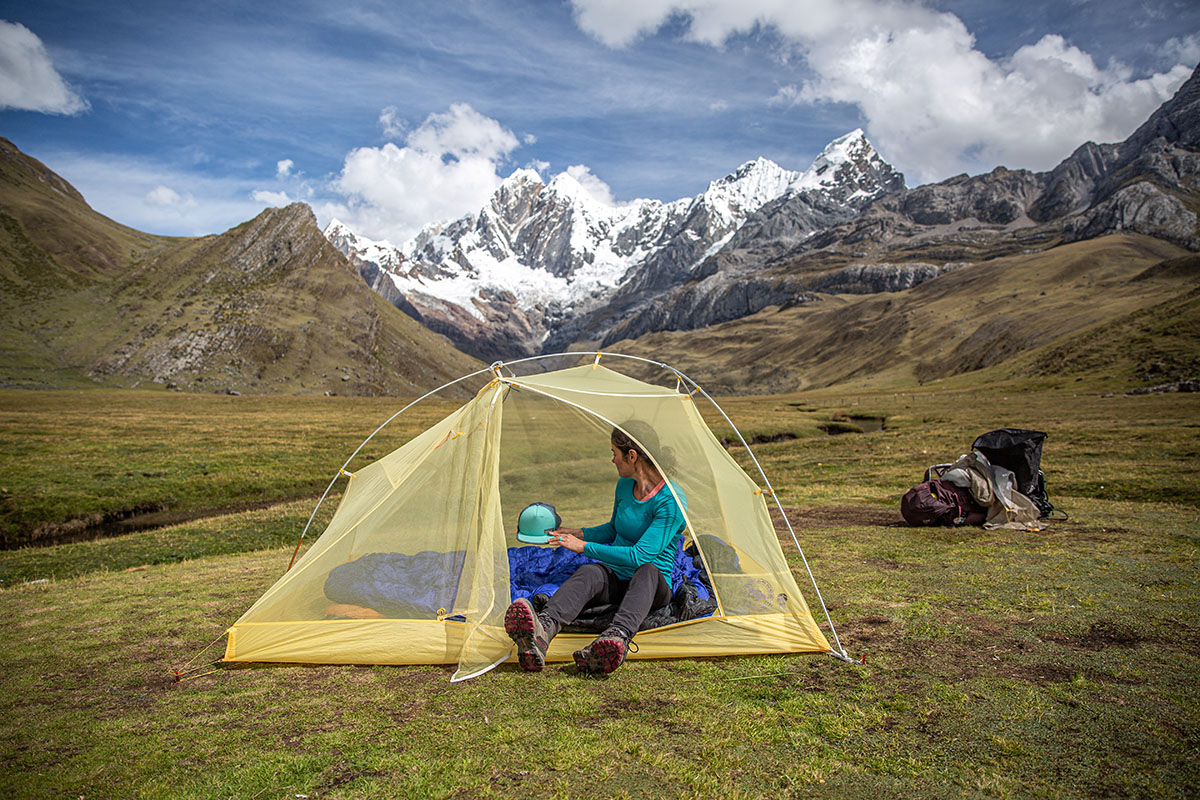 Key Design Features
Storage
Although decidedly light and minimalist, the Tiger Wall UL3 comes with a functional array of storage options both inside and out. Starting at the outside, you get two 8-square-foot vestibules that offer plenty of room for storing backpacking packs, hiking boots, fuel, and other miscellaneous equipment (although as I mentioned above, we opted to keep most of our personal gear inside to protect it from mischievous foxes). You can get a bit more vestibule space with the Nemo Dragonfly 3P (two 10 sq. ft. vestibules) or Big Agnes Copper Spur HV UL3 (9 sq. ft. each), but we had no space constraints when storing bulkier items outside the Tiger Wall.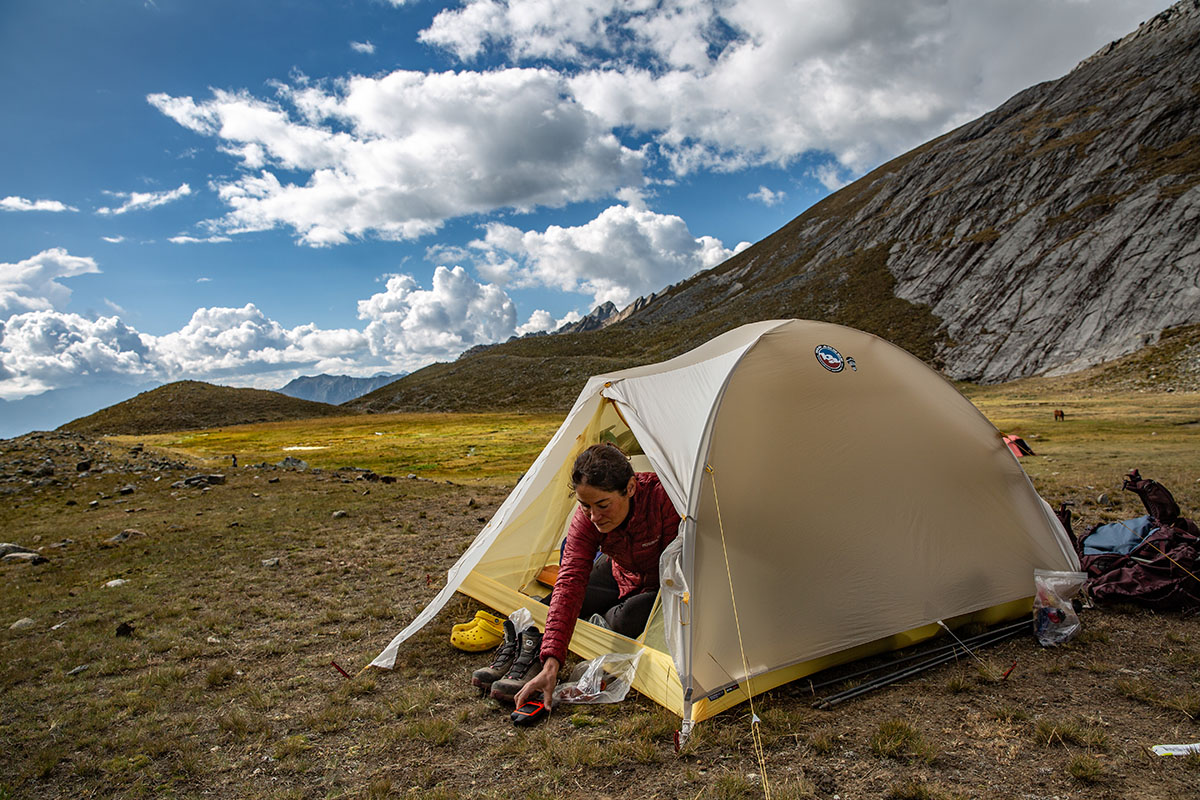 Inside, there are two lower pockets at the head end—great for stashing headlamps and other small items that you'll want quick access to—and an upper gear pocket that nicely fits a phone with a small hole through which you can thread headphone cords. At the foot end, Big Agnes included a handy shelf-like pocket that stretches across the width (they call it the "3D bin mezzanine") and swallowed everything from hats and gloves to extra clothes. This pocket did tend to sag when overloaded, but it can hold a surprising amount of gear, especially if you're cognizant of weight. For those worried about storage, Big Agnes does sell compatible gear lofts separately ($20 each), but we had no trouble finding room for all of our equipment and accessories inside the Tiger Wall.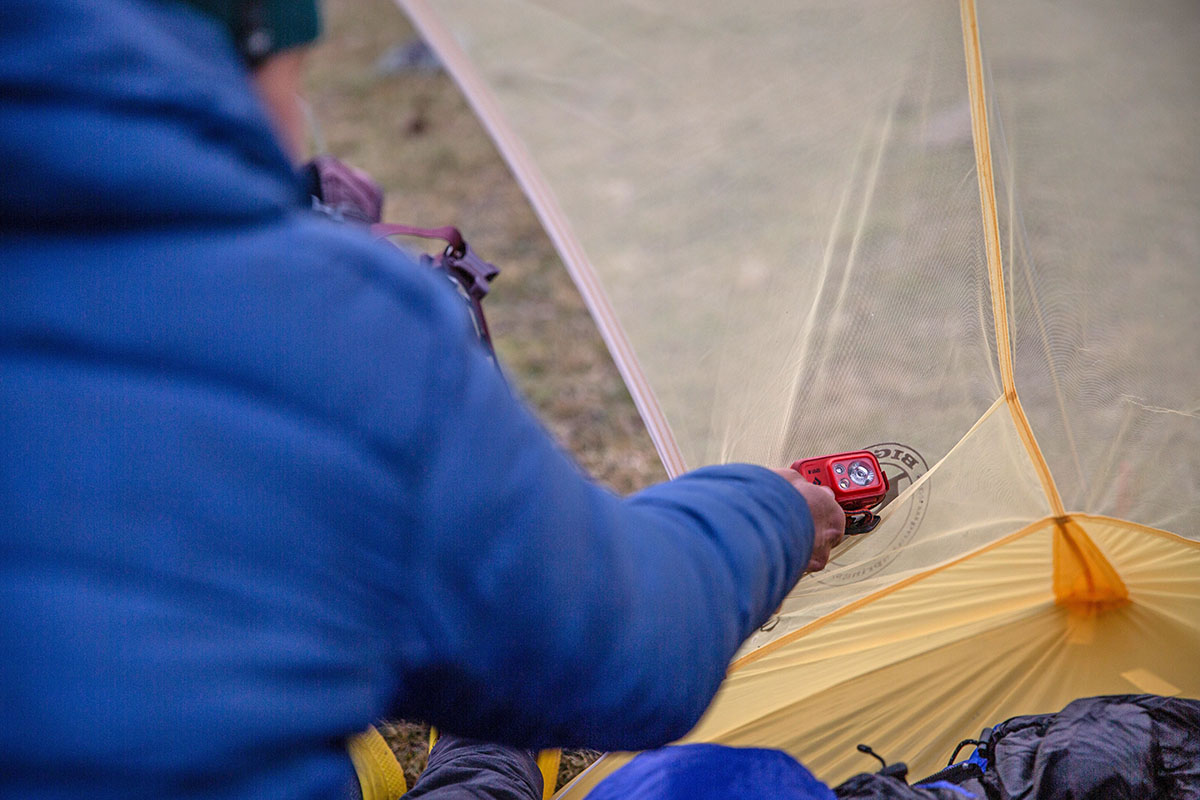 mtnGLO Lights
We opted for the mtnGLO version of the Tiger Wall UL3, which comes equipped with the namesake lighting system strung around the ceiling of the tent. The thin band of integrated LEDs can be adjusted via a small push-button controller that runs off of three AAA batteries and tucks into a sleeve at the top of the tent. While a little cumbersome to get in and out, the controller was easy to toggle between the three modes: on, off, or 50% brightness. The system does add a bit of weight and doesn't provide enough light for activities like reading, but it was great for tasks like eating and hanging out after sunset (we were also able to use a Kindle with the lights at 50% brightness).
In my opinion, it's a huge step up from Sea to Summit's Lightbar in their Alto and Telos tents, which requires placing your headlamp inside a thin storage sack and mounting it to the roof to create diffused light. We enjoyed not having to drain precious headlamp juice in Peru (sunset was around 6pm each evening), and the lights lasted 10 nights without issue.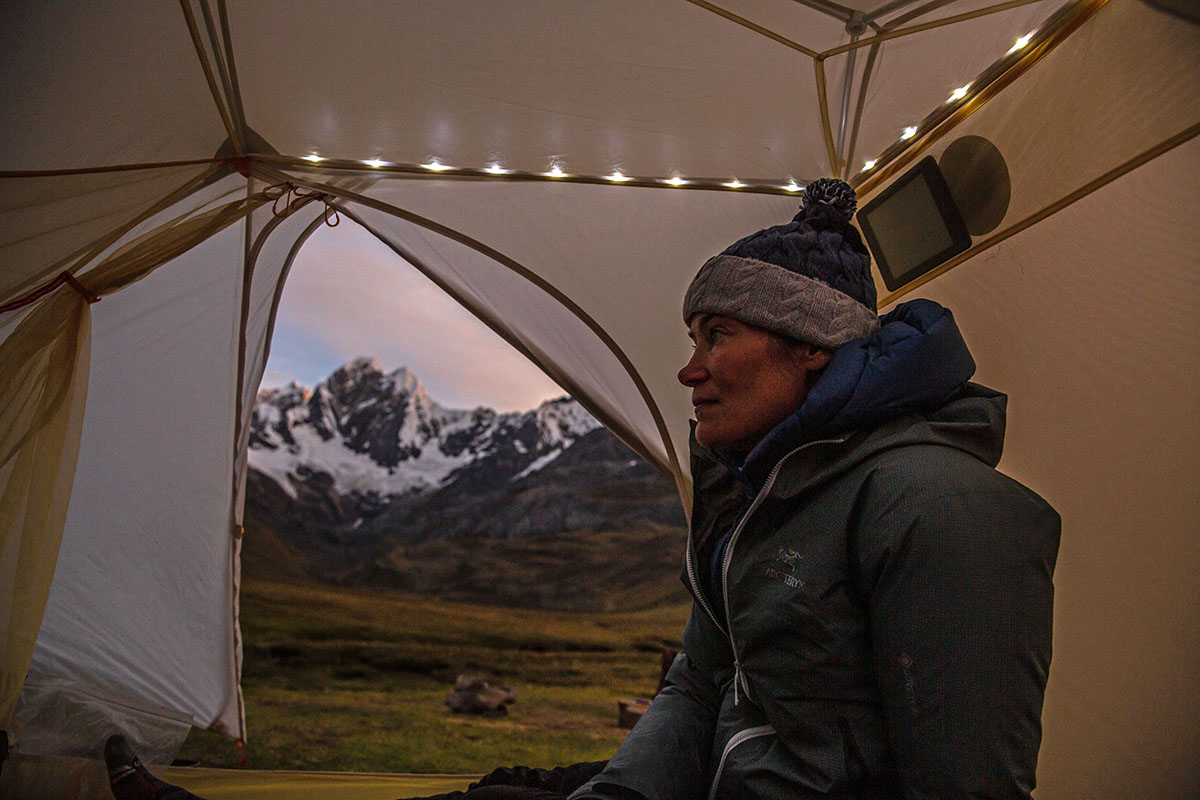 Durability
Ultralight tents inherently sacrifice some durability to shave weight, but the Tiger Wall UL3 is reasonably robust given the minimalist fabrics and build. To be sure, the 15-denier (D) construction is very thin and should be treated carefully to avoid snags and tears, but I've been impressed by how well it's held up to the rigors of backpacking so far. For reference, I often stuff the body of the tent into the bottom of my pack to maximize space and shove the rainfly into the outside pocket to prevent any condensation from dripping onto my gear. Despite the haphazard packing, there are no holes in the mesh, and the bathtub floor and rainfly are showing no signs of leaks or tears. As I mentioned above, I did opt to purchase the separate footprint to help maximize the tent's lifespan and boost overall protection, and I'd recommend that others who are hard on their gear do the same.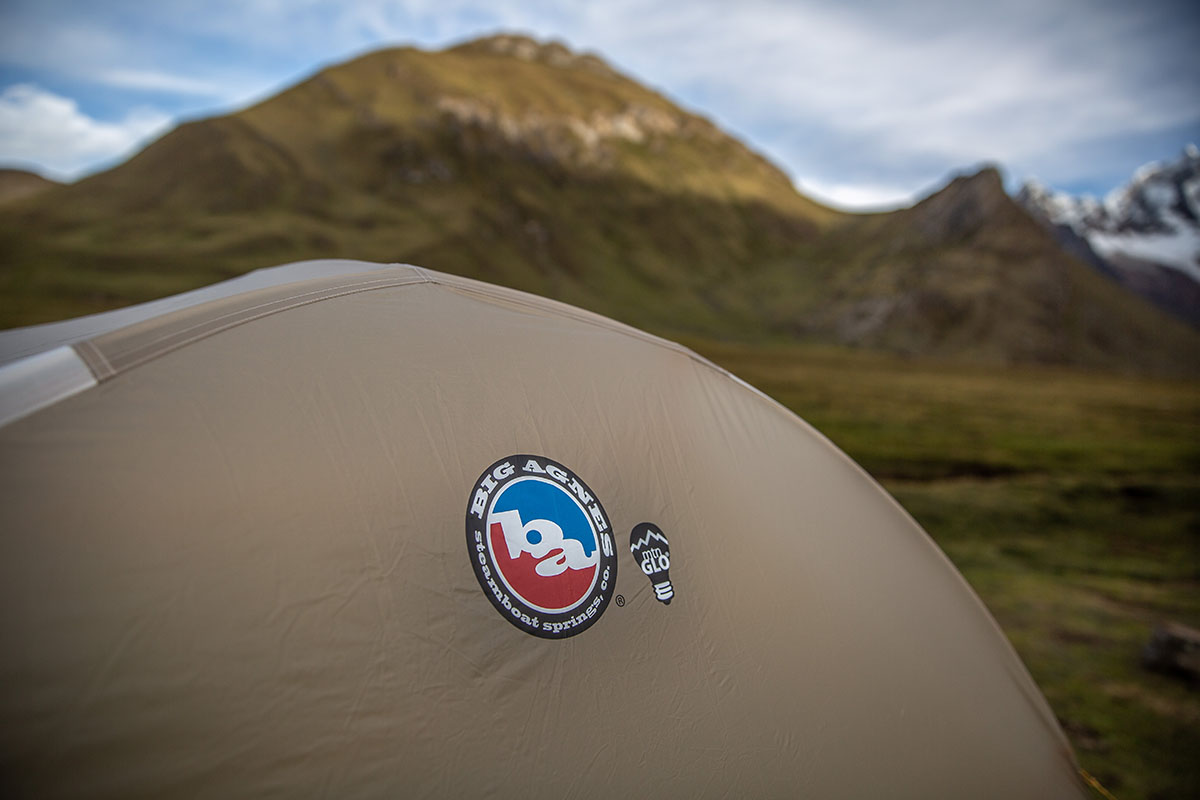 My only real durability-related gripe has to do with the Dirt Dagger UL stakes, which are made of flimsy aluminum and flex under pressure from boots or hammering into harder ground. I unfortunately bent two of the stakes during our 10-day trek in Peru, which made it harder to get a taut pitch (although they're not entirely unusable). I also found that the rainfly tends to get caught in the zipper when it's weighted down with precipitation. While there hasn't been any damage to date, it's best to exercise caution when opening and closing the fly.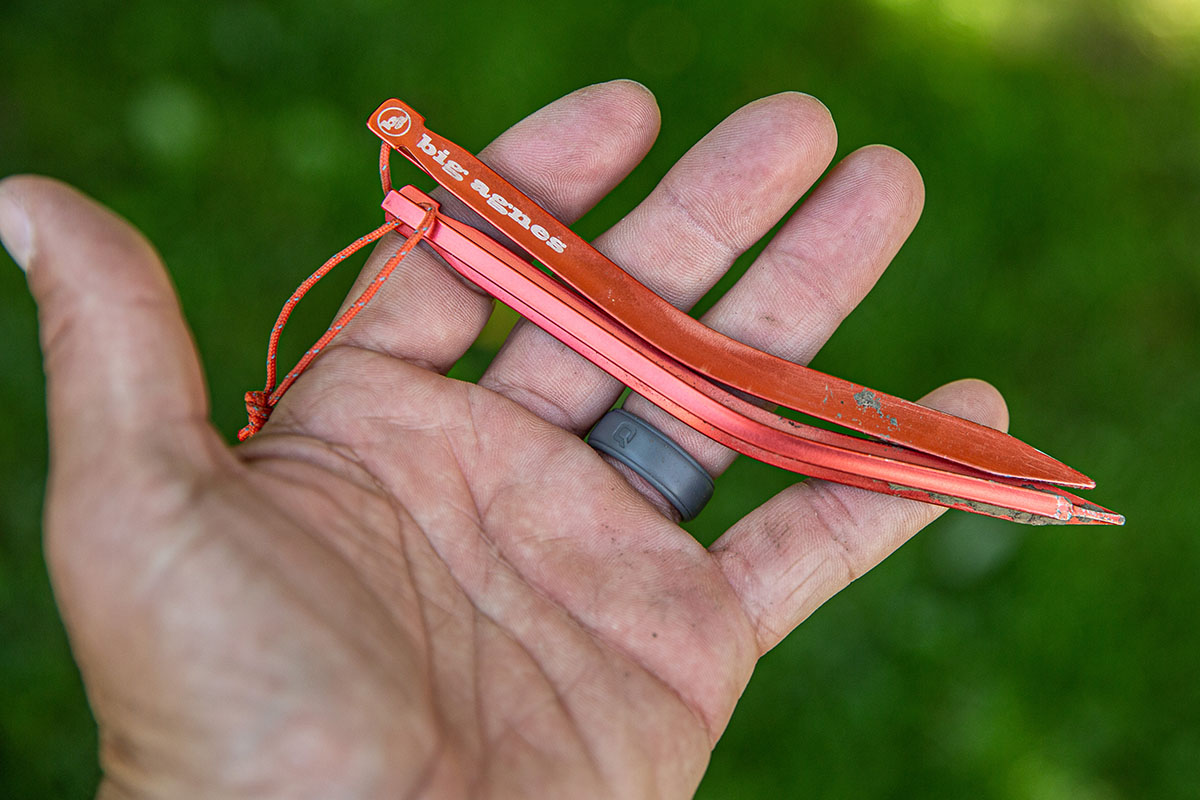 Set up and Take Down
When setting up a new tent for the first time, my wife and I prefer to forgo instructions to see how intuitive the process is, and we had the Big Agnes Tiger Wall UL3 pitched in minutes on our first attempt. The semi-freestanding structure consists of a single Y-shaped pole with a smaller ridge pole running perpendicular toward the base of the Y to pull the walls up and away. The aptly named TipLok buckles make it easy to secure the poles, attach and tension the rainfly, and stake everything out with color coding to quickly distinguish between the head and foot ends. The buckles also have a keyed hole design that prevents the poles from popping out once they're slotted in. All told, it's a largely seamless and intuitive process that wasn't hard to do solo.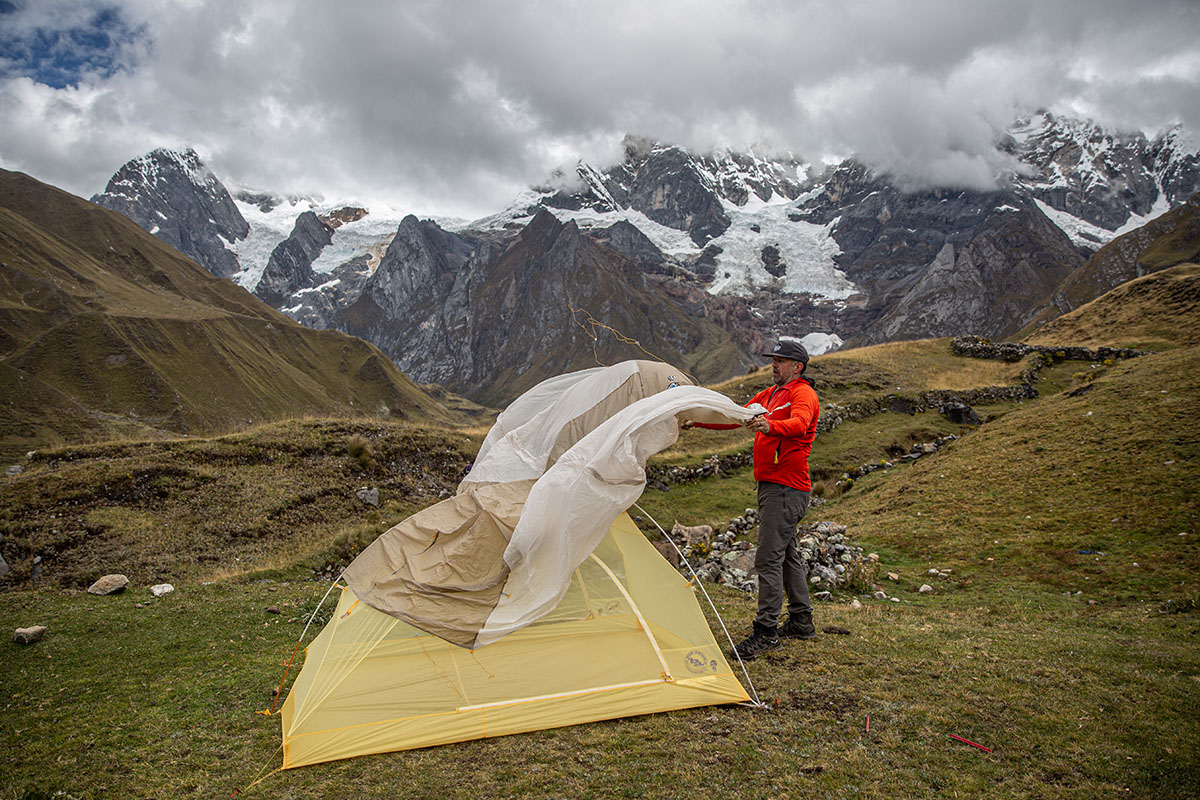 All that said, there are a couple of downsides to the Tiger Wall's semi-freestanding layout. First and foremost, it requires staking out to create a rigid frame and therefore can't be easily picked up and moved around camp like a freestanding model (you'll want to choose your location carefully). Additionally, Big Agnes only included nine stakes with the Tiger Wall, while 11 are required for utilizing all of the guylines. I always bring extra pegs, so this wasn't an issue for us in Peru, but the guylines make the tent noticeably sturdier and more trustworthy in inclement weather. If you anticipate getting out in windy conditions, you'll certainly want to pack a couple more than what comes with the tent (we really like MSRs Ground Hog Stakes).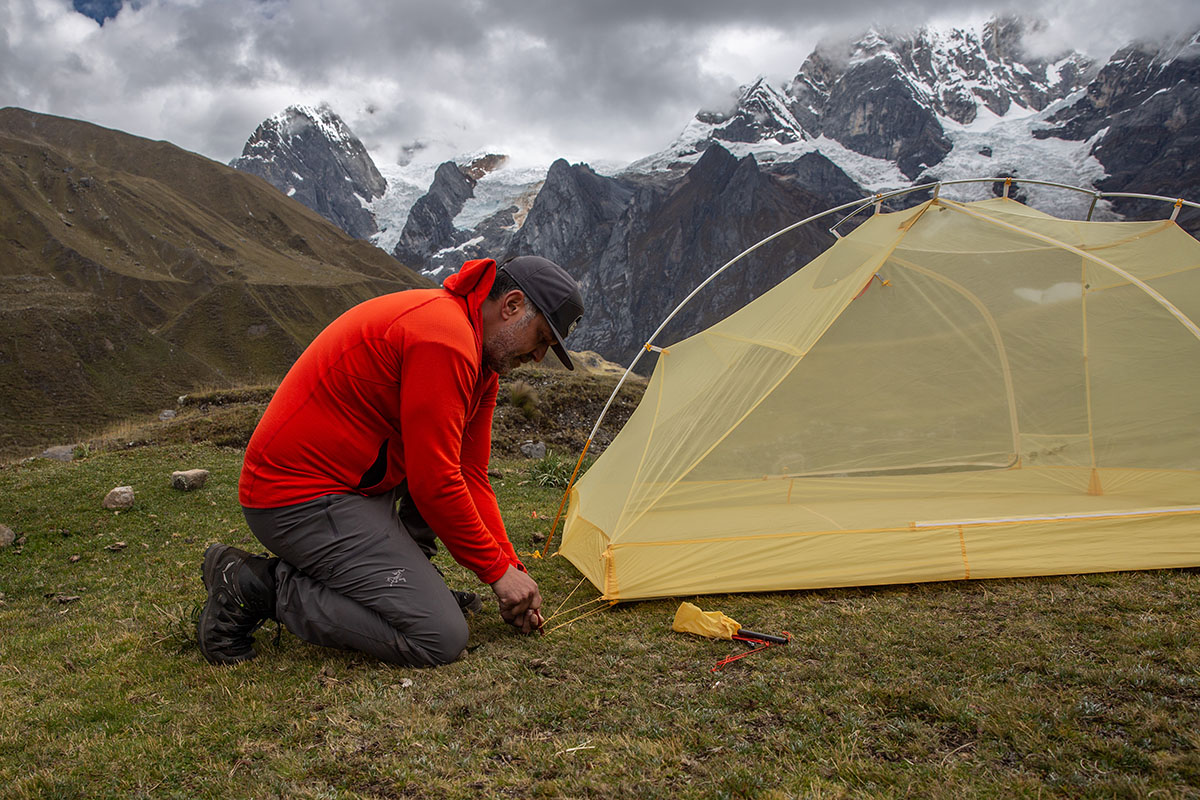 Sustainability
Along with Big Agnes' Fly Creek line, the Tiger Wall collection is now made with a solution-dyed fabric, which uses less water and energy and fewer chemicals during production. It's also touted to be more UV-resistant and less prone to fading over time, which is great from a long-term durability standpoint. Further, the DAC poles can be recycled at the end of their lifespan and are anodized in a way that minimizes fuel and energy consumption. Finally, Big Agnes is now part of the Outdoor Industry Association's Climate Action Corps, and each of their three U.S. facilities operates via 100%-renewable electric energy. All told, we really appreciate when brands go the extra mile, and these measures only boost the Tiger Wall's all-around appeal.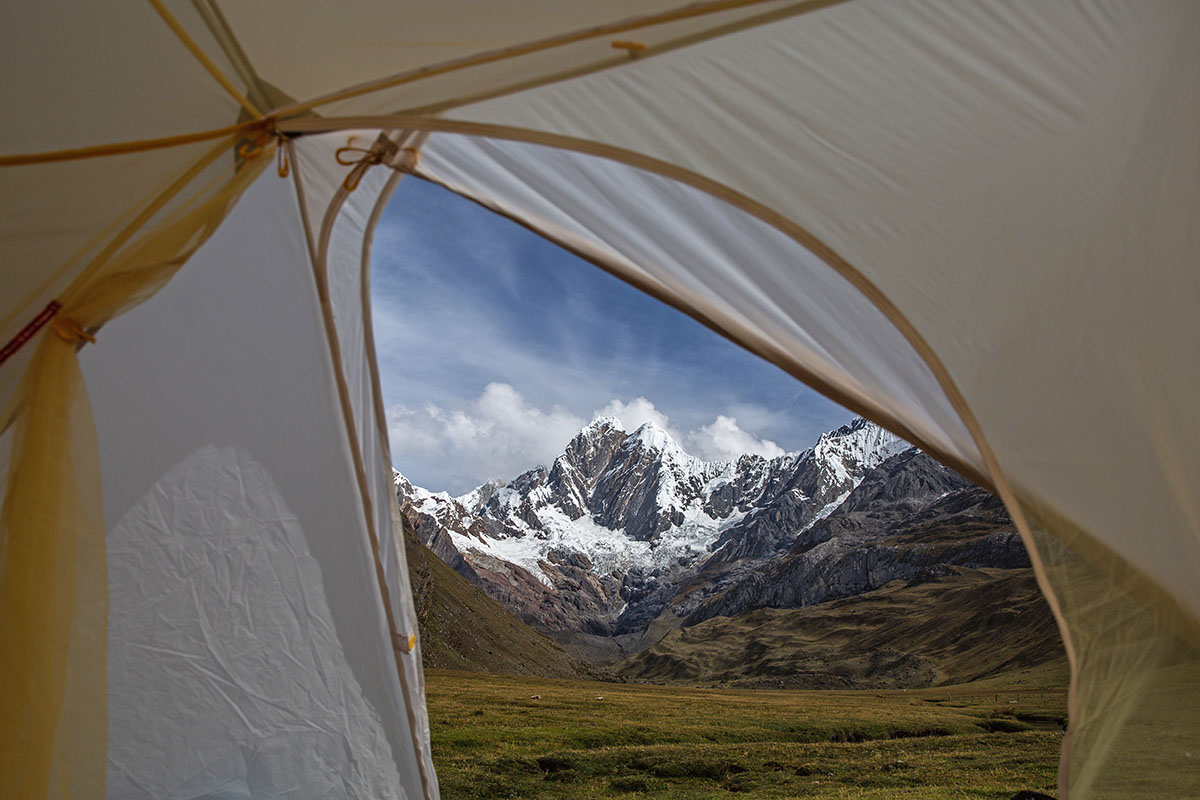 Other Versions of the Big Agnes Tiger Wall
We brought the Tiger Wall UL3 mtnGLO to Peru for testing, and the collection also includes a smaller two-person mtnGLO variation, as well as one, two, and three-person options without the integrated lights. Stacked up against the version here, the Tiger Wall UL2 mtnGLO is $80 cheaper at $450, weighs 2 pounds 9 ounces all in, and boasts 28 square feet of floor space with a 39-inch peak height. If you don't anticipate utilizing the lights, the Tiger Wall UL3 Solution Dye will save you $30 and an ounce in weight but is otherwise identical to the version we tested (you can read our review of the 2P model here). Rounding out the lineup, Big Agnes also sells the lighter Tiger Wall Platinum (2P and 3P) with thinner materials and components, as well as the top-of-the-line Tiger Wall Carbon (2P and 3P) with carbon poles and Dyneema fabrics that bring weight down to a scant 2 pounds 1 ounce for the three-person model (although the $1,300 price tag is downright exorbitant).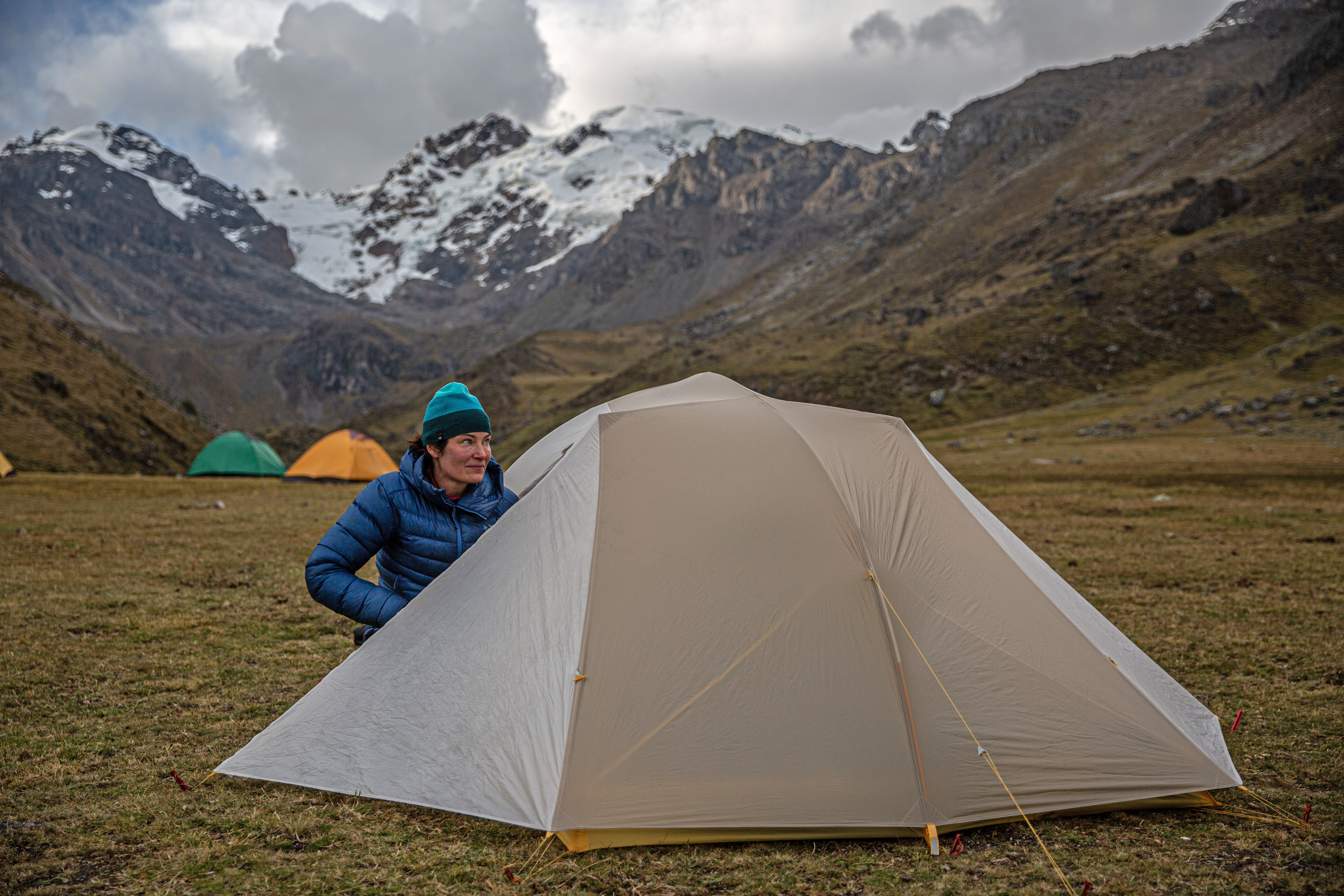 What We Like
With a 38-square-foot interior and 42-inch peak height, the Tiger Wall UL3 offers impressive livability for just 3 pounds all in.
Reliable protection for most three-season conditions, including a PU-coated fly and floor, trustworthy bathtub floor, and sturdy pole structure that holds up well in wind.
Functional storage inside and out with ample vestibule space and a well-sorted interior pocket layout (we especially love the massive 3D "mezzanine" at the foot end).
mtnGLO lights are a fun and well-executed addition and eliminate the need to waste precious headlamp juice when hanging out in the tent at night.

What We Don't
Thin materials and components require added care, including the 15D floor and fly and flimsy Dirt Dagger UL stakes that bend easily under pressure.
Semi-freestanding design is tough to pitch on hard surfaces and less weather-worthy than freestanding alternatives.
Gap between the floor and rainfly leads to draftiness on windy nights and creates space for blowing snow to enter (the flip side is it helps with ventilation).
mtnGLO lights add a little weight and aren't bright enough for nighttime reading. 


Comparison Table

The Competition
Big Agnes' Tiger Wall UL3 mtnGLO Solution Dye is one of our favorite ultralight backpacking tents on the market thanks to its great livability, organization, and protection at a competitive 3-pound weight. That said, those who prioritize spaciousness and convenience should check out their Copper Spur HV UL3. Unlike the semi-freestanding Tiger Wall, the Copper Spur has a fully freestanding build that's easier to pitch and slightly more weather-worthy. You also get an inch of added headroom and 3 extra square feet of floor space (including more generous dimensions both length- and widthwise). The Copper Spur is a little pricier at $600 (or $650 with the built-in mtnGLO lighting system), heavier at 3 pounds 14 ounces all in, and packs down larger than the Tiger Wall, but it's the more well-rounded and less compromised option for most backpackers.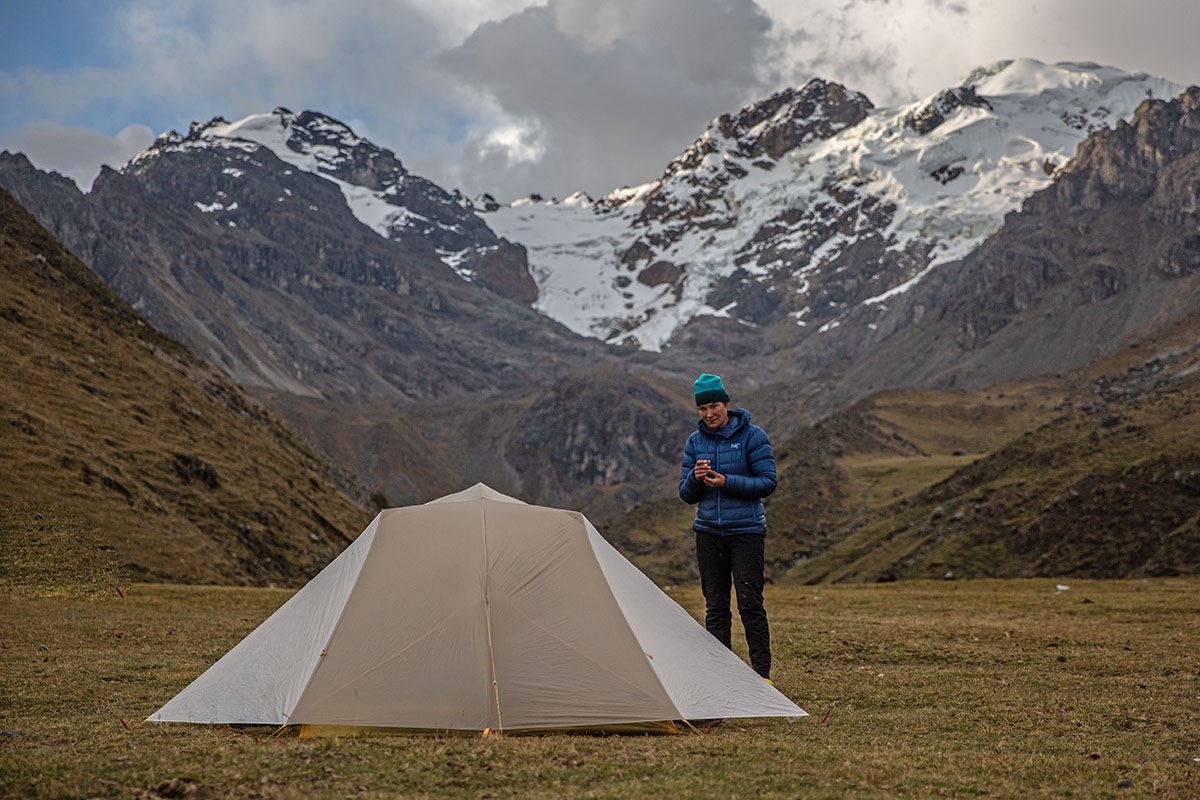 Nemo's Dragonfly 3P is another popular UL design to consider with a couple notable benefits over the Tiger Wall. First is livability: The Dragonfly boasts 3.2 additional square feet of floor area with 2 inches more headroom and two 10-square-foot vestibules (the Tiger Wall's are 8 sq. ft. each). The 20D floor and mesh body are also slightly thicker and more durable than the Big Agnes' 15D fabrics, and the freestanding build gives it the edge in convenience, too. On the flip side, the Tiger Wall is lighter by nearly a pound, offers a more functional organization layout, and comes with integrated lights—all for the same price as the Nemo. Unless the thinner fabrics or semi-freestanding build are deal breakers for you, we think the Tiger Wall is the better overall value.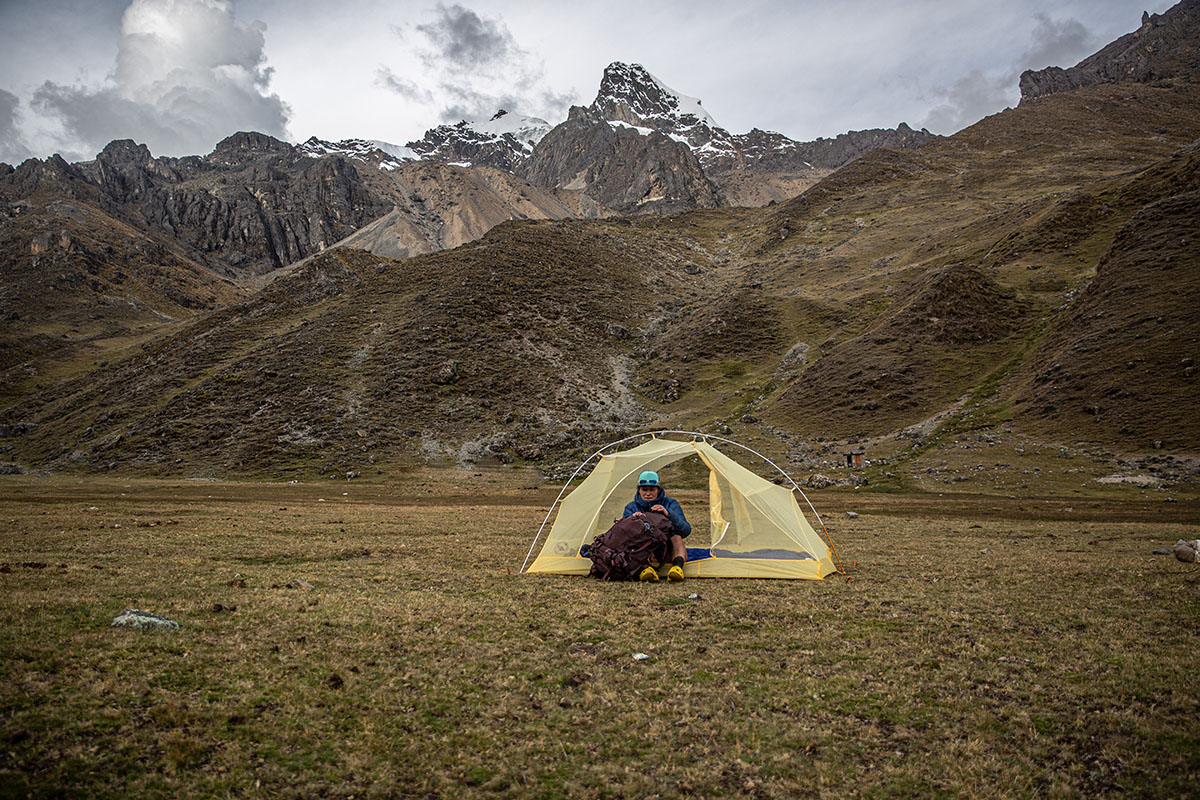 MSR is another leader in the backpacking tent market, and their competitor to the Tiger Wall is the FreeLite 3. For $50 and 5 ounces less than the Big Agnes, the FreeLite offers similar livability with a 38.5-square-foot interior, two doors and vestibules (the latter of which are around 7.5 sq. ft. each), and a generous 43-inch peak height. The FreeLite is shorter at 84 inches lengthwise (compared to 88 for the Tiger Wall), although many will appreciate the symmetrical floor plan that doesn't taper in at the feet. That said, the FreeLite's short center ridge pole and tapered ceiling make it hard for multiple people to sit upright, and the lack of pole support at the foot end can cause bowing in strong winds. Finally, the generous use of mesh and cutout in the rainfly allow blowing dirt and dust to enter, although neither tent is an ideal option in truly rowdy conditions. In the end, all ultralight tents are going to come with some compromises, but we think the Tiger Wall has slightly fewer than the FreeLite.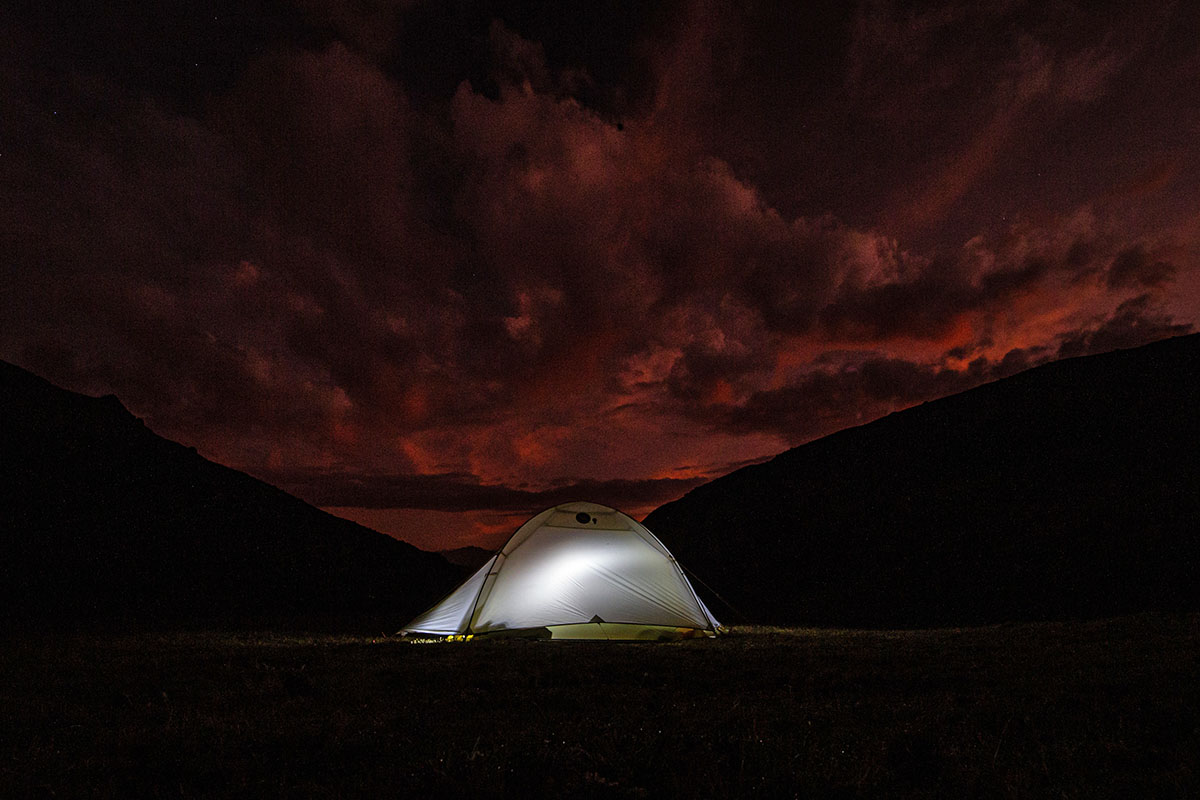 Last but not least is Zpacks' Triplex Tent, which is the most purpose-built option here and best suited for committed ultralight enthusiasts and thru-hikers. It's certainly a steep investment at $799 but offers several benefits over a more traditional option like the Tiger Wall, including the use of premium Dyneema fabrics that are highly water-resistant and strong for the weight. For reference, the Triplex clocks in at a scant 1 pound 5.6 ounces but retains good livability with a 37.5-square-foot interior and taller 48-inch peak height. Apart from price, the biggest downside is lack of convenience: The Triplex requires trekking poles for support, which makes the setup process more involved and complex. Combined with open sides and thin materials that make the tent feel drafty in gusty weather, the Triplex is far too specialized for most.
If you're thinking about buying gear that we've reviewed on Switchback Travel, you can help support us in the process. Just click on any of the seller links above, and if you make a purchase, we receive a small percentage of the transaction. The cost of the product is the same to you but this helps us continue to test and write about outdoor gear. Thanks and we appreciate your support!
Depending on the seller, most products ship free in the United States on orders of $50 or more. International shipping availability and rates vary by seller. The pricing information on this page is updated hourly but we are not responsible for inaccuracies.
Read More From Switchback Travel