Ultralight backpacking equipment is all the rage, as there's no doubt that a lighter load puts less strain on your body and allows you to move faster and farther. One of the biggest areas that backpackers can shave weight is their tent: mainstream models can weigh 5 pounds or more while some ultralight designs tip the scales at just over a pound. However, ultralight tents are not without compromises, which we've experienced firsthand. Below we provide information on the various weight classes of backpacking tents and outline the potential tradeoffs, including interior space, durability, weather protection, ease of setup, cost, and more. We've also created a handy tent comparison table with our favorites across weight categories.
 
Backpacking Tent Weight Classes
Backpacking tents come in a range of sizes from 1-person to 4-person models, but to keep the comparisons clean, we've chosen to reference all 2-person tents here (which also happens to be the most commonly chosen size). We break down these tents into four different categories based on weight: heavy/midweight, lightweight, ultralight, and crazylight.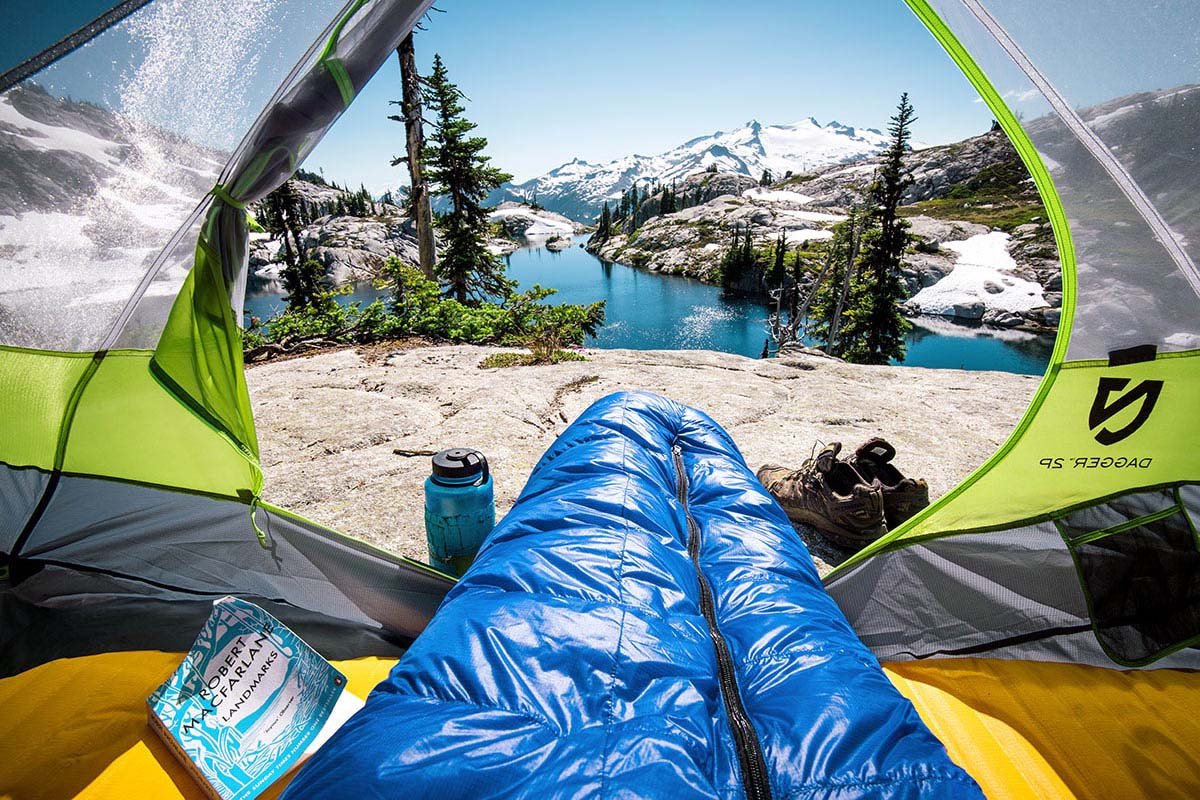 Heavy/midweight (4.5 pounds+)
Tents in the heavy/midweight category are fully featured backpacking models that offer premium comfort, weather protection, durable materials, and a relatively low cost. Two-person tents in this group are 4.5 pounds or more, including popular models like the REI Co-op Half Dome 2 Plus (5 lbs. 5 oz.) and Marmot Tungsten (5 lbs. 4 oz). Among these tents, we see the use of robust fabrics (floors anywhere from 65 to 75D), tall peak heights with broad ceilings and steep walls to maximize interior space, non-tapered floors, two doors and vestibules, and a variety of organizational features. In comparison to the lighter tents below, heavy/midweight tents excel in every metric but weight, and priced around $150 to $250, are the best value for casual backpackers.
 
Lightweight (4.5 to 3 pounds)
Dropping down to the lightweight category, here we find tents that retain most of the comfort, interior space, and features of heavyweight tents, but drop weight through the use of thinner fabrics. At the top end of this category are popular models like the MSR Hubba Hubba NX and Nemo Dagger 2P, both of which weigh 3 pounds 14 ounces. The good news is that these tents are still fully featured: you get uncompromised interior space with generous headroom without tapering, two doors and spacious vestibules, quality zippers, and a variety of interior pockets. But compared to burlier and less expensive tents like the REI Co-op Half Dome Plus above, the MSR and Nemo both have 30-denier floors, which means they are thinner and less durable, and the price jumps up to $430 and $450, respectively. Toward the light end on this category is the uber-popular Big Agnes Copper Spur HV UL2, which has all the same characteristics as the tents above (one of the vestibules even turns into a porch) but features an even thinner 15x20-denier ripstop nylon floor, tent body, and fly. As a result, the Big Agnes drops down to an impressive 3-pound 2-ounce weight.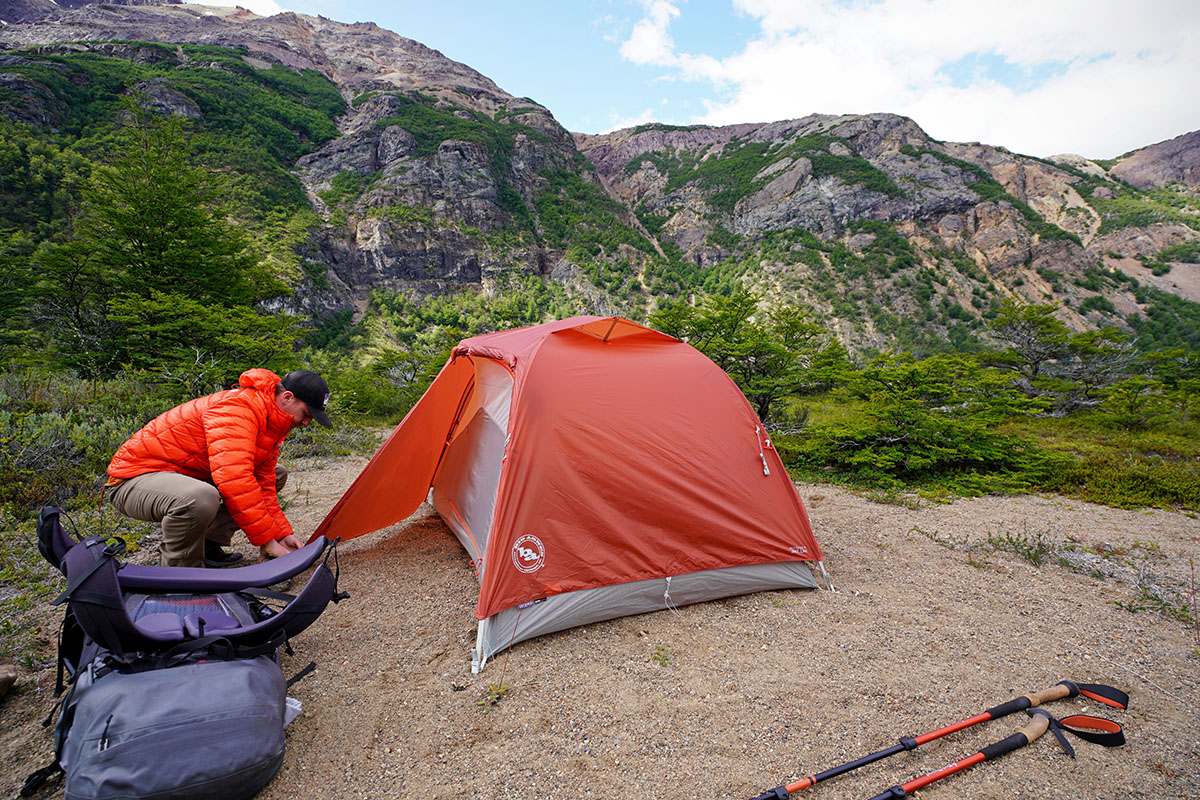 As covered above, a big compromise in the lightweight category comes in the form of durability, with thinner fabrics that can potentially tear or develop holes, and ultralight zippers that are much more vulnerable to heavy use. A second sacrifice comes in terms of cost: lightweight materials are expensive, and these tents are priced significantly higher than the category above due to their minimalist materials and design (the Copper Spur retails for $450). But for serious backpackers who cover longer distances and know how to take care of their gear, the weight and space savings are worth it.
 
Ultralight (3 to 2 pounds)
Tents in our ultralight category tip the scales somewhere in the 2-pound range, including the REI Co-op Quarter Dome SL (2 lbs. 13 oz.), Big Agnes Tiger Wall (2 lbs. 8 oz.) and Nemo Hornet 2P (2 lbs. 6 oz.). Ultralight tents often are made with similar fabrics as tents in the lightweight category—you don't want to go much thinner than 15D for a tent floor—but their weight savings comes primarily by way of tapering (smaller floor areas and more heavily sloped ceilings), fewer doors (depending on the model), and simplified pole structures. Sometimes, the result is a semi-freestanding design, which means you still get tent poles but some corners must be staked out in order for the tent to stay standing.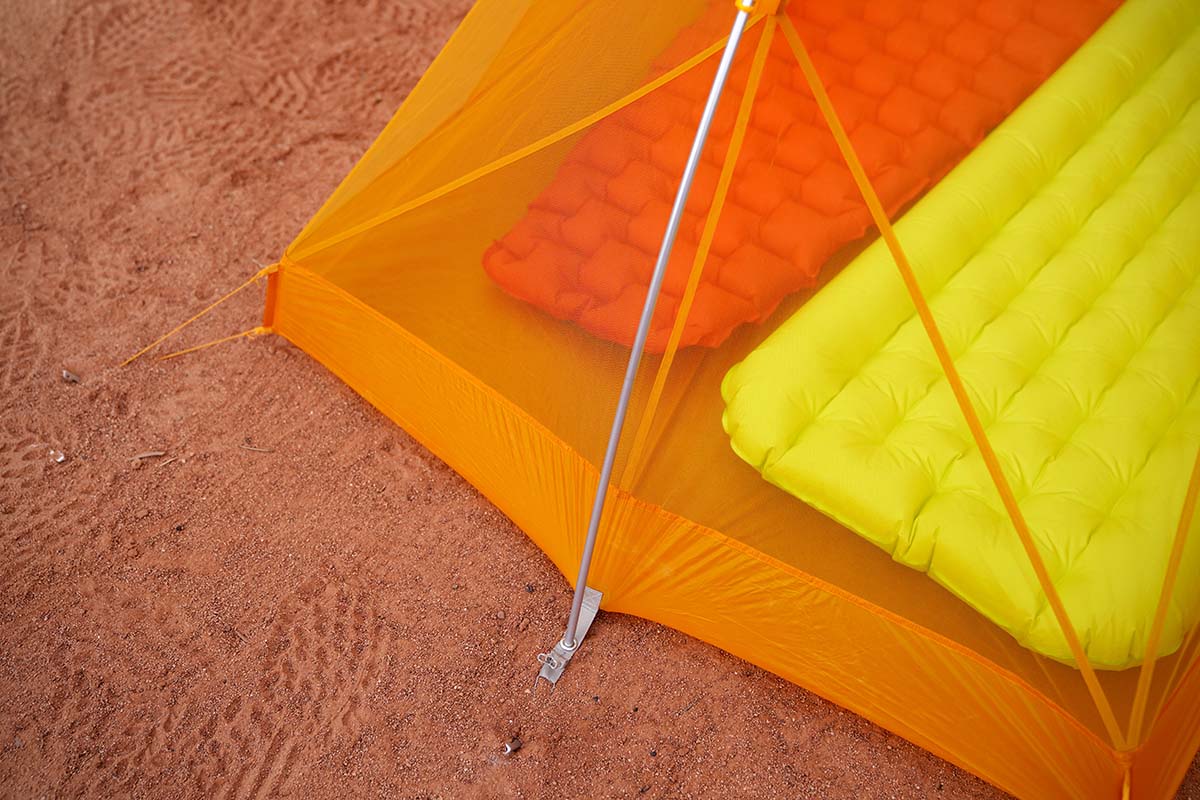 Compromises in the ultralight category include less noticeably less headroom, a slightly more complicated setup (you'll need to make sure you can find good anchors), and in some cases, one-door designs. In other words, whereas we saw durability take a hit in moving to the lightweight category, the ultralight category is where we see comfort and livability start to suffer (in addition to durability). Most ultralight tents are slightly cheaper than tents in the category above (both the Big Agnes Fly Creek and REI Quarter Dome SL are around $350), as they feature similarly lightweight materials but less complicated designs.
 
Crazylight (Less than 2 pounds)
Finally, crazylight tents and shelters tip the scales under 2 pounds for the 2-person models. The majority of crazylight tents are non-freestanding designs, which means that they are propped up using trekking poles and must be fully staked out (omitting tent poles is a big weight savings). Additionally, crazylight tents usually are of the single-wall variety, meaning that the tent body and rainfly are combined in one layer of fabric. There are exceptions to this rule, namely among Big Agnes' Platinum and Carbon series of tents. For example, the Big Agnes Fly Creek HV 2 Carbon is a semi-freestanding, double-wall tent that manages to slide in with a packed weight of 1 pound 7 ounces (the Carbon uses thin and lightweight Dyneema Composite Fabric).
The compromises of crazylight tents are many. Single-wall tents suffer in terms of breathability, meaning that condensation is likely to collect on the inside. Further, although taped seams and DWR-coated nylon will keep most rain at bay, there's simply less material between you and the elements and the tent walls will feel damp when wet. Additionally, non-freestanding designs can take some tweaking to set up well, and you'll want to be sure to get a perfect pitch in the event of a storm. Even models like the Fly Creek Carbon—which are less compromised with their double-wall, semi-freestanding designs—take a massive hit in terms of durability and are among the most fragile backpacking tents on the market. Cost-wise, crazylight tents run the gamut from about $375 for a tent like Gossamer Gear's The Two to $795 for the Hyperlite Dirigo 2 (see our in-depth review here) or $1,000 for the Tiger Wall Carbon. In the end, we recommend tents in this weight class only for the most seasoned, weight-conscious of backpackers.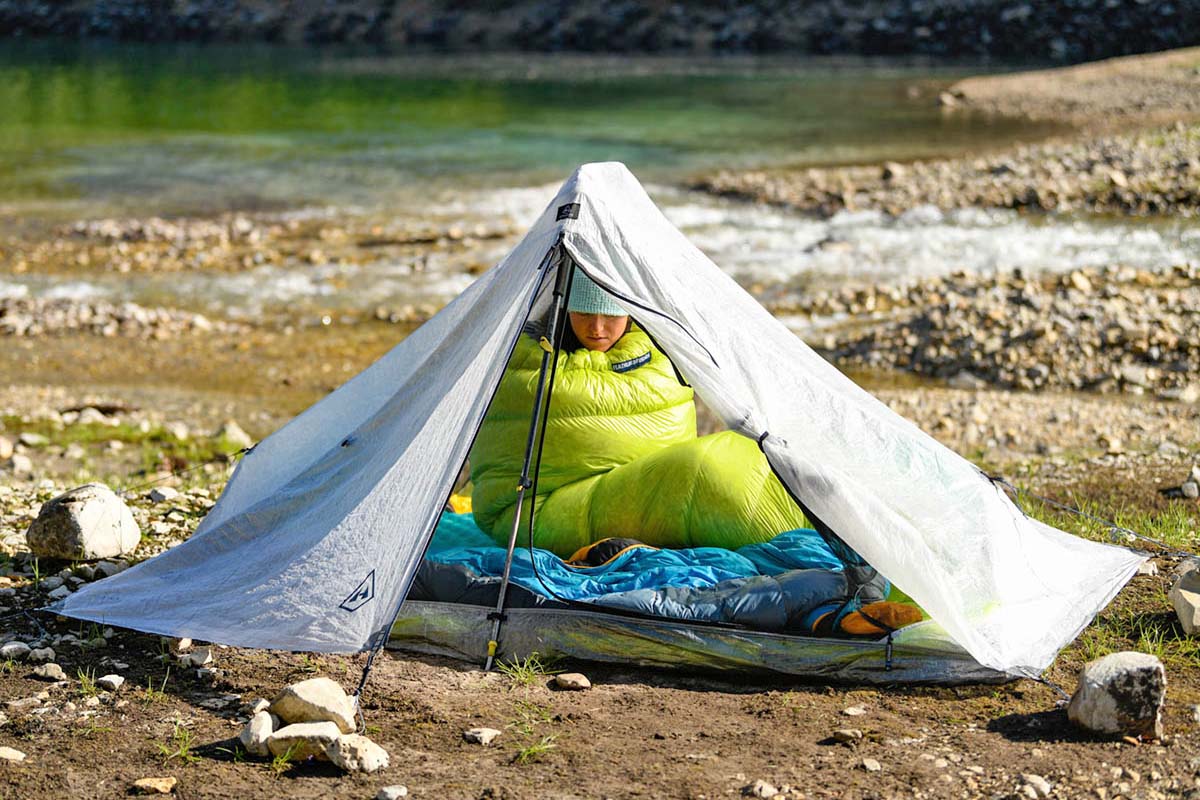 Performance Considerations
Now that we've outlined the different groupings of tents, we'll go into how each category performs in terms of durability, weather protection, ventilation, and more. It's important to keep in mind that performance doesn't drop with weight across the board. As a result, you'll want to be mindful of your priorities and well informed about the possible tradeoffs (or lack thereof) when making your purchase.
 
Interior Space and Livability
Backpacking tents in our heavy/midweight and lightweight categories excel in interior space. You get rectangular floors that don't taper at the feet and pole structures that result in near-vertical walls for a true dome shape with maximum headroom. However, those in our ultralight and crazylight categories generally make big compromises when it comes to interior space. Tents in the sub-3-pound range taper toward the feet, which results in a smaller floor area that is more cramped in general and difficult to sleep head-to-toe with your backpacking partner. They also use fewer tent poles (or substitute trekking poles), which means steeply tapered ceilings instead of the spacious dome design and vertical walls of a more comfort-oriented design. Often in an ultralight or crazylight tent there's only a small zone in the middle where you can sit up, whereas a heavier tent's peak height might extend for almost the entire length.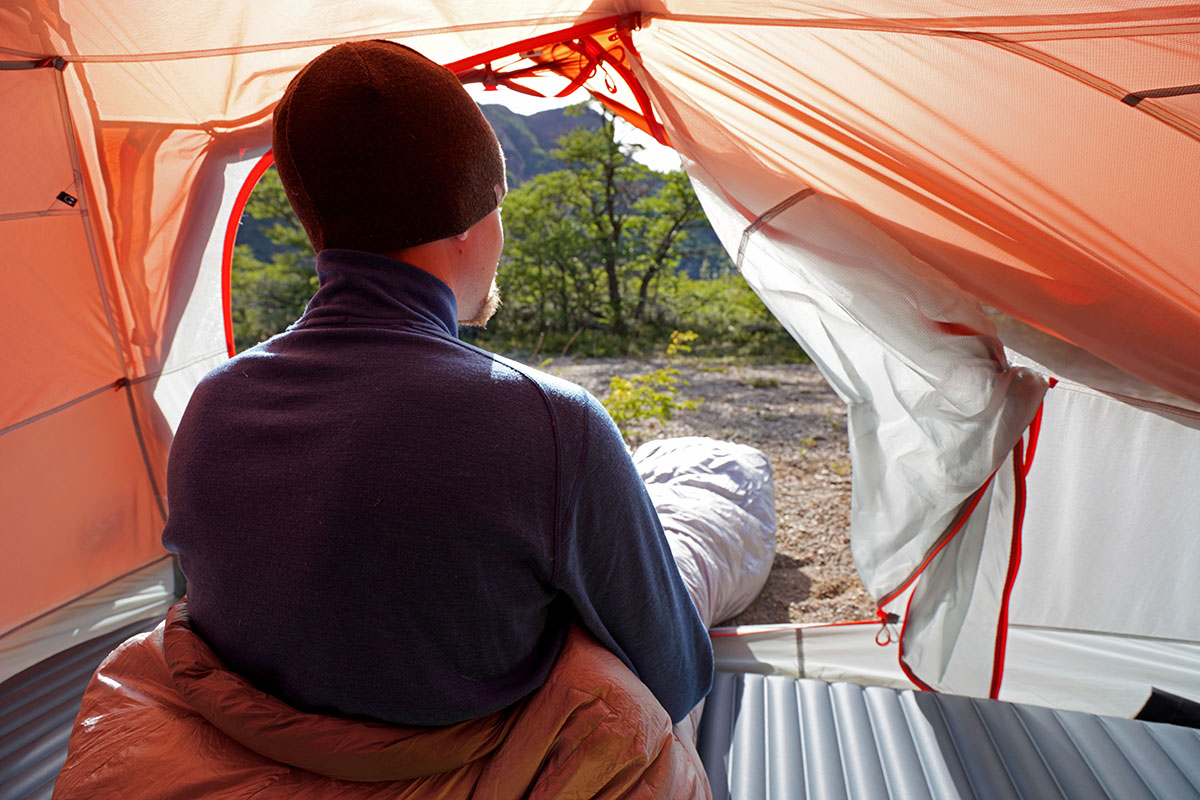 Another factor to look at when considering livability is the number of doors. In an effort to reduce the weight of zippers and other materials, lighter tents sometimes only have one single door. One door at the head of the tent isn't so bad (seen in the Big Agnes Fly Creek HV UL2), but if you have a single door in the side it can be a big annoyance to crawl over your tentmate to get in and out. Luckily, even the most crazylight of tents seem to have gotten the memo and rarely do we see 2-person tents with a single side door in 2020. 
Mid/Heavyweight: Great
Lightweight: Great
Ultralight: Good/fair
Crazylight: Fair/poor
Durability
One of the main ways that manufacturers cut weight is through the use of thinner materials, meaning that durability is a primary concern with backpacking tents in our lightweight, ultralight, and crazylight categories. A fabric's thickness is most often measured in terms of denier—the lower the denier, the thinner the material (and thus, the lighter the tent). The biggest drop happens between the heavy/midweight and lightweight categories, where we see nylon in the 65-to-75-denier range drop to around 15-denier. Durability isn't a huge differentiating factor among tents sub-4-pounds and under (you wouldn't want to go any thinner than 15D for a tent floor), although in some cases manufacturers will use fabrics as thin as 7-denier for the fly or ultrathin Dyneema Composite Fabric (DCF). And a quick note on DCF: although it's known to be significantly stronger than nylon, this fabric is compromised when thin. For example, there is a significant drop in durability between the Zpacks Duplex (0.55 oz/sqyd) and the Big Agnes Tiger Wall Carbon (0.34 oz/sqyd).
In addition to thin fabrics, it's also important to consider the zippers and poles. Zippers can be a big point of failure, and thin models should not be put under too much strain. In terms of poles, a few ultralight or crazylight tents use carbon fiber models (such as those in Big Agnes' Carbon series), which are more likely to break under pressure. If you're willing to suffer the slight weight penalty, aluminum poles are stronger and less expensive, and the best compromise for most ultralight designs (or you can opt for a non-freestanding tent and use your more durable trekking poles instead).
Mid/Heavyweight: Great
Lightweight: Fair
Ultralight: Fair
Crazylight: Fair/Poor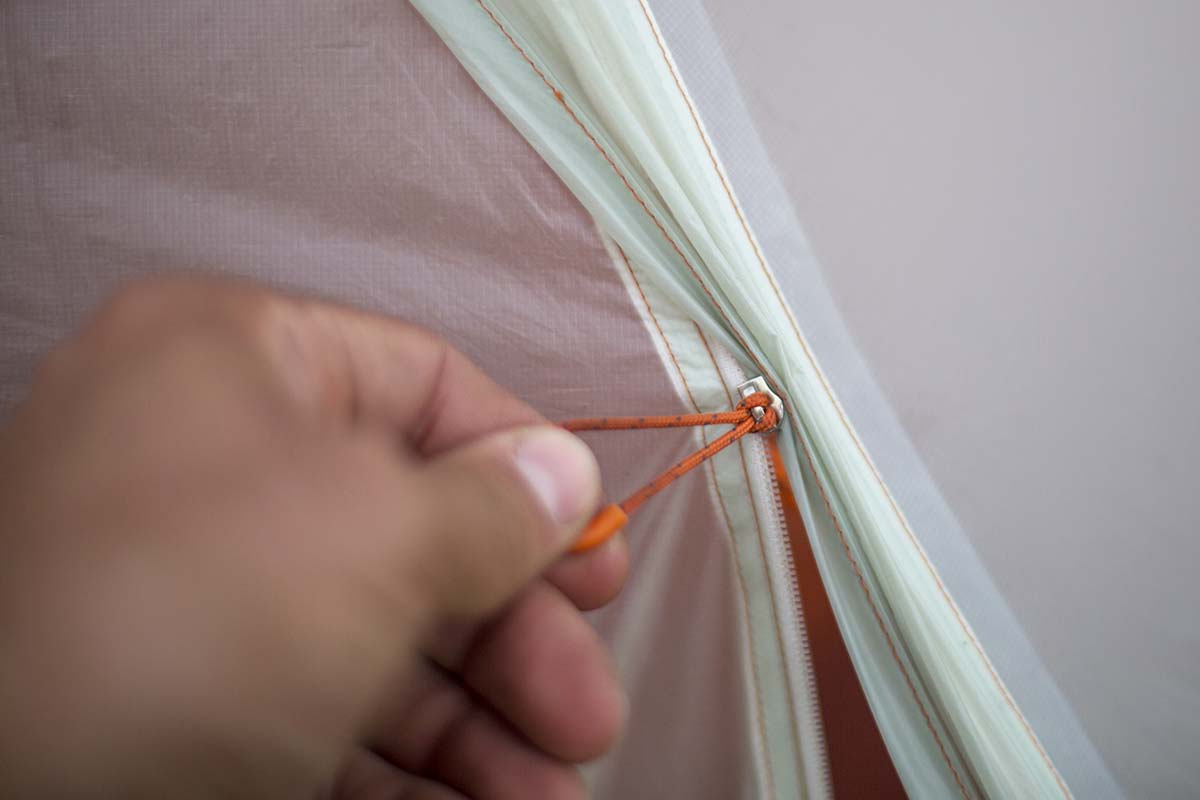 Weather Protection
You can almost always expect to get better rain and wind protection from a more robust tent, but many lightweight and ultralight models don't lag too far behind. These styles will give up a little assurance with their thin fabrics, which are more likely to rip in a serious squall (we have similar concerns about carbon fiber poles breaking). Additionally, many ultralight and crazylight tents (such as trekking-pole designs or semi-freestanding tents with a single ridgeline pole like the Big Agnes Fly Creek HV UL2) won't be as sturdy in the wind as a domed design, so take care in how you orient your tent (think torpedo, not sail).
It's a small drop in weather protection between heavy/midweight and ultralight tents, but a larger one down to crazylight designs. Because these tents are generally single walled, you run the risk of the thin fabric wetting out in drenching rain, resulting in damp nylon against your body. Further, while a trekking-pole tent is actually quite stable when set up well—even in the wind—unreliable anchors or loose guylines can result in total disaster. For this reason, it's important to check and double check a non-freestanding tent to make sure it's securely anchored and taut. In the end, we think non-freestanding tents (like most of those in our crazylight category) are ideal for summer backpacking at low elevations, while models in our ultralight and lightweight categories can handle inclement weather with far fewer compromises.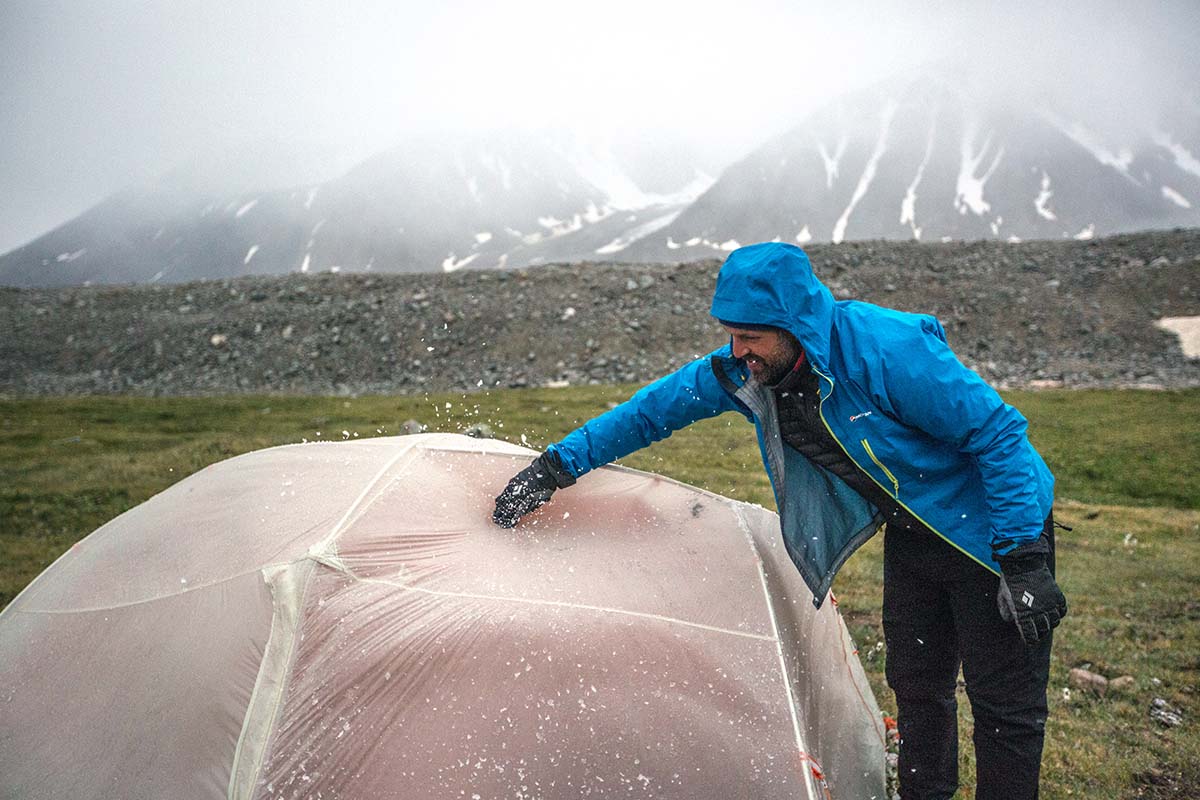 Mid/Heavyweight: Great
Lightweight: Good
Ultralight: Good
Crazylight: Fair/Good

Ventilation
Most tents in our lightweight and ultralight categories (such as the Nemo Hornet 2P and REI Co-op Flash Air 2) are just as breathable as their heavier brethren, with similar amounts of mesh in the body and room for air to flow between the tent and the fly. On the other hand, crazylight tents suffer a good deal in terms of ventilation, owing to their single-wall nature. Asking one piece of fabric to be both breathable and waterproof is a tall order, and Dyneema is especially lacking in breathability. It's possible to increase venting by sleeping with the zippers partially open, but in a strong wind or rain your options are limited.
Mid/Heavyweight: Great
Lightweight: Great
Ultralight: Great
Crazylight: Fair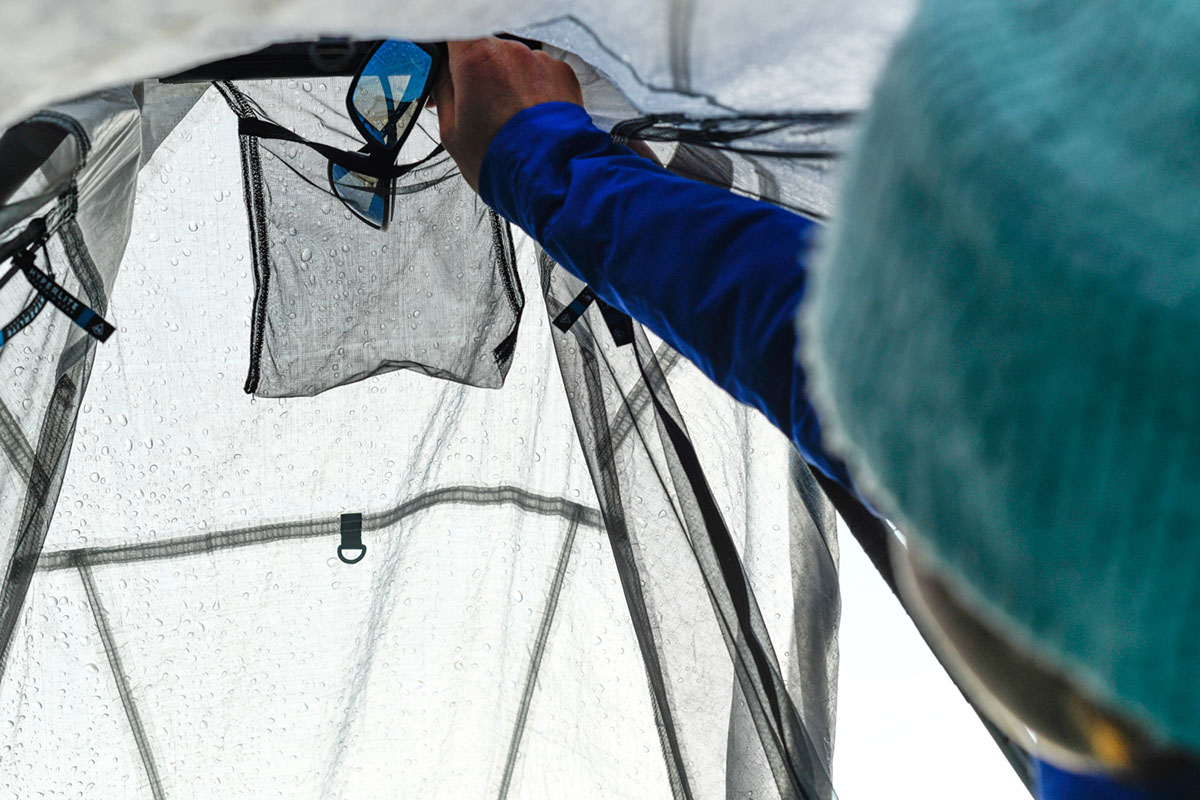 Storage: Vestibules and Pockets
Tent storage can be broken down into two categories: vestibules (outside of the tent), and pockets (inside the tent). It's common for a tent to have a vestibule at each door, meaning a one-doored tent will have one vestibule, and a two-doored tent will have two (these are extremely useful for storing gear, especially when your interior space is limited). The good news is that most tents—mid/heavyweight, lightweight, ultralight, and crazylight alike—prioritize exterior storage, with the vast majority featuring two vestibules. That said, vestibules do tend to get smaller as overall tent weight goes down.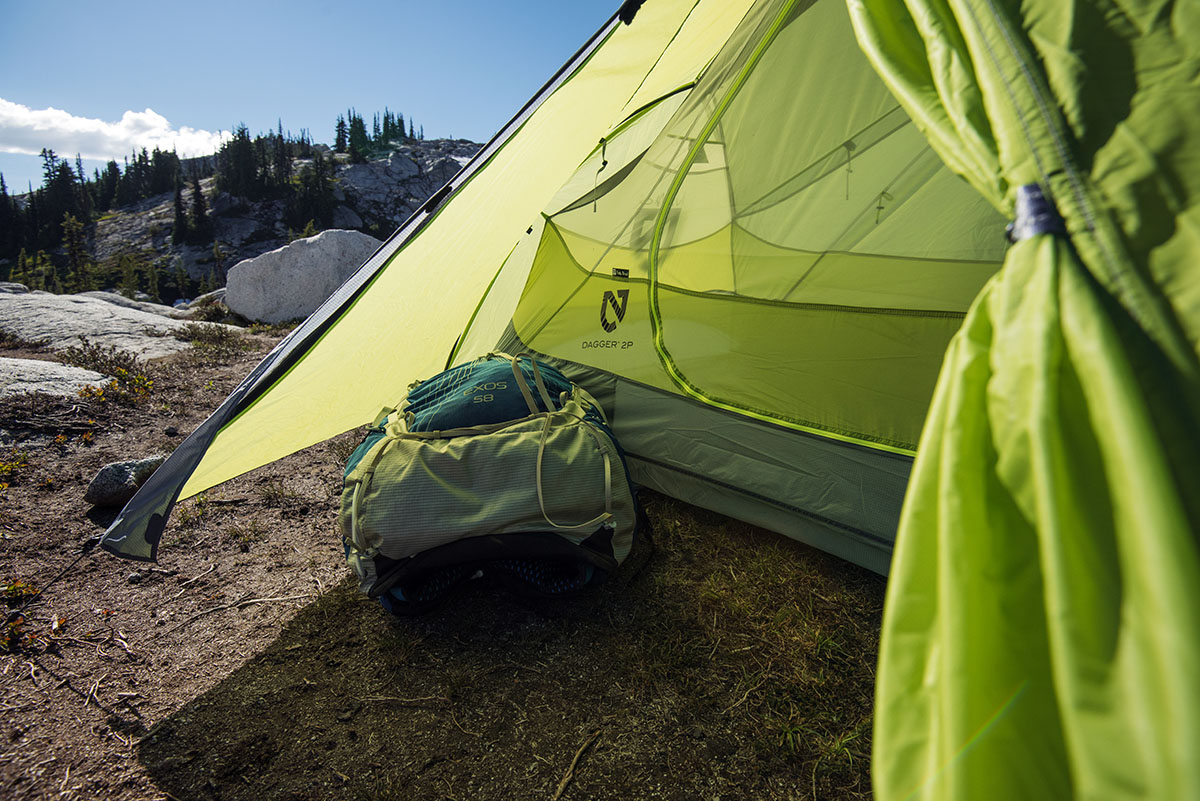 In terms of internal organization, you can expect most weight-conscious designs to have significantly less pockets and hanging loops, particularly those in our ultralight and crazylight categories. For example, the REI Co-op Half Dome 2 Plus (5 lbs. 5 oz.) has a whopping 6 pockets at the roof and one at each corner along the base, while most sub-3-pound tents often whittle your pocket options down to two (as we see in both Gossamer Gear's The Two and the REI Co-op Flash Air 2). Interior pockets can be helpful for organizing items like a headlamp or book, but they're one of the first things we're willing to give up for weight savings.
Mid/Heavyweight: Great
Lightweight: Great
Ultralight: Good
Crazylight: Fair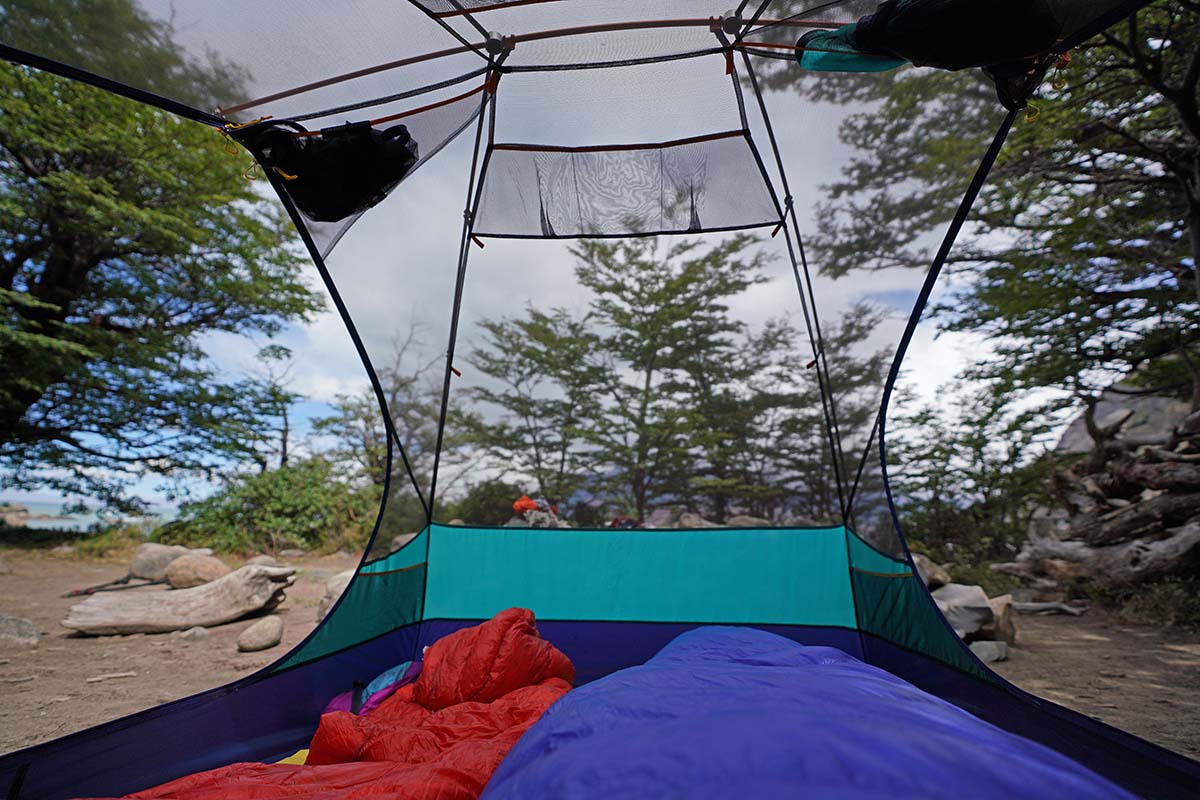 Ease of Setup
When it comes to ease of setup, the majority of backpacking tents in 2020 (heavy/midweight, lightweight, and ultralight) are quite easy to set up and take just a couple of minutes. The poles are of the clip variety (no more arduous sleeves to thread the poles through) and many modern designs make it simple with color-coded corners and poles. Thus, you don't compromise much in terms of ease of use with a lightweight or ultralight design, but that's not the case when it comes to some crazylight tents with non-freestanding designs (for more background on this topic, see our article on freestanding vs. non-freestanding backpacking tents). 
Non-freestanding tents—like most of those in our crazylight category—take a lot more effort to dial everything in and can be a lot more finicky overall. In addition, they must be assembled and staked out at your intended site, meaning that if you pitch your tent and don't like the location, you'll have to completely disassemble your tent in order to move it to a new spot. But the one major benefit to non-freestanding tents is that they're almost all one-piece designs, which means that once you get the process down, it's a few less steps. You can also set up these tents in the rain without worrying about the inside getting wet (with a single-walled design, the fly is part of the tent body).
Mid/Heavyweight: Great
Lightweight: Good
Ultralight: Good
Crazylight: Fair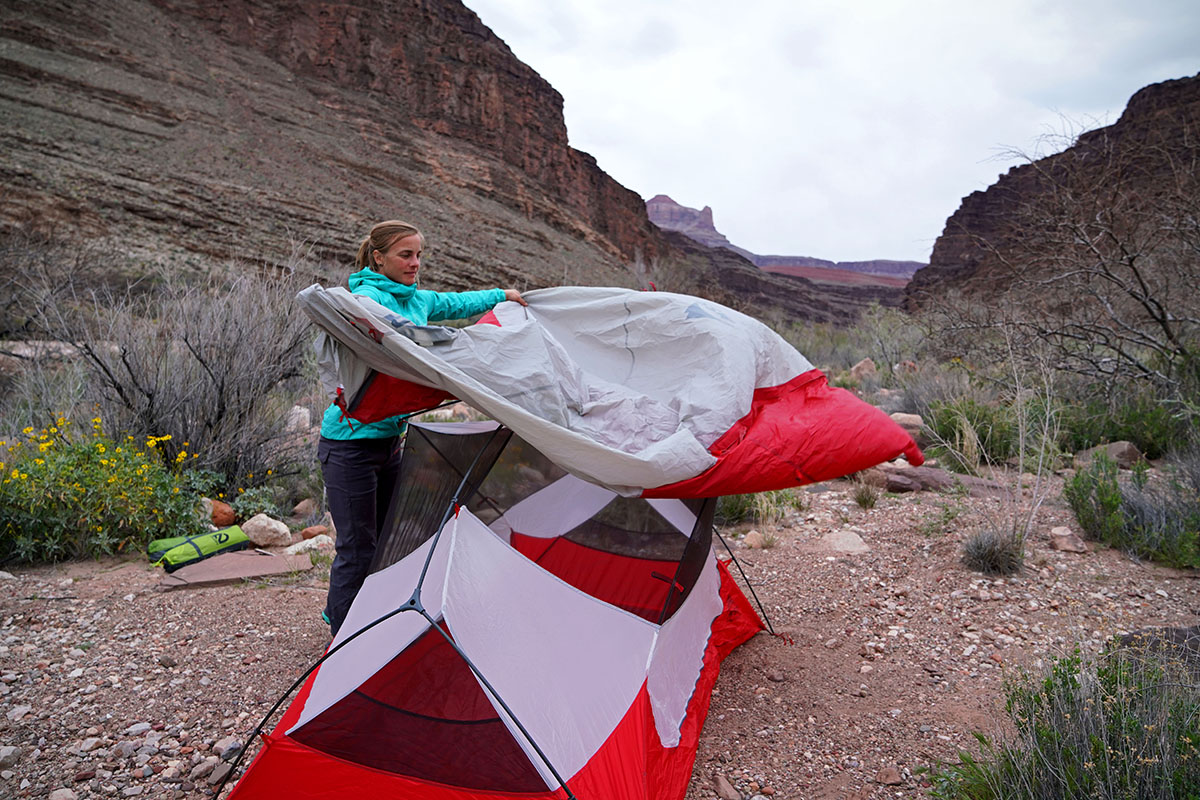 Cost
With backpacking tents, price generally correlates with the weight of the fabric, and the lighter the fabric, the more expensive the tent. From burly, 70-denier models like the $229 REI Co-op Half Dome Plus, we see a big price bump to thinner designs like the 15x20-denier Big Agnes Copper Spur HV UL2 ($450). From here, prices generally plateau into the ultralight and crazylight categories among tents with similar fabrics (for example, the Big Agnes Tiger Wall UL2 with its 15D floor is $400). Dyneema designs, however, see a big spike, like the $795 Hyperlite Dirigo 2 (1 lb. 12 oz., 1.3 oz/sqyd DCF). In our opinion, the sweet spot in terms of cost comes in the ultralight category, where you can get a tent like the REI Co-op Flash Air 2 (2 lbs. 8 oz., 15D) for an affordable $299. 
Heavy/midweight: $/$$
Lightweight: $$$
Ultralight: $$
Crazylight: $$$/$$$$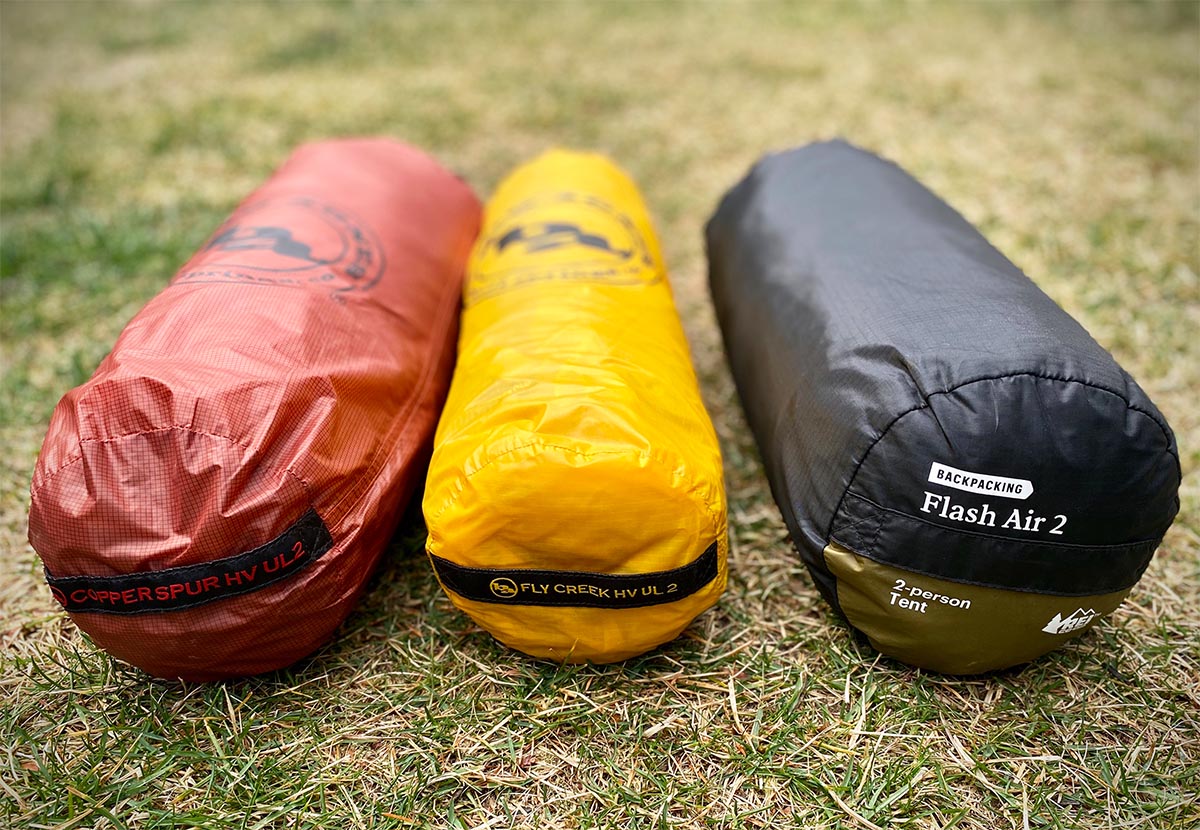 The Verdict
Added up, the Switchback Travel staff has spent over three years' worth of nights in a tent. As a result, each of us has had enough time, information, and trial-and-error experiences to dial in what we're willing to compromise in order to save on weight. And we're generally in agreement when it comes to backpacking tents: our lightweight and ultralight categories offer the best compromise in terms of weight savings, feature sets, weather protection, and cost. We could certainly go lighter with a crazylight (read: non-freestanding) tent, but the tradeoffs are many, and simply aren't worth it to us for a 1-pound weight savings. On the other hand, a few extra pounds could get us a more spacious and featured design, but most are overkill for trips when we're spending most of our time hanging out outside of our tent.
But you might not be like us. Perhaps you're a thru-hiker and every ounce counts during 30-mile days with 2 weeks of food on your back. Or maybe you're a casual backpacker on a budget or camping relatively close to your car. No matter what your situation, our aim is to provide you with all the facts so that you can come up with your own opinion. To help, we've also provided a list of all of our favorite backpacking tents below, ranging from 5 pounds 5 ounces down 1 pound 3.4 ounces (for the 2-person versions). Happy trails, and sweet dreams!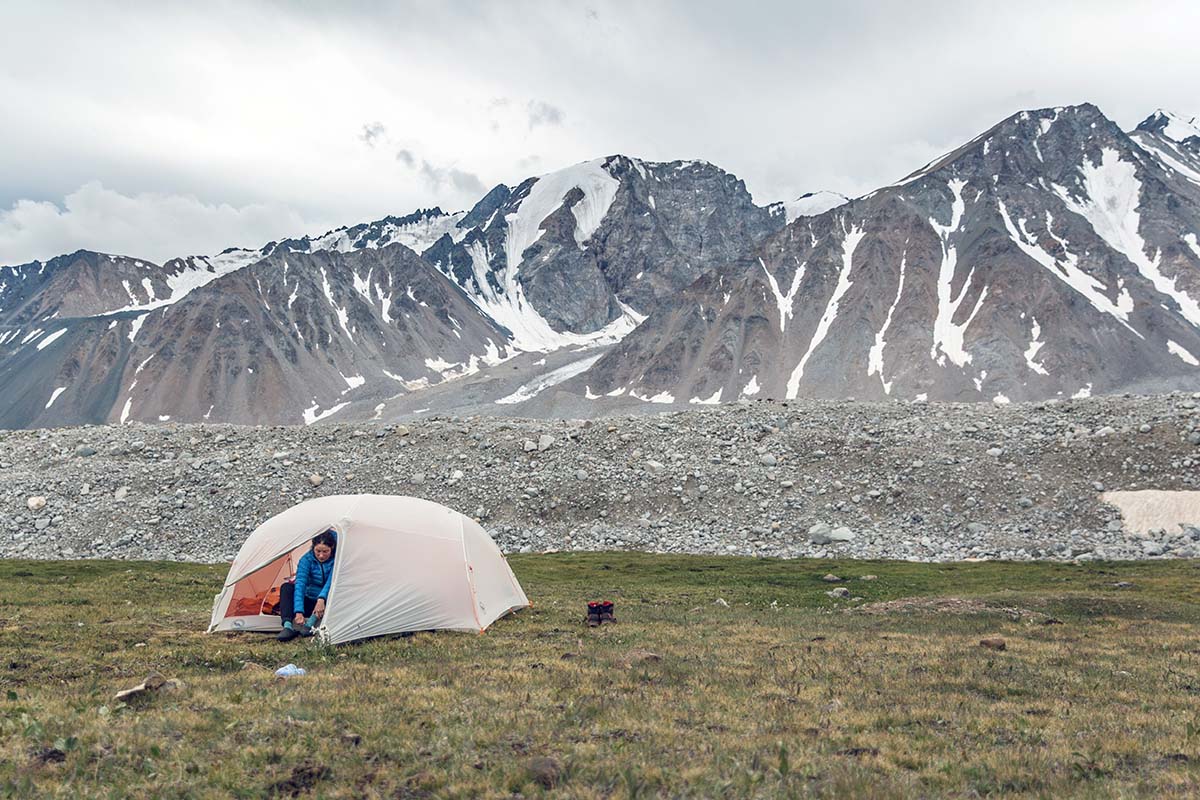 Our Favorite Backpacking Tents Across Categories

A Note on Packed Weight vs. Minimum Weight
When comparing tent weights, it's important to know that many manufacturers provide two specs: packed weight and minimum weight. Packed weight refers to everything purchased with the tent, including the tent body, rainfly, poles, stuff sack, stakes, footprint, and guylines. On the other hand, minimum weight refers to only the essentials: the tent body, rainfly, and poles. Many ultralight hikers will leave items like the stuff sack and footprint behind, but most carry stakes and guylines for setup. Thus, in most cases you can expect the final weight of your tent in your pack to be somewhere in between the two provided specs.
Back to How Light is Too Light?  See Our Top Backpacking Tent Picks
Read More From Switchback Travel