If you're researching backpacking tent weight, you've come to the right place. Below we've put together detailed tent weight comparison tables covering most models available for summer of 2023. If we've missed anything important, feel free to comment below or email us and we will add it in. For comparison's sake, all are two-person, three-season tents (many have solo and family versions available as well), and we've listed the full packaged weight. The first table includes traditional backpacking tents with poles, and the bottom table has trekking pole-supported shelters that do not come with poles, many of which are single-wall. For the latter, you'll have to add in the weight of your trekking pole(s) for an accurate total. For our top picks, see our articles on the best backpacking tents and best ultralight tents.
 
Two-Person Backpacking Tents with Poles
Two-Person Trekking Pole-Supported Shelters

Packaged Weight vs. Trail Weight
The weights that we have listed in the tables above are the packaged or packed weight (our cutoff was 6.5 lb., but many backpackers will want to keep things lighter). This includes everything that comes from the manufacturer: the tent body, rainfly, poles, stakes, guylines, repair sleeve, and tent and stake bags. Another popular spec to list is trail weight, which includes only the tent body, rainfly, and poles, and as a result, winds up about 5 to 7 ounces lighter. Notably, trail weight (also referred to as "minimum weight") leaves out the stakes, so it's not an exact representation of what you will be hauling.
That being said, packed weight doesn't perfectly reflect the weight of what everyone will be taking on the trail. Some manufacturers include quite a few guylines, which you may want to leave behind, and we often ditch the tent pole bag and just strap the poles to the outside of our pack. We still recommend keying in on the packed weight to be safe, but maybe trimming a couple of ounces off that is very realistic. To throw another wrench into the tent weight question, keep in mind that most packaged weights don't include a footprint. Plan to tack on another 5 to 10 ounces to the all-in weight.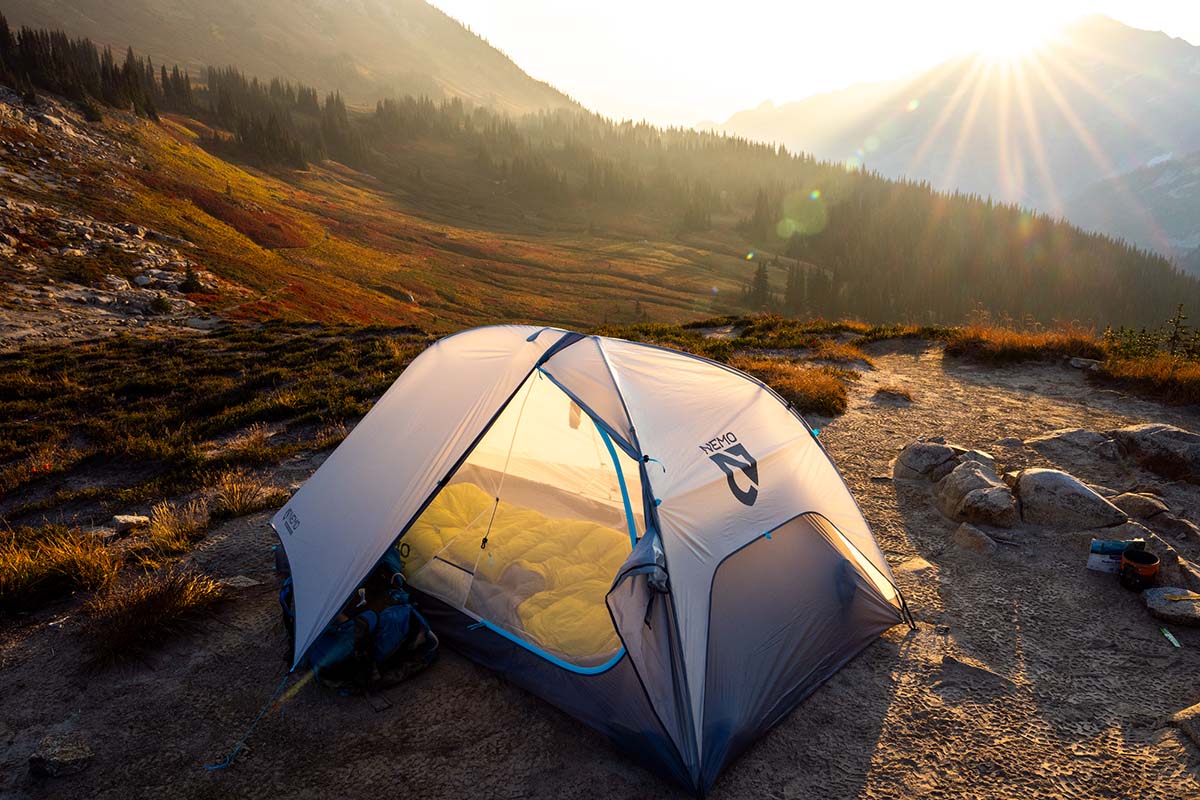 What Do You Sacrifice By Going Ultralight?
On paper, choosing a lightweight tent is a pretty good proposition. They cost more, but you can trim precious pounds off of the weight you'll be hauling on your back. We're right there with you, but there are a number of compromises that come with reducing weight, some of which may be no problem and others of which might give you pause.
Two main ways that manufacturers cut weight are: 1) making the fabrics and materials thinner and 2) and reducing interior space. We cover interior space in the section below, so we'll focus on tent construction here. In comparing similar tents (i.e., freestanding two-person tents with similar interior volume), a tent that's dramatically lighter will have thinner fabrics, tent poles, and zippers. As a result, durability suffers, and for those who are hard on their gear or aren't familiar with tent care, you can quickly damage these expensive products.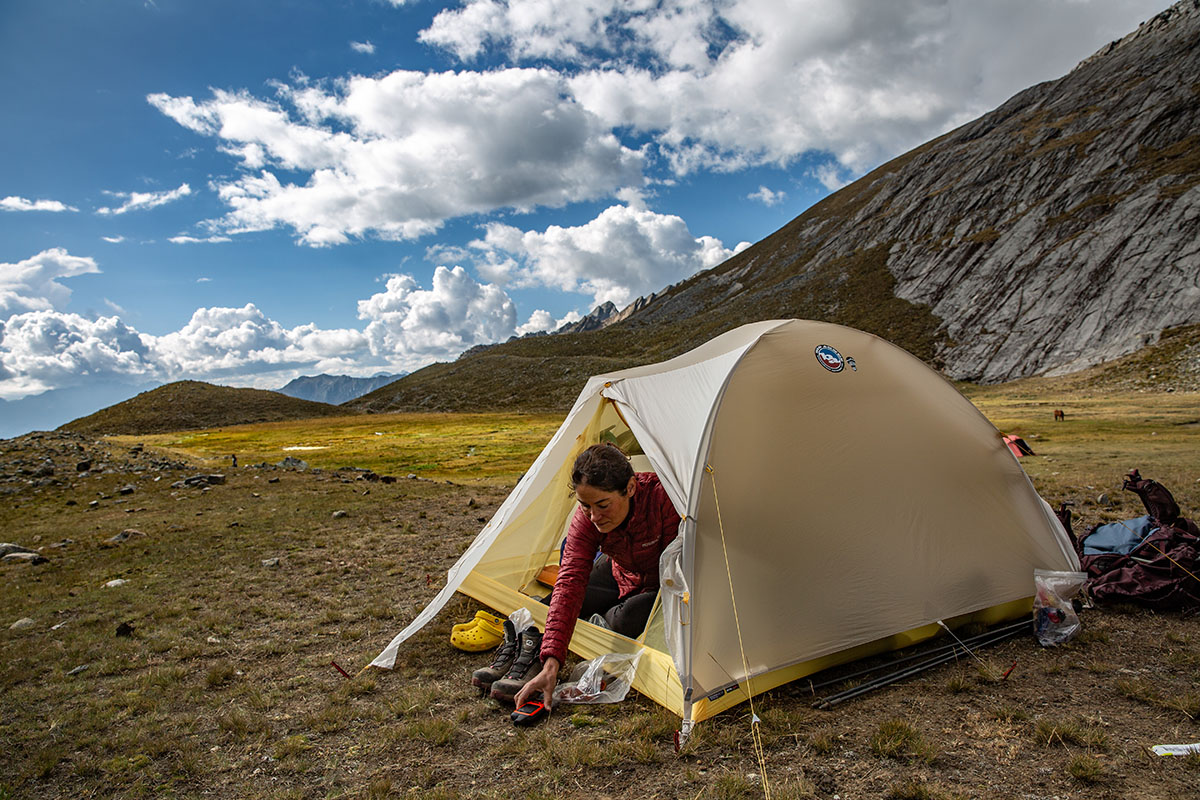 Nearly all manufacturers list the denier (D) of their floors, tent walls, and rainfly, and the lower the number the thinner the fabric. Ultralight tents like the Big Agnes Tiger Wall UL2 use a 15D fabric on the floor and rainfly, which pushes the limits of practicality. On the other hand, it's absolutely awesome for the right person (thru-hiker or minimalist) who's willing to treat it like a newborn. You get a completely bug-proof and weather-worthy tent for 2.5 pounds. The durability tradeoffs and extra cost are what push people to popular tents like the REI Half Dome SL, which uses a far more durable 40D floor but weighs nearly twice as much as the Tiger Wall. There is a balance, of course, which is why we created the tables above.
 
Packed Size
From a quick look at the tables, it's rather obvious that packed size almost always correlates with weight. Simply put, the lighter the tent, the smaller the packed size. And while the actual dimensions are helpful, it doesn't by any means force you to try and look for a space inside or outside your pack to fit a 21 x 6-inch tent burrito. We almost always separate the tent poles from the tent body to better distribute weight among backpackers and not take up so much space. The best use of the packed size specification is to get a general idea of how bulky the gear is for planning out the rest of your kit, like the best volume and style of backpacking pack.
Interior Space: Floor Area and Tent Volume
Unfortunately, interior space is one of the first things to go when trimming tent weight. As a tool for comparison, we like the floor area spec (measuring length by width), but it does come with a caveat. This measurement is taken right at ground level and does not account for the livable space above the floor. For example, take the Big Agnes Fly Creek HV UL2 and Kelty Far Out 2. Both have a listed floor area of around 28 square feet (the Far Out is 27.9 sq. ft.), but they couldn't feel more different inside. The Far Out's vertical walls and symmetrical shape feel cavernous compared with the Fly Creek's tight quarters.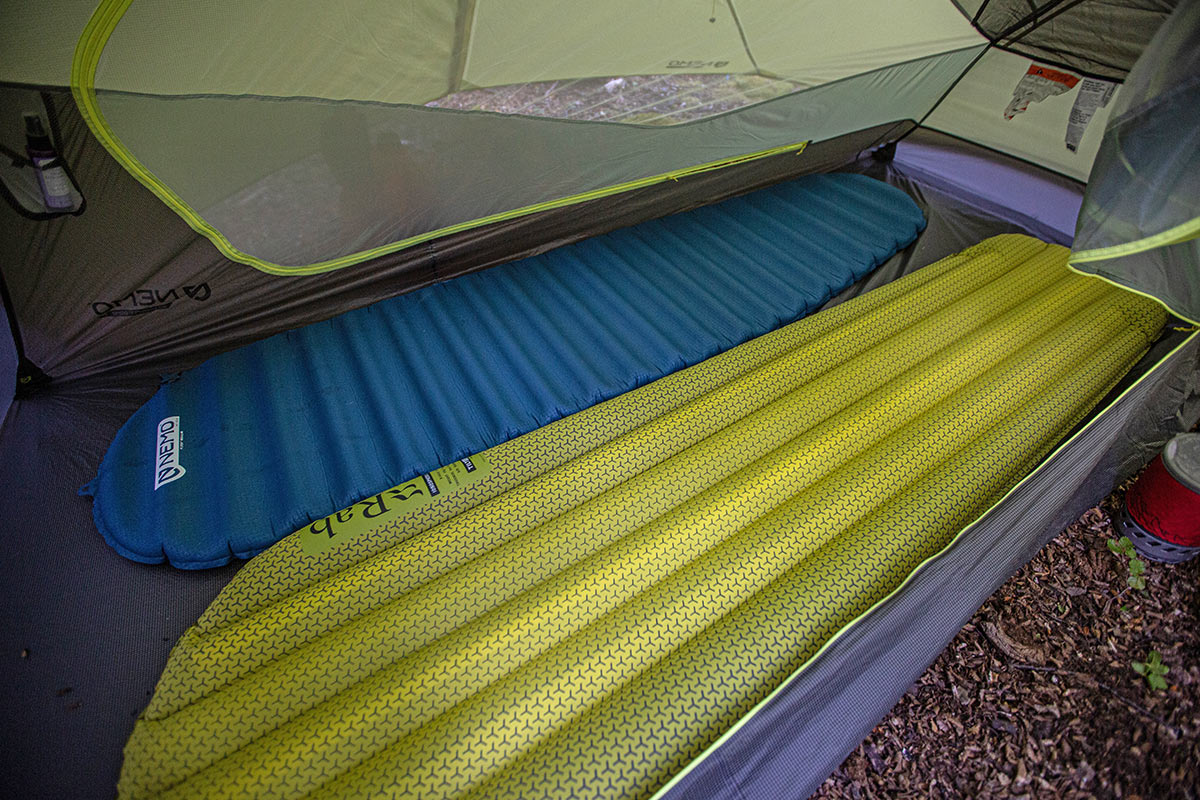 Tent volume, which accounts for the length, width, and angle of the walls, is the spec we really want, but few manufacturers actually provide it (SlingFin is one exception). Until this becomes commonplace, we recommend checking the floor area spec but also taking the time to analyze the tent shape—even just eyeballing it will help quite a bit, but we also advise digging into all of the dimensions (length, width, and peak height) to get a clearer picture. You can also learn a lot from the photos online.

Trekking Pole-Supported Shelters
To achieve ridiculously low weights like the 1-pound-2.5-ounce Zpacks Duplex, manufacturers turn to a piece of gear a lot of backpackers already bring along: trekking poles. The main selling point of a trekking pole-supported shelter is that you don't have to sacrifice interior volume or fabric durability in achieving really light weights. In fact, they're competitive with and often beat standard tents that weigh twice as much in terms of floor area and tent volume.
Our Favorite Backpacking Tents
This article provides an exhaustive analysis of tent weight, but we've also taken the time to pick the best backpacking tents based on a totality of factors that include performance, durability, comfort, and value. We've also compiled a dedicated round-up of the best ultralight tents on the market, most of which check in under 3 pounds all in. And for more recommendations, check out our detailed backpacking gear reviews.

Weighing the Rest of Your Gear
Tent weight is just one part of the larger weight equation, and there are numerous avenues from which you can trim ounces from your pack. What's commonly referred to as the sleep system (including both sleeping pad and sleeping bag) is another significant opportunity. To help with research, and because looking at the various designs is just plain fun, we've put together comprehensive charts comparing one-person tent and shelter weights and sleeping bag weights. As with tents, cutting weight often involves paying more and losing out on some durability, but your back, legs, knees, and ankles will surely thank you in the end.
Back to Backpacking Tents with Poles  Back to Trekking Pole-Supported Shelters
Learn More About Outdoor Gear