It's amazing to think that a sleeping bag can weigh only 1 pound and keep you warm through the night. To pull this off, manufacturers utilize light and lofty down insulation, thin shell and lining fabrics, and a pared-down, narrow shape. For 2023, there is an extensive array of backpacking sleeping bags available, and we've organized them by weight in charts: unisex mummy sleeping bags, women's-specific bags, and hoodless sleeping bags and quilts for the UL crowd. To keep each list a manageable length, we trimmed a handful of redundant or obscure bags and set the following parameters: 2.5-pound max weight and 35-degree max temperature rating (if we've missed anything important, feel free to comment or email us and we will add it in). For our top picks, see our reviews of the best backpacking sleeping bags and best ultralight bags and quilts.

Unisex Mummy Sleeping Bags

Women's Mummy Sleeping Bags
Hoodless Sleeping Bags and Quilts

Temperature Ratings
As sleeping bag weight goes down, temperature rating goes up. It's a simple formula: Warmer bags have more down fill and require more shell fabric to contain it. For the purposes of this list, we stuck to a 35-degree Fahrenheit temperature rating at the high end. Anything above that is very questionable for backcountry use and strictly for when the conditions are hot.
That said, don't expect the warmth of your bag to perfectly match the listed rating. Many gear manufacturers now follow the European Norm (EN) or newer ISO system, although they're so similar that we can talk about them as one and the same. These standards provide two numbers: the Comfort (comfort rating for women) and Lower Limit (comfort rating for men), which is what is listed for the unisex bags above. But not all manufacturers use the same standards for testing temperature ratings, and some smaller companies don't EN/ISO-rate their bags at all. This doesn't mean you should discount non-EN/ISO numbers—high-end bags from Western Mountaineering and Feathered Friends often are warmer than a comparable bag's EN or ISO rating.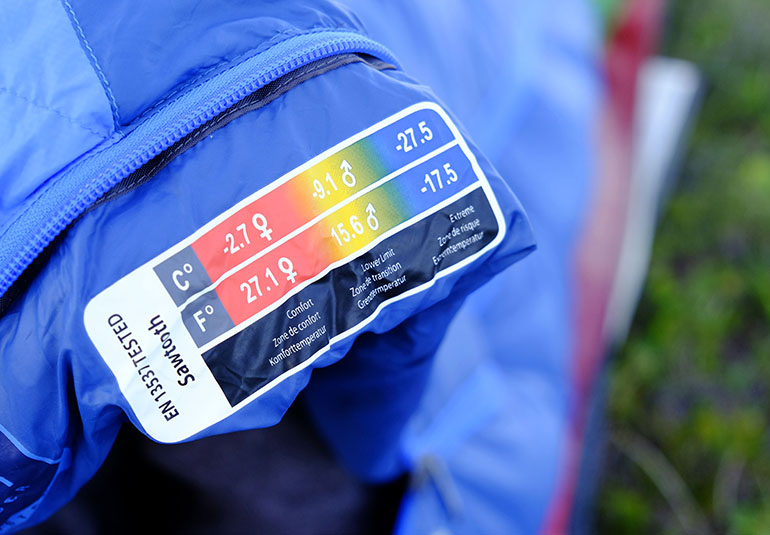 All in all, we never suggest stretching the limits just to save a few ounces. We all sleep differently—some run warm and others cold—so we build in a buffer of about 10 degrees for the temperature rating of our bags. Overnight lows can dip unexpectedly and you don't want to be stuck out in the cold. You can add a few degrees with a sleeping bag liner or by wearing a jacket, but opting for a warmer sleeping bag is the route we recommend. For more information on the topic, see our article: Sleeping Bag Temperature Ratings Explained.
 
Down vs. Synthetic Insulation
The down versus synthetic debate is one of our favorites and something we cover extensively in our insulated jacket and sleeping bag reviews. For backpacking sleeping bags, it's clear-cut: Down insulation is the lightest insulator, which is why all of the lower-weight bags on the lists above are down-filled. Down bags are also more expensive, so if you don't mind an extra pound or so of weight and a larger stuffed size (synthetics don't pack down as small), a synthetic bag is a viable option. Synthetics do insulate better when wet—even more than the new hydrophobic down treatments. But when it comes to cutting weight, you want down fill.
In terms of down fill power, the table above spells it out pretty clearly. The top is full of bags with premium down (800-fill and up) because it insulates better at a given weight. Custom sleeping bags like the Enlightened Equipment Convert show the impacts in upgrading: You can choose the Convert 30F with either 850- or 950-fill down, and total weight drops from 1 pound 6.8 ounces to 1 pound 5.2 ounces (for a significant price increase).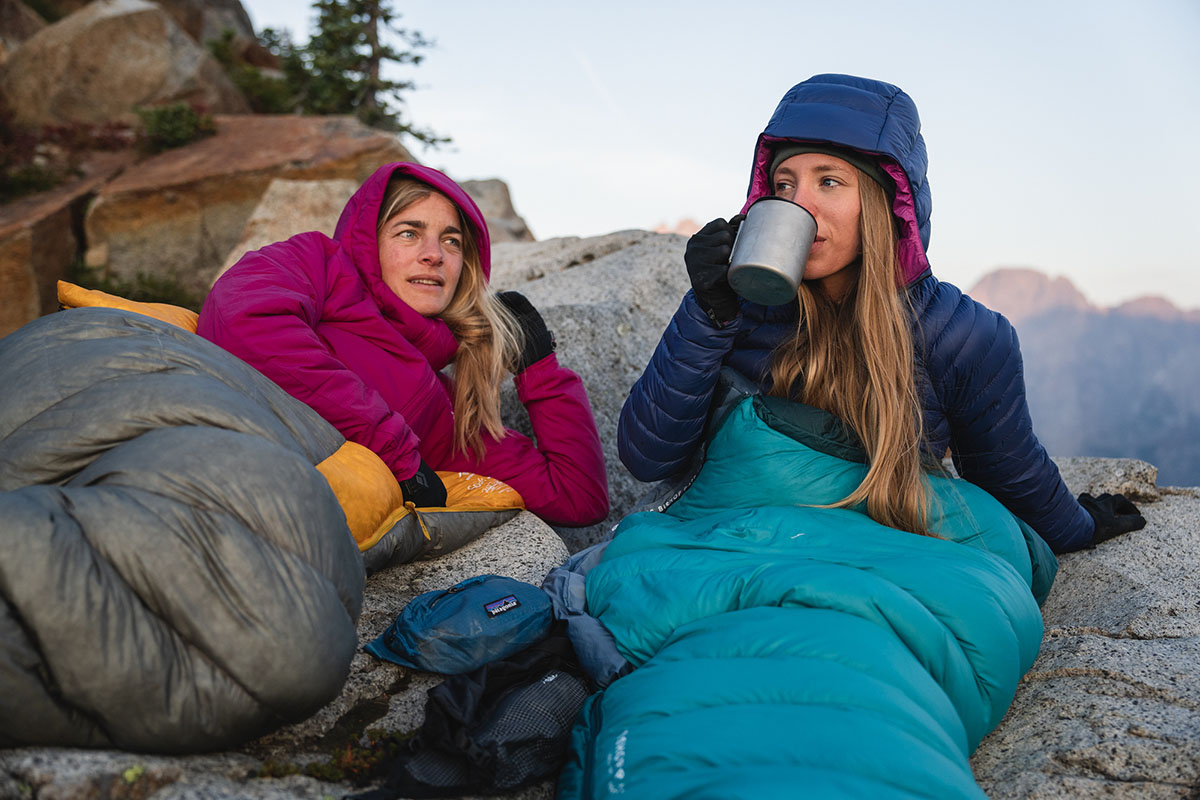 Making your way down the list, there are number of mid-range options with 600- to 700-fill down and even a couple synthetic bags mixed in. Weight does go up but price also drops substantially. There are a growing number of synthetics (including the 1-pound-14.2-ounce Marmot Trestles Elite Eco 30) that do an admirable job of keeping weight down at competitive temperature ratings and reduced costs. But when the question is all about weight, premium down still is best.

Sleeping Bag Shape
Sleeping bag shape matters, and a key way that manufacturers cut weight is by tapering things in (cutting corners, so to speak). Some sleeping bags are designed for people who want extra room or sleep on their sides, while others fit tightly and don't allow for nearly as much movement. Ultralight bags in particular are known for having the most heavily tapered designs, although you often have choices in the cut.
There are real sacrifices in terms of comfort, so it's important to think through your backpacking style and sleeping preferences. Are you a casual weekender or fastpacking minimalist who saws off the end of your toothbrush? Are you a back sleeper or a side sleeper? You can start by eyeing the shape of a bag, then check the shoulder and hip girth (listed in our table above when available). But in general, mummy bags are some of the least spacious designs, tapering pretty heavily from the shoulders to footbox, which helps keep weight to a minimum. For a step up in roominess, rectangular bags are the way to go but will add a considerable amount of heft.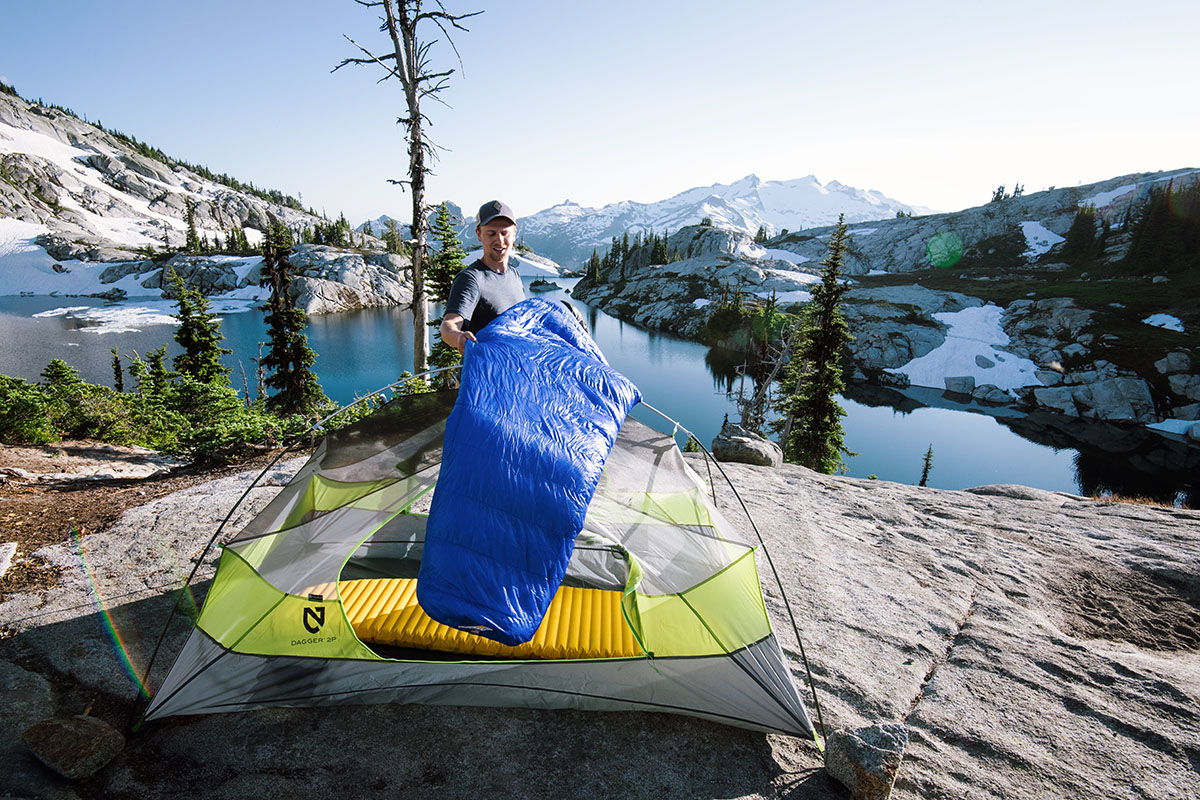 Stuffed Size
A sleeping bag takes up a significant amount of space in your pack—along with your sleeping pad and tent (yes, we've created handy charts on backpacking tent weight and one-person tent and shelter weight, too), it's among your largest pieces of gear. As you might expect, premium down packs the smallest, and warmer bags with more down generally have larger stuffed sizes. A big downside of synthetic insulation is that it doesn't compress nearly as well as down.
Listed stuffed size can be a little confusing, but all it refers to is the dimensions of the included stuff sack. As a result, a smaller stuffed sack does not necessarily mean one bag is more compressible than one with larger measurements. We provide the numbers on this list as an indication of how much space the bag will take in your pack, but you can always buy a compression sack separately to reduce its volume.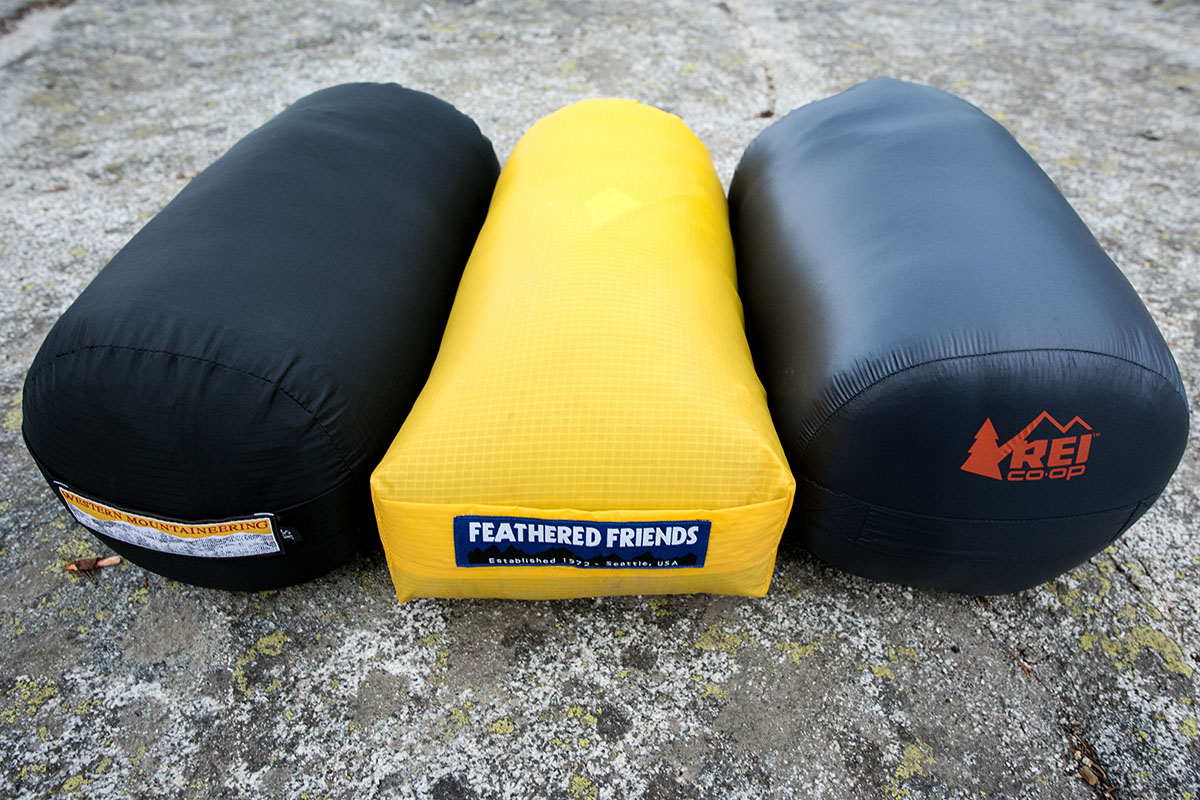 Compressed volume will crop up as well in your search—REI is particularly keen to list this spec. What the compressed volume shows is the number of liters a sleeping bag fills under a standardized amount of force. The more compressible the insulation and fabric, the lower the volume. Not every bag has this spec, but it's nice to know when available.
 
Hood vs. Hoodless
Just about every mainstream sleeping bag is a complete mummy, which means the insulation covers the top and back of the head when cinched up. But there are some niche and cottage-industry designs that go without a hood to cut weight. The appeal typically is limited to ultralight backpackers or those who don't like the feeling of a mummy bag. The hoodless designs require less fabric and fill, which helps drop their weight (the 20-degree Zpacks Classic Sleeping Bag is a great example).
Lopping the top off the bag does not mean the aforementioned Zpacks bag will keep you warm at 20 degrees without some help. If your head is cold, you'll be cold, no matter how much insulation is around your legs and chest. A jacket with a hood or beanie works as a replacement (Zpacks also makes a Goose Down Hood that's pretty awesome). But you should take into account the added weight and cost of the beanie.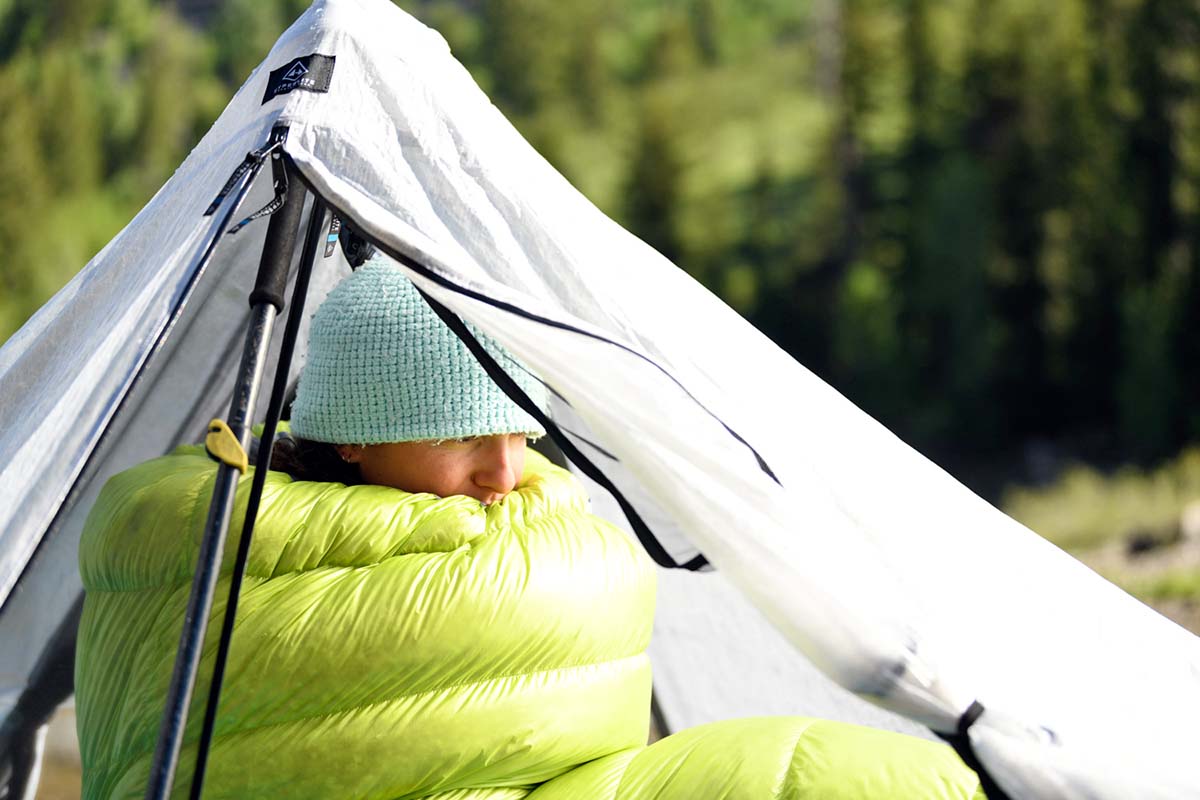 Sleeping Quilts
There's no lighter way to stay warm in the backcountry than with a down quilt. Trimming away the bottom material and insulation delivers 30-degree ratings for well under 1 pound. Fit and comfort are also strong suits because the open design emulates your blanket at home and is less constricting than a comparable mummy bag. The open sides can result in some heat loss if you're not familiar with the system (and sometimes even if you are), so quilts remain a tiny percentage of the market. But for ultralight backpackers, hammock sleepers, or those wanting more wiggle room, a quilt is undeniably the lightweight champ. For a good look at the market, we list some of our favorite designs in our article on the best ultralight sleeping bags and quilts.
 
Fabric Thickness and Durability (Denier)
With ultralight tents, manufacturers cut weight by using thin fabrics that weigh less but are considerably less durable. You'll see some of the same with sleeping bags, but because they are used on the inside on the tent, thin materials (with a lower denier) are less of a liability. Even the see-through 10-denier shell on the Sea to Summit Spark isn't cause for too much concern as long as you keep it in a stuff sack and don't sleep directly on the ground (and maybe keep the dog away from it as well). The biggest threat to tearing a sleeping bag is snagging it on its own zipper, but taking some extra care should allow just about any sleeping bag to have a long life.
Back to Unisex Mummy Sleeping Bags  Back to Hoodless Sleeping Bags and Quilts
Learn More About Outdoor Gear