One-person shelters are the definitive expression of going ultralight. Eschewing creature comforts, those who sleep solo reap the benefits of cutting precious ounces from their packs. To identify the absolute lightest models available in 2023, we've researched and compiled charts of backpacking tents with poles, trekking pole-supported shelters, and bivies and hammocks. We did level the playing field and require the shelters to have a waterproof and bugproof design, so there are no minimalist bivies or tarps here. Bivy sacks lead the way starting at 10.7 ounces, but we came away impressed with the sheer number of shelters on the market under 4.5 pounds all in. No matter your preferred sleeping style, there is a lightweight one-person solution available.

One-Person Tents with Poles
One-Person Trekking Pole-Supported Shelters
One-Person Bivy Sacks and Hammocks
The Lightweight Shelter Debate: Tents, Hammocks and Bivy Sacks
We'll start with the bad news: We're not going to crown one shelter type as the absolute best way to go ultralight. There are simply too many factors at play. What we can do is take an objective look at the charts above, and trekking pole-supported shelters are the winners with a number of options under 1 pound (not including your trekking poles). From there, the order is as follows: bivy sacks, traditional tents with poles, and hammocks. 
Each shelter type has its various pros and cons. Most folks won't venture away from the traditional backpacking tent, and with a number of options under 2 pounds, it's hardly a huge sacrifice. That said, the fabrics are less durable relative to their weight, and heft and bulk can add up pretty quickly with all the moving parts and components. If you already backpack with trekking poles, getting a tent that's supported by those handy sticks is a great way to go lightweight. Not everyone, however, is up for the more complicated setup.
Bivy sacks and hammocks are on opposite ends of the comfort scale, but both have a small but dedicated group of devotees. Bivies are great for the hardcore adventurer who isn't prone to claustrophobia, while hammocks are a relaxing getaway for those who like to sleep off the ground. Keep in mind that not all wilderness areas allow hammocks, so do your research before diving in. No matter your preference, the good news is that the industry's focus on keeping weight down has yielded multiple sub-2-pound options for each shelter type.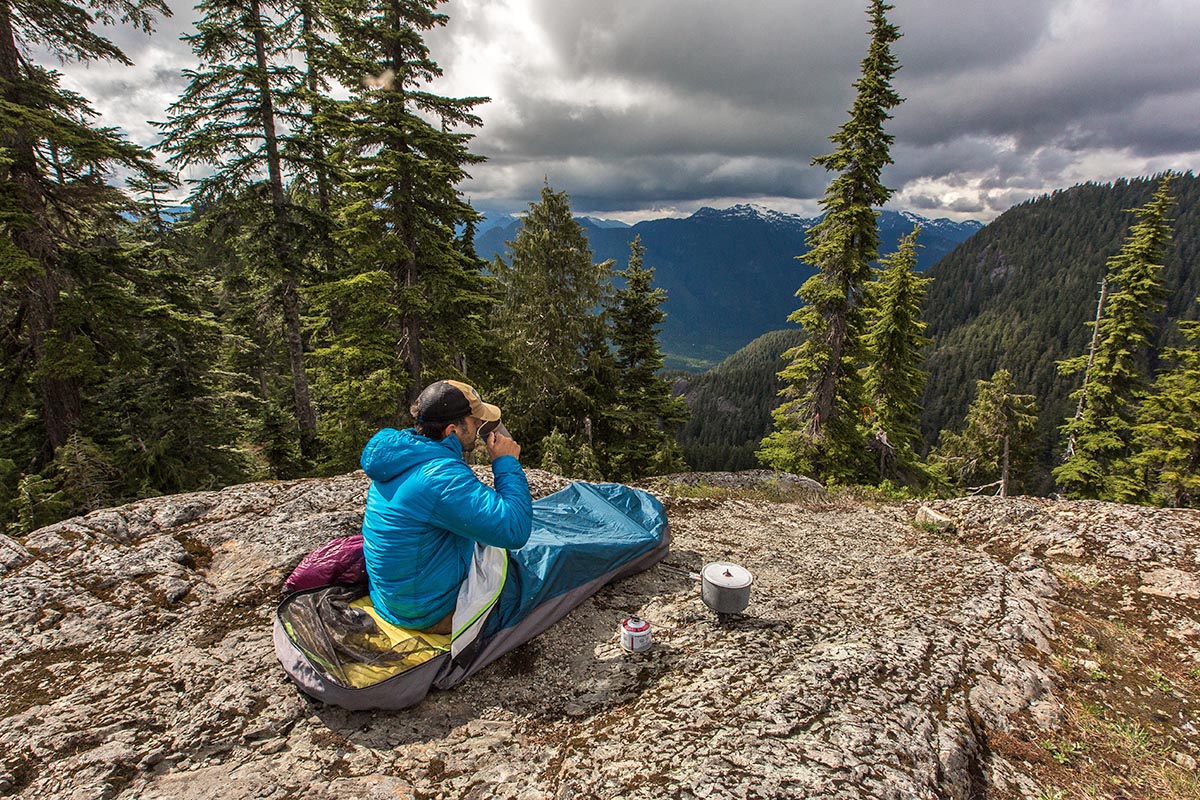 Trekking Pole-Supported Shelters
As our overall lightweight winners, trekking pole-supported shelters have earned a more detailed explanation. As the name indicates, your trekking poles replace the standard tent poles in creating the structure. The resulting shelters are rigid, just as capable in bad weather as a standard tent, and roomy for their weight. But these tents are not for everyone. To start, not all backpackers use trekking poles. Further, someone coming from a freestanding tent model may find the set up a little confusing—it's not as simple as clipping in the poles and staking it out. With practice in setting them up and familiarity in choosing a good campsite, however, the process can become very smooth very quickly. Serious adventurers and thru-hikers are the biggest proponents of these designs, but we've seen their appeal continue to grow over the past few years as they are blazing the trail in ultralight shelters.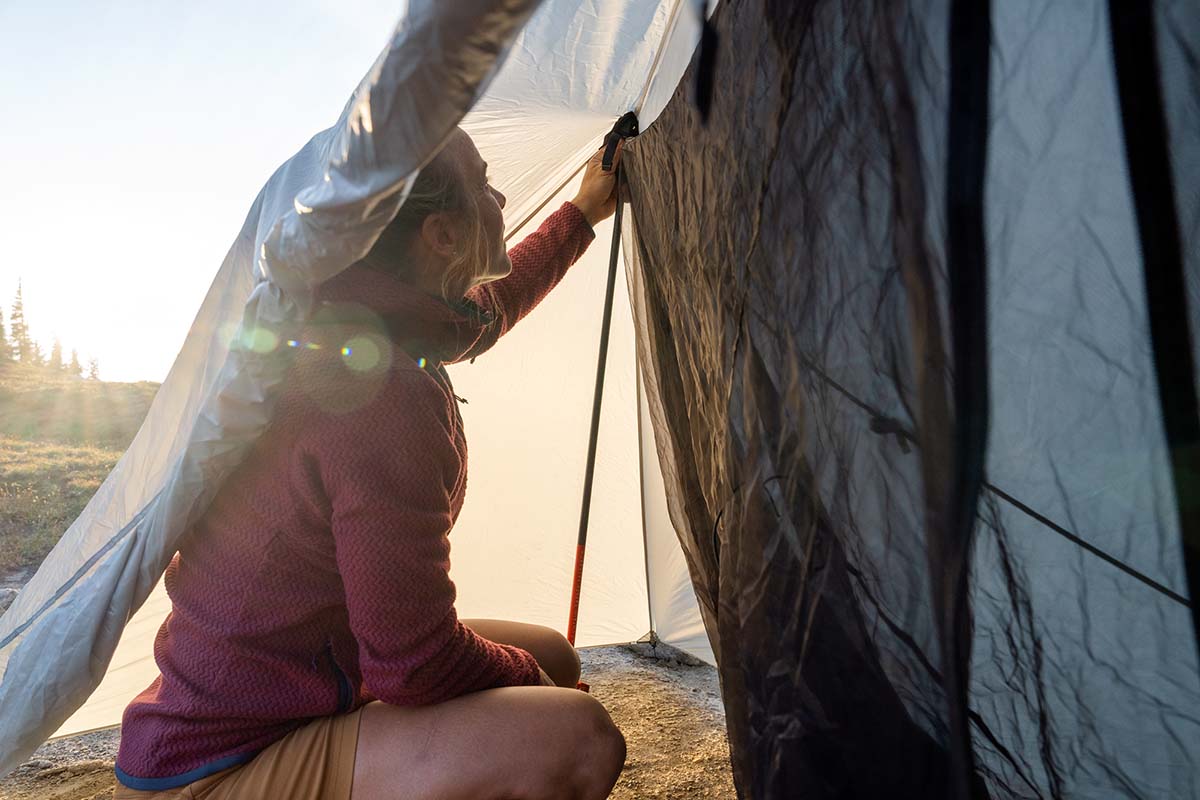 Packed Weight vs. Trail Weight
When researching tents, you'll often see two weight specs: packed weight and trail weight. Packed weight is the heavier of the two and includes everything that's shipped from the manufacturer: the tent body, rainfly, poles, stakes, guylines, instructions, and bags. Trail weight is the most brag-worthy but includes just the basics: the tent body, rainfly, and poles.
The truth is the actual weight you'll be hauling around will probably be somewhere in between the two. For the sake of this comparison, we've chosen to list packed weight because it's the more accurate number for the majority of backpackers. Trail weight doesn't include stakes, which are an essential part of setting up a tent, and most people don't ditch the guylines and tent bag. Packed weight does include some extras we prefer to leave behind like the instructions or the tent pole bag (subtract about an ounce total for those items), but we still think it's the better and more helpful number for the purposes of our charts.
Packed Size
A quick scan of the charts above reveals the obvious: Packed size and weight go hand-in-hand. Lighter and thinner materials are on average more compact and compressible, and these one-person shelters easily can be fit into just about any size backpacking pack. That said, packed size is only so helpful because we rarely store our tents as a single unit. Instead, we prefer to strap the tent poles along the outside of our pack, which opens up even more space inside the main compartment. We like the spec as a means for comparing how much total space the tent will take up, but don't be hamstrung into thinking you have to squeeze the whole thing inside your pack as one unit.
 
Ultralight Fabrics: Nylon, Silnylon and Dyneema (Cuben Fiber)
The single biggest influencer in reducing weight is the shelter body fabric. The longtime standard has been ripstop nylon, which is affordable and can be made waterproof with a polyurethane coating and seam taping. Its unfortunate downside is durability. As the fabric gets thinner (measured in denier), its tendency to puncture and tear increases more than other fabric options.
Many small-time cottage industry brands turn to silnylon, which is liquid silicon-injected ripstop nylon. This process makes the fabric waterproof and more durable than standard nylon at a very low weight. Silnylon once was considered the ultralight gold standard until the release of Dyneema (formerly Cuben Fiber). This fabric is extremely expensive and requires precise manufacturing, but it has the best strength-to-weight ratio of anything on the market (see our review of the Dyneema Zpacks Duplex Tent here). It's no surprise that the lightest shelters on this list from Zpacks and Six Moon Designs all utilize Dyneema and Dyneema Composite fabrics.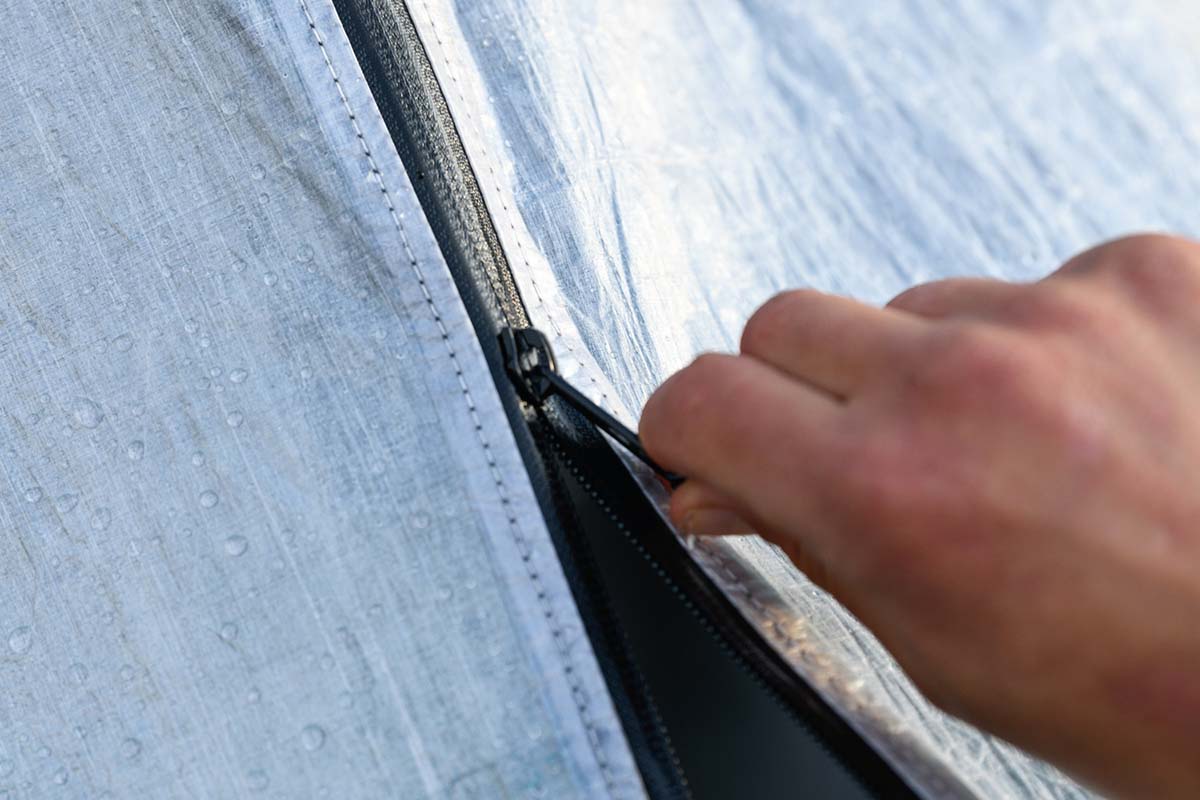 Fabric Thickness
The industry-wide obsession with ultralight fabrics has pushed them to become so thin that many are literally see-through. Calling them paper-thin doesn't do justice, and although the various fabrics are surprisingly tough for their weight, durability inevitably suffers. Of particular importance is retaining some tear resistance, or thickness, in the floor material—this is the area most vulnerable to punctures and wearing out over time. When available from the manufacturer, we list the floor thickness of every shelter model in the charts above.
Unfortunately, there aren't universal thickness measurements to use across fabric types. Standard nylons are given a denier (D) rating, with a lower denier being thinner and flimsier than a higher denier. Tents with 15 and 20D floors in particular require gentle treatment to keep them intact (and don't even think about ditching the footprint). As we cover in the section above, silnylon and Dyneema fabrics have superior weight-to-strength ratios than standard nylon, so you get a thinner fabric with fewer compromises. Their thicknesses are measured in an ounce/square yard ratio with Dyneema fibers as mind-blowingly light as .51 oz./sq. yd., while silnylon is about double that at a still-impressive 1.1 oz./sq. yd.
 
Interior Space
One-person shelters are built for sleeping one person and that's about it. Don't expect space to store a pack inside or play host to a game of cards with a buddy. As such, interior space is undeniably tight in just about every model on the charts above. Bivy sacks are the ultimate expression of a snug fit and offer about as much room as a large sleeping bag—as we mentioned above, they aren't for the claustrophobic. Tent interior volume can vary, and you can get a good indication of interior space by looking at the floor area. But keep in mind that this length-by-width measurement is taken at ground level and doesn't account for sloping walls or the peak height. Analyzing the shape of the tent is always recommended to get a clearer picture of true interior volume.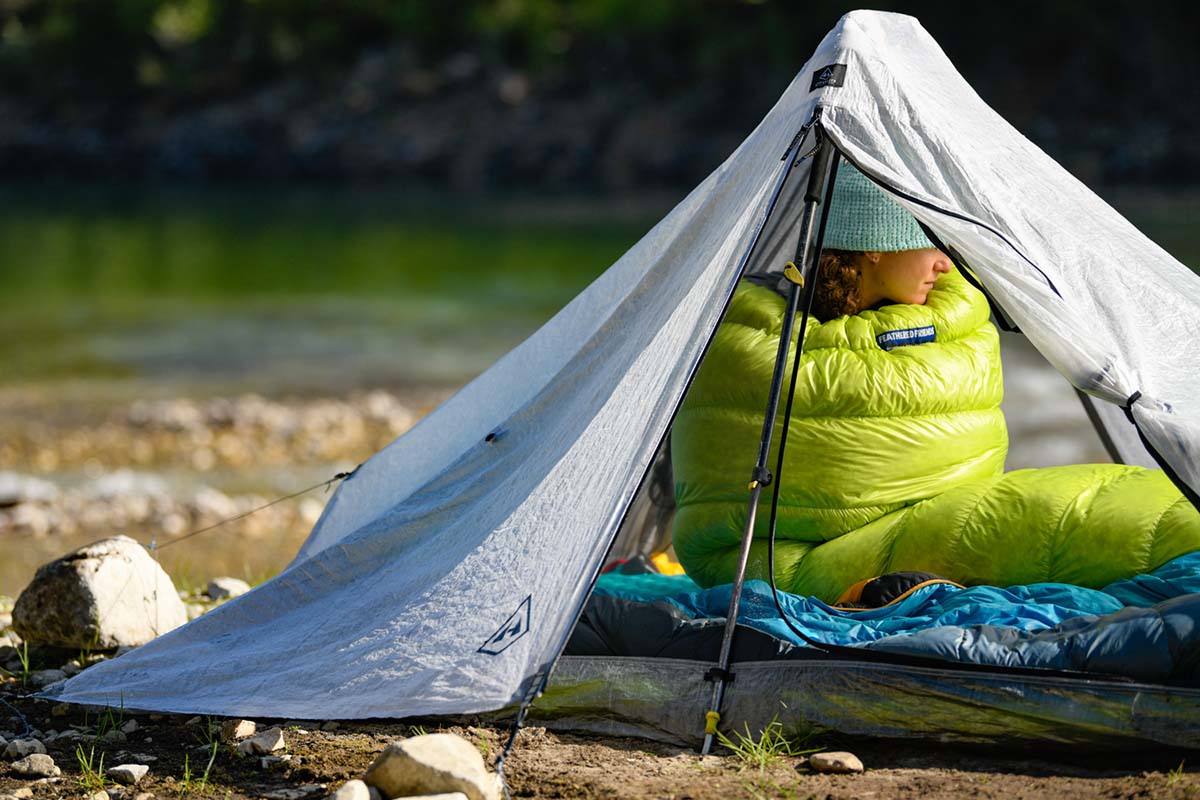 Realistically, interior space isn't a top priority for one-person shelters. But if you fall into the category of ultralight but comfort-oriented backpackers, we recommend a two-person tent, which we cover in this Backpacking Tent Weight Comparison Chart.
 
Weighing the Rest of Your Gear
Shelters are only one part of putting together an ultralight backpacking system. We've found the process of identifying areas where you can cut ounces to be really fun, and it's something you can do on just about any budget. As a means to pinpoint these opportunities, we've researched and compiled detailed comparison charts of two-person backpacking tents and lightweight sleeping bags. Trimming ounces from each of these items can lead to pounds being dropped from your total carrying weight, which can make backpacking much easier as the miles add up.
Back to One-Person Tents with Poles  Back to Trekking Pole-Supported Shelters
Learn More About Outdoor Gear