Sea to Summit Alto TR2
Price: $449
Measured weight: 2 lbs. 15.8 oz.
Floor area: 27 sq. ft.
Capacities: 1P, 2P
What we like: Tension Ridge pole design maximizes livable space and ventilation.
What we don't: Not a weight or price leader.
See the Sea to Summit Alto TR2
Well-known in the backpacking realm for their accessories and sleeping mats, Australia-based Sea to Summit jumped into the tent market this year with the introduction of their freestanding Telos TR and semi-freestanding Altos TR. We put the latter through its paces along the stormy Juan de Fuca Trail on Vancouver Island and came away with mostly high praise. Although it's not the lightest or most weather-ready UL design, the unique center ridge pole effectively maximizes livable space and ventilation—two crucial considerations for most backpackers. Below we outline our experiences with the Alto TR2. To see how it stacks up to the competition, see our article on the best backpacking tents.
 
---
Table of Contents
---

Performance
 

Livability and Interior Space
Ultralight backpacking tents typically aren't lauded for their spaciousness, but Sea to Summit came up with a unique solution to boost overall livability with their Tension Ridge design. The concept is simple but effective: while most tents' center ridge poles slope downward, the Alto TR2's gently bends upward at each end, resulting in taller doors and more vertical walls. For reference, peak height is listed at 42.5 inches (we measured it at 40 in. at the center and 41 at the door), which is taller than all of its close competitors and gave us ample headroom to comfortably wait out a harsh coastal rainstorm along Vancouver Island's Juan de Fuca Trail.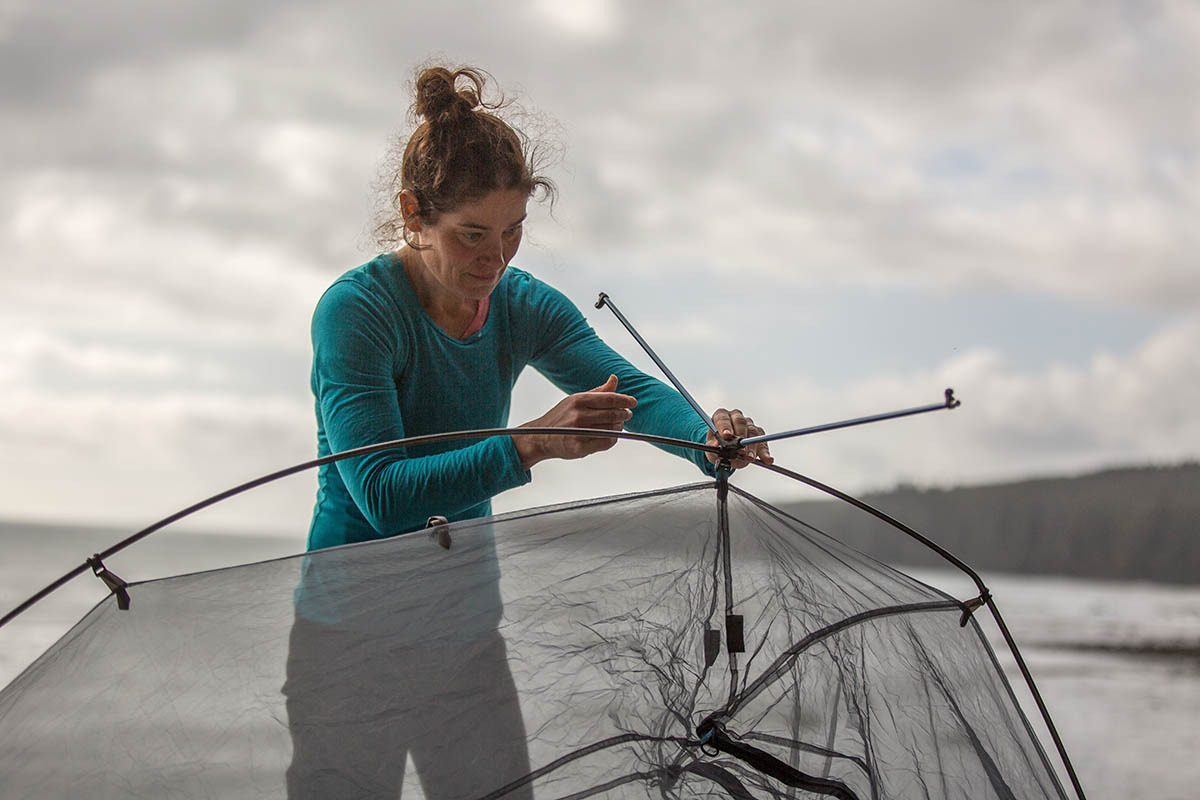 In terms of floor area, the Alto TR2 has 27 square feet of interior space, which is fairly middling when stacked up against the competition. And the floor does taper aggressively at the foot end (it goes from 53 in. wide at the head end to 38 in. at the feet), which meant we were most comfortable sleeping shoulder to shoulder. That said, this position was plenty roomy for us, despite the fact that my husband has a very broad build. And it easily accommodated our double-wide Exped SynMat Hyperlite Duo widthwise while leaving extra room at our feet to stash our camera equipment and clothing (the tent is listed at 84.5 in. long).

Weight and Packed Size
At 2 pounds 15.8 ounces (it's listed slightly lighter at 2 lbs. 15.3 oz.), the Sea to Summit Alto TR2 falls toward the heavier end of the ultralight backpacking tent spectrum. For reference, Big Agnes' similarly designed Tiger Wall UL2 checks in at 2 pounds 8 ounces, their Fly Creek UL2 is 2 pounds 4 ounces, Nemo's Hornet 2P weighs 2 pounds 6 ounces, and MSR's FreeLite 2 is nearly identical at 2 pounds 15 ounces. However, taking into account overall livability and the amount of features (which we outline below), we think the Alto's weight is well-spent and perfectly reasonable, even for minimalist backpackers.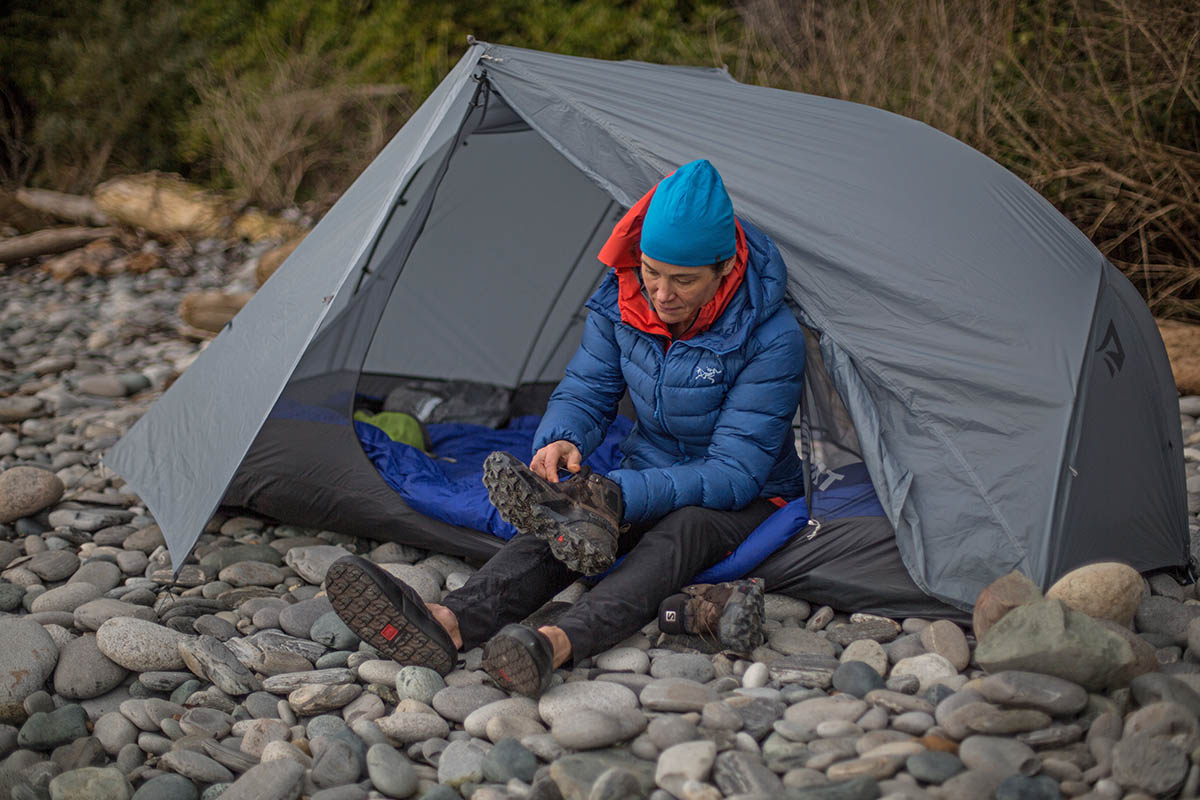 In terms of packability, Sea to Summit outfitted the Alto TR2 with an innovative FairShare storage system that consists of three separate stuff sacks to distribute the load among group members. Each has a dual purpose: the tent and rainfly stuff sacks can be snapped into the tent's interior for use as pockets, while the tent pole bag can be attached to the ceiling to transform into a Lightbar with your headlamp (more on this below). The stuff sacks can also be held together by tucking the pole bag into the pockets of the other two sacks, which makes the whole package easier for one person to carry and can help keep things tidy when storing the tent. And when compressed down, we found the packed size of the entire system measures 5 x 20.5 inches, which is right in line with the competition.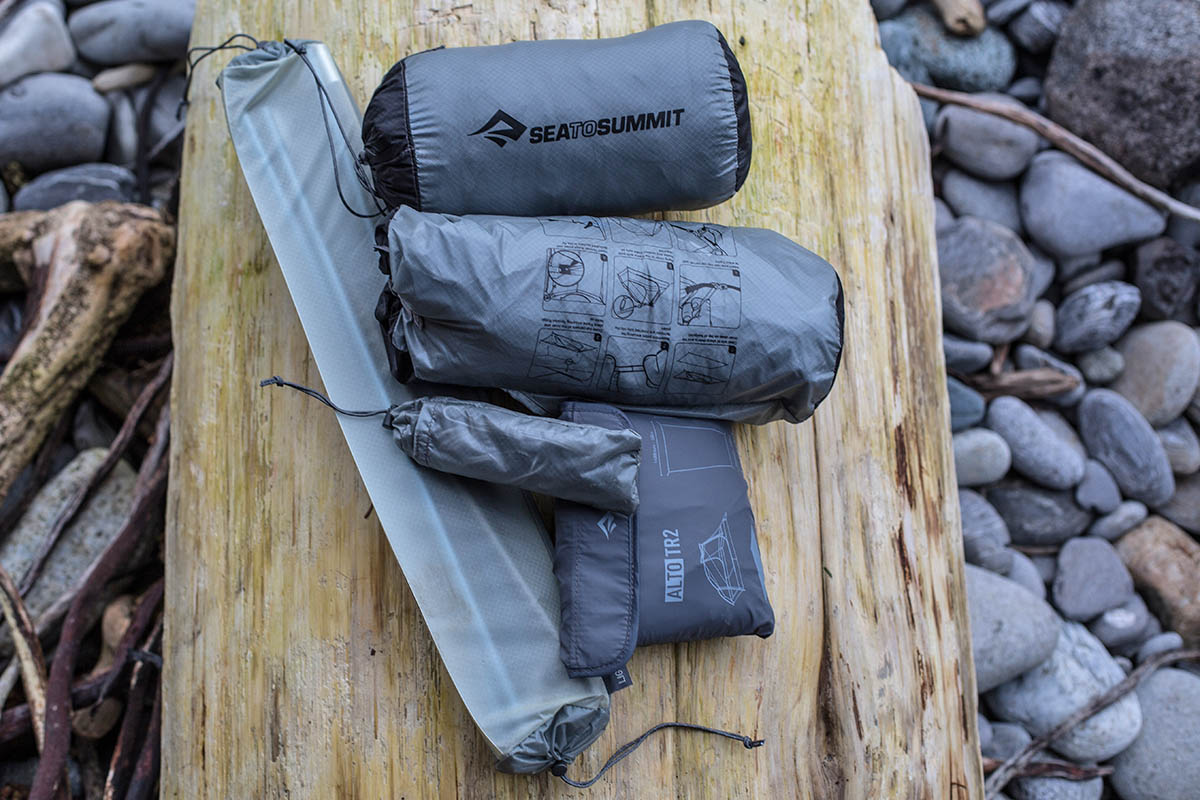 Build Quality and Durability
Ultralight tents typically use thinner materials to shave weight, and the Sea to Summit Alto TR2 is no exception. The floor is a delicate 15-denier (D), so we opted to purchase a 68D LightFoot footprint separately for $50 to better guard against rocks and roots below. It's worth noting that Sea to Summit also offers a BigFoot footprint for $60, which also adds coverage below the vestibules, while the LightFoot just covers the bottom of the tent body.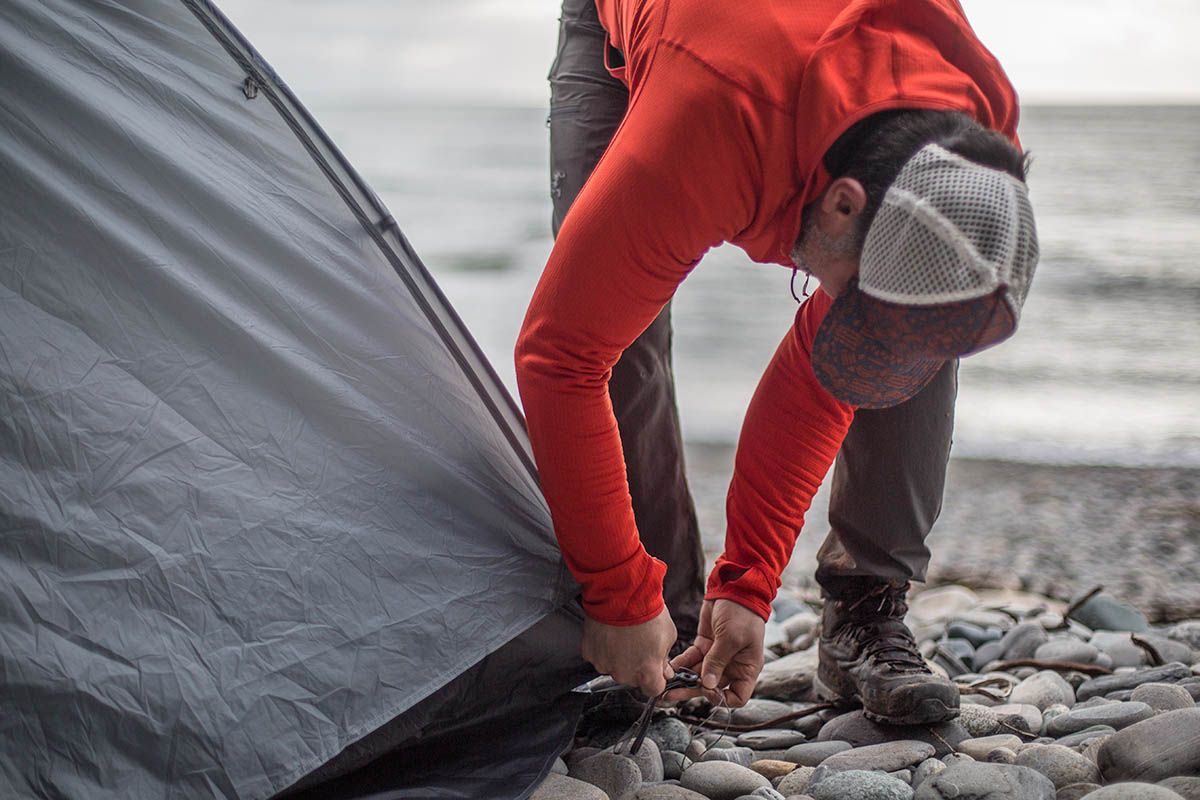 With the footprint attached, we pitched the Alto TR2 tent on multiple surfaces including rock, sand, and shale and had no issues with tears or snags. And the rest of the design is well-executed and thoughtfully built: the YKK zippers are all functioning flawlessly and moving smoothly, and the rainfly (also thin at 15D) is seam-taped and has held up well throughout multiple storms. Finally, the DAC NSL poles are strong, easy to assemble, and can withstand pretty strong gusts without bowing or flexing excessively. My only quality-related complaint is that the snaps to attach the Lightbar wouldn't connect properly for us, although we were still able to stuff a headlamp into the bag and prop it up to enjoy the diffused light.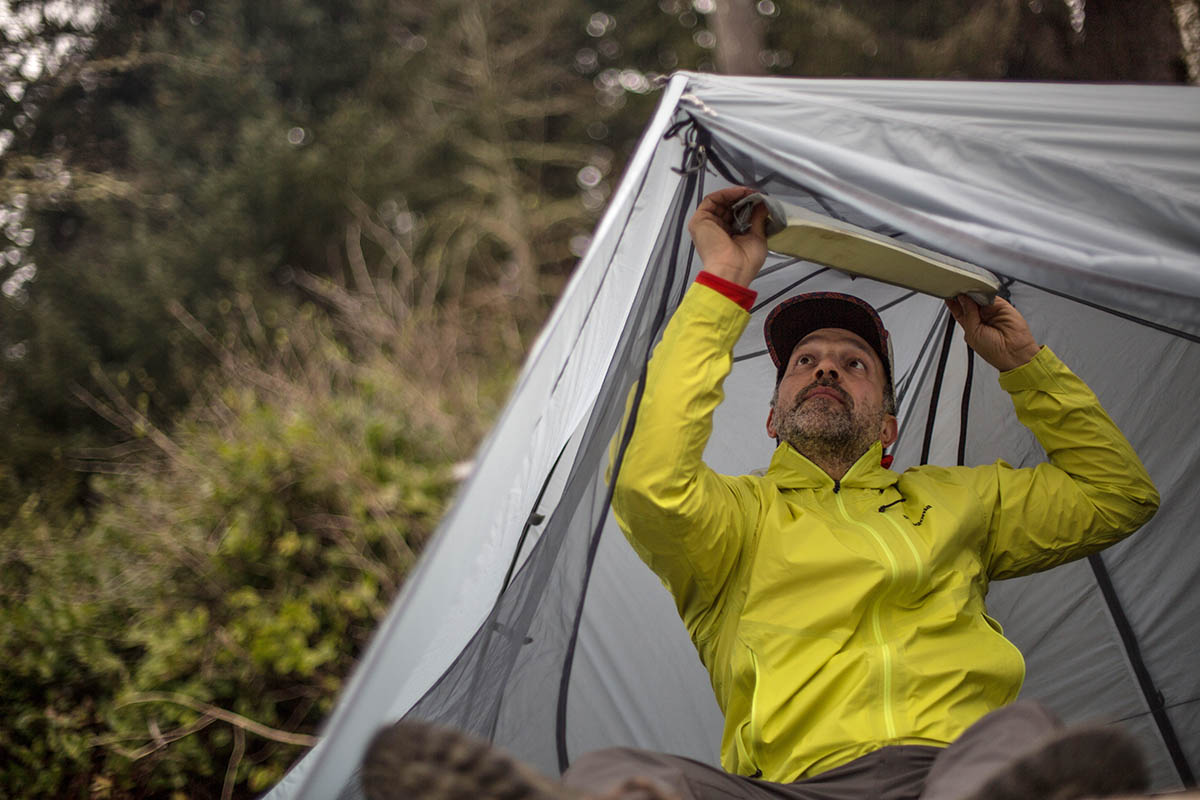 Weather Protection
After waiting out coastal storms with exceptionally strong gusts and torrential downpours, I'm confident in saying that the Alto TR2 can handle most 3-season conditions. Despite the wind and rain, we remained dry and comfortable while hunkered down. The 6-inch-deep bathtub floor worked flawlessly at sealing out sand and moisture while keeping drafts to a minimum, and the rainfly offered excellent coverage even against the sideways precipitation. On clearer nights, the fly can also be rolled back for stargazing, although if the forecast looks good, I'd rather just take it off completely.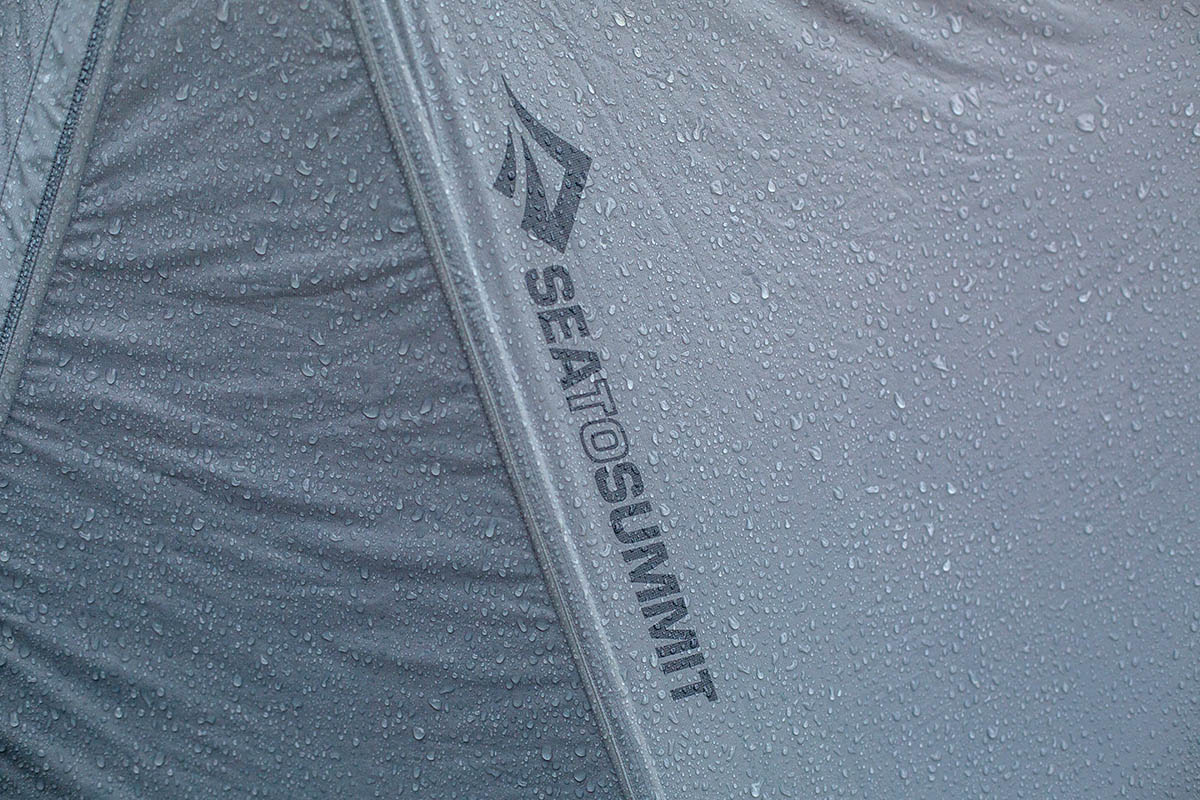 The only noteworthy protection-related problem to report is that we ended up having to close the upper vent as water pooled in the concavities of the fly (due to the Tension Ridge) and began to leak in. It was easy to fix from inside the tent, but it's something to be aware of should you frequent notoriously wet places (we've found most rainflies with traditional pole structures are less prone to collecting water by their vents). And a much smaller nitpick that's true of the vast majority of tents sold: I would recommend bringing along extra tent stakes for the guylines, as the tent only comes with nine pegs (Sea to Summit does sell a six-pack separately for $20).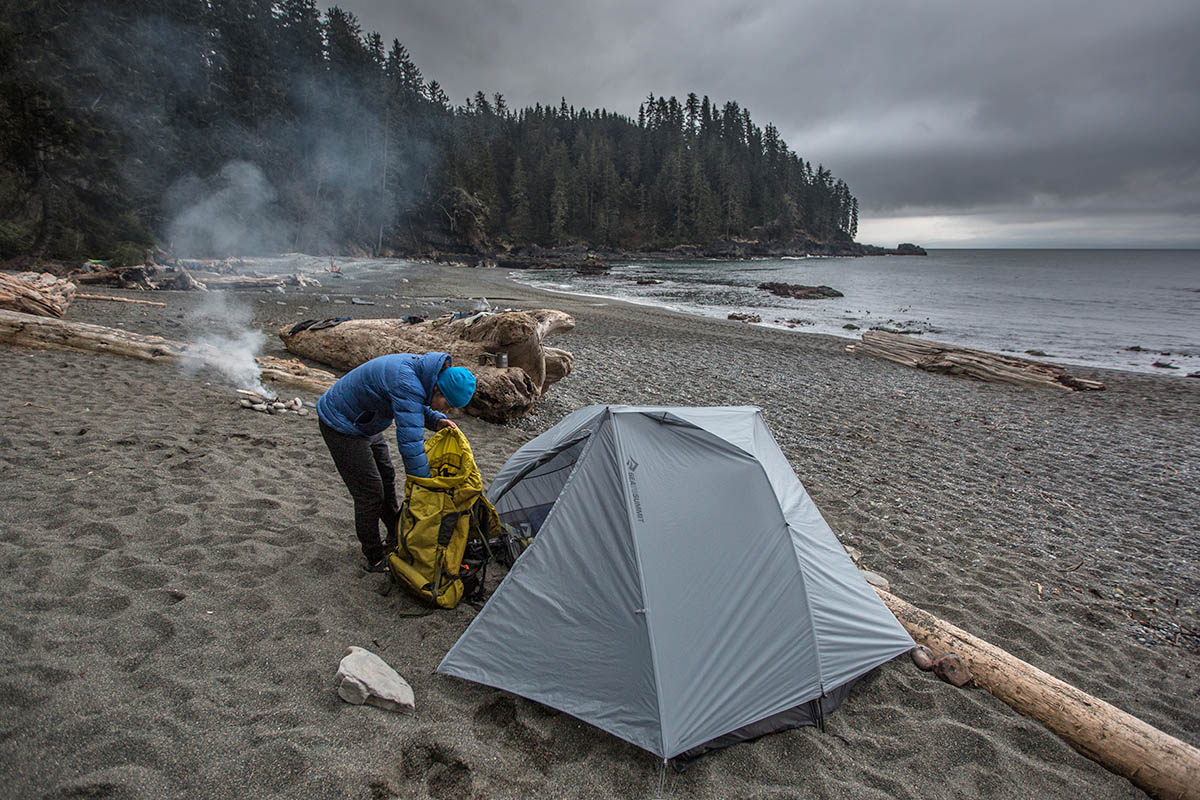 Ventilation
Besides the bathtub floor, the Sea to Summit Alto TR2 is made entirely of mesh, which makes it an excellent ventilator. Additionally, you get a very large Apex Vent at the peak, which is held open by the Tension Ridge and designed to promote airflow and minimize condensation buildup. As we touched on above, it's covered by a substantial hood, although we did need to close it during blowing rain when water pooled and started dripping inside. You can air the tent out further with the lower Baseline Vents along the bottom of the fly, which can be rolled up around 4 to 5 inches and tied off to allow air to flow through the vestibule and into the tent. We did experience some mild condensation while waiting out a storm, but this was likely due to the damp and muggy coastal air and the fact that the sideways rain and wind prevented us from keeping the vents open for extended stretches.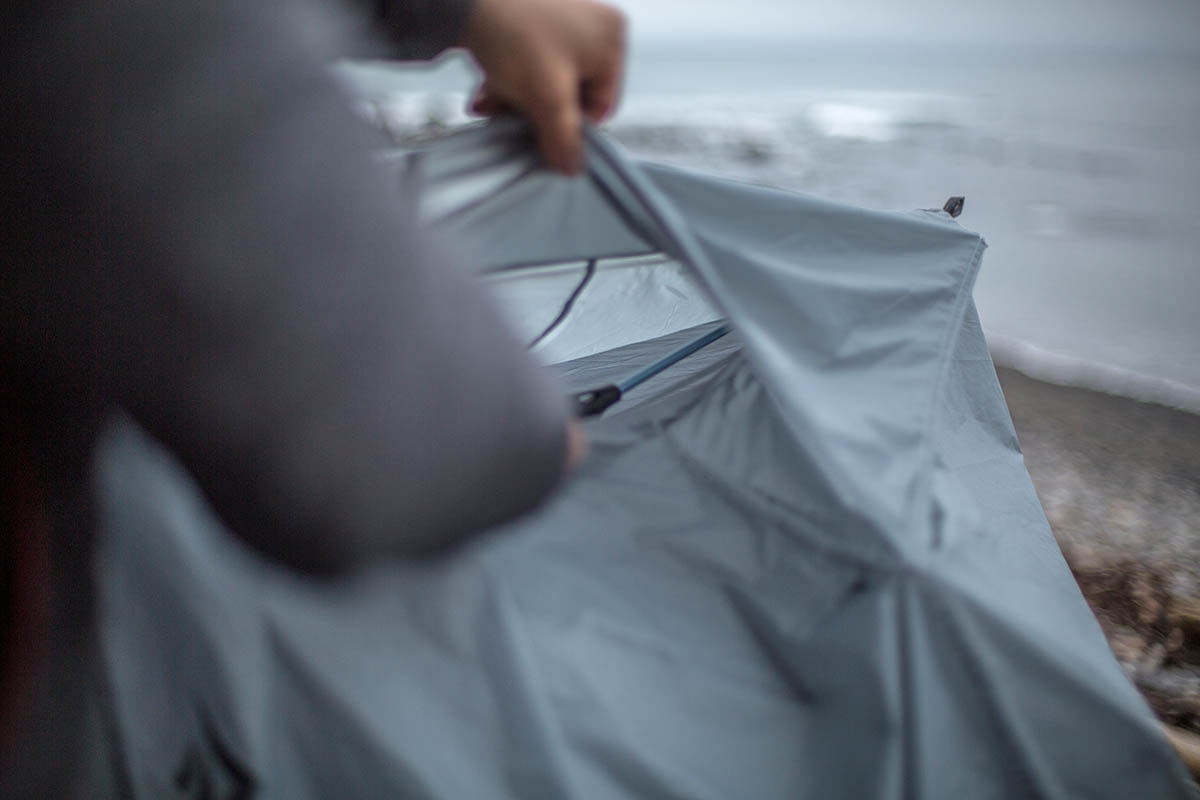 Vestibules and Storage
With a two-door-and-vestibule design, the Sea to Summit Alto TR2 makes it very convenient for two backpackers to get in and out and organize gear. As mentioned previously, the Tension Ridge pole structure helps pull the walls up and away, resulting in impressively tall doors that are easy to enter and exit through. The vestibules don't offer a ton of space at 18 square feet total, but we had no trouble finding room for our gear including backpacks, hiking boots, and other odds and ends. And on the inside, you get the aforementioned assortment of FairShare pockets, including the Lightbar and two gear pockets that snap into the inside of the tent.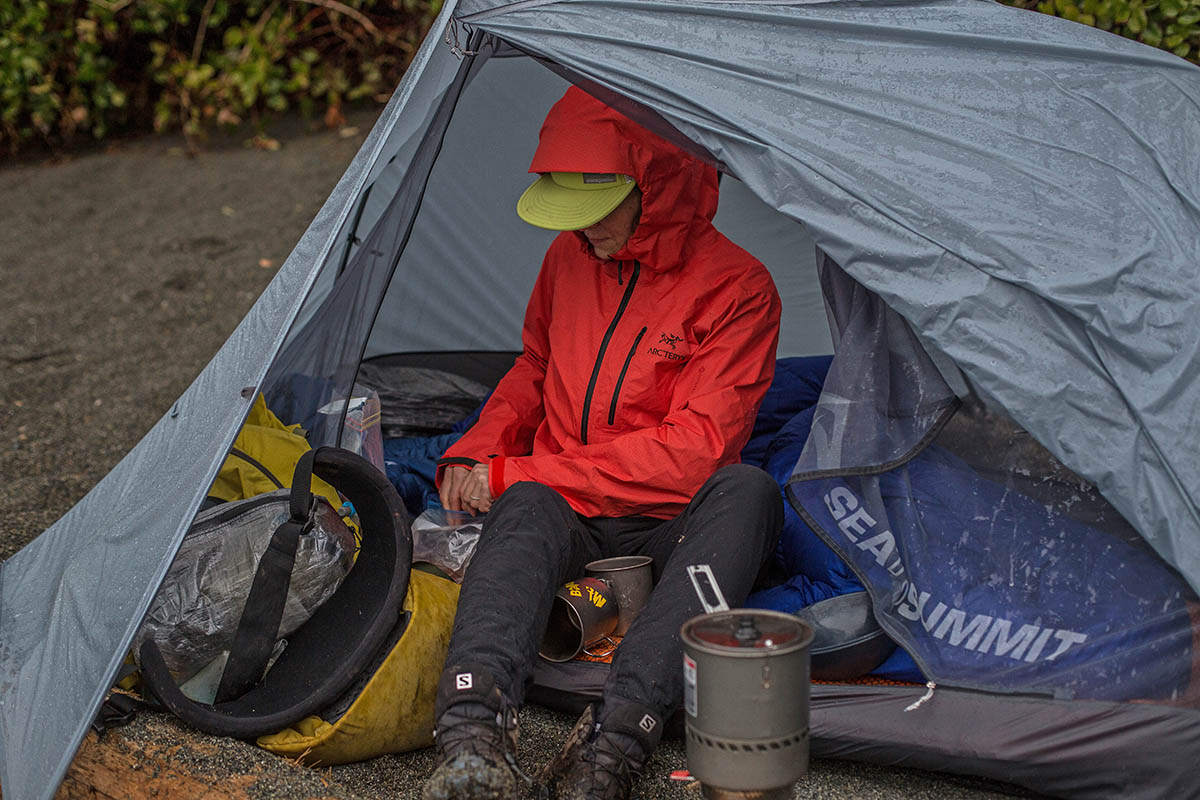 Set up and Take Down
Fully freestanding tents like Sea to Summit's own Telos TR are easier to set up, but the semi-freestanding Alto TR2 doesn't take much added time or effort. To start, insert the single pole at the head end, then position the double-pole side into the corners at the foot end (this wasn't entirely intuitive at first). You'll also need to stake out the two corners at the head, and the tent comes with nine tent pegs and four removable guylines to get everything taut. If you're unclear on your first go, Sea to Summit included illustrated instructions on the tent's stuff sack, and the poles are color-coded to make the process easy and quick.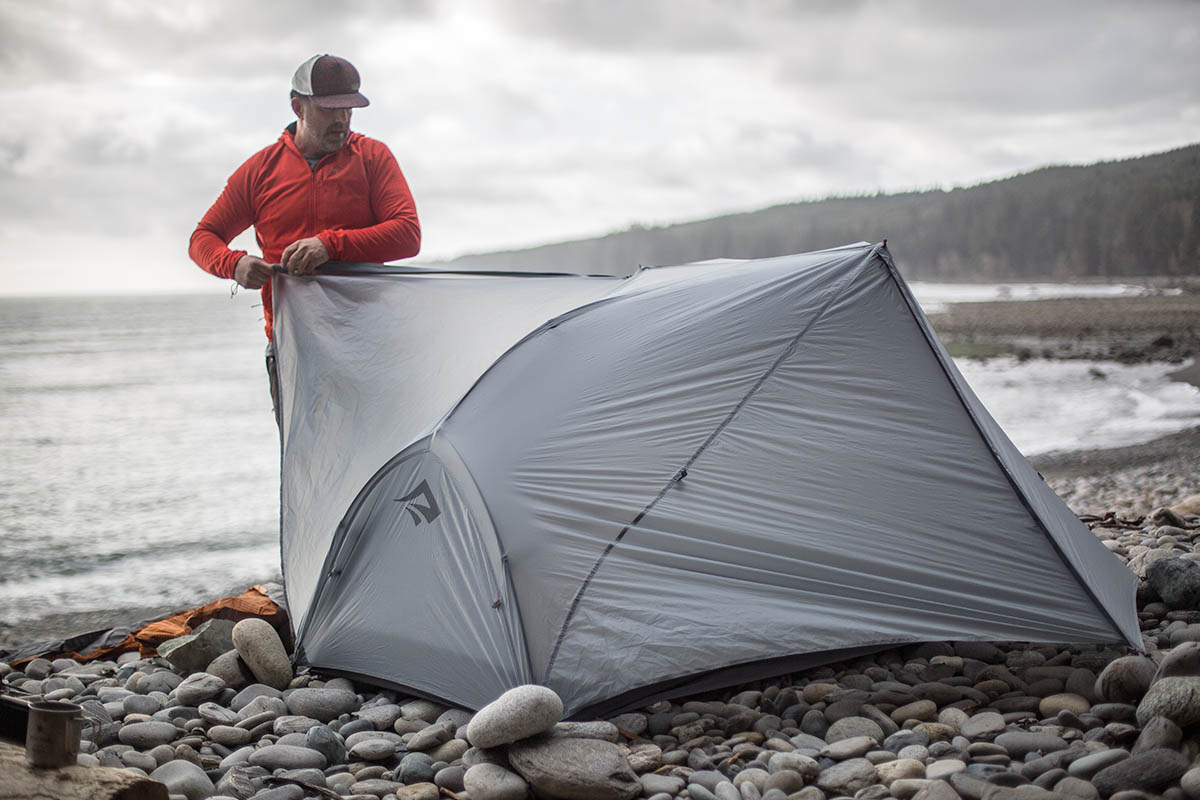 Even with our initial confusion on how to orient the single-hubbed pole, we set up the tent in minutes on our first try, while other campers nearby struggled to get their Zpacks Duplex up (a tricky task on the beach). My only major gripe is that the "quick connect" aluminum pole feet require tension to stay connected, and wind flutter did cause ours to release unexpectedly during our trip, although it was an easy fix to get them back in place. And it's worth mentioning that the fly can be pitched first in inclement weather, which makes it easy to keep the tent dry.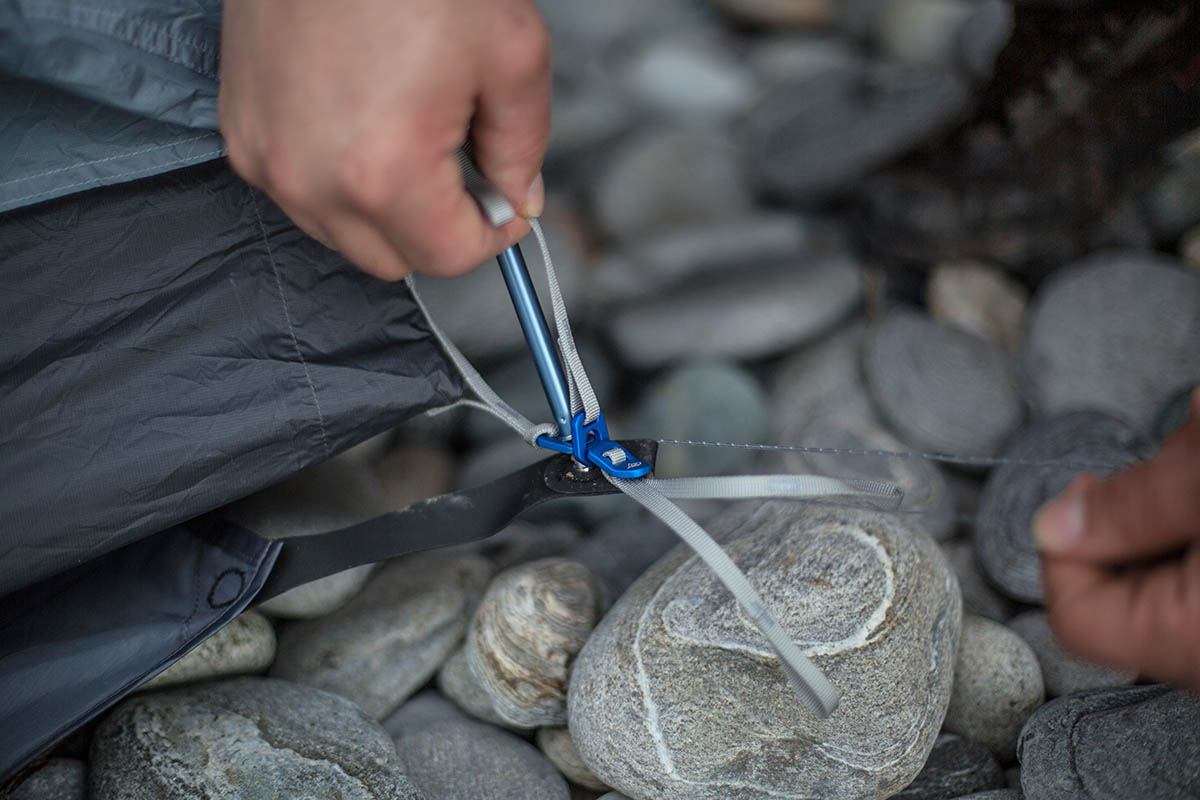 Other Versions of the Sea to Summit Alto TR
We brought the two-person Sea to Summit Alto TR on the Juan de Fuca Trail, and they also make a one-person variation of the design. The Alto TR1 tent costs $50 less at $399, weighs 2 pounds 7.2 ounces all in, and boasts 19.5 square feet of floor area. Both share the same Tension Ridge pole structure, FairShare storage system, and venting layout. We think the 2P has much wider appeal for most backpackers, but the 1P model is a viable alternative for solo travelers focused mainly on weight and who don't anticipate needing the added space. And Sea to Summit will be adding TR1 Plus ($439) and TR2 Plus ($489) variations to the collection soon, which will feature more durable and weather-resistant materials but come with a weight penalty (the TR2 Plus is listed at 3 lbs. 3.4 oz.).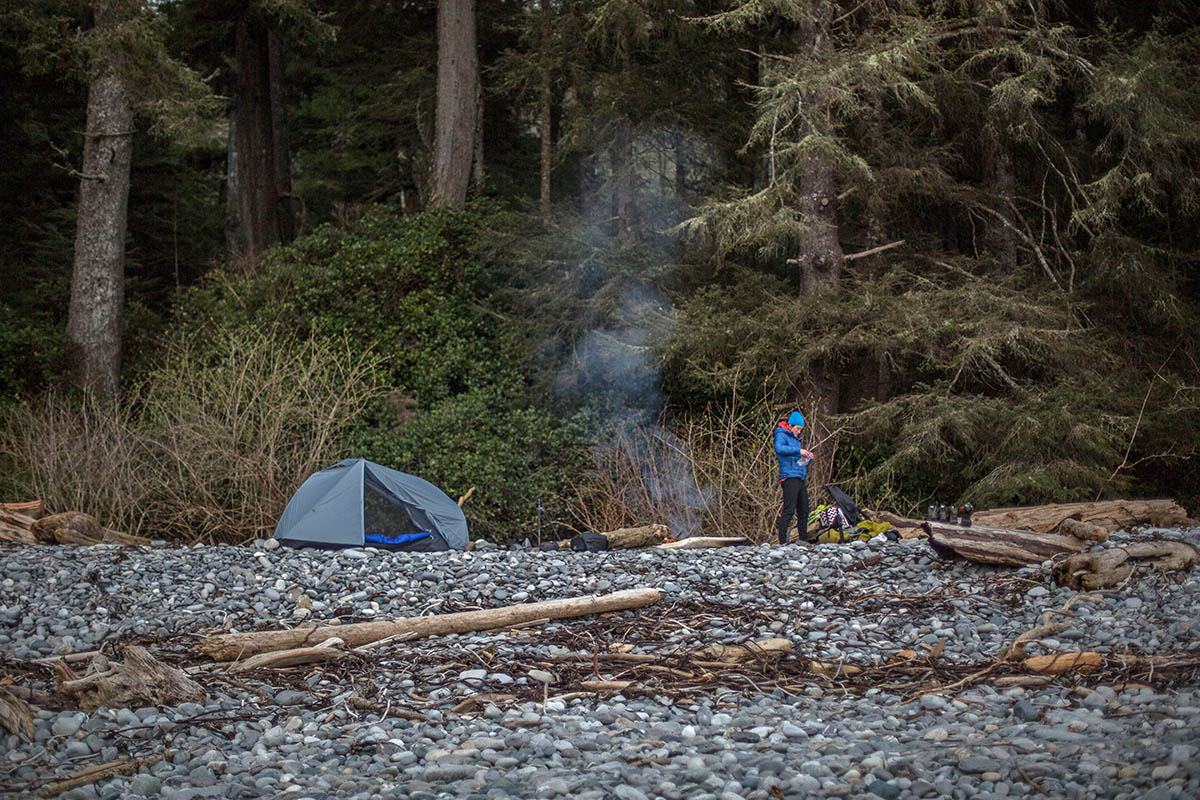 What We Like
Unique Tension Ridge does a great job at opening up the Alto's interior, creating ample headroom, and promoting airflow.
Features two doors and vestibules, which makes it much easier for two backpackers to get in and out and stow gear.
Rainfly design is highly versatile: it provides great coverage for waiting out a storm, can be rolled back for stargazing, and features a unique venting system at the bottom for allowing air to flow through the vestibule. 
Stuff sacks double as gear storage and a Lightbar, which are fun additions (and we love when items serve multiple purposes).

What We Don't
In heavy rain, we found that water pooled by the upper vent due to the concave Tension Ridge design, which required closing the vent to keep us dry (and thus restricting some airflow).
Thin materials will require added care, including a 15-denier floor (we purchased the more durable footprint separately).
Tent tapers aggressively toward the foot end, although we found it comfortably accommodated two backpackers side by side.
Pole feet require tension to stay in place and can release unexpectedly in high winds.
We love the Lightbar idea, but we had issues connecting ours to the tent.


Comparison Table
| Tent | Price | Weight | Floor | Area | Height | Door(s) | Capacities |
| --- | --- | --- | --- | --- | --- | --- | --- |
| Sea to Summit Alto TR2 | $449 | 2 lbs. 15.3 oz. | 15D | 27 sq. ft. | 42.5 in. | 2 | 1P, 2P |
| Big Agnes Tiger Wall UL2 | $400 | 2 lbs. 8 oz. | 15D | 28 sq. ft. | 39 in. | 2 | 1P, 2P, 3P |
| MSR FreeLite 2 | $500 | 2 lbs. 15 oz. | 15D | 29 sq. ft. | 36 in. | 2 | 1P, 2P, 3P |
| Nemo Hornet 2P | $370 | 2 lbs. 6 oz. | 15D | 27.5 sq. ft. | 39 in. | 2 | 1P, 2P |
| REI Co-op Quarter Dome SL2 | $349 | 2 lbs. 14 oz. | 15D | 28.7 sq. ft. | 38 in. | 2 | 1P, 2P |
| Big Agnes Copper Spur | $450 | 3 lbs. 2 oz. | 15 x 20D | 29 sq. ft. | 40 in. | 2 | 1P, 2P, 3P, 4P |

The Competition
Sea to Summit's new Alto TR2 is an excellent addition to the UL backpacking tent market, but there's no shortage of strong competition. Big Agnes' Tiger Wall UL2 has been popular for years and shares a lot with the Alto: both feature semi-freestanding builds with tapered footprints, use thin fabrics (including 15D floors), and have two doors and vestibules. In parsing out the differences, the Alto wins out in ventilation and livability, including 3.5 inches more headroom and slightly wider dimensions at the head end. However, the Tiger Wall weighs less at 2 pounds 8 ounces and will save you around $50. And given our experiences with water pooling around the Alto's top vent, we consider the Tiger Wall the more proven and protective design.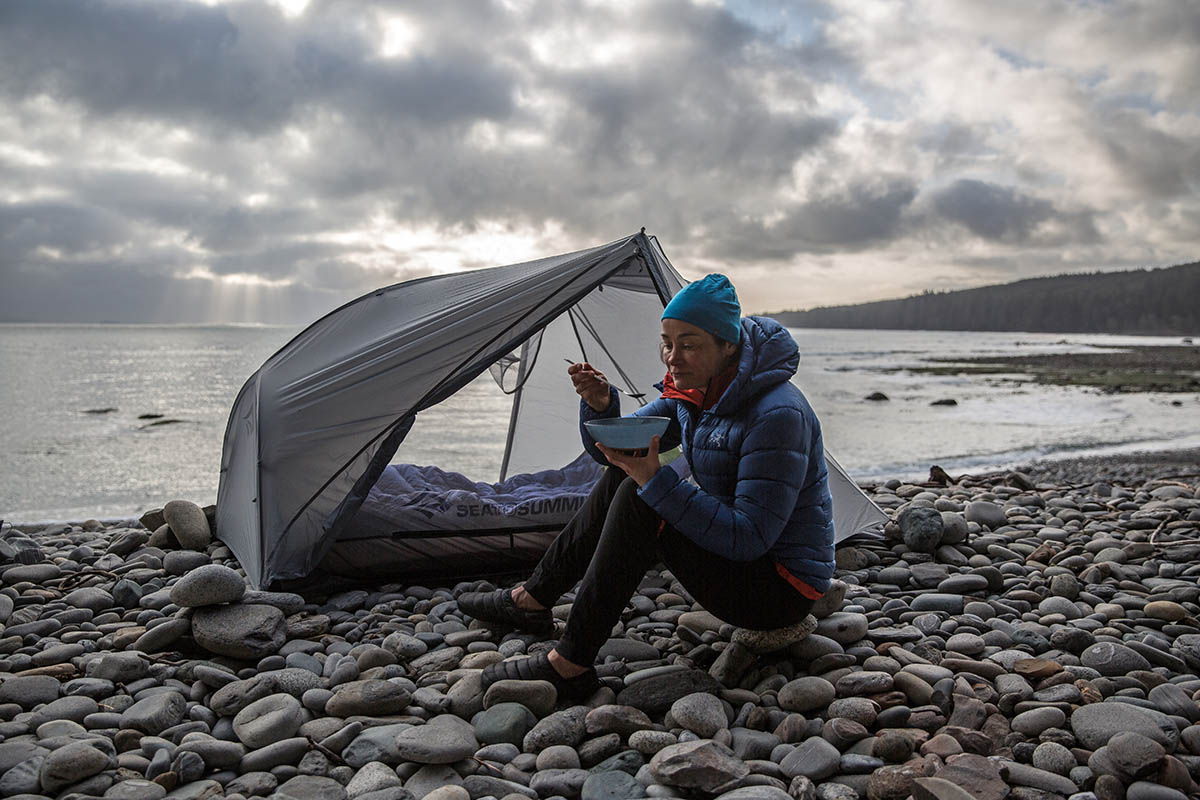 MSR's FreeLite 2 is another intriguing alternative to the Alto TR2. Both tents are semi-freestanding with similar pole structures, weigh around the same at 2 pounds 15 ounces, have similarly sized vestibules, and feature two doors for easy entry and exit. However, the MSR's overall livability falls well short of the Alto, with a 36-inch peak height that makes it less comfortable to sit up and spend time in. And while some might prefer the FreeLite's symmetrical shape, we found the Alto's tapered build (which is wider at the head end) to be the more functional layout for two. It's certainly a close call, but we give the slight nod to the Alto for its unique Tension Ridge system that opens up the interior and $51-cheaper price tag. 
Nemo's Hornet 2P is another popular UL design to have on your radar. In particular, we love that Nemo was able to retain two doors and vestibules while keeping weight impressively low at just 2 pounds 6 ounces (almost 10 oz. less than the Alto). That said, by going lighter, you do make some significant sacrifices. Most notably, the Hornet is the less livable option of the two tents with a 39-inch peak height and narrower dimensions at the head. In fact, we consider the 2P ideal for single backpackers but not all that comfortable for two. You do save a healthy $79 with the Nemo, but we think the Alto is the more well-rounded option and worth the weight and cost penalties (especially if you regularly sleep with a partner).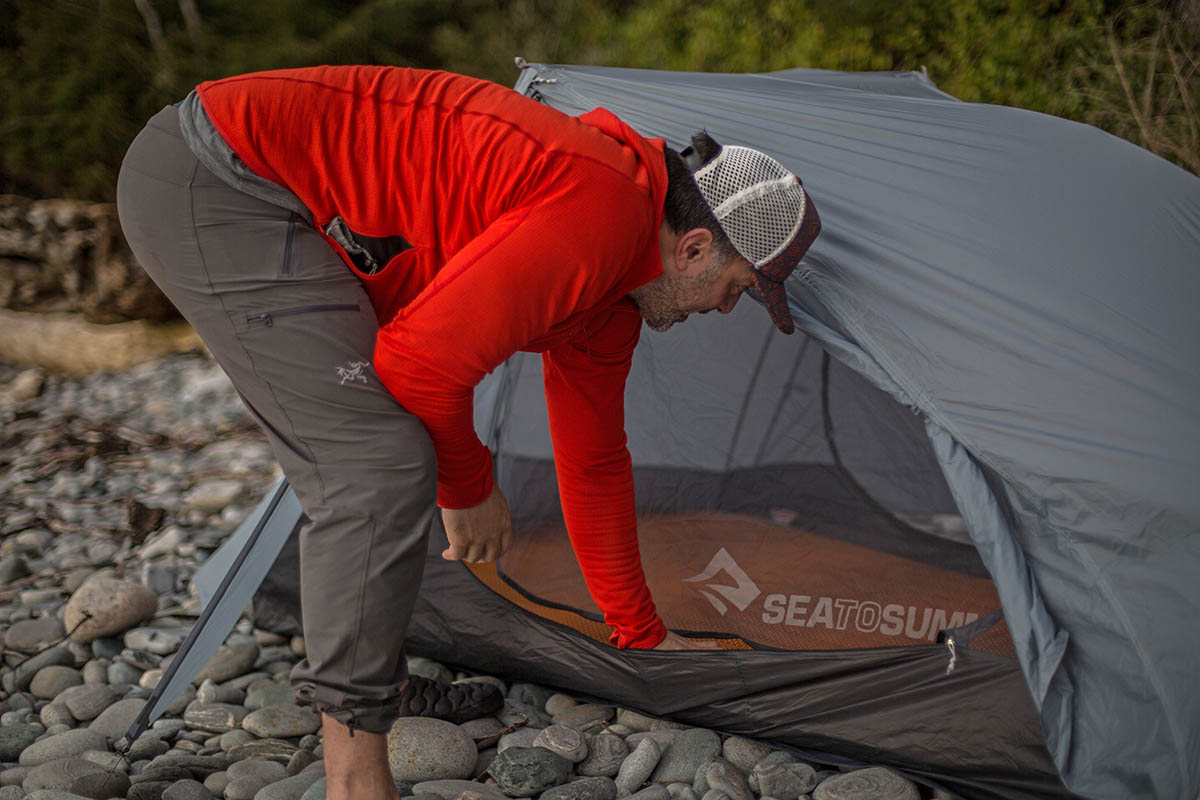 For a step down in price, REI Co-op's Quarter Dome SL 2 offers very competitive specs for a full $100 less than the Alto. Weight is similar at 2 pounds 14 ounces, and the REI is longer by 3.5 inches and wider at the foot end by a considerable 4 inches (it's narrower at the head by an inch). You also get two doors and vestibules, with the latter measuring a generous 21.5 square feet total (3.5 more than the Alto). That said, the Sea to Summit is taller by 4.5 inches, and we like the innovative pole and stuff sack systems for maximizing interior space and storage, respectively. But there's no denying that the Quarter Dome is an excellent value, which could be the determining factor for many backpackers.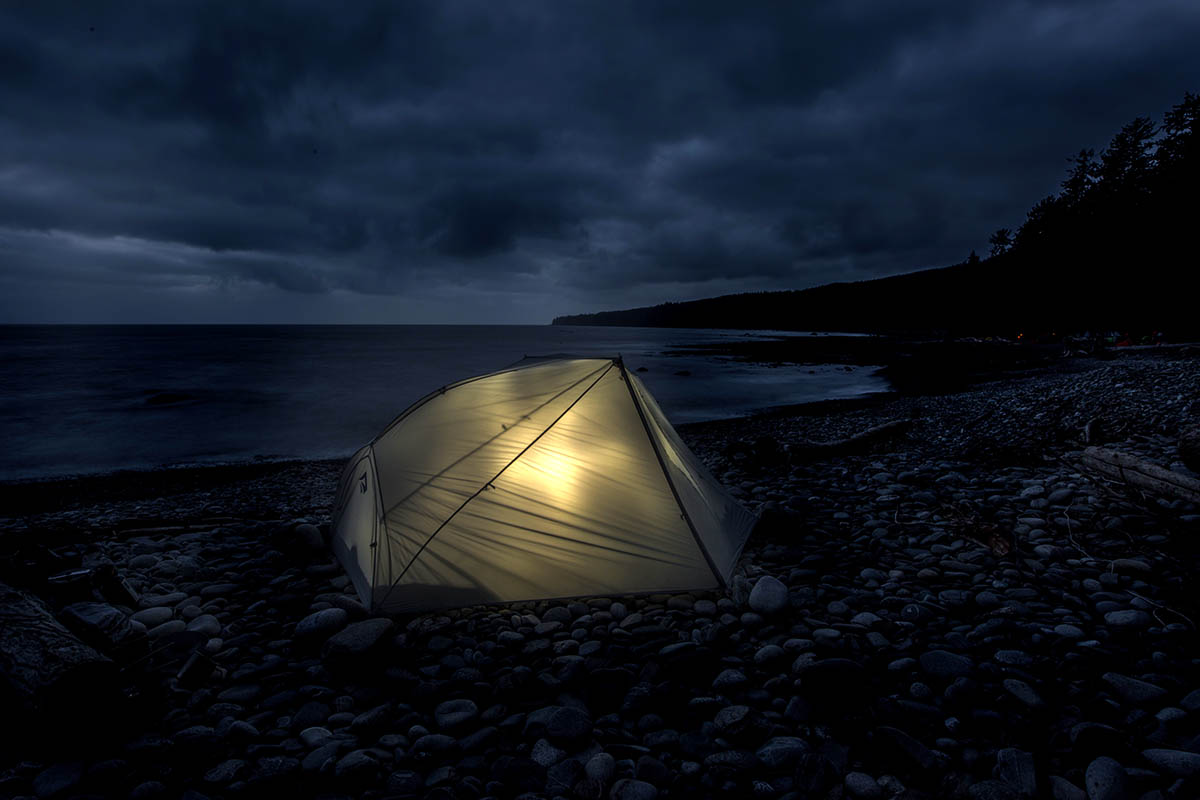 Last but not least, our top-rated backpacking tent this year is Big Agnes' legendary Copper Spur HV UL2. For around 3 ounces more than the Alto, the Copper Spur is a fully freestanding design that's a cinch to set up, boasts a generous 29 square feet of floor area, and is well-made with quality materials and thoughtful interior storage. The Alto wins out in peak height by 2.5 inches and has more venting options, and we do love the Tension Ridge that creates an airy-feeling interior (but the Copper Spur is also pretty darn open inside). Given the similar pricing and negligible weight penalty, the time-tested and more user-friendly Copper Spur strikes us as the better buy.
If you're thinking about buying gear that we've reviewed on Switchback Travel, you can help support us in the process. Just click on any of the seller links above, and if you make a purchase, we receive a small percentage of the transaction. The cost of the product is the same to you but this helps us continue to test and write about outdoor gear. Thanks and we appreciate your support!
Depending on the seller, most products ship free in the United States on orders of $50 or more. International shipping availability and rates vary by seller. The pricing information on this page is updated hourly but we are not responsible for inaccuracies.
Read More From Switchback Travel