Hilleberg Allak 2
Price: $1,040
Category: Treeline/basecamp
Trail weight: 6 lbs. 2 oz.
Floor area: 31.2 sq. ft.
Wall(s): Double
What we like: Impressive weather protection and livability in a lightweight, 6-pound build.
What we don't: It's one of the most expensive 4-season tents on the market.
See the Hilleberg Allak 2
Hilleberg has set the bar high, creating some of the most finely tuned and well-built tents on the market. Therefore we were extremely excited to test the Allak, a 2-person freestanding tent that falls into Hilleberg's "Red Label" category. This means that it's designed to withstand 4-season weather but weighs less than their expedition-grade "Black Label" tents. We took the Allak on several adventures in British Columbia, including backcountry skiing and coastal hiking in a range of conditions. After subjecting it to some truly nasty weather, we believe that it's an excellent choice for nearly all winter conditions and one that we would trust on any backcountry trip. Below we break down the Allak's weather protection, interior space and comfort, ventilation, build quality and durability, and more. To see how the Allak stacks up, see our article on the best 4-season tents.
 
Performance
Weather Protection
Typically, the first time out with a new tent in stormy conditions causes concern, but not so with the Hilleberg Allak. Hilleberg's stellar reputation, the Allak's impressive fabric (described below), and our observations while pitching (we all know that quality feeling), had us feeling extremely confident even on our first night. The peace of mind that comes with believing that your shelter is fully waterproof, tear proof, and strong enough to withstand heavy winds and snow cannot be overestimated. It allowed us to hunker in and actually sleep through a heavy snowfall.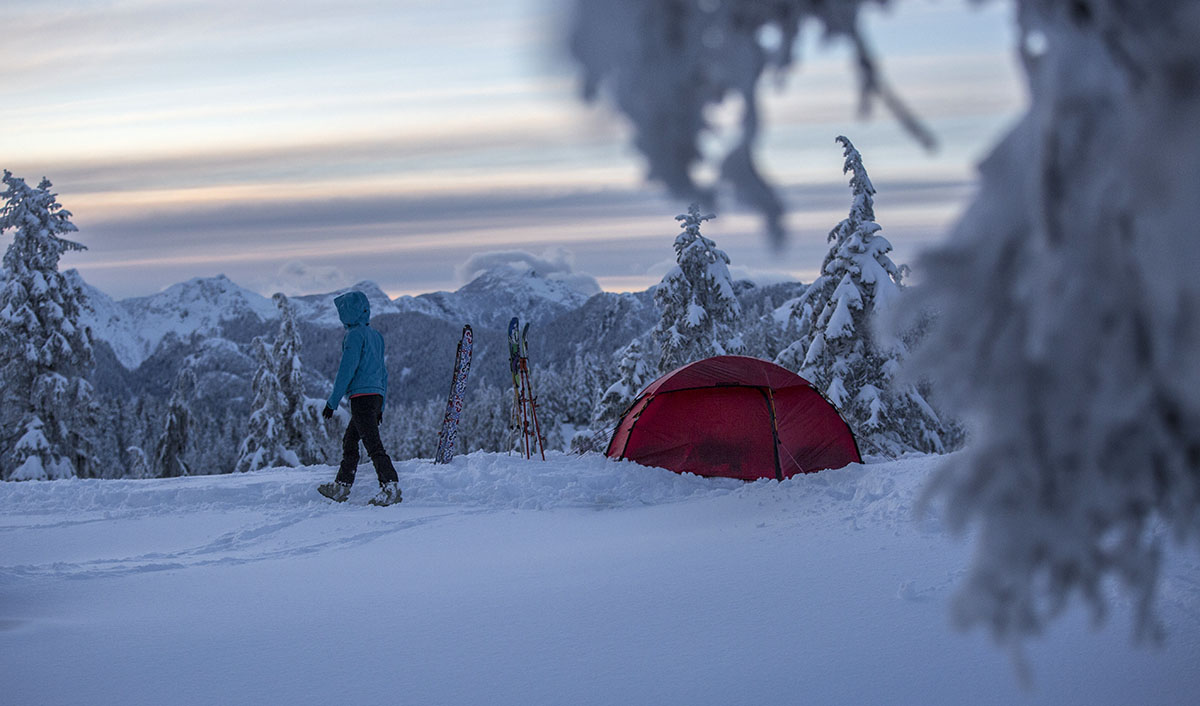 Hilleberg created their own fabric for their outer tent called Kerlon, which is a nylon with three layers of silicone coating. In addition to being "tear proof" and waterproof, this coating allows the tent to be much lighter than one would expect for the strength and protection provided. For the Allak and other Red Label tents including Hilleberg's Nallo 2, they use Kerlon 1200, which is 30 denier for their outer tents, as well as a DWR-coated 30-denier ripstop nylon for their inner tent and 70-denier nylon for the floor. 
This combination creates an extremely strong and waterproof shelter that is able to withstand sustained winter winds and precipitation. Hilleberg is rather modest, suggesting that Red Label tents are for all but gale-force winds, which leads us to believe that Swedish expectations are different than North American. The Allak originally was built for kayaking expeditions in Northern Sweden, an area known for its brutal arctic conditions. We would happily trust the Allak in the harshest of conditions, but depending on one's tolerance for weight, one of Hilleberg's Black Label tents might be even better for basecamp settings.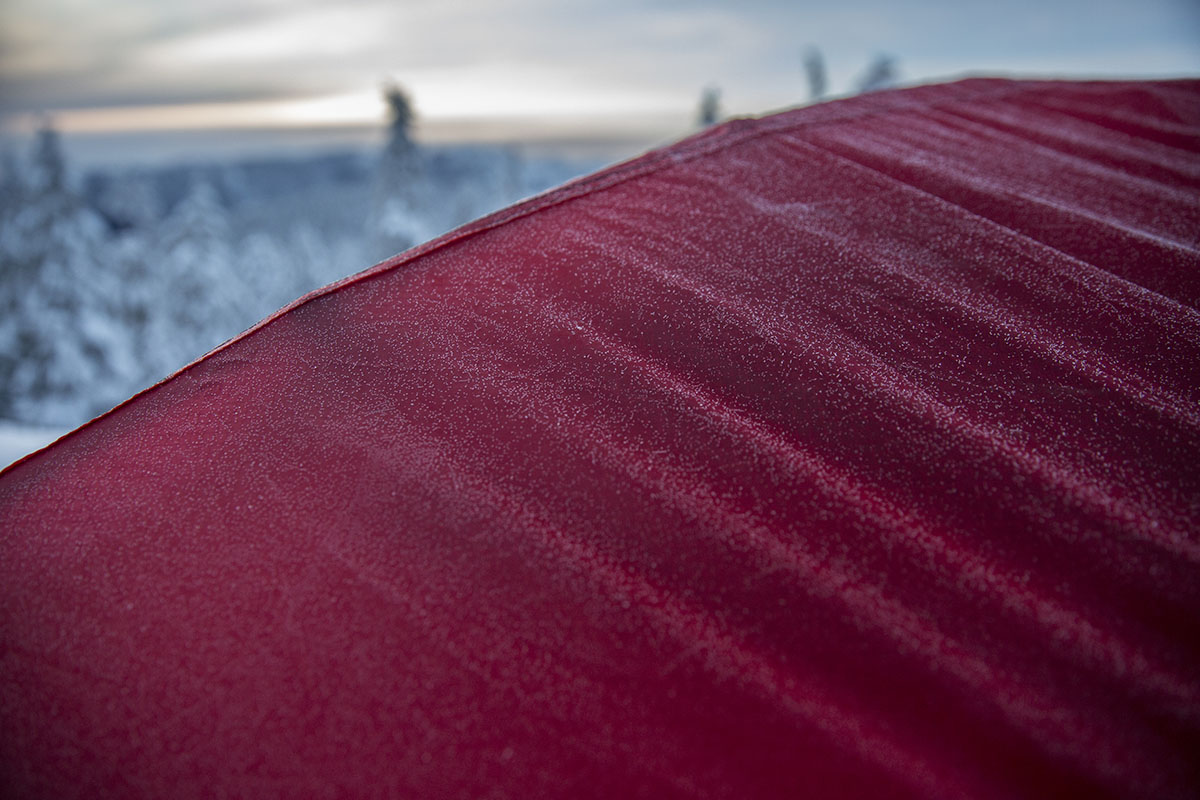 In addition to the Kerlon, the Hilleberg Allak is packed with features that contribute to its overall weather protection. The outer tent walls extend all the way to the ground, providing exceptional coverage from drifting snow and rain and helping to keep the wind from blowing in all night. Importantly for us, there are two doors and two large vestibules, allowing entry and exit without inviting wind, snow, or rain into the inner tent. The high bathtub-style floor is a triple-coated polyurethane that has not wetted out on any of our snowy adventures (we suspect it would work equally well in boggy or tidal conditions without soaking the tent and gear). For further protection and peace of mind, a 14-ounce nylon footprint can be purchased separately.
If you know you're going somewhere particularly windy or more extreme, you can opt to double Hilleberg's DAC featherlight poles. All Red Label tents have pole sleeves that are designed to accommodate two sets—but the second set of poles must be purchased separately. Additional details such as the sturdy zipper flaps, two solid guy lines per pole (the top one can be wrapped around the pole for extra stability), and a built-in flap of fabric covering the vents add to the feeling of security and shelter from the elements.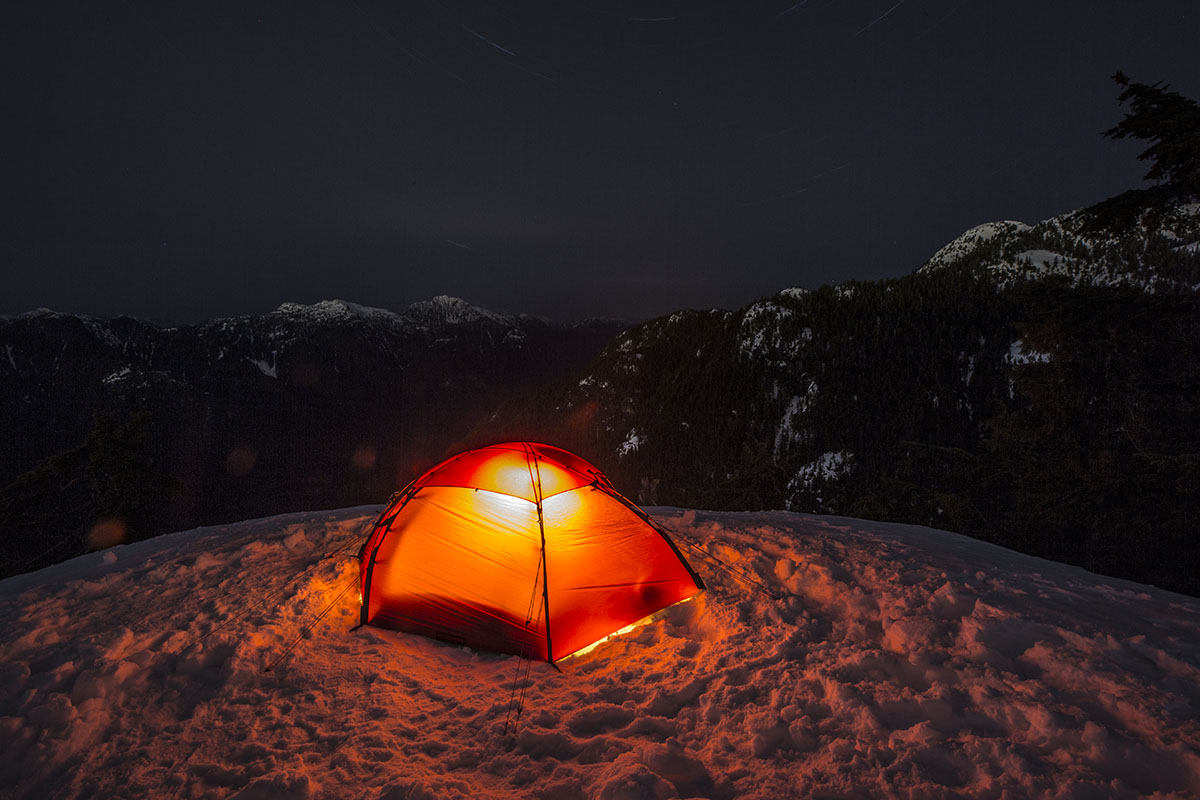 Interior Space and Comfort
The Allak offers 31.2 square feet of floor space and a generous 41-inch dome-style ceiling. On paper, the floor area is slightly smaller than the competition: The North Face Mountain 25 offers 32.3 square feet, MSR's Remote 2 has 33 square feet, and Hilleberg's own Red Label Jannu beats the Allak at 34.4 square feet. In use, however, we have few complaints regarding space. The configuration is enough for a few pieces of gear and two large sleeping mats with the option for tent mates to sleep in either direction. And the gently sloped dome shape of the tent allows two people to comfortably sit up at the same time.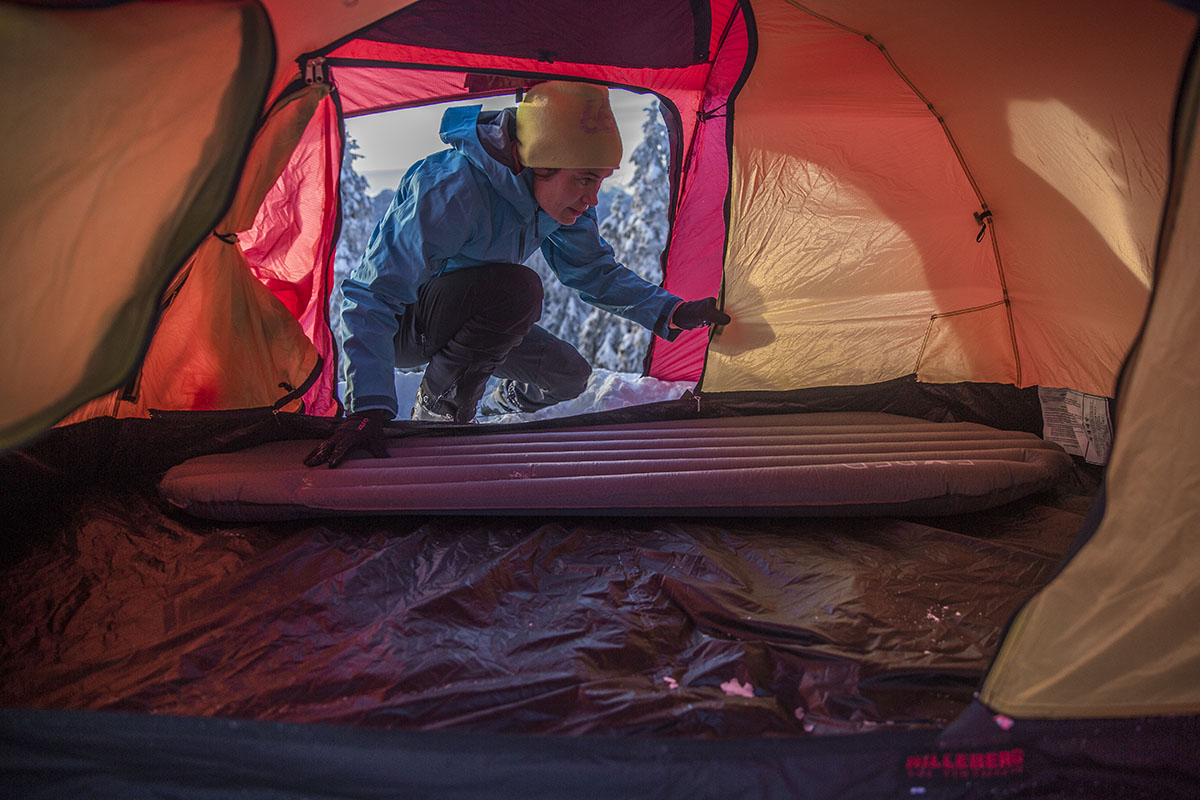 One of us is 6-feet tall, yet we found the space to be more than adequate. That's not to say that it's spacious—a 3-person tent would be required for that—but in addition to the floor space and headroom, there are a few features that help create more roominess. Most important are the two doors—any tent feels much smaller when one is required to crawl over one's tent mate to exit, but the Allak provides a door on each side rather than at the head and foot. This allows each camper to have their own entrance and exit if winds and conditions allow. In addition, the two vestibules add almost 20 square feet of space for gear storage and easily house two backpacks and boots (remember to remove damp gear if temperatures dip below freezing) and other bits of gear. If the footprint it added, it covers the area under the vestibules as well, turning this into additional dry, livable space.
Two interior mesh pockets are handy for headlamps, books, and maps, but seem a little sparse after being spoiled by a tent like The North Face Mountain 25's almost ridiculous number of mesh pockets. There are, however, several interior tabs—used to put poles through if you choose to pitch the tent without the exterior fly—which you can use to hang a light or lantern.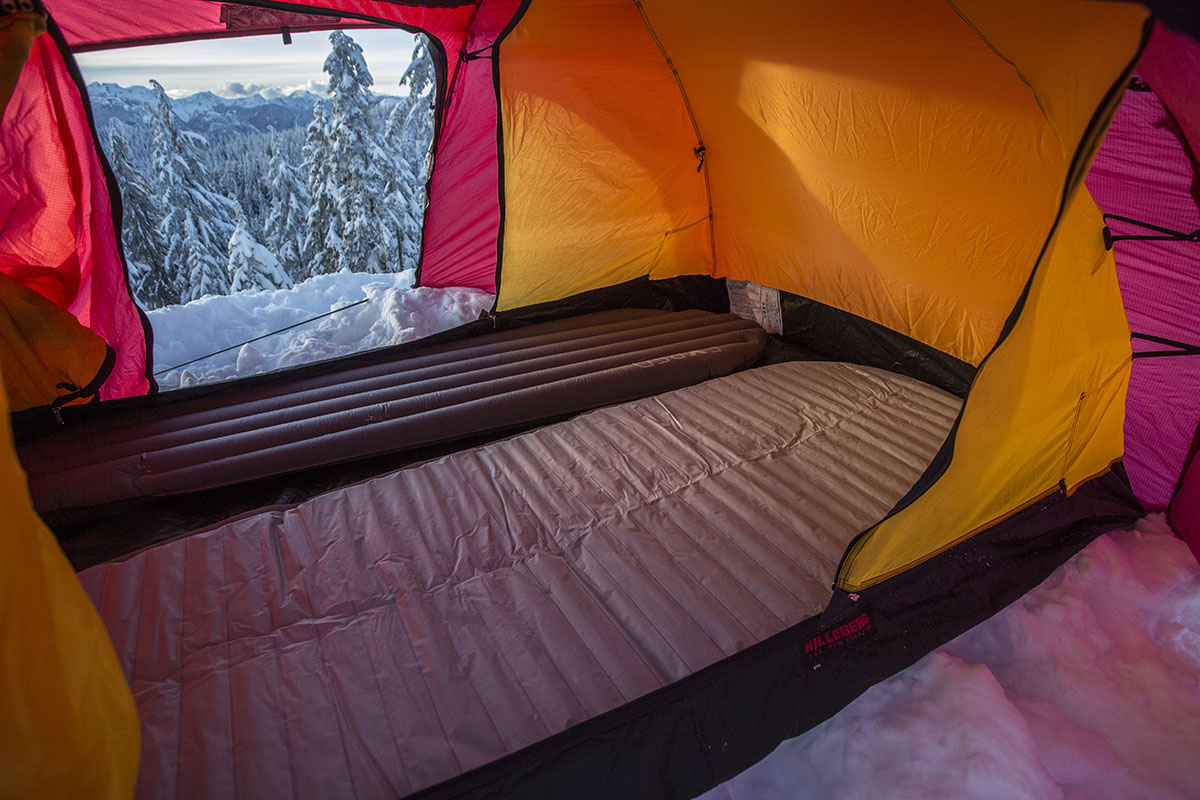 Ventilation and Condensation
It is no secret that two people breathing in a small space can create serious condensation, which is further exacerbated by the presence of wet gear. The best way to reduce condensation is to increase ventilation. In cold weather, however, there always is a balance to strike between staying warm and maximizing airflow. The more control occupants of the tent have over ventilation the better, and the Hilleberg Allak shines in this domain with extremely flexible options for ventilation. Both doors can be zipped open from the inside to reveal mesh fabric. The outer tent also has vents covered with a flap of fabric to keep the elements out, which further allows humid tent air to escape and fresh air to enter. If the temperature warms enough, the doors can be completely unzipped and the vestibules can be left open to allow maximum airflow (and views) while the mesh protects still from insects.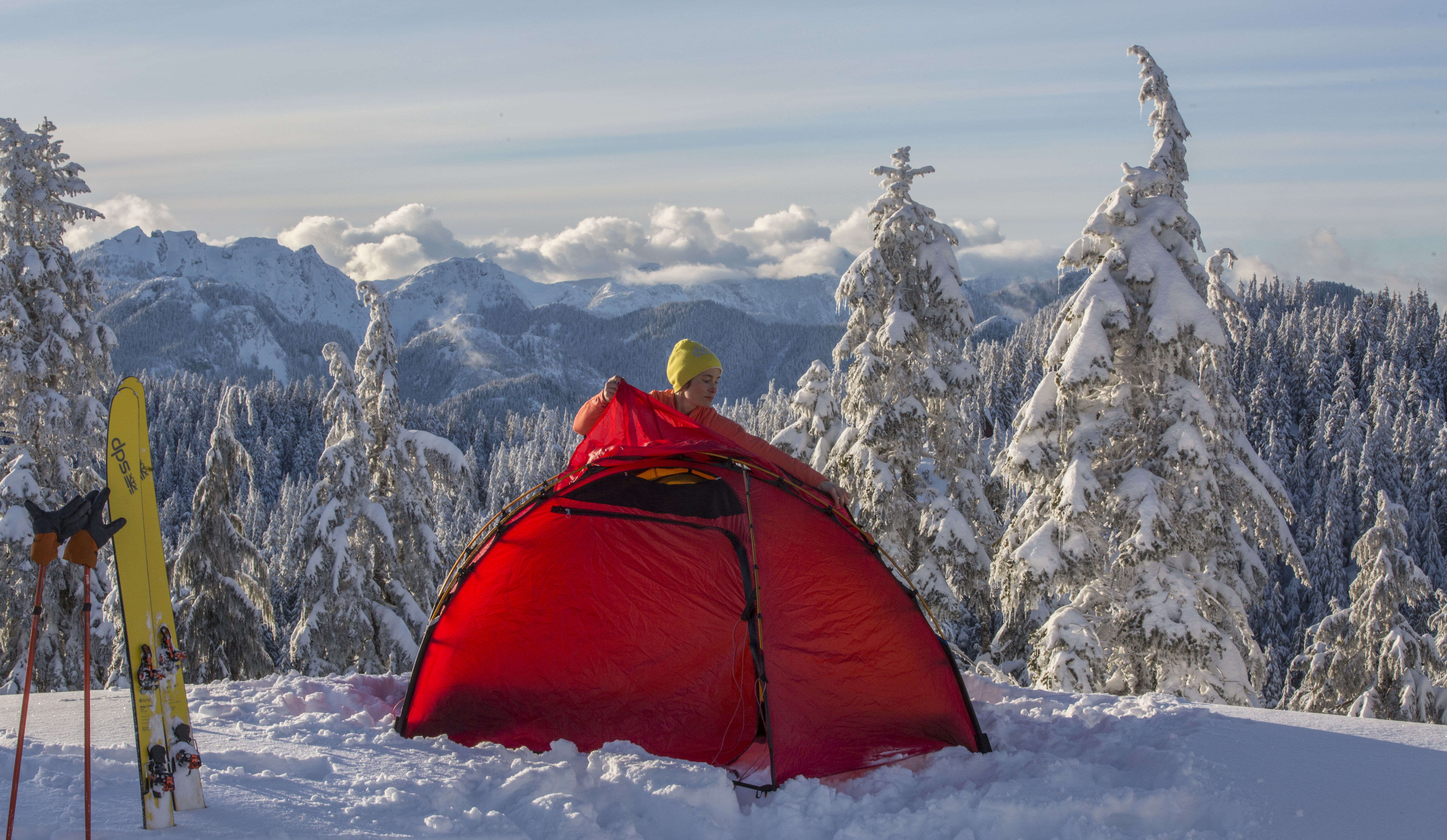 Further, the outer and inner tents are connected, keeping a fixed and taut distance from each other.  This creates a reliable and consistent airspace that insulates without concern that the fly will sag and flop onto the inner tent, even with significant snow load. Despite use in inclement weather, we have had absolutely no condensation on the Allak's inner walls. Other than "dew" on our sleeping bags around our heads, which did not permeate either our Therm-a-rest Adara or Brooks Range sleeping bags, we and our gear remained entirely dry.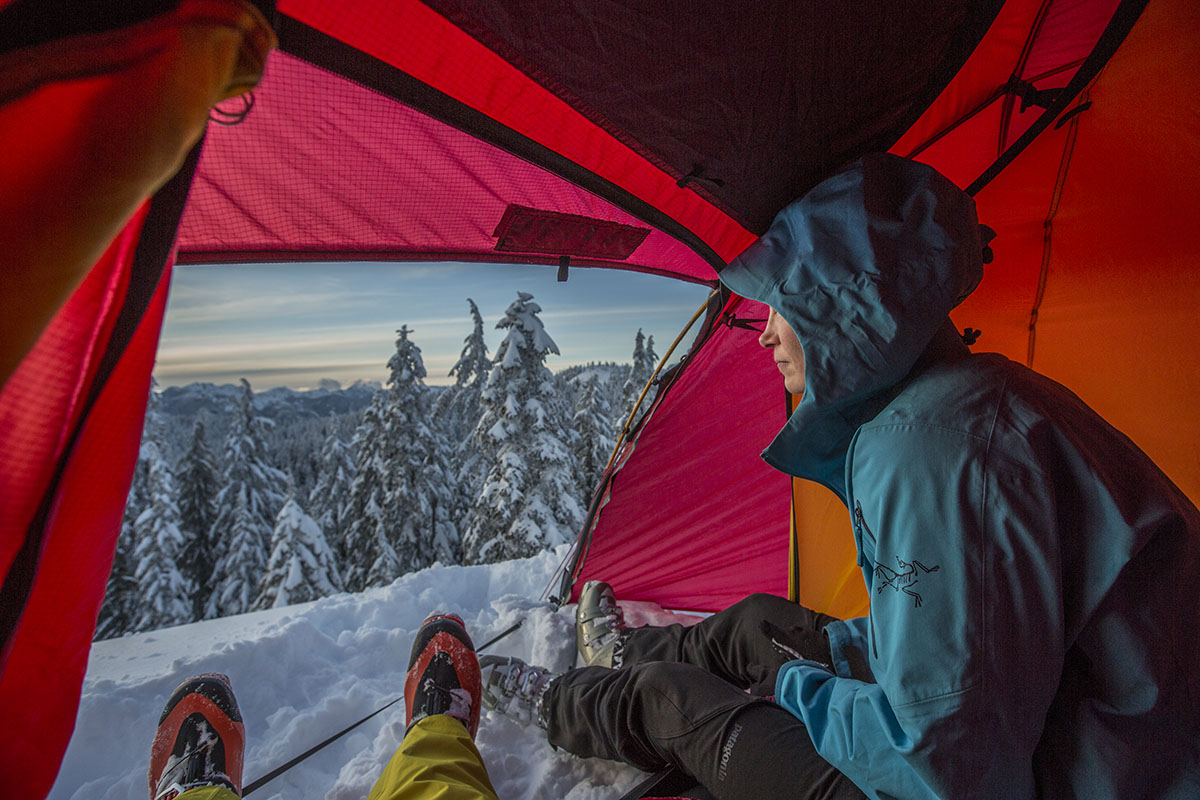 Set Up and Take Down
Truthfully, the Allak is perhaps the single easiest tent we've set up to date. It's intuitive and simple even for one person. "Allak" means "lake" in Sami (the indigenous language of northern Scandinavia), and the tent originally was designed for kayakers who often are faced with only sand or rock slabs on which to pitch their tent. As such, the Allak can be completely freestanding and therefore is ideal for tough pitching conditions. No pegs are needed even for the vestibule, which can be glorious. We are accustomed to hunting for large rocks when the ground cannot be staked, often a frustrating task and especially at the end of a long day. That's not to say that the tent cannot be staked (and it's typically recommended to do so) as Hilleberg provides 12 hardened aluminum V pegs to secure the guy lines.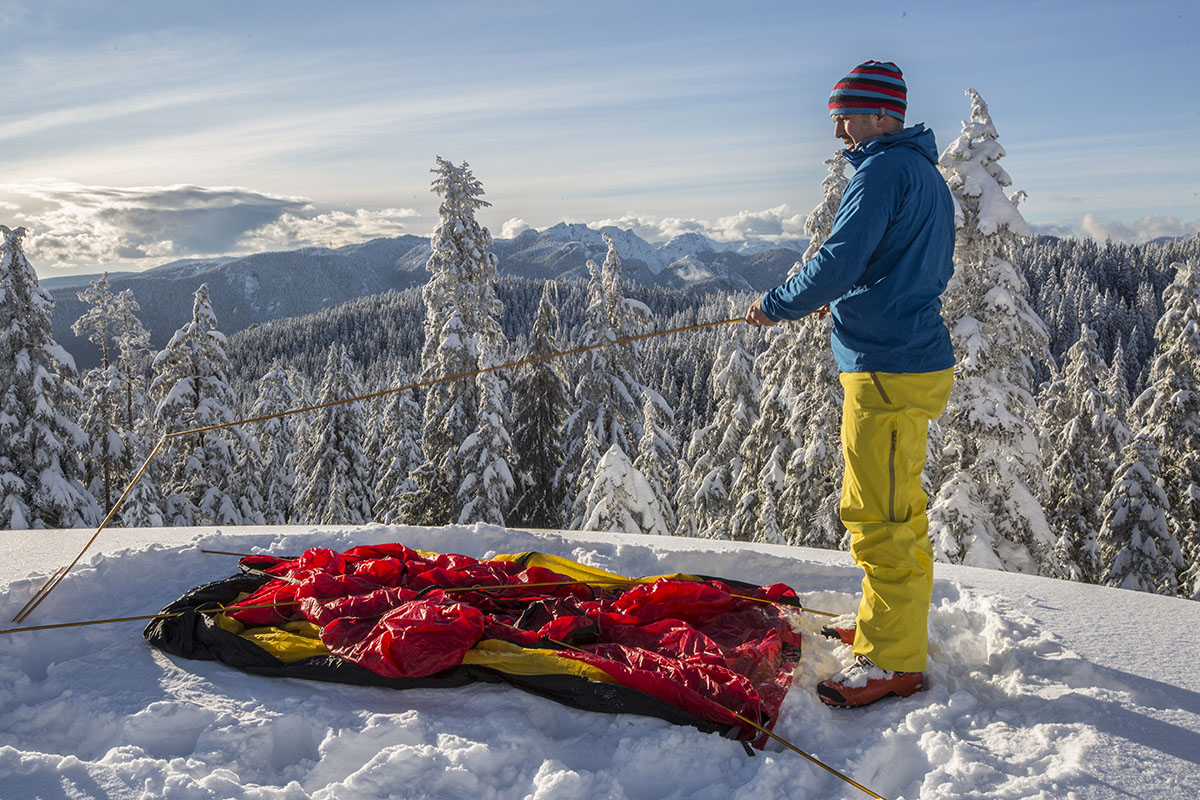 Along with three identical (and thus interchangeable) poles, the outer and inner tent are attached together so pitched simultaneously. To add to the ease of set up, Hilleberg opts for a short pole sleeve and clip system for their Red Label tents. The partial sleeve adds stability and support while the clips are simple and efficient. To avoid any confusion, the pole sleeves are color-coded to ensure each pole is connected to the proper ends of the tent, and the integrated approach is welcome after long days of exertion when blood sugar is dipping. Another major advantage is that the inner tent stays dry even when pitching in the rain. All in all, for such a serious 4-season tent, setting it up and taking it down is a cinch.

Build Quality and Durability
Hilleberg's experience really shines in the quality of their fabric, and it would be easy to gush about every choice their designers have made. Flat out, Kerlon is worth bragging about. As mentioned above, it's coated with three layers of silicone rather than polyurethane or "siliconized" products (which merely contain silicone). The difference is that even if the material were to be punctured, it would not continue to tear. To demonstrate this, with the tent Hilleberg included a sample of the materials so that we could try to destroy them. It truly was an exercise in futility—they seem to be completely indestructible. Even when the Kerlon was cut, it was not possible to continue the tear. We recently completed a backcountry trip and managed to rip a bivy (the Outdoor Research Alpine Bivy). Once that bivy's tear initiated, it took considerable effort (and ultimately a patch) to stop it from continuing. Think about a run in a nylon stocking—once the integrity has been compromised, the rip will grow—and this is what the silicone coating prevents.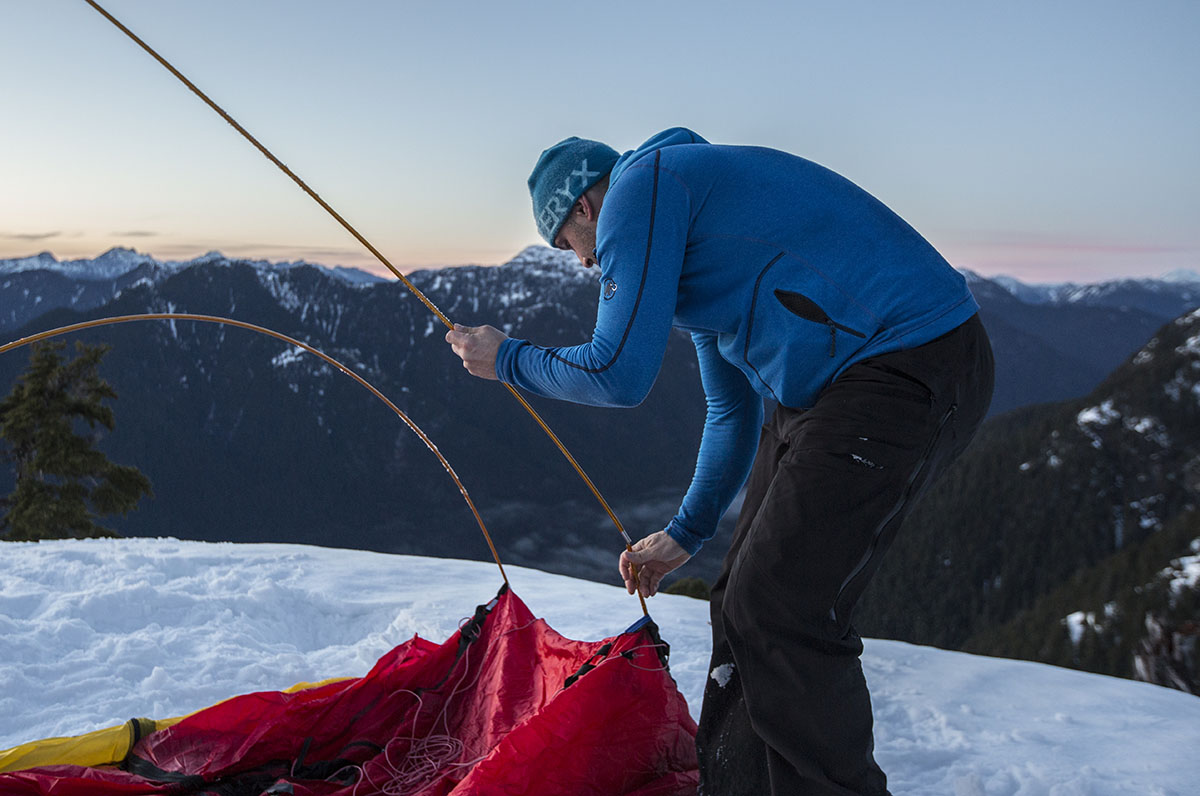 As mentioned above, the silicone coating also allows the fabric to be waterproof and abrasion-resistant without adding significant weight. Further, the seams are stitched using a flat-fell seam (each piece of fabric is folded over before being stitched), which means that the stitches go through four layers of fabric. This creates a tighter seam that reduces the entry points for water, and increases strength.
The Hilleberg Allak comes with 9mm DAC Featherlite poles, which offer the best balance between strength and weight, and every tent comes complete with an extra repair section and aluminum sleeve. Features like guy lines often are overlooked, but Hilleberg is particularly proud of their 3mm cord made of interwoven Vectran and polyester, which is designed to be strong with negligible stretch and minimal water absorption. Guy lines become particularly important when winds pick up, and they are key in keeping the outer tent snug and secure. Finally, the dome construction consists of multiple poles that cross at the top of the tent to provide strength and help combat snowfall, rain, and wind. The dome shape also reduces the build-up of snow as it tends to naturally run off the tent due to its convex shape.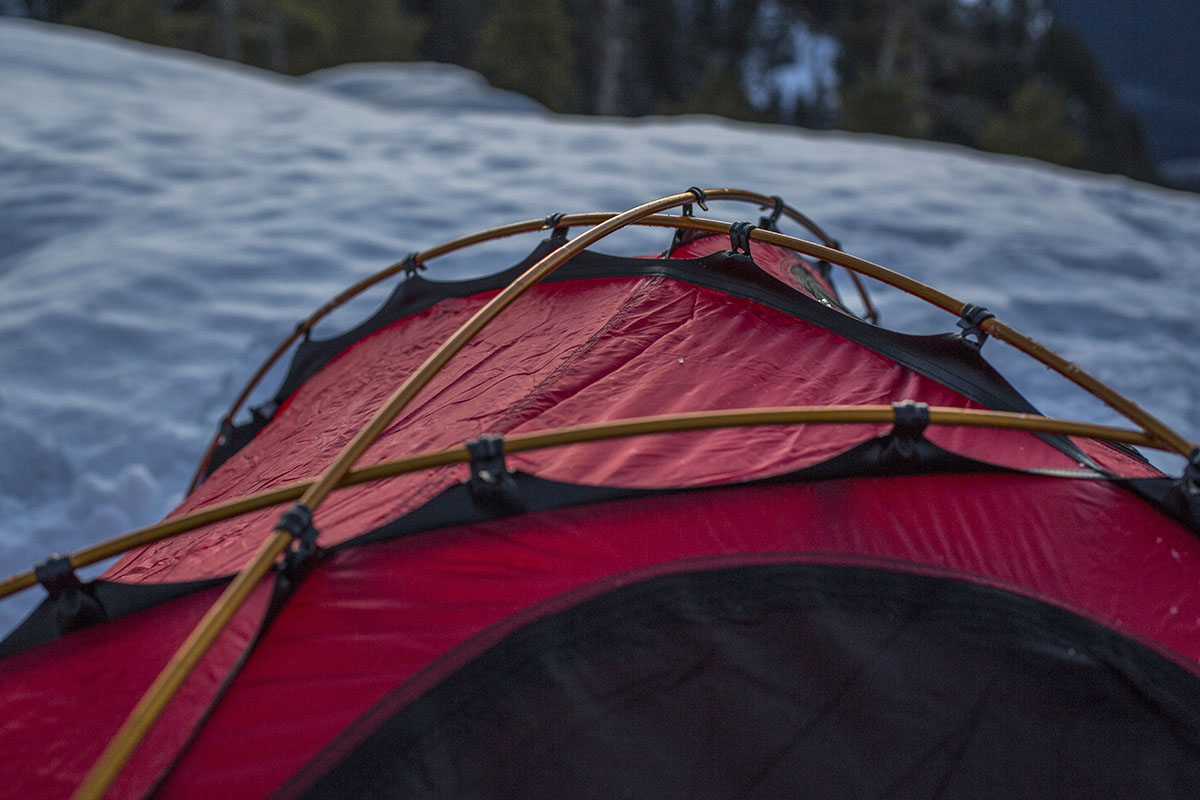 Weight
With a minimum weight of 6 pounds 2 ounces, the Allak is light enough to pack on most winter or alpine adventures. You can save weight with a single-wall tent like the Black Diamond Eldorado (4 pounds 8 ounces), but you compromise a lot: ventilation and comfort in milder temperatures, interior space, and convenience as that tent has only one door and one vestibule. A better reference point is the much heavier The North Face Mountain 25 (8 pounds 13 ounces), which shares the dome-style construction, two door and vestibule design, and roomy interior. Considering the Allak's strength of construction and full feature set, its weight is downright impressive.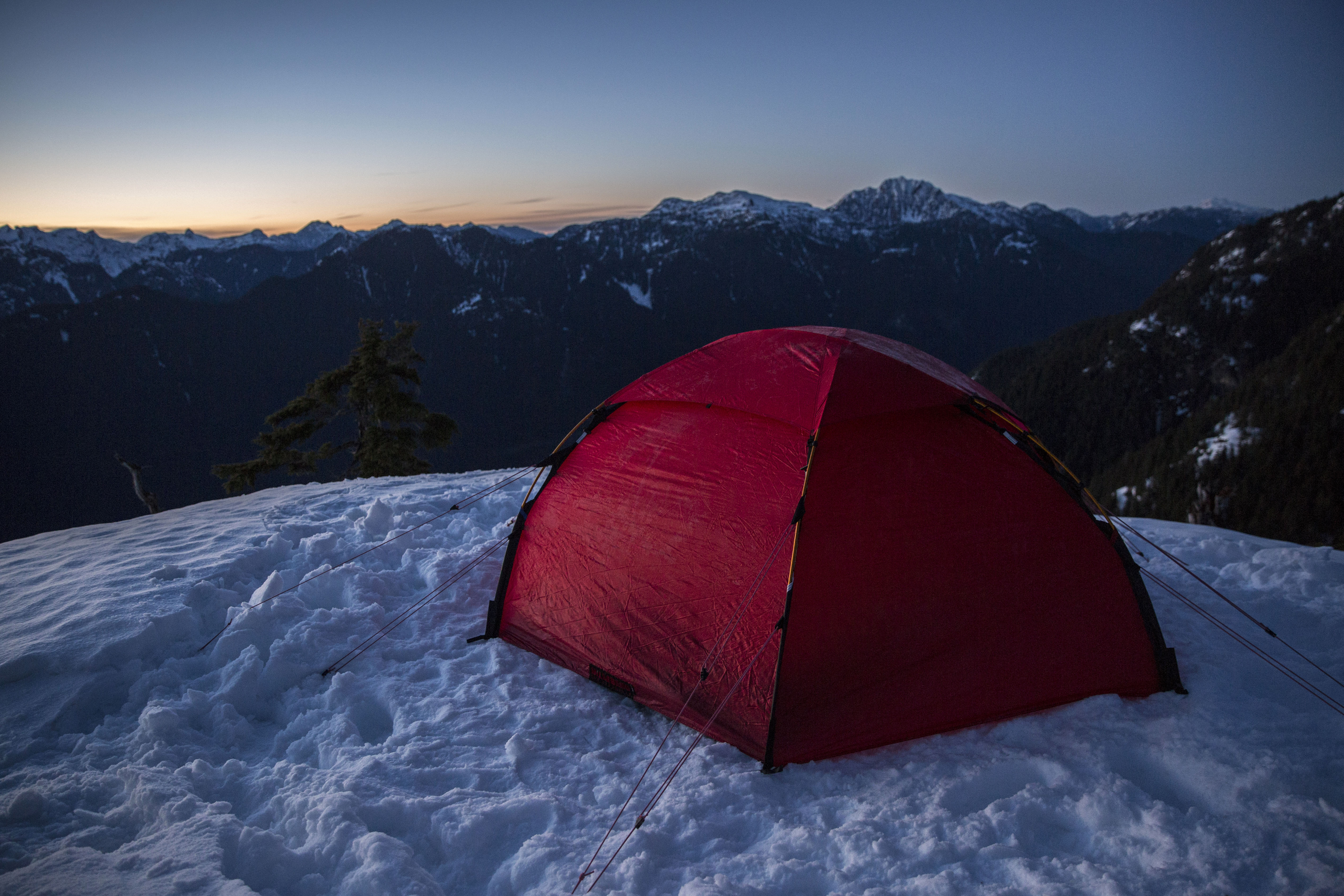 Other Versions of the Hilleberg Allak
For this review, we tested the 2-person Allak, and Hilleberg also makes the tent in a 3-person model for $1,160. The Allak 3 comes in heavier at 7 pounds 1 ounce but otherwise features a nearly identical construction including the same impressive Kerlon 1200 fabric, a high bathtub-style floor, and two doors and two vestibules. In terms of interior space, the 3-person Allak has 40.9 square feet of floor area compared to 31.2 square feet on the 2-person, and you get an additional 2 inches of headroom at 43 inches total. All in all, for two winter campers with a lot of gear to store inside the tent, the 3-person version makes a lot of sense.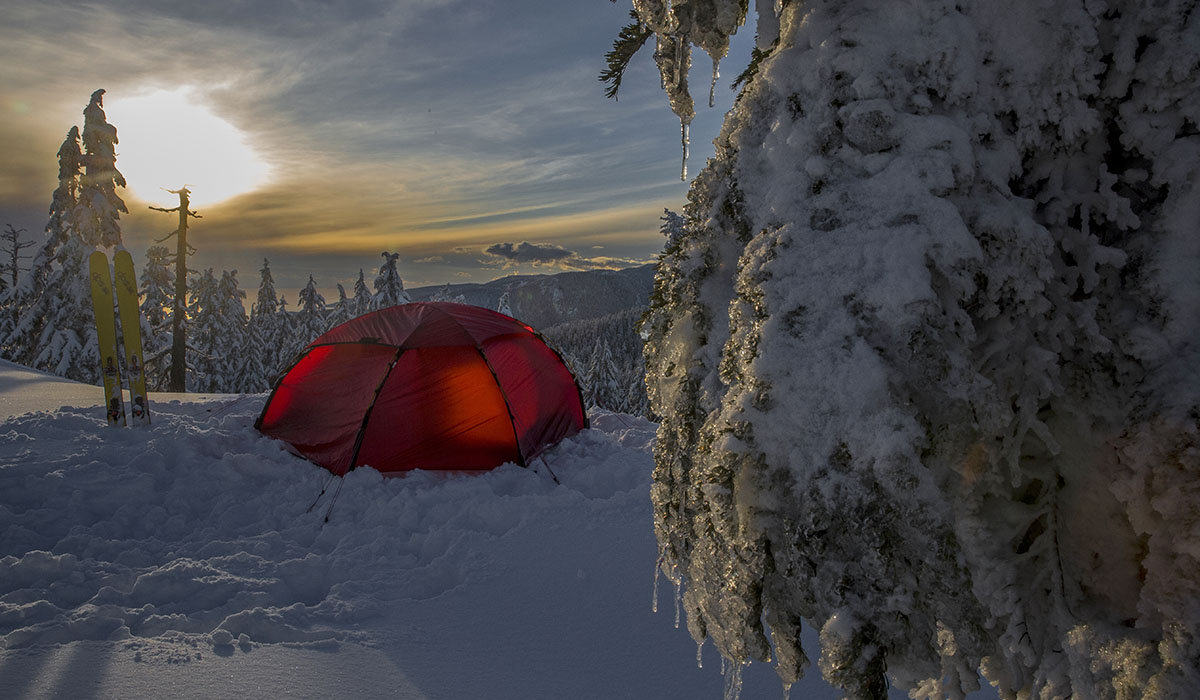 What We Like
It's tough to beat Hilleberg's high-quality design, construction, and materials.
Impressive weather protection and livability in a lightweight, 6-pound build.
Excellent ventilation—condensation was not an issue on our trips.
What We Don't
At $1,040, the Allak is one of the most expensive 4-season tents on the market.
We'd like a few more interior pockets for better organization.


Comparison Table

The Competition
4-season tents vary widely in style, from basecamp models for the world's highest peaks to lightweight builds for weight-conscious ski traverses. The Allak does a great job bridging these categories with a reasonably lightweight design that gives up very little weather worthiness. The North Face Mountain 25 is another trusty basecamp option, and with a similar peak height and one extra square foot of space, it's comparable to the Allak in terms of comfort and livability. But whereas the Allak has versatility for lightweight endeavors, the heavy, 8-pound 13-ounce Mountain 25 won't be coming with you for the summit push. For $1,040 you certainly get more options with the Allak, but at $350 less, the Mountain 25 is just as good of a tent when weight is not an issue.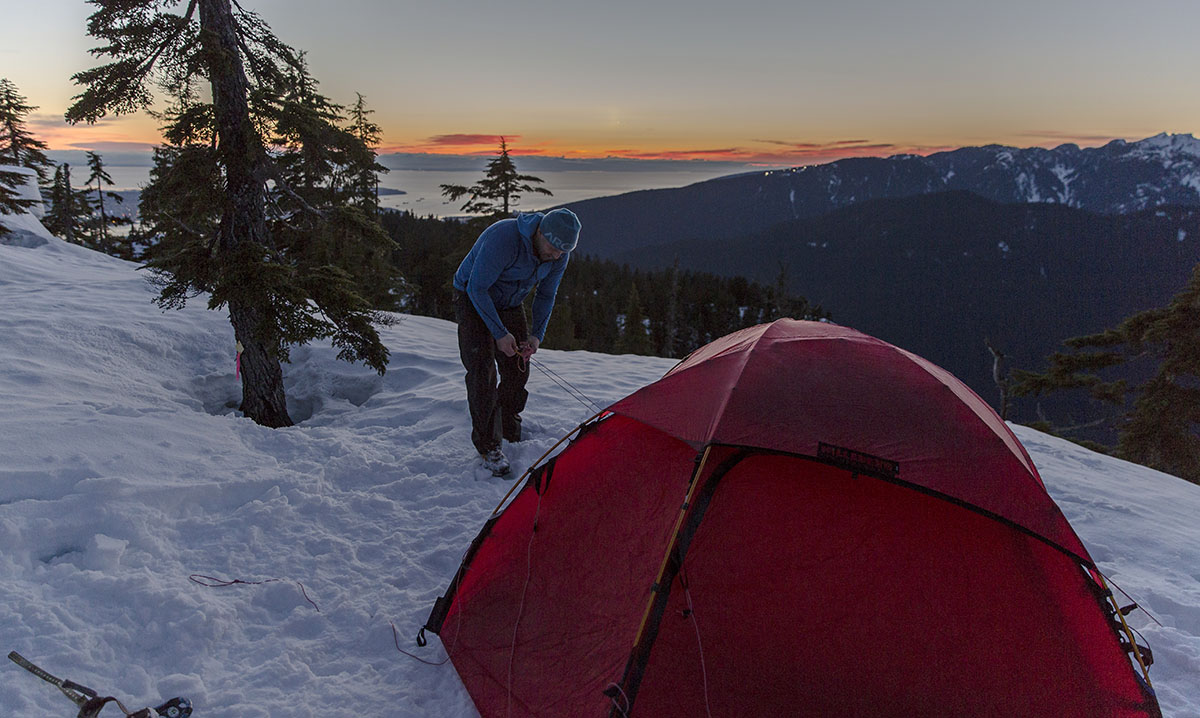 It's worth noting that the Mountain Hardwear Trango 2 has recently been updated and is an impressive alternative to both the Allak and the Mountain 25. With 40 square feet of interior space, the Trango offers much more room, although the Allak does add 3 inches of height and slightly larger vestibules. Similar to the Mountain 25, the Trango 2 is over 8.5 pounds compared to the Allak's 6 pounds 2 ounces. Most significantly, the Trango also comes with a much more palatable $700 price tag. For terrible weather in a basecamp setting, we prefer the roomier, slightly more weather-protective Trango 2, but the Allak's lightweight build again makes it the more versatile tent.
MSR's Remote 2 is another intriguing option in the 4-season field. The tent is designed for mountaineers and puts a high priority on strength and comfort with burly Easton poles, tall walls, and a spacious interior. Its minimum weight is also very competitive at 6 pounds 8 ounces vs. 6 pounds 2 ounces for the Allak. From our test of the Remote, however, it fell a little short in a few key areas: the rainfly doesn't provide full coverage when pulled taut, the bathtub floor sits a little too low and is vulnerable to moisture, and setting it up in the wind can be difficult. All told, it's a solid option, but lacks the refinement of a Hilleberg product.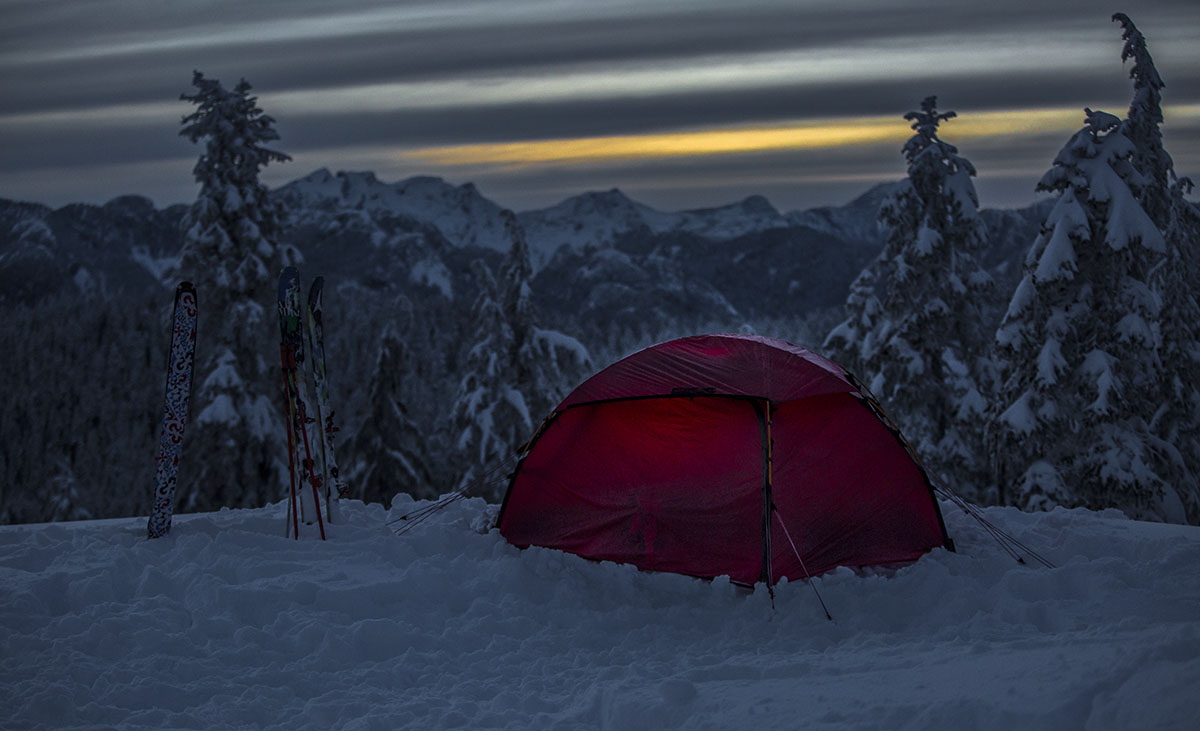 Within Hilleberg's Red Label line, the Nallo 2 is the closest alternative to the Allak for most all-season adventurers. To start, the two tents differ in shape: the Nallo is a non-freestanding tunnel-style tent while the Allak has a freestanding dome construction. This means that the Nallo is a little stronger in wind, but the Allak does better with snow loading and is overall easier to set up. Importantly, the Nallo also saves you nearly 2 pounds, which means it's better for the weight-conscious backpacker—but with one door and a dramatic taper at the feet, you'll give up a great deal in terms of livability. In the end, it's about priorities: when convenience and comfort beat out weight, we prefer the Allak.
If you're thinking about buying gear that we've reviewed on Switchback Travel, you can help support us in the process. Just click on any of the seller links above, and if you make a purchase, we receive a small percentage of the transaction. The cost of the product is the same to you but this helps us continue to test and write about outdoor gear. Thanks and we appreciate your support!
Depending on the seller, most products ship free in the United States on orders of $50 or more. International shipping availability and rates vary by seller. The pricing information on this page is updated hourly but we are not responsible for inaccuracies.
Learn More About Outdoor Gear