La Sportiva Aequilibrium Top GTX
Price: $499
Weight: 2 lbs. 13.9 oz. 
Crampon compatibility: Semi-automatic (hybrid) 
What we like: A light and comfortable boot that performs well on everything from trail and talus to moderate snow, ice, and rock.
What we don't: Inherent durability concerns with the Boa dial and zipper; narrow toe box offers little room for swelling toes.
See the La Sportiva Aequilibrium Top GTX
Lightweight mountaineering boots are the most minimalist of their breed, primed for three-season use at relatively low elevations—think summer approaches in the North Cascades, spring climbs in the Rockies, or austral summer ascents in southern Patagonia. The Aequilibrium Top GTX is La Sportiva's top-shelf offering, showcasing details like a Boa closure, sleek integrated gaiter, and premium Gore-Tex membrane. We tested the boot during a season of climbing in Argentina's Chaltén Massif and were impressed with its performance: The boots were noticeably light and agile; adept on rock, snow, and ice; and allowed for quick transitions. Below we break down our experiences with the Aequilibrium Top GTX. To see how it stacks up to the competition, see our article on the best mountaineering boots.
 
---
Table of Contents
---

Performance
Best Uses
The most important place to start with the La Sportiva Aequilibrium Top GTX is its best uses—all too often, I hear criticisms of lightweight mountaineering boots only to find that the complainant is using them in the wrong environment. In short, the Aequilibrium Top is designed for mountain missions that involve everything from trail and talus to snow, moderate ice, and fifth-class rock. It's not the ideal footwear for any one of these environments: I'd rather be wearing a trail runner on trail, an approach shoe on talus, a full-shank mountaineering boot on ice, and a climbing shoe on rock. But for routes that have it all, the Aequilibrium Top is an impressively capable and lightweight Swiss Army Knife.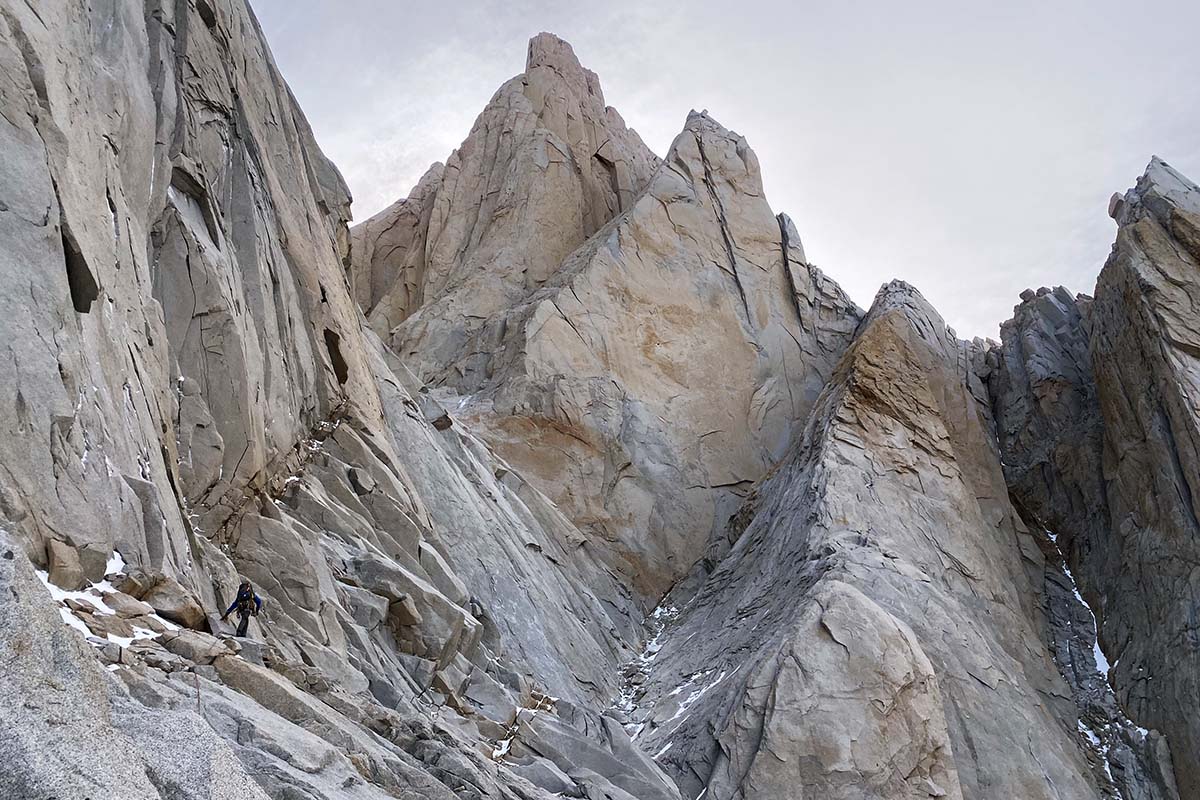 The boot truly shined while climbing in the varied terrain of Patagonia's Chalten Massif. During one weather window, my partner (who also wore the Aequilibrium Top) and I climbed Aguja Poincenot from the Torre Valley. The approach involved roughly 10 miles of hiking on trail and dry glacier, followed by a combination of talus and scree, slab, snow fields, moderate ice gullies, and short steps of rock climbing up to 5.10. For the trail section, we wore trail running shoes and carried the boots on our packs—this is a common technique that climbers employ when hiking on easy trails into an advanced basecamp. But once across the dry glacier, I stashed my trail runners and donned the Aequilibrium Top GTX, immediately feeling a boost in confidence for the complex terrain we were about to tackle. 

Hiking Performance
Compared to most stiff and clunky mountaineering boots, the Aequilibrium Top GTX is built to tackle trail miles with ease thanks to its lightweight build, subtle rocker (aided heavily by the tapered heel), and flex that encourages—rather than hinders—walkability. This boosts comfort and speed on easy trails, but I also found the boot to be a very nice companion for ascending the loose boulder fields and scree slopes above the Torre Valley. Thanks to the articulated ankle, underfoot flex, and relatively low weight, I was able to maintain my typical stride in this terrain rather than feeling encumbered by my footwear. Hikability is becoming more and more of a priority among lightweight boots—for example, Scarpa's Ribelle HD also features a rockered sole—and in my experience, it does little to compromise climbability on moderate ice, snow, and rock.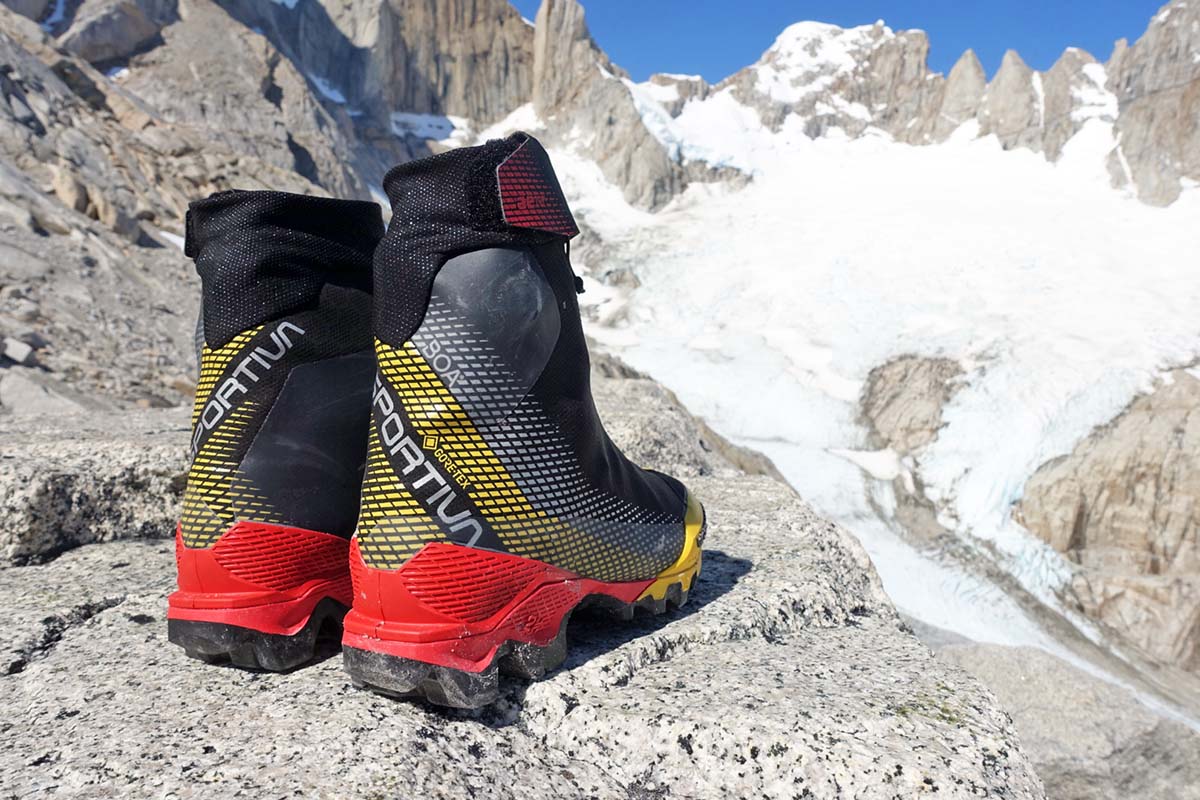 It's worth noting that my partner and I both chose to carry our Aequilbrium Tops on our climbing packs for the trail section of the approach. As I noted above, this is a well-used technique that can make easy miles even easier. However, for this objective, we had the luxury of being able to leave a stash of items (including our trail runners) at basecamp, where we would return after our climb. If we were doing a route that went up and over the peak (i.e., not retracing our steps on the way out), we would have worn the Aequilibrium Top the whole way. Wearing a mountaineering boot on a well-maintained trail is never the most comfortable option, but the La Sportiva gets the job done with more spunk and agility than most.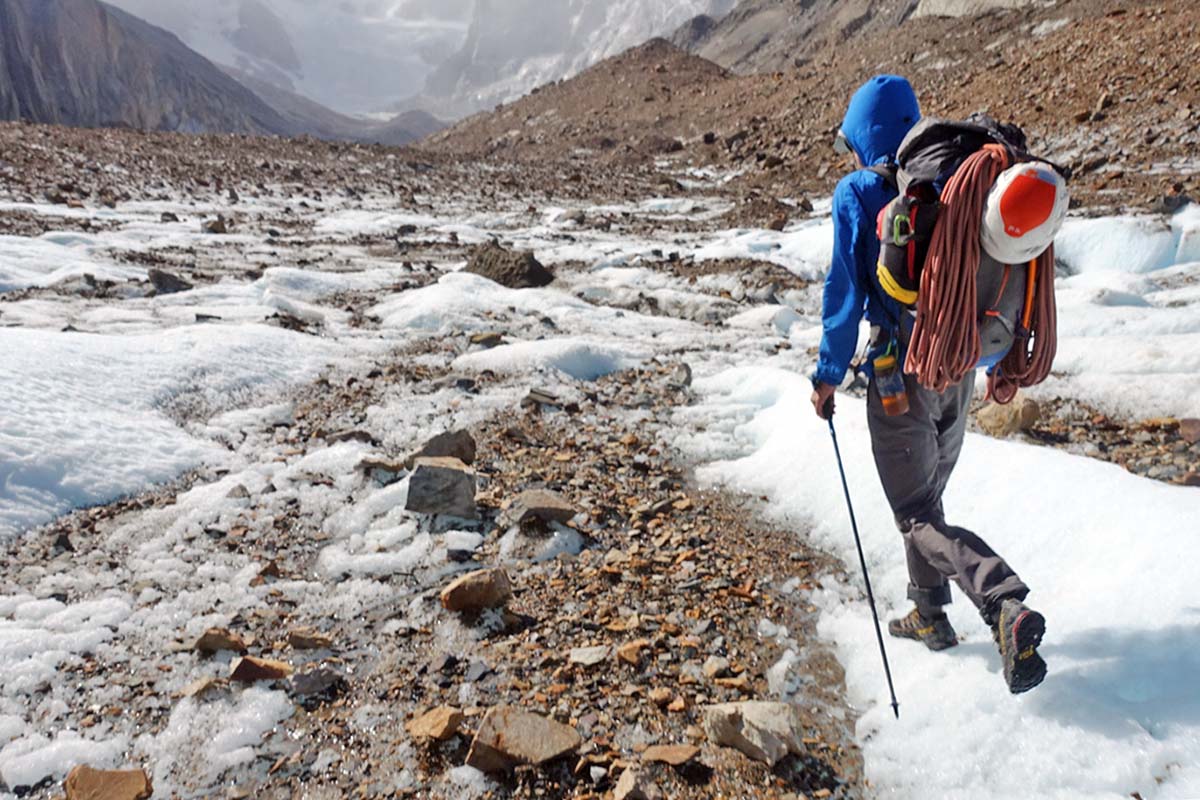 Climbing Performance
During my season in the Chaltén Massif, I wore the Aequilibrium Top GTX while climbing steep snow, moderate ice, and rock up to 5.10. For small steps of snow, it was an ideal companion, offering enough stiffness to kick steps and keeping all moisture at bay (some of the snow was very wet and deep, so this was an impressive feat). The aggressive heel lugs are also very capable for descending snow, even of the firm variety. That said, I don't recommend the Aequilibrium for sustained or serious snow travel (it's not ideal for climbing Cascade volcanoes, for example). It simply can't match the warmth and waterproofing of beefier designs, and you'll likely want a full-shank boot for better confidence on steep ice and snow.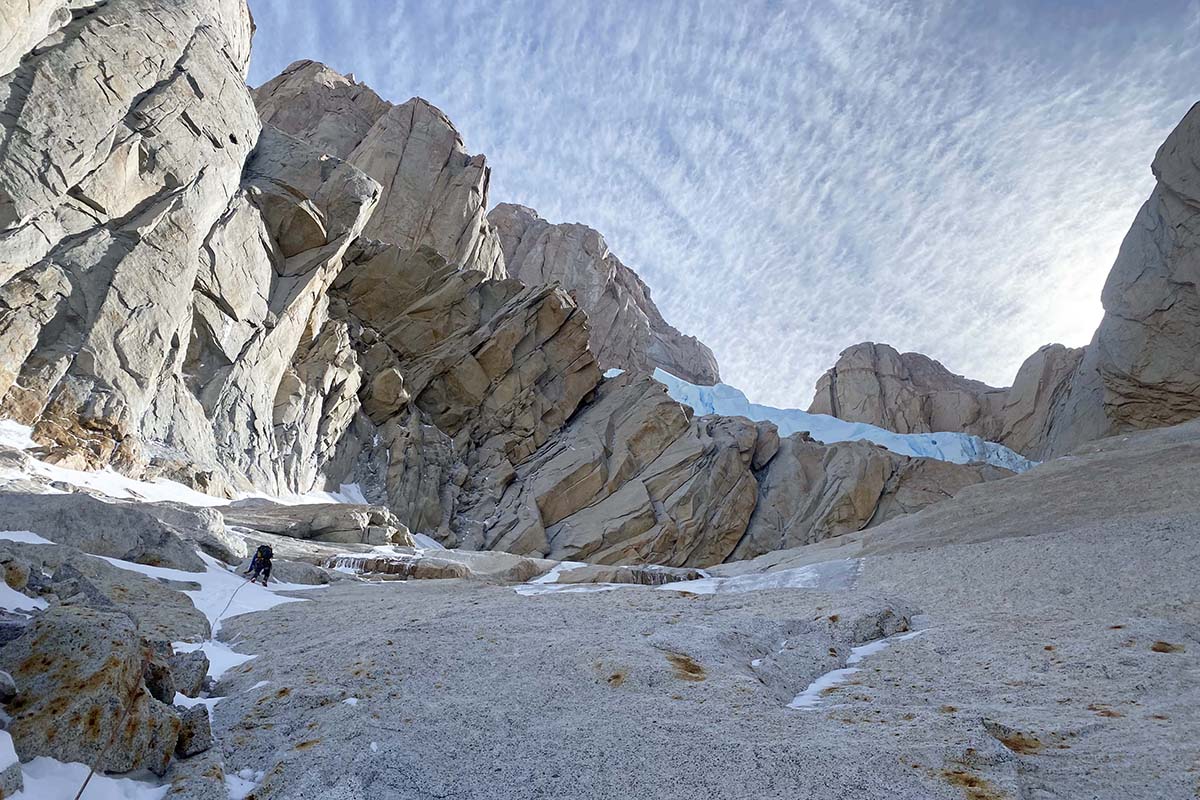 It's a similar story when it comes to ice: The Aequilibrium is adept at tackling short and moderate pitches but should not be pushed. Paired with my Petzl Irvis Hybrid crampons (more on this below), the boots offered a secure fit, ample stiffness, and great precision while ascending low-angle ice. A skilled climber could push the boots into WI4 terrain, but they have a strong built-in limitation with no toe welt, and the flexible, rockered construction is far from ideal. All told, if you're climbing technical ice in the Aequilibrium Top, you better have a pretty good reason to be doing so—perhaps it's one difficult step to reach more moderate terrain, or a practice session at your local crag.
Finally, I was extremely impressed with how the Aequilibrium performed on technical rock. Of course, a mountaineering boot is never the best tool for rock climbing—that prize obviously goes to a rock climbing shoe—and at first glance, the Aequilbrium's aggressive outsole does not look like one that would excel on fifth-class terrain. But the boot immediately proved itself to be capable on sections of exposed fourth class, thanks to the relatively flexible and sensitive feel (compared to stiff and clunky boots) and climbing zone at the toe. When we encountered steeper sections of rock, my partner changed into climbing shoes to lead, while I followed in my boots. To my surprise, the Aequilibrium could smear on slap, perch on small edges, and wedge its way into cracks. I climbed three pitches up to 5.10 in the boots, which went a long way toward minimizing transition times and keeping my feet warm on the approach. It was only when we finally arrived at the base of the route proper that I transitioned into rock shoes for the remainder of the ascent.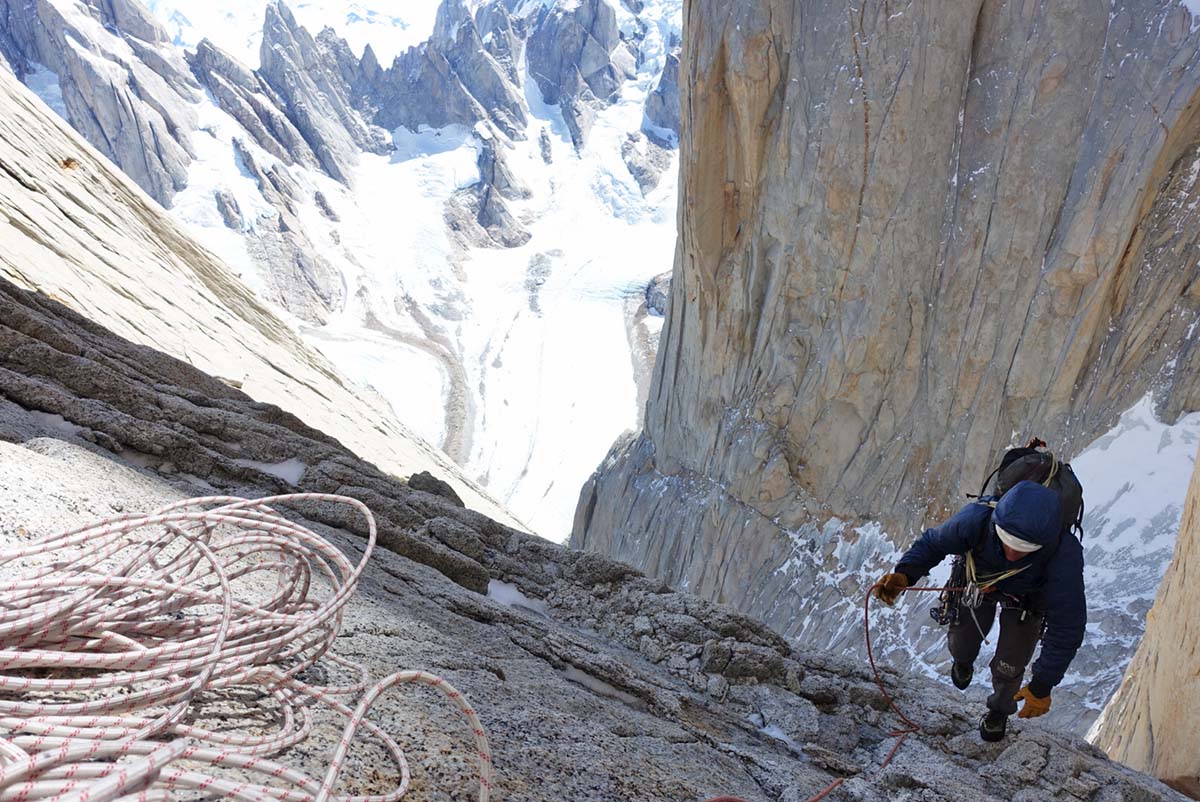 Comfort
Along with a strong focus on lightweight performance and durability, the Aequilibrium series was designed to maximize comfort on all kinds of terrain. The first components are the boot's slight rocker and subtle flex, which encourage an easy stride and boost comfort on the trail. My partner once remarked that the Aequilibrium Top felt like a trail runner—a slight exaggeration, in my opinion, but nevertheless a testament to the boots' excellent walkability. Second, despite the fairly stiff overall design, there's a generous amount of midsole cushioning that contributes to a relatively plush feel, which I was thankful for at the end of each long day. Finally, a contoured last and precise Boa closure keep the foot snug and guard against blisters. 
Compared to many mountaineering boots that involve a long break-in period, I found the Aequilibrium Top to be immediately comfortable. And while it's true that we opted not to wear the boot for the trail approach, it certainly would suffice if necessary (although why carry 3 lbs. on your feet when you can get away with 1.5?). It is worth noting that both my partner and I experienced intense foot pain at the end of our biggest day of climbing—the Aequilbrium's toe box was simply too tight for my swollen foot (I only experienced the pain on one side), and every footfall became arduous. I'll go into more detail in the "Fit and Sizing" section below, but if you have wide feet or are prone to swelling, it might be worth sizing up a half size.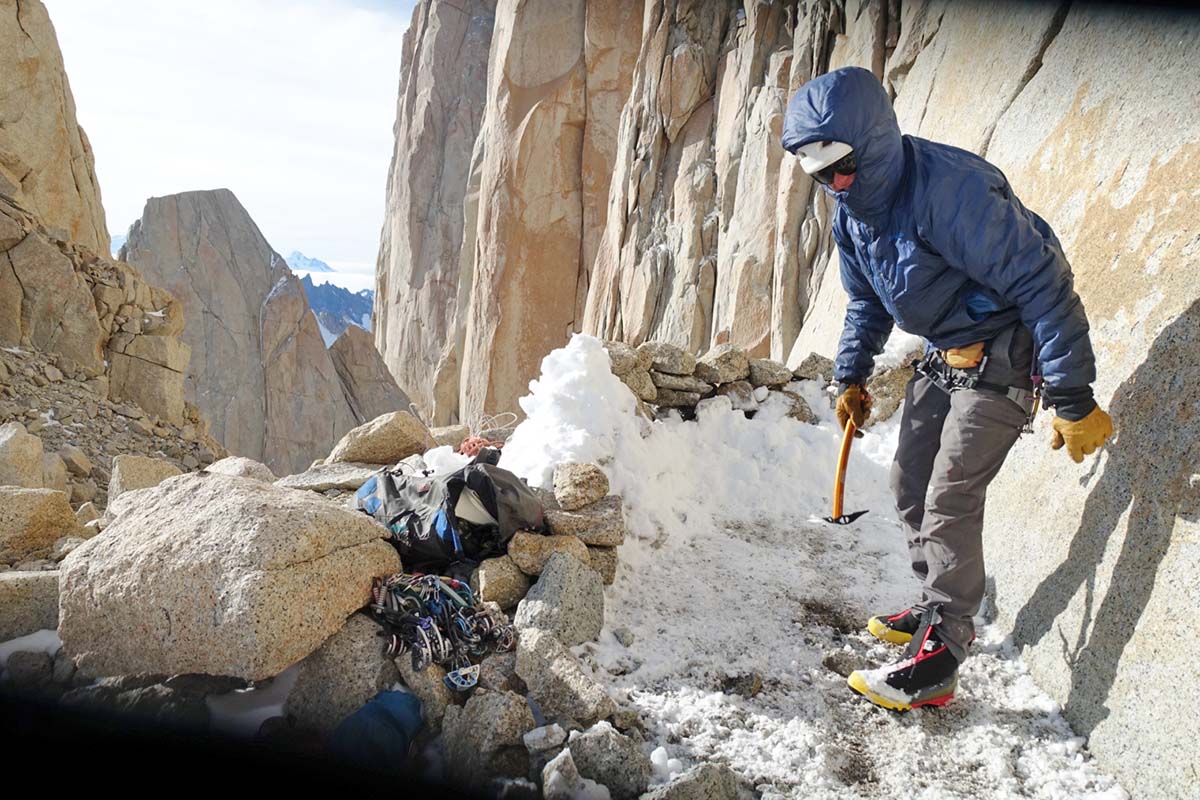 Weight
La Sportiva's advertised weight for the Aequilibrium Top GTX is 2 pounds 13.9 ounces, although our size 44 checked in at 3 pounds 7.7 ounces for the pair (the size 40 weighs 2 lbs. 14 oz.). However you slice it, the Aequilibrium Top is competitively lightweight among three-season mountaineering boots. By comparison, the popular Scarpa Charmoz—one of the gold standards for lightweight mountaineering—checks in at 3 pounds 6.3 ounces for the size 42, while the La Sportiva Aequilibrium ST GTX's listed weight is just 2 pounds 12.4 ounces. However, neither of these boots features the Top's integrated gaiter and convenient Boa closure, which are two defining features of its premium build. All told, it's hard to match the Aequilibrium Top GTX's combination of performance and weight, which makes it a great choice for long days or up-and-over rock routes where you have to carry your boots.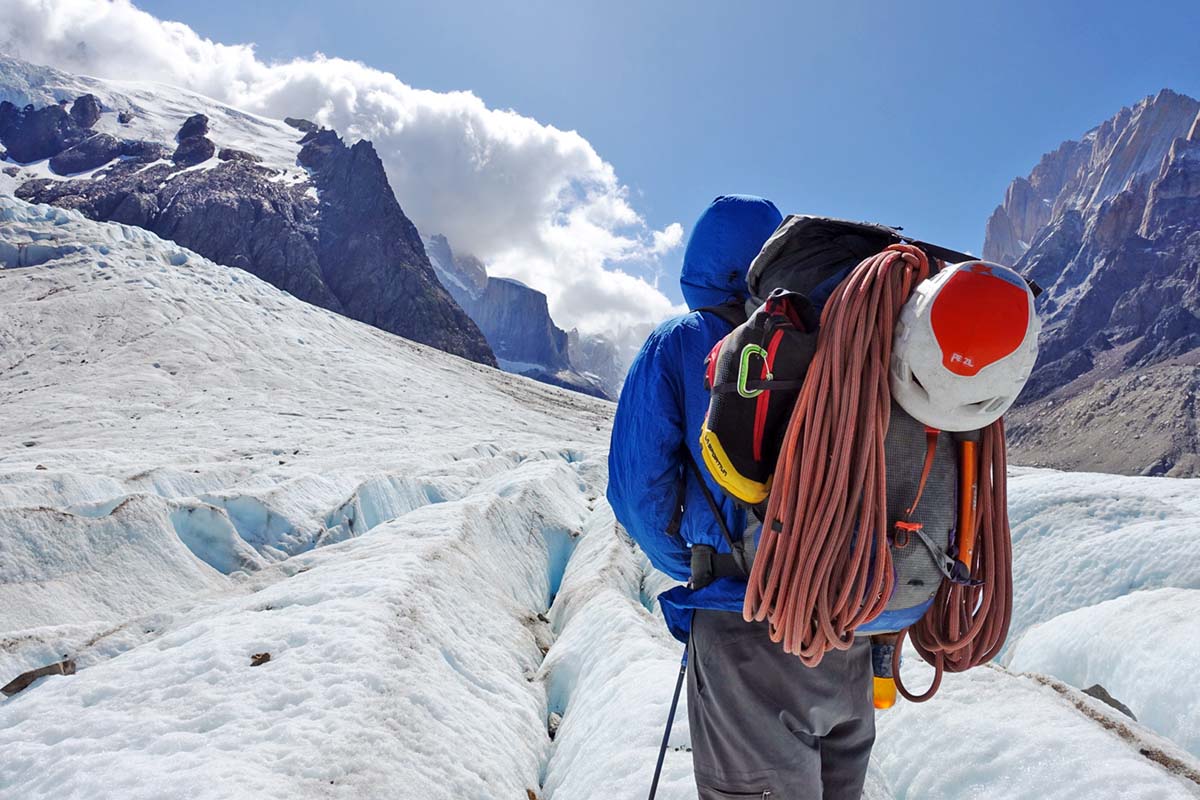 Traction
In my opinion, the Aequilibrium Top's outsole is one of its true highlights. The Vibram Mont rubber is a relatively hard compound, designed to offer traction at low temperatures. What's more, you get massive lugs that bite into soft ground and an aggressive heel that offers incredible grip and confidence on loose rock and snow descents. And despite its prowess on soft terrain, the Top is a surprisingly good rock climber, too: Thanks to the small climbing zone at the toe, I was able to deftly smear and edge while following my partner up 5.10 terrain. As with any stiff mountaineering boot, the Aequilibrium requires some breaking in, but it only took a day or so to feel like its sole was an extension of my foot.

Stability and Support
One of the key reasons to opt for a lightweight mountaineering boot over an approach shoe or hiking boot is its boost in stability and support for technical terrain. With a stiffer sole and collar than hiking footwear, the Aequilibrium is notably more supportive on snow, ice, and uneven terrain. This was very clearly illustrated when I changed from my trail runners (the La Sportiva Ultra Raptor II) straight into the Aequilibrium. Immediately, I felt like I could bulldoze over the loose, rocky moraine, whereas before I was tiptoeing. That said, the Aequilibrium isn't as rigid as a full-shank mountaineering boot and is particularly less supportive in snow. If you need a boot that's burly enough to repeatedly kick steps in hard snow, you'll likely want to opt for a beefier, four-season model like La Sportiva's Nepal Cube GTX. 

Waterproofing
The Aequilibrium Top GTX is a fully waterproof boot thanks to its Gore-Tex Performance Comfort membrane. Designed to tackle a wide range of conditions, Gore-Tex Performance Comfort uses a 4-layer laminate that keeps moisture out while still allowing perspiration to escape. And with the Aequilbrium's sleek integrated gaiter with a watertight zipper, this waterproofing is extended all the way to the top of the boot—no need to worry about moisture entering through the tongue or eyelets. I chose to wear the gaiter under my pants (and secured my pants under the bottom of the boot via a small piece of cordelette), which minimized the chance of moisture entering through the top.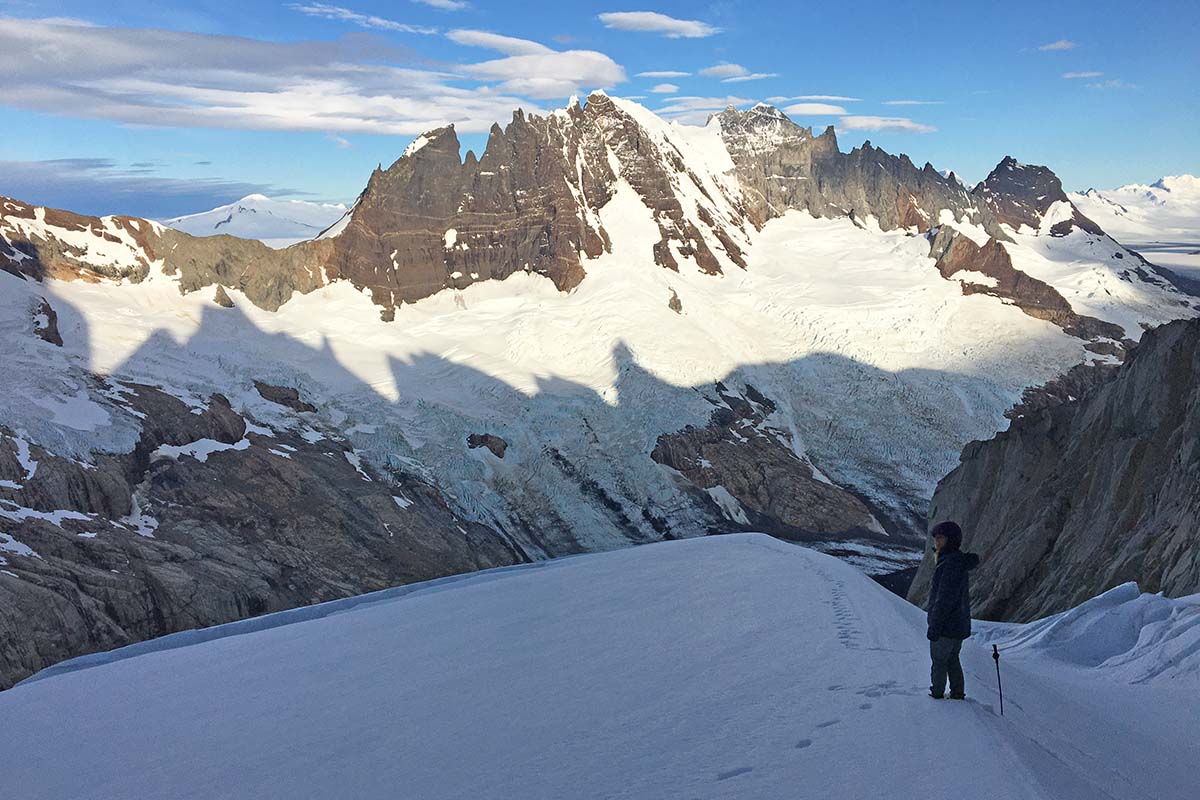 ln practice, the Aequilbrium's technology and design performed very well for short steps of snow travel. At one point, we descended a glacier at the end of a warm, sunny day, and the snow was slushy and deep. To my surprise, I arrived back in camp with dry feet, despite my pants being soaked up to my knees. It is worth noting that my boots were fairly new and unscathed—as the boots wear down (crampons can be particularly hard on the upper), they'll likely lose some of this impressive waterproofing. 

Breathability
Waterproof footwear is inherently less breathable than non-waterproof offerings, but the Aequilibrium Top GTX keeps air flowing with its 4-layer Gore-Tex Performance Comfort membrane. Our climbs took place in fairly mild temperatures (around 40 degrees Fahrenheit), and I noticed no sweat buildup throughout the day. Of course, if you're hiking in the subalpine in the heat of summer, your feet are bound to grow clammy—when we hit 80-degree weather on the hike back into town, I was glad to be wearing my trail running shoes instead. But for most big-mountain weather, the Aequilibrium won't pose any issues in terms of breathability.

Warmth
With a streamlined build that emphasizes weight-savings and walkability over cold-weather performance, the Aequilibrium Top GTX does not offer much in the way of insulation. Of course, the internal bootie, cushioned midsole, and Gore-Tex-lined upper provide a healthy dose of warmth, but it's a far cry from the insulated insoles and lining of La Sportiva's four-season designs. As I mentioned above, most of our climbing took place in temperatures around 40 degrees Fahrenheit, and my feet were warm the majority of the time (the coldest they got was when I stood in snow for 10 minutes at a belay). But for sustained movement in temperatures around or above freezing, the Aequilibrium Top is fully serviceable.

Build Quality and Durability
La Sportiva is known for their premium Italian craftsmanship, and the Aequilibrium Top GTX is no exception. This boot has a high-end feel from heel to toe, with top-of-the-line materials (Gore-Tex Performance Comfort membrane, Vibram Mont outsole, and Boa adjustment, to name a few) and a very thoughtful design. The boot held up fairly well to the abuse of two long climbs in Patagonia, gathering only an assortment of cosmetic scuffs and scratches on the upper. In contrast to the La Sportiva Trango Tech GTX (I tested the women's version while rock climbing in the Alaska Range), it's a significantly more hardwearing design. For the weight, you'd be hard-pressed to find a better-made, higher-performing boot. 
That said, I do have some strong durability concerns with the Aequilibrium Top GTX. To start, I worry about the longevity of the zipper and Boa dial, which are almost impossible to repair in the event of failure in the field. It's worth noting that this isn't the first time these two pieces of tech have been used on high-performance mountaineering boots, and they do have a decently positive track record of success (and without the Boa dial secured, the Aequilibrium Top still fits rather snugly thanks to the sock-like bootie and hook-and-loop strap at the collar).
Boa dial and zipper aside, I also have doubts that the thin upper will remain intact over time—the Boa dial has already eaten away at the reinforced portion of upper that lies on top of it (on all four of our boots). Eventually the wear and tear will extend past the Gore-Tex membrane and compromise waterproofing or expose the dial to further abuse. Lightweight mountaineering boots are simply not a very durable breed—a lot is given up in the name of shaving weight—but for a boot that will withstand season after season of hard use, a leather model like the Aequilibrium LT GTX might be a better option.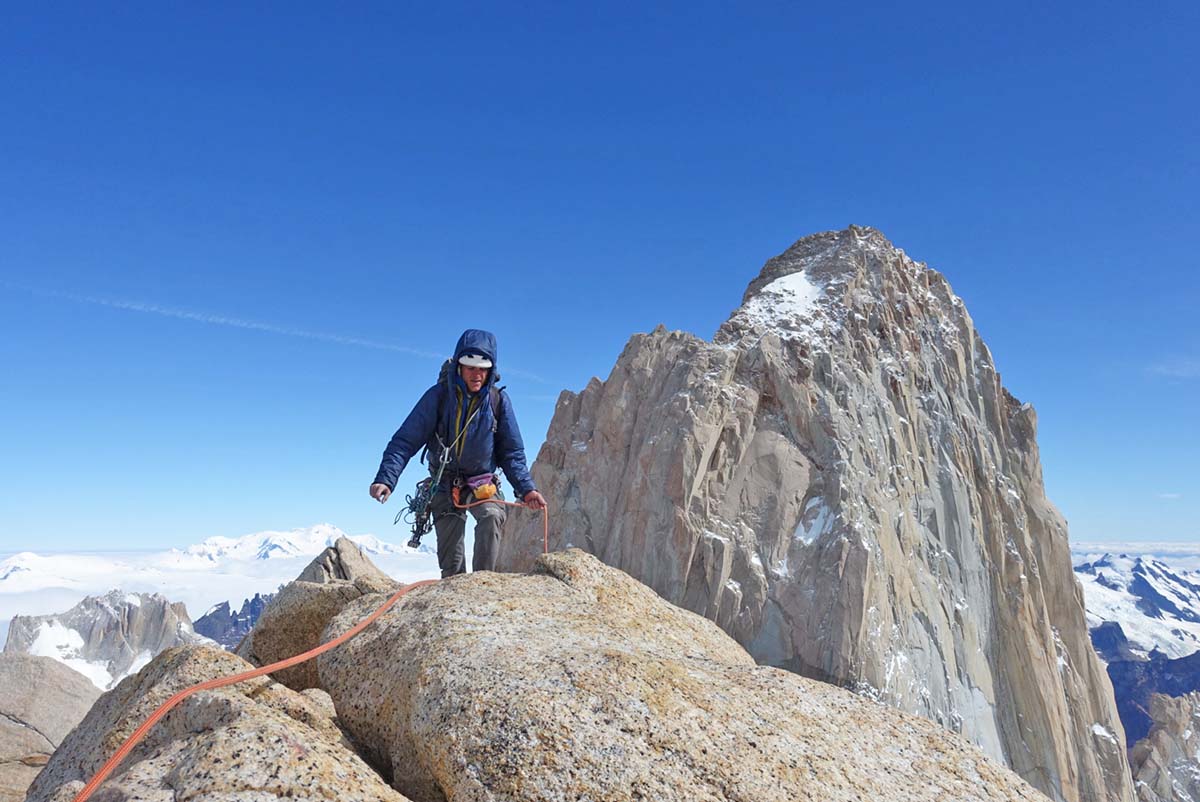 Crampon Compatibility
The Aequilibrium Top GTX has a heel welt, which means it's compatible with semi-automatic (also known as hybrid) crampons. My partner and I both paired the boot with the Petzl Irvis Hybrid, which features a steel toe and aluminum heel for the best balance of weight-savings and performance (it also features interchangeable toe pieces for use with boots with or without a toe welt). If you don't anticipate encountering steep ice and want to save some weight, you can also pair the Aequilibrium with an aluminum strap-on crampon like the Petzl Leopard FL, although you will miss out on some of the security that the Irvis' heel clamp offers.

Fit and Sizing
The La Sportiva Aequilibrium Top GTX is a unisex boot that's offered in 21 sizes from EU 38 (6M/7W) to EU 48 (14M/15W). For reference, I'm a women's size 8.5 in most footwear and opted for a size 40. The boot was immediately comfortable but ended up being a bit too narrow when my feet swelled at the end of our longest day of climbing (resulting in immense pain with each step). In the end, I wish I had gone up a half size. When purchasing, be sure to take into account factors like sock thickness and foot swelling.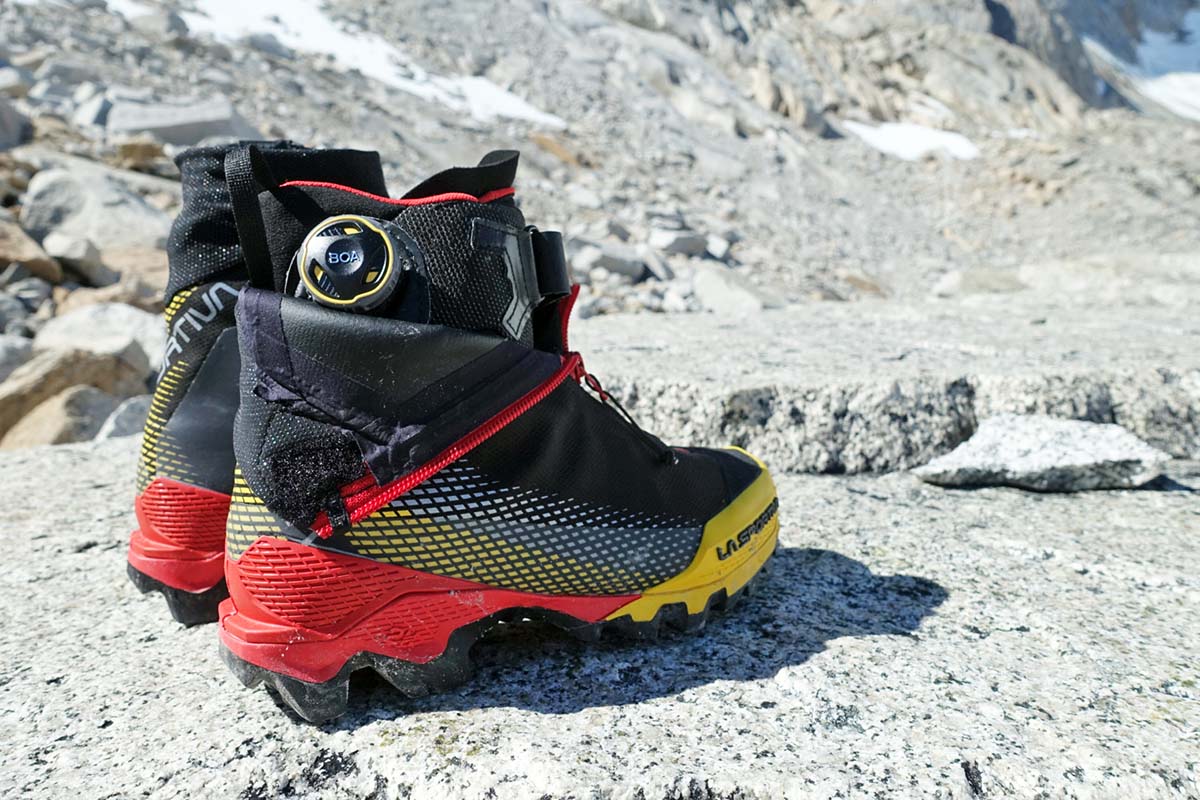 One highlight of the Aequilibrium Top GTX's design is its Boa adjustment, which makes donning and removing the boot incredibly quick and easy. On climbs when you're constantly transitioning between mountaineering boots and rock shoes, this can go a long way toward saving precious minutes. I loved the secure feel of the Boa, which cinched the internal bootie up from the toe to collar and—along with the top Velcro tab—held it very snug against my foot. The Boa stayed secure throughout the day and easily popped open when it was time to take the boot off.

Sustainability
In 2023, the outdoor gear industry is seeing a huge push toward more sustainable practices, including an emphasis on ethical working conditions, the elimination of harmful chemicals, and the use of recycled materials. With that in mind, there's nothing that particularly stands out about the Aequilibrium Top GTX: La Sportiva does not advertise that the boot uses any recycled or repurposed materials, and it's unclear whether or not its waterproofing is up to speed with the most current eco-friendly practices. However, the Italian company does abide by the Outdoor Industry Association's Fair Labor Code of Conduct, which ensures the safe and fair treatment of workers, along with environmentally responsible manufacturing practices. 

Other Versions of the La Sportiva Aequilibrium
For this review, I tested the Aequilibrium Top GTX, but La Sportiva also makes the boot in a few versions without a gaiter and Boa dial. The synthetic Aequilibrium ST GTX tips the scales at 2 pounds 12.4 ounces (just 1.5 oz. lighter than the Top for the pair), comes in both men's and women's versions (the only difference being color and sizes), and is significantly cheaper at $349. The leather Aequilibrium LT GTX ($319) is only slightly heavier than the ST (2 lbs. 13 oz.), more durable than both designs with a leather upper, and—like the ST—comes in a men's and women's version. La Sportiva also plans to release an Aequilibrium Speed GTX in summer 2023, which will feature a similar integrated gaiter and check in at just 2 pounds 5.4 ounces.

What We Like
A lightweight and comfortable boot that offers high performance on everything from trail and talus to moderate snow, ice, and rock.
Integrated gaiter gives you a sleek, snag-free upper that's remarkably resistant to water.
Boa adjustment facilitates a quick transition between boots and climbing shoes and dials in a snug fit from the toe to collar.
For the weight, the boot has proven to be impressively durable (although we do have our concerns about its overall longevity). 

What We Don't
The Boa dial and zipper have inherent durability weaknesses—you certainly wouldn't want these components to fail in remote areas. 
Narrow toe box offers little room for swelling toes (you'll want to consider sizing up).
Despite the rockered and flexible sole and cushioned midsole, these boots will still feel clunky, clammy, and uncomfortable for long approaches on well-maintained trails.
Expensive at $499, especially considering the durability concerns outlined above.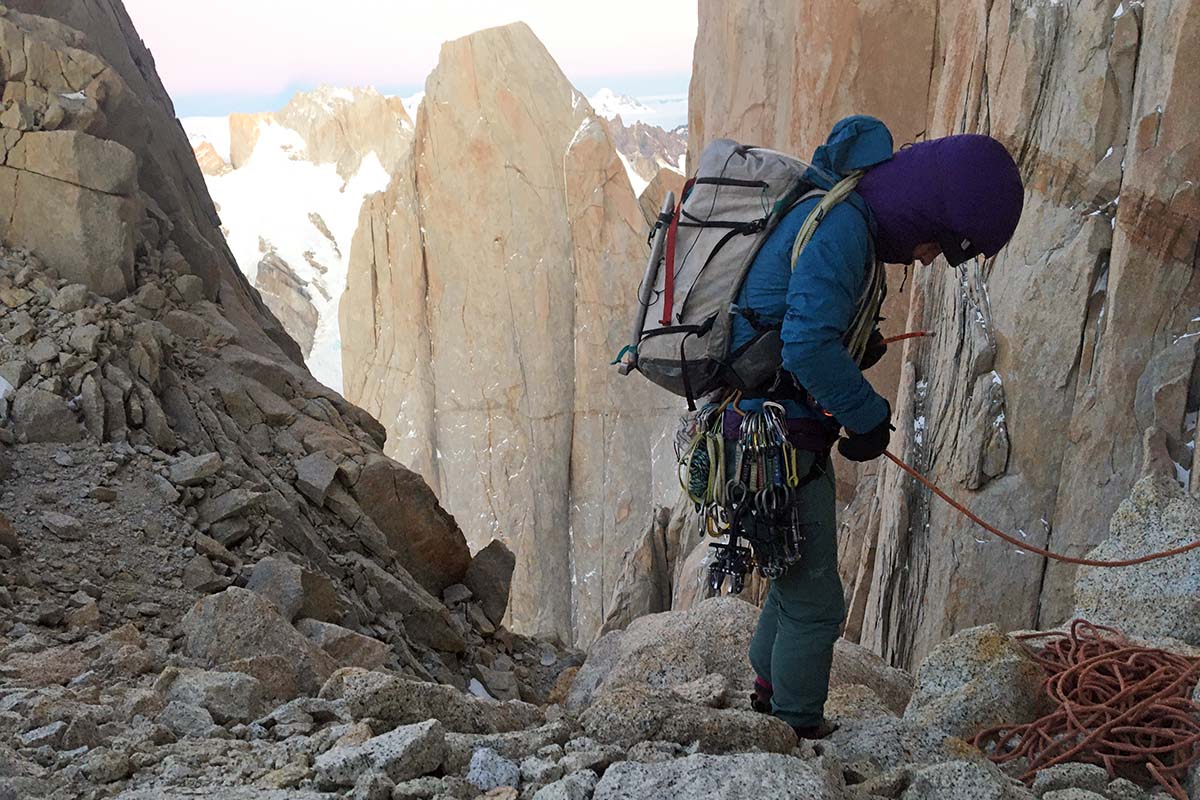 Comparison Table

The Competition
The Aequilibrium Top GTX is the most premium lightweight offering in La Sportiva's lineup, but it does have its downsides: Not only is this mountaineering boot pricey at $499, but it's also a bit of a risky buy given the fragility of the zipper and Boa closure. For this reason, many climbers will instead opt for La Sportiva's Aequilibrium ST ($349) or LT ($319). As mentioned above, these boots offer a similar design to the Top here but forgo the integrated gaiter and use a more standard lace closure. The synthetic version (ST) is slightly lighter and more streamlined, while the leather version (LT) is a bit more affordable and significantly more durable, although the thin leather upper will stretch and shrink when exposed to moisture. Both are fantastic boots and suitable alternatives to the Top, although I must admit: Until the zipper or Boa fail me, I'll be a big fan of their added performance and convenience.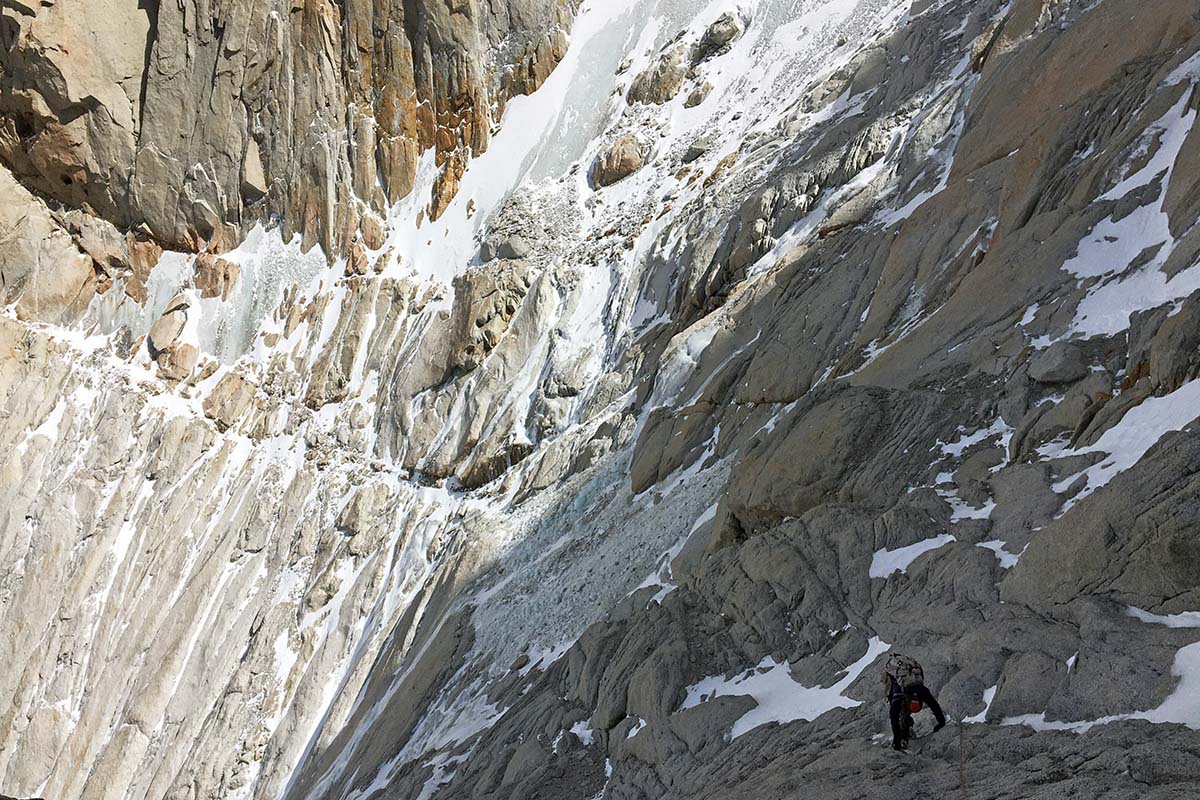 If you want to go even lighter and nimbler, it's worth checking out the La Sportiva Trango Tech GTX. At 2 pounds 11.6 ounces (on my scale, the size 40 Trango Tech weighs more than 6 oz. less than the size 40 Aequilibrium Top), the Trango Tech is the lightest boot in La Sportiva's lineup—at least until it's usurped by the Aequilibrium Speed in the summer of 2023—and is much more affordable than the Top at $299. We tested the Trango Tech GTX while rock climbing in Alaska's Little Switzerland and found that it offered a nice mix of comfort and climbing performance but was easily overwhelmed by moisture and suffered in terms of durability. After a 10-day trip, my boots were pretty shredded and no longer waterproof. In my estimation, the Aequilibrium is a much better design that makes the Trango Tech nearly obsolete.
For comparison's sake, let's take a look at the La Sportiva Nepal Cube GTX ($649). We hear many gripes about lightweight mountaineering boots like the Aequilibrium Top being too cold or not waterproof enough in snow, when the reality is they're not the best boot for sustained snow travel. If you're planning on climbing a Cascades volcano, venturing out in early-spring conditions in the Rockies, or front-pointing on anything, you might want the added protection and capabilities of a four-season boot. The Nepal Cube adds extra warmth by way of an insulated upper and insole, features a full shank and toe welt for more stability in a crampon, and offers much more durability by way of a leather upper with few breakable parts. The tradeoff to a four-season design is compromised walkability and performance on technical rock (the Nepal Cube has a stiff, brick-like feel), a lot of weight and bulk (you won't want to carry these boots in your backpack), and price.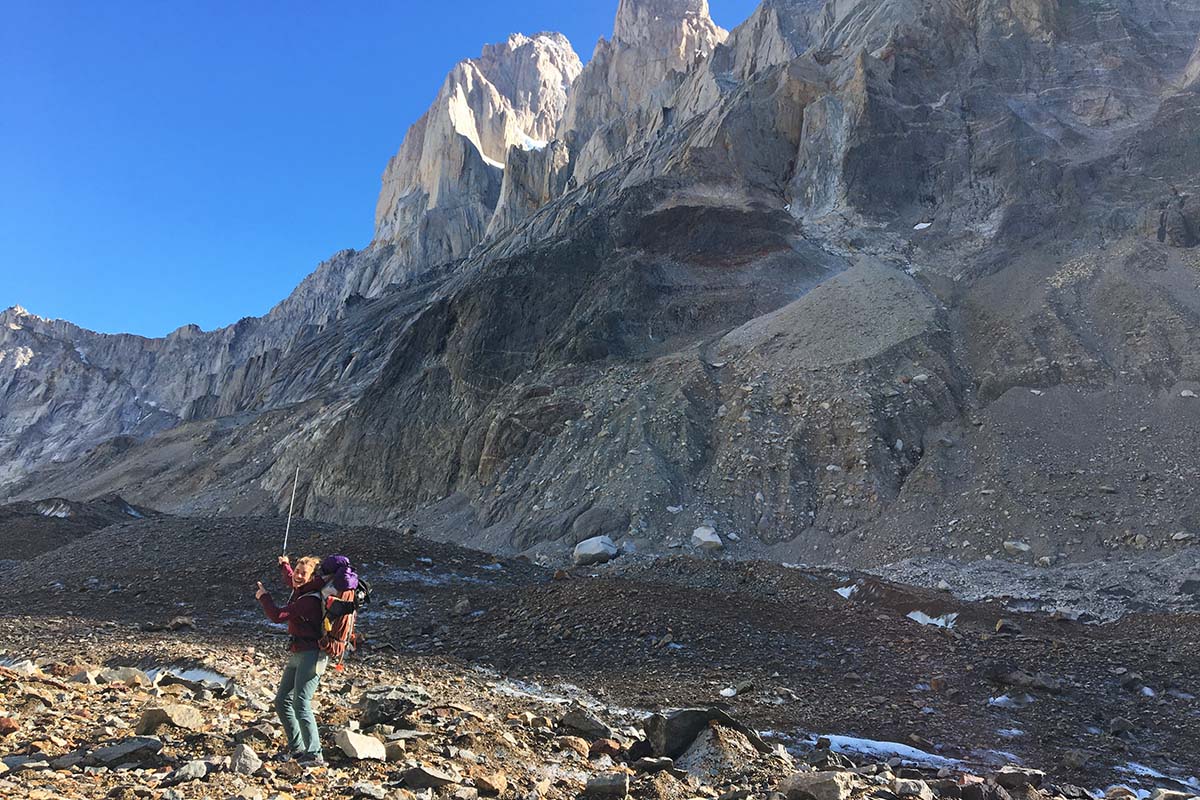 Year after year, one of the most popular three-season designs is Scarpa's Charmoz HD. Scarpa's mountaineering boot collection goes head-to-head with that of La Sportiva, and the Charmoz is their alternative to the Aequilibrium. Compared to the Aquilbrium's trio of offerings, the Charmoz comes in just one design—a synthetic boot that checks in at 3 pounds 6.3 ounces. Climbers with wide feet often prefer Scarpa's more accommodating footwear, and it helps that the Charmoz comes in both men's and women's versions. That said, the boot is $50 more than the Aequilibrium ST, uses in-house waterproofing rather than Gore-Tex, and is the heavier option. The Aequilibrium design is tough to beat, but if you're looking for a different fit or feel, the Charmoz HD is worth a closer look.
Finally, Scarpa's Ribelle HD will appeal to climbers looking for a capable mountaineering boot that's comfortable on the trail. Similar to the Aequilbrium's design, the Ribelle HD features a rockered profile under the ball of the foot for increased walkability. But the rest of the boot is finely tuned for the mountains, with a decently stable platform, durable suede upper, and heel welt for semi-automatic crampon compatibility. The Ribelle HD is again heavier and pricier than the Aequilibrium ST and LT, and the sole is a lot less aggressive for snow and scree travel, but it's a modernized alternative for those considering the Charmoz above. Scarpa also offers the synthetic Ribelle Lite HD ($389) and the Ribelle Tech 2.0 HD, an intriguing choice for fast-and-light objectives with a low weight (2 lbs. 12.4 oz.) and streamlined, sock-like design.
If you're thinking about buying gear that we've reviewed on Switchback Travel, you can help support us in the process. Just click on any of the seller links above, and if you make a purchase, we receive a small percentage of the transaction. The cost of the product is the same to you but this helps us continue to test and write about outdoor gear. Thanks and we appreciate your support!
Depending on the seller, most products ship free in the United States on orders of $50 or more. International shipping availability and rates vary by seller. The pricing information on this page is updated hourly but we are not responsible for inaccuracies.
Read More From Switchback Travel