Black Diamond Mega Light
Price: $320
Weight: 2 lb. 5 oz.
Floor area: 50.7 sq. ft.
Capacity: 4P
What we like: A multi-use shelter that performs especially well for snow camping.
What we don't: Floorless design isn't ideal in inclement weather; heavier than the competition.
See the Black Diamond Mega Light
On first glance, it's easy to see that the Black Diamond Mega Light isn't a traditional backpacking tent. With no floor and a remarkably minimalist design, the Mega Light can serve as a spacious common area, emergency four-person shelter, or ultralight tent for thru-hiking. We took the versatile shelter into the wild and rugged Alaska Range, where it served as our camp kitchen and hang-out area while basecamping on a glacier. The floorless design is far less weather-worthy than many other tents on the market, but the roomy interior and stable shape made the Mega Light a great supplemental structure at camp—especially in the snow. Below we break down the Mega Light's weight, livability and interior space, durability, weather protection, and more. To see how it stacks up, see our articles on the best backpacking tents and 4-season tents.

Performance
Weight
Among an ever-growing field of ultralight tents and shelters, the Black Diamond Mega Light hits the trail at a competitive 2 pounds 10.2 ounces on our scale (the listed weight is 2 pounds 13 ounces). This includes the single-wall shelter (1 pound 10.4 ounces), carbon fiber pole (11.6 ounces), and stakes (4.2 ounces). However, there are a couple ways to shave weight. First, you can forego the pole and instead use your trekking poles (set end-to-end with the included "Pole Link Converter"), which brings the kit down to just under 2 pounds. More serious ounce-counters might consider leaving behind poles entirely, using the sewn-in loop at the top of the tent to attach it to an overhead branch (terrain permitting). Set up this way, the shelter is a feathery 1 pound 14.6 ounces.
Despite its reasonably low weight, the Mega Light still falls on the heavy end of the spectrum when compared to other floorless pyramid designs. The Nemo Apollo 3P—similar in size and design to the Mega Light but marketed as a bikepacking tent—has an impressive minimum weight of just 1 pound 7 ounces, and Hyperlite Mountain Gear's UltaMid 2 is also lighter at 1 pound 7.6 ounces (including pole straps and stakes, which are sold separately). That said, both of these tents make notable sacrifices over the Mega Light: specifically, the Nemo is less durable and the UltaMid is very pricey at $769 all-in. All told, the Mega Light manages a nice balance among weight, durability, and affordability.
However, if you plan to use the Mega Light primarily for sleeping, we think there are a number of better (and lighter) alternatives. For example, Hyperlite's new Dirigo 2 and Gossamer Gear's The Two are both sub-2-pound shelters that can accommodate two campers plus gear much more comfortably with built-in bathtub floors, bug screens, and vestibules. Both compromise on interior space with lower peak heights and smaller floor areas, but that's a reasonable tradeoff for those seeking a lightweight tent for sleeping. That said, if you're considering utilizing the Mega Light as an additional structure at camp like we did (or even as a winter camping tent with well-built snow walls), we think it's a perfectly viable option.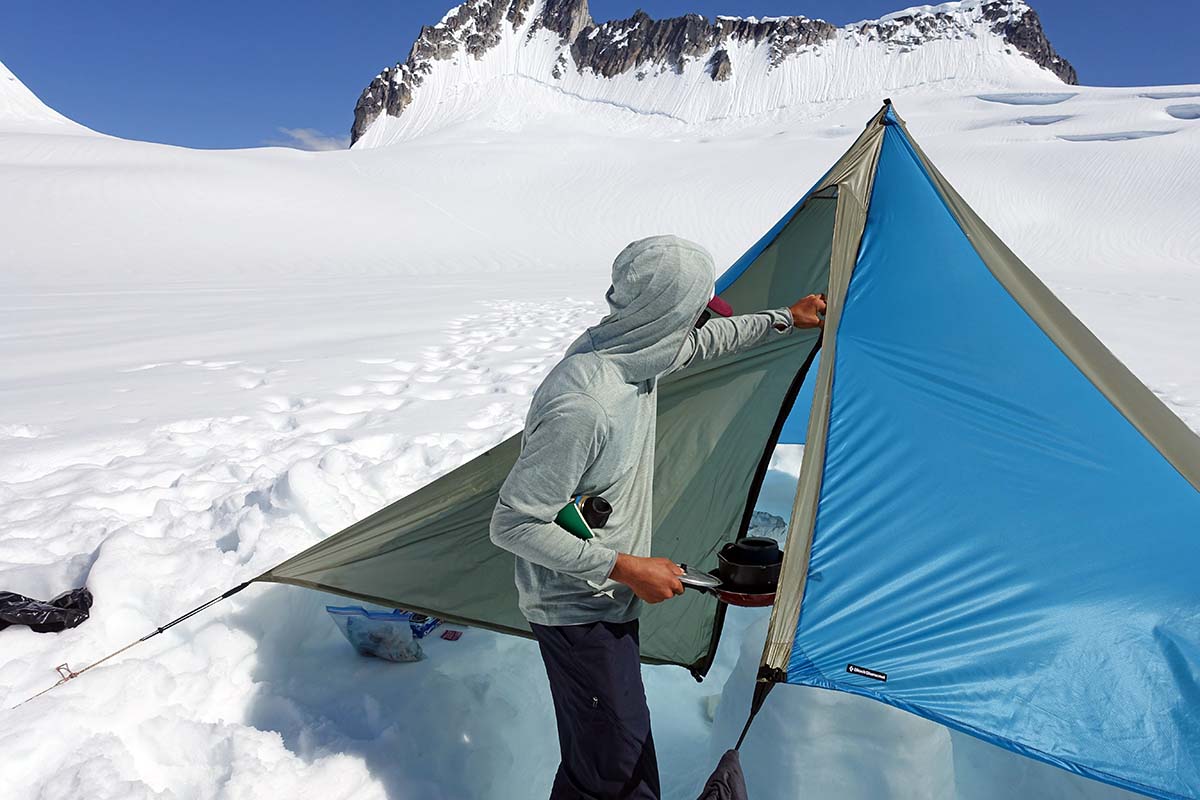 Livability and Interior Space
Black Diamond estimates the Mega Light's usable floor space and peak height at a generous 50.7 square feet and 57 inches respectively (this will differ slightly depending on set-up and height of the center pole). In comparison, Hyperlite's UltaMid 2 gets a small boost at 63 square feet and 64 inches of height. In other words, you get more livable space for less weight (although the increase in cost is significant). Other floorless shelters, including the two-person MSR Twin Sisters and Black Diamond's own Beta Light—the Mega Light's smaller sibling—feature significantly less headroom and smaller overall floorplans (45 and 34.7 square feet respectively). All in all, the $320 Mega Light is a great value for the amount of space you get.
Given its roomy interior, the Black Diamond Mega Light can accommodate up to four campers, but we think it works best as a supplemental common area or camp kitchen. We found the shelter performed especially well in the snow—the floorless design allowed us to dig out seats and a floor, with a "table" in the middle for the pole to rest on. With this configuration, we were able to stand up inside the shelter and could have realistically fit up to six people. On surfaces like dirt or granite, the tent's livable space is less impressive, but it should still function nicely for uses like gear storage or a shade structure during the day.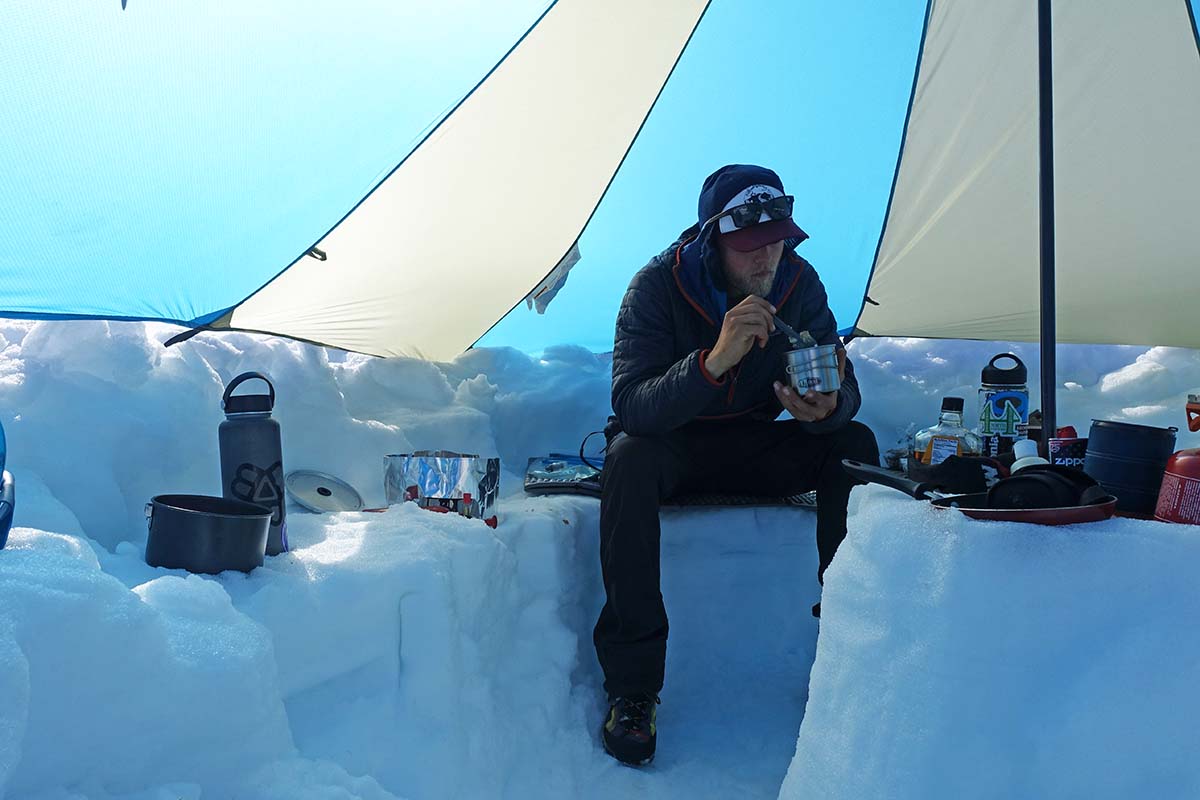 Build Quality and Durability
Like many ultralight shelters, the Black Diamond Mega Light uses thinner materials to keep weight low. With a 30-denier (D) silnylon construction, it falls definitively on the thin end of the backpacking tent spectrum. However, it's important to keep in mind that the Mega Light is floorless, which eliminates the area most prone to wear and tear. For comparison, similar designs like the Nemo Apollo use even thinner 15D nylon, while MSR's Twin Sisters and Beta Light are the same at 30D. By utilizing super-durable Dyneema Composite Fabrics (0.8 oz./sqyd), Hyperlite's UltaMid is a standout in this category, but the shelter is over double the cost of the Mega Light. Thus far, the Mega Light is holding up well with no visible signs of wear.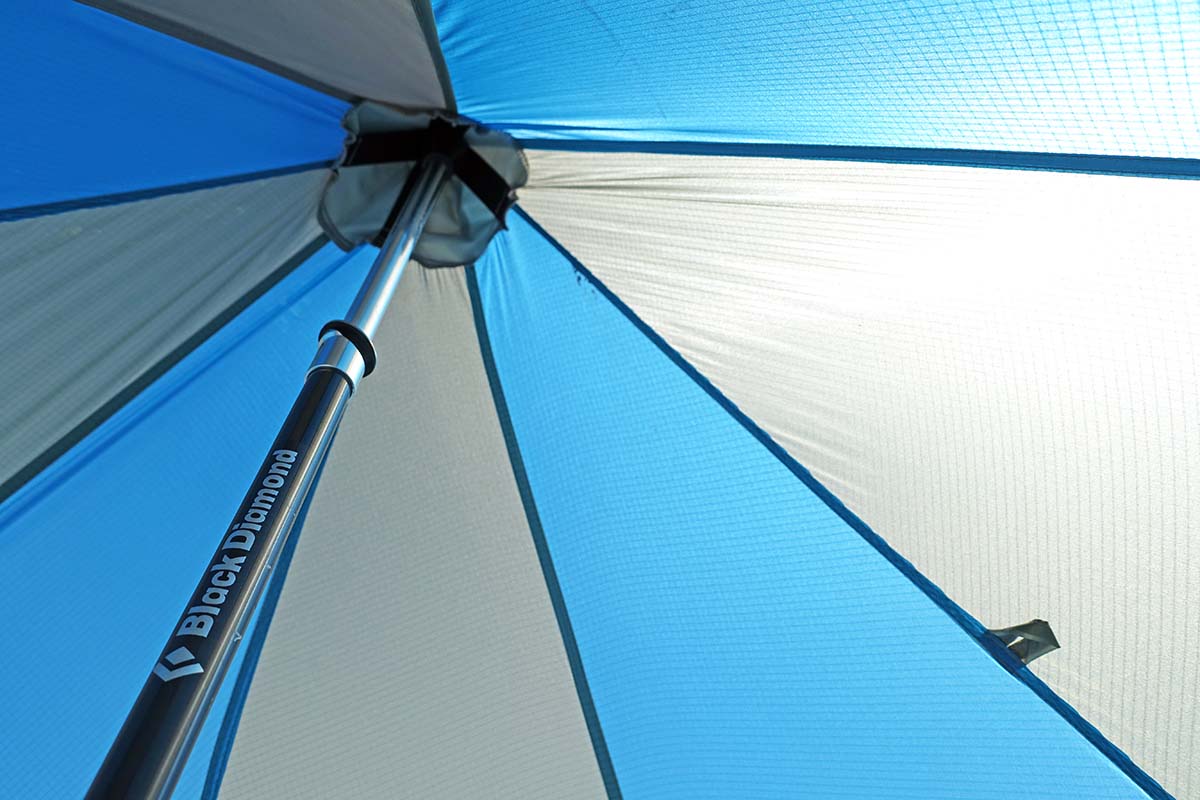 While at our basecamp in the Alaska Range, the Black Diamond Mega Light impressed us with its robust and confidence-inspiring design details. All guy-out points (including the corners and areas halfway between) are heavily reinforced with extra fabric and stitching, and the apex of the pyramid has crisscrossed webbing that helps absorb the pressure of the center pole. Further, the buckles at the door's base effectively help remove tension from the opening, and the zipper is much tougher than expected for an ultralight tent (comparatively, we broke the fragile zipper on our Hyperlite UltaMid during our second night of testing). Given its performance so far, we're confident the Mega Light will continue to withstand regular use and abuse.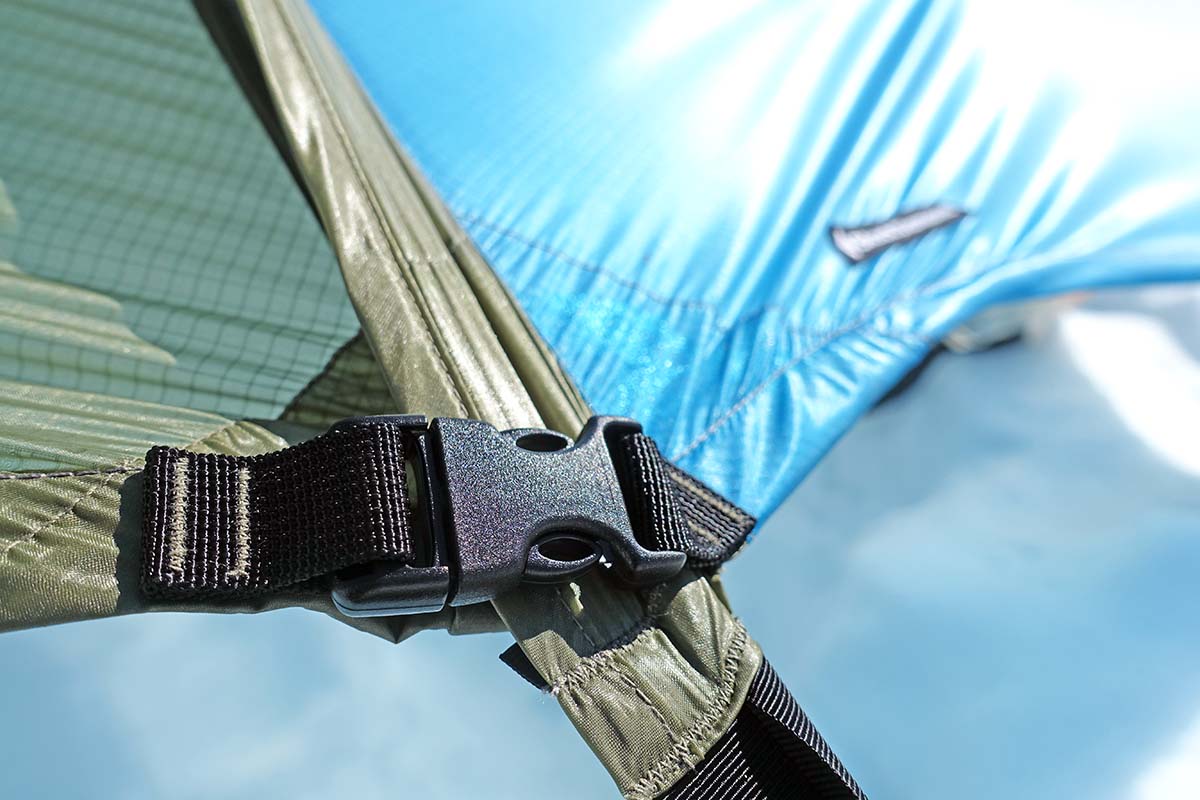 Weather Protection
Put simply, the floorless Mega Light wouldn't be our first pick in inclement weather. The good news is that the tent is constructed with a waterproof 30-denier silnylon that nicely beads moisture, and the zipper has a dual flap to seal out wet weather. In soaking rains on the glacier, the Mega Light adeptly kept out moisture from above. That said, keep in mind that it does not come seal-sealed, meaning you'll need to buy a separate sealant and complete the process yourself for the best performance (we foolishly forgot to do so, but experienced no leakage even during a 12-hour rainstorm).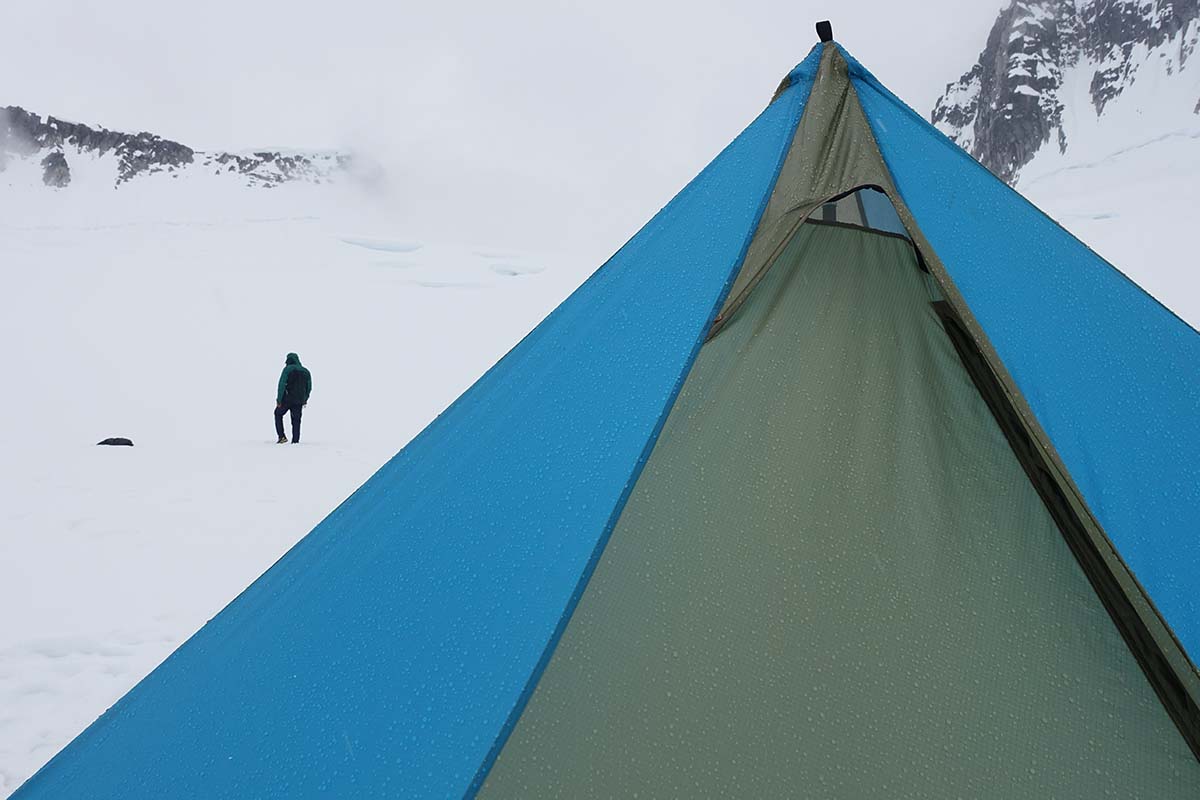 In terms of set-up, you can erect the Mega Light so that it sits low to the ground and prevents splashes from entering from below—but there's simply no substitute for a bathtub floor. While camping in a similar floorless shelter in the Grand Canyon this spring, water pooled at the ground level and flooded our sleeping area (even despite the trenches we dug around the perimeter). Alternatively, Black Diamond sells a compatible mesh inner tent with a bathtub floor separately (called the Mega Bug), which boosts the shelter's weather-worthiness. But at 3 pounds 6 ounces and an additional $320, we find it hard to justify. In the end, given the tent's floorless design, we simply don't recommend it for use as a primary shelter in especially wet environments.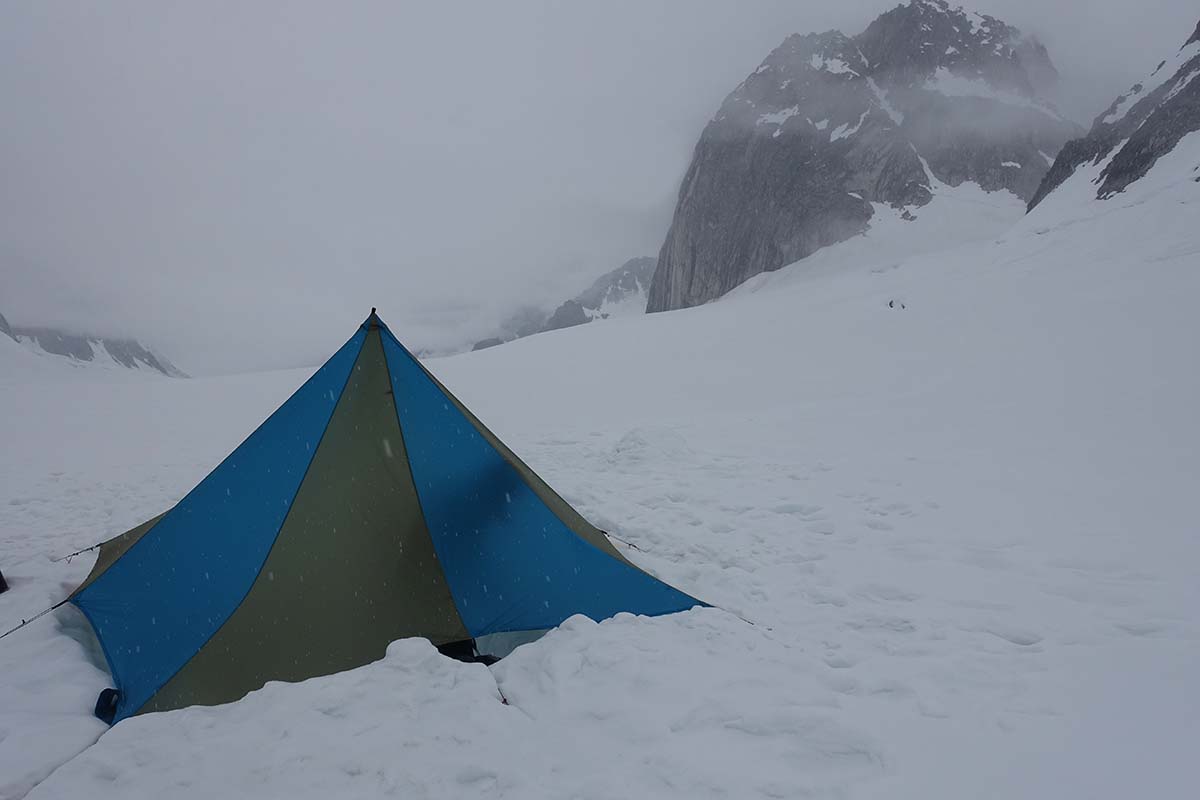 While the Mega Light isn't the best wet-weather companion, it does a fine job in strong wind. When set up taut, we've seen the shelter brave some pretty serious storms in both Patagonia and Alaska—two places notorious for their brutal and unpredictable conditions (keep in mind that the tent will perform best using the single carbon fiber pole instead of two trekking poles—one single unit will hold up much better than two held together with a weak point in the middle). All that said, the Mega Light's floorless design will still allow wind to flow through at the base. If you plan to camp in gusty conditions, a freestanding tent or even an ultralight shelter with a built-in bathtub floor (like Hyperlite's Dirigo 2) will be much more reliable.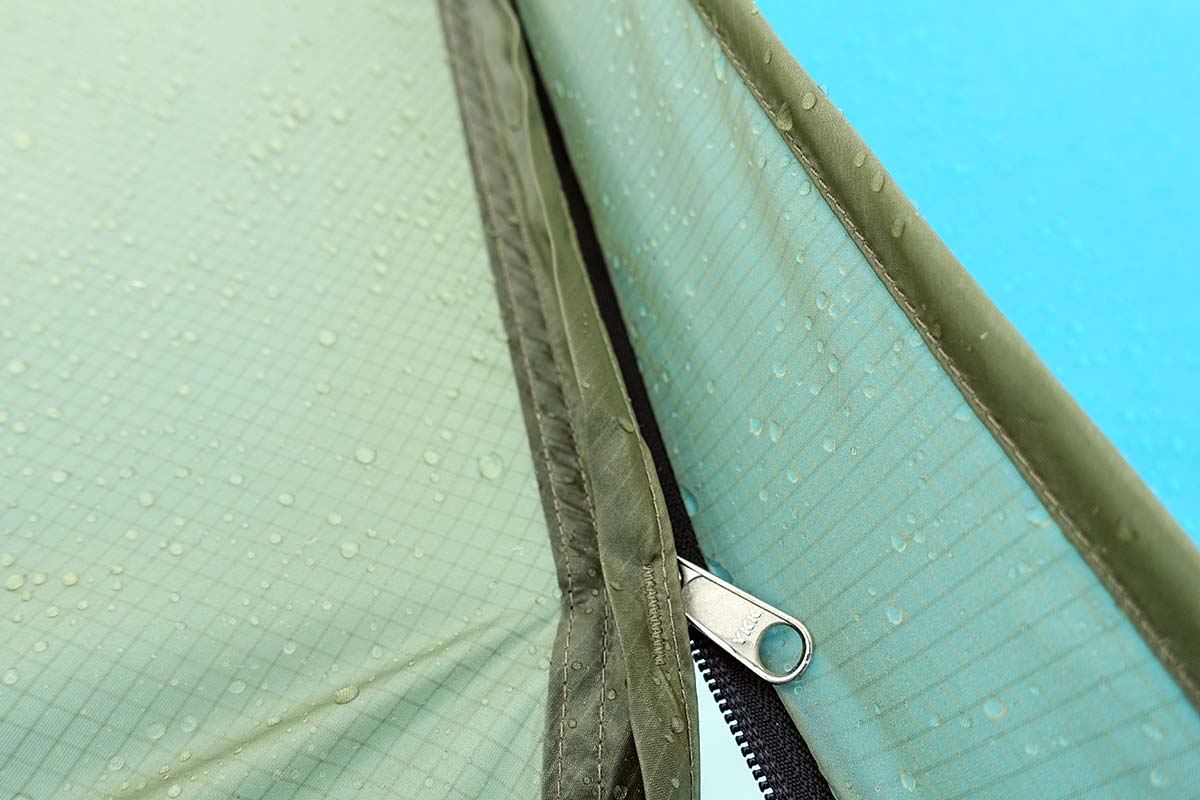 Ventilation
Given its lack of floor, the Black Diamond Mega Light is one of the best-venting backpacking tents we've ever tested. Put simply, you'll have ample airflow regardless of where you set up camp and how many people huddle inside. On our trip to the Alaska Range, this was especially handy for cooking. Not only was air able to escape and flow through the bottom of the tent, but the Mega Light also has a generous vent at the top that provided a great exit point for rising steam. Both sides of the door can also be cinched to the side to create an open, airy structure in good weather. It's important to note that Black Diamond advises against cooking inside any of its shelters, and you should always exercise caution if you do. However, we were able to safety cook all our meals inside the Mega Light without the risk of gas buildup, and the high ceiling significantly reduced the risk of burning the fabric.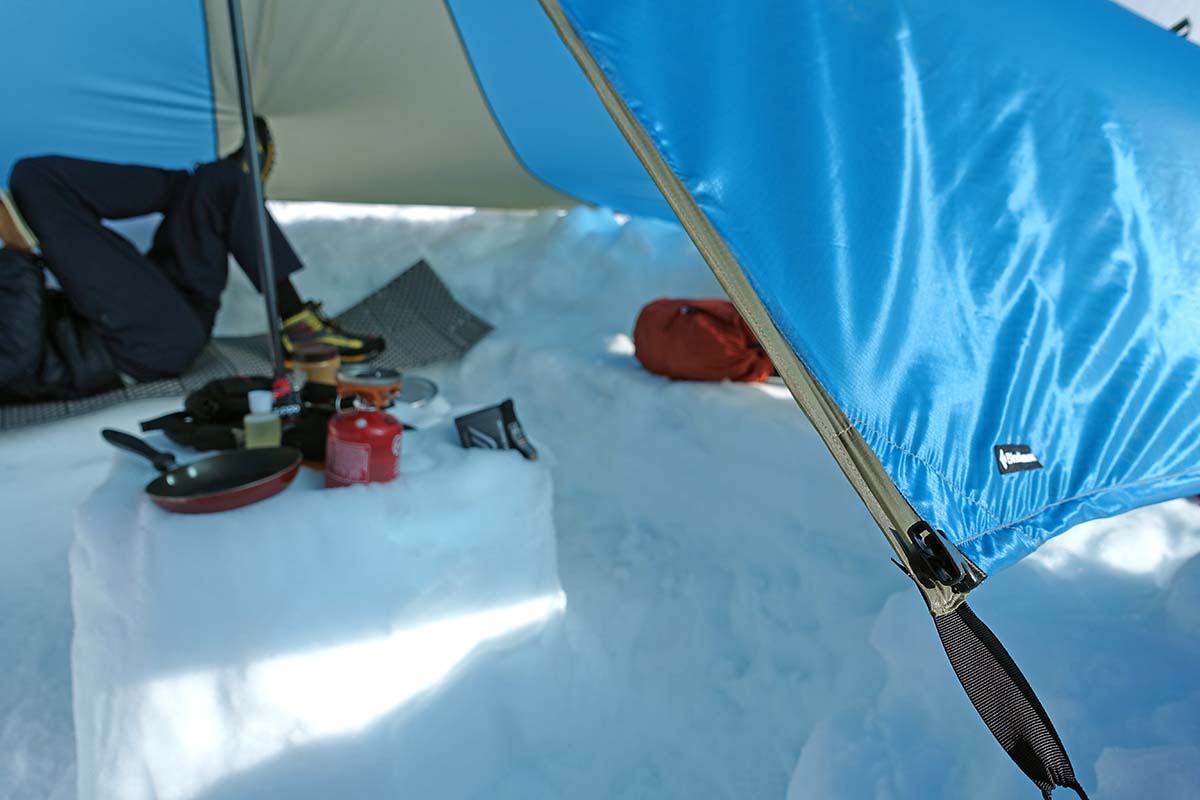 Storage
Because of its ultralight focus, the Black Diamond Mega Light lacks internal organization altogether, including pockets. However, Black Diamond did include a few tie-in points along the inside, which can be great for drying out your gear—simply string cord between the loops and hang your clothes overhead. All told, for those who plan to use the Mega Light as an additional camp structure rather than a primary tent for sleeping, the lack of organization and storage options shouldn't be a major issue.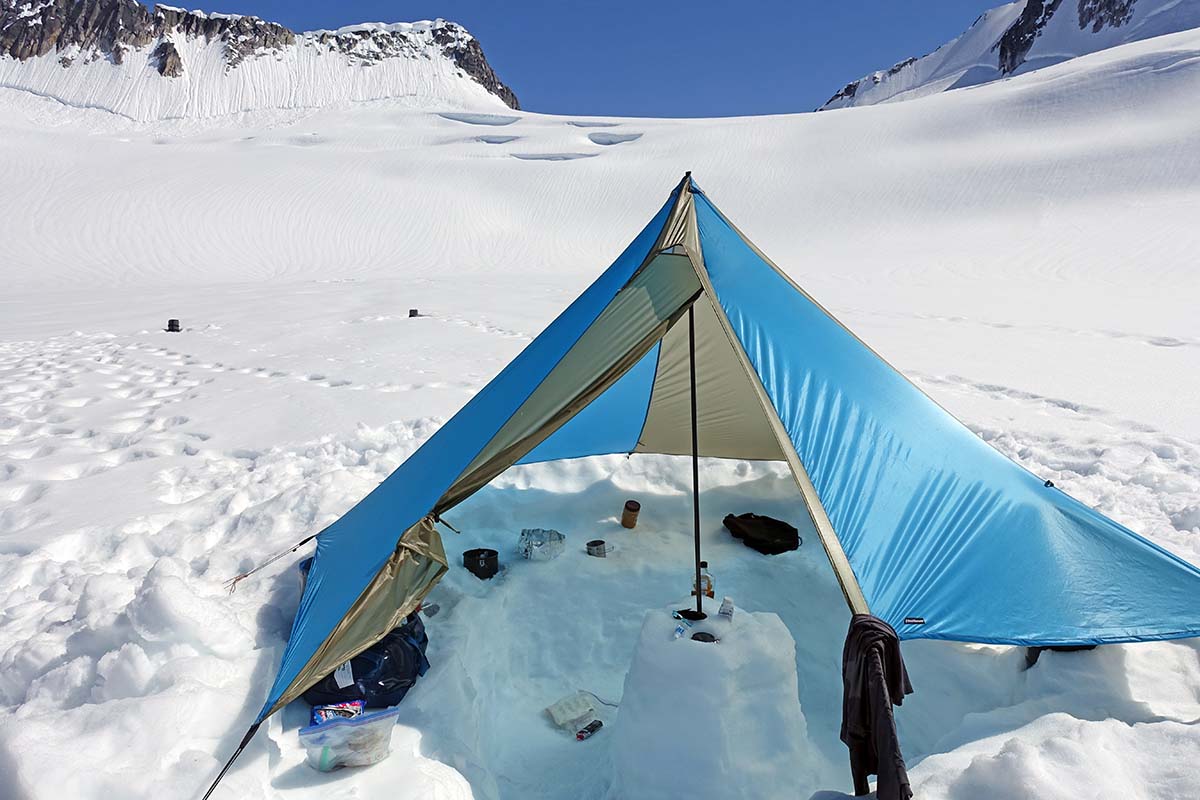 Packed Size
At 5 x 10 inches, the Mega Light packs down into an impressively compact package—and it can compress much smaller than its accompanying stuff sack as well. If you opt for the carbon fiber pole instead of trekking poles, you'll need to account for its added size (19.5 x 2 inches when folded into four pieces). For comparison, the much lighter Hyperlite UltaMid 2 packs down to a comparable 6 x 8.5 inches. However, although lightweight, the UltaMid's Dyneema build is bulkier than nylon and the Hyperlite tent fills every bit of its stuff sack. All in all, finding space was never issue when loading up the Mega Light.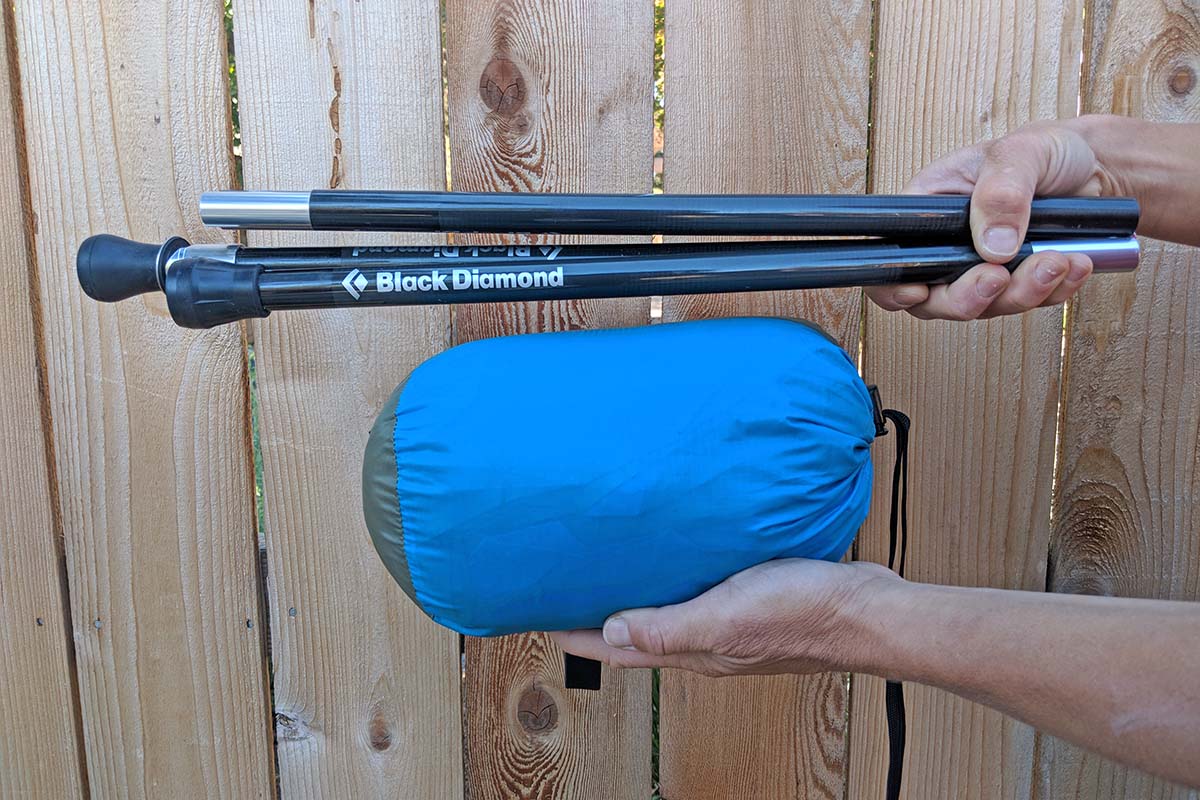 Set up and Take Down
Given its non-freestanding design, it can require some creativity to set up the Mega Light on tricky terrain. Most importantly, you'll need four sturdy anchors (one on each corner) and a solid patch of ground to balance the center pole. The stakes will perform well on most surfaces, but if the ground is too sandy or rocky for them to stay put, you can instead affix guylines to rocks, trees, or other features (and we always recommend guying out the walls in between each corner for added stability). In the deep snow we encountered in Alaska, we simply dug down about a foot near each corner and buried snow anchors.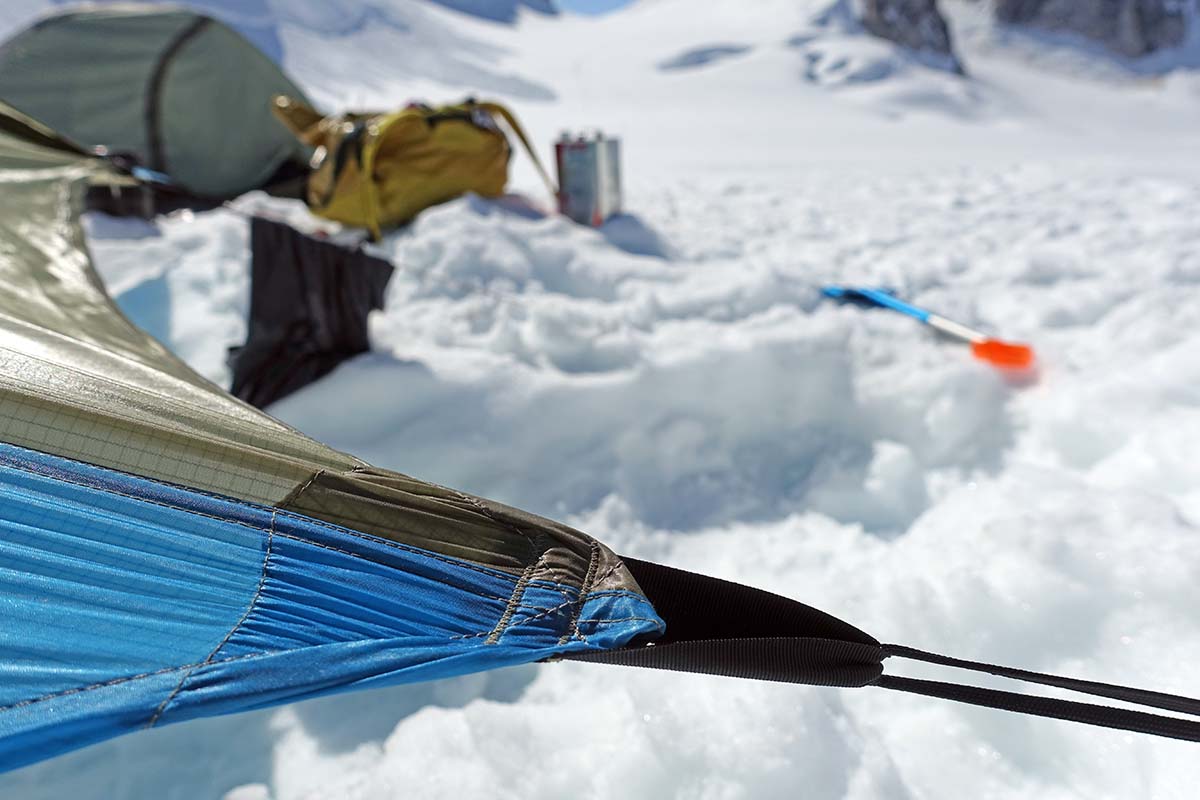 While not nearly as intuitive or quick to pitch as a freestanding tent, the Black Diamond Mega Light is nevertheless straightforward after some practice. We found it easiest to first compress the pole to its lowest setting. Next, we guyed out each corner at a clean 90-degree angle, opened the door to place the pole at the tent's peak, and then adjusted the pole's height to fully tension all of the walls. Once taut, the Mega Light was surprisingly stable. We left it set up at our glacial basecamp for a full week and, aside from occasional tightening at the corners and lengthening of the center pole due to snowmelt, the shelter required minimal adjustment.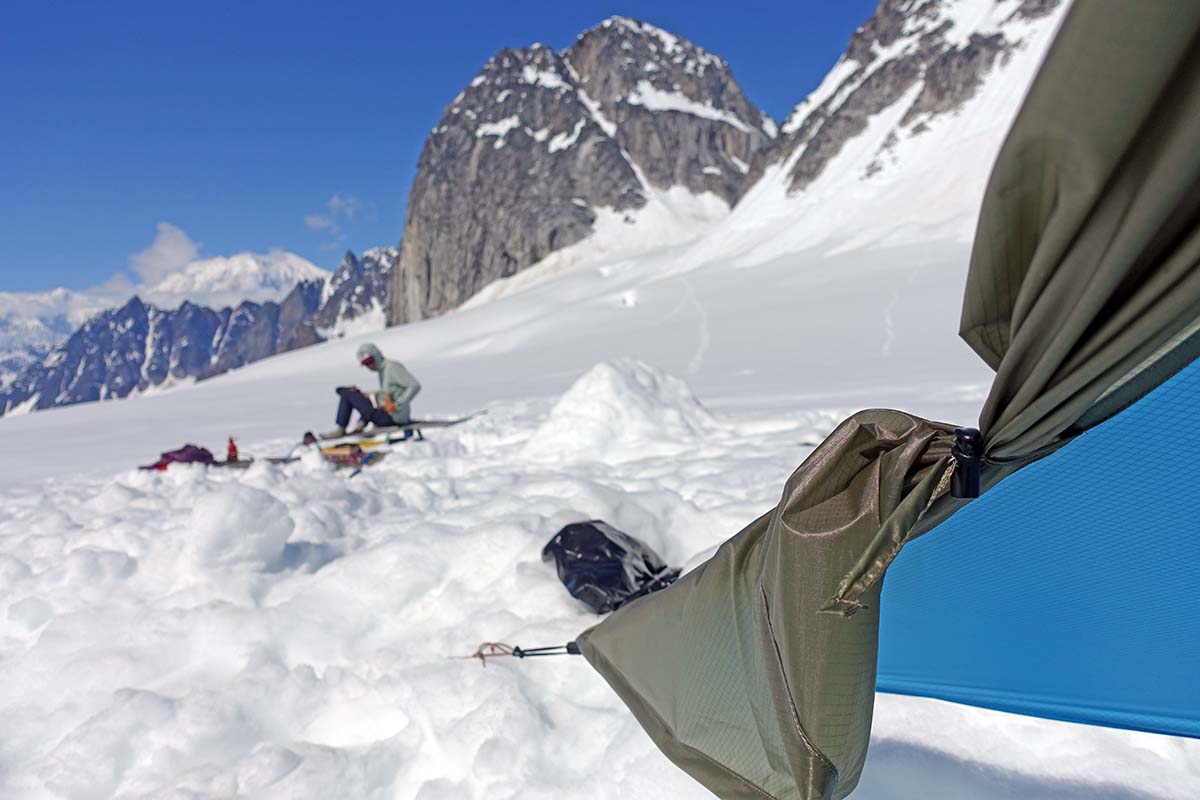 What We Like
A versatile shelter that sleeps two campers plus gear, accommodates four in a pinch, or serves as a functional kitchen (our preferred use) or other additional structure at camp.
Carbon fiber pole and pyramid design perform well in strong winds.
Thoughtful details including a beefy zipper, reinforced guy-out points, and a buckle at the base of the door help boost durability significantly.

What We Don't
The floorless design isn't for everyone. You'll make big sacrifices in weather and bug protection, privacy, and comfort.
Despite its ultralight focus, the Mega Light is heavier than similar floorless structures. 
Seams don't come taped, meaning you'll have to purchase a separate seam-sealant and complete the process yourself.
Unlike with freestanding tents, it might take some time to master the set-up process.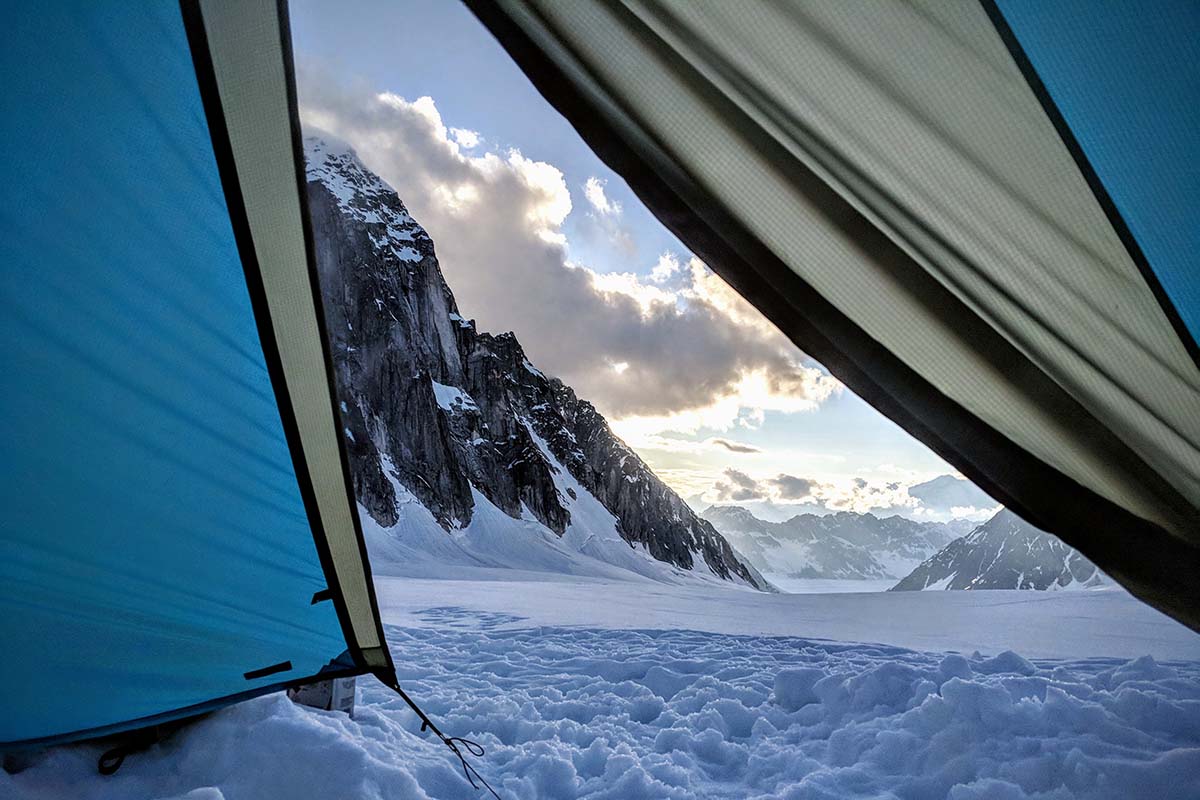 Comparison Table

The Competition
The Black Diamond Mega Light lands in a highly competitive and ever-growing field of ultralight shelters that run the gamut from floorless pyramids to fully enclosed, all-in-one designs. On the minimalist end of the spectrum, tents like the floorless Hyperlite UltaMid 2 and Nemo Apollo 3P share the same general design of the Mega Light. However, both make notable sacrifices worth calling out. The UltaMid, for example, uses ultra-durable and lightweight Dyneema Composite Fabrics to shave weight, clocking in at an impressively low 1 pound 2.7 ounces without stakes or poles. That said, it also costs a whopping $715 before these accessories. The Nemo Apollo, on the other hand, achieves its 1-pound-7-ounce weight with a 15-denier fabric (compared to the Mega Light's 30D). A final decision should come down to how strict your budget is and how much weight you're willing to shoulder.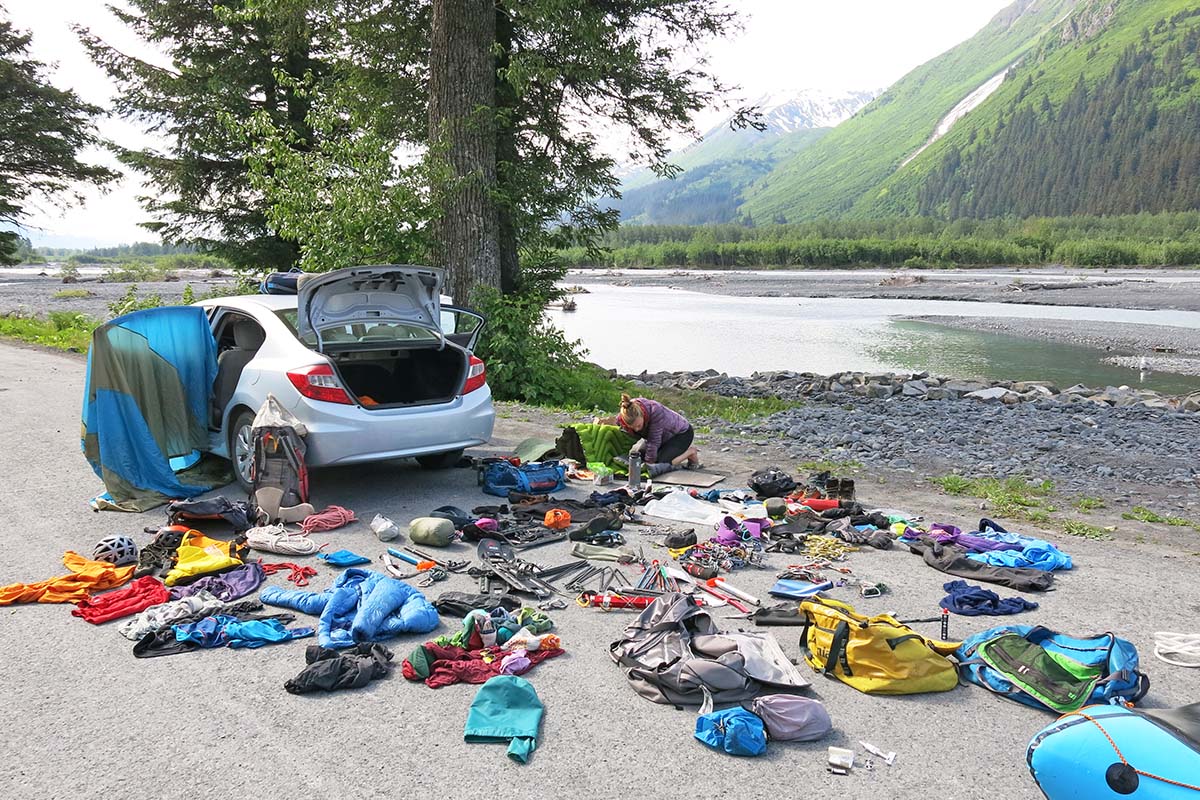 For those who want more protection than the floorless models above, Hyperlite's new Dirigo 2 is an intriguing alternative. At 1 pound 12 ounces before stakes, you get a fully waterproof, two-person tent with two doors, two vestibules, interior mesh walls, and a super-durable Dyneema construction. Compared to the Mega Light, the Dirigo offers a major bump in protection and weather-worthiness at a weight savings of just over 1 pound. That said, the Dirigo makes big sacrifices in peak height, floor area, breathability, and—most notably—cost. But if your budget allows, the $795 Dirigo is simply hard to beat and makes far fewer compromises as a traditional tent for sleeping.
Two final ultralight floorless options to consider are MSR's Twin Sisters and Black Diamond's own Beta Light. For 2 pounds, the Twin Sisters features a generous 45-square-foot floor area and 46-inch height, plus a door at each end. But in our opinion, the biggest selling point of the Twin Sisters is its snow skirt, which allows you to seal out the elements without the weight of a bathtub floor (although this comes at the cost of breathability). Alternatively, Black Diamond's Beta Light—a step down in size from the Mega Light—offers a similar design at a lighter weight (1 pound 3 ounces) with less interior space and a much lower price tag ($220 vs. the MSR's $400). But with only one door and no snow skirt, you don't get the same convenience or weather protection as the Twin Sisters. If weight is a top concern, we'd go with the lighter MSR or Beta Light. Otherwise, the $320 Mega Light lands in a nice middle ground and has the roomiest interior of the bunch, giving it the edge for us.
If you're thinking about buying gear that we've reviewed on Switchback Travel, you can help support us in the process. Just click on any of the seller links above, and if you make a purchase, we receive a small percentage of the transaction. The cost of the product is the same to you but this helps us continue to test and write about outdoor gear. Thanks and we appreciate your support!
Depending on the seller, most products ship free in the United States on orders of $50 or more. International shipping availability and rates vary by seller. The pricing information on this page is updated hourly but we are not responsible for inaccuracies.
Read More From Switchback Travel