Tent manufacturers constantly are pushing the limits of weight and weather protection, and 4-season tents designed to withstand harsh conditions tend to fall on the heavy side of the spectrum. Yet MSR essentially created a new category with their Access series, designed specifically for "treeline" winter camping and with backcountry touring in mind. With the three-person version coming in at a feathery 4 pounds 6 ounces, the tent had us excited but with slight trepidations. What we found after several backcountry ski trips in the Whistler backcountry and our local North Shore Mountains is that the Access serves as an excellent winter base camp and punches well above its weight class. Below we break down the MSR Access's weight, weather protection, ventilation, interior space and storage, build quality, and more. To see how the Access stacks up, see our article on the best 4-season tents.
 
Weight
Weight (or lack thereof) is one of the distinguishing features of the MSR Access, meriting discussion at the top of this review. Our three-person MSR Access came in at 4 pounds 6 ounces (the two-person weighs 3 pounds 10 ounces). This is considerably lighter than the minimum weight of other double-wall, basecamp-style tents like The North Face Mountain 25 (8 pounds 13 ounces) and MSR Remote 2 (6 pounds 8 ounces), despite those models having less room. Though we typically sleep only two in our tent, we opted for the roomier Access 3 so that we could comfortably winter camp with our large dog.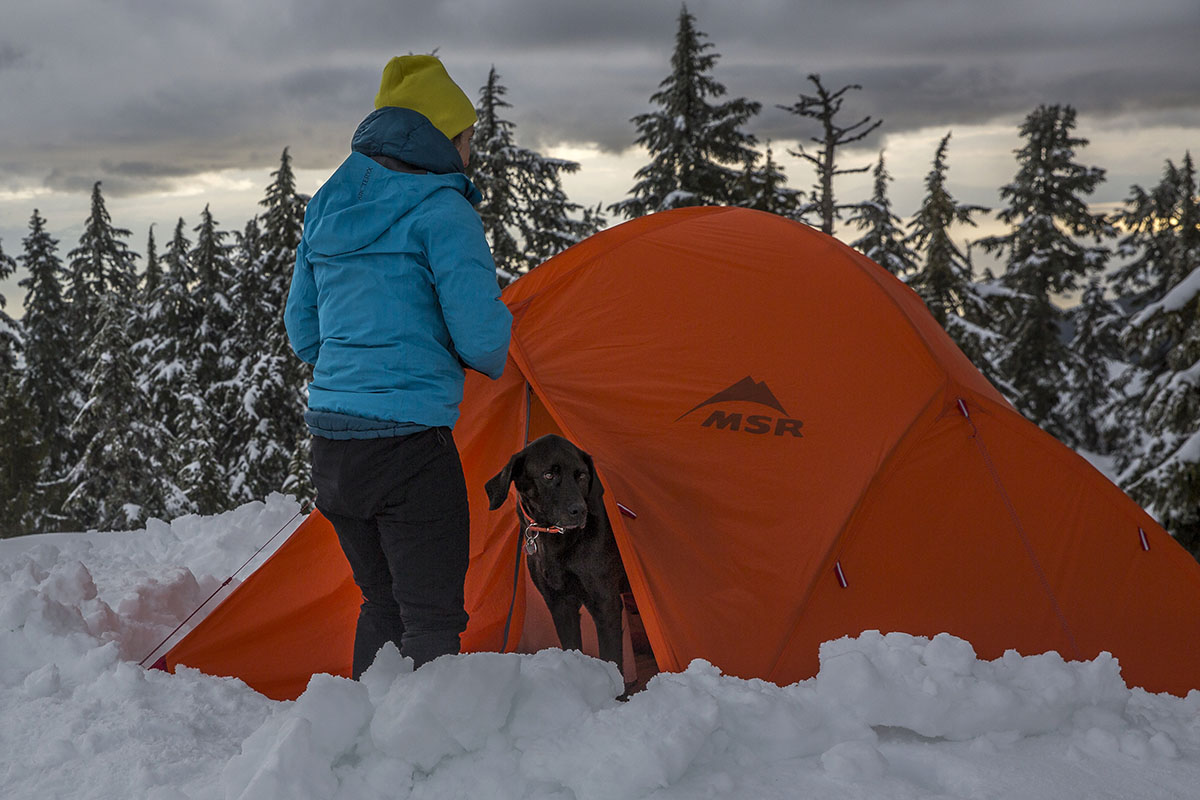 To be sure, there are design sacrifices in achieving this low weight. Both the tent and rainfly use a relatively thin 20-denier nylon ripstop, while the floor is 30 denier. For comparison, The North Face Mountain 25 has a 40-denier canopy and rainfly, and a much burlier 70-denier floor. In addition, the rainfly coverage of the Access doesn't quite extend fully to the ground and the Easton Syclone poles are quite flexible. All that being said, the Access hits a really nice balance for those who want comfort and adequate protection for most winter ski trips without the heft of a true mountaineering tent. Despite many tent options in our gear closet, we are bringing the Access on two lengthy treks in the high Andes of Peru.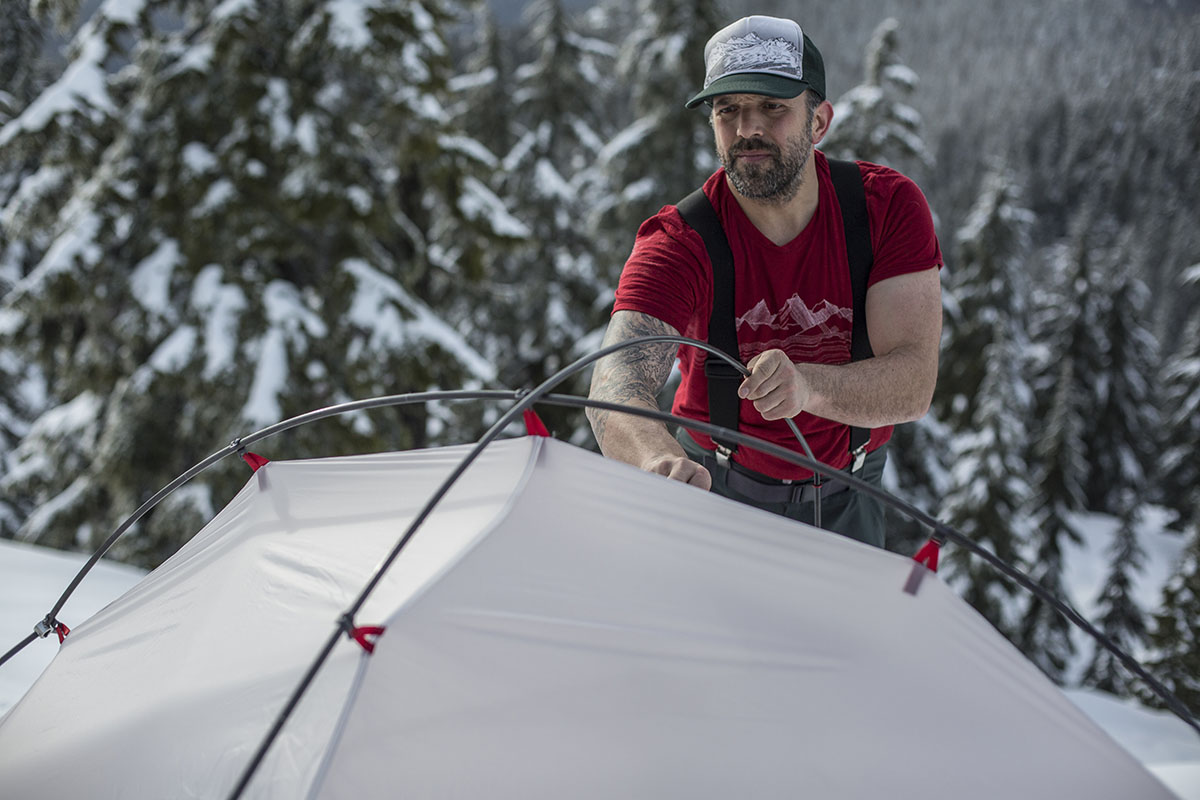 Performance
Weather Protection
We've used the MSR Access for several snowy backcountry expeditions, the first of which was at treeline. MSR has made it clear that the Access is designed for treeline pitches rather than the alpine (from our test of MSR's Remote 2, it's the more suitable option for mountaineering). Other than the first trip however, the remainder of our outings were in the alpine and the Access performed as we expect a 4-season tent would.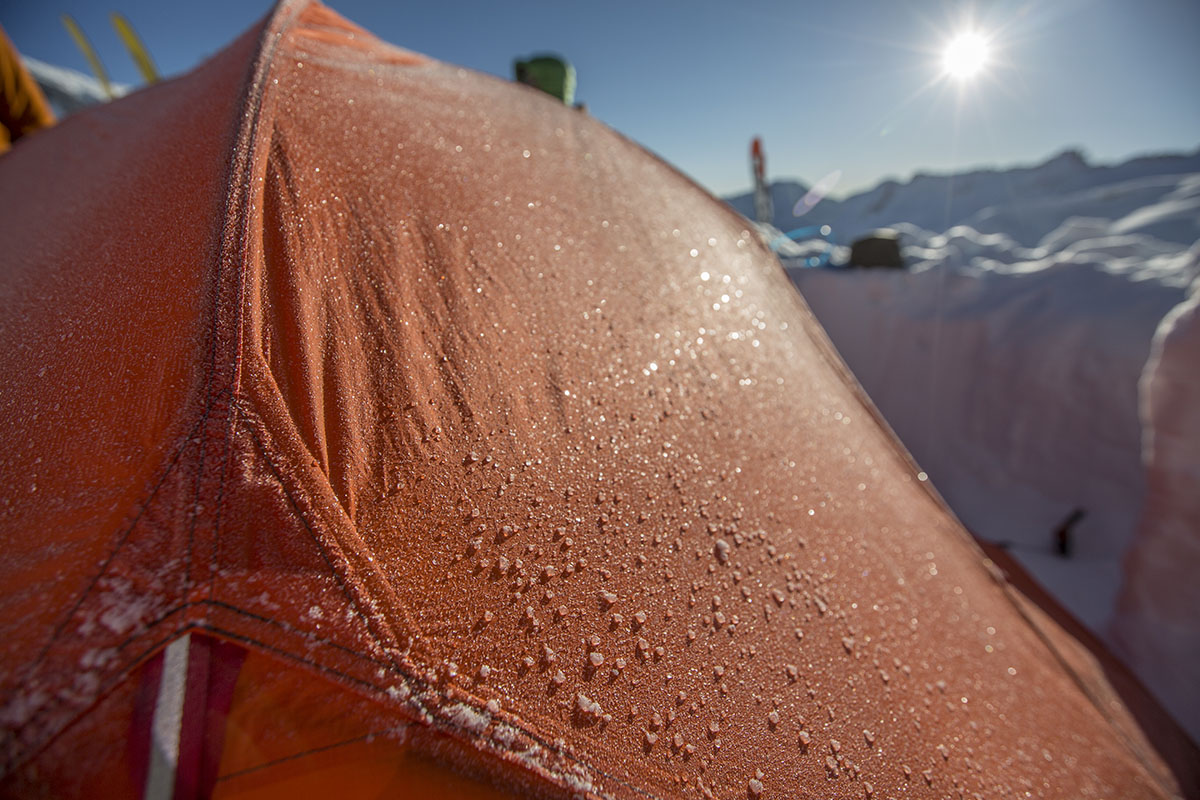 One of the advantages of camping in the snow is that a platform can be created several feet below the snowline, reducing wind exposure, draft, and spindrift. This is necessary with the Access because the rainfly leaves a small gap between the fly and the ground, similar to that of many 3-season backpacking tents. We have not tried to overnight in this tent without a snow wall, but the gap could potentially allow wind or snow drifts to hit the inner tent. Build a proper platform, and the Access performs well.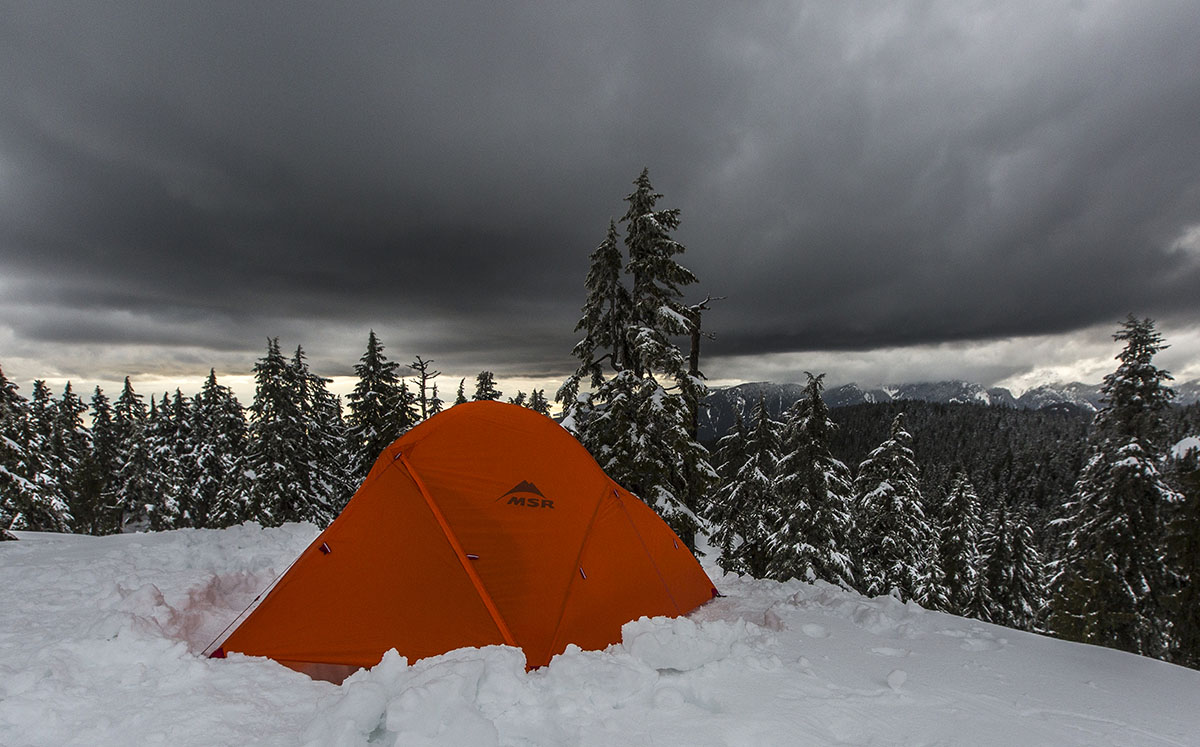 Wind
It's impossible to discuss the merits of the Access without singling out the poles. MSR now uses Easton Syclone poles for their all-season tents, which are made from composite materials that are wound in such a way to flex in any direction. While aluminum or carbon might snap, the Syclone bends under the force of wind or snow load then returns to its original shape. And they are incredibly lightweight—essentially the same as aluminum poles while being a claimed 80 percent more resistant to bending and breaking—which was key in reducing the weight of MSR's all-season tents.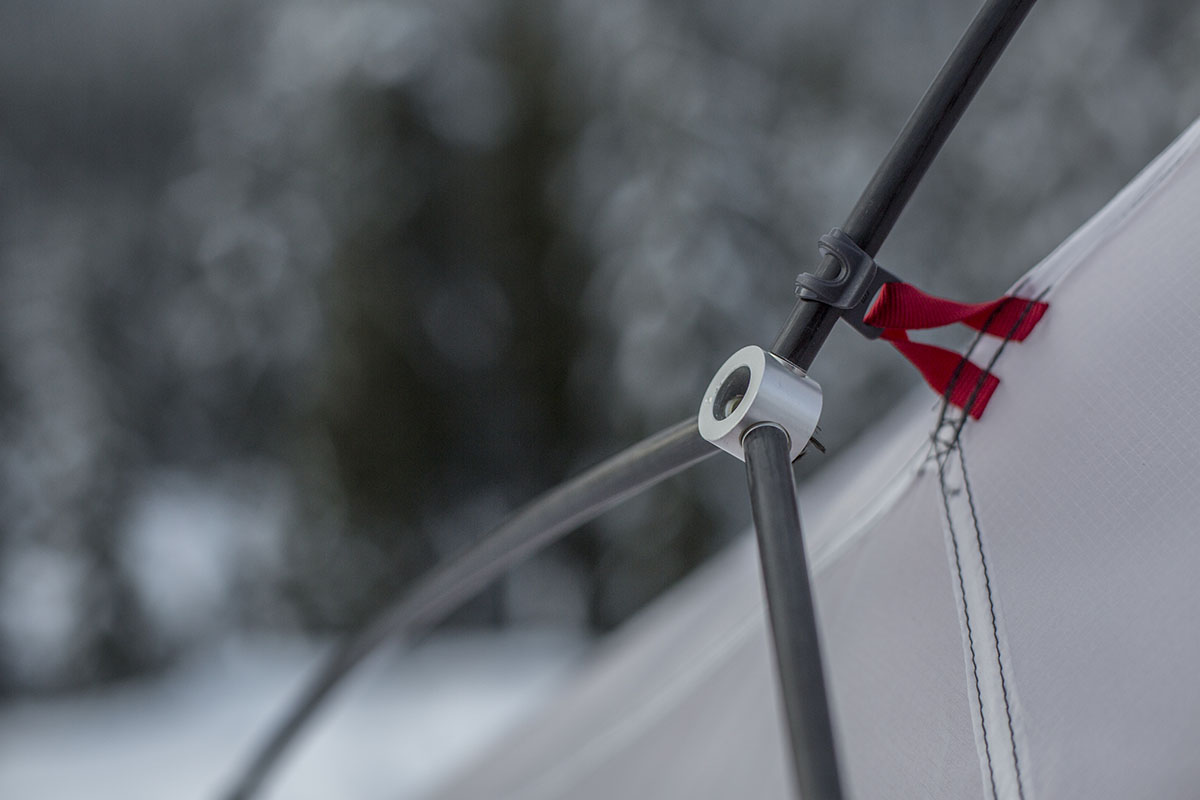 With 14 tabs for guy lines, it's easy to be strategic while securing the MSR Access 3. Mid-level and higher guy lines hold the tent in place, and we experienced steady winds of roughly 30 kilometers while camping in the Whistler alpine with absolutely no effect on the tent. Once inside, there were no drafts or concerns for the tent's structural integrity. We did have snow walls to protect the gap, but we are confident in the Access's ability to withstand gusts and are excited to use it in the barren, high-altitude of the Peruvian Andes.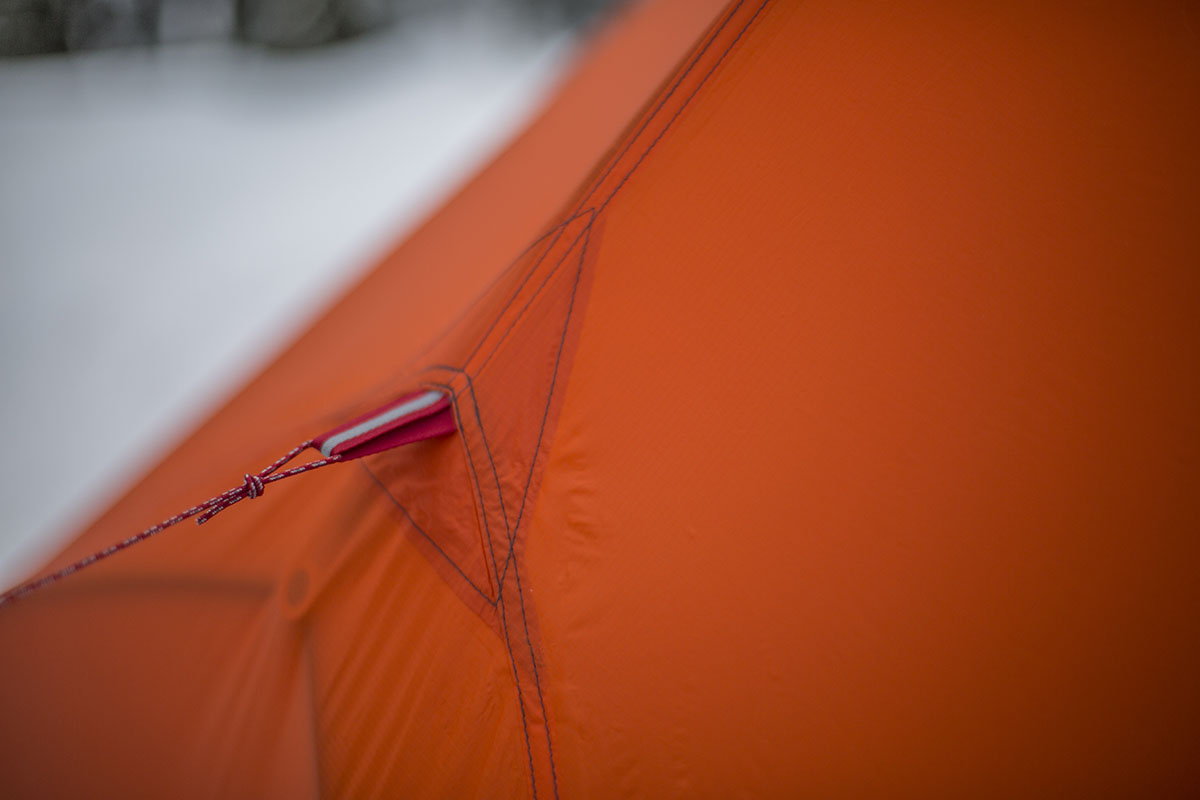 Snow Load
The central support frame creates a peak that runs the length of the tent, making it hard for snow to accumulate and reducing the risk of snow load. If the snow were particularly wet and sticky, it could possibly withstand gravity and load the roof. We tend to poke and shake the tent to knock off snow accumulation, but MSR confidently claims that the poles and tent structure can hold up to 27 pounds of load before experiencing any fail issues. This is reassuring when leaving the tent for a day of backcountry skiing and we experienced no issues in terms of snow load.

Rain
Moisture always is a risk with spring ski conditions at treeline, and on our first venture it rained heavily. However, we remained comfortable as we listened to the downpour outside. The ripstop nylon fly has a DuraShield polyurethane coating to repel water, and despite some torrential nights, we always remained dry. In addition, the bathtub-style floor successfully kept water from trickling in at the base. Similar to other MSR tents we have tested like the 3-season FreeLite, water protection seems to be a strongpoint of the Access.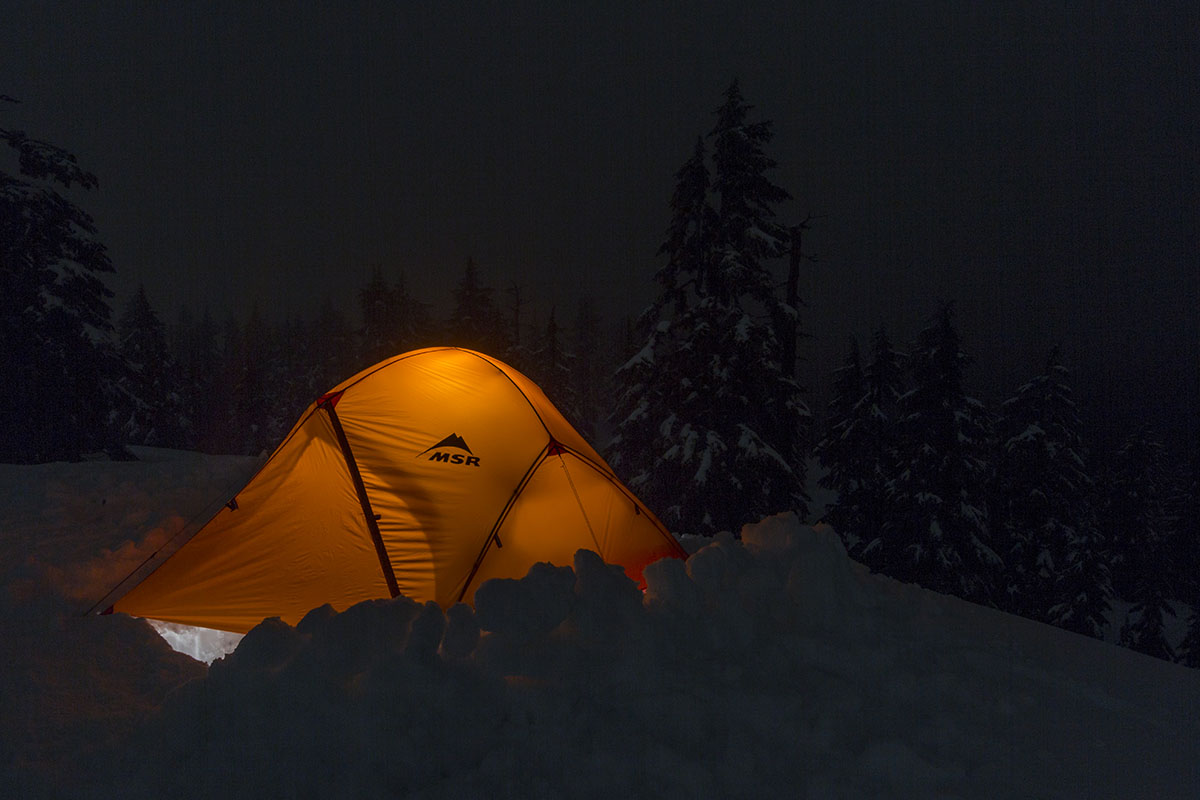 Ventilation and Condensation
The MSR Access has two doors, each with a mesh upper panel that can be zipped closed depending on how much ventilation is needed. This works well at keeping heat in the tent yet still allows some airflow to reduce condensation. We did find, however, that there was significant condensation in the morning after two large men with very large lungs spent a night in the tent. Condensation is difficult to avoid, and the performance is far better than a single-wall design like the Black Diamond Eldorado, but we've had a better experience in double-wall tents with vents at different heights like The North Face's Mountain 25. The Mountain 25's design allows warmer damp air to escape while cooler, dryer air replaces it (for more information, see our in-depth review). Further, the Access becomes less practical in warmer weather—the only way to allow for more airflow is to open the doors, which is an invitation for snowdrifts or insects to enter.
 
Interior Space and Storage
The MSR Access 3 is meant to perform as a basecamp tent as opposed to a minimalist alpine shelter. And after spending even a few days in it, it's clear that it would be comfortable even while waiting out inclement weather. With 41 square feet of interior space and a height of 47 inches, the three-person version of the Access is extremely roomy—luxurious even. Admittedly, we have become used to two-person shelters, but we were still pleasantly surprised by the roominess, even with a large sprawling canine. Keeping in mind that the three-person Access weighs the same or less than many two-person, 4-season tents, the weight savings clearly is not the result of skimping on interior space.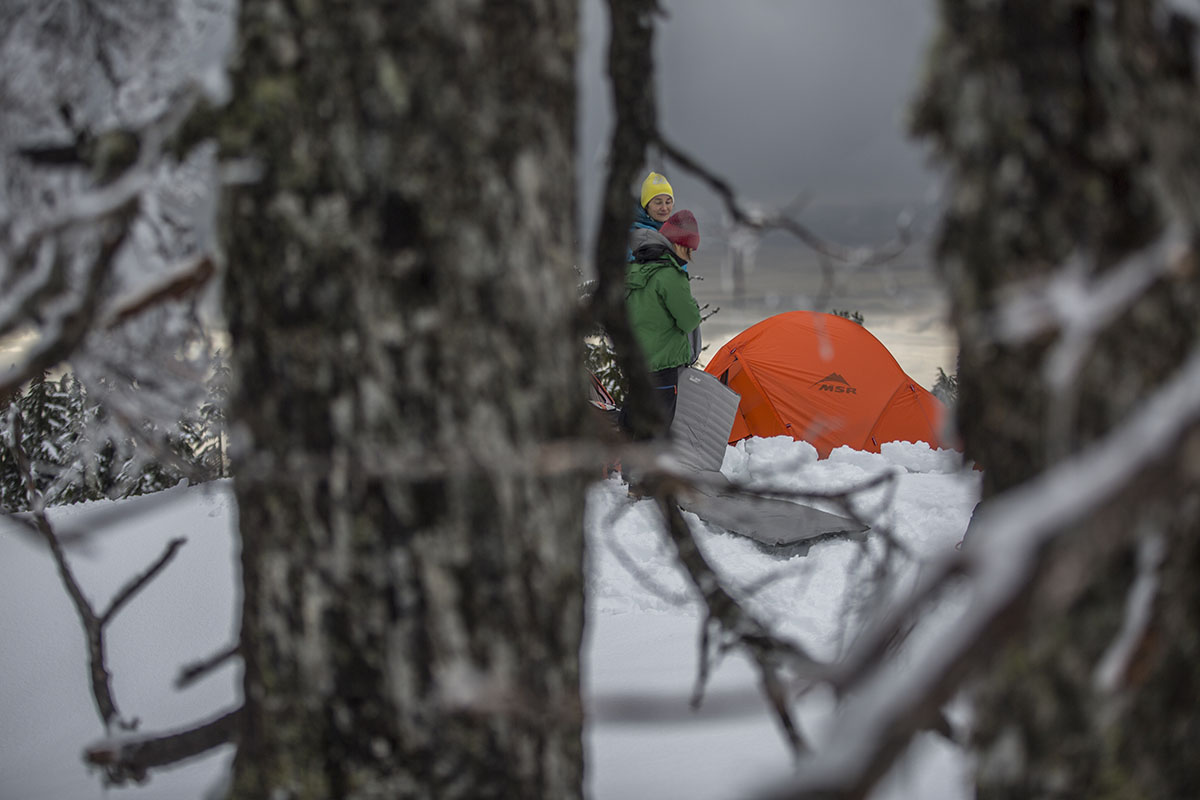 The floor space of the Access is symmetrical, allowing flexibility around sleeping direction. The ceiling does have a slight peak, but there is significant headroom over the entire tent to allow three people to sit up comfortably. We are suckers for tents with two doors. As much as we try to reduce the need to exit in the night, copious amounts of pre-bed whisky, tea, or hot chocolate invariably mean numerous exits during the night. While it's hard to sneak out of a tent, it's far less disruptive if each occupant has his or her own door.
In terms of storage, the Access has two vestibules that provide an additional 17.5 square feet of room, and space is not an issue even with three people and gear. To keep things organized, the Access comes with two large storage pockets that run the length of each end of the tent and are perfect for keeping small items such as headlamps, maps, or GPS easily accessible. There also are handy tabs at the high point of the tent to hang a light or items to dry.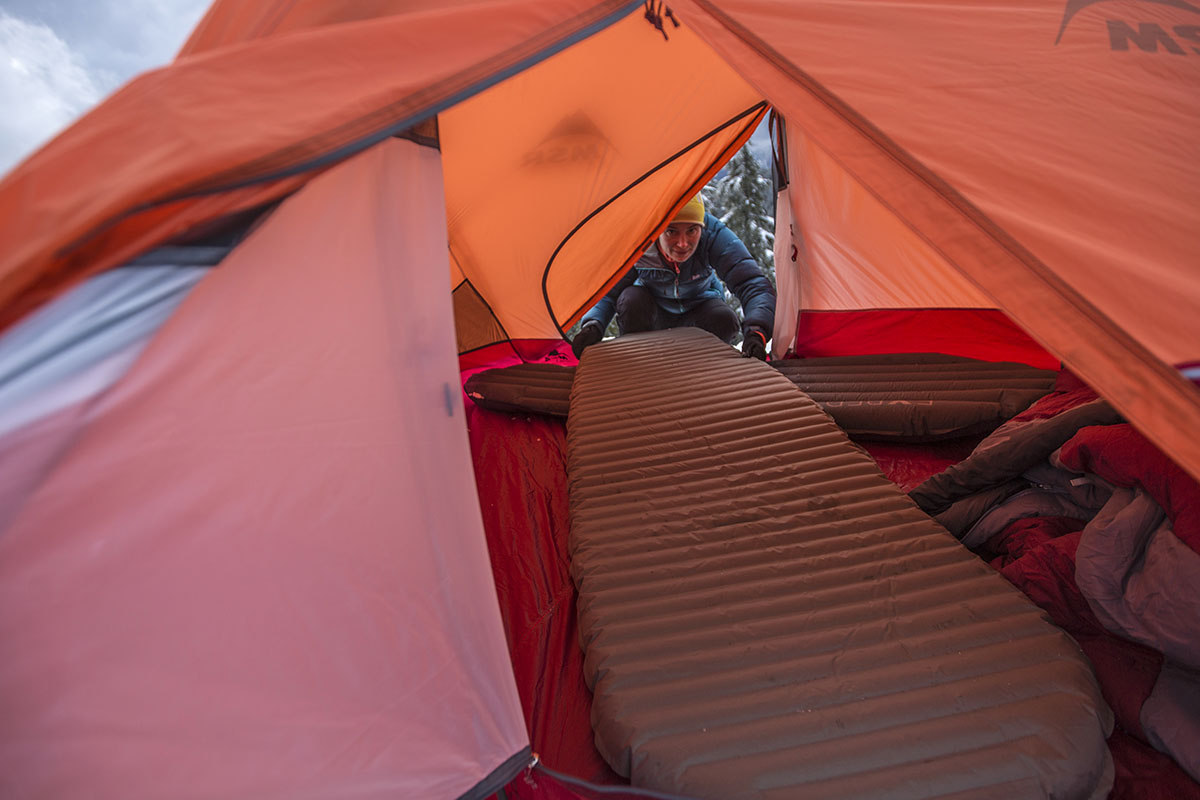 Set up and Take Down
Set up of the MSR Access 3 is quick: with only two simple poles, it can easily be performed solo even with cold hands and bulky gloves. The main pole is a one-piece central support frame like the popular Hubba Hubba and FreeLite, which we love. The pole simply snaps into place to create a spine for the tent, before splitting at a hub into an upside-down "Y" at each end to meet the four corners. The second pole runs perpendicular to the main pole and inserts into the grommets located at the base of the tent and the footprint, providing additional stability. The tent is then hung off of the poles with plastic clips that are easy to attach and remove even with cold, non-dexterous hands.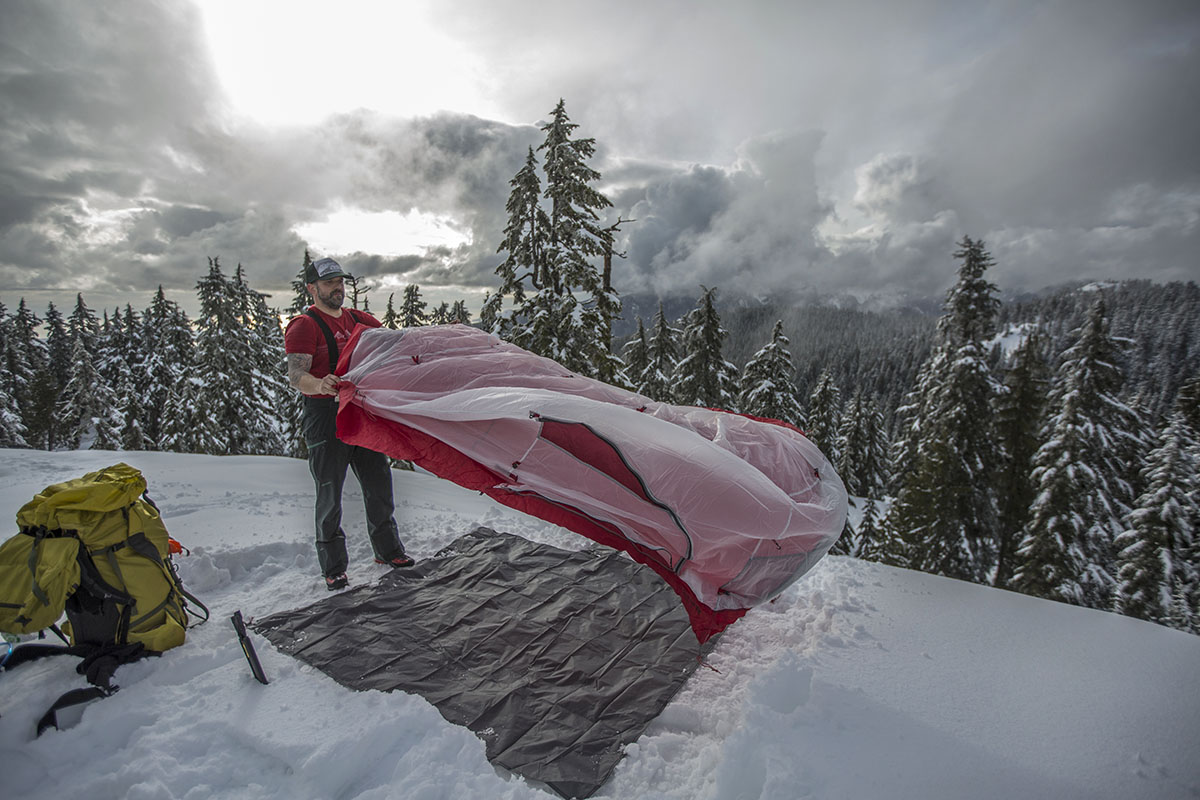 As mentioned above, there are 14 tabs to secure the Access. However, with only eight pegs included, if you aren't within the shelter of trees, you might have to use your ski poles or other gear to tie on. We bring extra MSR Blizzard stakes because we prefer using them in the snow and wish that these were included with the tent. You can fill a small bag or stuff sack with snow and bury it as an anchor, but for those not camping in snow, it's a good idea to purchase extra pegs.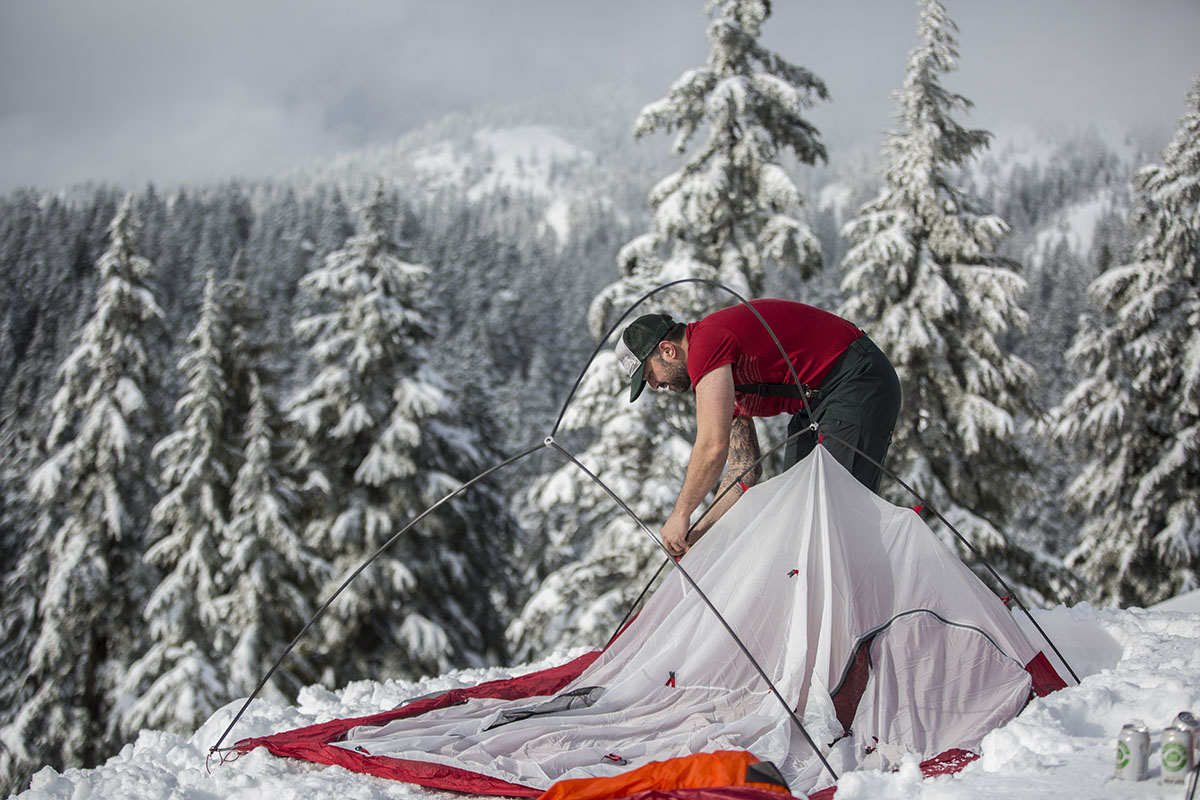 Build Quality and Durability
In the constant balance between weight and durability, MSR has opted to make the Access extremely thin for a 4-season tent. Both the rainfly and the tent walls are 20-denier nylon ripstop, while the floor is 30 denier—the same as their three-season Hubba Hubba NX. A 68-denier footprint with DWR can be purchased separately, and though it adds 10 ounces, we'd recommend using it to increase the longevity of the tent and help protect from the potential of leaks.
Knowing that the Access was less robust, we've treated ours more gingerly than we typically treat our winter gear, but thus far we have had no issues with the seams, zippers, or poles. It has withstood a variety of tough conditions without issue. It's worth noting that we didn't experience extreme winds on any of our trips, which could put the tent's lightweight design to the test.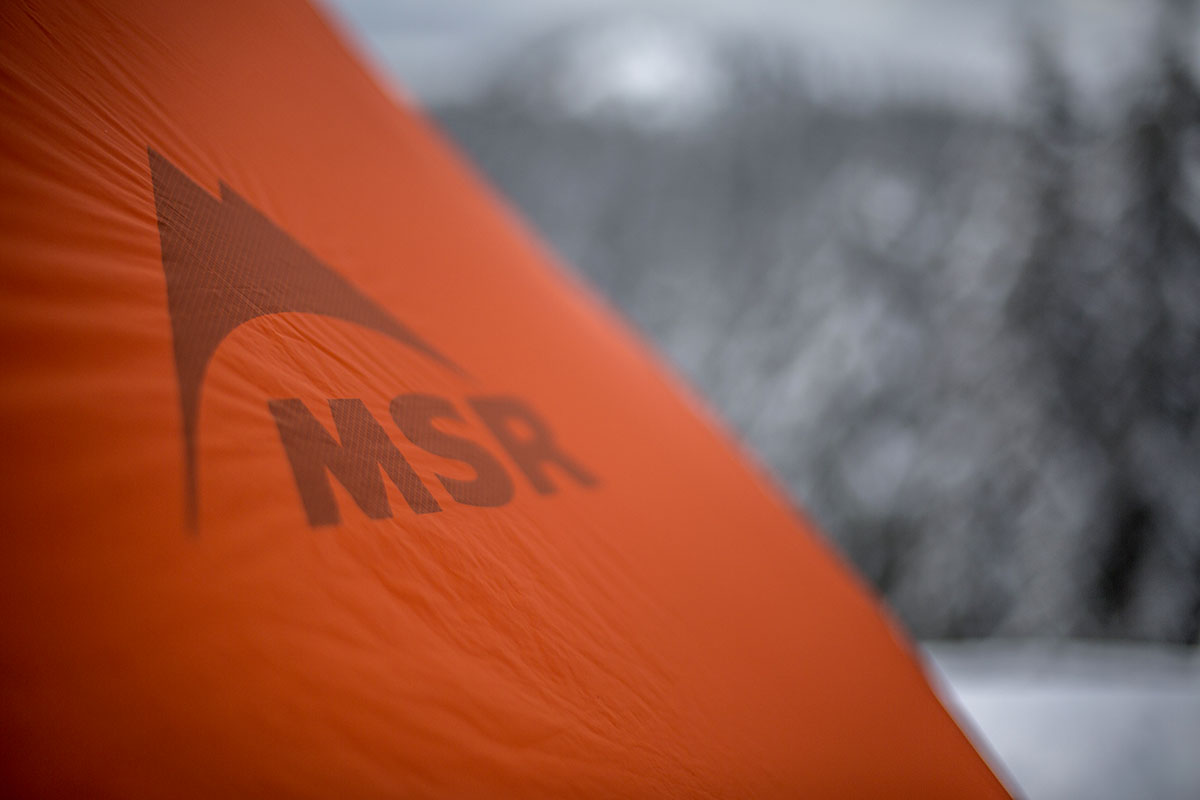 Other Versions of the MSR Access
For this review, we tested the 3-person version of the Access, and MSR also makes the tent in one- and two-person models. The Access 1 ($500) is intended as a solo tent for winter touring and comes in at 3 pounds with 19 square feet of interior space. Like the three-person version, the Access 1 is extremely thin (20 denier with a 30-denier floor) and its fly doesn't extend fully to the ground. The Access 2 ($600) bumps the weight up to 3 pounds 10 ounces and includes most of the features of its three-person counterpart: two doors and vestibules, a reasonably spacious interior (29 square feet), and two large internal pockets for storage. If you don't need the additional space of the Access 3, it might be worth saving $100 and 12 ounces with the decently roomy two-person model.

What We Like
Extremely lightweight for a 4-season tent.
Surprisingly good weather protection.
Roomy interior and vestibules.

What We Don't
The fly doesn't fully extend to the ground, and therefore you must create a snow wall for protection from drafts and drifts.
Could use more ventilation.
We would prefer if it came with snow stakes as well as pegs.
Very thin for a 4-season tent.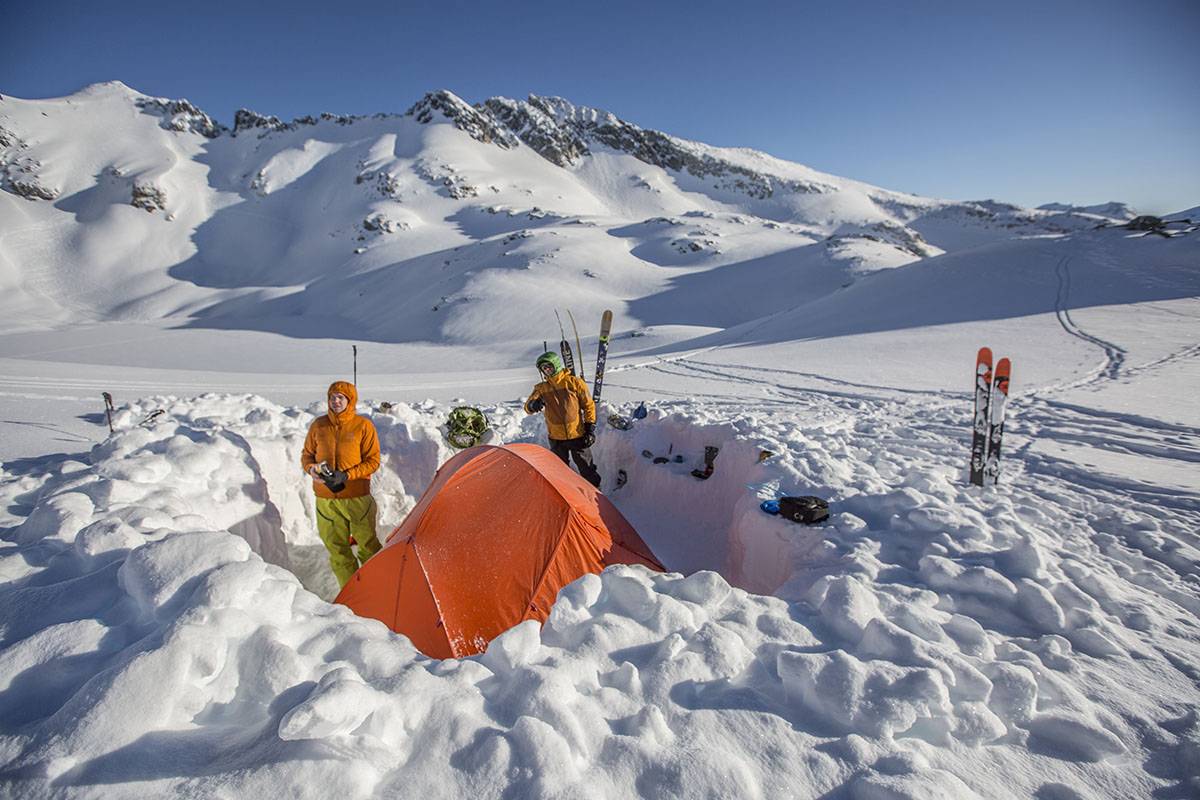 Comparison Table
| Tent | Price | Category | Weight | Area | Height | Wall(s) |
| --- | --- | --- | --- | --- | --- | --- |
| MSR Access 3 | $700 | Treeline | 4 lb. 6 oz. | 41 sq. ft. | 47 in. | Double |
| Nemo Kunai 2P | $500 | Treeline/basecamp | 3 lb. 15 oz. | 27.6 sq. ft. | 42 in. | Double |
| Hilleberg Allak 2 | $1040 | Basecamp/treeline | 6 lb. 2 oz. | 31.2 sq. ft.  | 41 in. | Double |
| REI Co-op Arete ASL 2 | $399 | Treeline | 5 lb. 10 oz. | 32.9 sq. ft. | 43 in. | Double |
| MSR Remote 3 | $900 | Mountaineering | 7 lb. 14 oz. | 46 sq. ft. | 44 in. | Double |

The Competition
Since its release, the MSR Access has gained a few direct 4-season competitors that are lighter than basecamp tents but roomier and more feature-rich than minimalist designs. The Nemo Kunai 2P—intended for both treeline and basecamp use—is an impressive alternative to the Access. At 3 pounds 15 ounces, it's 5 ounces heavier than the two-person Access but adds guy-out points through the fly that attach directly to the poles for use in high winds. However, the Nemo only has one door, includes few internal pockets, and only features 26.7 square feet of interior space compared to the Access' 29. At $500, the Kunai is $100 cheaper than the Access 2 and a bit more versatile for alpine use, but for serious 3-season backpacking and light winter trips, we give the edge the more fully featured and roomier MSR.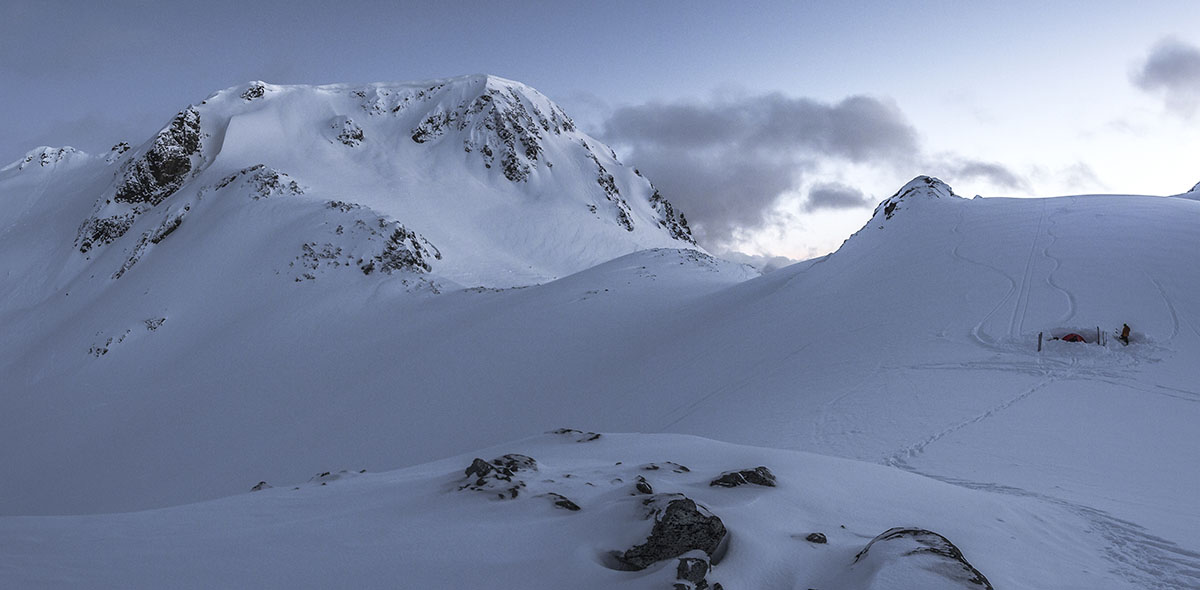 Hilleberg tents are known for their impressive strength relative to weight, and the Allak is a formidable competitor to the Access. The tents share a two-door-and-vestibule build, and both are quick and easy to pitch in the snow. From our experience with both, the Hilleberg Allak 2 gets the clear edge in terms of material quality and toughness, and it's made to withstand higher winds and more snow loading with its strong dome shape. But the Allak is over $1,000, weighs over 6 pounds, and is only offered in a two-person model. If space and weight take precedence on a backcountry trip, such as our upcoming trek in Peru, the Access is the better choice.
REI Co-op's Arete ASL 2 is another intriguing double-wall option in the same category as the Access. It offers notably better protection than a 3-season tent, but like the Access, isn't built for especially strong winds or heavy snow. Not to mention, at 5 pounds 10 ounces, it's a full 2 pounds heavier than the two-person Access. That said, the Arete boosts the square footage to 32.9 and comes in $200 cheaper than the MSR tent. Both the Arete and MSR will get you through shoulder seasons and mild winter trips just fine, but in the end, we prefer carrying less on our backs—and for that reason, we give the nod to the Access.
Finally, while the Access is built for treeline winter camping, MSR's burlier Remote is intended more for mountaineering. MSR makes the Remote in two- and three-person versions, and compared to the Access 3 reviewed here, the three-person MSR Remote comes in much heavier at 7 pounds 14 ounces (compared to the 4-pound-6-ounce Access) and costs an additional $200, but boasts 5 square feet of added interior space. In terms of weather protection, the Remote is much better suited for heavy wind and snow, but we did have some issues with condensation buildup and the rainfly coming up short of the ground (similar to the Access). If you're headed into the high alpine and need a true mountaineering tent, our top pick is The North Face Mountain 25 (read our in-depth review here).
If you're thinking about buying gear that we've reviewed on Switchback Travel, you can help support us in the process. Just click on any of the seller links above, and if you make a purchase, we receive a small percentage of the transaction. The cost of the product is the same to you but this helps us continue to test and write about outdoor gear. Thanks and we appreciate your support!
Depending on the seller, most products ship free in the United States on orders of $50 or more. International shipping availability and rates vary by seller. The pricing information on this page is updated hourly but we are not responsible for inaccuracies.
Learn More About Outdoor Gear