Granite Gear Crown2 60
Price: $200
Weight: 2 lbs. 6 oz. (women's regular) 
Fabric: Nylon (100D & 210D)
Capacities: 38, 60L
What we like: A lightweight and highly customizable pack at a good price.
What we don't: Comfort suffers under loads greater than 35 pounds and thin fabrics require care.
See the Women's Granite Gear Crown2 60  See the Men's GG Crown2 60 
Granite Gear is a market leader in ultralight packs, with a strong following among thru-hikers and other minimalist backpackers. Arguably, their best design is the Crown2, which balances impressive cushioning, thoughtful features, and a weight of just over 2 pounds. We took the Crown2 60L pack to Patagonia on the multi-day Huemul Circuit along with multiple approaches to climb in the Chaltén range. Below are our experiences with the pack. To see how the Crown2 stacks up, see our articles on the best backpacking packs and ultralight backpacks.
 
---
Table of Contents
---

Performance
Carrying Comfort
For such a lightweight pack, the Granite Gear Crown2 60 offers an impressive amount of cushioning and carrying comfort overall. To save weight, it eschews a metal frame and instead uses a plastic frame sheet and molded backpanel for suspension. I found that as long as I kept my load around 30 to 35 pounds or less, it felt as rigid and supportive as a more feature-rich and heavier design. In addition, the generous padding on the hipbelt and shoulder straps—a surprise inclusion for such a minimalist setup—is well worth the extra ounces it adds to the bottom line.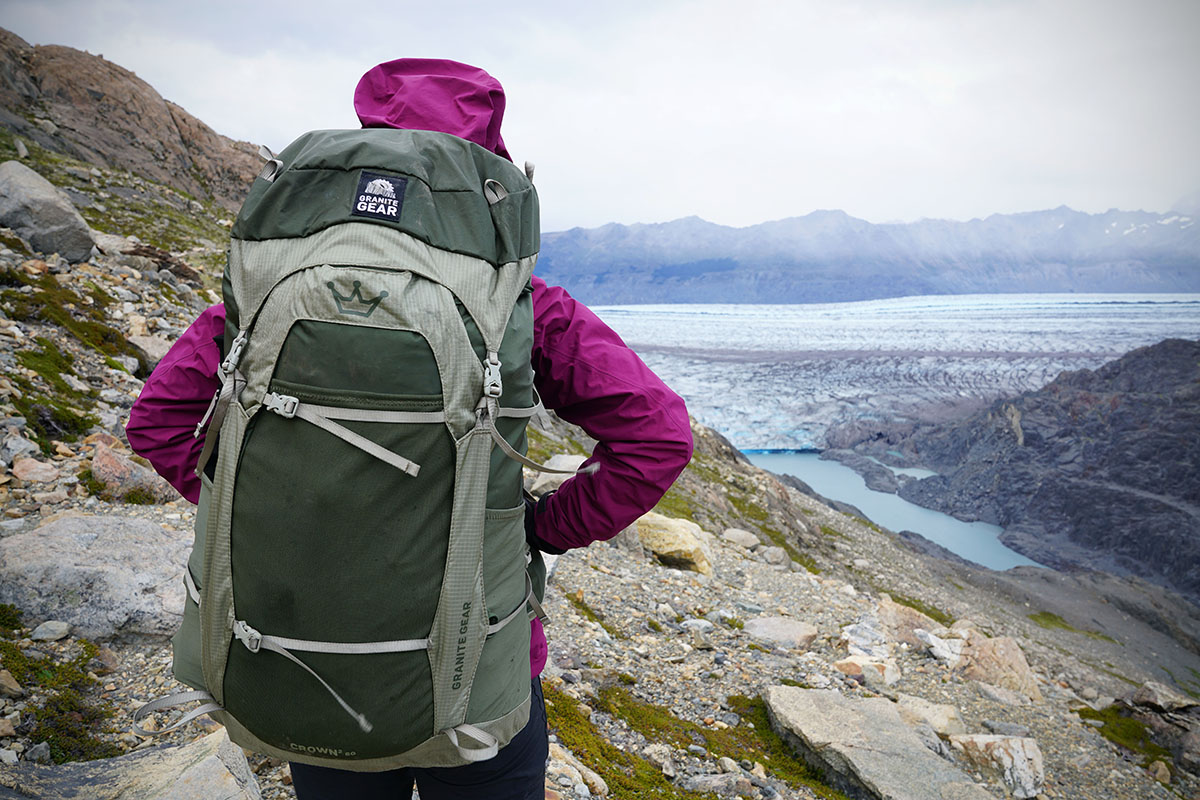 Another important factor in the comfort of this Crown2 60 is Granite Gear's Re-Fit system, which allows for a high degree of tweaking to optimize fit. To make adjustments, the hipbelt slides out and can be lengthened or shortened with a strong Velcro patch. Not only can you dial in fit (thru-hikers who lose weight over the course of their journey will find this feature especially helpful), but you also can position the padding along your hips where you need it most. Granite Gear doesn't allow the same degree of customization on the shoulder straps (they do on their heavier Blaze 60 pack), but we didn't find this to negatively impact our ability to get a snug, customized fit.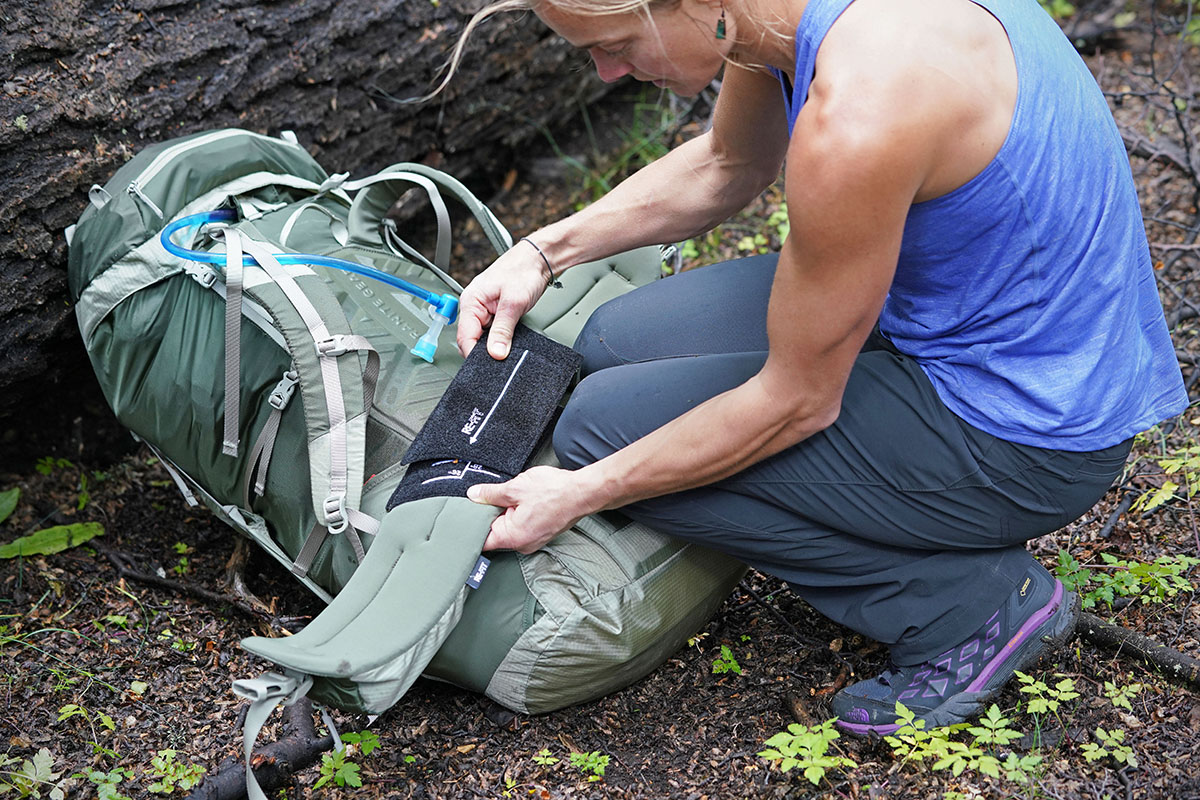 Weight
At 2 pounds 6 ounces for the 60-liter women's model that we tested, the Crown2 falls squarely into the ultralight category. It lands between competitors like the Osprey Eja 58 (2 lbs. 8.5 oz.) and Hyperlite Southwest 3400 (2 lbs. 0.6 oz.), which offer similar feature sets and overall carrying abilities. If weight is your number one consideration, you can go even lighter with a design like the 1-pound-4.6-ounce Zpacks Arc Blast, but that comes at a much steeper $349 price and a step down in organization. We like the middle ground that Granite Gear has found at this very competitive weight, and it certainly helps that the Crown2 also manages to undercut most of its competition in price.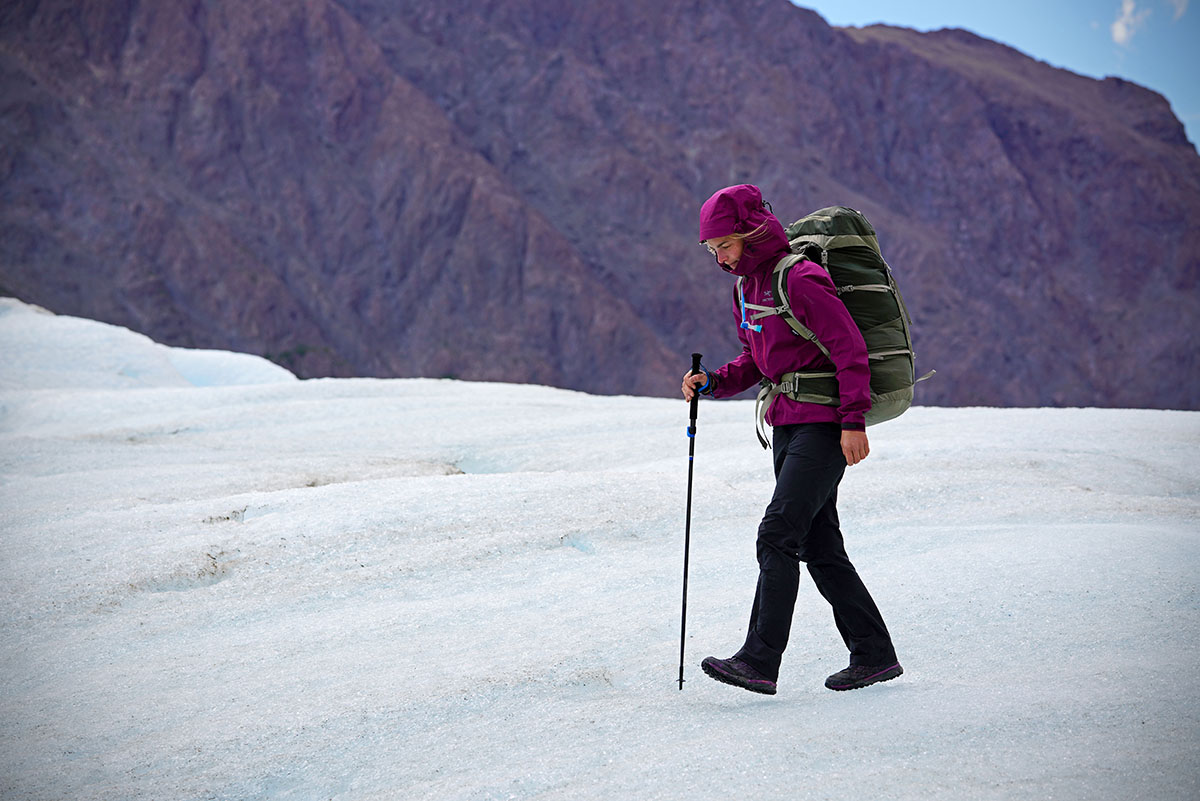 Depending on your needs for a specific trip, Granite Gear has made it possible to remove features to trim weight even further. Ditching the lid, hipbelt, and frame sheet (explained by Granite Gear in this video) brings the total weight down to 1 pound 7 ounces. I experimented with these removable features and found that taking off the hipbelt and frame sheet only is truly feasible when carrying loads under around 20 pounds. To make this ultralight setup more viable, I would love if Granite Gear would include a simple webbing waist belt to sub in for the heavier one to stabilize the load.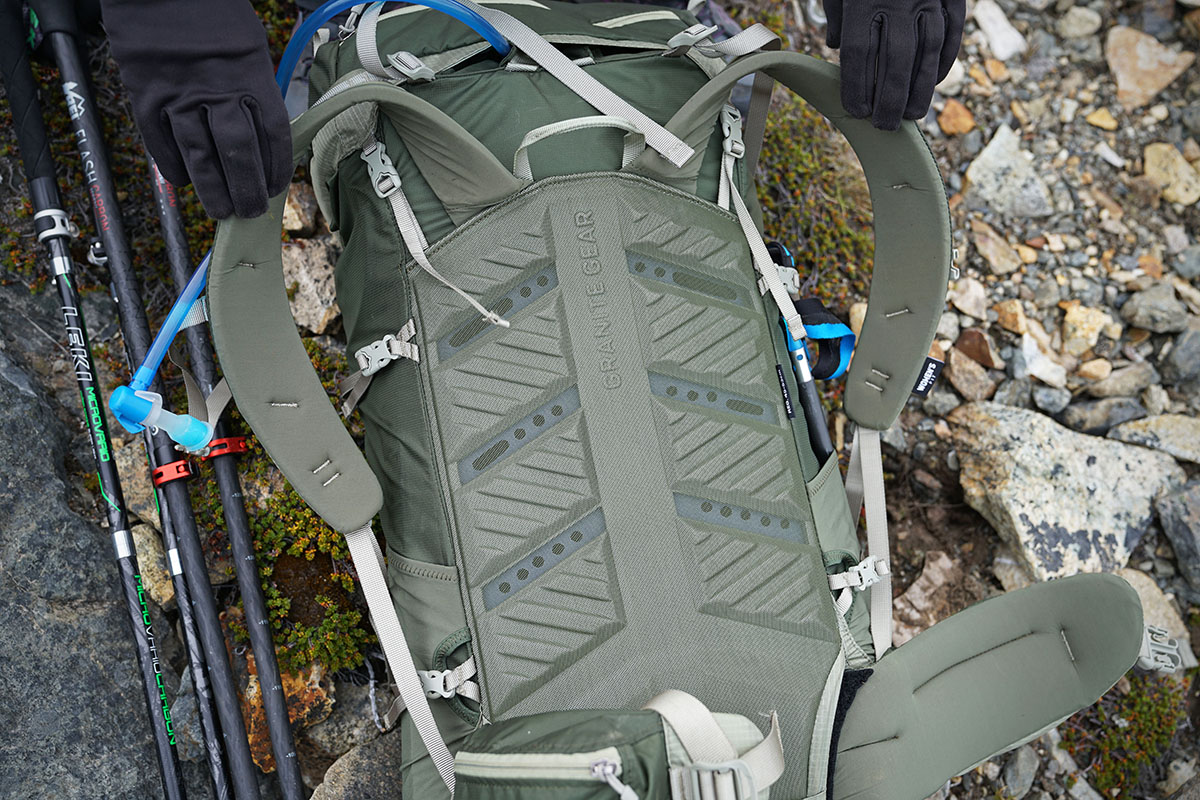 Organization
Ultralight packs often skimp on organizational features in order to shave ounces, but the Crown2 maintains all the conveniences I look for in a backpack of this size. Some may find the padding, compression straps, and attachment points to be overkill, and others will bemoan the lack of fancy suspension and organizational features. But for my purposes, the Crown2 was nearly perfect. The pack has one cavernous internal compartment and three external stretch pockets. Additionally, there are two pouches on the hipbelt and a one large 5-liter zippered pocket on the top lid, which I removed on shorter trips for a more streamlined load.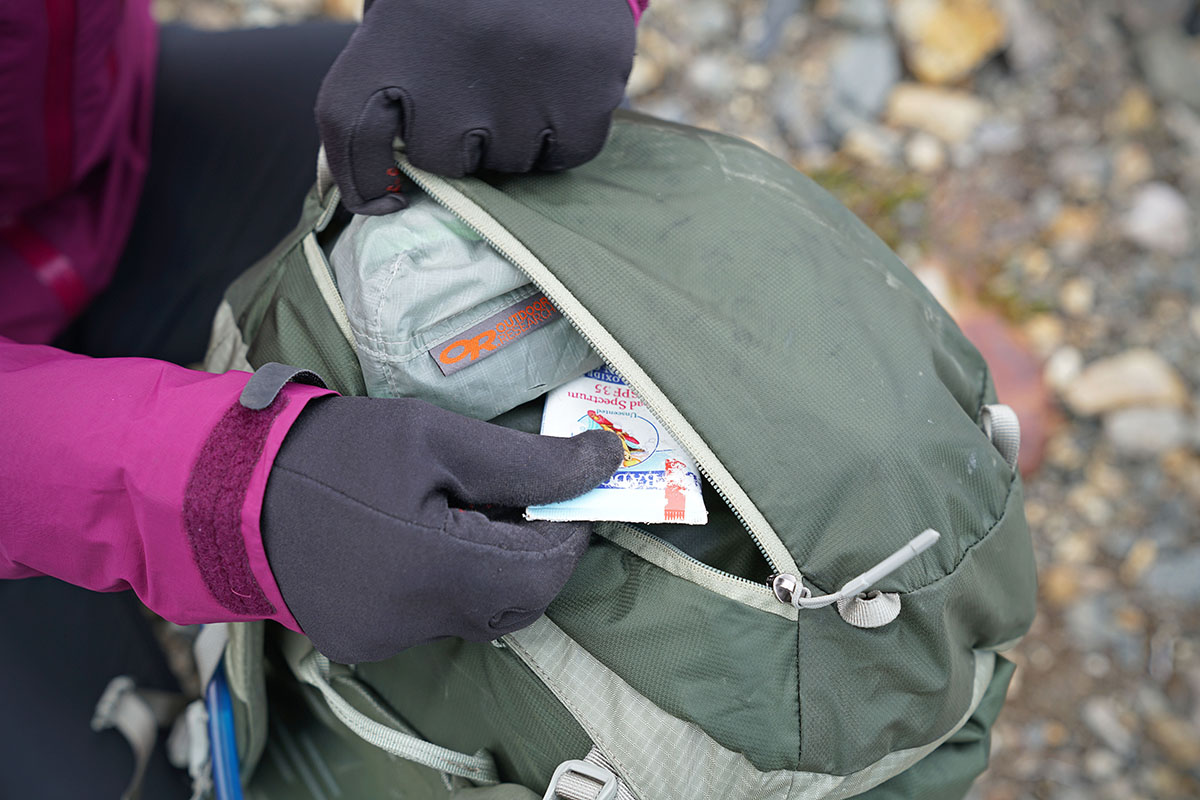 With the lid removed, I found the outer stretch pockets to be incredibly useful. They are perfect for stowing layers, snacks, wet gear, or other final odds and ends after a morning of packing. These stretch pockets also are ideal for storing water bottles and attaching tent or trekking poles to the outside of the pack—attachment straps on both sides and two across the center provide added security. Furthermore, the hipbelt pockets are easily accessible with the pack on, making them perfect for a phone, snacks, or chap stick, and durable enough that I often stored my camera inside, sans case. An internal hydration pocket is found along the back of the pack, and two ice axe attachments make the Crown2 a pack that I gladly will carry on an approach to a climb.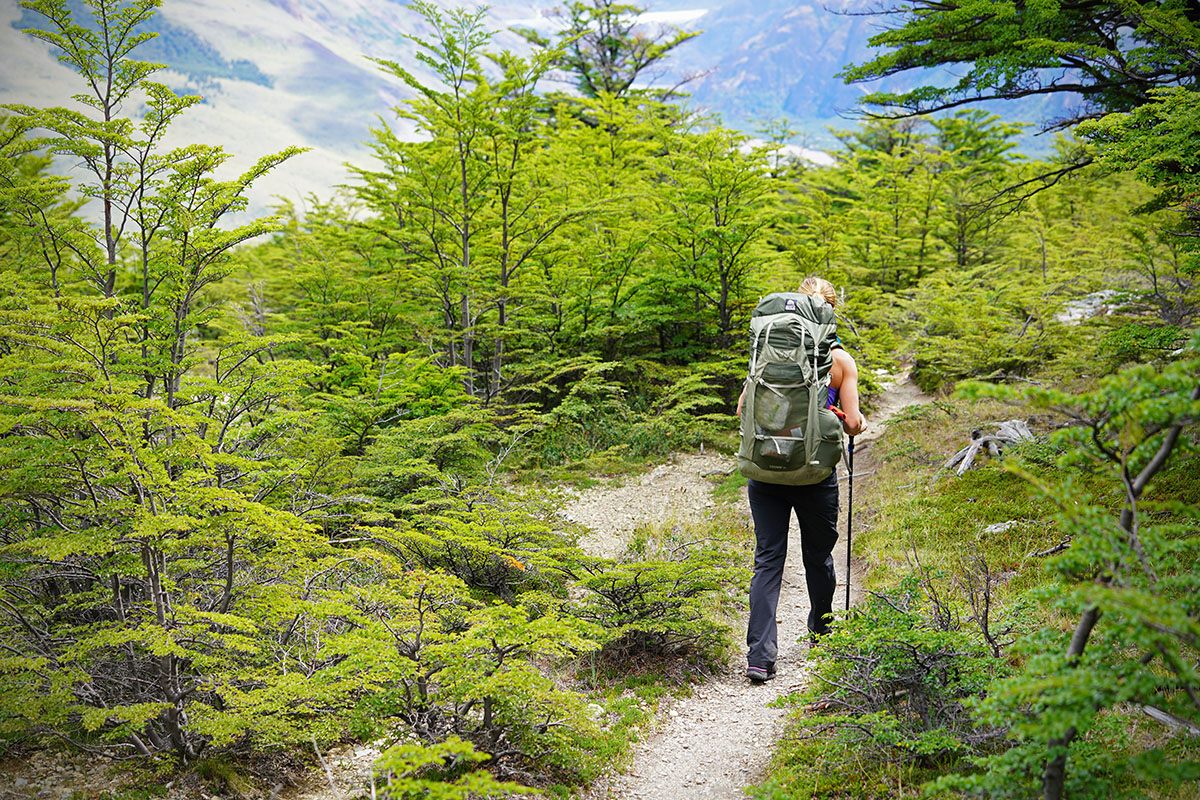 Closure System and Straps
As Granite Gear uses on many of their backpack models, the Crown2 60 sports an easy-to-use roll-top closure with a cinch strap and removable lid. The straps on the lid are long enough to accommodate my climbing rope sandwiched underneath.And the cinch strap has a great design that I haven't seen elsewhere: one single piece of webbing runs through the clip to two separate points, allowing you to pull a loop to secure everything tightly. It wasn't perfect in use (I still had to pull on either side of the loop to truly tighten the strap),but it's still a better design than any other I have come across. I'm a stickler for a well-packed, tight pack, and these features—along with the compression straps—allowed me to cinch down loads of any size without bulges or protruding fabric.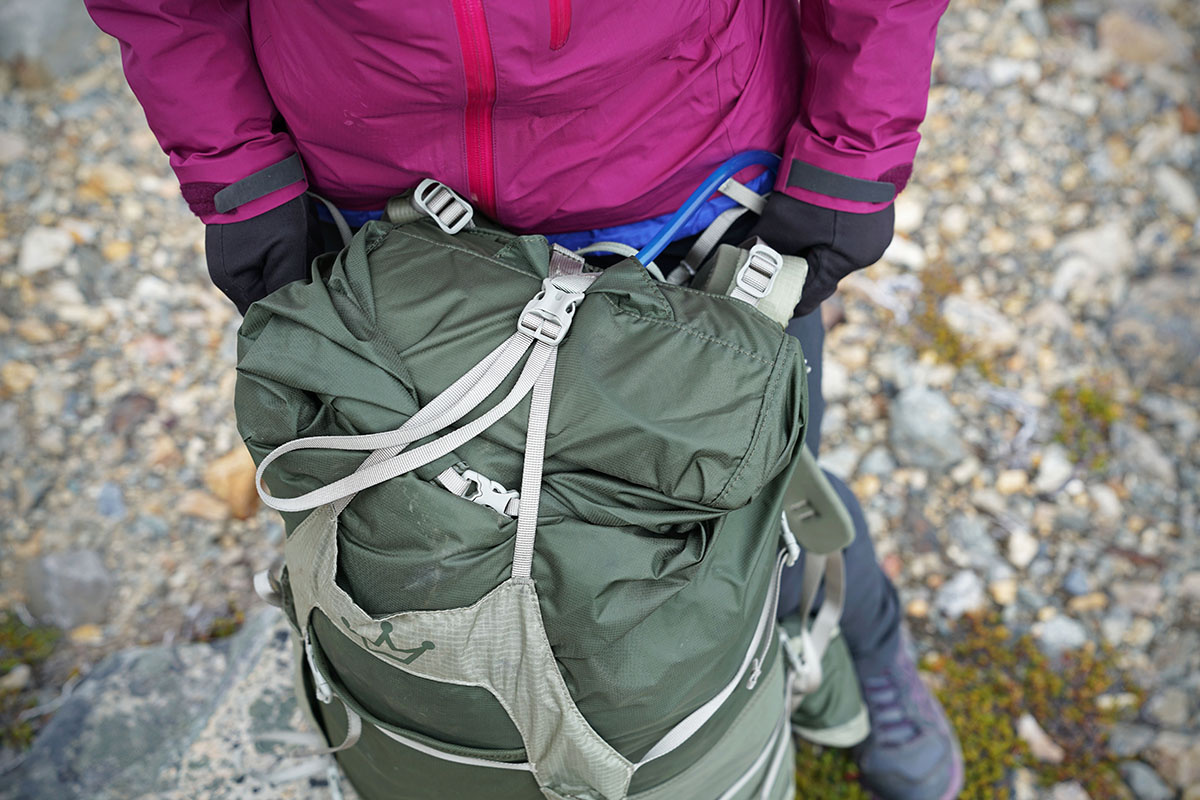 Build Quality and Durability
Ultralight backpacks almost always sacrifice durability for weight savings. The majority of the Granite Gear Crown2 uses a lightweight 100-denier high-tenacity nylon, but the 210-denier ripstop nylon bottom panel is decently tough, resisting wear on the most commonly exposed parts of the pack. Further, the triangular webbed framework (from which the compression straps extend) places the stress of the load on the frame of the bag rather than single seams. And finally, Duraflex buckles are known to have a long lifespan, although I found the sternum strap buckle especially difficult to close.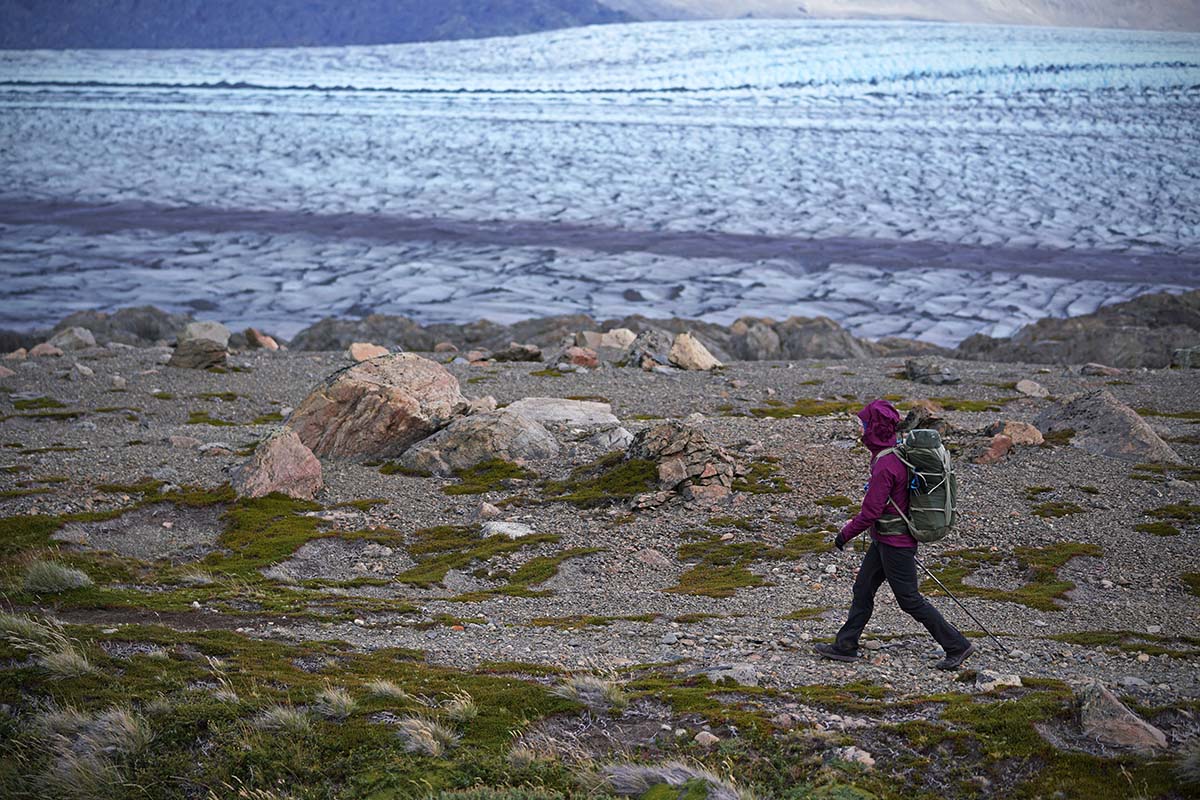 After weeks of consistent use, my pack has sustained one rip in the upper fabric and no other wear to speak of. Overall, it doesn't appear to be as tough as Hyperlite's Dyneema bags, but it's also significantly cheaper at $200. The Osprey Eja has the same specs (100D and 210D) but at a penalty of an additional 2.5 ounces and $20. It's worth noting that Granite Gear does offer a limited lifetime warranty. This is my first Granite Gear pack and I have yet to use this service, but I know from others that the company is reliable and will resolve most pack malfunctions or durability issues without charge.

Fit and Sizing
The Granite Gear Crown2 60 is offered in both a men's and women's-specific version, with three torso lengths available for men and two for women. Plus, with an adjustable hipbelt and sternum strap, I'd be surprised to hear from anyone who couldn't find a good fit. I did find removing and adjusting the Re-Fit hipbelt to be slightly cumbersome, although technically this process should only need to be done once per user. The Velcro is surprisingly strong and my initial concerns that I could separate the hipbelt while wearing the pack proved to be unfounded, even with a 35+ pound load.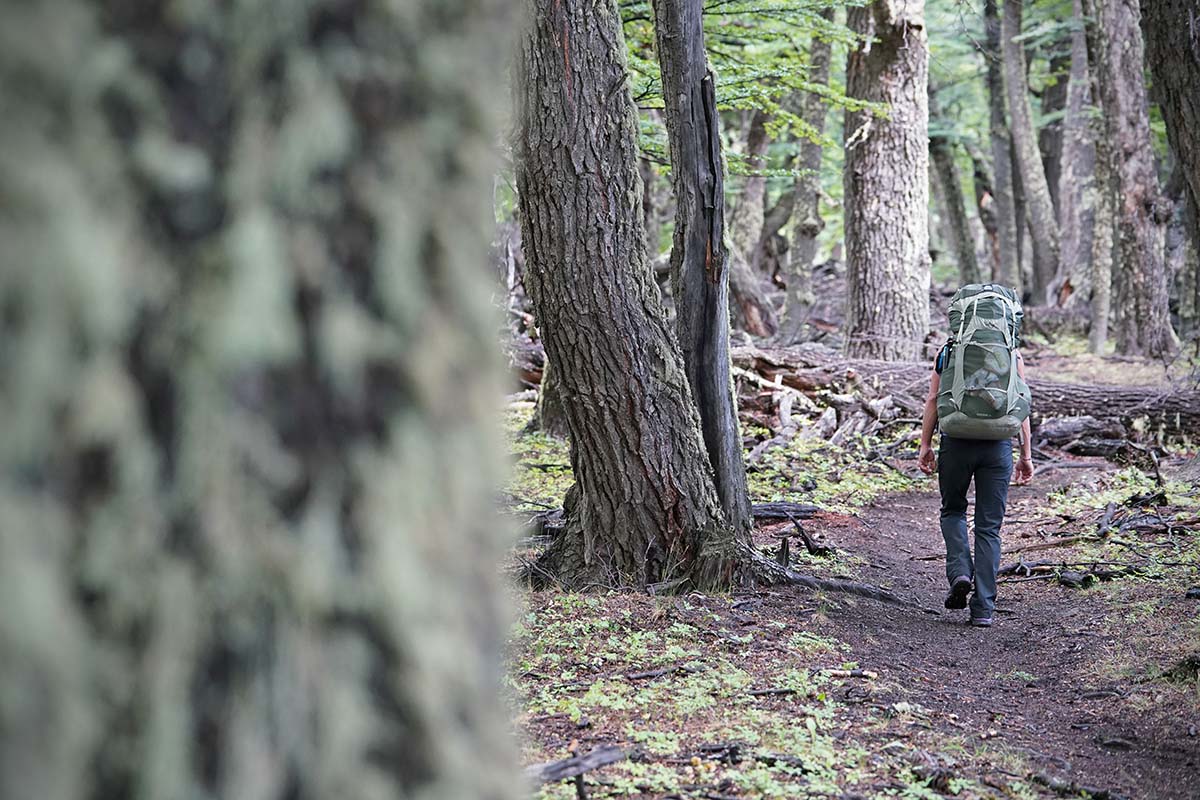 Other Versions of the Granite Gear Crown2
We tested the women's version of the Crown2 60, and Granite Gear also makes the pack in a men's model. As we touched on above, the men's Crown2 60 is available in three sizes compared to the women's two, but otherwise the packs are nearly identical, including the same feature sets, weights, and prices. In addition, Granite Gear sells a trimmed-down 38-liter version of the Crown2 for $185, which is very similar to its larger sibling aside from the 22-liter difference in capacity and availability in only one size (the "Regular," which fits 18 to 21-inch torsos). But if that size works for you, the 38-liter model was able to handle our overnight gear with ease, and its 35-pound weight limit is the same as the 60-liter Crown. As a bonus, we found the smaller pack to be a great performer on long day hikes and it was small enough to use as a carry-on for travel.

What We Like
Ultralight while still maintaining a high degree of comfort and organization.
With male and female versions in multiple sizes, plus Granite Gear's Re-Fit system, this pack should fit just about anyone.
Thoughtfully placed compression and cinch straps allow for the pack to be tightened down securely.
Adaptable design allows you to remove features like the hipbelt, backpanel, and top lid to streamline the pack's weight.
At $200, the Crown2 undercuts most of the competition by $20 or more.

What We Don't
It is an ultralight pack, and the 100D and 210D fabrics require care.
For moving fast and light, I'd love the option of a second thinner hipbelt without bulky pockets.
The pack technically can fit more than 35 pounds but does not carry the extra weight well.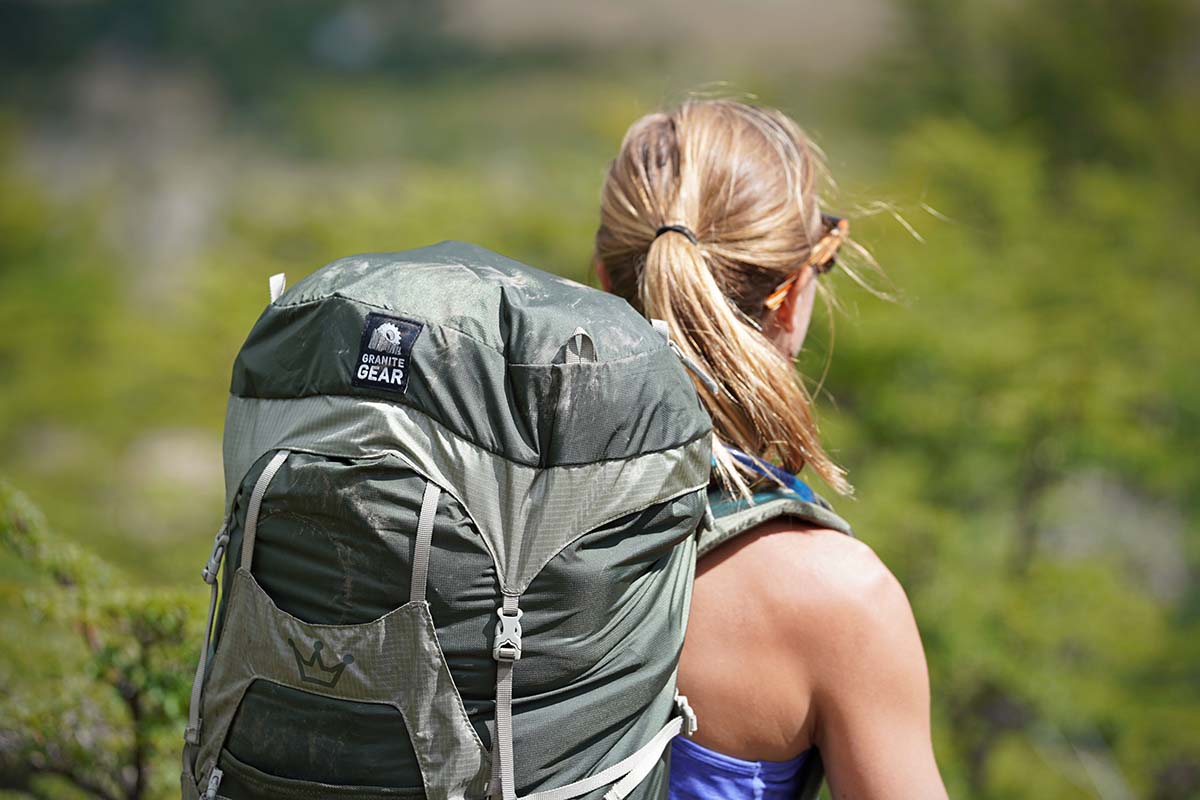 Comparison Table

The Competition
The ultralight backpacking pack market used to be limited to thru-hikers and minimalists, but each year more and more backpackers are appreciating the value of traveling fast and light. One of the Crown's long-time competitors is the Osprey Exos. The women's-specific model, called the Eja 58, is slightly heavier at 2 pounds 8.5 ounces, has a similar layout as the Crown with mesh pockets covering the front of the pack, and the same mix of 100- and 210-denier nylon fabric. The Eja's mesh backpanel does offer better ventilation, but we think the Granite Gear offers better carrying comfort and adjustability and is the superior all-around design (for $20 less). The Crown has more comfortable hipbelt padding and it's easier to dial in the fit with the Velcro system (the Eja's hipbelt is fixed in place). And the cherry on top: the Eja/Exos no longer come with hipbelt pockets, which we always find to be handy for storing small items.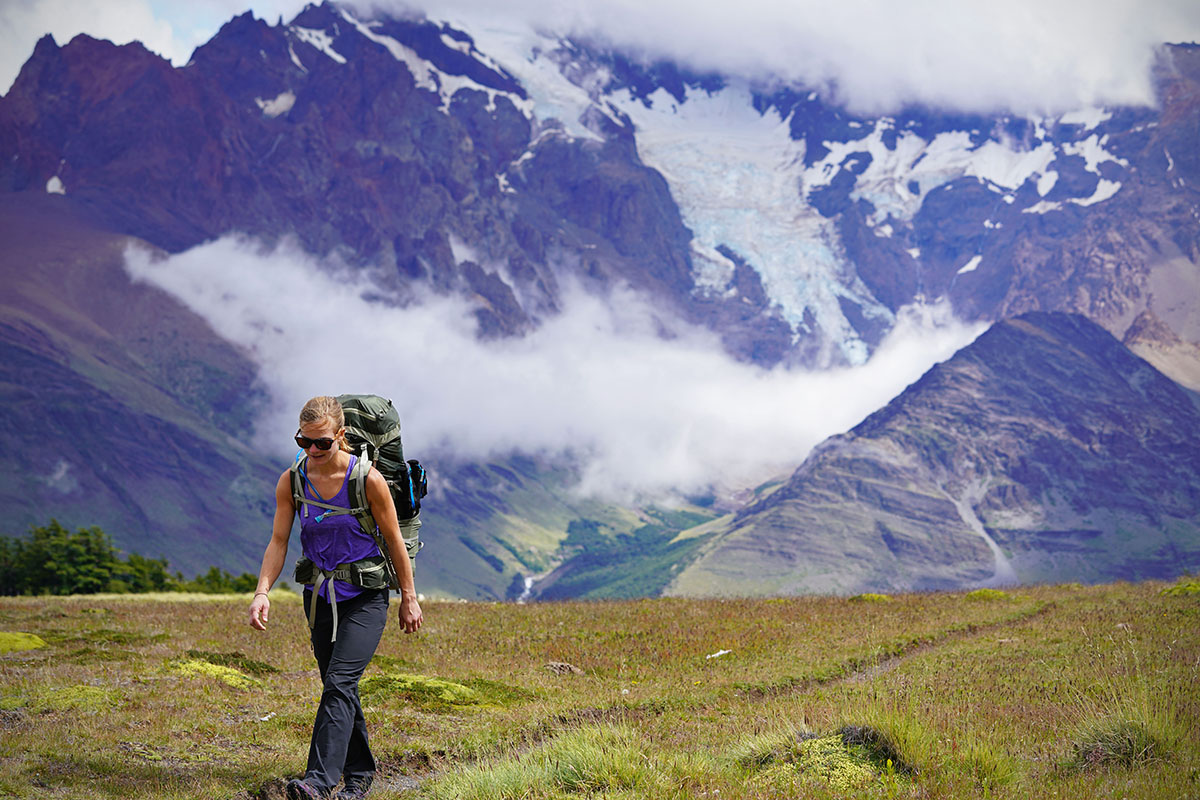 Gossamer Gear's Mariposa is another one of our favorite ultralight packs. Like the Crown2, it's thoughtfully designed with enough support and padding to handle a 35-pound load, but it's even lighter at 1 pound 14.5 ounces (in a medium size with a medium hipbelt). Despite sharing similar 100- and 200-dernie nylon fabrics, we've had more luck in terms of durability with the Mariposa (it does use less mesh on the exterior, which certainly helps). We also give the slight edge in organization to the Gossamer Gear with its creative pocket layout that makes it easy to divide up small and large items (for more information, see our in-depth Mariposa review). But the Granite Gear is close behind in most respects for $70 less.
As we touched on above, Granite Gear's own Blaze 60 offers more customization than the Crown2 with the same Re-Fit hipbelt along with the addition of an adjustable torso length (you can slide the shoulder straps up or down via small slots at the back of the pack). In use, we found this feature excellent for dialing in fit, although again, it was a little cumbersome to remove and adjust both the waist and shoulder straps. The Blaze also is considerably heavier than the Crown2 at 3 pounds even, although it wins out in hauling capabilities with a 50-pound weight limit (the Crown2 suffered even under a 35-lb. load). In the end, the two packs have very different strong suits: the Blaze is an excellent option for gear-intensive backpacking trips, but the Crown2 is the better choice for those traveling fast and light and will save you a significant $70.
Stepping up in price and technology is Hyperlite Mountain Gear's 3400 Southwest. This design is super tough and water-resistant with its Dyneema pack body and burly external pockets. It's also capable of carrying more weight than the Crown2 with a load capacity of 40 pounds. But the Southwest isn't for everyone: you don't get a top lid, and its price of $355 makes it one of the more expensive ultralight packs on the market. The Hyperlite is undeniably cool—and worth the money if you'll be spending a lot of time in difficult terrain or need the extra carrying abilities—but we think the Crown2 is the better choice for most lightweight backpackers.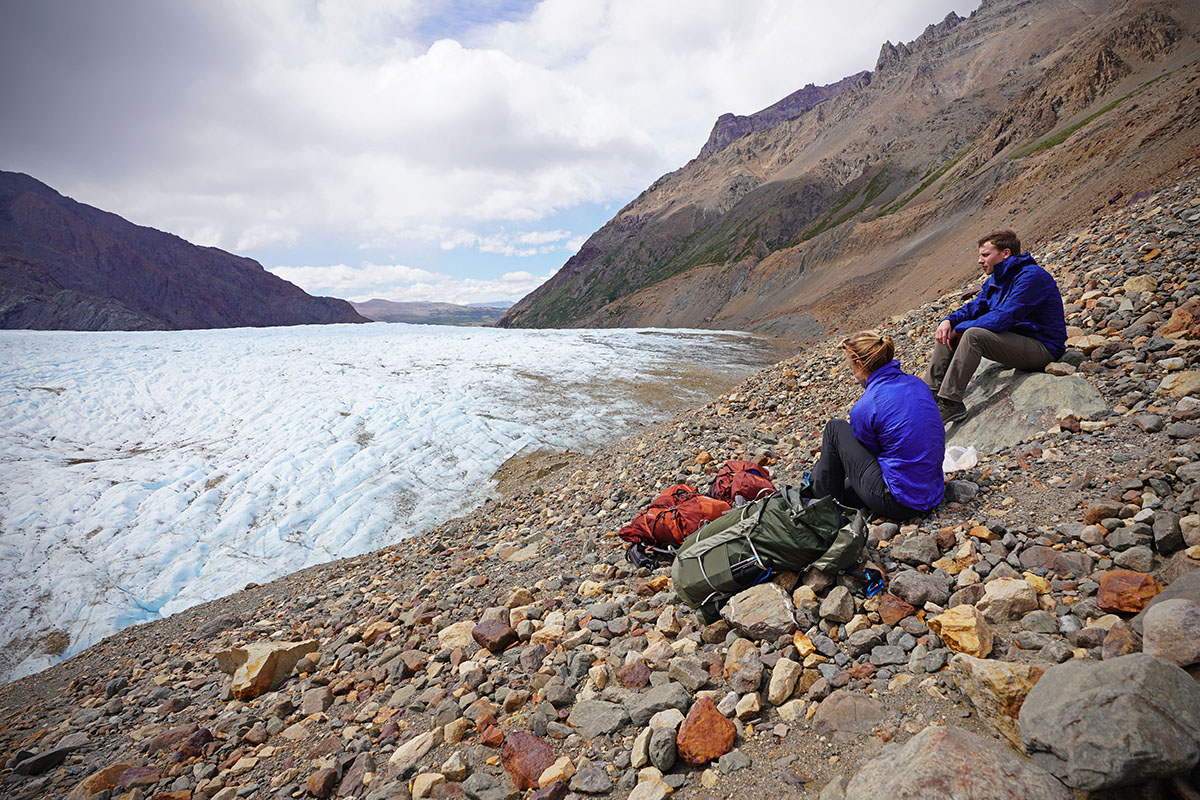 Last but not least, REI offers an intriguing alternative to the Crown2 60 in their Flash 55 pack. Like the Crown2, the Flash is highly customizable with removable features including the hipbelt, pockets on the shoulder straps, compressions straps, and top lid. The Flash also is competitively lightweight at 2 pounds 10 ounces (around 4 oz. heavier than the Crown2), more durable with a 420-denier bottom (the body is the same at 100D), and we found that it carries loads of up to 35 pounds impressively well. Where the REI falls short is adjustability: both the hipbelt and shoulder straps are fixed in place, which makes it harder to dial in fit (the Granite Gear's hipbelt slides out and can be lengthened or shortened). In the end, it's a close call between two capable lightweight design, but we think the Flash is the slightly more well-rounded pack for about $20 less. 
If you're thinking about buying gear that we've reviewed on Switchback Travel, you can help support us in the process. Just click on any of the seller links above, and if you make a purchase, we receive a small percentage of the transaction. The cost of the product is the same to you but this helps us continue to test and write about outdoor gear. Thanks and we appreciate your support!
Depending on the seller, most products ship free in the United States on orders of $50 or more. International shipping availability and rates vary by seller. The pricing information on this page is updated hourly but we are not responsible for inaccuracies.
Learn More About Outdoor Gear