Cutting-edge Dyneema Composite Fabrics—formerly Cuben Fiber until a recent name change—are at the forefront of the ultralight gear movement. And the leader at producing backpacks and tents made with these materials is Hyperlite Mountain Gear out of Maine. We exhaustively tested the 3400 Windrider backpack in the deserts of central Utah and high peaks of southern Colorado on both men and women for everything from backpacking and packrafting to backcountry skiing. What'd we find? The Windrider's lightweight materials and minimalist yet smart design are ideal for ultralight backpacking or other high-octane adventure activities where weight is at a premium. Below are our thoughts on the Windrider's Dyneema fabric, organization, construction, fit and comfort, and more. To see how it stacks up to the competition, check out our comparison table and article on the best backpacking packs. 
 
Performance
Tested in Water, Sand, and Snow
Full disclosure: we thrashed this pack. The Hyperlite 3400 Windrider is built for thru-hiking and bushwhacking, but ours saw use backpacking in and out of canyons, strapped to a packraft, and backcountry skiing over a very eventful two months. The rough use did take its toll on some seams (more on that below), but otherwise the pack performed great. The Dyneema fabric lived up to its billing and is ultralight, durable, and water resistant (not waterproof, but not that far off). More, the Windrider is surprisingly comfortable and able to handle a good-sized load with relative ease.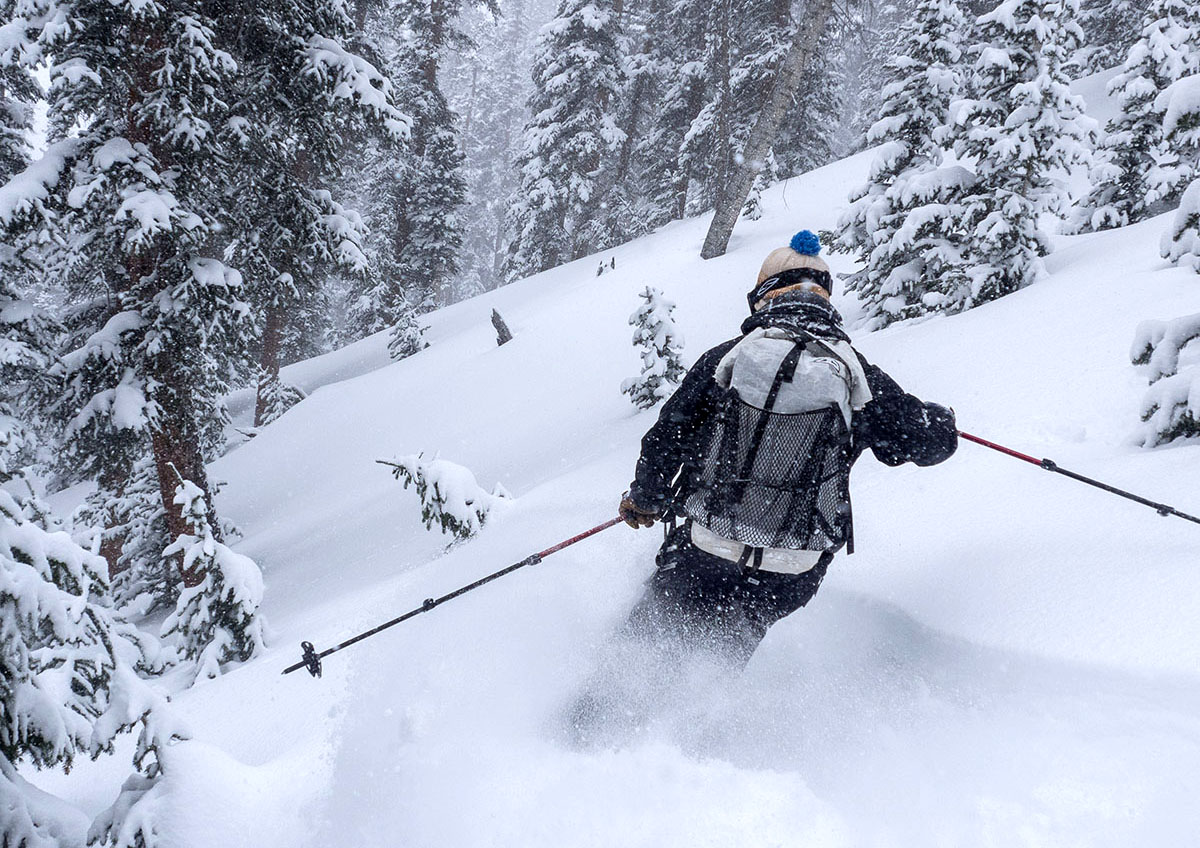 Dyneema: Ultralight and Water Resistant
The star of the show is the Dyneema Composite Fabric. This technical material was first used for boat sails and is prized for its strength-to-weight ratio and water resistance. Liberal use of Dyneema on the Windrider helps bring the total weight of the pack down to 2 pounds, which is 10 ounces lighter than the popular ultralight Osprey Exos 58, and roughly half the weight of mainstream models from Osprey, Gregory, and REI.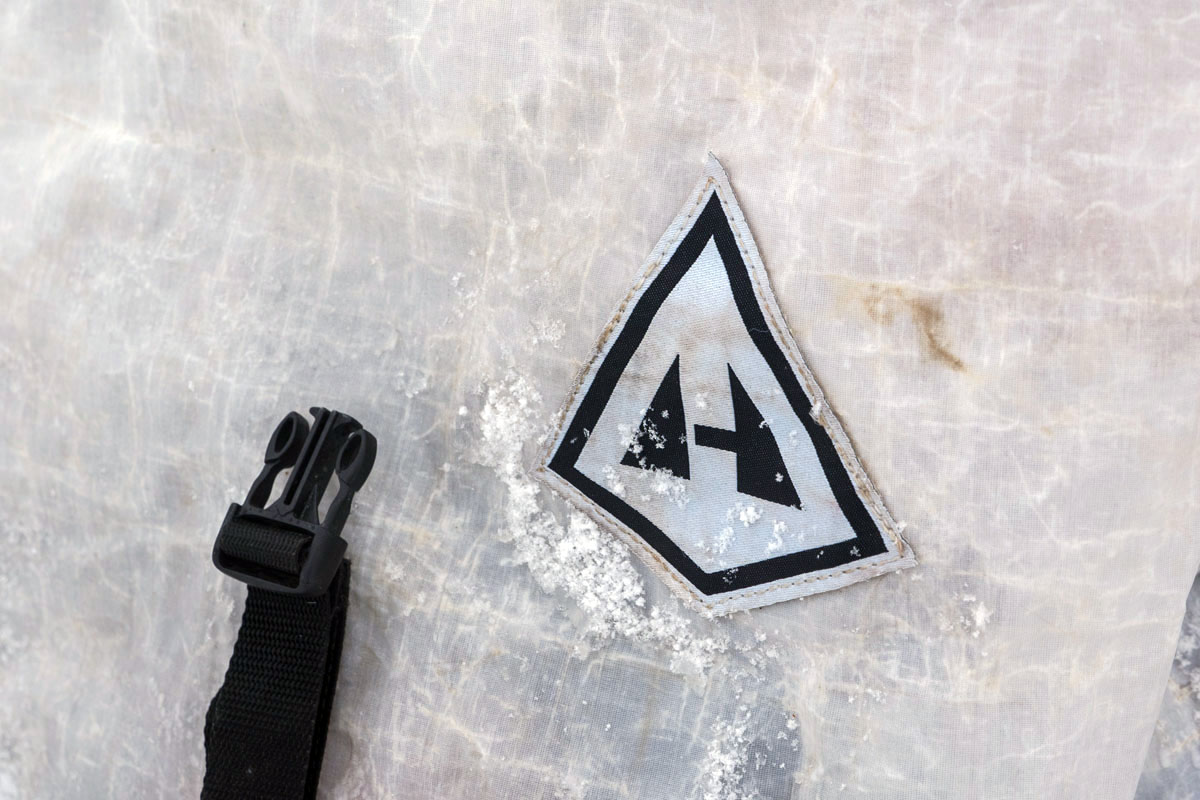 The Windrider uses Dyneema fabric just about everywhere: the pack body, hipbelt, and shoulder straps. All in all, it performed flawlessly with excellent water resistance and no tears. The pack was lashed to the bow of a pack raft for several days and served as my dry bag carrying extra layers, camera equipment and other items that I could not afford to get wet. The fabric and proprietary seam sealing just plain worked and my gear stayed dry despite numerous water fights and a paddle dripping water on it with every paddle stroke. Additionally, the Windrider served as a backcountry ski pack over a very wet weekend of storm skiing. Again, my extra down layers stayed dry. 

Organization: Minimalist with Big Exterior Pockets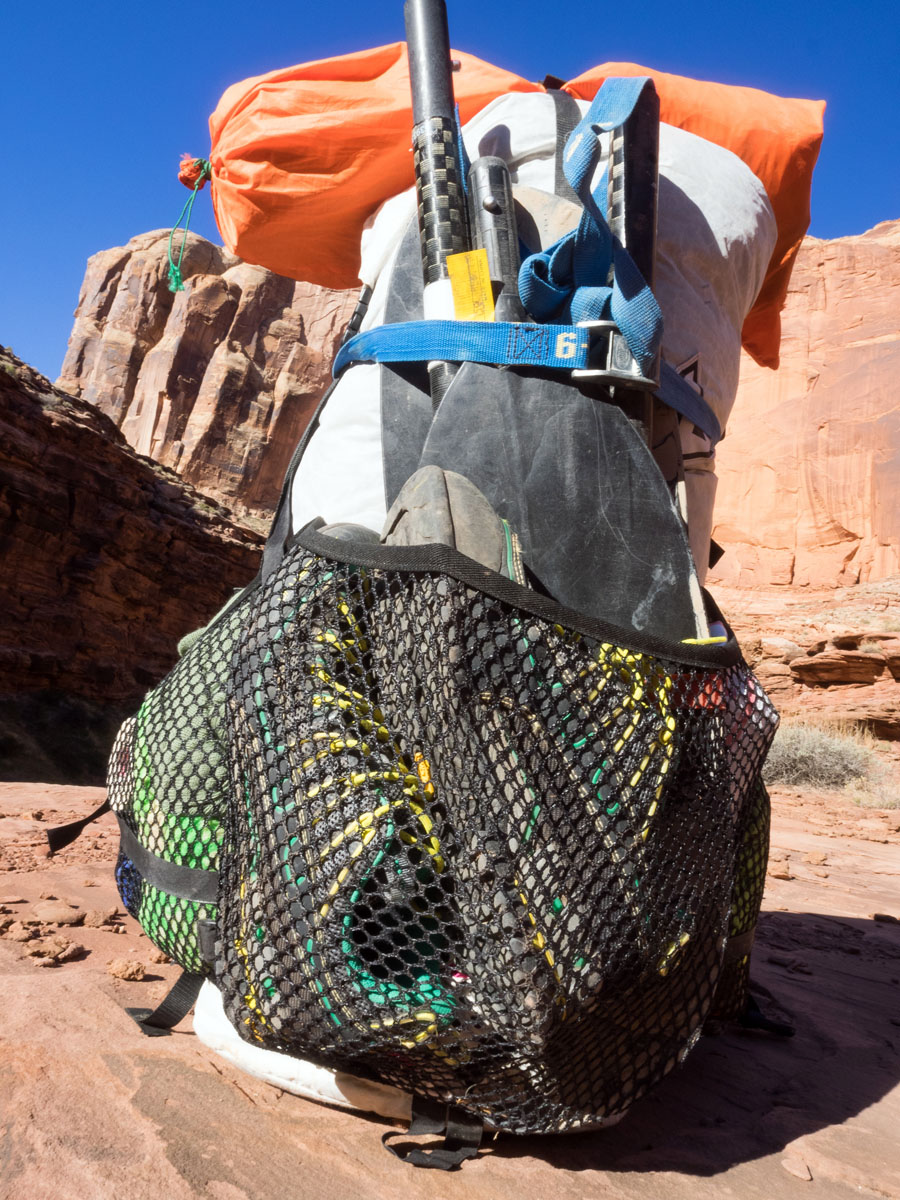 To keep weight down, the Windrider sticks to the absolute basics in terms of organization. You will not find features typical of traditional backpacking packs like a brain, side pockets, zipper access to the inside, internal compartment dividers, etc. One of the most useful features of this pack are the three large outside mesh pockets. On our trip I maximized this space with a paddle, shoes, extra layers, water bottles, sunscreen and anything else I needed easy access to. No matter what was stuffed into the pockets, the mesh expanded to take it. One thing I noticed about the two side pockets was that I could easily access my water bottles from either of these pockets without needing a partner's help.

Construction: Stitching Issues
While construction of the pack is strong, one area of concern is the durability of some of the stitching. In areas where there is a potential for increased wear such as along the bottom of the pack, the seams have begun to fray. Another is the stitching of the haul loop, which resides where the shoulder straps are anchored. This loop is extremely useful for picking up the pack or lowering it down to someone when obstacles dictate such a move. With continual use given the terrain in which I was travelling, the stitching started to pull away. Like the pack bottom, this is a potential stress point, so the stitching should be reinforced to prevent failure at an inopportune time. Whether or not this would be a problem on a PCT thru-hike is debatable, but these were a few areas of potential weakness exposed during my extended use.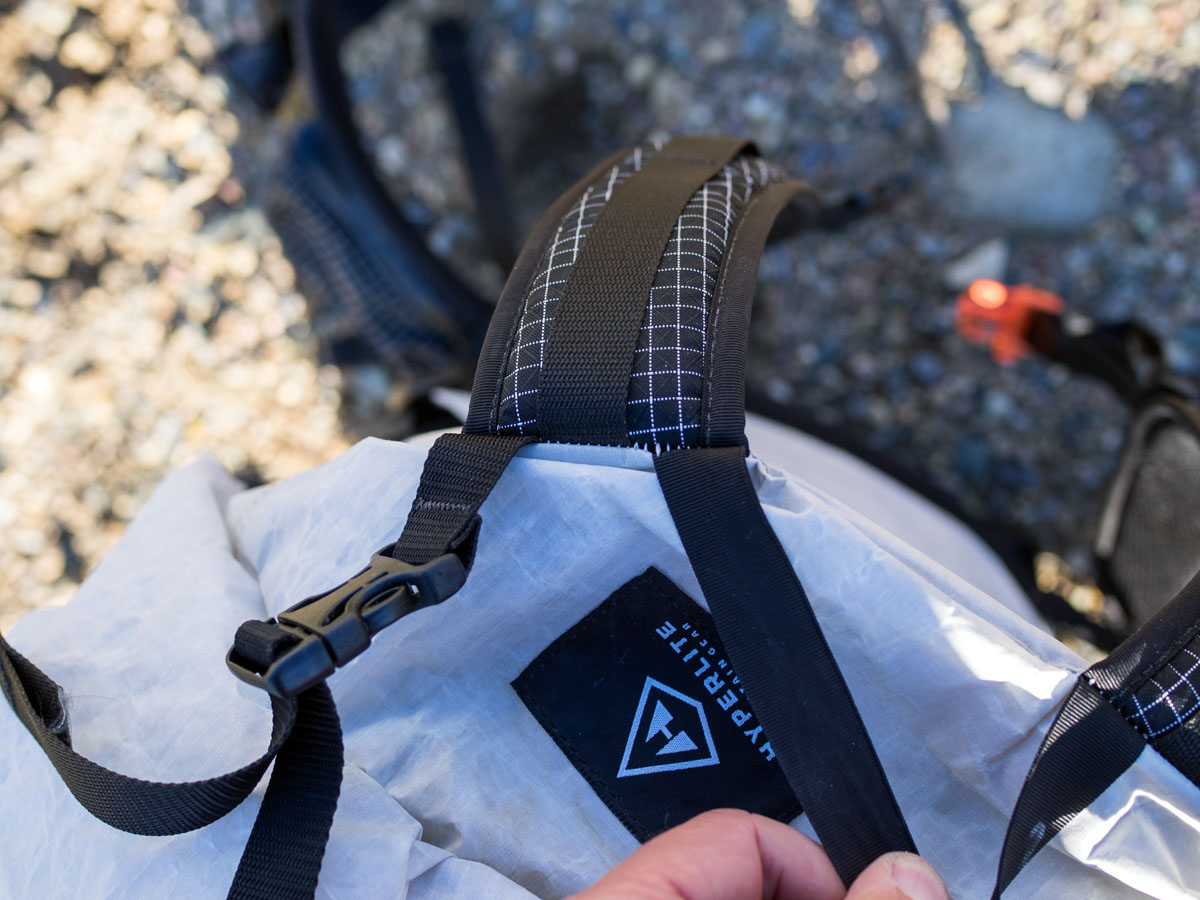 Fit and Comfort
Hyperlite Mountain Gear is about minimalism with very few bells and whistles, so you will not find cushy hip belts, shoulder straps, back ventilation systems, or other comfort features. That being said, the Windrider is surprisingly comfortable for such a streamlined package, even when loaded down with a packraft, paddle, and assorted gear and food for a 6-day trip. Though simple, the hip belt constructed of a combination of closed-cell rigid foam encased with Dyneema Hardline fabric was comfortable enough to carry the large load down a technical boulder choked canyon and then up another one that was an escapade in bushwhacking.​ And the removable aluminum stays are easy to access and offer good support with only a small weight penalty. Two thumbs up in this category. 

What We Like
At just 2 pounds, the Windrider weighs roughly half as much as the mainstream competition and is surprisingly comfortable, regardless of weight.
We love the water resistance factor—for us the Windrider pulled double duty as a dry bag for packrafting and a pack for backcountry skiing. Nothing else we've tested comes close in that regard.  
We also would like to give kudos to Hyperlite Mountain Gear for their innovations. Many ultralight cottage brands use Silnylon (Tarptent, Six Moon Designs, and Mountain Laurel Designs), which is impressive in its own right but not nearly as strong. Hyperlite and ZPacks use Dyneema for everything from backpacks and shelters to stuff sacks, all of which are pricey, but we love having the high-performance options.

What We Don't
If you prefer a traditional pack with lots of features and access points, the Windrider isn't your cup of tea. It's also very expensive at $345.
Even for minimalist trekkers, one feature to add would be a small internally sewn pocket near the internal hydration sleeve for the little, yet important items (i.e. headlamp, repair kit, multi-tool, keys, etc.). In lieu of such a feature or a brain, I utilized a small stuff sack for those items, but a small pocket would solve this problem.
The only other concern is the durability of the stitching at key contact points discussed above. The Dyneema itself is bombproof but reinforced seams would help ensure that the rest of the pack is too.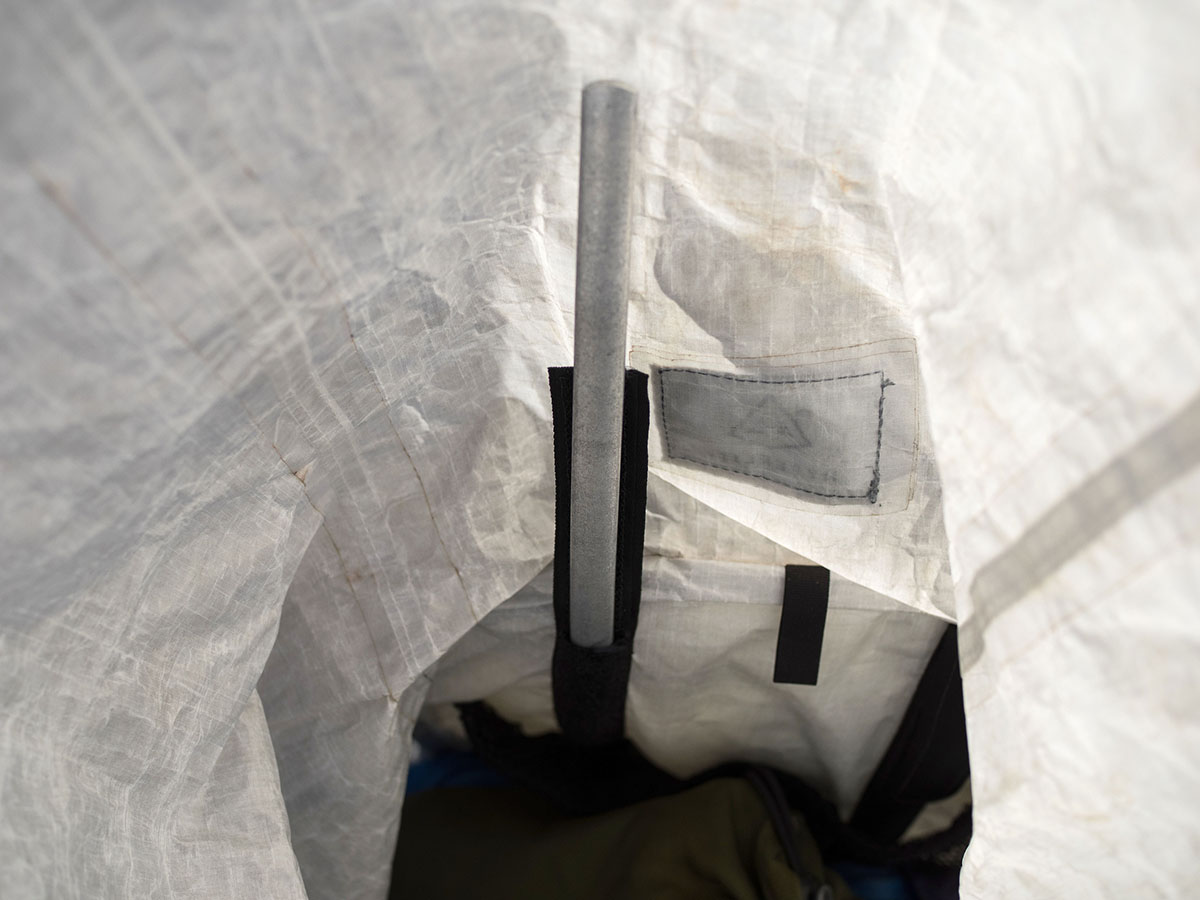 Comparison Table

The Competition
The 3400 Windrider isn't the only ultralight, medium-volume pack on the market, but it makes a strong case of being the best. Osprey's Exos 58 undercuts the Hyperlite by over $100, but weighs a significant 10 ounces more (medium frame) and lacks the waterproofing properties of the Dyneema fabric. Another 2-pound option that we've tested is the Gossamer Gear Mariposa 60 (see our in-depth review). This pack has more pockets than the Windrider (7 vs. 3), but as with the Exos, the Mariposa is built with ripstop nylon so it doesn't have the same levels of water resistance and weighs a little more (the Robic nylon has been more puncture-resistant, however).
A final notable competitor is the ZPacks Arc Blast. Made with a mix of Cuben Fiber and polyester, it's the lightweight champ (24 oz. for 55 liters) thanks to a minimalist design and carbon fiber frame. Feature-wise, it's even more sparse than the Windrider and the hybrid construction does impact durability, but the weight is nevertheless impressive. We haven't had a chance to test the Arc Blast but look forward to pitting it against the Windrider soon.
If you're thinking about buying gear that we've reviewed on Switchback Travel, you can help support us in the process. Just click on any of the seller links above, and if you make a purchase, we receive a small percentage of the transaction. The cost of the product is the same to you but this helps us continue to test and write about outdoor gear. Thanks and we appreciate your support!
Depending on the seller, most products ship free in the United States on orders of $50 or more. International shipping availability and rates vary by seller. The pricing information on this page is updated hourly but we are not responsible for inaccuracies.
Learn More About Outdoor Gear