Can you give us an overview of packrafting? 
Packrafting originated in Alaska and has its roots there. Guys like Roman Dial were doing adventure races and exploring the backwoods, and there is tons of water up there. They were coming across streams and big water and utilizing typical wading techniques. Then they started using very basic Walmart-type rafts and people started innovating. Now packrafts are super portable and small with inflation systems that require no pump. Since then, it's developed and evolved into a whole activity in itself. We utilize packrafts as vessels to paddle across rivers and lakes and to access terrain for all types of adventures.
 
How big and heavy is a packraft? Can you do it concurrently with backpacking?
Most packrafts are in the 5 to 10-pound range and about the size of a two-person tent. It's like carrying another two-person tent except you can't partner out the fly or stakes or anything like that. Packrafts are great for backpacking. This coming weekend we are backpacking to the Colorado River, floating it on packrafts, and backpacking out. People are using packrafts for all kinds of things like hiking to remote alpine lakes, paddling across them, fishing, and whatever else. I recently saw at Island Lake near Silverton, for example, people hiked up, paddled out on the lake to a remote island, and camped out all by themselves. You could never swim out there because of the cold water.
 
How do they inflate?
Think of a stuff sack or big nylon sack that has a valve that screws into the packraft. All you have to do in capture the air in the stuff sack and squeeze it into the packraft. The Russians in the 1970s had similar inflation systems that they used to blow up their homemade rafts. Once you put the valve cover back on, there are a couple of bite valves to finish the job off. The whole process can take less than 2 minutes.

What is the ideal type of terrain to access with a packraft?
That's open to your imagination and creativity. For me, this weekend it's a desert loop with water in the middle that we need a packraft to complete. In the Brooks Range in Alaska, we used rafts right off the road because it was the easiest way to get access. Some people are doing it instead of whitewater kayaking to get to rivers you wouldn't want to carry a kayak into. Packrafts are just so light and easy to deal with. I talked to a gentleman at a college in Pennsylvania recently, and kids up there are getting on the subway with packrafts, taking the train north, and floating back to campus. Recently I went to Panama and flew down with two packrafts and breakdown paddles. We were out there surfing waves and snorkeling in packrafts. So it really depends on the individual and how creative you want to be. For me, I use it to access terrain I wouldn't be able to access without it.
 
What is your vessel of choice and what recent advances have you seen in the industry?
Now I'm using a raft by Alpacka. They were one of the first commercial packraft makers and are right down the road from us. Now companies like NRS and others are making them too. Alpacka has a couple versions, and I'm using the one made for whitewater. Some are made for flat water with a slightly different shape. Now they make boats with whitewater skirts, like the Alpackalypse, which recently won some gear awards. That boat can be rolled like a kayak and I've paddled one in sizeable water before. Packrafts paddle like a little sports car, or a playboat as we say in the kayak world.
Your paddle doesn't have to be a breakdown paddle, but if you're backpacking, having a 4-piece breakdown is best. It's really nice that they now make bow bags that clip on the front of the boat and have waterproof zippers. You can store your camera, repair equipment, and other things in there. Another advancement I think is really cool comes from scuba diving technology: zippers, or zipper boats, as we call them, [boats with zippered interior compartments built into the packraft's tubes] allow you to store gear inside the raft. Rather than strapping gear to the outside of the craft, this makes it much more stable by lowering the center of gravity. You can still just strap the backpacks on the bow and go, but in places like the Brooks Range, it's better to get the bags down near your hip. They paddle much better that way.
 
Tell us a little about your recent trip to the Brooks Range.
It was amazing. The goal was to get deep into the Brooks Range with packrafts and fat bikes, and I was with two friends. It was an 11-day trip and over 200 miles. We started right on the divide, setting out with packrafts, fat bikes with 5-inch tires, 11 days worth of food, and homemade PFDs that we were lighter than traditional PFDs.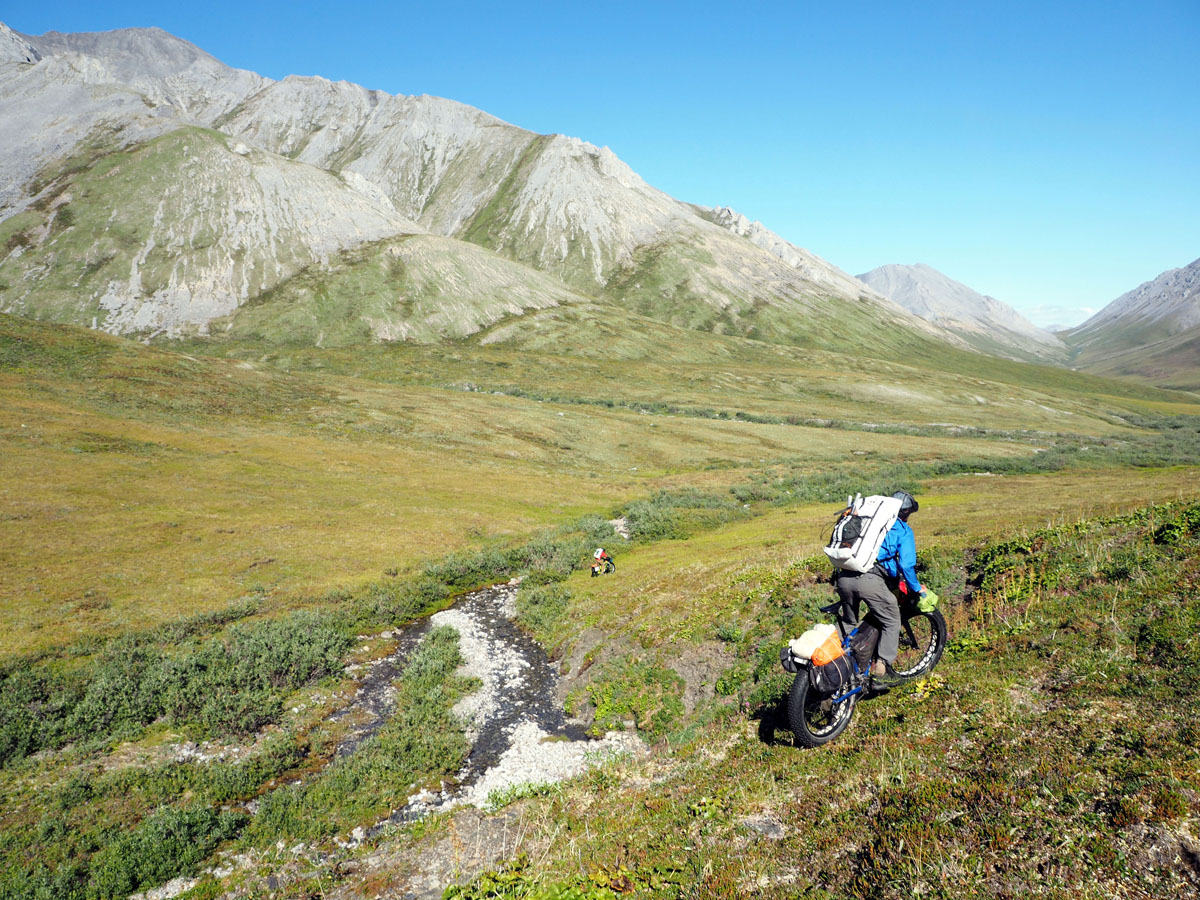 Right off the bat we paddled a Class 3 gorge with a Class 4 drop, then spent the next 6 days in the Brooks Range with our fat bikes heading east. Along the way we climbed a nice peak, then we paddled the Ivishak River 90 miles out and ended 30 miles from the Arctic Ocean. The bikes performed well and the rafts were great. I was in Iceland the year before but the weather was absolutely heinous. This year I was prepared for that plus the bugs, but it was absolutely gorgeous. We got 9 bluebird days.

What kind of wildlife did you see?
Wolves, wolverines, musk oxen, grizzly bears, caribou, and arctic fox. Tons of wildlife. In terms of bears, we slept with big lines of sight and the 24/7 of daylight helped, but we had one memorable encounter with a grizzly in the willows. I come around a corner to a big bear standing on its hind legs about 40 feet from my friend. The bear did a bluff charge but saw three guys on bikes and headed in the other direction.
We slept with our food up there. We thought a lot about it and were pretty worried, but bear canisters were too bulky and heavy to carry. We talked to some hard men up there and they told us that if you lose your food, you're screwed. I would rather take my chances fighting off a bear for my food than having them get it. The bears up there are not like those in Glacier or Yellowstone that have been habituated to human presence. Nobody is up there. We spent 9 days in the range and didn't see any sign of another human being ever being there.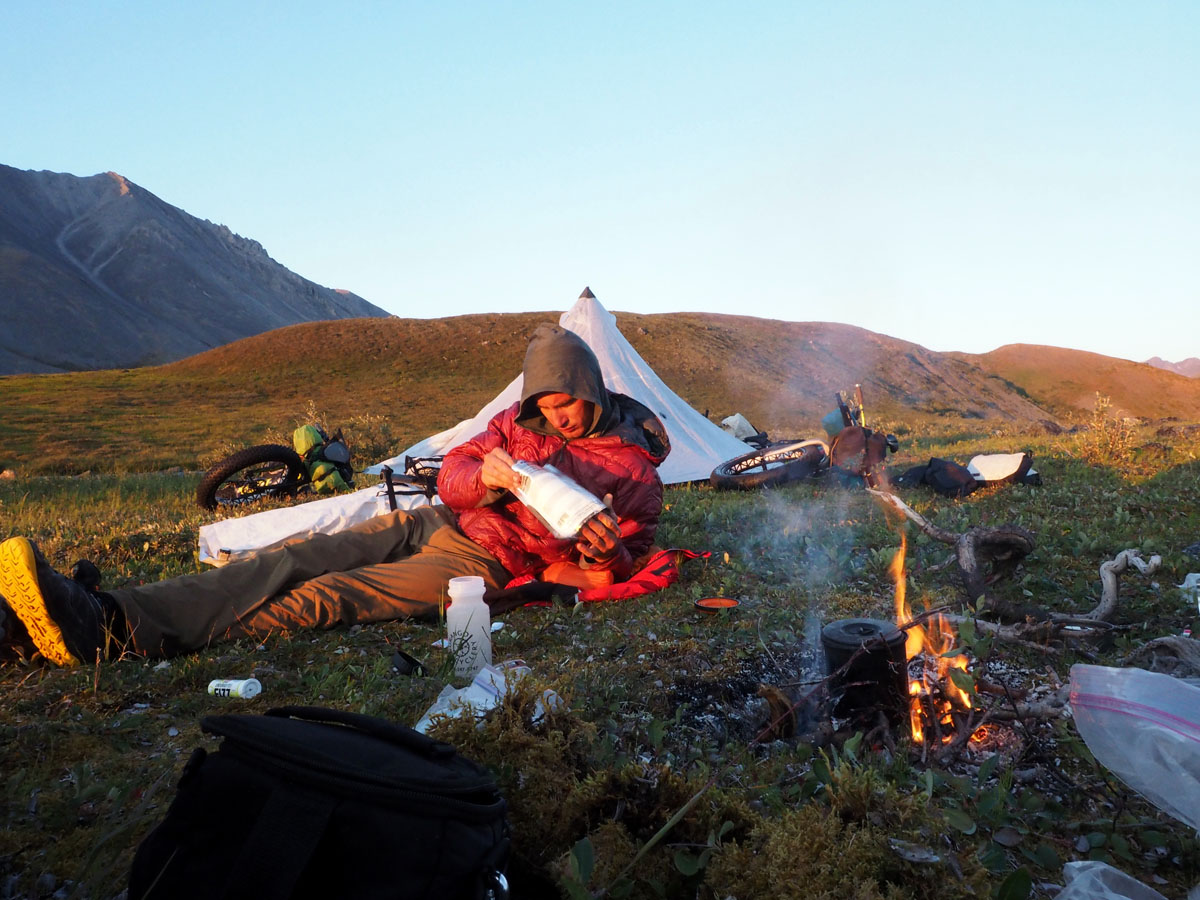 What's next for you?
There is a list of things, that's for sure. The next involving packrafts will likely be with the guy I went to Iceland with last year. We are talking about a trip to Siberia involving connecting waterways and riding our bikes up river drainages. And plenty of local mini-adventures here and there. I look at maps totally differently now, and especially the blue lines. I created a route called the Loop of Fun here, which includes mountain biking from Durango over to Gunnison, paddling a packraft all the way to Moab over 9 or 10 days, and mountain biking back to Durango. It's about 9 days on the river and 7 days of mountain biking with no vehicle whatsoever—a 400-mile trip. I just look at things totally different now. We can bikepack and canyoneer Lake Powell, for example, and access slot canyons from the water that you can't get to overland. 
 
Brett Davis is based in Durango, Colorado where he is Outdoor Pursuits Coordinator at Fort Lewis College, an expert packrafter, and sponsored rider for Salsa Cycles.