Osprey Levity 60
Price: $270
Weight: 1 lb. 15.2 oz. (medium)
Fabric: Nylon (210D x 200D & 30D)
Capacities: 45, 60L
What we like: Creative and fun UL design with a strong frame and fantastic ventilation. 
What we don't: Thin padding means it can't carry more than 30 pounds comfortably; no hipbelt pockets.
See the Osprey Levity 60  See the Women's Lumina 60
Released last year, the highly anticipated, sub-2-pound Osprey Levity is a formidable contender in the ultralight backpacking pack market. Coming in 11 ounces lighter than their popular Exos, the design targets thru-hikers and minimalists. We took the 60-liter model on a backpacking trip in Utah's Canyon Country and found it lived up to the hype. The bag strategically mixes durable and ultra-thin fabrics, is smartly built with excellent ventilation, and offers plenty of organization. Below we break down the Levity 60's weight, durability, carrying comfort, organization, fit, and more. To see how the Levity stacks up, see our article on the best backpacking packs.

Performance
Weight
At 1 pound 15.2 ounces for our medium size, the Osprey Levity 60 is undoubtedly in the featherweight category. Osprey's previous leading ultralight design was the Exos 58, which was updated in 2018 and tips the scales at 2 pounds 10.4 ounces. It's true that you can go even lighter—our Zpacks Arc Blast 55 is 1 pound 5 ounces—but it will set you back an additional $55 and is missing features like a top lid. Taking into account the Levity's comfort, organization, and solid build quality, we consider the sub-2-pound weight a true accomplishment. And if you don't need the 60-liter capacity, Osprey also makes the Levity 45, which comes in at 1 pound 13.6 ounces.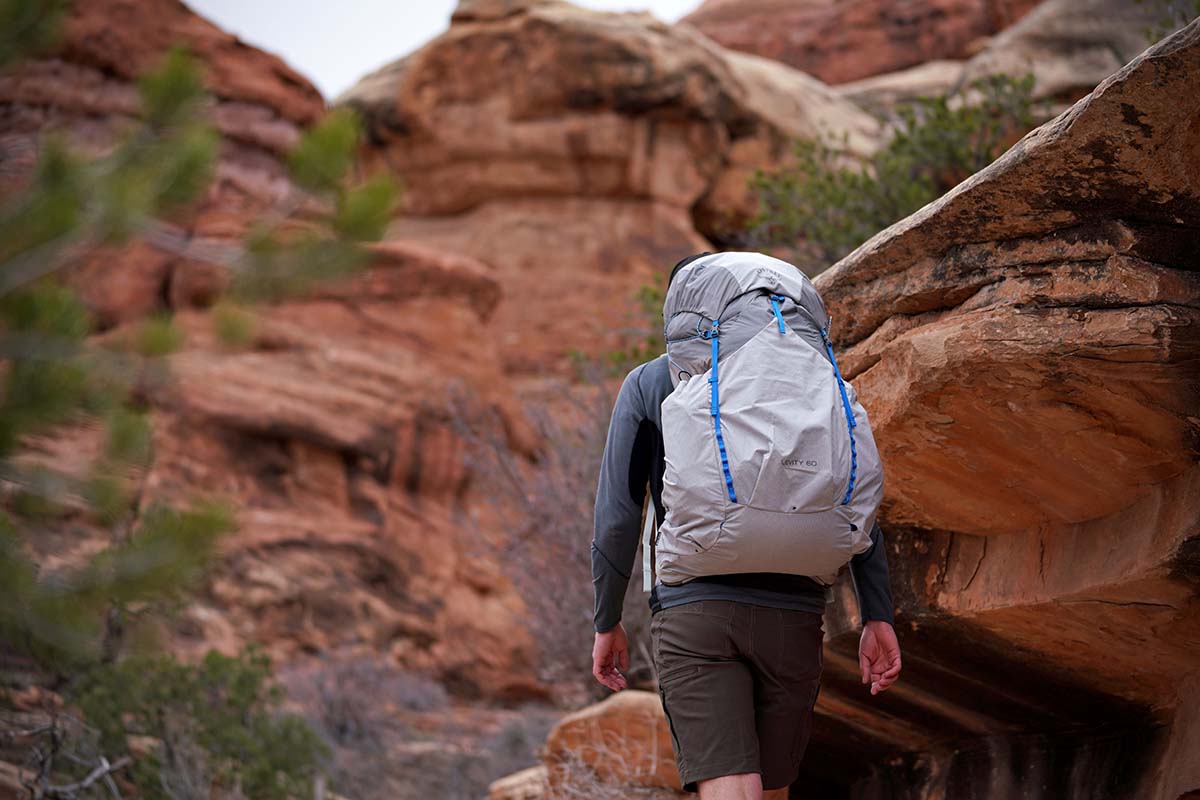 Durability
Almost without exception, ultralight gear compromises durability in some way. The Levity certainly isn't immune to this, but Osprey has come up with a creative solution with their NanoFly fabric. Covering the bottom and lower 2/3 of the pack body—areas we've found to be the most vulnerable to tears and punctures—the unique mix of 210-denier Cordura nylon and 200-denier ultra-high-molecular-weight polyethylene (UHMWPE) provides surprisingly burly protection. I treated this pack like normal, setting it down roughly on the trail and squeezing through narrow slots between rocks and branches, and it still looks like new. For an ultralight backpacking pack, that's an impressive achievement.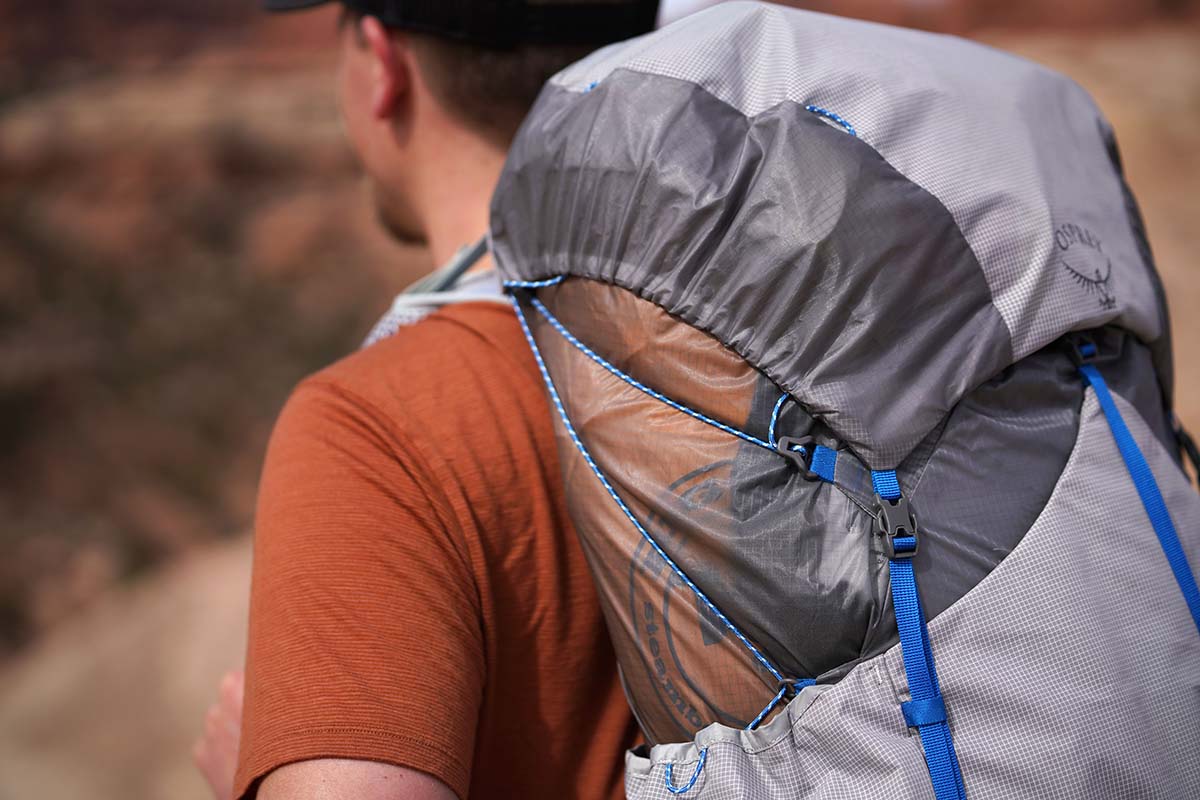 Where Osprey saved a lot of weight is in their use of 30-denier Cordura silnylon along the pack body and sides of the top lid. Straight away, this is very thin stuff—30-denier is so thin it's see-through. We've put holes in packs like the Osprey Exos 58 that uses 100-denier fabric, which is downright thick and tough by comparison. While the silicone treatment and ripstop construction add toughness to the 30-denier fabric, these are the areas of the pack where you'll want to be mindful (we'd avoid loading up sharp equipment). The good news is we haven't had any issues thus far, and the complimentary NanoFly material that covers a lot of the exterior makes it a fairly durable pack overall. Additionally, the buckles, webbing, and minimalist cord used for side compression all have a premium and well-built feel.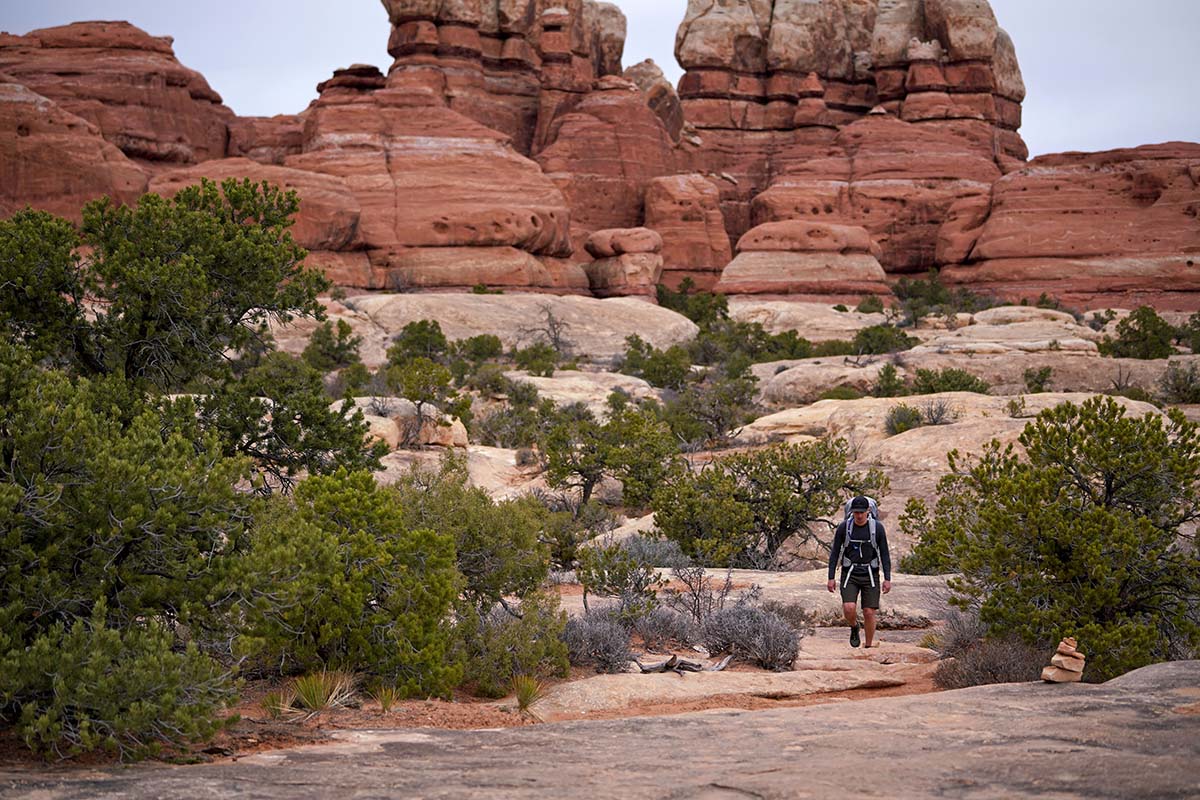 Carrying Comfort
With a weight capacity of about 30 pounds, the Osprey Levity 60 is a far cry from the feature-rich and heavily padded packs that used to dominate the market. But for those who keep their weight in check, it's a very comfortable design. The mesh backpanel conforms nicely to your back and completely isolates you from the contents of the bag, and the strong metal frame provides support while transferring weight to your hips. I came close to maxing the weight limit multiple times after filling up with water while backpacking in Utah, but there was just enough padding on the shoulder straps and hipbelt to keep me comfortable.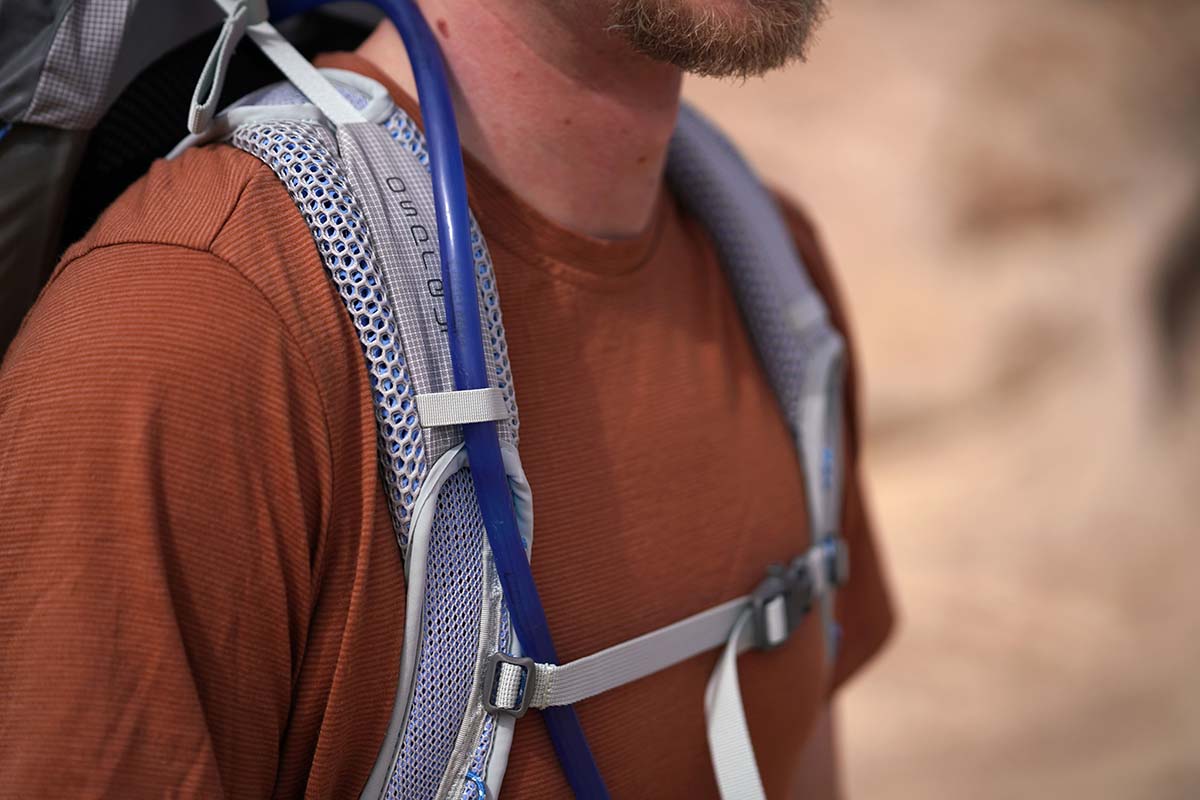 To be clear, there are limitations to the Levity's comfort. In particular, the streamlined hipbelt that has cutouts in the sides and uses minimalist padding is a step down in cushioning and support from a moderately heavier bag like the Granite Gear Crown2 60. If you're needing to haul extra water or your tent and other equipment isn't very light, it might be worth choosing a pack with a higher weight capacity. But for thru-hikers, minimalists, and those that have their gear list dialed in, the Levity is a great match.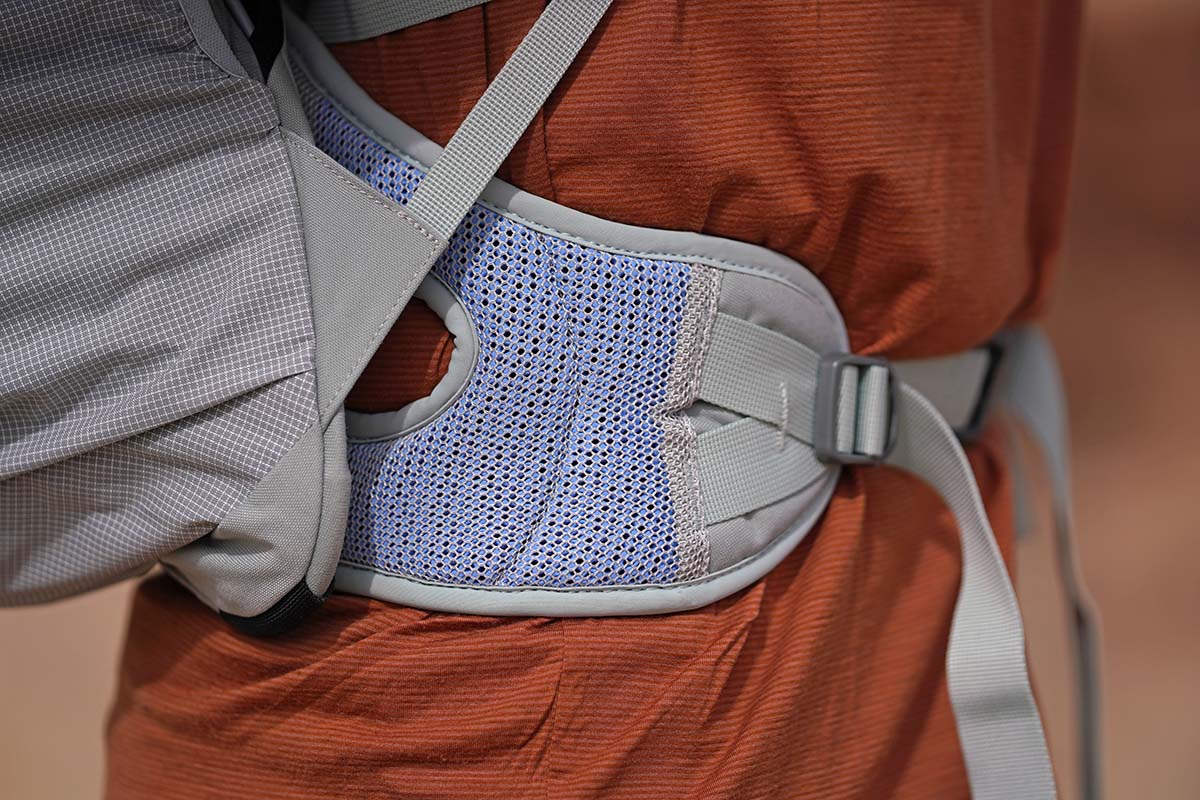 Organization and Pockets
We think Osprey did a fine job balancing simplicity and functionality with the Levity's organization. There are a total of four exterior pockets: two tall side pockets that can be accessed from the top or behind your elbow while wearing the pack, a large central pocket along the front, and zippered storage in the top lid. The three pockets along the pack body are made with a stretchy mesh material, which allows them to expand to accommodate anything from rain jackets to bulky gear like bottles or a water filter. Osprey also included a small hole at the bottom of all three to drain water. We do miss having hipbelt pockets—a feature we almost always find useful—but it's apparent from looking at the hipbelt design that they would've been difficult to add.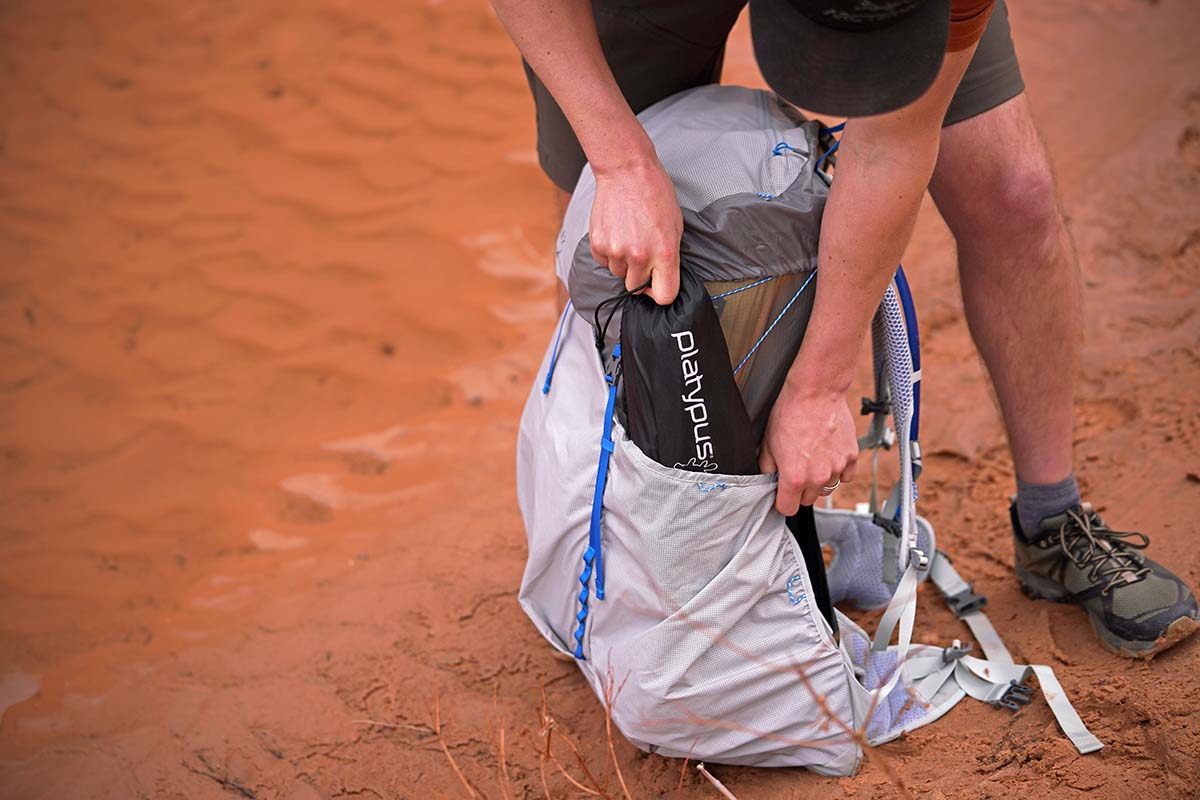 One downside of a ventilated backpacking pack is that the curved frame cuts into the main compartment's capacity. We don't think this will be a major issue with the Levity though. The top opens wide enough to easily fit a standard bear canister, and even with a full 3-liter reservoir maxing out the included sleeve, I never ran into issues with space.


Ventilation
From their lightweight Exos to the popular Atmos AG 65, Osprey has shown a knack for assembling well-ventilated packs. The Osprey Levity 60 is no different: the entire backpanel from the base of the bag to the shoulder straps is suspended mesh. Further, the foam used on the shoulder straps and hipbelt is dotted with small holes to both reduce weight and promote breathability. The result is fantastic all-around ventilation. In fact, it's so good that there were a number of occasions where I confused the coolness for a water leak from my reservoir, and I instinctively reached behind to check. Among models in the 2-pound category, only the Zpacks Arc Blast with its tensioned frame comes close to this level of breathability (and we give the overall edge to the Osprey).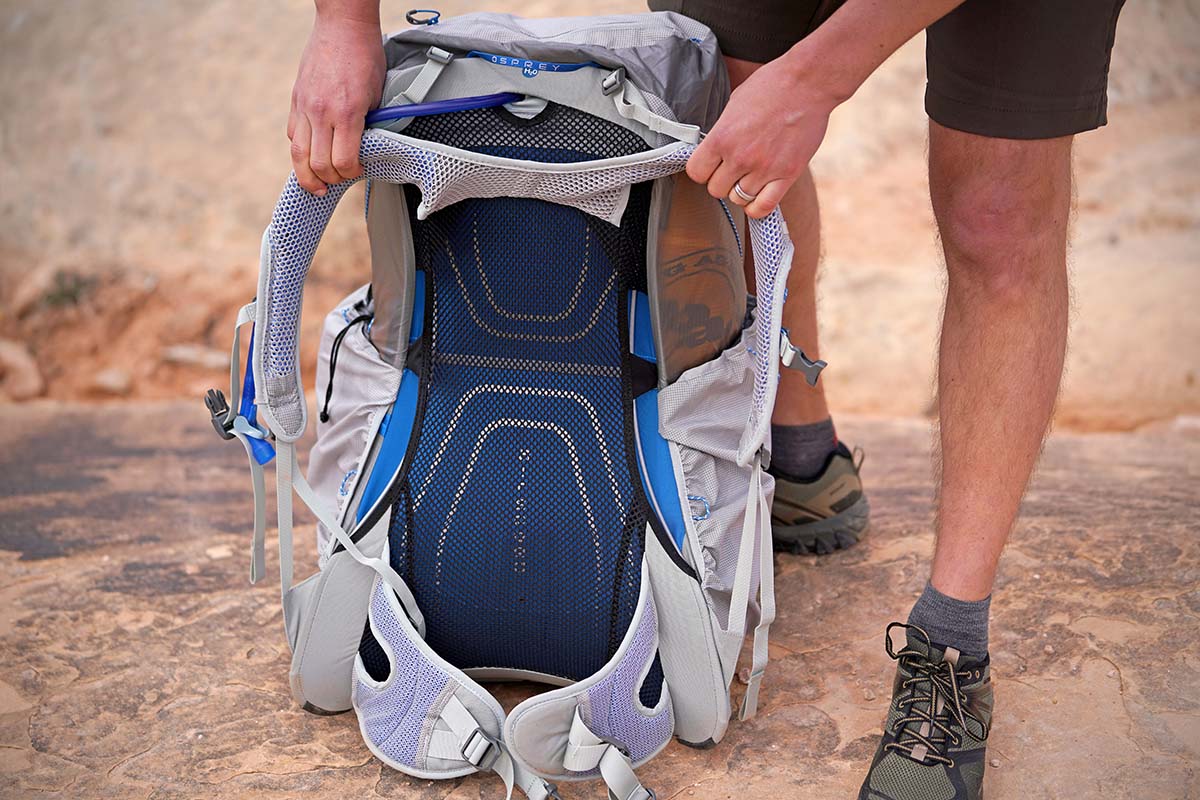 Fit and Sizing
With an 18-inch torso and 31-inch waist, I tested a medium size Osprey Levity 60 and had no issues with fit. It's worth noting that the pack ran a little smaller than others I've tested with a similar fit range, so I suspect those who are on the fence might be better off sizing up. Part of the reason is that the hipbelt and shoulder straps are fixed in place, so it's not as easy to make small adjustments to dial it in. That being said, I was able to get a snug, very comfortable fit right away.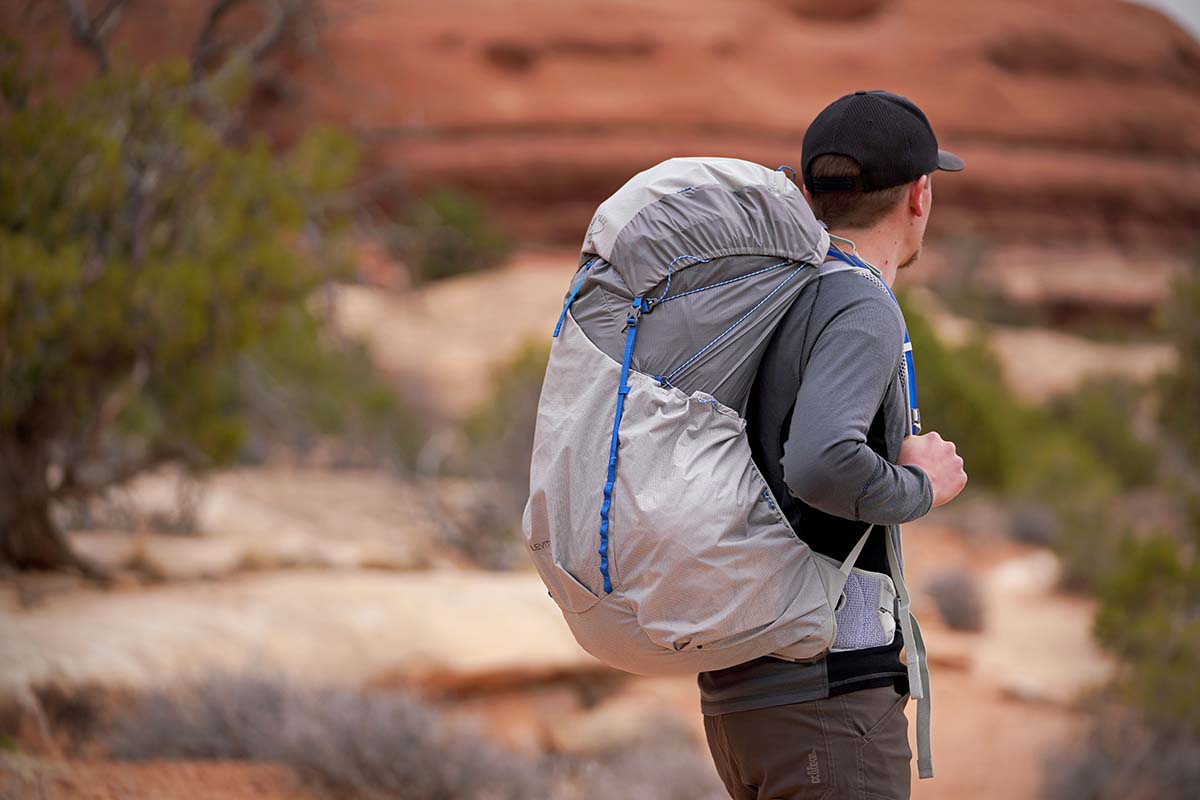 Capacities
The Levity is intended for ultralight backpacking and thru-hiking, and its 45- and 60-liter capacities reflect that. For minimalist overnights or shorter multi-day trips, the 45-liter pack is a great match. It has the same pocket layout and overall design as the 60-liter model, but comes in at a lighter 1 pound 13.6 ounces. We suspect, however, that the Levity 60 will be the more popular choice overall—it's less than 2 ounces heavier and provides a little more leeway for stuffing in extra gear, food, and water on extended treks.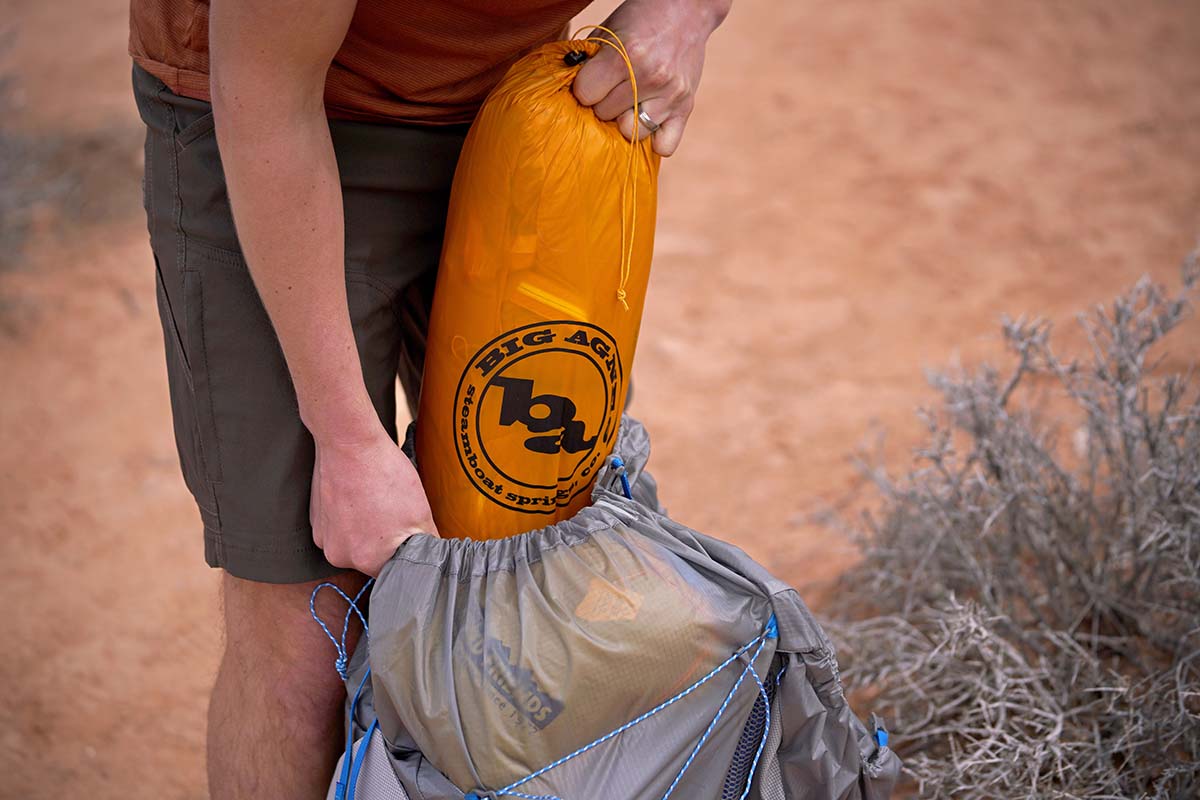 Women's-Specific Osprey Lumina
Osprey took years to release the women's version of the Exos (the 2018 Eja), so we're happy to see they've launched this newer design in both men's and women's-specific models. The Osprey Lumina is offered in the same 45- and 60-liter capacities as the Levity, but differs with teal accents on the webbing and cord, smaller torso and waist belt sizes, and tweaks to the shape of the shoulder straps and hipbelt. We haven't had a chance to test the Lumina just yet, but would expect it to be just as strong of a performer on fast-and-light trips.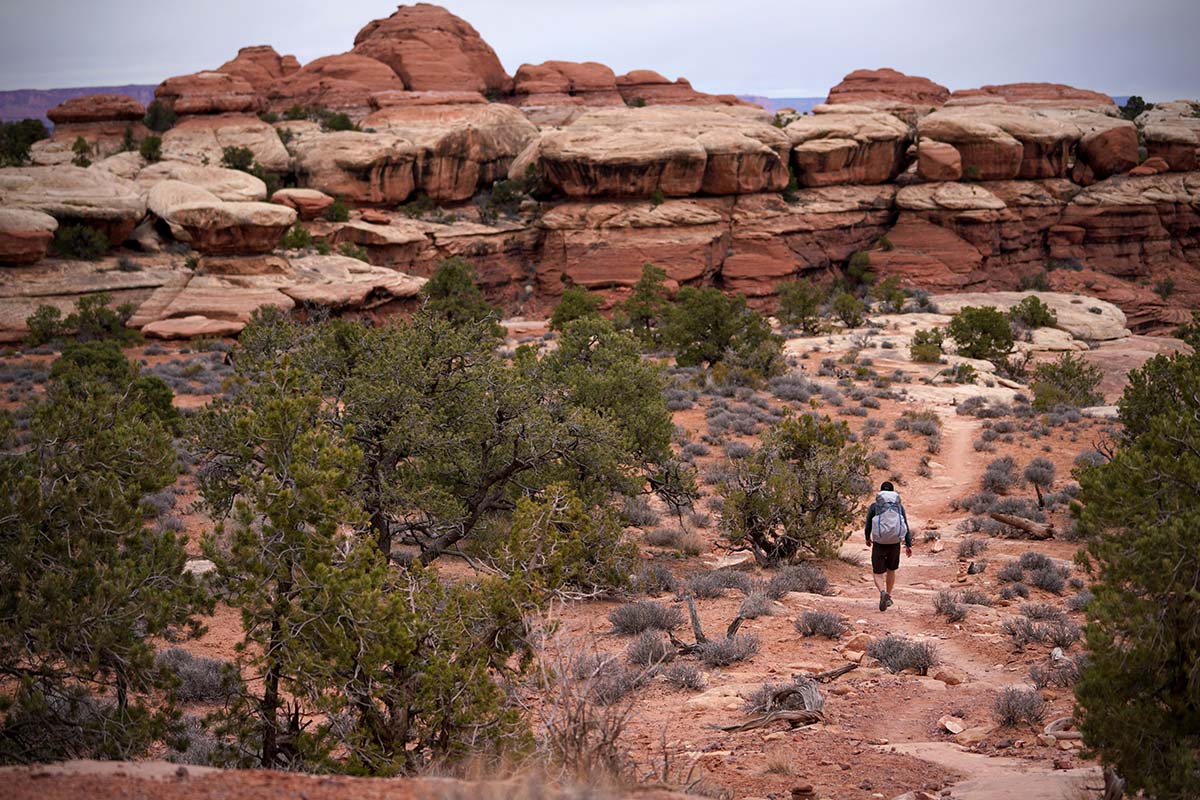 What We Like
The Levity is a sub-2-pound pack with minimal compromises. Build quality is excellent, you get a strong metal frame, and it's surprisingly durable.
Fantastic all-around ventilation from the suspended mesh backpanel and breathable foam padding.
The three pockets along the pack body are very large and protected by the tough NanoFly fabric. 
Made in men's and women's-specific designs.

What We Don't
If you'll be consistently pushing the 25- to 30-pound weight limit, it might be worth getting a pack with more hipbelt padding.
The Levity doesn't include hipbelt pockets.
The 30-denier silnylon fabric on the pack body is extremely thin and requires extra care.

Comparison Table

The Competition
A big-time brand like Osprey jumping into the "super ultralight" category is certainly noteworthy, but there are a number of well-established challengers. One of our favorites is the Gossamer Gear Mariposa 60. This pack weighs slightly more at 2 pounds 0.7 ounces but comes with a higher maximum load of 35 pounds (for more information, see our in-depth Mariposa 60 review). The two designs offer similar all-around durability and organization, although we do like that you get hipbelt pockets on the Mariposa. Where the Osprey has the clear advantage is in back ventilation—the suspended mesh panel is far better at encouraging airflow than the foam padding on the Gossamer Gear. In the end, we give the slight edge to the Mariposa based on its better carrying comfort, but the Osprey is the one to choose if you prioritize ventilation.
As we touched on above, Granite Gear's Crown2 60 offers a bit more cushioning and support than the Levity for a moderate weight penalty (2 pounds 5.8 ounces total). However, for those additional 6.6 ounces, you get a fully featured pack with compression straps, lots of storage including hipbelt pockets, and a convenient roll-top closure. Further, the Crown2 60 has a higher weight capacity of 35 pounds, but we found that it suffered similarly under a heavy load due to its thin padding along the shoulder straps and waist belt. All told, both the Levity and Crown2 are competitive ultralight designs, but we give the nod to the heavier Granite Gear pack for its superior carrying comfort, lower price tag ($200), and added durability.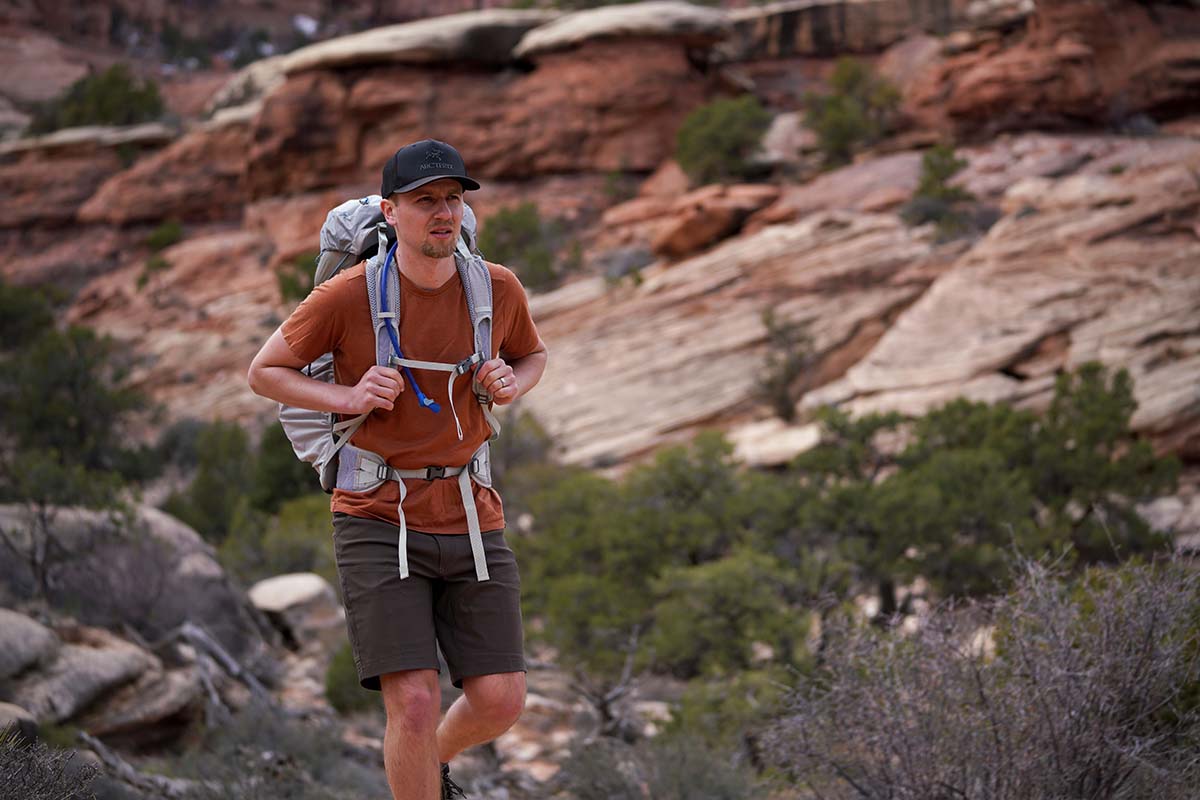 Another cottage industry stalwart is the Zpacks Arc Blast. Made with strong Dyneema fabric, the Zpacks is extremely lightweight at 1 pound 5 ounces, water resistant, and can handle a load up to 35 pounds. That combination makes it popular among the thru-hiking community. But there are compromises in the design: the mesh covering the stretch shove-it pocket along the front is more vulnerable to tears than the Osprey, and you don't get a top lid. Further, the Zpacks has a homemade feel to it compared with the refined Levity (although that can be a positive for some people). We've also had durability issues with our Arc Blast, getting a puncture from setting it on sharp granite on our first trip out, which is something we haven't experienced with the Levity.
A final competitor to consider is Osprey's own Exos 58. We touched on this above, but until this year, it was their leading ultralight design. Osprey updated the pack for 2018, and we're not entirely convinced it was for the better. The positives from the old Exos remain: the backpanel ventilates well, the pack is pretty light at well under 3 pounds, and it can carry more gear than the Levity. But Osprey took away the hipbelt pockets, and we've put multiple tears in the thin 100-denier pack body. At $220, the Exos 58 is $50 less than the Levity 60, but unless you need its 10-pound-higher weight capacity, we think the Levity is the better option.
If you're thinking about buying gear that we've reviewed on Switchback Travel, you can help support us in the process. Just click on any of the seller links above, and if you make a purchase, we receive a small percentage of the transaction. The cost of the product is the same to you but this helps us continue to test and write about outdoor gear. Thanks and we appreciate your support!
Depending on the seller, most products ship free in the United States on orders of $50 or more. International shipping availability and rates vary by seller. The pricing information on this page is updated hourly but we are not responsible for inaccuracies.
Learn More About Outdoor Gear