One of the first steps to enjoying a backpacking trip is learning how to load your pack properly. There are a lot of considerations that go into a well-packed backpack, from nailing the capacity and balancing your pack's contents to keeping critical items handy on the go. Below we cover everything you need to know, including packing order, weight distribution, organization and access, where to stow a bear canister, and more. For all of our top picks in one place, see our article on the best backpacking packs and the best ultralight backpacks. And to make sure you've got everything you need, check out our backpacking checklist.
 
---
Table of Contents
---

1. Packing Order
If you're in search of a simple how-to guide to packing your pack, this is a good place to start. In the sections below, we'll explain the reasons behind this order of operations, but not everyone is interested in the details. Here, we break your pack down into five sections—the bottom, middle, and top of the main compartment, external pockets, and external lash points—and explain what gear goes where.

a. Bottom of Main Compartment
Bulky camp items that you won't need access to during the day:
Sleeping bag
Air pad
Extra layers
Camp shoes or booties
Because this section of the pack will hang below your core, you won't want to load it down with your heaviest items. Putting the sleeping bag at the bottom of a pack is so commonplace that some backpacking packs—including our top-rated Osprey Atmos AG and women's Aura AG—even have separate compartments here with external zipper access. However, for the tightest pack job (see "Fill the Gaps" below), we generally prefer to unzip the internal dividing wall and combine the bottom with the main compartment.

b. Middle of Main Compartment
Your heaviest items that you won't need access to during the day:
Camp stove
Fuel
Cook set
Food (not your snacks for the day)
Bear canister
Any extra gear (rope, harness, climbing shoes, etc.)
Tent (we place this towards the top of the middle)
Water reservoir
The middle section of the main compartment is where you'll want to put your heaviest items (for more on this, see "Weight Distribution" below). Because this gear is more rigid than the soft items in the bottom, it's best to play Tetris here until most of the gaps are filled and the items fit nicely together. We like to put the tent towards the top of the middle, which makes it easier to retrieve in the case of a surprise rainstorm. And before you start to pack this middle section, be sure to load your water reservoir into its sleeve first (it's no fun trying to forcefully stuff two liters of water down the back of a fully loaded pack).

c. Top of Main Compartment
Bulky items you might need to access throughout the day on the trail:
Layers
Rain gear
First aid kit
Water filter/purifier
Hygiene kit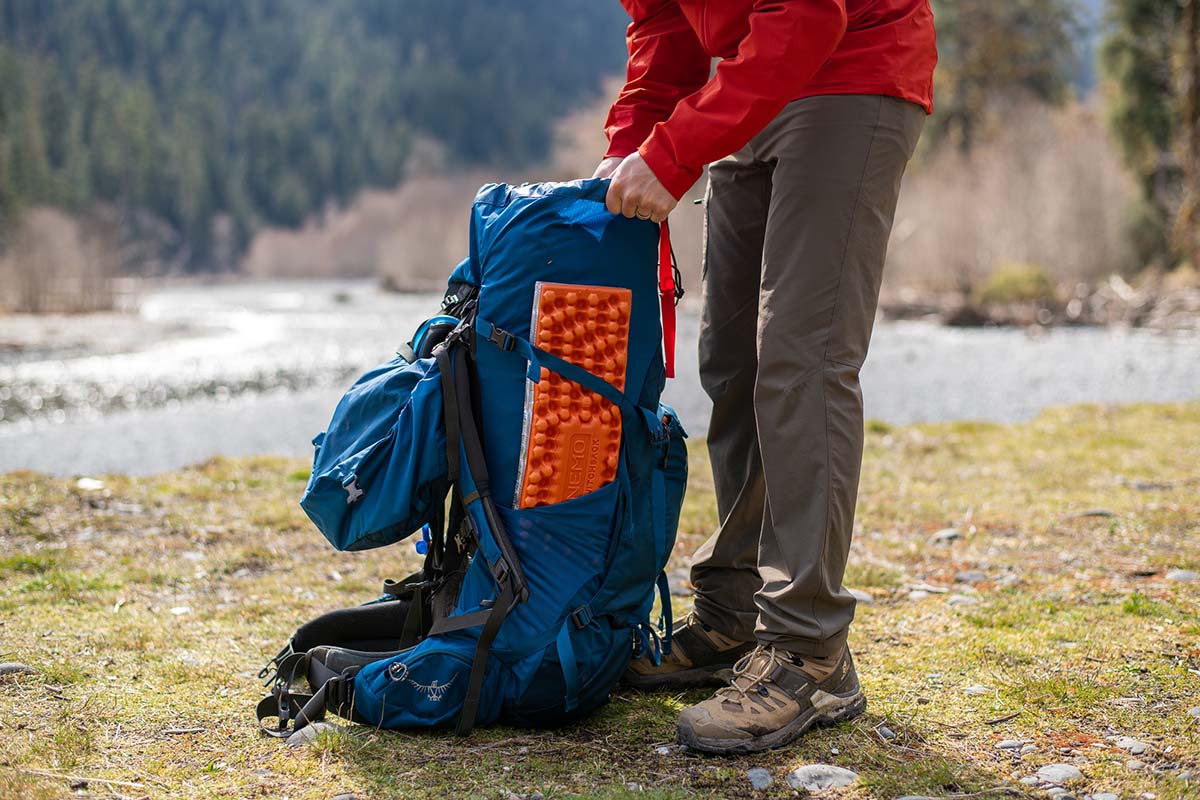 d. External Pockets
Small items you might need to access throughout the day: 
Snacks
Sunscreen
Chapstick
Sunglasses
Map and compass/GPS
Cell phone/camera
Water bottles
Gloves
Bear spray
Rain cover
Toilet kit
Headlamp
Wet gear
Modern backpacking packs have all sorts of external pockets, ranging from the traditional top lid to side and front stash pockets, front zippered pockets, hipbelt pockets, and more. Some stash pockets are even made with built-in drains, making them great places to store wet gear. We'll get more into weight distribution below, but be sure not to store heavy items in your external pockets—especially those on the front of your pack body.

e. External Lash Points
Lightweight but bulky items that you want to keep handy or that are simply too large or pointy to fit inside your pack:
Camp shoes
Hat
Trekking poles
Ice axe
Foam sleeping pad
Tent poles
Most backpacks feature a range of external lash points, including daisy chains, trekking pole holders, ice axe loops, compression straps, and more. That said, you'll want to limit how much gear you store externally. Why? First and foremost, needing to pack gear on the outside of your pack is a telltale sign that you've exceeded the load limit and need to pare down your kit. Second, as you'll read below, weight that is not focused close to your body's core (read: all weight on the outside of your pack) can create an imbalanced load. And finally, items stored on the outside of your pack are at greater risk for getting lost or damaged.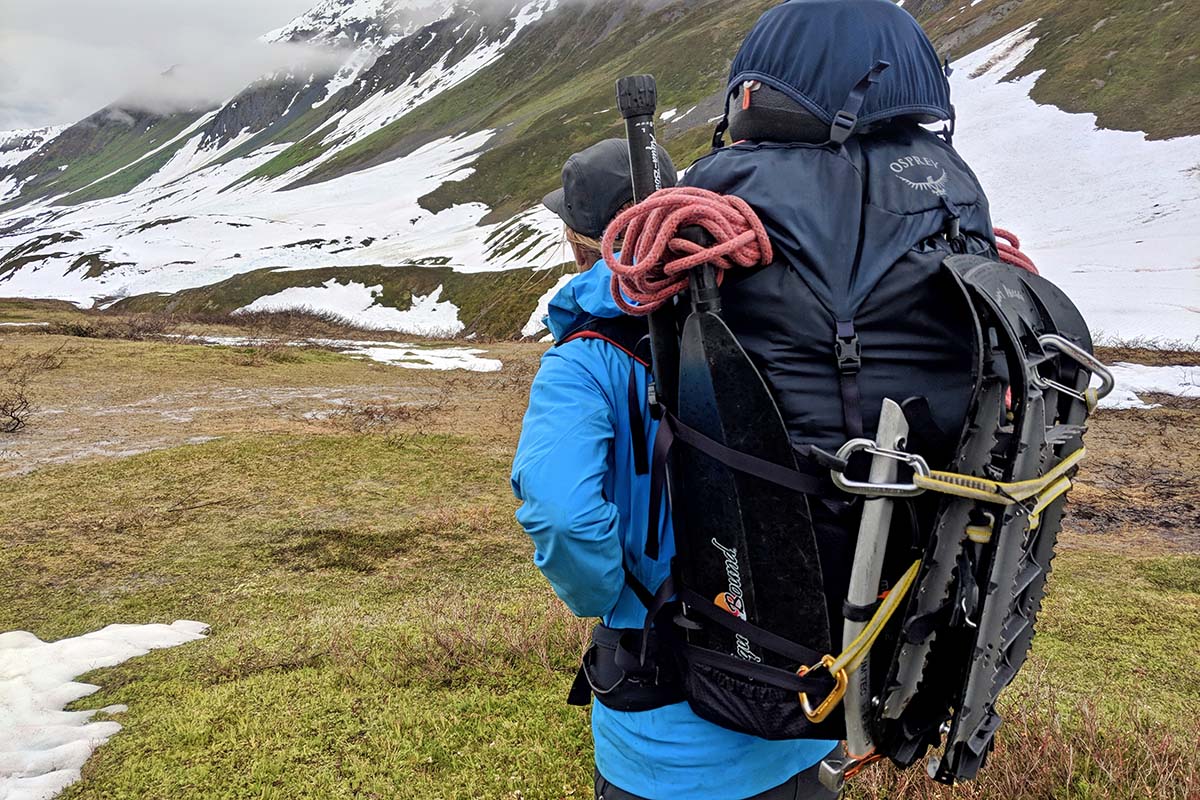 2. Weight Distribution
The packing order listed above is largely governed by one key principle: A balanced load is—or at least feels like—a lighter load. For this reason, it's best to place your heaviest gear in the middle of your pack (as instructed above)—close to your body and between your shoulders and waist. Likewise, avoid placing heavy gear towards the outside of the main compartment (away from the back) or externally, as the weight can make you top- or rear-heavy and pull you backwards. You'll also want to be sure to balance the side-to-side weight of the pack, as this can heavily impact comfort on the trail.
In most instances, your heaviest items will be your food and water. If you're carrying a rope for climbing or glacier travel, it's best to put this in the middle of the pack and close to your body as well. Further, each person's center of gravity is different—those with broad shoulders, for example, will likely have a higher center of gravity than those with wider hips. All in all, you'll want to tweak your load so that your weight is well-balanced at your center of gravity (for this reason, women often put heavier items lower in their pack).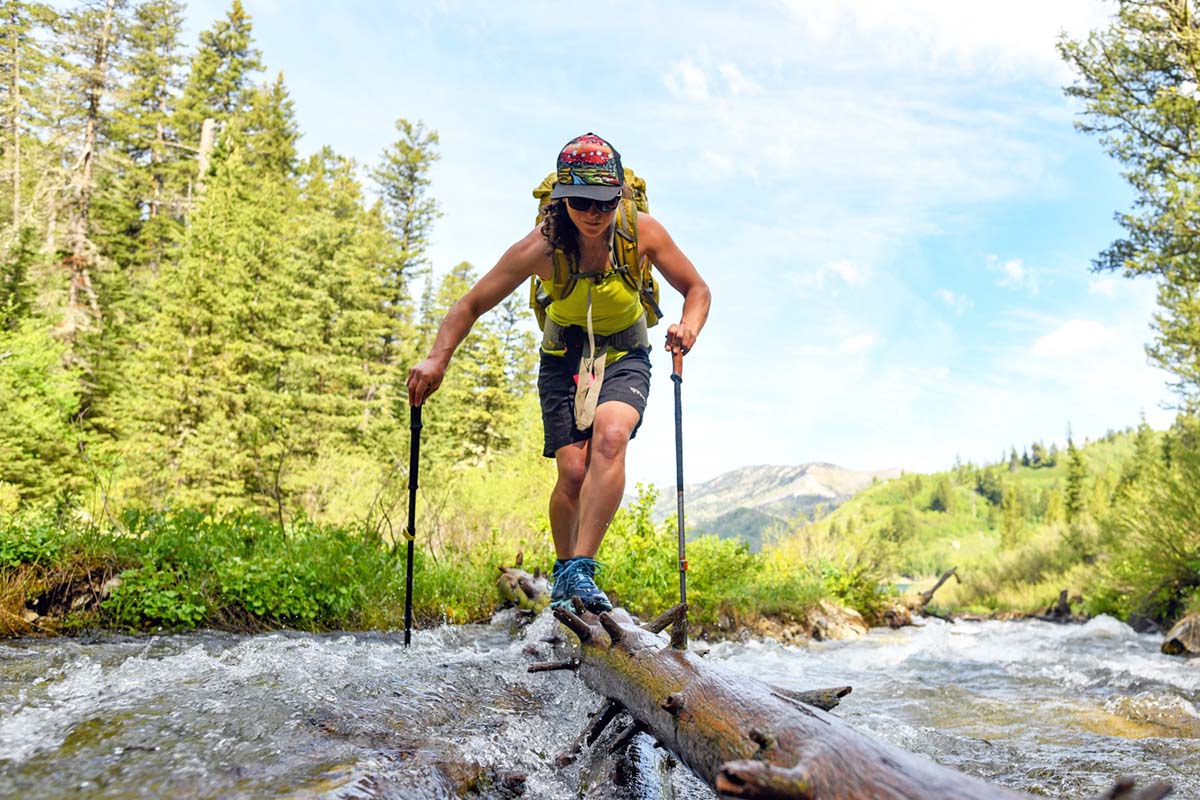 3. Organization and Access
Along with a well-balanced load, it's important that your gear is organized in a way that allows you to access certain items easily on the go. Think of what you might need during a day on the trail: snacks, sunscreen and sunglasses, bug spray, rain jacket or puffy, water filter or purifier, a first aid kit, etc. You'll want to make sure to identify these items and place them at the top of your pack or in one of the external pockets. We even like to stuff our tent towards the top of the middle section of our pack, just in case weather moves in during the day. Finally, be sure to keep weight distribution in mind as you organize your pack. For example, it's better to store your heavy camp shoes or 1-liter Nalgene in the lower side pockets of your pack than affixed to the back.

4. Fill the Gaps
When packing a backpack, we like to think of the contents as either rocks or sand. The rocks are the items that have firm shapes: a cook kit, bear canister, or tightly packed backpacking tent, for example. The sand represents more malleable items, like an unpacked sleeping bag or tent, down puffy, or rain layers. In each section (bottom, middle, top), you'll first put in the "rock" items, and then surround them with "sand." For example, we might put our sleeping bag and pad (both in stuff sacks) at the bottom of our pack, and then fill in the small gaps with our camp puffy. Then we'll add our bear canister, cook kit, and fuel, and stuff our rainfly along the sides and top to fill in all the holes.
Although this technique requires you to use some pieces of gear in a rather untraditional way, it's the most effective method we've found to create a truly tightly packed pack (which we love). However, keep in mind that you'll want to be extremely gentle when stuffing these items, and some ultralight gear will be too fragile for the job. And if you're someone who prefers to keep your gear in stuff sacks, you can still use this method by layering firm items with softer gear (a loosely packed sleeping bag, for example).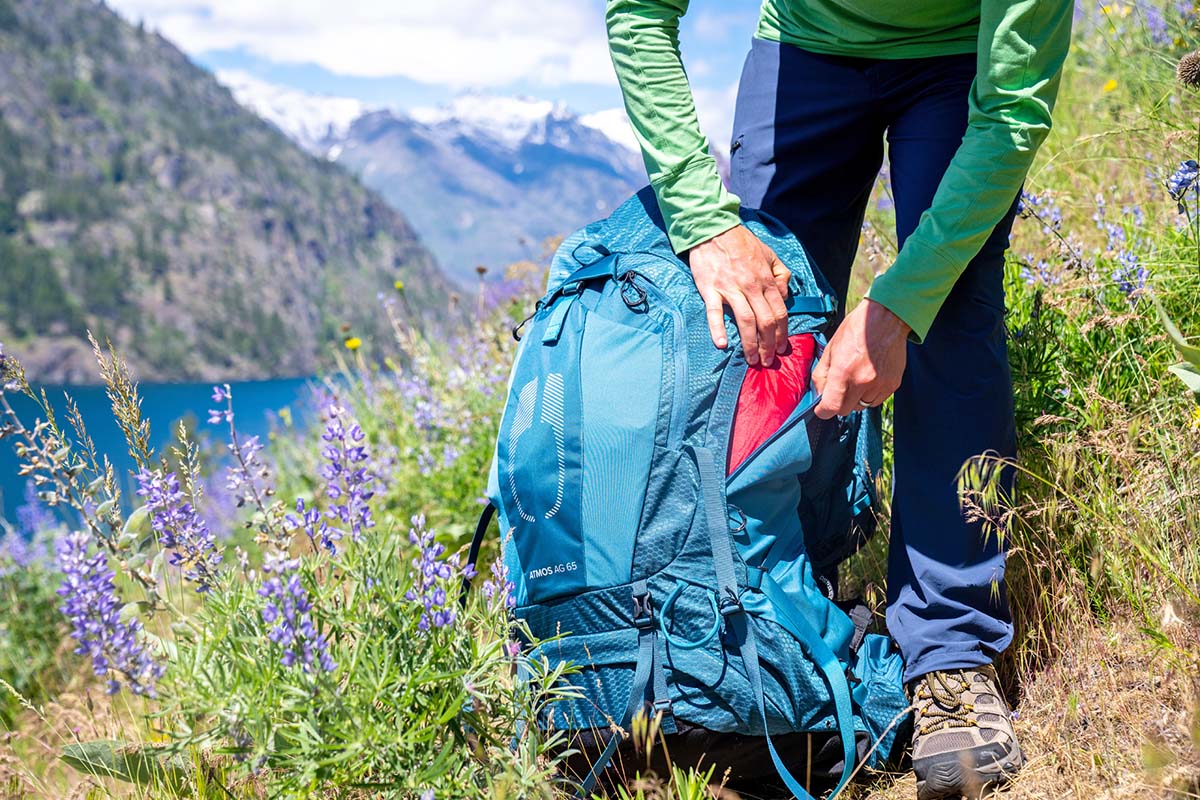 5. Compression Straps
Usually found along the sides of a pack, compression straps function to snug up any dead spaces inside your pack and bring the weight as close to the back as possible. How they work: Loosen these straps before loading your pack, and then tighten them once all your gear is inside. If you have a very small load with respect to your pack's capacity (for instance, a 60-liter pack that's half full), it's often a good idea to put all the contents inside, lay the pack on its backpanel and make sure gear is distributed throughout, and then tighten up the compression straps on each side. This will keep your gear evenly balanced and close to your back, as opposed to a short and stout load that focuses all of its weight low on your body.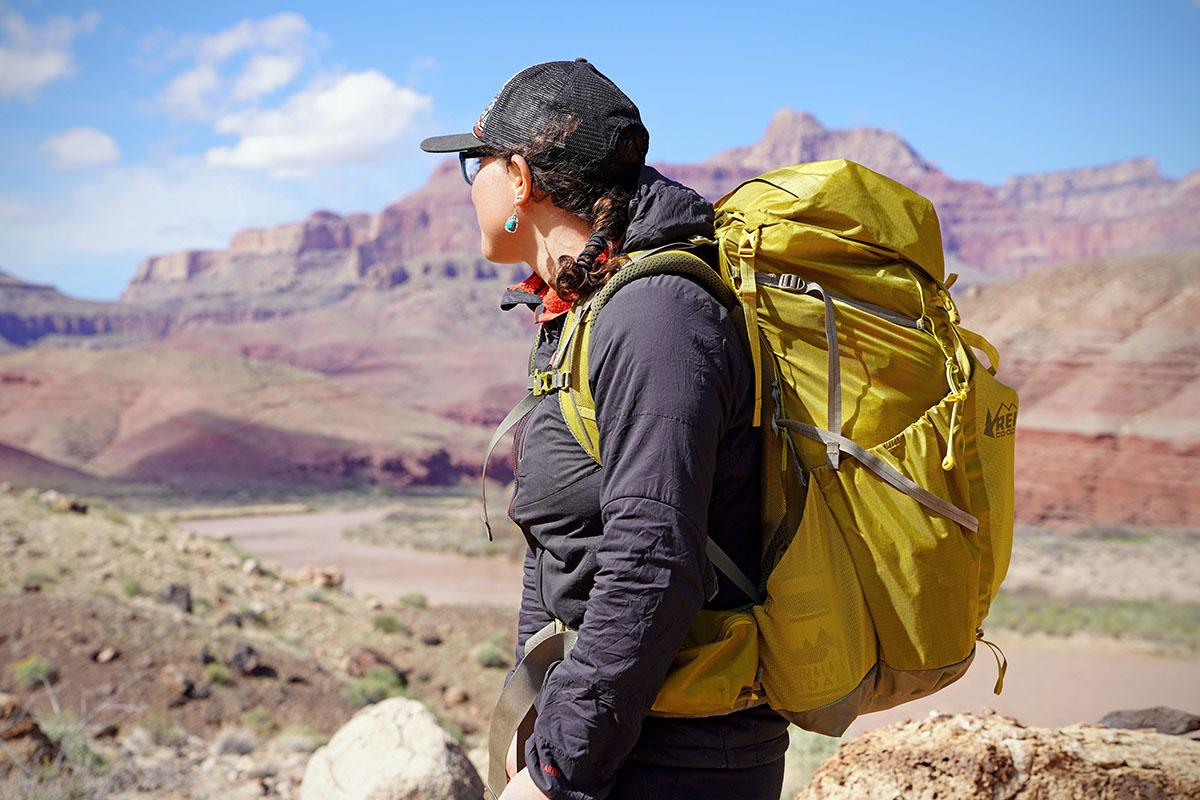 6. Bear Canisters
We'd be remiss not to touch on bear canisters here, as they are mandatory in a number of popular wilderness areas throughout the U.S. It shouldn't come as much of a surprise that bear canisters aren't easy to stow and can take up a large portion of your pack. Often, we'll see hikers packing their bear canister between their pack body and lid, but if we've learned anything here (food is heavy and heavy gear should go next to the back), we know that's not a good idea. So, what's the best way to pack a bear canister in your backpack?
Packing a bear canister horizontally is the most efficient use of space and minimizes areas that might dig into your back (especially if you have a thin backpanel). We recommend putting it on the bottom of the middle layer, or right on top of your sleeping bag and extra clothing. This way, it will fit nicely into your lumbar region and keep your center of gravity low (read: balanced). And when your food supply starts to dwindle, it's a good idea to stuff other items into your bear canister in order to decrease your pack size and keep weight well-distributed. If you have to stow your canister vertically (some packs aren't big enough to accommodate them horizontally), be sure to treat it like a "rock" (referencing our analogy above) in the center middle of your pack and stuff a lot of "sand" around it.

7. Waterproofing Your Gear
It's rare that a backpacking pack is fully waterproof, although many are coated with a durable water repellent (DWR) finish that resists water and keeps it from soaking into the fabric for a period of time. However, if you're hiking in rainy or especially dewy environments, we'd recommend waterproofing your gear in one of two ways. Our favorite method—tried and tested throughout multiple seasons of guiding on British Columbia's wet coastline—is lining the inside of your pack with a large trash compactor bag. These are strong enough to resist punctures, fully waterproof, and very inexpensive. Another option is to use a standard pack cover like Osprey's UltraLight Pack Raincover, which wraps around the outside of your pack rather than coating the interior.

8. Lifting Your Loaded Pack 
When you're done packing and ready to lift your loaded pack onto your back, there are a few steps to help minimize effort and prevent injury. First, place the pack upright on the ground and grab the pack by its haul loop at the top. With your legs positioned a little wider than your shoulders, back straight, and knees slightly bent, slide the pack up onto your leg and rest it on your thigh. Next, slip your arm on the same side through the shoulder strap (with the other still on the haul loop for stability), lean forward to shift the pack onto your back, then put your other arm through the opposite shoulder strap. A second option is to have a pal help by picking up the pack and simply having you slide your arms through, or you can use objects like a tailgate or rocks to elevate the pack before donning it.
At this point, it's time to buckle and adjust all the straps, starting with the waistbelt, then the sternum strap and load lifters. You want most of the weight (around 80 percent) to be resting on your hips, while the shoulder straps and load lifters are designed more to keep the weight close to your back than actually provide support. It might take a few tries with loosening and tightening to dial in the right fit, but we can tell you firsthand that it's worth taking the extra time to get it right before you start your hike. For a more detailed breakdown on making the proper adjustments, see our Backpack Fit and Sizing Guide.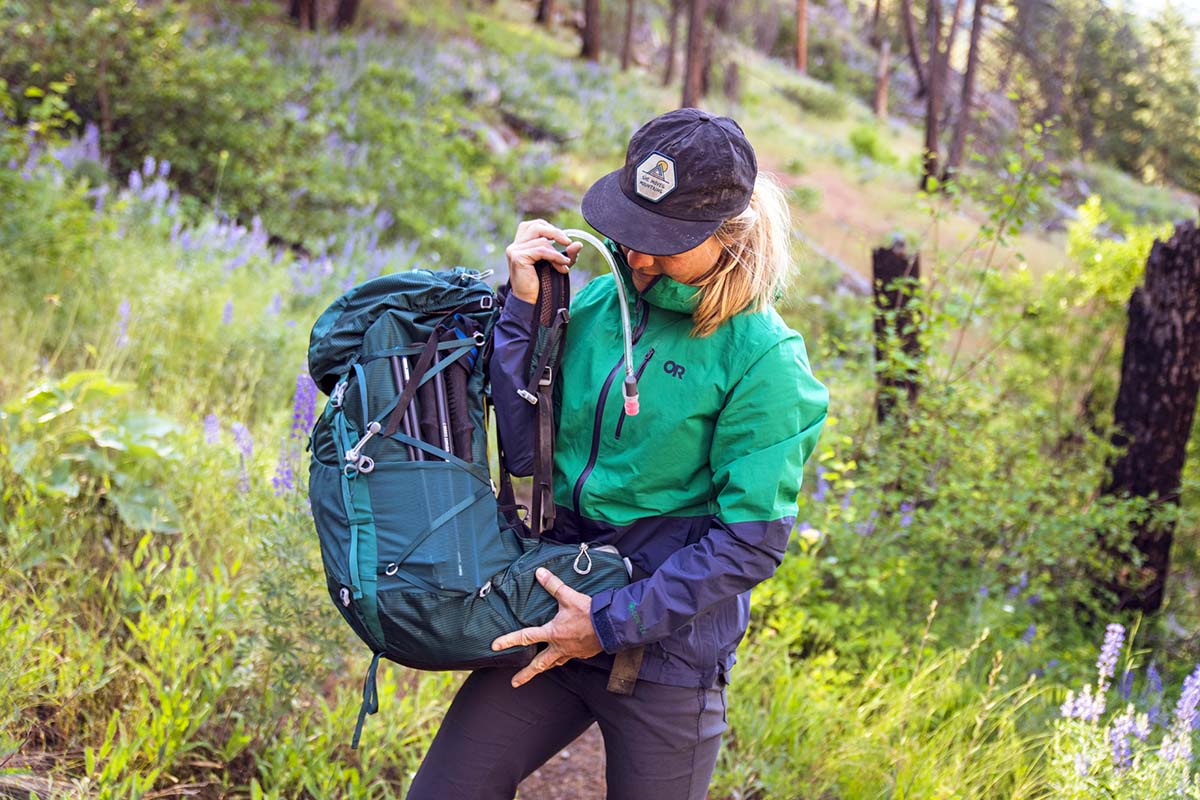 9. Tips to Avoid Overpacking
It's surprisingly easy to overpack for a backpacking trip, regardless of how long you'll be out for. The best way to avoid running out of space is to lay out all of your gear on the ground before you start packing, separating it into categories: kitchen items, food, sleep system, toiletries, clothing, etc. We love using Ziploc bags to organize food for each day—one bag includes all our meals, snacks, and beverages for one day—and labeling them accordingly. For truly maximizing space, compression sacks can make a big difference in condensing some of your bulkier items like a sleeping bag or clothing (we love Sea to Summit's Ultra-Sil, which can reduce volume significantly and keep your gear dry in the process). Once you've got it all laid out, it will be easier to eliminate any unnecessary items.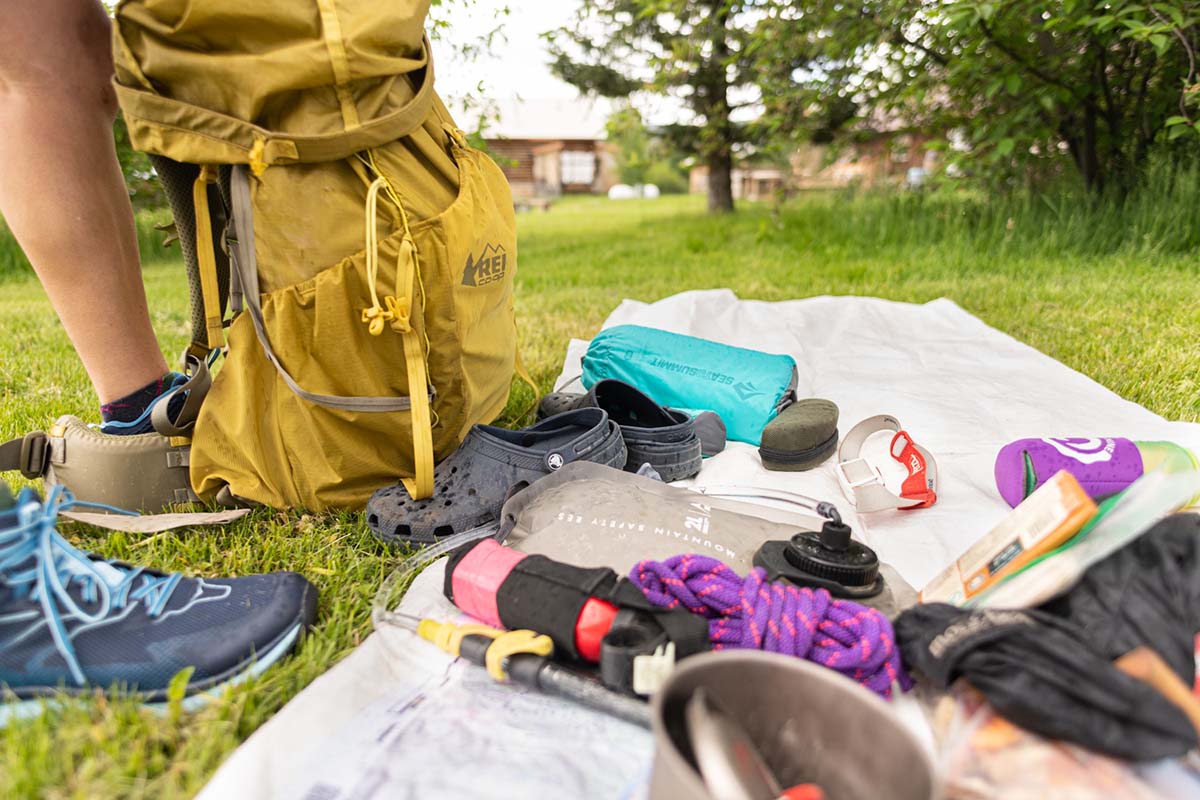 10. What Capacity is Right for You?
We could talk forever about how to pack your backpack, but if you don't have enough capacity, you won't get very far down the trail. Putting 50 liters' worth of gear in a 40-liter pack is a recipe for disaster—not only are you bound to have poor weight distribution, but you're also likely to max out the pack's load range (a guarantee for discomfort). That said, you also don't want too big of a pack, as it will focus all the weight towards the bottom and carry your load inefficiently.
Keep in mind that gear will vary from one person to the next. For example, minimalists and ULers often settle for a bare-bones gear list and dedicated ultralight items, while more comfort-focused hikers typically opt for slightly bulkier gear and a few luxuries. Further, some backpackers will need to carry more than their share of the group load. All that said, below are our recommended pack capacities based on the length of your trip. And for our top picks across all of these capacities, check out our article on the best backpacking packs.
Overnight: 35-55 liters
Weekend (2-3 nights): 45-70 liters
Extended trips (more than 3 nights): 60+ liters
Back to How to Pack a Backpack  See Our Top Backpacking Packs
Learn More About Backpacking Gear