Whether you're a first-time backpacker or a seasoned veteran, everyone could use a good list to make sure they're prepared when they head out on the trail. Our detailed checklist below covers everything from critical backpacking equipment (tent, pack, sleeping bag, etc.) to kitchen gear, footwear and clothing, health and hygiene products, and personal items and extras. For more information on each product category, many of the headings link to our detailed product round-ups, which are the result of years of testing and opinions (we do love backpacking). And for all our product recommendations in one place, see the landing page for our backpacking gear reviews.
Backpacking Equipment
Kitchen Gear
Footwear & Clothing
Health & Hygiene
Personal Items & Extras

❒ Backpacking tent

❒ Backpacking pack

❒ Sleeping bag

❒ Sleeping pad

❒ Water filter or purifier

❒ Hydration bladder/bottles

❒ Headlamp


Optional:

❒ Trekking poles

❒ Daypack

❒ Chair/sit pad

❒ Backpacking pillow

❒ Sleeping bag liner

❒ Footprint/ground cloth

❒ Extra stakes & guylines

❒ Backpacking stove & fuel

❒ Backpacking food

❒ Cookware & utensils

    ❒ Pot

    ❒ Spork/spoon

    ❒ Mug or cup

Optional:
❒ Instant coffee

❒ Tea bags

❒ Coffee press or dripper

❒ Electrolyte tablets

❒ Hiking boots or shoes

❒ Hiking socks

❒ Hiking pants or shorts

❒ Rain jacket or hardshell

❒ Down or synthetic jacket

❒ Baselayers


Optional:

❒ Camp shoes

❒ Ballcap

❒ Sun protection shirt

❒ Rain pants

❒ Beanie

❒ Gloves

❒ Gaiters

❒ Neck gaiter/buff

❒ Toiletries

    ❒ Toothbrush

    ❒ Toothpaste

    ❒ Toilet paper/wipes

    ❒ Wag bags/trowel

    ❒ Hand sanitizer

    ❒ Deodorant

    ❒ Medications

    ❒ Lip balm

    ❒ First aid kit


❒ Sun & bug protection

    ❒ Sunscreen

    ❒ Sunglasses

    ❒ Insect repellent


Optional:

❒ Mosquito net

❒ Sun hat

 


 

❒ Basic repair kit

❒ Navigation

❒ Phone & charger

❒ Batteries/solar charger

❒ Notebook & pen/pencil

❒ Book or Kindle

❒ Bear canister & spray

❒ Ziploc bags

❒ Whistle

❒ Lighter/matches

❒ Backup water purification

❒ Pack rain cover

❒ Moleskin

❒ Quick-drying towel

❒ ID, cards, & cash

❒ Permit/reservation

❒ Forest Service/park pass

❒ Camera

❒ Satellite messenger
Editor's note: The table above provides a brief overview of what you'll need to get outside, but our full PDF version is printable and offers a more comprehensive breakdown of the necessities and nice-to-haves.
See Our Backpacking Checklist PDF

Backpacking Equipment
Whether you're headed out for a quick overnight or embarking on a multi-day mission deep into the backcountry, the gear below is what we bring on every trip to comfortably spend days and nights outdoors. We've also included a handful of optional items that may or may not be worth packing depending on your preferences and objective(s). 
Our top pick: Big Agnes Copper Spur HV UL2 ($550) 
What we like: Highly competitive combination of weight, livability, and ease of use.
What we don't: Expensive; thin floor is susceptible to tears (we advise using a footprint).
Our top pick: Osprey Atmos AG 65 ($340) 
What we like: Great carrying comfort, thoughtful organization, and class-leading breathability.
What we don't: On the pricey end and far from the lightest design available. 
Our top pick: Feathered Friends Hummingbird YF 20 ($509)
What we like: Very warm for the weight and built by a very reputable down specialist.
What we don't: Feathered Friends bags don't come cheap; lacking some modern features.
Our top pick: Therm-a-Rest NeoAir XLite NXT ($210)
What we like: Three-season warmth and great comfort at a competitively low weight.
What we don't: Warm-weather backpackers can save with a lower R-value pad.
Our top pick: Sawyer Squeeze ($41)
What we like: Impressively light, fast flow rate, and covered by Sawyer's lifetime warranty.
What we don't: Best for the solo backpacker—groups will likely prefer a larger gravity filter like the Platypus GravityWorks 4L.
Our top pick: Osprey Hydraulics 3L ($37)
What we like: Highly reliable and built to last.
What we don't: Rigid backer adds weight and bulk (you can't roll it up when empty).
Our top pick: Petzl Actik Core ($80)
What we like: Great output, long battery life (via AAAs or the rechargeable battery), and easy-to-use interface in a feathery build.
What we don't: Expensive and not the most water-resistant option on the market.

Optional Backpacking Equipment
Trekking poles
Daypack
Backpacking chair/sit pad
Backpacking pillow
Sleeping bag liner
Tent footprint/ground cloth
Extra stakes and guylines
---

Kitchen Gear
Whether you're making gourmet dinners or eating prepackaged dehydrated meals, you'll need a way to heat it all up. In addition to the big-ticket necessities like a stove and food, be sure not to overlook the smaller, easier-to-forget items like cookware, utensils, and a camp mug for hot beverages. 
Our top pick: MSR PocketRocket 2 ($60)
What we like: Surprisingly powerful for how light and cheap it is.
What we don't: Noticeably less stable and wind-resistant than integrated canister systems like the Jetboil Flash.
Our top pick: Backpacker's Pantry ($10-$13)
What we like: Affordably priced, easy to find, and extensive selection of tasty meals.
What we don't: Relatively long cook times and less innovative than some upstarts.

Cookware and Utensils
Pot
Spork or long spoon
Mug or cup

Optional Food Items
Instant coffee
Tea bags
Coffee press or dripper
Electrolyte tablets
---

Footwear and Clothing
The clothes you pack when backpacking will largely depend on expected temperature and weather conditions, but it all starts with a quality layering system: baselayer, midlayer (insulation), and rain shell. Quality hiking footwear can also go a long way toward maximizing your overall comfort on high-mileage trail days. And if you're heading out in the shoulder seasons or venturing into the alpine, don't forget cold-weather gear like a hat and gloves.
Our top pick: Salomon X Ultra 4 Mid GTX ($175)
What we like: Trail runner-like agility with hiking boot protection and stability.
What we don't: Those shuttling serious weight might want to step up to a more cushioned and supportive design like Salomon's own Quest 4.
Our top pick: Darn Tough Micro Crew Cushion ($21)
What we like: Great padding and breathability for three-season use; backed by Darn Tough's lifetime warranty.
What we don't: A bit too thick for sweltering summer days; highly durable build sacrifices a little plushness. 
Our top pick: Outdoor Research Ferrosi ($99)
What we like: Ferrosi fabric nicely balances weight, durability, and mobility.
What we don't: No built-in belt; not the most everyday-friendly option due to the thin construction and basic pocket layout.
Our top pick: Patagonia Torrentshell 3L ($179)
What we like: Confidence-inspiring protection and classy looks at a hard-to-beat price.
What we don't: Fairly crinkly and stiff; doesn't have a chest pocket.
Our top pick: Patagonia Down Sweater ($279)
What we like: Comfortable fabrics, competitive warmth for the weight, and highly versatile.
What we don't: Not the lightest option for dedicated backcountry use.
Our top pick: Smartwool Classic Thermal Merino 1/4 Zip ($115)
What we like: All-merino build is warm and comfortable, regulates temperature well, and doesn't hold stink like polyester.
What we don't: Pricey, too warm for high-output use, and requires more care to last than synthetics.

Optional Footwear and Clothing
Camp shoes
Ballcap
Sun protection shirt
Rain pants
Beanie
Gloves
Gaiters (for snow or water crossings)
Neck gaiter/buff
---

Health and Hygiene
Many backpackers are willing to eschew creature comforts in the name of weight savings, but hygiene is one area where we don't advise skimping. We consider the items below the bare necessities for staying clean and comfortable in the backcountry, and make sure to bring the appropriate sun and bug protection, too.

Toiletries
Toothbrush
Toothpaste
Toilet paper and/or baby wipes
Wag bags or trowel (check local regulations)
Hand sanitizer
Deodorant
Personal medications
Lip balm
First aid kit

Sun and Bug Protection
Sunscreen
Sunglasses
Insect repellent

Optional Health and Hygiene Items
---

Personal Items and Extras
Most items on the above checklist are obvious backpacking essentials that you probably won't leave behind, but forgetting your wallet or cell phone can be just as much of a trip-ender as leaving your tent at home. On that note, here are some of the smaller personal items that you'll want to consider before heading out. Some of them (like a notebook or Kindle) certainly aren't necessary but can help make your trip more enjoyable.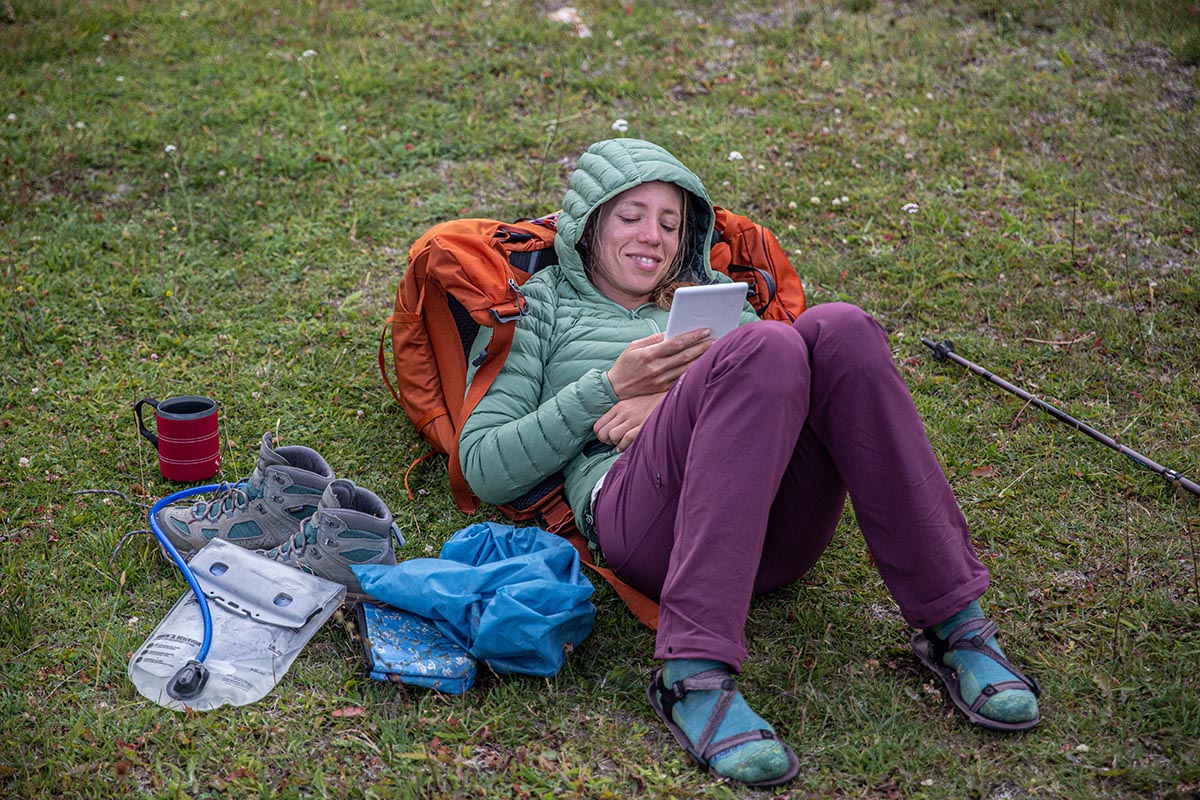 Basic repair kit (multi-tool, duct tape, extra cord)
Navigation (map, GPS, compass)
Cell phone with charger
Extra batteries and/or solar charger
Notebook and pen/pencil
Book or Kindle
Bear canister and/or bear spray (if required)
Ziploc bags (for trash and waterproofing electronics)
Whistle
Lighter and/or waterproof matches
Backup water purification tablets
Pack rain cover (if not included)
Moleskin
Quick-drying towel
ID, cards, and cash
Backcountry permit or reservation (if required)
Forest Service/park pass (if required)
Camera
Satellite messenger device
---

Additional Backpacking Tips
Check restrictions before you go to ensure you're up to date on current fire bans, required bear-proofing measures (such as bear canisters or bear bags for food), etc. 
A balanced and organized load is key for maintaining comfort on the trail. It's best to place heaviest gear in the middle of your back and pack in a way that allows you to access certain items easily on the go. For a detailed breakdown, see our article on How to Pack a Backpack.
Use resealable bags for toiletries and other small items you don't want to lose or get wet, such as lighters and matches.
If you're limited on space, consider using dedicated compression sacks for soft gear like your sleeping bag, clothing, etc.
Research your route ahead of time to verify where you'll encounter water sources for fill-ups. If they're plentiful, you may be able to get away with carrying in less water.
We recommend a 10-degree buffer for your sleeping bag. For example, if your bag is rated to 20 degrees Fahrenheit, expect to be comfortable down to around freezing.
Pack foods that you know you'll enjoy eating and remember to drink water often. It's common to not feel hungry or thirsty after heavy exertion, but refueling properly is key to maintaining energy and feeling good on the trail. 
Always bring backup water purification in case your filter fails. Iodine tablets are a cheap and easy way to ensure you'll have clean drinking water, and adding electrolyte tablets will help eliminate any aftertaste. 
Be sure to share your itinerary with a trusted friend or family member before heading out, including your expected route and arrival/departure dates.


Where to Buy Backpacking Gear
Perhaps our Seattle roots makes us biased, but we do much of our gear shopping at REI Co-op. The selection is excellent, the return policy is generous (make sure not to abuse it if you want it to continue), the staff generally are knowledgeable and helpful, and you get the brick-and-mortar bonus. A good option for online shopping is Backcountry.com, which has free standard shipping on orders over $50 and solid selection overall (we use Backcountry more for winter purchases but it does well in the hiking/camping world as well). For cheaper items and those who need gear quickly, it's hard to beat Amazon.com and the sheer volume of sellers and product options. Last but not least, we always support buying gear at your local shop. It's a great way to support the community, get real information about your trip, and be able to try things on in person.
Back to Our Backpacking Checklist  See Our Backpacking Gear Reviews
Learn More About Outdoor Gear