Thule Vital 8L
Price: $150
Capacities: 3, 6, 8L
Reservoir included: Yes (2.5L)
What we like: Comfortable and secure fit, excellent breathability, and well-executed feature set.
What we don't: Expensive for the capacity and no helmet attachment system.
See the Thule Vital 8L  See the Women's Thule Vital 8L
Better known for their bike racks and carriers, Thule entered the hydration pack market with the mountain biking-specific Vital lineup in spring 2018. I've opted for hip packs the past few years on technical rides to allow my back to breathe, so I was a little wary of the potential downsides of returning to a full-sized pack. That said, after a season of wearing the 8-liter Vital, I'm happy to report that it passed all my major tests: It offers a nice balance of internal and external storage, has excellent breathability, and remains comfortable and secure during rough descents. Below I break down my experiences with the Vital 8L. To see how it stacks up to the competition, see our article on the best mountain bike backpacks.
 
---
Table of Contents
---

Performance
Comfort
Simply put, Thule's Vital 8L is one of the most comfortable mountain bike packs I've ever worn. That's a bold claim considering I've used many of the most popular options over the last 15 years, but it has remained true throughout all of the Vital's days on the trail. The pack felt a little flimsy in-hand at first, but I quickly found that it shaped nicely to my body and was able to support reasonably heavy loads. In addition, the ergonomic shoulder straps did a great job of hugging my upper body without causing any discomfort or chaffing—an issue I had with CamelBak's Skyline during break-in. And most impressively, the Vital's ultra-wide waist straps effectively secured the pack in place during rough and rocky descents. While the Vital is more pared-down than some of the competition, its soft and malleable materials soon had me grabbing it more often than any other pack in my collection.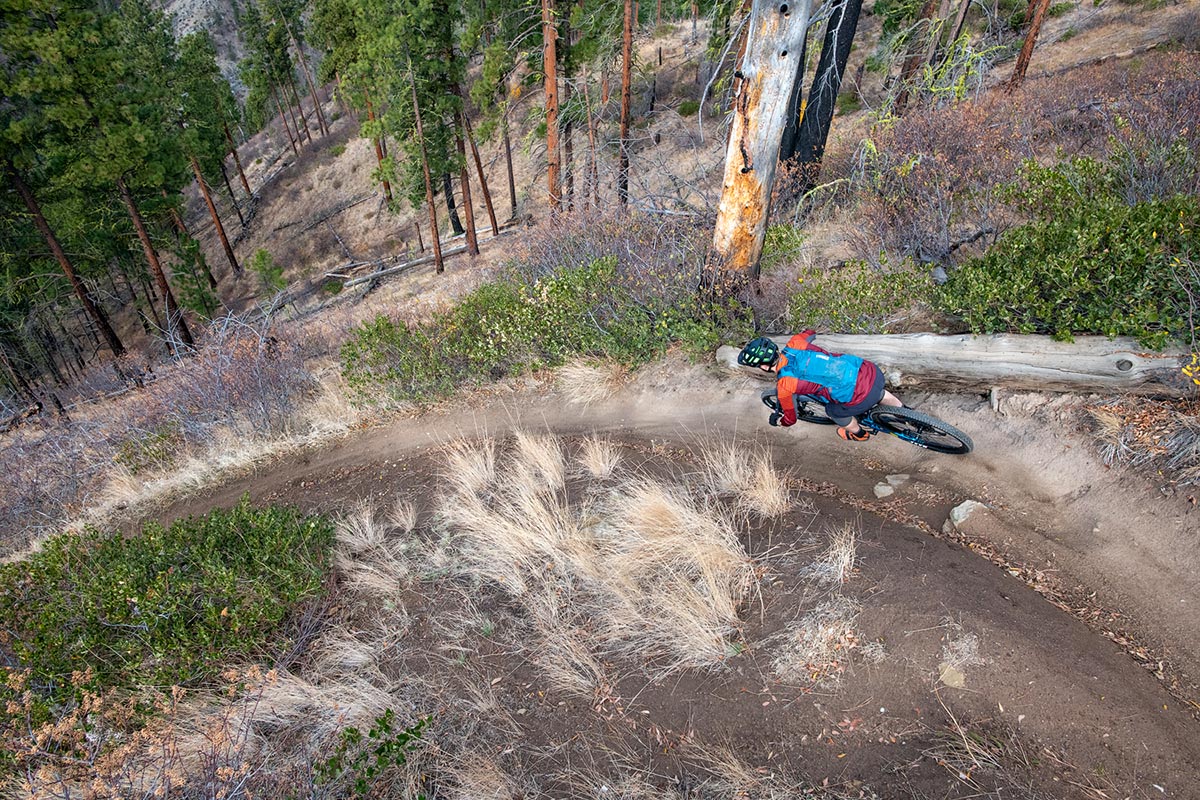 Ventilation
Before commenting on the Vital's ventilation, it's important to note that I ditched backpack-style hydration packs years ago. After experiencing a sweaty back on too many rides with my CamelBak Mule, I landed on the waist pack (we serious bum-baggers avoid the term "fanny pack"). Apart from the obvious style points, hip packs allow your back to breathe freely in the heart-pumping steeps. So, when I learned I'd be testing standard hydration packs, I was less than excited. All that said, I'm happy to report that the Vital is one of the most breathable backpacks I've worn to date. I think this comes down to Thule's effective use of different materials: The closed-cell foam used throughout the pack has slits to promote airflow, and the backing, shoulder straps, and hip straps incorporate a generous amount of breathable mesh. Even compared to CamelBak's low-riding Skyline LR 10 that leaves more of your back exposed, I found the Vital was a much better breather.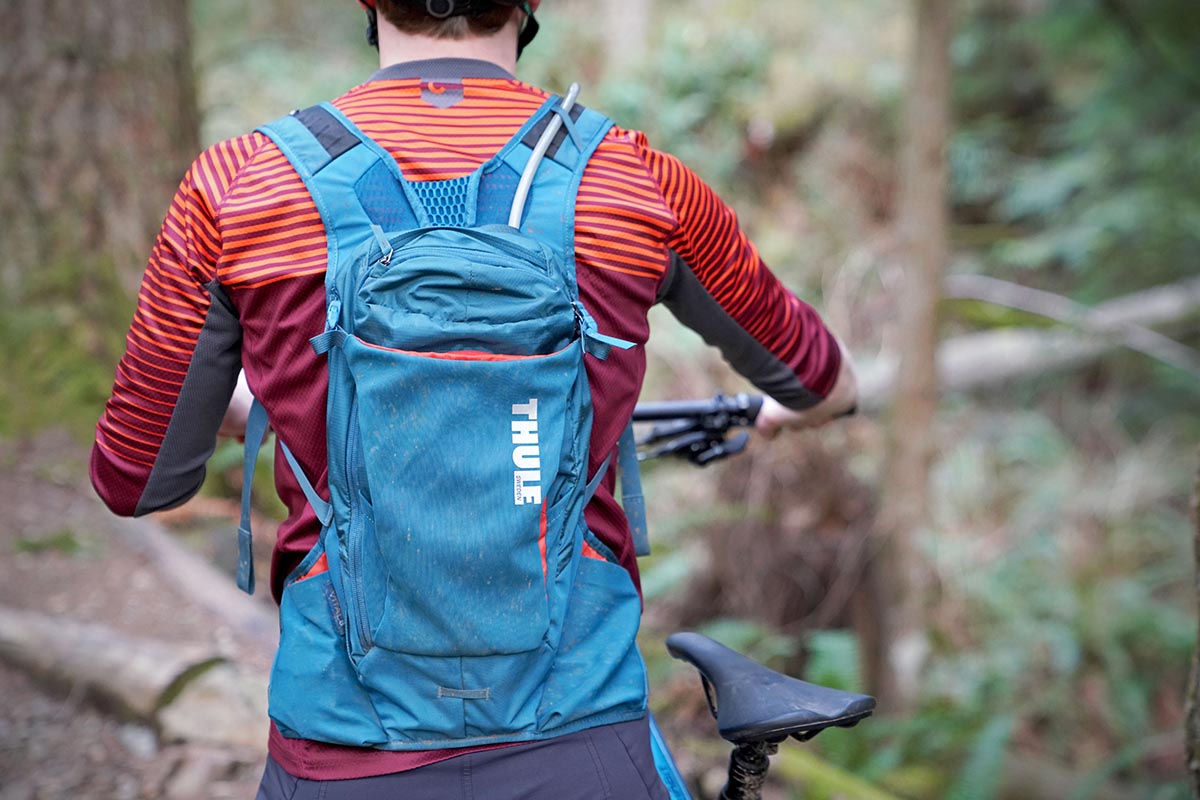 Key Design Features
Hydration System
The Thule Vital 8L includes a proven 2.5-liter Hydrapak reservoir, along with a number of sneaky-useful features. The reservoir has an internal divider that limits water movement and sloshing during technical descents—it's essentially two tubes that connect at the bottom of the bladder. And while the reservoir's Slide-Seal top isn't quite as easy to fill when compared to CamelBak's twist-on closure system, it does allow unrestricted access for cleaning.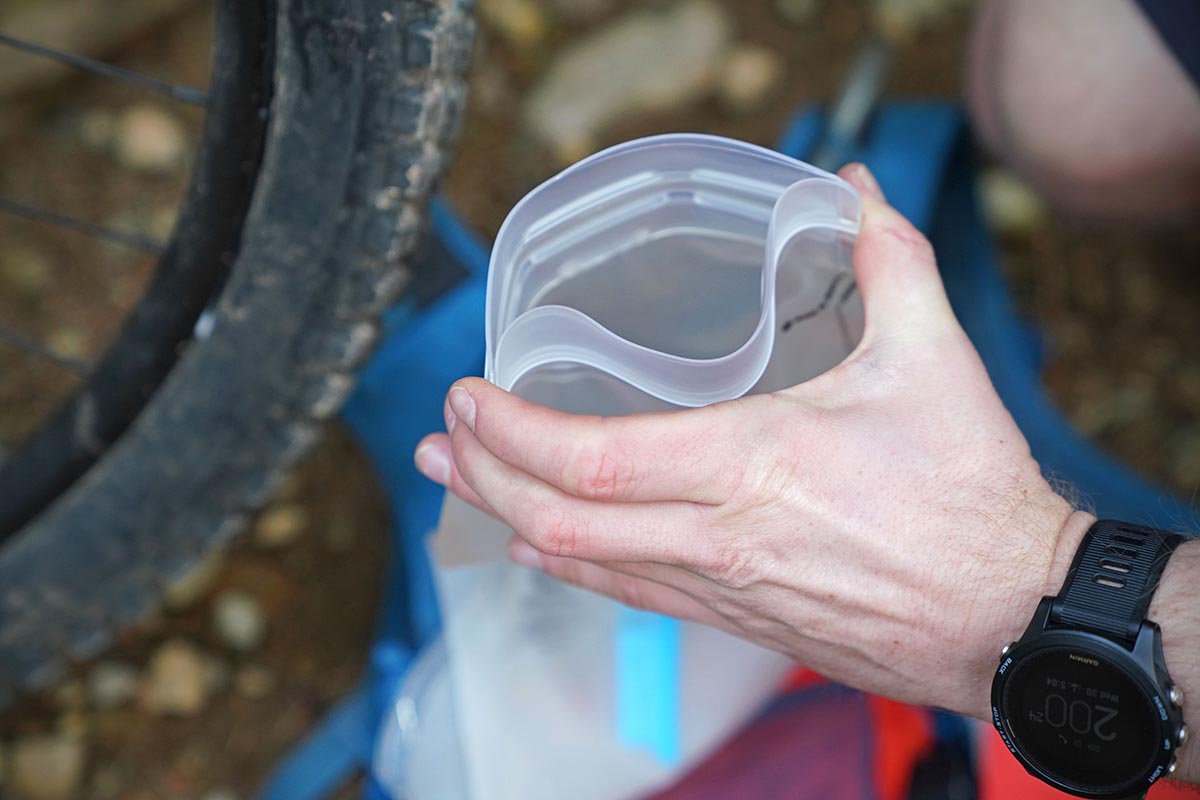 However, the best part of the whole system is undoubtedly the hose. Most hydration pack hoses from brands like CamelBak and Osprey are secured to the shoulder strap with clips or small magnets, requiring you to carefully and precisely remove and re-attach the hose whenever you want a sip of water. Some packs even forego retention systems entirely, leaving the hose flapping around as you ride over bumps and obstacles. However, Thule's ReTrakt system is the simplest retention method we've come across yet: A magnetic strip runs the length of the hose and connects to another strip of the same length (around 5 in.) along the shoulder strap. You simply pull the nozzle as usual to drink and then release, and the hose reconnects to the strap automatically. In practice, this couldn't have been easier.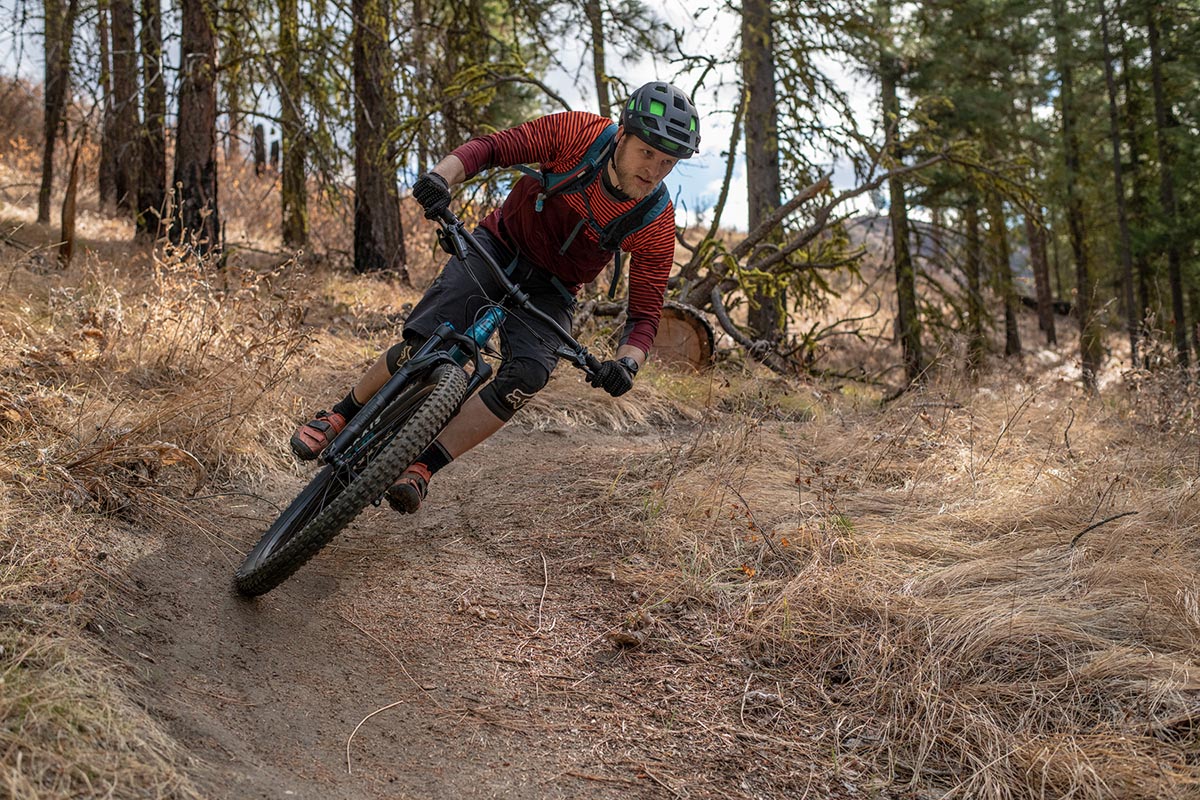 Storage: Pockets and Organization
With a designated spot for almost everything you need on a ride, Thule clearly put a lot of thought into the pack's organization. The main compartment has interior loops for a tire and shock pump and the mesh dump pockets are great for stashing a multi-tool, spare derailleur hanger, and chain link. You'll also find a key clip and interior zippered pocket that's a good size for valuables.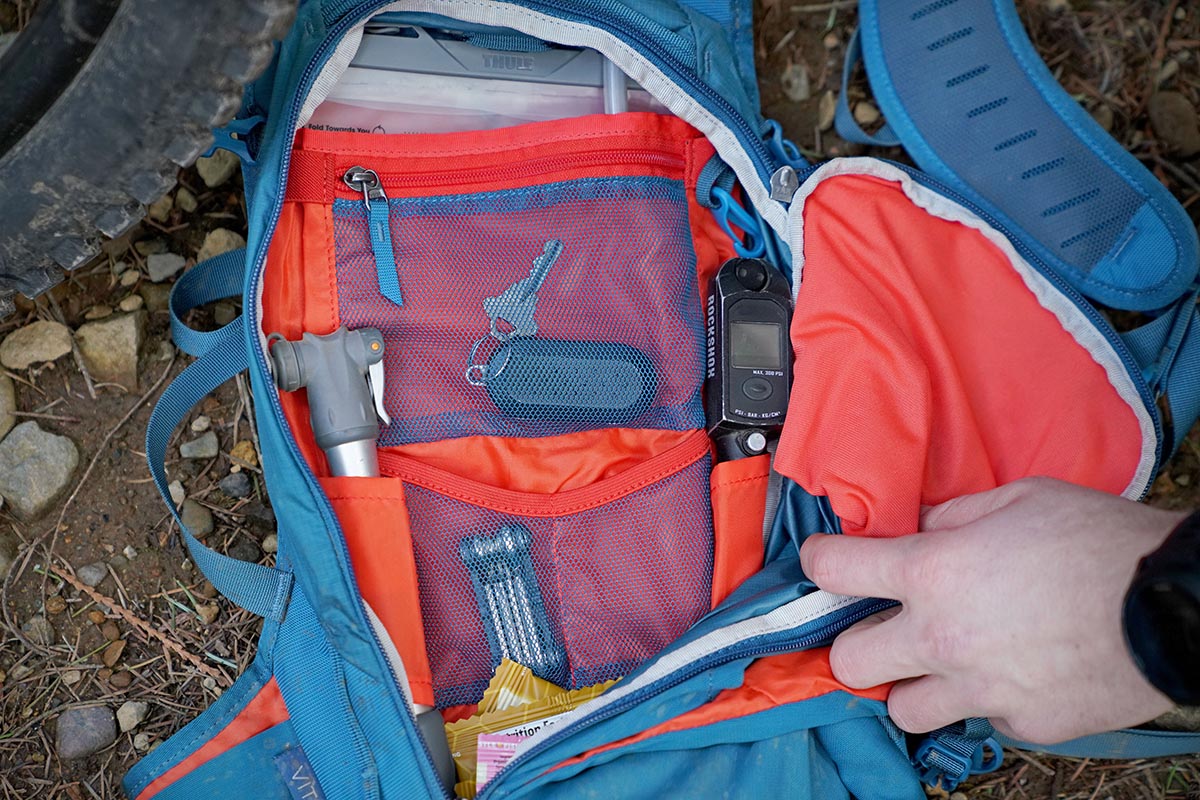 In terms of external storage, the Vital features a phone-friendly fleece-lined pocket at the top and jersey-style pockets on each side of the hipbelt. I found the latter were perfect for accessing food and snacks on the fly. For storing extra clothes, the Vital has an expandable panel on the front that easily swallows a jacket. Notably, however, the Thule does not include attachment points for storing a helmet, which is a noteworthy downside if you like to remove your lid on long forest road climbs (it's not a huge omission for us personally). As long as the lack of helmet storage isn't a deal breaker, the pack has ample room for all the essentials and even a few non-necessary items.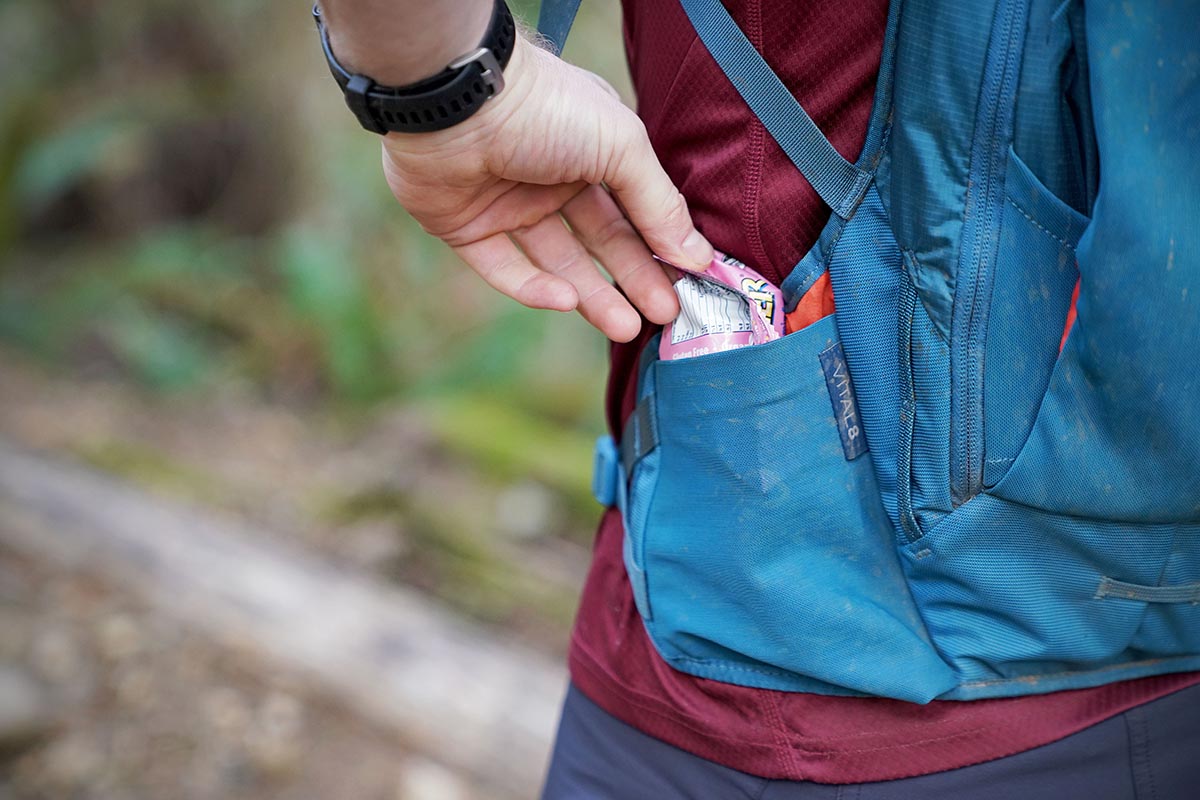 Build Quality and Durability
I spent the better part of the fall and winter using and abusing the Thule Vital, and the pack has emerged entirely unscathed. It's been coated with a thick layer of dirt, mud, and even snow and has shrugged it all off with ease. I've even ended up upside-down on top of the pack a few times and am happy to report it's free of holes and the stitching shows no wear or loose threads. Even the mesh sections (most high-wear areas are made of more robust nylon) have held up remarkably well. I often find it takes an entire season to test a product's durability thoroughly, but I have no concerns about how the Thule will fare over the long run.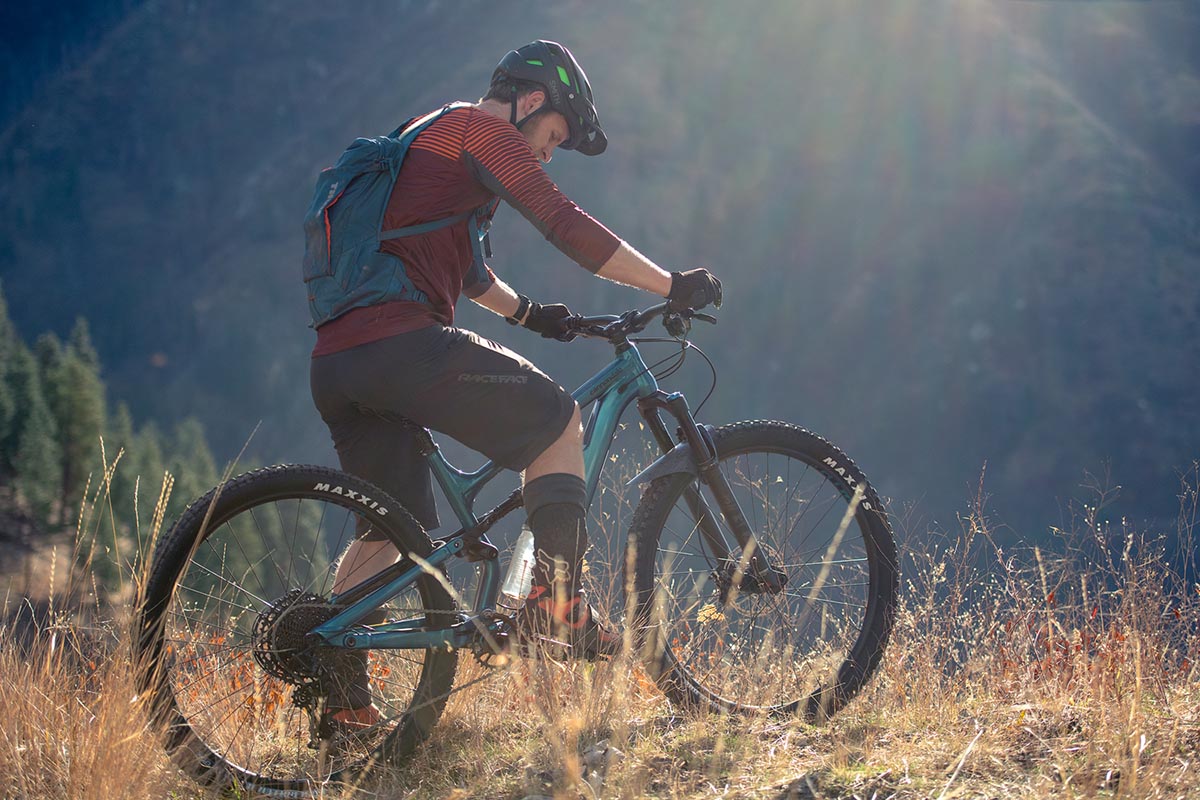 Weight
The 8-liter Vital tips the scale at 1 pound 3.4 ounces, which is reasonably lightweight compared to similar-capacity models from other brands. For comparison, it slightly undercuts CamelBak's popular Mule 12 (1 lb. 4 oz.) and Skyline LR 10 (1 lb. 7 oz.) while checking in considerably lighter than Osprey's Siskin 8 (1 lb. 10.5 oz.) and Raptor 10 (1 lb. 9.4 oz.). That said, it's important to note that the Vital is fairly bereft of features compared to many other models—it lacks a helmet retention system and toolkit pouch, for example. If a full feature set is at the top of your priority list, the Raptor is likely the better bet and worth the 6-ounce weight penalty, in our opinion.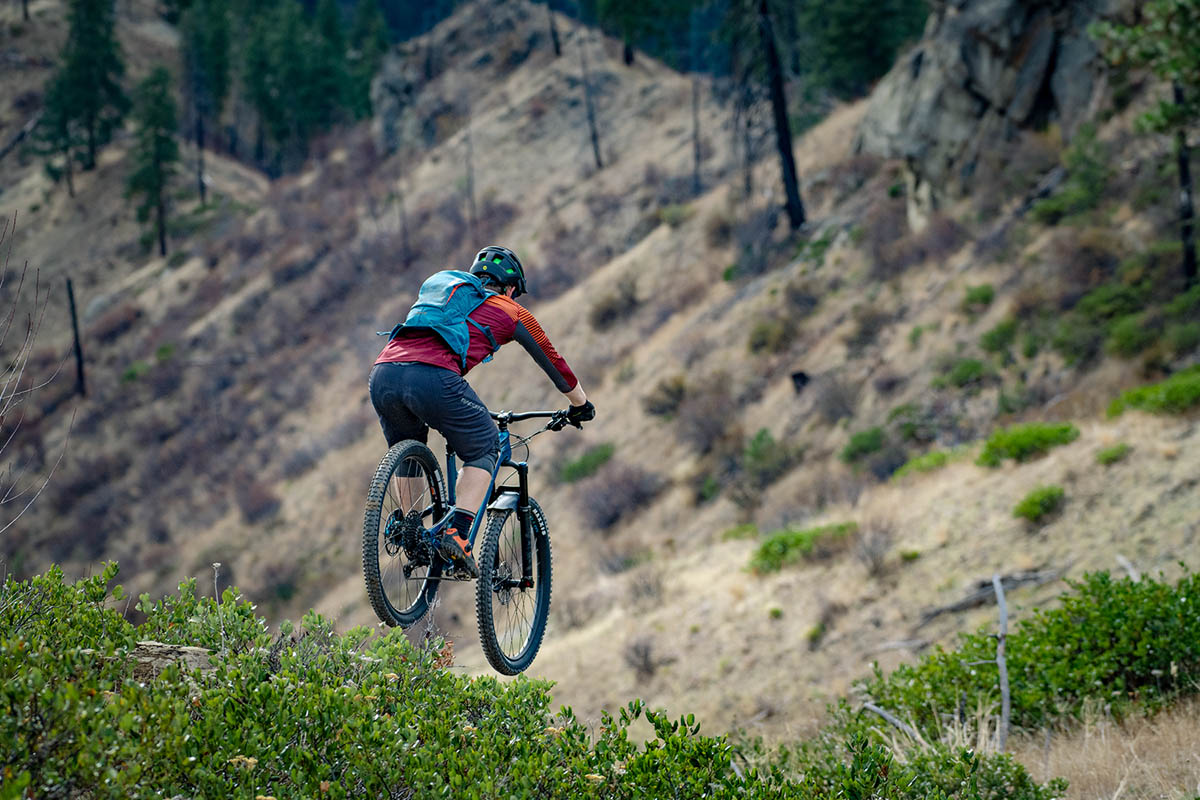 Fit and Sizing
Thule took a one-size-fits-all approach with the Vital, which isn't uncommon in the mountain bike pack world. For reference, I'm 5'9" and a medium in almost all cases, so the Vital fit me predictably well and allowed a good amount of adjustment for tightening or loosening. On one of my rides, I convinced two friends—one who is 5'4" and one who is 6'1"—to try the Vital, and neither had complaints about the straps being too roomy or restrictive. It's also worth noting that Thule offers the Vital (both the 3L and 8L capacities) in women's-specific versions that are built for smaller frames.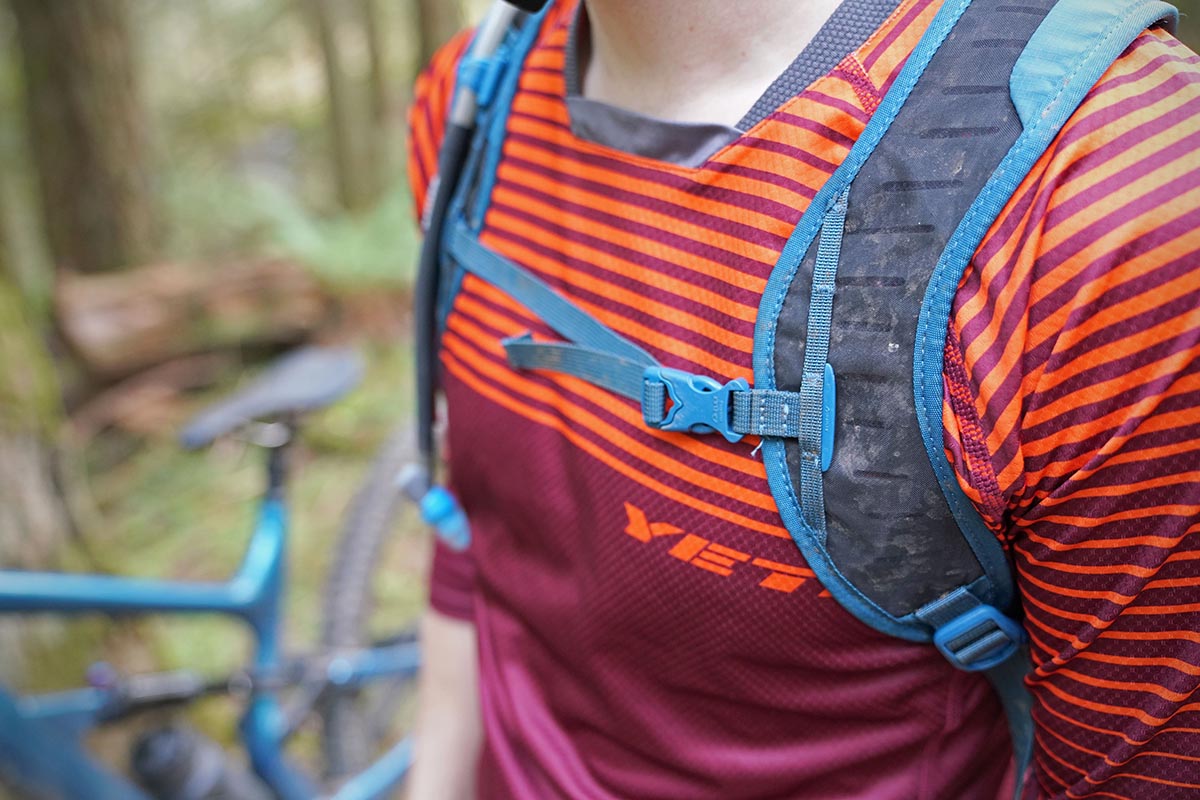 Other Versions of the Thule Vital
We tested the 8-liter version of the Vital ($150), which is the largest-capacity pack in the lineup. Thule also makes the Vital in 6-liter ($140) and 3-liter ($120) versions, but we prefer the added storage and versatility of the biggest model. That said, the Vital 6L is almost identical in terms of features and build: Both have the same internal layout, waist and shoulder straps, and 2.5-liter Hydrapak water bladder. However, the smaller Vital does away with the outer expandable panel. The 3-liter Vital is even more trimmed down: There's no outer storage or fleece-lined phone pocket, the shoulder straps and back panel don't have foam, and the pack only comes with a 1.75-liter water reservoir. As I mentioned above, Thule also makes the 3- and 8-liter Vital packs in dedicated women's versions that are designed to fit smaller torsos (the 6L Vital is a unisex design).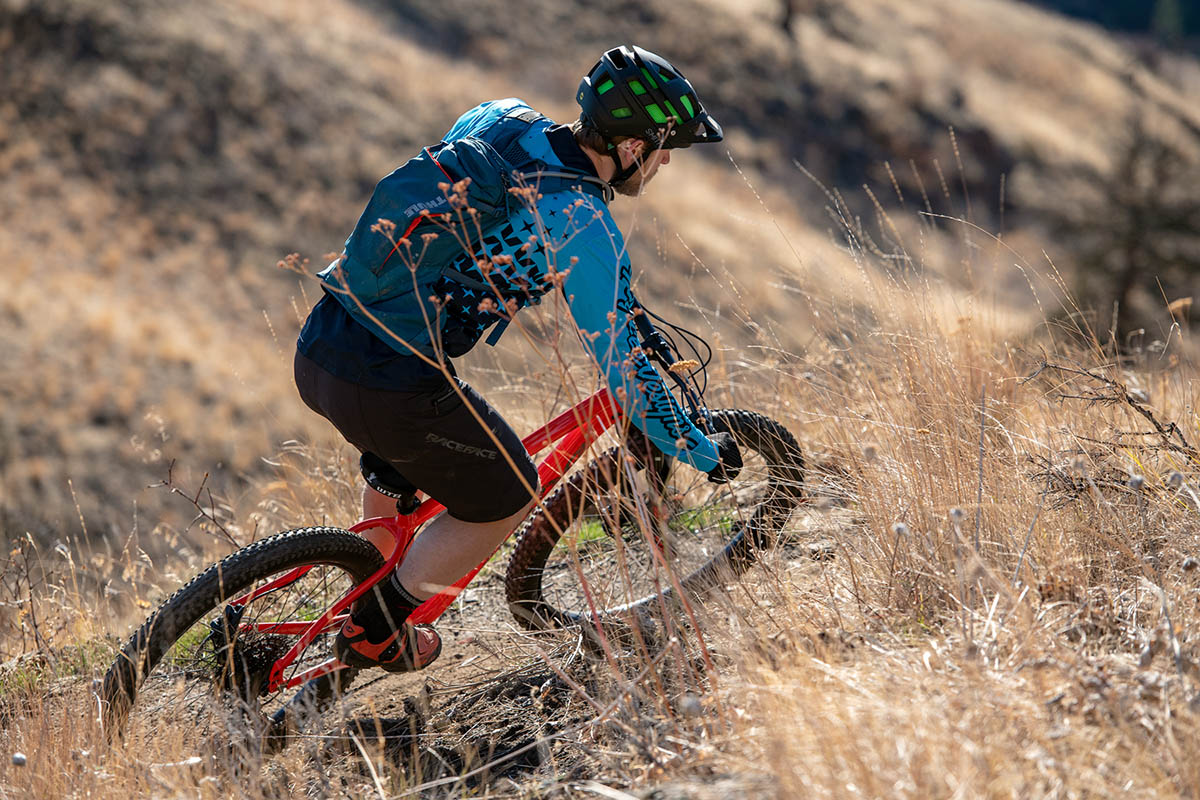 What We Like
Wide waist straps are comfortable and do a great job of holding the pack in place during steep and rough descents.
Excellent breathability thanks to the generous use of mesh and strategically placed slits in the closed-cell foam.
Magnetic bladder hose attachment system is extremely easy to use: Simply pull the nozzle to drink and release to reattach.
Well-designed interior and exterior pockets—there's a designated spot for almost everything you need on a ride.

What We Don't
Expensive at $150 ($160 for the black and yellow color)—you can get more capacity and features for less.
Doesn't include a helmet carrying system.
Although we found it to be plenty, the 8-liter volume might not be enough for some riders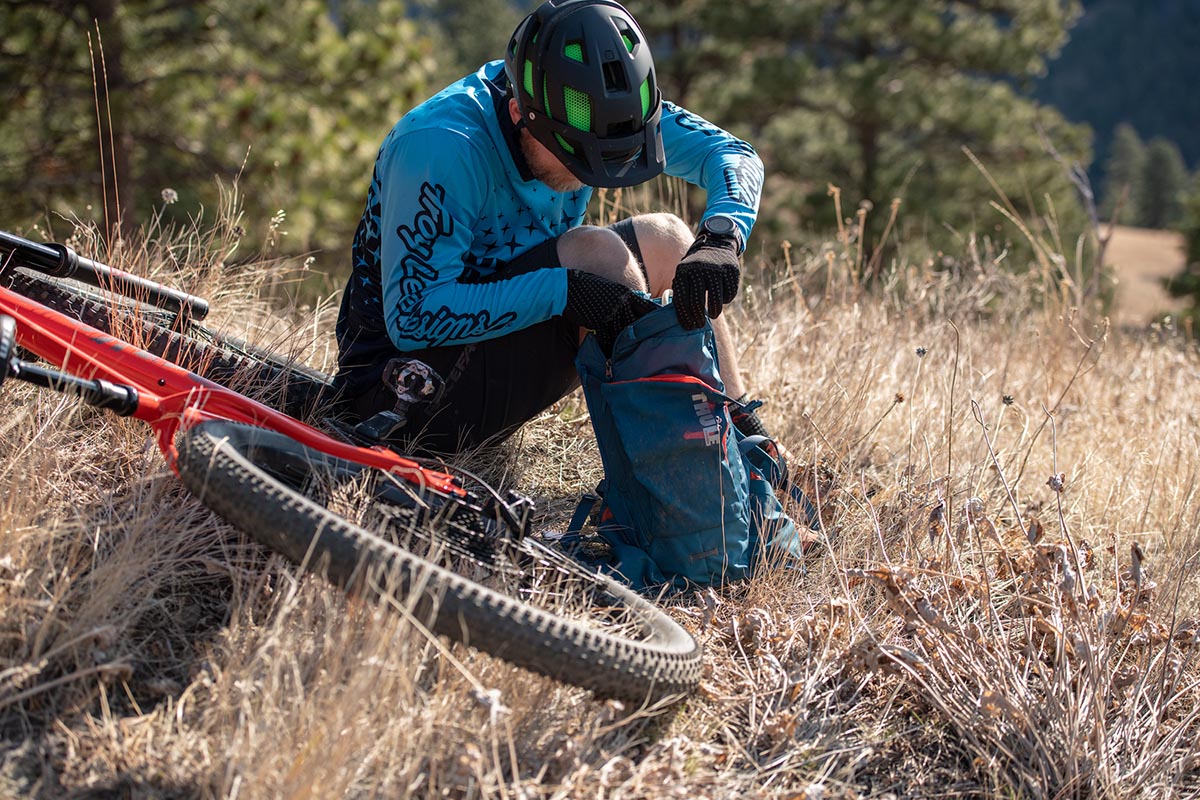 Comparison Table

The Competition
I've logged significant mileage with the Thule Vital 8L, so it makes sense to compare it with another one of my go-to mountain bike packs: the CamelBak Skyline LR 10. Like the Vital, the Skyline has a low-riding design and offers a comparable 7 liters of storage (the Vital has 8). However, the Skyline is more fully featured with a removable, foldable bike tool organizer and carrying system for a helmet and pads. That said, I found the Vital's more mesh-heavy design keeps my back cooler during hot summer rides, is less likely to move around during steep and technical descents, and sports higher-quality materials and features throughout (including an easier-to-use, clipless hose). The Skyline will save you $15 and get you another .5 liters of water storage, but I prefer the pared-down Thule for its better overall performance on the trail.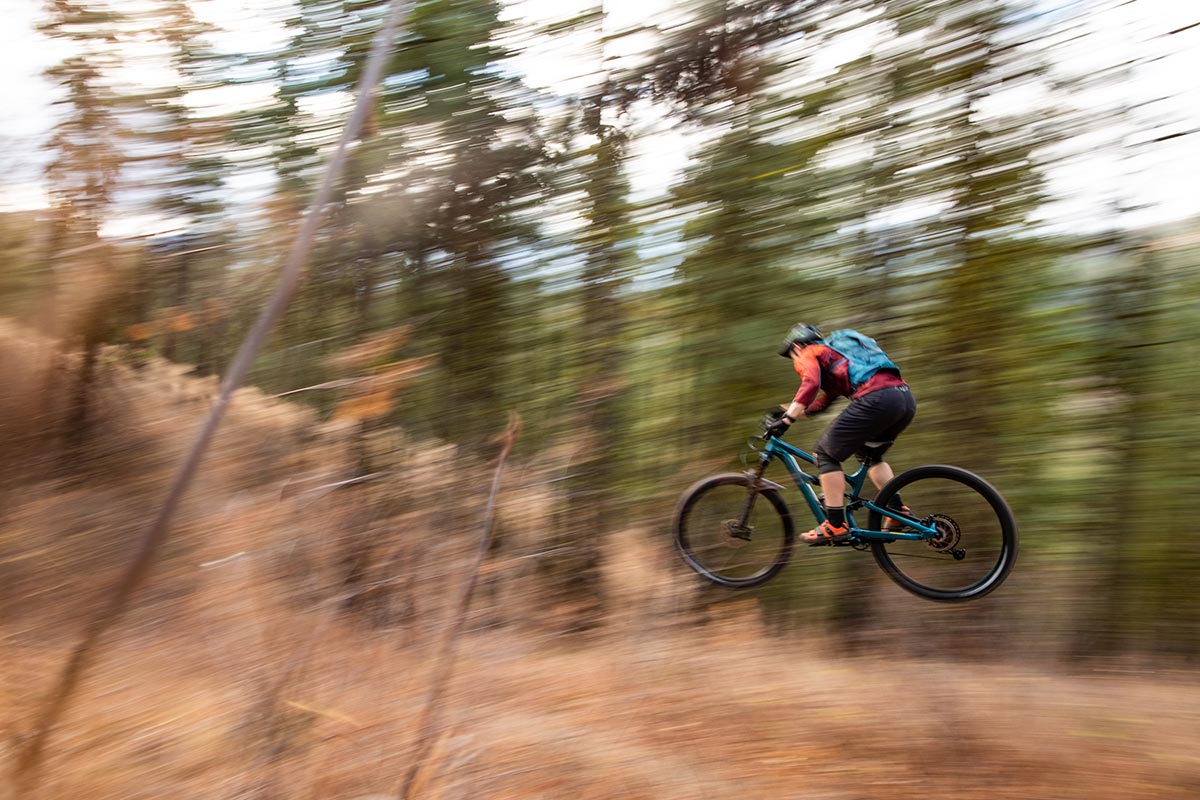 First launched in 1996, the CamelBak Mule has been a popular pack among riders for over two decades, with notable improvements incorporated along the way. The current Mule features similar gear- and water-carrying capacities (9L and 3L respectively) and also has a nice back-hugging design. Further, it offers helmet carry hooks and reflective accents for late-night or early-morning rides. But in terms of performance, I found the Vital was a much better breather and offered more security on rocky descents—two critical considerations that give the Thule the overall edge.
A final option to consider is Osprey's Siskin 8. With 8 liters of storage capacity, a slim profile, and reasonable $130 price tag, the Siskin 8 is an undoubtedly impressive pack. However, the Siskin's simple webbing waist strap pales in comparison to the Vital's beefier belt that effectively keeps the pack in place. I also prefer the Thule's lower center of gravity that allows the pack to sit farther down on my back and stay out of the way as I ride. The Siskin 8 is a great value at $20 less than the Thule, but we give the nod to the Vital as the more well-rounded design.
If you're thinking about buying gear that we've reviewed on Switchback Travel, you can help support us in the process. Just click on any of the seller links above, and if you make a purchase, we receive a small percentage of the transaction. The cost of the product is the same to you but this helps us continue to test and write about outdoor gear. Thanks and we appreciate your support!
Depending on the seller, most products ship free in the United States on orders of $50 or more. International shipping availability and rates vary by seller. The pricing information on this page is updated hourly but we are not responsible for inaccuracies.
Read More From Switchback Travel