Patagonia's Nano Puff is one of the most popular and recognizable insulated jackets on the market today. But with a fresh crop of new rivals, we felt it was time to take another look at this legendary synthetic piece. What we found is that the Nano Puff still holds its own: the jacket is competitively warm, reasonably light and packable, and among the best at crossing over from the outdoors to daily wear. Below we break down the Nano Puff's warmth, weight and packability, weather protection, durability, fit, and more. To see how it stacks up, see our article on the best synthetic jackets.
 
Performance
Warmth
The Patagonia Nano Puff was one of the first jackets to offer premium synthetic insulation in a lightweight package. And the formula holds true today: the current model uses PrimaLoft's top-end 60g Gold Eco fill that can give a mid-range down jacket a run for its money in terms of warmth to weight. Coupled with a light baselayer, we found the Nano Puff comfortable down into the low 40s Fahrenheit, which is on par with synthetics like the Arc'teryx Atom LT and The North Face ThermoBall. This shoulder-season-friendly level of warmth is what makes this jacket so popular in areas like the Pacific Northwest for all but the coldest winter days. For outdoor use, it's not enough to trust in the high alpine—we still turn to a down piece for that—but it's a great choice for most summer camping, backpacking, and climbing trips.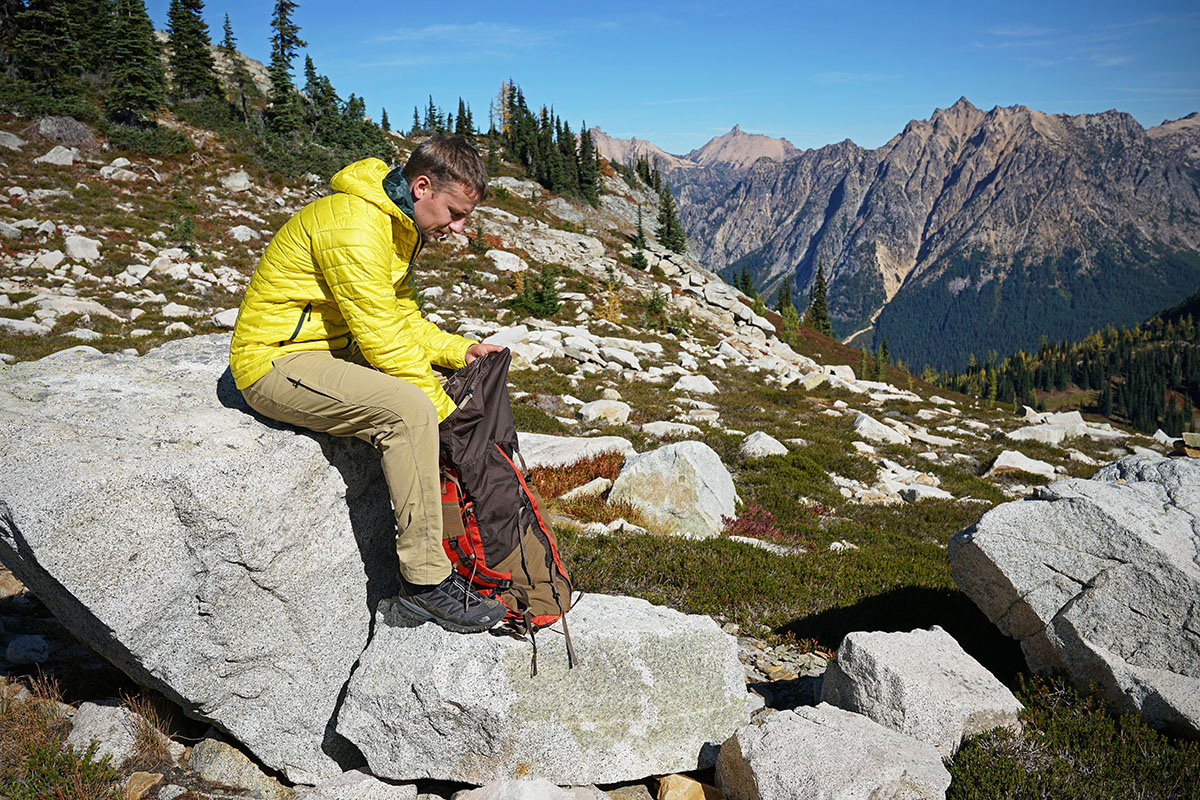 Weight and Packability
Similar to its warmth, the weight of the Nano Puff remains competitive in the synthetic field. Our men's medium hoody tips the scales at 13.5 ounces (Patagonia lists it as 12.8 oz.), which lands in between the aforementioned Atom LT (12.7 oz.) and ThermoBall (13.8 oz.). You can save a few ounces and get a boost in warmth with a down jacket like the Arc'teryx Cerium LT Hoody (10.8 ounces), but that comes with a big jump in price of $130. Among synthetics, Patagonia's new Micro Puff undercuts the Nano at 9.2 ounces, but we found that jacket to be a little less warm and significantly less durable. Overall, unless you're a dedicated minimalist, the Nano Puff isn't a burden to haul around in a pack.
The combination of PrimaLoft's compressible insulation, a simple feature set, and lightweight materials make for an impressively packable synthetic jacket. The Nano Puff fits easily into its internal chest pocket and can be compressed further when squeezed into a pack or suitcase. As a nod to Patagonia's climbing roots, the stuff pocket includes a reinforced loop for attaching the jacket to a harness. Only a small percentage of Nano Puff wearers will actually use this feature, but it doesn't add any extra weight and we also find the loop functional for attaching a key inside the pocket. All in all, there certainly are more packable jacket options on the market—including a bevy of premium down models and Patagonia's Micro Puff—but the Nano Puff is a fine choice for most backpackers, climbers, and travelers.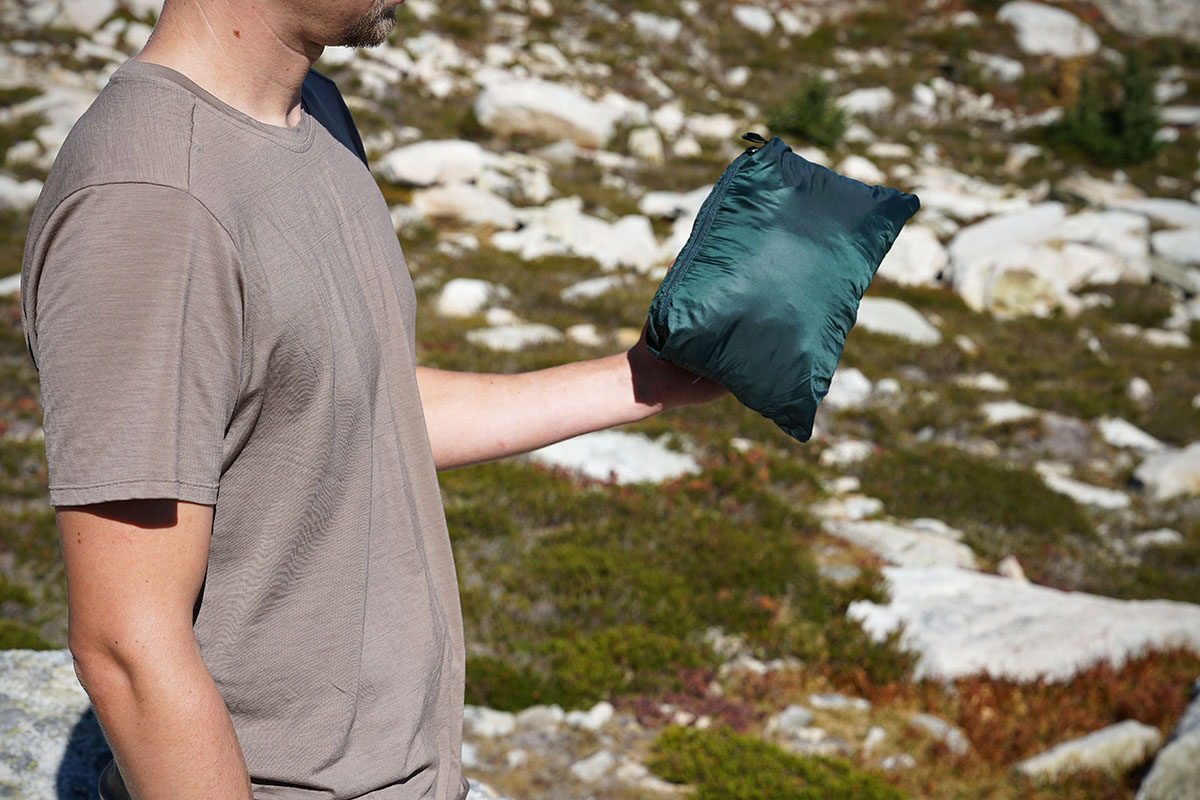 Weather Protection
With its strong shell and fresh coating of DWR, we found the Nano Puff to be decently water resistant. It shed light rain easily, although the sheer amount of stitching on the exterior does mean that water will start to make its way into the insulation during extended exposure. The good news, however, is that unlike natural goose or duck down, synthetic fill doesn't get clumpy and continues to insulate when wet. Realistically, the jacket offers enough water protection for most uses—you'll want to grab a rain shell in a true deluge—but this isn't the most rain-ready layer we've tested.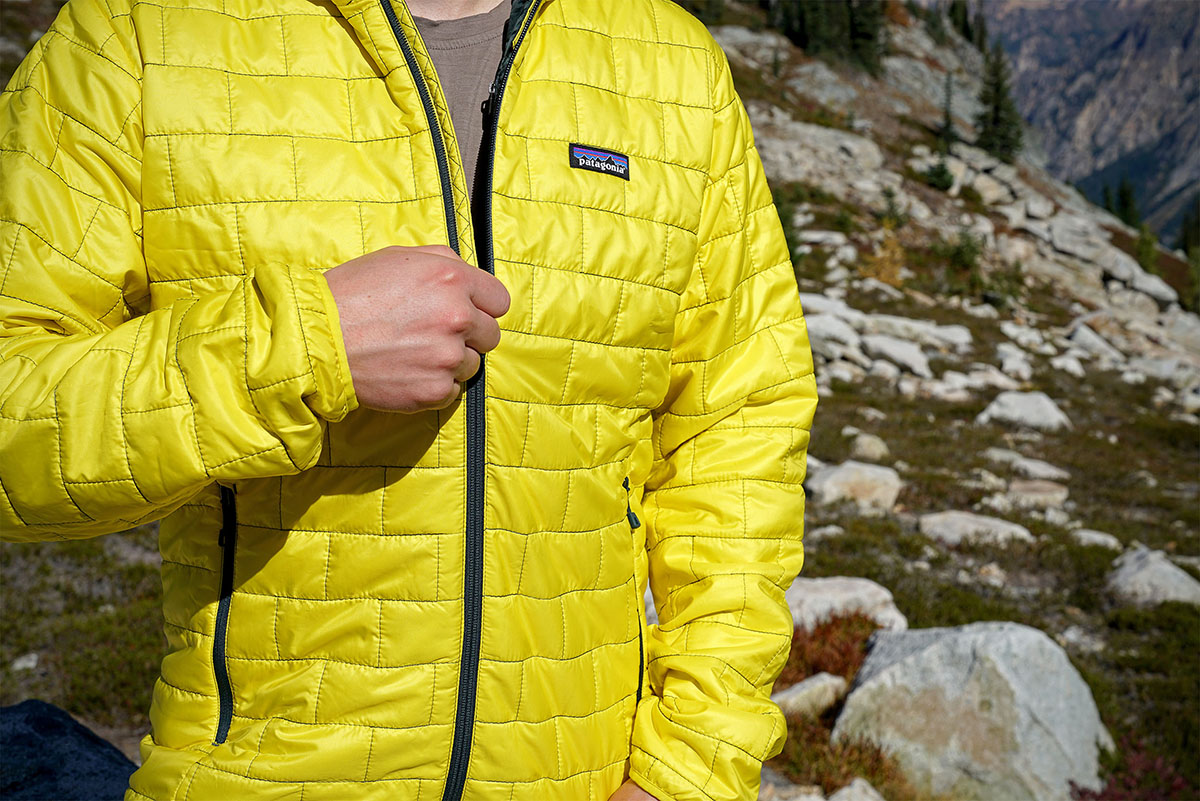 Despite not being a top performer in the wet, the Nano Puff does great in wind. The key here is that the exterior stitching does not continue to the interior; instead, the jacket has a separate, smooth liner that is nearly seamless. This minimizes vulnerabilities for wind to cut through and allows the windproof shell to do its job. The Nano Puff feels nearly as tough as a rain jacket in strong gusts, which furthers its backcountry (and city) appeal.
 
Breathability
Unlike Patagonia's performance-oriented Nano-Air, the Nano Puff is not a very good breather. The solid liner and face fabric that do such a great job blocking wind and shedding light rain also limit hot air from escaping while on the go. And the smooth interior quickly turns slippery and clammy as you work up a sweat. To be fair, the jacket does not have any high-output ambitions, and its breathability is very comparable to a standard down jacket. Stick to its strong points—daily wear, hanging out around camp, and light aerobic activity—and you'll be in much better shape.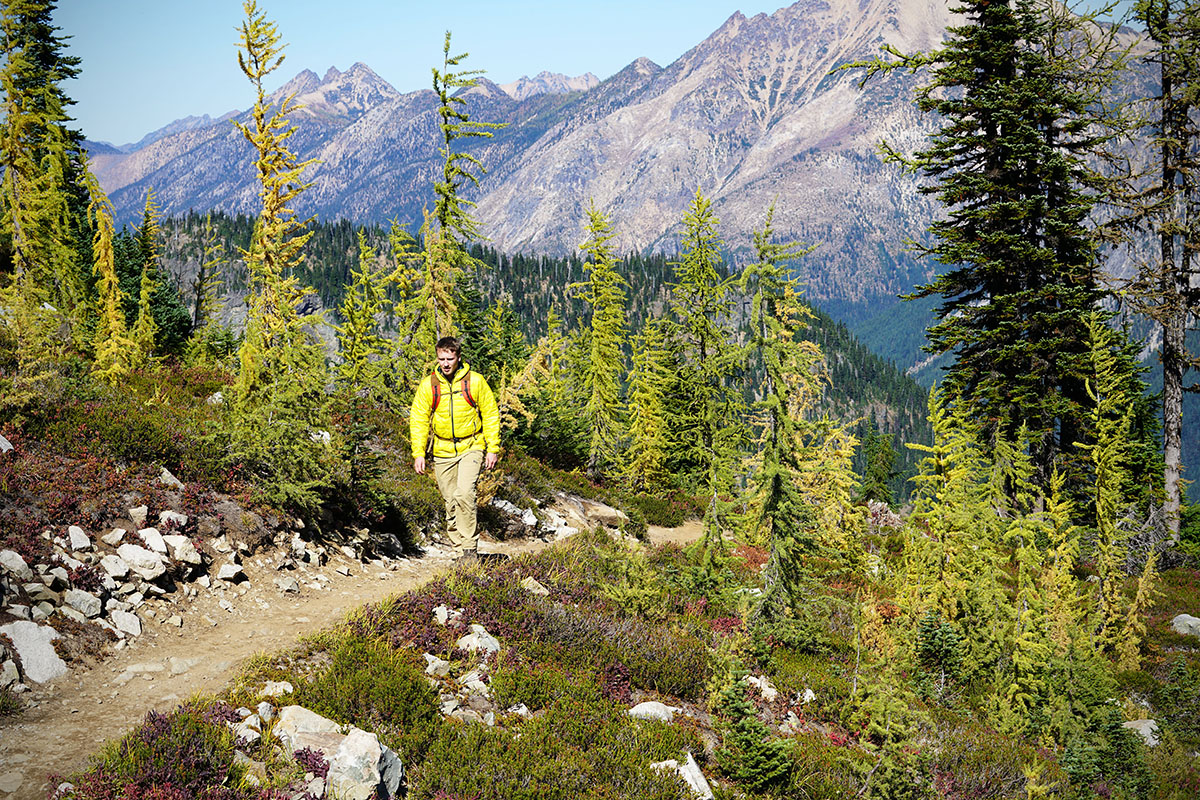 Features: Hood and Pockets
The Nano Puff is offered in a range of styles—including a standard non-hooded jacket and vest—but we tested the priciest full-zip hoody version here. The other two options are commonly worn as midlayers, but we like the versatility of the low-profile hood that allows the jacket to perform well as an outer layer but doesn't get in the way under a shell. The hood itself isn't adjustable, but was a perfect fit for us and the stretchy construction even allows you to put it on and take it off with the main zipper all the way up. Additionally, the scuba-style design provides excellent coverage that shields the chin, sides of the head, and forehead from the elements, and is designed to fit easily under a helmet. We often prefer an adjustable hood to dial in fit, but we have to say that Patagonia's hoods are among the best in terms of protection and comfort (we were similarly impressed with the Micro Puff).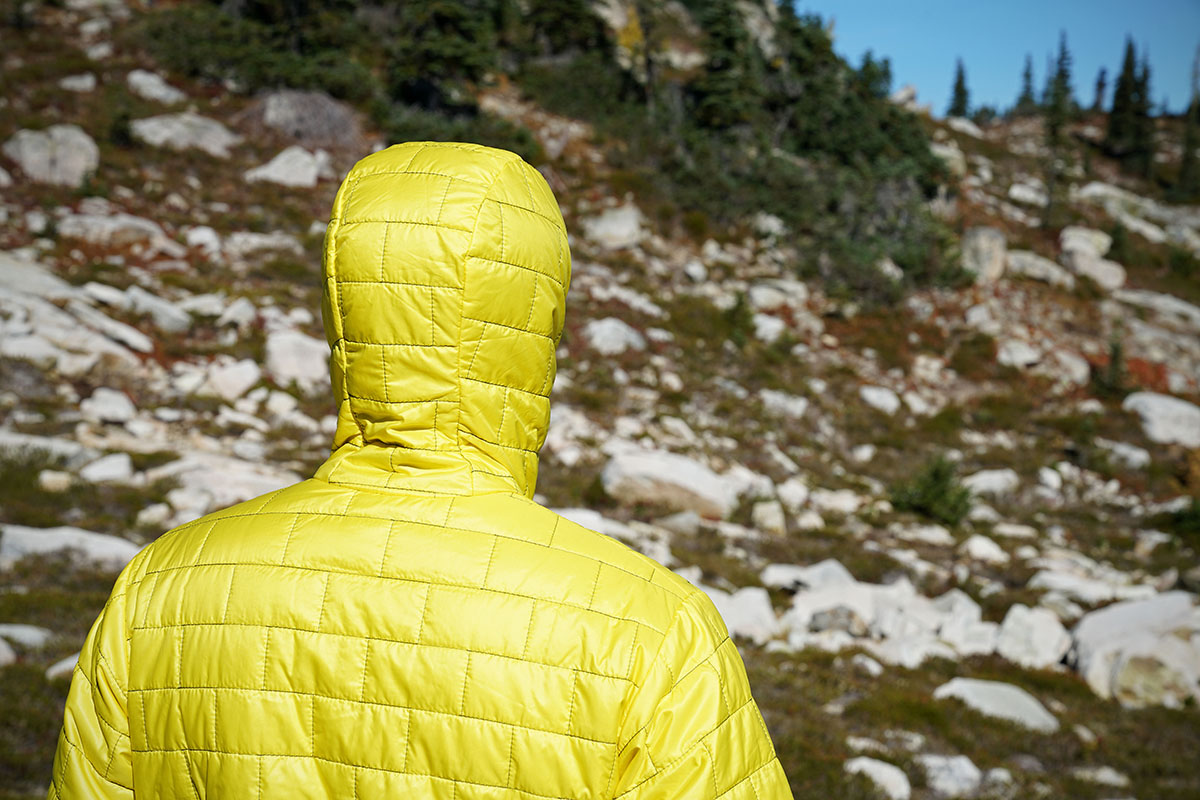 Storage-wise, the Nano Puff offers a standard suite of options: two nicely sized hand warmer pockets and an interior zippered chest pocket. Everything is just where you want it for daily use (Patagonia avoided going overly technical with high, harness-compatible pockets) and we find little to complain about here. True, the lining of the pockets isn't all that soft and cozy, but it's insulated and keeps your hands protected from cold and windy air.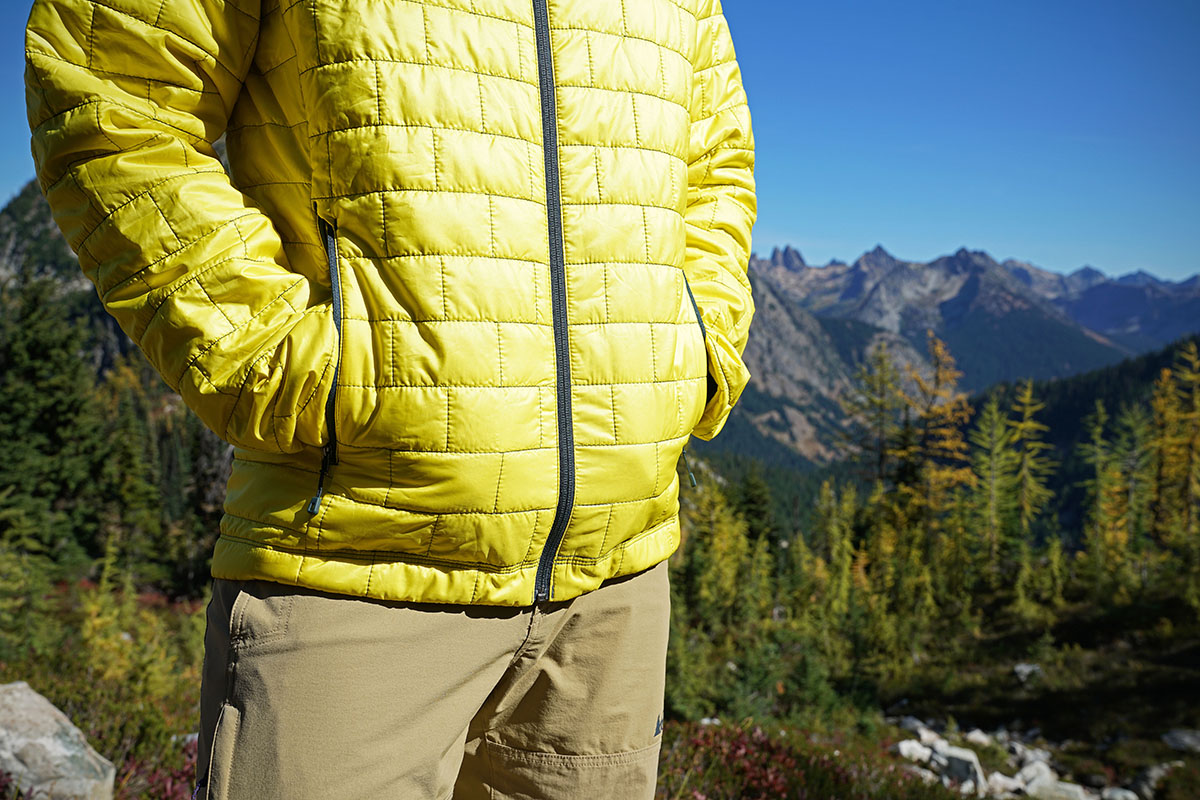 Durability
Patagonia has opted for a 22-denier (D) recycled polyester shell fabric on the Nano Puff, which is about average in terms of durability for a lightweight insulated jacket. It's a proprietary design—unlike the Pertex used on many premium builds like the Micro Puff—but the ripstop construction puts up a good fight against snags and abrasion. We've found that we're still mindful of the risk in getting a tear, but it's nothing like the paper-thin 10D Micro Puff or a ultralight down piece like the 7Dx10D Mountain Hardwear Ghost Whisperer. Overall, for day-to-day and occasional backcountry use, the Nano Puff should hold up fine in most cases—just don't wear it while rock climbing (not that you would for long with its limited breathability).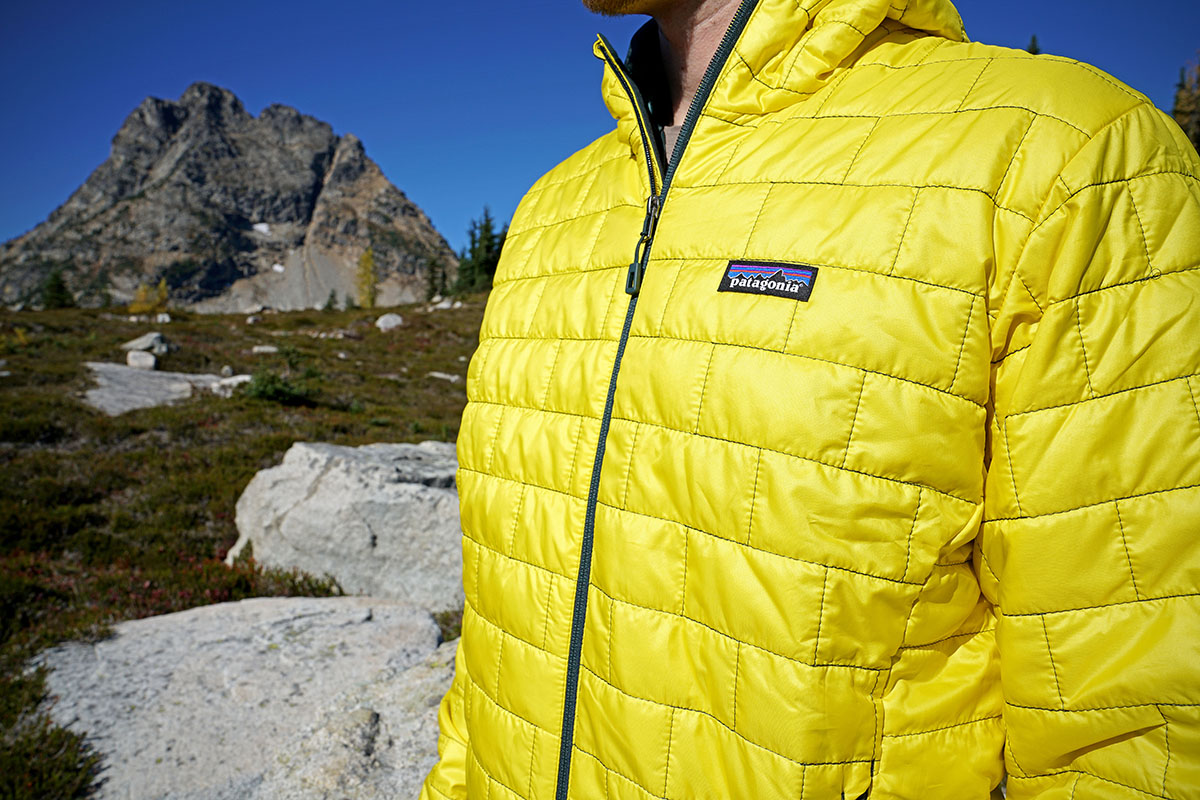 Fit
A healthy part of the Nano Puff's wide appeal relates to its classy looks and comfortable fit. Patagonia describes the cut as "regular" and we agree—it's a bit on the boxy side for performance use, but layers easily and offers plenty of mobility for everyday wear and activities like downhill skiing. We had enough space for doubling up baselayers for extra warmth in sub-freezing conditions, and it isn't overly bulky for sliding a shell over top.
One nitpick that we have with the fit is the single hem adjuster on the right side. While it's easy to tighten and loosen, the jacket pulls noticeably to the right as you cinch the bottom. For a piece with this much casual appeal, we would prefer a second hem adjustment on the left side. Again, this is a small issue—and addressing it would add a little weight—but we'd prefer a more uniform look when cinching the jacket.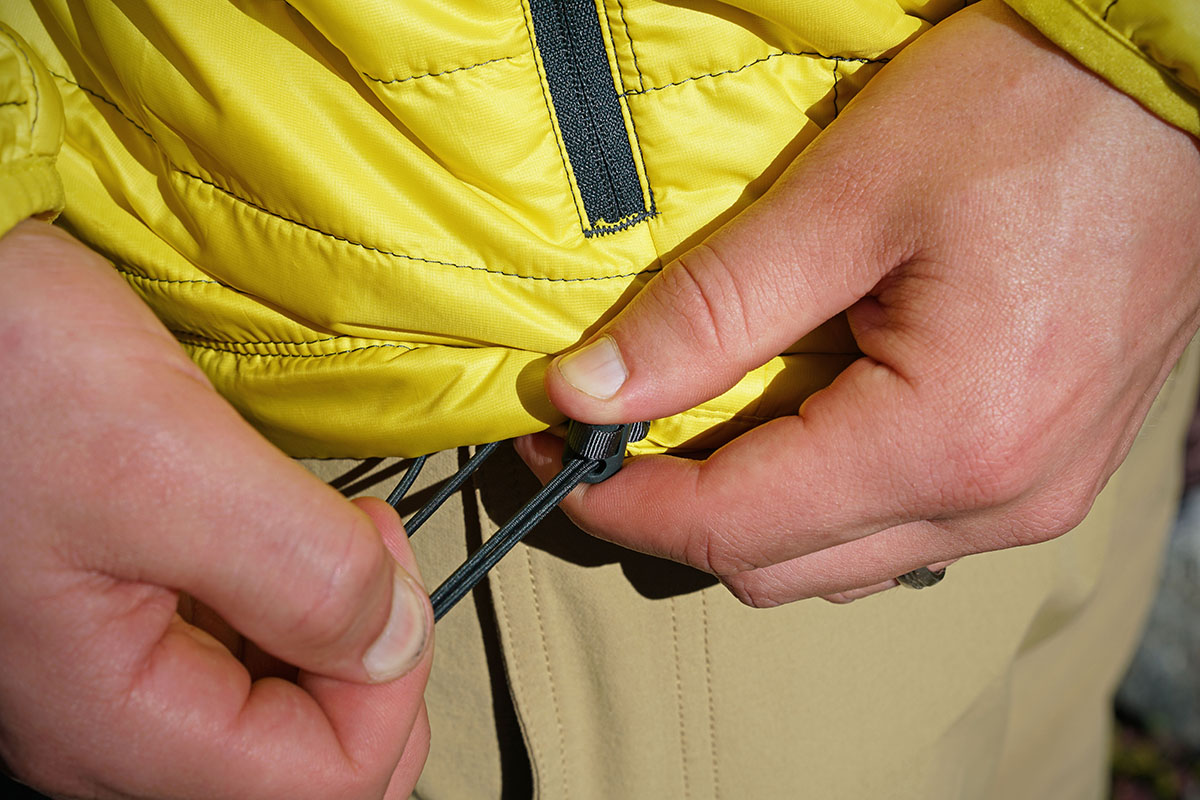 What We Like
A great crossover jacket: the Nano Puff is functional for outdoor use with plenty of style and features to wear around town.
Pretty light and easy to store in a pack, on a harness, or in a suitcase.
Ideal warmth for cool fall and spring conditions, or as a midlayer for downhill skiing.

What We Don't
Poor breathability for a synthetic jacket, especially compared to some of Patagonia's newer offerings like the Nano-Air.
Rain protection is good but not great due to the exterior stitching.
Single hem adjuster pulls the jacket to the side when tightening.

Comparison Table

The Competition
Starting with the Nano Puff, then followed by the Nano-Air and recent Micro Puff, no one can compete with the buzz around a Patagonia synthetic. Among this grouping, the Nano Puff Hoody is the most affordable at $249 (the Micro Puff and Nano-Air are $299) and it's also the best oriented for daily use. The clean styling, roomy fit, and generous feature set play well for walking around town, travel, and light outdoor use. If, however, you're in need of a high-output piece with a stretchy and soft interior, the Nano-Air is your ticket. And minimalists will prefer the nearly 4-ounce weight advantage of the Micro Puff. But the tried-and-true Nano Puff is best for casual use and weekend warriors: it's light, packable, and offers a nice mix of weather protection and everyday usability.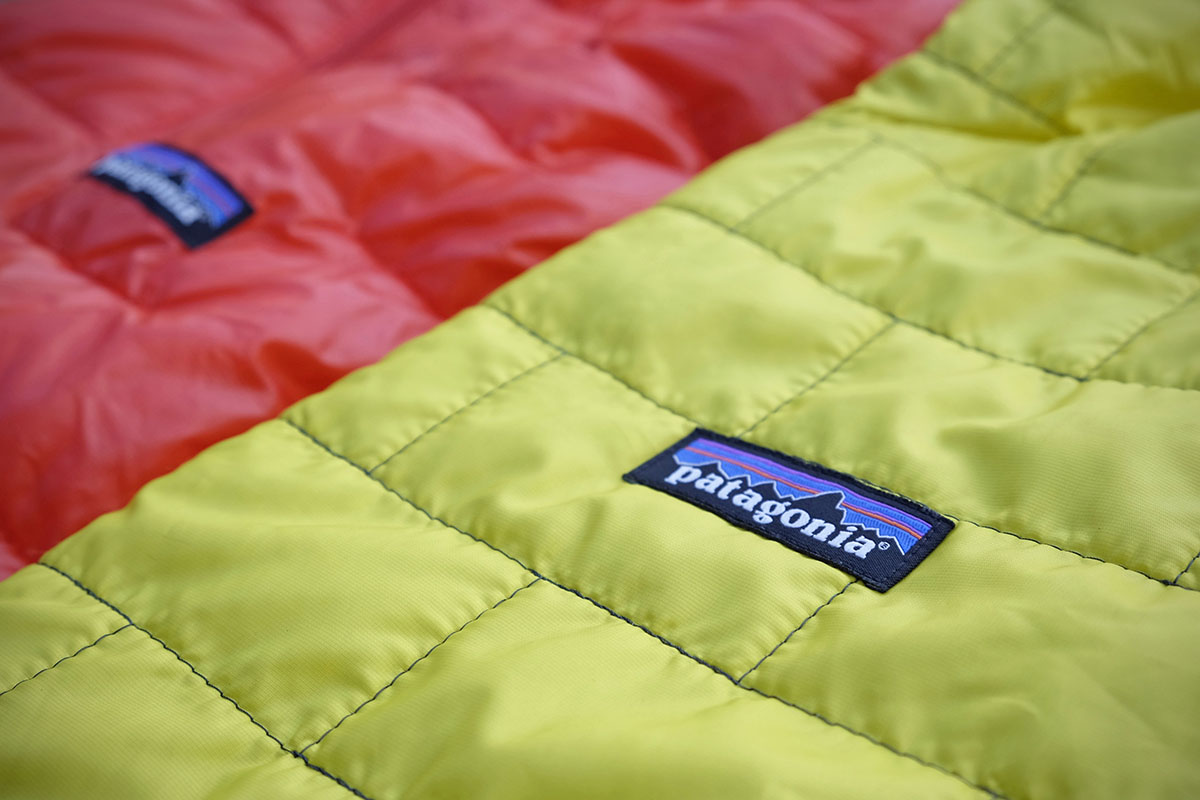 Another legendary all-around synthetic jacket is Arc'teryx's Atom LT. This piece has been a go-to of ours for years for deftly balancing comfort, weight, and warmth. The stretchy side panels on the Atom LT make the jacket cozier and a little better for staying cool while on the go, but the Nano Puff is a little warmer overall, in part because of the Atom LT's non-windproof panels. We prefer the comfort and versatility of the Atom LT, particularly at only a $10 price difference, but the Nano Puff isn't too far behind. More, its roomier fit may give it the edge for some people compared to the more athletic cut of the Atom LT.
A final option that many synthetic jacket shoppers are familiar with is The North Face ThermoBall. Released a few years ago, the ThermoBall shares a similar template with the Nano Puff: lightweight warmth, decent weather protection, and crossover appeal between the outdoors and around town. With its unique down-like insulation, the ThermoBall looks and feels a little puffier than the low-profile Patagonia, but both offer comparable levels of warmth (see our review here). The Nano Puff gets the edge in wind protection and its shell is a little more durable, but The North Face is $29 cheaper in hoody form (the non-hooded jackets are the same price). As with the Atom LT above, the final decision likely will down to fit and preferences on styling—we prefer the Nano Puff because the ThermoBall has an even roomier and boxier shape.  
If you're thinking about buying gear that we've reviewed on Switchback Travel, you can help support us in the process. Just click on any of the seller links above, and if you make a purchase, we receive a small percentage of the transaction. The cost of the product is the same to you but this helps us continue to test and write about outdoor gear. Thanks and we appreciate your support!
Depending on the seller, most products ship free in the United States on orders of $50 or more. International shipping availability and rates vary by seller. The pricing information on this page is updated hourly but we are not responsible for inaccuracies.
Learn More About Outdoor Gear