Patagonia's Nano Puff remains one of the most popular and recognizable insulated jackets on the market today. But with a fresh crop of new rivals, we felt it was time to take another look at this legendary synthetic piece. What we found is that the Nano Puff still holds its own: The jacket is competitively warm, reasonably light and packable, and among the best at crossing over from the outdoors to daily wear. It's not a breathable active insulation piece for the backcountry, but the versatility is hard to beat. Below we break down the Nano Puff's performance. To see how it stacks up to the competition, see our article on the best synthetic jackets.
 
---
Table of Contents
---

Performance
Warmth
The Patagonia Nano Puff was one of the first jackets to offer premium synthetic insulation in a lightweight package. And the formula holds true today: The current model uses PrimaLoft's top-end 60-gram (g) Gold Eco fill that can give a mid-range down jacket a run for its money in terms of warmth-to-weight ratio. Coupled with a light baselayer, we found the Nano Puff comfortable down into the low 40s Fahrenheit, which is on par with synthetics like the Arc'teryx Atom LT and The North Face ThermoBall Eco. This shoulder-season-friendly level of warmth is what makes this jacket so popular in areas like the Pacific Northwest for all but the coldest winter days. For outdoor use, it's not enough to trust in the high alpine—we still turn to a down piece for that—but it's a nice choice for most summer camping, backpacking, and climbing trips. I also found it great for throwing on during transitions while ski touring and cold mornings fly fishing on my local river in waist-deep water.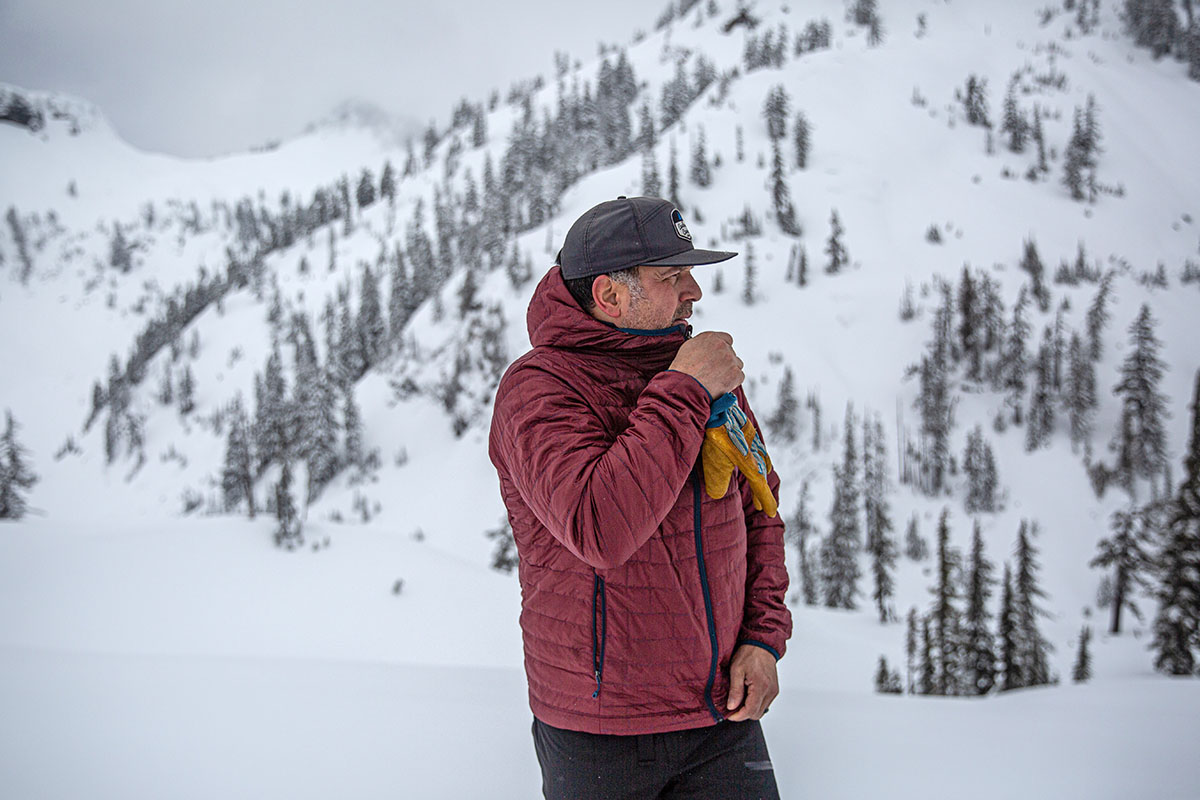 Weight and Packability
Similar to its warmth, the weight of the Nano Puff remains competitive in the synthetic field. The listed weight for the men's version that I tested is 12.8 ounces, which is around the same as Arc'teryx's popular Atom LT Hoody (13.2 oz). and undercuts The North Face's ThermoBall Eco Hoodie 2.0 (15.9 oz.). You can shave an ounce and get a boost in warmth with a down jacket like the Arc'teryx Cerium Hoody (11.8 oz.), but that comes with a big jump in price to $400. Among synthetics, Patagonia's own Micro Puff Hoody and Outdoor Research's SuperStrand LT Hoodie are especially light at and 10.7 and 10.9 ounces respectively, but we've found both jackets to be a little less warm and durable. Overall, unless you're a dedicated minimalist, the Nano Puff isn't a burden to haul around in a pack.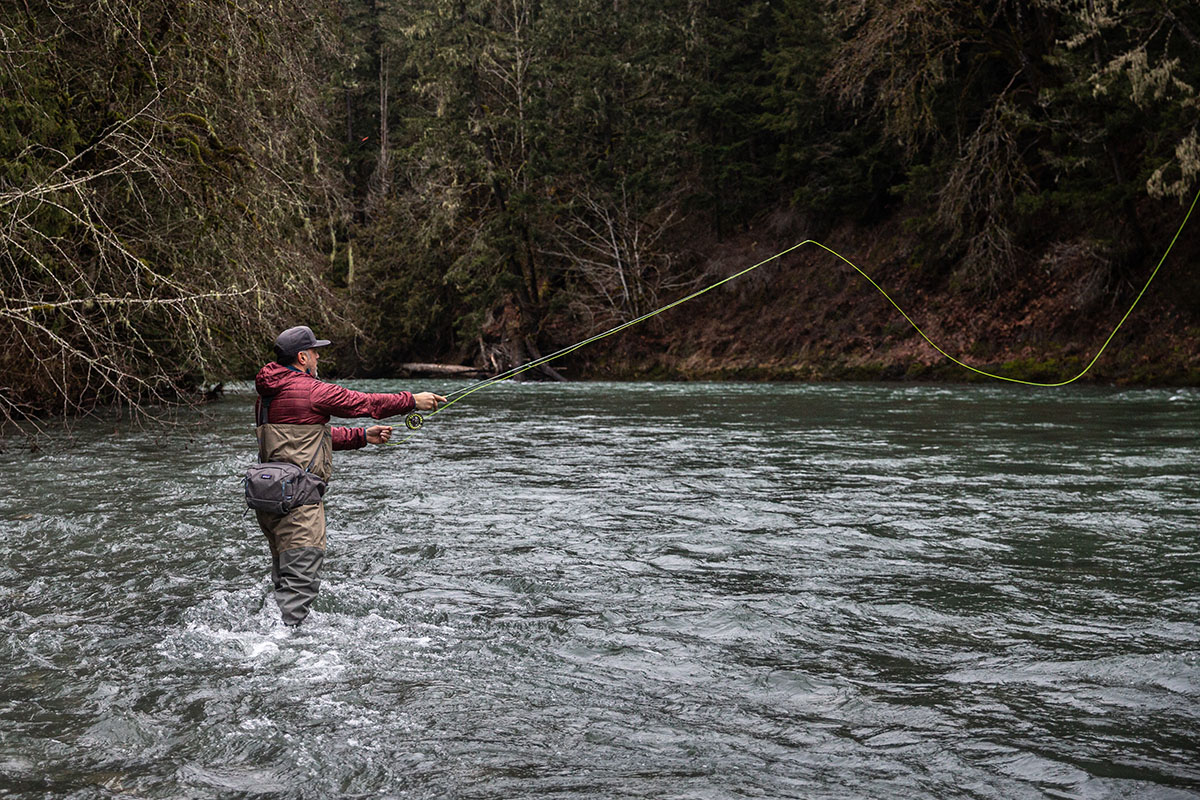 The combination of PrimaLoft's compressible insulation, a simple feature set, and lightweight materials make for an impressively packable synthetic jacket. The Nano Puff stuffs easily into its internal chest pocket (to about the size of a cantaloupe for my men's large), although I often just roll it into its hood to save time and avoid snagging the fabric on the zipper. As a nod to Patagonia's climbing roots, the stuff pocket also includes a reinforced loop for attaching the jacket to a harness. Only a small percentage of Nano Puff wearers will actually use this feature, but it doesn't add extra weight, and we find the loop workable for attaching a key inside the pocket. All in all, there certainly are more packable jacket options on the market—including a bevy of premium down models and the aforementioned synthetic Micro Puff and Superstrand LT—but the Nano Puff is a fine choice for most hikers, climbers, and travelers.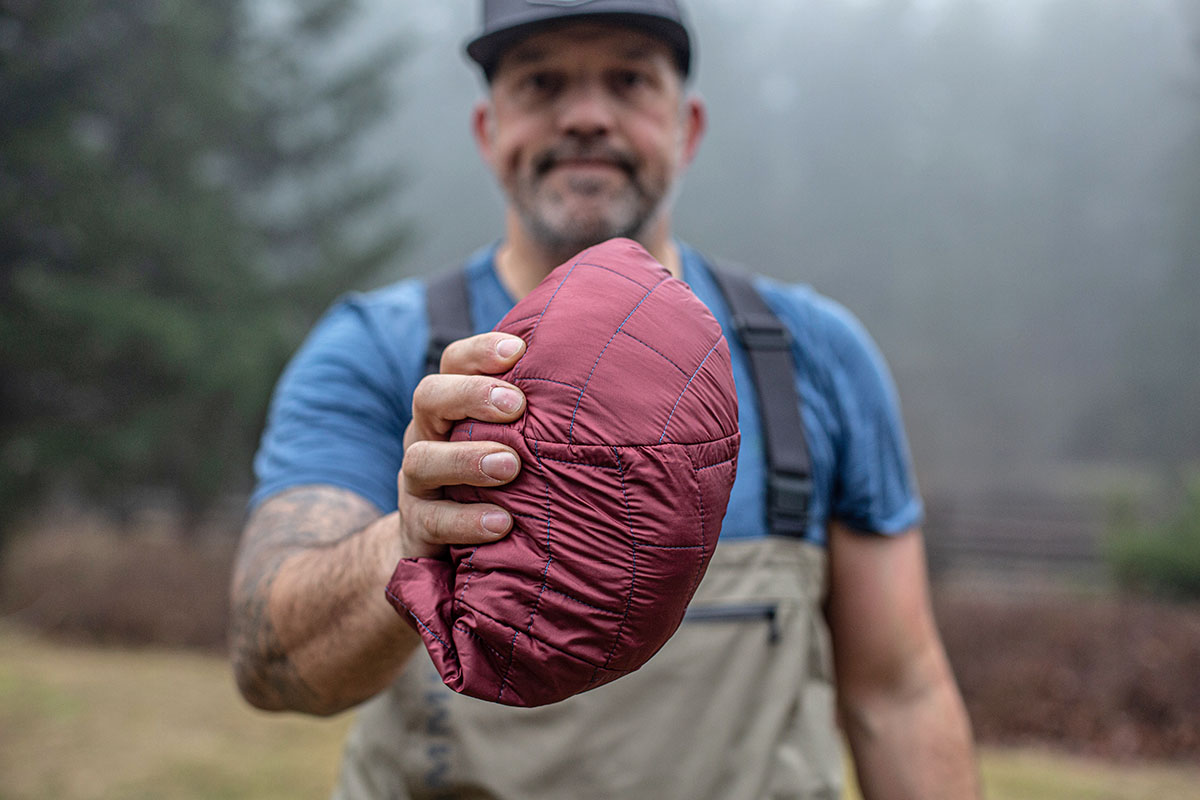 Weather Protection
With its strong shell and quality DWR coating, we found the Nano Puff to be decently water-resistant. It shed light rain easily, and it was a similar story with splashing water while fly fishing and blowing snow during transitions in the backcountry. That said, the sheer amount of stitching on the exterior does mean that water will start to make its way into the insulation during extended exposure. The good news, however, is that unlike natural goose or duck down, synthetic fill won't get clumpy or lose its insulating properties when wet. Realistically, the jacket offers enough water protection for most uses—you'll want to grab a rain shell in a true deluge—but is far from the most rain-ready layer we've tested.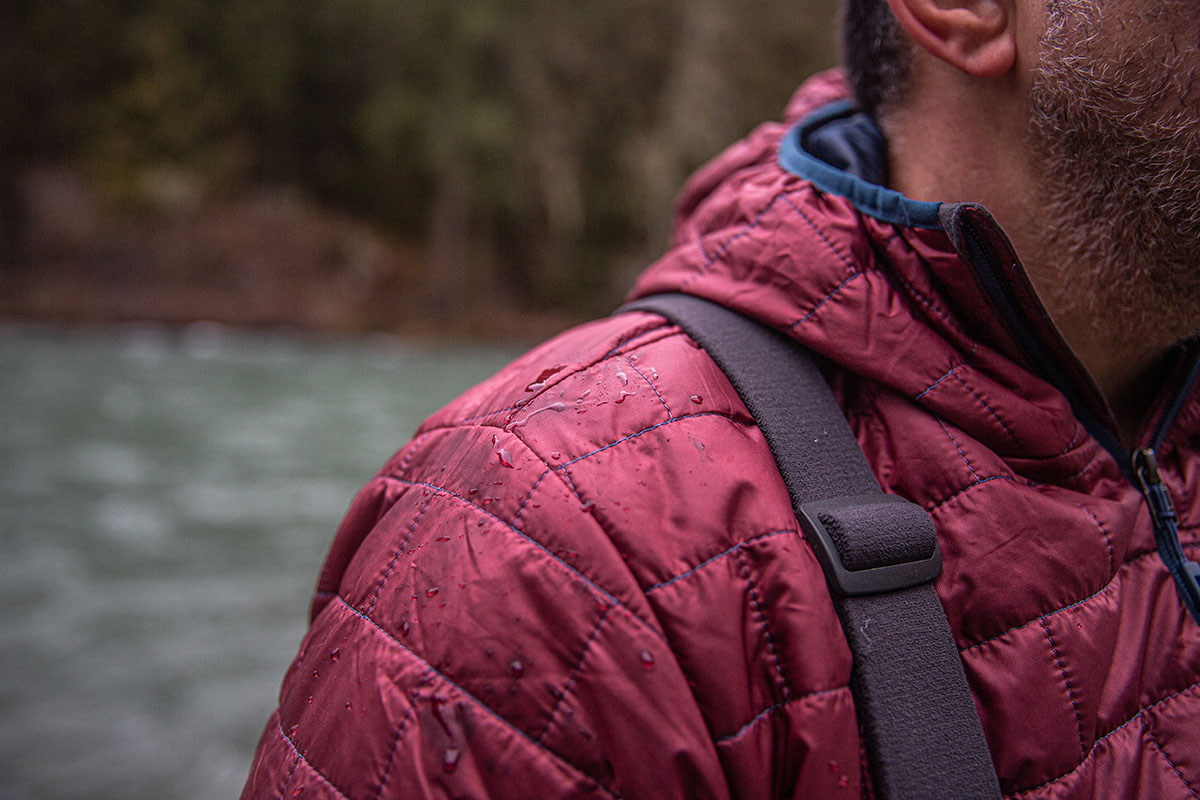 Despite not being a top performer in the wet, the Patagonia Nano Puff does great in wind. The key here is that the exterior stitching does not continue to the interior; instead, the jacket has a separate, smooth liner that is nearly seamless. Combined with a storm flap behind the main zipper, this minimizes vulnerabilities for wind to cut through and allows the windproof shell to do its job. The Nano Puff feels nearly as tough as a rain jacket in strong gusts, which furthers its backcountry (and city) appeal.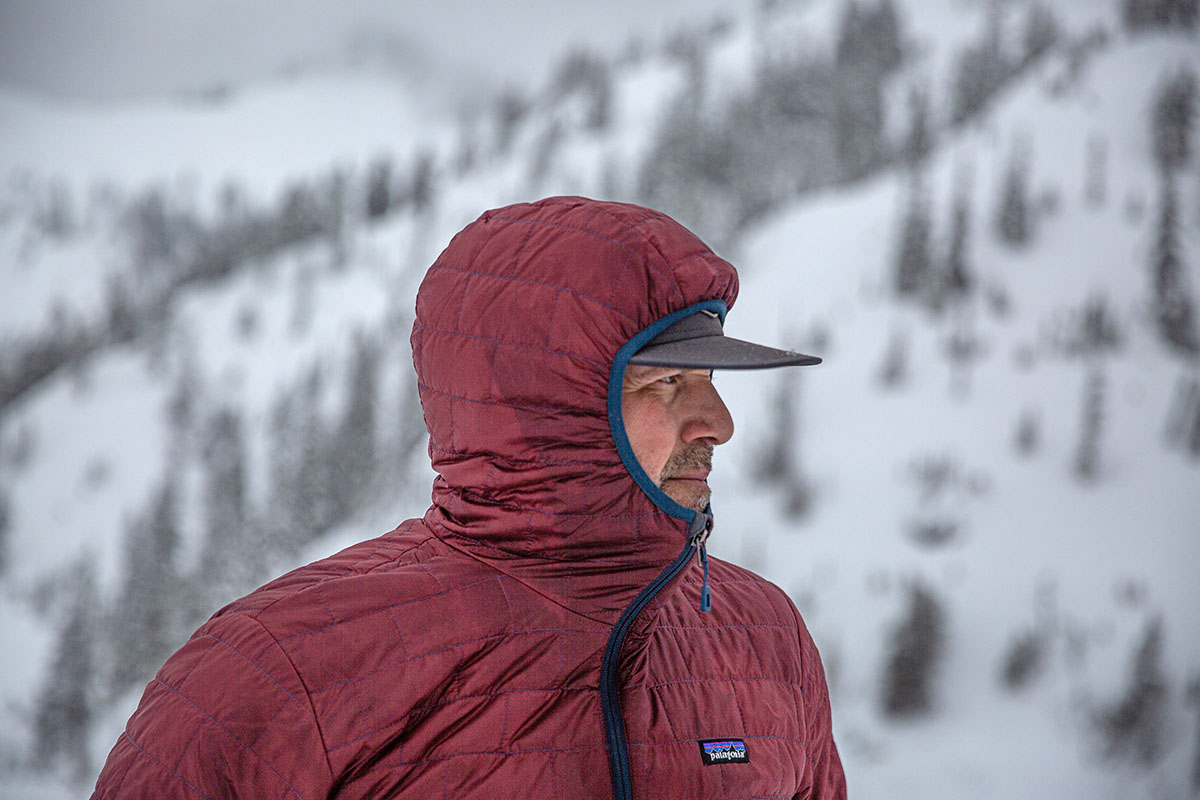 Breathability
Unlike Patagonia's performance-oriented Nano-Air, the Nano Puff is not a very good breather. The solid liner and face fabric that do such a great job blocking wind and shedding light rain also limit hot air from escaping while on the go. And the smooth interior quickly turns slippery and clammy as you work up a sweat. For reference, I managed to stay comfortable while wearing the jacket on cold-weather tours and hikes on Vancouver Island with our dog, but once the terrain turned undulating or steep, I was quick to overheat. To be fair, the jacket does not have any high-output ambitions, and its breathability is very comparable to a standard down jacket. In other words, if you stick to its strong points—daily wear, hanging out around camp, and light aerobic activity—there's a lot to like.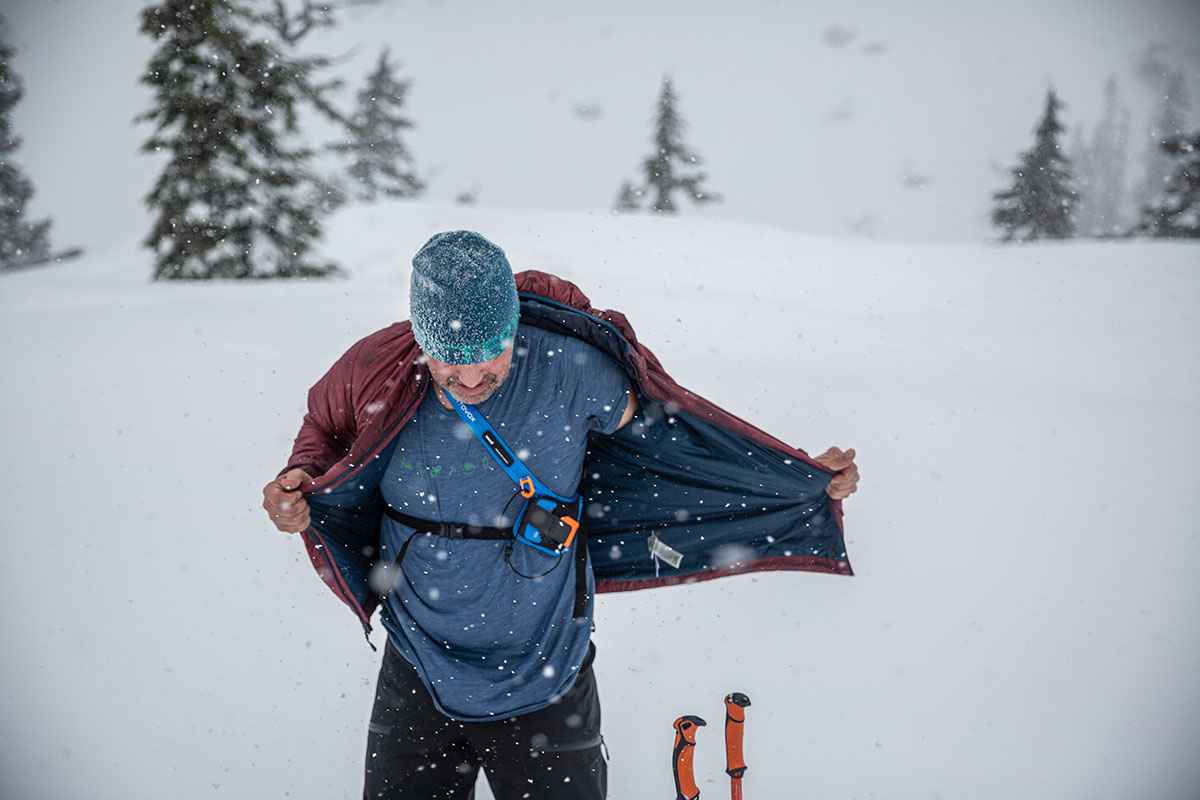 Features: Hood and Pockets
The Nano Puff is offered in a range of styles—including a standard non-hooded jacket and vest—but we tested the priciest full-zip hoody version here (more in our "Other Versions" section below). The non-hoody options commonly are worn as midlayers, but we like the versatility of the low-profile hood that allows the jacket to perform well as an outer layer without getting in the way under a shell. The hood itself isn't adjustable but was a perfect fit for us, and the stretchy construction even allows you to put it on and take it off with the main zipper all the way up. Additionally, the scuba-style design provides excellent coverage that shields the chin, sides of the head, and forehead from the elements while still sliding easily under a helmet (or over a beanie or ball cap). We often prefer an adjustable hood to dial in fit, but we have to say that Patagonia's hoods are among the best in terms of protection and comfort (we were similarly impressed with the Micro Puff).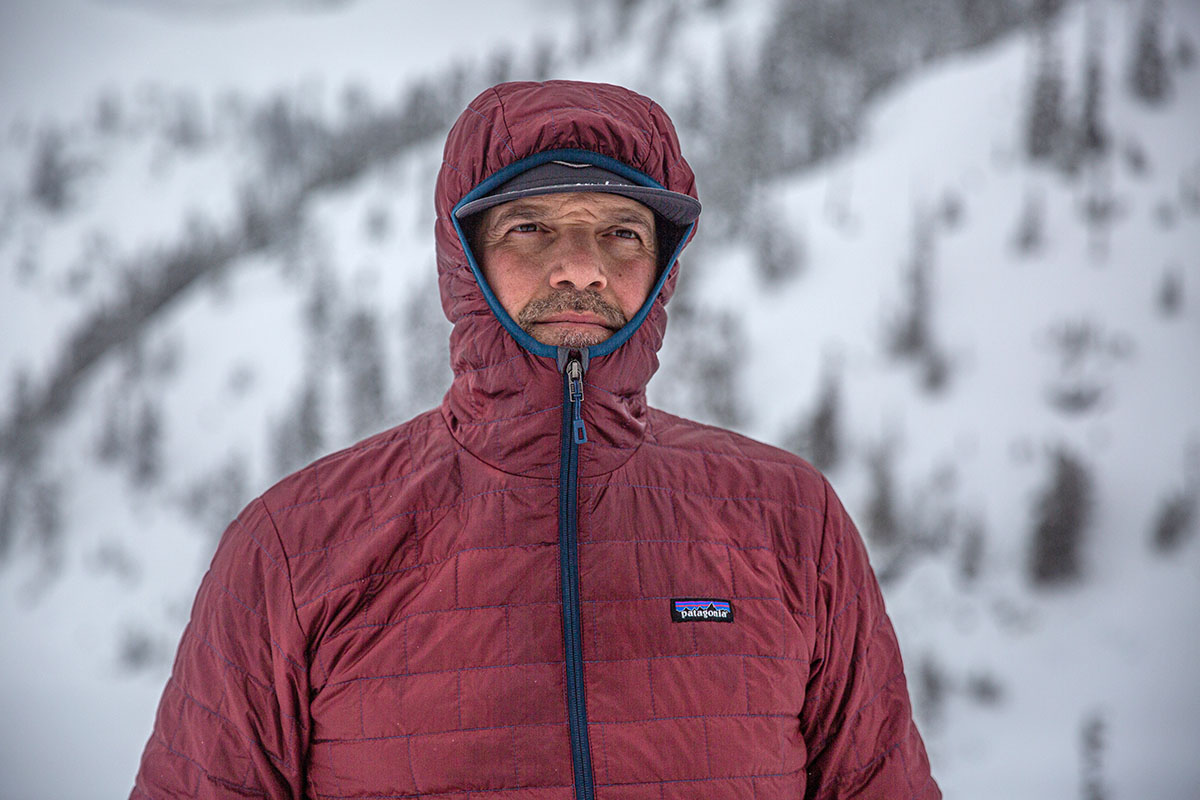 Storage-wise, the Nano Puff offers a standard suite of options: two nicely sized handwarmer pockets and an interior zippered chest pocket, the latter of which doubles as the stuff sack. Everything is just where you want it for daily use (Patagonia avoided getting overly technical with high, harness-compatible pockets), and we find little to complain about here. True, the lining of the pockets isn't all that soft and cozy, but it's insulated and keeps your hands protected from cold and windy air.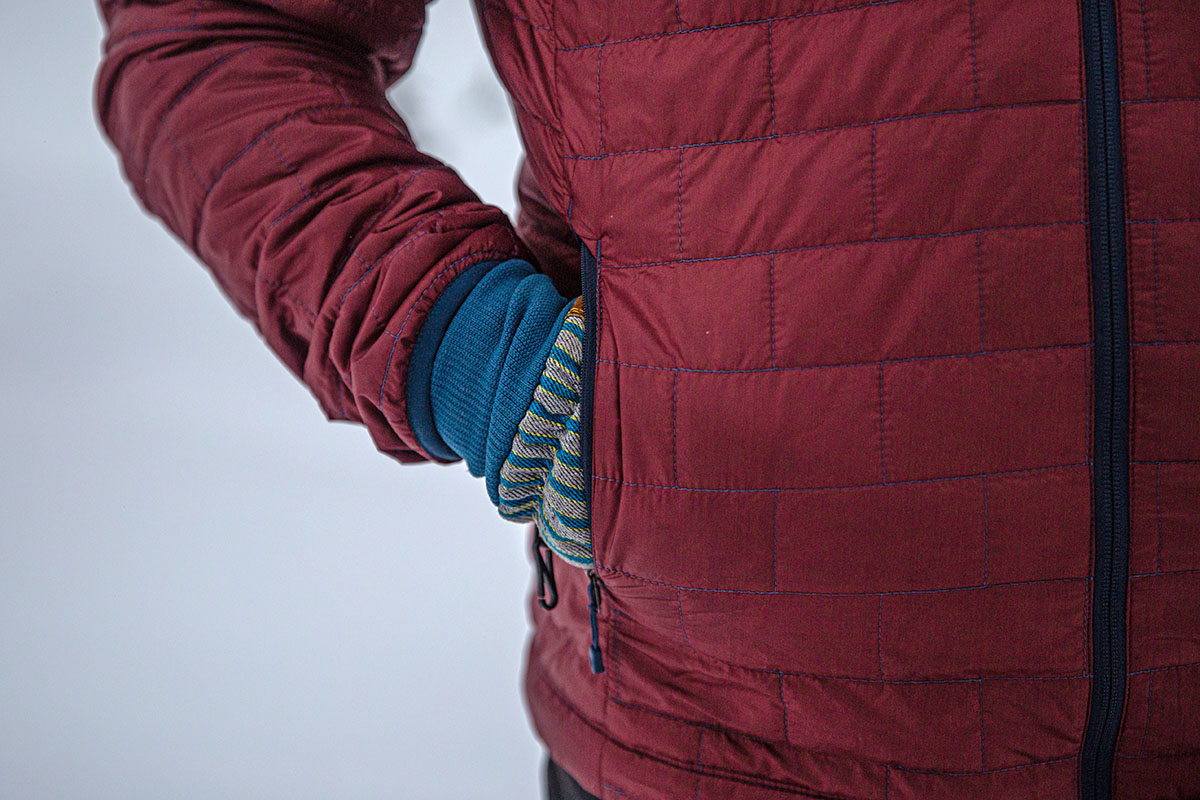 Build Quality and Durability
Patagonia opted for a 20-denier (D) recycled polyester shell fabric on the Nano Puff, which is about average in terms of durability for a lightweight insulated jacket. In practice, however, the ripstop construction has put up a surprisingly good fight against snags and abrasion—given the extensive stitching, I initially worried that the threads would catch on branches while walking to my go-to fly fishing spot, but it's been a non-issue so far. The jacket has also spent a lot of time stuffed in my backcountry ski pack and in the back of our van with skis and other gear but remains in great condition. I've found that I'm still mindful of the risk of getting a tear, but it's nothing like the ultra-thin, 10D Micro Puff or an ultralight down piece like the 10D x 10D Mountain Hardwear Ghost Whisperer/2. Overall, for day-to-day and occasional backcountry use, the Nano Puff should hold up fine in most cases—just don't wear it while rock climbing (not that you would for long with its limited breathability).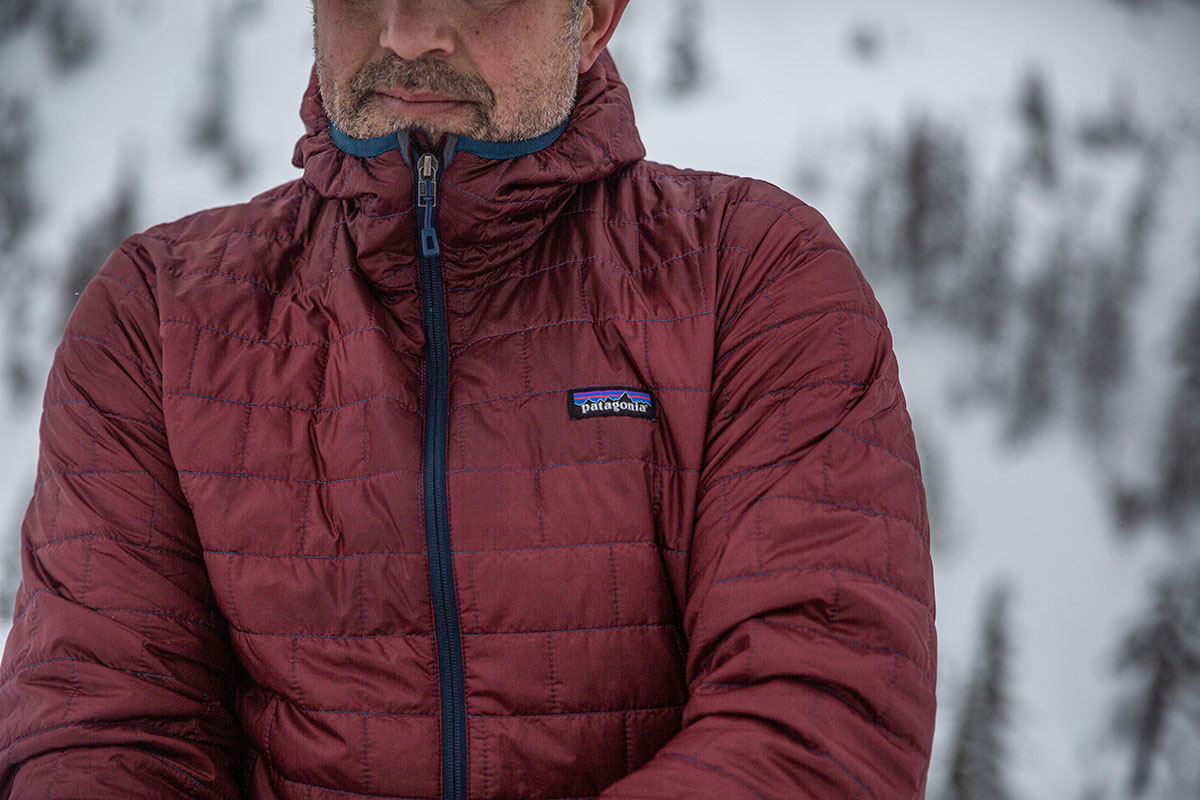 Fit, Sizing, and Comfort
A healthy part of the Patagonia Nano Puff's wide appeal relates to its classy looks and comfortable fit. Patagonia describes the cut as "regular," and we agree. My usual men's size large fits well overall with enough room for layering (I usually opted for a merino wool tee or thin midlayer) while still sliding easily under a shell when the weather turns. It's a bit on the boxy side for performance use but offers plenty of mobility for everyday wear and activities like fly fishing, hanging around camp, and even downhill skiing. And a small but thoughtful touch: The zipper garage at the top has a nice, fleece-like lining that's soft against the skin and minimizes the risk of chafing.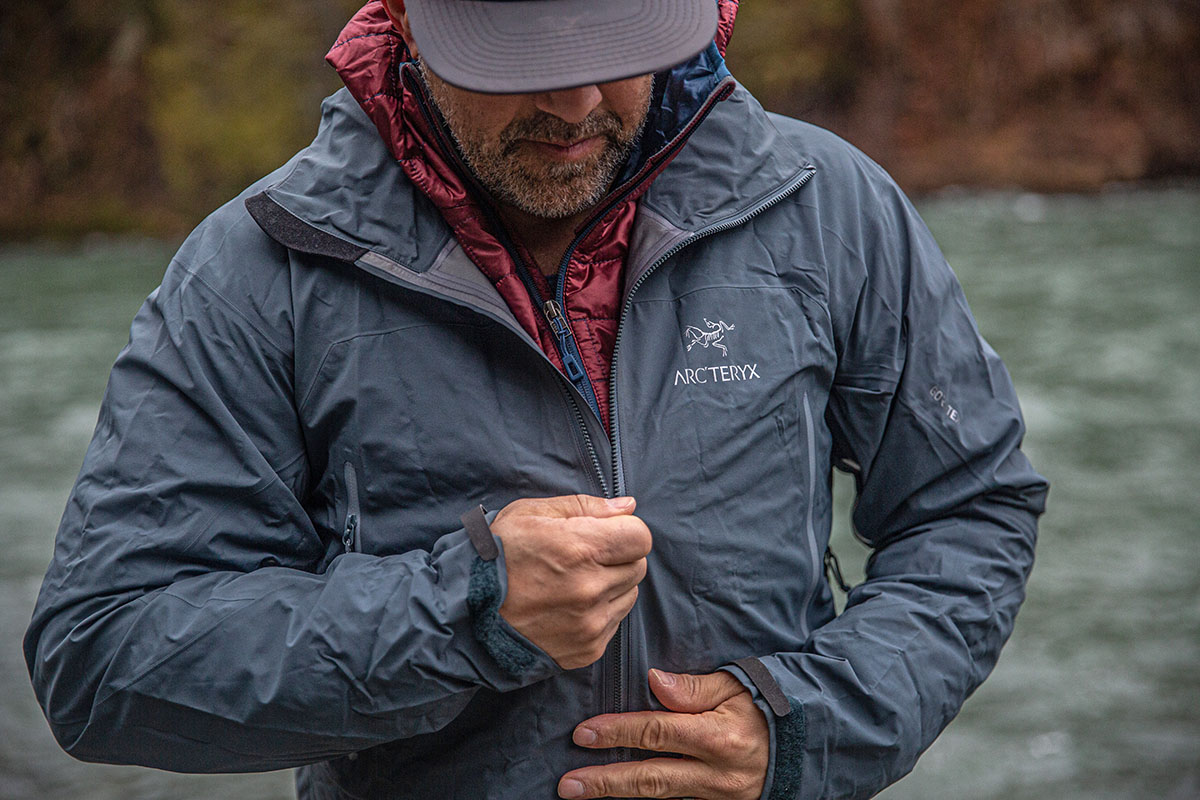 One nitpick shared among a couple of our testers relates to the single hem adjuster on the right side: While easy to tighten and loosen, the jacket pulled noticeably to the right when cinched. I personally didn't experience this issue—the single drawcord remains, but it tightened the waist evenly for me and released the tension smoothly when undone. Regardless, for a piece with this much casual appeal, I think it would make sense to add a second hem adjustment on the left side. Again, this is a small issue—and addressing it would add a little weight—but it would give the jacket a more uniform look when cinched.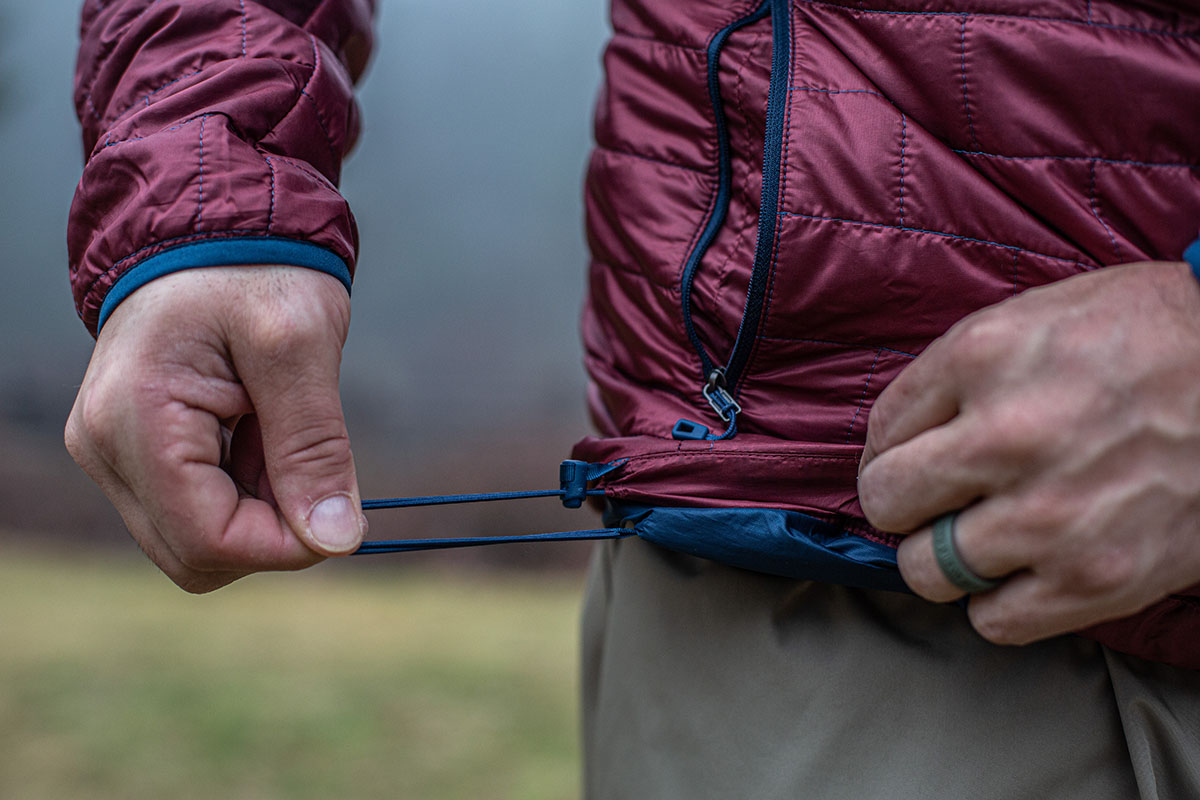 Sustainability
Patagonia has become a leader in the push for sustainability in the outdoor industry, and the Nano Puff embodies that focus. First, the jacket uses a 100% recycled shell, lining, and insulation, and the PrimaLoft fill is produced without the use of heat, which reduces carbon emissions during production. In addition, the lining fabric is bluesign-approved, meaning extra steps were taken during manufacturing to reduce the impact on the environment and to consumers. The Nano Puff is also Fair Trade Certified, which denotes that Patagonia put extra money into production to ensure that factory workers have safe working conditions and are making livable wages. Finally, the DWR coatings along the shell and lining are made without perfluorocarbons (PFCs), which are known to be harmful to the environment. We've seen more and more outdoor companies getting on board with similar initiatives, and we applaud Patagonia for their ongoing efforts in this realm.

Other Versions of the Patagonia Nano Puff
We tested the men's hoody version of this jacket, and Patagonia makes a women's Nano Puff Hoody that costs the same ($279) and is listed at 10.8 ounces. Aside from small changes in baffling design under the arms for a more women's-specific fit and different colorways, the jackets essentially are the same. As mentioned above, Patagonia also makes the Nano Puff in a non-hooded jacket and vest, as well as Nano Puff Gloves, a Baby Nano Puff for toddlers, and a couple of kids' jackets with different quilting patterns. The non-hooded jacket comes in $50 cheaper and is listed at 11.9 ounces for the men's model, but it otherwise sports the same features, construction, and 60g PrimaLoft Gold Eco insulation. Predictably, the Nano Puff Vest is much lighter and cheaper at 8 ounces and $179.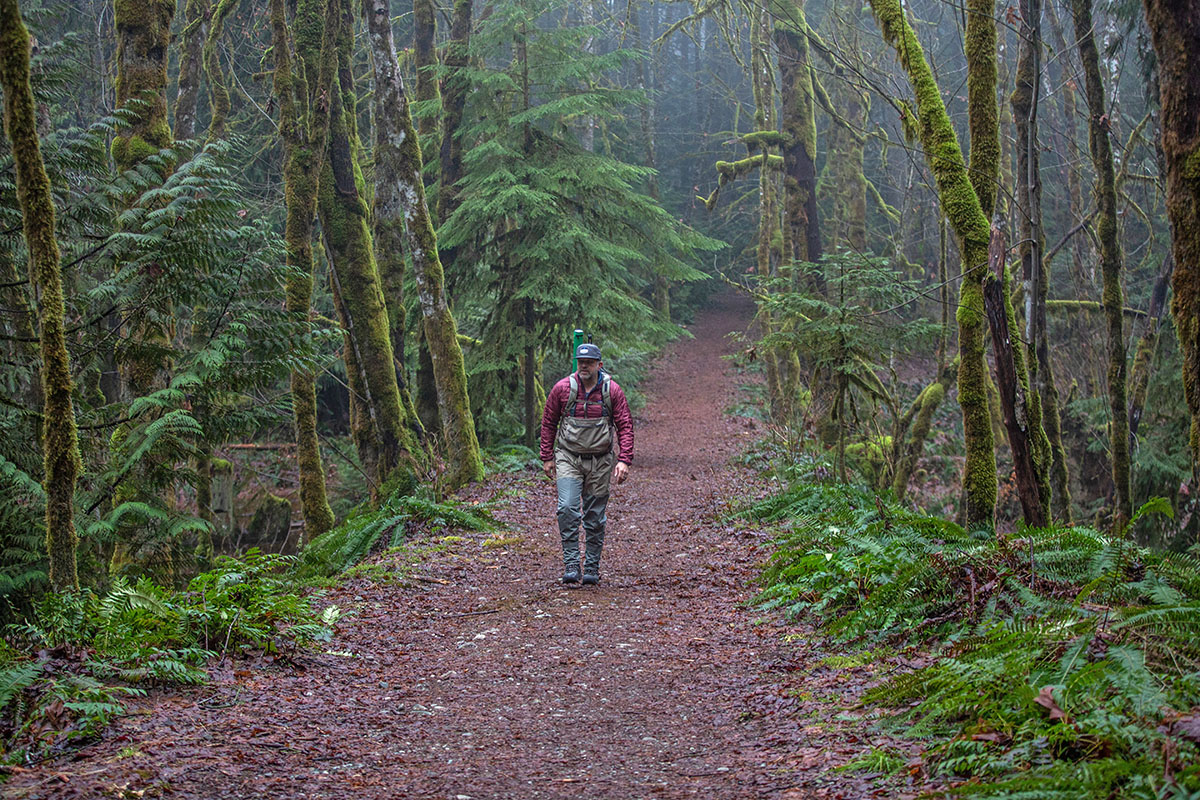 What We Like
A great crossover jacket: The Nano Puff is functional for outdoor use with plenty of style and features to wear around town.
Ideal warmth for cool fall and spring conditions, or as a midlayer for downhill skiing.
Pretty light and easy to store in a pack, on a harness, or in a suitcase.
Quality construction and materials with a clear focus on sustainability. 

What We Don't
Poor breathability for a synthetic jacket, especially compared to some of Patagonia's newer offerings like the Nano-Air.
Rain protection is good but not great due to the extensive exterior stitching.
Minimalist feature set, including no adjustability at the hood, a single hem drawcord, and a basic pocket layout.
A couple testers had issues with the single hem adjuster pulling the jacket to the side when cinched.


Comparison Table

The Competition
At the end of the day, no other brand can match the buzz around a Patagonia synthetic jacket, and their Micro Puff stands out as a more backcountry-ready alternative to the Nano Puff. At 10.7 ounces, the Micro Puff Hoody is one of the lightest synthetics on the market while offering comparable warmth to the Nano Puff (it uses 65g PlumaFill insulation). You also get a Pertex Quantum shell for better resistance against moisture and wind. That said, the Micro Puff's shell is noticeably thin at 10D (compared to the 20D Nano Puff) and lacks the durability we look for in a versatile jacket for everyday use—it's great for weight-conscious backcountry missions, but not much else. And considering the $50 jump in price, most casual outdoor-goers will be happier with the Nano Puff.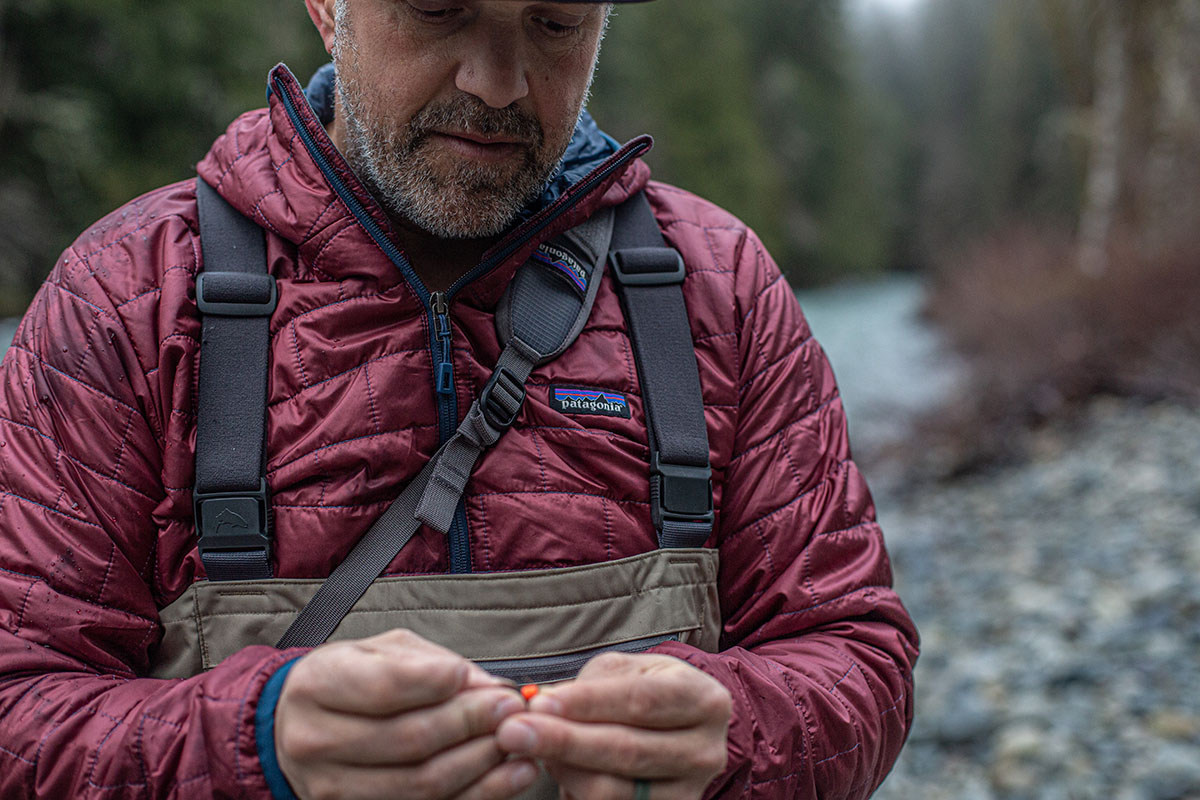 For another light and packable alternative at a more approachable price point, we also like Outdoor Research's SuperStrand LT Hoodie. Like the Micro Puff outlined above, the 10.9-ounce SuperStrand is a down-mimicking synthetic that does a nice impression of down's loftiness and compressibility. Again, the biggest compromises are in versatility and durability: The SuperStrand has a very basic feature set and less durable 12D shell fabric to keep weight low. At the end of the day, the Nano Puff and SuperStrand fall into different camps: The OR is the lightweight and packable performance piece (and will save you around $45), whereas the Nano is designed more for casual, everyday use and light hiking.
Another popular synthetic option is The North Face's ThermoBall Eco Hoodie 2.0, which shares a similar template with the Nano Puff: lightweight warmth, decent weather protection, and crossover appeal between the outdoors and the city. With its unique down-like insulation, the ThermoBall looks and feels a little puffier than the low-profile Patagonia, but both offer comparable levels of warmth. The Nano Puff gets the edge in weight, wind protection, and looks (the ThermoBall's shiny shell material feels a little cheap by comparison), but The North Face costs $39 less in hoody form (and $19 less in jacket form compared to the non-hooded Nano Puff). A final decision likely will come down to fit and preferences on styling, but we give the nod to the lighter and sleeker Nano Puff.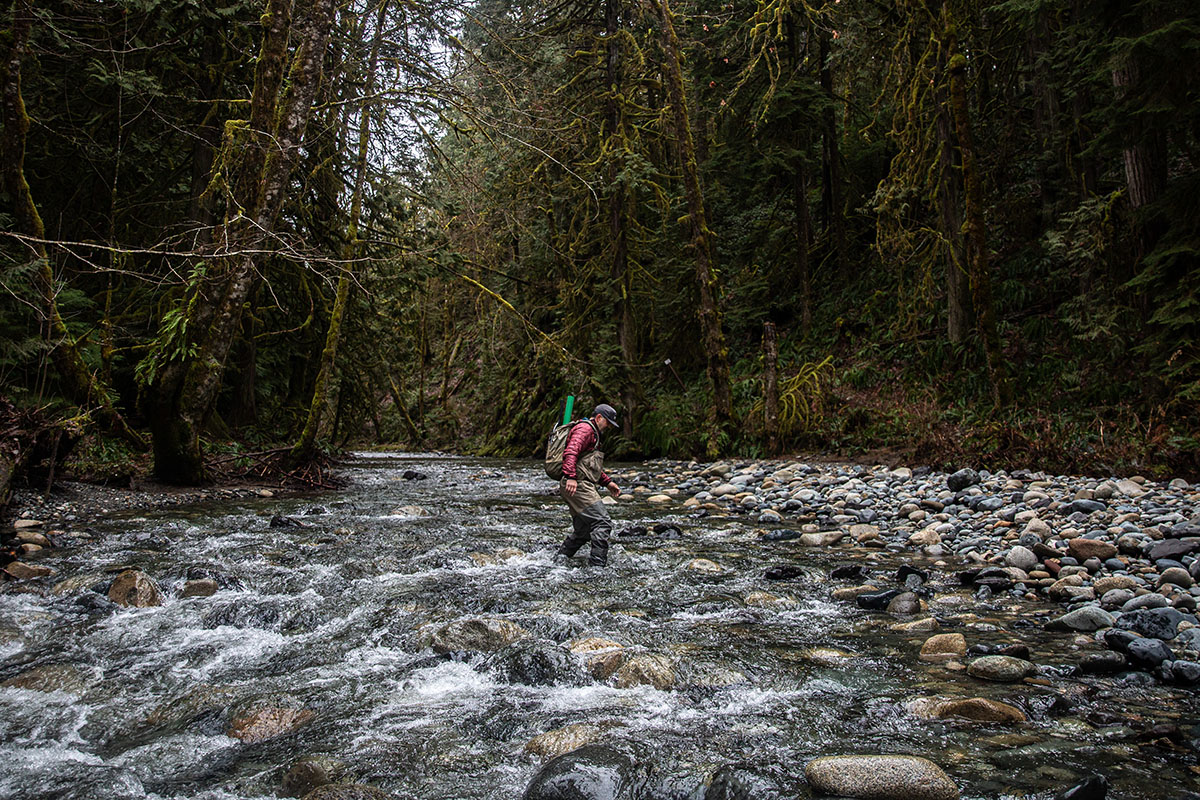 A final legendary all-around synthetic jacket is Arc'teryx's Atom LT Hoody. This piece has been a go-to of ours for years for deftly balancing comfort, weight, and warmth. The stretchy, non-waterproof side panels on the Atom LT make the jacket more flexible than the Nano Puff and slightly better for staying cool while on the go, but the Patagonia is a little warmer overall. All in all, we prefer the comfort and versatility of the Atom LT (not to mention the $20 cost savings), but the Nano Puff isn't too far behind. And its roomier fit may give it the edge for some people compared to the more athletic cut of the Atom LT.
If you're thinking about buying gear that we've reviewed on Switchback Travel, you can help support us in the process. Just click on any of the seller links above, and if you make a purchase, we receive a small percentage of the transaction. The cost of the product is the same to you but this helps us continue to test and write about outdoor gear. Thanks and we appreciate your support!
Depending on the seller, most products ship free in the United States on orders of $50 or more. International shipping availability and rates vary by seller. The pricing information on this page is updated hourly but we are not responsible for inaccuracies.
Learn More About Outdoor Gear