Now in its fourth generation, The North Face ThermoBall remains an extremely popular insulated jacket. With its puffy synthetic fill and smooth shell, the latest "Eco" version does a pretty good impression of a lightweight down piece, and recent updates including a new quilting pattern and greater use of recycled materials give it even broader appeal. However, the jacket is notably heavier than much of its competition and isn't very breathable, making it less attractive for backcountry use. Below are our experiences with the ThermoBall Eco Hoodie. To see how it stacks up, see our articles on the best synthetic jackets and midlayers.
 
---
Table of Contents
---

Performance
Warmth
Named after its insulation design, The North Face ThermoBall Eco Hoodie uses clusters of recycled synthetic fibers to give the jacket its signature lightweight feel and puffy look. The ball-like polyester fill was developed with PrimaLoft to emulate goose and duck down by trapping heat efficiently and with minimal weight. In this latest update, The North Face has honed in the design, including larger baffles for more loft and a revamped insulation that uses 100-percent-recycled materials. The result is a down jacket-like feel that's reminiscent of popular options like Patagonia's Down Sweater. To be clear, it can't match the cozy feel and warmth for the weight that you get with the 800-fill-power Patagonia—as well as more recent synthetic efforts like Patagonia's Micro Puff—but the ThermoBall Eco nevertheless is a quality insulator.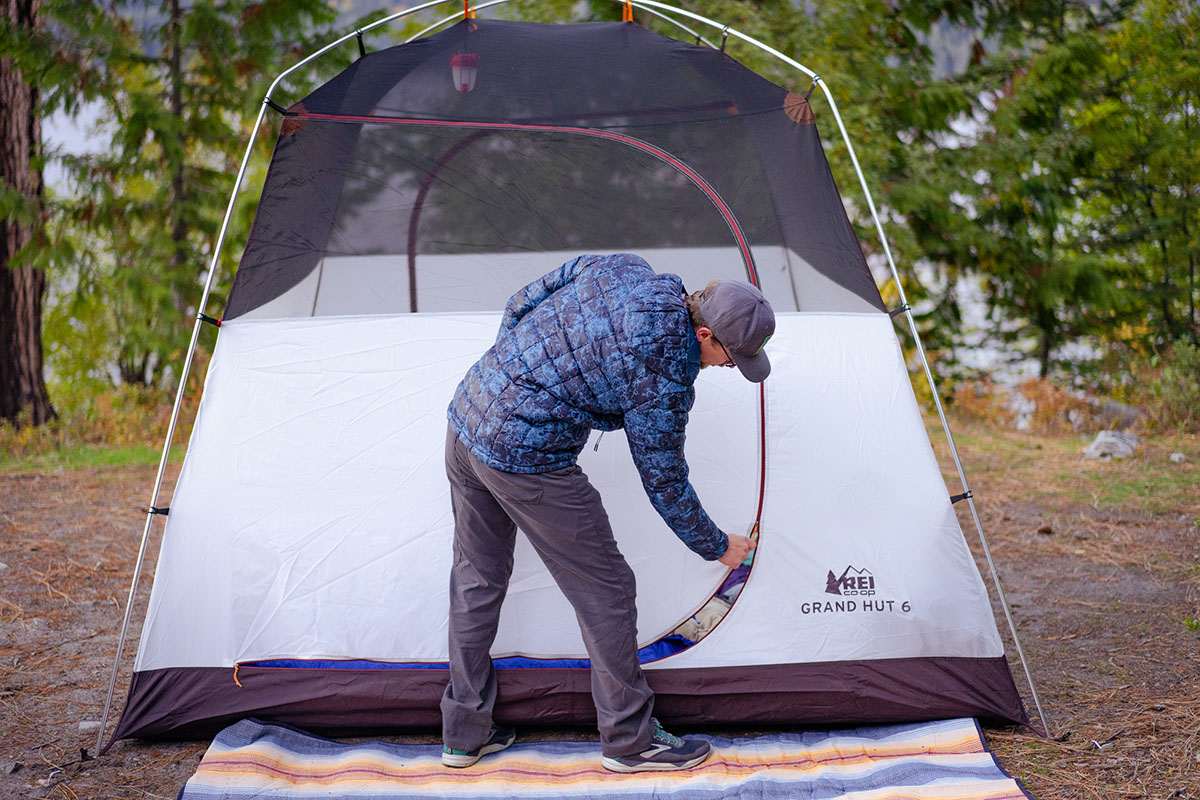 Warmth-wise, we've found the ThermoBall Eco to be on par with popular lightweight synthetics like the Patagonia Nano Puff, while offering slightly more warmth than Arc'teryx's iconic Atom LT. This means that it isn't built for high-alpine adventures, but it works great as an outer layer during the shoulder seasons where temperatures locally are often in the mid 40s Fahrenheit. It also excels as a midlayer for activities like downhill skiing. For reference, we used previous versions of the ThermoBall down into the single digits on the slopes, and we expect the newest model to perform similarly.

Weather Protection
Given the ThermoBall Eco's utility as a mid- and outer layer, we look for moderate weather protection, which it delivers. The shell has a durable water repellent (DWR) coating that will keep light drizzle and snowfall at bay, but during heavy rain, the jacket will start to let water in through the face fabric. The good news is that as with other synthetic jackets, the ThermoBall Eco will continue insulating when wet, unlike down fill that clumps up and is very slow to dry. Wind protection is similarly good with the face fabric repelling gusts—the front of the jacket does especially well with wind thanks to a solid, non-baffled lining along the interior—but you'll want to throw on a rain jacket or hardshell if it truly turns nasty. But overall, weather protection is a nice match for the ThermoBall's intended use: lots of daily wear and the occasional foray into the mountains.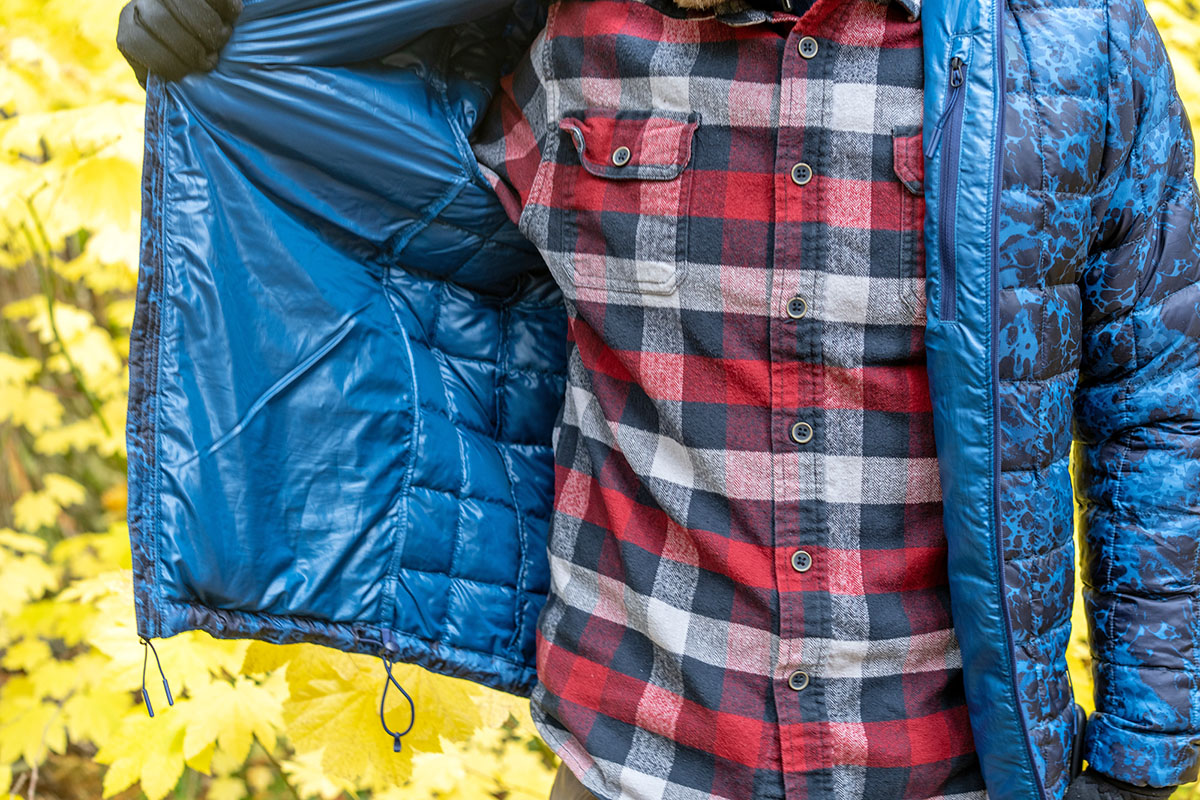 Weight and Packability
On our scale, the ThermoBall Eco Hoodie in a men's medium weighs 1 pound 0.5 ounces (it's listed at 15.9 oz.), which puts it on the higher end of the lightweight synthetic jacket market. For comparison, Patagonia's Nano Puff Hoody comes in at 12.8 ounces, while Arc'teryx's Atom LT Hoody is 13.2 ounces. You can save even more weight with Patagonia's Micro Puff (9.3 oz.), but that jacket isn't very durable and will set you back an additional $69. The ThermoBall Eco also can't compete with most down options—even the casual-oriented Patagonia Down Sweater Hoody undercuts it at 15.1 ounces, all while providing more warmth.
As with its weight, the ThermoBall Eco is packable for a synthetic but won't be confused for a premium down piece. The jacket compresses fairly easily into its interior chest pocket, which includes a two-sided zipper for storage. The tall pocket gives the ThermoBall Eco a long rectangular shape when packed, but we found it relatively easy to compress the jacket even further when stuffing it into a daypack or suitcase (LxWxH measurements are roughly 11 x 6 x 4 in.). If packed size is important to you, we recommend spending up for a down jacket or ultralight synthetic like the Patagonia Micro Puff, but we think most travelers and backpackers won't have much to complain about with the ThermoBall Eco.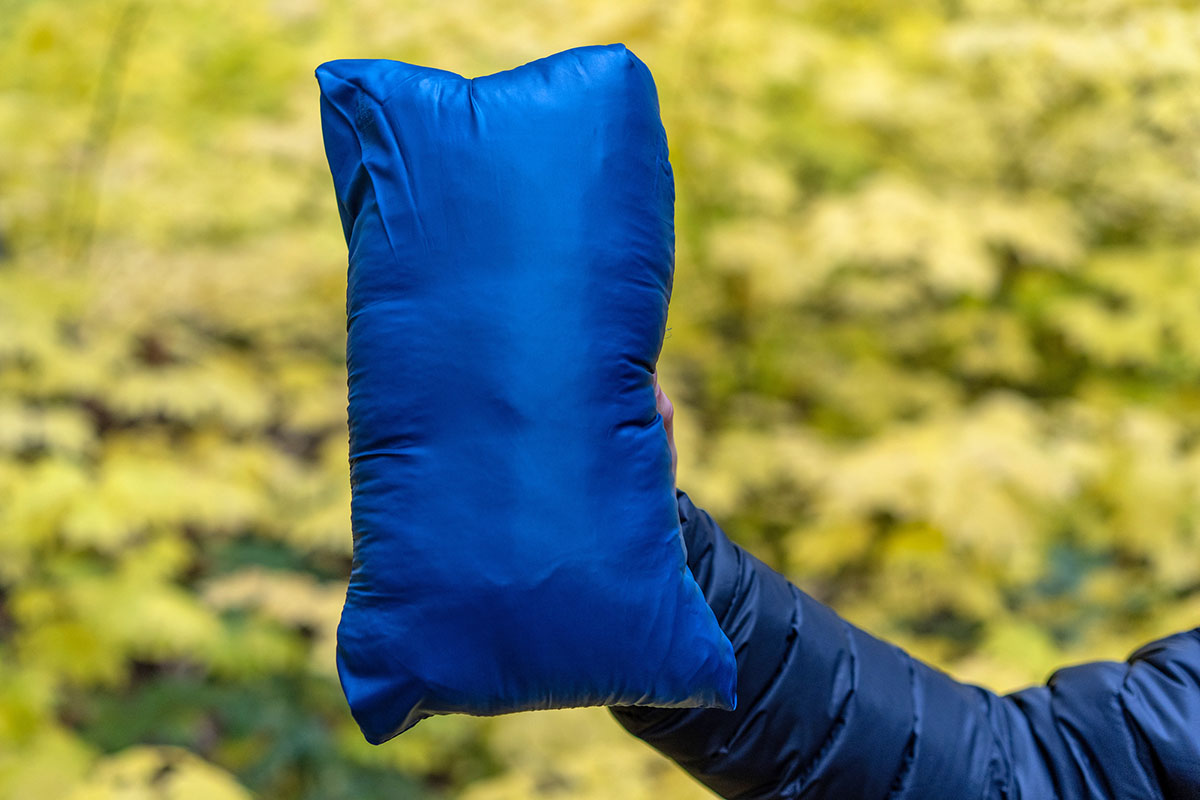 Breathability
At its release, the ThermoBall was touted as a viable option for high-output adventures, but it's since been overtaken by a number of more recent releases in the growing active insulation market. Newer options like Patagonia's Nano-Air, Arc'teryx's Proton series, and Black Diamond's First Light are made with stretchy and breathable liners, insulation, and shells that do an impressive job of regulating your temperature during aerobic activities. The ThermoBall Eco, on the other hand, is more like a down jacket—its aim is to efficiently trap heat and block light rain and wind. As a result, the smooth interior doesn't wick away sweat and can become slippery and clammy rather quickly. Depending on your intended use, this isn't necessarily a deal-breaker, but don't expect the ThermoBall Eco to excel during activities like climbing or backcountry skiing.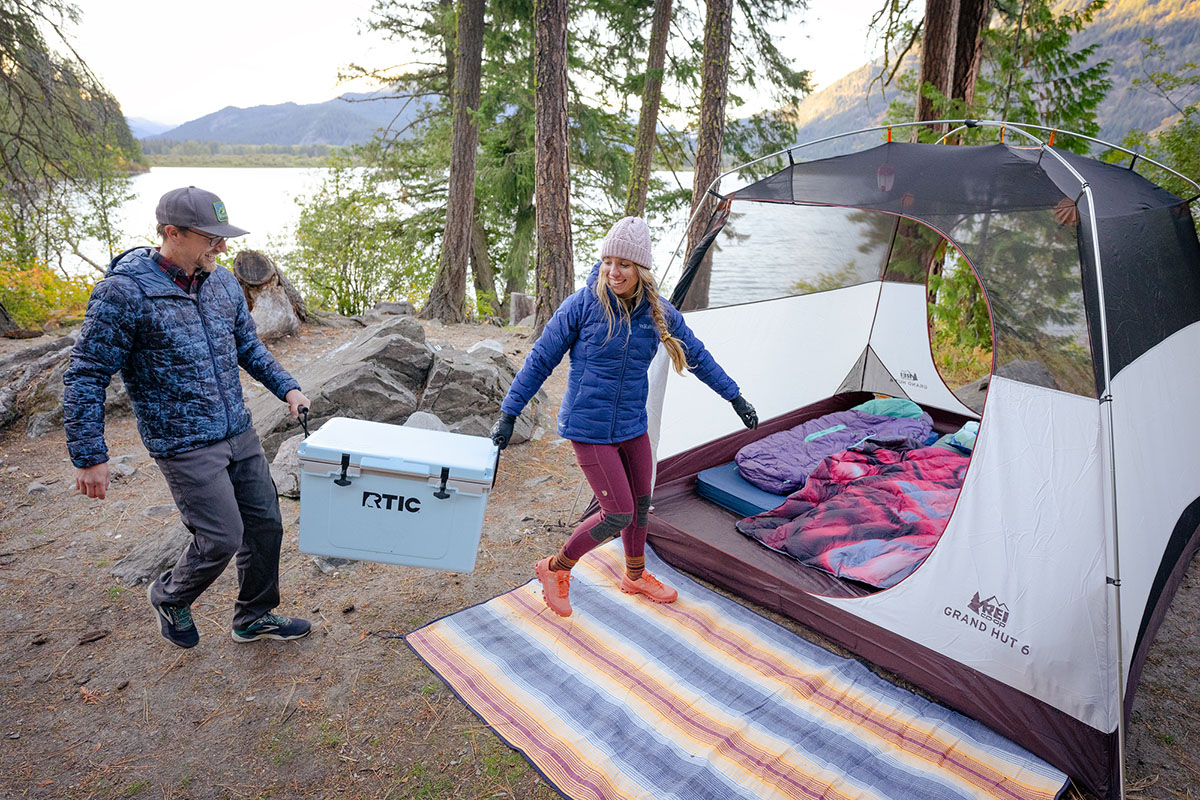 Build Quality and Durability
In terms of build quality, we think The North Face took a small step backward from the prior-generation model. Starting with the positives: like the outgoing ThermoBall, the latest iteration uses a 20-denier shell and lining on the standard jacket, vest, and hoody. Overall, the recycled ripstop polyester fabric has a nice, smooth feel, hasn't suffered any durability issues to date, and is a great match for the ThermoBall Eco's intended purpose of light adventuring and everyday wear. Our primary concern lies with the main center zipper, which The North Face recently swapped to a small, coil-style design. Not only did we find the zipper sticky at the bottom and a little finicky to start and release, but it feels noticeably cheaper and less confidence-inspiring in general. If this were a superlight performance piece, it may be a more understandable decision, but we hope they bring back the old, large-toothed zipper in a future update.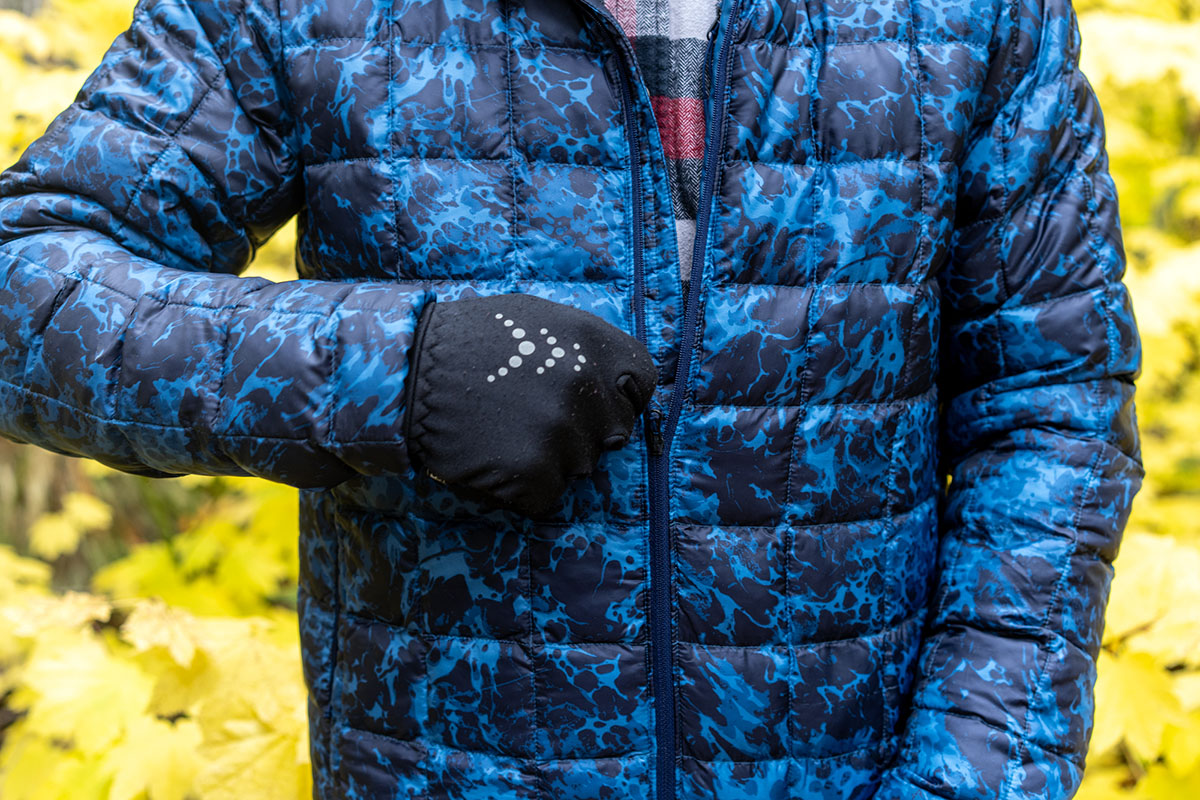 Features: Hood and Pockets
The ThermoBall is offered in both hoody and non-hoody form, and we opted to test the hooded model for this review. The design is pretty basic and lacks any adjustability, which can be a downside when you want to cinch the hood down in inclement or particularly frigid weather. That said, many likely won't miss the cinchability given the ThermoBall's more casual leanings, and the hood itself is nicely sized to sit on your head without too much excess bulk. And importantly, we've found there's enough space to pair it with a hat or beanie for a little extra warmth.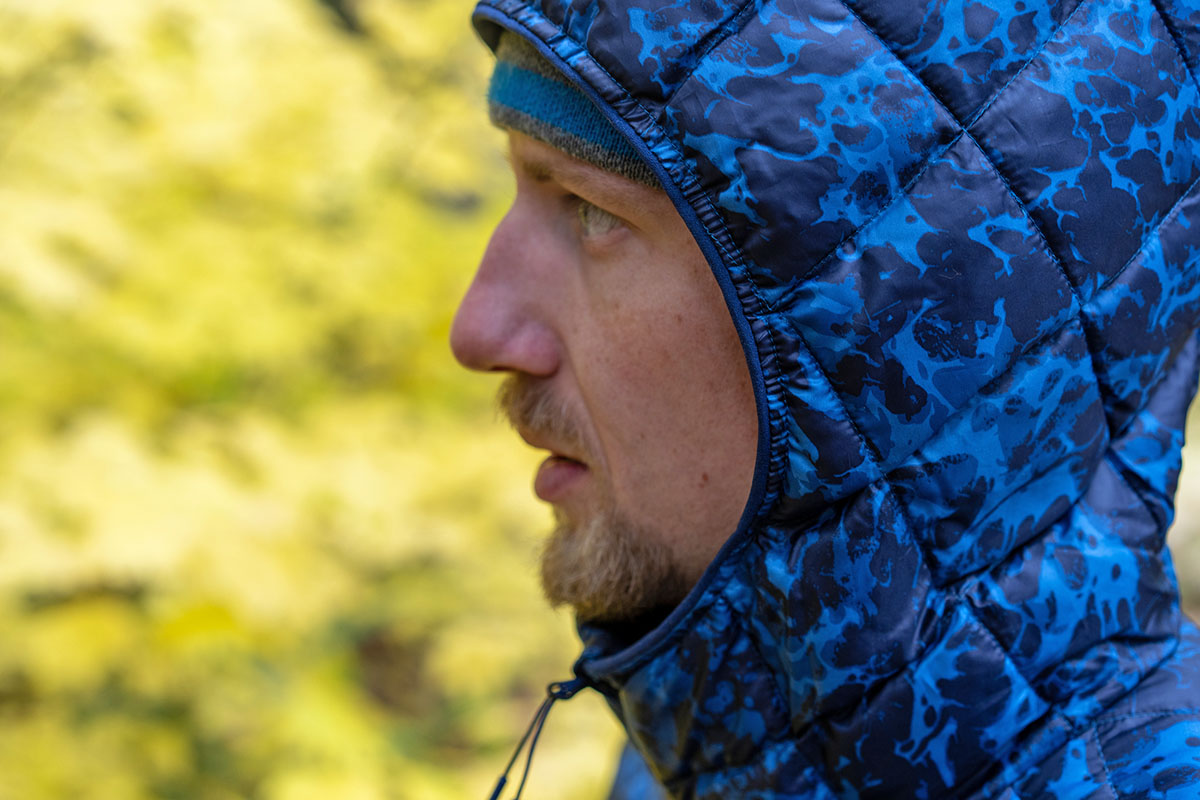 As for organization, we think it's a nicely sorted design. On the exterior, you get two standard hand pockets, which are set low enough to be covered under a backpack hipbelt or climbing harness but are an appropriate height for daily use. And there's a very large and phone-friendly interior chest zippered pocket, which has a two-sided zipper for stuffing the jacket. Some may prefer a few more options—we personally would like a drop-in-style pocket or two along the interior for storing smaller items like a pair of gloves—but the simple layout will do the trick for most.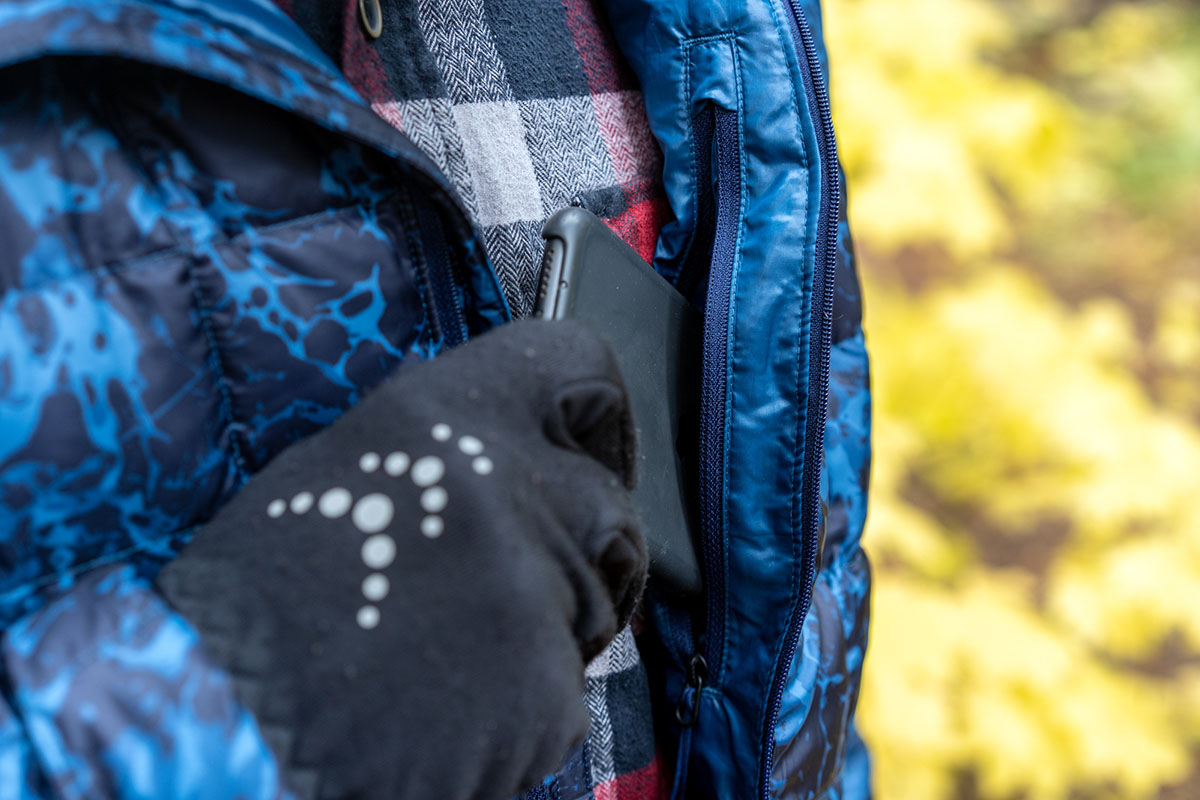 Fit and Sizing
We've typically found jackets from The North Face to consistently run a little large and boxy. However, the latest ThermoBall Eco Hoody bucks that trend in most ways and feels true to size in our men's medium (our tester is about 5'9" and 155 lbs.). The arms stop just beyond the wrists, the shoulders allow freedom of movement but aren't overly large, and the back length is just about spot-on for use as a midlayer. Sizing down to a small, which isn't uncommon for us with some brands, would have likely resulted in a jacket that was far too tight.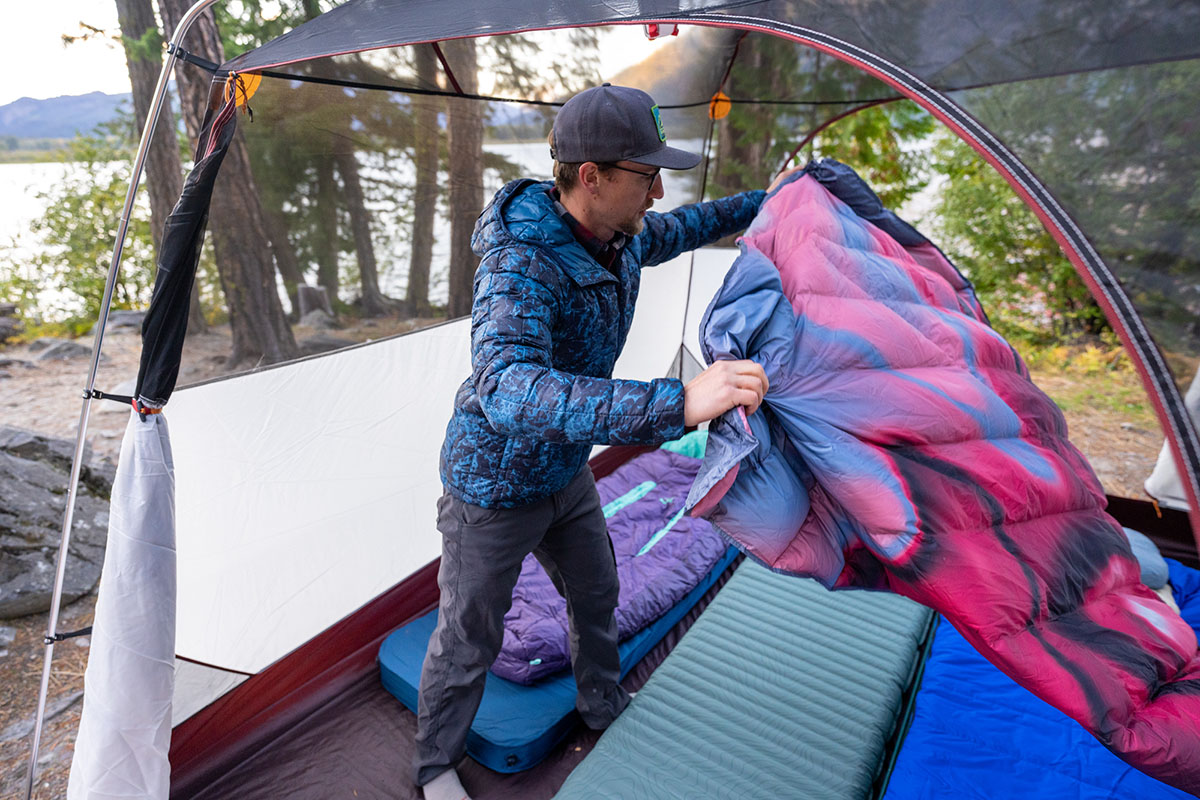 Having said that, the fit is still best described as relaxed, and we were easily able to wear a thick baselayer underneath. This gives it broad appeal for those wanting an around-town jacket or for uses like resort skiing. But for the backcountry—as well as our own preferences in having a more athletic cut—the fit left us missing our favorite synthetics like the Arc'teryx Atom LT, Patagonia Nano-Air, and Black Diamond First Light. On the plus side, the single waist cinch can adjust the hem surprisingly evenly (one side cinch usually pulls the jacket too far to the side for me), and we expect the latest ThermoBall Eco to fit most body types reasonably well.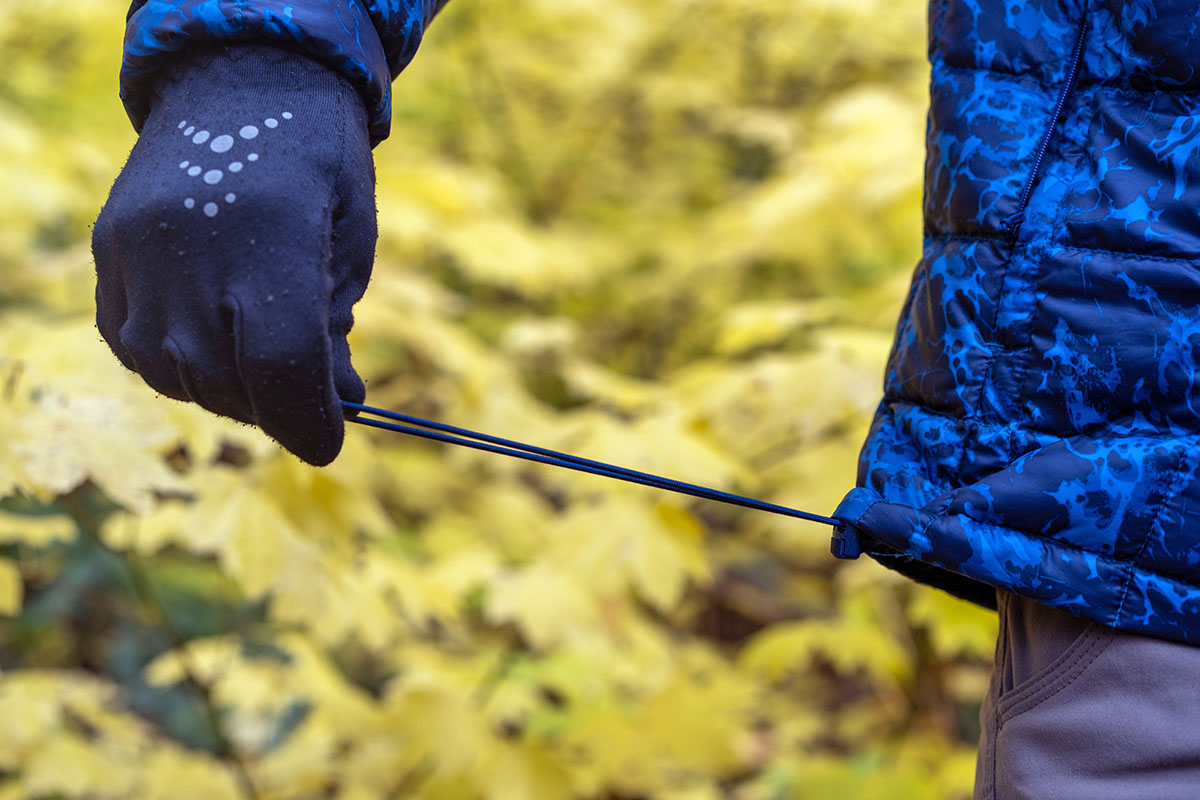 Other Versions of The North Face ThermoBall Eco
We tested the recently updated men's ThermoBall Eco Hoodie for this review, and the lineup features a number of other options, including a non-hooded jacket and vest. The ThermoBall Eco Jacket costs around $30 less at $199 and is a couple ounces lighter due to the lack of hood, but otherwise it retains many of the same features of the hoody we tested, including PrimaLoft synthetic insulation, a 20-denier shell, and puffy jacket-like looks. The North Face also makes the jacket, hoody, and vest in women's versions for the same price (weight and colorways vary slightly). And finally, it's worth noting that the ThermoBall Eco family has grown extensively to include winter parkas, insulated ski jackets, boots, and more—all of which share the proprietary ThermoBall Eco insulation.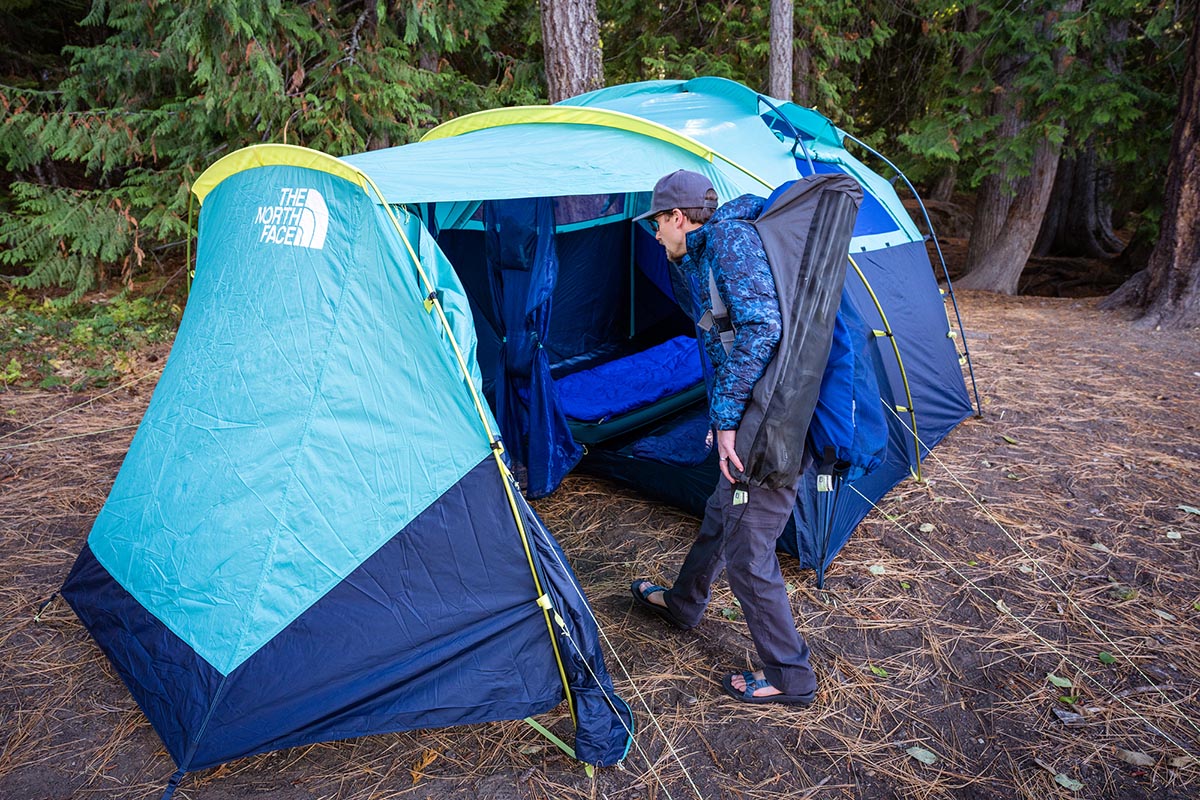 Sustainability
True to its "Eco" name, the latest ThermoBall Eco Hoody packs several sustainable features. First and foremost, all of the materials are 100-percent-recycled, including the nylon shell and synthetic ThermoBall insulation. The North Face also switched to a PFC-free DWR coating with the latest update, which means that it doesn't contain harmful perfluorinated chemicals. We'd like to see the use of bluesign-approved and/or Fair Trade-Certified materials in a future update, but we nevertheless appreciate The North Face's recent progress. And importantly, the changes have been nicely integrated into the overall design and haven't had any noticeable impact on performance.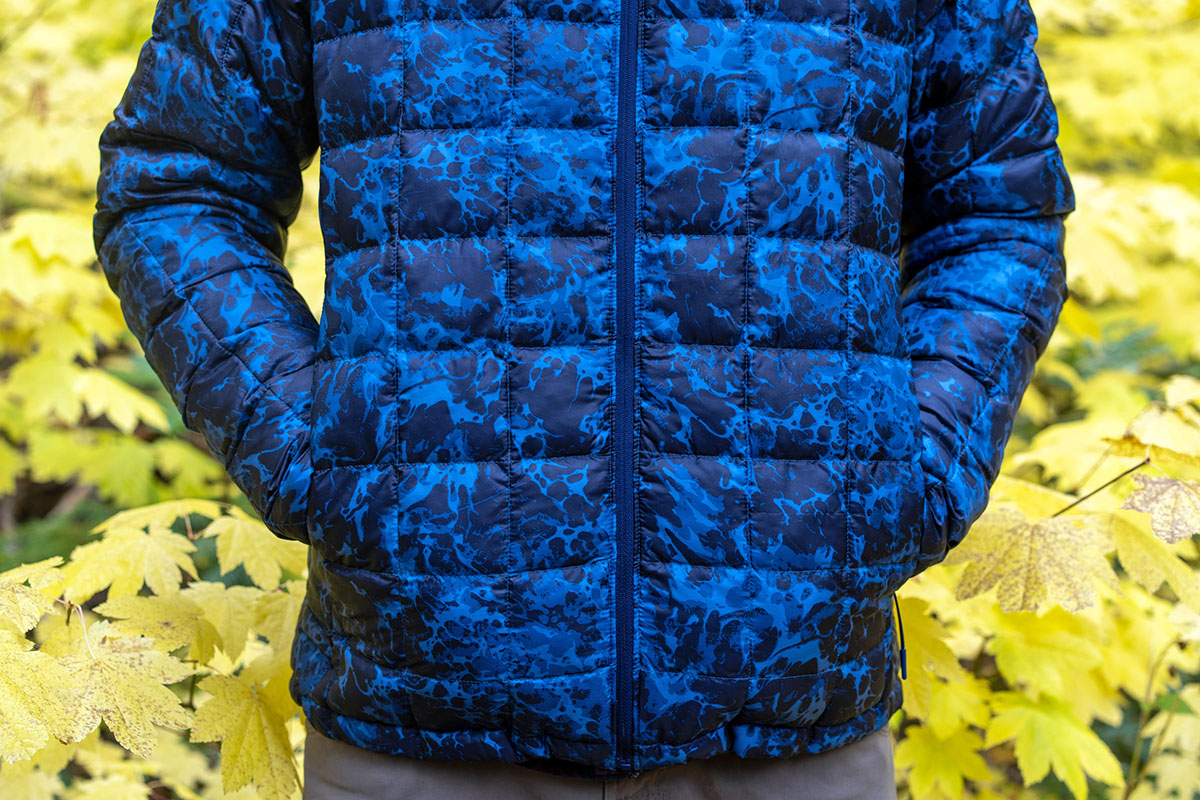 What We Like
A comfortable outer or midlayer with the right amount of warmth for the shoulder seasons.
ThermoBall insulation offers the puffy look of a down jacket and does a pretty good impression of down's lightweight warmth. 
Available in a ton of different colors and styles, as well as a non-hooded jacket and vest.
Clear focus on sustainability, including the use of 100-percent-recycled materials and insulation and a PFC-free DWR coating.

What We Don't
At over 1 pound for our men's medium, the ThermoBall Eco is heavier than most of its competitors, which limits its backcountry appeal.
New coil-style main zipper is finicky and feels noticeably cheaper and less confidence-inspiring than the larger-toothed design on the previous version.
While we appreciate the jacket's less-boxy cut, it still lacks the athletic fit and all-around comfort we love from competitors like the Patagonia Nano-Air or Arc'teryx Atom LT.
Breathability falls well short of active synthetics like Patagonia's Nano-Air and Arc'teryx's Proton series.


Comparison Table

The Competition
There were a number of well-established synthetic jackets when the ThermoBall first hit the market, but its innovative insulation, good styling, and impressive marketing campaign have made it a classic. Its closest competitor in warmth, price, and popularity around town is the Patagonia Nano Puff. Both jackets have enough insulation to be comfortable down into the 40s, and their smooth shells and linings are nice to wear as both mid and outer layers. We do prefer the Patagonia's regular fit to the more relaxed cut of the ThermoBall Eco, but that can be a subjective choice. Another personal preference is looks—despite its name, the Nano Puff is lower-profile than the ThermoBall Eco, which is more reminiscent of a down jacket. And finally, the Nano Puff is a couple ounces lighter at 12.8. Overall, we prefer the Patagonia design, but it's worth noting that the hoody version of the ThermoBall Eco will save you around $20 (the non-hooded versions are the same price).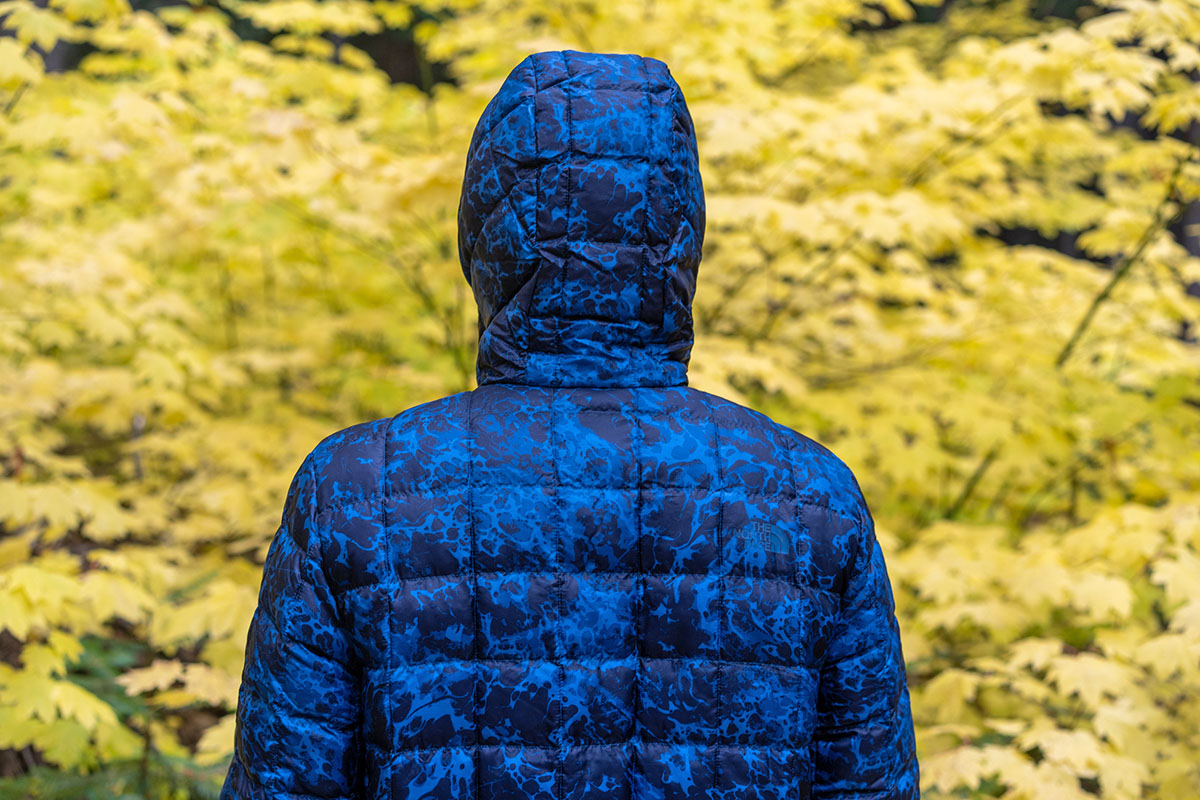 Another popular Patagonia jacket to consider is the Micro Puff. Similar to the ThermoBall Eco, the Micro Puff Hoody is a down-mimicking synthetic but with a much bigger performance slant. As a more backcountry-ready piece, it's significantly lighter at 9.3 ounces, packs down much smaller, and is even more delicate with a 10-denier shell. Warmth-wise, we found both jackets to perform similarly, although the ThermoBall Eco gets the slight edge. A final decision should come down to intended use: The ThermoBall Eco is the better casual piece with more around-town appeal for around $70 cheaper; for backcountry use, the pricier Micro Puff is the clear winner.
One of our favorite synthetics at the time of the ThermoBall Eco's launch—and still today—is Arc'teryx's venerable Atom LT Hoody. This jacket is the cozier option with softer materials, stretch side panels, and a more athletic fit than the ThermoBall Eco. The North Face jacket is also heavier at 15.9 ounces versus the Arc'teryx's 13.2-ounce listed weight, although this comes with a moderate bump in warmth. Both work well as everyday jackets, but we think the Atom LT's comfort, fit, and build quality are worth the extra $29.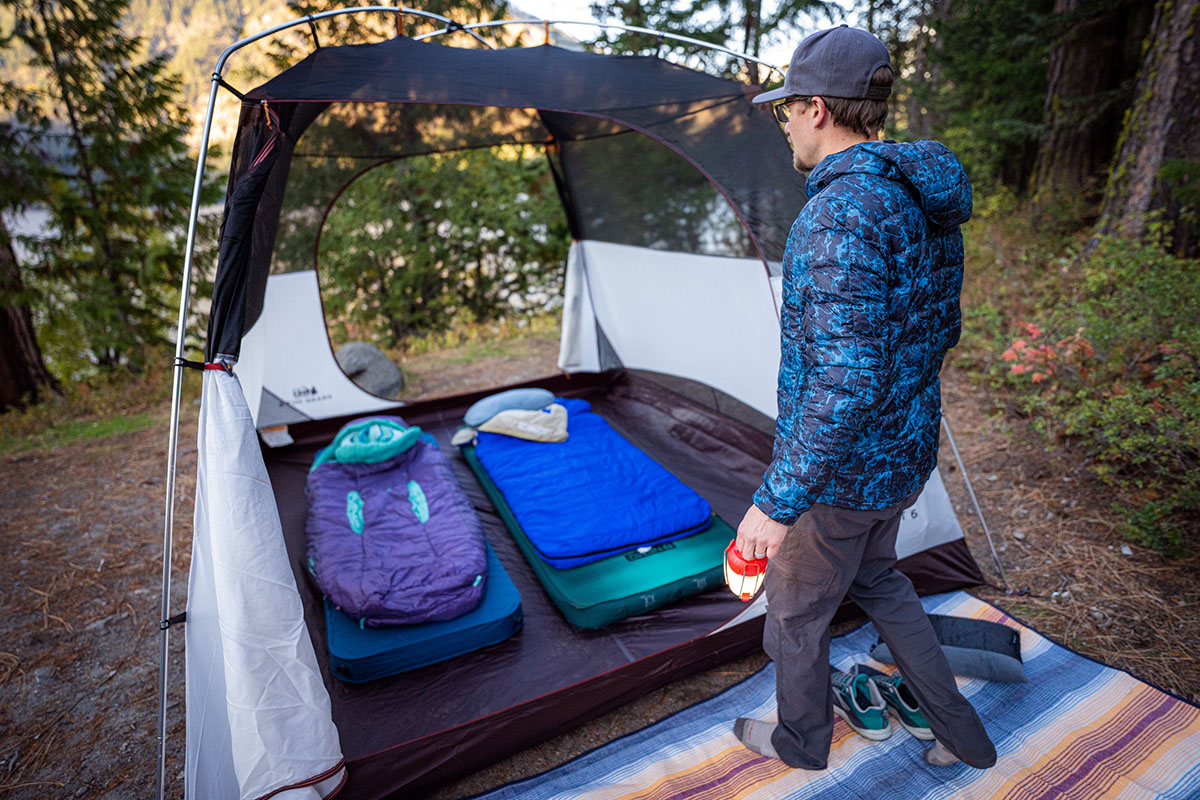 Last but not least, given the ThermoBall Eco's intentions, it's worth comparing it to a true down piece. And in this market, Patagonia's Down Sweater Hoody is an absolute classic. Costing another $49, you get a boost in warmth and comfort from the premium 800-fill-power down and softer-touch shell and lining, and we also give the edge to the Down Sweater's slightly more tailored cut (it has more of a regular fit). The ThermoBall gets the advantage in wet-weather performance with its synthetic fill, which certainly has its benefits for everyday weather in the shoulder seasons. But for most folks, we think the Down Sweater's cozier setup is worth the moderate jump in price.
If you're thinking about buying gear that we've reviewed on Switchback Travel, you can help support us in the process. Just click on any of the seller links above, and if you make a purchase, we receive a small percentage of the transaction. The cost of the product is the same to you but this helps us continue to test and write about outdoor gear. Thanks and we appreciate your support!
Depending on the seller, most products ship free in the United States on orders of $50 or more. International shipping availability and rates vary by seller. The pricing information on this page is updated hourly but we are not responsible for inaccuracies.
Learn More About Outdoor Gear