In a departure from the recent trend toward fast and light, La Sportiva's Spire GTX is a backpacking-ready hiking shoe that performs in many ways like a low-top boot. Overall, the shoe is sturdy, moderately stiff, and offers solid protection on the trail. You do pay a premium for the Spire and it sits taller than much of its competition, but it's proven to be a capable companion on everything from shoulder-season hikes to a wet and muddy backpacking trip along Washington's Olympic Peninsula. Below we break down the Spire GTX's overall performance. To see how it stacks up to the competition, see our article on the best hiking shoes.
 
---
Table of Contents
---

Performance
Comfort
Hiking shoes have been trending closer to trail runners in weight and flexibility, but La Sportiva's Spire GTX is more of a traditionalist. The shoe feels sturdy and substantial, with a decent amount of stiffness and a strong heel counter (La Sportiva even goes so far as calling it a low-cut hiking boot). In addition, the foam underfoot is firm and, combined with a thick midsole, effectively isolates you from rocky and rough terrain. In use, the Spire was a great match for backpacking: the shoe proved to be quite comfortable when hauling a 30-pound load on a coastal hike that included everything from wooden boardwalks to rock, mud, and sand. It did take a little time to loosen up, but it was plenty comfortable within a few miles. All in all, the Spire is a great option for those transitioning out of a traditional hiking boot. You'll save a significant amount of weight and it'll feel pretty nimble, but the shoe still has enough substance to trust on difficult sections of trail.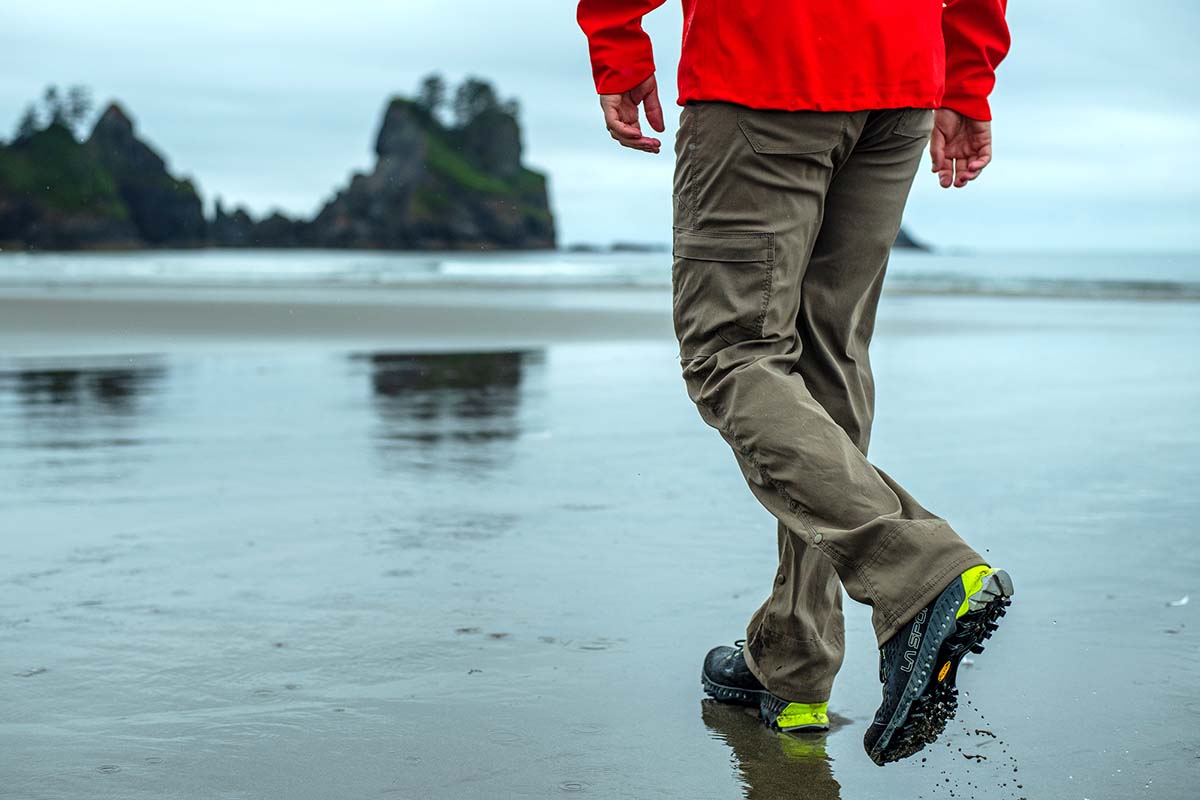 Weight
My men's size 42 clocked in at 1 pound 15.1 ounces on our scale (only 0.1 ounces more than La Sportiva's listed weight), which puts it on the heavier end of the hiking shoe spectrum. Other Gore-Tex-equipped models, including the Salomon X Ultra 3 GTX (1 lb. 10.8 oz.), Adidas Terrex Swift R2 (1 lb. 8.6 oz.), and Danner Trail 2650 (1 lb. 11 oz.), all undercut it by at least a few ounces. All in all, if you're prioritizing weight for fastpacking or easy-going day hikes, there are a number of lighter, nimbler shoes available. But in all fairness, the Spire never felt excessively heavy underfoot, even over full days of backpacking, and the extra sturdiness is a bonus for some.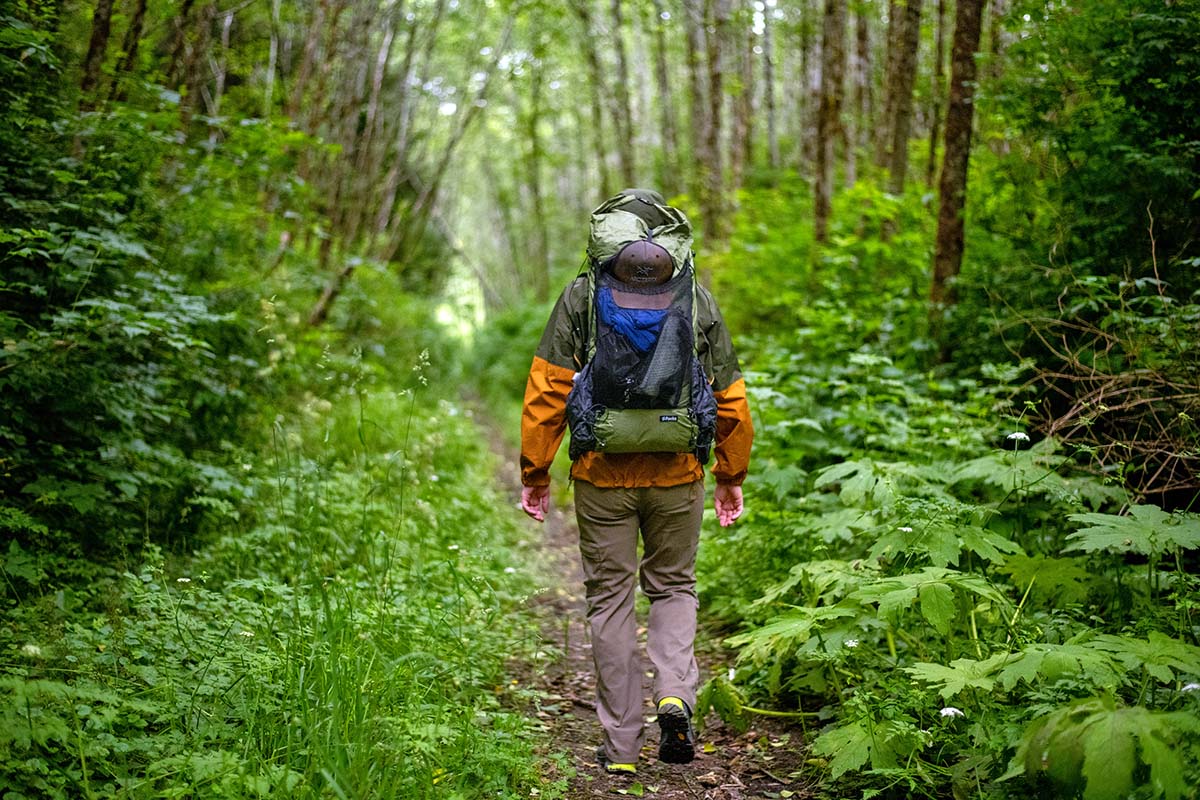 Traction
La Sportiva is a climbing company at heart, so it's not surprising their hikers offer solid and reliable grip. The Spire's Vibram rubber outsole has a well-rounded tread design with substantial lugs that bite impressively well both uphill and on steep descents. The outsoles also did a good job in mud and weren't prone to caking up, and the rubber is tacky enough to hold well on everything from rock to the moss-covered wooden bridges along Washington's Olympic Peninsula. You can technically get a tackier shoe for rock-heavy approaches with La Sportiva's TX4, but I have no complaints from a traction standpoint with the Spire.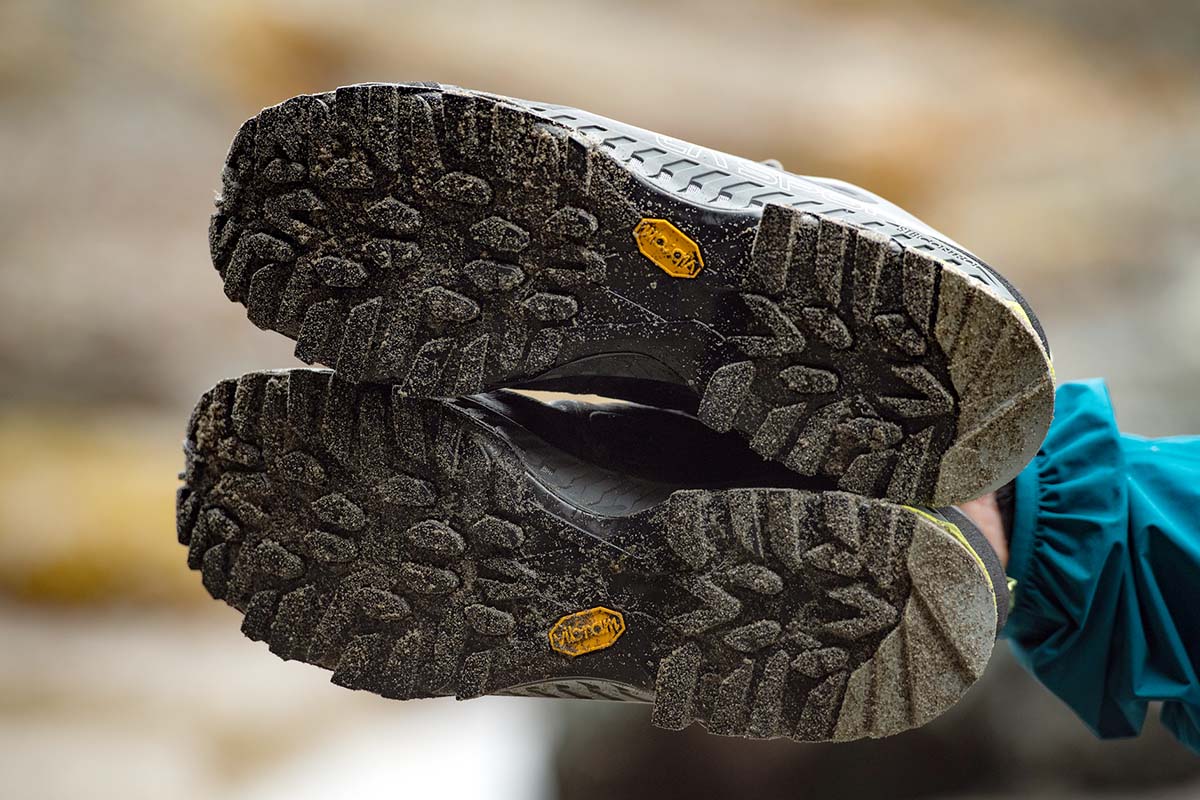 Stability and Support 
As I mentioned above, the Spire GTX feels a lot like a hiking boot that's had a few inches trimmed off the top. The shoe is reasonably stiff underfoot thanks to TPU inserts in the midsole and feels stable on most trails while carrying a full pack. My only complaint is that midsole itself is fairly thick, which may be a result of the Gore-Tex Surround system (detailed below). Combined with a platform that runs a bit narrow at the heel, there are times when the shoe can feel tippy, such as while hiking over especially rocky trails. However, that's not to say it isn't stable in general, and the added support certainly is helpful on long climbs (it doesn't have as much of a tendency to flex and dip at the heel like the softer Salomon X Raise). But if you're looking for a more capable off-trail scrambler, La Sportiva's lower-slung TX4 approach shoe is a better pick.

Waterproofing
After wearing the Spire GTX on a wet and sloppy backpacking trip on the Olympic Peninsula, I'm confident in trusting the shoe's Gore-Tex membrane. The hike in was extremely muddy with many unavoidable sections of ankle-high muck and a few low puddles and creek crossings. Through it all, my feet remained dry and comfortable. Additionally, the tongue is connected to the upper almost all the way up to the collar, which means the Spire is waterproof almost all the way to the top—not always the case with low-top hikers.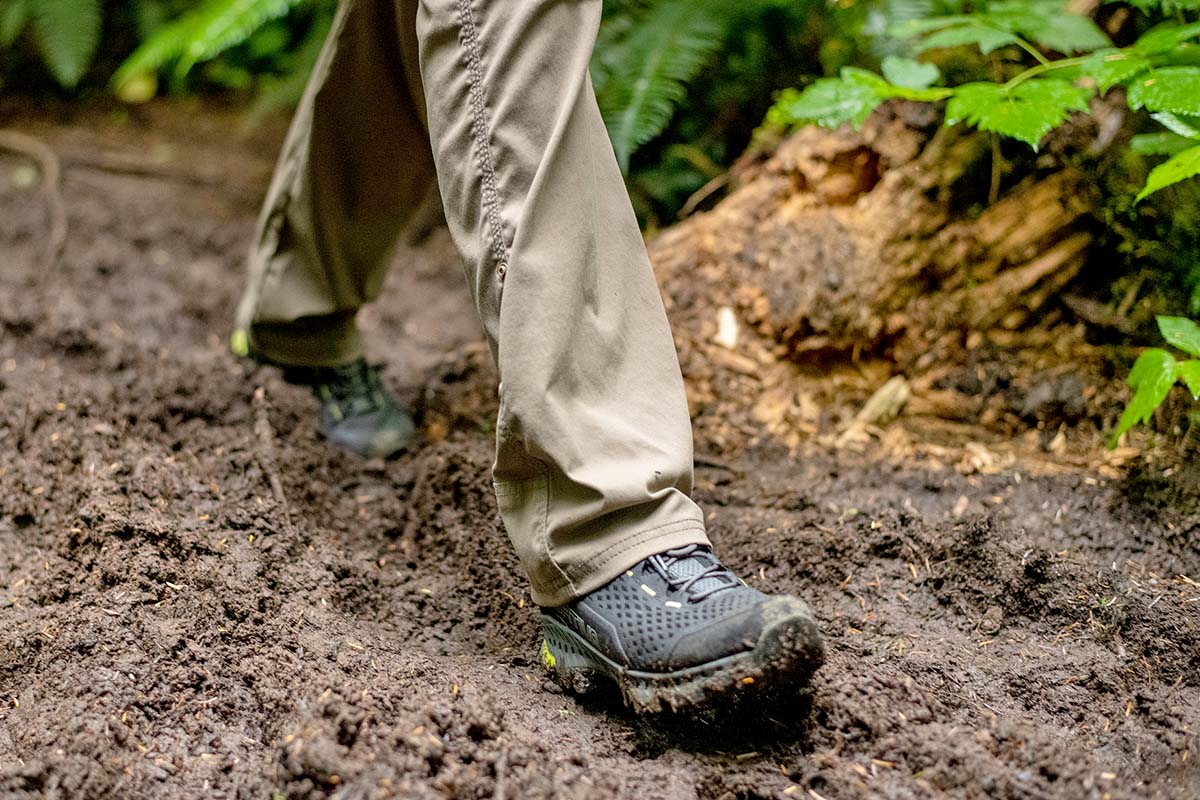 Breathability: Gore-Tex Surround
The Spire was one of the first shoes to feature Gore-Tex's Surround waterproofing system. In short, rather than just venting through the upper of the shoe, the Spire GTX has been designed to also release air through the footbed and midsole (mesh dotting the exterior of the midsole is a giveaway of the design). Compared to standard Gore-Tex, however, I would describe the improvement in breathability as incremental at best. In fact, when working hard in mild summer temperatures, I found that the shoe ran about as warm as Salomon's X Ultra 3, which uses the standard membrane. On shoulder-season hikes in cooler temperatures (mid 40s to 50s Fahrenheit), the Spire did a nice job keeping my feet cool, but it still was noticeably warmer than a non-waterproof shoe. And given the slight upgrade in ventilation, I wouldn't recommend the Spire for snowshoeing or winter activities. Here, standard Gore-Tex will provide a light boost in warmth.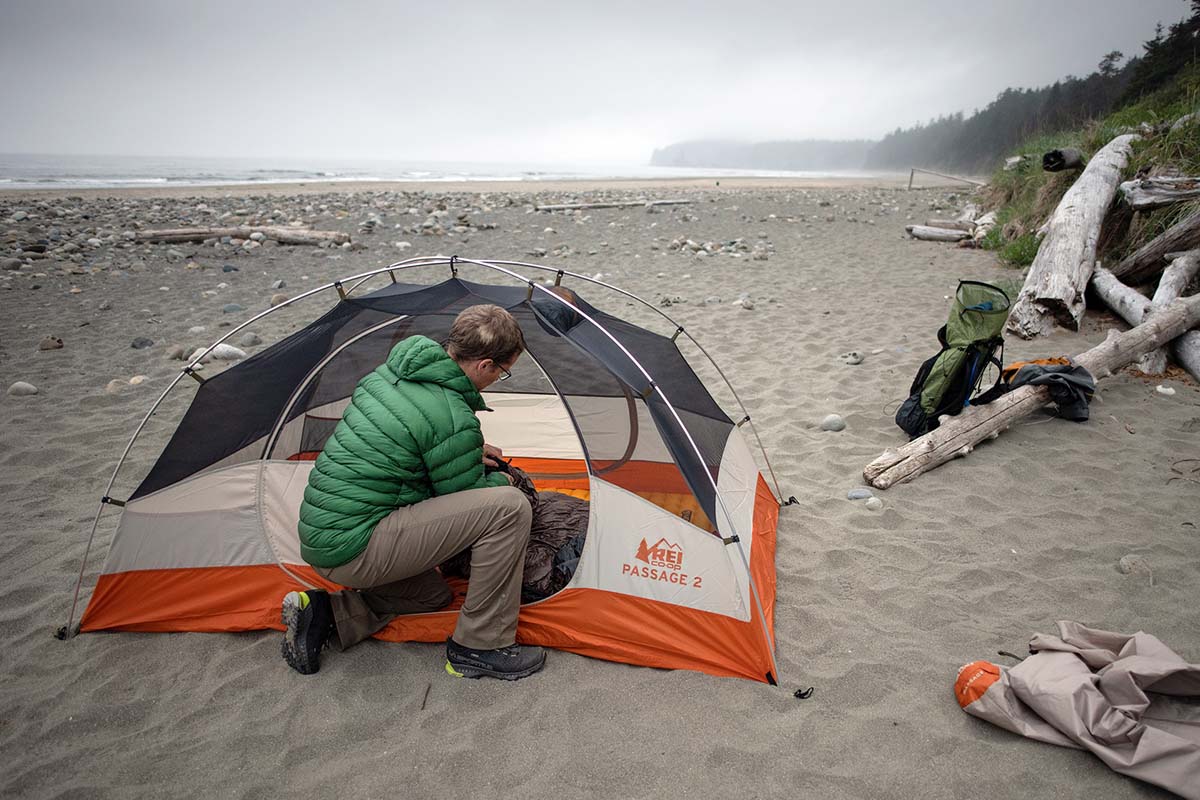 Foot and Ankle Protection
Despite the fairly low cut (compared to hiking boots), the La Sportiva Spire GTX offers good all-around protection from rocks and other trail obstacles. For starters, the thick midsole and TPU inserts keep foot soreness to a minimum. The toe cap isn't made of burly rubber like what you get with Salomon's X Ultra 3, but the synthetic material is still reasonably thick and protects the front of the foot nicely. There's light protection along the outside of the foot too, and the heel is built up and well-cushioned. Taken together, the Spire offers better protection than most low-cut designs we've tested.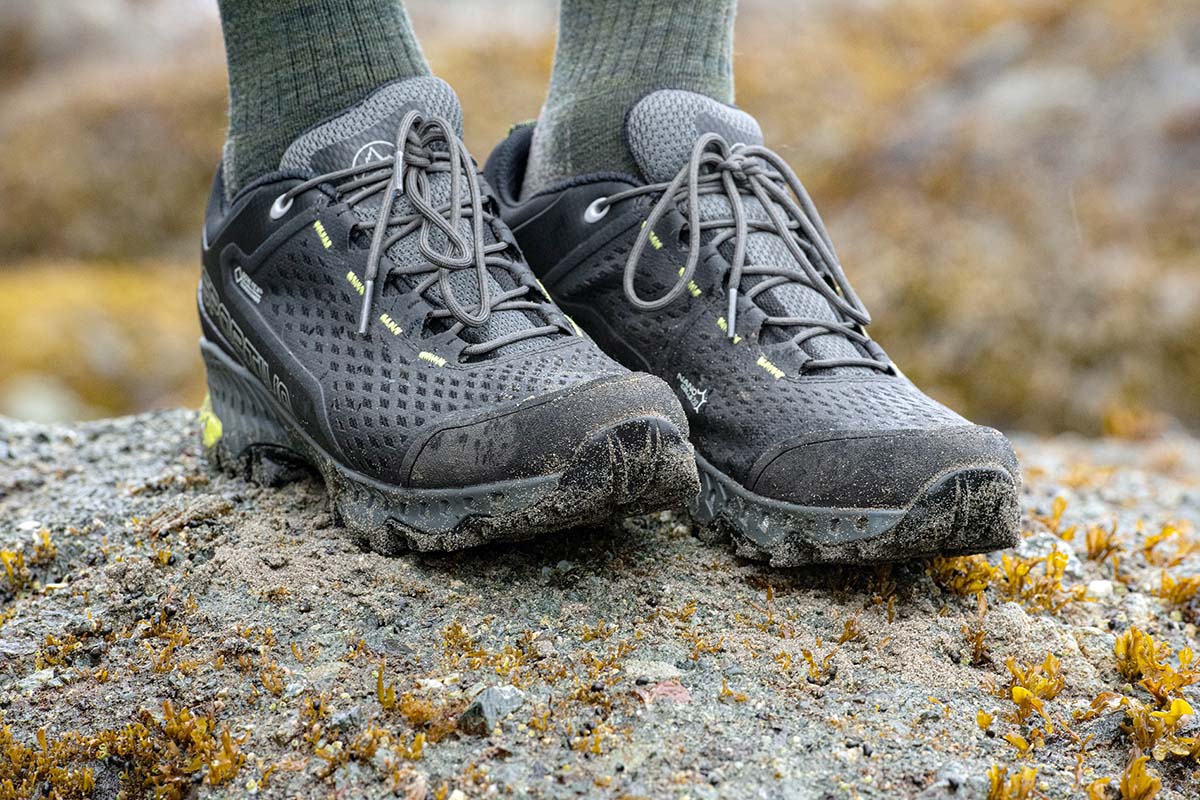 Build Quality and Durability
La Sportiva shoes rarely disappoint in the durability department, and the Spire GTX is no exception. On first glance, the shoe looks incredibly well-made, and that's been backed up throughout testing. I've put a lot of miles on the Spire over around 6 months, and the shoe is almost no worse for wear. The outsole is wearing evenly, and there are absolutely no indications that it will break down prematurely. Additionally, the overlaid materials along the upper are all holding up well. Some of the upper—primarily over the toes and along the sides—is made of fairly thin mesh to boost breathability, but these sections have been reinforced in a triangular pattern, and there are no signs of tearing or failure. The only real wear is coming from the Ortholite insole, where the sticker-like writing on both feet has peeled off. But given the amount of trail use my pair has seen, this is quite minimal and no cause for concern.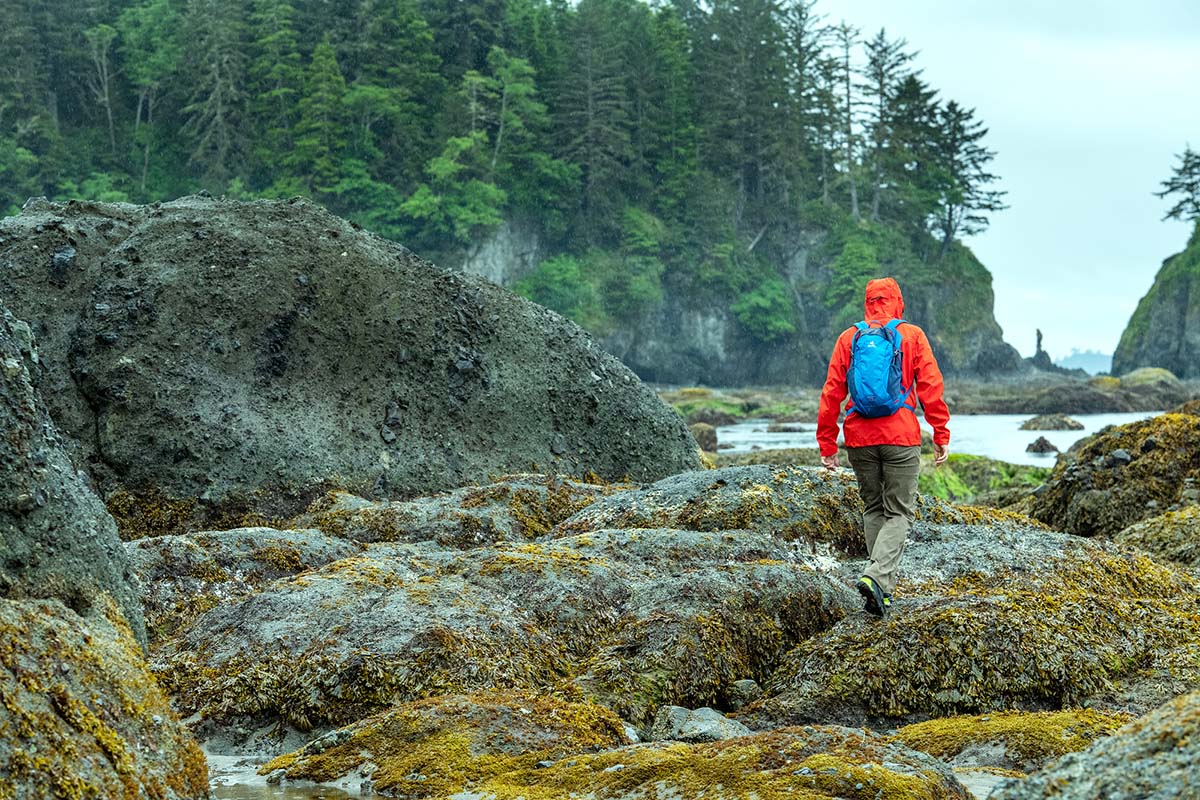 Fit and Sizing
Unlike many La Sportiva shoes we've tested (excluding the TX line), the Spire doesn't run narrow. In fact, I would describe the fit as a little wide in the heel (although I do have fairly narrow heels), and the toe box is an average width. As a result, I had to cinch the shoe relatively tightly to avoid heel slippage. Those with narrow feet will likely need to either opt for a shoe like Salomon's X Ultra 3, which has a snugger heel, or plan to really lock down the shoe before an extended climb to limit issues with rubbing. But as I touched on above, despite the added room at the back of the shoe, I didn't have any problems with hotspots or discomfort on the trail.
As far as sizing goes, it's important to point out that La Sportiva uses European sizing, which means the increments are smaller than U.S. options. For example, if you usually wear a 10.5, you could go with a 43.5 for a slightly snugger fit or 44 for a bit more room. In my case, I typically wear a men's 9 and opted for a 42, which had a just-right length to allow enough room to avoid toe bang on descents. Overall, given the average fit and incremental sizing, the Spire should work for a lot of people and foot shapes (although no dedicated narrow or wide sizes are offered).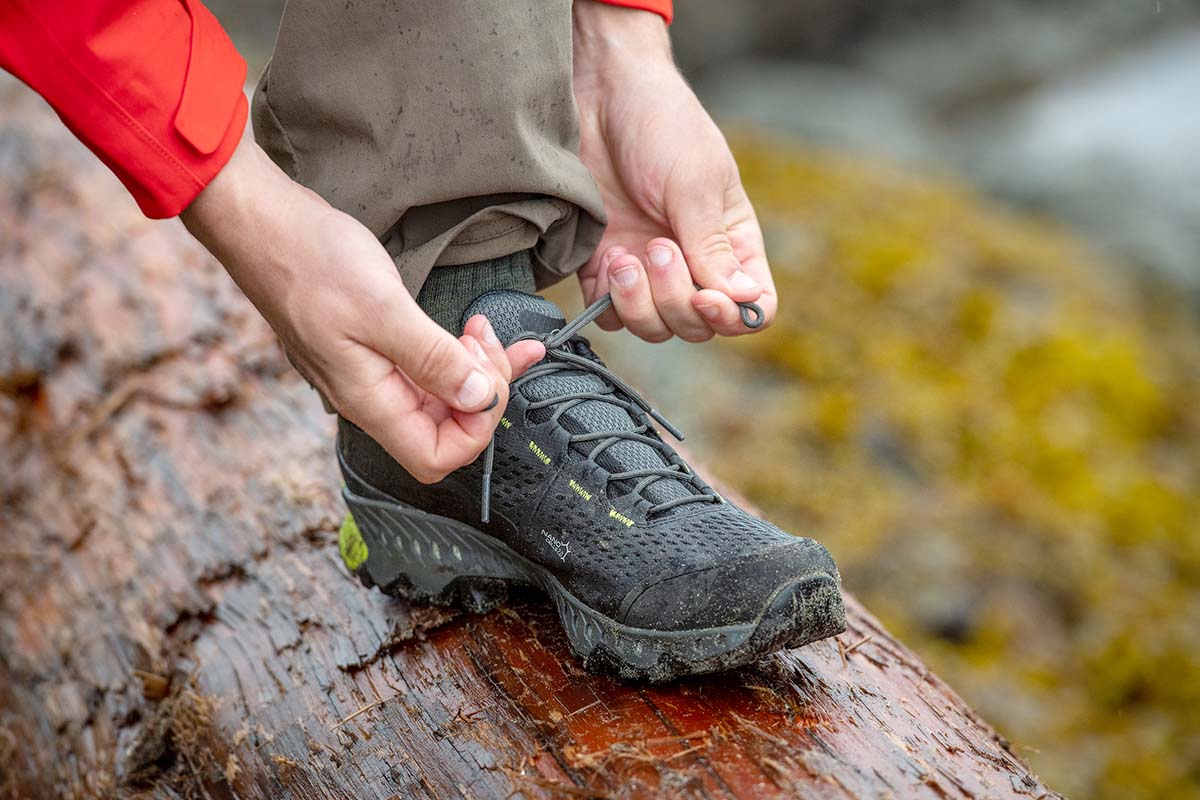 Other Versions of the La Sportiva Spire
In addition to the men's Spire reviewed here, La Sportiva also makes the shoe in a women's-specific version for the same price. The two are identical in build and features, but the women's Spire GTX weighs less at 1 pound 10.2 ounces and is available in a slightly different colorway. Finally, if you prefer the added protection and support of a mid-height boot, La Sportiva's Stream GTX resembles the Spire very closely—including the Gore-Tex Surround waterproofing and grippy Vibram XS Trek outsole—but has an over-the-ankle cut and costs $199.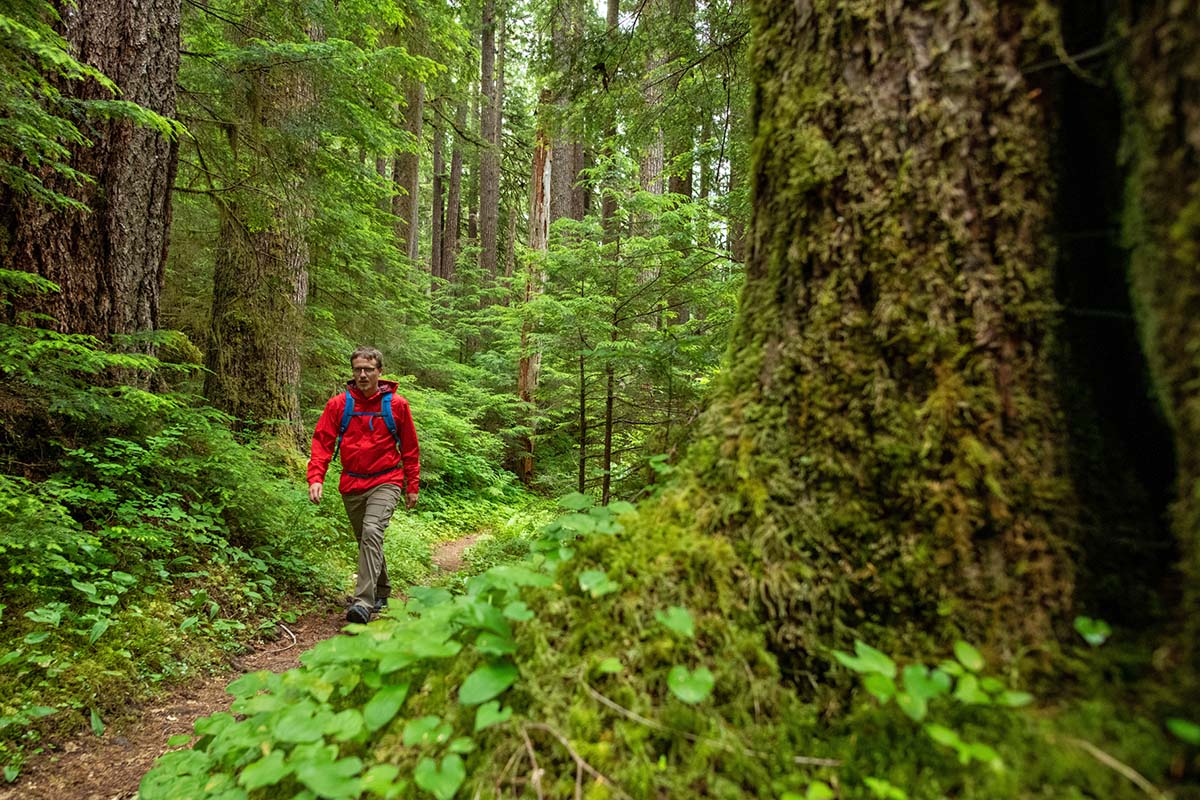 What We Like
The sturdiness and protection of a hiking boot in a lighter, low-cut design.
Solid and reliable grip on terrain ranging from mud to moss-covered bridges and hardpacked dirt.
Most La Sportiva shoes run narrow, but the Spire is much more accommodating and should work for most foot shapes.
Highly durable and well-made.
 
What We Don't
At almost 2 pounds, the Spire is heavy for a low-top hiking shoe and rides higher than most other low-slung designs.
The shoe is a little wide at the heel, and I had to cinch it down tightly to avoid heel slippage.
Thick midsole can feel tippy on especially rocky trails.
Gore-Tex Surround is only a slight upgrade in breathability from standard Gore-Tex.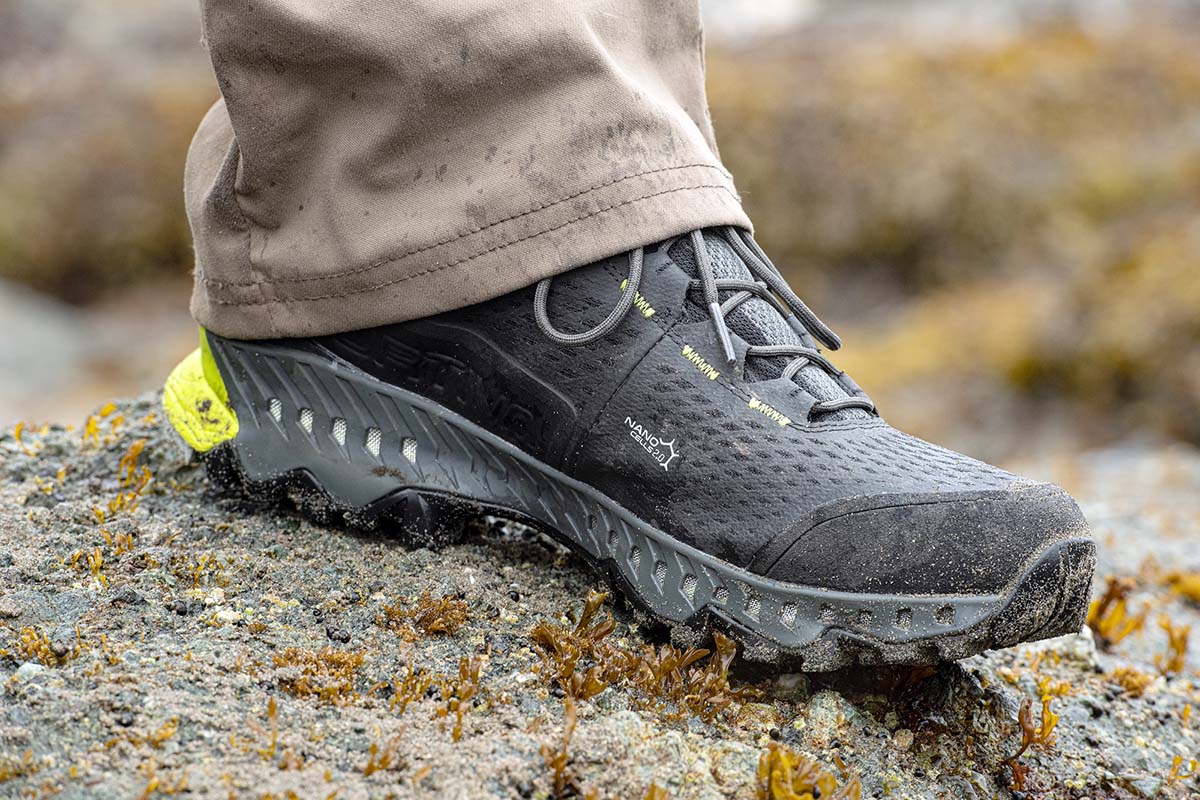 Comparison Table

The Competition
La Sportiva's Spire GTX is unique among its hiking shoe competition for its boot-like sturdiness and protection. The Salomon X Ultra 3 GTX is its primary competitor and our top-rated hiking shoe this year. Both are comfortable, offer ample protection for most day hiking and backpacking trips, and have excellent traction over most terrain. That said, the X Ultra wins out for us as it's a bit more balanced overall: it's lighter at 1 pound 10.8 ounces, slightly more flexible and easier to hike in quickly, and undercuts the Spire by $40. The Spire is a bit more capable on technical trails, but it's not worth the added investment for us.
Another light hiker to consider is Adidas' Terrex Swift R2 GTX, which is the first shoe I thought of when trying on the Spire. Both are surprisingly stiff out of the box and offer a good balance of protection and support. However, the Spire is more built-up and protective and has high-quality cushioning underfoot. Further, the Terrex's quick-lace system is a bit clunky and polarizing—it's tougher to get a customized fit than with traditional laces. But in the end, the added weight (6.4 oz. more than the Adidas) and cost ($50) don't feel worth it to us, and the Terrex is the better overall value.
Another option to have on your radar is Vasque's Talus XT Low GTX. The Talus is a low-top variation of a mid-height boot and feels that way: it's relatively sturdy underfoot, weighs even more than the Spire at 2 pounds 6 ounces, and has a substantial leather upper that is both protective and weather-resistant. In this case, the Spire is the more athletic of the two and better-tuned for fast-and-light hiking. And given the relative newness of the Talus (it was released last year) and our positive experiences with the Spire's build quality and longevity, we think it's the safer bet when it comes to durability.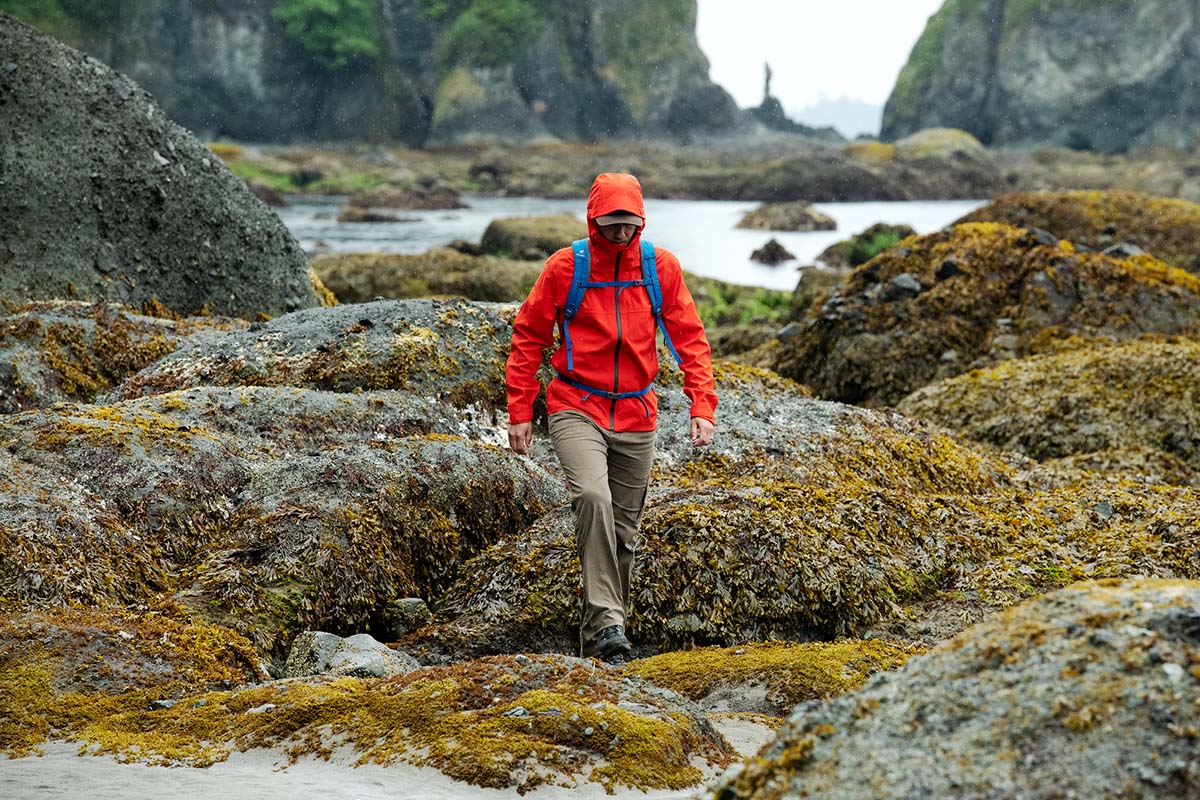 Another impressively sturdy and protective low-top option to consider is The North Face's Ultra 111 WP. Like the Spire, the Ultra is relatively heavy at 1 pound 14.2 ounces per pair but offers a very stable platform and highly durable construction. The Ultra uses TNF's in-house DryVent design, which isn't as breathable as the Spire's Gore-Tex Surround membrane, but the two shoes perform very similarly in most other categories. In the end, the clincher for many might be price: at $120, the Ultra 111 undercuts the Spire by $70 with very few compromises.
A final option to consider is La Sportiva's own TX4. Technically an approach shoe, the TX4 (and lighter TX3 that has a mesh upper) has quickly become one of our favorite hikers. It's incredibly grippy on rock, is moderately flexible and excels over long days, and the cushioning hits a sweet spot between comfort and protection for us. That said, the Spire is fully waterproof (something you can't get with the TX4, although its leather upper does decently well in light moisture), has more balanced traction in mud and wet terrain, and its added stiffness is nice for extended climbs and descents. Overall, the TX4 gets the edge for more technical scrambling, but the Spire is the better pick for hiking and light backpacking.
If you're thinking about buying gear that we've reviewed on Switchback Travel, you can help support us in the process. Just click on any of the seller links above, and if you make a purchase, we receive a small percentage of the transaction. The cost of the product is the same to you but this helps us continue to test and write about outdoor gear. Thanks and we appreciate your support!
Depending on the seller, most products ship free in the United States on orders of $50 or more. International shipping availability and rates vary by seller. The pricing information on this page is updated hourly but we are not responsible for inaccuracies.
Read More From Switchback Travel