Arc'teryx Nuclei FL
Price: $299
Weight: 9.5 oz. (women's small)
Insulation: Coreloft Continuous (65g)
What we like: Impressive warmth and wind-blocking abilities in a lightweight and compressible package.
What we don't: Ultra-thin shell is almost transparent; not the best breather.
See the Women's Arc'teryx Nuclei FL  See the Men's Arc'teryx Nuclei FL
After a short hiatus, Arc'teryx has brought back their alpine-centric ultralight synthetic jacket. This past winter, I tested the Nuclei FL while backpacking and ski touring and was surprised with how well the hoody kept me cozy despite high winds and damp conditions. It was quick to overheat during more intensive activities like skinning, but for belaying, sitting around camp, and exploring the frigid alpine, it's a great match. Below we break down the Nuclei FL's warmth, weather protection, breathability, weight and packability, fit and sizing, and more. To see how it stacks up to the competition, see our article on the best synthetic jackets. 

Performance
Warmth
The biggest selling point of the Arc'teryx Nuclei FL is its warmth: this jacket is built for the alpine and has the ability to keep you cozy in harsh conditions typical of that environment. For insulation, the jacket uses 65-gram Coreloft Continuous, which lofts almost immediately when the jacket is uncompressed—it self-inflates almost like a sleeping pad. As soon as I put the jacket on for the first time, I felt a rush of warmth. In fact, it was reminiscent of my much-warmer Arc'teryx Firebee AR Parka, which uses premium 850-fill goose down. Of course, it's far thinner than the heavyweight Firebee, but I found I was comfortable during inactive times in temperatures down to around 40 Fahrenheit. Given the Nuclei FL's low weight (more on this below), this is quite remarkable.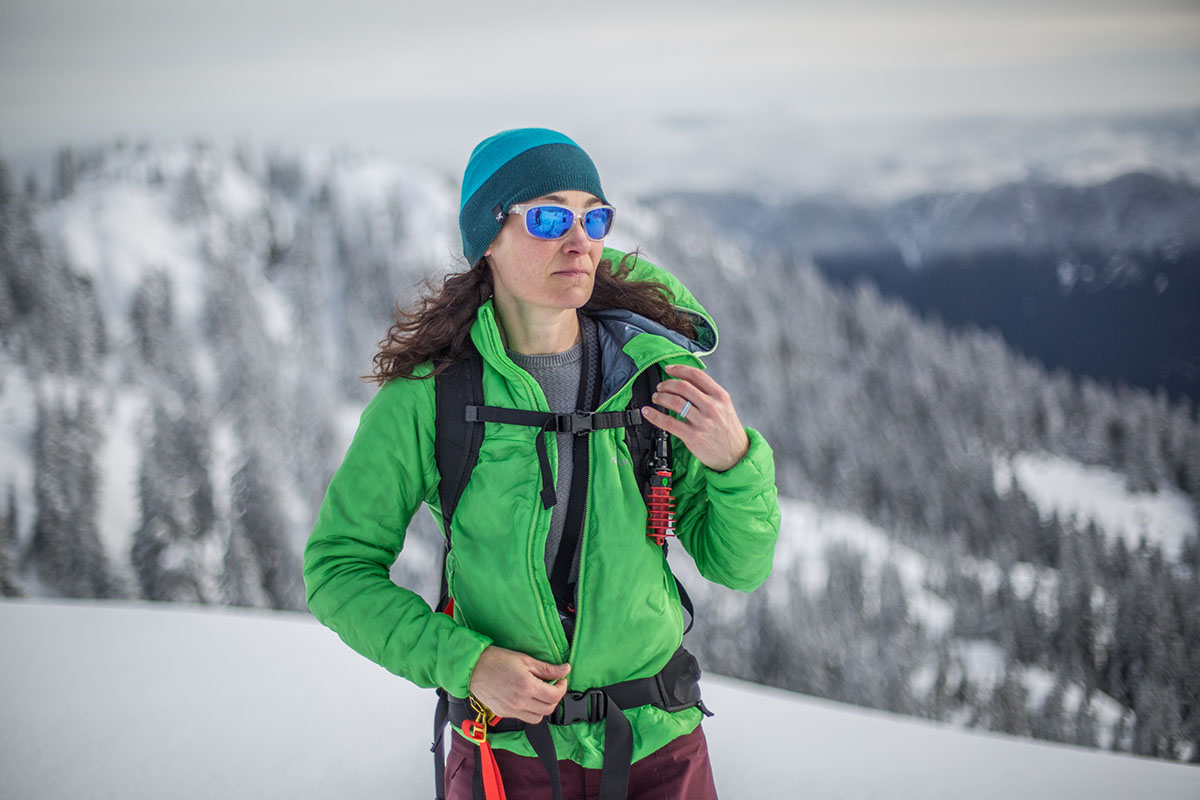 One of the biggest benefits of choosing synthetic insulation over down is its ability to retain loft and continue to insulate even when wet. This was put to the test on Australia's Great Ocean Walk: we woke up to dark skies, tore down camp in the rain, and spent our entire day hiking in mist. That night, when the skies cleared and the temperature dropped, my damp sleeping bag was ineffective at taking the bite out of the frigid air. However, I threw on my (also damp) Nuclei FL, cinched the insulated hood, and remained toasty despite the moisture.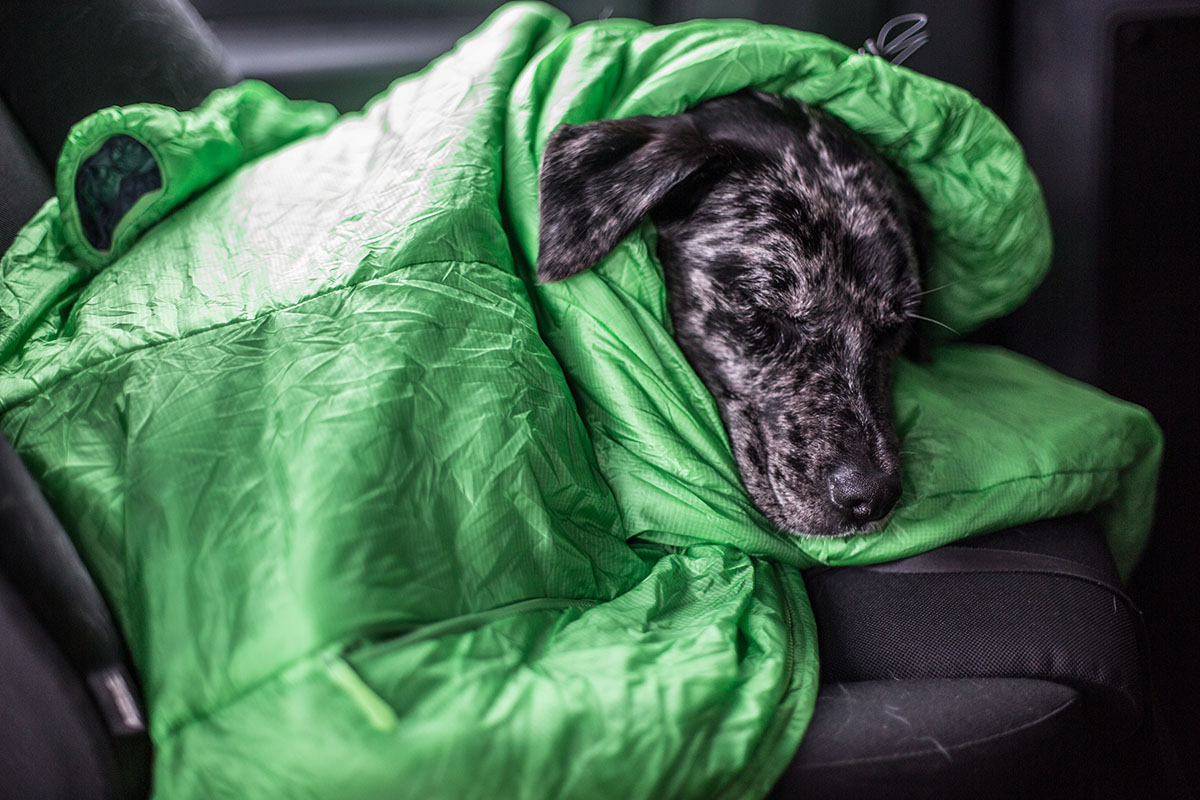 Weather Protection
The Arc'teryx Nuclei FL can't match the protection of a dedicated hardshell or rain jacket, but it sheds light moisture just fine. In use, I've found that snow and mist easily brush and roll off without soaking in, but I would definitely recommend throwing on a waterproof outer layer in more sustained precipitation. That said, where the Nuclei FL truly shines is in blustery conditions. I would agree with the jacket's "windproof" designation: no air has managed to permeate the outer shell, despite beach walks during high wind warnings along the south coast of Australia and camping in Mount Baker's backcountry during sideways gusts and snow. The lack of baffles and seams definitely helps here, as there are fewer areas for wind to creep through. This shouldn't come as a surprise given its alpine intentions, but I nevertheless was very impressed by the jacket's wind-blocking abilities.

Breathability
Unfortunately, the impressive warmth and wind resistance mentioned above come at the sacrifice of breathability. Simply put, this jacket is not meant to be worn during exertion. It's great for hanging out at camp, transitioning in the backcountry, or standing at the belay, but it will overheat quickly once you get moving. Because I tend to run cool, I'm able to wear the Nuclei FL on the ascent while skiing if the temperatures are well below freezing. Anything more, however, and I quickly break out in a sweat. If you're on the hunt for a synthetic jacket to wear during activity, we'd instead recommend Arc'teryx's more breathable Proton series (the Proton LT is the closest in warmth).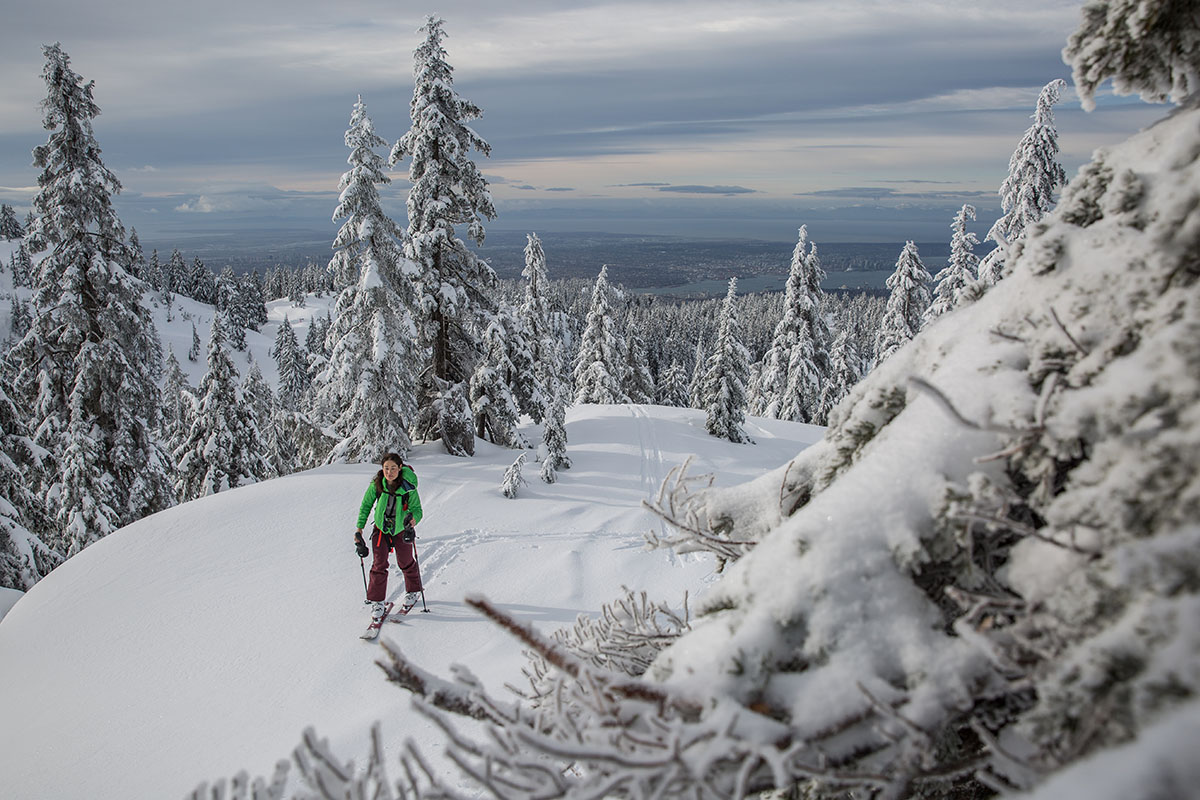 Weight and Packability
Along with its warmth, the Nuclei FL's weight and compressibility are two of its standout features. My women's small weighs in at 9.5 ounces (slightly below the listed weight of 10.1 oz.), which stacks up very competitively in the synthetic jacket market. For comparison, Arc'teryx's own Atom LT (11.6 oz.) and Proton LT (11.3 oz.) both come in around 2 ounces heavier, while Rab's similarly intentioned Xenon clocks in at 10 ounces. The only competitor to undercut the Nuclei FL considerably is Patagonia's Micro Puff Hoody, which weighs 8 ounces, costs the same at $299, and boasts comparable warmth with 65-gram PlumaFill insulation. However, like the Nuclei FL, the Micro Puff has a paper-thin shell that needs to be treated with care (more in "Build Quality and Durability" below).
Packability is predictably also impressive. In its stuff sack, the jacket packs down to roughly the size of a 32-ounce Nalgene bottle, and it can easily be stuffed down further to the size of a large grapefruit. In a dedicated compression sack, the Nuclei FL can be reduced to the size of an orange. I do prefer when a jacket's pocket doubles as the stuff sack (it's easily to lose the separate bag), but Arc'teryx did include an attachment point in the right internal drop pocket for safe keeping.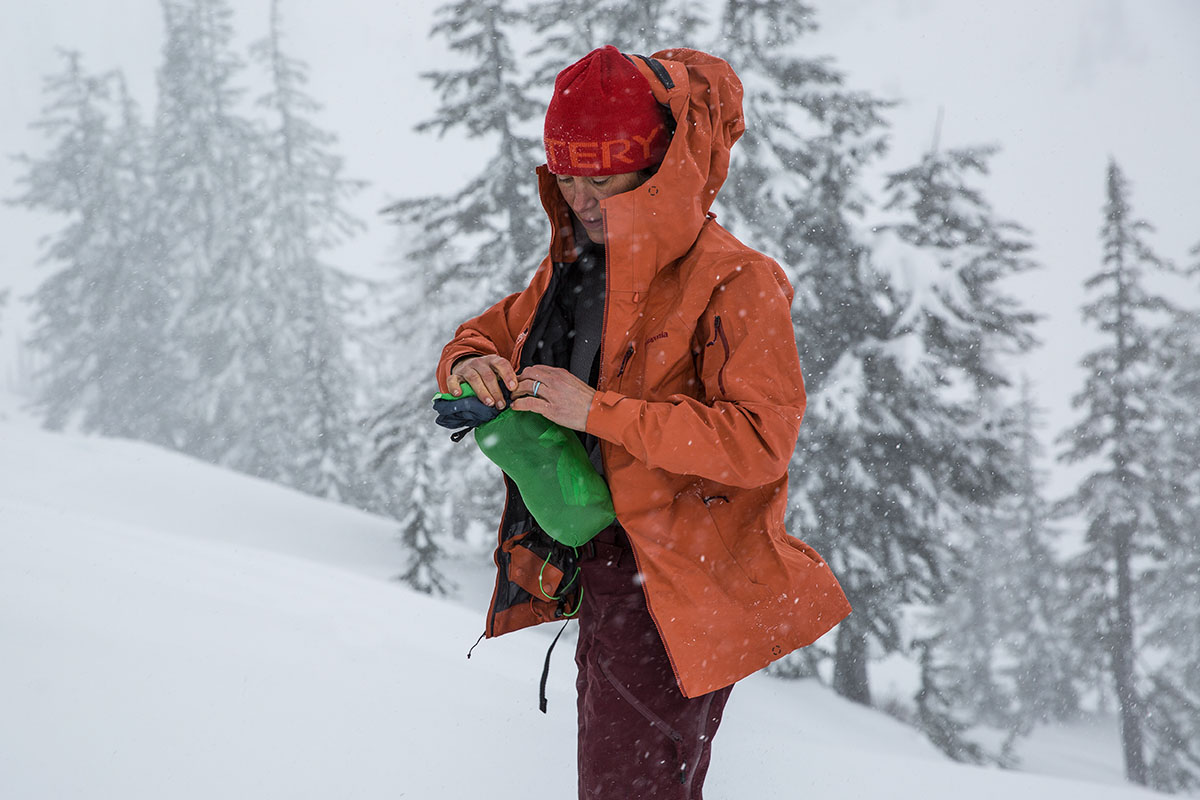 Features
Hood
The Arc'teryx Nuclei FL is well-appointed for alpine use. As I touched on above, the hood is fully insulated and fits nicely over a climbing helmet with no restriction to movement whatsoever. It's also comfortable under a larger ski helmet. In terms of adjustability, the hood sports a single drawcord at the back that evenly cinches it around the head, and a soft brim adds a bit more protection. And one final (albeit small) feature worth noting: the Arato nylon outer fabric extends into the collar and feels smooth against the chin. When fully zipped with the hood donned, the collar reaches my nose, leaving only a small opening exposed to the elements.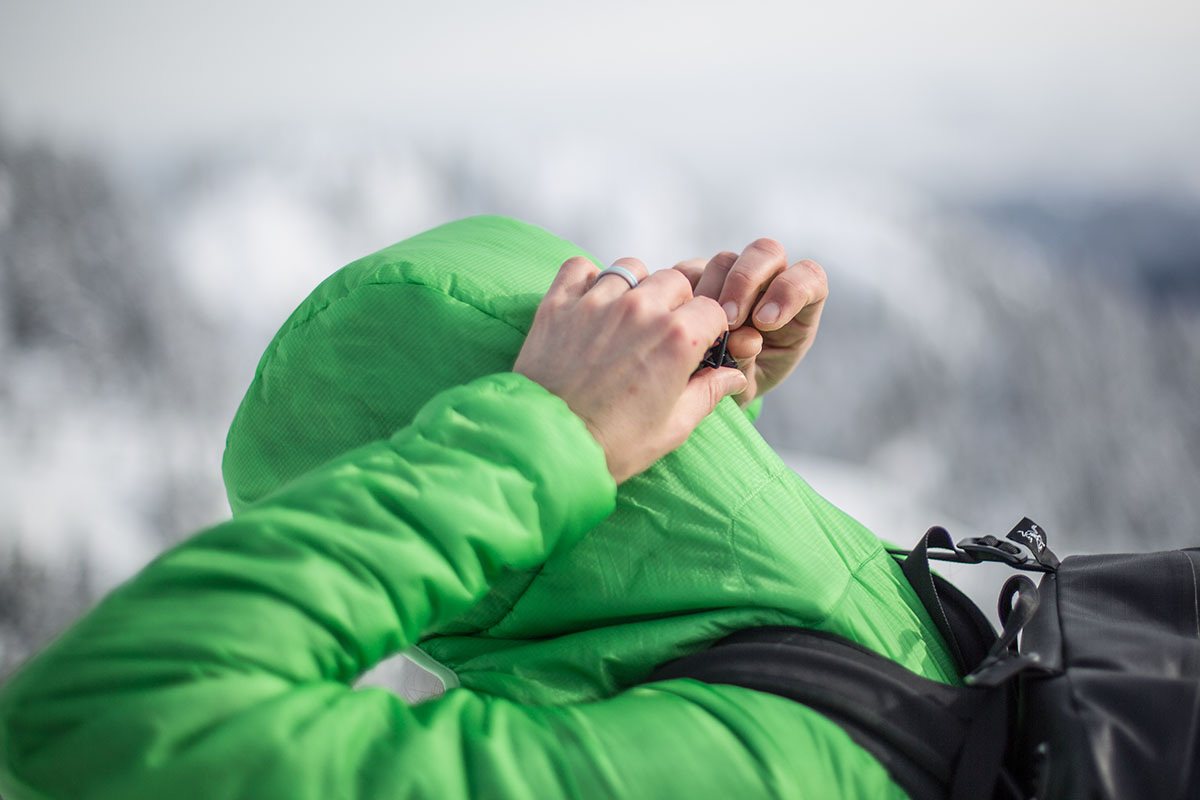 Storage: Pockets
As far as storage goes, the Nuclei FL stays fairly basic with two zippered hand pockets and two internal dump pockets. The hand pockets are generously sized and well-insulated to seal in body heat and warm cold hands. Internally, the two dump pockets have proven to be especially useful for stowing hats and ski gloves when I heat up. All in all, it feels like Arc'teryx included all of the necessary features without going overboard.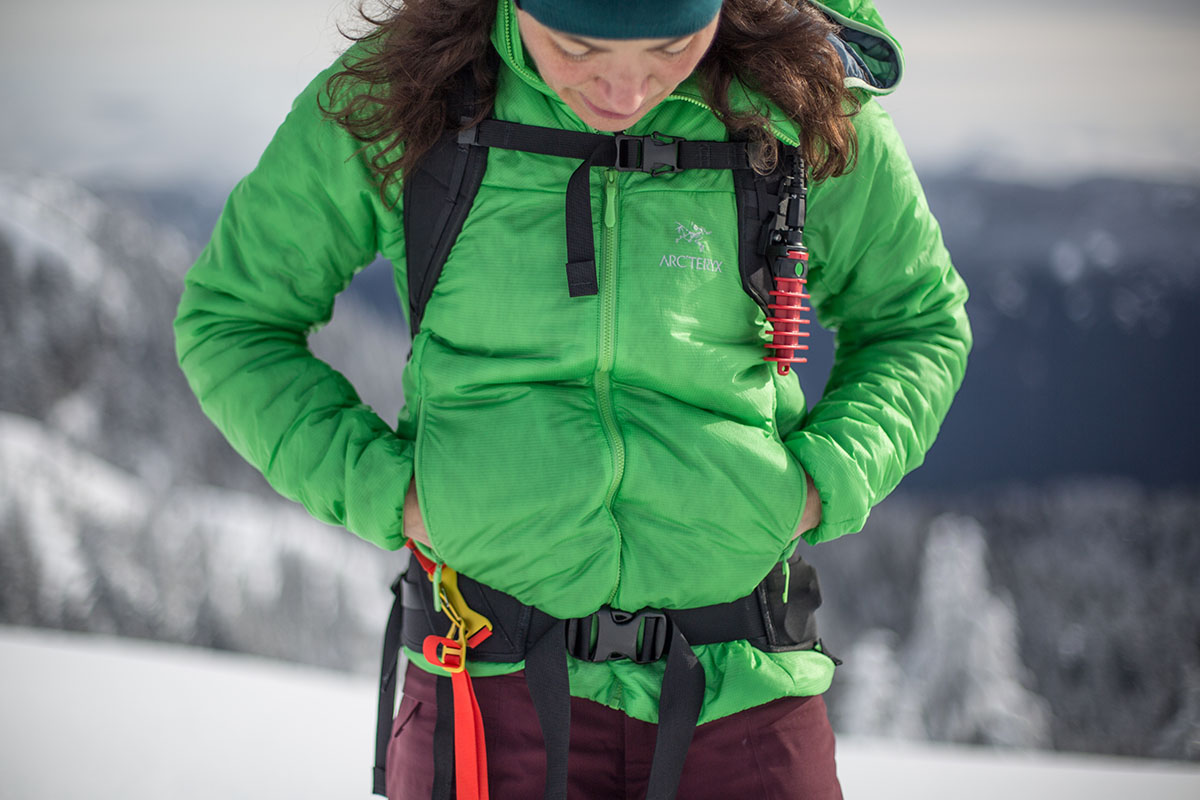 Build Quality and Durability
With a 10-denier ripstop nylon shell, the Arc'teryx Nuclei FL appears almost translucent. But despite its thin build, the jacket has proven to be quite robust. I've brushed past low-hanging branches and even the odd blackberry bramble along Australia Great Ocean Walk, but surprisingly the fabric hasn't snagged or torn. It's almost as if the shininess of the ripstop deflects rather than catching. Thus far, my jacket is holding up impressively well with no signs of wear, and the insulation has retained all of its loft. However, as with all ultralight gear, it's important to take added care when handling the Nuclei FL—that means avoiding packing it next to sharp equipment, being careful when stuffing it in your pack or vehicle, and staying mindful when exploring the backcountry.

Fit, Sizing, and Comfort
Despite its "trim" designation, I found that the Nuclei FL fit slightly on the large side. My women's small is quite generous, and I can easily fit multiple layers underneath. However, the sleeves are a perfect length, and the elastic cuffs stay put at my wrists when I reach overhead. Additionally, the jacket features a slight drop at the back of the hem to effectively prevent the jacket from riding up when I sit down, and the hem can be cinched—great news for wearing either under or over a climbing harness. I do wish it had a two-way main zipper to reduce bunching at the front, which could be a source of frustration while belaying, but this is a fairly minor complaint. And one final note: the Nuclei FL is extremely comfortable both in fit and feel. I've worn it over just a t-shirt and have found that the liner is silky-smooth and remains that way even against sweaty, bare skin.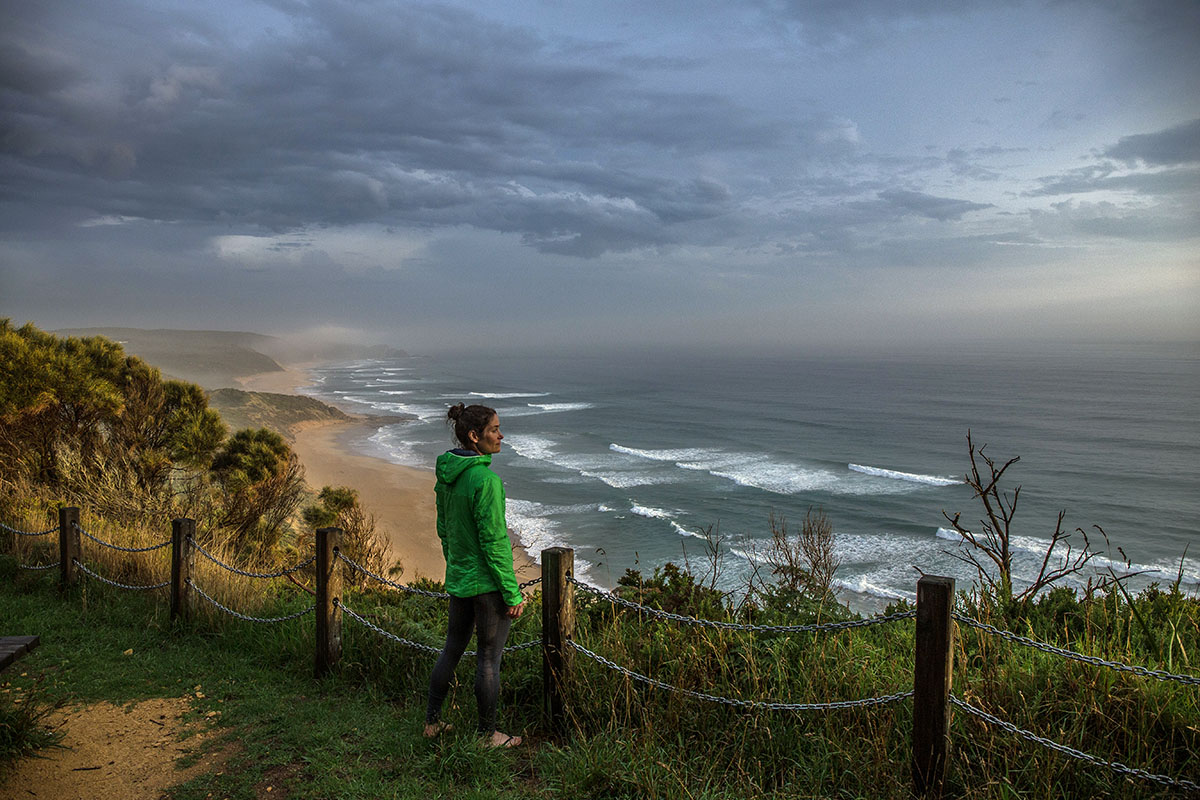 Men's Version of the Arc'teryx Nuclei FL
We brought the women's Nuclei FL to Australia for testing, and Arc'teryx makes the jacket in a men's version for the same price. Compared to the women's model, the men's Nuclei FL is heavier at 11.5 ounces and comes in different colorways, but otherwise the two are identical in construction, feature sets, and price. Unlike many of their other collections, including the popular Beta and Atom lines, Arc'teryx doesn't currently make the climbing-centric Nuclei in any other version than the FL ("fast and light"), nor is the jacket available in a non-hooded option.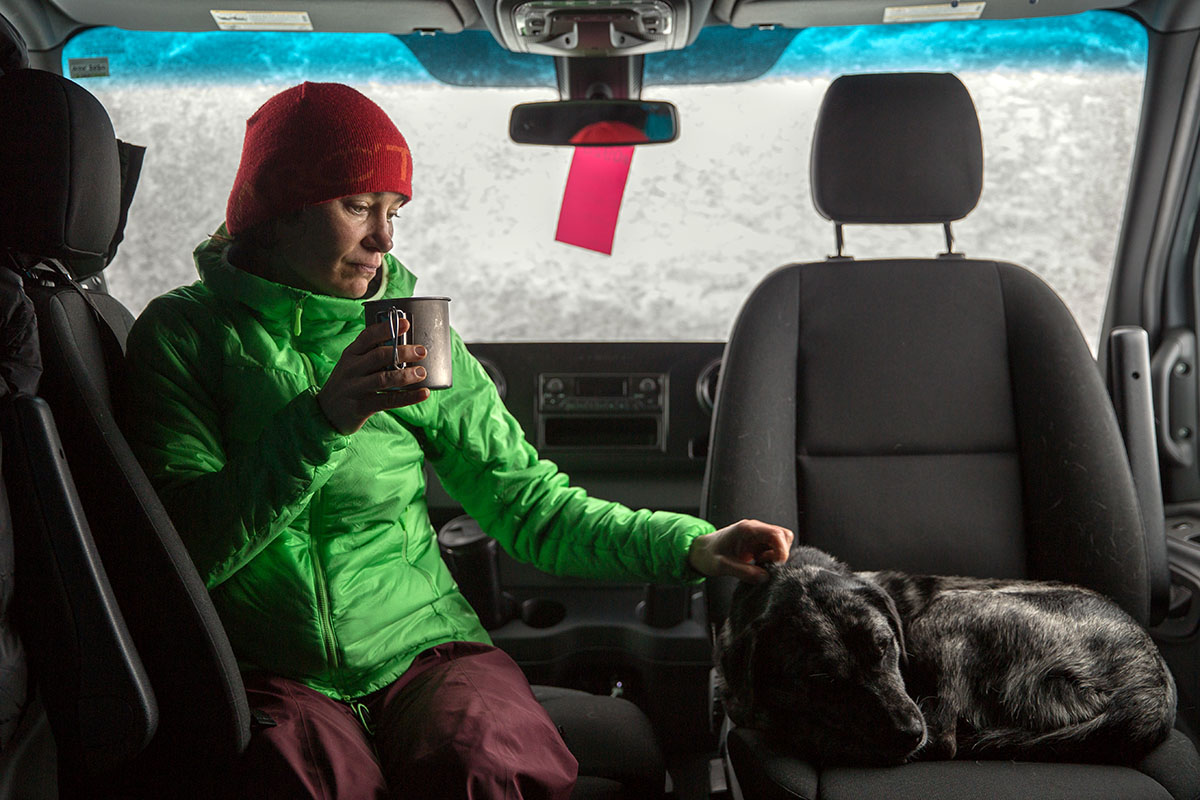 What We Like
Impressive warmth-to-weight ratio, especially for a synthetic jacket.
Wind resistance is second to none: despite the Nuclei FL's ultra-thin build, I felt no gusts creep through.
Interior liner is very comfortable, even against bare skin.

What We Don't
10-denier shell is almost see-through (although we found it to be impressively tear-resistant).
Not a good breather. For high-output activities, we recommend opting for a dedicated active insulation piece.
Front zipper isn't two-way, which can result in bunching at the front of the jacket when wearing a harness.


Comparison Table

The Competition
The Nuclei FL is a decidedly niche piece designed specifically for alpine use, and much of the competition comes from within Arc'teryx's own lineup. For example, the Arc'teryx Atom LT is our top-rated synthetic jacket this year for its impressive warmth-to-weight ratio, great overall comfort, and functional feature set. Stacked up against the Nuclei FL, the Atom is heavier at 11.6 ounces, doesn't stuff down into its pocket or a stuff sack, and is slightly less warm with 60-gram Coreloft. That said, it's the more hardwearing option with a 20-denier shell and is cheaper at $259. But the biggest reason to choose the Atom over the Nuclei is versatility: the Atom works great as an outer or midlayer, and it's one of our favorite picks for everyday wear. In other words, the Atom LT slots in as the better all-rounder, while the Nuclei FL wins out for more technical high-mountain objectives.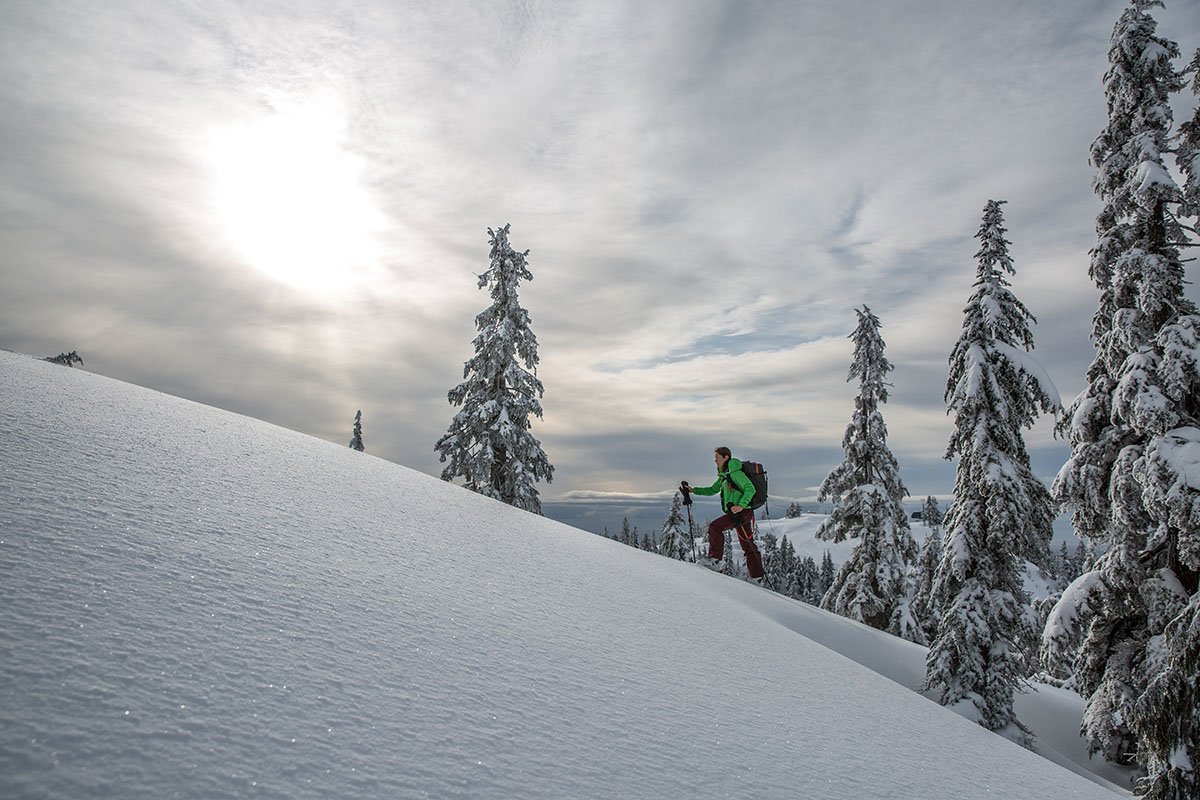 Another Arc'teryx option to consider is the Proton LT Hoody. While the Atom isn't a standout in breathability, the Proton series is designed for high-output use with a thin layer of Octa Loft insulation and an air-permeable fabric (unlike the Nuclei FL, which had us sweating even in colder conditions). The Proton is also more durable than the Nuclei FL with a 20-denier face fabric, although it's heavier at 11.3 ounces. In the end, despite sharing technical intentions, the jackets have very different strong suits: the Nuclei FL is the better pick for more sedentary activities that require a healthy dose of warmth, while the Proton works best as an active insulation layer while you're moving.
As we touched on above, Patagonia's Micro Puff Hoody is the only direct competitor to undercut the Nuclei FL considerably in weight (it clocks in at 8 oz. for the women's version). The Patagonia also costs the same at $299, boasts comparable warmth with 65-gram PlumaFill insulation, and sports a similarly thin 10-denier build. Neither the Micro Puff nor the Nuclei FL are super versatile or robust, but for backcountry pursuits that demand lightweight, packable warmth, both are great options. Given the similarities, a final decision will likely come down to fit and styling preferences: the Patagonia has more of a down puffy-like look and feel, while the Nuclei FL is more streamlined with fewer visible seams and baffles.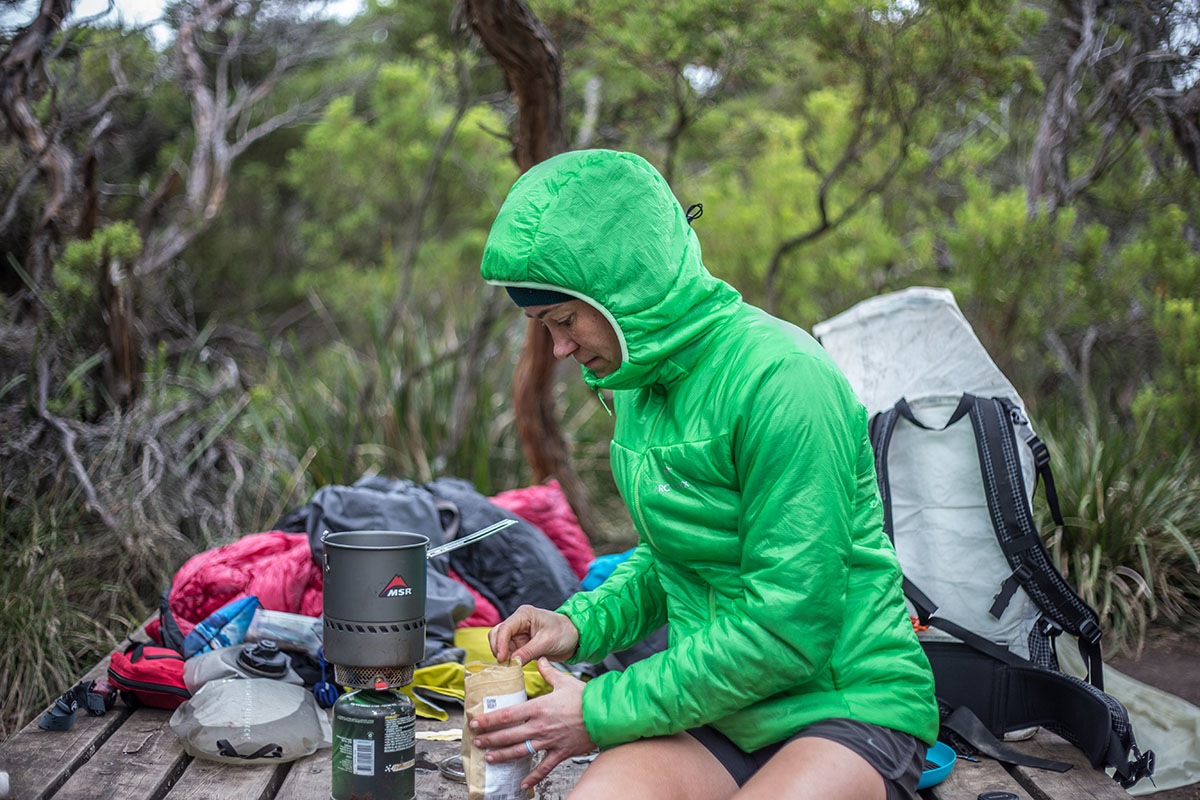 A final option to consider comes from UK-based alpine expert Rab: the Xenon Jacket. The Nuclei FL and Xenon have a lot in common, including sleek outer shells with minimal stitching, lightweight builds (the Rab weighs 10 oz.), subpar breathability, and technical intentions. The Xenon is a bit more robust with a 20-denier outer shell and costs less at $195, but we like the fit and finish of the Arc'teryx, which proved to be less baggy and bulky. In the end, both are technical jackets that excel in the backcountry, but we give the slight nod to the Xenon for its burlier build at a lower cost.
If you're thinking about buying gear that we've reviewed on Switchback Travel, you can help support us in the process. Just click on any of the seller links above, and if you make a purchase, we receive a small percentage of the transaction. The cost of the product is the same to you but this helps us continue to test and write about outdoor gear. Thanks and we appreciate your support!
Depending on the seller, most products ship free in the United States on orders of $50 or more. International shipping availability and rates vary by seller. The pricing information on this page is updated hourly but we are not responsible for inaccuracies.
Read More From Switchback Travel