Rab Xenon
Price: $195
Weight: 10.1 oz. (women's medium)
Insulation: 60g Stratus
What we like: A cozy and packable synthetic at a good price.
What we don't: Less breathable than much of the competition.
See the Women's Rab Xenon  See the Men's Rab Xenon
U.K.-based Rab has a long history of designing quality, high-performance products for the harshest of conditions (or "connies," as the British would say). And when rain and cold are constantly in the forecast, there's simply no match for a synthetic jacket. Enter the Xenon, which builds off of Rab's previous Xenon X and is designed as a light and packable insulator for weight-conscious missions. After facing strong winds, heavy rain, and a demanding itinerary while backpacking in Patagonia, we came away pleased by the jacket's cozy and compressible build, but it did fall short in one key area: breathability. Below we break down the Xenon's warmth, water and wind resistance, weight and packability, durability, fit and sizing, and more. To see how it stacks up, see our article on the best synthetic jackets.

Performance
Warmth
With 60-gram synthetic Status insulation and a nice array of heat-trapping features, the Rab Xenon excels for active use in cold weather or lower-output activities during shoulder seasons or cool summer nights. In terms of construction, the Xenon's distinct baffle-free design effectively traps warm air in and seals cold air out and is much less vulnerable to cold spots and drafts than a baffled down jacket like the Mountain Hardwear Ghost Whisperer/2 (baffles result in areas of no insulation where air can creep through). Additionally, the Xenon's elastic cuffs, snug hood, drawcord hem, and tall collar help seal in warmth and provide ample ways to batten down the hatches when the weather turns.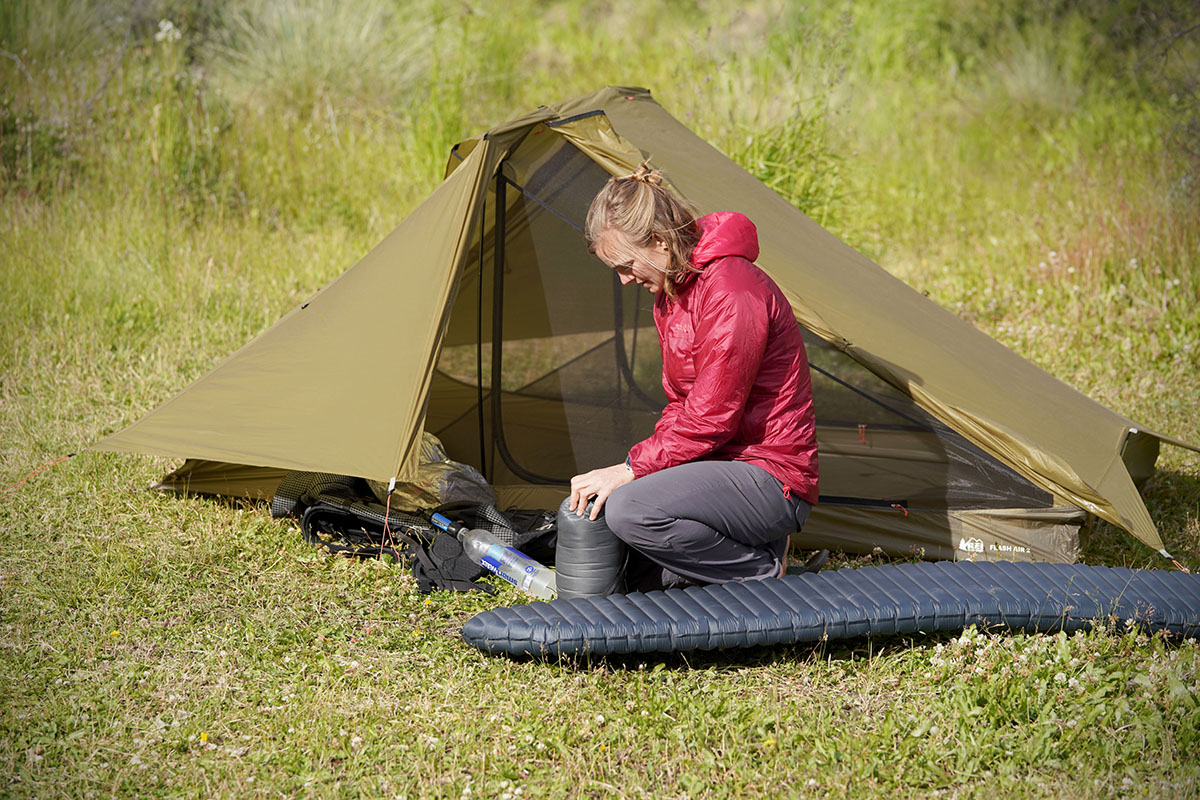 In the most recent version of the Xenon, Rab replaced the top-of-the-line PrimaLoft Gold Active insulation (60g) with their own proprietary (and 100-percent-recycled) 60g Stratus. In our opinion, this change resulted in a slight drop in warmth, although the more relaxed fit might also play a role, as it allows more drafts in (more in "Fit and Sizing" below). That said, we found the Xenon insulated just as well as other leading synthetics with similar fill weights, including the uber-popular Patagonia Nano-Air and the Arc'teryx Atom LT. During chilly mornings in Patagonia, we often found that we wanted to pair the Xenon with a down jacket for a boost in warmth, but that's fairly common with active insulation pieces.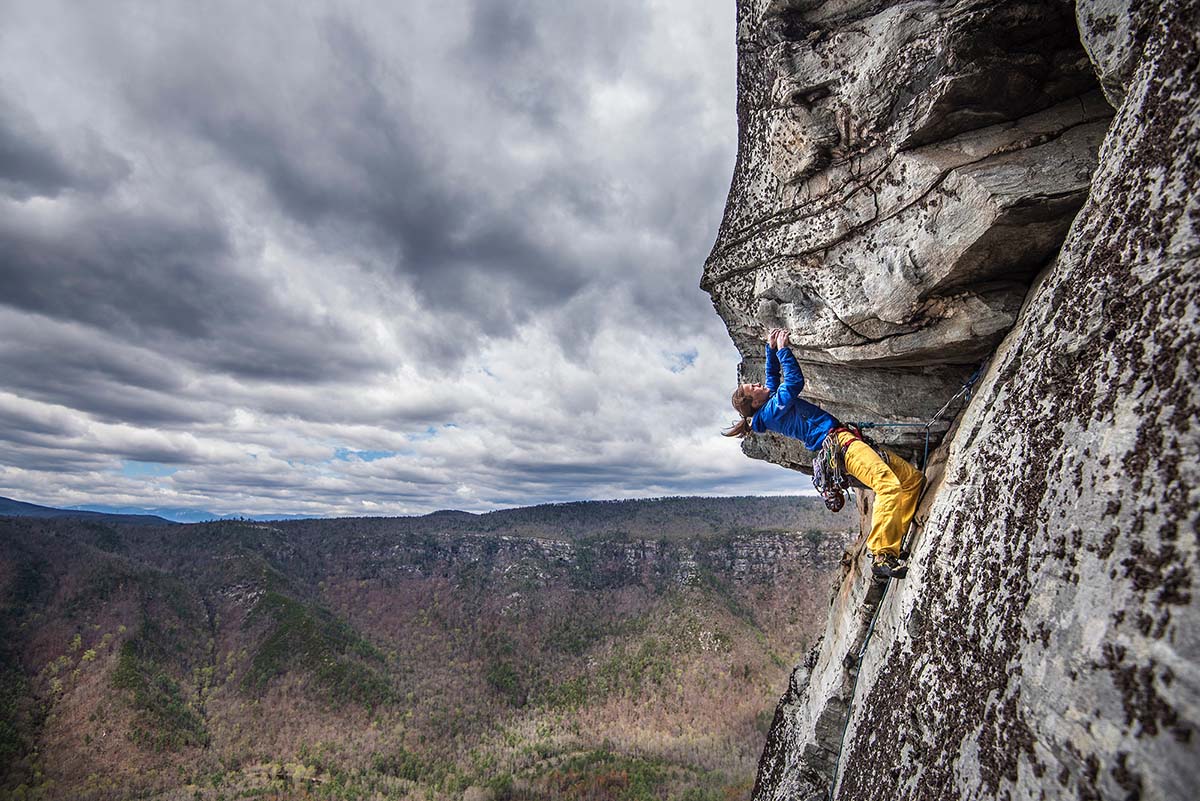 Water and Wind Resistance
With its baffle-free design and windproof and water-resistant shell, the Xenon provides solid weatherproofing overall. Due to their ability to insulate when wet, synthetics have a major leg up on the down jacket competition when it comes to wet-weather protection. As the first line of defense, the Xenon's Atmos shell will keep out a light rain, but expect it to soak through with heavy or constant precipitation (in our testing, the Atmos did not perform quite as well as the previous version's Pertex Quantum fabric). You'll also want to be sure to maintain the jacket's durable water repellent (DWR) treatment, which can be done by reapplying a new coating once it wears off or washing and drying the jacket. For comparison, the Xenon is slightly more protective than the Atom LT and is on par with jackets including Arc'teryx's new Nuclei FL and the Patagonia Micro Puff. In anything more than light precipitation, we'd recommend adding a waterproof hardshell or rain jacket overtop.
As for wind protection, the Xenon proved to be a very capable barrier against strong gusts. Rab's proprietary 20-denier Atmos shell and minimal stitching make for impressive wind-resistance for a synthetic jacket. It easily beats out a competitor like the popular Arc'teryx Atom LT, which features air-permeable fleece side panels (if breathability is a priority, however, the Atom is a better performer). In fact, during windy hikes in Patagonia, I found myself opting for the Xenon over my dedicated wind shirt.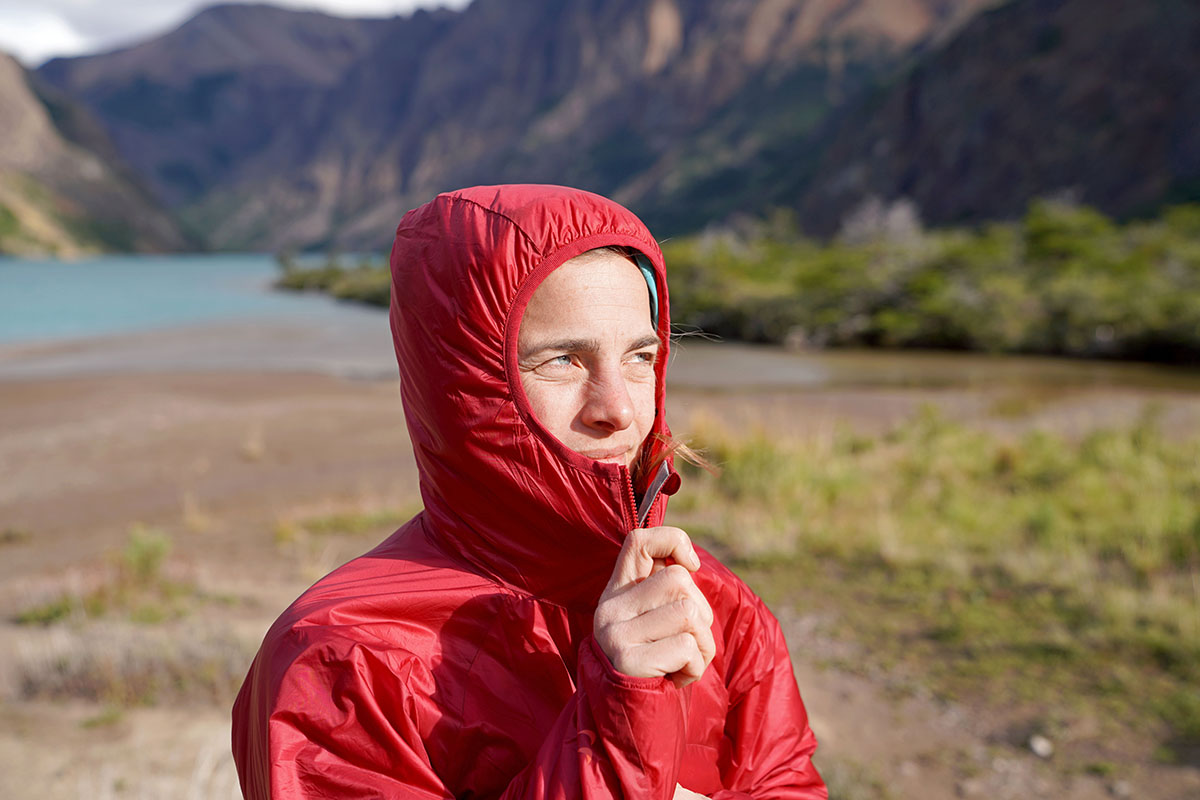 Breathability
The Xenon lags behind the competition in one important category: breathability. In short, we found that the combination of the Atmos lining and Stratus insulation resulted in a bit of a sweat box during high-output activity. Unlike sweatshirt-like jackets such as the Patagonia Nano-Air, the Xenon's shiny nylon lining sticks to the skin with just the smallest bit of sweat (we don't recommend wearing it over just a t-shirt). To make matters worse, the Xenon lacks heat-dumping measures like pit zips or vented side panels. In the end, for highly active pursuits, we'd instead reach for a jacket like the Nano-Air, Arc'teryx Proton LT, or Outdoor Research Ascendant.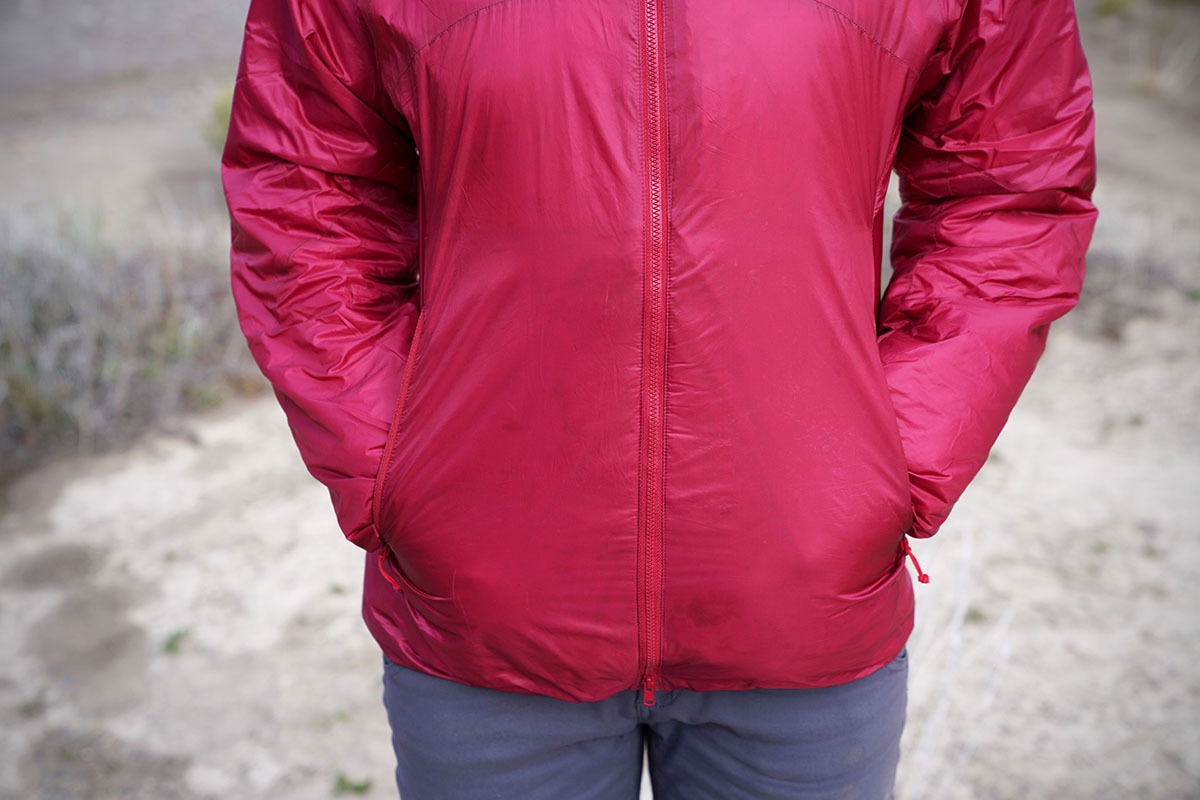 Weight and Packability
The Xenon clocks in at 10.1 ounces for a women's medium (0.1 oz. more than the listed weight), which puts it mid-pack in terms of warmth for the weight. For reference, it's 2.1 ounces heavier than the Patagonia Micro Puff Hoody (which uses 65g PlumaFill insulation) and 1.5 ounces lighter than the Arc'teryx Atom LT (stuffed with 60g Coreloft). Patagonia's Nano-Air is almost identical in weight at 10.2 ounces and is more durable, breathable, and roughly equally warm, but it's not as packable as the Rab. Here, the Xenon is a true standout: the jacket stuffs into its chest pocket, making it a great choice for carrying on a harness. In fact, only the Patagonia Micro Puff Hoody comes close in terms of compressibility, but that jacket is far less tear-resistant than the Xenon.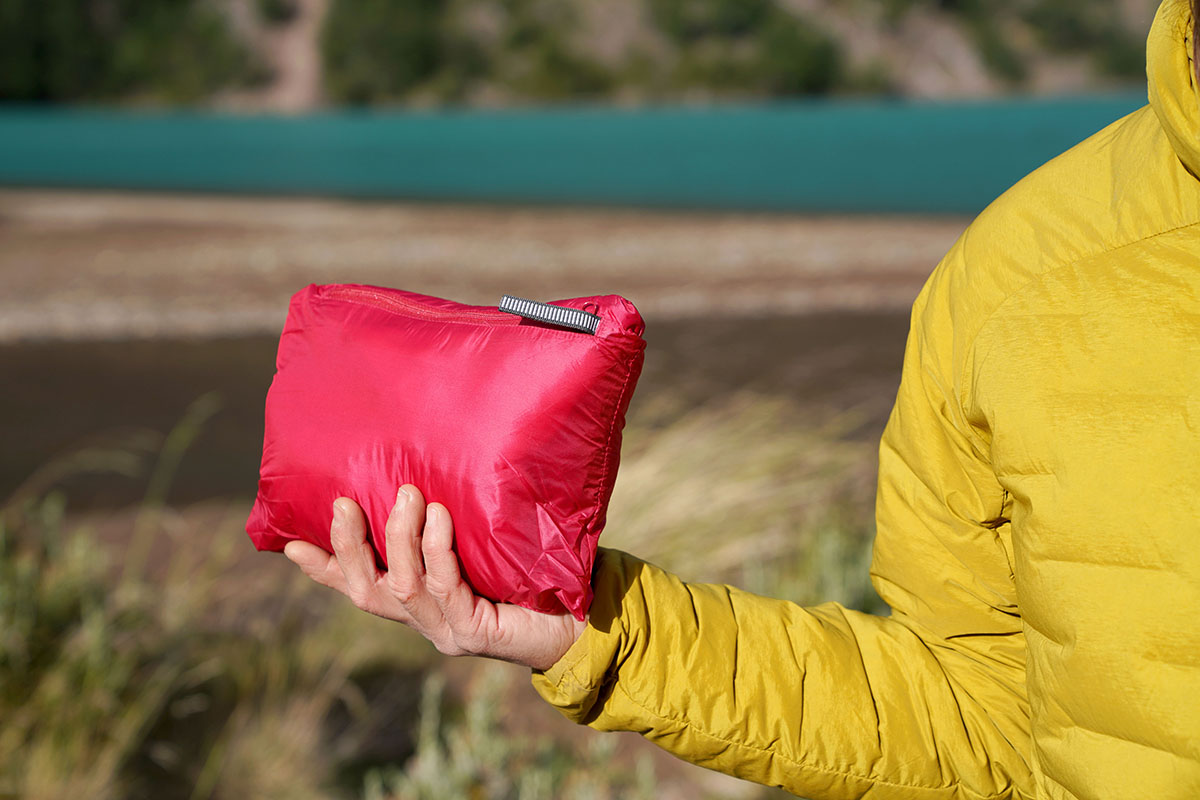 Comfort
With good overall warmth and soft fabrics, the Xenon is reminiscent of a cozy sleeping bag. And because it lacks the down-like baffling seen on many other synthetic insulated jackets (like the Patagonia Micro Puff and The North Face's ThermoBall Eco), it looks and feels noticeably loftier and fluffier than its competition. In my opinion, Rab nailed the features too: the pockets are large enough to bury my hands in and are insulated on both the inside and outside for maximum warmth, and the jacket sports a fleece chin guard and snug-fitting, under-the-helmet hood, so you can really batten down the hatches in the cold and wind.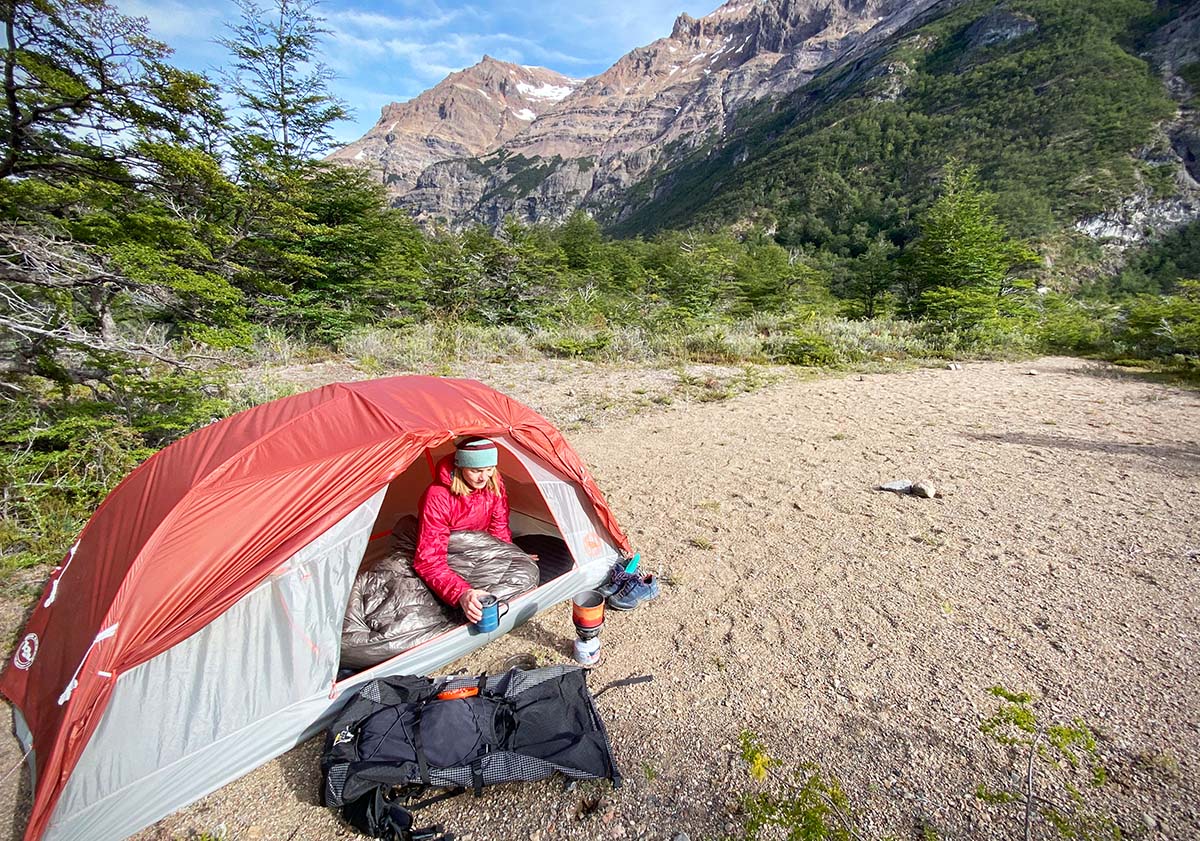 Durability
The previous Xenon X used a 20-denier Pertex Quantum shell fabric, but the newer Xenon swaps in Rab's proprietary Atmos fabric (also 20D). We found the old version to be remarkably durable, withstanding a year's worth of rock climbing with only one minor abrasion. And while Rab claims that their Atmos material is stronger than Pertex Quantum, the new fabric feels notably thinner and more fragile than that of the previous model. All that said, 20-denier is fairly standard in the synthetic jacket world. For reference, both Patagonia's Nano Puff and The North Face's ThermoBall utilize 20-denier shells, the Nano-Air is more hardwearing at 33D (but also noticeably bulkier than the Xenon), and the Xenon's closest competitor in both weight and packability, the Patagonia Micro Puff, has a more fragile 10-denier shell. And to be fair, we haven't had any durability issues yet with the Xenon (we'll update this write-up if that changes).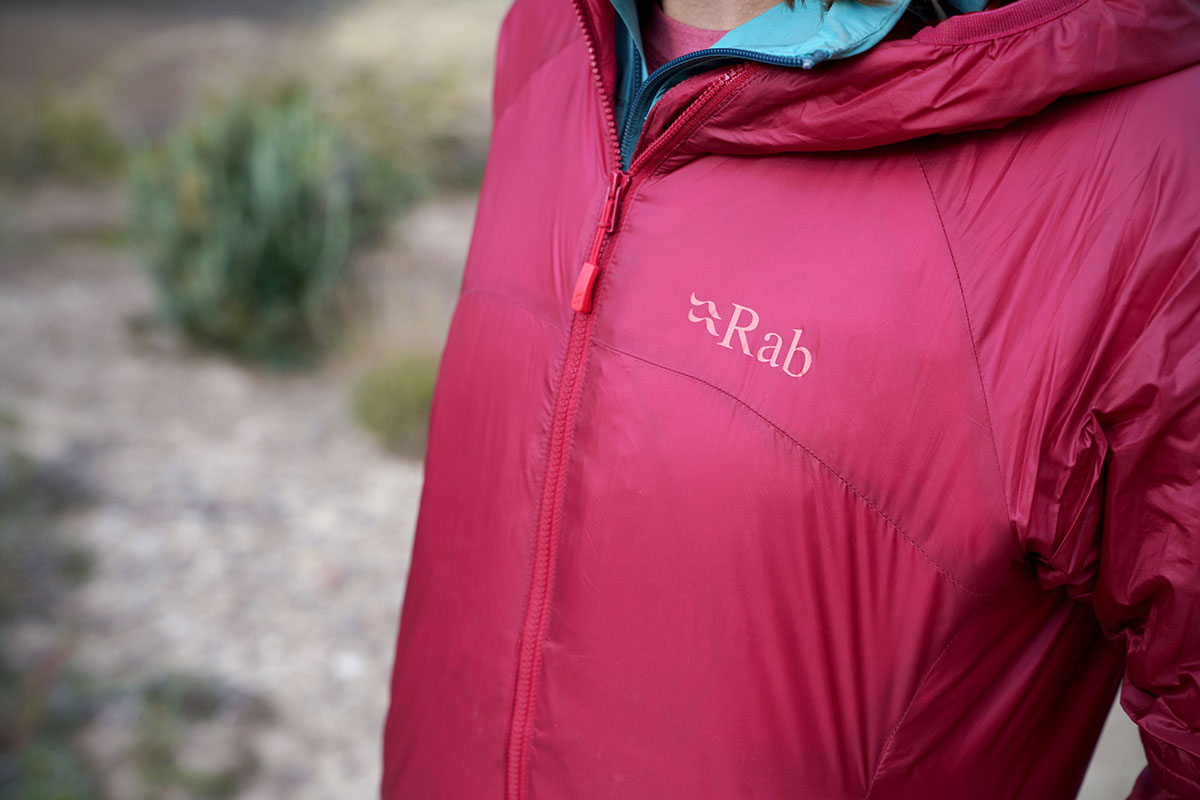 Fit and Sizing
While the Xenon X was billed as a slim fit, the current Xenon is designed with a regular cut. This was the first difference we noticed between the two jackets. In fact, the first time we put the Xenon on, we wondered if we'd ordered the wrong size. As a result, the Xenon is great for casual outings and layering underneath, but it's a bit bulky for technical use (we find the extra fabric gets in the way when we rock climb). If you're between sizes and want a more athletic fit, we recommend sizing down.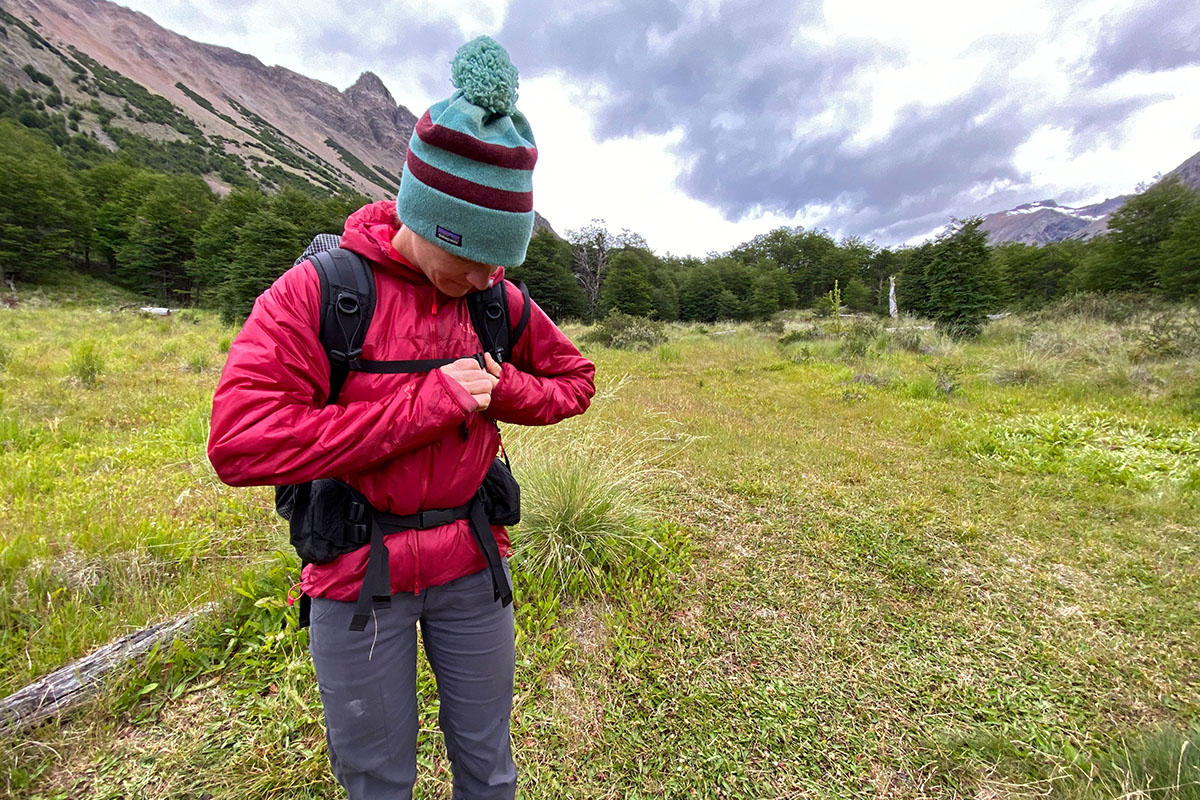 Men's Version of the Rab Xenon
We tested the women's version of the Xenon for this review, and Rab also makes the jacket in a men's-specific model. The men's Xenon weighs slightly more at 12.7 ounces and comes in different colorways, but otherwise the two designs are identical in feature sets, overall construction, and cost. It's worth noting that Rab doesn't make the Xenon in a non-hooded version, which limits its utility as a midlayer for activities like resort skiing, but we appreciated the snugness of the hood for sealing out the elements.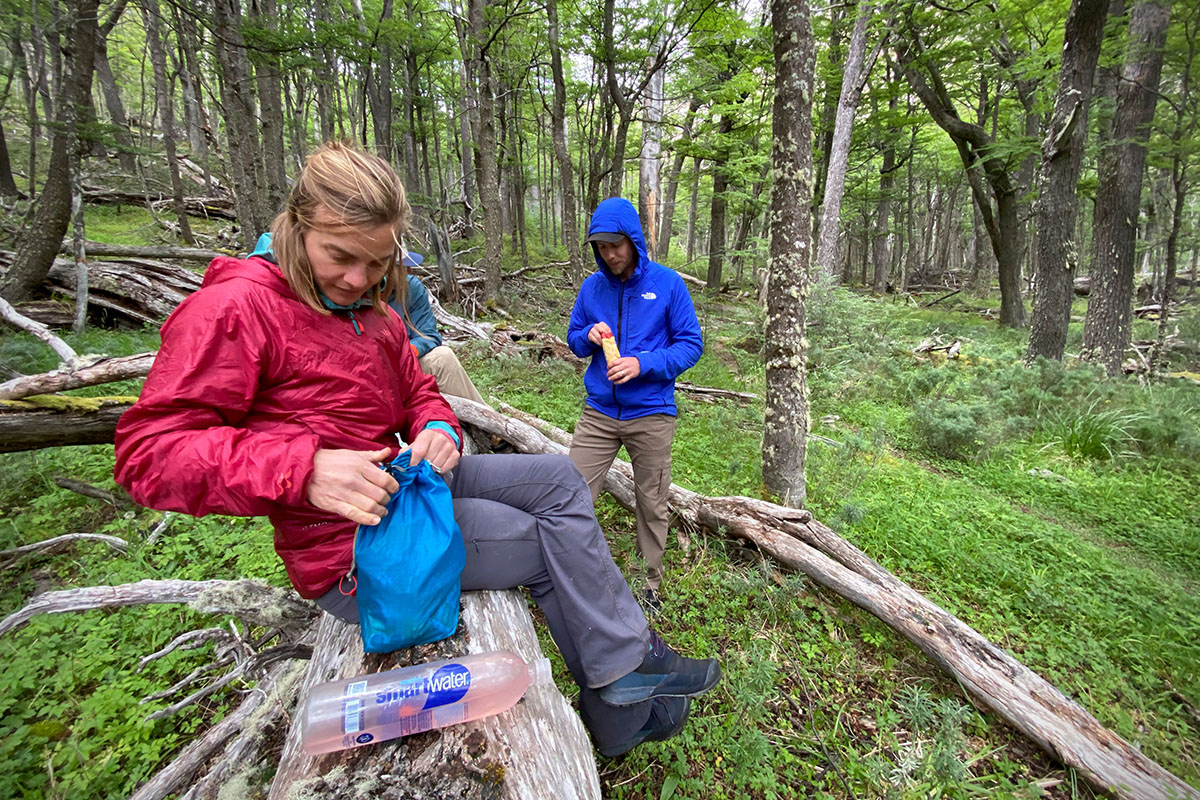 What We Like
Baffle-free design minimizes drafts or cold spots, and it's very cozy too. 
Highly compressible, which makes it a great option for toting on a harness. 
At $195, the Xenon is a great all-around value.

What We Don't
Not as breathable as many other synthetics, including the Patagonia Nano-Air and Arc'teryx Proton LT.
Compared to the past iteration of the jacket, the Xenon feels less durable and water-resistant, and its fit is noticeably baggier. 
Not the warmest option for the weight (the Patagonia Micro Puff wins out here).


Comparison Table

The Competition
The Rab Xenon isn't a standout in any one category, but it does a better job than most of the synthetic jacket competition at balancing weight, warmth, and weather protection. Another option with similar intentions is Patagonia's Micro Puff, which is a favorite among the ultralight and climbing communities. It's super lightweight, undercutting the Xenon by just over 2 ounces, and packs down smaller too. However, the Xenon provides similar levels of warmth and weather resistance at over $100 less, and its 20-denier shell is noticeably more durable than the Micro Puff's 10D. Both are technical jackets that excel in the backcountry, but we give the slight nod to the Xenon for its more hardwearing build at a lower cost.
If breathability is your top concern, Patagonia's Nano-Air Hoody is a class leader in the synthetic market. It features an air-permeable shell that's a great match for high-output activities, pillow-like softness, impressive mobility and stretch, and good overall warmth with 60g FullRange insulation (the breathable shell means it's a bit less insulated than the Rab). That said, the Xenon offers superior wind and weather protection, weighs less by 0.2 ounces, and packs down much smaller. If you want a synthetic jacket for high-output use—and think you'll keep it on during activity—we'd go with the Nano-Air. But as a layer to keep you warm and cozy on remote adventures, the Xenon is the better pick (for a considerable $105 less).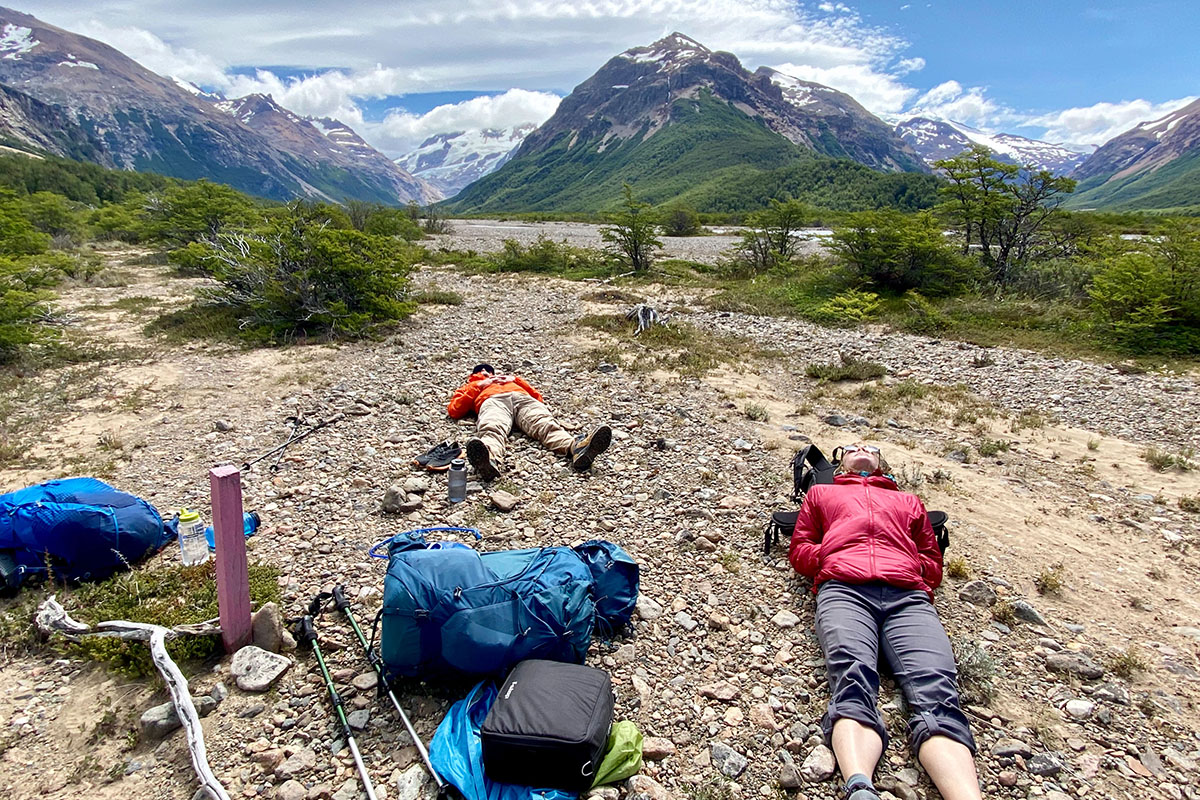 Stepping outside of Patagonia's lineup, the Arc'teryx Atom LT is our favorite synthetic jacket this year. Stacked up against the Xenon, the Atom has a trimmer fit, weighs 1.6 ounces more for the women's version, and doesn't pack into any of its pockets or a separate stuff sack. However, the two have comparable warmth (the Atom uses 60g Coreloft synthetic insulation) and are fairly hardwearing with 20-denier shells. We also like the Atom's stretchy fleece side panels, which make the jacket less wind-resistant but boosts breathability and comfort. And its looks translate better to everyday wear. In the end, we think the $259 Atom is the better all-rounder and worth the extra investment.
Patagonia's Nano Puff Hoody is a final option to consider. The Nano Puff provides about the same warmth with 60g PrimaLoft Gold Eco insulation, uses a similarly durable 20-denier recycled shell fabric, clocks in at a similar weight of 10.8 ounces, and also packs into its chest pocket. However, while the sleeker Patagonia is a better-looking option for everyday use, the baffle-free construction of the Xenon traps heat better, and the two-way zipper is incredibly useful for activities like climbing and skiing (when you might be wearing a harness or pack). All things considered, we like the Nano Puff for more casual endeavors, while the Xenon excels for outdoor pursuits when performance matters.
If you're thinking about buying gear that we've reviewed on Switchback Travel, you can help support us in the process. Just click on any of the seller links above, and if you make a purchase, we receive a small percentage of the transaction. The cost of the product is the same to you but this helps us continue to test and write about outdoor gear. Thanks and we appreciate your support!
Depending on the seller, most products ship free in the United States on orders of $50 or more. International shipping availability and rates vary by seller. The pricing information on this page is updated hourly but we are not responsible for inaccuracies.
Learn More About Outdoor Gear