Along with Patagonia's ubiquitous Synchilla, the Better Sweater is one of the brand's foundational fleece designs. Offered in a range of styles, we tested their core full-zip jacket for this review, and our experiences affirmed why it's such a popular item: warmth is spot-on for most mild fall and spring days, it's fully serviceable as a midlayer for resort skiing, and its classy styling gives it great versatility for around-town use. The Better Sweater won't be confused for a true performance piece and offers essentially zero wind resistance, but it's hard to knock the cozy feel and sleek appearance for everyday wear and light outdoor use. Below we break down our experiences with the Better Sweater. To see how it stacks up to the competition, see our article on the best fleece jackets.
 
---
Table of Contents
---

Performance
Warmth
Featuring Patagonia's signature polyester knit fleece, the Better Sweater Fleece Jacket hits a real sweet spot in terms of warmth for cool fall and spring days. The cozy design has a fantastic next-to-skin feel, and I was comfortable on days that dipped into the mid 40s Fahrenheit with just a t-shirt on over the jacket. The Better Sweater also works well as a midlayer for activities like resort skiing. Combined with an uninsulated shell, it was a great option for overcast days that dropped into the low 20s. And when I mixed in some light sidecountry hiking, it was fine in conditions even colder.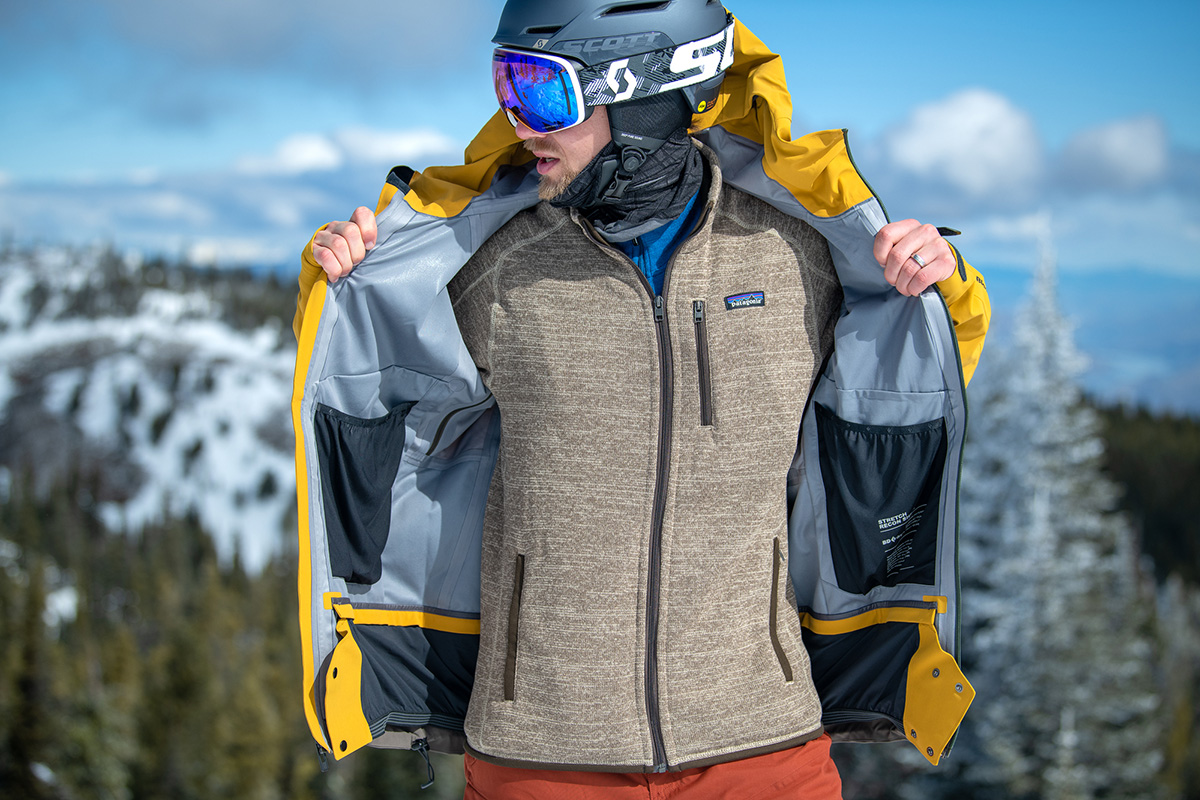 To be sure, there are warmer options for the weight—synthetic and down jackets both beat fleece in this regard—and the Better Sweater doesn't maximize its heat-trapping potential with no hem cinch and a fairly short collar. Warmth also drops considerably if there's even a light wind (more on this below). But purely from an insulation standpoint, the Better Sweater delivers exactly what you'd expect from a midweight fleece and is a leader in outright coziness, which is why it remains a go-to for around-town use.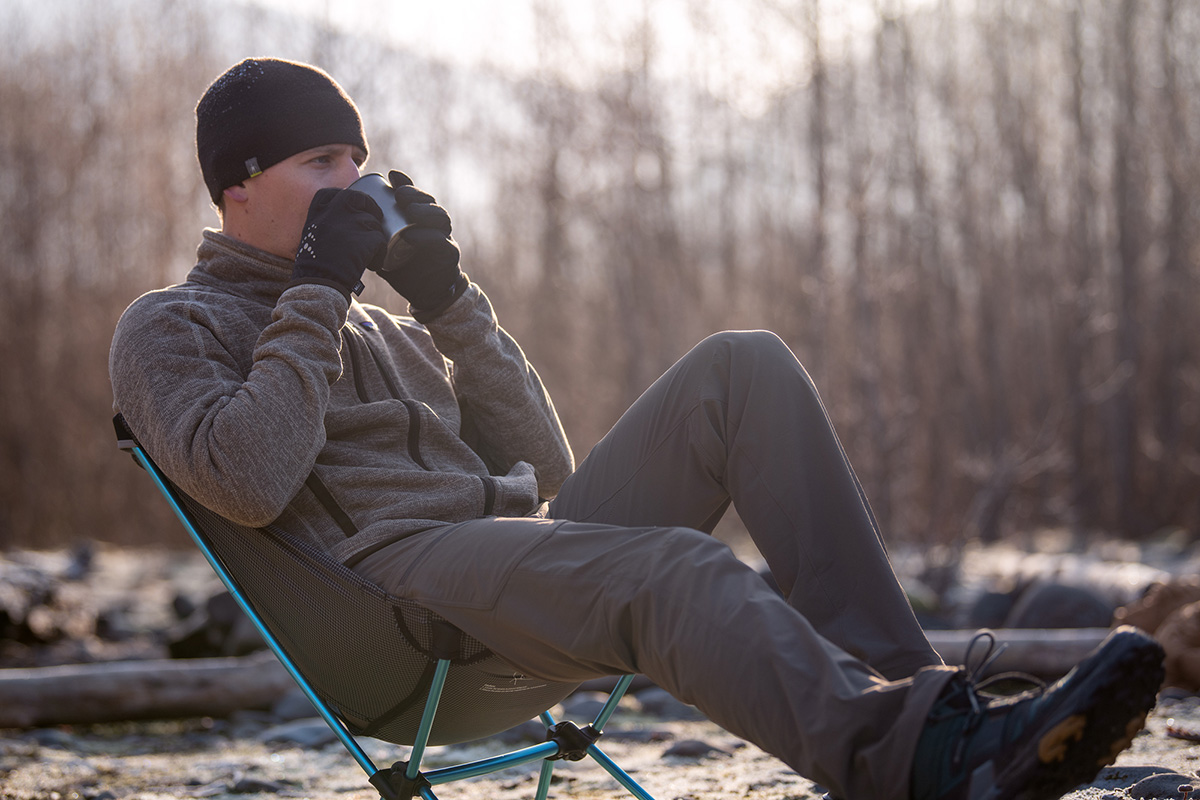 Comfort and Mobility
Most people choose fleece jackets for their softness and comfort, and in most regards, the Better Sweater delivers. As I mentioned above, the interior has a plush and cozy feel that's smooth against the skin, and there's plenty of "give" in the fabric to maintain adequate all-around mobility. Combined with classy, clean styling (including a wide assortment of colorways), this makes the Better Sweater an excellent match for everyday wear.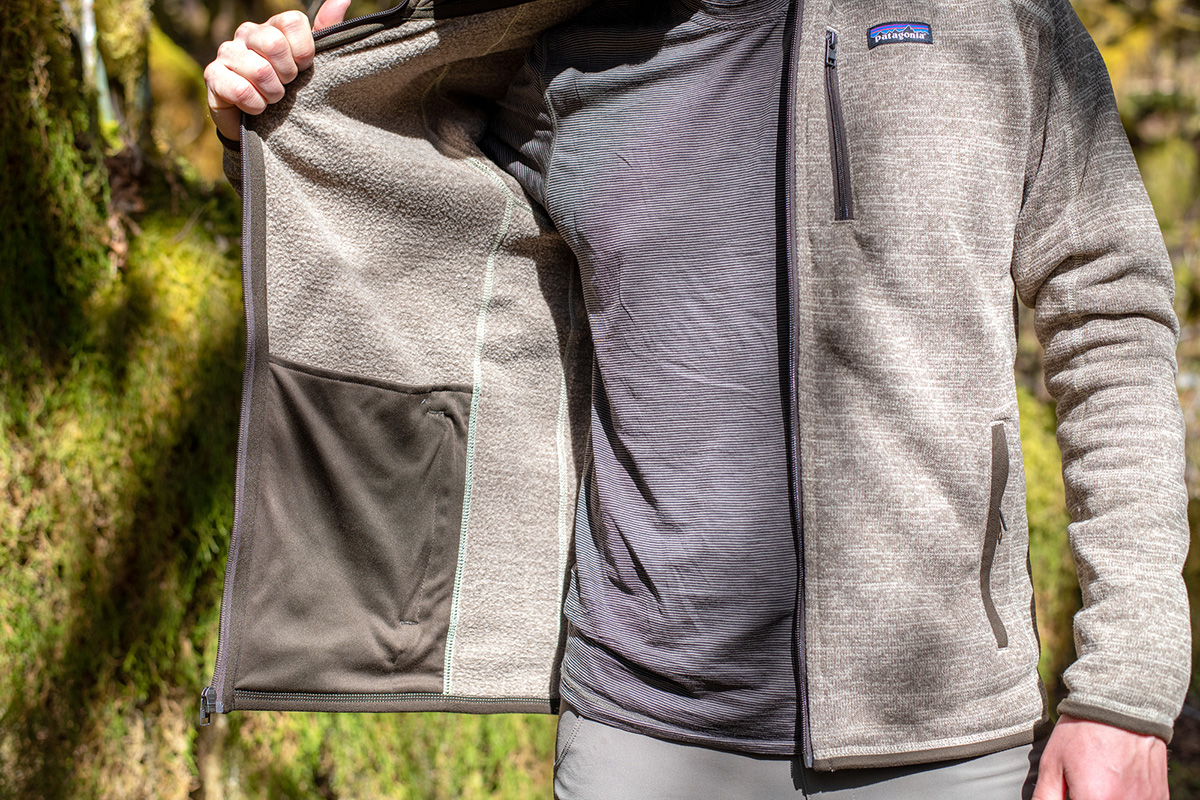 That said, I do have a couple comfort-related nitpicks with the Better Sweater's design. The first is that the framing around the hand pocket zippers is relatively stiff, which makes the jacket feel a little restrictive, particularly during active pursuits or when bending. It's far from a deal-breaker, but wearing the Better Sweater back to back with its main competitor, Arc'teryx's Covert Cardigan, it's clear that the Covert is less prohibitive. A second complaint is that the fit around the arms is rather snug, which again has a slight impact on overall comfort, as well as what you're able to wear underneath the jacket (more on this in "Fit and Sizing" below).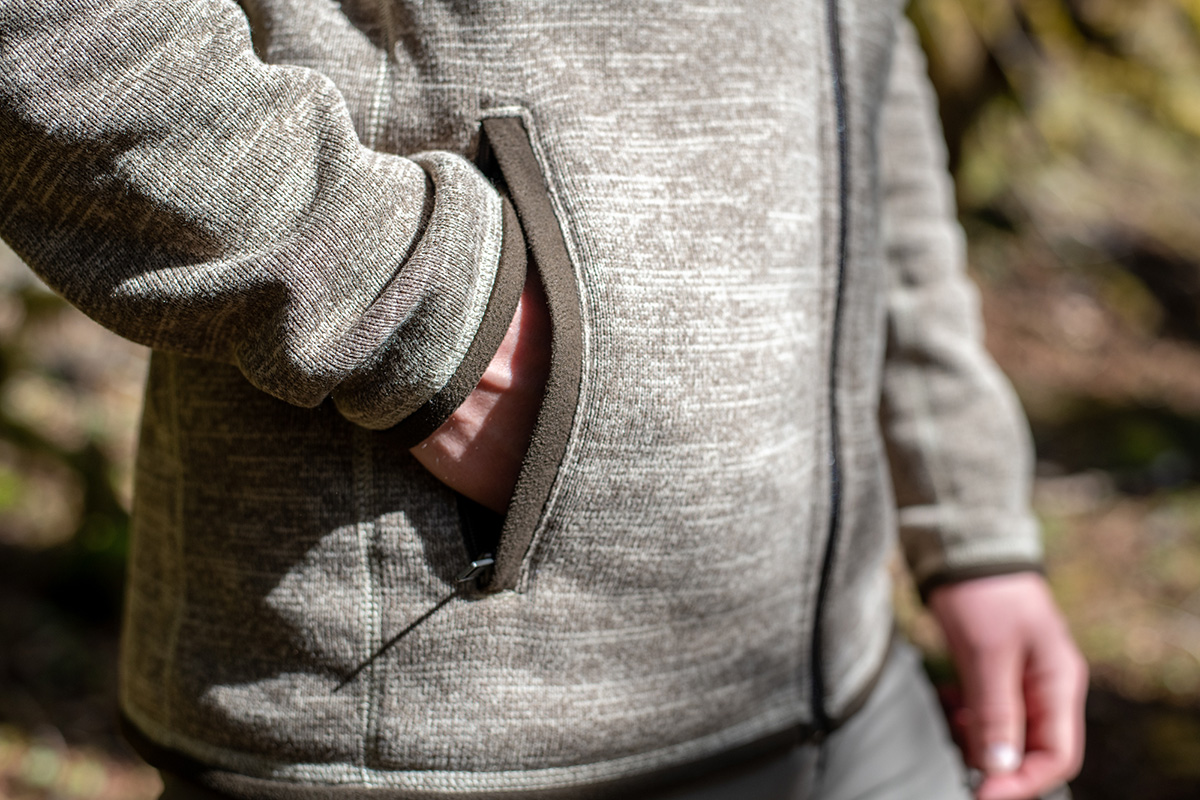 Weather Protection
With its simple and fairly porous knit design, the Patagonia Better Sweater offers very minimal weather protection. As I touched on above, wind is its main weakness—I was consistently surprised with how easily drafts seeped through the outer fabric. This has a pretty significant impact on the jacket's warmth, as you'll need to add a shell overtop to stay comfortable on gusty days, even in otherwise mild conditions. And in rain, the Better Sweater is serviceable for a short stretch in a sprinkle, but heavy moisture will start to work its way through the fabric. Combined with the aforementioned poor wind resistance, this heavily detracts from the jacket's appeal for serious outdoor pursuits, which is why I only wore it while skiing or hiking when I was confident in the forecast.

Breathability
The Better Sweater doesn't make any big performance claims, but I did find it offered decent levels of breathability for lower-output activities like hiking and downhill skiing. The limited wind protection means some hot air can work its way out (or a light breeze can cool you off), which helps extend the jacket's comfort range. For reference, I utilized the Better Sweater as my sole outer layer in temperatures from the low 40s well into the 50s Fahrenheit and only ran hot wearing it as a midlayer while skiing in truly spring-like conditions. Added up, it's plenty breathable for the kinds of light outdoor activities it's intended for.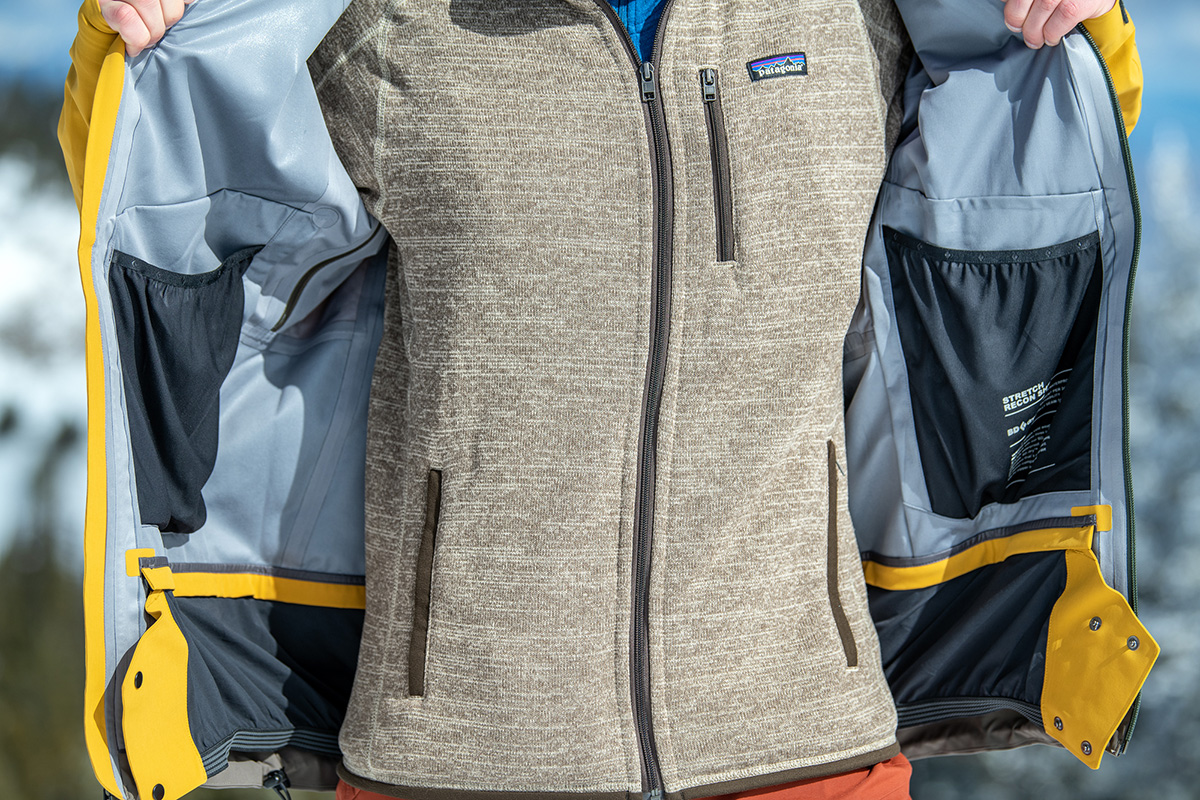 Weight
The Better Sweater won't be confused with one of Patagonia's performance synthetics or down jackets in terms of its warmth-to-weight ratio, but it stacks up pretty favorably in the fleece market. And importantly, at 1 pound 1.6 ounces for a men's medium (listed weight is a bit heavier at 1 lb. 6.5 oz.) and with a low-profile fit, the jacket never felt heavy or cumbersome, even during exertion. For comparison, Arc'teryx's similarly built Covert Cardigan clocks in at 1 pound 2.9 ounces, and Kuhl's popular and versatile Interceptr is 1 pound 3.2 ounces. If weight is a priority, you can opt for a more backcountry-focused design like Patagonia's R1 TechFace Hoody (13.8 oz.), but you'll sacrifice a good amount of everyday appeal. All in all, given its casual slant, I feel the Better Sweater's weight is well-spent and perfectly reasonable.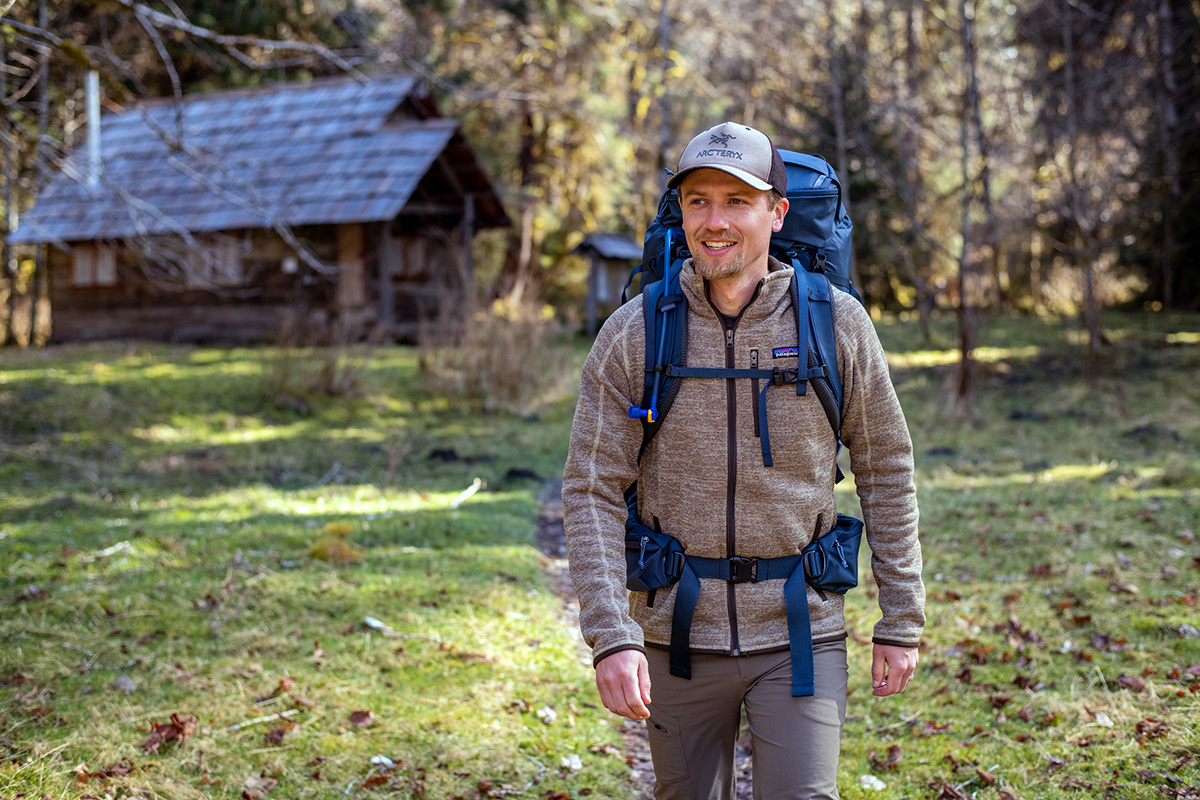 Build Quality and Durability
Pilling is an inevitability with a fleece design, and it's particularly true with the knit Better Sweater. To be clear, the entire jacket has a high-quality look and feel to it (typical of Patagonia), but after a few months of pretty consistent use—including a number of days worn under my ski jacket—a few areas are starting to pill up. The good news is that maintenance is fairly easy with a sweater stone (here's a link to the process), and the rest of the jacket is holding up nicely. I haven't gotten any tears, the zippers are still operating smoothly, and the seams look like new. All told, fleece can't match the simplicity of a synthetic or down piece in terms of upkeep, but if you're willing to put in a little effort, the Better Sweater can be a long-lasting design.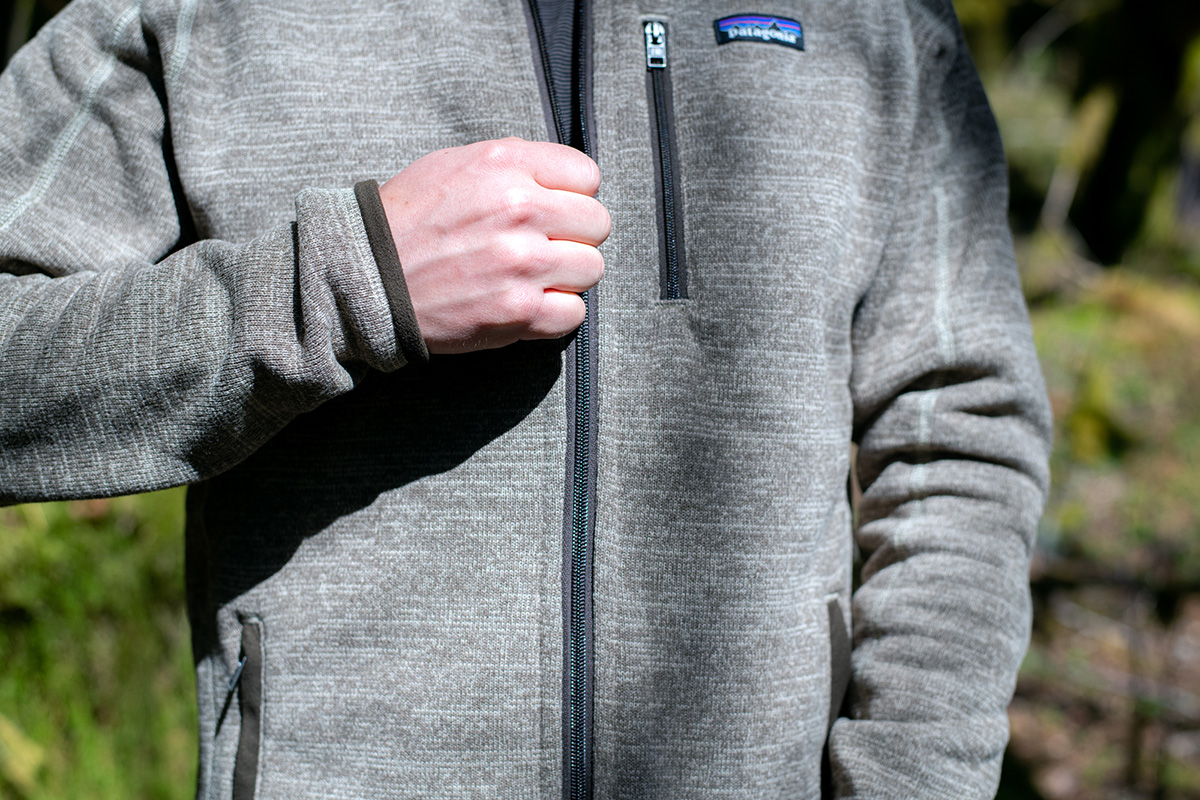 Key Features
Patagonia stuck to the basics with the Better Sweater's feature set, including a pretty standard but functional three-pocket layout and no adjustments at the hem. All three pockets are on the exterior, and I particularly appreciated the chest pocket, which was perfect for storing a phone while skiing (my large iPhone 11 easily slides in). This is one area where the Better Sweater gets the edge over the aforementioned Arc'teryx Covert Cardigan, which lacks a chest pocket (although you do get a laminated sleeve pocket). And all pockets have a plush and soft lining that gives them a nice, premium feel.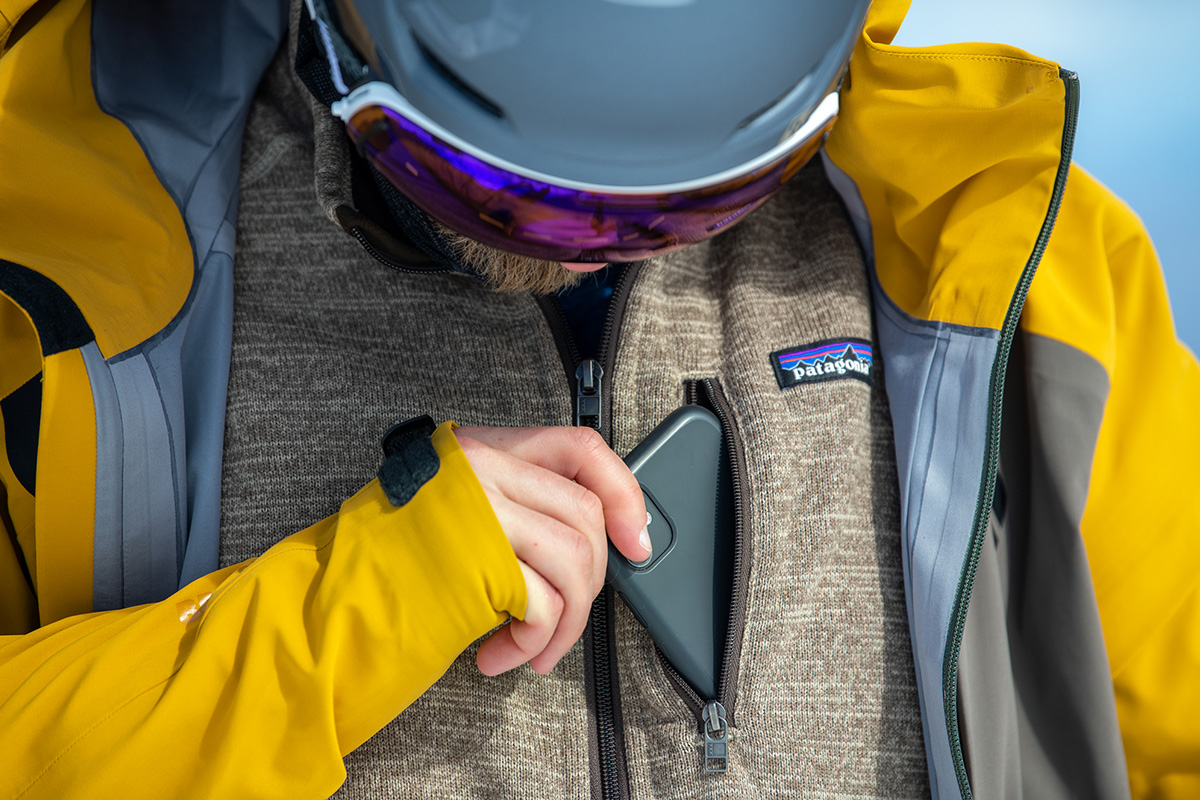 Fit and Sizing
Patagonia lists the Better Sweater's fit as "regular," and for the most part, I agree with that designation. At 5'9" and 155 pounds, I'm pretty consistently a men's size medium, and some Patagonia jackets like the Nano Puff are slightly big on me. That said, the Better Sweater fits me nicely in the torso—it's not trim, per se, but it's not boxy or bulky either. My only complaint is that the arms are a bit too snug, which was a little surprising given my fairly slim build. I can get away with wearing a lightweight long-sleeve or dress shirt underneath, but I would need to size up if I planned to layer anything more substantial. And a final note: there's no waist cinch, but there's enough elasticity at the hem that I don't anticipate this being a downside for most.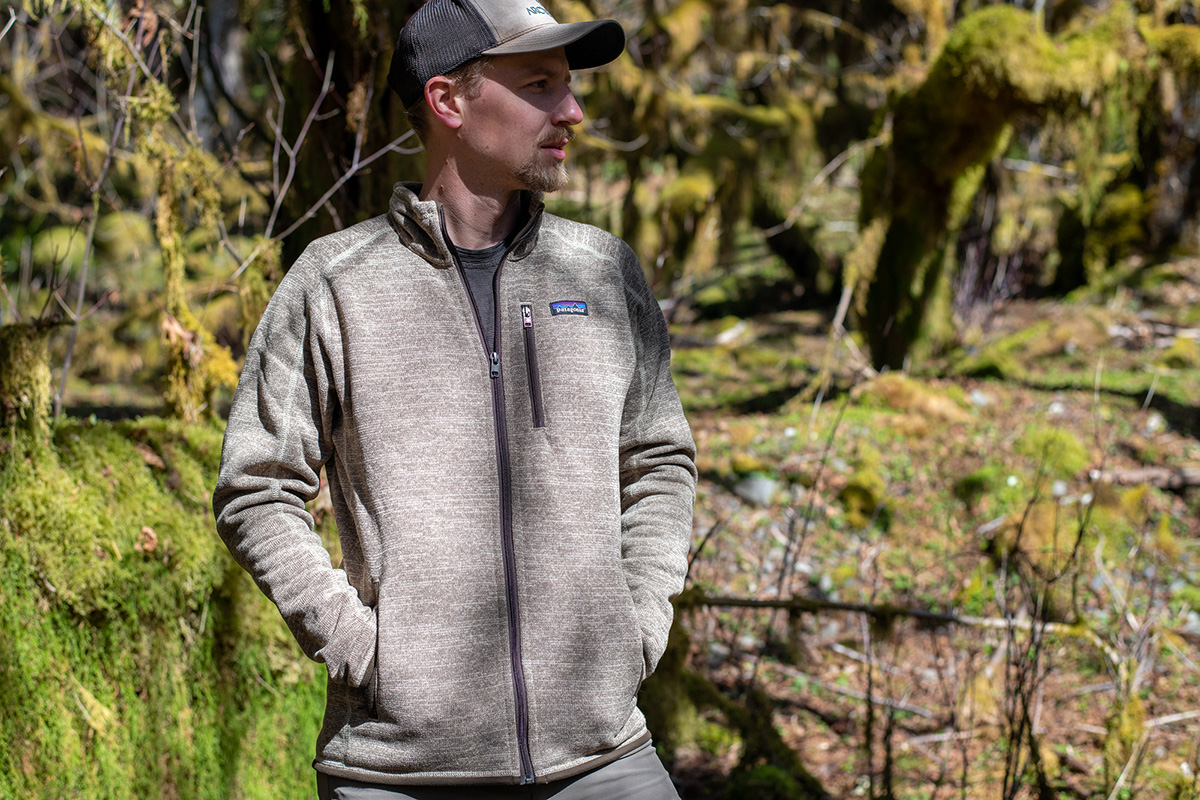 Sustainability
The Better Sweater exudes Patagonia's typical focus on sustainability, starting with the use of recycled materials. Specifically, the fleece is 100-percent-recycled polyester, which is dyed through a process that minimizes energy and water consumption. In addition, the jacket is also Fair Trade Certified sewn, indicating Patagonia put extra money into production to ensure workers are getting paid fairly and have access to resources like healthcare and childcare services. Finally, the Better Sweater is bluesign-approved, which means that the materials used are safe for workers, consumers, and the environment. All in all, we think these measures only add to the jacket's all-around appeal.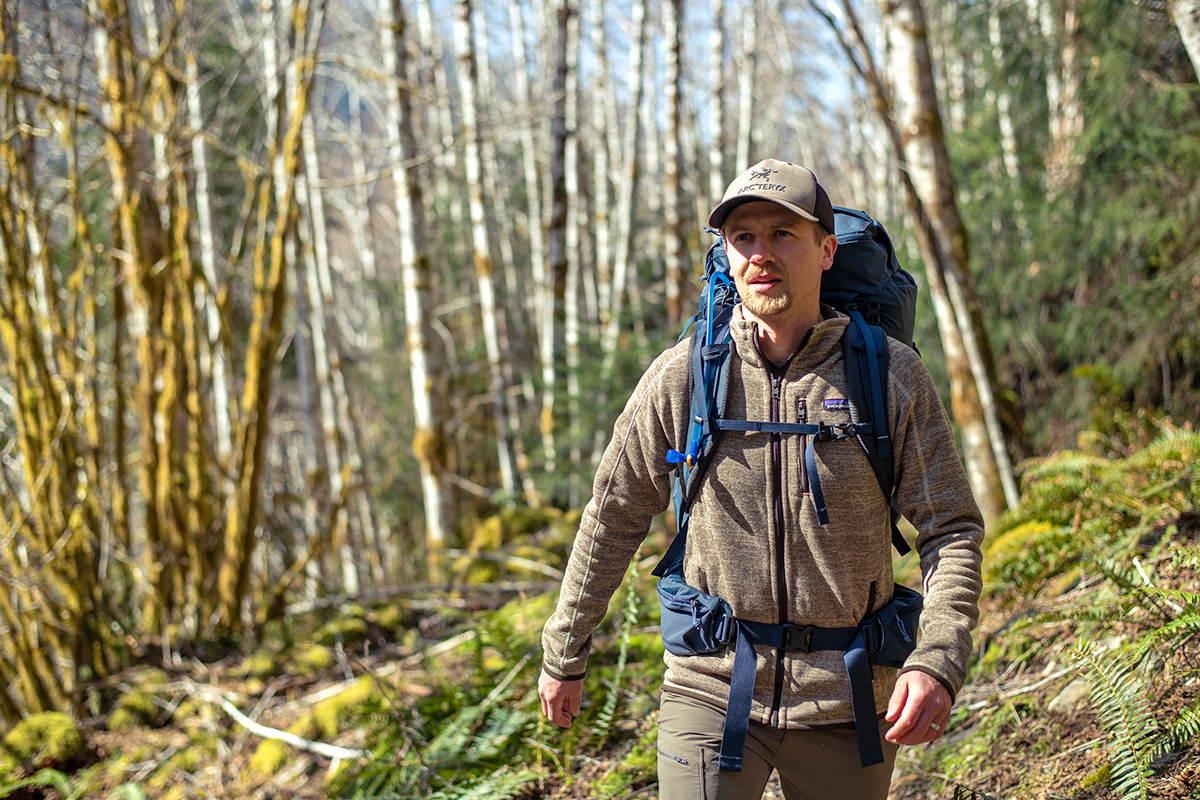 Other Versions of the Patagonia Better Sweater
Given its popularity, Patagonia's Better Sweater collection includes a couple other styles in addition to the standard full-zip men's jacket tested here. These include a vest, which retails for $99, and 1/4-zip jacket, which costs $119. All three styles are also sold in women's versions, which are nearly identical to their men's counterparts but come in different colorways and weigh slightly less. For example, the women's Better Sweater Fleece Jacket clocks in at 15.9 ounces compared to the men's version at 1 pound 6.5 ounces. We haven't had a chance to test the women's variation yet, but we expect overall performance to be very similar across the board.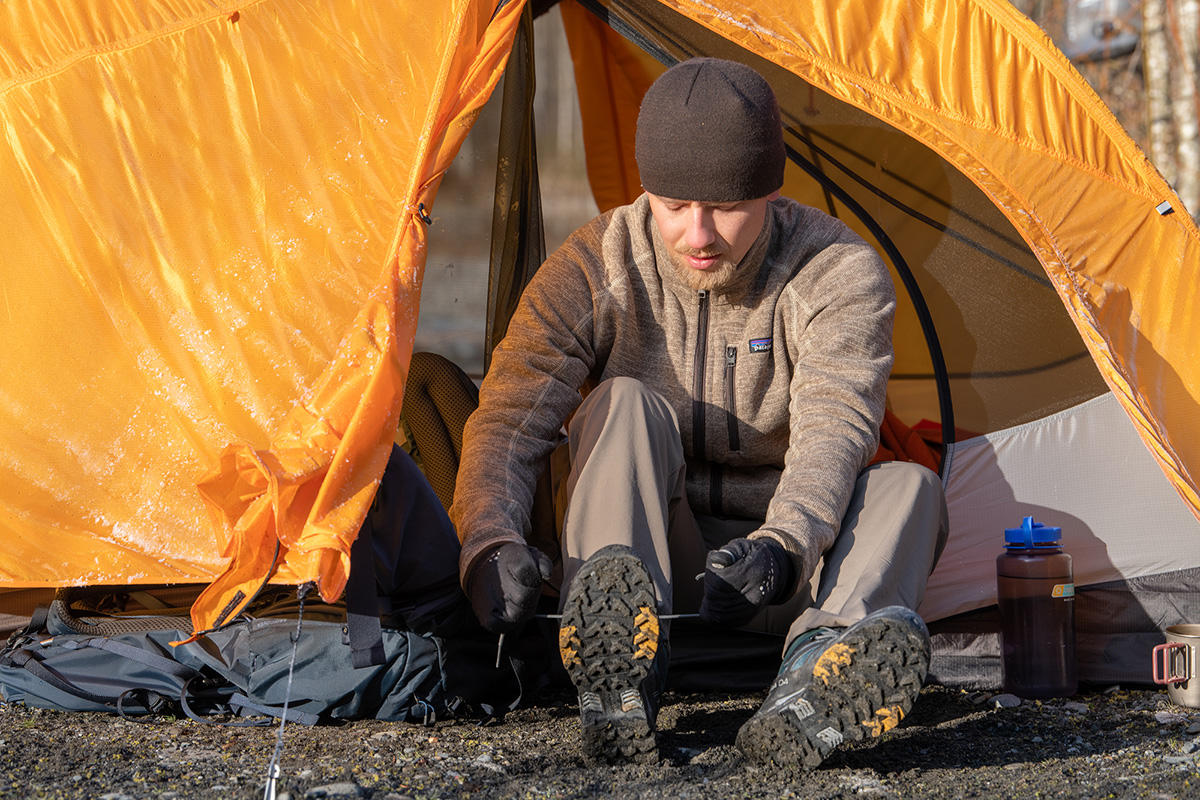 What We Like
Excellent level of warmth for cool fall and spring days, and it can go even lower if worn as a midlayer for activities like resort skiing.
Classy looks and cozy next-to-skin feel with a plush interior and plenty of "give" in the fabric.
Breathability is surprisingly good for lower-output uses like hiking and downhill skiing. 
Storage layout is simple but functional, including a large chest pocket that easily swallows a cellphone and a quality, soft lining along the interior of all the pockets.

What We Don't
Fairly porous knit design translates to subpar wind resistance—I needed to add a shell overtop to stay comfortable, even in light gusts.
There are warmer options for the weight—synthetic and down jackets both beat fleece in this regard—and the lack of hem cinch and relatively short collar detract from the jacket's heat-trapping capabilities.
I've experienced considerable pilling after just a few months of use, which requires some maintenance to mitigate.
Tight fit at the arms, which was surprising given my slimmer build.


Comparison Table

The Competition
Patagonia's Better Sweater is one of the most popular fleece jackets on the market for its classy looks and versatile performance for everything from daily wear to light outdoor activities. However, our favorite design this season is Arc'teryx's Covert Cardigan. Both are midweight fleeces with similar intentions, but the Covert is lighter at 1 pound 2.9 ounces, has a softer feel and more consistent fit (it's not overly tight in the arms like the Patagonia), and is the better wind blocker with an additional liner at the front. As we mentioned above, you don't get a chest pocket with the Arc'teryx, but the laminated sleeve pocket works well for stowing items like a license or credit card. And you do pay a little more for the Covert at $179, but many will find the advantages in fit and comfort worth that $40 price penalty (for more, see our Covert Cardigan review).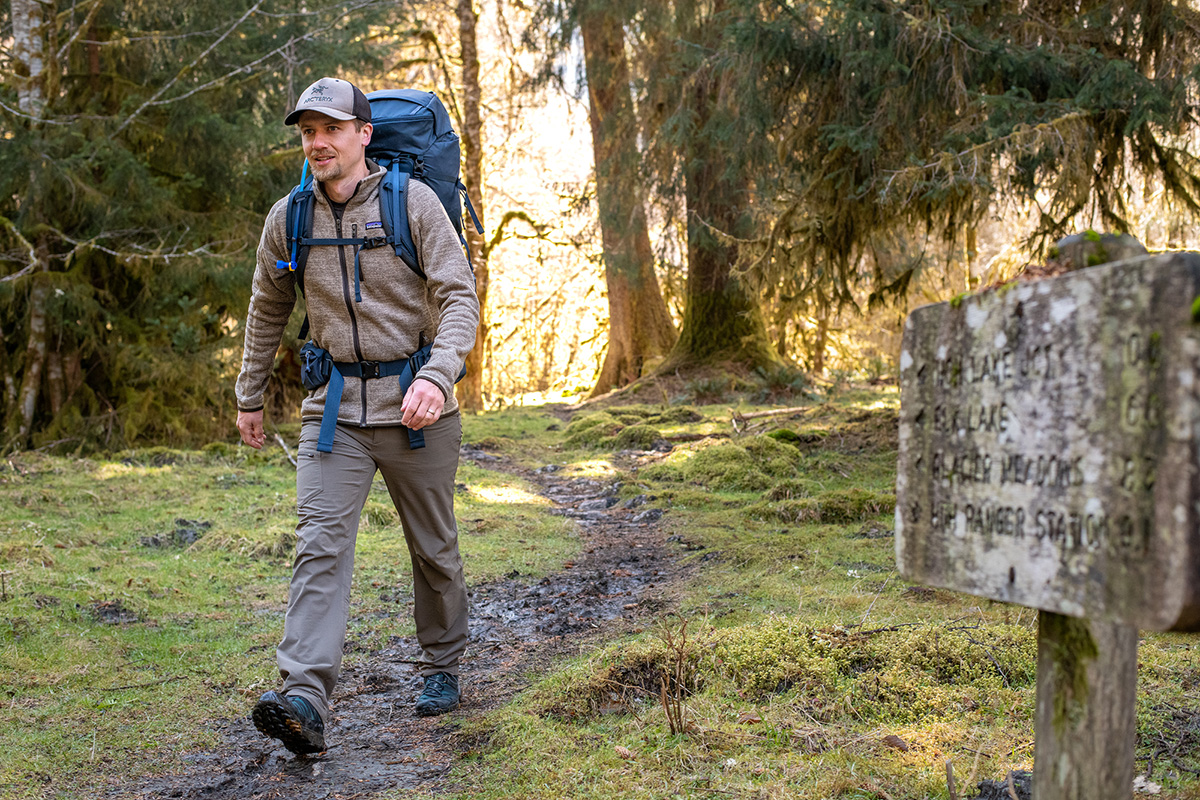 Another popular and versatile everyday fleece to consider is Kuhl's Interceptr Fleece Jacket. Like many Kuhl products, the Interceptr is well-made and a solid value at $129, and it also gets the edge over the Better Sweater in weight at 1 pound 3.2 ounces. However, Kuhl made some odd design choices for an everyday piece, including thumb loops and dual chest pockets that look a little awkward in certain colorways. For just $10 more, the Patagonia offers slightly more warmth in a similar design, albeit with a more streamlined and sleeker exterior. That said, styling is largely subjective, and a final decision will likely come down to preferences on features and looks.
Fjallraven is known for their rugged, quality designs, and their Keb Fleece Jacket is no exception. The jacket has a premium look and feel with a polyester and wool blend, which does a nice job maximizing warmth, stretch, and moisture-wicking abilities. Additionally, the shoulders are reinforced with the brand's signature G-1000 material, which adds a dose of durability, and you also get a nicely sized hood for extra coverage and protection. The Better Sweater wins out in everyday appeal with a more subdued and classic design, although the Keb still wears pretty well in the city. In the end, it's up to you whether or not those added features (including the hood, shoulder panels, and polyester/wool blend) are worth an extra $46.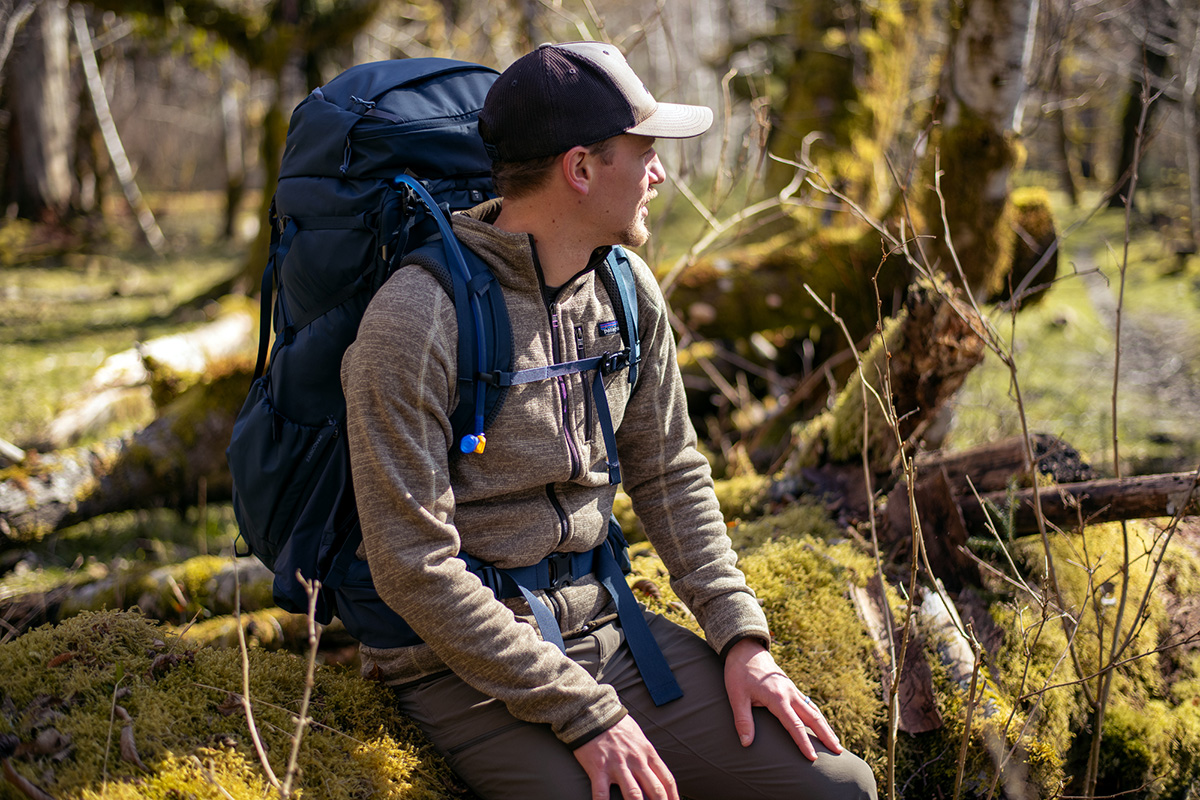 A final alternative to have on your radar comes from within Patagonia's own lineup: their Classic Synchilla Fleece Jacket. In parsing out the differences, the Synchilla has more of a traditional fleece appearance, costs significantly less at $99, and is lighter at 1 pound 0.1 ounce. Storage is similar between the two designs with three exterior pockets, but the Synchilla certainly looks and feels less special and is offered in fewer colorways (three at the time of publishing compared to the Better Sweater's whopping 11 variations). The savings are undeniably enticing, but we think the Better Sweater is worth the added investment as the more well-rounded and better-built Patagonia fleece.
If you're thinking about buying gear that we've reviewed on Switchback Travel, you can help support us in the process. Just click on any of the seller links above, and if you make a purchase, we receive a small percentage of the transaction. The cost of the product is the same to you but this helps us continue to test and write about outdoor gear. Thanks and we appreciate your support!
Depending on the seller, most products ship free in the United States on orders of $50 or more. International shipping availability and rates vary by seller. The pricing information on this page is updated hourly but we are not responsible for inaccuracies.
Read More From Switchback Travel