Arc'teryx Delta MX Hoody
Price: $179
Weight: 13.1 oz. (men's large)
Fleece weight: Lightweight
What we like: Breathable, comfortable, and highly mobile—a great option for alpine pursuits and active use in the shoulder seasons.
What we don't: Too warm for high-output activities in mild conditions.
See the Men's Arc'teryx Delta MX  See the Women's Arc'teryx Delta MX
For a more breathable alternative to down and synthetic jackets, many active outdoor-goers turn to fleeces. Arc'teryx is a leader in the performance category, and their Delta series is a standout for high-output pursuits like climbing, skiing, and hiking. We took the Delta MX (short for "mixed weather") backpacking in the Canadian Yukon and found it to be an impressive insulator in the chilly fall temperatures. It's too warm for working hard in mild conditions and will wet out in sustained moisture, but it's a highly capable option for alpine climbing and demanding shoulder-season adventures. Below are our thoughts on the Delta MX. To see how it stacks up to the competition, see our article on the best fleece jackets.
 
---
Table of Contents
---

Performance
Breathability
Performance-focused fleeces are often highly breathable for active pursuits in the mountains, and Arc'teryx's Delta MX Hoody is a true standout in this regard. While backpacking in Tombstone Territorial Park in the central Yukon, the mornings were cool and the weather variable, with intermittent storms cropping up throughout the day. Overall, the Delta MX was able to keep me comfortable while wicking sweat, even during heavy exertion on long, arduous climbs over steep shale. The Polartec PowerDry fabric helps a lot here: the material is grid-like and air-permeable, allowing air to flow through the tiny squares without letting too much heat escape. It's often a fine balance between breathability, moisture wicking, and warmth, and I think Arc'teryx landed in a really versatile spot with the Delta.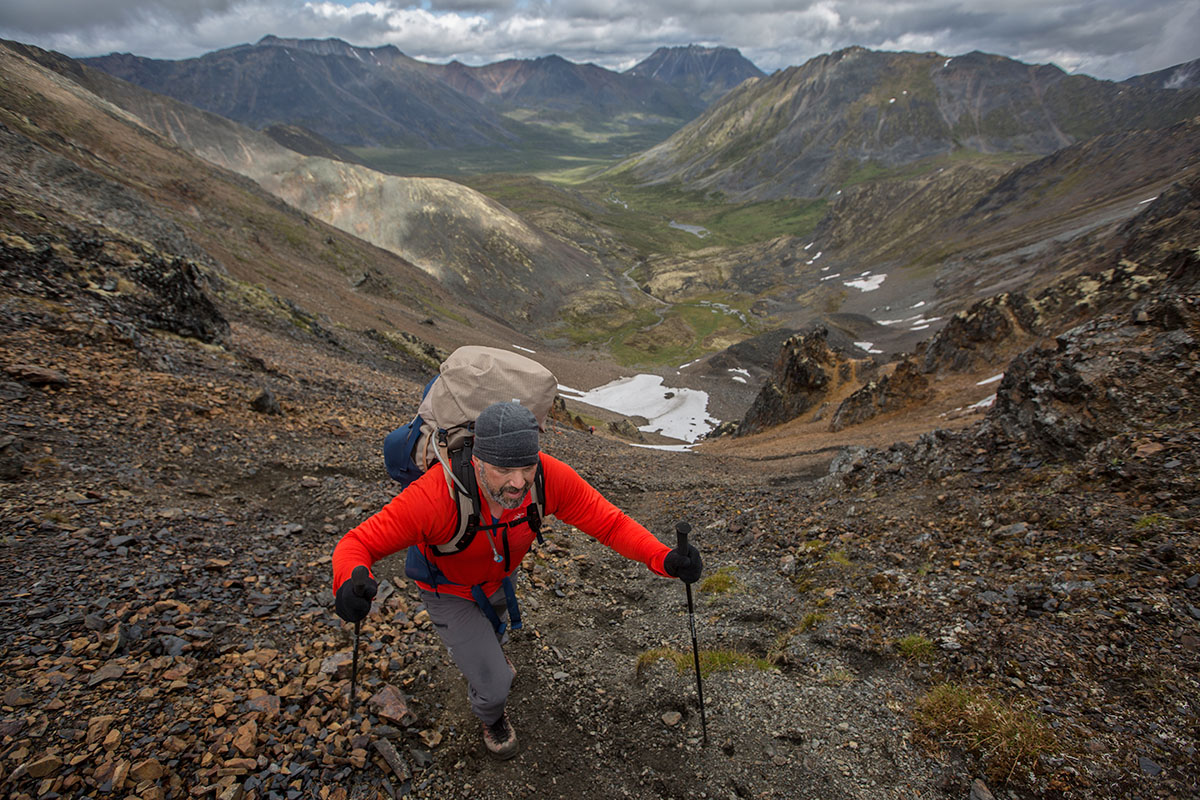 Warmth
The Delta MX was a great match for our backpacking trip in chilly fall weather, but I've found it runs too warm for high-output pursuits in milder conditions. As a standalone piece, it kept me comfortable in the cool Yukon evenings, and paired underneath my Arc'teryx Cerium SL Hoody, I was able to keep warm on brisk mornings while filtering water and eating breakfast. Additionally, the thumbholes at the cuffs act as partial gloves and were a great feature for holding my morning coffee and taking photos in colder temps, and the hood boasts a built-in balaclava that can be donned in heavy winds or on especially frigid days. And the hood itself is well-designed, offers a snug fit, and provided the perfect amount of insulation in strong gusts and on cool mornings (more on these features below). Again, I wouldn't wear the Delta while working hard on warm days, but it's a nice option for activities like alpine climbing and shoulder-season hiking, backpacking, and biking.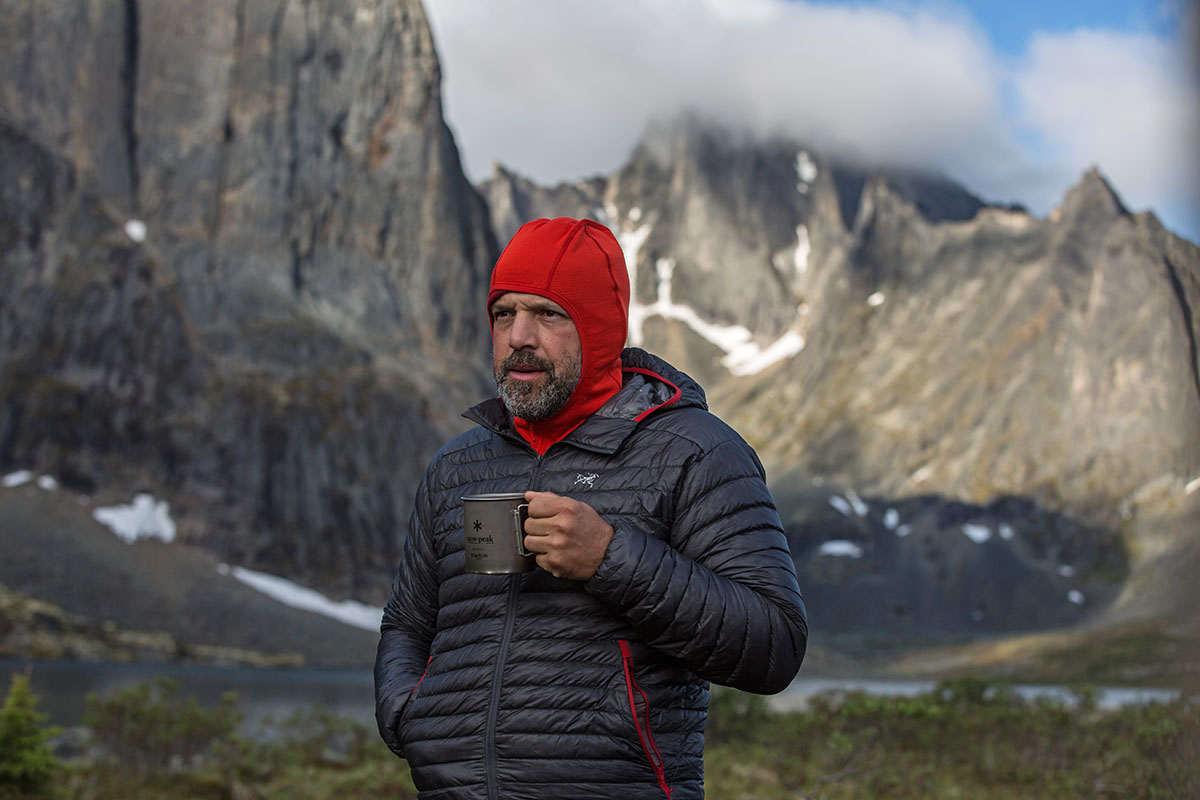 Comfort
 In terms of comfort, the Delta MX scores high marks across the board. The gridded Polartec fabric is noticeably soft against the skin and has a nice stretch to it when reaching above your head, putting gear in a cargo roof box, climbing, or bending down to tie boot laces. Further, I often have chafing issues at the armpit area, but the Delta MX fits well all around and is supple enough that I wore it as my sole layer on multiple occasion without issue. And finally, the collar guard keeps my facial hair from snagging in the main zipper—a subtle but very thoughtful touch. All in all, this is a hoody I turn to for all kinds of activities, from lounging around the house to backpacking in the mountains, which is a true testament to its all-around comfort.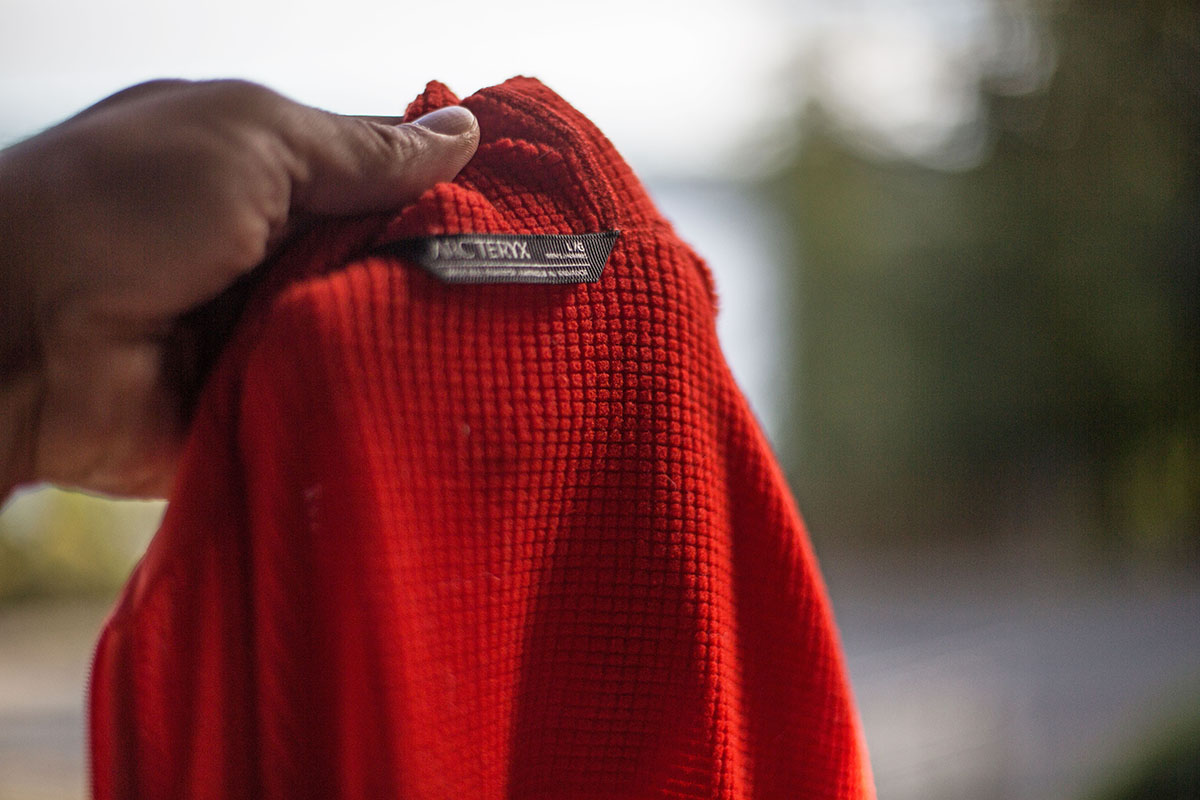 Weather Resistance
The Delta MX can fend off light water and wind just fine, but don't expect it to hold up in sustained moisture or heavy gusts. In these conditions, I'd highly recommend adding a hardshell or rain jacket overtop to protect against the elements and prevent the jacket from wetting out. That said, I did wear the hoody while exerting on several rainy days in Tombstone Territorial Park and found that while it did soak through, I was able to stay comfortable and warm. And as a bonus, the Polartec fabric dried out pretty quickly. Again, the Delta MX shouldn't be a primary layer of defense in wet and rowdy conditions, but it's perfectly serviceable for light drizzles and chilly evenings at camp. And when the skies really open up, the trim fit makes it very easy to layer under a waterproof shell (more in "Fit and Sizing" below).
 
Weight and Packability
My men's large Delta MX weighed in at 13.1 ounces (the listed weight is 12.6 oz.), which is on the lighter end of the fleece jacket spectrum, even when stacked up to other technical performance options. For comparison, Patagonia's similar R1 TechFace Hoody clocks in at 13.8 ounces, Arc'teryx's own Delta LT Hoody is 10.1 ounces, and their Fortrez Hoody weighs 13.2 ounces. And when it comes time to stuff it down, the Delta MX rolls down nicely into its own hood. There are no hood adjustments, so it can't be compressed further, and the packed size isn't all that impressive, but you can always purchase a small compression sack separately if space is at a real premium.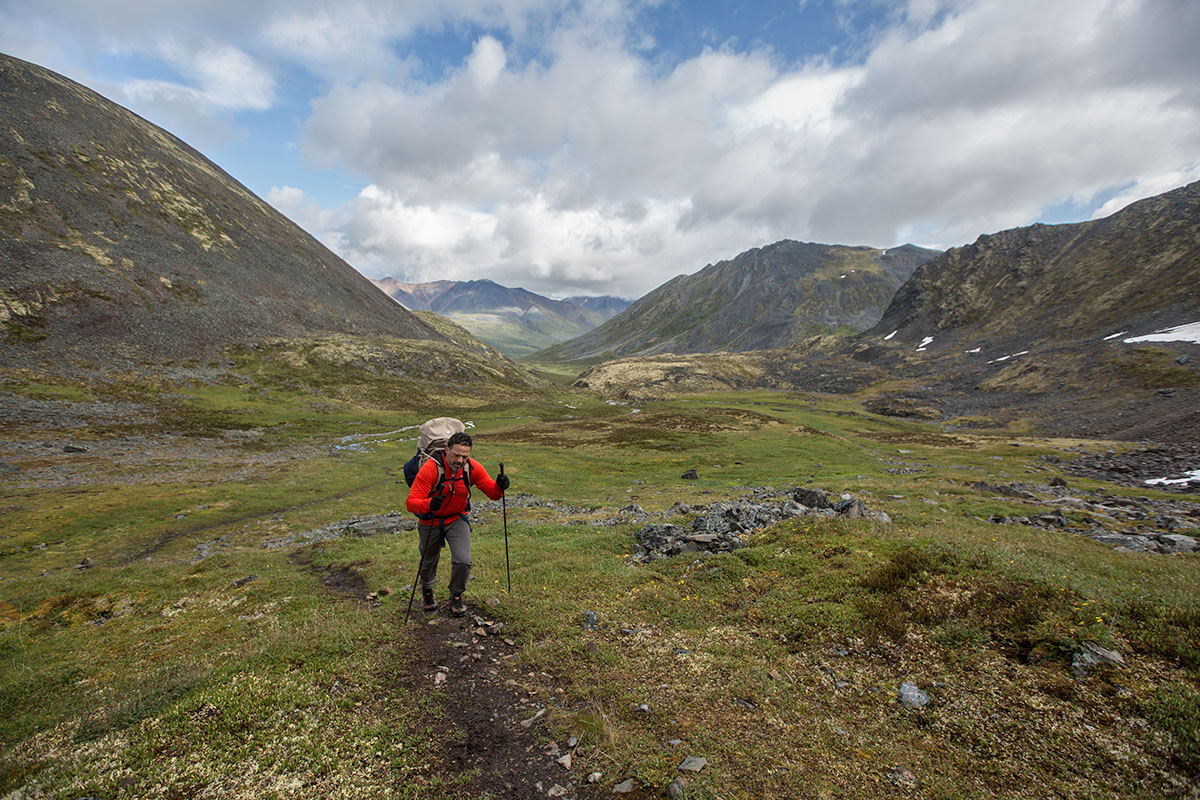 Key Features
Hood and Mask
As I touched on above, the Delta MX's hood provides excellent protection from wind and cool air. It fits close to the head and doesn't flop around but is still roomy enough to comfortably accommodate a winter beanie underneath. For those bringing the Delta MX into the alpine, it can also be worn under a hood or climbing helmet. And as a final bonus, the hood has an integrated face mask/balaclava, which is highly functional and can act as a neck buff or full-face mask to protect from high winds, cool air, dust, etc. And when not in use, the mask tucks nicely into the back of the hood—in fact, it's so unobtrusive that I didn't know the hoody had this feature until a few days into a backcountry trek.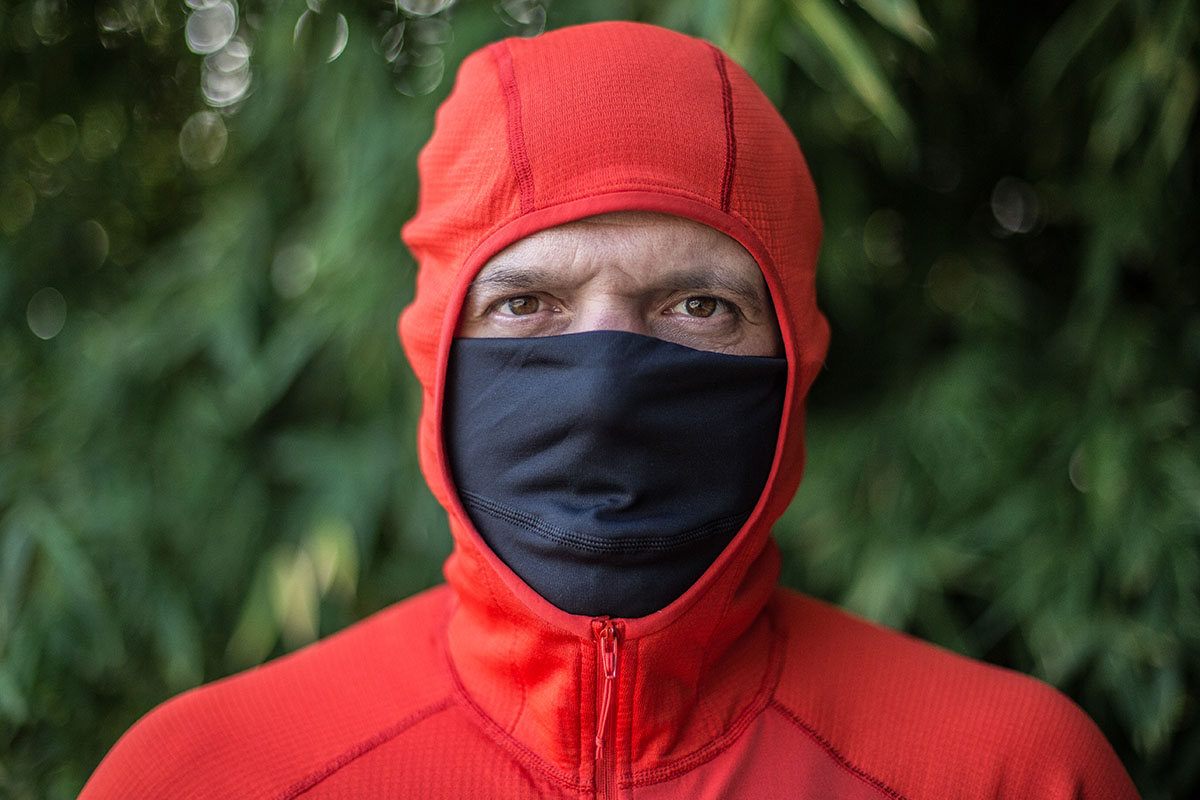 Storage: Pockets
The Delta MX comes nicely appointed in the storage department with two hand pockets and one outer chest pocket. The hand pockets easily swallow a hat or gloved hands, and the mesh backings do a good job releasing excess heat. At one point, I accidentally left my merino hat in the pocket after sweating through it on a steep climb, and the pocket did a decent job drying it out as I finished the hike. Rounding out the storage, the chest pocket is a good spot to stow items that I don't need access to frequently, including my camera memory card or map. I prefer not to put important items in the hand pockets as it's far too easy to lose them with the constant opening and closing, so the chest pocket is the perfect place for these.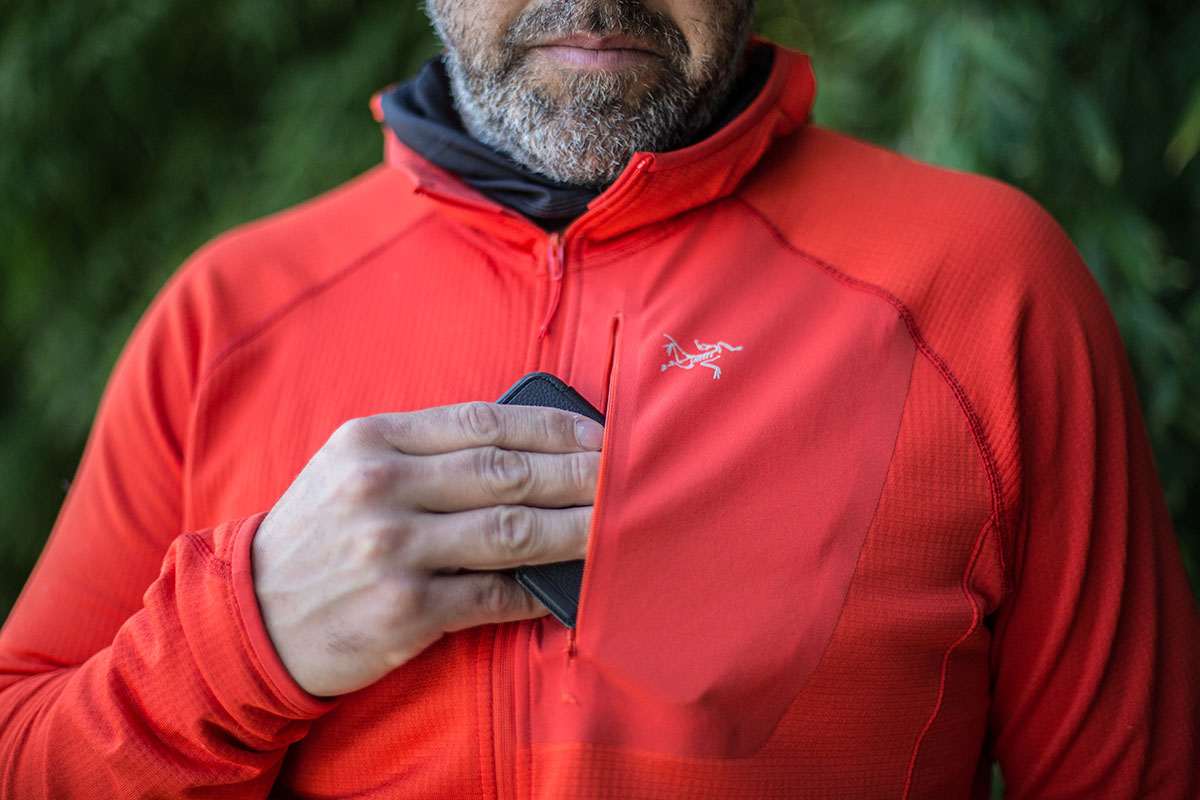 Thumb Loops
A small but thoughtful feature, the Arc'teryx Delta MX's thumb loops add a nice dose of warmth to my hands when needed but still allow plenty of dexterity and mobility (all other fingers remain free). They're also helpful for layering: rather than having to hold the sleeves in place, the thumbholes help keep them secured so that you can easily pull a jacket overtop. And a final bonus that I hadn't previously considered: they allowed me to hold my piping-hot titanium coffee mug each morning at camp without burning my hands. These aren't a must-have feature by any means, but I appreciate the attention to detail.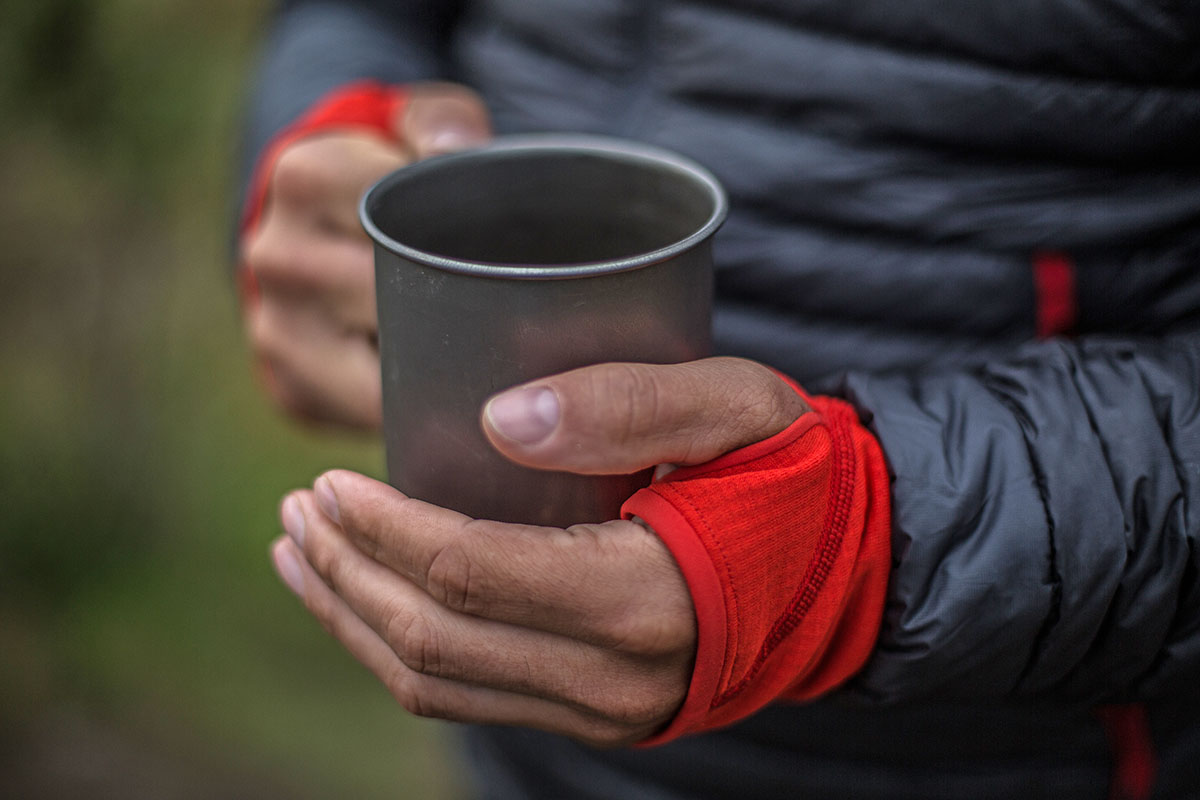 Build Quality and Durability
Arc'teryx is known for their focus on quality and craftsmanship, and that comes across clearly with the Delta MX. As I touched on above, the feature set is functional and well-executed, the fit is flattering, and the hoody has a nice, sleek look. My only concern is that the lightweight Polartec fabric could snag and pill over time, which is a known downside to fleece jackets, but I haven't had any issues to date (Arc'teryx recommends air-drying the hoody to extend its lifespan). And on the bright side, the jacket is mobile and stretchy enough that this isn't too big of a worry, especially if you follow the aforementioned care instructions.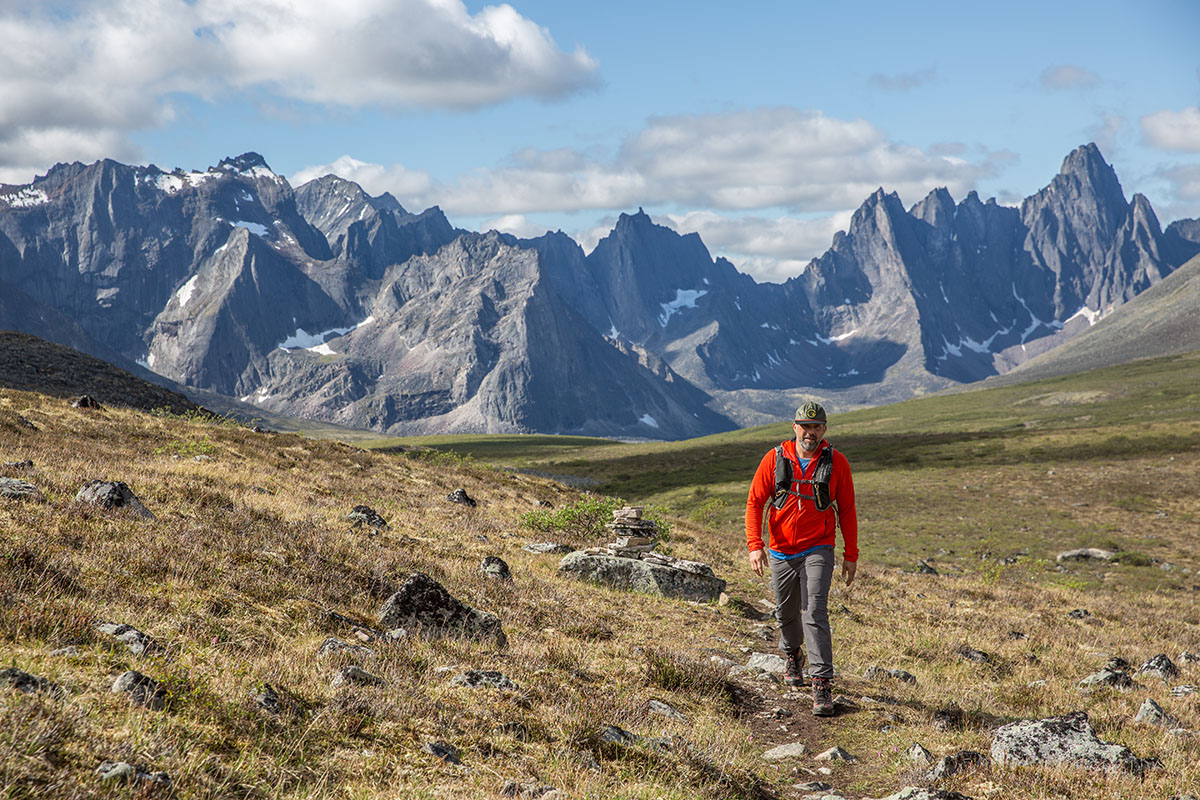 Fit and Sizing
I opted for my usual men's size large and found that the Delta MX fit true to size. Arc'teryx labels the jacket as "trim," and I mostly agree with that designation: the hoody isn't overly tight, but it does have a decidedly fitted and athletic cut. Additionally, the outer fabric is smooth enough that I'm able to easily add a midlayer or hardshell jacket without any catching or snagging. Another selling point is mobility: though I only wore it while hiking, this hoody is designed with climbers in mind, with articulated patterning and gusseted underarms that allow for great range of motion. Finally, I love the longer length (the jacket runs 28.5 in. down the back), which keeps it from riding up under a pack but can still be tucked into pants or shorts if that's your preference.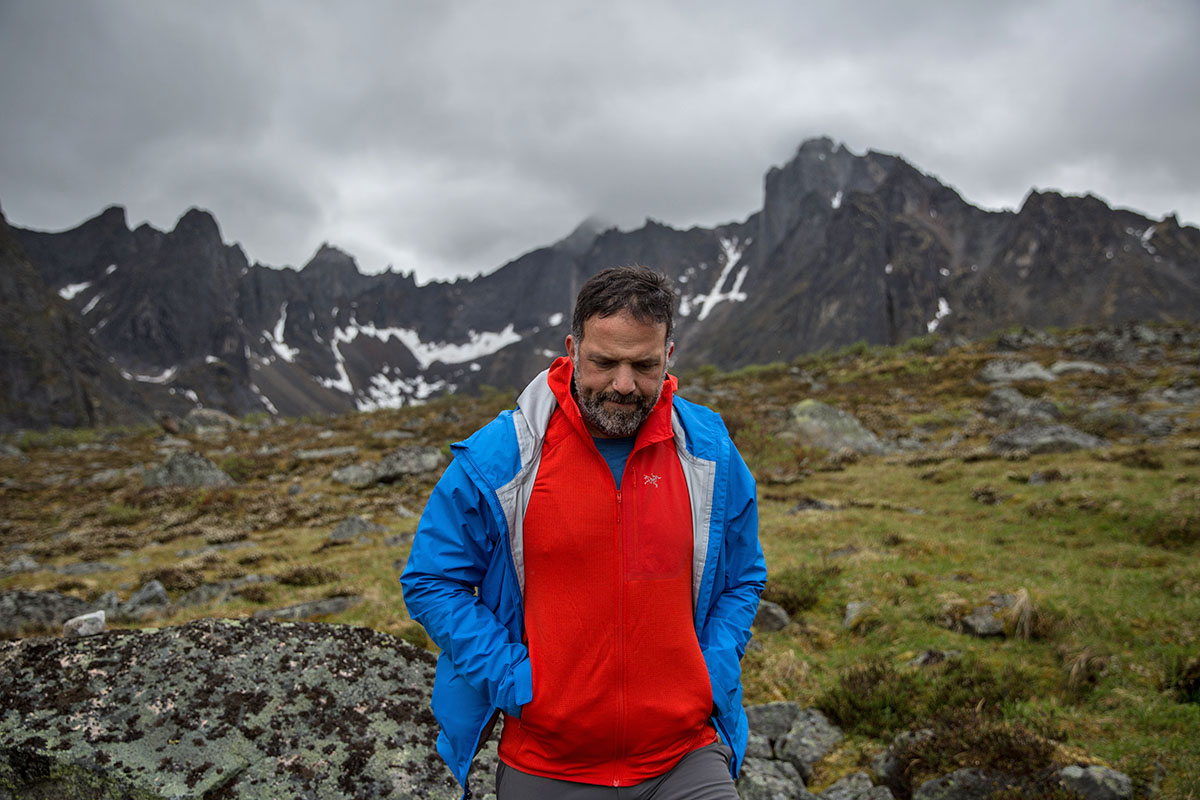 Other Versions of the Arc'teryx Delta MX 
In addition to the men's Delta MX Hoody tested here, Arc'teryx also makes the jacket in a women's version and 1/2-zip variation for both men and women. The women's Delta MX Hoody costs the same at $179 and sports an identical feature set and build, including the balaclava-style hood, thumbholes to keep the sleeves out of the way, Polartec PowerDry construction, and three total pockets. The women's jacket is shorter at 25 inches down the back, weighs less at 10.3 ounces, and comes in different colorways, but otherwise you can expect very similar overall performance. Rounding out the Delta MX lineup, the 1/2 Zip Delta MX Hoody forgoes the full main zipper of the version tested here, sports a single chest pocket, and comes in $10 cheaper at $169, but all other features remain the same.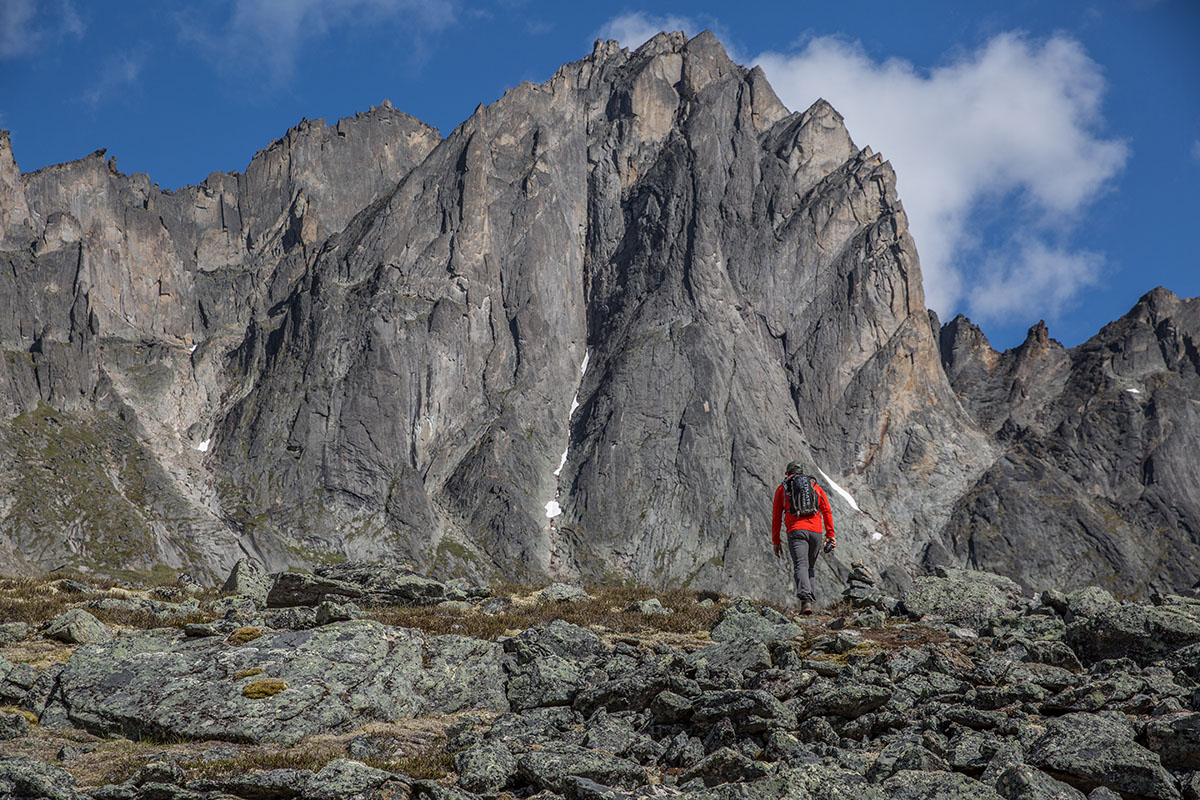 What We Like
Excellent fit, highly mobile, and the Polartec PowerDry is very comfortable against the skin.
Functions well as both a standalone piece in mild conditions or a midlayer in cooler temperatures or inclement weather.
Breathes well during high-output activities, especially in the shoulder seasons and the alpine.
Reasonably light for a fleece hoody, especially considering the level of warmth and number of features.
Well-thought-out feature set, including functional storage, an integrated face mask, and thumb loops.

What We Don't
Polartec fabric is fairly thin and could be susceptible to snags, but we haven't had any issues to date.
Don't expect hardshell levels of protection—despite the "mixed weather" designation, this jacket wets out quickly in sustained moisture.
Too warm for highly aerobic activities in mild weather.


Comparison Table

The Competition
Arc'teryx's Delta MX is a highly capable and backcountry-ready fleece jacket that performs well during active pursuits in the mountains. From within the same Delta lineup, we also like the LT Hoody (short for "lightweight"). What are the differences between the two Deltas? For starters, the LT weighs less at 10.1 ounces, features a different pocket layout with two hand pockets and one sleeve pocket on the left bicep, has a more layering-friendly and accommodating "regular" fit, and is about an inch shorter. The LT also uses a thinner Polartec construction that's a better match for intensive activities in mild weather, and its hood foregoes the integrated face mask. Overall, we think the LT is the slightly more versatile Delta and the better value: it crosses over better for around-town wear, can be worn in a wider range of temperatures, and costs $20 less.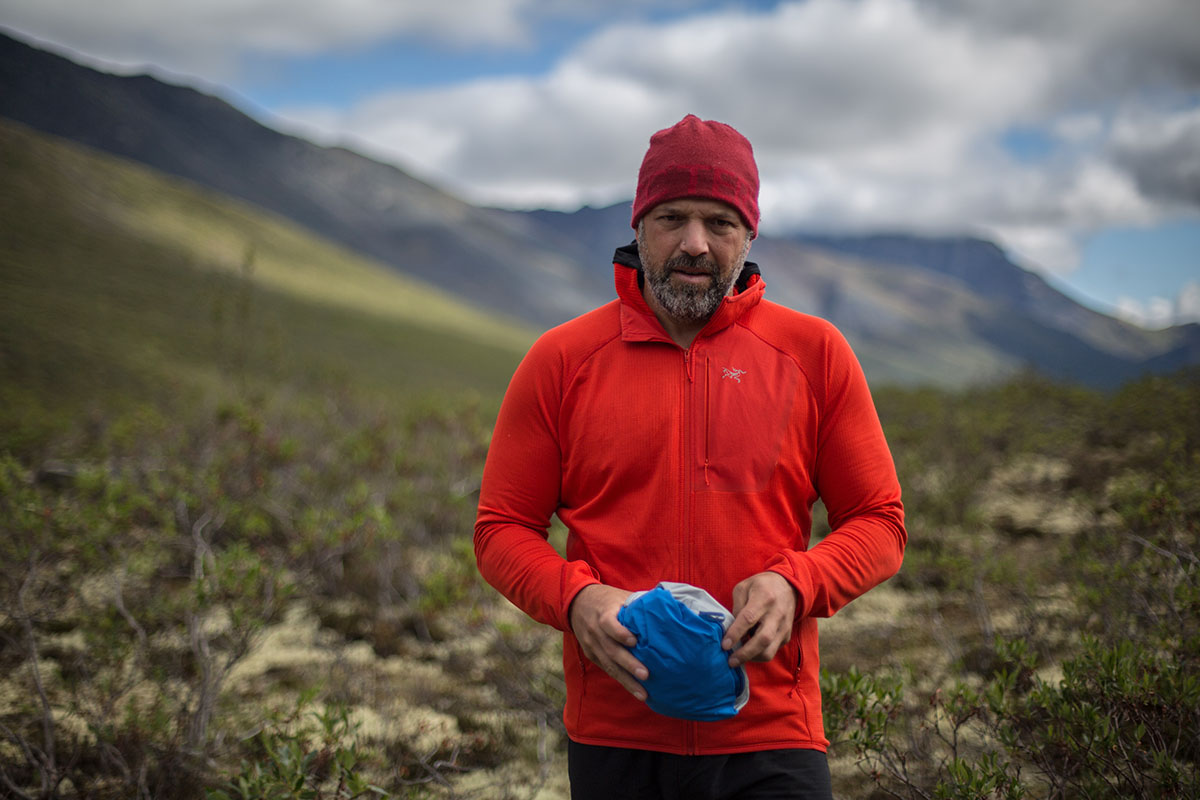 Patagonia is another big name in the performance fleece category, and their Delta MX equivalent is the R1 TechFace Hoody. Stacked up against the Delta, the R1 offers a bit more protection against wind and rain but clocks in heavier at 13.8 ounces, is less breathable, and feels slightly less soft against bare skin (although both are very comfortable). Both look great and have the fit and finish we've come to expect from these two premium brands, although the MX is a bit more fitted overall and has a cleaner look, in our opinion. However, the R1 packs down smaller and can be cinched with a hood adjuster, which is a nice bonus for stuffing into a pack (for more, see our R1 TechFace review). It's a close call between two capable and backcountry-ready fleeces, but we give the nod to the Arc'teryx for its lower weight and superior breathability.
For a step up in price ($225) and warmth (midweight), Arc'teryx's own Fortrez Hoody is a nice option for cold-weather activities. The Fortrez wins out in durability with a tough Polartec Power Stretch with Hardface build, which is more abrasion-resistant than the Delta MX's PowerDry construction. Weight also goes up slightly to 13.2 ounces, but most other features remain the same, including a built-in neck gaiter, trim fit, three total pockets, and chin guard for added comfort. A final decision between the two will come down to priorities and how you plan to spend your time: for skiing and other active winter pursuits, the Fortrez will provide ample warmth and durability; for shoulder-season backpacking, hiking, and climbing, we like the lighter and more breathable Delta MX.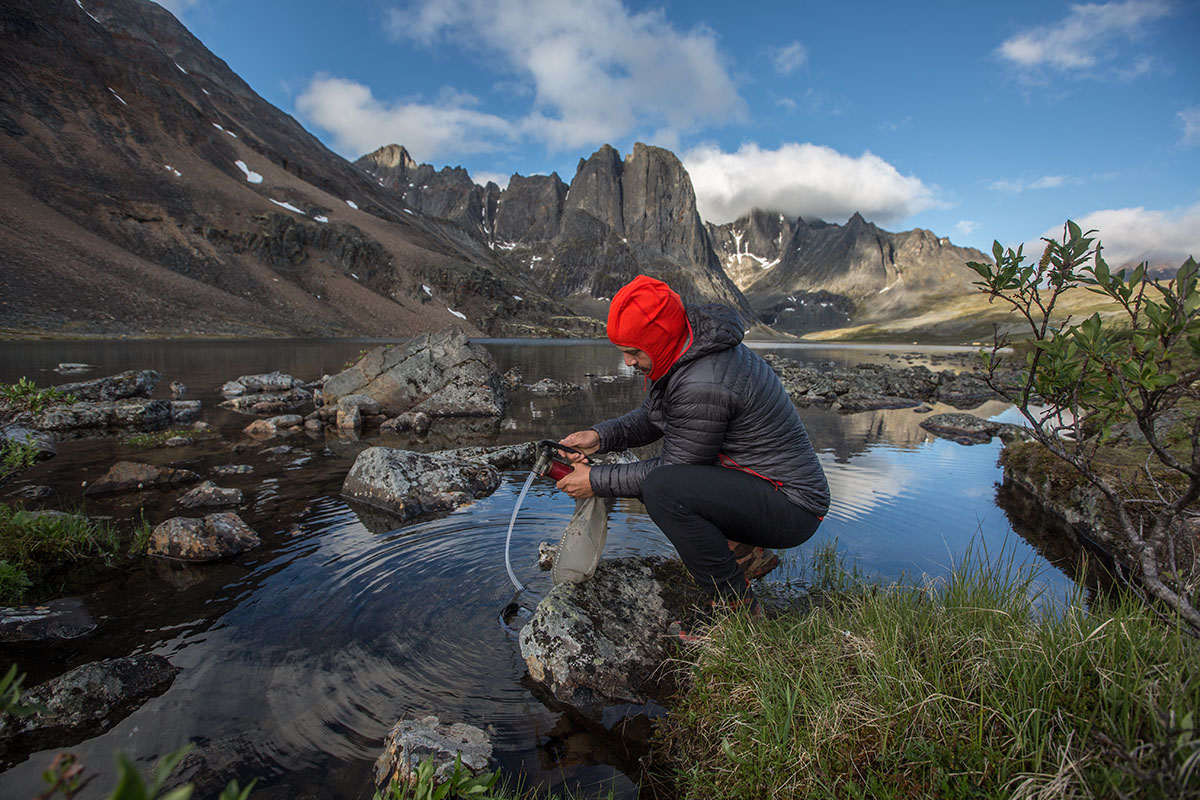 Staying within Arc'teryx's lineup, another performance-focused fleece to consider is their Kyanite Hoody, which shares a lot in common with the Delta MX. Both jackets cost $179, have trim fits that layer well under a shell, are great breathers, and offer excellent mobility. However, the Kyanite uses Polartec's Power Stretch Pro fabric, which is more robust than the Delta MX's construction (the tradeoff is a slight weight penalty, with the Kyanite clocking in at 15 oz.). The Kyanite also foregoes features like thumb loops and a neck gaiter, and the outer fabric is smooth rather than grid-like, which crosses over better for casual wear. Given the similarities in cost and overall performance, we prefer the lighter and more fully featured Delta, but the Kyanite isn't far behind.
Last but not least, for high-output use on warmer days, it's worth considering a thinner design like the Mountain Hardwear Type 2 Fun Hoody. Similar to the Delta MX, the Type 2 Fun is a performance piece that's lightweight (11.8 oz.), very comfortable against the skin, and highly mobile and breathable. However, the Mountain Hardwear has a 3/4-zip design rather than a full main zipper (it's also available in a full-zip, hoodless variation), boasts only a single chest pocket, and is too thin for truly cold-weather outings (although it can double as a baselayer in these conditions). Depending on your objectives and how you plan to layer, the Type 2 Fun could be a good match. But the Delta MX strikes us as the more well-rounded fleece, and it crosses over better for around-town use too.
If you're thinking about buying gear that we've reviewed on Switchback Travel, you can help support us in the process. Just click on any of the seller links above, and if you make a purchase, we receive a small percentage of the transaction. The cost of the product is the same to you but this helps us continue to test and write about outdoor gear. Thanks and we appreciate your support!
Depending on the seller, most products ship free in the United States on orders of $50 or more. International shipping availability and rates vary by seller. The pricing information on this page is updated hourly but we are not responsible for inaccuracies.
Read More From Switchback Travel