Arc'teryx Delta Hybrid Hoody
Price: $200
Weight: 9.5 oz. (women's small)
Fleece weight: Lightweight
What we like: Well-executed hybrid design nicely balances breathability, wind resistance, and comfort.
What we don't: Minimally insulated—this piece is meant to be worn while moving.
See the Women's Delta Hybrid Hoody  See the Men's Delta Hybrid Hoody
For a more breathable alternative to down and synthetic jackets, many active outdoor-goers turn to fleeces. Arc'teryx is a leader in the performance category, and their Delta Hybrid Hoody is purpose-built for active pursuits like climbing, skiing, and hiking. We recently put the women's model to the test in southern Patagonia and back home on Vancouver Island and were impressed by the jacket's deft balance of breathability, wind resistance, and comfort. The Delta Hybrid isn't the most versatile option for wearing during low-output activities or around town, but it does what it's built for extremely well. Below are our thoughts on the Delta Hybrid Hoody. To see how it stacks up to the competition, see our article on the best fleece jackets.
 
---
Table of Contents
---

Performance
Breathability
Performance-focused fleeces are often highly breathable for active pursuits in the mountains, and Arc'teryx's Delta Hybrid Hoody is a true standout in this regard. The Polartec Power Dry fabric is largely responsible: The material is grid-like and air-permeable, allowing air to flow through the tiny squares without letting too much heat escape. In testing, I've found it to be a great match for everything from backpacking in temperatures that reached into the low 60s Fahrenheit to running in the lower 40s, which is an impressively wide range—especially considering the difference in output between the two activities. For reference, I've never overheated in the jacket even when running in full sun, and it's done a great job at wicking moisture and keeping me sweat-free. The nylon overlay at the front does compromise a little on all-out breathability—there's an obvious difference in airflow between the chest and back—but the boost in wind resistance (which we cover more below) is worth it, in my opinion.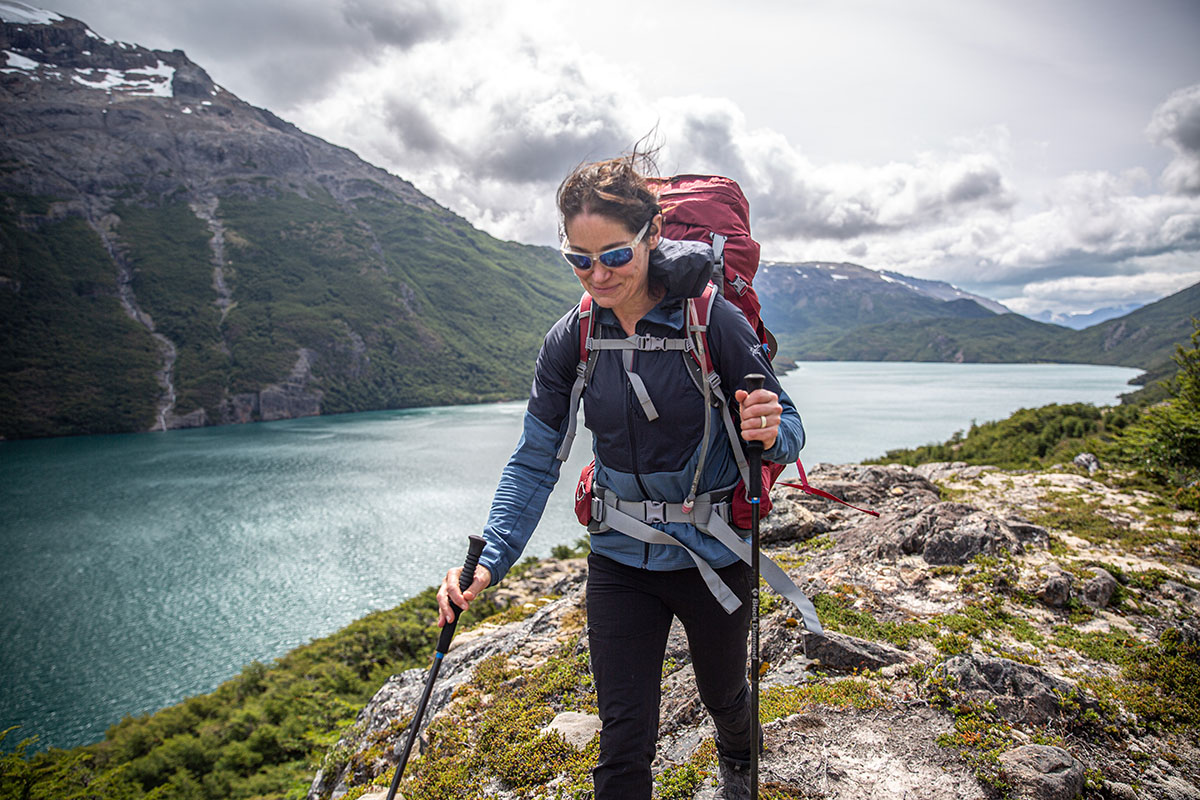 Warmth
The Delta Hybrid is good at taking the edge off in cold conditions, but there's no question that this is meant to be an active piece. While running, I found the jacket to be comfortable down to around freezing with just a T-shirt underneath, but the gridded fleece is thin and offers minimal protection from the cold once you stop moving. This was especially obvious during our final overnight in Patagonia: I was perfectly comfortable wearing the Delta Hybrid with a lightweight baselayer (the Arc'teryx Rho) underneath while hiking up a pass, but once we started descending to camp, I needed to throw on my hardshell jacket to stay warm.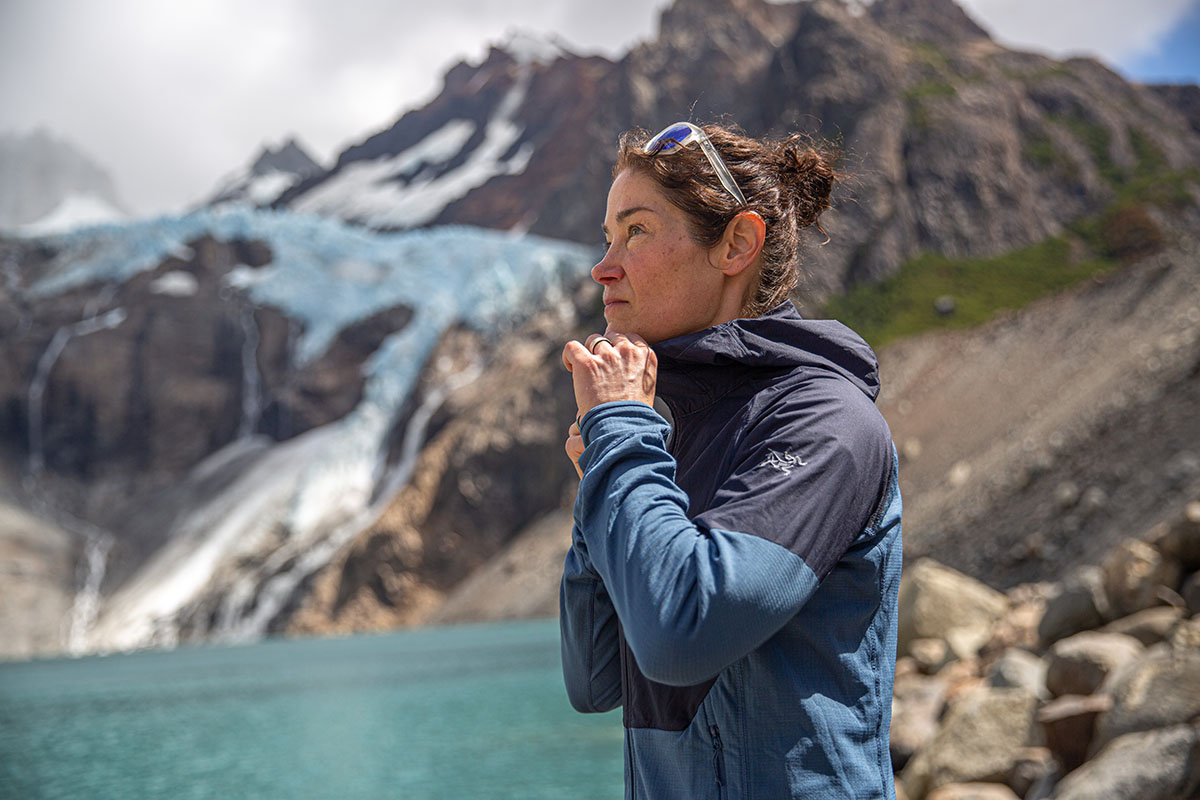 As we touched on above, Arc'teryx did include a generous nylon overlay at the front for fending off wind, and protection extends to the top of the tall collar—great for tucking into in blustery weather. The hood also offers a just-right amount of insulation to replace a lightweight beanie. But again, the Delta Hybrid isn't warm enough for low-output pursuits or wearing around town in the cold. For those uses, we'd opt for a thicker and less air-permeable design like Arc'teryx's own Kyanite Hoody or Rab's Capacitor Hoody.

Weather Resistance
The Delta Hybrid Hoody can fend off light water and wind just fine, but don't expect it to hold up in sustained moisture or heavy gusts. In these conditions, I'd highly recommend adding a hardshell or rain jacket overtop to protect against the elements and prevent the jacket from wetting out. That said, I did wear the hoody on several misty day hikes in Patagonia, and the generous nylon overlay was effective at keeping the light moisture at bay. The jacket also did an adequate job at fending off moderately strong winds, although I should note that the back (which is all air-permeable fleece) was protected by my backpack. Again, the Delta Hybrid shouldn't be a primary layer of defense in wet and rowdy conditions, but it's perfectly serviceable for light drizzles and chilly evenings at camp. And when the skies really open up, the trim fit makes it very easy to layer under a waterproof shell (more in "Fit and Sizing" below).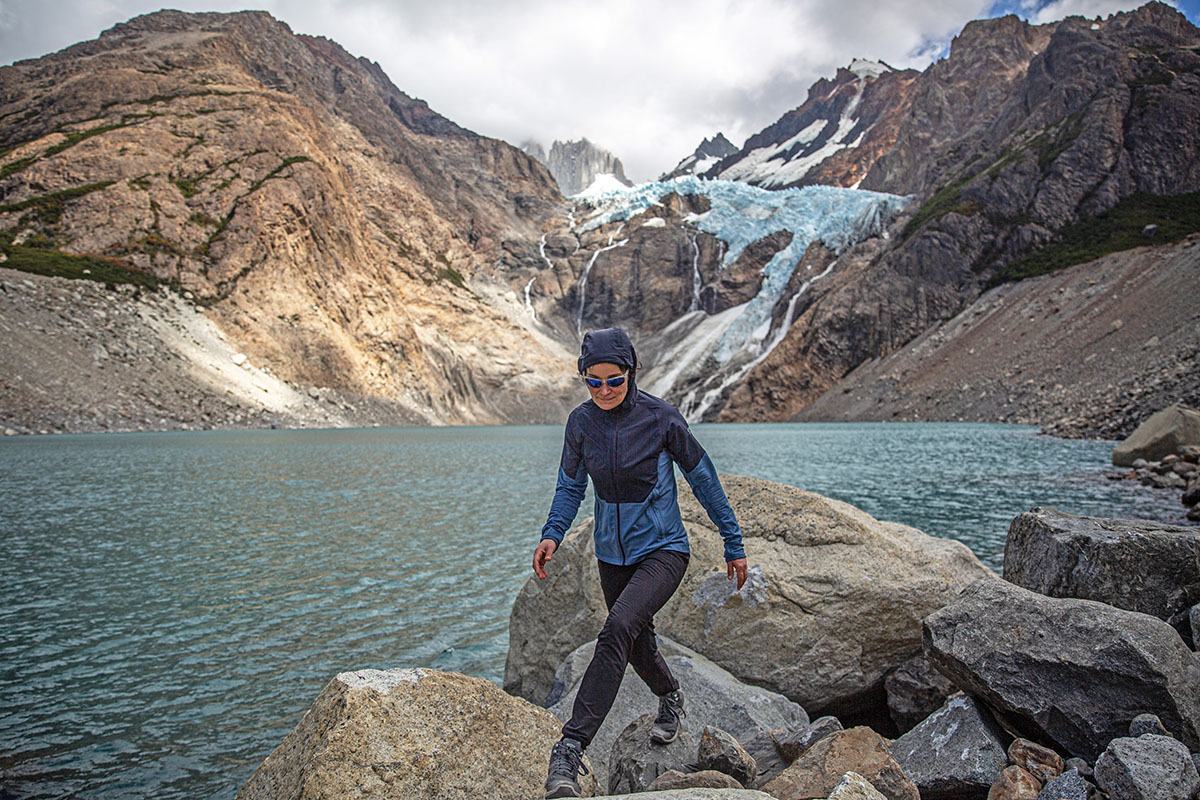 Comfort
In terms of comfort, the Arc'teryx Delta Hybrid Hoody scores high marks across the board. The gridded Polartec fabric is noticeably soft and cozy against the skin and has never grown clammy during exertion. The fabric also has a nice amount of stretch to it for maximizing mobility and isn't prone to bunching up under a hipbelt. I haven't had any issues with chafing, either—the jacket is supple enough that I've been able to wear it over just a T-shirt without any discomfort. Finally, I appreciate that the fleece lining extends high up the collar (covering the top of the main zipper) to prevent irritation along the chin. Added up, it's clear that Arc'teryx put a lot of thought into the design, and the net result is great all-around comfort for everything from active pursuits like running and backpacking to lounging around camp.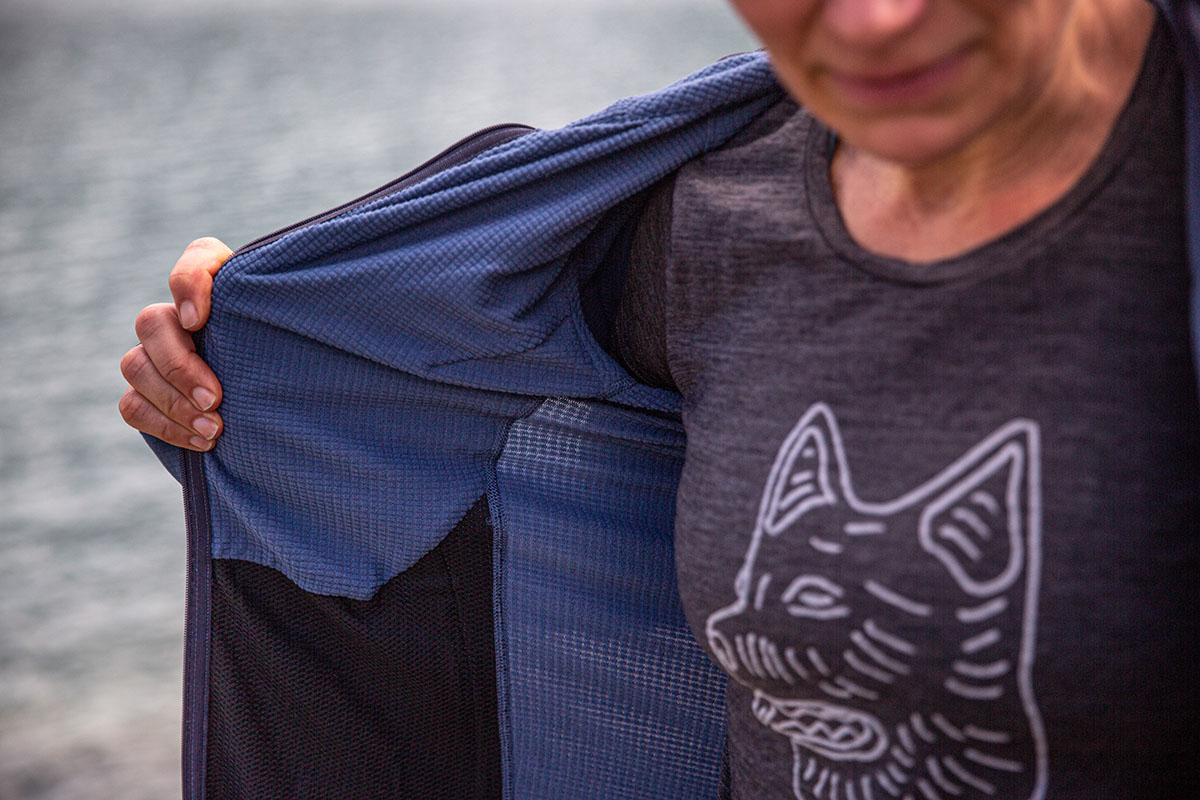 Weight and Packability
My women's small Delta Hybrid weighed in at 9.5 ounces (the listed weight is 7.9 oz.), which is on the lighter end of the fleece jacket spectrum, even when stacked up to other technical performance options. For comparison, Black Diamond's similarly built Coefficient LT Hybrid Hoody clocks in at 7.2 ounces, Patagonia's Nano-Air Light Hybrid Hoody is 9.8 ounces, and Outdoor Research's Vigor Full Zip Hoodie weighs 10.1 ounces. Packability is another strong suit: The Delta Hybrid rolls down nicely into its own hood, and you can get the package even smaller by cinching the single drawcord at the back of the hood (a relative rarity in the market). When compressed, the jacket ends up being about the size of a grapefruit, which makes it an excellent match for throwing into a small daypack or running vest.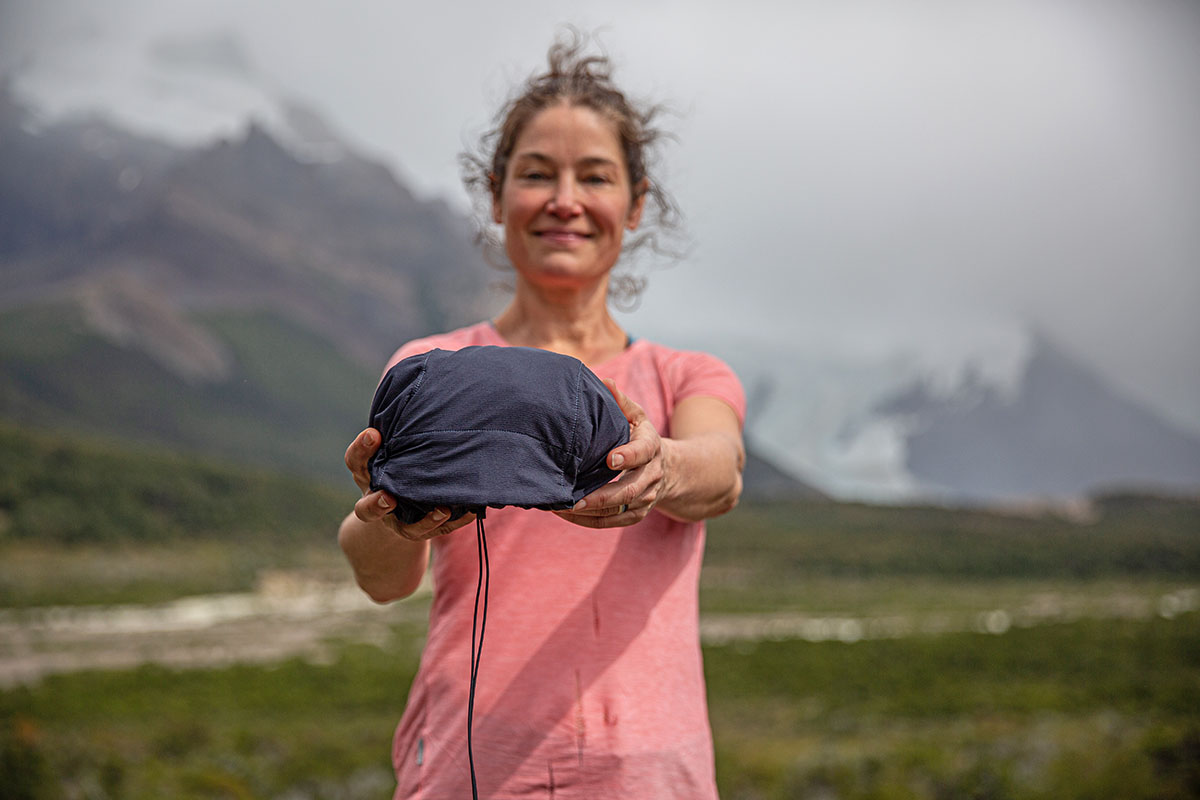 Build Quality and Durability
Arc'teryx rarely disappoints from a build quality perspective, and the Delta Hybrid Hoody is no exception. In short, everything about the jacket has a high-quality and hardwearing feel. The outer fabric is both smooth and durable, the zippers and hood cinch continue to function flawlessly, and there are no signs of fraying or abrasion despite frequent contact with my backpack's shoulder straps. It's possible that the Polartec fabric will snag and pill over time, which is a known downside to fleece jackets, but I haven't had any issues to date (Arc'teryx recommends air-drying the hoody to extend its lifespan). And on the bright side, the jacket is mobile and stretchy enough that tearing isn't too big of a worry (the fabric is likely to "give" rather than rip under pressure).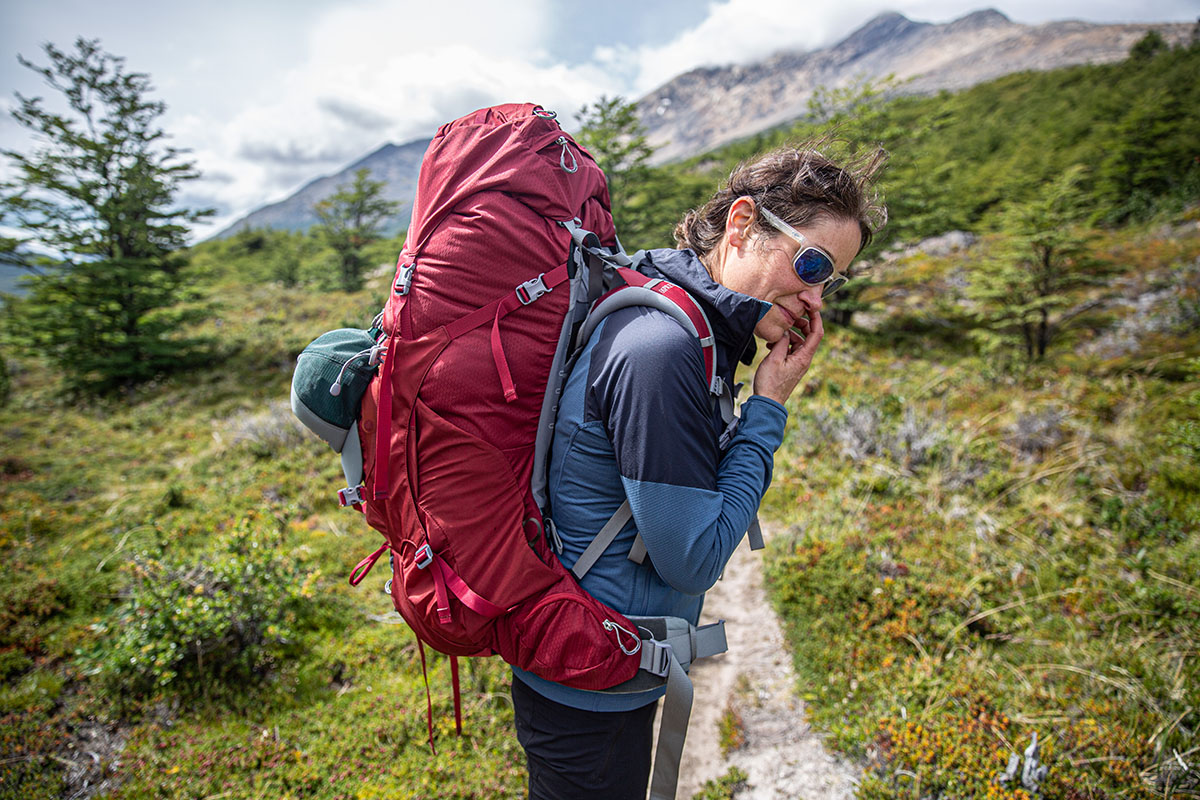 Key Features
In short, the Arc'teryx Delta Hybrid Hoody's feature set lines up nicely with its intentions. Starting with storage, the hoody comes nicely appointed with two zippered hand pockets and a zippered exterior chest pocket. The hand pockets are generously sized for warming cold hands, but I wish they shared the fleece lining that you get along the interior. The chest pocket is also plenty big with ample space for stashing a smartphone, although I would caution against keeping heavy objects here when moving quickly, as they tend to bounce around due to the stretchy fabrics.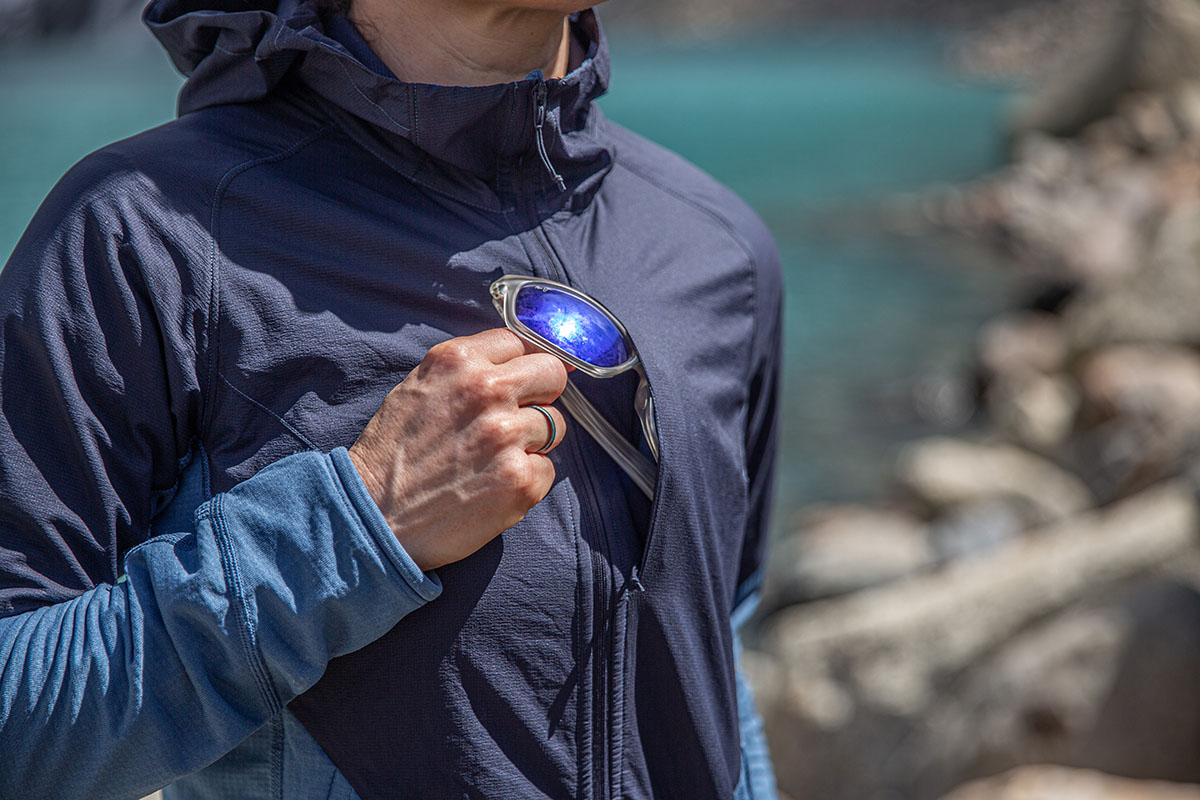 Moving onto the hood, you get a close-fitting design that sits snugly and comfortably under a climbing helmet. Arc'teryx also included a single pull cord at the back, which is effective at keeping the hood in place in high winds and makes it easy to compress the jacket down for storage. Rounding out the feature set are handy thumb loops, which add a nice dose of warmth to my hands when needed but still allow plenty of dexterity and mobility (all other fingers remain free). They're also helpful for layering: Rather than having to hold the sleeves in place, the thumbholes help keep them secured so that you can easily pull a jacket overtop. These aren't a must-have feature by any means, but I appreciate the attention to detail.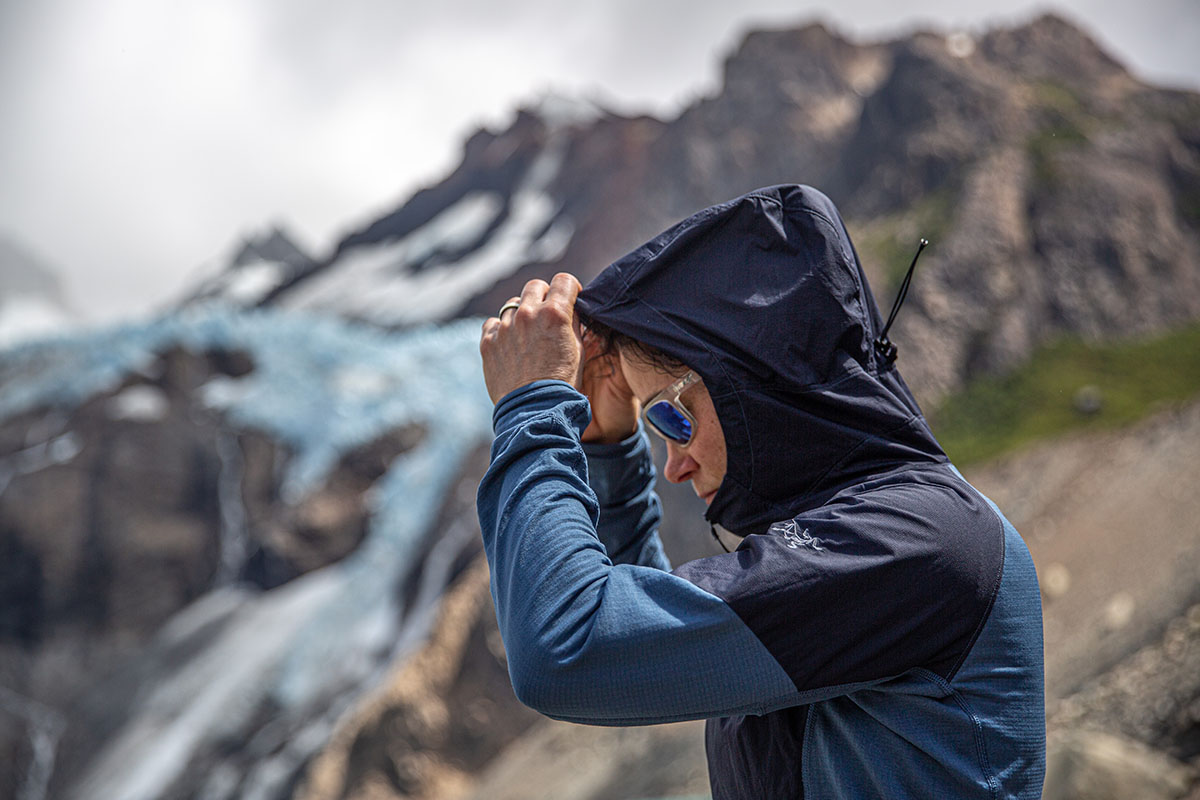 Fit and Sizing
The Delta Hybrid Hoody boasts Arc'teryx's "fitted" designation, which is intended to fit close to the body to maximize mobility and make it easy to layer overtop. My usual women's size small is a little looser than expected in the torso, which causes the jacket to bounce around a bit while running, but it's not bulky by any means (and let's be honest—slightly roomy is far better than too tight). As I mentioned above, the outer fabric is also smooth enough that I'm able to easily add a midlayer or hardshell jacket without any catching or snagging, and overall mobility is excellent for everything from running and backpacking to climbing and technical alpine use. Finally, the hem and sleeve lengths are perfect for my 5'8" frame—another reason I opted not to size down.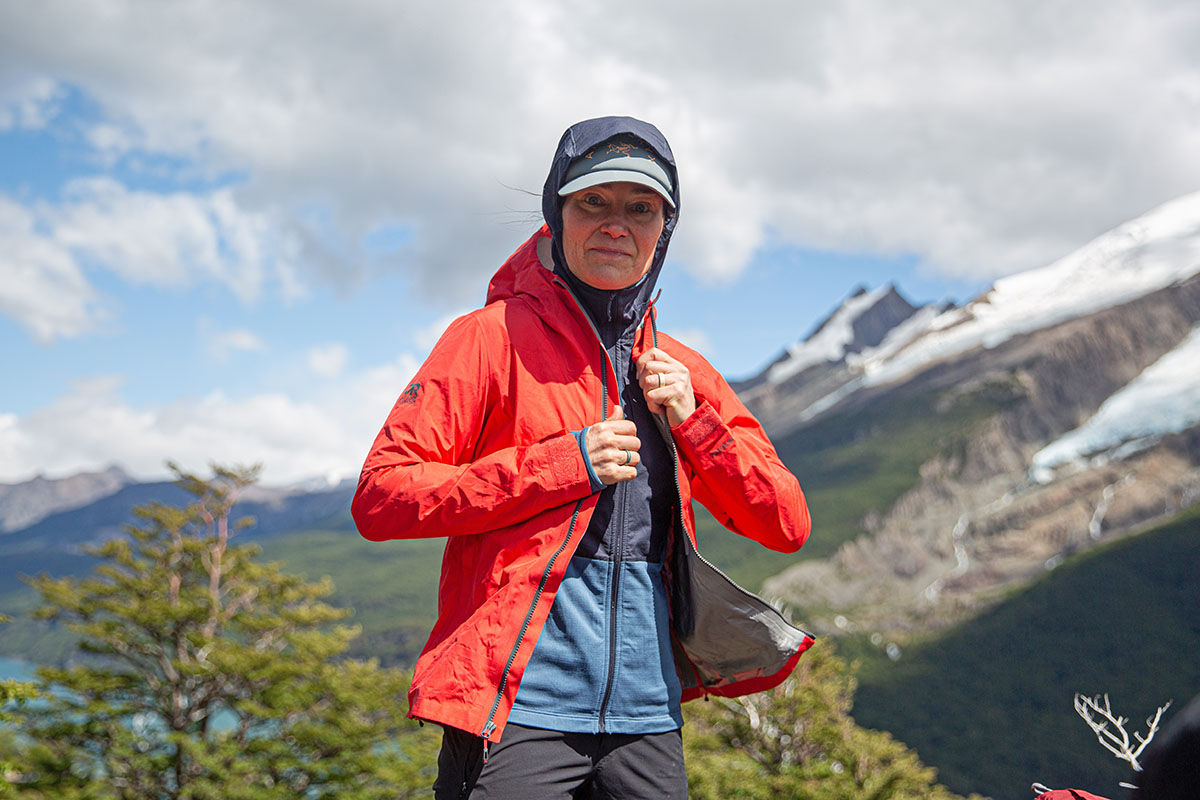 Sustainability
Like many other leading outdoor brands, Arc'teryx has been making continued improvements to their lineup in the name of sustainability. The Delta Hybrid Hoody isn't their most comprehensive effort to date, but we appreciate that they used bluesign-approved materials that have been deemed safe for the environment, workers, and consumers. We hope to see Arc'teryx incorporate additional measures like recycled fabrics or certification to the Fair Trade Standard in a future update, but we nevertheless applaud them for their efforts thus far.

Men's Arc'teryx Delta Hybrid Hoody
We put the women's Delta Hybrid Hoody through its paces for this review, and Arc'teryx also offers the style in a dedicated men's version. However, despite sharing the same name and $200 price point, the men's Delta Hybrid Hoody is different in a couple key ways: It trades the full-length main zipper for a pullover, anorak-style design and forgoes hand pockets (you get a single zippered chest pocket). The rest of the feature set and construction are nearly identical, including the use of Polartec Power Dry gridded fleece with a nylon overlay for added wind resistance and durability.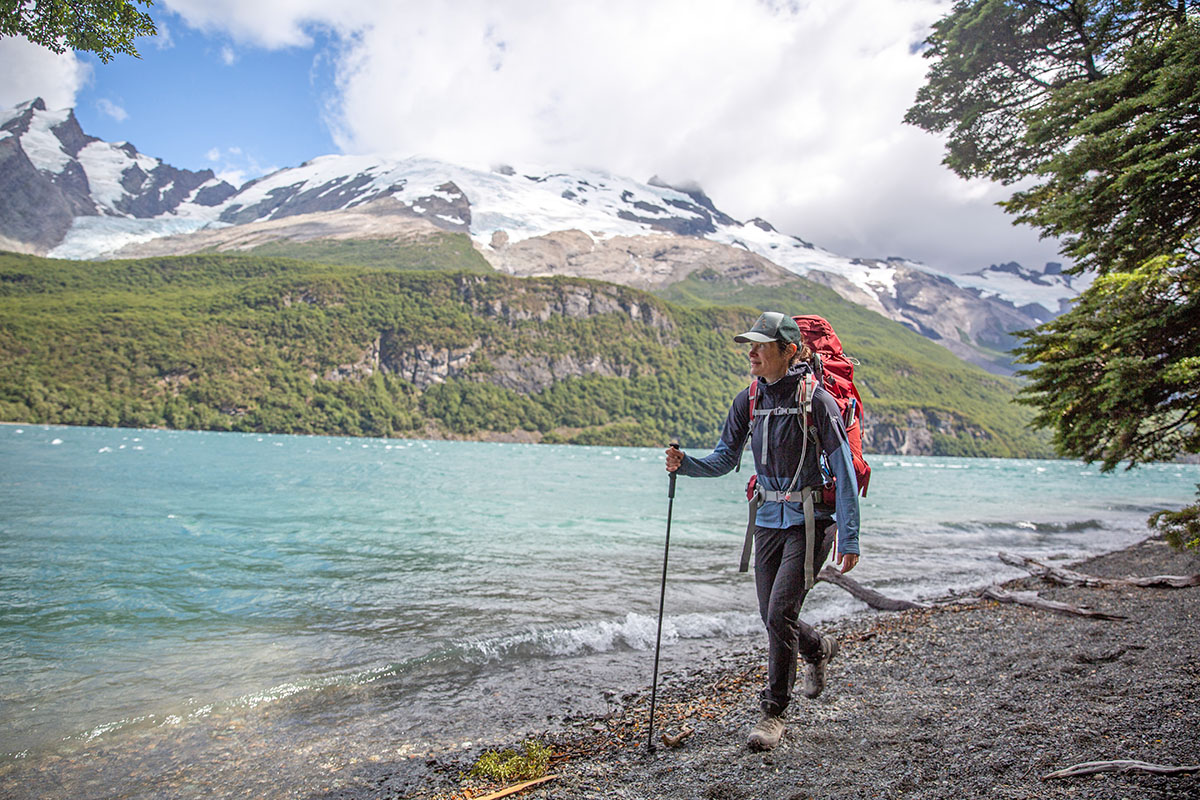 What We Like
Well-executed hybrid design strikes a great balance between warmth and breathability for high-output use.
Excellent comfort and mobility with smooth, stretchy fabrics that move with you and feel great against the skin.
Functions well as both a standalone piece in mild conditions or a midlayer in cooler temperatures or inclement weather.
Competitively light for a fleece hoody, especially considering the level of warmth and number of features.
Well-thought-out feature set, including practical storage, an adjustable hood, and handy thumb loops.

What We Don't
Minimal warmth for low-output pursuits and not viable for wearing around town in the cold—this is a performance piece purpose-built for active use.
Nylon overlay provides solid wind resistance, but don't expect hardshell levels of protection (the jacket wets out quickly in sustained moisture).
Slightly looser fit in the torso than expected given the "fitted" designation.
I wish the hand pockets had the fleece insulation used inside the jacket.
The men's version has a pullover, anorak-style design that isn't as versatile as the full-length main zipper you get with the women's model.


Comparison Table
The Competition
Arc'teryx's Delta Hybrid Hoody impressed us with its deft balance of breathability, comfort, and wind protection, making it one of our favorite fleece jackets for high-output uses like running, hiking, and backcountry skiing. If you don't anticipate needing the wind protection of the Delta Hybrid's nylon overlay, Arc'teryx offers the $20-cheaper Delta 1/2 Zip Neck Hoody. The jackets weigh around the same and share the Polartec Power Dry gridded fleece and trim fit, but that's about where the similarities end. As its name suggests, the Delta 1/2 Zip Neck has a 1/2-length front zipper that makes it harder to get on and off, leaves out hood adjustability and hand pockets (you do get one zippered chest pocket), and tacks on an integrated neck gaiter that doubles as a balaclava. We consider the Delta Hybrid's added versatility worth the extra $20, but both are well-executed designs with Arc'teryx's typical attention to detail.
Another quality hybrid design is Black Diamond's Coefficient LT Hybrid Hoody, which stacks up very competitively to the Delta Hybrid. For $20 less than the Arc'teryx, the Coefficient LT uses a similar mix of fabrics—including Polartec Power Grid fleece and lightweight nylon—to balance breathability and wind protection. Black Diamond also added a layer of synthetic fill at the chest for a bit of added warmth while still managing to keep things impressively light at just 7.2 ounces. Like the Delta Hybrid, the Coefficient also has a slim fit, an under-the-helmet hood, thumb loops, and a zippered chest pocket. You don't get hand pockets or a pull cord for adjusting the hood like you do with the Arc'teryx, but the former isn't a huge downside for high-output use (as we mentioned, it's best to avoid overloading the hand pockets, as items tend to flop around). In the end, both are thoughtfully built pieces for active use, and a final decision will likely come down to which features you need.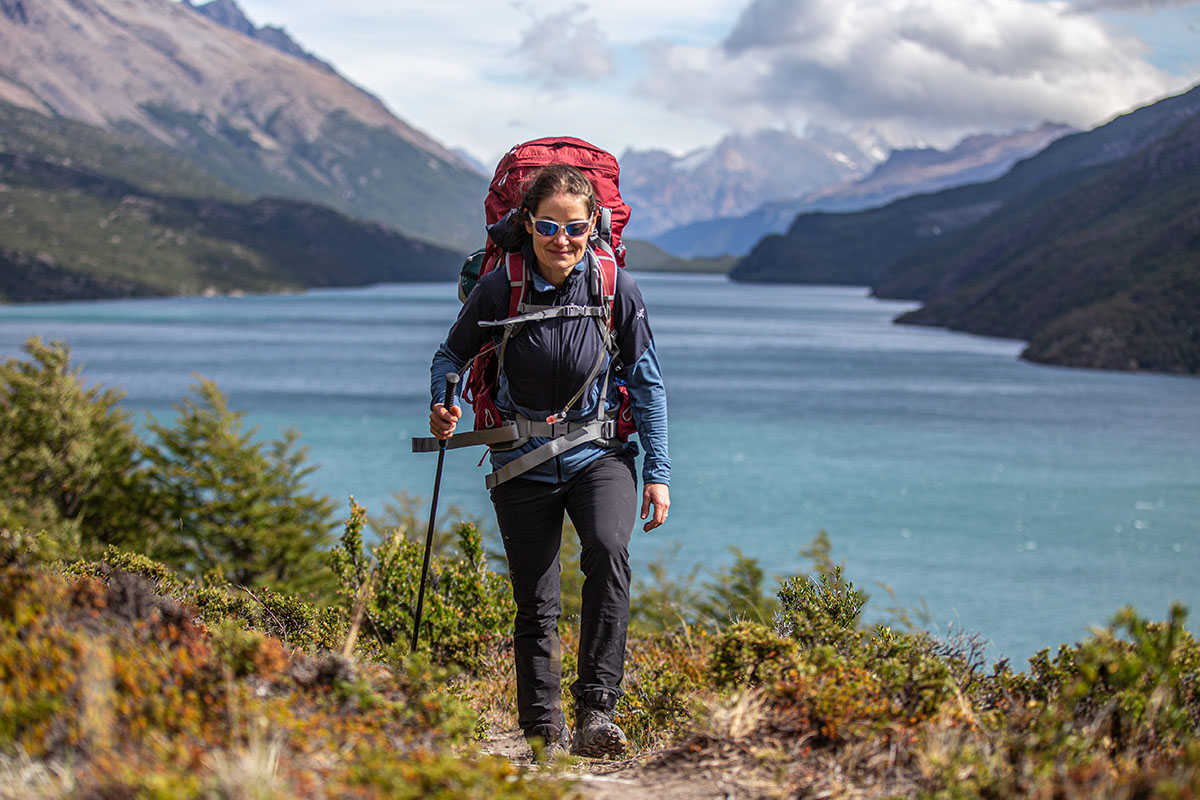 Hybrid performance fleeces are a growing trend, and Patagonia recently reintroduced their Nano-Air Light Hybrid Hoody. In this case, you get the benefits of two of the brand's most popular synthetic jackets—their Nano-Air synthetic and R1 Air fleece—in one sleek package. The front boasts 40-gram (g) FullRange fill covered in a stretchy polyester shell with a DWR finish, while R1 Air panels on the back, sides, and underarms help keep air flowing. Like the Delta Hybrid, the Nano-Air Light Hybrid is comfortable, trim-fitting, highly mobile, and very adept at dumping heat on the go. The streamlined appearance and cozy build also make it viable for wearing around town—it has a noticeably less technical appearance than the Arc'teryx—although you forgo a hood adjustment and thumb loops. The Patagonia will also run you around $100 more, but we have little to complain about from a performance and versatility standpoint.
We mentioned Patagonia's R1 Air above, and its namesake jacket (the R1 Air Hoody) is our favorite performance fleece this year. For $31 less than the Delta Hybrid, the Patagonia offers comparable breathability for high-output use with hollow-fiber yarns and zigzag patterning that trap heat when you want it and dump it when you don't. The feature set also lines up well, including three zippered pockets and a low-profile hood that stays in place and fits under a helmet (but isn't adjustable). The biggest drawbacks are weight and wind protection: The R1 Air is around 3 ounces heavier than the Arc'teryx at 10.9 ounces and lacks the Delta Hybrid's nylon overlays for fending off a chill. As a result, it's less versatile as an outer layer, and you'll want to be careful around sharp items to avoid snags and tears. But we haven't had any durability issues to date, and the R1 Air offers a slight boost in warmth for those who run cold.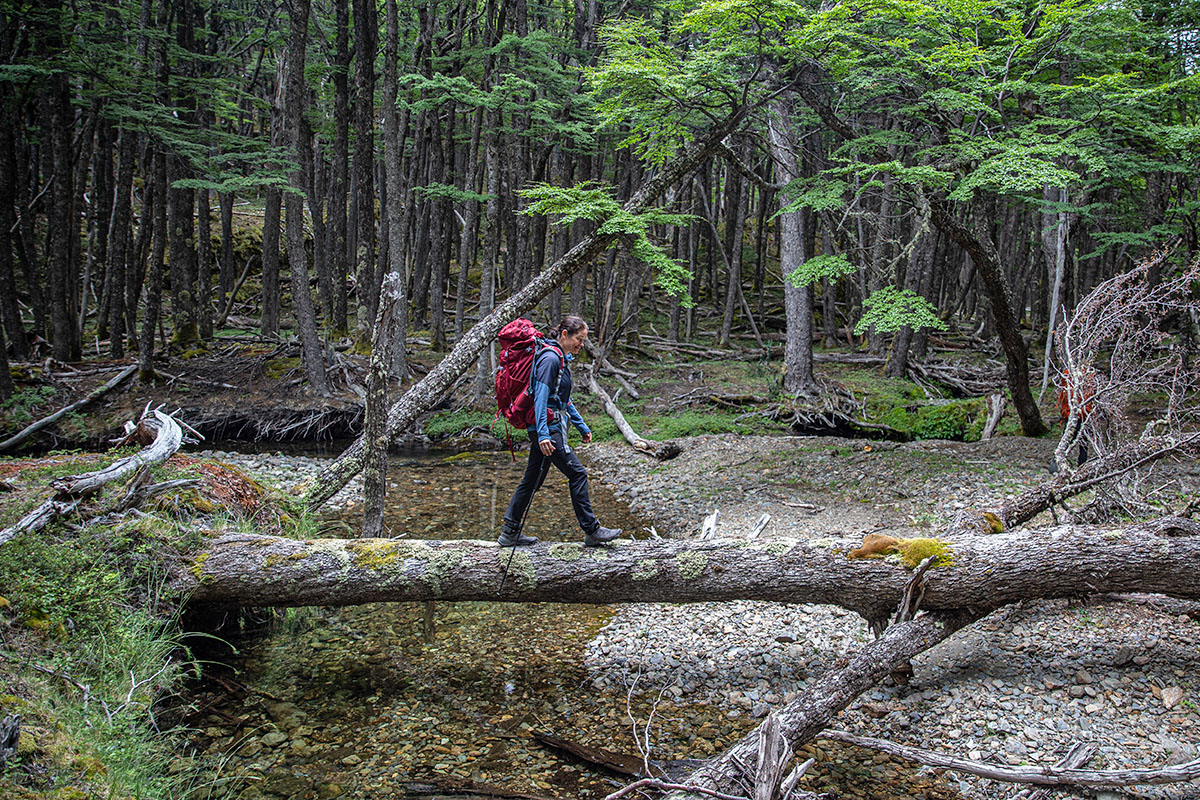 A final option to consider is Outdoor Research's Vigor Full Zip Hoodie, which is the cheapest option here at $110. Like the Arc'teryx, the Vigor uses a hybrid construction with a polyester/spandex mix along the arms and upper chest and thin, grid-style fleece along the lower body and back. Other similarities include a trim fit that slides nicely over baselayers, excellent stretch and mobility, and thumb loops that make it easy to layer overtop. That said, the OR is heavier at 10.1 ounces, forgoes a check pocket (the men's version does include one), and lacks a hood cinch for dialing in fit. Many users also report premature pilling—something we haven't experienced with the Arc'teryx despite frequent use. All in all, both are thoughtfully made performance options, but it's hard to beat the fit and finish of the Delta Hybrid. For a bump in warmth and weather protection, OR also offers the Vigor Plus Hoodie ($169), which uses a thicker fleece and tacks on a wind- and water-resistant panel at the chest.
If you're thinking about buying gear that we've reviewed on Switchback Travel, you can help support us in the process. Just click on any of the seller links above, and if you make a purchase, we receive a small percentage of the transaction. The cost of the product is the same to you but this helps us continue to test and write about outdoor gear. Thanks and we appreciate your support!
Depending on the seller, most products ship free in the United States on orders of $50 or more. International shipping availability and rates vary by seller. The pricing information on this page is updated hourly but we are not responsible for inaccuracies.
Read More From Switchback Travel