From cold to snow to wind to sweat, choosing a ski jacket is all about managing the conditions that you might encounter on the mountain. The right ski jacket for you depends on the specific kinds of skiing you enjoy most—skinning up a sunny ridgeline in the North Cascades is far different than bracing against a Nor'easter on a lift at Sunday River in Maine. Some people prefer a non-insulated shell jacket for the versatility to swap out layers underneath, and some prefer a bit of insulation to keep the cold at bay. Budget seekers like the all-in-one functionality of a 3-in-1 option, which comes with a separate insulating layer that can be zipped into the shell. We've included all three with our picks for the best ski jackets of 2015-2016 below.

Type: Shell
Weight: 1 lb. 6 oz.
What we like: The perfect resort shell.
What we don't: Fit may be too trim for some.
Women's version: Arc'teryx Ravenna
Arc'teryx makes high quality hardshell jackets that are built to last, and the Cassiar is our favorite resort option. Bonding a fully waterproof Gore-Tex shell to a lightweight fleecy polyester lining, the Arc'teryx Cassiar aims to bring out the best from both hardshell and softshell designs. The end result is the waterproofness and durability of a hardshell outer with a touch of stretch and a soft interior. Although breathability can't compete with a true softshell, it's nonetheless pretty darn compelling for skiers that don't hike too far for their turns. Toughness, a light weight, and supreme mobility all add up to the best resort shell on the market. Nobody ever said that ski jacket perfection is cheap, and at $600 (we'll round up that last dollar), the Cassiar probably isn't worth it for the occasional skier. But for those that spend a lot of time on the mountain, the investment in years of comfort and reliability is worth it.
See the Arc'teryx Cassiar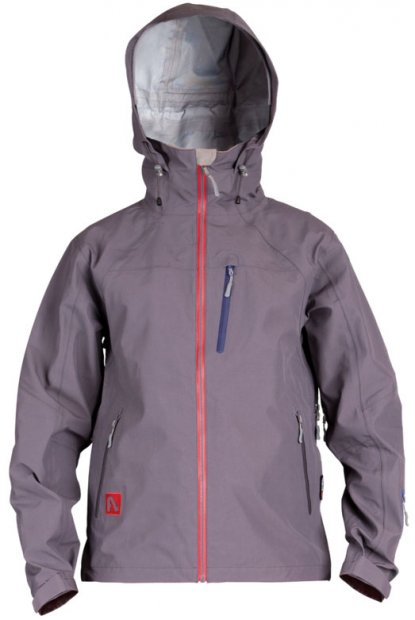 Type: Shell
Weight: 1 lb. 5 oz.
What we like: Excellent breathability for ski touring.
What we don't: Not as stretchy or comfortable as the Arc'teryx.
While the Arc'teryx above may win out for resort skiers, FlyLow's Gear Lab Coat 2.0 takes aim at active backcountry and sidecountry explorers. Polartec NeoShell is a relatively new Gore-Tex competitor, and is prized for its high level of breathability while still remaining completely waterproof. If long hikes or tours are on your to-do list this winter, the Lab Coat 2.0 is a great option. It has a "freeride" fit, which is not too loose or too athletic and leaves enough room for mid-layer insulation or a micro-puff jacket underneath. Fully taped seams and waterproof zippers round out a host of standard features on this foul-weather warrior.
See the FlyLow Gear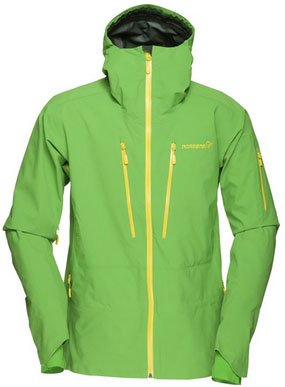 Type: Shell
Weight: 1 lb. 4 oz.
What we like: Top-end backcountry and resort performance.
What we don't: Limited US availability.
Women's version: Norrøna Lofoten Gore-Tex Pro Shell
Norrøna may not be a household name, but the Norwegian gear company is quickly developing a reputation in the United States for quality outerwear. Their Lofoten jacket is named after the simply stunning Norwegian islands, which incidentally is one of our favorite destinations in the world. The jacket itself is no slouch, packing Gore-Tex's top Pro Shell construction, which breathes as well as upstarts like Polartec's Neoshell or eVent, but with greater durability. This 3-layer construction is a popular choice for mountaineering gear, so yeah, it'll be sufficient for anything you run into exploring the backcountry. Attractive Euro styling and colorways, along with smart detailing such as wrist gaiters with thumbholes and a removable powder skirt, check off all the must-have features for a high-end jacket. Does it all add up to justify the price tag? That's up to you.
See the Norrøna Lofoten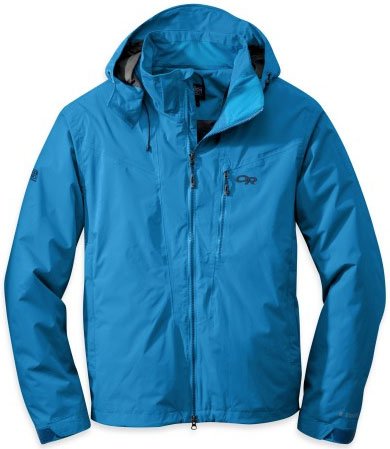 Type: Insulated
Weight: 2 lbs. 0.2 oz.
What we like: Quality construction at a solid value.
What we don't: Not as warm as the Powder Bowl below.
Women's version: Outdoor Research Igneo
Seattle-based Outdoor Research knows a thing or two about skiing in cold, wet conditions. As such, they outfitted their Igneo jacket with some strategically placed synthetic fill at the front of your core and a fully seam-sealed waterproof construction. The 2-layer Pertex Shield shell is a nice upgrade from cheap and heavy ski jackets with improved breathability and quality water resistant zippers (in lieu of the fabric flap that covers the zippers on cheaper models). The Igneo is nicely designed throughout, and we particularly appreciate the assortment of pockets: 2 for your hands, 1 napoleon, 1 large stash pocket inside and 1 small inner pocket for stowing a lift pass. With just enough insulation (60 grams) to keep most folks happy but without overdoing it and making the jacket too warm for spring days on the slopes, the OR Igneo sits atop our rankings for insulated ski jackets.
See the OR Igneo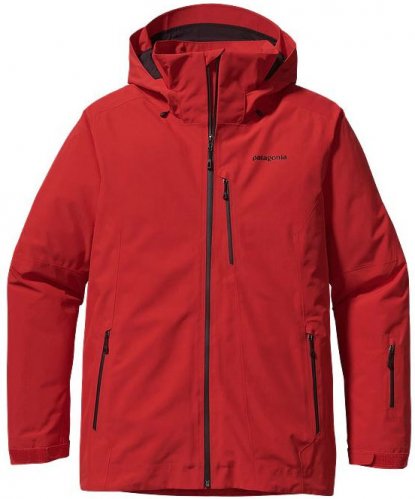 Type: Insulated
Weight: 2 lbs. 8.1 oz.
What we like: Comfy warmth for the ski lift.
What we don't: High price hurts it in the rankings.
Women's version: Powder Bowl Insulated
Patagonia's Powder Bowl series of ski jackets is ideal for all types of resort skiers. Our favorite model is the insulated version, which features a substantial 100 grams of insulation in the body and 60 grams in the sleeves. It's the kind of warmth that allows you to leave behind that bulky fleece. The jacket is soft and supple but also decently breathable for an insulated hardshell—you can thank its 2-layer Gore-Tex construction for that. A low-profile powder skirt won't get in the way when just wearing around town, and the helmet-compatible hood is removable for when the conditions are clear. Skiers in places that can get frigid, like the Rocky Mountains, will appreciate the synthetic insulation in Patagonia's Insulated Powder Bowl, although it does limit its use when venturing out of bounds. Those that need the versatility of a shell can opt for the non-insulated Powder Bowl instead.
See the Patagonia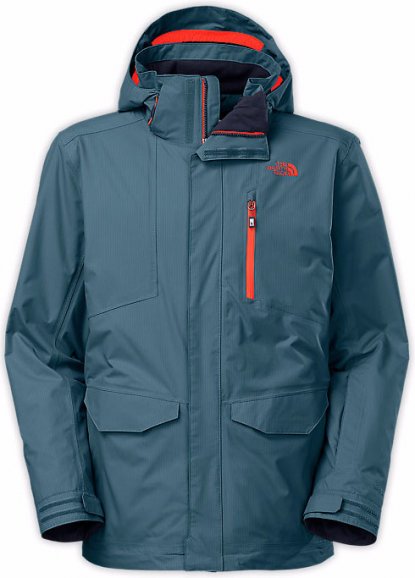 Type: 3-in-1
Weight: 2 lbs. 15.6 oz.
What we like: Best 3-in-1 jacket on the market.
What we don't: Getting pricey for a 3-in-1.
Women's version: TNF Thermoball Triclimate
You typically turn to a 3-in-1 jacket as a means to save a little cash, so $349 price of The North Face ThermoBall Triclimate may come as a bit of a surprise. It's a classic case of getting what you pay for. Most 3-in-1 options are excessively bulky and lack any real shaping, but the North Face is nicely fitted even if you decide to leave the insulating jacket at home. Opting for the parka also gives a couple extra inches in length for better protection from frigid chairlifts. The real savings, however, is in the Thermoball synthetic insulating piece, which has been praised for doing a pretty good impression of a lofty down jacket—all while continuing to insulate when wet. If you can spring it, we do think the Thermoball is worth it. But for those on a strict budget or just getting into the sport, the Columbia Bugaboo below sure has a compelling calling card: a sub-$200 price.
See the TNF Triclimate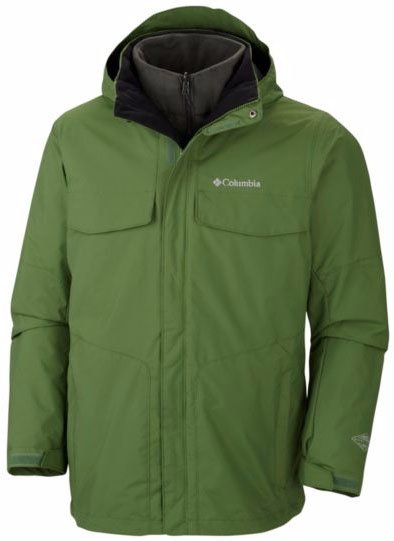 Type: 3-in-1
Weight: n/a
What we like: Less than $200 for a shell and insulating layer.
What we don't: Shell isn't fully seam-taped.
Women's version: Columbia Bugaboo Interchange
If you find yourself muttering over and over how you can't believe how expensive ski gear is, we have some bad news: it is expensive. But there are still some deals out there. If you're willing to sacrifice a little on performance, check out the tried-and-true 3-in-1 Columbia Bugaboo. You get a zip-off fleece jacket and (mostly) waterproof shell for the cost of a couple lift tickets. The downside is the quality of the 2-layer construction; it's an inferior ventilator and is only seam sealed in "critical" areas. Neither of these issues are likely to bite you on a regular day on the slopes, and the majority of skiers that stick to the groomers won't notice a lick of difference. The same can be said of the zip-off fleece jacket. It's plenty warm and soft (if a little bulky) to use as your midlayer. And at $175, these issues may be pretty easy to overlook.
See the Columbia Bugaboo
Ski Jacket Comparison Table


Ski Jacket Buying Advice
Types of Ski Jackets
Ski jackets can be broken into three main categories: shell, insulated and 3-in-1. Choosing the right model depends largely on your skiing style and budget. Advanced downhill and backcountry skiers often prefer a breathable and lightweight shell jacket, while resort skiers can add some insulation or even go for the easy 3-in-1 option.

Shell Jackets
Shell jackets provide a solid outer layer that protects you from wind and moisture but without any insulation added. A shell jacket is there to keep you dry and allows you to supplement midlayers and base layers for warmth. This is our preferred type of jacket for skiing because shells minimize bulk and fit the best—both insulated and 3-in-1 jackets below aren't as versatile, feel heavier, and aren't as well suited for the performance-oriented skier.
There are large differences in price within the shell category. High-end hardshell jackets often feature waterproof and breathable Gore-Tex with a tailored fit for excellent range of motion. Basic shell use thicker fabrics and cheaper waterproofing that doesn't breathe as well. Beginning and intermediate skiers will be fine with an entry-level ski jacket, but experienced skiers will really appreciate the upgrade to a high-end shell.

Insulated Jackets
Comfort ranks highly for resort goers, and to help make cold chairlift rides more tolerable, many skiers opt for a jacket with a little insulation. Choices in insulation come down to the classic debate: down vs. synthetic. Down will give you premium warmth with less bulk, while synthetic is cheaper and will outperform down should moisture make its way through the lining. Insulated jackets add a little bulk and they impact range of motion more than when layering with a separate midlayer beneath a shell. But for those that run a little cold or ski in cold climates, an insulated jacket is a popular way to go.

3-in-1 Jackets
With an outer shell and zip-in insulated layer, 3-in-1 jackets are extremely popular for casual skiers. The main advantage is cost savings: you can pick up a decent 3-in-1 jacket for around $200-$250, and it comes with a midlayer—most often a fleece or synthetic jacket that you can wear for everyday use. And unlike insulated models, you can leave behind the insulation simply by unzipping it.
3-in-1 jackets do add bulk and weight with the extra zippers, and integrating the shell and insulating layer negatively affects range of motion. Also, you often end up with an inferior product (as the price would suggest). These jackets are far from the best performers in high exertion activities—opting for one with pit zips is suggested. Nonetheless, for the budget seeker or skier that only makes it to the mountain a couple times a year, a 3-in-1 is a good way to get kitted out for a reasonable price.
Waterproofing
Ski jackets are waterproof pretty much across the board, from cheap $100 options all the way up to high-end Gore-Tex (or equivalent) shells. Dirt is the enemy of waterproofing and breathability, so as long as you take good care by washing them on occasion, expect to get multiple seasons of use. Spending more will get you an even longer lifespan, on average, as the more advanced fabrics aren't as prone to deteriorating. Also, look for a jacket with a DWR (durable water repellent) coating, which helps shed wet snow to keep moisture from sitting on your jacket and wetting through the outer fabric.
Breathability
Breathability ranks as a top priority for backcountry use, and a little less so with downhill skiing. While you can absolutely work up a sweat on your way down the mountain, it's easy to dump heat with pitzips or dropping a layer at the resort midday (so long as you can survive the chairlift ride minus some insulation). Shell jackets are the best breathers, and those with a high-end 3-layer fabric construction (Gore-Tex, eVent or Polartec NeoShell) are head and shoulders above the rest. Generally, the most you spend for a ski jacket, the better the breathability.
Weight
For resort skiers, the weight of your ski jacket isn't usually a deciding factor. As long as you're comfortable, it's easy to handle a few extra ounces without really noticing. On average, cheaper jackets compensate for their less advanced fabrics by using more of it, making for thicker, durable shells. It's when you start hiking or venturing off-trail that a lighter jacket starts to make a lot of sense. This is when a dedicated, lightweight hardshell may be the ideal choice for your skiing needs.
Common Features
Hoods
Most hoods go unused for downhill skiing—a beanie and/or helmet is a better source of protection and insulation. It's most often on the chair lift when you really need to hunker down does the hood come out. For those particularly nasty days, make sure to get a hood that is large enough to fit over your helmet. Andot only does it have to be large enough, but it also needs to be plenty adjustable to cinch down and stay pinned to your head while skiing. A properly adjusted hood should not interfere with your field of vision as a good safety measure. Finally, should you want to use your ski jacket for more than just skiing, ensure that your hood fits well when you're not wearing your helmet.

Pockets
Unless you ski with a backpack, a jacket with multiple pockets is essential. Most ski jackets include a couple of and pockets and at least one zippered napoleon pocket at the chest. That napoleon pocket is great for stashing smaller items like a phone, camera, or wallet. To protect your electronics, it's good to have the chest pocket along the interior of the jacket so your body heat can help keep everything functioning properly. If you listen to music while on the mountain, look for a napoleon pocket with an interior opening to feed your headphone cord for a clutter-free setup.
Mesh hanging pockets sometimes are built into the inner lining of ski jackets. These serve as a nice place to stash your gloves, goggles or glasses in-between runs or if you're starting to overheat while hiking. And you'll see the occasional sleeve pocket, which is a convenient spot for your ski pass.

Powder Skirts (Snow Skirts)
It's nearly impossible to keep the snow completely out should you ski through some really deep snow or take a serious tumble, but a powder skirt nonetheless is a great line of defense. Elasticized fabric is built into the lining of the jacket around the waist, and will typically secure to your ski pants near the front zipper. This helps snow from entering in the space between your pants and the bottom hem of the jacket. Some manufacturers make the snow skirts removable should you want to use the jacket around town.

Pit Zips
Skiing can be a high exertion activity, and waterproof jackets, no matter the quality, restrict airflow. Enter the pit zip. Open them all the way, extending from approximately the middle of your ribcage to just above your elbow, and you can release a whole lot of hot air. Although they're not a necessity for the easygoing skier and do add a bit of weight and bulk, we recommend putting pit zips on your "must have" list when ski jacket shopping.

RECCO
Some expensive shell jackets list a RECCO reflector as a feature. These are for skiers that make their way out of bounds or into areas prone to avalanches. The RECCO reflector built into your ski jacket or pant is a passive unit that doesn't require batteries and can be picked up by RECCO detectors often carried by resort search and rescue. They lack the technology and strong signal of a dedicated search and rescue beacon, but they do provide an additional safety measure should you venture off-trail.
Layering Underneath Your Ski Jacket
Midlayers
Unless you opt for a 3-in-1 jacket, you'll likely want a dedicated midlayer for skiing. The amount of insulation can vary dramatically, from a thin fleece to a puffy down jacket. Fleece jackets are the classic choice for skiing, and can be quite warm and lightweight, but they are bulky. Down is the pricey option but is unmatched in lightweight compressible warmth (just make sure to keep it dry because it will stop insulating when wet). For more on midlayers along with top picks, see our article on the best midlayers for skiing.

Baselayers
Baselayers and their next-to-skin warmth are important in keeping you toasty and dry. A breathable and well-ventilated jacket will only perform as well as the baselayer underneath, so don't skimp here. Synthetics, like those made by Patagonia or Under Armour, are comfortable and breathe well at a reasonable cost. The downside is they are less soft and more prone to retaining unpleasant odors. Merino wool is expensive, but excels in temperature regulation and odor prevention. On all but the coldest days, our go-to baselayers are the lightweight options (and occasionally midweight) for a good balance of warmth and breathability.
Learn More About Ski Gear