With a wide variety of insulating jackets on the market, the classic fleece still is the most comfortable and affordable. These polyester jackets have been providing cozy warmth for years from campsites and ski resorts to the streets and restaurants of mountain towns. Fleeces run the gamut from casual to breathable performance pieces for serious adventures. Below are our picks for the best fleece jackets of 2016-2017, with options from leading outdoor brands across a range of price points. For more background on fleeces, see our buying advice below the picks. For more background, see our fleece jacket comparison table and buying advice below the picks. To read about other types of insulation, we've also written about down jackets and synthetic jackets.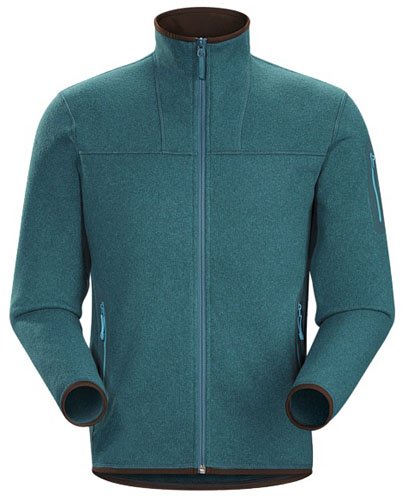 Category: Casual/performance
Weight: 1 lb. 3 oz.
Fleece weight: Midweight
Pockets: 2 hand, 1 arm
What we like: A very versatile fleece with a super clean design.
What we don't: Pricey.
Women's: Arc'teryx Covert Cardigan
For the top all-around fleece on the market, we give the nod to the Covert Cardigan from Arc'teryx. This tried and true full-zip fleece toes the line nicely between everyday wear and performance. It isn't quite as stretchy as the Arc'teryx Fortrez Hoody (ranked #3) but still moves well on the go, and for a casual piece it fits us better than the Patagonia Performance Better Sweater. We love the multitude of possible uses: you can wear this fleece around town, as an active outer layer on chilly days, and as a midlayer for skiing. And there's no doubt about its high-end look and feel, which as we've come to expect from Arc'teryx, is top notch. Keep in mind that the Covert Cardigan does have a more relaxed fit than most Arc'teryx items that we've worn, which is a good thing given the casual slant.
See the Arc'teryx Covert Cardigan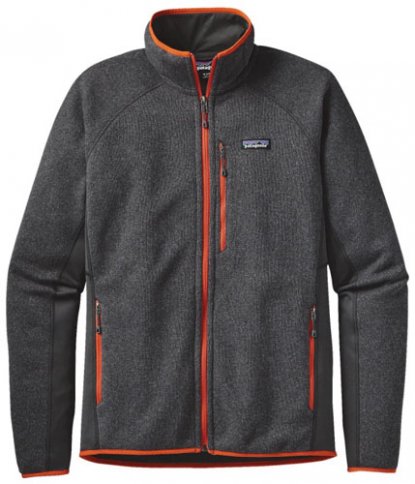 Category: Casual/performance
Weight: 15.9 oz.
​Fleece weight: Lightweight
Pockets: 2 hand, 1 chest
What we like: The stretch panels on the site are a nice addition.
What we don't: Slim/small fit.
Women's: Patagonia Performance Better Sweater
Patagonia has more fleece options than just about any other gear company, ranging from the casual Synchilla Snap-T to the performance R series. Sitting conveniently in the middle is the Performance Better Sweater, which can be used for anything from daily wear to outdoor activities like biking and hiking. This new-for-2016-2017 jacket certainly isn't as serious as the R series below, but Patagonia did take the popular design of the regular Better Sweater and add Polartec PowerStretch to the sides and underarms for better range of movement (that's where the "Performance" part comes from). We think the hybrid design works—it's certainly one of the more stylish fleeces, but the stretchy, breathable, and surprisingly tough construction is also great as an active layer. One thing to consider: this jacket is one of slimmest pieces of gear that we've ever tried from Patagonia, so make sure to size up if you're on the fence.
See the Patagonia Performance Better Sweater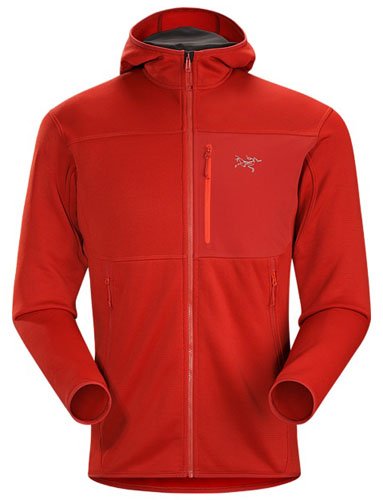 Category: Performance
Weight: 13.6 oz.
Fleece weight: Midweight
Pockets: 2 hand, 1 sleeve
What we like: Cozy and very agile.
What we don't: Design is on the technical side for daily wear.
Women's: Arc'teryx Fortrez Hoody
The Arc'teryx Fortrez is the whole package in a performance fleece jacket: it's warm, tough, and stretchy for easy movement. For cool weather activities like climbing, biking, hiking, and as a midlayer for skiing, it's a phenomenal piece of gear. Keep in mind that virtually everything about this jacket is built for active use, from the athletic fit and stretchy fabric to the serious hood that fits snugly around the neck and chin. There's even a built-in balaclava, although it tucks away and is unobtrusive when you don't need it. If you only plan on wearing your fleece around town, the Fortrez probably is too much jacket. Casual users should look at the Arc'teryx Covert Cardigan above, but in terms of performance, you can't beat the Fortrez.
See the Arc'teryx Fortrez Hoody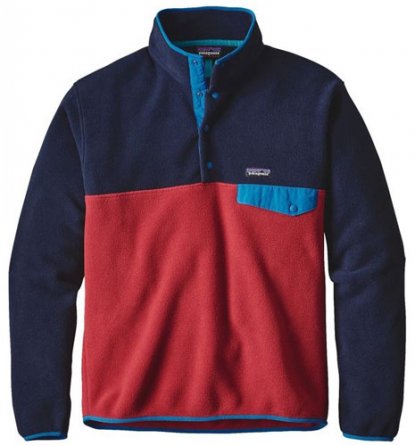 Category: Casual
Weight: 14.3 oz.
​Fleece weight: Lightweight
Pockets: 1 Snap pocket
What we like: Super cozy and warm.
What we don't: No features: this is fleece and nothing more.
Women's: Patagonia Lightweight Synchilla Snap-T
It's hard to get too far down the list without including the Synchilla Snap-T. This item is pretty much synonymous with the word "fleece," and despite its simple appearance, can be a pretty versatile piece of gear. The Synchilla is easy to throw on before heading out for a walk or bike ride, and perfect for wearing after a day out skiing. The lack of pockets is one downside—aside from the famous snap chest pocket, of course—and you don't get stretch fabrics or adjustments like the jackets above. But it's the fleece that matters here: soft, two-sided, extremely cozy fleece. Of the two available versions, we like the lightweight Synchilla, which is about 4 oz. less than the regular version but surprisingly thick and plenty warm. Keep in mind that the Synchilla Snap-T is fairly roomy, much more so than the Better Sweater.
See the Patagonia Lightweight Synchilla Snap-T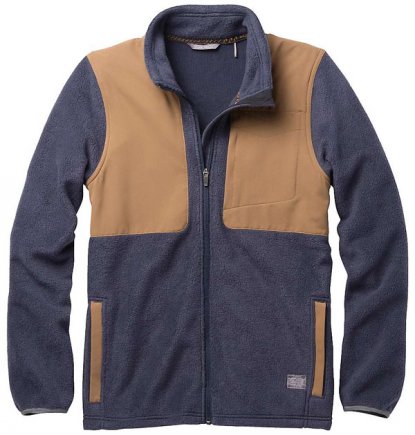 Category: Casual/performance
Weight: 1 lb. 7.1 oz.
Fleece weight: Heavyweight
Pockets: 2 hand, 1 chest
What we like: Thick, warm, and comfortable.
What we don't: Western/mountain inspiration isn't for everyone.
We were pleasantly surprised with the Ballard Fleece from Telluride-based Toad&Co, which hits a really nice sweet spot between comfort for daily use and performance. First, the jacket is thick and well made—the fleece has good density and loft, even more so than many of the options above. The brushed lining on the inside is soft and comfortable against the skin. And Toad&Co added woven twill panels on the chest and shoulders with a DWR finish, which is nice for preventing moisture during light precipitation.
In terms of uses, the Ballard Fleece is great for casual use around town—that's probably its most common designation—but its thickness and warmth make it a viable midlayer option for downhill skiing too. And the design has a decidedly western/mountain vibe, which is a nice point of differentiation from the urban/performance slant of the Patagonia and Arc'teryx options above.
See the Toad&Co Ballard Fleece Jacket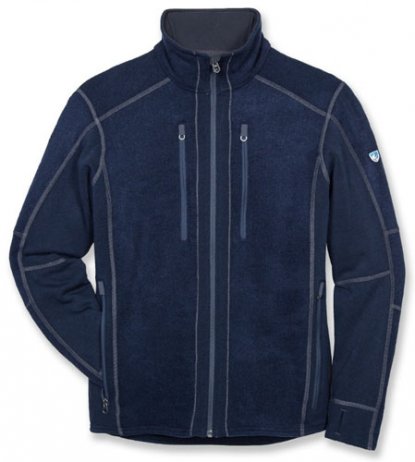 Category: Casual/performance
​Fleece weight: Midweight
Pockets: 2 hand, 2 chest
What we like: A great value for a quality full-zip fleece.
What we don't: Build quality can't quite match the Arc'teryx or Patagonia models above.
We were pleasantly surprised when trying on the Kuhl Interceptr, which feels like a more economical sibling of the Arc'teryx Covert Cardigan above (it has more technical features too). For a very reasonable $115, you get an athletic-fitting fleece jacket with tons of storage (4 pockets in total) and handy features like articulated 5-panel sleeves with thumbholes at the end to keep your hands warm and the sleeves in place. Don't expect much in the way of wind resistance or warmth when the temperature really drops, but the Interceptr does great in mild fall and spring conditions. If you've tried Kuhl products in the past and like the brand and styling, the Interceptr is a great value.
See the Kuhl Interceptr Fleece Jacket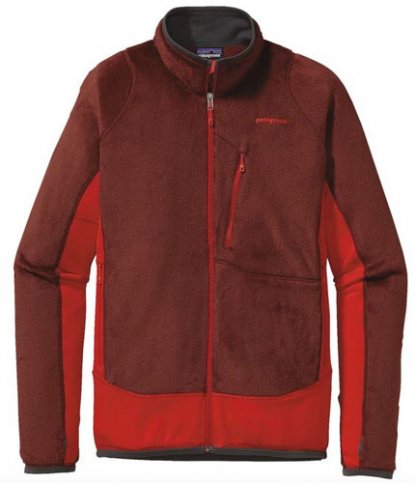 Category: Performance
Weight: 13.8 oz.
​Fleece weight: Midweight
Pockets: 2 hand, 1 chest
What we like: Cozy and great for movement.
What we don't: Does little to protect you from the wind.
Women's: Patagonia R2 Fleece Jacket
For rock climbing and other active outdoor pursuits, the R2 from Patagonia is one of the top performance fleeces on the market. This jacket is stretchy and breathable with a hybrid construction: a plush, high-loft fleece is used around the body, with a lighter weight R1 fleece under the arms and around the cuffs. If you desire more or less warmth, Patagonia has a handful of R models to choose from, ranging from the super lightweight and trim R1 to the warmer R3. We prefer the R2 because its level of warmth, mix of fabrics, and athletic but still midlayer-friendly fit makes it the best all-around performer of the bunch.
See the Patagonia R2 Fleece Jacket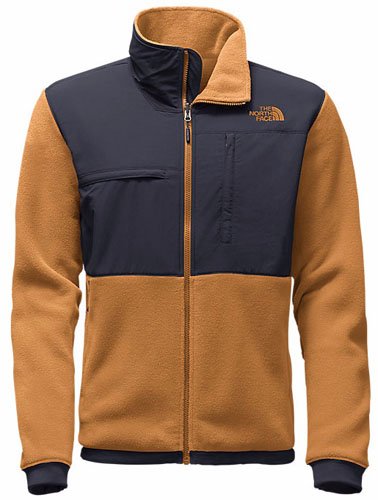 Category: Casual/performance
Weight: 1 lb. 8.7 oz.
Fleece weight: Heavyweight
Pockets: 2 hand, 2 chest
What we like: 300-weight fleece is warm and tough.
What we don't: Fit is a little baggy for our taste.
Women's: The North Face Denali 2
The Denali line has been on the market for years and is right up there with the Synchilla in terms of its iconic status (it's particularly popular for urban use in cold climates like the East Coast of the United States). We like the heavyweight fabrics used here, which provide the most actual warmth and wind protection of any jacket on this list. The 300-weight fleece is made to last, and the shoulders and chest feature a tough nylon fabric that resists light wind and moisture. But at over 25 ounces and lacking in any real compression, this is not a jacket that is easily stowed away in a pack. This all adds up to a great outer layer for fall and spring and a nice midlayer for skiing. The Denali 2 is new for 2016-2017 but with few changes (if it ain't broke, don't fix it).
See The North Face Denali 2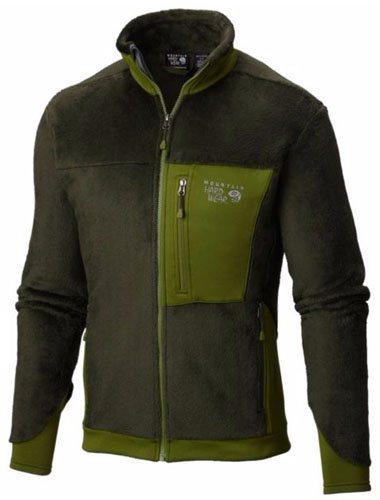 Category: Casual/performance
Weight: 14.8 oz.
​Fleece weight: Lightweight
Pockets: 2 hand, 1 chest
What we like: Super soft and cozy.
What we don't: Monkey Phur sheds over time.
Women's: Mountain Hardwear Monkey Woman 200
The Monkey Man 200 is one of our favorite pieces of gear that Mountain Hardwear makes. First, it's one the softest fleeces on this list, made with the company's signature "Monkey Phur" that actually feels somewhat like real fur (you may find people reaching over to touch it). Like the Patagonia R2 above, the Monkey Man moves well with you during high-output activities like climbing and biking. What are the downsides of this jacket? It's on the thin side and you will get chilled using it as an outer layer when the temperature drops. The sleeves are slightly longer than normal, although this didn't bother our testers as they fit nicely over the top of the hands. And you should expect some Monkey Phur to shed as something this fuzzy tends to rub off on occasion. But in terms of coziness, this fleece is right near the top.
See the Mountain Hardwear Monkey Man 200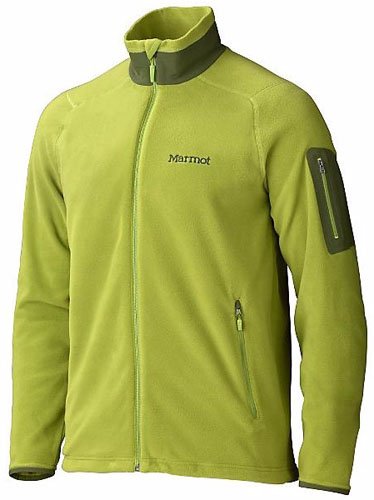 Category: Casual
Weight: 12.7 oz.
​Fleece weight: Lightweight
Pockets: 2 hand, 1 arm
What we like: A great value for a full-zip fleece jacket.
What we don't: Not as warm as other options.
If you're on a budget and don't need a ton of warmth, the Marmot Reactor is a quality fleece with a proven track record for under $100. Made with Polartec's legendary 100-weight fabric, the Marmot Reactor is a do-all lightweight fleece for everything from light outdoor use to travel. It's soft and warm enough for the shoulder seasons, yet low profile enough to layer well for skiing. One issue is that the fit is a little loose for our tastes, and therefore mobility falls short compared with the higher-end fleeces above. But the Reactor works well for most uses (except climbing), and is a great value for a full-zip fleece jacket.
See the Marmot Reactor Fleece Jacket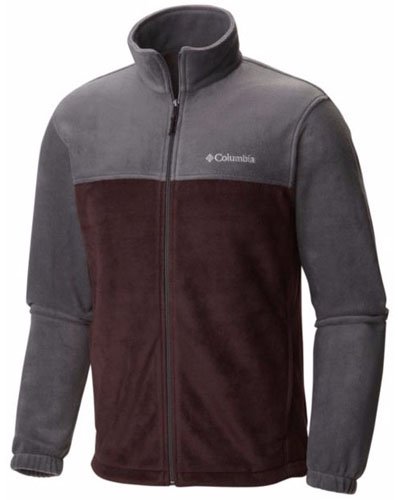 Category: Casual
​Fleece weight: Lightweight
Pockets: 2 hand
What we like: Tons of colors and sizes.
What we don't: Durability is questionable.
Women's: Columbia Benton Springs
Soft, inexpensive, and offered in a ton of sizes and colors, the Steens Mountain is a very popular budget fleece. First and foremost, this is a very simple jacket: the fabric is basic and you don't get any features to speak of. It's a good idea to set reasonable expectations for a fleece in this price range (we've seen it for around $35 on Amazon). But it does provide decent warmth and styling, albeit at the sacrifice of long-term durability. This won't be your workhorse for any kind of serious outdoor use, but if you're looking for a simple and inexpensive layering piece, the Steens Mountain should get the job done.
See the Columbia Steens Mountain 2.0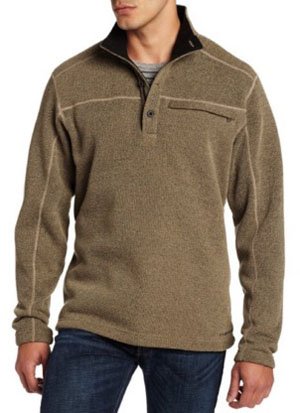 Category: Casual
Weight: 1 lb. 3 oz.
​Fleece weight: Midweight
Pockets: 1 chest.
What we like: Comfortable and inexpensive.
What we don't: Too casual for serious outdoor use.
A good number of the fleeces on this list are hybrid or performance pieces, but the ExOfficio Alpental Pullover is one of our favorites for travel and everyday use. The exterior is thick and durable, offering ample warmth and wind-blocking capabilities for chilly weather, while the interior is soft and comfortable on the skin. To be sure, the design is casual with a pullover style and buttons on the neckline instead of a zipper, but the Alpental looks great, is extremely comfortable, and can even be used as a midlayer for resort skiing. We prefer, however, to wear it as the first thing we put on back in the cabin or before heading out on the town. At $80, it's a nice value too.
See the ExOfficio Alpental Pullover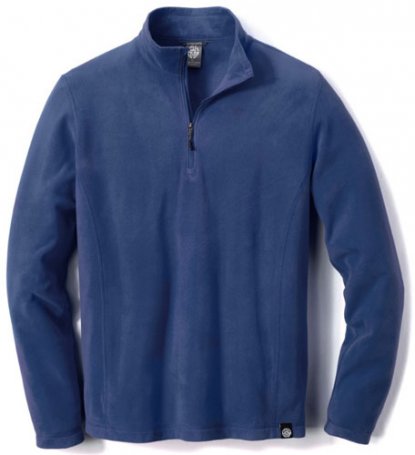 Category: Casual
Weight: 9 oz.
​Fleece weight: Lightweight
Pockets: None.
What we like: Comfortable and inexpensive.
What we don't: No pockets and thin.
Womens: REI Co-Op Pullover
Seattle-based REI knows a thing or two about the importance of a quality basic fleece—they're useful here about 10 months a year. Rounding out this list, their Co-Op Fleece Pullover is a great example of a legitimate budget option. Weighing only 8 ounces, this fleece is extremely lightweight and easy to squeeze into a small pack on a day hike or bike ride. The low-profile fleece is soft to the touch but don't expect very much wind or rain protection—the thin construction makes it a better breather than insulator. And the ¼ zip pullover design is limiting as an all-around item but does help keep the weight down. Throw it on under a shell, however, and at $45 and with a range of colors to choose from, the Co-Op Pullover is a steal.
See the REI Co-Op Pullover
Fleece Jacket Comparison Table
Buying Advice
Fleece Categories: Casual vs. Performance
The majority of people wear fleece jackets for their unbeatable combination of coziness and warmth. They are terrific for layering on chilly evenings, wearing around the cabin, and underneath your ski jacket. Accordingly, most fleeces trend toward being casual in nature, from hard-weave cardigan-style jackets that dress up nicely to basic fleeces that are little more than the fabric itself. Casual fleeces make up the majority of our list, although we do want to reiterate that they still are great for layering.
For performance or serious outdoor use as an outer layer, a down jacket or synthetic jacket beats out a fleece in most cases. Both are lighter, more packable, and offer better protection from the elements. Where fleeces do have the upper hand is breathability, although this can also be a downside as most offer little wind resistance. There are a small handful of high-end, climbing-centric brands that do offer performance fleeces. The Arc'teryx Fortrez Hoody is built for bouldering or scrambling in chilly weather, and Patagonia's R Series has similar intentions in mind. Some fleeces like the Kuhl Interceptr are more of a hybrid piece: good for wearing around town but also easy to move in and decently tough.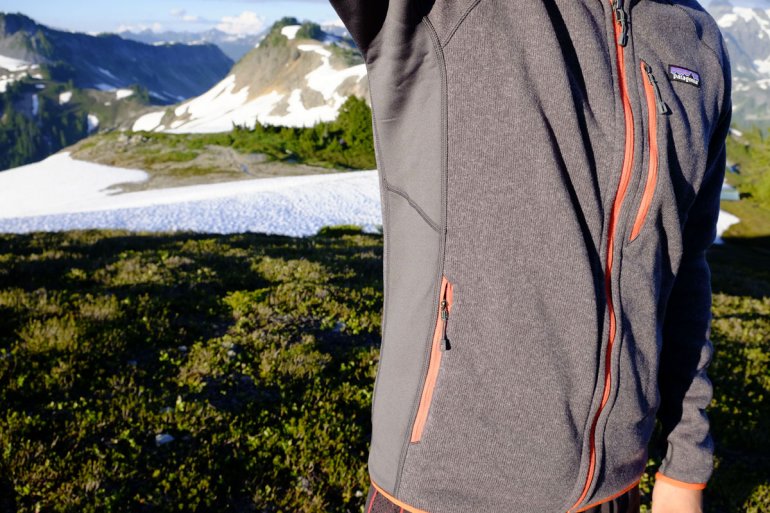 Full-Zip vs. Pullover
Most of the jackets toward the top of this list are of the full-zip variety, which gives you maximum versatility and are easy to slip on and off. Full-zip models tend to have more features like hand pockets and stretchy side panels, whereas pullovers are more basic and function like a sweatshirt (albeit a very comfy one). The upside of fleece pullovers is that they weigh slightly less, pack down smaller, and generally are cheaper. The Patagonia Synchilla is an extremely popular fleece pullover that in many ways defines the category.

Fleece Weight and Warmth
For an idea of how warm a particular fleece will be, some jackets list the fabric thickness or fleece weight. Polartec's Classic Line breaks it out into three categories: 100, 200, and 300-weight fleece, and other brands use a similar nomenclature. 100-weight jackets are thin and great for high-output activities when breathability wins out over maximum warmth. In their lightest form, such as the Patagonia R1, the fleece is merely a small step up in terms of insulation from a baselayer. Midweight or 200-weight fleeces are warmer and are a great pairing for fall and spring or a mild-weather day on the slopes. Heavy fleeces of the 300-weight variety are bulky and warm and can insulate when temperatures dip below freezing. You'll often find high-loft designs with enough insulation for cold days—a jacket like The North Face Denali 2 falls into this category.
As more companies have moved toward designing their own proprietary fleeces and Polartec has diversified their offerings, the demarcation isn't quite as simple as explained above. But it's still helpful when available, and in general, the weight of the fleece correlates with its warmth. The heavier a jacket is, the more likely it will be able to keep you warm and block wind from entering.
Wind and Water Resistance
One area of confusion that you consistently find in user reviews is the lack of wind resistance that fleeces provide. It's true—fleece jackets are not intended to combat heavy wind or rain. The synthetic fabric itself is hydrophobic, but wind can make its way through the porous construction rather easily. Exceptions include jackets with WindStopper or tough face fabrics, which provide a modest increase in weather resistance. The Arc'teryx Fortrez uses Polartec HardFace fabric on the outside and the classic Denali 2 jacket from The North Face has non-fleece nylon panels that can repel light amounts of precipitation.
No matter the fleece, when the conditions get tough you'll want to bring along a more reliable wind and rain protector like a softshell jacket or rain jacket. One of our favorites is the Patagonia Adze Hybrid that has fleece on the interior of the jacket for added warmth but a thick outer layer so you don't feel the elements.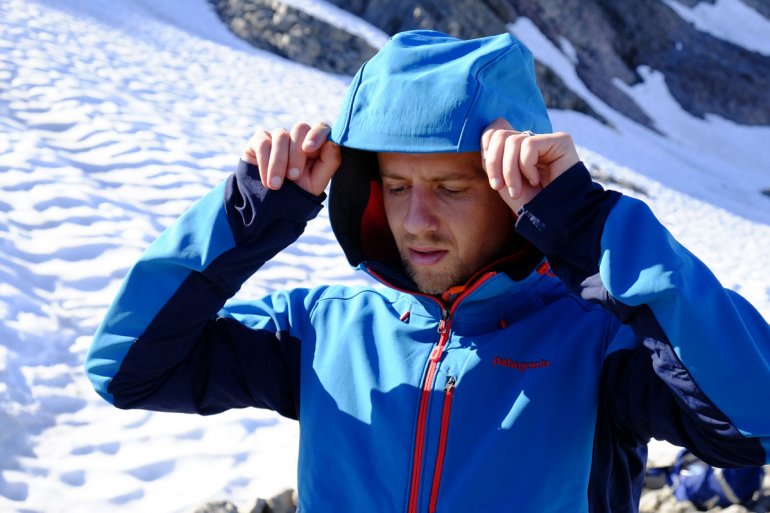 Breathability
A notable upside of fleeces is their breathability. This is one of the primary reasons that they work so well as a midlayer, and it also contributes to their shortcomings as a true outer layer in the cold and wind. Compared to a softshell jacket, a fleece is made from standard polyester that is dotted with tiny openings—hold up a fleece into the sun and you'll see light streaming through.
Some windproof jackets have a separate layer sandwiched between the inner and outer fleece to prevent those bone chilling gusts. Unfortunately, by blocking the wind, breathability suffers along with one of our favorite benefits of a fleece: the plush next-to-skin feel. Those downsides make a windproof fleece one of our least favorite fleece types; we prefer a synthetic insulated jacket or down jacket with wind blocking fabric instead.

Fit
Fleece jackets range widely in terms of fit, and it's important to look into the jacket's intended use to make sure it aligns with your own. Performance pieces have a trim cut that is designed to remove excess fabric for added mobility and efficient ventilation. While very effective on the mountain, the style doesn't always translate well to urban life. If you're in search of a jacket adept at both, something like the Arc'teryx Covert Cardigan may the ideal choice, with enough room to be comfortable but not so loose as to be useless in the backcountry. For casual wear, a roomier fit option like the Patagonia Synchilla or one of the other budget options may be the ticket.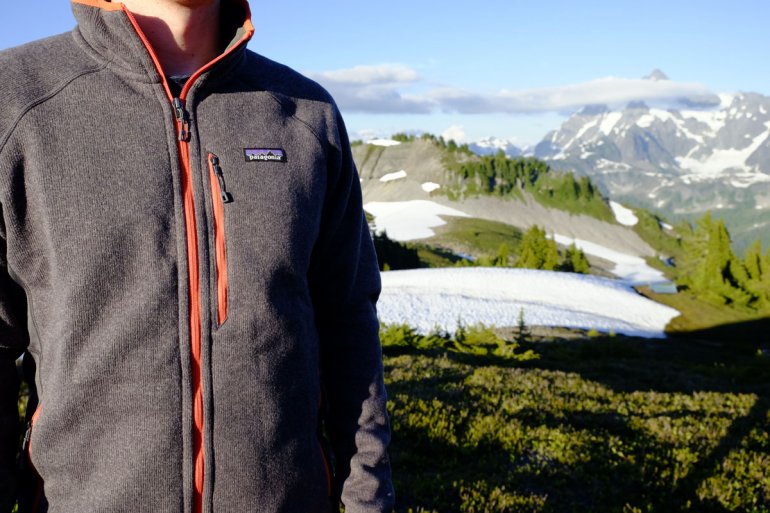 Other Fleece Jacket Features
Fleece Loft
The synthetic nature of fleece jackets means they can vary pretty dramatically in style, and one of the best representations is the amount of loft in the jacket. Less loft means a lower profile that has a brushed, sweater-like look, while high-loft options are fuzzier and thicker. Much of the decision will come down to personal preference on style and feel. Some of the high-loft options have polarizing looks (the extra fuzzy Mountain Hardwear Monkey Man 200 comes to mind). The extra soft feel of a high pile jacket is well worth it for some, while those that use their fleece around town may prefer a lower loft alternative like the Arc'teryx Covert Cardigan.

Hood
Nearly every fleece out there is offered in either hooded or standard fare. For use as a classic midlayer, we typically lean towards a non-hooded option as even a low profile hood can get in the way underneath your shell (unless you always use both hoods). And for use under a ski jacket, it's a no-brainer to go with a non-hooded model. Alternatively, in colder conditions a hood is a welcome addition and many fleece hoodies are nicely fitted over your head and should stay on even while exercising.

Thumbholes
Performance fleeces designed for activities like running or cross-country skiing will occasionally have thumbholes built into the sleeves. While serving as an opening for cold air to sneak in when not in use, the openings work well for keeping the sleeves in place during high effort activities or when taking on and off layers. User tip: if you're eyeing a jacket that has this feature, we recommend checking to make sure the fabric around the thumbhole has some stretch so it doesn't feel like your thumb is being yanked around when you extend your arms.

Fleece vs. Synthetic and Down Insulation
The midlayer market is chalk full of options, and the two primary fleece competitors are synthetic jackets and down jackets. Both are more expensive than a fleece but offer improved warmth relative to total weight and are far more packable. None are the end-all-be-all insulating layer, which is why it is common for people to own one (or more) of each of the three options.
If a cozy next-to-skin feel is top of the list, a fleece remains your go-to choice. Synthetic and down jackets require a lining and outer shell to hold the insulation, which impacts comfort and the ability to pull away sweat and hot air. As such, the fleece excels at aerobic activities when bulk isn't as much a factor. While it's still a fine option for backpacking or climbing, the fact remains that it takes up too much space in your pack to be the best option.

Caring for a Fleece Jacket
Pilling is one of the downsides of a low quality fleece, and even a nicer option can start losing fleece over time. Once a jacket starts pilling up, it's difficult to reverse the process, so prevention is key here. One of the best ways to extend the life of your fleece is keeping it clear of a drier. Line drying or at least tumble-drying on low will do wonders, and some have had success washing their fleeces on the delicate wash cycle. Also, while fleece jackets are a popular choice for hanging around the campfire, do your best to keep it clear of the flames. The plasticky construction will melt when exposed to extreme heat. Beyond those considerations, fleeces are easy to maintain and should give you years of comfy service.
Read More About Outoor Gear