Digital SLR cameras (or DSLRs for short) are among the best of the best: they have the largest sensors, the most megapixels, and the highest quality selection of lenses. Below we break down the leading DSLRs on the market in 2016 using three categories: full frame (professional), semi-pro, and entry level. Full-frame DSLRs have the largest image sensors but also are the bulkiest and most expensive. Semi-pro and entry-level DSLRs (called DX for Nikon and APS-C for Canon) have smaller image sensors but still can create outstanding images and cost considerably less. No matter your price range, there are great options and image and video quality continue to improve each year. For more information, see our DSLR comparison table and buying advice below the picks.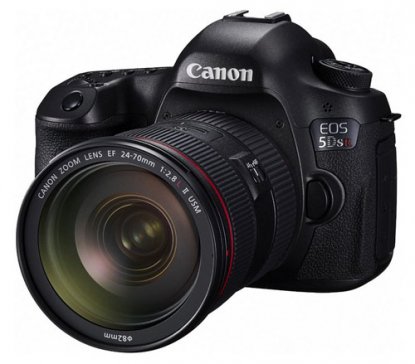 Category: Full frame
Megapixels: 50.6
Sensor size: 864 sq. mm
What we like: The highest resolution camera on the market, DSLR or otherwise.
What we don't: Lack of video features.
At the top of the DSLR heap is the Canon 5DS R, a pricey yet extremely impressive camera for the most discerning of photographers (this camera has most serious landscape photographers salivating). Most notably, you get a massive 50.6 megapixels of resolution, which surpasses the high-end Canon 5D Mark IV by 20.2 megapixels and tops the Nikon D810 by 14.5 megapixels. For those who prioritize image quality above all else, this is far and away the premier DSLR on the market.
Video shooters should keep in mind that the 5DS R bucks the hybrid trend and is designed primarily for still photography without video-centric features like headphone sockets or an HDMI output. And Canon released two versions of this camera: the 5DS R and the 5DS. The latter has an optical low pass filter and is about $200 cheaper, but at this level we think it's worth paying up.
See the Canon EOS 5DS R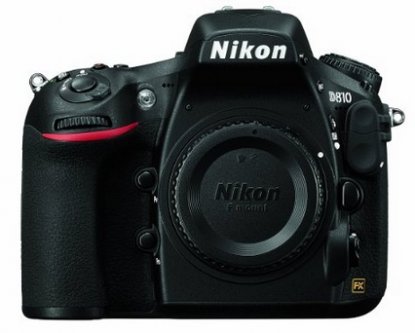 Category: Full frame
Megapixels: 36.3
Sensor size: 861 sq. mm
What we like: Nikon's best pro DSLR.
What we don't: Lower resolution than the 5DS R above.
Lenses: Best Lenses for Nikon D810
The D810 is Nikon's leading DSLR and the whole package in terms of image quality, video quality, and features. You get a powerful 36.3-megapixel full-frame image sensor, a speedy processor, and superb low light performance for professional-level photos even in the toughest of conditions. For an extended period we had the D810 as the top DSLR on the market—it offers nearly 6 more megapixels than the Canon 5D Mark V below—but the release of 5DS R has bumped it down a notch. It will be interesting to see if Nikon releases an updated version this year—the D810 is two years old and counting and a lot has changed since. But taking the megapixel arms race out of the equation, the D810 is a fantastic full-frame DSLR that you'll often see in the hands of top professionals, and for good reason.
See the Nikon D810
Category: Full frame
Megapixels: 30.4
Weight: 28.2 oz.
What we like: 4K video and a healthy jump in megapixels from the 5D Mark III.
What we don't: Significantly more expensive than the Nikon D810.
The Canon 5DS R above is a specialty camera for still photographers who value the high resolution, but the new 5D Mark IV may be a better all-rounder. Compared to the older 5D Mark III, the most notable improvement is a jump in megapixels to 30.4 megapixels from 22.3 (the D810 still is higher at 36.3 but the gap is closer now). You also get 4K video, a fast burst rate at 7 fps, and built-in Wi-Fi, among other features. For those who shoot both stills and videos, this is our favorite Canon DSLR on the market.
There are a few reasons why the 5D Mark IV is ranked here and not higher. The first is value: the camera is a steep $3,499, while the Nikon D810 is a full $1,000 less. And the 4K capability is nice, but like we've seen from hybrid cameras like the Sony a7R II before, extended shoots can cause issues with overheating and storage. Those looking for value should consider the Canon EOS 6D below, but the 5D Mark IV is nearly the whole package in a full-frame DSLR.
See the Canon EOS 5D Mark IV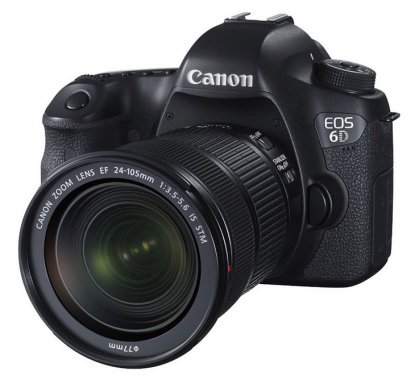 Category: Full frame
Megapixels: 20.2
Sensor size: 855 sq. mm
What we like: A tremendous value for a full-frame DSLR.
What we don't: Autofocus could be better.
Lenses: Best Lenses for Canon EOS 6D
A few years ago a new category of "entry-level" full-frame DSLR emerged, making the technology more approachable for non-professionals. In 2016 the two leading models are the Canon EOS 6D and Nikon D750, both of which serve their purposes well and offer excellent image quality for the price. We chose the Canon 6D here because it's a better value coming in at less than $2,000 with a 24-105mm kit lens.
What are the compromises of going with the Canon 6D? It has fewer megapixels than most other full-frame cameras at 20.2, and the autofocus is less advanced than the newer and more expensive 5D Mark IV. Compared to the Nikon D750, the resolution and speed of the 6D are slightly inferior. And the 6D is relatively old—it was released in 2013 and there's no word yet on when a successor will hit the market. But we love the image quality for the price, and the 6D offers the cheapest access point to full-frame photography on this list.
See the Canon EOS 6D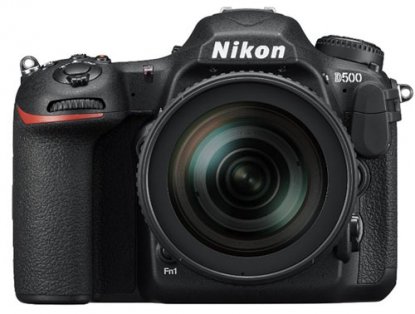 Category: Semi-pro
Megapixels: 20.9
Sensor size: 369 sq. mm
What we like: Blazing fast speed and 4K video
What we don't: Very pricey for a crop sensor camera.
Lenses: Best Lenses for Nikon D500
We neglected to include the ultra-pricey, full-frame Nikon D5 on this list, which costs around $6,500 and is designed specifically for professional action shooters. However, you can get similar speed and functionality in a much less expensive package with the new D500. This is Nikon's fastest DX camera ever and shoots a whopping 10 frames per second, making it an intriguing option for sports and wildlife. The D500 even has the same advanced autofocus as the full-frame Nikon D5 and shoots 4K video (Nikon's first crop sensor camera to do so). The major downside is the price: at $2,000 for the camera body, you're at the same level as the full-frame Nikon D750 and have well exceeded the Canon 6D. Unless action photography is your highest priority or you already have a collection of DX lenses, we would give the nod to those cameras. But the Nikon D500 fills a niche for action shooters who don't mind the smaller sensor.
See the Nikon D500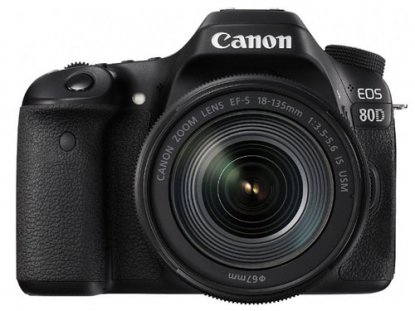 Category: Semi-pro
Megapixels: 24.6
Sensor size: 337 sq. mm
What we like: The best Canon crop sensor DSLR for most people.
What we don't: Shooting speed and autofocus can't match the 7D Mark II.
Lenses: Best Lenses for Canon 80D
If you're in the market for a Canon semi-pro camera, it's a close call between the 80D and the 7D Mark II below. It's true that the 7D Mark II is superior from a technical standpoint: it has better autofocus with 65 cross-type focus points instead of 45, and we like the autofocus joystick that allows you to pick your desired focus area. The 7D Mark II also shoots faster at 10 frames per second instead of 7. However, the Canon 80D offers more megapixels, a better LCD screen, is lighter, and cheaper. If you don't plan on shooting on action photography—those folks need and use the extra speed—we think the 80D is a better value. It does everything most people need at a lower price point.
See the Canon EOS 80D
Category: Semi-pro
Megapixels: 24.2
Sensor size: 366 sq. mm
What we like: Weather sealing.
What we don't: No touchscreen functionality.
Lenses: Best lenses for Nikon D7200
Until the release of the D500 above, the D7200 was Nikon's leading DX-format camera and boasts outstanding image quality and build. The latest version includes increased buffering speeds, Wi-Fi and NFC connectivity, and a much-improved top LCD screen. The semi-pro D7200 is a major step up from entry-level DSLRs like the Nikon D5500 and D3300 below with faster shooting, a more advanced autofocus, and weather sealing (that's a major feature for outdoor and travel photographers). If deciding between the D7200 and Canon 80D above, both cameras have very similar spec sheets and the choice mostly comes down to brand preference. The 80D has an articulating touchscreen but the D7200 wins out on other important features like ISO sensitivity and focus points. Both are excellent cameras and you can't go wrong with either.
See the Nikon D7200
Category: Semi-pro
Megapixels: 20.2
Sensor size: 336 sq. mm
What we like: Canon's fastest crop sensor DSLR at 10 fps.
What we don't: Heavy and expensive.
The 7D Mark II is Canon's most feature-packed crop sensor camera, so why is it not higher on this list? Simply put, it makes the most sense only for serious action shooters and we think the Canon 80D is a better overall value. In fact, the real competition comes from across the aisle with the Nikon D500: both are enthusiast DSLRs designed for action photography. In a head-to-head matchup, the D500 wins out because it shoots 4K video, has a more advanced autofocus (the 7D Mark II still is excellent in this regard), and comes in slightly lighter despite the flip-out screen. The 7D Mark II is about $400 cheaper, and if you prefer Canon functionality or already own lenses, the 7D Mark II still is a nice choice. To reiterate, we have the 7D Mark II below the 80D simply because few people need the extra speed and therefore the extra expense isn't usually merited.
See the Canon 7D Mark II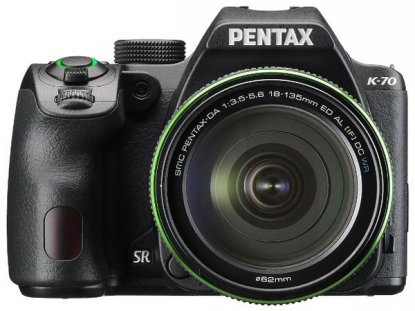 Category: Entry level
Megapixels: 24.24
Sensor size: 366 sq. mm
What we like: Impressive resolution and weather sealing.
What we don't: Heavy and limited lens options.
Pentax doesn't have the brand recognition of Canon or Nikon, but its DSLRs are competitive pretty much across the board. In addition to the weather sealing that Pentax is known for (you'll have to spend considerably more to get weather sealing from other companies) the K-70 is a very solid mid-range digital SLR. You get in-body image stabilization, which the Canon T6i and Nikon D5500 both lack, along with impressive low light performance and customizable twin dials that allow for easy manual operation.
What are the downsides of the K-70? First and foremost, the lens offerings from Pentax are much more limited that Canon or Nikon. The weather sealing also adds weight to the camera making it relatively heavy, and you don't get touchscreen functionality (the T6i and D5500 both have touchscreens). All in all, we think it's a very close call between the leading mid-range cameras and Pentax is right in the mix. For an even cheaper weather-sealed DSLR, see the Pentax KS-2.
See the Pentax K-70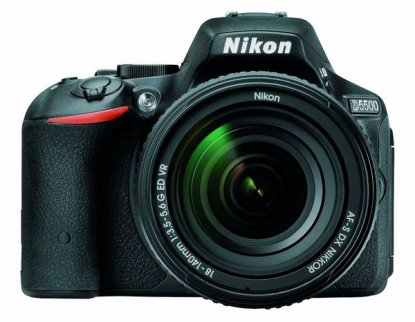 Category: Entry level
Megapixels: 24.2
Sensor size: 366 sq. mm
What we like: A nice feature set.
What we don't: On the pricey side.
Lenses: Best Lenses for Nikon D5500
Moving down from the semi-pro category to entry level are the biggest sellers on the market. Our favorite entry-level DSLR is the Nikon D5500, which has been called an "advanced beginner" model and rightfully so. Compared to true entry-level DSLRs like the Nikon D3300 below, you get a number of nice features like a tilting touchscreen for navigation, built-in Wi-Fi, and perhaps most importantly, better autofocus. We like both cameras and there aren't major differences in terms of image quality, so the choice mostly comes down to whether you value the extra bells and whistles. Perhaps the best comparison for the D5500 is to the Canon Rebel T6i, which shoots better video but is not quite as good for stills.
See the Nikon D5500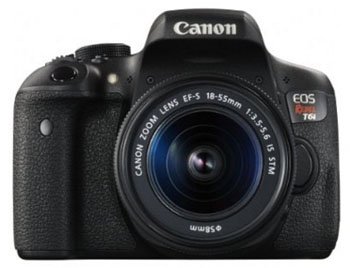 Category: Entry level
Megapixels: 24.2
Sensor size: 332 sq. mm
What we like: Shoots excellent video, particularly with STM lenses.
What we don't: For still photos we give the nod to Nikon.
Lenses: Best Lenses for Canon T6i
Canon's Rebel series has become synonymous with entry-level DSLRs, and with all the success, they keep rolling out new models without the need for major tweaks. The new Canon Rebel T6i does feature a bump in resolution to 24.2 megapixels (the T5i has 18 megapixels), which bridged the gap with Nikon's DX cameras like the D5500 and Nikon D3300. Canon also improved the autofocus and added ever-important Wi-Fi capability to the mix. Interestingly, Canon offers two versions of this camera: the T6i and the T6s. The latter retails for $100 more and comes with a few added features like an eye sensor for the optical viewfinder and a quick control dial.
See the Canon EOS Rebel T6i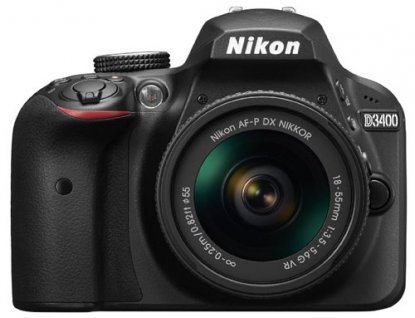 Category: Entry level
Megapixels: 24.2
Sensor size: 357 sq. mm
What we like: Good image and video quality and a great value.
What we don't: Inferior flash.
Lenses: Best Lenses for Nikon D3300
When people are just getting into photography and ask which DSLR they should buy, we often recommend Nikon's D3000 series. These entry-level cameras offer solid image and video quality, are easy to use, and relatively inexpensive for what you get. Down the road you may want to upgrade to an enthusiast or full-frame camera, but a DSLR like the Nikon D3400 is a terrific starting point.
The Nikon D3400 is new for 2016 with only minor updates over its popular predecessor: the D3300. The image sensor, processor, and autofocus are the same, but the D3400 has Bluetooth connectivity and a much-improved battery life at the sacrifice of the flash. Both cameras currently are the same price at $497 with an 18-55mm kit lens. If you plan on using your flash frequently, grab the older D3300. Otherwise, we appreciate the extended battery of the D3400.
See the Nikon D3400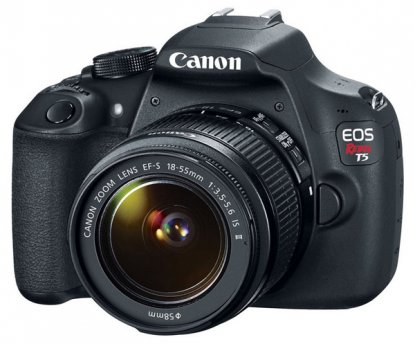 Category: Entry level
Megapixels: 18
Sensor size: 332 sq. mm
What we like: A super low price for a Canon DSLR.
What we don't: Autofocus is not great for moving subjects.
The T5 is proof that you don't necessarily need to pay big bucks for access to the Canon Rebel Series. This camera doesn't have the bells and whistles of the pricier Rebel T6i above or its sibling the Canon T5i, but it's a solid camera nevertheless. How is it so inexpensive? Canon utilized some nice cost-saving techniques to make it happen. First, the rear LCD screen doesn't have touch functionality nor does it swivel. Second, the T5 has a slower burst rate than the T6i at 3 fps instead of 5 fps. Finally, the autofocus isn't as advanced with only 1 cross-type focus point (yes, 1). But we love the price, which at around $400 with a kit lens is comparable to many point-and-shoots that don't offer nearly the same image quality.
See the Canon Rebel T5
Digital SLR Comparison Table
| DSLR | Price | Category | MP | Sensor | Weight | Burst | 4K |
| --- | --- | --- | --- | --- | --- | --- | --- |
| Canon EOS 5DS R | $3,699 | Full frame | 50.6 | 864 sq. mm | 29.7 oz. | 5 fps | No |
| Nikon D810 | $2,497 | Full frame | 36.3 | 861 sq. mm | 31.1 oz. | 5 fps | No |
| Canon EOS 5D Mark IV | $3,499 | Full frame | 30.4 | 864 sq. mm | 28.2 oz. | 7 fps | Yes |
| Canon EOS 6D | $1,499 | Full frame | 20.2 | 855 sq. mm | 26.8 oz. | 4.5 fps | No |
| Nikon D500 | $1,797 | Semi-pro | 20.9 | 369 sq. mm | 30.3 oz. | 10 fps | Yes |
| Canon EOS 80D | $1,199 | Semi-pro | 24.6 | 337 sq. mm | 25.8 oz. | 7 fps | No |
| Nikon D7200 | $997 | Semi-pro | 24.2 | 366 sq. mm | 23.8 oz. | 6 fps | No |
| Canon 7D Mark II | $1,499 | Semi-pro | 20.2 | 336 sq. mm | 32.1 oz. | 10 fps | No |
| Pentax K-70 | $897 | Entry level | 24.24 | 366 sq. mm | 24.3 oz. | 6 fps | No |
| Nikon D5500 | $697 | Entry level | 24.2 | 366 sq. mm | 14.2 oz. | 5 fps | No |
| Canon Rebel T6i | $749 | Entry level | 24.2 | 332 sq. mm | 19.6 oz. | 5 fps | No |
| Nikon D3400 | $497 | Entry level | 24.2 | 357 sq. mm | 15.1 oz. | 5 fps | No |
| Canon Rebel T5 | $399 | Entry level | 18 | 332 sq. mm | 15.3 oz. | 3 fps | No |
Buying Advice
DSLR Categories
There are a wide range of DSLRs on the market, and you can spend anywhere from $300 for an entry-level model up to $6,000 or more for full frame. For the purposes of this article, we use the three categories below.

Full-frame (Professional) DSLRs
The vast majority of professional photographers use full-frame cameras, which have by far the largest image sensors at 36x24mm. These cameras are the most expensive and the bulkiest but the image and video quality truly is outstanding. Those without significant photography experience should not necessarily feel intimidated by full-frame cameras—auto settings allow for easy operation, although many learn to use the manual functionality down the road. In 2016, you can expect to spend $1,500 and up for a new full-frame DSLR (the Canon 6D is cheapest).

Semi-Pro DSLRs
Crop sensor cameras (also called APS-C) are the most common type of DSLR. The image sensors are roughly 24x16mm (Nikon and Canon's sensor dimensions vary slightly), and the cameras have a smaller field of view than full frame. Both semi-pro and entry-level DSLRs have crop sensors, but the former are loaded with advanced features like fast shooting speeds, high-end autofocus systems, dual memory card slots, and just about every other bell and whistle you can think of. Semi-pro DSLRs are in the $1,000 to $2,000 price range.

Entry Level DSLRs
The best-selling DSLRs are found at the entry level. Models include the Nikon D5000 and D3000 series, and Canon's Rebel series. The image sensors and megapixels in the entry-level class are similar to semi-pro but these cameras offer fewer advanced features (as the price gets lower features get stripped away). The good news is that you still get great image quality for the price and these DSLRs perform better and are less expensive than ever. Entry-level DSLRs generally cost between $400 and $800 with a kit lens included.

Sensor Size
Here at Switchback Travel, we praise sensor size over megapixels, which has a larger impact on image quality. As mentioned above, there are two main image sensor sizes to choose from when buying a DSLR:
Full frame DSLRs: 36 x 24mm.
Crop sensor DSLRs (Nikon "DX" or Canon APS-C"): 24 x 16mm or slightly smaller.
Full-frame DSLRs have the largest sensors at roughly 36 x 24mm. Crop sensors are by far the most common, measuring approximately 23.5 x 15.6mm for Nikon's DX cameras and 22.3 x 14.9mm for Canon's APS-C. The good news is that large sensors are a big reason that many people choose DSLRs in the first place, and even a crop sensor camera is capable of producing professional-grade images that can be enlarged and hung on your wall. Professionals feel the extra cost of full frame is worth it, but most amateurs stick with crop sensor models.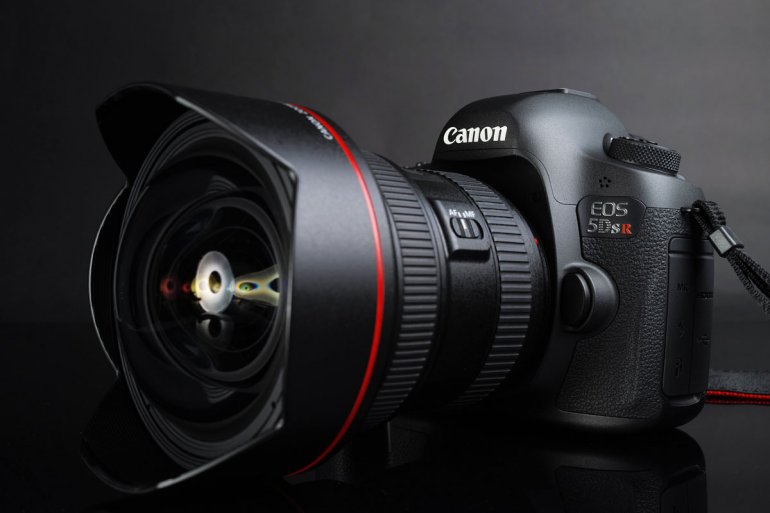 Megapixels
Megapixels matter, but not as much as marketers would lead you to believe. It's the combination of megapixels and sensor size that determine image resolution. Many newer entry-level and mid-range DSLRs offer megapixels counts around 24, including popular models like the Nikon D5500, D3300, and Canon T6i. Canon made a jump from the T5i (18 megapixels) to the T6i and T6S (24.2 megapixels) to finally catch up with Nikon in that department.
The truth is that megapixels should merely be one factor of many when making a camera buying decision. It's worth noting when major jumps were made: the Canon T5i to the T6i, for example, or the D3100 to the D3200. But most crop sensor DSLRs are comparable in megapixels and the small differences won't make or break the quality of your photos.
At the top end of the DSLR spectrum, there is more megapixel variation. A big battle is between the full-frame Nikon D810 (36.3 megapixels) and the Canon 5D Mark IV (30.2), which represents a notable difference if you plan on enlarging photos for professional purposes. And last year, Canon released the 5DS R, which boasts an incredible 50.6 megapixels. Those spreads matter much more than at the APS-C level.

Autofocus
With specs like megapixels and image sensor getting most of the attention, don't overlook the importance of autofocus. Many cheaper digital SLRs cut costs with inferior autofocus, including the number of focus points and type (phase detection and contrast detection). An extraordinarily inexpensive DSLR like the Canon Rebel T5 ($399) has merely 1 cross-type focus point, while the Canon EOS 7D Mark II has a whopping 65 cross-type focus points. That's a staggering difference between two APS-C cameras from the same brand.
Unfortunately, there aren't hard-and-fast rules as to what constitutes great autofocus, but you can start with the number and type of focus points. Multiple focus points help improve accuracy, so the more the better. Contrast Detection is slower than Phase Detection, and cross-type sensors are more accurate than vertical line sensors. Understanding the full complexities of autofocus is worthy of a full article in itself, but generally you can expect the quality of the autofocus to correlate with the price of the camera. If a DSLR is an outlier to this rule, we will let you know in the write-ups above.

Video
Video is all the rage in 2016. In terms of video resolution, 1080p is the standard with some high-end DSLRs like the Nikon D500 now offering 4K. Generally, cheap DSLRs shoot inferior video compared to mid-range and high-end models. Factors to consider include the quality of the autofocus, size and type of the image sensor, video speeds that the camera offers, and lenses that you intend to use. The audio capabilities of DSLRs also vary significantly as do the outputs.
Over the years, Canon DSLRs have been known for producing the best video. Nikon bridged the gap recently but the distinction remains. For example, the entry-level Canon Rebel series is best in class in terms of video quality, and Canon has geared its kit lenses accordingly by adding STM (Stepping Motor) technology for smooth and silent video focusing. In the enthusiast DSLR category, the Nikon D500 and Canon 7D Mark II shoot by far the best video with autofocus and speed that can challenge many full-frame cameras.
At the top end of the full-frame market, we are now seeing some divergence between video and still design. The new 50.6-megapixel Canon 5DS R does not include video-centric features like headphone sockets or an HDMI output. We understand the rationale: many dedicated videographers have cameras specifically for that purpose. It's a good idea to have separate models with higher resolution sensors like the 5DS R that aren't as good for video.

Rear LCD Screen
It seems like every DSLR update includes a higher resolution LCD screen with more features. That's a good thing, and we particularly like touchscreen functionality that allows you to navigate the camera's settings with more than a simple thumb toggle. Some LCD screens tilt and articulate, meaning that they are moveable depending on the angle of your shot (this is really handy for video shooters). A tilting or articulating LCD screen does add weight to the camera, which is something to keep in mind. And many pro full-frame DSLR do not have tilting or articulating screens—this feature is most popular on consumer models for people use for hand-held videos.

Wi-Fi
Built-in Wi-Fi is a nice perk available on most new DSLRs, allowing you to transfer and upload photos and video to your device or social media platform directly from the camera (some even offer light in-camera editing). The software and Wi-Fi platforms vary, and some are easier to use and less buggy than others, but we like the option of using Wi-Fi. One thing to keep in mind: using Wi-Fi to transfer photos all of the time can eventually take a toll on your camera's processor. Don't be afraid to use Wi-Fi, but if you have a cord handy and it's convenient to transfer photos in that manner, doing so may help prolong the life of your camera.

Weather Sealing
Some enthusiast and full-frame DSLR cameras are weather sealed for added protection from the elements (you can see our full list of weather-sealed DSLRs here). Weather sealing varies by model and there aren't universal standards, but the process involves adding rubber sealing and housing on the body and around the buttons to make the camera more resistant to moisture and dust (both can be an absolute killer to your electronics). Calling these cameras weatherproof or waterproof would be an exaggeration, but they can handle tough conditions well and are popular among those who frequently are out in the field shooting in inclement weather.

Lens Types
When choosing a digital SLR camera, you're also choosing a family of lenses that may stay with you for an extended period of time. If you buy a Nikon or Canon DSLR and start acquiring specialty lenses, you may want to upgrade your camera every few years, but with proper care the lenses should last for decades.
Just as Canon cameras offer superior video, Nikon glass is preferred by a small majority of professional photographers that we know. However, both brands have extensive collections of crop and full-frame lenses, including a wide range of zooms and primes. You can't go wrong with either brand, but keep in mind that there are transaction costs associated with selling lenses and buying new ones. Many people start with one brand and stay with it for convenience and cost effectiveness.

Ease of Use
Some people are intimidated by the prospect of using a DSLR and instead stick with their their point-and-shoot camera or smartphone. These worries are unfounded: DSLRs across the spectrum from entry level to full frame have automatic shooting modes that do almost all of the work for you. It's also true that they have advanced and manual features that really can make your photography shine.
Our advice is to read the manual when you first buy a DSLR and watch the short introductory videos on its functionality. Before taking a big trip where you really want great photographs, head out for a test shoot to experiment and look at your results. You can always shoot with auto mode in a pinch, but it's nice to have some fluency with things like shutter speed, ISO, and lens aperture. The process takes time, but with all of the available settings on today's models, there is no reason to avoid taking the DSLR plunge. For a full list of beginner options, see our article on the best entry-level DSLRs.

A Note on Canon and Nikon Domination
It's true that Canon and Nikon dominate this list. This is not the case in other camera categories (see our article on the best mirrorless cameras, for example), but Canon and Nikon flat out make the best DSLRs and have by far the largest collection of lenses. Both have been doing so for many decades and cameras from other manufacturers did not crack this list in any of our categories: full frame, semi-pro, or entry level.
If you are interested in looking elsewhere, Sony has an interesting collection of digital SLRs, including the full-frame Sony a99 and new crop sensor a68. Pentax makes a number of DSLRs that are known for their excellent weather sealing, but you're dealing with a pretty limited collection of lenses. At the end of the day, both from a price and quality perspective, we think Canon and Nikon DSLRs make the most sense.

What About Mirrorless Interchangeable-Lens Cameras?
This is a question that just about every photographer must ask in 2016, and it's getting tougher to answer with impressive mirrorless releases like the new Sony Alpha a6300. There is no doubt that mirrorless cameras have made inroads on the DSLR market—they forego the bulky internal mirror system for an all-digital design that is more compact. The lens options still are more limited than DSLRs but are expanding, and Sony has released a very attractive line of full-frame mirrorless cameras, including the powerhouse a7R II.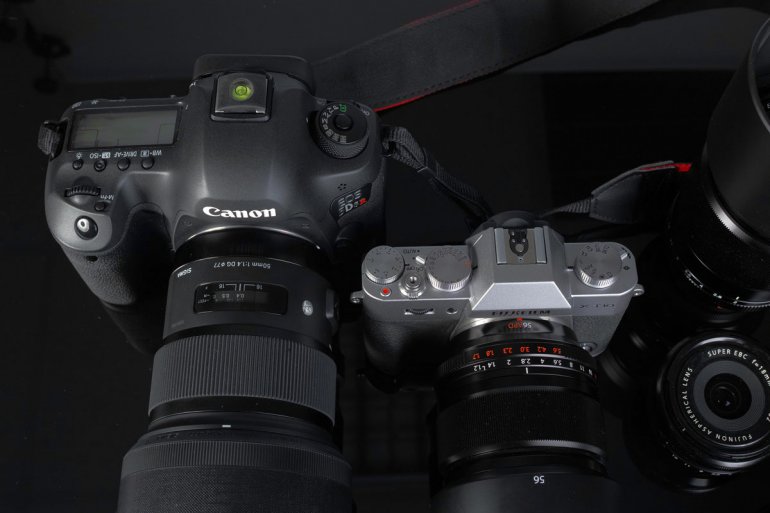 DSLRs have the most extensive selection of lenses and decades of experience to back it up. Mirrorless cameras are more compact but the cost savings is debatable, particularly when you add in lenses (all things considered, they could be more expensive than DSLRs). For personal and business use, we use both types of cameras. If you're a top landscape professional looking to shave ounces, Sony's a7 series is a great option. For most people, and particularly those on a budget, DSLRs still are an excellent choice.
Read More About Photography