Cozying into your sleeping bag at the end of a long day on the trail is one of the simple pleasures of backpacking. Today's backpacking bags offer not only exceptional warmth for their weight, but a range of technologies make them comfortable in a variety of conditions and compress quite small. Our top picks for 2017 are mostly insulated with duck or goose down. This natural fill remains the premium option, and hydrophobic coatings are improving on its greatest weakness: moisture resistance. For more background, see our comparison table and buying advice below the picks. To complete you backpacking kit, we've also written about the best backpacking tents and sleeping pads.


Temperature rating: 20°F
Weight: 1 lb. 15 oz.
Fill: 900-fill goose down
What we like: Premium down and build quality at a reasonable price.
What we don't: More colors would be nice.
Women's: Feathered Friends Egret Nano 20
If you haven't heard of Seattle-based Feathered Friends, do yourself a favor and get introduced. This small company specializes in down products and makes just about everything in the U.S.A. Climbers stop in religiously before heading to Mt. Rainier, Alaska, and far-off places like the Himalaya, and it's well worth a visit if you're in Seattle (Feathered Friends is one block down from the REI flagship store). Most importantly, the down products are awesome and very competitively priced for what you get.
The Swallow Nano 20 is Feathered Friends most popular 3-season bag and for good reason. The spec sheet is impressive: 16.8 ounces of 900-fill goose down, a very legitimate 20-degree temperature rating (Feathered Friends is on the conservative side if anything), and a water resistant 20D shell, all at less than 2 pounds. In fact, the Swallow Nano beats out the popular Western Mountaineering UltraLite in specs (slightly better down and more of it) while costing $70 less. Both are the premier lightweight sleeping bags for backpacking on the market, but we give the nod to the Swallow Nano based on price.
See the Feathered Friends Swallow Nano 20

Temperature rating: 20°F
Weight: 1 lb. 15 oz.
Fill: 850-fill goose down
What we like: Super comfortable and lightweight.
What we don't: Similar specs as the Swallow Nano above but more expensive.
Similar to Feathered Friends, Western Mountaineering is a down specialist and longtime favorite among serious backpackers and climbers. Their bags are supremely comfortable, lightweight, and made in the U.S.A. Aside from the high prices (premium down costs a lot no matter where you get it) we have nothing but positive things to say about the brand. We've used their sleeping bags in unforgiving conditions from Nepal to Arctic Norway.
The AlpinLite is a wider version of Western Mountaineering's popular UltraLite sleeping bag, giving you an extra 4 inches of girth in the shoulders and hips while only adding 2 ounces of weight. This makes it a great bag for those who toss and turn or like a little extra room. And given that we think Western Mountaineering's shell fabrics are ever so slightly softer than Feathered Friends, the AlpinLite 20 may be the most comfortable 20-degree bag on the market. Feathered Friends makes a wider version too—the Swift Nano 20—but it weighs a couple ounces more. Both are superb lightweight bags that should last you for many years to come.
See the Western Mountaineering AlpinLite 20

Temperature rating: 28°F EN Comfort, 17°F EN Lower Limit
Weight: 1 lb. 15 oz.
Fill: 700-fill duck down
What we like: A great combination of weight, warmth, and price.
What we don't: Lower quality down than the options above.
Women's: REI Co-op Joule 21
For weekend backpackers or those who don't want to spend $400+ on a sleeping bag, our top value pick is the REI Igneo. Instead of 900 or 850-fill goose down, the Igneo has 700-fill duck down (you can read about the distinction in our article on down fill). And given that the Igneo has less fill weight at 15.9 ounces than either of the bags above, it won't be as warm. The EN Lower Limit rating is 17°F but we like to look at the more applicable 28°F EN Comfort rating for its actual utility. The Igneo should work well down to about freezing but don't expect it to go much colder than that.
Having said of all of this, the Igneo is an outstanding bag for many backpackers. The weight is under 2 pounds, making it a very viable option for long summer backpacking trips. And given REI's Seattle roots, they added waterproof fabric around the hood, sides, and footbox. Combined with water repellant down and a DWR finish on the shell, the Igneo stands up as well as any down bag to wet conditions. New for this season is an Igneo 25 (35°F EN Comfort), which is lighter and even more packable than the Igneo 17 for warmer conditions.
See the REI Co-op Igneo 17

Temperature rating: 34°F EN Comfort, 23°F EN Lower Limit
Weight: 1 lb. 8 oz.
Fill: 900-fill goose down
What we like: Super light and stretchy.
What we don't: The 8D shell is just too thin for our tastes.
Montbell is an innovative and alpine-centric company, and you'll find their gear in serious outdoor shops around the country (and only on their website as they've stopped selling elsewhere online). Aside from the premium down and low weight, the defining features of the Down Hugger 900 are the diagonal baffles and stretchiness. Where other sleeping bags pretty much hold their form when you turn over or lie on your side, the Down Hugger stretches and then returns to form once you're settled. It's a very cool feature that makes this one of the most comfortable bags on this list.
Our main issue with the Down Hugger is its thin 8-denier shell fabric. Montbell always is pressing limits on warmth-to-weight ratio, and 8D is considerably thinner than the two lightweight 20D bags at the top of this list. Even Feathered Friend's ultralight series uses a 10D shell and Western Mountaineering dips down to 12D. But 8D means you better take the utmost care of your bag and don't even think about bringing your dog along. And from our experiences, Montbell gear is well built but perhaps not quite to the same level as other top-tier brands.
See the Montbell Down Hugger 900 #2

Temperature rating: 22°F
Weight: 1 lb. 6.1 oz.
Fill: 900-fill goose down
What we like: Premium build and functional, quilt design.
What we don't: Need to wear a beanie or hooded jacket in cold weather.
All of the options above are mummy bags, but some ultralighters favor a different design altogether: a sleeping quilt. Gone is the large mummy hood, which can work out if you bring a beanie or a lightweight down jacket with a hood. In addition, quilts are designed to be used with a sleeping pad. You can sleep in them like a traditional sleeping bag, but most people open them up and wrap them around their sleeping pad (make sure to get a pad with a proper R-value for insulation from the ground). The result is good comfort, significant weight savings, and a minimalist design that thru hikers and other ounce counters love. You also can save a little bit of money in the process as quilts have less total down fill.
Our favorite sleeping quilt for backpacking is the Flex 22 from Colorado-based Katabatic Gear. With this quilt you get a premium build (better than the Revelation 20 below), a solid 22-degree temperature rating, and about a 9-ounce weight savings over our top two sleeping bag picks. There are sacrifices, however. The Flex 22 is a slender 54 inches in the shoulders, which is pretty snug when used like a regular sleeping bag and not open. And we appreciate having a mummy-style hood, which offers a lot of warmth and coziness around the neck and head. But if you want to go minimalist, you won't find a better quilt for the job.
See the Katabatic Gear Flex 22

Temperature rating: 34°F EN Comfort, 23°F EN Lower Limit
Weight: 2 lbs. 10 oz.
Fill: 550-fill goose down, synthetic (Heatseeker)
What we like: Value, value, value.
What we don't: Bulkier and heavier than pricier bags.
In terms of value, you won't find a better backpacking bag than the Furnace 20 from The North Face. The key factor is the 550-fill power down, which is the lowest on this list and offers less warmth for the weight than the premium options above. However, this keeps the cost down considerably, which is why many people love this bag. At 2 pounds 10 ounces and with a 34°F EN Comfort rating, the Furnace 20 is a solid 3-season sleeping bag for those on a budget.
In terms of features, the Furnace 20 has a ProDown hydrophobic finish and synthetic fill along the bottom of the bag to help prevent moisture from soaking in, and the bag is wide through the shoulders and hips for those who like a roomier fit. Considering its $179 price, it's a great match for most trips and conditions. Keep in mind that the Furnace 20 won't pack down as small as higher-end bags and is quite a bit heavier than even a mid-range option like the 700-fill REI Igneo, but again, it's the price that we like most.
See the North Face Furnace 20

Temperature rating: 32°F EN Comfort, 22°F EN Lower Limit
Weight: 2 lbs. 11 oz.
Fill: Synthetic (Thermal Q)
What we like: You don't have to worry about moisture.
What we don't: Not as fluffy or compressible as down.
Women's: Mountain Hardwear Lamina Z Flame
For backpacking, we almost always favor down sleeping bags over synthetics—they pack down smaller, provide more warmth for the weight, and are more comfortable. And with all the developments in water repellant down, DWR finishes, and dry bags, almost all of our backpacking bags are down filled. That being said, Mountain Hardwear has done some pretty cool things lately with synthetic insulation, and their Lamina series are some the top synthetic sleeping bags on the market.
The recently updated Lamina Z Flame is a great value at $179 with an EN Lower Limit of 22°F (and the same EN Comfort rating as the REI Radiant below for less money). Impressively, the Lamina Z Flame weighs 2 pounds and 11 ounces, only a few ounces more than the Radiant, and won't lose its ability to insulate when wet. It also compresses down well for a synthetic—much smaller than you might think. What are the downsides of this bag? It doesn't pack down as tightly as down, isn't as pillowy soft, and synthetic insulation has a tendency to lose shape over time. Compared to Mountain Hardwear's HyperLamina bags with half zips that are slightly lighter, we strongly prefer the less restrictive full-length zippers.
See the Mountain Hardwear Lamina Z Flame

Temperature rating: 20°F
Weight: 1 lb. 4.3 oz.
Fill: 850-fill down
What we like: Inexpensive and tons of customizations.
What we don't: Lengthy shipping time.
We explained the quilt-style design in our write-up of the Katabatic Gear Flex 22 above, and the Revelation 20 quilt from Minnesota-based Enlightened Equipment is an even more affordable option. To start, we absolutely love Enlightened Equipment's website and the incredible number of customization options. You can get the Revelation in 3 different fill powers, 6 temperature ratings, 4 lengths, 4 widths, and 16 fabric options. You can even add optional 20D weather resistant strips. Shipping does take 3-5 weeks as these bags are custom made, but it's a pretty darn cool system.
The word on the Revelation 20 is that's an outstanding value for a quilt but slightly inferior in build quality to the Katabatic Flex 22 above. Given the significant difference in price, it's really up to whether you want to save or spend up for the premium build. The shipping time can be a downside too, making it out of reach for those who don't plan far ahead (Katabatic says "Ships within 2 weeks" for most of its quilts). Either way, we can't help but love a small U.S.-based company like Enlightened Equipment that takes the time to do it right.
See the Enlightened Equipment Revelation 20

Temperature rating: 20°F EN Comfort, 7°F EN Lower Limit
Weight: 2 lbs. 0 oz.
Fill: 850-fill goose down
What we like: Warm, comfortable, and lightweight.
What we don't: Pricey.
Few brands stuff as much high quality down into their gear as Brooks-Range. The Drift 15 is the warmest bag on this list with a 20°F EN Comfort rating, and you get a whopping 20.5 ounces of 850-fill goose down. More, Brooks-Range uses DownTek to prevent moisture from soaking in and a unique Halo Collar system for keeping warm air inside your bag. This is a well-thought-out system for serious backcountry trips where weight is at a premium.
Keep in mind that this is an ultralight sleeping bag with a relatively thin 15-denier shell (Feathered Friends uses 20D for their regular bags and 10D for their ultralight bags, so this is halfway in between). And the use of vertical baffles is interesting—some sleeping bag manufacturers tout the ability to move down from front to back when warmth is needed, but vertical baffles arguably are more comfortable, and particularly around the hood and feet. For less or more warmth, Brooks-Range also makes the Drift in versions from 45°F to -10°F.
See the Brooks-Range Drift 15

Temperature rating: 26.5°F EN Comfort, 15°F EN Lower Limit
Weight: 2 lbs. 5 oz.
Fill: 750-fill down
What we like: Super comfortable for side sleepers.
What we don't: Pricey and not a leading bag in warmth or weight.
Women's: Nemo Rhapsody 15
For side sleepers and those who want some extra room, give the Nemo Nocturne a serious look. This unique spoon-shaped bag allows you to twist and turn at night as opposed to the more constricting shape of a mummy. The shoulder opening is a wide 64 inches, but what stands out is its 64-inch knee girth (for comparison, that's wider than the shoulder girth of most bags that made this list). And with limited tapering and extra room in the hips and toe box, the Nocturne is a roomy and comfortable sack that bucks traditional sleeping bag design.
Why isn't the Nocturne ranked higher on our list? It's fairly pricey and heavy for what you get, and we do feel that a decent amount of warmth can be lost with such a roomy cut. But for side sleepers who can't get a good night's rest in a traditional bag, we praise Nemo for the innovative design. We also like the down/synthetic blend Fusion 20, or you can go with lower fill power in the Salsa 15. All incorporate Nemo's spoon-shaped design.
See the Nemo Nocturne 15
Temperature rating: 27.1°F EN Comfort, 15.6°F EN Lower Limit
Weight: 2 lbs. 7.5 oz.
Fill: 650-fill duck down
What we like: Lots of warmth for the price.
What we don't: Relatively heavy.
Women's: Marmot Angel Fire
Most sleeping bags in this price range have an EN Comfort rating around freezing or just above. For those that run cold or want a little extra warmth for the shoulder seasons, try the Marmot Sawtooth. This bag is warm, comfortable, and the 650-fill down offers a nice compromise of performance and value. And with the added Down Defender treatment for water resistance, it's a great all-around sleeping bag at under $250.
Keep in mind that the 27-degree EN Comfort rating is ample for most backpacking jaunts into the mountains and won't have you checking the forecast incessantly before the trip, but the Sawtooth may be overkill for warm summer conditions. And it's not warm enough for true winter camping, so again, it's best for those who run cold or get out in spring and fall. For higher fill power options from Marmot, see the Plasma series.
See the Marmot Sawtooth

Temperature rating: 32°F EN Comfort, 19°F EN Lower Limit
Weight: 2 lbs. 8 oz.
Fill: 600-fill duck down
What we like: A solid value; roomy fit around the shoulders.
What we don't: Lower fill power than the options above.
Women's: REI Co-op Serrana
The Radiant is REI's entry-level down backpacking bag and an attractive option for those on a budget. The 32°F EN Comfort rating hits the sweet spot for many 3-season backpackers: it's warm enough for chilly alpine nights but not excessively hot for summer use. The 600-fill power is less than REI Igneo above, but so is the price, and that's why many people choose the Radiant.
All in all, this a nice down bag for weekend backpackers. It's not ultralight by any means at 2 pounds 8 ounces, but is perfectly respectable in terms of weight, warmth, and cost. Surprisingly, the shell fabric has more of a premium feel than you might expect, considerably more than other bags in this price range like the Kelty Cosmic 20 below. If you plan on covering long distances or backpacking frequently each summer, we recommend the Igneo above. If you're a first timer or just getting into backpacking, the Radiant is a good place to start.
See the REI Co-op Radiant

Temperature rating: 30°F EN Comfort, 19°F EN Lower Limit
Weight: 2 lbs. 13 oz.
Fill: 600-fill down
What we like: Great price for a down bag.
What we don't: Build quality and feel can't match pricier bags.
Women's: Kelty Cosmic 20
Kelty makes inexpensive backpacking gear that can pleasantly surprise you with its quality. The Cosmic Down 20 is one of the cheapest down sleeping bags on the market—definitely from one of the major manufacturers—but the EN Lower Limit rating of 19 degrees should keep you reasonably warm in most 3-season conditions. The 600-fill power ties it with the Radiant and isn't particularly impressive, but you get the bonus of treated hydrophobic down for wet conditions.
Make sure to have realistic expectations for a down bag in this price range. Past versions have received some complaints about cold spots and the sleeping experience won't be as comfortable as pricier bags. But for those new to backpacking or only get out a couple times a year, the Cosmic Down 20 is another nice budget option.
See the Kelty Cosmic 20
Backpacking Sleeping Bag Comparison Table
* For the purposes of this table, we have included the EN Comfort rating, which we feel is the most accurate point of comparison. When available, we've listed both the EN Comfort and EN Lower Limit in the product specs above. For more on the differences, see our buying advice below.
** Two manufacturers haven't made the shell denier available and we are continuing to investigate.

Backpacking Sleeping Bag Buying Advice
Our Ranking Criteria
This is a backpacking article, and therefore weight is one of our primary ranking considerations. Our take is that a lighter pack makes for a better pack, and our top choices are from two of the premier lightweight sleeping bag manufacturers. Second, we always take cost into consideration. Getting high-end gear is great, but not everyone can afford (or truly needs) a $400+ sleeping bag. Therefore, we also include the leading mid-range and budget options that offer the best value. Conversely, an overpriced bag won't rank as well. Our final ranking category is performance, which includes things like build quality, feature set, and how the bag works in the field.
Based on our testing and experience, we can tell you that high-end bags like those from Feathered Friends and Western Mountaineering are worth it on long trips and for those who get out into the backcountry frequently. The weight savings and packability matters—as does the overall quality—and these bags are extraordinarily warm, comfortable, and will last. If you're new to backpacking or don't mind carrying a few extra pounds, you'll do just fine with one of the budget bags toward the bottom of the list. We've used inexpensive gear on countless occasions and the sun always seems to come up the next morning.

Seasons and Temperature Ratings
Summer and Two-Season Bags (32°F and Above)
We are careful when recommending warm weather bags because they leave the least room for error. If it's summer and you're camping in a hot place like Utah or at low elevation in a place like Colorado, a 32-plus degree bag should do the trick. The advantage is that you can keep your pack lighter as these bags weigh as little as one pound and compress down incredibly small. However, one cold night can make for an uncomfortable trip. When carrying a true summer bag, bring a beanie and other layers that can help you keep warm if there happens to be an unexpected drop in temperature. To avoid any mishaps, we usually prefer to use three-season bags unless we are going ultralight. You can open them up at night when necessary or sleep on top on balmy nights.
Three-Season Bags (32°F to 20°F)
The majority of backpacking sleeping bags are of the three-season variety. We love their versatility: in the summer you can unzip and stay reasonably cool, but they also allow for spring, fall, and alpine backpacking where the temperature drops to freezing or below (this often happens in the night in the mountains even during the summer). In this category we love the REI Co-op Igneo, which hits that temperature sweet spot for a wide range of trips and comes in at a very reasonable price point. If price isn't an issue, Western Mountaineering makes some of the finest backpacking bags on the market.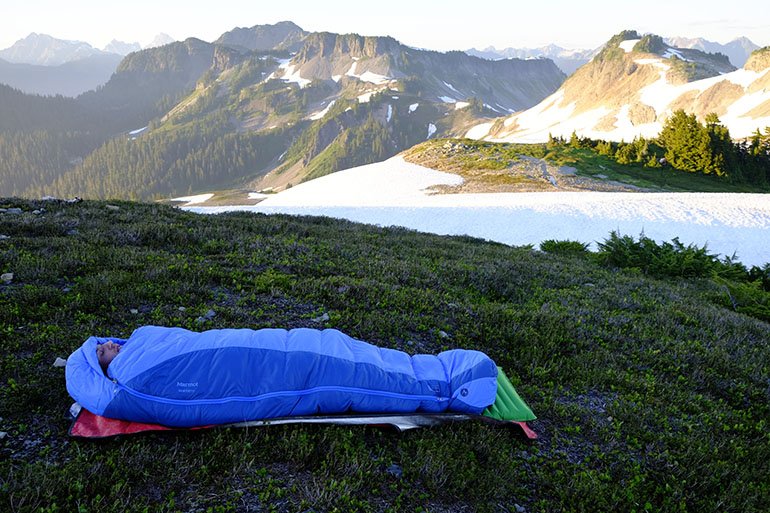 Cold Weather Bags (20°F and Below)
You really have to know your gear and the conditions when climbing mountains or heading out into the backcountry during the winter. For the purposes of this article, we've made our temperature cutoff at just under 20 degrees and provided a couple of great options like the Western Mountaineering AlpinLite 20 and Feathered Friends Nano. Anything colder than that—think mountaineering or winter camping—and you're in the market for a true cold weather bag. There are a number of options from climbing-centric companies like Western Mountaineering, Montbell, Mountain Hardwear, and Marmot that are rated down to 0°F or even lower.

The EN Rating System Explained
Instead of depending on the manufacturer and their marketing whims for a temperature rating, the Europeans have standardized the system. EN 13537 (or just EN for short) establishes guidelines for how to test the warmth of a bag and gives us two very important numbers:
EN Comfort Rating: The temperature at which an average woman can sleep comfortably. Generally, women sleep colder than men, hence the importance of the comfort rating.
EN Lower Limit: The temperature at which an average man can sleep for eight hours without waking. We rarely sleep for eight hours without waking on a backpacking trip, but you get the idea.
In addition, you may see references to the EN Upper Limit (the temperature at which an average man can sleep without excessive perspiration) and EN Extreme (the minimum temperature at which a standard woman can remain for six hours without risk of death from hypothermia). Of course, all of the EN ratings are based on averages and in general we've found them to be optimistic by around 10 degrees (we cover this in greater detail in the section below), but they are helpful in comparing two EN-rated bags. The majority of outdoor gear manufacturers use the EN system but certainly not all of them—compliance is optional.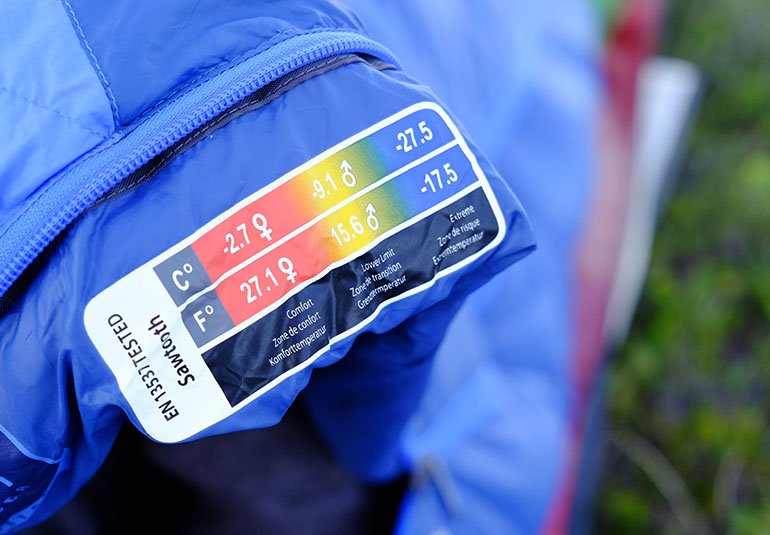 How the EN System Translates for You
First and foremost, we think that you should always leave a reasonable buffer in temperature so as to not to be disappointed (and save yourself sleepless nights). We've found the EN ratings to be too low, even when wearing a warm baselayer. For chosing the right EN rating, try to get an idea of the coldest temperature you'll be experiencing overnight. Check the weather forecasts and averages of areas you're planning to visit to gauge the conditions. Once you have an approximate number, it's a good idea to build in a buffer (we like 10 degrees) or more to avoid getting cold. Other factors to consider are your age (people typically don't sleep as warm the older they get) and whether you are a cold or warm sleeper.
It's also a good idea to have some extra clothing in case you need it. A warm hat can help keep a lot of heat in, and some wool baselayers will help add some warmth as well. And make sure to consider the R-value of your sleeping pad (more on this below), which will help to insulate you from the cold ground. Many people overlook their sleeping pad then become confused when their bag isn't as warm as they had thought.

What About Sleeping Bags Without an EN Rating?
Some manufacturers do not EN rate their sleeping bags, and typically it's smaller companies like Western Mountaineering, Feathered Friends, and Katabatic Gear. From our experiences, these brands actually are on the conservative side and take pride in offering very realistic temperature ratings. For example, the Feathered Friends Swallow Nano 20 is a very warm bag and will keep the average man comfortable into the 20s, whereas the REI Igneo—with a 17°F Lower Limit EN rating—will be cold if the temperatures dip below freezing. As such, we've found that the higher EN Comfort rating is a better basis for comparison than the EN Lower Limit, and therefore have listed it in the table above (both ratings are included in the product specs). If anything, being cold can be uncomfortable or even dangerous, and we recommend using the EN Comfort as the more realistic of the two. If you're bag ends up being a little warmer, take that as a bonus.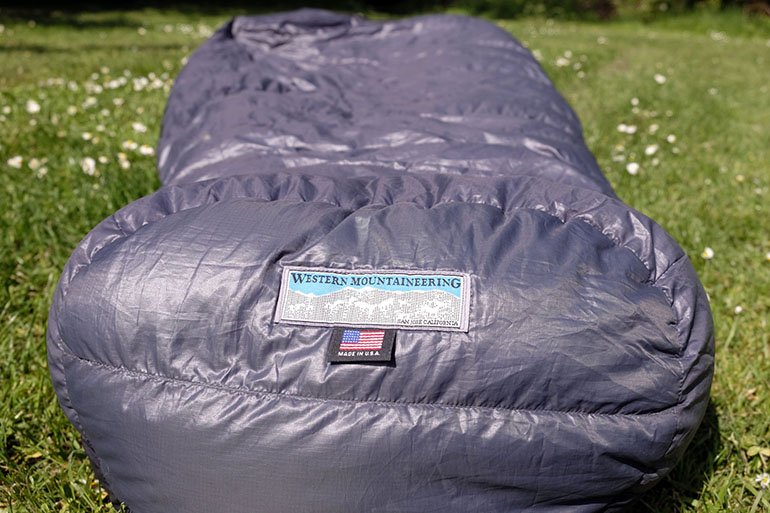 Down vs. Synthetic Insulation
The down vs. synthetic debate is not unique to backpacking sleeping bags. Midlayers, camping bags and even sleeping pads are all insulated with these fill types. For a certain piece of gear or apparel, one has the leg up on the other, and for backpacking sleeping bags, we still give the clear edge to down fill. There are a few major reasons for that, including the best warmth-to-weight ratio, far better packability (i.e. a smaller compressed size), and a more premium warmth. The last one is a bit subjective, but it's a clear consensus from us that down's lofty warmth feels more luxurious. Down does vary in quality, which is measured in fill power (covered below), but even a mid-grade down fill is the superior insulator.
So why consider synthetic? The most common reason for most is price. Even a premium synthetic bag like the Mountain Hardwear Lamina easily slides in under $200, while a nice down bag doubles that (and more). In addition, synthetic performs far better than down in wet weather. While there have been improvements in down's performance in the wet thanks to the application of hydrophobic coatings on the feathers, synthetic will insulate far better if moisture enters the bag. So, for starting out, if you're looking for a budget option, or you backpack in really wet conditions, synthetic bags remain a great choice. For an even more in-depth explanation of this topic, see our article on down vs. synthetic insulation.

Down and Synthetic Fill Weight
Fill weight is the actual amount of insulation stuffed into a sleeping bag. If it's a close call between two bags with the same types of insulation (down or synthetic) and one or both don't have EN ratings, you can compare fill weight to get a better idea of which one will be warmer. Cut does matter here: a bag with a slender cut may have less insulation than a bag with a roomy cut despite providing similar or even more warmth. Fill weight is more helpful for a category like down jackets, which don't have EN ratings, but it's good to know here too. And it's a good visual for how much more insulation is required for a synthetic bag to compete with down. For comparison, the Lamina Z requires 15 additional ounces to achieve approximately the same temperature rating as the down-fill REI Radiant.

Down Quality: Fill Power
If you decide down is going to be your insulation of choice, one of the first specs to look at is the quality of a specific down, known as its fill power. Specifically, it's a measure of how much loft or fluffiness the down clusters have, and this correlates with warmth (note: both duck and goose down are measured in the same way). The highest down fill power is 900, and you'll see cheaper sleeping bags closer to 500. Generally, the higher the fill power, the more expensive the sleeping bag. The lower the fill power, the more it must weigh to provide similar levels of warmth. High fill powers in the 800s are great, but don't necessarily be turned off by 550 or 600-fill—it's a great way to save money on an otherwise excellent bag.

Hydrophobic Down
Unfortunately, down feathers lose much of their ability to insulate when wet, and synthetic insulation does a much better job in this department. Synthetic insulation, conversely, is much heavier, doesn't pack down as small, and isn't as warm, which are reasons that down is so prized. Gear manufacturers recently started treating down to make it more water resistant. Essentially, a polymer is added to the down before filling the bag, and the result is the feathers are better protected from the moisture and don't clump up as quickly. In use, this means you don't have to worry as much about brushes with moisture inside or outside of your backpacking tent. A number of companies have named their proprietary treated down such as Sierra Design's DriDown, Mountain Hardwear's Q.Shield Down, Marmot's Down Defender, etc.
We love the hydrophobic down movement. Yes, it adds a tiny bit of weight to the down, but it also adds a noticeable level of protection. Synthetic insulation still has its place for budget backpackers but nothing beats down, and particularly treated down. If you're headed out in a wet area like the Pacific Northwest or New Zealand, buying a sleeping bag with hydrophobic down is a wise move. Fortunately, many manufacturers are moving in this direction, and it's now the majority instead of the minority.

Sleeping Bag Cut and Length
In addition to considerations like warmth and down fill, the cut of the sleeping bag is critical to how much you enjoy it. If you toss and turn at night or just prefer more sleeping space, make sure to consider sleeping bags that are roomier in the legs and foot box (the Sea to Summit Trek TKII and Nemo Nocturne 30 are great examples). The downside is that these bags can feel draftier and may not retain heat quite as well. Women's-specific sleeping bags have a slightly different cut than men's or unisex models, and are narrower at the shoulders and roomier around the hips. Many ultralight bags save weight by tapering the cut of the legs for less fabric and down. And some bags have half zips, which gives you even less freedom of movement.
Many sleeping bags come in two or three lengths that are meant to fit men and women of varying heights. For men's bags, the regular size often is 72-inches long and the tall is 78-inches long. If the bag doesn't have a women's-specific version, you'll often see a short 66-inch option. If you are on the border and want the hood to extend over your head, it's good idea to size up. Larger sizes do cost and weigh more and have a larger packed size.

Weight
Along with your tent, your sleeping bag is one the heaviest and bulkiest items in your pack. Sleeping bags run the gamut from around 1 pound for a true ultralight up to 2-3 pounds or more for less expensive options (for a comprehensive list, see our sleeping bag weight comparison chart). Like other gear categories, down is king in the lightweight sleeping bag world, and premium fill power (800+) is ideal if you're willing to pay for it. Make sure to keep an eye on the whole package as weight often is saved by using thinner shell fabrics and a trimmer cut. Utlraight sleeping bags are great for some people but certainly not necessary for everyone.

Compressibility
Outside of the premium warmth and low weight you get from down, another selling point is compression. Natural goose and duck feathers stuff down in a way unmatched by anything manmade, although the synthetic Lamina bags are a significant improvement in this area. In general, higher-end down bags will be the most compressible due to their quality of the down and use of thinner fabrics. A cheap synthetic bag will be the least compressible option. Other indicators include the cut of the bag—a tapered cut will trim fabric and stuffed size—as well as the temperature rating. Summer bags can get away with using less insulation and will be more compressible as a result.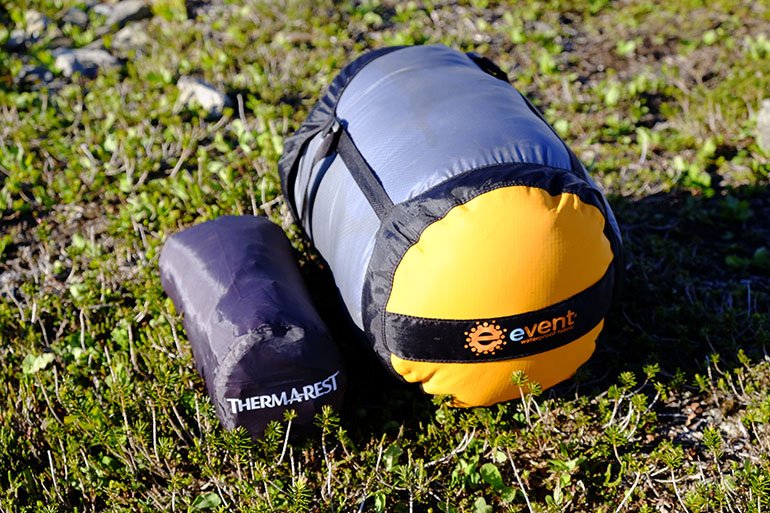 To take full advantage of the small stuffed size potential of your sleeping bag, you'll want to pick up a compression stuff sack. Most sleeping bags these days only include a non-compressible stuff sack. One of our favorites, thanks to its creative waterproof construction, is the Sea to Summit eVent Compression Dry Sack. Take care when using a compression stuff sack—cinching it down too much can damage the insulation over time. It's a better idea to lightly compress the bag so that it fits easily into your pack and not overdo it. And don't store your sleeping bag in a compression sack for extended periods.

Your Sleeping Pad R-Value Matters
We've written a lot about the temperature rating of your sleeping bag, but remember that your sleeping pad matters too. Keep an eye on the R-value, which is a measurement of how well the pad insulates you from the ground. R-values range from 1.0 (almost no insulation) to 9.5 (fully insulated). A summer backpacker can get away with a low R-value, while the average 3-season backpacker should look for something in the 3 range or more. A true winter camper will want an R-value that exceeds 5 depending on the conditions. For more information, see our article on the best sleeping pads for backpacking.
Back to Our Top Sleeping Bag Picks Back to Our Sleeping Bag Comparison Table
Learn More About Outdoor Gear