For hikers and mountaineers alike, a quality altimeter watch is a worthy addition to your gear collection. Popularly referred to by the acronym ABC (Altimeter, Barometer, Compass), these watches offer the most essential information for backcountry adventures. Built to handle the extremes, altimeter watches have a distinct look with durable, scratch-resistant faces and large screens flanked by glove-friendly buttons. You'll see a lot of familiar faces in our 2016 top picks. Two manufacturers, Casio and Suunto, dominate the market, but GPS giant Garmin has made a recent push to capture high-end users. For more information on ABC watch features, check out our buying advice below the picks.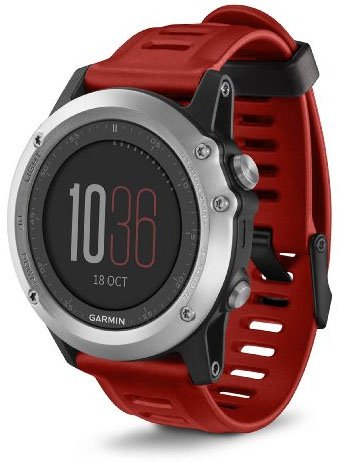 Dimensions: 2.0 x 2.0 x 0.6 in.
Weight: 2.9 oz.
GPS: Yes
What we like: A do-all multisport ABC and GPS watch.
What we don't: Sapphire edition with the metal band is heavy.
Packing nearly every feature offered in a Garmin multisport watch, the Fenix is a top-of-the-line ABC option. GPS and GLONASS satellite compatibility makes for excellent reception and accuracy, and the various "sport" modes are tuned for recording data while running, hiking, biking, swimming and even skiing, where the Fenix tracks your speed, distance, vertical drop (even pausing the recording for the lift ride up). The navigation mapping is pretty barebones, and doesn't have the elevation contour lines like the new Epix below, but does provide helpful tracking and navigation. The new Sapphire edition, which includes the Sapphire glass along with a metal band, is both classy looking and utterly tough.
The Fenix3 and Suunto Ambit3 below are natural competitors, both collecting data that's great for triathletes and dedicated outdoors people. In weighing the two with a focus on hiking, mountaineering, and skiing, we give the edge to the Fenix, while the Ambit3 (or Garmin's own 920XT) wins out for pure triathletes. The great news is that this back-and-forth battle will continue, and the inevitable Fenix 4 and Ambit4 will continue to push technology further.
See the Garmin Fenix 3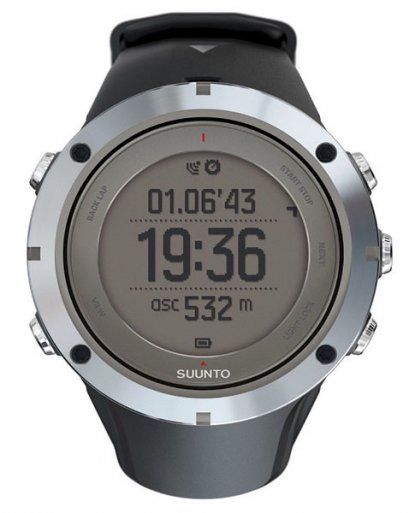 Dimensions: 1.97 x 1.97 x 0.67 in.
Weight: 3.2 oz.
GPS: Yes
What we like: Outstanding functionality and build.
What we don't: Feature set more closely aligned with triathletes.
The top-of-the-line Suunto Ambit3 Peak Sapphire model is eye wateringly expensive but packs a wallop in terms of functionality. First is the sapphire casing, which is as tough and scratch-resistant as they come, unlike the plastic faces on cheaper altimeter watches. In addition to the extensive feature set of the popular Suunto Core, the Ambit3 adds GPS that can track your position, get accurate elevation data, and graph ascents and descents (information is uploaded to Suunto's Movescount.com). Their Movescount application also lets you customize features, including a storm alarm that will trigger an alert if there is a significant change in barometric pressure. Like the Fenix 3, the Ambit Sapphire is great for multi-sport athletes with the ability to switch modes for running, biking, and swimming, and features a rudimentary navigation function. A wireless heart rate monitor chest strap option is available, and if you want to forego the sapphire glass, the Ambit3 Peak comes in a regular glass face for $100 cheaper.
See the Suunto Ambit3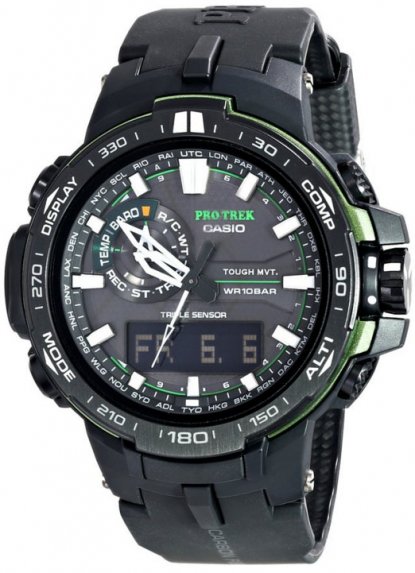 Dimensions: 2.2 x 2.0 x 0.5 in.
Weight: 2.57 oz.
GPS: No
What we like: Great looks; premium fit and finish.
What we don't: Pricey for lacking GPS functionality.
Casio's Pro Trek line has consistently delivered tough, long-lasting performance, but has always lacked in the looks department, especially for those averse to heavy doses of plastic. Well, the PRW-6000Y-1A does a great job addressing that, with arguably the classiest looking watch to ever come from Casio. Ditching the plastic, you get a thoroughly modern face with a white on black display, and a stylish band with carbon fiber inserts. The watch also has a full compliment of features: altimeter, barometer, compass, and thermometer, along with a stopwatch and an extremely accurate time function. This being a Casio, you get the peace of mind of solar power, which means you can wear it all the time and never have to worry about charging or replacing the battery. Downsides? One is the full retail price, as you can get a lot of the same features from Casio and others for about a hundred dollars less. On Amazon, though, the watch is consistently on discount, and at around $350 the PRW-600Y-1A is a fantastic deal for an ABC watch that wears equally as well on the trail as it does at the office.
See the Casio Pro Trek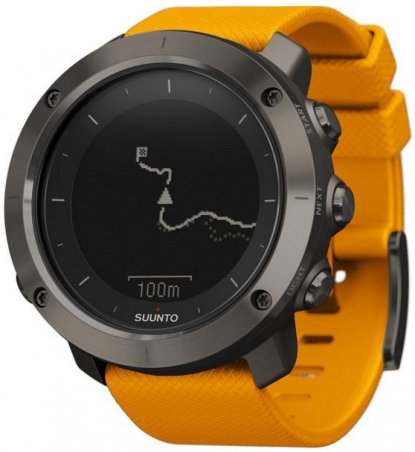 Dimensions: 1.97 x 1.97 x 0.65 in.
Weight: 2.82 oz.
GPS: Yes
What we like: Focused outdoorsperson design.
What we don't: Pricey for the functionality.
Billed as an ABC and GPS watch for the hiker and trekker, the Suunto Traverse slots in below the Ambit3 in terms of pricing and functionality. The Traverse shares many of its internals with the Ambit, but in a slightly lower profile design and lighter weight. More, the Traverse aims for a narrower market, and doesn't record data for runners, bikers or swimmers. Instead, it has navigation and tracking capabilities—it's as easy as planning a route on your computer using the Movescount application and downloading it to your watch. As with the Ambit and the Garmin Fenix, the map is still a pretty basic line, but does provide helpful guidance and is quite accurate. At the time of writing, GLONASS satellite compatibility was not yet available, but the watch will add this with a later software update. Honestly, we'd hoped for a bigger price drop with the step down in functionality compared with the Ambit, but the Traverse remains a compelling option for those that will value the simpler and more focused design.
See the Suunto Traverse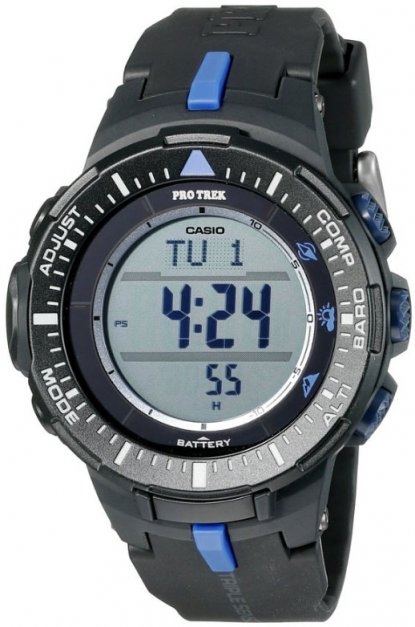 Dimensions: 2.2 x 1.85 x .50 in.
Weight: 2.0 oz.
GPS: No
What we like: Easy to use, quality feel, good value.
What we don't: Smaller display, finicky light button.
The all-new PRG300 is a great altimeter watch for first-timers. It has an approachable price (we've consistently seen it under $150), tough construction, and enough features to satisfy most hikers, climbers, and general outdoor enthusiasts. The pertinent data is right at hand—you can view altitude, barometric pressure, and degrees on the compass with a single button push. We prefer atomic timekeeping over manual, but this is an understandable omission at this price (the $50 more expensive PRW3000 Pro Trek gets it, for example). Our other nitpick is the button for the light, which is in a tricky location just below the bezel and can be hard to press, particularly if you're wearing gloves.
Unique to the PRG300 Pro Trek is its small footprint. The watch measures 1.85 inches side-to-side and is one of the few options on this list that won't overwhelm a small wrist. The clear downside of a smaller display is that it can be a little more difficult to read, but we've been satisfied with the clarity overall. As other Casio models, the PRG300 is solar powered, and provided you wear it on occasion, you won't ever have to think about keeping it charged.
See the Casio PRG-300-1A2CR Pro Trek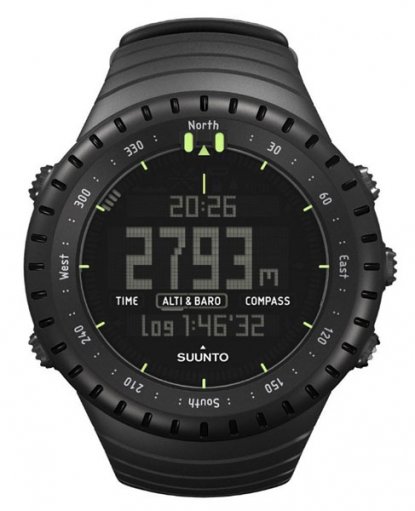 Dimensions: 1.9 x 1.93 x 0.57 in.
Weight: 2.4 oz.
GPS: No
What we like: A great looking watch.
What we don't: Underperforms its price tag.
With a sleek minimalist design and a wide variety of optional colors, the Suunto Core is a true every day multifunction watch. Additional functionality includes sunset and storm notifications, giving you timely alerts of changing pressure or disappearing daylight, as well as seven-day altitude log tracking for hikers. However, despite being one of the best-selling altimeter watches, the Core falls short in a few respects. First, the band doesn't always hold up well under heavy use and might need to be replaced (for around $50). Second, despite the large screen, versions with the black background and white text have lead to complaints about difficulty reading in bright conditions. We recommend sticking with the higher contrast black text on white background.
See the Suunto Core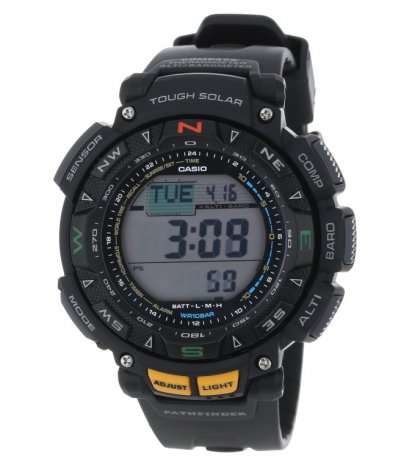 Dimensions: 2.25 x 2.0 x 0.6 in.
Weight: 2.3 oz.
GPS: No
What we like: An outstanding value.
What we don't: A bit bulkier than other altimeter watches.
Consistently priced under $200, the Casio Pathfinder PAG240-1 is among the best values on this list. This solar-powered multifunction watch can run for up to six months without seeing the sun and performs well on virtually any outdoor excursion, no matter the conditions. The altimeter, barometer, and compass modes are easy-to-use out of the box, and the watch is tough enough to handle bumps and scrapes along the way. We also like the time zone function (41 cities) and multiple alarms (up to 5). What are the downsides of the Pathfinder PAG240? It feels a bit bulkier than other watches on this list and doesn't dress up in the city as well as a Suunto. And like other less expensive ABC watches, the altimeter and other functions aren't quite as accurate. For the same model with a titanium finish, see the Casio Pathfinder PAG240-7.
See the Casio PAG240-1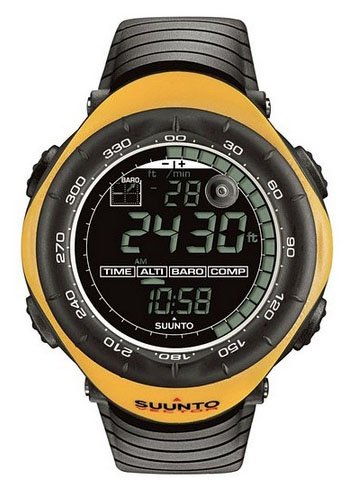 Dimensions: 2.0 x 1.8 x 0.6 in.
Weight: 1.9 oz.
GPS: No
What we like: Lightweight and cheap for a Suunto.
What we don't: Showing its age a bit.
The Vector is Suunto's entry-level altimeter watch and has been an extremely popular model for years. At around $200, just how serious is the Vector? Its altimeter measures up to 29,500 feet—the summit of Mt. Everest is at 29,029 feet—and it can withstand 100 feet of water resistance. Although its plastic face has been known to scratch easily, the overall construction of the Suunto Vector is tough enough to withstand just about all conditions that you can throw at it. Some consumers have noticed that perspiration can get trapped under the band (an unfortunate problem for a lot of athletic watches), and unlike Casio's solar altimeter watches, the batteries will eventually need to be replaced. However, we love the modern styling, performance, and price point.
See the Suunto Vector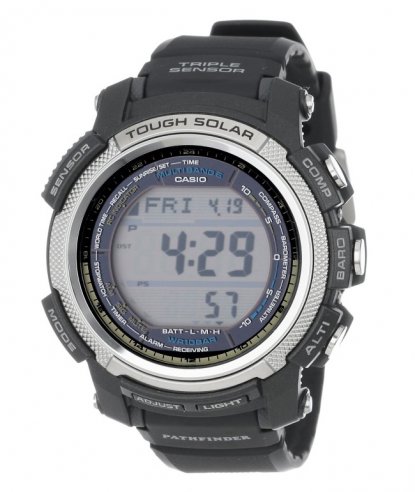 Dimensions: 2.2 x 1.97 x 0.44 in.
Weight: 2.4 oz.
GPS: No
What we like: Large and bright LED screen, good value.
What we don't: Feels big on the wrist.
Offering a nice balance of form and function, the Casio PAW-2000 is slimmer and more modern looking than the Casio PAG240 above. In addition to solar power and the same altimeter/barometer/compass functionality, the PAW-2000 has a beefed-up Duplex LED screen, sunrise and sunset data, and a higher-quality band. Interestingly, despite weighing in at only 2.4 ounces, the PAW-2000 feels large on the wrist (the design is flatter than other Casio models due to the larger screen). This means that for those with smaller wrists, the PAW-2000 may be a bit on the bulky side. But despite the size, the watch feels comfortable even for extended use and performs extremely well. Don't be too intimated by the high sticker price: the PAW-2000 is consistently available in the $200s on Amazon.
See the Casio PAW-2000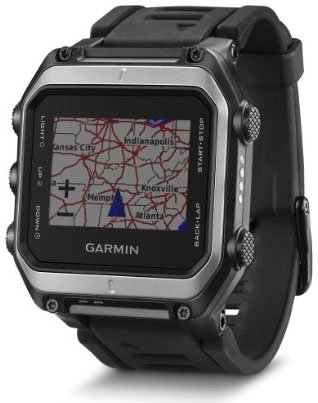 Dimensions: 2.0 x 2.1 x 0.7 in.
Weight: 3.0 oz.
GPS: Yes
What we like: The first true union of a handheld GPS and multisport watch.
What we don't: Unproven reliability.
New for 2015 is the Garmin Epix. This watch takes the basic design and functionality of Garmin's triathlon watch, the 920XT, and adds touch screen enabled navigation. Downloadable maps and 8MB internal memory allow for impressively detailed mapping on the 1.4-inch color screen—a first in this market. It's still a true ABC watch, even including a 3-axis compass, which reads accurately when standing still. Playing a little catch-up to Suunto in one respect, the Epix is compatible with Garmin's new app platform, Connect IQ, but the app selection is expanding quickly. Being a brand new gadget, combined with Garmin's history of releasing products occasionally still in their beta stage, makes us a little hesitant to declare this the be-all and end-all of ABC watches, but it is unquestionably a technological achievement worth admiring.
See the Garmin Epix


Altimeter Watch Comparison Table
Editor's Note: The stated battery life is the manufacturer's claim while in time mode. When using the altimeter or GPS functionality, battery life will be reduced.
Altimeter Watch Buying Advice
Why Purchase an ABC Watch?
For most users, an ABC watch is picked up because it's a fun piece of kit. It doesn't hurt that you get actual data to back up your post-adventure boasting (8,000 feet of elevation gained!) and an answer to the question most everybody asks on a backpacking trip: "I wonder what our elevation is right now?" And while it's true a compass should be a part of any backcountry setup – even for you day hikers – that doesn't necessitate purchasing a full-on altimeter watch.
But don't start thinking ABC watches are gimmicky items by any means. The information they provide is downright essential. Significant changes to air pressure can signal weather changes, and these watches will graph those changes while you're in barometer mode, giving a good indication of incoming weather. Some of the more advanced models even have built-in storm alarms, like the Suunto Ambit3 and Casio ProTrek 6000, registering these substantial swings and alerting you with a chime. This sort of notification is particularly helpful in exposed terrain.

Features
Entry-level ABC watches come with just that: barometric pressure readings, an air pressure based altimeter, as well as a compass. You'll also get a temperature sensor and some sports-related lap timers. And guess what? They all keep track of the time and include alarms.
As prices rise, you'll see greater leveraging of the information the watch is collecting. More advanced tracking of elevation gained and lost as well as changes to barometric pressure will be graphed in detailed fashion right on the watch. And at around $300 MSRP (depending on the model) you will get a watch with atomic timekeeping for greater accuracy. Cosmetic changes make them more usable as daily timepieces with less plastic in the construction and sleeker, lower profile designs. You'll also find that watches in this category often have nicer watch faces that resist scratches and brighter screens.
Once you clear five bills, you're getting a GPS-enabled wrist computer that blurs the lines between a handheld hiking GPS and multi-sport watch. Backcountry navigation comes with downloadable routes, GPS tracking will recount your travels, and compatibility with heart rate monitors and bike sensors make these ideal partners for triathletes, ultra marathoners, and extreme outdoor adventurers. This high-end watch category is gaining a lot of momentum lately with the Garmin Fenix 3, Suunto Ambit, and recently announced Garming Epix. It'll be interesting to see how sustainable the market is long term, but the technology is undeniably cool.

Power Source
The traditional way to power a timepiece is with a coin cell battery. This holds true for a number of Suunto products, and with battery life typically lasting about a year and plenty of low battery warnings, it's rarely a major issue to get the battery change taken care of. True, it's not convenient or fun as solar, but it still works.
Solar comes with big intrigue. Not having to worry about bringing along a replaceable battery or needing to charge the watch every few days has its appeals. Not to mention that a self-sufficient little instrument has a simple beauty to it – especially for travelers – and we love that Casio has invested in this technology. You also don't have to worry about getting the watch its vitamin D that often, because they can store a charge for months at a time. Cost doesn't become prohibitive with the solar power; you can find the popular Casio Pathfinder PAG240-1 or new Casio PRG300 Pro Trek for consistently under $200.
The high-end GPS enabled models like the Suunto Ambit3 and Garmin Epix have to use a lithium ion battery because of their thirsty GPS receivers, making them less ideal for longer treks. However, battery life has been improving within this technology, and the watches will last significantly longer when not in GPS mode. You also have the option to extend the time period between when the watch collects your GPS coordinates, such as Garmin's UltraTrac mode, which also helps in extending battery life.

Daily Use
When shopping for an ABC watch, keep in mind that even the sleek looking Suunto Ambit 3 can dwarf a small wrist possibly limiting their usefulness as a day-to-day item. We've found the Casio PRG-300 Pro Trek to be a good solution for those with small wrists. But outside of size and the potential of being a little too outdoorsy for the starchier crowds, all work well as a daily watch with multiple alarms and clear displays.

Recalibration and Accuracy
Using air pressure readings isn't foolproof, so it's always a good idea to recalibrate an altimeter watch. This can be particularly important when traveling. Finding a known elevation at the start of your trek is the simplest way to get your watch's altimeter dialed in. While it might be a pain to have to recalibrate, going through this process is the best way to keep the device as accurate as possible – which is kind of the reason you bought the watch in the first place.
Speaking of accuracy, not unlike using a pedometer or activity tracker to measure approximately how many steps you take in a day, an altimeter watch is a great gauge for elevation. And just as with the accelerometer in your Fitbit, using air pressure to measure altitude isn't perfect. Changes in air pressure due to incoming weather can impact the elevation readings, but it'll most likely remain darn close. Treated as a good estimate, you'll appreciate the information provided all the more.
Back to Our Top Altimeter Watch Picks Back to Our Altimeter Watch Comparison Table
Learn More About Outdoor Gear