You can leave your dehydrated, salty and unsatisfying meals at home—today's camping stoves bring a whole new level of gourmet to your car camping and base camping adventures. Unlike for backpacking, there's no need to scour Pinterest for workarounds to compensate for subpar stoves, you can expect consistent fuel output, strong flames and superior simmer controls from the top offerings. Camping stove sizes vary from small table top models to freestanding behemoths for large groups. For first-timers or those desiring some background information, it's worth checking out our comparison table and buying advice while narrowing your search. Below, you'll find our favorite camping stoves for 2016.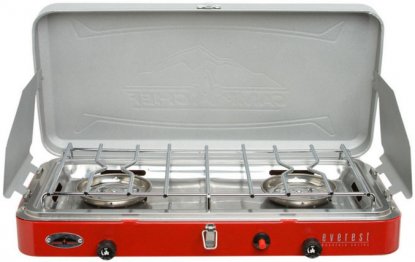 Type: Table top propane stove
Burners: 2 @ 20,000 BTUs each
Ignition: Piezo igniter
Weight: 12 lbs.
What we like: Serious performance and a great value.
What we don't: Not much, heat control dials are vague.
Our top choice, the Camp Chef Everest, is not the most powerful camping stove nor is it the most compact. But it offers a ton of cooking power, convenience, and superior reliability to make it a standout in the market. Outside of those that need a larger platform and perhaps a 3rd burner, this is the camp stove to get. It's an excellent value: at just over $100, you get two large burners that pump out plenty of power (20,000 BTUs each), but also have excellent simmer control for cooking diverse meals. All that power is packed into a reasonably small frame that doesn't weigh you down (12 pounds total). The markings on the heat-control dials are rather vague, but the Everest is quite adept at cooking evenly at low and medium heat. And wind shields along either side do an admirable job in keeping the flame consistent when it's breezy. For proven performance and ease of use, we can't recommend the Camp Chef Everest enough.
See the Camp Chef Everest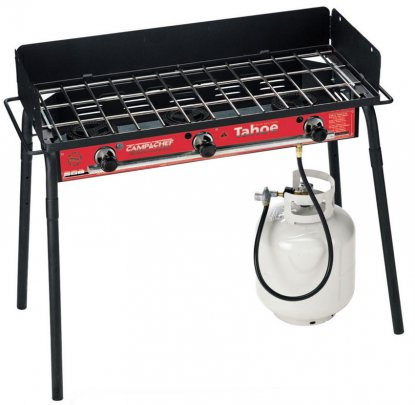 Type: Freestanding propane stove
Burners: 3 @ 30,000 BTUs each
Ignition: Piezo igniter
Weight: 43 lbs.
What we like: Three burners and table required.
What we don't: Really, really heavy and expensive
When cooking for a large group you need serious power, extra cooking real estate, and more burners. The Camp Chef Tahoe features a grand total of three 30,000 BTU burners, which can heat up that 12 cup coffee percolator while cooking eggs and bacon at the same time. Beyond the cooking power, it features a push button ignition, protected housing for the burners and side wind rails. Each of the legs is individually adjustable, which is helpful should you be cooking on uneven ground. What are teh shortcomings of the Tahoe? Weighing in at a whopping 43 pounds, it's a pain to lug around if you won't be hosting a large group, and don't forget the 5-gallon propane tank. It's also more than double the cost of the Everest above. But if you're the consummate camp host or have a large family, the Tahoe deserves your attention.
See the Camp Chef Tahoe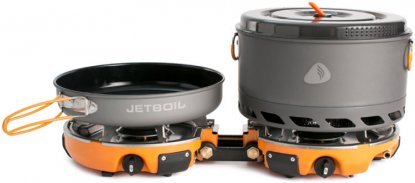 Type: Table top propane stove
Burners: 2 @ 10,000 BTUs each
Ignition: Piezo igniter
Weight: 9 lbs. 14.5 oz.
What we like: An entire cook system for under 10 lbs.
What we don't: Not the most powerful, and steep price.
Jetboil is best known for their lightweight backpacking stove systems, but they're making a serious foray into the camping world with the Genesis System. The concept is the first of its kind: an all-in-one camping system. You get two burners, a pan and pot, and everything nests neatly together for compact storage. Total weight (other than a 16 oz. propane bottle) is an incredible 9 pounds 14.5 ounces, which is lighter than almost all stoves on this list by themselves. Other than weight, the Genesis is all about cooking efficiency. By specifically creating burners to work with their pots and pans, there is less fuel waste and the 10,000 BTU burners exceed expectations. More, the simmer control of the Genesis system is a class leader, which is a good thing, because the price is borderline astronomical. It's the literal price you pay for a jump in car camping stove technology.
See the Jetboil Genesis Base Camp System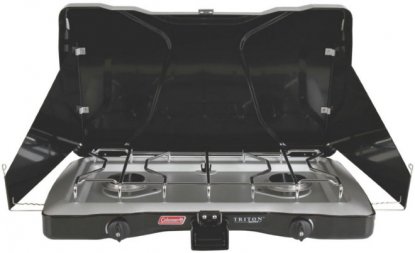 Type: Table top propane stove
Burners: 2 @ 11,000 BTUs each
Ignition: Matches/lighter
Weight: 10 lbs. 2 oz.
What we like: Excellent value, plenty of stove for the casual camper.
What we don't: Smaller cooking footprint, no auto ignition.
There is a "right" camp stove for just about everyone out there, and particularly campers who want to stick to a budget without completely sacrificing performance. Its tried-and-true design, performance, and excellent price make it a tremendously popular camping stove. For those that don't need big time output for a large group or are just looking to cook the basics, the 11,000 BTU burners are plenty powerful. And the small footprint of the Triton actually allows it to perform even better than its burner ratings would suggest. The downside of the compact shape is the cooking space is a little tighter than other table tops like the Camp Chef or Stansport, but it's still roomy enough for two 10-inch pans side-by-side. At this price you do lose auto ignition (there is an Instastart version for $20 more), but it's a small sacrifice for a great all-around stove.
See the Coleman Triton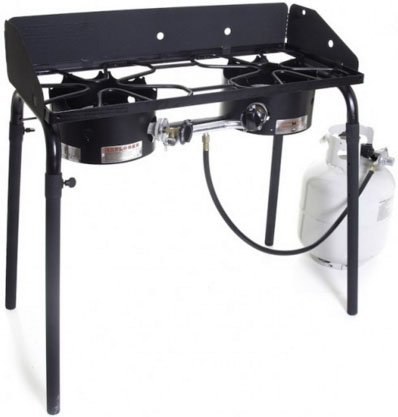 Type: Freestanding propane stove
Burners: 2 @ 30,000 BTUs each
Ignition: Matches/lighter
Weight: 36 lbs.
What we like: Great value for the output.
What we don't: Pretty barebones on features and bulky.
In terms of burner performance, you won't find more output for your dollar than the Camp Chef Explorer. 60,000 total BTUs from the two burners are a dream for camp cookouts or even emergency use at home. In keeping the price down, the Explorer is pretty low on features: there is no push button ignition and the burners are less protected than premium offerings. But the blank slate is ripe for the various accessories from Camp Chef, including a barbeque box, griddle or pizza oven. Large dials are easy to use and function in the same way as your cook top at home, but unfortunately it's not a whole lot lighter than that home stove: the powder-coated assembly hits the scales at 36 pounds. Leaving behind the legs will trim some of that weight, but the Explorer remains overkill for less serious campers.
See the Camp Chef Explorer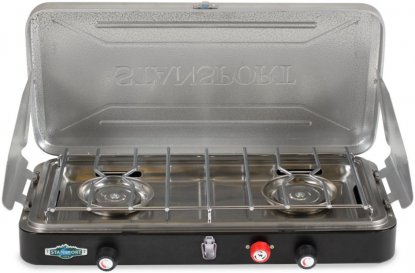 Type: Table top propane stove
Burners: 2 @ 25,000 BTUs each
Ignition: Piezo igniter
Weight: 14 lbs.
What we like: Powerful burners, decent price.
What we don't: Overall performance falls short of the Everest.
On paper, the Stansport Outfitter 2-burner looks to be a great contender to knock off the Everest at the top of this list. Price, weight and features all are quite similar, including a quality frame and Piezo ignitor. But interestingly, despite a slightly higher BTU rating than the Camp Chef Everest (25,000 vs. 20,000) and very similar cook top dimensions, the Stansport doesn't offer noticeably better heating potential at full throttle. And all-around performance falls short with a flame that isn't as even or precise as the table top class leading Everest. The differences are relatively small, however, and the Stansport remains a really strong contender in its price range. If you're shopping this against the Everest, our decision would come down to the current price, and occasionally, the Stansport is available at a decent discount.
See the Stansport Outfitter 2-Burner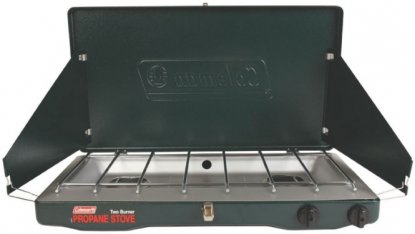 Type: Table top propane stove
Burners: 2 @ 10,000 BTUs each
Ignition: Matches/lighter
Weight: 12 lbs.
What we like: Cheap, gets the job done.
What we don't: Cheaply made, limited flame control.
For years, campers have turned to Coleman stoves for simple, reliable performance. Toward the bottom of their camping stove lineup is the Classic Propane, also known as the PerfectFlow 2-burner. In hand, it's clear the Classic is the cheaper option compared to the more expensive Triton above. Neither are really solid or durable—and at this price point they really can't be—but the Triton is the better investment for the camper that gets out more than a couple of times a year. Cooking performance reflects the initial impressions: the Classiz has slightly less power than the Triton, but really lacks in flame performance across the range, despite the PerfectFlow designation. But look at these results with some perspective. At $50, it's still plenty of stove for the casual outdoors person that needs to cook for 1-2 people. It may not have the deft controls of a high-end unit, but remains plenty capable of boiling water, cooking up steaks, or grilling veggies.
See the Coleman Classic Propane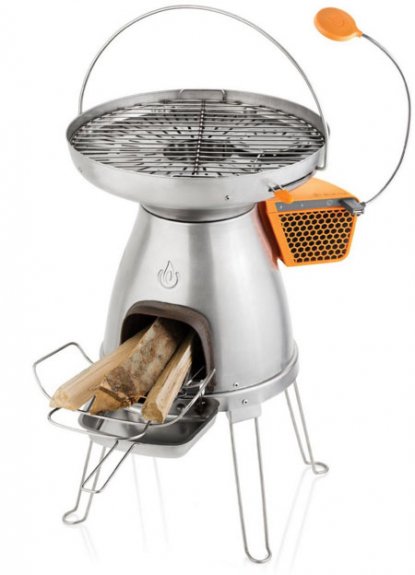 Type: Freestanding wood-fire stove
Burners: 1 (wood-fire)
Ignition: Matches/lighter
Weight: 18 lbs.
What we like: Inspiring mission, charging capabilities and functional grill.
What we don't: Less cooking control and big price tag.
The BioLite BaseCamp was designed for a cleaner and safer solution for those cooking meals over an open wood fire. Their stoves have an integrated generator that powers a fan to boost heating efficiency as well as collect energy to power electronics for those living off the grid. They've now brought this design to the mass market in the form of the BaseCamp.
As a camp stove, it's a fun option but somewhat limiting. The grill top design and reliance on wood doesn't allow for as much control of the flame and heat. That said, you can easily switch between two modes: a small diameter and intense flame for boiling a kettle to wide open for barbequing. The BioLite isn't for everyone, but we admire the company's ambitions and their technical know-how in developing what amounts to a fun and somewhat useful camp stove.
See the BioLite BaseCamp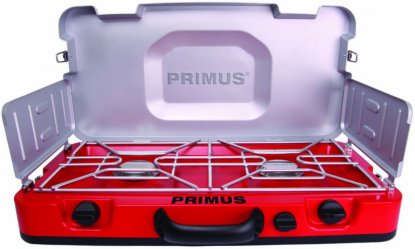 Type: Table top propane stove
Burners: 2 @12,000 BTUs each
Ignition: Piezo igniter
Weight: 13 lbs.
What we like: Good looks, quality materials.
What we don't: Underperforms its price tag.
Primus describes the Firehole as a modern take on a camping classic, and while it has the right looks, it unfortunately packs old-time performance. To be fair, the Firehole 100 is a good little stove overall, but it slips down our list for a few reasons. One is value, with performance that falls well short of the Camp Chef and Stansport 2-burner above, both of which are cheaper. True, the knobs are a little nicer, and it's pleasing to the eye (at least before you cover it in food grime), but it's pumping out far fewer BTUs, translating to slower cooking times (particularly boiling water) and less flexibility in the type of meals you can cook. More, the igniter is known to be finicky in use. To sum up, we'd recommend the Firehole 100 only on sale. For its full MSRP of $150 it's a clear no-go, but its negatives are far easier to forgive at around $100 or less.
See the Primus Firehole 100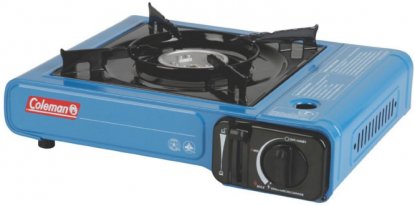 Type: Table top butane stove
Burners: 1 @ 7,650 BTUs
Ignition: Piezo igniter
Weight: 4 lbs. 11 oz.
What we like: Compact and decently powerful.
What we don't: Single burner is limiting, butane fuel doesn't work in the cold.
Let's start with the obvious: this Coleman stove isn't for serious camp chefs. It's an affordable single burner that performs well for limited use or as a backup. The stovetop easily accommodates a small kettle or pan (up to 10 inches) and performs admirably considering its diminutive size. It's a great choice for bringing along if your primary cooking will be done over a fire pit but you need a stove for quick items like heating water. The stove does run on butane, and while the cylinder fits neatly into the stove's case, the fuel isn't as readily available as the ubiquitous green propane canisters. All told, it's basic, doesn't protect much from wind, but otherwise gets the job done.
See the Coleman Butane Instastart

Editor's note: Most people searching for a camping stove mean "car camping" or "base camping" where your load is driven in and not carried on your back. If you are looking for a lighter and smaller option more in-line with backpacking, see our article on the best backpacking stoves. These little stove systems have a single burner and offer considerably less output than traditional camping stoves. However, we've used backpacking stoves for car camping on numerous occasions and they can boil water or cook basic one-pot meals just fine.
Camping Stove Comparison Table
| Stove | Price | Type | Burners | Ignition | Weight | Packed Size |
| --- | --- | --- | --- | --- | --- | --- |
| Camp Chef Everest | $110 | Table top propane stove (16 oz.) | 2 @ 20,000 BTUs each | Piezo | 12 lbs. | 13.5" x 23.5" x 4" |
| Camp Chef Tahoe | $230 | Freestanding propane stove (5 gal.) | 3 @ 30,000 BTUs each | Piezo | 43 lbs. | 16" x 38" |
| Jetboil Genesis Basecamp System | $350 | Table top propane stove (16 oz.) | 2 @ 10,000 BTUs each | Piezo | 9 lbs. 14 oz. | 8.5" x 10.75" |
| Coleman Triton | $70 | Table top propane stove (16 oz.) | 2 @ 11,000 BTUs each | Matches / lighter | 10 lbs. 2 oz. | 12" x 23" x 4.5" |
| Camp Chef Explorer 2-Burner | $130 | Freestanding propane stove (5 gal.) | 2 @ 30,000 BTUs each | Matches / lighter | 36 lbs. | 14" x 32" |
| Stansport Outfitter Series 2-Burner | $115 | Table top propane stove (16 oz.) | 2 @ 25,000 BTUs each | Piezo | 14 lbs. | 13.2" x 24" x 4.5" |
| Coleman Classic Propane | $50 | Table top propane stove (16 oz.) | 2 @ 10,000 BTUs each | Matches / lighter | 12 lbs. | 12" x 21" x 4" |
| BioLite BaseCamp | $300 | Freestanding wood-fire stove | 1 (wood-fire) | Matches / lighter | 18 lbs. | 17.5" x 18" x 15" |
| Primus Firehole 100 | $150 | Table top propane stove (16 oz.) | 2 @ 12,000 BTUs each | Piezo | 13 lbs. | 15" x 20" x 5" |
| Coleman Butane Instastart | $30 | Table top butane stove (8.8 oz.) | 1 @ 7,650 BTUs | Piezo | 4 lbs. 11 oz. | 12.5" x 14" x 3.5" |


Camping Stove Buying Advice
Stove Type: Freestanding or Table Top
Camping stoves come in two basic designs: tall freestanding models with legs and more compact table top models. Freestanding stoves are typically associated with larger, high output models, which would take up a lot of real estate if placed on a picnic bench or table. They're far heavier and more difficult to transport, but are an amazing tool for the discerning camp chef. With a lot of cooking space, you can get creative with your backcountry meals. If you think you might benefit from a freestanding stove but dread having to lug it around on every trip, fear not: most stove legs are removable, including the 2 freestanding styles that made our list.
By and large, campers prefer the table top stove. Their small(er) footprint and lighter weight is easy to pack up and fit into a car, and on a high quality build like the Camp Chef Everest, the drop in performance is minimal. You do need something to set it on, however. If you're heading deep into the unknown or are base camping in a remote location but still desire a gourmet meal, you'll probably need to bring a camping table not only for the stove but also for any prep work.

How Many Burners?
It's no coincidence most of the big-time sellers come with two burners—they're all the vast majority of us will ever need. As with cooking at home, two burners going at the same time will get most meals cooked in a timely and effective manner, and it's the better choice over the more limited single-burner stove. For large gatherings, there are 3-burner stoves like the Camp Chef Tahoe. In many cases with a large group, however, it's not a bad idea to put the onus on someone else to bring along a second stove. Packing a 3-burner is burdensome. The Tahoe is 8 pounds heavier and 6 inches longer than the next largest 2-burner stove, the freestanding Camp Chef Explorer.
The considerations extend beyond simply choosing a burner amount—stove top size does matter here. A larger footprint will allow you to place two large diameter items side-by-side—such as a 12-inch cast iron skillet and cookpot for spaghetti. Compact stoves like the Coleman Triton can still squeeze in two 10-inch pans, but you can run out of real estate cooking a large meal.

Burner Power: BTUs
BTUs, or British Thermal Unit, is a measurement of heat output and serves as a standard for determining the performance potential of a gas stove. While they shouldn't be looked at as the sole indicator of power—cooking surface area can impact the flame's actual intensity—overall it's a great way of comparing stoves. If you're used to a 10,000 BTU burner and are eyeing a 20,000 BTU burner like the Camp Chef Everest, we can guarantee you that the difference will be noticeable.
The boost in power comes with various benefits. For one, a stronger flame will allow you to cook more food faster—you can trim minutes off your time when boiling a large pot of water. As such, for large groups a more powerful flame (20,000 BTUs and up) is recommended. With that extra output comes greater fuel consumption, which can become an issue if a powerful stove is fueled by a small 16-ounce propane bottle. You'll definitely want to bring along a few back-up canisters if you'll be out for more than an overnight trip.

Cooking Grate, Grills and Griddles
The most common form of stove is the traditional two burner with a single, large cooking grate. But should you want a grill and stove combo, say, for cooking bacon and eggs, a hybrid option like the Camp Chef Rainier is pretty appealing. Keep in mind, the grill portion takes up about 2/3 of the cook top, which can swallow valuable space for fitting a large skillet or pot. Alternatively, stoves like the Camp Chef Explorer allow you to swap out accessory tops, including a barbeque box or pizza oven. Griddles are separate attachments that fit over top the burners, and just like at home, they're great for cooking up items like pancakes or a grilled cheese.

Fuel Type and Capacity
The vast majority of camping stoves run on propane: the fuel performs well in a range of temperatures, and not by any coincidence, the little green bottles are readily available at just about any outdoors or big box retail store. For the sake of space, and if you won't be setting up camp for an extended period of time, the 16-ounce bottles should do. However, we highly recommend bringing a few of them no matter the length of your stay. At high heat with some of the more powerful stoves, you can burn through most of a bottle in a single day. For max cooking convenience, the classic 5-gallon tank (also referred to as a 20-pound tank) is a tried-and-true choice. They're easy to fit into the back of a pickup bed, refillable in just about every town, and will last you many, many meals. Note: most table top stoves come only with an attachment for the 16-ounce bottle, but an adapter and hose is often available to fit the larger capacity tanks.
Propane does start to see its performance diminish once the temperatures dip below freezing. Butane does even worse, and while it's not hard to find, there are few reasons to choose it over a propane stove for 3-season use. If you'll be doing a lot of 4-season camping, consider a liquid fuel stove. White gas is one of the best choices for backpacking and base camping in extreme conditions, but there aren't a whole lot of options in a full-size camping stove style. If you're a hardcore adventurer, consider a stove like the Coleman Dual Fuel, which can run on either white gas or unleaded gasoline. Liquid fuel stoves cost more than a propane stove and don't offer any performance benefits in mild conditions, so for most folks, the propane stove remains the best option.

Windy Weather Performance
The weather can be variable even in the fairest of months, but the show must go on. And that includes cooking up a decent hot meal, which can serve to warm the hearts of your chilled campmates. The flame on any stove is sensitive to shifting and blowing wind, and it'll be important to find a somewhat protected space no matter the stove you choose. To help, there are wind shields on many models that cover 3-sides of the stove. This type of protection is a must-have, but it still won't protect you from really strong gusts. In general, we've found that the smaller the footprint the better the wind resistance, but large freestanding stoves can be set up just about anywhere, so hopefully you can find a decent wind break.

Ignition
Piezoelectricity is a pressure-based form of ignition that is popular in camping stove applications. Rather than the sometimes harried process of turning on the fuel and quickly throwing in a match or clicking a lighter, this form of push button auto ignition keeps your hands safe from any large bursts of flame. We prefer this type of ignition, however, but it comes at an extra cost. Upgrading to the piezo equipped Coleman Triton Instatstart is $20 more than the base model, for example. It's also true that these igniters are not perfect and can fail over time, so always bring along a set of extra matches or a lighter just in case.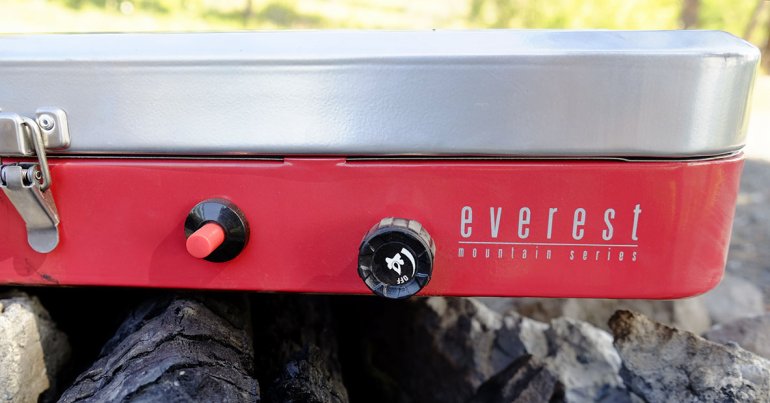 Simmer Control and Performance
While a blazing 20,000 BTU burner is great for a spaghetti feed, for items that require a little more finesse you'll want to make sure the stove has effective simmer control. This requires fuel regulation that doesn't fluctuate and a flame that remains strong even at low heat. Good simmer performance isn't something typically found on a spec sheet, but a high-end model will typically perform better in these conditions. More, having a good windscreen will help keep the flame lit if you're running the heat on low. The Jetboil Genesis has a masterful simmer control, while budget stoves like the Coleman Classic struggle. Spending up will increase your chances of mastering that complex backcountry meal.

Weight and Packed Size
As with most camping equipment, weight and packed size isn't necessarily something to be overly concerned about. Compared with backpacking gear, it's all heavy and large, but you still need to store and transport the stuff. We look for an effective balance of performance and weight, which is why we rank the Camp Chef Everest so highly. It weighs a very manageable 12 pounds, folds down easily and yet performs on par with large and ungainly freestanding units. Depending on your needs, a packed size may or may not play a big role in your buying decision. For those looking to keep both to a minimum, the Jetboil Genesis system includes a stove, pot and pan and manages to weigh less than 10 pounds.

Cleaning
Cleaning your stove is probably close to the last thing you'll want to do after a camping trip, and while it's tempting to put off, it's best to keep it reasonably clean to keep build-up from interrupting the flame. Stove grates are easy to remove, and we've found that a flat tray along the bottom is easier to clean than one with undulations or openings for drippings to escape into. If you keep up with your maintenance you shouldn't have to spend more than a few minutes to get everything in tip top shape.
Learn More About Camping Gear